Report
Baines penalty rescues undeserved point
By Michael Kenrick
04/12/2016

211 Comments [Jump to last]
Share: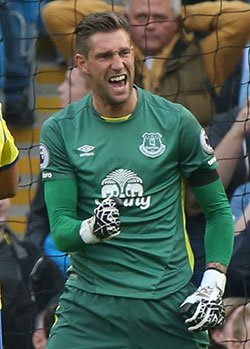 A bizarre advance by Stekelenburg, well out of his area, allowed Ibrahimovic to lob over him and score
Everton 1 - 1 Manchester United
Barkley and Jagielka were dropped to the bench, with Funes Mori, Cleverley and Mirallas starting against Man Utd.
Ronald Koeman had an almost fully-fit squad to choose from, with the exception of long-term absentees Muhamed Besic and Matthew Pennington. Barkley and Jagielka were dropped to the bench and did not p[lay.
For the visitors, Luke Shaw was sidelined and Wayne Rooney was denied a Goodison return through suspension.
Man Utd kicked off but The Blues got possession without showing too much energy until Bolaise fired in a decent cross that led to a good corner put in well by Mirallas, defend out for a second effort, a superb delivery but no Blue shirt on the end of it.
Lukaku tried a through-ball from deep for Bolasie, straight to a Utd defender and turned over possession after a bright start. The Reds built their attack with equal lack of intensity, Pogba firing a loose ball well wide. They got behind the Blue line but Martial was offside.
Barry's passing was poor, two out of play, one to a defender, before Funes Mori strode forward and fired off a ridiculous shot, well high and wide. A poor challenge from Barry led to a stern lecture for him, as he was shown up for slow rections.
The football was pretty scrappy, which benefited Everton a little, but the poor passing was always going to limit them going forward, and would give the Reds time to build, with little pressing on show. Funes Mori cleared straight to a red shirt in the centre-circle and the ball came right back.
Rojo went in really hard on Gana, studs showing, a horrible tackle, but the Everton midfielder jumped up straight away. The Everton players surrounded Oliver but all he gave was yellow. Mirallas put in a good ball in but Williams headed it backwards for a lame volley from Coleman.
Man Utd won another corner taken by Martial, leading to head-tennis that was finally claimed by Stekelenburg. Lukaku dribbled well into the left channel and then passed straight to a defender.
Bolasie did a great dummy and scampered forward but Lukaku was behind the defender and could not reach the good-quality cross. A free-kick was swung in but again no-one could get to it.
Barry again gave the ball away in the centre, drawing more pressure that fortunately came to nothing. Everton tired the direct approach, a hoofball overhit to De Gea.
Lukaku got forward and played in Bolasie whose cross/shot was poor — too far ahead of Mirallas coming in at the far post. Pogba tried to drive through Barry and fouled him. More hoofballs were overhit as this simplistic approach to building attacks was producing little.
Funes Mori blocked Mkhitaryan, giving away a dangerous free-kick in the dee: Ibrahimovic powered it straight into the Everton wall. More formless play from both sides saw plenty of lofted lottery balls. Barry finally saw yellow for a nothing foul — accumulation.
Darmian fouled Lukaku, for Mirallas to curl in another free kick, off Funes Mori, but Barry had strayed offside. Another attempt to release Lukaku with a lofted ball forward failed, despite the big man winning the ball in the air. Baines was next with another poor forward ball. Funes Mori was across sharply to nick the ball off Mkhitaryan, saving us from surely the first shot on goal.
Man Utd were using the same tactics with the forward lofted ball, with the same level of quality and success as the home side; really poor quality from two side battling for 6th place in the world-renown Premier League. But no pressing in midfield by Everton as Man Utd had better ground-ball play that petered out to nothing.
But the lofted ball forward finally worked for Man Utd, Ibrahimovic with a brilliant lob over Stekelenburg who was way out of his area, the ball bouncing up onto the bar, down onto the goalline, hitting the post and just crossing the line before Funes Mori, who had crucially dawddled watching it, finally scooped it away, a fraction too late, as shown by the goalline technology. The first shot on goal scores, and Everton behind.
Bolasie beat his man and crossed well enough but Lukaku was again behind the defender with no chance of getting the ball, summing up another poor (a fine distinction from 'abysmal') half from the Blues, still to produce anything worthy of the words 'attack on goal'.
No changes from the Dour Dutchman, with Everton hoofing forward from the kick-off and Lukaku losing possession. Bolasie and Lukaku tried to pass the ball into the Man Utd area but Lukaku ended up passing it behind by the corner flag.
Funes Mori played a through-ball to no-one except De Gea. The next attempt at a forward ball to Lukaku brought audible groans from the faithful.
Coleman did well to beat Ibrahimovic but then turned back into the big striker and collapsed in a heap beneath his full weight. Another ridiculous lofted ball by Williams straight out of play by the corner flag.
Barry and Lukaku suddenly combined, Mirallas powering in and shooting but De Gea instinctively stuck out a foot to deny him.
Everton with the ball at the back and Funes Mori, a dreadful mistake gaves it away to Ibrahimovic. A passage of intense pressure resulted, with calls for a penalty off Baines, slidding to defend a ball on the ground. More pressure from the corner, then Cleverley fouling to give away a dangerous free-kick but it was defended well enough.
The impetus, however, was clearly with the visitors, despite Mirallas's excellent attempt. Gueye tried to release Lukaku but the ball as miles away from him. Cleverley could not dig the ball out and Man Utd swept forward, with a series of crazy plays in the Everton area, Mkhitaryan lashing it against the crossbar, but Everton broke away and Bolasie crossed well beyond the far post.
The hour mark, and Deulofeu was readied to come on but Bolasie was barged off the ball and writhed in agony after falling awkwardly on his right knee. Cleverley was withdrawn but Coleman was struggling as Pogba headed over. Holgate replaced Coleman, then Bolaise sat down and he was replaced by Valencia.
Valencia at least showed some effort but was tackled firmly. Deulofeu was bamboozled by Pogba, while Williams played the ball from the centre, back to Stekelenburg with nothing happening in front of him.
Some better forward play ensued around the Utd area but led to nothing. Another lofted ball to Lukaku evaded him. Baines could not cross past Mkhitaryan. Koeman finally stood up and moved around, probably in an attempt to keep warm.
Better forward play along the ground saw Gueye fire a hard shot but straight at De Gea, and that roused the frustrated Goodison crowd, Darmian fouling Deulofeu despite touching the ball. Deulofeu delivered an excellent ball headed toward the top corner and tipped behind by De Gea.
Everton were finally trying to make a game of it with barely 15 minutes remaining. But the structure of the play was lacking and it failed to penetrate the Man Utd defence.
Holgate put in an excellent first-time cross off Deulofeu but Valencia headed straight at De Gea's feet. Deulofeu tried to create something but there was little movement in front of him.
Deulofeu tried to beat his man but was fuming that the decision was a goalkick. The Blues kept applying some pressure and then Fellaini sent Gueye flying ... Penalty! Leighton Baines fired in coolly from the spot to save Everton from their first defeat at Goodison park this season.
A tremendous atmosphere now as Everton finally showed some initiative. Great shot by Baines, lashed in and parried out by De Gea for a corner.
Holgate did superbly at the other end to deny Herrera's cross as the 5 minutes of added time ticked away. The pressure was more persuasive from United, however, as the Blues surge seemed to have faded. But Fellaini got a great cheer when he needlessly played the ball out.
Deulofeu was at the heart of a good break but his cross was too close to De Gea and the ball went straight back to the Everton area, Oliver blowing the final whistle to end the contest, with Everton miraculously still unbeaten at Goodison park but with only one win in 10 games.
Everton: Stekelenburg, Baines, Funes Mori, Williams, Coleman (67' Holgate), Cleverley (65' Deulofeu), Barry [Y:32'], Gana, Bolasie (68' E Valencia), Mirallas, Lukaku.
Subs not Used: Robles, Jagielka, McCarthy, Barkley.
Manchester United: De Gea [Y:88'], A Valencia, Jones, Rojo [Y:16'], Darmian, Pogba, Herrera, Carrick, Mkhitaryan (85' Fellaini [Y:88']), Martial (83' Rashford), Ibrahimovic.
Subs: Romero, Bailly, Blind,, Lingard, Mata.
Kick-off: 4pm, Sunday 4 December 2016
Referee: Michael Oliver
---
Reader Comments (211)
Note: the following content is not moderated or vetted by the site owners at the time of submission. Comments are the responsibility of the poster. Disclaimer
Gerard Carey
2
Posted 04/12/2016 at 15:09:24
Funes Mori in for Jags.
Tony Twist
3
Posted 04/12/2016 at 15:12:28
Cleverley should be nowhere near the first team. Davies and Holgate should be in the first team before we buy loads of players in the January sales!
Denis Richardson
4
Posted 04/12/2016 at 15:16:33
Jagielka dropped = about time and at last;
Barkley benched = about time and at last;
Cleverley in the starting XI = WTF? – guess you can't win them all.
That is certainly the back 4 I would have wished for. Wouldn't be too bad if played in a 4-3-3 but I guess we'll be the usual 4-2-3-1 with someone shoehorned into the AML left position.
Big games needed from Mirallas and Bolasie.
David Booth
5
Posted 04/12/2016 at 15:17:33
Cleverley. For God's sake, Cleverley? AGAIN!
How many more times does he have to have a completely anonymous, unproductive, non-contributory, devoid of any impact or influence 90 minutes for him to be left out out first team plans unless everyone else is injured.
He will make such a difference today... Not.
Give Valencia a game alongside Lukaku, you Dutch dunce. Can't you see that's where we are hitting the buffers EVERY game?
Take a risk and change things. Show us you have some idea, or the semblance of a Plan B?
Your project is NOT working and journeymen like Cleverley will not miraculously change that.
Can you not see that simply repeatedly putting failures into the same formation – where they have been tried and failed numerous times before – will not succeed in providing the:
Catalyst,
Energy,
Passion,
Game Plan,
Long Term...
This is what you keep giving us shite soundbites about.
I just despair. We will get twatted today.
Colin Glassar
6
Posted 04/12/2016 at 15:18:44
Same as usual, Dave. Cleverley in for Ross and Funes Mori replaces Jags.
Frank McGregor
7
Posted 04/12/2016 at 15:28:36
I believe he should have also dropped Lakaku as the biggest problem is scoring goals so replace him with someone that can.
Dave Williams
8
Posted 04/12/2016 at 15:29:32
Mourinho will be happy looking at our midfield.
Please prove me wrong boys!!
Pete Edwards
9
Posted 04/12/2016 at 15:32:16
Denis, I think it is more a 4-3-3 with Cleverley, Barry and Gana.
Winston Williamson
10
Posted 04/12/2016 at 15:34:08
Oh Mirallas and Cleverley... we're alright now, they've never let us down before!
Colin Glassar
11
Posted 04/12/2016 at 15:35:38
First time Sky have three Evertonians as pundits/anchor: Ossie, Carra and Julian wotsisname.
Raymond Fox
12
Posted 04/12/2016 at 15:45:41
We've already had one good result today, maybe it's our lucky day all round.
Doubt it though, we are too ordinary in too many positions, midfield is the biggest priority. Their goolie is worth one goal start to them.
You never know though, one can only hope.
Charles Brewer
14
Posted 04/12/2016 at 15:54:17
Did Davies run over his dog or something? Cleverley ought to be on the bench for the stiffs!
Lukas Polster
16
Posted 04/12/2016 at 16:35:36
S'pose Funes Mori for Jags is needed but the rest is very uninspired. Probably bring on Deulofeu for Mirallas then Valencia for last 5 mins when losing. Dunno why but he doesn't fancy Davies.
Let's just hope he buys wisely in the next window, that's when he can be judged. These aren't his players but he's hardly getting the best out of what he's got.
Mark Morrissey
17
Posted 04/12/2016 at 16:38:12
At least Everton appear to be trying today but I'd offer more to the team than Cleverley, he is a Championship player at best. Why he gets picked is beyond me but at least the team are trying and that's good to see.
Perhaps Koeman is curting off his own nose to spite his face. Maybe Koeman feels he HAS to drop Barkley, and Cleverley is his nearest fit.
Colin Hughes
18
Posted 04/12/2016 at 16:40:27
We can nick this by the odd goal here in a scrappy 1-0, but go behind and I think its game over for us. Man Utd are not top 4 material this season.
Colin Hughes
19
Posted 04/12/2016 at 16:45:41
Foot-in-mouth syndrome, we won't be winning this now; we have lost 15 of last 16 where we have been trailing at half-time.
Craig Mills
20
Posted 04/12/2016 at 16:51:09
When are we gonna have a bloody shot??? It's becoming a joke... 1 shot at Chelsea, 1 shot at Southampton and none on target so far today.
Stekelenburg at fault again too, far too many passengers in this team...
Craig Walker
21
Posted 04/12/2016 at 16:51:20
This is some of the worst football I've seen. Hoofball but with nothing up front and mistakes aplenty. Fed up! I've said it for 4 years, we need a No 10, a world class forward, a world class keeper and some speed and craft. Some of Walter Smith's teams showed more than this. Awful. Utterly depressing.
Timothy Sebastian
22
Posted 04/12/2016 at 16:54:01
Why our keeper needs to run out when staying in his 6-yard line would have made it harder for Ibrahimovic to score? And why did Funes Mori give up on chasing the ball when, if he ran all-out, he could have caught the ball on the first bounce on the goal line?
Craig Walker
23
Posted 04/12/2016 at 16:57:12
Romelu "I want Champions League football" aggravates me the more I see him. We should have got shut after the semi final debacle and play someone who wants to be at Everton. Niasse would show more effort.
Geoff Evans
24
Posted 04/12/2016 at 17:04:11
Man Utd's bench would all be regulars for this shite. No-hopers going nowhere. One of the worst teams in the Premier League.
Tony Twist
25
Posted 04/12/2016 at 17:04:42
We seem to be a team that thinks it's an achievement to get a draw. Considering Koeman supposedly hates losing, he certain doesn't put things in place to stop it happening.
He doesn't have a clue, Unsworth would have more of an idea than this ٤million man. Didn't think I would ever be saying that!
Mark Morrissey
26
Posted 04/12/2016 at 17:04:59
I've been saying it since the Summer, neither Stekelenburg nor Robles are good enough if we want to be a top six side. His mistake today is awful but that's not why I'm asking for his head. Plenty on here have said there are more important positions that need amending first. No there isn't.
We need a top goalie, priority number one, then a creative midfielder and thirdly another striker. Stekelenburg and Robles are Number 2s at best and only at best. Yes they can both pull off good saves now and again. That, is simply not good enough for Everton.
Anto Byrne
27
Posted 04/12/2016 at 17:06:11
Sums up this team... fucking shite.
I didn't want Koeman, I wanted Pellegrini. This is anti-football... pathetic hoofball... pure utter bollox.
Peter Cummings
28
Posted 04/12/2016 at 17:11:56
Both of Liverpool's first 2 goals were down to similar poor 'keeping and now we're following suit, another area we need to address in the meantime give Robles the job.
Geoff Evans
29
Posted 04/12/2016 at 17:17:19
Tony 25: For this crap a draw WOULD be an achievement against anybody.

Mark Rimmer
30
Posted 04/12/2016 at 17:23:23
I'm so disappointed Koeman's style is an old school hoof the ball to the big man up front. Really expected more for the money we're paying. It was watching so much of that style during the last 25 years that made me give up my season ticket.
We have Koeman's name and some cash to attract some decent names in the transfer market, but his style won't change. So when these names are in I'd get rid for a manager more in tune with the modern style.
Mark Morrissey
31
Posted 04/12/2016 at 17:28:47
Cleverley.... a word to be found in the English Dictionary between Canter and Clown. Canter how he runs and Clown, what he is.
Also beginning with C is Christ almighty how does he get a game? The very fact that Koeman picks him is a huge concern for me. It means he cannot spot shit when he sees it.
Colin Hughes
32
Posted 04/12/2016 at 17:39:49
There is no goal threat in this team at all, need to commit 7 or 8 men into the oppositions box. Can't believe we haven't scored 4 in a game for over a year when Bournemouth can do it in one half today and bottom club Swansea score 5 last week. We are arguably one of the most ineffective sides in the Premier League right now.
Mark Morrissey
33
Posted 04/12/2016 at 17:57:43
Drop Stekelenburg until we can get a proper goalie and get Cleverley to Blackpool beach, put a blanket over him and what would we give him for lunch?
For half an hour, at least we tried today. I was pleased to see some effort.
Geoff Evans
34
Posted 04/12/2016 at 18:00:40
If you can't be good, be lucky.

Darryl Ritchie
35
Posted 04/12/2016 at 18:01:54
If there is such a thing as a brilliant draw, that was it. At last, something to build on.
Still haven't put in a full 90 yet, though. If we could've just played the entire game the way we played the second half, we would have won easily.
Holgate totally dominated Rashford. Our kid beat their kid!
David Pearl
36
Posted 04/12/2016 at 18:06:07
I don't know lf I agree that a point was totally undeserved. Team found some passion and gGoodison found its voice. We need to keep both. Holgate never let's himself down. Valencia added something too. Let's keep it going. And Robles deserves a go again now.
Bill Gall
37
Posted 04/12/2016 at 18:07:42
I do not think that this point was undeserved, as their keeper had the more difficult saves, and their goal was a Xmas gift from our keeper.
The only positive from the game was this team showed they are capable of putting in the effort and desire, and now the manager has to get them to do it over 90 min.
Barry Jones
39
Posted 04/12/2016 at 18:15:42
Just the way the team kits up says a lot. Most of the players are just wearing the short sleeve shirts. Lukaku is wearing an undershirt (at least one) and gloves as he obviously needs to keep warm. Why don't we buy him a blue duffle coat with 10 on the back.
Idrissa Gueye has a short sleeve shirt and SWEAT BANDS on his wrists. I don't think we would find sweat bands in Lukaku's kit bag. Can we get rid of this big, useless, lazy, bitching lump asap and play someone else.
Enner Valencia put far more effort in that Lukaku after he came on. I have the feeling that Koeman would have pulled Lukaku if not for the two injuries... or is that hopeful thinking?
Brian Hennessy
40
Posted 04/12/2016 at 18:15:48
I think the headline is very harsh. Much better performance than of late and their keeper had a blinder.
Still plenty of work to do but lots of effort and passion on show today and something to build on.
Gary Willock
41
Posted 04/12/2016 at 18:19:50
Much better, and I thought we deserved at least a point. However, we did show them wayyyyy too much respect in periods, and you can see our confidence is not good.
Start the next game with the team that finished, with 2 up top and two tricky wingers. Go for teams from the off and at least have a go. Find a playmaker, another Idrissa and a terrier to play next to Rom and we'll be sound.
COYB!
Barry Jones
42
Posted 04/12/2016 at 18:20:24
Another observation: Even in the warm-up, Lukaku looked lazy. All the others are putting something into it but not him. On the knee-raise exercise, Lukaku wasn't even raising his knees above knee height, if that makes sense anatomically.
Trevor Lynes
43
Posted 04/12/2016 at 18:23:32
Cleverley should never have been signed.I said that before he arrived.He is a bog standard midfield drone who does not score or create.We are absolutely fielding too many non scorers and spoilers.The standard of football is disgraceful.
We badly need a few players who can control the ball, pass accurately forwards and chip in with ten goals a season.Valencia should be played alongside Lukaku otherwise we are completely devoid of any potency.Barkley is not the answer up front and if he does not develop a football brain he may as well sit on the bench.I would play Holgate with Williams instead of Funes Mori.Get a creative player in front of Baines and put Barry out to pasture.We need to dump Cleverley, Kone, McGeadie, Niassie asap and sell McCarthy and Barkley while they are still worth money.
David Hallwood
44
Posted 04/12/2016 at 18:25:03
Agree with Brian (#40) – very harsh headline. When we changed formation we looked like a team rejuvenated. Barry & Gana instead of being defensive spoilers, became CMs and ran the game in the last 20 minutes – and we had 5 attempts on target!! What more do you want.
Hopefully we've seen the last of the formation but I'm not holding my breath.
Mick Davies
46
Posted 04/12/2016 at 18:27:42
Koeman has just talked the biggest load of tripe I've heard from an Everton boss... and after Martinez, that appeared impossible.
Mike Powell
47
Posted 04/12/2016 at 18:32:37
I cannot agree with the headlines. I thought we deserved to win with that second-half display.
It all changed when Cleverley went off – he was woeful. How was that not a red card? Anyway much better Blues.
Damian Wilde
48
Posted 04/12/2016 at 18:41:37
Koeman:
"The whole team performance was positive and we showed great organisation from the start. We made it difficult for United to create anything.
"We went 1-0 down through a mistake which was disappointing, of course. One point was the minimum what we deserved.
"We made the subs and we took risk with four strikers on. David De Gea made one or two unbelievable saves and we could have scored earlier.
"It was a fair result. We're still unbeaten at home so we are very happy."
Great organisation? We were woeful. Can anbody see any pattern in our play?
'We are very happy' - I'm not!!!!
I have nothing more to say, am bored with Everton.
Colin Glassar
49
Posted 04/12/2016 at 18:44:43
Not pretty, not inspiring, not the result we wanted but ...in the last 30 minutes we showed more fight, more spirit, more determination than we've shown in the last 5-6 games.
Andrew Presly
50
Posted 04/12/2016 at 18:45:14
Very negative to describe that as an undeserved point! We gifted them their goal and were as threatening as they were thereafter. Two poor teams sharing the spoils. Mourinho's time wasting made that an enjoyable way to draw a home game.
It might have taken injuries to stumble on it but we should definitely be starting with something close to the team that finished that game.
Content with never seeing Cleverley in a blue shirt again, would drop Stek for that moment of idiocy and would be nice if Lukaku put a shift in other than when anywhere near his mate Pogba but there are positives too. That's a solid centre back pairing given time, Gueye was immense again and Holgate looks the part. Davies in next please, Ron. Even Valencia looks like he can get on the end of things in the box so probably deserves a closer look.
As stated above it's something to build on going on to a winnable game at Watford.
Tony Heron
51
Posted 04/12/2016 at 18:46:12
Today's performance by the Blues left me all nostalgic. Ahh!, remember those days playing footie in the primary schoolyard and when the ball came to you, you just wellied it up front and if you managed to kick it 5 yds your mates would say "Good one"!! S
eriously is this what the "School of science" has come to. If only Alex Young was around now, no I don't mean if he was younger, I just wish he was still on the books even at his advanced age. To think that Bolasie is called a footballer and treads the same turf as the Golden Vision.
Paul Thompson
52
Posted 04/12/2016 at 18:46:31
Well, contentious headlines get the clicks and I suppose 'underserved' therefore served its purpose. But it's wrong. It wasn't a good game football-wise, but Utd have been generally playing a well and it was important to shut them down, which we did in the first half until Stekelenburg's rush of blood.
Man Utd dominated the first 15 minutes, but we played pretty well for the final 30. Much better intensity and movement and the fact is we actually had more shots on target. It is, true, however, that we ended up with our best formation by accident rather than design. Let's hope that Koeman has learned that lesson.
Jay Harris
53
Posted 04/12/2016 at 18:46:50
Michael,
Very harsh headline based on the 90 minutes where we had 6 on target to their 2.
I thought Mirallas was MotM closely followed by Gueye. Much more effort all round – we just needed more brains than brawn.
Goal scoring box-to-box midfield player and goalkeeper to add to the essential centre-forward in the January sales and we will be cooking with gas.
Rick Tarleton
54
Posted 04/12/2016 at 18:48:08
Is Joe Hart available in January?

Amit Vithlani
55
Posted 04/12/2016 at 18:50:20
"Dour Dutchman"
"Undeserved Point".
I am guessing, Michael, you dislike Koeman?
Yes, we were absolutely fucking shite for big chunks of the game, and may have conceeded two goals.
But, equally, prior to the subs, De Gea pulled off a good save from Mirallas and if Stek does not have a brain fart, we go in half time at 0-0.
We deserved a point, as we forced United back after the subs came on.
Granted, it had nothing to do with Koeman's starting XI, which was a fuck up, or his tactical substitutions, given two of them were enforced.
The players responded to 4-4-2 and if we are going to play direct football and press up the pitch, then 4-2-3-1 aint going to cut it. Bolasie, Cleverley and Barks need to be given a break from the starting XI. Valencia gave Lukaku good support and by pushing United back Gana got in the box to win a penalty.
I hope Seamus is fit as I'd play him in front of Holgate.
Lastly, Koeman needs to wipe the shit from his eyes and drop Stek. He is just far too error prone.
Happy with the point but hope Koeman learns some lessons and starts picking a starting XI which suits the direct, high press game he wants to play.
(ie 4-4-2)
Barry Jones
56
Posted 04/12/2016 at 18:50:52
On the whole I would agree with Koeman's comments. We looked far more solid today than it recent games. We also put in more effort but the pressing game is still not at the level it should be and United had one or two slick passing movements around our players in the first half.
Generally though, and especially in the second half, we stunted any United creativity and started to control the game a bit more, especially when the holding midfielders stepped up higher and after the substitutions. Funes Mori still looks uncertain and a bit slow on the ball. Maybe one of the kids could step up into that role.
Gordon Crawford
57
Posted 04/12/2016 at 18:50:58
Koeman's interviews are just sounding delusional now. Maybe just maybe he will see that a four four two suits us better.
Also can Lukaku and a few others just take a long hike and not come back. Just so fed up with the lack of effort some of these players show.
Mike Green
58
Posted 04/12/2016 at 18:54:18
Totally agree, Colin (#49), for the first time in weeks they actually looked like they had the bit between their teeth. Koeman needs to harness and build it up. Oh, and I've come to the conclusion that Geri is a bit more pony, than show....
Jamie Sweet
60
Posted 04/12/2016 at 18:55:25
I only managed to tune in for the last half an hour... lucky for me so it would seem.
Without the rubbish 60 minutes I obviously missed affecting my judgement, I thought we were pretty good and offered far more than Man Utd.
Valencia looked lively and Holgate was excellent (as he was at the start of the season).
I also thought that big fella with the funny hair for United had a great game!
David Pearl
61
Posted 04/12/2016 at 19:03:02
Irritates a bit people waiting to quote Koeman's words and pick at everything. We did that with Martinez and it didn't achieve anything. I am happier with him the last two weeks as he tries to wake up the lethargy within the squad.
Still not sure we have any clue how to control and attack as a team. But it helps with the right attitude and energy. Let's see now if they use this to keep improving.
Let's get this playmaker we need and see what happens. Koeman needs some time and we need a bit of patience.
Kim Vivian
62
Posted 04/12/2016 at 19:04:08
Re this article headline – I thought we thoroughly deserved a point. Are the authors inferring that Man Utd deserved 3?
Mark Pierpoint
63
Posted 04/12/2016 at 19:04:10
Thing is, Gordon (#57), Koeman isn't delusional. Let's be clear, a great number of them players he doesn't rate. He can't come out and say it openly though. If this were his team or if criticism in public could work, then he would do it. Evidently neither are true.
Truth is though he is making a positive show until January.
Joe Clitherow
64
Posted 04/12/2016 at 19:04:31
Just in from the game.
Ridiculous headline, the game is played over 90 mins and, despite Man Utd dominance in possession, we were by far the better team for the last half hour with far better chances.
Switch goalkeepers and we would have had a decisive win.
Also, Mason Holgate was absolutely outstanding when he came on and the referee Oliver had a terrible game apart from the penalty which was nailed on.
Mark Dunford
65
Posted 04/12/2016 at 19:05:03
Agree with majority sentiment. We worked hard to secure what turned out to be a deserved point; De Gea is a great goalkeeper who made some great saves and we don't have a good enough goalkeeper on the books which is why we went one down to a silly goal.
Some very good performances in last 30 minutes and I prefer Holgate to all other available options for right side of central defence. Baines held his nerve impressively for an excellent penalty. More by luck than judgement, but we got there in the end and it was a fair result.
Mick Davies
66
Posted 04/12/2016 at 19:07:27
Paul @ 59, do you really think we deserved a draw? It was only down to luck that the starting 11 was changed so effectively (Barkley was coming on until Konman was forced to put a 'kid' on), we're at home to a weak side low on confidence and we go about an hour before having a shot on target.
Our midfield is by-passed by their attacks and our 'hit and hope' long balls. No we never; I've seen more worthy pen's not awarded just this weekend, and 15 mins of possession does not convince me that our manager is clueless. I'm relieved but not happy.
Anthony Flack
67
Posted 04/12/2016 at 19:09:13
Blimey, Michael, you must have been watching a different game to many of us. What was undeserved about the point?
They should have been down to 9 men, we kept a good degree of control and nearly snatched it at the end.
I thought Holgate and Valencia did well, Gana and Mirallas did well.
Maybe the margins are fine but we could do ourselves a lot of good by viewing life from the perspective of a half-full pint.
Cheers
Jim Bailey
68
Posted 04/12/2016 at 19:14:05
Michael, with respect were you ever so slightly inebriated when you posted this?
They, Man Utd should've been down to nine men, hopefully retrospective punishment will follow for Rojo and Ibrahimovic.
On a plus point, my missus had gone downstairs for a smoke and thought that Everton had scored. I had to explain that Lukaku had actually made a tackle and that the roof had nearly came off the Old Lady.
Last 10 minutes great; previous 80 minutes bang average. Sort it, Ronald.
Danny Broderick
69
Posted 04/12/2016 at 19:16:06
Undeserved point??? Bizarre headline, I don't know what game you were watching Michael. Stekelenburg didn't have a save to make in the whole 90 minutes. He went walkabout for their goal, and they hit the post - does that mean they deserved to win more than us, with De Gea making a couple of great saves second half?
A mixed bag today. I thought the first half was 50/50, I don't know what Stekelenburg was playing at for their goal...
I thought we started the 2nd half dreadfully, but we then went 2 up front, first with Mirallas, then with Valencia, partnering Lukaku. The last half hour we were very good and penned them in.
Positives: the defence defended well (including an appearance from Holgate). Gueye was magnificent. The set pieces were much better thanks to Mirallas taking them. We also got some support around Lukaku second half.
Negatives: Stekelenburg for their goal. Cleverley didn't have a great game either, although he at least gives you some energy, which you don't get from Barkley. You need that energy against the better teams...
More positives than negatives for me today...

Paul Conway
70
Posted 04/12/2016 at 19:17:15
As an Everton supporter, it's critical. If I was a Man Utd fan, it would be worrying. All that dosh Spunked away on names. And more dosh to offload come January!
Pogba is definitely living up to his pricetag... the one that saw him leave United.
Derek Knox
71
Posted 04/12/2016 at 19:18:40
Having watched the game, albeit on TV, I fail to see how the point was 'undeserved' feeling that we proved to be a vast improvement on previous outings.
Also felt the dropping of both Jagielka and Barkley, was not only long overdue, but proved to be justified too!
I also watched the Bournemouth v LIverpool game, and I have to admit to admiration for the Home side, as they never give up, and play, not only for the full period, but for each other. There is maybe a lesson to be learned there!
The next few games will be not only be crucial, but also pivotal to our future this season.
I still think we have the correct manager, it's just going to be a harder task than first imagined, to get into the upper echelons of the table.
Michael Kenrick
72
Posted 04/12/2016 at 19:18:50
I'd hoped we were going to play better but the football in the first half was dreadful, hoofball shite. The goal was a total joke and I was livid with Ramiro Funes Mori for his abject failure to get in and clear it off the line. So I was a little miffed at that point...
That continued into the second half and it was only with the enforced subs that we did indeed improve somewhat. Was that enough to 'deservedly' draw the game? Sorry but I don't think so. It was too late and the game was lost and we were giving the ball away at will. The penalty was pure luck and the only way we were going to beat De Gea.
Yes, we got a sight or two of goal finally, and if we'd played like that for a greater portion of the game, it could have altered the balance of the play a little... but crucially we still could not get it past De Gea from open play, and that is our lasting weakness since the Big Lumox has stopped scoring.
Seamus McCrudden
73
Posted 04/12/2016 at 19:19:00
Deserved point in my opinion.
Patrick Murphy
74
Posted 04/12/2016 at 19:20:18
Both teams were as bad as each other for the majority of the game and Everton probably just about edged it on chances created. I too thought United didn't do enough to win and Everton weren't bad enough to lose. A draw was probably a fair reflection of the game.
As for Everton, they started well for 15 mins or so and ended the game on top but the bits in-between were woeful. Too many players think they have to wait for the ball to arrive at their feet and only Gueye and Holgate showed how players should play in a blue shirt.
If Ronald honestly sees something in Cleverly, I'm afraid I can't see it. Mirallas at least reacted to the howls of derision aimed at him in a positive way, but we have a long way to go before we'll see a decent performance out of this group but at least they never threw the towel in.

Brian Williams
75
Posted 04/12/2016 at 19:20:47
Undeserved. What you on about Michael?
Stekelenburg didn't have a save to make and De Gea made at least two outstanding ones.
Got that headline wrong for sure!
Dave Southword
76
Posted 04/12/2016 at 19:23:26
So ToffeeWeb has clearly decided that Koeman is not the man for us with its biased reporting.
Are we going to see the stupid fans who don't want the manager sacked after 5 months called Koeman Apologists soon? We've already got "Dour Dutchman".
John G Davies
77
Posted 04/12/2016 at 19:23:27
Koeman's summation of the game is accurate. We kept our shape defensively and marked a lot better than in recent weeks. That is despite a lack of confidence shown by Funes Mori.
We deserved our goal, he was brave enough to play with four forwards at the end and got his reward.
Lukaku did not work hard enough and does not show when defenders and midfielders gave the ball. His work rate went up to the required level only when Valencia came on.
Gana is the buy of the transfer window. Fantastic player.
Deulofeu should not be played in the wide positions. He moved inside for 5 minutes and played two eye-of-the-needle passes into feet in a crowded box. As a No 10 or nowhere for me.
Holgate is a better defender than Coleman. The sooner he gets a run, the better.
All-in-all, a well deserved point.
Tony Hill
78
Posted 04/12/2016 at 19:26:11
I was annoyed at half-time because we looked clueless again but I thought we showed some guts in the second half when Mirallas started to play and Man Utd helpfully stopped presenting any threat after 65 minutes.
Gueye really is a shining star, he never stops trying and he was excellent today, largely shutting out Pogba. Holgate's intercepting clearance late on showed what a natural defender he is; he looks a massive talent to me.
All-in-all, I am happy because there was some heart eventually in that performance against a physical United side. (Rojo should have been sent off without question.)
George Cumiskey
79
Posted 04/12/2016 at 19:27:44
Surely now Cleverley and Deulofeu have played their last games for Everton. If not, then it's a travesty for football!
Has anyone seen a more talentless player than Cleverley in the Premier League? If so, who is it, because I can't think of one!
Pete Edwards
80
Posted 04/12/2016 at 19:29:23
Michael, why was the point undeserved? If it wasn't for the keeper howler there wasn't really anything in it!
I thought we battled a whole lot better than we have over the last month or more and made their keeper make 3 crucial saves.
I'm astounded by the negativity all the time.
Ian Bennett
81
Posted 04/12/2016 at 19:31:29
Stekelenburg is awful, add to that Clverley and Bolasie.
Decent performances from Mirallas and Gueye. I'd give Valencia a start against Watford.
James Byrne
82
Posted 04/12/2016 at 19:31:35
The fact that it took us 74 minutes to come to life may justify the headline.
We came alive when that lazy bastard Lukaku chased after a lost ball and won it back on 74 minutes. The crowd immediately reacted and we had some flow about us.
The first 73 minutes were a very poor and average home display against a very average Man Utd side. Gueye was superb today and my MotM.
Sitting in the Park End right next to the away fans was bliss to see their faces when we equalized; with this point and the Red Shite getting beat, it wasn't a bad day in the end. COYB.
Colin Glassar
83
Posted 04/12/2016 at 19:34:07
I'll just throw my tuppence worth into the hat ratings wise.
Stekelenburg - 1. He only really had one situation to deal with and he fucked it up big time.
Coleman - 7. Seemed to be getting back to his best. Marshalled Martial quite easily.
Williams - 5. Seemed nervous and unable to pick out a colleague in blue.
Funes Mori - 5. This guy should be sold as a constipation remedy.
Baines - 7. Love this lad. Has lost a bit of pace but he's one of our own.
Bolasie - 3. His feet are too quick for his brain. I can't make up my mind if he's crossing the ball or shooting.
Gana - 8. What a great little player he is. Neat, tidy, never gets flustered, loads of energy. MOTM.
Barry - 6. What a servant he's become. Not his best game but his experience and positional play is invaluable.
Cleverley - 0. His wife is gorgeous
Mirallas - 6. Invisible in the 1st half. The subs seemed to galvanise him after an hour.
Lukaku -6. Does what he can (IMO) with shite service.
Subs:
Holgate - 8. Didn't put a foot wrong and is a more than capable replacement for Seamus.
Valencia -7. Ran after everything, showed skill and effort something we've been sadly missing recently.
Deulofeu - 6. Terrifies defenders. Draws 2-3 of them out of position and frees up space for teammates.
Overall 6/10 but at last we showed some balls to get back into the game.
Jeff Armstrong
84
Posted 04/12/2016 at 19:34:08
Undeserved! Bollocks, more corners, more shots, more shots on target our goalie gifts them a goal, their only other effort on target hit the bar and Rojo should have seen red.
Michael, you need to start looking through blue-tinted glasses mate.
Gavin Johnson
85
Posted 04/12/2016 at 19:35:01
Glad that Koeman had the common sense to drop Jags. Funes Mori played well. Both he, and Holgate should now be playing ahead of Jagielka.
Well done to Valencia. I said last week the lad should be given a chance alongside Rom who again looked languid for large parts of the game. We definitely need to be playing with 2 strikers and from what I can see a 4-4-2 is the way to go until we bring in the players we need.
Damian Wilde
86
Posted 04/12/2016 at 19:39:02
Thought we were poor, but so were they, so don't agree with headline of the article. Draw a fair result. Two crap teams.
Raymond Fox
87
Posted 04/12/2016 at 19:39:07
I think some on here lead a dogs life at home, because whatever happens in the games all they do is moan and complain every time they post, its effing boring!
Yes, we are not world beaters but we've just made a draw with close on the richest club in the world, surely that deserves a little praise.
Me thinks you expect too much.
Bobby Thomas
88
Posted 04/12/2016 at 19:41:30
Dave Lynch
89
Posted 04/12/2016 at 19:43:03
Stekelenburg had nothing to do all match.
If he had stood on his line, that situation would have come to nothing.
What he was doing when he came racing out I don't know but he had no right to do so. It was a nothing situation.
Nigel Munford
90
Posted 04/12/2016 at 19:43:40
Pete (#80), I was just about to say the same, we scored the same amount of goals as they did so a point a piece, that's the way the points are divvied up. So not sure why it wasn't deserved. I also agree with you, there's so much unnecessary negativity on here.
Damian Wilde
91
Posted 04/12/2016 at 19:43:42
Ray, the game was boring. It's hard after spending my whole afternoon to watch this crap to be 'positive'.
Ciarán McGlone
92
Posted 04/12/2016 at 19:44:20
Gary Neville spent the game moaning about Funes Mori too.. I thought he was talking through his arse too.. Had a good game.
Anyway, at least we can put this theory to bed that Koeman is fault-free because our players are shite.. Great last 25 minutes. This team can play when it wants, or is allowed to.
Phil Walling
93
Posted 04/12/2016 at 19:44:21
Well, this is a first – the Editor gets more stick than the team! Just amazing how a jammy penalty changes so many people's perception of the performance and the manager's tactics.
I though both teams were crap with hoof-ball the prominent feature of the game. Get ready to welcome back Barkley and Jagielka next week!
George Cumiskey
94
Posted 04/12/2016 at 19:45:03
The only problem now if we want to get rid of Lukaku – his value has plummeted; should've gone in the summer!
Ray Robinson
95
Posted 04/12/2016 at 19:47:26
"Undeserved point????" - thought, in the end it was fully deserved even though we were crap for most of the game. Says more about United than it does about us.
Gueye was superb, Mirallas did well second half, Holgate and Valencia looked good when they came on – apart from that, nobody rose above mediocre.
For those of you saying Jagielka deserved to be dropped, it's hard to disagree but have you seen how bad Williams is these days? He looks the exact opposite of Stones – bloody awful on the ball and awkward defending. Of the two, right now, I'd choose Jagielka.

Sam Barrett
96
Posted 04/12/2016 at 19:51:33
Ray 95, good point re Williams. Holgate is a natural defender, he deserves a run.
Jay Harris
97
Posted 04/12/2016 at 19:52:11
Colin,
Surely he deserves a one if only for his choice in wives.
Mark Morrissey
98
Posted 04/12/2016 at 19:52:44
Undeserved point ? Reading this headline simply made me decide not to read your article because the HEADLINE is wrong. Did you watch the game or do you support Man Utd? Abject headline.
The most dogged Everton have been all season long. Rubbish technically, poor goalkeeping and Cleverley was atrocious but undeserved? We were unfortunate not to take all 3 points. Onwards and upwards. For all their millions Manure were just that, shite.
Ian Cowhig
99
Posted 04/12/2016 at 19:52:57
Man Utd were not good enough to claim victory either. So to say undeserved point is harsh. Thought the last 20-25 minutes showed the type of passion, hard work, required to get us moving forward.
Valencia put some good work in. And Deulofeu did a lot of work as well. (Though I wish he would cross when he has initial chance. When he doesn't it confuses people running in to the box.)
Holgate in my view should never have lost his place in the team. He was part of the team that started season winning games. What a tackle just before our goal.
Koeman says Holgate and Davies are not ready. I beg to differ with Holgate. And though he tries hard, Cleverley is struggling form wise, so putting Davies in can't be any worse.
Patrick Murphy
100
Posted 04/12/2016 at 19:54:55
If Everton played in Red shirts and had gained a point after being poor for large parts of a game, we'd be getting told by some people look at that team they never give in or that's how you win titles take something from a game when things aren't going your way.
We got a point which was deserved in the sense we were equal to the opponents in many parts of the pitch, if we had failed to get a 'jammy' penalty and lost the game 1-0 the posts may have been a little more hostile and vitriolic but they wouldn't have been fair or accurate.
John Hughes
101
Posted 04/12/2016 at 19:55:55
I really don't understand the criticism of Koeman's post-match comments. Do you expect him to come out every single week and say what we all know? That we have players out there that are just not up to the job. Give the bloke a break; he extenuated the positives (and there were some) and as far as I could see he kept it fairly brief.
Not sure that Koeman can do right for wrong with a lot of people on here but it's beginning to get a little tiresome.
It's fairly obvious we need a major rebuild and it's not going to take a few months, let alone a few days, at a time when the transfer window closed.
Lighten up everyone, we got a well-earned point today and we need to get behind this team, as poor as some of them are. If we can get five points from the next three games, we can look forward to 2017 in a far more positive light.
Kevin Rowlands
102
Posted 04/12/2016 at 19:56:20
You rightly getting some stick for that ridiculous headline, Michael. Second half today was probably close to being the best we've played this season and we fully deserved the point if not all three.
On another note, I really hope Koeman sticks with 4-4-2, Lukaku is better and much more of a threat when he has a striker alongside him.
Lastly, Cleverley should never wear a blue shirt again, he's utter fucking garbage, offers nothing and should be the first name on the clear-out that will be happening in the next two windows.
Dave Brierley
103
Posted 04/12/2016 at 19:56:32
Ridiculous headline. We deserved at least a point.
Love Gueye. From the first to the last minute he never stops. An example to the rest.
Keep the faith.
Paul Hughes
105
Posted 04/12/2016 at 19:57:27
Just home from the game. I disagree with the headline too. True, we were pretty poor. Our distribution was terrible. But then, so was United's.
The first half barely had a shot on goal from either side, it took a bit of brain failure from Stekelenburg to enable United to edge in front.
We did up the pace a little in the 2nd half, but the telling thing was that, with 30 mins to go, United settled for 1-0. We therefore got, in my opinion, exactly what we deserved.
Andy Meighan
106
Posted 04/12/2016 at 19:59:01
Like a few have said, we probably did have the better chances but, my god, are we awful to watch. It's mistake after mistake No fluency, no guile, no craft, no idea... and you never sit there thinking "We will score here soon".
Valencia did well when we he got on and if Koeman's got anything about him, he'll start him at Watford (big 'if' like...)
As for Lukaku, I swear my dog could trap a ball better than that useless lump. I can't believe anyone would want to pay 㿨M for him. They'd have to be mental.
Delighted we got the penalty but I never thought in a million years it was a penalty.
But how he doesn't send Rojo off is a joke He flew in on a parachute – disgraceful decision And I always said he's about the best ref in the Premier League... Not today.
I heard a few blaming Funes Mori for the goal What was he meant to do when that fucking idiot has a brainstorm like that?
Not disappointed; not happy. But I'm dreading the Arsenal and Liverpool games because they'll take us the cleaners with their speed. Yes, Liverpool concede but we won't create nothing – like we haven't done for weeks That said, if he starts with 4-4-2, which I doubt, we might just see something different.
But please, Ronnie boy... no more Cleverley. One of the worst players i've ever seen in an Everton shirt and by god that's saying something!!
Gavin Fennessy
108
Posted 04/12/2016 at 20:02:17
Don't agree with your take on the game overall, Michael. I thought they were two poor sides failing to create much in the final third. Stekelenburg was rarely called into serious action and we did threaten in the second half.
It wasn't good enough but did see some more effort than in past two matches. Would you say the point was undeserved if the order of the goals was reversed?
Liam Reilly
109
Posted 04/12/2016 at 20:03:06
Poor headline. To say United deserved to win that shows a distinct distrust or dislike of Koeman.
Wasn't great as a spectacle, but the team deserved a point.
Andy Meighan
110
Posted 04/12/2016 at 20:05:54
Patrick, we don't play in red shirts though, do we? We play in Royal Blue.
That was another poor performance littered with poor passing, poor decision-making, and just brainless hoofball. It got better the last 20 minutes when Valencia gave their centre-backs something to think about Other than that, the 2 of them were comfortable all game.
Also a big mention to Holgate who does not look out of place at all on the big stage . Pity others can't see that, hey, Ronnie?
Brent Stephens
111
Posted 04/12/2016 at 20:09:23
1/10 for the Editor! Undeserved my bum. Many mistakes in the first half at least but I thought there was more fight there than usual, especially in that last rousing half hour. The crowd reaction (difficult to get these days) said it all. Well played Seamus, and Gana; Barry improved as the game went on. Good to see Holgate retains his confident approach.
Yanick Bolasie, run down the wing for me - and just keep on going. Before today he'd made the greatest number of crosses in the Prem - most of them to nobody at all.
And, oh, Lukaku - if he ain't scoring, he ain't doing anything.
Delboy will be gone before long, surely.
I thought the set up was right today - 4-3-3 morphing into 4-4-2.
Nicholas Ryan
112
Posted 04/12/2016 at 20:12:11
Conclusions:
1. Poor game between two poor sides.
2. Point was deserved as De Gea had to make several fine saves.
3. Holgate oozes class from every pore.
4. Deulofeu is annoying, but he makes stuff happen.
5. 'Stekelenburg' is clearly Dutch for 'headless chicken'.
6. We need Virgil Van Dijk, but he'll go elsewhere.
7. We need Joe Hart, but he'll go elsewhere.
Colin Glassar
113
Posted 04/12/2016 at 20:17:15
Phil, most of the game WAS dire but a few of us have been pleading with the players to show some heart, desire and passion and that's what we got in the second half at least.
Maybe that "undeserved point" is a turning point, I don't know but at least we showed that we can knuckle down and fight for a result.
And Michael, to paraphrase Ronald Reagan, "Mr Kenrick, tear down that headline!!".
Paul Burns
114
Posted 04/12/2016 at 20:17:21
Both teams deserved to lose.
Eddie Dunn
115
Posted 04/12/2016 at 20:21:10
We and Koeman are learning about our squad. Today we learned (if we had any doubts) that Cleverley is one of the most ordinary players in the Premier League. To think he was quite good for England a few years ago!
Stekelenburg is slow, and his decision making is questionable; he certainly is not the answer to our goalkeeping question. Robles can't be any worse.
Valencia showed some good touches and is surely worth playing up off Lukaku.
Finally the defence was better without our great servant Jags. Funes Mori did okay (if he had noticed the looping ball for the goal was going in earlier, he could have stopped it). Holgate is ready for the first team.
I was pleased with a point, and thought we negated their threat and could have nicked it late on.
Koeman is full of positives so let's not knock him, after so many have criticised him for his blunt criticism of one or two of our players.
Onwards and upwards... I do like Bournemouth!
Guy Hastings
116
Posted 04/12/2016 at 20:21:15
This was a game when Lukaku should have been told to go out there and tear their back line, esp Jones, a new one. They were there for the taking. Instead, he was abject. How many times does he run
behind
the centre back when anticipating a cross?
Once or twice he shrugged off his defender but then he was so deep he might as well have been sitting on a Pier Head bench. Of course, he'll put one in against Watford and be declared a world-beater.
Damian Wilde
117
Posted 04/12/2016 at 20:24:11
If Koeman plays Stekelenburg and Cleverley again, he deserves sacking.
Paul Burns
118
Posted 04/12/2016 at 20:25:12
We need a whole new spine to the team. A commanding, imposing goalkeeper who dominates his penalty box,; a commanding young centre half; a creative, crafty centre mid; and a goal machine centre-forward who works for the team.
Go and find them, Walsh.
Andy Crooks
119
Posted 04/12/2016 at 20:32:18
Michael K, you are getting some stick about the headline, however, writing a report as the match progresses must be a a tough job. I like it because it has freshness that is unique.
I thought that we were better than our last few games but I think we will be happier with the result than United. It WAS, in my view a lucky point.
Colin Glassar
120
Posted 04/12/2016 at 20:32:57
I see Jose is being hs usual ungracious self in his press conference giving it to us and the media with both barrels. Oh well, they created the monster now they can live with him.
Damian, I agree about Cleverley but can we really trust Robles until January? I almost kicked the telly when Stekelenburg ran out of his box to try and tackle a United player after gifting them a goal. The man obviously has a screw loose.
Winston Williamson
121
Posted 04/12/2016 at 20:33:35
Well it's a start. Some desire and fight displayed, which is what some of us having been asking for.
The quality is there sometimes too.
If we display that level of desire and fight we'll get more points than we've recently picked up.
However, we do need a new spine to the team. Whether that's in January is debatable though.
Funny how Holgate didn't look out of place isn't it? I'm fairly sure Davies wouldn't have been worse than Cleverley... but what do I know?
Max Murphy
122
Posted 04/12/2016 at 20:33:50
The team will not progress with that rubbish goalkeeper and the centre backs are not good enough. The weaknesses in our defence is reflected by the poor form of the midfield – there lies the problem. Robles played very well last time – clean sheet and very solid.
I have never rated Stekelenburg, and there is only one reason he's in the team and that is to do with his nationality. Robles may not be the goalkeeping solution, but he should at least be given a run ahead of Stekelenburg who's now costing us points on a regular basis.
Hywel Owen
123
Posted 04/12/2016 at 20:36:29
An "undeserved point"? I think we all know by now that Liverpool and Man U are the joint owners of the BBC and the rest of the crap we call the Media.
Everton have never won anything – it's always the other team that loses it. Always last game on MotD unless we are playing one of so called "big teams". I have suffered 60+ years of this crap and by now I am immune.
Happy days... Point taken???
Andy Crooks
124
Posted 04/12/2016 at 20:39:56
Also, I think Cleverley tried hard and if he is not good enough ,then the coach is the man to take the blame; his selection was bizarre.
Rather than have one of the usual suspects sent out to spout inanities, I would like the coach to explain and justify this hairbrained piece of nonsense.
Steve Guy
125
Posted 04/12/2016 at 20:40:26
Title to this piece needs changing. Our dodgy goalie gives them the lead, but we get a foothold in the game, De Gea has a good game and we (for once) get the penalty we deserved. I've not even mentioned they should have played most of the game with ten men.
Well done Blues for finally digging in and showing some bottle.
Tony Hill
126
Posted 04/12/2016 at 20:41:22
Colin (120), Mourinho is a graceless tit and always has been. Thank God we didn't get him as our manager though I'm embarrassed to say I wanted him at one stage. He was a big reason for us getting a point today so, for that, much thanks.
Stephen Brown
127
Posted 04/12/2016 at 20:41:40
Cleverley really was awful today. Obviously we want him to do well but he contributes nothing. He can't defend well, has little skill, doesn't score.
Peter Laing
128
Posted 04/12/2016 at 20:45:37
Good to see Mirallas finally play the whole 90 minutes and put in a shift. Gueye once again back to his best and decent cameo's from the bench from Holgate and Valencia.
Imperative that in January that Koeman addresses the spine of the side starting with the goalkeeper, followed by a centre-half and a couple of midfielders and a forward.
Colin Malone
129
Posted 04/12/2016 at 20:47:38
Colin @83
Lukaku - 6. Does what he can (IMO) with shite service.
I'm bewildered. What your saying is, if it's not on a plate... Unbelievable.
Mike Allen
130
Posted 04/12/2016 at 20:52:34
Poor game, two poor teams, crap referee, stupid goal and never a penalty, Man Utd should have had two players sent off.
Bright spot: Holgate, should never have been left out of the side in the first place. When Coleman is fit, play him wide right in front of Holgate.
Roger Helm
131
Posted 04/12/2016 at 20:53:30
Ignore them, Michael, your headline is right. The first half was dire and I could not believe we were only one down –United were not great but they were organised, fast and strong, passed well and won every 50/50 and second ball. We looked like we had never played together before, and weren't too bothered about winning.
The substitutions made the difference, and then we seemed more on equal terms, and played with more heart and energy. But I thought the penalty was a bit soft – we often see them not given.
I was very pleased with Holgate when he came on – what a shame he understudies the undroppable Coleman.
Dave Abrahams
132
Posted 04/12/2016 at 20:54:36
Very happy with the result, which we deserved. A scrappy game with poor football from both sides.
I'm not a fan of Mirallas but thought he was very good in the second half and, although De Gea made a good save off Kevin's shot, he didn't have to move. I felt Mirallis should have scored with that effort – it was a great chance. If he could play like that every week, then he would have no problem keeping his place.
Holgate came on and did what we know he can do. Gueye had another excellent game apart from gaining the penalty. Valencia deserves more games. Lukaku gets no service, say his fans; Valencia made his own space with movement and energy.
All-in-all not a great game but there is potential in this team with the formation that finished the game.
Michael Lynch
133
Posted 04/12/2016 at 20:55:15
Poor game, two poor teams. Did we deserve a point? Possibly, but only just.
If we could play for 90 minutes the way we played for the last 20 minutes, ToffeeWeb might be full of happy fans. Nah, forget that, it'll never happen – the happy fans on ToffeeWeb I mean...
John Charles
135
Posted 04/12/2016 at 20:57:19
It was not a lucky nor undeserved point, and perhaps should have been all 3. Sitting directly behind Rojo's two-legged aerial assault on Gana, it is unbelievable that a red card was not shown.
Whilst by no means great we were both better than we have been and more threatening than Man Utd, particularly as the second half wore on.
Koeman is not my cup of tea and Bolasie and Stekelenburg are poor footballers brought in by the new manager. However, Gana was back to his best and Valencia was decent in a morphed 4-4-2.
Cleverley should never play for us again whilst Holgate should play every game.
It is safe to say that neither side will be challenging for the title but a much improved display is worthy of more than half-hearted praise.
Brian Wilkinson
136
Posted 04/12/2016 at 20:59:19
Mark@26, I have been shot down on here for the past 3 seasons when I said our top priority is a goalkeeper, I got nah need a midfielder, etc... at last, a like-minded poster.
We all have different opinions and here is mine: a goalkeeper, offload Lukaku and get a top class centre forward, who can head a ball, read a through ball, bust a gut to get into the box expecting a cross to come over. In Mirallas, Bolasie and Deulofeu, we have players who can come better with a target man to aim for, or play a through ball; another midfielder to help Gueye out.
Goalkeeper and striker a must,; other areas need addressing as well, but the above 2 mentioned are teh priority.
Alan Bodell
137
Posted 04/12/2016 at 21:08:39
The ref bottled it big time, they should have had 9 at the end with that leg breaker and deliberate kick on Seamus by that posing nonce.
Nice to see a bit of fight and most will have heavy legs tomorrow for a change but bring on that transfer window quick as.
Tony Hill
138
Posted 04/12/2016 at 21:19:19
It is pleasing to see Gueye getting involved in the other side's area. I know he had a bad miss last week but he has a knack for finding space (he moved very well to receive Barry's pass for the penalty) and if he can develop that as well as his fantastic defensive work then we really will have got one of the bargains of the age.
Barry Pearce
139
Posted 04/12/2016 at 21:25:20
Please let this be the last we see of Cleverley in the team. How he gets anywhere near the first team in front of Davies is bordering on criminal.
Tony Sullivan
140
Posted 04/12/2016 at 21:25:45
Why not 'Baines penalty rescues a point'? Whether it is deserved or not will be a matter of opinion.
But as always, Michael remains a consistently harsh critic. As the headline indicates.
Dave Williams
141
Posted 04/12/2016 at 21:43:52
Awful for an hour but when Valencia came on we had movement up front which created space for Kev and I thought he looked a half decent No 10 after that.
Gana, Seamus and Mason were excellent. Baines seemed incapable of forward movement for an hour but he was also revitalised by the subs and we saw some decent positive passing on the left with much better movement off the ball.
Valencia looks worth a run on this performance – sharp, quick and very mobile. Some food for thought!
John Pierce
142
Posted 04/12/2016 at 21:44:03
What's hilarious is many are inferring had Rojo been sent off, we would have taken three points?!
One thing is for sure we would be worse breaking down 10 than we would be trying to break down 11 with them having a go.
Credit goes Gana, for perpetual movement thats how he finds space by the way, Baines for his mettle on the pen, Holgate for his poise and Valencia for his nuisance value.
The rest were garbage, disjointed, ponderous. Only the fortune of injury forced Koeman into a change of formation.
Both teams looked what they were, 2 wins in 17 between them.
Wouldn't hurt to start with what you finished with Ron?
Colin Glassar
143
Posted 04/12/2016 at 21:44:50
Tony, Gana was very generous towards Barry after the game. He said something along the lines of, "Barry is always telling me what to do". Sounds like GB is being his mentor.
Brian Harrison
144
Posted 04/12/2016 at 21:47:28
For me a draw was a fair result, at least today we pressed a bit higher up the pitch. Can't fault the effort although the application is still poor from quite a few of our players.
Gana and Barry are the 2 best players we have, Gana hardly gave Pogba a kick today. Bolasie is not delivering – he seems to always want to try the difficult thing rather than the easy option. I thought he would add something to the team but so far that doesn't seem to be happening.
Without Barkley ,we seemed to move the ball a bit quicker, and I fear his days are numbered at Goodison, but he won't be alone as I think we all realize that a mass clear out is necessary.
I hope the last 20 minutes were how we are going to play for the rest of the season. A little more direct with Lukaku and Valencia up top and Mirallas and Deulofeu making up the front four.
Mark Burton
145
Posted 04/12/2016 at 22:07:47
We certainly should have being playing against 10 or even 9 men. Should those tackles have been made against Man Utd, a sending off would have been a certainty.
Fair play to Everton for the effort today and a point well deserved but, to be honest ,Man Utd were crap. 4-4-2 looks the way to play with Lukaku, as his first touches are dire when he's alone up front.
Sam Hoare
146
Posted 04/12/2016 at 22:13:20
Tell Walsh to find 9 more Gueyes. That guy can do everything. Except shoot.
We need more players with his tenacity, energy and movement and then we might get somewhere.
Valencia's impact shows how much we have suffered recently by having such an immobile striker.
Lukaku is such a dillema. Our most valuable player and a young striker with an incredible goal record comparable with some of the greats at the same age. BUT his style of plays limits us so much. Nearly all attacking play goes through him or revolves around him finding space as the lone striker.
He needs another striker to do the stretching for him and Valencia showed how that might work today. Get an upgraded model and perhaps we might be in business.
Paul Montgomery
147
Posted 04/12/2016 at 22:27:48
Undeserved? I didn't think so - Everton 6 shots on target against Utd 2. Just back from the game, and a more appropriate headline would have been "United hang on to leave with a point". That probably wouldn't pass the Michael Kenrick view of life (sorry, because you are doing a great job with ToffeeWeb) or the negative attitude of many 'supporters'.
The players seemed to get some confidence from the goal and pressed well towards the end, looking the more likely to win it. What a pity we can't give them that confidence as supporters instead of sucking the confidence out of the team and undermining players like Ross – a great talent who is greeted week-in, week-out, by howls of derision at every minor error. You pay your money and do what you like – I get that. But it's not supporting a team as I remember it from the '60s and '70s.
My antidote to supporting Everton:
1 – It's only a game.
2 – Sometimes you win, lose or draw – the unpredictability is part of the fun.
3 – You can enjoy a game that you don't win if the football matters to you – Stoke at home last season for example.
4 – There are more important things in my life... I can't speak for you.
Overall, if we took some responsibility for positive support, maybe we would be seeing better performances and games.
Just saying like .
Damian Wilde
148
Posted 04/12/2016 at 22:28:26
Tony (#140) — I completely agree.
Tony Draper
149
Posted 04/12/2016 at 22:33:06
Those were two poor teams today.
Man Utd were exceptionally fortunate to finish with eleven.
Stekelenburg has now fully proven that he is not our next Nigel Martyn.
Tom Cleverley, however, has proven that he is the new Mark Pembridge.
We deserved a point. Fortunately, by the time we appear on MotD2, I will have laughed my cock off at the antics of Jurgen Street-Porters lads and their Nivea spattered meltdown.
David Greenwood
150
Posted 04/12/2016 at 22:35:25
Undeserved.
That is poor, Michael. Very poor.
Dan Davies
152
Posted 04/12/2016 at 23:03:52
Gana was top class today. He needs some shooting practise in training because, if he can add a few goals to his game, what a signing he would be!
Also, I thought Valencia added something positive later on, some fat for Koeman to chew on there. We just need a win now to set us up for the rest of the month. COYBB.
Peter Gorman
153
Posted 04/12/2016 at 23:13:45
Dan, just seen the old MotD and Gana is a top lad. He didn't give a tinker's cuss about the two-footed lunge on him, what a throw-back player he is.
John Malone
154
Posted 04/12/2016 at 23:13:53
I've just watched the game back on Sky Plus after not being able to attend today!
I have to say, I am really concerned with Koeman's tactics and style of play!< This long ball direct stuff is dross and doesn't suit us at all, we don't have one forward player who is strong in the air or who has a massive physical presence to make us want to play that way!
We were so lucky at the beginning of the second half not to to go two down, Funes Mori's defending is car crash to say the least. The whole team do not defend or play as a unit.
The last 20 of the game were United completely stopped masked the rest of it – Stekelenburg, Cleverley, Funes Mori, Deulofeu, Bolasie are all shite. When the game is tight we have no quality at all – it is literally all kick and rush, it is shocking!! I am pining for the days of Pienaar, Baines, Arteta and Osman playing quick one- and two-touch football!!
The distribution from the back is so poor! At least if you're going to play direct football, give the centre forward a chance of getting the ball! Honestly if anyone watches the game back in the cold light of day tell me I'm wrong – I'd love it to be the case!!
Sean Byrne
155
Posted 04/12/2016 at 23:16:48
Typical biased post match commentary from MotD pundits... admittedly we weren't great but we still created more clear cut chances than Man Utd. Mourihno never shows any class in his post match interviews..
Damian Wilde
156
Posted 04/12/2016 at 23:19:45
Just watched MotD.
Koeman still referring to us as 'Everton', it's just weird. Have you ever heard another manager not say 'we'?
Jenas summed us up perfectly: 'I was watching Everton and didn't know what they were doing, they couldn't string two passes together.'
Similar to what I was discussing with the fella who sits next to me, the question being: 'What is our style/pattern of play'? Anyone know? I haven't got a clue.
Bobby Thomas
157
Posted 04/12/2016 at 23:31:40
The tactics were clearly to hit Lukaku early at every opportunity and play from there. These tactics were running out of steam before half-time. We started okay but the service into Lukaku wasn't particularly good and we were predictable.
We started the 2nd half very poorly, the wheels nearly came off and there was a spell when we were all over the place. He had to change it and did. After that, there was more variation to the play and we were getting it down and playing a bit more.
I'm all for hitting Lukaku early when it suits but you have to vary the play. After about 30 minutes, United were all over the tactics. I remember Baines tried to hit Lukaku and one of the mids read it like a book and just cut it out easy.
Start of the 2nd half was terrible – we were just banging it forward and it was coming straight back. When we got it down and mixed it up, we were better and all our best stuff came when we got it down.
Work to be done. As long as we remain tight, we can stay in games. We seem to be set up to grind out results.
Keith Glazzard
158
Posted 04/12/2016 at 23:32:06
No, not undeserved. We could have won it and it was our own fault that we didn't, but a point was certainly more just than a defeat.
We all know that they should have been down to 9 men, 10 men for 75 minutes, and we were the stronger team as the game went on. But there are clearly many things to be sorted out.
But, all things considered, not such a bad day in the end.
Denis Richardson
159
Posted 04/12/2016 at 23:32:24
Satisfied with the result but it should have been different. Rojo should have been off in the first half, how that was not a red is beyond me. Just glad Gueye wasn't injured.
Good to see Holgate step up, he should get a few games now if Coleman is out for a bit. Gueye again was pure class. He's one of the few players we have who actually looks like he knows what he's doing when he has the ball. Mirallas also played okay.
Cleverley should be added to the list to ship out in January, along with McCarthy, McGeady, Niasse, Kone, Gibson, Lennon... here's hoping anyway.
I will take a last minute equaliser if not the three points. Hopefully the players can take something from that although we can't play Man Utd at home every week. Watford away in the cold will be interesting. We live in hope.
Tony Hill
160
Posted 04/12/2016 at 23:35:55
What mattered today was that, in the end, we got proper effort and we had it throughout from some. That is an important change from the recent games where it looked like the team wasn't playing for the manager.
Crap we may well have been but if there is commitment then there is hope and it can be built on fairly quickly. I think we may look back on today as more significant than it now appears to be.
Eddie Dunn
161
Posted 04/12/2016 at 23:41:10
The ref got a lot wrong and should have sent Rojo off, however, he was lenient to Barry, who could have had three yellows! I think we got the benefit of the doubt on the penalty, due to the ref bottling the Rojo decision.
The commentators on the US feed that I was watching just accepted the Rojo yellow and Lee Dixon got just about everything wrong. Didn't see MotD, but ain't surprised at the attitude.
TalkShite covered the red's game and guess what? They had Ray Houghton as their summarizer! The only good bit was hearing the biased tit trying not to show his disappointment.
Roger Helm
162
Posted 04/12/2016 at 23:49:52
Jenas was right – we don't pass the ball because there is no-one to pass to. Whenever a defender or CM has the ball, the attackers are either standing still or running away towards the goal – and long balls over the top hardly ever work.
None of them ever shows for the ball by running towards our man in possession. So all he can do is either pass sideways or back, or lump it aimlessly up to Lukaku, who is not the best target man in the world.
I don't know why this is – maybe low confidence? You would think it something a good manager would sort out, but we are awful to watch at present.
John Raftery
163
Posted 04/12/2016 at 23:51:13
The point was deserved and we might even have won all three by the end. A crass error by our keeper, who had only one decision to make in that first half, presented United with the lead. By that stage, the visitors should have been reduced to ten men for the foul on Gueye who was right back to the form he showed in the early weeks of the season.
Yes, United hit the woodwork in the second half but the best, indeed only, saves of the game came from De Gea. Mirallas had a very good game operating in a free role and we grew in confidence after the replacement of Cleverley and Bolasie who were both proving to be liabilities.
So, while this performance was far from perfect, it was a big improvement on what we have seen in recent weeks and gives us something to build on next week.
Don Alexander
164
Posted 04/12/2016 at 23:55:43
"Undeserved Point"? I'd say so.
Posters are easily pleased if they're happy that yet another virtually last minute equaliser from a penalty was necessary to get it. Yes, there wasn't the same shameful lack of effort as recently but by just about any scale of measurement we were second all over the pitch, and for once the MotD highlights did us a favour.
Next week, they need to work harder, run more, and try to actually make a goal from open play that doesn't have input from an opponent. As an aside, can anyone remember the last time we featured as a contender on Goal of the Month? I can't, and that is definitely not down to bias at the Beeb. That's down to our players being inadequate.
Before the bullets start coming my way, it could have been worse, but to get only one point at home against a team next to us in the league should always disappoint.
Bobby Thomas
165
Posted 04/12/2016 at 00:05:38
Sam (#146),
No such dilemma on Lukaku for me. I'd flog him to the first club that offers whatever we're asking. You only have to look at the movement of Mane across the park to see what we're missing up top – genuine movement and pace that stretches teams and provides an option.

Barry Jones
166
Posted 04/12/2016 at 00:06:38
Colin Malone (#129) & Dave Abrahams (#132),
I agree entirely with your comments. People using this "lack of service" excuse for Lukaku not being involved in the game are obviously oblivious to what is happening. If he doesn't move he will never get service.
In fact, he hides. He is always second to the ball in a 50/50 with his central defender, even when the ball is played into feet. He is static. The midfielders have learnt from this. They knock the ball into him less because they know he will cough it up and it makes them look bad. They only knock it over the top for him to chase now, as he likes those balls.
The other "myth" that is prevalent here is that it is only his job to score goals. Bollocks. Maybe back in 1970 that would ring true, but not today. He has to put in a shift like the other players. The modern game is all about pressing as a team. If one man fails, the system is broke.
Rushie pressed like a maniac in his day. We called it "closing down" then. As far as I recall, he also scored a few goals too. Balotelli was ejected from Liverpool because of his lack of effort and Sturridge will be going the same way. As an experiment, why don't we start Valencia and sit Lukaku on his fat arse. There is nothing wrong with one up top, as long as EVERYONE is working hard.
Eddie Harrison
167
Posted 05/12/2016 at 00:12:52
A little bit off topic, but did anybody else notice a steward laying down behind Stekelenburg's goals, celebrating when Ibrahimovic scored..???
Mark Wilson
168
Posted 04/12/2016 at 00:19:08
Some utterley bizarre reporting and amateur punditry after this game. "Undeserved draw"? What? Man Utd were gifted their goal, and hit the bar. They did bugger all else with their possession. They should never have had 11 on the pitch as a crystal clear example of two footed off the ground tackle went unpunished by a red card.
De Gea made three top notch saves and Valencia really missed when he should have planted a header in their net. But I get it after saying all that it's still the case that we were shite for long periods, disorganised, lacking any creativity, lumping the ball over forward players heads and generally looking short of leadership and ideas.
I thought we did start a little better than in recent weeks. But not much. We've badly lost our way, the manager seems to be a bit lost too. He was right to drop Jags and Ross, but of course the gamble is that if you badly need to make changes and you've declared that your younger players aren't up to it, then your bench is full of players you also think are failing, so sub options aren't so exciting are they?
This weeks crap about the young players we have on the sidelines, well not even that now apparently, has damaged us further. Koeman may of course have a point about the risks but by so publicly declaring how far off the U23/Academy players are from the first team, he's also saying that they would have to fail to improve, even slightly, on the last ten "performances"?
For me Holgate showed today, albeit briefly, he'd be worth a go at RB and allow Coleman, when fit again, to play wide right in front of him. I'm convinced it's a solid a more creative option. I just feel Davies looks better than Cleverley right now. I really mean that, he cannot possibly be worse. And Ross is having such a hard time this year... again that Davies feels like he's a genuinely better option than both Cleverley or Ross at the moment...it's a risk I see that.
But surely this is whole nonsense of Koemans stuff this week about the kids. You just have to take some risks sometimes, otherwise doing the same thing with the same failing players will just get you the same results.
We can beat Watford next week but I'm not hopeful. We are hanging on to 7th place but I see little prospect of anything better and a real chance of much worse unless the January window produces a really big arrival, ie, of five or six with three or four out. A keeper is vital, a centre back, a striker and yes a Number 10. At least. Hopefully more, but I can't see it happening.

David Barks
169
Posted 05/12/2016 at 00:24:06
Barry,
Except he wasn't always second to the ball. He showed for the ball on the rare occasions we actually had the ball in the first half. He was winning headers but there was nobody up to run onto the header.
When the ball was played to his feet he'd try to play the ball back and turn and run, but the pass wasn't made in return. He played a neat one-two with Mirallas to put him through on the keeper but the shot was saved. Meanwhile, Bolasie on multiple occasions hit his cross over the cross bar and out of play.
Mirallas was actually getting forward and trying to provide support, much more than Barkley does. But we were saddled with having a three man defensive midfield set up of Cleverlye, Gana and Barry. Absolutely useless in attack. It wasn't until the manager was forced to bring a second striker on and we were chasing the game that players started to get forward more.
The entire first half was hoof after aimless hoof forward, nowhere near Lukaku or any other player. Other commentators were actually pointing out that our play made no sense, lumping it up field with no players in the area. If you think that having Costa up top in that game with the rest of the team we put out and how we played would have made one ounce of difference, you are severely deluded.
Paul Kelly
170
Posted 04/12/2016 at 00:27:04
Tony (#149), bit harsh on Pembridge, mate.
Peter Gorman
171
Posted 05/12/2016 at 00:33:46
Paul, I love Pembridge and to a lesser extent Cleverley because they're Everton players who've not had a peep of controversy, so they're part of the family.
That being said, Pembridge was an absolute donkey and Cleverley on today's performance is not far off those standards.
In the absence of McCarthy or Besic, I absolutely can not see how a youth player like Davies or Walsh could offer any less than Cleverley at this moment in time.
Kevin Rowlands
172
Posted 05/12/2016 at 00:39:01
Woof woof, I actually agree with you, he wasn't as bad as he usually is, funny though I was reading a BBC stats page and he received the ball 12 times and gave it straight back to the opposition 10 times, he's improving!
David Barks
173
Posted 05/12/2016 at 00:52:28
Then that stats page was pulled directly out of your ass because he received the ball more than 12 times and played more than 12 passes to team mates. But hey, saying "I saw it on the internet" got Trump elected, so run with it.
Derek Thomas
174
Posted 05/12/2016 at 01:08:19
We made an average in-transition (god knows how you'd describe us - apart from shite) for the 4th year in a row Man Utd side look good.
We got a dodgy Penno, courtesy of Fellaini having a bit of a 'rep' for loose gangly elbows and knees... and the Ref being a tosser. Payback for not giving the Red?
At the moment, Koeman and Everton could best be described like more than a few governments... 'In Office, but not in Power, staggering from one crisis to another'.
I really hope Koeman and Moshiri are on top of this situation and have some sort of Idea, some plan in place, be it ever so slow, but not too slow ffs... Improvement this season would be good.
Crisis? What Crisis.
Barry Jones
175
Posted 05/12/2016 at 02:16:56
No David, you are the deluded one. Diego Costa, with his movement and aggression, would make a world of difference up top. How you cannot see that is beyond my imagination. Night and Day.
Peter Barry
176
Posted 05/12/2016 at 03:12:16
Romelo Lukaku – what does he do for the team? Discuss.
David Barks
177
Posted 05/12/2016 at 03:30:04
You're right, our form of 1 win in 10 is down to Lukaku. If Shane Long was up top, he would have thrashed United today. I mean, it's not as if Costa struggled last season with only 12 goals in the league, and his team failing to qualify for Europe. That would never happen to a striker like Costa because everyone knows that a striker can do everything on his own.
He definitely wasn't hurt by the manager's conservative tactics and the players around him. He definitely didn't struggle after Hazard had a horrendous year, not scoring goals and not providing service. That would never happen to a striker like Costa.
Jim Hardin
178
Posted 05/12/2016 at 03:44:30
Barry,
What formation did Chelsea run versus Man City? 3-4-3? Has Conte isolated Costa up top this season much? Last season when Costa struggled, it was because he was isolated up top. He was 9th in scoring behind, wait for it, Lukaku, who was third.
So your "point" is what? Seems Lukaku does better at being isolated than Costa despite his movement and aggression as you claim. This season, with support, Costa is benefitting from having fewer defenders keying on him, more movement by teammates around the box, and in it, and is scoring. Do you really seriously think Lukaku couldn't benefit from some of the same?
Ed Fitzgerald
179
Posted 05/12/2016 at 05:02:13
Hate to say it but sour face Mourhino called it right when he said Everton used to be a passing team and now are just a long ball team. The evidence has been there in every game including our so-called glorious start of the season.
We are fucking awful to watch and we aren't getting the results either. Ronnie the Robot seems happy to be unbeaten in the league at home but that run is actually four draws, and three pretty scrappy wins against shite.
Might be a novelty for us to start home games (well any game really) by attacking the opposition from the kick-off rather than a desperate salvage mission in the last 20 minutes.
Kevin Rowlands
181
Posted 05/12/2016 at 06:07:15
Barry, don't even bother engaging him in conversation, it's a waste of time. It's ironic that he brings Trump of all people into the conversation because when it comes to Lukaku he is just like a Trump voter, believe any shite or hype that is served up regardless of the truth or facts... Woof woof!
Darren Hind
183
Posted 05/12/2016 at 08:06:29
Michael (Ed). You Stick to your guns fella. This was ugly, ugly, stuff.
Hoofball played so wilfully deserves absolutely nothing; by supporting and defending it, we virtually guarantee more of the same. Any fucker could do what Williams, Funes Mori and Stekelenburg did all afternoon. They are supposed to be professional footballers, FFS. How ironic that some have a problem with you "telling it like it is".
That said, Man Utd didn't deserve a win either. Those trying to make them out to be a good team because they are rich would be well advised to visit specsavers this morning. They were a disgrace. That tackle on Gana was cowardly and spiteful, their time wasting sickening... and I don't know who Slimey Zlatan is trying to kid when he claims he didn't intend to kick Seamus in the head. I was as far away from it as you could get and I could still see him bring down his foot... fucking shithouse.
Still, deserved or not, we denied them the victory and that will do me. I'll take an undeserved draw over a defeat all day long.
ps: Get young Holgate into the center of that defence. If we don't introduce a little culture back there and continue with the mindless big boot, we will not only continue to slide down the table, we will empty the fucking place.
Alan Williams
184
Posted 05/12/2016 at 08:50:07
At last, Baines is back on penalty duty, a year too late, lets hope he gets the free kicks back too! Cleverley is one of those players that effort hides his lack of ability.
I'm sorry but I think Bolasie is shit, not a team player at all plays with his head down and always looks to shoot rather than pass anybody in, never gives the full back assistance or even an option down the line. Sorry, but I hope he is injured for a couple of weeks so we can try somebody else, a modern day Peter Beagrie one good game in 5 player.
We need a new goalkeeper too, waste nearly every goal kick and isn't convincing at the back a good number 2. Lukaku is being slaughtered and I see why but playing long balls to him every week isn't his strength we need to play it on the floor to him so he can run on. The current system doesn't work and if we are to continue the long ball then we must play 2 upfront.
Paul Tran
185
Posted 05/12/2016 at 09:03:21
We deserved the draw and we are very poor to watch. This is the kind of artless rubbish that I frequently criticised Moyes for.
It appears to me that Koeman is so convinced of the poor quality of this squad that he asks them to be tight, compact and defensive to the point of surrendering all attacking intent.
And then, as if by magic, we ended up with two forwards on the pitch, two centre mids looking forwards and we created space and chances. We looked better at the end, but my money's on us starting 4-5-1 on Saturday.
This is a very poor league. The current top five will probably remain top five. The rest is a mess of mediocrity that beats each other every week.
Even with this squad, sixth place is a feasible target. Lucky managers often stumble on their best formation, the good ones grab what works and use it. Over to you, Ronald.
Trevor Peers
186
Posted 05/12/2016 at 09:05:20
I think we all identified the problems we we're going to have before the season even started, which we're highlighted again on MotD last night.
Our attacking midfield is non existent, they don't work hard enough, offer any outlets down the channels or score any goals.
Lukaku is left isolated and is accused of being useless and lazy, but if you provide the service he will score goals. What's worrying, is the manager doesn't seem to have any answers at all, and the club aren't linked with any midfielders who could remedy the problem.
We looked marginally better, yesterday, when we we're forced into playing 4-4-2 through injury, at least there was a goal threat, but will Koeman stick to that system? I doubt it. Tactically he's looking pretty useless.
John Malone
187
Posted 05/12/2016 at 09:10:59
Woke up this morning after digesting that game yesterday and my gut feeling is of real concern that Koeman is not the man for the job! And that he is too arrogant to admit that his desired system and long ball tactic is the root if our problems!
It's plainly obvious to see we are not playing well and are not creating enough chances. The lack of ball retention and the fact that Lukaku is not good enough to play the lone striker role in this system has got to be addressed.
I'm almost as concerned as I was when Martinez was here, but at least he had the humility and the nouse to change the shape and tactics. I really don't think Koeman has and I'm hanging on to this transfer window and the fact we've got money to spend as a saving grace but if I'm being honest do I want to watch route one kick and rush every week even if we get player's in who are better at it??
No!!! Definitely not – I thought we'd moved on from the big dunc year's and the last thing I want to do is go the game each week to watch a crappy championship division style dogfight football with little class or skill!
For me, the biggest problem we have at the minute is Koeman and his instruction's! I have no doubt in my mind it was him who told Stekelenburg to be ready to rush off his line and help the back four as we were playing a high defensive line; granted he never told him to get it wrong but it's another example of poor management by not knowing your players' strengths and weaknesses and playing to them!
I have seen nothing from Koeman to make me think he is a top manager apart from being a disciplinarian and setting some standards for hard work which should be the very least! Every week we are playing the sane 4-2-3-1 and hoofing the ball up to Lukaku with no success; it's shocking to watch and the result's are just as bad!
I hope I'm wrong but I have a feeling it's going to be another difficult season, regardless of the transfer window, and that Koeman just isn't that right man for the job!!
Colin Glassar
188
Posted 05/12/2016 at 09:12:18
I find it slightly ironic that, after three seasons clamouring for a more direct style some on here sound almost nostalgic about our former passing game. What was it called? Tippy-tappy shit?
I know, I know. We all want a balance... but after years of reading (especially on the near psychotic live forum) comments like, "Just kick it anywhere", "Clear your fucking lines", "Knock it forward as fast as you can" etc, etc, etc ... It makes me chuckle to think that you do actually get some things you want.
Mike Berry
189
Posted 05/12/2016 at 09:22:24
Agent Fellaini mission accomplished; we can always rely on him.
I thought we were far better with the three changes, and I hope we start with the same end side and attitude against the Arsenal.
Kevin Tully
190
Posted 05/12/2016 at 09:34:53
At least we have stopped the rot of recent performances. You have to give the manager a little credit, it's not an easy decision to drop the captain. When you have a midfield that consists of rejects and cast-offs, what can we realistically expect?
Unfortunately, It's all about the money, and until we can spend seriously and match the wages on offer elsewhere, we will continue as a mid-table club.
Darren Hind
191
Posted 05/12/2016 at 09:37:47
Colin
Again with the straw man arguments.
Nobody is calling for a return to tippy-tappy. There is a massive gap between aimless possession obsession and mindless hoofball.
Ever thought people would just like to see intelligent, combative, entertaining, joined-up, on-the-deck, football from time to time ?
We have been served up shite from both extremes of the spectrum in recent seasons. When people are dismissive of one, it does not indicate they are pining for the other.
Brian Harrison
192
Posted 05/12/2016 at 09:48:42
Michael
I know its December but why adopt your Scrooge like approach by saying it was an undeserved draw? By what criteria was it undeserved? Did I miss something at the match? Did Steklenberg make save after save? Was it all Everton defending for their life?
No, but I did see their keeper make saves from Baines, Mirallas, Gueye and Valencia – all goal bound efforts. Now apart from the goal gifted by Steklenburg and the effort that hit the top of the crossbar, I can't think of another effort they had on target. So how you interpret that as an undeserved draw, I don't know.

John Malone
193
Posted 05/12/2016 at 09:55:29
Darren (#191). My sentiment's exactly!
The whole problem with Martinez's system was there was too much onus on the centre halves to distribute the ball and not play long! Now it is the complete opposite under Koeman were the instruction seem's to be get it forward as quick as possible even if the pass isn't on, the old-fashioned playing percentages play the game in their half!
I think what we all want to see is good football what is played from the back but what does not involve your centre-backs being the main ball players! There is nothing wrong with mixing it up but the last thing I want to watch is centre halves pumping diagonal balls unless it's dying moments of the game and we need a goal!
Top teams can play and can fight – at the minute, we do neither!
I'm absolutely dreading the derby again!!
Derek Thomas
194
Posted 05/12/2016 at 10:02:00
Colin; Re the live forum, wasn't it you that said...'This game needs a goal' – and you got what you wished for courtesy of Man Utd.
At the moment, Koeman seems to be putting all his eggs in the January Window Basket... He also seems just as stubborn and Inflexible as the last two.
I hope he changes and starts to get us improving, winning and finally playing a better brand of footy.
I also doubt he'll last 3 years – especially if he doesn't get the money he thinks he needs, or if the players he wants won't come, no matter what.
Chris Williams
196
Posted 05/12/2016 at 10:23:07
That was an ugly game played by two mediocre teams afflicted by poor form and lack of both confidence and ticker.
Everton's football has been poor all season and consistently only reasonable for one half of games. We are slow starters and always concede the first goal.
As I write this, I realise I could have written this in the last two seasons as well, and could have added "and we can't close games down to hold on to a lead".
At least we are fitter now and can last out games now.
It strikes me that that this group of players are consistent, consistently poor. They let us down under RM and they are letting us down now. They are the common factor and a fair few of them know their time at Everton is now coming to an end. They are not underachieving, they are bottlers.
The ones you could trust to give their all – Jagielka, Baines, Barry are all getting on in years and some have had injuries all too frequently. It may be form or it may be permanent. Time will tell. Coleman is still one to trust, as is Williams. Gana is a revelation and a blueprint for the modern footballer that Koeman is looking for. As for the rest. Not for me I'm afraid.
Valencia looks worth a start, maybe in the Barkley slot. Mirallas tried yesterday and didn't hide but, after all these years, he doesn't convince and divides opinion. Deulofeu is similar, and for me a major disappointment. I thought we had a potential world beater on our hands at first, but sadly not.
Lennon was always full of running and energy but this season he has played narrow and rarely been seen out wide.
I could go on but It is pissing me off!
Judge Koeman when he has HIS players not others' cast-offs.
Stan Schofield
197
Posted 05/12/2016 at 10:35:53
It strikes me that, if you ask players to press more, then you have to have a recognisable system to form the basis of the pressing. However, I'm finding it difficult to see a recognisable system, and it just looks a bit chaotic. If it IS indeed chaotic, ie, no real system or pattern, then it seems likely that even if the players press until they're all knackered, then that pressing is likely to be ineffective.
I want to give Koeman time, but what concerns me is that all he mentions is the pressing. I would have thought that the system was the most important thing, with the pressing being there to implement the system as effectively as possible. That seems more logical, and possibly more understandable to players.
I get the impression (although I'm trying not to, but starting to fail miserably) that all the talk about pressing is in lieu of having a defined system, plan or pattern, rather than something to implement a system, plan or pattern. I hope I'm wrong.
I keep telling myself that Koeman is deconstructing our way of playing after last season, and that during this deconstruction period it will be difficult to see an effective system, but the latter will become recognisable (with good flowing football, creativity, and football brains) once he's finished the deconstruction and started constructing his way of playing. But I might just be kidding myself. It might just be wishful thinking based on hope rather than evidence. Again, I hope I'm wrong.
Shane Corcoran
198
Posted 05/12/2016 at 10:44:49
I think the headline is unfair. The point was deserved.
The first half was truly dire but improved in the second half when forced into a 4-4-2.
Gana was very good but poor old Tom Cleverley, despite trying probably harder than most, was awful and I'm glad the cheers when he was taken off weren't worse than they were.
Lukaku was noticeably trying harder and it's good to see Valencia getting a slightly longer run.
But let's not kid ourselves. Everton are mediocre and we're in for a very mediocre season. In some ways I don't mind. Let's see where Koeman has the team after two more windows. He'll be learning about the team still and most likely realising that he has a lot of surgery to carry out.
It makes for grim viewing though.
Stan Schofield
199
Posted 05/12/2016 at 10:46:17
Just to add to (#197), what I mean when I use the term 'deconstruction', is like, when an amateur golfer gets a few lessons from a pro, who takes his technique apart, during which you think "what the hell is this all about"? But then things fall into place as the pro helps the golfer piece all the bits together (construction).
Similar with skiing: when a good ski instructor takes you right back to basics, you can't see the point at first, until everything comes together.
Sam Hoare
200
Posted 05/12/2016 at 10:46:44
It will be criminal if we don't start the next game with 4-4-2 that seemed to actually provide us with some more traction and movement going forwards.
Given Holgate's emergence and the failure of Deulofeu to look anything like a decent footballer at the moment, I'm up for trying Coleman in a further forward position. Probably madness but at least he can be required upon to work hard and put in the challenges, I also think that he's a decent crosser and even seems to get more goals from RB then some of our wingers. So my team vs Watford assuming Bolasie is injured:
Robles
Holgate, Williams, Funes Mori, Baines
Coleman, Gueye, Barry, Mirallas
Lukaku, Valencia
Get two strikers up-top contesting crosses and creating space for each other.
Terry Underwood
201
Posted 05/12/2016 at 10:50:03
Why all the doom and gloom? It was a great weekend . at least we didn't lose after being 3-1 up with 15 mins left. Can't wait to see my plastic "never been to Anfield" red mate. Let joy be unconfined.
On a more serious note, the MotD break down of the match showed Rom with 44 touches of the ball, but only ONE in the Man Utd area! Something wrong there.
Ray Roche
202
Posted 05/12/2016 at 10:51:58
Sam, if you recall, Coleman started his Everton career playing wide right. I think he tore Spurs a new one in his first game, didn't he? It's a good call, though, and one I'd like to see implemented.
Mirallas had his best game for eons and Valencia is surely worth a start at Watford. I think we should play two up front and start on the front foot for a change.
On a side note, has any body heard a more immaculately observed minutes silence? Particularly relevant when you also consider our opponents and the Munich Disaster.
Mike Allen
203
Posted 05/12/2016 at 11:21:25
If Lukaku is not scoring, he offers nothing else to the team when the chips are down. Don't keep making excuses, it's plain to see when he doesn't feel up to the challenge so drag him off – he doesn't deserve to be treated any differently than say Barkley or Jags, for instance.
And as for Deulofeu, how the fucking hell does this lad get anywhere near the first team before an academy player? However, we can slag off as many as we like, but they don't pick themselves – it costs the club ٤m pa for someone to do that.
Brian Harrison
204
Posted 05/12/2016 at 12:05:49
I think systems are often defined by the type and quality of player you have at your disposal. Chelsea on Saturday scored 3 goals from long balls played forward, yet I don't hear people other than Mourhino saying they are a long ball team.
The truth is that every manager has to decide what makes their team effective. Against Man City, Conte decided to hit them on the break, but City had the majority of possession. But because Chelsea have much better players than we do, they can play that way because in Costa, Hazard and Willian they have players with pace and a great first touch – something sadly lacking with our front 3.
I see even Moyes is now playing 2 up top and they are starting winning games. So because of the type of players we have we probably need to play Valencia alongside Lukaku, as on his own Lukaku is struggling. For a big man he isn't good in the air in fact on Sunday he hardly won an ariel battle. We know his first touch is poor so another striker alongside him may help him and us.
I thought for the last 15/20 minutes when we had Valencia, Lukaku and Mirallas and Deulofeu on the pitch we posed problems for Man Utd, and the movement between them was better than it had been.
Raymond Fox
206
Posted 05/12/2016 at 12:06:48
Michael, I too think your headline is harsh and off the mark.
As far as style of play is concerned, I think most of us agree that we are lacking a creative midfielder, maybe Koeman can see we are and thinks bypassing the midfield gives us more chance of a good result!
I've been banging on for two years at least, about our squad not being of the quality required to challenge for the top 6; I've not seen anything to change my mind this season.
Regardless of tactics, its the players on the field that have to be good enough to make them successful. Who in our team would the usual top 6 clubs want to sign? Very few if any.
We need to spend a lot of money and be able to persuade some top players to come to Goodison or we can expect more of the same.
Talking of young players I thought Galloway last season showed he was a top class defender in the making and he deserves to be made more use of this season.

Gary Edwards
207
Posted 05/12/2016 at 12:09:23
It's going to be a long, cold winter. It's a given that the 1st team are depressingly short of form and playing no better than a decent Sunday pub team (see Palmers FC on Youtube) but I fear that come February the mood will be particularly sour as so many of us hope that salvation will come in the January transfer window .. it won't because it rarely, if ever, does.
It's commonly acknowledged that the January transfer window is not a good time to do business unless you're pushing for a league title or further into the Champions League and need to strengthen. (Steve) Walsh's 'go to' talent pool will be pre-occupied by the 'Africans' ... and besides, why would Moshiri pump millions into the team when Kenwright remains the majority shareholder and (with Elstone) still presides over our transfer dealings?
The overhaul we need will not happen in January. Nothing of note or long term benefit will happen in January. Please don't stress yourselves out over the forthcoming transfer window, it will ruin your New Year... salvation comes from having (almost) a fully fit squad... oh dear.
John G Davies
208
Posted 05/12/2016 at 12:16:36
The vast majority if our fans, both at the game and on ToffeeWeb think it was a well deserved point. Me too. There will always be the odd couple who will disagree for the sake of it. No pleasing them but at least they are in a small minority.
Colin,I agreed with us getting the ball forward early yesterday, it wasn't hoof ball that suggests aimless punts into the night time sky. We tried to play it into the forwards and compete for the second ball. There us a difference to anyone with basic football knowledge.
One of the best Everton sides I had the pleasure to watch did that on a regular basis,along with the ability to play on the floor. If it's not working trying to build, there isn't a problem to changing attacking ideas.
Ray Roche
209
Posted 05/12/2016 at 12:38:31
Gary, I thought Moshiri is the majority shareholder with a 49.9% stake in the club. Kenwright only owns a quarter of the number of shares Moshiri does. 17,465 to Kenwright's 4,256.
Tom Bowers
210
Posted 05/12/2016 at 12:40:48
Yes, we can blame the manager and rightly so, but the players must take some blame for the lethargy that has been shown over the last month or so but one could say since day one. It would now appear that some are not as good as we had hoped they would be and therefore changes have to be made for sure come January.
The offence has been mediocre and it seems that unless Rom scores nobody else will. A Baines penalty in 87th. minute saves a home point and a Coleman header in injury time saves a home point against lowly Swansea.
These are alarming statistics and I don't think I have seen an Everton team play so poorly for many years for this length of time.

Bob Parrington
211
Posted 05/12/2016 at 13:23:40
Fair result. Unfair headline to this article. Excellent effort from Lukaku and especially Gana (10 points for the G) and good signs of improved effort and performance, particularly by Mirallas, Valencia and Bolasie. Holgate also looked the part when he came on.
If only we could put this amount of urgency in to the other games that we should really be winning.
The Everton supporters were tremendous, too.
Gary (#207). Looks like you need to take a "happy" pill, mate!
Ray Jacques
212
Posted 05/12/2016 at 13:26:43
The match summary should have been:-
Game between two mid-table teams short on confidence ends in stalemate. A bruising encounter with very little quality football or skill on display. Both goals the result of defensive mistakes by useless large lumps.
Tom Cleverley, the England international midfield maestro, was man of the match for his all action performance, reminding the writer of a young Alan Ball who used to grace these parts.
Roger Helm
213
Posted 05/12/2016 at 13:30:03
Still, we can cheer ourselves up by remembering the golden Moyes years – Fortress Goodison, top six or seven most seasons on a shoestring budget, Baines and Pienaar slicing open defences on the left, Coleman rampaging on the right, Arteta and Cahill in the middle - all we lacked was a top centre-forward taht Kenwright couldn't or wouldn't buy. Happy days.
Paul Conway
214
Posted 05/12/2016 at 13:33:36
Derek Thomas (#194)
'January Window Basket' – another Dutchman? Haven't seen him in action!
Alan Bodell
215
Posted 05/12/2016 at 13:34:29
Bob (#211), could you elaborate on the 'excellent effort' from Lukaku as I must have missed that?
I'm not blaming him here for offering nothing as he had zero service, which seems the norm these days with our lack of creativity.
Bobby Mallon
216
Posted 05/12/2016 at 14:00:02
What gets me is people saying he changed it. Injuries forced those changes and we got away with that draw.
John Pierce
217
Posted 05/12/2016 at 14:03:24
Lukaku was poor as ever yesterday, the chat in the ether on these pages is interesting as both sides of the argument on his 'style' is valid.
No goals in several games, granted almost no supply during that time, gives the lad an excuse.
However his close control almost never brings others into play, his movement flatters to device, often on his heels when the vital moment arises.
Yesterday as Bolaise broke down the right in the 1st half, he completely misread the the ball or expected it to plonked on his head, a small lead to the ball and well Jones is dead in the water.
He is laden with goals, please don't think that's a contradiction, but Everton neither have the players or tactics to harvest this bounty.
I happen to think the crux is that others are in part suffering because of Lukaku; were I Ross Barkley I'd be fairly pissed with Rom. He hides, rarely comes short to spin away, stays the width of the 18-yard box.
Now Ross has his own issues but, his most dangerous pass should be to Rom, and if I were an Everton midfielder the only pass I'd give Rom is over the top.
Lukaku's ability to stem our momentum with poor control, poor decision making, often with the ball coming straight back, is a big influence on the fluency of our play.
Now after slagging him solid for paragraphs, I think I would keep him, if the right style of players can be found to complement him. If they are not available, then I would sell him that being said.
The classic number 10 who is about control and retaining ball possession is the player I want to see. Not a Coutinho-style but a more physical type, Sharpesque.
Mad to say it but a Fellaini-style player would be great, holding the ball up, allowing Barkley to receive and play shorter more accurate balls through for Rom much higher up the pitch and facing goal.
After all this, I do wonder whether we will sag back into our previous performances as I fear the players not the manager played a little better just because it was Man Utd.
Peter Barry
218
Posted 05/12/2016 at 14:13:26
To read what some write on here every new Manager can only be judged when he has bought a completely new team to play his way.
How utterly ridiculous that is! Of course, when you see it in black and white and with all the verbose waffle removed... hey.
Barry Jones
219
Posted 05/12/2016 at 14:16:18
Yes, Kevin... point taken, my friend.
Nick Entwistle
220
Posted 05/12/2016 at 14:51:13
Going down before he ran into Fellaini. Penalty my arse.
Sam Hoare
221
Posted 05/12/2016 at 14:54:36
People talk often about lack of service to Lukaku but we have put in a huge amount of crosses this season. Bolasie I think has crossed more than anyone in the league.
Now often the crossing has not been of the highest standard but Lukaku could really help himself to more service by showing some better movement. He doesn't often make that near or far post burst that so often leads to goals but tends to stay static on the penalty spot and point at the patch of grass in front of him that is blocked off by the defender who has barely had to move anyway.
When he does get chances, he's a decent finisher and sometimes he makes goals from almost nothing. But, to move from being a good goalscorer to a top class striker, he's got to work on his movement around the box.
Alan Bodell
222
Posted 05/12/2016 at 15:12:56
I couldn't agree more, Sam, and the sooner he gets his dream move, the better. He really is a lazy, useless lump with no anticipation in his locker but this season he hasn't had the chances to waste like has the last 2 seasons.
Paul Kossoff
223
Posted 05/12/2016 at 15:50:58
Everton were criticised on MotD for playing long balls up to the forwards, but when Chelsea or Spurs were shown doing it it's class!
Two of Chelsea's goals were long balls against Man City, the difference is they have mobile forwards who actually know what to do with that service; we don't seem to have that in Lukaku.
I actually think we deserved a point against United and could have snatched a win.
Brent Stephens
224
Posted 05/12/2016 at 20:46:54
Agree, John. Live Forum is generally way OTT. I heard guys on the round near me also calling him for everything.
Jamie Sweet
226
Posted 06/12/2016 at 18:56:57
Did José help you with that title Michael?
---
Add Your Comments
In order to post a comment, you need to be logged in as a registered user of the site.
Or Sign up as a ToffeeWeb Member — it's free, takes just a few minutes and will allow you to post your comments on articles and Talking Points submissions across the site.
© ToffeeWeb