Report
Barkley earns some love with fine finish
By Michael Kenrick
12/05/2017

126 Comments [Jump to last]
Share: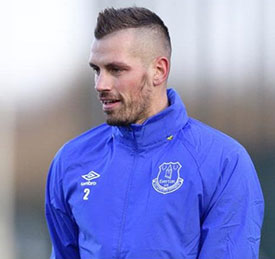 Morgan Schneiderlin is fit again after missing the Swansea defeat through injury
Everton's penultimate game of the 2016-17 season sees Robles and Schneiderlin return to face Watford at Goodison Park.
Joel Robles is back in goal and Ross Barkley, who's contract situation has been a hot topic of conversation this week, starts with Morgan Schneiderlin returning to the side after injury. Mo Besic is on the bench after playing a few U-23 games to complete his rehabilitation from a long-term injury layoff.
No Tom Cleverley for the visitors — despite him agreeing to join Watford on a 5-year deal for around £8M back in March, but that doesn't take effect until 1 July, so he is technically still an Everton player on loan and therefore ineligible to play this one.
Watford got things going in the pouring rain, with a series of throw-ins. Mirallas eventually ran across the front of the Watford area but could not shape a shot and Barkley lost the ball.
Excellent movement into the Watford area and a smart exchange between Gana and Barkley saw Barkley shot but too close for Gomes to save easily enough when he should really have done a lot better. Watford went up the other end and won an early corner that was scooped away but all 11 back and so no counter-attack, and more Watford corners followed, Watford coming very close on the third as the ball pinged around in front of Robles.
Barkley won a corner, taken by Baines and cleverly fired in by Jagielka but saved well by Gomes. Okaka was allowed to run and lashed one just wide with Robles static. Another Everton corner, this one from the left, well in by Mirallas but headed away.
Holebas tried to catch out Robles with a free-kick given away by clumsy contact from Mirallas. Baines overhit another cross, deep to Gomes. Barkley set Davies off and he fired in a fabulous shot but close enough for Gomes to paw away for another corner. At the other end, Doucouré fashioned a shot at Robles.
The tempo of the game flagged considerably, a real end-of-season feel to it from two sides who had both forgotten how to score goals. Not helped by a failure on Referee Friend's part to play the advantage.
Lukaku did well to cut inside but has the ball taken off his toe and Watford went on the attack. Kabasele went down and was eventually replaced by Zuñiga. Things were enlivened by a bit of mass display of handbags after Berhami fouled Davies, who reacted a little miffed. Barkley's delivery from the free kick was really poor, not beating the first man.
Barkley played a lovely through-ball for Mirallas that won a corner but he then slipped on the wet turf trying to play in the second ball. Williams was called for climbing over Okaka, but nothing came of the free kick. Mirallas had a chance to play in Barkley but chose to overhit his pass for Lukaku instead and any chance was gone, ending a rather fruitless half of distinctly mediocre football.
A change from Ronald Koeman after the break: Valencia on for Holgate, and a switch to right back for Tom Davies, whose first ball to Valencia was brilliant, the cross less so. Some fantastic skill and sense from Davies, trapping a wet crossfield ball dead, then playing in Valencia for a cutback from the byeline that didn't come off
Far more invention and desire from Everton, which saw Davies and Valencia coupling with Lukaku, but the final crosses were too deep and no clear chances. Gomes punched across from Mirallas out to Schneiderlin who hit his earlier strike well over, but at least he too take a shot.
Nervy at the other end, when it looked like Deeney would poke home as they broke through but he drove the ball wide under pressure from Jagielka(?). Out of nothing, Barkley with space, off a great ball from Jagielka, a simple shot curling away from Gomes, fine goal!
A Watford corner followed, overhit, and Mirallas with a chance to run... but then overrun the ball. Watford tried to respond but Yanmat was offside. Mirallas got wide but a superb tackle from Mariappa.
A great move started by Barkley saw another interesting cross from Lukaku, with Mirallas then firing hard at Gomes, Lukaku going for the punched ball and being clearly tripped, but throwing his arms up a little too dramatically as he went down... no penalty, said Kevin Friend.
Barkley tried a chipped cross from a stalled position but it was too clever. Valencia overlapped but his cross only won a corner, delivered well by Baines direct to Schneiderlin on the near post but incredibly he headed inches over. At the other end, Okaka looked to pull the trigger but Schneiderlin in in an instant to deny him.
Mirallas set Lukaku off on a run but he was stopped too easily. Valencia than lashed in a fierce cross that could have created an own-goal but it spun wide off the defender for a corner. Play was halted while another little scally scampered across the hallowed Goodison turf... what is it with pitch invasions at every game now?
Watford had a spell of getting forward but with limited effect, Okaka almost getting the better of Williams, who did very well. Barkley got a great round of applause as he was replaced by Gareth Barry with 10 minutes left.
Gueye gave away a silly foul wide right that Holebas swung in but Lukaku powered it away. Kept attacking, trying to find a weakness in Everton's defence.
A final appearance of Arouna Kone, set to leave at the end of the season, who came on for a final farewell to the Goodison faithful, in place of Kevin Mirallas. Watford attacked with spirit and almost scored but for intervention by Barry, and at the other end, Valencia in with a glorious chance that he fired into the body of the advancing Gomes, when a delicate chip was called for...
More dangerous attacking from Watford, a fabulous ball in from Amrabat, defended superbly by Gareth Barry as Everton clung on into the added last 5 minutes of the season before the customary Lap of Appreciation.
Scorers: Barkley (56')
Everton: Robles, Baines; Jagielka, A Williams, Holgate (46' Valencia); Gana, Schneiderlin, Davies; Mirallas (87' Kone), Barkley (80' Barry); Lukaku.
Subs: Hewelt, Pennington, J Williams, Besic.
Watford: Gomes; Kabasele (37' Zuñiga), Prödl, Mariappa; Janmaat, Doucouré, Behrami (70' Amrabat), Capoue (81' Niang), Holebas; Okaka, Deeney.
Subs not Used: Success, Watson, Pantilimon, Eleftheriou.
Referee: Kevin Friend
---
Reader Comments (126)
Note: the following content is not moderated or vetted by the site owners at the time of submission. Comments are the responsibility of the poster. Disclaimer
Dave Abrahams
1
Posted 12/05/2017 at 19:19:32
It is no surprise that there are no surprises.
Kieran Kinsella
2
Posted 12/05/2017 at 19:30:06
Dearth of options. The best kids are injured or at the U20 World Cup.
Barry Pearce
3
Posted 12/05/2017 at 19:37:01
I'd like to see Joe Williams given some game time tonight.
Does anybody know if Antonee Robinson has been offered a new contract? I believe his current deal expires this summer. I really hope we keep this lad – that's assuming he wants to stay.
Peter Gorman
6
Posted 12/05/2017 at 20:27:36
Pointless.
Max Murphy
7
Posted 12/05/2017 at 20:28:10
Can't believe Barkley can't clear the first man with his free-kick. Bloody rubbish!
Craig Fletcher
8
Posted 12/05/2017 at 20:35:21
Constantly getting out-muscled in that first half. Between Prodl, Okaka and Deeney, there's some big boys in that Watford team.
Colin Hughes
9
Posted 12/05/2017 at 20:35:45
This goal drought is getting worrying; three-and-a-half games now. If we can't score with the league's top scorer in the side, then we are fucked when he goes.
Ernie Baywood
11
Posted 12/05/2017 at 20:45:58
The idea that Schneiderlin is a top drawer midfielder has slowly evaporated for me. Great in tight situations but, as soon as he has time on the ball, he just wants to play pretty-looking pointless sideways passes.
He looks like someone who doesn't really know why he's passing the ball, he just does it. Even worse are the spinning chipped passes today. Give your teammates a chance on a slick pitch – put it on the floor.
Fitness aside, he's looking like a downgrade on Gibson for me. And he hasn't really stayed fit either.
John Graham
12
Posted 12/05/2017 at 20:52:35
Ernie, get a life. He's a class player, creates space, makes time, cool head, can tackle, shoot and make a pass. If you think two-game Gibson was better after the few games he's had, you need a doctor. The guy's only been here a few months and you're slagging him off already.
Ciarán McGlone
13
Posted 12/05/2017 at 21:04:16
Very clever goal by Barkley... by my reckoning, he used the defender to disguise his shot from the goalkeeper. Koeman's bake tells a story there.
Andy Meighan
14
Posted 12/05/2017 at 21:04:35
Great shout from Ernie (#11). I've been saying similar things about Schneiderlin myself to the lads and they look at me as if I'm mental. I'm still not overly impressed. Also looks like he's shit out the big games. Jury well and truly out.
Charlie Lloyd
15
Posted 12/05/2017 at 21:43:08
Ernie @ 11.
I think you're a bit harsh there but you're entitled to your opinion.
Craig Fletcher
16
Posted 12/05/2017 at 21:53:51
Football is a game of opinions, Ernie, but I think Schneiderlin was excellent, second half in particular. He was more responsible than most in blue for the fact we kept a clean sheet.
Max Murphy
17
Posted 12/05/2017 at 21:54:54
Mr Kenrick, your statement: "but throwing his arms up a little too dramatically as he went down – no penalty".
I don't care if Lukaku did a swan dive, it was a penalty. A decent referee would see it as it is – not the aftermath.
John Pierce
18
Posted 12/05/2017 at 22:05:39
Tom Davies yet again very good tonight. Gana and Morgan pretty good... Everyone else, pretty meh! Coastguard still out looking for Rom.
Pretty dull stuff.
Andy Crooks
19
Posted 12/05/2017 at 22:25:12
Ciaran, I suspect you may have to explain "bake", to some ToffeeWebers. I agree, though, that Koeman often has a bake on him.
John G Davies
20
Posted 12/05/2017 at 22:29:11
Poor display tonight. Tom Davies best player on the pitch.
Ross, his goal apart, very average performance. I hope he is sold now but can't see who will buy him. He is being touted for Spurs. Not a chance he would get in their starting eleven. Chelsea? No chance... Man City? No chance.
He won't be part of a team good enough to take us into the top four.
Kevin Rowlands
21
Posted 12/05/2017 at 22:34:08
How many goals in the last 5 or 6 games for the £100 million man??? Er ... ZERO. But where would we be without his goals?
Anyone who thinks he will be a much bigger loss than Barkley is delusional; I hope that's the last time we see him play at Goodison for Everton.
Jeff Armstrong
22
Posted 12/05/2017 at 22:38:52
I just cannot get exited about the future with Koeman. I sat and watched a boring team in need of a major overhaul. I loved Bainesy and Jags but they're finished as top players, as are Williams and Barry. Robles needs replacing... then there is the Barkley/Lukaku debacle.
Given the choice between Mirallas's new contract or Valencia, I'd take Valencia every time. Something seems to have gone a bit awry with Lookman too.
Like I said, big changes needed but not sure if Koeman is the man who can manage it. Big unearned, unrequired contracts for Calvert-Lewin and Mirallas are a worry and a statement of stagnation.
Lev Vellene
23
Posted 12/05/2017 at 22:46:26
Well, unless Rom quite unexpectedly turns up for a vivid display for the cameras vs Arsenal away, I expect he'll still be here for the next season!
Great goal by Barkley! I must admit, I hope he stays... but, if he's been blinded by his agent into not signing before the summer, then I hope we move right past him to build a new team from there!
Declan Madden
24
Posted 12/05/2017 at 22:49:33
Kevin Rowlands – it's quite apt you'd use the word 'disullional' in your post because what you just stated is bananuts!
If we want to break into top 4 next season we need Rom – simple as! He will guarantee us 20+ goals again next season – anyone who argues otherwise is plain off their rocker!
Tony Hill
25
Posted 12/05/2017 at 22:51:15
A bit of a strange atmosphere and a tedious game, we remain predictable but there are no lessons to be drawn from tonight.
When we next gather at Goodison, there need to have been some radical changes – but we all know that.
Ian Bennett
26
Posted 12/05/2017 at 22:53:34
Another good game for Davies. We were toiling with the ball going to Holgate, but the half-time sub was a good move.
Excellent home form, and a deserved 7th. Need more goals in midfield away from home for next season.
Chris Williams
27
Posted 12/05/2017 at 22:53:48
Pretty mediocre game against a niggly physical team. Long time since I've seen so many long throw -ns since the days of Stoke managed by Pulis.
Davies, Gana, Schneiderlin were the relative standouts for me. Defence did okay against alehouse tactics and Mirallas put a shift in without much threat. Excellent goal by Ross and Valencia did okay in the second half.
Credit to Koeman for changing things at half-time.
End of season fayre.
Lev Vellene
28
Posted 12/05/2017 at 22:56:44
Kevin, if he'd totally missed that shot and then someone else put it in instead, he'd be very high up on the list of Premier League assists! For his games, he's got a good load of assists, and even Lukaku is not so much worse at scoring against 'top 6' teams than the next 5 top-scorers this season!
I hope we can keep both Barkley and Lukaku. And if we can't, I trust we can get on from there! But, as Ronald Koeman basically said, "We will need to know" before the summer signings can be made.
Dave Abrahams
29
Posted 12/05/2017 at 23:00:35
"Remain in your seats after the game," the stadium announcer said twice in the last five minutes of the game, to watch the players do a lap of appreciation after the match.
Well, each to his own; I couldn't wait to get away from Goodison, on my toes as soon as the useless ref blew for the final whistle.
Mind you, if the players had put the effort in that Tom Davies and Gana showed, I might have been tempted. What a boring bland game it was, apart from a good and clever goal from Barkley.
Kieran Kinsella
30
Posted 12/05/2017 at 23:04:59
I saw a misleading headline on The Echo earlier: "Search goes on for Everton Attackers."
Clicked the link but it was a crime story and not match related.
Dave Abrahams
31
Posted 12/05/2017 at 23:05:10
I should have added Valencia alongside Davies and Gana; he worked nonstop when he came on and deserved a goal after being put in on goal by Kone... thwarted by a good save from the Watford keeper.
Don Alexander
32
Posted 12/05/2017 at 23:06:46
Mundane game but, by now, so what?
That said, my MotM was Tom Davies. I really think we have a player here. Composed and combative as ever in the first half with ability to pass incisively and get in their area he was unfazed by replacing Holgate and looked just as comfortable at the back.
Hopefully what he has is infectious to everyone else in midfield.
John Pickles
33
Posted 12/05/2017 at 23:11:10
That'll make him odds on to finish as the club's second highest scorer this season now with... er... 6!
Tony Hill
34
Posted 12/05/2017 at 23:15:30
Yes, Don (#32), he was very good tonight and I think his passing is becoming cleverer and more accurate. The major plus of this season.
John Pierce
35
Posted 12/05/2017 at 23:20:28
I will develop further the shining light in the sea of shit in that game – one Tom Davies.
His change to right back was almost seamless, one ill-judged chop inside aside.
His poise is so evident too that it puts his supposed betters in the shade. His ability to let the ball run across him gives him excellent spatial awareness. Desire and tenacity to burn, and a that little bit of fire. Not bad, that scruff bag Davies!
Craig Fletcher
36
Posted 12/05/2017 at 23:35:17
Agreed re Davies, I thought he was brilliant tonight, and in the second half he slotted in so seamlessly at right-back, you would have thought he'd played there his whole life.
Main thought I took from this game is that Holgate is a much more natural centre-back; I know the lad is young but his crossing and decision-making in the past couple of games has been poor. Defensively though, he has still been sound.
I wouldn't be surprised to see Jonjoe Kenny in action in the Europa League tie in late July.
Brent Stephens
37
Posted 12/05/2017 at 23:40:50
What is Tom Davies's one major weakness? My guess you'd be hesitating to name one – just one major weakness. That silence would speak volumes to me.
Clive Rogers
38
Posted 12/05/2017 at 23:44:24
Mirallas seems to become more ineffective by the week. No shots, no crosses, seems to spend most of the game going across the pitch or backwards. It's becoming difficult to determine what position he is supposed to be playing.
Phil Bellis
39
Posted 12/05/2017 at 23:57:50
Watford must be the first team to field 7 players over 6ft-11in (in old money) since the great side led by Honeydew Lemon.
Eugene Ruane
40
Posted 12/05/2017 at 00:00:11
Again impressed with Gueye and Davies, but walking away from the ground after the game all I could think was I'm glad I won't have to watch... 'that' for a few months.
In short, we are lacking (sufficient) brains, muscle, pace and touch to compete with the teams above us (and too often, with many of the teams below us).
Supporters will no doubt spend much of their summer looking at who we might buy or who maybe sold and will convince themselves that this/that deal will mean success/failure, but the most important thing we're missing (imo) is anything that looks like a plan or an... ethos.
And I think without that, without some real thought, without a philosophy, it'll just be more of the same (more of the same = bit of horse-trading that may or may not 'pay off').
Tonight I saw a side play it's fourth consecutive completely dull, uninspiring (frankly, clueless) game and believe it'll need more than a couple of players to make any real difference.
Up the Toffees (and Lanky, Lanky, Lanky, Lanky Lancashire).
Don Alexander
41
Posted 13/05/2017 at 00:08:11
Fully agreed, Eugene, and for my sins, I went to wet Blackpool today and watched Lanky, Lanky, Lanky, Lanky Lancashire step right up and win a nail-biter. It was exhilarating!
Michael Kenrick
42
Posted 13/05/2017 at 00:16:58
Bit selective with your editing there, Max Murphy!
I wrote "no penalty, said Kevin Friend."
That's the thing, though: ref's decision is final.
Steve Ferns
43
Posted 13/05/2017 at 01:02:20
Davies was great today. But you guys are going a bit far to say the transition was seamless.
The lad is no fullback. His positioning was poor and the winger got goal side of him twice and through on goal once. But he ain't a right back and played from right back rather than at right back.
I'd like to see Kenny have a go there in the early rounds of the Europa League and have a chance to claim the position. But no doubt Koeman will instead go with his tried and tested new signing, Cuco Martinez (free from Southampton).
Ross Edwards
44
Posted 13/05/2017 at 01:19:45
Pretty dull game that, if I'm honest, Watford were appalling, (as were their fans incidentally) and we were average, but a win is a win so I can't complain too much. Davies was excellent and could have scored an absolute worldy if it weren't for Gomes getting a hand to it.
I stayed behind for the lap of appreciation, and it was worth it to see a little kid run on and the stewards running about after him in Benny Hill like fashion. Probably one of the highlights of the evening.
John Pierce
45
Posted 13/05/2017 at 04:15:30
Steve, you are of course correct – the change was a notional one; he was not there to defend, which he did find hard. However, he never gave up. He was there to give us width and height down the right, which he did well.
He tried his balls off in a position alien to him; all I can say is he affected the game.
Maybe at half-time because his average position was further forward than any Everton player, Koeman tried to shackle him!!
Phil Jeffries
46
Posted 13/05/2017 at 04:41:03
If Barkley and Lukaku stay, it is all about increasing competition for places and improving quality. Mirallas and Barkley would be two players I'd like to have available next season, but not instant starters.
Whether Barkley stays or not, Sigurdsson and Klaassen etc. should still be targetted. Not as replacements, but as additions to Koeman for selection.
Same as all the strikers we are linked with. It is not to replace Lukaku, but to add to the options and give him some competition as he by far the best forward on our books. I just want to feel good as we approach the start of our Europa campaign.
Same with defenders. Whoever we sign, we will be building a squad. Replace the dead wood with players to compete with the current starting 11. That is what Spurs have done and Koeman is starting to target too.
It will be interesting to see who we can bring in as these players may also be targetted by teams with Champions League to offer. Steve Walsh may need to earn his wages and pluck a few diamonds if we lose out on targets. Either way, we need to move fast. COYB!
Jay Harris
47
Posted 13/05/2017 at 06:17:33
Someone needs to tell Lukaku he gets paid till the end of the season and therefore should not go on his jollies for the last 8 games of the season.
I thought Mirallas put a good shift in besides the usual suspects Gana, Davies and Schneiderlin, but the other forwards were a waste of space.
Barkley's goal was not a great one but welcome nonetheless as, up to that point, it had 0-0 all over it.
Lots of work for Koeman and Co in the summer.
Darren Hind
48
Posted 13/05/2017 at 06:31:51
I wonder how many felt exactly the same as Eugene?
I'm usually missing my footy by the time I get to the bottom of "Spella Lane" after the last game, but I just feel a sense of relief this time. I honestly don't know if I'll be back – at least not until Mr Anti-Football has gone.
This was the third "dead rubber" on the bounce where Koeman has had the opportunity to experiment a little with adventure. He can't or won't do it.
Playing Watford gave Koeman the perfect opportunity to send the fans home with a slightly different perspective. We should have gone all out to smash them out of sight. What was the worst that could happen? But all too predictable: he takes to the field with 7 or 8 defensive players, his two insurance policies stoutly defending an already over-manned defence. Every single one of us knew he would do this... days ago.
With a centre-forward who moves like a lighthouse and eight players who barely venture over the half-way line, how can we ever hope to see fast entertaining football?
This team is almost completely bereft of flair, yet the manager is hell-bent on removing the one player capable of doing something out of the ordinary with a ball. Gordon Lee & Duncan McKenzie? Even Miserable Moyes allowed people like Baines, Pineaar, Arteta, and Osman to express themselves. This guy makes Moyes look like Ken Dodd.
This is Koeman's Everton. Those championing his charmless, clueless approach to the game will get exactly what they are asking for next season.
Yeah, we'll finish above WBA again and whilst some will be wanting to book the open-top bus again, most will leave the last game of next season feeling exactly the same way Eugene Ruane felt when leaving the last home game of this one.

Tony Hill
49
Posted 13/05/2017 at 07:29:33
I agree with much of what Eugene and Darren say, but I wonder how much of the flatness is a problem that affects modern football more generally? Which fans will be leaving their last home games applauding a season of vibrant entertainment?
Tottenham have done better than most and, though it isn't easy to say it, Liverpool in their early purple patch were exciting. Chelsea have been efficient.
Mourinho's United remind me of us (with better players): largely dull and incoherent, built not to lose, coached to death. Pass across the back, pass back again, make a usually inept attacking foray. And so it goes on....
Super-fit players, super-organised defences and a dread of taking chances or showing "irresponsible" flair. Identikit Premier League football – of which we are very much a part.
Terry Farrell
50
Posted 13/05/2017 at 07:30:23
Darren, 1 year ago, fans were on here sick and tired of leaking goals and begging for a mundane 1-0 win. Rome wasn't built in a day and we are miles better than where we were.
I agree that some of the games have been boring and we need more pace and flair but Koeman has his targets and I support him 100%. Losing Seamus and Bolasie hasn't helped on that score.
Special mention for Tom Davies again.... class!

Stan Schofield
51
Posted 13/05/2017 at 07:59:01
We can only hope the quality of football will increase next season. But it's only a hope, not a realistic expectation.
John G Davies
52
Posted 13/05/2017 at 08:08:06
I walked out of the ground with the same feeling last night.
A poor display that brought me no happiness at all.
John G Davies
53
Posted 13/05/2017 at 08:28:21
Sorry, I just read through posts, same mix as usual. One thing caught my eye:
"We played with 7 or 8 defensive players." Got me intrigued, that... I'm trying to work out which player you are not sure is a defensive player or not.

Philip Yensen
54
Posted 13/05/2017 at 08:39:38
If we don't get the ball early to Lukaku and support him or any other striker we have or get, how can we expect consistency?
All I can see in at least the past three games is a long ball lobbed forward and see what he can make of it.
Now back to Barkley. He will not improve; what you see is what you get. I don't think he can change, he doesn't have a footballing brain like Beckham or Scholes.
I personally don't think a so-called big club will want him; he is past the unpolished diamond stage now.
Steve Hogan
55
Posted 13/05/2017 at 08:40:44
Darren (#48),
Clearly you either dislike or don't rate Koeman, that's pretty evident from the majority of your 'posts' on here.
However, your views are based on a manager who has yet to complete 12 months at the club/... A bit unfair don't you think?
At least let him have the benefit of the next, and probably the most important transfer window, before you label him the 'Antichrist' of free-flowing football.
Trevor Peers
56
Posted 13/05/2017 at 08:45:00
Finishing 7th and winning so many home games is a massive improvement from the previous two seasons. There is no magic formula; buying good players is the only way to the top.
Away from home, we have been a disaster but, with so few attacking options, it's hardly been a surprise. If we recruit the right players in the summer, especially in creative and goal-scoring positions, and still struggle to win, that will be the time to judge Ronald Koeman as our manager. He's done okay so far... but no more than that.
Dave Abrahams
57
Posted 13/05/2017 at 09:14:40
Darren (#48),
I'm usually in agreement with most of your posts but do you really see Barkley becoming the player we all want him to be? When will he rouse himself from the lethargic frame of mind that he is in a good proportion of the time he is on the field?
One way if he stays, is to study the way Tom Davies plays all the time, full of energy, movement and going forward for much of the game. It wouldn't do him any harm, but it might tire him out just watching Davies – and that applies to the beast in sheep's clothing, Lukaku.
Sam Hoare
58
Posted 13/05/2017 at 09:24:26
I for one will take turgid football that sees us win. In an ideal world, we'd play like Barca and win every trophy going but I'm not sure that's happening any time soon.
7th is good in my books. Which teams should we be ahead of who are above us? They all have better squads and more resources. Of course we must aspire but let's not allow those aspirations blind us to the reality and prevent us from enjoying winning.
Next season, I'm hoping for better attacking options and consequently a better away record to go along with a very good season at Goodison. A trophy would be nice too since I think, with European miles to cover, we will be hard pressed to sustain a challenge on the top 4.
John Williams
59
Posted 13/05/2017 at 09:26:15
Darren, I agree with you to some extent.
I'm finding it hard to count on one hand this season when I've walked out the ground or watched on telly and thought "Fuck me, we were brilliant today", "This player or that player was class." It's one thing getting 1-0 victories but another being entertained.
Someone on another thread mentioned being envious of other teams winning trophies and playing entertaining football and that struck a chord.
I'm tired of seeing long punts from deep to a lone forward with 2 defenders on him losing possession 9 times out of 10. It's boring, it's dull, and it's outdated for any club with aspirations. Look at the teams above us (except Man Utd as they are dreadful to watch); they rarely use this route because they have ball-players who can break at speed and don't have a big lump up front whose back-to-goal play is dreadful, to say the least.
If we're going break into the top four, then, to play two holding midfielders, the four in front need to be top class which they aren't. A Number 10 has to be a top priority, has been for years now but we could go on and on where we need to strengthen. Just look at the bench last night – no depth whatsoever so a big Summer ahead regardless of the Barkley & Lukaku situations.
Andy Roberts
60
Posted 13/05/2017 at 09:35:52
Peter Reid summed it up last night: "If they don't want to play for Everton, off they go!"
Lukaku never gambles on crosses into the box, never gets in front of a defender, and has all the mobility of a No 11 bus. His link play is dreadful.
I know he scored 24 goals, but he is the biggest ego seen at Goodison in years and has no respect for the club or supporters.
Barkley will prosper with mobile forwards in front of him. I would love him to stay; for all the frustrations, he is an immense talent.

Brent Stephens
61
Posted 13/05/2017 at 09:49:07
Another dull home game (though excellent goal from Ross, good performances by Tom, Gana, with Schneiderlin making a difference). But, for me, psychologically the season is over, apart from a trip to Arsenal next week (my first to The Emirates).
Finishing 7th in his first season, Koeman hasn't failed, so banish any silly thoughts that Everton is getting rid of him after one season. Ain't going to happen!
We can all name the dross that he's had to work with and has been starting to clear out through the season. How many of those playing last night would get into a top 4 or 5 team? Exactly – that's what Koeman has had to work with. Sadly, while not dross, Barkley isn't living up to many people's expectations – what a contrast with Tom Davies.
I'm looking forward to the transfer window; Europe; next season; the possibility of other Academy lads being used. I'll be able to make a more informed judgement on Koeman after his second season.

Mark Murphy
62
Posted 13/05/2017 at 09:54:37
Sam, Liverpool – we should be above Liverpool! And I won't be happy until we are and have taken six points off them in the process!
Otherwise, yes your right, 7th is where we belong for the time being. I predict 5th next season.

Alan Bodell
63
Posted 13/05/2017 at 09:54:55
Andy, don't be ridiculous, mate... Lukaku's nowhere near as mobile as a No 11 bus.
Tony Abrahams
64
Posted 13/05/2017 at 10:05:49
This walking out at the end of the season being glad it's all over, isn't a new phenomenon, because I've felt like that at least two thirds of the time over the last 15 years.
There have even been times when I've been working in town that I have even thought that if Everton were playing in Williamson Square then I would walk the long way round just to avoid it, rather than cutting through to watch the team that I love play.
The sad thing about feeling like that, was because this was actually during pre-season, when we are all normally full of anticipation of what the next season will bring.
So I take on board what Darren says, and cast my mind back to last season, when Koeman's Southampton could only muster a draw at Goodison, when they were still in the running for an outside chance of 4th but never had the inclination to go and really put a dreadful Everton side to the sword.
So the dreadful Everton have been improved because of the cautious Koeman, but it's a big summer for everyone, and unless big changes can be made, then it will only be more of the same last 15 years in my opinion...
Ray Roche
65
Posted 13/05/2017 at 10:07:09
Unless and until Everton get two central defenders who are comfortable on the ball, who can move forward and pick a pass forward, instead of a hopeful long hoof in the general direction of Baines, we will struggle to make any impact.
The slow, sideways shite we've witnessed for much of this season is a throwback to Martinez at his worst, but Koeman still has Martinez & Moyes-style defenders to work with so what can we expect?
Williams was, in my opinion, a stop-gap signing to shore up a defence that was poor in Martinez's last season and in that way Koeman has succeeded with Everton having only the fifth worst defensive record in the Premier League. Only Chelsea,Spurs, Man City and Man Utd have conceded fewer.
It's the creative aspect that's worrying, plus the lack of movement up front. Interesting to see who Koeman & Walsh bring in the window.
Chris Gould
66
Posted 13/05/2017 at 10:15:16
Sam (#58) and Brent (#61),
My thoughts exactly.
I think most rational fans will be satisfied with this season. I will be surprised if we are able to build a squad capable of breaking into the top 4 next season, but I certainly expect us to become one of a recognised top 7.
As it stands, if Leicester win their games in hand, and Arsenal and Man Utd win theirs, then we will pretty much be an isolated 7th place, no closer to top 6 than bottom 13.
I want to see us right in the mix as a top 7 team who are challenging 4th to 7th.
Unless we do some mind blowing summer business, I see no reason to expect us to suddenly jump above any of the teams above us. They have better squads and will also look to strengthen. They will also be more attractive to most players.
We do need to aspire to make top 4, but we also need a dose of reality.
Gordon Crawford
67
Posted 13/05/2017 at 10:18:14
I didn't really care if Kev stayed or went at the end of the season as he has been ineffective for most of the season and the seasons before. But we do need squad depth, so I'm okay with him signing a new contract.
Andy (#60), I fully agree that if we had mobile forwards it would bring the best out of Ross. Sadly, I think he is gone though. Rom I would sell tomorrow if I had the choice. He has never been a team player and it's all about him. And I've seen black cabs turn faster.
Also has anyone seen the news that Man Utd, Arsenal and Liverpool are all (potentially) after Deulofeu? I honestly think he should still be given a chance. Most skilful player on the books, in my opinion.

Peter Roberts
68
Posted 13/05/2017 at 10:21:08
Lukaku was mobile last night to be fair... Anyone see him on the lap of appreciation, thumb-tapping away... no doubt texting his Chelsea chums.
Bob Parrington
69
Posted 13/05/2017 at 10:36:01
Interesting thread this after a game that was poor throughout the middle in terms by the Blues but good early on and also after the substitution of Holgate with Valencia. Fair sub IMO and it made an incredible change to our inventiveness. Holgate wasn't having a good game. Valencia added some good options with his pace and Davies made some good passes from the right-backposition that many full-backs wouldn't have the thought processes to make.
I agree a lot with Eugene (#40). Gana and Davies were excellent but I would also add that Schneiderlin's input shouldn't be missed.
Frustratingly, there were sections of the game when we granted Watford with far too much space in mid-field, a little like we appeared to be inviting them on to us, for some crazy reason. I've tried to analyse this but I come up without much criticism of our midfielders and, moreso, I see the laziness of the likes of Lukaku not chasing back to cover. OK he didn't get much service but he does need to lift his work-rate. Give and ye shall get, sayeth the lord... (Oops, I'm not religious, but ya know what I mean, like!)
I quite like Valencia's input but why did Koeman bring on Kone? Beats me!
These days I'm watching from half a world away but I can go along with those of you who go to Goodison week in/week out and at times walk away saying, why do I do this? Well, chins up lads, next season will be better! – in true Monty Python style.
In September, I'm over in Scotland for my one "bucket list" trip, which is a golf and whisky tour in Scotland. The missus is a Geordie and she has an old school reunion in Newcastle one week after John and I finish the golf. So I'm hoping there'll be a home game we can come to in between the two. It would be great to catch up for a beer with a few of the ToffeeWebbers!
Footnote: getting back to Eugene (#40): Agreed: Fail to plan – Plan to fail. Strategise – If it doesn't fit the strategy, don''t do it!

Peter Mills
70
Posted 13/05/2017 at 10:53:04
My view of the Main Stand/Gwladys Street corner of the pitch is a bit restricted. Did I see Lukaku make a tackle and concede a corner there at one stage, or had my mind gone a little delirious?

Brian Wilkinson
71
Posted 13/05/2017 at 10:58:27
Davies, Gana, Schneiderlin and the likes all rightly got a good mention.
One player who slipped under a radar for me was Jags; I thought he put a good shift in, made some crucial tackles, and one time in the first half when we got stretched, he bust a gut chasing back and won the ball. His legs may not be as quick but he did a job last night. Well done, Jags.

Christopher Timmins
72
Posted 13/05/2017 at 11:16:58
Well we broke the 60-point barrier and I would be happy if we broke the 70-point barrier next season. To use a famous political slogan "A lot done; more to do".
Koeman has been a success this season and let us hope he proves to be an absolute success over his three-season term in office; that would result in silverware and or a top four finish.
Jay Griffiths
73
Posted 13/05/2017 at 12:58:58
Maybe Ross is feeling a little insecure with his contract wrangle. If he commits and Ron signs Sigurdsson and/or Klaasens, where does Ross fit in? Maybe West Ham, Leicester or Stoke.
As for Spurs, Arsenal, Man City? Why? He should commit soon as Ron has a huge clear out and rebuild on the go.
We desperately need a centre-half than can defend and play football, not just a plug, stopper.
Brian Wilkinson
74
Posted 13/05/2017 at 13:19:02
Clutching at straws and probably nothing to it but I noticed at the game it was one of the first times Barkley did not kiss the badge on his shirt after scoring last night.
Colin Glassar
75
Posted 13/05/2017 at 13:27:08
I've more or less resigned myself to, at least, losing Ross this summer. I think he feels he's not part of Koeman's plans for the immediate future, especially if Klaasen and Siagurdsson come in.
As for Lukaku, if he goes as well I'd like him to be replaced with a top notch goal scorer like Aguero, Lacazette, Gameiro or someone of that ilk. Not some (relatively) unknown Brazilian like Sandro just because he's cheap.
Replace both players with players of equal, or better, quality then I'll be fine with that rather than get six average players.
Keith Monaghan
76
Posted 13/05/2017 at 14:14:37
We don't need to replace Ross – he's not good enough for an ambitious club wanting to be top 4 & winning trophies. We need a much better creative player in midfield who also plays for the team & not himself.
Our biggest problem is slow build-up & lack of creativity – this starts with our current central defenders as referred to by Ray @ 65. Our defensive record is better this season, but, as well as Jags played for much of last night, they are both slow & poor in the air.
As Ray said, Williams was a stop-gap, as Koeman had to do something quick in the little time he had after coming on board.
Their slowness & poor distribution coming forward makes life much more difficult for our midfield & front players – Ross's dithering & poor decision-making (yes, I know it was a very good goal he got last night but his overall performance was poor again)makes matter worse – all this contributes significantly to the likes of Mirallas often running across the pitch.
IMO, it was right to extend him for 3 years – he's not started enough games in the last 2 seasons – and with swifter & crisper forward play from the back would have been able to contribute more.
Koeman isn't perfect & like us all makes mistakes, but he has done good job this season and has talked more sense in 1 year than our previous two managers did in the whole of their time with us.
Dan Egerton
77
Posted 13/05/2017 at 14:20:54
Tom Davies' s3 weaknesses seen in the Hull game are: shot selection, pass selection, not a natural right back. All these will improve with age.
As for the first two, he's still better than most of our players at them.
Keith Harrison
78
Posted 13/05/2017 at 15:02:42
Holgate was yet again played out of his natural position. He could be one of the ball-playing centre-halves we crave, but marauding full back he ain't. Kenny will grow into that role next season.
We could have gone to three at the back including Holgate last night, played Ross wide right where he was very good against Leicester, and left our engine, Davies in the middle. That lad is a future England captain imo.
Ross was again poor, and I for one won't be shedding tears if we replace him with a more aware footballer like Sigurdsson.
Watford did the same as they did at Goodison in the opening game last season, they tried to kick us off the pitch. Relegation might beckon them next season.
As for us, this is Koeman's summer to prove we do have the means, can battle with the heavyweights, and he can actually get us to play decent football, and challenge those teams like Liverpool on the pitch.
Leaving a man up front when defending corners, and playing kids like Mason and Dominic in their natural positions would be an immediate improvement on Ronny's first season for me. The jury for me is hung at the moment... Go on, Ronny, make my summer.
Mike Dolan
79
Posted 13/05/2017 at 15:48:04
A good solid win, I thought. As has been pointed out, Holgate is going to be a fine centre-back but as a full back he looks so out of position. Jonjoe Kenny looks much better in that position and I hope he gets a chance to cover and compete with Seamus next season.
One of our problems for the last two seasons has been because immobility of our two main centre-backs, causes the defensive midfielders to play further back than is ideal which in turn means there is too big a gap in front of them.
This has to be a priority to bring in one ace centre- back in the next few weeks. Overall a very good season considering where we where this time last year. We missed Bolasie more than is acknowledged this season but three or four quality signings before July and we should be fighting for a place in the top four.
Paul Birmingham
80
Posted 13/05/2017 at 17:20:40
A win is a win, and another arduous and, all-in-all, taxing season is almost done.
The reality is that, 30 years on, it's now or never as I can't see EFC getting close unless there's top class players coming in.
The pre-season and Europa League qualifiers are gonna test the resolve of the squad, and patience of the fans. I hope the team will get a new captain (no disrespect to Jags, who's been a good club servant) and have some genuine winners who will give blood, sweat and guts to the cause.
The gulf in psyche and game management has been lacking for years and in this area we seem light years away from the rest, ie, we loose the big games, before we step on the park.
Grateful for some decent home results this season, but away we are very poor and most games against the teams above us, City apart, our so-called best players never show.
No more excuses; we can't live in the past forever and most of us are now getting on – 30 years has gone in the blink of an eye. Life's good but, if EFC could get their act together, it would be better...
Will our time come again soon? Will it be Swansea away or West Ham away, all over again next season, and the usual shambles against the RS?
Russ Quinlan
81
Posted 13/05/2017 at 17:38:03
Yeah, it may have been boring but it was an end of season match with nothing to play for and I'm sure a few of the players who were on the pitch at the end will not be here next season. But we have been in much worse situations before, finishing the season off with another home defeat, finishing in the bottom half of the table and with no money to build for the following season.
This season we have dramatically improved the home form where a 'boring' 1-0 win against an alehouse team is looked upon as the end of the world. Not that long ago, we'd have been grateful of any home win regardless how we played.
All we can do now is see what happens in the close season, who we sign and who we lose will go a long way to decide if this season was another stepping stone or another false dawn.
Make no mistake, this next couple of months is big and Koeman has to prove he can attract good players, so we will see, but at least we ain't got Martinez at the helm!!
Sam Hoare
82
Posted 13/05/2017 at 17:45:45
Can we buy Butland please. Even if he costs £30m+ it's worth it.
Colin Glassar
83
Posted 13/05/2017 at 17:53:07
Brilliant keeper, Butland. I bet he'd jump at the chance to play for us and leave The Hills Have Eyes country.
Just a thought: if Arsenal win today and Liverpool lose tomorrow, both of their Champions League hopes will rest on our game at The Emirates. That'll put some of us in a quandary...
Ian Riley
84
Posted 13/05/2017 at 17:53:24
League table never lies. Sixteen points clear of 8th place. Koeman knows must do better next season. If anyone thinks he is not under pressure, think again. The squad is top seven and if our away record had been better. Who knows?
Those players leaving. Thank you for your service. Let's get players in quickly. Get through the Europa League qualification and many games lie ahead next season. Koeman has done his job. European football is back. Up to the Board now how far they want to go next season.
Colin Glassar
85
Posted 13/05/2017 at 18:07:49
Ian, 10 losses, 10 draws (so far) this season. The key is to turn some of those losses into draws and some of those draws into wins.
I bet we can all name about half-a-dozen games where we could've done better, eg, the last-second loss to Liverpool, last-second draw against Man Utd, crap performances away to Bournemouth, Watford, Middlesbrough, West ham Utd etc... We really could've challenged for a top 4 slot if only...
Phil Walling
86
Posted 13/05/2017 at 18:10:39
Some folks are never satisfied! We made our natural seventh with many points in hand. Normality has been restored!
John G Davies
87
Posted 13/05/2017 at 18:12:11
Colin (#83),
You're right, that would put me in a terrible quandary.
I would be torn between wanting a 5-0 or 6-0 defeat.
Brian Wilkinson
88
Posted 13/05/2017 at 18:39:04
Colin @83, we cannot go any higher or lower.
If it comes to the crunch against Arsenal, I would prefer to drop 3 points than the league Champions in October missing out on a Champions League spot.
Ian Riley
89
Posted 13/05/2017 at 19:14:07
Colin (#85) I agree. When you look at the top four, each team have a game changer. A player who does something out of nothing either creates​ or scores a goal. Unless we spend big money for that sort of player, the op four will be beyond us.
We are a good side but at the next level to turn draws and loses requires that bit of magic. After last season. Everyone on here would have taken seventh with an excellent home record.
Mike Gaynes
90
Posted 13/05/2017 at 19:32:42
Colin (#85), sorry mate, but we were never going to challenge for a Top 4 spot this year. Turns out we would have needed around 75 points to crack that ceiling. We will likely finish with 61.
Sure, if we had done better with those half dozen we'd have had more points, but we don't have the quality to improve that many performances. There is nothing on our roster that indicates we had 14 more points in us. We're simply not that good.
Yet.
Mike Gaynes
91
Posted 13/05/2017 at 21:06:21
And Colin (#83), I was thinking the same thing. If that game determines who gets fourth, more than a few here would be quietly hoping we tank it.
Jay Griffiths
92
Posted 13/05/2017 at 21:24:47
The paradox, Colin. My son and I shall be at the Emirates next week.
If Arsenal need all 3 points for a guarantee of 4th spot, then heh, no problem. Glad to be of assistance.
I always assume that any success they have potentially hurts us. Any young fans to generate and the continuous excuse to promote in all media can and will go their way. They are a genie in a bottle. Keep the cork well and truly in because once out, then it could be horrible. It's our footprint we need to increase not theirs.
Darren Hind
93
Posted 13/05/2017 at 21:43:39
Dave A,
You know your players and it's very difficult to disagree with your points about Ross Barkley... but.
Barkley will never be like Tom Davies; that all-action style is not in his make up. He's not David Silva or Hazzard, or even a Coutinho. There isn't any point in hoping he can be.
Though I do wonder what these highly skilled players would make of playing for a Koeman side which has 8-9 players regularly playing in a straight-jacket, forbidden to get forward and support.
Barkley is a highly technical player who may not offer much going backwards, but has wonderful balance and can make a killer pass provided the movement is there. I honestly believe he can be as good for us as Dembele is for Spurs. Remember, Ross has to perform without the multiple options and decoys afforded to Dembele.
I also look at the likely alternatives; I've watched Sigurdsson quite closely since he was linked. He's very good when standing over a dead ball, but fuck me Dave, I'd fancy me and you to do him over 50 meters. It's not hard to see why Spurs off-loaded him. Never in a million years will he be the answer.
Unless Walsh has performed a miracle by unearthing another Mahrez, Ross is still far more talented than anything else we have.
A good manager would be looking to nurture Barkley's talents. He would be desperately trying to find ways to utilise that wonderful technique, improve movement, get intelligent players who will give him options. Koeman won't; he can't wait to replace him with another tackling machine
Colin Glassar
94
Posted 13/05/2017 at 21:49:16
Jay, wouldn't it be sweet if they ended up on the same amount of points but Arsenal had a better goal difference of one?
If it came down to it (Arsenal needing to win) my team would be:
Stallone
Hottiger
Alcaraz
Kroldrup
Tony Bellew
Claus Thomsen
Madar
Angell
Spencer
Nyarko
Marty from Brookside
We should go all out for it. Do our neighbours a favour like.
Bill Watson
95
Posted 13/05/2017 at 21:55:34
Andy (#14),
Sorry, my friend: you are mental!
Ian McDowell
96
Posted 13/05/2017 at 22:10:44
Colin that team would be good for me. The sad thing is. The best players from that team would be Stallone, Bellew and Marty from Brookie.
Colin Glassar
97
Posted 13/05/2017 at 22:16:05
The bottom seven (null points) contestants from the Eurovision Song Contest would be our subs, Ian.
Jay Harris
98
Posted 13/05/2017 at 22:27:37
The drinks are being served early in some parts of the world.
Bill Watson
99
Posted 13/05/2017 at 22:36:10
Colin (#83),
It certainly won't put me in a quandary. If Arsenal need to beat us to get 4th – bring it on!. If they need 3 or more clear goals, I'm easy with that, too.
It's one match for us and, win or lose, we stay 7th. For the RS, it would mean Klopp fails to meet his target, their anticipated income stream has to be reassessed, they find it harder to attract players, and have to enter Big Vase, like us.
For us, it's one match; for them, it alters their whole strategy.
Why on earth should we help them stagger into the Big Cup?
Colin Glassar
100
Posted 13/05/2017 at 22:39:49
Despite it being almost sacrilegious, Bill, I have to concur. I hate losing but I'd happily forfeit this one just to spite them and their clown of a manager.
Oliver Molloy
101
Posted 13/05/2017 at 23:40:33
Some people suggesting that Barkley perhaps feels he is not wanted, not loved enough, and may be thinking he is not guaranteed a starting place especially when Koeman is chasing a real number 10 – which we all know is an absolute priority for us as are other positions.
If this was true, why would the club be offering him a mega bucks new deal that has been on the table for quite some time? Why would Koeman be saying publicly he wants him to stay?
I think the club have every right to try and sell the player if he's not going to sign and I also believe that Koeman is right to call him and his agent on it. Do you want to continue playing for Everton or not - what's wrong with that?
You can say what you want about Koeman , but he's fairly straight. Shane Long said of him when Koeman dropped him "He told me to keep working hard and my chance would come again and when it did it was up to me to stay in the side."
Every player must perform, week-in & week-out, to stay in the team – especially our so-called gifted and best players. Ross has had a lot of opportunity to make himself undroppable and has failed in my opinion.
He still doesn't do enough for me on the football pitch and, if he does go, I don't think he will be a massive loss because I believe the club will replace him with a better player.
Phil Bellis
102
Posted 13/05/2017 at 23:59:26
What's it all about, Alfie.. as in why No 10?... Why not No 8?..
Are only left-footers creative, intelligent players? Did something happen in '92?
If getting beat by Arsenal knocks the Dark Side back... erm... Bollocks, I'll think about it.
Brian Murray
103
Posted 14/05/2017 at 00:11:36
At the risk of stating the obvious about Ross and Lukaku or anyone, secure transfers and have them in place before anyone is allowed to leave. Common sense doesn't come naturally and we are painfully slow to swoop for anyone and without a hitch.
Well, we all know the twosome instructed to clinch the deals... so hardly surprising; they can't even gauge the potential of the fanbase we would get at the dock site. Bob is woefully short even on that.
Moshiri is putting himself through a lot more summer embarrassment but only has himself to blame and the penny not dropping yet over the said two. They are totally holding us back from even acting like winners or professionals.
Ask Arsenal fans after David Dein left them.
Tony Hill
104
Posted 14/05/2017 at 00:24:57
I remember Koeman subbing McCarthy in the first half against WBA away this season and, when asked if bringing on Lukaku was a masterstroke, he replied with words to the effect that it could equally be said that he should have got the selection right first time. Indeed.
Odd selections and substitutions have been a theme, culminating in one of the worst selections I have ever seen from an Everton manager at Tottenham when we played with no width whatsoever – that was a killer result when we still had much to play for. (I don't accept that we were mysteriously doomed to 7th; we doomed ourselves.)
Here's the problem which has beset us for years and years, and does so now: for so long as we are easily pleased, how likely is it – despite the floods of rhetoric – that anyone at the club is going to work hard to please us?
Kieran Kinsella
105
Posted 14/05/2017 at 00:25:53
I'm not going to hope we lose just to hurt the Reds but I fully expect us to lose given our away record and our all time record versus Arsenal.
Ideally we beat Arsenal but Liverpool lose their last two games. The RS are in trouble and Arsenal are stuck with Wenger.
Colin Gee
106
Posted 14/05/2017 at 01:25:15
I never want us to get beat but, if Arsenal beat us next week and that stops the RS getting Champions League, then there will be a smile on my face at the final whistle... Just like the Man City game the other year when, if we beat City, then they would have almost won the title. As it happened Crystanbul and Slippy G meant that they didn't anyway.
Colin (#94) I wouldn't play Bellew the lads got to much fight in him, I think someone like Amanda Holden would do a job at left back. Or maybe Tony Thomas or Allesandro Pistone?
Not sure about Stallone as a goalie either, prefer R2-D2 myself like.
Mike Gaynes
107
Posted 14/05/2017 at 05:28:03
Colin, at least R2-D2 has The Force with him.
All Stallone has is Botox.
Alan J Thompson
108
Posted 14/05/2017 at 07:55:09
Just another smile at the thought that Davies, Gana and Schneiderlin played well in one of the most boring games of the season.
Must have been the subbed goalscorer's fault.
Philip Yensen
109
Posted 14/05/2017 at 08:33:43
Andy Robert (#60). You talk absolute shite mate. Barkley has tunnel vision. Lukaku is no slouch, he has pace, ability and knows where the back of the net is.
If you spent 70% of your time with a hairy-arsed centre-half or two on your heels, chasing aimless ball lobbed towards you, how would you fare? If that is going to be our style, let's find another Peter Crouch or some brick shithouse to stand there and be our outlet.
We play some devastating football when we move the ball quickly. We need to break free of the shackles... not Koeman's fault but inbred from Martinez days.
Barkley's goal, I call it a Moses goal, Watford parted like the dead sea. That was all he done in the whole game.
Dave Abrahams
110
Posted 14/05/2017 at 08:45:29
I do not want Everton in the Europa League next season but I will be absolutely delighted if Liverpool finish up in it, their season will be fucked up if they do; ours will not be enhanced by it either.
Brian Murray
111
Posted 14/05/2017 at 08:48:39
Wouldn't it be Everton all over to pave the way for Liverpool to get 4th by getting a draw next week?
I seem to remember that other clown Lyons equaliser at Main Road more or less sealing Liverpool's title for them.
Like the Man City game the other year, I'll be praying and hoping we come unstuck at The Emirates. If it still means something.either way, BT or Sky will still saturate us with them on at least every other week. Total disgrace from Carragher, Owen, Rednapp, Souness, Fowler, Thompson and so on. Well there's the reason.
Roy Steel
112
Posted 14/05/2017 at 09:25:05
We all want Ross to be the real deal but, unfortunately for us and him, it is not going to happen at Everton.
The lad has plenty of skill and a great shot but the most important things are missing: a football brain and the ability to go box to box.
Ross will be forever consigned to the ones who should have been Everton giants but sadly will only ever be remembered as one who almost had it all.
Sign Gylfie quick-style. COYB
Andy Crooks
113
Posted 14/05/2017 at 14:01:08
Darren (#93), I absolutely agree about Sigurdsson. Barkley is, in my view, far more accomplished. However, you are determined to get at Koeman and blame him for everything wrong at our club. If Ross won't sign, what is Koeman to do?
Also, I can recall Koeman's Southampton team playing some very nice football. Do you actually believe that our coach intentionally plays dour shite? He will tighten the defence and then I believe the attacking options will emerge.
This will take more than one season and I expect dramatic improvement come September. Believe me, Darren, I am no happy clapper, nor am I happy with mediocrity, but... I do not expect instant success and I will be patient.
I hope to be at Goodison Park in October. If we have not improved by then, the middle-aged man rugby-tackled by a steward will be me.
Ian Riley
114
Posted 14/05/2017 at 14:03:01
Dave (#110) 100% spot on. Europa League with our squad will be a struggle. I'd rather miss out and have a crack at the top four. So much travelling and Sunday matches appears to have an influence on energy levels of other teams competing in the competition.
But being in Europe does allow the club to increase sponsorship and television coverage of our great club. That must be a positive.
Andy Crooks
115
Posted 14/05/2017 at 14:06:36
Dave, you have no idea how pleased I am to see us in the Europa league. I will travel over for a midweek game. I will save to do so and it will give me a memory of Goodison under the lights that I will cherish. It seems to me that you enjoy what you get while you can.
John G Davies
116
Posted 14/05/2017 at 14:10:19
Wednesday – Saturday.
Thursday – Sunday.
Where's the difference?

Andy Crooks
117
Posted 14/05/2017 at 17:11:43
Exactly, John.
Dave Abrahams
118
Posted 14/05/2017 at 17:35:45
Andy (#115), Good for you, I hope you have a pleasant trip both ways, a good time in Liverpool, a big win for the Blues, to save you running onto the pitch and I might have a pint with you after the game.
Dan Egerton
119
Posted 14/05/2017 at 18:42:22
To those that are not impressed by Schneiderlin. Here is a stat for you:
He is third in the league for interceptions (behind Watford's Ben Watson and Crystal Palace's Luka Milivojevic), despite only playing 13 games for us and only about two hours for his previous club (Man Utd) all season.
Good night, nurse.
Ian Riley
120
Posted 14/05/2017 at 20:07:56
Going on statistics with teams who play on Thursday. Statistics show they don't perform that well on Sunday. Might be due to small squads and injuries. Let's wait and see.
Tony Hill
121
Posted 14/05/2017 at 20:18:07
Tottenham did it 2 years ago when they had a serious chance of the title till late on and played till March 2016 in the Europa. No doubt it's a strain though.
Tony Abrahams
122
Posted 14/05/2017 at 22:02:31
Andy, don't tell Dave you're saving up, mate, because you won't get rid of him if he thinks you've got a few quid in yer pocket! (His eyes will have been lighting up with your last little sentence @115!)
Alan J Thompson
123
Posted 15/05/2017 at 03:38:34
Dan(#119); Not sure what your point is. Are you saying that that is the company and standard he is at or how he uses it after winning it.
Brian Wilkinson
124
Posted 15/05/2017 at 07:01:28
Some good team selection for the Arsenal game next week by posters, I would bring Kenwright in as centre forward with Judy Dench supplying the crosses and Speedo Mick with his flippers on, playing centre midfield.
Keith Harrison
125
Posted 15/05/2017 at 08:30:34
I would just leave our team as it is to be honest. They stopped playing in mid-April.
Alan Smith
126
Posted 15/05/2017 at 10:19:30
This was part of a conversation about Deulofeu's latest goal at Milan. I suggested we need not worry about loosing the Spainish international as I'm sure there are wingers at Swansea who could easily replace him. A friend then mentioned Dyer:
Exactly lad. Dyer's far more consistent, he never gets as high as 7 out of 10. I'm sick of these hyped up kids at Everton that always get on the ball, run at people and try to make things happen. Getting the odd 9s, 8s and 7s.
How can you accomadate players like that when you know the likes Dyer, Holgate, Barry, and Gana give you solid 5s and 6s every week? They never fuck your tactics by throwing a few 7 or 8s in. Or throwing the odd long-range goal or killer pass or beat a man.
We need to go to Spurs away on the back of good run and play with no wingers or players who can take people on so we can get a half-decent defeat to ensure 7th place.
If Lukaku wants out "take the money and run" – I don't want no-one who doesn't want to be here! Besides him, every other player at Everton would rather be here than Madrid, Barca and Man Utd... including the manager.
And I'm sick of everytime he goes away on international duty talking about wanting Champions League footy. I'd rather he wanted Europa League and there is no way I'm giving up learning Flemish and I won't be stopping watching Belgian news. No,no, I'm going to continue to ignore everything he does on the pitch in a blue shirt and go out of my way to read and be offended by comments made to Belgian TV or press.
He's lazy anyway. We could find the next Marcus Bent or Andy Johnson with the money. Spread the goals as well. Gana and Schneiderlin will weigh in with loads, won't they??
We sold Lineker and won the league the following season. And that's still relevant 30 years on. And there are no other examples of teams selling their star striker and being worse off. In fact, it's a known guaranteed way of winning the league. Every big club does it.
There were no other variables affecting the 22 teams in those two seasons 85-86 and 86-87 either. Over the 88 games each of the 22 clubs played, the only factor was Lineker!
That's why when everyone makes the point that we got better after selling Lineker, I'm so impressed by their football understanding and knowledge. Even when it's the 569,000-th time I've heard it.
I sit back, listen, take notes and think this guy should be in management. I bet he knew that McCarthy got picked to allow the full backs to get forward! Because I never did. After two games when I knew the cunt was shite because he couldn't trap a bag of cement, it was relieving to hear that.
He wasn't getting in Coleman's way when the opposition winger used him as a shield to come inside the two of them as he rushed over, he was merely allowing Coleman to get forward. Because, before he signed, Coleman never crossed the half-way line.
And it was still informative to hear the same explanation three seasons later from his most ardent supporters, just in case I forgot the genius tactic. It should have felt condescending but it was that stupid and 'bandwagony' it was impossible to feel anything.
Anyway Tony (#104) is right. Being negative against Spurs away, Liverpool away, has costs us and doomed us to 7th. I don't think Lukaku, Barkley or Deulofeu are the problem... Deulofeu is better than Calvert-Lewin... fact. (I can't write 'imho' as it's a fact.)
Some are suggesting selling Lukaku and replacing his goals between three strikers, forwards or wingers. Well, if Deulofeu would have started every game with Lukaku, Mirallas and Barkley, how many would they have scored?
7th was the lowest we could have finished and with the top 6, except Chelsea being in Europe we've missed a chance to haul them in... the manager has made numerous mistakes. Whilst whipping boys up front have carried out their job effectively in the main.
Paul A Smith
127
Posted 15/05/2017 at 16:58:54
Alan (#126). Wow. I am seeing the fun in the sarcasm of your post but it's sad how it has to be nailed down like this. Even after finishing 7th and our 3 central midfielders scoring about 3 between them all season, you ask anyone who should start Central Midfield next season, at least 90% will name the 3 who started v Watford.
Then, when it's all down to the likes of Mirallas, Barkley, Lukaku to search for goals or create and we have an off-day, it's all their fault. I honestly believe if those 3 players just spent 90 minutes throwing slide tackles in, they would have far more respect.
Dan Egerton
128
Posted 25/05/2017 at 11:55:29
According to talkShite, Barkley ranks fifth out of Premier League players when it comes to key passes. I hope whoever is fool enough to pay £35-50million for him only relies on stats and has never actually watched him play a full game.
http://talksport.com/football/revealed-premier-league-players-who-averaged-most-key-passes-game-season-170525240499
Dan Egerton
129
Posted 26/05/2017 at 12:51:43
Sell Barkely for £30M and bring in Roberto Pereyra for half that.
---
Add Your Comments
In order to post a comment, you need to be logged in as a registered user of the site.
Or Sign up as a ToffeeWeb Member — it's free, takes just a few minutes and will allow you to post your comments on articles and Talking Points submissions across the site.
© ToffeeWeb