Report
Against ten men, Everton simply pathetic
By Michael Kenrick
21/05/2017

207 Comments [Jump to last]
Share: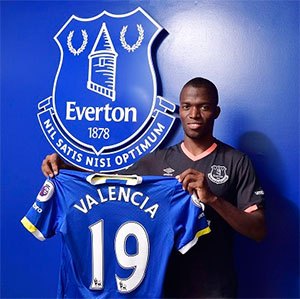 Enner Valencia replacing Ross Barkley is the one change from the side that started against Watford last weekend
Everton bring the curtain down on 2017-18 with a trip to The Emirates Stadium to face Arsenal in a game that could have a large bearing on the Champions and Europa League pictures after all.
The Blues' side features just one change from last weekend, with Enner Valencia coming into the side to replace Ross Barkley. Ex Everton trainee, Shkodran Mustafi was ill and unable to start for Arsenal.
Everton kicked off but the first decent attack was from the home side with a cleared cross and then a snap chance for Wellbeck that he drove wide. More rapid movement from Arsenal ended with an over-hit cross. Mirallas ran forward into a cul-de-sac and Arsenal resumed their forward momentum.
Lukaku got forward but his cross was too deep and Davies was easily mugged, Arsenal attacked again and Ozil pulled a smart ball back off the goalline for Wellbeck who missed a complete sitter, Bellerin had an easy task following up.
Everton were at best lethargic in the sunshine, possibly happy to let Arsenal have their fun as they could stop Arsenal. But a terrible tackle by Koscielny took out Valencia in a horrible tackle and Michael Oliver had no hesitation in showing him a straight red card.
The game restarted after treatment for the Everton man, who was able to resume. Mirallas did well to get the ball through to Lukaku who lashed wide after he was flagged offside. Williams block Alexis and as rather harshly shown a yellow card. Lukaku put in a much better cross but Davies lacked any desire to go for it and the chance evaporated.
As Alexis went to shoot, Gana came from behind and deflected his shot but was adjudged wrongly to have fouled, the dangerous free-kick driven into the Everton wall, Gabriel heading over. Koeman decided to change the game plan, bringing Ross Barkley on early, in place of Tom Davies after Mirallas crossed over everyone.
Valencia had a chance to cross in for Lukaku but drove his low shot at Cech. Arsenal then went 2-0 ahead after a ridiculous goal, the ball hitting Wellbeck who appeared to handball, the Blues all stopping including Robles who was hopeless, and Alexis walked the ball into the net.
Form a free-kick, Mirallas scooped the ball too hard and it flew over everyone. Holgate fouled and Alexis drove a brilliant shot in that Robles punched into Wellbek and it fortunately rebounded wide. Everton finally showed a bit more desire going forward, a decent cross swung in toward Lukaku but Cech was out smartly.
A craze melee where the ball fell nicely for at least three Everton players, Barkley, Gana and Lukaku, none of who could strike the ball properly and a golden chance to score was ridiculously squandered. Jagielka was then shown the yellow card.
Everton won their first corner off a decent strike by Gana that was pushed around the post by Cech. Lukaku get a decent header on a looping cross from Holgate, winning another corner off Cech's save, And Valencia this time tired a strike from outside the box that Cech again saved. At least the Blues were actually shooting at the goal!
Everton continued to be mesmerized by the slick forward passing of the home side but turned things around and created a chance for Lukaku on his left foot, his shot was deflected and from Mirallas's corner, Barkley lazily passed it behind. A pretty poor finish to a pretty poor half from a pretty poor Everton side.
Koeman decided to bring Gareth Barry on for Gana at the break. Lukaku had an early chance to shoot but crossed straight to an Arsenal defender, then got on the end of a good cross he headed lamely at Cech. At the other end Robles saved well from Wellbeck, then from Ozil.
Another poor challenge from Arsenal, this time Gabriel on Valencia, saw the Arsenal man twist his knee and eventually get stretchered off, after getting a yellow card from Michael Oliver.
The idiotic Arsenal fans demanded a second yellow card for a nothing intervention from Williams that Wellbeck made look like a trip. Michael Oliver rightly resisted the shameless please form all in red.
A cross from Baines evaded Lukaku but Monreal handled, and Lukaku scored form the spot, possibly his best ever penalty! Schneiderlin was booked for a fairly normal challenge on Monreal. Holding was next to be booked for blocking Valencia.
Everton's best move of the game saw a lovely cross by Holgate to the back post buried by Valencia but he was called for pushing the defender. Baines was next in Michael Oliver's book, for fouling Ramsey.
Barkley gave a return pass away and Arsenal scampered forward, Robles saving well from Ozil. At the other end, Barkley did his usual dancing around without actually making anything happen, winning a corner on the second attempt that Mirallas lashed over Cech's goal.
Everton suddenly looked like they actually wanted to play football, a couple more shots at goal, another corner, and a header just over. Valencia drove in but lashed over. Kone replaced Valencia for his last ever Everton appearance.
Everton let that brief tempo subside and Arsenal decided to attack with pace, Holgate getting a vital block on Iwobi. An Everton corner came to nought and Arsenal looked for all the world like they had the extra man. Iwobi again got free but Robles did well to keep him out. Barkley lashed a shot wide.
At the other end, Aron Ramsey curled in a lovely strike to underline an absolutely pathetic display by Everton underlining the really poor finish to the season since they 'played' West Ham a month ago. Koeman has a massive task on his hands...
Scorers: Bellerin (8'), Alexis (27'); Lukaku (pen:58')
Arsenal: Cech, Holding [Y:62'], Koscielny [R:12'], Gabriel [Y:51'] (52' Mertesacker), Bellerin, Ramsey, Xhaka (61' Coquelin), Monreal, Ozil, Sanchez (67' Iwobi), Welbeck.
Subs not Used: Giroud, Ospina, Walcott, Elneny.
Everton: Robles, Holgate, A Williams [Y:18'], Jagielka [Y:39'], Baines [Y:72'], Gana (46' Barry), Schneiderlin [Y:60'], Davies (25' Barkley), Valencia (83' Kone), Lukaku, Mirallas.
Subs not Used: Hewelt, Pennington, J Williams, Besic.
Referee: Michael Oliver
Attendance: 59,976
---
Reader Comments (207)
Note: the following content is not moderated or vetted by the site owners at the time of submission. Comments are the responsibility of the poster. Disclaimer
Joe O'Brien
1
Posted 21/05/2017 at 14:26:48
Ross dropped... looks like that's it then. He's leaving us. I for one think it's a shame.
Dave Abrahams
2
Posted 21/05/2017 at 14:29:32
Who is on the bench?
Michael Kenrick
3
Posted 21/05/2017 at 14:30:13
Hmmm... Barkley dropped to the bench. Not wholly surprising given the situation.
Dan Egerton
4
Posted 21/05/2017 at 14:32:06
Joel, Baines, Jagielka, A Williams, Holgate, Gana, Schneiderlin, Davies, Valencia, Mirallas, Lukaku
Subs: Hewelt, Pennington, Barry, Besic, J Williams, Barkley, Kone.

Dan Egerton
5
Posted 21/05/2017 at 14:32:46
Fittingly traffic Kone starts on the kerb.
Peter Cummings
6
Posted 21/05/2017 at 14:41:33
Possibly a hiding to nothing today but who thought we would go to Man City and get a point and then hammer them at home, that's why it's called 'the beautiful game' just hope we can turn it on for the thousands of fanatics who will be at the Emirates, COY,
Just waiting for the game to start live here in a rainy Ontario
So on this final day of another Premier League season just like to wish all Evertonians a fantastic summer and a lot more success next season, you deserve it.
Joe O'Brien
8
Posted 21/05/2017 at 14:45:03
Same to you, Peter, mate.
Winston Williamson
9
Posted 21/05/2017 at 14:47:47
Could be the last EFC game for a number of players today:Jagielka, Lukaku, Kone, Valencia, Barkley...
Dan Egerton
10
Posted 21/05/2017 at 15:03:22
Definitely Kone is gone. And probably Valencia. I think Jags will keep playing, Lukaku as well. I think Barkley is going although the fact that Barkley was promoting next season's new kit and Lukaku was not... says something.
Colin Glassar
11
Posted 21/05/2017 at 15:07:51
We could get a few shillings for our departures this summer. I expect a quite biggish clear out tbh.
Max Murphy
12
Posted 21/05/2017 at 15:16:41
The usual ritual humiliation at Arsenal. Get your calculators out – this is going to be 6-0 or more.
Max Murphy
13
Posted 21/05/2017 at 15:29:58
2-0 down. Just who has ten men? Bloody rubbish.
Colin Hughes
14
Posted 21/05/2017 at 15:36:31
We are a shambolic laughing stock when trying to get a result at any of the top grounds. Arsenal have been no better than average this season and down to 10 men yet still cruising it.
As I speak, relegated Sunderland and Middlesbrough are both holding Chelsea and Liverpool yet we roll over whenever a team needs to win. KOEMAN OUT!

Harvey Miller
15
Posted 21/05/2017 at 15:37:29
They would beat us with seven men, this is just too easy for them. We really need a total shakedown. The playmaker is in order, there is not one player in the team that's comfortable with the ball.
Max Murphy
16
Posted 21/05/2017 at 15:49:54
Absolute disgrace! 2-0 down against a team with ten men for half an hour. Passing awful, tackling chronic, decision-making non-existent. A shower of shite!
Chris Williams
17
Posted 21/05/2017 at 15:50:37
Dan,
I don't think Lukaku is a scouser like all the lads promoting the new kit.
Tony Hill
18
Posted 21/05/2017 at 15:52:34
Thank God they're down to 10. We could have lost by 6-7 otherwise.
Timothy Sebastian
19
Posted 21/05/2017 at 15:57:02
We look like a team on holiday.
Anto Byrne
20
Posted 21/05/2017 at 16:04:13
Looks like we need to buy a lot of players in the next few weeks and sell quite a few as well. It would be nice to have a midfield like Arsenal's though...
Phil Jeffries
21
Posted 21/05/2017 at 16:04:41
From the first-half performance, it was typical Everton. Just starting to get a foothold in the game and we concede a soft second. The rest of the first half was damage control.
Koeman will be livid with this showing, but he is the one who played narrow against a team who played wingbacks – Wenger 1 Koeman 0... but all is not lost.
Barry on for Gueye!!!!!!! You couldn't make it up!
Max Murphy
22
Posted 21/05/2017 at 16:05:29
Barry starts second half. Great positive move, Koeman.
Anto Byrne
23
Posted 21/05/2017 at 16:07:26
I suggest we bring on a 36-year-old player so he can get another yellow to his name. Also adds pace and power in the middle? Fuck off, Koeman !!!!!
Dave Abrahams
24
Posted 21/05/2017 at 16:09:34
I'm watching Man City trouncing Watford, a pleasure to watch real football.
Brian Williams
25
Posted 21/05/2017 at 16:18:58
Yay!! Rom's scored!
Colin Hughes
26
Posted 21/05/2017 at 16:31:59
Harry Kane is currently scoring like Dixie Dean, Spurs could pay for their new stadium if they sold him, yet Lukaku hasn't looked interested for two months and we put a 𧴜m tag on him; we'll be lucky to get half that.
Max Murphy
27
Posted 21/05/2017 at 16:51:26
3-1. Great performance Everton against 10 men. We need more games against 8 or 9 men.
Mark Morrissey
28
Posted 21/05/2017 at 16:58:50
Well done to Harry Kane, playing his heart out to the very final whistle of the season.
I can't say the same for Rom and there is the difference. Different mentality.
I hope we have a better summer signing players than last years damp squib cos boy do we need some players.
Tony Hill
29
Posted 21/05/2017 at 16:59:38
The biggest worry is that we are not going to be attractive to new players. Looking objectively at the club, why would anyone think we are an exciting proposition?
Our lack of spirit is a disgrace and, yet again, the travelling support has been hugely let down. Utterly embarrassing and it is difficult to see how this shite can be transformed in the space of 3 months.
Karl Jones
30
Posted 21/05/2017 at 16:59:39
So many changes to that Everton squad needed... It's just not going to happen. Disgrace to the shirt some of them. Couldn't have beaten anyone today.
Kevin Rowlands
31
Posted 21/05/2017 at 16:59:48
We played nearly the whole game versus 10 men and the only one to come out of the game with any credit was our goalkeeper... tells you all you need to know.
George Cumiskey
32
Posted 21/05/2017 at 17:06:23
Arsenal must have been gobsmacked to find it so easy with ten men against a team who are supposed to be challenging for the top four.
It was atrocious, the sooner Barkley and Lukaku have gone the better. And I'm afraid Holgate doesn't answer any questions being asked.
Jim Harrison
33
Posted 21/05/2017 at 17:07:28
Well, that was shite. Not sure anyone came through that with any credit
Joel made some decent saves I suppose. And I thought Baines played okay. The rest of them? On holiday.
I can understand subbing Davies, he looked out of his depth today. Barkley's last chance to impress? Abject failure.
Koeman needs to earn his pay this summer.
Rick Pattinson
34
Posted 21/05/2017 at 17:09:01
New goalkeeper new defence new strike force. Players with passion. Players with fight. Apply within. Things need to change.
Tony Twist
35
Posted 21/05/2017 at 17:09:20
As fans, we really are too good for this embarrassing team and. to be quite honest. manager also. We need to be bringing in players that haven't got egos and give a damn whether they win or not. Never mind wanting a new goalkeeper, half the defence needs changing with Holgate and Kenny in my opinion worth keeping and we will see how Coleman is when he returns.
The jury is still out with Moshiri , all I see is Everton still selling before buying this summer which is a recipe for disaster. Koeman and Walsh could be on borrowed time once the season starts again.
Today's performance totally unacceptable whether it was a dead rubber game or not. Bye bye the so called stars, Lukaku and Barkley, I do not wish them luck.
Christy Ring
36
Posted 21/05/2017 at 17:10:17
Shambolic against 10 men. No shape whatsoever. I'm still not sure if it should be Koeman going instead of Ross.
Ian McPherson
37
Posted 21/05/2017 at 17:10:24
Pathetic attempt, we were on holidays since West Ham away. A lot of new blood needed.
Colin Hughes
38
Posted 21/05/2017 at 17:10:26
To think some fans still tthought we had an outside chance of top 4 in March before we went to Spurs and Liverpool and we somehow manage to finish a huge 15 points off 4th, Everton that.
Steve Brown
39
Posted 21/05/2017 at 17:12:32
Shambolic, weak and pathetic. Yup, that sums it up.
Liam Reilly
40
Posted 21/05/2017 at 17:13:44
Without the new stadium, it's going to prove very difficult to convince any decent players to come here.
I had to watch that shite with a Saudi commentator and the only words I could understand was "Arsenaaaaal Yessss" or "Arsenaaaaal Oooooooh"
He said it a lot.
John Graham
41
Posted 21/05/2017 at 17:14:01
Too many players with their bags packed ready for a holiday. We need lots more competition for places. Bring a few of the kids from the England U-20s in and get a couple of transfers done.
We won't achieve anything until these players are under pressure when playing for their shirt. Only probably 3 or 4 of the present squad today deserve their places.
Hopefully when Lukaku, Barkley and a few more have left, we can get a decent team spirit going and put pressure on the teams who finished above us.
Trust in Koeman!!!

Robert Workman
42
Posted 21/05/2017 at 17:16:13
Can't believe we didn't win that game. Totally dominated second half. Brilliant goal disallowed. Robles made good saves, but we had so many chances in both halves.
Colin Glassar
43
Posted 21/05/2017 at 17:19:02
Best, and most apt, headline all season. Pathetic it is.
Don Alexander
44
Posted 21/05/2017 at 17:19:36
Get the post-match comments of Ronko! OUCH!!!!
Colin Glassar
45
Posted 21/05/2017 at 17:21:37
Makes me wanna puke seeing Chelsea win another (5th?) title. The are catching us up with only a 12-year history. They've already won loads more cups than us.
Steve Barr
46
Posted 21/05/2017 at 17:23:35
Valencia and Robles were the only Everton players worth a positive mention in my opinion.
I'm actually thinking about changing sports never mind teams after this debacle. I watched the Exeter v Saracens semi final yesterday and realized that football players are just not in the same league as those guys as far as commitment, effort, bottle, leadership etc is concerned.
What a disgrace.
Paul Burns
47
Posted 21/05/2017 at 17:24:31
The gobshites ruining our club, and I include the players, management and coaches, are shameless. They are stealing a fucking living and no amount of words can have any impact on their performances. They obviously just don't care and should be dragged out like the rats they are.
Many Evertonians will be turning in their graves at the shambles Everton FC have become and the people who accept it, many on here. We should knock Goodison down with these crooks and frauds still in the ground. They are a disgrace to the once proud name of Everton.
Colin Glassar
48
Posted 21/05/2017 at 17:26:47
What did he say, Don?
Sean Patton
49
Posted 21/05/2017 at 17:28:12
Saved the worst until last. That is almost bordering on a sacking performance for me; they had 10 men and were cutting us open at will if not for Robles that would have been a rout.
The attitude and mentality of these players is an utter disgrace – not one outfield player showed a glimpse of professional pride.
As for the manager and his cluelessness away from home, he just beggars belief – completely Moyes-esqe. I remember a derby match we lost 3-1 after Gerrard was sent off after 20 minutes and this was even more lamentable.
Don Alexander
50
Posted 21/05/2017 at 17:30:05
Everton manager Ronald Koeman:
"It wasn't good enough. We saw today what we need for the next season. We need more productivity out of possession. That's the difference between us and Arsenal. We did everything to win the game but we had to score in the first half. It was a long time 11 v 10 and a penalty isn't enough."
On Ross Barkley: "He was one of the players who didn't show productivity today. Overall it's not about one player, but I understand why you asked about him. That's what we need to change. We need to find players with more productivity."
How many players does he need next season? "I know everything, that's not for you. The board will back me. We want more quality in. That's what they will support."
He then wound up by saying;
Everton boss Ronald Koeman speaking about Ross Barkley's future in his post-match news conference.
"I will speak to the board tomorrow and we will make a statement."

Jim Bailey
51
Posted 21/05/2017 at 17:31:35
Well, another season done and dusted. The usual capitulation against Arsenal being a perfect send off. The perfect send off for Barkley, Lukaku and others.
I will be very happy to see the back of both of them. Lukaku because of his awful attitude and body language when things don't go his way, and Barkley, irrespective of where he was born, because he will never in my opinion make the top grade. God alone knows what effect the antics of these two have on the general mindset of the other players.
Everton, for the first time in a long time have the opportunity to take positive actions in all areas of the club. First and foremost is to get rid of the deadwood (and yes, I do include Barkley and Lukaku in them) and to try and buy players with the mental ability to play top level football.
Players who have the ability to be part of a team and not just interested in their own performance. (Why did Lukaku take today's penalty? Oh, I know... to boost his goal tally for the season.)
Players who never stop trying and battling even if seemingly for a lost cause, and players who can do the simple things very well.
Koeman has done okay for me this season, now he has to prove that he has the wherewithal to fashion a team with his ethos, style and methods.
Colin Glassar
52
Posted 21/05/2017 at 17:33:13
Oops, that's Ross out then.
Peter Cummings
53
Posted 21/05/2017 at 17:34:22
Despite booking a place in European competition today we looked like a club heading for relegation, a disgraceful performance against ten men for 90% of the game. The only bright spot was, again, my MotM, Joel Robles who stopped a total rout, stopping at least three 'certs' – all of them from chaotic 'defending' blunders in the second half, when it should have been us calling the shots.
To say we need a major overhaul is putting it mildly, starting with I'm sorry to say, the manager, who doesn't seem to have a clue how to motivate his players and constantly tries to put square pegs into round holes with his selection and substitution choices.
And we all know where the axe should fall first: Kenwright and his cronies, who think fans don't matter in any shape or form now that the big money comes from other sources than their hard-earned pockets.
Trevor Peers
54
Posted 21/05/2017 at 17:36:24
About time to, get shut of all those who won't sign new contracts, that must be his first priority.
Andrew Presly
55
Posted 21/05/2017 at 17:37:08
I had to sit in the Arsenal end and by the time they scored the third, which when contrasted to our attacking cluelessness was a classy build up and nice finish, I was actually just happy we could officially give up trying to get anything out of that. How sad but true.
The embarrassing thing is that nobody seemed that embarrassed we couldn't score or really dominate against ten men. It's just what we do away at teams like Arsenal.
Only Valencia put in a shift today, playing for a contract presumably. Ross tried but it wasn't happening for him. Squad player now or just sell him. Not bothered anymore. Again, sad.
Glad this season has ended and we can make 5 or 6 upgrades to hit the Europa League qualifiers running. That would not include losing a 25 goal striker, annoying as he often is.
A great summer to all ToffeeWebbers!
Tony Abrahams
56
Posted 21/05/2017 at 17:38:57
Michael, I slagged your headline after the Chelsea game, but for what it's worth I agree with this one,100% mate.
People have slagged Koeman, for being too negative with his formations away from Goodison, whereas people like Paul Tran have been saying that our forward players lack real quality and need up-grading.
I think today has shown that Paul's views are correct and is hopefully the reason that the manager has played way too cautiously away from home this season.
Good players know how to hurt the opposition by attacking with real intent, whereas I think our players are much better at hurting us fans, simply because they fail to show any real intent. Thank god it's all over for a bit!
Derek Knox
57
Posted 21/05/2017 at 17:38:59
I really struggled to get any link to the match that worked; eventually managed to watch the last 30 mins or so...
While I appreciate there was not a lot riding on today's game. What about pride, and the future? I can't really comment on team players' performances in general, but what I saw late on, there was little commitment considering they were against ten men.
We do need a few, no, a lot of new faces, preferably ones who are prepared to give more for the cause.
Rob Tedford
58
Posted 21/05/2017 at 17:39:14
One of the most frustrating games this season; nothing on it and we still can't have a go. Tactics wrong again but the mentality of our players is so weak , time for the team to be dismantled.
Both keepers aren't good enough; Robles would be if he had a brain.
Jagielka been a great servant but time to go.
Williams hasn't worked out.
Baines wasn't too bad today but he's coming down that hill now.
Mirallas has robbed a living from us, so much talent but we never see it.
Don't get me started on Barkley, pretty sure he's the reason I'm going grey...
Then we have the players who are out of contract or definitely leaving. I think we need about 10-12 new faces in and I hope at least half of them are winners and leaders cos we are just too nice to play against and players at the minute keep making the same mistakes and never learn.
Big summer ahead and I hope we approach away games with more positivity next season.
Coyb
Jim Bennings
59
Posted 21/05/2017 at 17:41:47
Utter shite from the Spineless Glass Ceiling Bunch.
Has anything really changed since Moyes's last season here?
Certainly Martinez in his first season here made us dream again of what could be with a record points tally but became a victim of his own first season and inability to work on defence.
One thing is certain: we need to start that new season with at least 7 new players in the starting eleven; failure to do so will simply result in more of what we have witnessed in the last two months.
Take a look at who we have beaten since Man City in January...
Basically we've done nothing, not seen an away win since January either.
David Connor
60
Posted 21/05/2017 at 17:49:32
Well said Paul (#47). Next season is huge both for the club and the manager.
Home form: great; away form: relegation fodder. This has to change as from next season or it will probably more of the same. Which isn't good enough for EFC. 7 out of 10 for Ron in his 1st season.
Today's performance: 0 out of 10 for all concerned, it was abysmal. Fingers crossed we can attract the type of players we need and get rid of the dross. Roll on next season.
Is Barkley staying or going? I for one don't give a flying fuck.
Gavin Johnson
61
Posted 21/05/2017 at 17:54:12
I thought Lukaku and Valencia worked hard but they had very little for them to work with.
Koeman is right that we need more productivity and we need a different type of midfielder to what we have. I've had enough of this Barkley stand-off. He can go. He's lucky to be at the club at a point in time where we do have some financial backing and are starting a new era.
I have no empathy for an Evertonian seemingly holding the club to ransom. No, he's not said anything but his silence speaks a thousand words. He should have signed the contract ages ago and the fact he hasn't shows he's not fully committed. I'm shocked he gets off so easy on this forum, and it seems a little bit like his situation's used by some posters to vent their confirmation bias against Koeman.
I'd happily do a part-exchange for Barkley with Arsenal for several of their players - Ramsey, Walcott or Oxlade-Chamberlin. Any of them would be an improvement on Barkley.
Jim Bennings
62
Posted 21/05/2017 at 17:55:03
Martinez got roasted at this stage last season for the players downing tools with six games remaining, we heard rumours of players not wanting to play for him etc .
Let's be brutally honest since mid-April the players (majority of the same ones as last year) have done exactly the same!!
They have stopped playing, looked disinterested, no idea's going forward and frankly the defending today, at Anfield and against Chelsea has been every bit as bad as last season.
Kunal Desai
63
Posted 21/05/2017 at 17:55:39
I think it's difficult for any manager to transform Everton. I still believe the only way for us to ever become a big player amongst the top 6 is for Moshiri to bring in someone like Usmanov and to remove the likes of Kenwright, Woods and Elstone.
If these guys are the ones negotiating contracts and conducting transfers, then god help us. We need the deadwood cleared out at the top before it starts transpiring onto the pitch.
Michael Lynch
64
Posted 21/05/2017 at 18:00:05
So it's the end for Ross then. Shame, but I think Koeman is spot on – he's not good enough, and we have to make a decision going forward.
I'm just hoping that Walsh and Koeman have a decent hit list of players, and the board have got lots of wonga to give them. It's looking like a total rebuild, despite finishing a respectable 7th.
Paul Tran
65
Posted 21/05/2017 at 18:00:20
Tony, the difference in the movement, pace, skill and mobility of their players compared to ours told me everything. It rendered our one man advantage irrelevant.
We desperately need two attacking midfielders who are interested in passing forwards, shooting and scoring. That will make life easier for Gana and Schneiderlin, who will win the ball and have someone to pass to. It will take the load off whoever our strikers are and create more chances for them.
Barkley, Mirallas, Valencia and Deulofeu do not convince me for the level we're aiming at; all four are squad players at best. They've had enough time to prove themselves and haven't cut it consistently enough.
Plenty to criticise Koeman for, but if you think we'll progress with them four, I think you're kidding yourselves.
Darren Hind
66
Posted 21/05/2017 at 18:01:00
Our forward players are talented enough Tony, but even with ten men Arsenal offered the man on the ball so many more options than we did.
I lost count of the number of times we had the ball in decent positions, but the guy in possession was offered no support.
It doesn't matter who we sign mate, if we don't break this ridged inflexible approach, we will always struggle.
This game is only beautiful when you work at it. Pass n move, pass n move. pass n move, PASS AND FUCKING MOVE!!!!!!!!!!!!!!!!!!!!
Paul Needham
67
Posted 21/05/2017 at 18:01:05
Reading Koeman's comments after the game, he knows what is needed. He seemed genuinely hacked off with the effort and the total ineptitude of the side to create decent chances. Not just this game but loads of games.
The changes will take time; I have supported for 50 years, another couple to get it right in the grand scheme of things is not long. We deserve better and I am confident that we will be stronger next season.
Arsenal breezed through the center of defence at will. Sort this out.
The midfield needs someone who can not only see a pass but put the bloody ball there. I think Barkley is out and maybe a few signings in and one could be Rooney. He may be knocking on a bit but he can pass. The youngsters can do the running for him.
We counter attack reasonably well to a point then we run out of ideas or speed, not sure which, but everything fizzles out. Clinical players cost money; we will invest, we have to.
Let's give Koeman the chance to spend some money and see where we are next year. I do honestly think we will be closer to the top 6 and still way ahead of 8th. I may have tinted glasses on but I see some development. Either that or I need more ice in my drinks.
COYB
Raymond Fox
68
Posted 21/05/2017 at 18:01:22
Tony (#56), the squad have not been individually good enough for 3 seasons now.
I've posed the question several times over that period who in our team would be a starter in the usual top 6 teams, I never had a response, why because there is/was no-one.
The only way we will challenge for a top 4 position is by spending 𧺬m +, will that happen, not likely I'd say.
I don't care who the manager is, if the players are not good enough ,we are reduced to playing 'for best of the rest'.
Yes we have some good players, but not good enough to take us to the top.
Its become pretty dispiriting, I have to say.
John Belshaw
69
Posted 21/05/2017 at 18:05:05
The players all seem to have downed tools at least a month ago! Not only does the club need 5 - 6 new first team players with a winning mentality but winners in the boardroom too.
Speaking of which, Kenwright should sell up and go. He has contributed nothing to the club and is associated with failure. He has overseen the unrelenting decline of the club from one of the Big 5 to perennial trophy-less also-rans.
Philip Yensen
70
Posted 21/05/2017 at 18:08:46
We done our part and let Arsenal win, but Middlesbrough didn't, shit happens. Koeman can sit down with the powers that be at Goodison, get shut of the shit, wannabes and the egotists, and build for next season. Let's see who is all mouth and trousers or who has the bollocks to go large.
Get shut of Lukaku, Barkley and Mirallas. Rebuild now.
Paul Tran
71
Posted 21/05/2017 at 18:09:23
Darren, you're right on the movement. Thing is, this is the third manager running where we've been saying this. The common denominator is the forward players' lack of movement and consistent application of the skills they possess.
They need replacing, whoever the manager is.
Colin Glassar
72
Posted 21/05/2017 at 18:10:17
Kunai, best post of the day by a mile. At Everton the rot starts at the top.
Jim Bennings
73
Posted 21/05/2017 at 18:10:38
Our forward players are talented??
Really?
Outside of Lukaku!?
Barkley is a poor man's Bilyaletdinov and Mirallas's best days are two years gone now; he was never that productive on a consistent basis even then.
Who else is there?
Jon Cox
74
Posted 21/05/2017 at 18:11:00
Can anybody truly say that this is a better team than Moyes had in terms of personnel? We need new players and fast. At the moment, we are on a road to nowhere. We are about as effective as a Walter Smith team.
It's clear out time. Out of the back four it can only be Holgate. Seamus is a question. Baines is finished (pissed off about this one cos I loved him).
We have to massively re-energise our back line cos they're the problem. It's about ball playing defenders that aren't called John (please take it off my foot while I ponce about in my 6-yard box) Stones. Good and natural footballers are gifted with making the right decisions.
Barkley had the chance to shine today. He didn't, we lost, get rid.
And the same goes for Lukaku. The amount of times this excuse of a footballer fails to get in front of a defender to put pressure on the oppo's goal.
I played footy in the 60s an 70s and at all times we were told to beat the defender to the near post or just to the ball.
That along with many other reasons is why for me Lukaku should go in the summer. Either that or put him on a 6 week humility course.
Valencia by the way played great. He put in a good shift. However this was all about being signed, on a permanent basis.
Ron has a lot to think about but lets give him at least three more transfer windows.
At that point, the people that really matter (us) can re-evaluate his usefulness.
John Charles
75
Posted 21/05/2017 at 18:12:41
Honest Ron again hangs his players out to dry (rightly so – they were pathetic and have been for most of the season), without taking any responsibility for the dross served up for most of this year.
We need to have a far better summer than last – though Koeman does not inspire confidence here...
Liam Reilly
76
Posted 21/05/2017 at 18:14:07
Barkley looks gone after those Koeman comments.
I think it's the right decision now. He needs a fresh start and we need to rebuild around a different spine.
But who of quality will come here is another question.
Oliver Molloy
77
Posted 21/05/2017 at 18:14:55
Well , the news coming through is the club will make a statement on Barkley tomorrow.
Trevor Peers
78
Posted 21/05/2017 at 18:16:26
It's impossible to play a pass and move game with the donkeys we have in attacking midfield positions, let's see if Koeman can sign the players he thinks can make a difference, and then judge him.
Colin Glassar
79
Posted 21/05/2017 at 18:18:12
Gutted for Ross but I bet by September he knew he didn't have a future under Koeman. Ross was used to being wrapped up in cotton wool and now he's felt the cold blast from Holland.
Good luck in the future lad and I really hope you can develop that vast talent you undoubtedly have.
William Cartwright
80
Posted 21/05/2017 at 18:18:18
I watched the game in a pub full of big screens and hordes of big fans watching big clubs. Everton and Arsenal relegated to a standard TV in an obscure bar, away from the media's Liverpool love fest so there was no real embarrassment in watching a truly dreadful display, reminiscent of the Sunderland game last season.
Just thinking back a couple of years before Martinez went into his own particular meltdown when the quartet of Barkley, Deulofeu, Stones and Lukaku were set to take Everton forward. What the shit has happened!
I am hugely disappointed in the complete lack of passion and ;running out of steam' on show, all being played out at the expense of the Everton supporters who deserve so much better.
I also feel hugely deflated at the uncharismatic chump that Koeman seems to be doing a great impression of. There must be so much going on behind he scenes but I for one am utterly depressed tonight at the simply awful lack of ability and style of the first 11, compared to the all out effort of the Under-23s.
My ideal world suggestion (question marks show some reservations) for a clear-out next season is the following:-
Replace Koeman and his cohorts.
Replace Lukaku, Barkley, Barry, McCarthy, Baines, Funes Mori, Williams, Jagielka, Robles or Stekelenburg, Mirallas, Kone, McGeady, Lennon, Valencia...
Import the following 4 (top, top class) additions:- goalie, striker, inside forward / playmaker, and centre-half.
Supplement the imports with a good selection of the Under-23s including but not necessarily limited to:- Walsh, Dowell, Kenny, Galloway, Connolly, Pennington, Browning, et al.
Suddenly, the squad including the core players such as Coleman, Gueye, Schneiderlin, Davies, Holgate, Besic, Bolasie, Lookman, seems very good and a winning mentality should grow from this.
Appoint Unsy with Royle and Big Dunc alongside and see where we go, with a renewed passion for the heartbeat of the club.
I simply cannot see that grouping of players and management doing any worse than the mercenary 'project' manager we are currently saddled with.
Dave Roberts
81
Posted 21/05/2017 at 18:21:07
"Pass and Move" is dead right and is exactly what is missing. Nobody looks for space or to make themselves available and there's too much passing to feet which provides no momentum at all.
Baines has got to go, he was never a good defender but was worth his place because of what he offered in attack. Now he offers nothing.Williams was a stop-gap and he should revert to a squad player at best.
Playing two defensive midfielders does nothing except put us on the back foot and we now have to accept that Barkley is never going to be the player we thought he would be so he can go too as far as I am concerned.
As for Lukaku, he has his limitations but if he played for an Everton side that could put the pressure consistently on the better sides he would get the goals. The fact he gets few goals against the better opposition is a team problem and not only his. We also need centre-backs with some prowess in the air..... we have none at the moment.
This team needs a few gritty players who don't give a shit who the opposition is or where we are playing, home or away, an Alan Ball, a Joe Royle, a Peter Reid or a Pat van den Hauwe. This current lot are as psychologically weak as a piss shandy.
The whole ethos of the club has to change and, while we all love the School of Science bit, we have to become the School of Winning or we could end up having the best dockside stadium in the fucking Championship in a couple of years or so.
David Hallwood
82
Posted 21/05/2017 at 18:21:12
Raymond (#68),
The squad isn't good enough to challenge the top 6; I get that, but could anyone tell me what formation we were playing today?
I'm not saying that I'd like to see him at Goodison, far from it, but in a Pulis team, all the players know what their roles are and he gets the very best out of technically limited players.
Since the injury to Coleman, there's very little going down the flanks: no linkup play, we've got Rosall thought was going to be the new Gazza but who has instead morphed into Butch Wilkins – get the ball, run 5 yards, stop, check, turn lay off a 5-yard pass, stand and admire said 5-yard pass.
Whether it's just end-of-season flip-flop football, though Spurs aren't exactly thinking about beachwear at the moment, there's a worrying lack of focus to our play. I think Ronny will be earning his £6 million in the coming months.
Jon Cox
83
Posted 21/05/2017 at 18:21:18
Rumour has it that my mum's sister's uncle's granddad has heard that Ron and Walsh have a room booked in the local pub in Sligo.
Paul Swan
84
Posted 21/05/2017 at 18:25:19
Once again, Koeman refusing to accept any blame for another clueless and spineless performance. Stands in front of the cameras with all the personality of a sprout talking about productivity from the players but how many times this season have we seen changes early in the games because he simply got the team selection wrong?
An entire season of poor management both on and off the field allowing players like Lukaku to get away with disrespecting the club and supporters, spouting off in the media at the drop of a hat, and at one stage joining in himself with his deluded view that Barcelona will one day come calling.
Too many rotten apples in this club dragging everything else down basically doing nothing for the last 10 games of the season. Lukaku, Barkley and Koeman himself can just piss off as far as I am concerned. Major surgery needed here once again.
Dan Davies
85
Posted 21/05/2017 at 18:27:12
Bring back Naisy!
Oliver Molloy
86
Posted 21/05/2017 at 18:28:13
William,
It's going to be hard enough for Koeman. to attract the right players that will make a real difference to us. With respect, I think the three Evertonians you suggest in charge we would find it even more difficult.
It's going to take a lot of money to get us even looking at top six in my opinion and I'm not convinced Moshiri is going to put his hand in his pocket.
Once again we will sell to buy – watch!
Jim Bennings
87
Posted 21/05/2017 at 18:36:59
Moshiri needs to show his teeth this summer or fuck off!!
It still rankles with me that we were meant to have so much money this time last year yet look at today, we are still bringing Arouna Kone off the bench, playing with an ageing washed-up defence, dragging Gareth Barry off the bench and still putting up with dodgy keepers and still looking completely one-dimensional in front of goal.
Show us you are the real deal, Moshiri, don't balk at asking prices for our primary targets, if you have to pay over the odds to make Everton successful again then bloody do it because us fans are totally sick of always waiting for the future that never actually gets any nearer.
Raymond Fox
88
Posted 21/05/2017 at 18:45:09
In a nut shell, we don't spend enough on recruitment and are only able to sign players that the present top 6 don't want.
Until we can somehow change those facts, we are stuffed as far as Champion League football is concerned.
Sad but true, at least that's my opinion.
Darren Hind
90
Posted 21/05/2017 at 18:47:16
That's a bit of a cop-out, Paul Tran.
These players showed their talent in Martinez's first season. They missed out on Champions League football by a whisker playing teams like Arsenal (a better one than today's) off their own park.
Martinez strangled the progress with his possession obsession. we were more interested in keeping the ball than we were in hurting the opposition. .
Koeman has no excuse whatsoever. He was the guy hired to change this shite. apart from playing a more defensive brand of football, nothing has changed. There is STILL no movement in the team. Every week we play with eight defensive players, players who are more capable of tracking runs than making them.
The more people excuse this shite, the more we will see of it next season. Watch Barkley go when he is playing with players who don't spend 90 minutes worrying about where they will be if an attack breaks down.
Koeman Out!
Martin Mason
91
Posted 21/05/2017 at 18:47:56
Possibly the most disappointing performance and result in the 60 years that I've been an Evertonian. Not the worst just the most disappointing considering the promise and expectation of a new dawn for the club.
My intention now is to try to get them out of my blood and brain, not only Everton but the whole soccer thing where the owners and players are mega rich and the people who pay for it just normal, even poor people.
Today was an insult to Evertonians who are generally great fans, an insult to those who spend their hard earned money to go and watch it.
Paul Ferry
92
Posted 21/05/2017 at 18:51:09
OMG William Cartwright (#80):
'Appoint Unsy with Royle and Big Dunc alongside and see where we go, with a renewed passion for the heartbeat of the club'.
https://www.youtube.com/watch?v=WGau8RBMNG8
Jim Bennings
93
Posted 21/05/2017 at 18:52:05
Raymond
You could say that but what about Leicester?
I do agree it rarely happens and I think we need 𧶀 million spending on top class but sometimes you need a manager who can get his players working ultra hard in EVERY game.
Sadly, I don't think Koeman can really say he's had his men doing that recently at all and he's got a few months now to see exactly where he's going and what he needs to do to improve.
Paul Smith
94
Posted 21/05/2017 at 18:53:49
On my way back from the game. Enner – MotM by far – give him a permanent move & it's a given he'll be shit next season.
Game went the way I thought it would, concede early to their superior forward play, bags of pace & movement, we couldn't cope at the back... 10 men ffs.
One thing, Big Dunc had them all approach the away fans at the end anyone shying away was left under no illusions – the fans mean the world to him. Great to see, true blue legend.

Nicholas Ryan
95
Posted 21/05/2017 at 18:56:34
Not good!
Mark Morrissey
96
Posted 21/05/2017 at 18:56:53
We should all pack our bags and get on a pilgrimage to Lourdes and then we should all hope and pray that Arsenal win the FA Cup.
That will mean that Wenger will stay. That will prompt Usmanov to say "Fuck it" to their club and come on board with Moshiri because then and only then will we be able to start competing with the top 6.
The Europa League won't convince anyone to join us. We need serious money. We need the likes of Usmanov to join Moshiri. Get praying, boys.
Kieran Kinsella
97
Posted 21/05/2017 at 18:58:10
Koemans "statement" on Monday? What's the point of a statement unless he signs? Will we publicly transfer list the guy? Seems weird. If people know you want to sell, they're not going to come in with mega offers.
Paul Tran
98
Posted 21/05/2017 at 19:01:16
They showed their talent in Martinez's season, Darren, until they wilted when it mattered. And was what happened after that completely and solely down to Martinez? Don't players have minds of their own anymore?
Don't for a minute think I'm excusing Koeman here. I think he's partially 'tanked' this season by keeping things tight and hitting his 'target' of Europa League. It's been dreadful to watch and we've missed out on points away from home that were there for the taking.
He's built a giant rod for his own back by showing his lack of confidence (which I share) in our attacking players bar Lukaku. He has to get results in the transfer market this summer or he will be right up against it at the start of next season. I wouldn't be entirely surprised if we made little progress with transfers and he walked.
I'll say it again, if we're going to progress, this team needs improving, regardless of the manager's name.
Clive Rogers
99
Posted 21/05/2017 at 19:01:53
I would sooner keep Valencia than Mirallas as he is getting worse by the week. He only wants to play backwards and sideways. Valencia is much more positive.
Charles Barrow
100
Posted 21/05/2017 at 19:03:43
I've been to enough away games to know that Koeman hasn't a fucking clue!!!! All he does is set us up to lose. Full stop.
All he does is blame the players. Isn't he supposed to motivate them! He's paid X millions to win games. What a joke he is.
Steve Hogan
102
Posted 21/05/2017 at 19:07:11
Dear me, Darren (#90)... 'Koeman out' after less than 12 months... not sure whether you're being serious or not, but you must be blessed with a great footballing wisdom, to decide that the manager is not worthy of another season.
Clearly you have made your mind up and nothing is going to detract you. I hope you have the humility to come back on here in 12 month's time, if he as managed to turn things around.
Phil Bellis
103
Posted 21/05/2017 at 19:11:04
I watched the game on a screen with no sound in a pub in L1, away from the RS wankfest.
There was no way anyone wandering in to watch would have known Arsenal had a man less than us; all the above posters slating the lack of movement are spot on. It was as easy as playing against plywood cut-outs.
The viewing audience went from embarrassment through resignation to anger. Arsenal are well above us for skill, but, in a season where were we played less games than since the outbreak of the First World War, we couldn't find the energy to match 10 men for movement and effort.
Absolutely shameful performance.
Raymond Fox
104
Posted 21/05/2017 at 19:12:36
Jim, I think Leicester was a one-off miracle, everything went their way last season.
Things are back to normal with the usual money clubs making up the top 6.
Nobody can deny that managers differ in ability and effect, but I believe the quality of the individual players is the most important factor in how the season pans out. It is hard to prove though, which is the most important!
Phil Walling
105
Posted 21/05/2017 at 19:23:12
But who signs the players, Raymond?
Mike Berry
106
Posted 21/05/2017 at 19:29:35
Sounds like it was a poor performance, but let's give Ronald a proper and full transfer window so he and Steve Walsh can bring in the players they want.
It's going to be fascinating with the ins and outs.
Paul Birmingham
107
Posted 21/05/2017 at 19:30:24
It must be the tea they drink at Finch Farml! Joking aside, this has become a farce and we have only managed 7th based on decent home form in 2017.
The perennial lack of shots on goal etc and lack of nous and guise in and around the box and you know every season EFC will win that prize ad default.
The players don't play for the shirt and against 10 men no one could take the initiative and drive the team on to win.
Deffo some on show today will be gone and the rot must stop this summer and very soon. I hope the business is done quick and genuine good players with guts and soul are signed. The sad thing is that there's barely any genuine desire and I reckon that some mental mindset training must be brought in and deffo change the tea!
I reckon as much as I want us to succeed, next season will be even worse as pulling any decent players will be a real test for Steve Walsh and Co, and paying over the odds wages for average players wont work. I hope I'm proven wrong.
I'm glad the season's over, as the anguish gets worse with age, and frustration and reality is total. If the ground move kicks on, then great, but we need a worthy team to represent EFC, before anything else.
A good summer to all Evertonians.
Gavin Johnson
108
Posted 21/05/2017 at 19:30:52
Darren Hind – now using Roberto Martinez's first season as the benchmark to slag off Ronald Koeman? I've seen it all.
Yes, a whiskers away from Champions League and you were still calling for Martinez to be sacked. Change the bloody record, lad.
Lewis Barclay
109
Posted 21/05/2017 at 19:33:16
Remember that Bobby Brown Shoes had a good first season. I'm terrified that this could be Koeman's "good first season".
Darren Hind
110
Posted 21/05/2017 at 19:34:35
Gavin Johnson,
I was calling for Martinez to be sacked when it was obvious he didn't have a clue what to do with good players. I seem to remember you pleading with everyone to give him more time, because you knew he would get it right.
Been here before...
Bill Gall
111
Posted 21/05/2017 at 19:37:30
I am afraid that the performances from Everton for the last 6 weeks do not inspire me to think that any of the top class players who have been mentioned, will want to come to Everton.
I just can't understand what has gone wrong, with the lack of effort from the players, to the poor response from the manager, and just like last season when it became safe the "Why bother, we still get paid" performances on the pitch.
For a club that is looking for improvements from this season it is going to take an awful amount of changes to improve the squad, and we are talking 5-6 players who are a lot better than who they replace.
I hope Koeman is very disappointed from not only today's performance but from previous weeks and even from the whole season, as away from home you would think it was a different set of players that have just met than the ones who play at home.
Today's performance demonstrated how high the mountain is to climb into the top 4 as we could not compete against the 5th place team who were down to 10 men.
Yes the players are to blame but the manager also has a lot to answer to, if he believes he is the man for the job, as he is not demonstrating enough to warrant his reputation.
Brian Harrison
112
Posted 21/05/2017 at 19:41:02
Well, again, Everton away to a top 6 side and lose again, this isn't new this trend has been there since the 90s. How you change it is the difficult part. Yes, at home we usually can at least give the top 6 a game, so how come our away form against these teams is so woeful.
Seems that we lack any belief that we can go to these clubs and beat them, and also over the last couple of decades we haven't had the finances to buy the players that can challenge them. So I hope that Walsh and Koeman will start to bring in the type of players that can change our mentality.
Buying right in the summer will be crucial, and then Koeman giving them the belief that we can challenge these clubs away as well as at home. Every manager needs some time to get the players he wants and to get the team playing his way.
Martinez had a good first season but with a second season also competing in the Europa League, he became obsessed with possession rather than trying to hurt teams. So next season Koeman will also have a Europa League campaign as well as challenge for a top 4 spot.
Let's hope he is more successful than his predecessor as I get the feeling that many fans are hoping for a better second season than Martinezhad.
Gerard McKean
113
Posted 21/05/2017 at 19:45:48
I'll say this one last time: Lukaku with TWO years left on his contract is offered new terms, which the club is happy to see "leaked" and the details of which appear widely. Conclusion: EFC is seen to have done all it can to keep its star striker but, by his own modest admission, he needs a bigger stage to display his talents.
By contrast Barkley with ONE year left on his contract is offered a deal, but of which not a single detail has emerged. However, despite scoring the winning goal last game and never once showing any desire to leave (in fact just the opposite), Barkley is the only player dropped today.
Conclusion: no player is bigger than the club, he has to go if he thinks he can hold us to ransom.
This reeks of manipulation. Everton knows that Lukaku wants away and by making a big show of how much it has offered him to stay with 2 years left on his contract, the club hopes to maximise its financial return.
Equally, the club knows how much Ross Barkley wants to stay and the cabal that decides these things also knows that it would play badly with the paying customer if the club were seen to be the prime mover in any Barkley departure. They also know that Ross's skills are in his boots not his tongue and he can never adequately articulate in words his own ardent wish to stay, although the picture of him celebrating the goal with us fans at the Burnley game paints a thousand words.
The solution is to portray Barkley as a latter day Jeffers, or even a Rooney. The fans turn on him and the cabal's work is done. So go and buy Sigurdsson, a good player but not a Blue through and through who is just as good, if given the vote of confidence from a management who cannot see that diamonds have to be polished and cared for.
And one last point: when it became clear that we would finish 7th I wondered if Lukaku was on his bike why we would not see Calvert-Lewin playing. Well yes, we did see him fleetingly but on the left wing or somewhere, not at centre forward where he scored a nice goal for England U20s v Argentina (no mugs) from a cross by the unseen, this season, Kieran Dowell.
If I read any more comments about how Holgate is not the answer at right back I will recommend that person for a job at senior management level at EFC. He is not; but he is the answer at centre back, just as Calvert-Lewin deserves a chance in his best position, just as Kenny deserves a chance to replace Seamus while he's out injured.
Koeman was a winner as a player. In my opinion the jury is still out as to whether he remains one as a manager.
Jim Bennings
115
Posted 21/05/2017 at 19:49:06
Brian
Said ages ago before last season's Anfield when we were thumped 4-0 that our most important signing should be a sports psychologist.
Someone needs to get to the bottom as to why Everton have an absolute twat of a record away to not just one but all of the top sides.
Every time we go away to one of them we are beaten mentally before we set foot on the pitch and on the rare occasions we do have the cheek to take the lead or get on level terms, we shit ourselves and concede a goal.
Chris Leyland
116
Posted 21/05/2017 at 19:49:55
Gerard (#113) if Ross wants to stay so much, why has he not signed his new contract?
According to you "he can never adequately articulate in words his own ardent wish to stay." Yet, he doesn't need to speak, he simply needs to get a pen and sign the contract because actions speak louder than words.
Brian Harrison
117
Posted 21/05/2017 at 19:51:57
Gerard
Just one small correction: Calvert-Lewin played the whole game wide left for England against Argentina. Yes, he did come in from the wing to score with a good headed goal but Armstrong was the centre-forward and Solnaki the other wide player.
Now I don't doubt that long-term Calvert-Lewin will play as a centre-forward, and that is probably his best position.
John Raftery
118
Posted 21/05/2017 at 19:52:33
The deterioration in our away form this season is worrying to say the least. For me, there is no lack of individual effort but we do not have a system or a pattern of play which makes best use of the players' strengths and covers up their weaknesses.
Koeman sent out a team today supposedly playing 4-3-3 but that left our midfield and defence hopelessly exposed. Gueye and Schneiderlin have yet to gel as a pairing. Both are obviously talented players, albeit with limitations, but they do not seem to be on the same wavelength.
That explains why, time and again, Koeman is forced to resort to using Barry to bring cohesion to our play and provide a more effective link between defence and attack.
Jon Cox
119
Posted 21/05/2017 at 19:52:51
"Since the injury to Coleman, there's very little going down the flanks," Like we've had all our power down the left flank all season. In case you've not noticed or forgot, Baines has been a proponent of crab/backwards football ALL season.
I'm not sure but this could be because he's had no-one in front of him like Pienaar. I guess he's just a little tired these days. Personally I still love the guy but...
Tempus Fugit
Oliver Molloy
120
Posted 21/05/2017 at 19:55:47
Darren,
Today, Barkley had a simple pass to an over lapping team mate (Holgate or Mirallas I think it was) and he over played it for the ball to drift harmlessly out for an Arsenal goal kick. It was a really simple pass and he messed up again.
That sums up Ross for me - he just doesn't do the simple things consistently well enough for a so called top footballer – he is just careless.
If we are able to get the likes of Sigurdsson in then I think you and all the rest of Ross Barkley defence team will see exactly what Barkley doesn't do.
I just can not agree with your "watch him go" remark. If he can't play a simple fucking pass!
Paul Tran
121
Posted 21/05/2017 at 19:59:31
I'd agree with you on that one, Jim.
Stan Schofield
122
Posted 21/05/2017 at 20:03:21
We've been mediocre for over two decades. But when we've played badly last season and this season, often individual players have been singled out for blame, particularly Barkley and Lukaku.
Players do take some blame, since they're the ones on the pitch, but our problems are far deeper than this. Signing new players could have very limited scope for serious improvement unless the attitude of the club changes. Or you could say the 'culture' of the club.
Players sometimes seem to down tools, as happened with us last season, with Chelsea in the final days of Maureen, and with Leicester this season until Ranieri was sacked. So poor performances are not simply related to the quality of players or their ability to gel as a team, it can be a result of problems in the management of the club. In our case, it seems that we have long-lasting problems. A sign of this is our collapsing when the going gets tough, in important games when our hopes have been raised.
The club seems to raise us up then let us down. And then we blame the obvious, the current performances of individual players, or the new manager. We might point the finger at EFC overall, but it can be difficult or impossible to pinpoint the underlying problem, the root cause of it all. But that there is a problem, there is no doubt.
It seems that we need to change the management in some way, but I don't have a clue how. Apart from someone like Usmanov coming in, getting to the cause of the problem (if that's feasible), and spending big money to sort it out. And that might not involve a clear out of existing players, but rather additions to bolster the squad. And a toughening of attitude from the club, where we genuinely go out to win each game, regardless of the opponents, home or away.
Gordon Crawford
123
Posted 21/05/2017 at 20:18:15
I agree, Kieran (#97) The word bizarre comes to mind.
As for the rest of the players why doesn't Ronald hang them out to dry by name. Ross always gets singled out.
That team has too many losers in it. We need a whole new team,if we are being honest. Shambles.
Joe McMahon
124
Posted 21/05/2017 at 20:20:59
I honestly feel we have left everything too late,; look at Spurs now, wait till they get in that stadium. The players we need, even
if
we spend this summer, are they really going to choose Everton?
No Champions League football, not in London and a shocker of a dated stadium. It's shameful that we haven't beaten Arsenal at their place since 1996, that's 21 attempts and it's pathetic.
Why the hell is Baines still our first choice left back, and Jagielka, Barry, Kone, why are they all still at Everton, it's embarrassing.
Top end premier league football is global and has been for a good few years; sadly Everton,thanks to our pantomime lovey Chairman are nothing but no-marks.
Tony Abrahams
125
Posted 21/05/2017 at 20:24:19
Darren, it's not just a lack of "pass and move", the players rarely run into space but love going towards the ball to congest up the play even more. They aren't good enough to take us any higher, mate. We will soon find out about the manager once he gets in better players!
Paul Tran
126
Posted 21/05/2017 at 20:36:01
Of course you're right, Stan. Since the Moyes era, 'average' has been dressed up as success. My hope is that Moshiri/Koeman are here to change that off/on the pitch.
It won't happen overnight. It didn't at Man City, even with an owner with bottomless pockets. For all that money, Man City are still brittle, though I'd love us to be where they are right now.
This summer will tell us plenty, on and off the pitch.
Patrick Murphy
127
Posted 21/05/2017 at 20:37:18
Perhaps, those who are hanging the manager out to dry because he has forced Ross out of Everton may change their minds if, as is being rumoured from some sources, the announcement tomorrow involves Ross signing a new contract?
Colin Glassar
128
Posted 21/05/2017 at 20:40:47
Breaking news – All our targets are going to Stoke, Newcastle, West Brom and/or Chorley FC, according to the media that is.
George McKane
129
Posted 21/05/2017 at 20:41:30
Just watched Koeman's BBC Interview – seemed pretty direct, straight and as honest as can be for today's Football Managers. So seems like it is going to be an interesting summer. We will see of course.
Dave Ganley
130
Posted 21/05/2017 at 20:45:08
Completely agree with Paul Tran in that I don't think the players are good enough. Some aren't bad but they're not the top drawer players that are being stifled by Koeman's rigid tactics as some would believe.
It's taken Koeman till probably after Xmas to actually get the players fit enough to play for 90 minutes. That in itself is an awful indictment on the players' professionalism and attitude. Professional pride should make you want to be able to play for the full 90 minutes not be wheezing after half an hour like a 20-a-day man.
This is not a defence of Koeman's tactics, I agree he could have been a lot more adventurous away from home, but that shouldn't detract from the fact that players were sloppy in passing, moving, defending, closing down, shooting on sight, these are all basics that, regardless of tactics, should be a given. With this side it's not. They seem to shut down when it suits them. I'm quite sure Koeman doesn't send them onto the field to completely forget all about the basics of football.
In the grand scheme of things, 7th position, winning 13 out of 19 home games and a return to Europe, most fans would have snatched at that at the beginning of the season. Yet there's a distinct feeling of what could have been. The sad fact of the matter is that when it really mattered, the players fell by the wayside again as they have done for many a year and these last half-dozen games have been woeful really.
As others have pointed out, it's endemic in the club to be inglorious failures. I am hoping that Koeman can change that attitude. It is more hope than expectation but I'm willing to give Koeman a bit of time to try and get that change of mentality in the players. To do so though, a clear out is necessary.
Ross looks like he will be sacrificed as he is not top drawer in my opinion. He was mollycoddled by Martinez and given tough love by Koeman; neither made any difference in making Ross the player to compete at the highest level. I do agree that it has been a case of double standards with Lukaku. I would have given him the same treatment as Barkley as quite frankly his attitude is awful but for some unknown reason a softly softly approach is taken with him. Is Lukaku capable of being a team player with us? I don't think so...
So far as the quality of players we have, we haven't moved any further forward since Moyes's days really. Do we have anybody of the creative quality of Baines Pienaar Arteta and Cahill in their prime? Not in my opinion. They weren't top drawer but they were so much better than anything we currently have and they had heart by the bucketload – something the current lot sadly lack.
It will be an interesting summer, hopefully not a disappointing one. A new spine of the team is needed, players with attitude who don't down tools when the going gets tough. Given a choice, I don't think I'd keep many of the current lot. Of the players that played today, Holgate, Baines, Schneiderlin, Gana, probably about it really. That's not practical though so I expect others will stay but I do expect significant investment; otherwise, we could end up going backwards.
Colin Hughes
131
Posted 21/05/2017 at 20:51:51
This summer will tell us whether or not Moshiri is the real deal and wants to own a successful football club or whether he is just another Peter Johnson or Randy Learner and just wants a weekend hobby and treat us as his toy that he sometimes gets a bit of enjoyment out of.
Andy Meighan
132
Posted 21/05/2017 at 21:00:58
Colin (#79) – oh, you deluded man... Vast talent?
When has he, over the last two seasons, shown any talent? I've never seen a player go backwards as quickly in my life!
Then again, he's not alone, is he? There's not one player in that squad that can get you out of your seat. One who can produce a bit of magic. One who can drop his shoulder, beat a couple of men, and curl one in.
The truth is, we've got a squad full of Steady Eddys – Functioning pros if you like... 6-out-of-10 players, as I call them. And that's down to this coach. The man does not like flair players His buys have been poor. Bolasie – one really good game at Sunderland... apart from that, I'm struggling.
Williams – Looks what he is, an ageing centre-back who lacks pace.
Gueye – Looked like the bargain of the season. Since coming back from the Afcon, he's been ordinary.
Schneiderlin – okay at home against sides below us; away from home (Stoke apart) he's been poor. Not the sign of a great buy to me...
Stekelenburg – Man City away apart, he's been shite.
Looks to me like Honest Ron hasn't got an eye for a player. Or the the so-called super scout, Walsh, either. I'm dreading to think who they'll go for in the summer. Rooney? Does anyone think an ageing forward who can't get in a shit Man Utd side will improve us? No chance!!! Sigurdsson.... maybe. But he couldn't hack it at Spurs. Let's face it, look at last season's targets:
Kone of Sunderland... Please! Sissoko – thank fuck he went to Spurs. Awful player and he nearly blew 30 big ones on him. Expect more of the same next season.
The man is Moyes Mk II. He'll do okay at home... but away, he shits himself. The one player I wouldn't criticise is Valencia. Limited... but, my god, that lad puts a shift in. And today, the keeper who (and it pains me to say this, considering we played 10 men for 80 mins) kept the score down.
I hope them cowards are proud of themselves. Another mediocre season. Out of both cups at the first shout. And the home games against Man City, Bournemouth and Leicester apart, it's been been really ordinary fayre.
Well done to the magnificent support today again. Funny but I didn't hear Koeman thank them in his post-match comments... Then again, he doesn't give a flying fuck.
Eddie Dunn
133
Posted 21/05/2017 at 21:08:55
I said, before the game, we would get thumped... and honestly, against 10 men – that was a thumping.
So many times we have rolled on our backs over the years down in London and let down the travelling fans. It is nothing short of a disgrace.
Rom laughing and hugging his new mate Welbeck after the game. These pampered pussies are not fit to wear the shirt.
Koeman has his faults, but we have seen many of those same players let Martinez and Moyes down in similar games.
Lee Dixon said on my feed, that Barkley seems to take a touch too many; he also said we need virtually a new defence. Absolutely right. So many inferior players with a loser's mentality.
To think Arsenal have had so much stick this season, yet can play football of a technical standard above and beyond our bunch of dweebs.
Lenny Kingman
134
Posted 21/05/2017 at 21:10:30
So, Claudio Ranieri it is.
Andrew Ellams
135
Posted 21/05/2017 at 21:23:34
Wonder if Chelsea would be prepared to offer Abrahams, Batshuayi and Willian in exchange for Lukaku???
Paul Setter
136
Posted 21/05/2017 at 21:26:34
We are tripe!!! I won't let 7th fool me; with the exception of possibly Coleman there is not player in our squad food enough for any of the current top 6, and I include that "superstar" that most fans adore. Personally I can't wait till him and Ross "I'm really not any good at anything other than losing the ball" Barkley are gone.
I'm not big Ronald's biggest fan either but I'm prepared to let him have another window and next season to improve the drivel I've watched this season before my thoughts are proved right. The rest, as far as I'm concerned, are West Brom / Southampton level – which sadly is us as well.
Doug Harris
137
Posted 21/05/2017 at 21:27:04
There wasn't one player on that pitch today that came out with any credit, all utterly useless.
As for Barkley and Lukaku, both of them, if they don't want to be at Everton bye-bye as soon as possible.
When a team of so-called professionals, 11 against 10, with 75 minutes of normal time left, can't even muster an out-of-the-seat moment to be excited about, what or where is this beloved club of ours going???
Management, players, and behind the scenes – really need to get a grip.
Yawn.
Ian Riley
138
Posted 21/05/2017 at 21:28:56
Last six weeks has just been poor. Seventh place is the worst we could do with our squad. Players and management need to look​ at themselves.
The distraction of Lukaku and Barkley has got Koeman off difficult questions about our performances. The team lacks energy and fight – especially away from home.
I'd've taken 7th from last season but still feel million miles from top four. We need to win or compete against top teams in the Premier League before Champions League qualification.
Darren Hind
139
Posted 21/05/2017 at 21:35:08
You surprise me, Tony.
Do you honestly think Koeman will sign better players? The gifted ones will run a mile.
Schneiderlin is the sort of player Koeman will search for. We'll end up with Barry, Davies, Besic, McCarthy, Schneiderlin, Gana, Jagielka, Williams and whichever other tackling machines he brings in.
All decent enough players, all better without the ball than with it. They won't get 10 goals between the lot of them next season... they certainly won't offer you School of Science football.
This is Koeman's Everton.
John Keating
140
Posted 21/05/2017 at 21:38:21
How bad was that? How embarrassing was that? How far behind the top 6 are we? We have to remember that, as we will strengthen in the summer, so will those above us.
Today was a disgrace from 1 to 11 – we were so far behind a 10-man Arsenal, it was a joke. Some have slagged off Koeman but truthfully where does he begin to strengthen?
Against 10 men and we could have lost by double figures. Out-thought and out-fought. Out-paced and out-managed... we were a fucking disgrace

Jim Wilson
141
Posted 21/05/2017 at 21:42:47
Get the money for Lukaku and bring in a manager who knows how to get a team playing to a winning system, keeping a settled team and formation and creating a good team spirit.
A couple of good signings would make all the difference but Lukaku must go!
John Raftery
142
Posted 21/05/2017 at 21:44:37
Colin (#131),
If he was at the Emirates today he would not have enjoyed watching that. No doubt Moshiri wants to see us win but it will probably take several seasons, to catch up with the current top six.
I expect we will see several signings in the summer but I hope we do not get drawn into paying huge sums for average players just to demonstrate we are spending big money. Owners who go down that road rarely stay the course.
The probability is not all of the signings will be big names and some we may never have heard of until they arrive. Therefore I would prefer to judge both Moshiri and Koeman on the basis of what we do next season, not what we do in the summer.
Providing we continue moving in the right direction with another increase in points, a few more wins away from home, including one or two at the homes of the top six, and at least one serious attempt to win a cup, I will be content.
Peter Gorman
143
Posted 21/05/2017 at 21:47:42
Just managed to catch the 'highlights' here over the water.
As bad as the defending was for the first and last goals, I was particularly impressed with 4 or 5 players strolling back to help defend Robles before Sanchez scored. Words fail me. Cheers lads!
Dermot Byrne
144
Posted 21/05/2017 at 21:54:31
Darren... been here before. Yep... in so many ways, including your quick reaction.
How long do you think you should give a manager if at end of season the place in league is improving? None? Another month. 6 months? A year? No real idea myself but you seem to be so sure. So, so sure... Almost too sure.
You seem to have a view and search for more evidence with little chance anything could ever now persuade you otherwise. Or are you just so much smarter than most of us, whose views go a little bit back and forth and then reach a conclusion, that we wouldn't put 𧴜 on being definitely right.,
John Keating
145
Posted 21/05/2017 at 21:56:36
Please, guys, let's not make one excuse: The ref was shit We never got the rub of the green, if only...
Let's please say it how it actually was! We were absolute dire shite!
No excuses; no 'if only's We were lucky it finished how it did...
If I were Koeman I would walk tomorrow. Him, his staff and those arseholes who wore our shirt need to be fucked off asap.
Once again, our support was great... and, once again, those impostors in our shirt should reimburse them.
Terry Farrell
146
Posted 21/05/2017 at 21:57:05
Darren, this is Koeman's Everton, Part 1, and he has got rid of some deadwood and will get rid of more in the summer. He has played with the best and knows what is required.
Whether he gets who he wants is another matter, as competition is fierce for the same players. If we follow your logic, in the 80s, Howard would have been sacked before the glory days.
Andy Meighan
147
Posted 21/05/2017 at 22:00:24
Absolutely brilliant post by Dave (#130). Yes, I totally agree with everything he said. This season, as Dave said, it really was what might have been... BUT unfortunately it came down to one man. Yes, Koeman.
His tactics away from home have been appalling. I can never forgive him for his naïve selection at Anfield, playing Pennington and Calvert-Lewin in a game that means everything to us. Yet he seemed to think, "Well, it'll be okay... they're not that good."
And, 4 days later, his inability to see the game out at Old Trafford – in what was one of what turned out to be one of the most comfortable away games we had all season – was shocking... but did we really expect anything else?
The man is another Moyes and, believe me, he ll go the same way – without the longevity.
Andrew Clare
148
Posted 21/05/2017 at 22:08:06
I hope this window won't bring in duff players like Williams and Bolasie. If it does, we will still be an also-ran.
You could've put your house on an Arsenal win – even after they have a player sent off. I think they would have beaten us with nine men.
Crikey, we have been in the wilderness for far too long; unless we sign some amazing players soon, we will remain in it for the foreseeable future
Steve Barr
149
Posted 21/05/2017 at 22:13:56
On a positive front, we finished 7th playing spineless, gutless, pedestrian football.
The few decent performances we turned in were sufficient to actually raise our hopes of greater things. If the players had leadership on and off the pitch and a semblance of self-accountability, as any professional footballer should, we'd be right there in the mix at the end of the season.
The reality is that this league is actually average. The suits and the sycophantic media hype it as the best league in the world for their own ends. The Emperor has no clothes! The top teams are average and the managers are posers.
We shouldn't believe that we'll never break into the top four.
All we need is a manager with real vision and the authority to galvanize his players into delivering consistent professional performances every week.
Add to that some leaders on the pitch (a couple of Rugby players would work – give them a crash course in the basics, they can't do any worse than our lot, and based on what I see they give their all in every game).
No, the glass is half-full. Top four next season awaits us!
Karl Masters
150
Posted 21/05/2017 at 22:22:03
Barkley signing new contract to be announced shortly.
Kevin Rowlands
151
Posted 21/05/2017 at 22:26:50
Reading and hearing some great news: Barkley will be announced as staying tomorrow... please be true.
Daniel Bagan
152
Posted 21/05/2017 at 22:34:25
Ross is not signing a new contract tomorrow. From sources close to him, he prefers London so I'm guessing Spurs or Arsenal will enquire...
John Pierce
153
Posted 21/05/2017 at 22:34:51
Well ,that was rum do and then some. A full season under a pragmatist has brought some comfort, the minimum of 7th with Europa League qualifying.
Two signings which I think have been a success in Gana, and Schneiderlin. Beyond that little point in remembering a season with a brand of foot =ball as uninspiring as Ronko's defensive outlook.
Today was a nice microcosm of the season. Appalling away from home, mostly because the manager is too concerned with the opposition and has no idea how to hurt another team.
Sure, you might say Bolaise could have had some impact on that but he's had 6 months to figure out another way.
Initial selections often need redress before half-time after the tactics repeatedly have not worked. Only the games vs Arsenal and Man City give me any succor to say it was a truly decent performance.
Functionality over artistry, power over flair. The promise of better players is jam tomorrow, as any decent player we want will wait until we are a guaranteed Europa League qualifier. That won't be confirmed until mid August.
I want to press the ejector button on Koeman, but I have to let him have crack at it next season. He has 10 games to be in the top 6, remain in the League Cup and qualify for the group stages.
If Everton are that ambitious, then letting it drift should he start poorly will not do. i can't see any flair or creative players coming near Goodison in the summer.
I'm Koeman sort of out... maybe... okay, deffo –if he has a poor start next season; sound about right?
Ian Riley
154
Posted 21/05/2017 at 22:35:45
Karl (#150). If true. Like having a new signing!
We need Lukaku to sign new contract and summer transfer business done!
Mike Green
155
Posted 21/05/2017 at 22:45:20
Just watched highlights on MotD – our second conceded goal – OMG!!! :S
Jon Cox
156
Posted 21/05/2017 at 22:48:33
Pat (#127), you've got to at least reckon, it's a little bit soap opera...
Yeah?
Jerome Shields
157
Posted 21/05/2017 at 22:48:50
To all ToffeeWebbers.
I am not going to waste my summer following, like last Summer, all the rumours about potential transfers of players who would prefer to play somewhere else, present players looking to take their chance of a pay-out, to get away from a pathetic setup which they are part off, a non-tactical manager full of bullshit, and the hopes of fans who deserve a lot better.
Don't wake me up until September, I value my mental health. I am not hopeful of any change in September. Frank de Boer would not have been as bad. The ability of the Everton Board to pick a manager and not make a fool of themselves regarding the wages they pay him is the main problem.
Have a great Summer.
David Morgan
158
Posted 21/05/2017 at 22:49:41
Jagielka, Williams, Mirallas and Valencia from today's eleven need replacing. Holgate and Davies need more time, so need to go back to being understudies for their positions. Perhaps Robles, who played well today, needs to be understudy too, so that's 7 players I would change from the starting lineup for next season.
Bolasie and Coleman can be two of those, and anyone who leaves, such as Lukaku, needs replacing. So we need six or seven top class signings to break into to top 6. Can anyone realistically see a side in 7th beating the top 6 sides to six or seven top class players? Steve Walsh needs to work absolute magic this summer. He doesn't seem to have a great track record finding centre-backs and I would suggest they will be the most important or most needed.
Attitude aside, we should not be expecting the likes of Lukaku and Barkley to carry 6 or 7 players each week and they will be key players if we can build our team around them. I am hoping they stay.
And finishing on a positive, if you said we would qualify for Europe, find home form, and offload Cleverley, Oviedo, Gibson and Pienaar on the back of him clearing out Osman and Hibbert last summer and no contract offer going to Kone... well, I would say that's a good start and repairs a lot of the damage Martinez did. Now, let's find the quality we need.

Colin Hughes
159
Posted 21/05/2017 at 23:03:41
Currently watching MotD and it pains me watching the difference between the style of play of us and the RedShite. They are fast and incisive, they attack the box in numbers and at pace... whereas us – it's just a case of keep moving the ball sideways or backwards with nobody ever wanting to break into a sprint or attack with tempo.
It's sad to say but our football is stuck in the 20th century and the School of Science is a well and truly outdated way to try and play; the game is too fast these days for slow build-ups.
Jon Cox
160
Posted 21/05/2017 at 23:07:13
John (#153), defo agree.
Shit mate, I've had jam tomorrow for at least 30 Clingons.
I say Clingons cos that is what all us Evertonians seem to be..
Bob Parrington
161
Posted 21/05/2017 at 23:08:55
Darren (#66). Agree 100%.
Dick Fearon
162
Posted 21/05/2017 at 23:16:16
My final thoughts on a disappointing finale are the same as always.
What in hell do they do at Finch Farm?
Brian Hennessy
163
Posted 21/05/2017 at 23:16:58
I'm slightly more upbeat after watching Koeman's interview on the BBC website. He knows, like most fans, that we are well short in many areas of the pitch and need to strengthen, particularly in our creativity.
We saw a mini clear-out by Koeman in the last window and I hope he completes the clear out in this window.
I think most would agree that we are not a very attractive team to watch. We need players with more skill and more pace.
Clive Mitchell
164
Posted 21/05/2017 at 23:34:32
Nothing to do with today's game, and I know he's moved us four places and 14 points up the table, but Koeman's an idiot isn't he?
James Stewart
165
Posted 21/05/2017 at 23:41:27
Koeman may be many things, Clive, but an idiot is certainly not one of them. Behave.
Phil Gardner
166
Posted 21/05/2017 at 23:54:52
Utterly ashamed of what I watched today. Sickened and embarrassed as a lifelong Blue. Shameful performance of a bunch of cowards. Right up there with the worst of Everton Football Club.
𧴜m for Lukaku? Piss off eh... he can go for 㾶m in my book and I'd throw Barkley and four more with it. An absolutely disgraceful performance by a team who couldn't give a shit. Ashamed.

Jay Wood
167
Posted 21/05/2017 at 00:19:23
Truly pitiful performance. This team has lost all intensity since the West Ham game. 4 points from the final 5 games, 3 games without scoring, only 2 goals scored, one of those a pen.
Just those 5 games ago, we still had a shout at climbing a place or two. As ever, the final league position doesn't lie. We are effectively in a league of our own: 7th place, a whopping 15 points clear of next best Southampton and Bournemouth, but 8 points adrift of 6th place Man Utd and 14 behind 5th placed Arsenal. One of only 7 teams to end the season with a positive goal difference. The other 13 teams had negative goal difference.
Goodison has become a fortress again, but the away form is – like today's game – pitiful. 4 wins away all season, 2 of those coming in our very first two away games of the season.
Would you say we are a better team than Southampton, West Ham and Palace? Yet all 3 have won more games on the road than us. Would you say we are merely the equal of Stoke and Swansea? Yet both won the same number of away games as us.
This summer's dealings in the transfer market will tell us a great deal, both about the sincerity of Moshiri's investment and intentions for the club and Koeman's vision for how he wants the side to play.
There is a lot of work to be done on the recruitment side. Robles played well again today and he has improved this season, but he is not top-top drawer. The majority of the first-choice back four is aging and creaking. There is not enough guile, quick transition and quick crisp passing in midfield. The goal threat needs increasing throughout the side rather than depending only on the goals of Lukaku. That will be doubly-triply so if the big fellah leaves.
But I would argue that what this squad needs above all else is: heart. More narks. An absolute LOATHING to losing – even drawing games. Do we already have it within the club, in the U-23s ready to be promoted (a big ask)? No. We need a really big in-your-face player (or 2, or 3!) who simply will not allow anyone to slack off, at any time, in any game.
We played 75 minutes against 10 men today. If you tuned in and watched the game without knowing that, you would have never have guessed it. A more ruthless and competent side would have better exploited the situation to ensure a win.
Instead, our defence played musical statues and it was Arsenal who had the better movement and cuteness to run through our midfield and constantly have overloaded situations bearing down on our goal.
Today's game was not a happy memory to have to carry us through the summer.
Bob Parrington
168
Posted 22/05/2017 at 00:20:00
Sounds a bit harsh, Clive. What do you reckon makes him an idiot?
Don Alexander
169
Posted 22/05/2017 at 00:31:47
Darren Hind @ 66, well said. You and Koeman are of one mind on that "pass and move" mantra, albeit he pronounces it "prooduckteevity".
Mohamad Haryan
170
Posted 22/05/2017 at 00:38:16
LOL James (#165). I totally agree with almost all the posts above. Our pass and move and running into space is almost non-existent.
Passing which is one of the basics of football is piss poor. You earn millions and call yourself professional footballers and you can't do a simple pass... Like someone mentioned what are they doing at Finch Farm the whole season??
Simply put... our players are not good enough. We need better players. Besides the obvious centre-backss and goalkeeper, we really need attacking midfielders 2 or 3 and 2 complete strikers.
On that note, I have to say again why are we buying from the teams below us in the Premier League? Is this intent? Or are we trying to get to their league position next season?
What about other European leagues? Maybe not the best players but second best ones? Really? With Koeman's connections and the money we have? Surely there are better players than what we have.
Talking about style of play... again like some of you have mentioned.. I would like Everton to attack quickly and swarmed the opponents penalty box time and again like the way Spurs or Liverpool are playing... and of course with better players than we could get.
All-in-all, aI m willing to give Koeman a chance for his very own players that he buys. Hopefully, we will be better next season. Onward and upwards .
Gary Hughes
171
Posted 22/05/2017 at 00:54:45
Moyes... Martinez... Koeman... it really doesn't even matter any more – the culture of desperate disappointment runs through this club like a cancer.
I wish I had an answer but the best I can come up with is to blame Kenwright. I'm so depressed I can barely write anything more other than I fucking hate being an Evertonian.
Peter Fearon
172
Posted 22/05/2017 at 01:13:38
I stopped watching once Kone came on. The idea that we are still fielding players who already know their Everton careers are histor... wait, that goes for Barkley and Lukaku too!!!
Pathetic performance. None of these players are thriving under Koeman. They look barely interested. 3-1 could have been 7-1. A lesson in counter attacking football by a team with ten men.
I shudder to think what the result would have been if we had had ten.

Gavin Johnson
173
Posted 22/05/2017 at 01:21:41
Darren Hind
I seem to remember you wanting Martinez out long before we played Arsenal off the park and came a whisker of finishing 4th, so it's interesting that you now use Roberto Martinez's 1st season to bash Koeman.
That all said, you used to use Davie Moyes has as a prop to constantly bash Martinez so you'll no doubt do the same once Koeman leaves.
Maybe we'll get your man in, Rhino, as the next Everton manager, and then you'll refer to Koeman's 1st season ever so fondly when Unsworth's team finishes lower in the table.
Ian Riley
174
Posted 22/05/2017 at 01:23:09
I must be missing something? Seventh, Manchester United and Arsenal above us. Man Utd spend nearly 𧴜 million on one player!
Let's get real! If we spend 𧴜 million this summer on players, this may get us one or two places higher.
Koeman knows what is needed and he has started moving players on. Seventh is a start. Something to build on. New stadium? Billionaire owner. I am more optimistic than I was 12 months ago.

Bill Watson
175
Posted 22/05/2017 at 01:26:48
Karl (#150),
From what Koeman is saying, I would say the club will be announcing that they're open to offers for Barkley rather than he's signed an extension to his contract. Either way, we'll know tomorrow.
Personally, I'm not that bothered. At best he's a good squad player and not the star we all hoped he'd be.
David Pearl
176
Posted 22/05/2017 at 02:34:05
Selective vision means people couldn't see some top class passing and intercepting from Barry today.
Koeman has had us playing with no great class all season. What creative players do we actually have? We need a David Silva or two. A Van Dijk or two.
I feel a bit for Robles. He has improved this season barring a couple mental errors.
We have to support Koeman, and hope he gets to bring in some class... then hope he can use them properly. We are obviously the 7th best team in the Premier League right now. The money spent by the teams above us is frightening. It's also reality.
David Barks
178
Posted 22/05/2017 at 03:10:56
It is sad that Barry at his old age was far better than Gana. I can't deny that. His passing is superior in every way. Yes he lacks a step at this stage, but Gana is only able to tackle, not transition into attack.
Sadly, if you're being honest, Davies has had the exact same issue. Terrible decision-making and accuracy with the ball at his feet. Luckily he is young and must learn.
Peter Barry
179
Posted 22/05/2017 at 04:07:45
As usual, Everton sign off with a pathetic whimper while most other 'top' sides sign off with a positive supporters-pleasing flourish.
Steve Brown
180
Posted 22/05/2017 at 04:59:58
When we look at who may leave, they represent the Moyes era – steady but lacking leadership and the talent to take that final step – and the Martinez madness - second rate and completely over-hyped.
Jagielka, Kone, Deulofeu, McGeady, Barkley, Niasse (hopefully) going and Gibson, Cleverley, Oviedo and Naismith gone. You only have to look at this list of players to see the size of the rebuilding job that we had and have.
Koeman's away tactics and team selection have infuriated me at times this season, but the major capitulations like yesterday have been down to players who are second rate.
Overall he has made Goodison a fortress again and got us back in the Europa League – decent for this season but it wont be good enough for next season. It's going to be an interesting summer.
Alan J Thompson
181
Posted 22/05/2017 at 05:19:31
Pathetic! And not just from the players.
Robles is something of a pretender, a couple of decent games before the idiosyncrasies re-appear. The entire defence, with the possible exception of Holgate, who probably needs repositioning, needs replacing (I exclude Coleman from that) although a couple could be kept for one more season as squad players.
Midfield has too many defensive midfielders. I don't know what a lot look for in a game of football but Barkley and Davies seem to be the only two who make themselves available to take a pass. Gana was having a decent game but Schneiderlin is a complete & total waste of money!
Up front looked like three blokes who have just been dragged out of different pubs and waiting for the next bus home but none of them going the same way! Then we have a bench which has two players who probably won't play for Everton again. Why didn't the Manager put some of the kids on the bench to let them feel the atmosphere and maybe even get a few minutes? Just what did we gain by giving Kone a run?
And then Koeman! What was that, give Ross a taste of next season if he refuses to sign a contract or accept a transfer? Then making a substitution after 20 minutes because the opposition have a man sent off!
In the past, I've said that he should be given more time but I'm fast thinking that he just hasn't got it, unless you think finishing 6th with Southampton is some sort of achievement.
Off for a lie down and a few welcome weeks off!
Darren Hind
182
Posted 22/05/2017 at 05:35:03
Gavin Johnson,
I always said the players were of a higher standard than Martinez. I was proved right. While you were on here berating fans who saw the writing on the wall before you (just about everybody) I had long since given up on him.
I may or may not be right about Koeman, I give my opinion, but having listened to the nonsense you regularly spouted in defence of Martinez. I don't think I'll be having it swayed by you.
As for Rhino ? He'll be distraught to learn a shrewd judge like you thinks we will be tumbling down the league if he ever gets the job. Perhaps he'll need to consider changing careers.
Will Mabon
183
Posted 22/05/2017 at 05:37:04
If we need so many players and those here are all so crap, how have we managed to have such a good home record?
Is the much improved home record down to Koeman but the poor away record the fault of the players? Or is it the other way around?
There is more needs addressing here than can be fixed by just a wild shopping fest.
Jay Harris
184
Posted 22/05/2017 at 05:48:14
For those harping on about Martinez's first season, I would remind you that we had Tim Howard, Jags and Baines at their peak then and Seamus at his best.
They are all well past their best now and Seamus, Bolasie, McCarthy have been missing for large parts of the season and we are lumbered with the Martinez effect on the rest of the remaining players.
We need a complete reshape in the mode of Koeman who has made a solid start in getting an easy 7th and Europe.
John Pierce
185
Posted 22/05/2017 at 06:04:58
Postings have been season reflecting, plenty of bite to them on the players and like myself some hugely critical of the manager.
The game itself presented a golden chance to beat a team on the slide, gifted the rarity of the red card we had the chance to win at a place we don't, a chance to exorcise a mental block we've had at grounds like this.
What did we get a performance as rancid as nasty-assed Diary Queen knickers.
It was truly memorable for its Frenchness in capitulation, the players 1-11 were dross. Shameful in every facet of gameplay we had almost a full game to gain control, push up the pitch and win.
I thought the hammering we took at Man City on the last day all those years ago was the nadir, this was spectacularly beyond that.
The manager set us up to not get thrashed, the height of ambition that, Ron lad. Hilariously his weak assed approach to this and any away game was deliciously rumbled with the red card.
"Fook, Erwin bro we might be able to win it". Koeman must have thought.
But having sent them out to play 4-3-3 but in reality play 4-5-1, the players were mentally already beaten despite his attempts to make positive substitutions and simply couldn't change gears.
Koeman might be forgiven for thinking the players were so bad that it would bail him out. Nope. The last 3-4 months have been riddled with his style of 'shithousery' even though we have been winning, the signs were there.
Is it to easy to say the players are subpar? Many thought not when we were beating the big guns of Bournemouth and Southampton.
And yes they are I guess, all the more reason to see something different from the manager to bridge the gap. I've seen nothing to suggest he can improve a player or fashion a tactic beyond a Neanderthal.
So like I've posted previously Koeman is on a short leash and has no room for a poor start. If he fumbles out of the gate next season, move on.
Truly saddened me that effort, at least ToffeeWeb can be the equivalent of shouting into an empty room, let it all out lad I can here my inner monologue saying.
Catharsis that.

Jim Bennings
186
Posted 22/05/2017 at 07:41:54
Will Mabon
I will answer that in one short sentence.
Because the Premier League this season is completely shite.
No-one from 8th down won more than 12 games from 38.
Fact Southampton finished 8th despite not scoring in the last 5 matches says it all.
Jay Harris
187
Posted 22/05/2017 at 07:50:37
John, that team on the slide have won 6 of their last 7 games.
I think you got it wrong – the team on the slide is us.
Tony Abrahams
188
Posted 22/05/2017 at 07:56:40
Darren, Koeman, has done very little to inspire me mate, but I've watched a lot of our squad for years and never really been inspired by any of them.
I was talking to a Swiss kid yesterday who, between him, his dad and his sister, they have not missed a Liverpool home game all season (shared season tickets, travel from Zurich) and he said that the most important thing about qualifying for the Champions League was that it helps you to get better players into the club, and it got me thinking about Everton.
Koeman has acknowledged that we need players with more productively but will this type of player want to come to Everton? Not while Koeman's here, I can hear you muttering under your breath!
The lad's dad was an interesting man who I thought must have a few quid, with the expense of taking both himself and one of his kids to Anfield every couple of weeks; after listening to my hopes for Everton and the plans for the Liverpool waterfront, he told me that he works with Russians, and though he didn't know Usmanov personally, although he had met him, he didn't think his allegiance to Arsenal was such that it wouldn't bring him to Everton!
It's a big summer for Everton but I think the best way to enjoy it is to try and forget about it for a while. Not very likely unless the North Koreans can do something to take T/W, off my iPad for a few weeks though!! Enjoy the summer everyone, especially Lyndon and Michael, despite the arguments you cause in our house!
Jim Bennings
189
Posted 22/05/2017 at 08:06:56
When all is said and done, we won two of the 12 matches against the sides above us.
Its pretty obvious what we need to do to put in a firmer challenge for the top 5 or 6 next season.
Jim Bennings
190
Posted 22/05/2017 at 08:16:19
Tony Abrahams, I agree!
Watching Everton for years under various managers Koeman, Martinez and Moyes and what smacks me between us and Liverpool is how slowly we move the ball, our tempo is mind-numbingly pedestrian.
I hate to admit it but Liverpool play the game for what it is, a game of football; we play it like a chess match.
Will Mabon
191
Posted 22/05/2017 at 08:21:34
Jim, that doesn't address anything regarding the disparity between our home and away record. If Southampton and others are so shite, all the more reason we should do better away.
We've done well at home, badly away, same squad of players.
Eddie Dunn
192
Posted 22/05/2017 at 08:30:52
Having had time to digest that performance, it strikes me that many or a good portion of that side either know they are surplus to requirements and are going in the summer (Kone ,Jagielka, Baines, Barry, Barkley, Valencia); others want to leave (Lukaku, Barkley again) and others who could be in the reserves next season (Williams, Robles). No excuse for the display, but it could explain the pathetic end to the season.
As for Koeman, he has found out , like Mourinho last year, that if you can't keep the staff content(one way or the other) you lose the dressing room and results take a dip.They weren't playing for him yesterday, and few of them even looked to be venturing forth to thank the away fans before Ferguson reminded them. (Rom was keen to chat with a long lost buddy... Welbeck!

I am looking forward to a big clear-out in the summer. I am so sick of under achievers, bottlers , cowards,egoists, narcissists and players with poor technique or attitude.
Derek Knox
194
Posted 22/05/2017 at 09:40:05
Eddie @192
You're lucky you managed to digest the performance, after consideration. I am on my third bottle of Gaviscon!
Totally agree with you there mate, we need a major overhaul, from between the sticks, to the forward line. The worrying thing is, a lot of the players have lengthy contracts to keep them with us, and if no-one shows interest, or are prepared to meet some of the ridiculous valuations, we are stuck with them.
If only the players were as committed and loyal, as us fans, I know I am somewhere between Jackanory and La-La Land, to think that the majority of players give a shit about the Club, Seamus Coleman excepted.
Still, I will remain loyal and hopeful, and begin the roller-coaster ride again next season.
Roger Helm
195
Posted 22/05/2017 at 10:28:53
Well I for one am not unhappy that the season is over and I can spend the summer watching rugby league – all action, no sulking or hiding, no diving or feigning injury, no abusing the referee, fans mingling happily, drinking beer in the stands.
Have a good summer and see you all after the off-season, such as it is.
Max Murphy
197
Posted 22/05/2017 at 11:07:00
Roger (#195). Totally agree. Far more enjoyment watching Rugby League than the crap Everton have served us all season.
Paul Doyle
198
Posted 22/05/2017 at 13:43:55
The Swiss Liverpool fan said although he has worked with Russians he hasn't met Usmanov.
Really?
A bit like when you're on holiday and you talk to an American telling them you are from Liverpool and the ask if you know any of The Beatles!!
-

Brian Furey
199
Posted 22/05/2017 at 13:52:28
Delighted that we've qualified for the Europa League – or at least the 3rd round qualifying stage. Watch this space.
I see AC Milan squeezed in right at the last minute with Geri scoring for them.
With the season being so predictable since Jan I think I'm looking forward more now to the transfer window than the months just passed.

Gavin Johnson
200
Posted 22/05/2017 at 13:55:09
Darren,
Why are you even going on about Roberto Martinez. He's gone. There's no need to revise history and have a love-in with the guy.
You do it with every past manager. I'm surprised you've not come up with some obscure facts about the Walter Smith days to give Koeman a bashing.
After easily finishing 7th after two bottom-half finishes why the heck would Everton sack Koeman?!
You've spouted stuff about Koeman's wages and him not being able to attract players to the club, and then you name a novice as the solution, a man who is unknown outside of Everton Football Club. Who is David Unsworth going to attract to the club? Darren.
Aren't you forgetting the huge payoff you'd be advocating by sacking our 2nd manager in two seasons too.
We've had this conversation on another thread. You believe a manager should be sacked every season if he doesn't achieve. I would imagine Moshiri's pretty happy with Koeman's appointment. Considering Moshiri's main objectives were to get us up the league and find us a new home. We've not got Champions League football yet but we've made good progress on those objectives in the first 12 months.
It's a good job you only have an opinion Darren. With your logic, Howard Kendall would have never had the chance to win 2 league titles, an FA Cup and Cup-Winners Cup. Alex Ferguson would have been shown the door at United when they were struggling in the bottom half of the table.
That's just two examples where history has shown that you should give a manager a little time. We're not even struggling languishing in the bottom half like Kendall or Ferguson.
Koeman hasn't been spectacular but he's certainly done enough after inheriting an unfit bottom half club to be given next season to see what he can do after a full summer and transfer budget. He said he'd need 3 transfer windows to get the side he wanted. He needs to backed this summer and we'll see where we are at Christmas.
Dan Egerton
201
Posted 22/05/2017 at 13:55:53
Chris Williams 17:
"Dan, I don't think Lukaku is a scouser like all the lads promoting the new kit."
Exactly. You think that's a co-incidence?
Bill Gall
202
Posted 22/05/2017 at 13:58:32
Well, I don't suppose anyone is not glad to see the end of the season, with the hope that with all the talk about who should go and who should stay, is sorted out by the start of the season and not on the last day of the transfer window.
Looking back at the season just gone, Koeman's first season, compared to the previous season I wondered where the improvements in squad positions improved.
Goalkeeper none, Back 4 none. Midfield improvements with Gana, Davies and Schneinderlin, no improvement from Barkley who is just not fulfilling the potential he has. Wide players and striker, apart from Lukaku and Bolasie who got injured to soon to rate him, none. Replacement for injured players: Holgate, okay. Other young players not given enough games for assessing so no improvements in back-up players.
So to me, apart from improving their fitness, and tightening up the defense some, overall there is not a great deal of improvement from the previous season as this season we were just the best of the teams below the top 6 and nowhere near good enough for the top 6.
I did not check but I believe the number of points we gained last season, 47, would have been good enough for 8th place this season.
Let's hope that the top class players we want and need will want to come here.
Tom Bowers
203
Posted 22/05/2017 at 14:11:35
Bill, a very good review of the season and one I concur with.
Koeman's first season and he has made mistakes I'm sure he know too well. Hopefully he will learn from them. The scary thing is that some of the same problems they have had for years were evident again. Intensity and confidence in so many games were lacking and not just this last month or so.
The good points of course are the emergence of the youngsters and I do hope we will see more of them next season especially Calvert-Lewin and Lookman. The young players have the desire and energy to succeed whereas the old brigade are just going through the motions and picking up a wage packet.
Schneiderlin has been a good acquisition, as has Gana, but a forceful attacking midfielder has to be added to the squad. Others in the midfield area have become a problem with Besic always injured, Barry whose best days are gone and Mirallas who is simply not up to snuff as a wingback/forward. We simply don't know how long it will take Seamus or Bolasie to return to full fitness but Valencia is a conundrum who may be sent back to the Hammers.
The back line is the real problem as they are all over the place far too often. If Man Utd get Keane, maybe Everton can get Smalling or someone similar, but surely Jags with Williams is a no-no next season.
Ben Attwood
204
Posted 22/05/2017 at 15:00:08
Yes we have injuries to key players and yes we could not improve on 7th position, but that performance was diabolical. Arsenal had 10 men for 75 minutes! You would have thought we had 10 men. It would have been many more if it had been 11 v 11.
The season really finished after the Anfield defeat. We went into that game thinking we had a good chance of turning them over. How wrong we were! The problems we have witnessed time and time again this season away from home were apparent again yesterday.
Bad starts to matches have cost us. Lack of energy. Poor passing. Amateur defending. Half the team press. The other half back off. You defend as a team.
Robles saves the hard ones but lets the easy ones in.
Let's face it we have had to play Jags and Williams as there was no other options with Funes Mori injured. Pennington was poor against Leicester. We desperately need some pace at the back.
Tom Davies seems to be the sacrificial lamb as soon as the game plan is flawed.
Barkley receives the ball in space and then runs into contact. Shouldn't it be the other away around? Backflicks inside our own area!! No thanks.
Lukaku again was poor in a "big" game. This has happened far too many times. I think he is off having seen him with Welbeck after the game. Without his goals it is worrying.
Why was Kone brought on? He has done nothing in 4 years and is off. Surely it was a chance for a youngster?
The only player who gave a good account of himself was Valencia before he was kicked off the park. Perhaps because he was playing for a contract?
There is a big gap to 6th, never mind the top 4. Glad the season is over.
Let's hope we do some early transfer business and use the friendlies wisely to allow the new players time to get used to playing together.
Tony Abrahams
205
Posted 22/05/2017 at 15:32:24
Paul Doyle, how are you mate? Read my post again kid, and then imagine!
Paul Doyle
206
Posted 22/05/2017 at 16:07:57
Hello, Mr Abrahams, I feel fine, thank you.
If Usmanov lands (and I pray he does) it won't be Imagine I will be singing but Merry Christmas, war is over!!
All the best !!
Bill Gall
207
Posted 22/05/2017 at 17:02:42
Tom (#204),
I agree with the points that you are making . The thing that annoyed me from the time that Koeman came both J Hart and Van Dijk were available when he new we needed people in these positions. i.e. he signed Stekelenburg and Williams.
I am not sure about this FFP Rule that, even if Moshiri was to give Koeman £100 mill plus the players he moves on for a fee, "and that is if anyone wants to buy them", how much we will be allowed by the Premier League rules to spend.
I am aware of how much Man Utd spent on players this season but remember, their gate monies alone come from 76,000 per game plus sponsorship and private boxes.
It will be interesting to see what happens during the transfer window as Everton don't usually get much luck dealing with the players agents or the Premier League mangement. Then may be people are right in their estimates of our beloved Chairman in his capacity as the club's negotiating person.
Paul Tran
208
Posted 22/05/2017 at 17:19:22
Bill, Van Dijk was available to us when he was at Celtic and Softlad decided to sign Funes Mori instead. In fairness, many on here told me Van Dijk would be a poor signing because he plays in a poor league.
Not sure he was available last summer. He was and is under contract. I'm guessing he'll be sold when the price is right and a Champions League club comes calling. The idea that we click our fingers and he joins us is worth a go, but a bit ambitious.
Williams is a short-term buy. Fine against anyone below us; too slow and deep against anyone above us. We need someone strong, athletic and mobile for the future.
Agree with you on Hart. Seems like Koeman just didn't want him, for whatever reason.
Anthony Dwyer
209
Posted 22/05/2017 at 19:09:40
This game showed us up for what we really are, loads of signings needed just to get anywhere near the team in 5th place.
We are the 7th best team in the league but a fair way off 6th and up.
Today was simply embarrassing.
Darren Hind
210
Posted 22/05/2017 at 19:17:28
Gavin Johnson,
I can see why you want to bury all talk of Martinez, it wasn't long ago when you were fiercely attacking people, simply because they could see what you were blind to.
You continually labelled the forum and many of its posters negative doom mongers. Funny thing is; They all proved to be right on the money while you got it spectacularly wrong.
You didn't just get it wrong once, you angrily attacked anyone who didn't share you undying devotion for the best part of two seasons.
I don't care that it broke your heart when I rightly criticised Martinez; I don't care that it breaks your heart that I now criticise Koeman; and I don't care what you have to say about me wanting Unsworth to get the job.
Clive Mitchell
211
Posted 22/05/2017 at 19:40:39
What defined Everton this season wasn't defeat at Arsenal or Spurs or Anfield, it was defeats in the critical part of the season at Bournemouth, Burnley, Southampton and Watford.
In case you don't remember, the Southampton game was on a Sunday after they'd played a distant away game in the Europa League. Their team could hardly drag themselves into the second half, were there for the taking. We lost 1-0.
John Pierce
212
Posted 22/05/2017 at 20:24:53
Jay,
Team on the slide could be us! Yet Arsenal alwayd find a way to win games in April under no pressure because they blew in January & February.
Out of the top 4, 2 best players looking to leave. Manager dividing fanbase. There are some similarities...
Gavin Johnson
213
Posted 22/05/2017 at 23:27:28
Darren, another mature response from you there, lad. No answer to the points I made though, but it's always easier for you to attack the poster rather than argue the points they make.
I'll happily concede I was wrong about Martinez and did after the semi-final defeat to Man Utd. I'd actually lost faith in him after the Man City, League Cup semi-final defeat. I wanted us to win a trophy and Martinez got us close in several cup competitions. The guy's tactics suited cup competitions more, but he was clueless in the league when lesser teams often sat back and we had to endure the slow tika taka in our own half.
But just to counter the other point you make. I've never "angrily" attacked any TW'ers on Martinez. I only ever address fellow posters in the manner they address me. It must be your writing style, Daz. To quote Lou Reed: "I'll be your mirror, reflect what you are, in case you don't know." ;)
Neville Jones
215
Posted 23/05/2017 at 14:04:13
Yes, as said, pathetic and embarrassing at Arsenal.
Barkley should go, a shame but after yesterday, clearly was not interested. Lukaku's probably on his way as well, to me he hasn't done enough away from home and against good teams. If he doesn't want to stay and develop his game then we should get as much for him as possible.
We are desperately short of strikers but again, despite his inexperience, our best player was Valencia, keep hold of him. We need more determination and battle and a defence that is not outpaced.
---
Add Your Comments
In order to post a comment, you need to be logged in as a registered user of the site.
Or Sign up as a ToffeeWeb Member — it's free, takes just a few minutes and will allow you to post your comments on articles and Talking Points submissions across the site.
© ToffeeWeb