Koeman pleased to add competition with Stekelenburg signing

39 Comments [Jump to last]
8 July
Stephen Pond/Getty Images
Ronald Koeman is happy to have quickly addressed what he determined was one of the weakest areas of the squad he inherited from Roberto Martinez by making Maarten Stekelenburg his first signing.
The 33-year-old Dutchman was picked up from Fulham for a nominal fee on 1st July, adding depth between the posts where Everton had just one senior 'keeper following the departure of Tim Howard for MLS outfit Colorado Rapids.
Despite the release of Jindrich Stanek, a Martinez signing from January 2014 who didn't ultimately make the grade, there are plenty of young goalies at the Academy and Under-21 level in the likes of Russell Griffiths, Mateusz Hewelt, new signing Chris Renshaw, Connor Hunt and perhaps Louis Gray who looks to still be part of the Finch Farm setup after joining initially on short-term loan spell from Colywan Bay last autumn.
Prior to Stekelenburg's arrival, however, there was only Joel Robles on the books and even though the Spaniard had made the first-choice goalkeeping slot his own by the time Martinez was sacked in May, Koeman is still believed to be targeting a new"number one" to add further competition in that position.
"I'm very pleased," Koeman told evertontv. "We had Joel (Robles) as the goalkeeper and we need competition in that position. Of course, I know Maarten very well.
"I took him to Southampton and he did a good job. He was the second [choice] goakkeeper [under Fraser Forster] but really a good professional and I'm very that happy he is one of our first new players.
"First of all he will bring quality and that's most important. He's a goalkeeper with a lot of experience.
"Six summers ago he played in the final of the World Cup in South African in 2010. Goalkeepers have their best seasons from the age of 30. Maarten is 33 years old and still has a good future as a goalkeeper ahead of him and that's very important."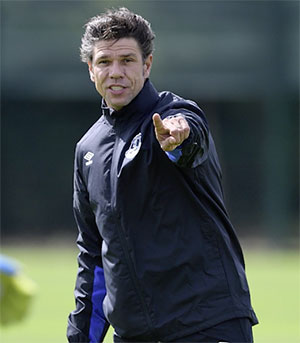 New Everton goalkeeping coach, Patrick Lodewijks
Koeman has also been lauding another new related appointment in the form of goalkeeping coach Patrick Lodewijks who comes in from Feyenoord. The 49-year-old succeeds Iñaki Bergara who left Finch Farm along with the rest of Martinez's backroom staff.
"We have a very strong relationship," Koeman explained on evertontv. "We played together at PSV and I worked with him at Feyenoord for three seasons so there's lot of [mutual] confidence.
"The most important thing is that he brings a lot of qualities in coaching to the goalkeepers because it's a very important position in the team. We always try to get the besty out of eveeyrbody and that's one if the reasons why I'm proud Patrick is joining us at Everton.
"[The fact that he also coached outfield players in Feyenoord's U21 setup] makes him more complete as a coach because coaching goalkeepers is sometimes a different part of football.
"If you gave experience managing a whole team, that is always good but being the goalkeeping coach is his main job at Everton."
---
Reader Comments (39)
Note: the following content is not moderated or vetted by the site owners at the time of submission. Comments are the responsibility of the poster. Disclaimer
Kase Chow
1
Posted 08/07/2016 at 20:57:49
I still find this an odd signing if Koeman wants to buy another No. 1.
James Stewart
2
Posted 08/07/2016 at 21:21:42
Has dropped some real clangers on the few times I have seen him so very much hope he stays on the bench!
Mark Ryan
3
Posted 08/07/2016 at 22:04:18
WTF.....It's not his fault but I'm sick of hearing about this fella. I don't care if we sell him or keep him. He's not the keeper I was hoping for so can we move on and make a proper signing please. Have we built the new stadium yet ? I'm getting so impatient. It's like I've been promised my first Chopper bike, it's 1975 and it's only October.....just get on with it FFS...Mr Stek, apologies, not your fault
Anthony Dwyer
5
Posted 08/07/2016 at 23:20:15
If Koeman had Steklenburg as a number 2 at Southampton, then surely he knows he's no better than a number 2 at us.
Joel Robles is no where near good enough either, so expect number 1 to come in soon.
Timothy Sebastian
7
Posted 09/07/2016 at 02:29:28
In typical ToffeeWeb fashion, I must say that I'm starting to get a sinking feeling that the new dawn we're all expecting with big signings may not necessarily come to bear. Stekelenberg could perhaps be the biggest name we get all summer. Maybe next summer ....?
David Barks
8
Posted 09/07/2016 at 03:24:07
I'm getting worried
Brian Williams
9
Posted 09/07/2016 at 06:14:03
Calm down you bunch of fannies *LOL*
Peter Hadwin
10
Posted 09/07/2016 at 07:59:48
Why is there so much negativity. The Euros are not yet over. Patience is in short supply. We should judge our transfer dealings at the end of August.
Len Hawkins
11
Posted 09/07/2016 at 08:09:38
Brian #9 A "bunch" blimey the mind boggles.
Iain Thomson
12
Posted 09/07/2016 at 08:45:19
Is bunch the appropriate term for multiple fannies?
The signing isn't exactly inspiring but it is safe and sensible. He also knows him so may know he's excellent on the training ground and in the dressing room.
3 senior goalies is what a team with any sort of ambition should have so en experienced number 2/3 is normal
Phil Walling
13
Posted 09/07/2016 at 09:36:31
Safe ? How do you know he's safe, Iain ? Perhaps you should talk to Garbutt about that !
Paul Newton
14
Posted 09/07/2016 at 11:45:37
Can a player who has played 54 times for Holland really be that bad? At least give him a chance!
Tom Evans
15
Posted 09/07/2016 at 13:12:04
Iain, I like the sound of "handful", for the collective word for fannies.
I suppose I am one of the aforementioned, in that I too, would have expected to have seen a big name signing by now.
The fact that friendlies are underway should serve as a reminder that time is running out.
John Daley
16
Posted 09/07/2016 at 13:17:59
"I like the sound of "handful", for the collective word for fannies."
A Fistful Of Fannies, surely? (Directed by Sagihole Leone. Music by Ennio Messicunni. Starring Clit Eastwood).
Mark Ryan
17
Posted 09/07/2016 at 13:26:28
I think the proper name for a bunch of fannies or the collective noun is a Kopendium. Question...is Stek our new number 2 or 3 and if so who do we think will be our number 1 or is it to be Robles ?
Mike Allison
18
Posted 09/07/2016 at 14:01:57
At the moment Mark, Stek is no.2 and Robles is no.1.
Personally I wouldn't see it as disastrous if this was the way we started the season, as both those goalkeepers are good enough to do well in the Premier League.
There is only a small pool of goalkeepers in the world who are both available and worth buying as a significant improvement. If we can get one, and most of seem to agree that Butland is our top choice, then we should.
If we can't, then we should go with these two and wait til a significant improvement becomes available.
Ian Burns
19
Posted 09/07/2016 at 14:10:19
The correct term is a Bush of Fannies.
Robles should be given an opportunity, I think he has earned it. I am more concerned about midfield and left side attacking player with a new striker if RL goes or stays.
Tom Evans
20
Posted 09/07/2016 at 15:11:52
Very good John, with a special mention to Mark for his offering.
Gerry Quinn
21
Posted 09/07/2016 at 15:24:27
Isn't it a "Kop full of fannies", as it is rude to use the c-word?
Mark Ryan
22
Posted 09/07/2016 at 15:41:16
What about a snatchery ? sorry going off piste a bit here.
Colin Glassar
23
Posted 09/07/2016 at 16:13:54
Joe Hart, with hours to go, will be our marquee signing this summer.
Mike Allison
24
Posted 09/07/2016 at 16:26:02
Colin, that's a horrible thing to say. I expect better from you.
Colin Glassar
25
Posted 09/07/2016 at 16:31:47
I think Joe Hart is a brilliant goalie Mike. I'd be chuffed if we got him.
Dennis Ng
26
Posted 09/07/2016 at 16:34:53
Colin, someone needs to mortgage his house on it for that to happen. Unless it is Stones going the other way. Cheaper yet acceptable options out there.
Colin Glassar
27
Posted 09/07/2016 at 16:41:10
If not Hart then Scmeichel or Mandanda(?). We need a top drawer goalie. I'd love to get Hart though it would cause an earthquake in the football world.

Mike Allison
28
Posted 09/07/2016 at 16:43:21
I don't. I won't go all extreme and claim he's shit or anything, but he's a decent to good goalkeeper who's somehow developed a top class reputation.
I'd say he's a 6 or a 7 who gets talked about as if he's an 8 or a 9. I much prefer Butland, who I believe will supersede Hart as England's no.1 this season.
Colin Glassar
29
Posted 09/07/2016 at 16:47:57
Joe Hart single handedly kept City in the title race last season. If some of our defending was comical what about theirs without Kompany? Players running into each other, constant chopping and changing, Demichelis walking like an OAP etc... Hart has his off days but overall, IMO, he's a superb GK.
Ray Roche
30
Posted 09/07/2016 at 16:52:35
I think you're all wrong . The collective noun for a group of fannies is a "Fisherie" .
Dennis Ng
31
Posted 09/07/2016 at 16:57:57
Can't argue with that Colin. I prefer Jack Butland over Hart due to price. If we can get Hart at the same price, then I have no opinion over either. I do think there are quality to be had from foreign GKs like Ter Stegen and Leno.
Brian Williams
32
Posted 09/07/2016 at 16:59:00
Haha. I'd forgotten about that comment I made a few days ago and only noticed some of the replies by chance when I saw the "last" comment on the main page...basically because it had the word "fannies" in it.
Ray I have to correct you. The collective name for several or more fannies is actually a "feast."

Colin Glassar
33
Posted 09/07/2016 at 17:04:23
£40m is being bandied about for Hart but I think we could get him for about £30m. Butland and Forster would be great as well. Dennis, Ter Stegen is being mentioned as a replacement for Hart. Pep likes his goalies to be sweepers as well.
Ian Linn
34
Posted 09/07/2016 at 17:48:09
It's a "bushel of fannies"
Dennis Ng
35
Posted 09/07/2016 at 17:53:19
Yes Colin, after thinking about it, I don't think Ter Stegen will be that cheap. Prob Leno might be more attainable for $20m or less, maybe by triggering a release clause. I agree, Hart might be available cheaper, prob $25-30m, but that begs the question, would Butland be cheaper and given Butland's age, would make more sense. I would have no qualm seeing Hart playing for us though. Definitely an upgrade to what we have by miles.
Ian, "swarm of fannies" sounds more devastating. It does feel that way occasionally too.
Mike T Jones
36
Posted 09/07/2016 at 20:19:44
I've only read the first few comments; but get to fuck. Everton are back. Is there no patience anymore
Mike T Jones
37
Posted 09/07/2016 at 20:21:16
Everton is back to be grammatically correct
Dave Brierley
38
Posted 09/07/2016 at 20:44:55
John Daley #16 I went to see that film shortly after trimming me hedge.
The screenplay was by Aline Bush McKenna.
Timothy Sebastian
39
Posted 10/07/2016 at 05:30:29
Nothing to do with being a fanny. Let's just step back for a second and look at the situation before accusing anyone of being a fanny. This is how I see the next couple of months unfolding:
Koeman won't want to be rushed into making snap decisions on expensive signings until he's sure the one(s) he wants fill(s) a certain weakness in the squad or add(s) to the overall strength of the squad. Koeman knows that he's inheriting a good core of players. So his first task will be to try to keep the likes of Lukaku, Stones and Mirallas. He also knows that he has a strong crop of youngsters who look ready to step up to the first team and he needs to create space in the squad to allow for that. So, if I was Koeman, I'd be using the pre-season games to run the rule over the youngsters and to make sure the new team tactics and systems are bedding down well.
Koeman will likely add 2-3 new signings over the next month, but these would be experienced squad fillers to give a bit more depth to the squad, like Stekelenburg. They won't be your marquee signings. Rather, they'd be solid journeymen types. At best, he may bring in one top quality 㿊-35mil type signing, but I think this would be at the tail end of the window when prices will be more reasonable as desperate sellers become more desperate. Everton can hold out till window's end if (i) Koeman can hold on to Lukaku, Stones and Mirallas, and (ii) if the youngsters can prove to Koeman over the pre-season that they can add competition for places. Both of which I think are fairly likely.
That's how I see the next couple of months panning out, and hence my doubts about us signing big name(s) so soon.
Alan J Thompson
40
Posted 10/07/2016 at 06:03:08
What about a Smorgasbordello of Fannies?
Mark Ryan
41
Posted 10/07/2016 at 11:31:27
I like the fanny gags. I hope they don't start to dry up. I'm liking the news about Guardiolas plans to buy a new goalie. Could be just the lever to oust Hart and bring him to Goodison as our new Number 1.
---
Add Your Comments
In order to post a comment, you need to be logged in as a registered user of the site.
Or Sign up as a ToffeeWeb Member — it's free, takes just a few minutes and will allow you to post your comments on articles and Talking Points submissions across the site.
© ToffeeWeb