Everton share in Premier League revenue bonanza

45 Comments [Jump to last]
Thursday 1 June 2017
Everton's merit and broadcast payments have swelled by almost £45m this season thanks largely to the bumper domestic and overseas TV deals.
The club received £127.8m in total revenue from the Premier League, up significantly from the £83m in 2015-16, with the help also of an improved league position.
Everton received just short of £12.5m last season for finishing in 11th but this term's seventh-place berth has netted just over £27m.
Facility fees – monies earned from live screening of matches in the UK – increased by £7m, even though the Blues featured the same number of times this season (18) as last.
Meanwhile, the overall equal share for all Premier League clubs was up by £13m and the overseas deal saw each team received £10m more in 2016-17.
While second-placed Arsenal were the top earners last season, this season's champions Chelsea topped the list with payments of £150.8m.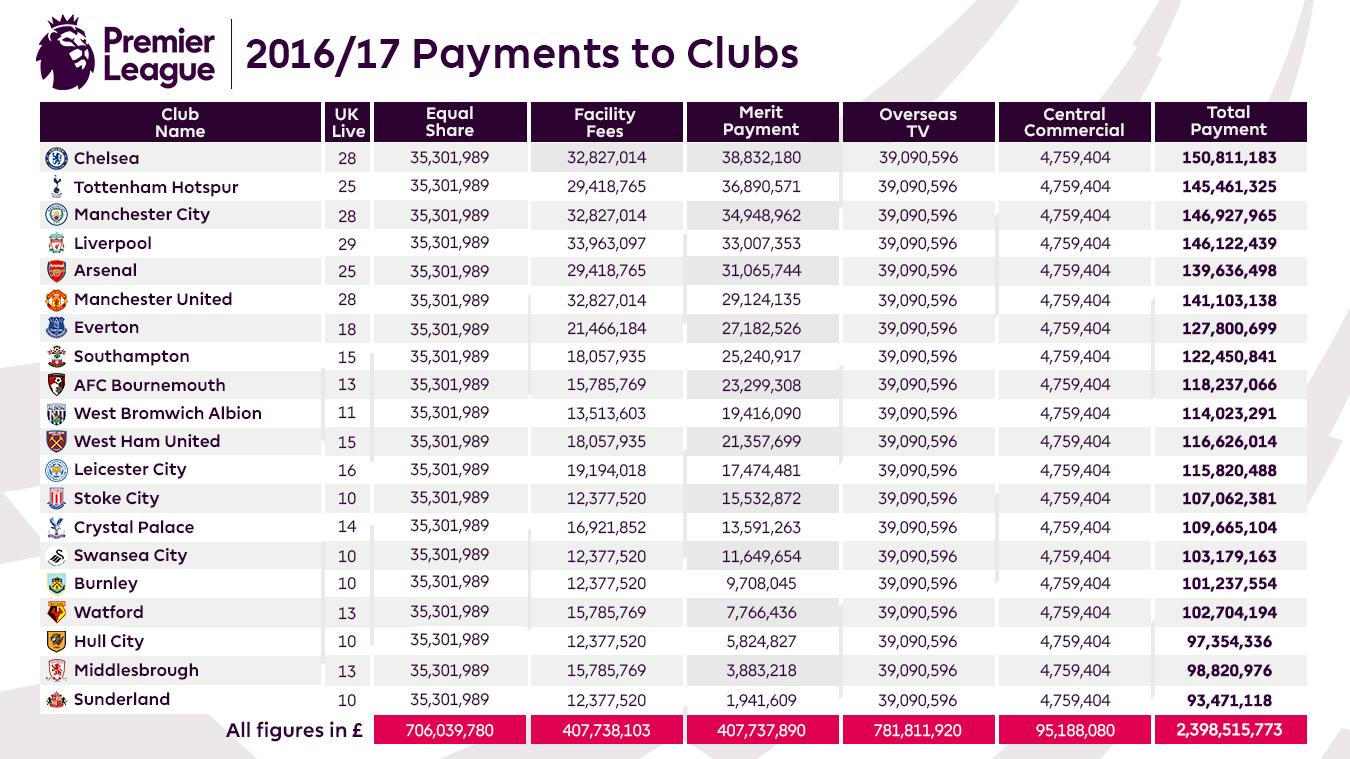 Source: Premier League
---
Reader Comments (45)
Note: the following content is not moderated or vetted by the site owners at the time of submission. Comments are the responsibility of the poster. Disclaimer
Mark Morrissey
1
Posted 01/06/2017 at 17:48:29
C'mon then Everton, even Stoke City have made a new signing, go and get us 7 top players
Paul Holmes
2
Posted 01/06/2017 at 17:48:42
Its unbelievable how much money is in Premier League football,the manager and the playing staff are earning a fortune in wages plus Moshiri has increased his investment yet again.
When we play well next season, I will give the team the plaudits they deserve, but when they perform like they did against Swansea and ten-men Arsenal, then they're getting both barrels (Barkley included if he's still here) from supporters like me. We want nil satis nisi optimum every game – not just against Man City at home!
Eddie Dunn
3
Posted 01/06/2017 at 17:59:31
Mark, I just read on BBc Sport that Leicester want £50million for Mahrez. So let's go and get him and send a message to all and sundry that we are aiming high.
I suspect that despite all of the wishfull thinking over Moshiri's input, that the main benefit of his money was to secure our debt and help with the stadium plan.
I wonder, also if Koeman's eagerness for Barkley to make up his mind, was down to the knowledge that we have to sell first, in order to buy.

Dermot Byrne
4
Posted 01/06/2017 at 18:04:54
Table close to PL table shock !
Peter Warren
6
Posted 01/06/2017 at 18:20:33
Agree Eddie
Jay Harris
7
Posted 01/06/2017 at 18:33:14
All this extra money should keep the fat cat agents in the manner to which they have become accustomed then.
Jason Broome
8
Posted 01/06/2017 at 19:25:05
There are no excuses this time in the transfer market... NONE.
With new sponsors, selling fringe players, tv money and the possible sale of Lukaku and Barkley it is up to the competence of the board Koeman and Mr Walsh to start building a team that can break the glass ceiling.
Lets see if they can get it right this time?

Dermot Byrne
9
Posted 01/06/2017 at 19:28:45
Could write 10 now!
Ian Hollingworth
10
Posted 01/06/2017 at 19:33:00
Some sort of Stadium announcement due in June before window opens to distract us from lack of transfer activity
City spent another £35m on goalie whilst what news from Everton?
Ian Burns
11
Posted 01/06/2017 at 19:33:25
This is terrific news if it translates into some top signings, especially a top striker; number 10; goalkeeper and a centre back with a hairy derriere who can also pass a ball to one of our own players, when necessary.
Darren Hind
12
Posted 01/06/2017 at 19:48:01
Is right, Jason, but you should have said "credible" excuses.
Although the excuse factory lost credibility when we were comprehensively out-played and dumped out of the FA Cup by a Leicester team who couldn't buy a win in the first half of the season. It has not deterred them from putting up embarrassing excuses that don't stack up.
The new season is three months away and they already have ten excuses... and if you dismiss them, there will be another ten.
You couldn't make it up!
John Pickles
13
Posted 01/06/2017 at 19:57:57
Is there any incentive to try to close the gap? If Everton's wages are 㿼-90m and they pull in 𧴵m they make a tidy profit with few risks. The Sky Darlings have wage bills around 𧶀m and only get 𧵄-𧵎m from the Premier League. If they fail to make Champion's League they can make a loss; risk involved.
Keep the fans sweet with promises of greater things which never quite happen and 'Oh dear, never mind, nice little earner nonetheless.'
Lewis Barclay
14
Posted 01/06/2017 at 20:05:48
Am I the only one who thinks that *possibly* we might not need to spend as much as we think and that our youngsters deserve more of a chance?
We need a new keeper, a playmaker and probably a striker, but we've got an amazingly talented crop of youngsters who won the Premier League 2 title and are currently ripping up the U20 World Cup.
I guess "you can't win anything with youngsters" though.
Brian Harrison
15
Posted 01/06/2017 at 20:08:41
I think the money in the Premier League makes it harder to buy players. Clubs now don't have to sell players to keep the bank manager happy, so the bottom clubs don't have to sell their best players.
You only have to look at Sunderland pricing Pickford at 㿊 million, you cant blame them, they are going down and even with the parachute payment they know with the money that's in the Premier League clubs can afford it.
Swansea like wise saying Sigurdsson would only be sold if a club meet their 㿔 million valuation. So having more money from Sky will not make buying players easier in fact I think it will be a lot harder.
James Marshall
16
Posted 01/06/2017 at 20:20:03
When people on here talk about there being no excuses for Everton to sign top players, I think (with respect) you miss a point – look at the table above, everyone has money to spend. Sunderland got paid 䀉m for being the shitest team in the league!
With this in mind, you have to remember that in the eyes of today's footballers, we're a mid table team with a shitty old ground based in the town where we're the second club to one of the most decorated clubs in European football (much as it pains me to say it) who are also in the Champions League.
We're not a top club as far as today's players are concerned, which is why we're scrapping it out for signings with Stoke et al. There's not a professional footballer alive today that can remember us winning the league!
Peter Warren
17
Posted 01/06/2017 at 20:24:46
No Brian, having money makes it harder to pay for players in the Premier League. Only top clubs such as Madrid teams, Barcelona, Juventus and Bayern can outbid us elsewhere. No other clubs can compete with wages - it's astronomical here. Every foreign player (unless absolutely world class – Ronaldo, Messi, Bale, Neymar etc) wants to play here. Plenty of football talent just that we seem to sign are duds from abroad (Niasse, Bily etc).
Koeman's and Walsh's records at other clubs of buying players from abroad is excellent. Let's hope they can reproduce that here – I don't think they've signed any non Premier League (or Championship) players for us yet?
James Marshall
18
Posted 01/06/2017 at 20:32:02
One bit of good news today, was Atletico Madrid's transfer ban being upheld, which means we have a better chance of signing that bloke Sandro that I've never heard of.
Exciting times.
Ian Burns
19
Posted 01/06/2017 at 20:37:35
James (#18) – it also means they won't let Griesmann go, so Man Utd will have to go for somebody else – such as Lukaku.
That will not cause too many ripples on TW –but the rug is beginning to be tugged!
James Marshall
20
Posted 01/06/2017 at 20:43:06
True – I don't see any reason to be upset or surprised if/when Lukaku leaves in the summer. Players come & go, it's no big deal and we should get good money for him, so
Brian Harrison
21
Posted 01/06/2017 at 20:56:48
Ian (#19),
I agree it makes it a bit harder for Man Utd to sign Griezman but they could just bid his buyout clause and there is nothing Atletico can do about it.
Tony Abrahams
22
Posted 01/06/2017 at 21:53:35
It's a seller's market. We can't afford the superstars, so let's just hope we pick up some bargains!
Colin Glassar
23
Posted 01/06/2017 at 21:59:01
I hate the transfer window!!!
Don Alexander
24
Posted 01/06/2017 at 22:06:42
It seems obvious to me that the pay-outs simply underline our status this year as the seventh most successful club and therefore probably seventh favourite, at best, for any of the top players in the world. Money might talk to persuade some of them to sign on but that sort of money will have to be additionally supplied by or via Mr Moshiri surely?
Eddie Dunn
25
Posted 01/06/2017 at 23:44:13
Don, I would be very surprised if Moshiri bankrolls any signings. All of the bluster in the press of the famous "warchest" was obviously conjecture. We are just like all of the other midtable also-rans. We all have the telly dosh and not much else.
The likes of Man Utd, Arsenal, Liverpool, Man City and Spurs can all pull in so much more revenue that blows us out of the water in terms of what we can offer in terms of a realistic chance of silverware, and Champions League footy (Arsenal apart). It also gives them all more potential in wages.
The new stadium is key to enticing the best mercenaries to Merseyside this is the most important thing that Mr Moshiri can do for us.
Phil (Kelsall) Roberts
26
Posted 01/06/2017 at 23:48:40
James Marshall (#16) – nobody under 60 can remember Spurs winning the league. You only have to be 40 to remember Everton.
Jim Harrison
27
Posted 02/06/2017 at 06:18:54
Brian Harrison (#15), spot on! Transfer fees have become silly because TV money has become silly!
Don, Moshiri cant bank roll signings in the way that has happened at Man City and Chelsea in the past.
John, 13, Unfortunately yes, you are correct. From our perspective as fans we want to see cash injections and big signings, but realistically, unless we make the Champions League the financial returns are minimal. So from a business perspective it makes better since to invest prudently. The potential gains per place have increased, but transfer fees have followed suit. And there is no guarantee that significant investment will yield sufficient returns.
Two good examples of what can go wrong:
Leeds Utd: We all know the story. Gambled that current performance and Champions League appearances would be the future norm. They weren't. Rapid fall from grace, selling off of star players, not recovered.
Aston Villa under Randy Learner. Invested substantial sums for several seasons, but league placings topped out. They were spending money to stand still and not recuperating enough from sales. Ended up selling all best players, owner lost interest in throwing money away, dropped like a stone. Had a net spend of 㿌 million last year to sit mid table in the championship
And for once I find myself in partial agreement with Darren Hind, last season proved that you don't need to be the biggest spenders to win. In fact, to a lesser degree the same can be said of last season:
Chelsea: Net spend 㿀 million
Tottenham: Net spend 㿅 million
Man City: Net spend 𧵏 million
Liverpool: Net spend ٢ million!!!
Ian Hollingworth
28
Posted 02/06/2017 at 07:18:40
Net spend of one season does not tell you much. You have to look at the net spend in assembling the team.
I guess our beloved neighbours have a much bigger net spend over the Premier League years than most clubs.
Sam Hoare
29
Posted 02/06/2017 at 08:19:17
This tidal wave of Premier League money is going to make it much harder to buy fashionable PL players. Very few clubs need to sell players which is why Palace can demand 㿈m for Bolasie and Sunderland 㿊m for Pickford. Talk of the price tag on Van Dijk being 㿲m!!
These inflated prices will mean turning more to European prospects (Sandro and Klaassen) and hopefully to promoting from within the club (Lookman, Dowell, Kenny, Walsh etc).
Liam Reilly
30
Posted 02/06/2017 at 08:34:41
"There's not a professional footballer alive today that can remember us winning the league!"
That's a sobering thought, James (#16). Maybe Buffon or Yakubu if he's still playing.
Unfortunately these riches bring inflated prices for players so expect Everton to tap into the European market and then play the usual 11th hour game of chicken, served up by Jim White as Tottenham buy Sigurdsson back from under our noses.
Ray Robinson
31
Posted 02/06/2017 at 09:26:53
Brian (#21) – doesn't mean that Griezmann has to agree to the move though does it?
I've long thought that this window is going to be more about unearthing Gana, Kante, Mahrez type signings rather than making mega-bucks purchases. The top seven are all fishing in the same pool. Nobody is going to choose Everton over the Champions League teams.
That's why Walsh was employed, isn't it – to identify emerging gems? A bit hit and miss, I know but probably for now the only way forward, together with promoting young players.
Phil Sammon
32
Posted 02/06/2017 at 09:39:17
Nevermind this transfer chit-chat... Everton should plough all resources into improving the standard of football in East Africa.
James Morgan
33
Posted 02/06/2017 at 11:40:44
"There's not a professional footballer alive today that can remember us winning the league"
Kazuyoshi Miura, 50 years old playing in Japan, he might remember!
Brian Furey
34
Posted 02/06/2017 at 12:15:57
7th highest Premier League revenue. I used to like the Number 7 but in the year 2017 I have become very fed up reading Everton and the word seventh since Christmas.
Don't get me wrong, I think Koeman has done well in his first season of "the project" to to stabilise us from the Martinez bullshit era and get rid of most of our weak links and make us quite a formidable force at home. However, I think the arrival of Moshiri's millions has come at the same time as the devaluation of what your millions can buy.
Only a few years ago, £28M would have bought you a top quality striker but now most average young players are going for that price. Look how Spurs, who usually buy well wasted £30M on Sissoko. I think we can't afford to make such big mistakes in the transfer market and so this is why we will probably be more cautious with our purchases.
I'm afraid I'll be very surprised if we're not stuck on the number 7 for a few years as I can't see Arsenal and Man Utd slipping any further though maybe the Champions League will have an affect on Liverpool & Spurs.

Gary Edwards
35
Posted 02/06/2017 at 12:18:06
Lewis (#14) my thoughts too I would add a top centre-back to that, eg, get Harry Maguire whilst the others are out-bidding one another on Virgil van Dijk. We have to rid ourselves of the deadwood and fringe players who haven't pushed on, eg, Cleverley and replace with better if we intend to show well in Europe.
However, we're seemingly doing nothing. Elstone's big news is a sponsorship sweetener in Tanzania; Kenwright's gone AWOL – it's all gone quiet.
We'll do nothing until the money comes in for Lukaku, Barkley etc that's the normal MO.
To a simpleton like me, it seems like the club is still being fleeced by its owners – only difference being Moshiri replaced Robert Earl & Co as benefactor(s).
Jim Harrison
36
Posted 02/06/2017 at 13:21:32
Noticeable that Man Utd still get preferable choice regarding TV appearances. Same amount as the Champions and 3 more than Arsenal, who finished second last season.
10 more than 7th place!!
Dan Egerton
37
Posted 02/06/2017 at 13:25:13
I suggest everyone check out how the Financial Fair Play rules work and how the massive amount of money it requires to build a huge new stadium affects how much a club can spend on buying players.
Jim Harrison
38
Posted 02/06/2017 at 13:31:04
Gary, 35, Cleverley is signing for Watford as far as I can remember
Just to make the point, for the 7 millionth time: the transfer window is actually not open yet!!
Interview with Walsh, he states targets are identified and work has already taken place on back ground check on a number of players.
Just another thing to throw in there, the Europa League final could have been a factor in delaying any actions. The winner got Champions League football. There are players at Ajax who have been mooted as potential targets, but if they won there would have been a good chance these players would have had a motivation to stay. Also the outcome of the Atletico Madrid case, regarding their transfer ban, the knock on effect being their desire to keep hold of Griesmann as they cant sign a replacement, possibly Sandro.
Most players and managers are currently on breaks. So the press side of things will be quiet. That doesn't mean nothing is happening!
Judge at the end of the window. Again, this has been said many times but bears repeating. If it turns out that nowt happens, then there will be a good reason to moan; until then, stay optimistic
Hugh Jenkins
40
Posted 02/06/2017 at 16:15:03
Jim (#36).
On the commercial channels, this is driven by advertising revenues, and the advertisers will want the maximum global audience to see their wares. With the BBC, it is driven purely by viewing figures as they have to show they are at least "competing" in viewing numbers with the commercial channels, in order to retain their budget allocation.
So, in order to achieve those viewing figures, they will always favour the teams with the largest global fan bases. The only way to break that mould is by becoming hugely successful and engendering a massive global following.
Success on the pitch over a number of years can bring that. As has oft been said on here, success breeds success and that is the path we have to follow, if we too are to be shown on TV more often than other Premier League teams.
Michael Kenrick
41
Posted 02/06/2017 at 16:16:16
Gary, hopefully you can elaborate on this:
"To a simpleton like me, it seems like the club is still being fleeced by its owners – only difference being Moshiri replaced Robert Earl & Co as benefactor(s)."
Seems you have some insight there that may have escaped others. For instance, the claims are made elsewhere that Moshiri has put in considerable amounts of money to restructure our debt, to pay off Martinez, and sundry other significant expenses. Short term: an apparent benefactor; long term, he should make a good profit on his shares. Is that "fleecing the club" when any profit will come from a new buyer?
To compare him to Robert Earl seems odd as all Earl did was hold on to a wedge of shares for a number of years. He was not a benefactor in that he never gave money to the club. Did he "fleece the club" when he sold those shares to Moshiri?
Hugh Jenkins
42
Posted 02/06/2017 at 16:38:30
James (#16),
Forgive me if I have misunderstood your meaning, but did you mean to say "There is not a professional footballer playing today, that can remember Everton winning the league?" as I am certain there are quite a number of retired professional footballers who can recall the event of which you speak (eg, Andy Gray, Graham Sharp, Peter Reid etc. to name but a few).
Michael Kenrick
43
Posted 02/06/2017 at 17:18:56
Err... Hugh. Key words are in bold: "a professional footballer playing today..."
Hugh Jenkins
44
Posted 02/06/2017 at 22:36:54
Michael (43).
In the version I can see (at post 16) it says "there is not a professional footballer "alive today". As I have said, there are any number of professional footballers alive today (but no longer playing professionally) who can remember when we last won the league. I was asking James if "playing today" is what he meant to say, rather than "alive today", which is what he actually said in his post.
Lev Vellene
45
Posted 02/06/2017 at 22:55:51
Ouch, this is a bad thing! It's like if we only got graced enough by external money (media?) to just be able to consider ourselves, like, seventh best in the country!
Steven Jones
46
Posted 02/06/2017 at 22:56:20
Michael (#41) – Good call
He at least has done some basic things and prioritising the Docks is a big step forward – leveraging the property and Liverpool development vision and credit rating is a creative and powerful stepping stone. Add to that the USM sponsorship deal and the purchase of the Liver Building – we could own the front and create an amazing future for the club.
Moshiri and his limited Billion and a bit may not be in the Man City - Chelsea scale; however, his USM Arsenal partner may jump ship and double the Chelsea pot and ambition I am always an optimist, especially with a Friday night glass in hand! :-0)
Jack Okell
47
Posted 02/06/2017 at 23:18:08
Shay Given?
---
Add Your Comments
In order to post a comment, you need to be logged in as a registered user of the site.
Or Sign up as a ToffeeWeb Member — it's free, takes just a few minutes and will allow you to post your comments on articles and Talking Points submissions across the site.