Meis talks up role of fan engagement

117 Comments [Jump to last]
Wednesday 21 June 2017
Dan Meis, the head of the California-based firm charged with designing Everton's new home at Bramley-Moore Dock, has re-emphasised the need for dialogue with supporters when it comes to such projects.
The renowned architect of stadia in the United States, who has also been commissioned to design AS Roma's new ground, gave a presentation about FC Cincinnati's proposed stadium in which he showed examples of his earlier work and how the process is influenced by fan engagement.
Though he stressed that the designs for Bramley-Moore Dock have not been made public, his slide deck included what he described as "really early ideas" for the Everton project and not specifically for the docks location.
As such, they are unlikely to be much of an indication — if any at all — of what the final development will look like, but for Evertonians desperate for any inkling of what Meis has in mind they offer a glimpse of evidence that the design work is underway.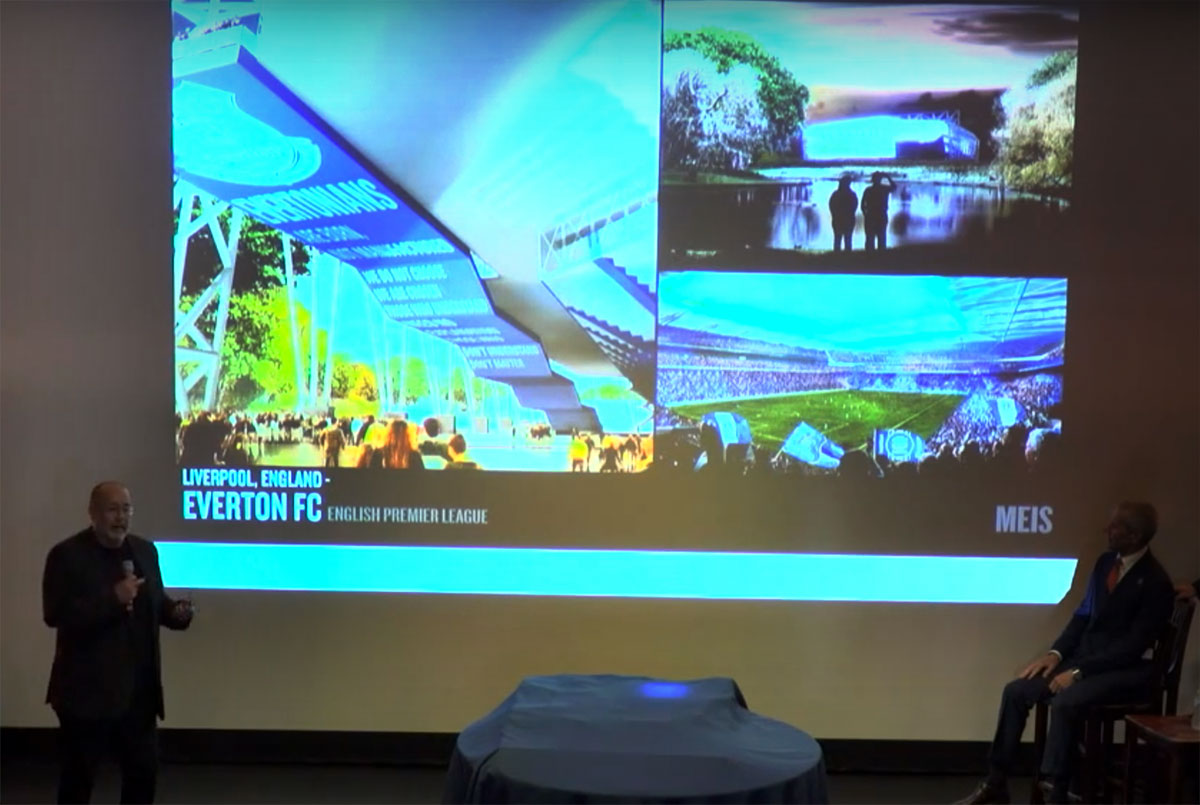 "Really early ideas" that were considered for Everton's new stadium by Meis architects
"One of the reasons I fell in love [with stadium design] is that it takes a committed owner, it takes a committed city... there's a lot of stakeholders but in the end it's your (the fans) building," Meis told the audience.
"It's really the only building type I think where you can have 20,000, 50,000, 80,000 people but it's still your building.
"As an architect, that's really exciting to be able to work with the hopes and dreams of so many people rather than us just putting in an idea and saying, here, it's great and you're going to love it."
He explained that his firm is currently working with "the real people's club in Liverpool" before saying that, "actually the design of Everton hasn't been exposed yet. These are some really early ideas but, again, one of the things we really focus on a lot is engaging with the fans and the history of the site."
Video
(skip to around the 27-minute mark)
---
Reader Comments (117)
Note: the following content is not moderated or vetted by the site owners at the time of submission. Comments are the responsibility of the poster. Disclaimer
Colin Glassar
1
Posted 21/06/2017 at 08:23:11
I really like his ideas for the fan plaza (zone) to make the stadium an everyday event. It could really rejuvenate that part of the docks.
Dean Johnson
2
Posted 21/06/2017 at 08:54:42
As a professional cynic, I will always question anyone who is being paid millions to design something when they say "it's
your
stadium".
No, it's not my M&S, it's not my McDonalds, it's not my Goodison Park or my new stadium.
It is simply a marketing ploy to make us feel like we're involved. Everyone uses it so let's not fall in to the same trap.
It will be designed by some guy, according to some guidelines designated by LCC and EFC.
The guy is just whipping up interest and generating his profile nicely. Unless he has something to say, I suggest he shut the fuck up and just get on with it.
All we really care about is:
● Do not compromise design for the running track
● Make the sides as steep and as close to the pitch as possible
● Don't make it red.
I mean really, what else needs to be said? I don't want a stadium designed by a committee, I want a highly paid architect to showcase about 5 different designs and then the board can choose what they want. Maybe they could involve a fan vote with it.
As someone who has to deal with wooly requirements all day, we can't allow this stadium to be the Mazda RX7 of its day.
Will Mabon
3
Posted 21/06/2017 at 09:02:42
I like that part too, Colin. Internal and external plazas. Many possibilities there, providing the whole approach to the site and surrounding area gets the right treatment, to try and "stretch" the city centre/docks effect northwards. Imagine somewhere really great to go to watch away games, too, like the ultimate sports pub.
Now, let's see a few sketches of the stadium, Dan.
Nigel Munford
4
Posted 21/06/2017 at 09:10:18
Nothing wrong with a Mazda RX7 Dean, but much prefer the MX5.
As for Dan's comments, if he were silent, then that would raise more concern; surely it's better to hear something than nothing.
Nigel Munford
5
Posted 21/06/2017 at 09:11:43
Oh and what we are hearing from Dan, in my view, is very positive.
Will Mabon
6
Posted 21/06/2017 at 09:14:25
Dean, I can be so cynical, I could make you look like Optimism Man, believe me.
Since this is "Our" stadium though (see what I did there?), I'll just filter out the inevitable contemporary corporate presentation stuff. Some of his work is excellent, and his ideas surrounding the development are interesting.
I share your thoughts about the core issue, though, regarding the running track, as I've said elsewhere. Until I see designs from Meis that make me reconsider my whole understanding of size and measurement in the three dimensional physical world, I'm more than concerned about this running track angle.
He can only design what is possible.
Colin Glassar
7
Posted 21/06/2017 at 09:18:24
Whoa Dean, you need to chill man. Of course he needs to sell his product to his clients – hence the, "it's your stadium" pitch.
How else is he going to convince his future users? Did Steve Jobs just throw out a phone and say, "I hope you like it"? Or Bill Gates saying, "Ooh, I've got some new software. Try it out"?
I'm not particularly keen on all this promo lark but that's how they do it and they've been doing it for years. Remember the old slide shows?
James Morgan
8
Posted 21/06/2017 at 09:20:12
Dean, so he shouldn't engage with fans and get ideas of what they like/dislike?
Dean Johnson
9
Posted 21/06/2017 at 09:32:14
Just because it's Everton's stadium shouldn't mean we forgo all the bullshit that surrounds it.
Amazing that when people disagree, they always use the anger as a way of devaluing your opinion.
Take off your blue-tinted specs for one minute and look at it objectively, please.
I used the RX8 metaphor because it's a great car, ruined by trying to appeal to too many people. Too many compromises.
Graham Mockford
10
Posted 21/06/2017 at 09:33:35
Dean
Because making people feel involved and that they have been consulted and have had their say is a bad thing, right?
Of course ultimately the Board will have the final say, they are paying for it, but they have found out to their cost in the very recent past what the danger of taking fans for granted are.
Anyway, I'd email your valued feedback in but I wouldn't volunteer for the focus groups.
Will Mabon
11
Posted 21/06/2017 at 09:57:01
For anyone interested, one of my own favourites and a design I could appreciate, is that of the stadium of the Red Bull Arena, home of the New York Red Bulls (shown top right in the video at 30:10) Have a search and view some clearer pictures.
The pitch/stand boundaries are almost identical to Goodison, and the setback of the upper tiers along the pitch sides, too. It's a great looking stadium internally in my opinion, with the stand corners well handled.
A stadium like that would be fantastic. How about a blue version of Dortmund's yellow wall at the home fans' end?
If you listen from 31:55, you hear Meis mention a very large, very steep, right on top of the pitch home end. This I think may be the only homage able to be paid to Goodison's proportions, should it be necessary to include that running track.
There's going to be a lot of discussion here when those first designs are shown...
Will Mabon
12
Posted 21/06/2017 at 10:00:44
Dean – RX8, they even toned down some of the RX7 whine...
Christopher Masters
13
Posted 21/06/2017 at 10:08:47
Dean, I can fully understand your cynical attitude as EFC have a rich history of promising the earth but NEVER delivering. We tend to remain unconvinced and always ask "Let me see the money." Sadly, as Evertonians, that means our glass is permanently half empty.
But you know what. It is possible to choose an alternative attitude towards the stadium project. We have started to see just a few shards of light at the end of our very long dark tunnel and personally I choose to remain cautiously optimistic. (Yes, I am aware that most Evertonians live their lives constantly switching between optimism and despair.)
I truly believe that some supporters are starting to see a few changes for the better – and even supporters of other premier league teams are having to begrudgingly admit that Everton are now taking small steps in the right direction and are beginning to change the perception of our premier league rivals towards us.
There is undoubtedly still a massive journey ahead before we get where we want to be, and you can be assured that there will still be some obstacles to overcome and some disappointment before we become the club envied by many. However, with a decent set of youth players, a few good signings, a new stadium on the horizon and a majority shareholder who seems to be committed to the cause, I am CHOOSING to look at the glass as being half full for a little while.
It's not easy to do that I know as our history is littered with twisted metal car crashes. All I am saying is you have the choice on how you wish to perceive the coming years and months.
Phil Walling
14
Posted 21/06/2017 at 10:29:15
A stadium designed by 'us'? God spare 'us ', the arguments and in-fighting. We'll be having another 'speccies poll' next!
Dennis Stevens
15
Posted 21/06/2017 at 10:36:27
I like the idea of the architect engaging with the club's supporters & the history of both the club & the proposed site, it can only help him get a better feel for the job. However, I appreciate that he's not just going to be working to a fans wishlist either.
At least he seems to be getting a grasp on what makes a decent football stadium – which is more than can be said for many who take on this task, Arsenal's new ground being a great example of how to fail spectacularly.
James Watts
16
Posted 21/06/2017 at 10:50:34
I imagine it would look something like Homer Simpson's car creation once we're done!
Dan Parker
17
Posted 21/06/2017 at 13:30:02
Not sure if he's thought of this but I hope it's not one of those stadiums that, come typical 3pm on a Saturday, it's half in the shade and half in the sunlight.
Dave Speed
18
Posted 21/06/2017 at 13:46:50
Jesus H Christ! 18 months ago, we were, outside of our blue tinted world, the little club punching above our weight, in an ageing stadium with an ageing team. Look now!
We have the makings of a good young team secured under long term contracts, we have a progressive manager with high standards, and in a few years we will have the newest stadium in the EPL! JHC again!
What will it take to put the smile on some of our fans' faces? Personally I am grinning from ear-to-ear. I have not been optimistic about anything EFC-related since the great 1984-85 team started to get broken up post Heysel.
I believe in Moshiri, Koeman et al, it can't be disputed that Kenwright delivered on his promise to sell to the right person/people, and I believe that Dan Meis is doing a thorough job in the design of the stadium. Let him get on with it in his own style – don't forget he is speaking to an upbeat American audience and that is what they expect.
I am sure that when he presents the EFC Stadium designs in this city, he will include excerpts from Schindler's List, the scene where Bambi becomes an orphan and that ending from the Lassie film where she dies, just to pander to those who need their fix of misery. This will not detract from the rest of us enjoying seeing the unveiling of a great stadium that ticks every box, and smashes the running track issue out of sight.
Jay Wood
19
Posted 21/06/2017 at 14:43:04
Dave Speed @ 18.
"I am sure that when he presents the EFC Stadium designs in this city, he will include excerpts from Schindler's List, the scene where Bambi becomes an orphan and that ending from the Lassie film where she dies, just to pander to those who need their fix of misery."
Cracking stuff, Dave! Love it!
And Dean Johnson, I'm really glad I don't live in your dystopian world.
Len Hawkins
20
Posted 21/06/2017 at 15:06:46
If today's sickly customer-service speak isn't to your taste, then I can recommend the Victor Meldrew Course – for instance, when you walk into the bank and you get "What can I do for you today" I always say "I'll come back tomorrow."
Doesn't the thought of the "Everton Experience" at the new stadium grip you more than Betty from Belle Vale dressing up in a blue and white frock and umbrella, tossing the quarter-pound of Everton Mints to the crowd – not forgetting to bung a few in her pocket for her bin lids at home?
John Pierce
21
Posted 21/06/2017 at 15:47:40
Nothing actually to see here. Move on. Until you can tell me were my restricted view, is not interested!
Michael Kenrick
22
Posted 21/06/2017 at 15:50:19
"...come typical 3pm on a Saturday, it's half in the shade and half in the sunlight."
I don't think even the brilliant Dan Meis can do much about that. Not that it's much of a problem through yer typical overcast, wet and windy winter months.
But that should make you an advocate of the wonderful 12:30 kick-offs when our players seem half asleep yet that sun-angle is a lot more favourable! Or (gawd forbid) the rumoured 11:30 kick-offs coming for the Aisian market.
Brian Williams
23
Posted 21/06/2017 at 16:06:49
Ffs sake, Michael, surely that useless carpet bagging, good for nothing, highwayman etc etc Kenwright can get the effing weather sorted!
Michael Kenrick
24
Posted 21/06/2017 at 16:19:33
Simples: A roof.
No weather, no pesky sun/shade thing going on...
I'm Tweeting Dan right now!
Anto Byrne
25
Posted 21/06/2017 at 16:50:46
Field of Dreams... build it and they will come.
Tony Abrahams
26
Posted 21/06/2017 at 17:08:53
He did say that the people sitting in the corners might get wet, so forget the roof and let's just put all the miserable bastards that need their fix of misery in these seats!
Martin Nicholls
27
Posted 21/06/2017 at 17:16:06
Nigel (#4) – wanna buy one, mate?!
Dave Speed
28
Posted 21/06/2017 at 17:30:29
Nice to be paraphrased, Tony (#26)!
Nigel Munford
29
Posted 21/06/2017 at 17:35:56
No thanks, Martin, I have all I need in the automotive line, but thanks for the offer.
Nigel Munford
30
Posted 21/06/2017 at 17:41:18
Spot on, Dave @17, I couldn't have put it better myself, so glad you did.
There are two types of people in this world, drains and radiators, I much prefer the radiator type, as the drains do just that, drain you.
Onwards and upwards, Evertonians.
Tony Abrahams
31
Posted 21/06/2017 at 17:43:56
Being sarcastic, David, I thought it was very funny, and a lot tamer than the real life misery that unfortunately besets us most days!
John Keating
32
Posted 21/06/2017 at 17:55:58
Why waste all this time and money?
Just nip on a Ryanair flight to Dortmund, give Borussia 㿀 for a copy of their stadium. Job done.
Mark Morrissey
33
Posted 21/06/2017 at 18:13:55
Heady days being an Evertonian. They are strange days for us older Evertonians.
I've lived through the days of Catterick & Kendall and right through the awful days of Peter Johnson's stewardship of the club. I've watched the awful football churned out by Mike Walker's team and the frustrating dogmatic style of David Moyes's charges.
I was excited when Roberto Martinez arrived and yet delighted when he was sacked. I'm now living on the brink of a potential golden era for my beloved Everton and I don't say that lightly.
I grew up watching Koeman playing for Holland in their better days. I think he wants to be a winner. I think Bill Kenwright has done well in finding Moshiri. I never thought he would actually do it, I'll be honest.
Many younger Evertonians have not endured so many years of hurt and disappointment but they are living in heady days for Everton Football Club, trust me and it's the first time since being a youth watching Alan Ball grace the turf at Goodison that I am truly excited at the coming season and moreover the seasons that are just ahead.
It's just going to get better and better, I can feel the world is turning for us. These mages of the proposed new stadium can only be great news for us all; don't pass up the moment to enjoy them – savour them
Tony Draper
34
Posted 21/06/2017 at 20:29:39
At this stage, I really don't mind debate amongst us fans. Although it's entirely unlikely, the remote possibility does still exist that a school of scientific thought might just persuade me to consider something.
However, when bargaining processes begin it is a fundamental essential to have crystal clear two boundaries. That which you will accept, and the terms acceptable.
Aspects which are termed "No! Not even up for discussion. No! No! No!"
I want a 22nd Century Goodison Park.
Rectilinear Football Ground.
Bearpit.
Royal Blue.
Scary.
Away section in Tranmere.
Blue Floodlights.
I want the hairs on me to stand electrified when I approach New Goodison in daylight, let alone nighttime !
I want a sound system that will deafen people in Montivideo when we roll out Z-Cars.
I want the Royal Blue Mersey to boil when the lads or lasses run out.
Four solid sides. Steep and vociferous.
Them Archie Leitch motifs all round...
Dan Parker
35
Posted 21/06/2017 at 20:58:01
If the stadium faces a certain direction, I think it's avoided. I'm clearly not an expert on such matters ha.
I'm no advocate of 12:30 kick-offs, Michael. Since moving to the US, a 10am beer with a fry-up is reasonable but 7:30 on a Saturday morning is a stretch!
Brian Williams
36
Posted 21/06/2017 at 21:47:15
John (#32).
That would be an excellent idea. I mentioned aspects of Dortmund's stadium in the questionnaire the club sent out recently.
David McMullen
37
Posted 21/06/2017 at 23:10:04
Being a passionate blue about the new ground so far – this is (even if early ideas and unlikely indicators) very poor and underwhelming.
I've been banging on about the Lucas Oil Stadium and as such it is a stadium that has all the attributes we need – 60,000 plus capacity, retractable roof, external brickwork and effectively 4 stands as opposed to a bowl. It is even built from below ground level – very useful considering the infill at the dock!
But oh no – Meis are not going for that. Or is it what Everton's remit is for Meis? Kenwright doing things on the cheap?
This new ground has to be big and "make a statement" – just like the signings on the pitch. Don't fuck it up, Everton.
David McMullen
38
Posted 21/06/2017 at 23:21:31
Some great comments, by the way, and Len Hawkins, I'm in Belle Vale; Betty sends her love.
Garry Corgan
39
Posted 21/06/2017 at 23:22:06
Good to hear.
We wouldn't really want all that much would we? Just a commitment to putting the fans close to the pitch, avoiding the soulless bowl designs.
What else? Some nods to the design of Goodison would be nice, such as the Bullens Road cross-hatchings. I suppose we could ask for a church in the corner too!
Jamie Sweet
40
Posted 21/06/2017 at 23:52:25
Maybe Dan is just paying us lip service, but from everything I've seen, I genuinely believe that he understands us as a club, and us as fans.
Some of his Twitter posts are very encouraging. He watches our games, follows the team, has wallpapered the company conference room with a life-size image of Goodison, with Tom Davies celebrating his goal against Man City.
Some examples of his posts for those who aren't on Twitter:
"Just to be clear, this isn't about Anfield. It is about designing the most intimidating stadium in football."
"Bramley-Moore is one of the greatest sites I have seen in my entire career."
"This is an opportunity to design a stadium to set the standard for English football for generations to come."
"Everyone is focussed on getting this right. You don't easily replace the Old Lady."
"Seriously though, I love this City, love the history and I hear the fans. Working hard to get it done. You have a club that truly cares."

And finally, for those who have been talking about a roof:
"I honestly don't understand the desire for a roof. It would be seldom used and cost far more than a handful of great strikers!"
I personally like the fact that he is actively engaging with fans and showing a great amount of passion for this project.
Oh, and by the way, the wallpaper looks absolutely mint. We should all have a wall in our house that looks like that!
Mike Gaynes
41
Posted 22/06/2017 at 00:19:58
Dan Parker (#35), you think 7:30 is tough? Try 4:30 on the Pacific Coast. There are winter days here in Oregon where the sky is still pitch black when the game is over. I've dragged my sad ass out of bed only to fall back asleep during the game.
Colin Metcalfe
42
Posted 22/06/2017 at 00:40:19
Tell you what Dan is right about one thing and that's Bramley-Moore is an exceptional site for a stadium, I recently stayed high up in the Mercure Atlantic Hotel and the views are breathtaking looking at the sunset over the northern docks. It really is going to be a magnificent sight when it's finished.
Laurie Hartley
43
Posted 22/06/2017 at 00:41:41
If it looks anything like the ground in the bottom right-hand corner of the image in the OP, I'll be made up.
Peter Mills
44
Posted 22/06/2017 at 07:59:28
I've only attended one game at a stadium with a roof, a Wales v England rugby international in Cardiff on a dark, very cold, snowy night.
The inside of the ground was warm and dry. It was awful.
Nigel Munford
45
Posted 22/06/2017 at 09:30:39
Dan has stated that a roof is a waste of time and money.
"I honestly don't understand the desire for a roof. It would be seldom used and cost far more than a handful of great strikers!"
Use the money else where on players as he suggests.
Brent Stephens
46
Posted 22/06/2017 at 13:11:16
Nigel – a roof is for life. A striker we get shut of when he only scores goals.
Alan Williams
47
Posted 22/06/2017 at 13:51:38
Capacity will be 60,000, I'm also told the build has already passed the 𧼐 million stage. If true, council funding guarantee is for only part of the cost. Tender out soon to suppliers.
Dan Parker
48
Posted 22/06/2017 at 14:32:58
That's dedication Mike Gaynes. My wagon didn't make it as far as Oregon!
Exciting times, the club's made a lot of progress over the last 12 months.
I was reading in terms of the Commonwealth Games that the site sits within an English Heritage zone. Are we going to see any obstacles with regards planning permission?
Nigel Munford
49
Posted 22/06/2017 at 16:35:53
Brent, can a roof propel us into the Champions League?

Nigel Munford
50
Posted 22/06/2017 at 16:41:07
Also, a roof can't be sold on, whereas players can. Once stuck with a roof, it's there for the life of the stadium. So, if it proves to be a waste of time and money, aka a carbuncle, there's no way to recoup any of that.
Gerry Quinn
51
Posted 22/06/2017 at 16:52:02
...an if yer know yer history... we should have every confidence this stadium design is in
EXACTLY
the right hands - and pleased with Everton understanding and passing on the needs of their fans...
http://www.liverpoolecho.co.uk/sport/football/football-news/everton-bramley-moore-stadium-architect-13224345
Ray Roche
52
Posted 22/06/2017 at 17:00:52
Brent (#46), You've not half gone nesh as you get older. Roof, my arse.
Tony Abrahams
53
Posted 22/06/2017 at 17:13:31
Anything else, Alan @47?
Michael Kenrick
Editorial Team
54
Posted 22/06/2017 at 17:20:56
More detailed coverage of Dan Meis and his approach to Bramley-Moore Dock in this Sporting Life piece (link also added at top of comments):
Jay Wood
55
Posted 22/06/2017 at 17:55:40
Brent @ 46.
That's good bait you're using mate.
Landed a couple that jumped right into your net.
Nigel Munford
56
Posted 22/06/2017 at 18:08:49
Might have known Brent was looking for a bite Jay, well and truly hooked, landed and netted.
But my comments are still pretty valid, eh??
Mike Gaynes
57
Posted 22/06/2017 at 18:31:48
Michael (#54), thanks, that's a great article.
A bit more background in Meis, who is an actual Blue (he has tweeted during games)... he has also done the Staples Center, home of the LA Lakers, plus Safeco Field in Seattle, Paul Brown Stadium in Cincinnati, Miller Park in Milwaukee and the rebuild of the LA Coliseum.
His other current projects include Stadio Della Roma and a footy-only stadium in Cincinnati. At every site he gets positive reviews for his emphasis on the fan experience.
Meis is an interesting guy to hear talk... good sense of humor. Here's an extended interview with him from 2011 about his stadium design business and philosophy: http://www.businessinsider.com/vacation-brain-food-2011-6
He's also selling his family home in the Southern California hills if anybody's interested: http://www.latimes.com/business/realestate/hot-property/la-fi-hotprop-dan-meis-calabasas-home-20170315-story.html
David McMullen
58
Posted 22/06/2017 at 20:12:32
For those that are against a roof, including the architect, just think, we are a club famed for firsts. It would be a first for a league club.
The dockside is going to be very cold in the winter my dad was docker for 30 years mainly Seaforth but I know he will have worked at Bramley Moore and believe me he'd come home from work frozen.
Anyway sounds like the architect and the club already have plans as someone intimated about lip service the fan consultation. As far as I'm concerned, it is all me arse and Ifeel the club are going for a cheapo version. The ground might be brand new, modern, intimate seating but I doubt it'll be iconic. Missed opportunity.
Brian Hennessy
59
Posted 22/06/2017 at 22:34:09
Thanks Michael K for sharing that link. Really excited about what design this guy will bring us.
I think he really has bought into the idea of steep sides creating atmosphere being No 1.
Nigel Munford
60
Posted 22/06/2017 at 22:41:56
David, will a roof get us into the Champions League?
First with a roof and playing Championship football wouldn't be good.
Ray Roche
61
Posted 22/06/2017 at 22:45:13
David McMullen (#58),
How on Earth can you say it's a missed opportunity when we haven't even seen the plans? The sheer negativity on here is mind boggling at times.
Yeah, a club famed for firsts... I know, no-one's ever had a plasticine stadium before... let's have one of those. Is that ground breaking enough for you?
David McMullen
62
Posted 22/06/2017 at 23:12:59
Nigel (#60), I think you're taking a bit of narrow point of view, a bit like Dan Meis's recent comments, I might add.
A retractable roof is just one aspect of what should be an 'iconic' stadium in my opinion. State of the art as they say. If the club aren't willing to pay for that level, then we will only get what we pay for.
At the end of the day this move is for many future generations of blues so the club has to get it right. I want us to be bold in its design so that everyone can see we mean business on and off the pitch. Make it second to none. For example, capacity should be second only to Old Trafford make it 65,000... We can fill it. It would make a statement..
Maybe I'm alone being so ambitious? I don't just want just a new ground IE a 21st century Goodison Park, I want us to build something that is truly "iconic" and befitting of the waterfront setting. Of which a retractable roof is just one aspect.
Jamie Sweet
63
Posted 22/06/2017 at 00:04:00
David McMullen, does a roof
really
matter that much to you? Just put on an extra layer and buy a decent pair of gloves.
It would be like spending $50m on a reserve goal keeper which you wouldn't use much and nobody really cares about.
When you think of all the most iconic stadiums on this planet, does anyone really give a shit if it's got a roof or not? For me, it's all about the shape and the stands.
Plus some of the best games to watch are when it's lashing down.
"Sure Barcelona are a decent team, but can they do it on a wet and windy Tuesday night down at the docks against their new Champions League rivals?" We don't want to make it too comfortable for everyone who visits!
Dan Davies
64
Posted 23/06/2017 at 01:19:50
Not arsed about a roof to be honest. I hope Mr Meis keeps up to speed with TW threads about the new stadium. I'm sure he would, seeing as its the best source of information and knowledge of everything Everton related ahem...
Anyway, from a selfish stance, if there is one thing I would like Dan to focus on above all else, it would be the 'acoustics' of the building itself. Let our new stadium be the most atmospheric there is.
Karl Masters
65
Posted 23/06/2017 at 01:44:08
Interesting to see he is also working on expansion plans for Bournemouth and Leicester City.
Overlapping multi tiers with Leitch crosses on, a big 'home end' and capacity 60k minimum plus a massive Everton tower in one corner (unique design defining feature and nod to the Church at Goodison) would be my 5 requests.
David McMullen
66
Posted 23/06/2017 at 08:13:23
I might add we can live without a roof, "Get a scarf," Meis said, didn't he? But it'll be colder than Goodison in the winter! Hopefully the football on the pitch will warm everyone up!
Colin Glassar
67
Posted 23/06/2017 at 08:31:14
No roof? So when it pours down you just sit there and get drenched? Doesn't sound like too much fun to me.
Nigel Munford
68
Posted 23/06/2017 at 13:18:45
Blimey, you'll be wanting central heating and deep pile carpet next!
Pete Cross
69
Posted 23/06/2017 at 13:40:42
Heated concourses definitely!
Ray Roche
70
Posted 23/06/2017 at 13:41:12
Good idea Nigel. Tweet Dan and see what he thinks.
Brent Stephens
71
Posted 23/06/2017 at 13:46:48
Ray (#52): "You've not half gone nesh as you get older. Roof, my arse."
Gotta be a roof. I'm too old to catch a chill. And I want a stand for my hat and muffler, and a coffee table for my pipe and tobacco and my copy of Country Life (and for Ian Burns to put his gin on).
Ray Roche
72
Posted 23/06/2017 at 14:00:06
You'll be wearing a waxed Barbour jacket, cavalry twill trousers and sensible shoes next.
And moving to Heswall.
Christ on a bike...
Brian Williams
73
Posted 23/06/2017 at 14:14:05
Oi, what's wrong with Heswall???
Ray Roche
74
Posted 23/06/2017 at 14:23:52
Someone... anyone... take this spade off of me. I need to stop digging.
James Hughes
75
Posted 23/06/2017 at 14:55:44
I think Mr Roche is trying to say that Heswall is a tad genteel and by association you may not be able to withstand the harsher climes.
Brian, is it nice by the way? I don't get home often enough and normally go into town. Any good places to eat there? Sorry, I know you ain't Trip Advisor
Peter Mills
76
Posted 23/06/2017 at 21:21:56
A long time ago, I went to see us play Burnley away on a very cold day. We went on a double-decker bus. I sat in the Bob Lord stand and there was warm air blowing out from under the seat. It was very pleasant, in contrast to the stifling conditions at the Cardiff Millennium Stadium with the closed roof.
I think Burnley gave up on the initiative pretty quickly, there are quite a lot of cold days in north-east Lancashire and Bob didn't like the expense.
Michael Spear
77
Posted 23/06/2017 at 22:17:29
Peter (#76), it was a long time ago, around the mid 60's? I remember sitting in that stand thinking 'this is the future for football' while my feet thawed out from the typical Burnley winter weather.
Great idea, surprised no one has really tried anything similar since, although I think there might be a few modern grounds with heated seats in their posh sections (I could be wrong there as our away allocation never seems to be anywhere near the posh bits).
No double-decker bus for me, mind you. Crown Coaches, pick up at Page Moss for all away games back then. Now there's posh!
Dermot Byrne
78
Posted 23/06/2017 at 22:30:10
I was brought up in the tenements of Heswall, Ray, so sod off. Took me years to claw my way out and move to mid Cheshire.
Ray Roche
79
Posted 23/06/2017 at 22:32:31
Dermot, Heswall has tenements? Who knew?
Dermot Byrne
80
Posted 23/06/2017 at 22:39:36
Nightmarish!
Will Mabon
81
Posted 23/06/2017 at 23:06:57
...and yet there are parts of mid Cheshire that would have me running for Heswall.
John Smith
82
Posted 25/06/2017 at 07:08:05
Solution.
Retractable seats to provide space for a running track for Commonwealth Games Athletic events, while simultaneously allows fans to be as close to the pitch as possible during a football game.
Retractable roof.
Tony Pemberton
84
Posted 25/06/2017 at 11:31:18
Dan Meis does mention about a large home end in the interview and how that can positively help the team. However why was this not plural?
Why isn't there two home ends? Shouldn't what is the best design for a home end be replicated at both ends? Otherwise they're admitting the other end isn't the best possible design? Is this the compromise for the Commonwealth Games?
Having the best possible home ends, at both ends is key to making the stadium intimidating. The end stands create the noise, the sides join in with that noise. So sides should be different designs to the ends.
Will Mabon
85
Posted 25/06/2017 at 15:09:24
John, if only it was that simple, to completely cure the issue of allowing for running track size in a football stadium; it isn't. Even you used the words "as possible".
In stadium design to date, "As possible" doesn't equate to "As Goodison" where a running track is or has been, in terms of closeness. Or perhaps I should say, the closeness is not possible to real world financially feasibility.
Alexander Murphy
86
Posted 26/06/2017 at 10:00:26
A few weeks ago, me and a pal visited "The Grand Old Lady", Byrne's Chippy, St Rupert's Tower and Bramley-Moore Dock one after the other.
From St Rupert's you can see our Liver Birds and the Royal Blue Mersey.
I've said that I do not want to depart "The Grand Old Lady". I just bloody well don't. And I'll not debate why. I just bloody well don't.
Born. No explanation. Understood.
Now, I will accept that we will be moving.
So.
Them granite stones of Bramley-Moore, I bloody like them!
Dan Meis, build me a fortress at Bramley-Moore clad in them granite blocks and make it resound with "Johnny Todd", make me a bearpit to worship my Royal Blues and yours and our great, great grandkids will still know your name.
Phil Walling
87
Posted 26/06/2017 at 10:07:29
The running track debate is superfluous in my view. Commonwealth Games will go to Brimingham who have all the facilities in place. So no help to come from that direction. How will that impact on our club's fundraising for the project, I wonder?
Laurie Hartley
88
Posted 26/06/2017 at 10:47:32
Phil – Farhad will get on the blower to his mate, Alisher:
"Alisher – how do you like the sound of The Megafon Stadium?"
Tony Abrahams
89
Posted 26/06/2017 at 10:50:21
Keep wondering, Phil!
Paul A Smith
90
Posted 26/06/2017 at 14:41:43
Dean (#2), I like your post and feel more or less the same. If any architect wanted to follow fans' wants and needs, we could hire a basic architect.
After the success the Dortmund stand has seen and the fact Spurs are trying something similar, why would a famous design man not start with the idea of one super stand that gets other fans talking?
2,000 fans from all over the world visit Dortmund every home game just to be involved in the atmosphere. That is something to be considered if the club wants a new batch of support or attention.
I fully agree with Dean – it's obvious what we don't want in our stadium... but, to be completely honest, I can't see anything that doesn't suit the athletics first. Benches and stands too far from the pitch etc.
Suit-wearing self-acclaimed superstars hardly ever relate to what a real fan wants.
David McMullen
91
Posted 26/06/2017 at 16:49:07
Following the comments on here... If we do get the Commonwealth Games, the running track won't be something we need to worry about, however it is done.
As for the design, I'd be reluctant myself to agree to la arge single stand at one end as then we're getting in to the realms of a "kop end". Say no more. I'd love a ground to be modelled slightly on Old Trafford the two goal ends and their triple decker stand.
And a retractable roof!!!!
Tony Pemberton
92
Posted 26/06/2017 at 17:07:13
The Dortmund type end behind both of the goals would make people sit up and take notice.
Let's hope we're bold enough to do go for it.
Ray Roche
93
Posted 26/06/2017 at 18:00:23
Okay, so if we have a Dortmund style stand at either end, I still want the opposition fans stuck up in a corner out of the way. Right up in the Gods with the pigeons for company.
And preferably under a sprinkler system to shut them up if they get too loud. With a contingent of blokes who were thrown out of the SS for being too cruel to twat them about a bit for being, well, let's say Kopites or Mancs or Skunks, whatever.
I don't want the away fans having the opportunity to cheer their team on to the detriment of OUR atmosphere. Okay Dan?
Ray Robinson
94
Posted 26/06/2017 at 18:24:48
No chance of your wishes coming true, Ray. As of next season, all away fans will have to have at least some pitch-side presence. New Premier League edict I'm afraid. Means Newcastle will have to re-locate the away fans.
I am guessing it's to improve the noise levels and improve the Sky product. As far as I know, Sunderland apart (and they've gone down) all other Premier League grounds already comply with this new rule.
Mike Connolly
95
Posted 27/06/2017 at 21:29:58
Like many Evertonians, I was excited with the announcement of a new stadium. Okay, Goodison has gone but we will be building a ground from scratch. A brand new bear pit atmosphere with steep sides by the pitch. What can go wrong? Oops.... running track.
Hampden Park appears to be what people think will be right. Intimidation, Look how far away from the touch line you are. Dan says you will not lose any atmosphere. However, unless he has skills of Paul Daniels it's going to end up similar to Hampden Park.
Dan thinks we will like it, not a lot, but like it. Birmingham for the games, would do nicely.
Tony Pemberton
96
Posted 27/06/2017 at 23:17:10
Surely steep stands means fans are further away from the pitch? Even more so too if combined with generous leg room.
Perhaps fans mean multi-tiered stands that overlap each other? That would mean more fans are closer to the action, and more intimate. The top tiers in that case would have to be steep to keep it close to the pitch.
Be clear in what you want.
Laurie Hartley
97
Posted 27/06/2017 at 23:37:57
I think Dan Meis already has the solution to the running track conundrum.
In one of his tweets he commented that he wanted the stadium to "rise up out of the docks". There is the clue.
Bramley-Moore Dock is wide enough and more importantly long enough to accommodate a 110 metre by 68 metre pitch with enough space left over to fill with quite a few rows of seats at the sides and the ends.
In other words, the pitch could be below the quay level with a terrace at quay level say one third of the way up the stands. That would certainly give you a "bear pit".
To accommodate the commonwealth games a temporary falsework support system could be built from the pitch to the terrace level - same as they did at Hampden.
So trust our new blue chum Dan Meis architect – he will give us an atmospheric bear pit stadium.
Dan Davies
98
Posted 27/06/2017 at 23:44:46
Laurie, the Principality Stadium (formerly Millennium Stadium) in Cardiff is at street level.
However, when entering the building, you walk downwards to the lower tier seating.
Just saying.
Dan Davies
99
Posted 27/06/2017 at 23:55:11
Which interestingly means a higher potential ground capacity than I originally thought... hmmm?
Laurie Hartley
100
Posted 28/06/2017 at 01:08:42
Dan (#98) – Precisely.
Ian Jones
101
Posted 30/06/2017 at 15:35:30
Slightly off topic, but to do with building. According to BBC, 'The Sports Ground Safety Authority (SGSA) has written to football clubs across the country to ask them to check on any external cladding their stadium may have following the Grenfell Tower disaster'.
Just wondering what type of cladding was used at Goodison when they updated the external look...

David McMullen
102
Posted 30/06/2017 at 16:43:02
Mike Connolly (#95),
I'm not sure what you're concerned about. If you listen to those that are involved or read the latest reports when they come out, as I do, you'll realise that they are allaying those fears about the running track should the city get the Commonwealth Games. Hampden Park has no relevance to the new ground other than they hosted the Commonwealth Games recently and had a temporary running track added.
Now what our new ground will look like etc etc is still open to debate I do and will keep hoping that we build something like the Lucas Oil Stadium. Put THAT on the dock and we'd all be very happy.
David McMullen
103
Posted 30/06/2017 at 16:46:30
I'd also add re Laurie (97) the
Lucas Oil Stadium
is below street level.
Sadly, Meis is his own man from what I can gather he won't be copying other stadiums.
Will Mabon
105
Posted 30/06/2017 at 22:03:54
"Hampden Park has no relevance to the new ground
other than they hosted the Commonwealth Games recently and had a temporary running track added
."
Which is exactly the relevance. Being laid out to accommodate a temporary running track has resulted in the stands and hence fans being sited a long way from the touchlines at Hampden.
Reading Mike Connolly's post, it's crystal clear what he's concerned about.
Ray Robinson
107
Posted 30/06/2017 at 22:20:20
Will (#105), Hampden was built years ago with no thought at all to future use for athletics. Our new ground could be built with that potential in mind. The Etihad proves it can be done.
Will Mabon
108
Posted 01/07/2017 at 00:41:51
Ray, research into Hampden and its various stages of redevelopment, including housing the running track. Have a look at it now, and compare with Goodison.
The Ethihad was built as an athletics stadium and later permanently converted to a football stadium. This is why it has very deep (front to rear) and shallow-sloping lower tiers. Even now it is open and set away compared with our current home – the second tiers are further away than those at Goodison.
Since our ground may have to be a football stadium, then house a temporary running track, then revert to a football stadium, The Etihad only shows roughly what we will end up with; which is not something like Goodison.
There is only one realistic way around this, and that would be to not construct the permanent lower tiers until after the running track has been and gone. Even this would result in second tiers further back than we are used to, in order to provide a view of the running track.
Does this look as close and as intimidating as Goodison?
David McMullen
109
Posted 01/07/2017 at 08:44:32
Hampden Park it is nothing to do with Everton FC's new ground. Other than they had a temporary running track installed for the Commonwealth Games and therefore, yeah, the seats were further from the pitch. Temporarily. The rest of Hampden Park (in design) is totally irrelevant to us.
Will Mabon
110
Posted 01/07/2017 at 21:41:46
David, it was you that originally raised Hampden Park as an "Amazing" example of how it could be done, over on the other thread. "End of worries", wasn't it?
Since Hampden now reverted, has nothing like the close and intimate atmosphere of Goodison, which many fans wish to retain, it's a very relevant example of how the new stadium design could be influenced. The seats are further away... permanently much further away.
I guess you've changed your mind.
Mike Connolly
111
Posted 02/07/2017 at 09:28:46
The obstructed views at Goodison will be nothing compared to the view in the upper tiers of the new stadium.
All we asked for was a footie stadium the fans deserve. But this is Everton – Always a compromise. Remember Kirkby. We had to have a shopping centre included in the plans. And now a running track.
Get a Dortmund type stadium built so our future fans can be proud of it. And not something designed for two weeks games. We don't want our fans thinking like West Ham (extreme example) we're stuck with this for life.
Have a good look at Goodison from your seat next game and see how close you are to the pitch. Then look at the pictures of grounds that have had a running track. You will notice the difference
David McMullen
112
Posted 02/07/2017 at 10:46:20
Will, you need to read what I actually refer to. I am referring to the 'process' of the installation and removal of the running track for the Glasgow Commonwealth Games in Hampden Park. So about allaying fears of running tracks. That is all.
Absolutely nothing at all to do with comparing Hampden Park and Bramley Moore Dock stadium or Goodison for that matter. Changed my mind on nothing. It was about how they added a temporary running track and subsequently removed it. Get with the programme.
Bobby Thomas
113
Posted 02/07/2017 at 11:38:28
Will Mabon
114
Posted 02/07/2017 at 15:04:16
David @ 112:
"So about allaying fears of running tracks."
The fears were about the design of the stadium by having to have a temporary track, not the process of fitting and removing a track. I wrote this several times, as did many others.
I replied to Ray earlier in this thread, and the relevance of Hampden or anywhere else that has had a track is obvious to the point I'm making; how it affects the layout (you know, "design").
So you post: "Hampden Park it is nothing to do with Everton FC's new ground. Other than they had a temporary running track installed for the Commonwealth Games and therefore, yeah, the seats were further from the pitch."
Are you thick or just argumentative?
David McMullen
115
Posted 02/07/2017 at 16:43:31
Not going to sink as low as you, mate, in giving out insults. Just read what I said. You're the one that is pushing for an argument. I'm not interested.
Your opinion, my opinion, just opinions, you don't get mine. Who cares, I don't. Move on.
Will Mabon
116
Posted 03/07/2017 at 05:35:48
Glad to move on. You said you'd finished in the other thread but you started up again. Stick to it this time.
Paul Columb
117
Posted 03/07/2017 at 05:54:12
Got to admit, the most impressive fictitious stadium rendering to date for me had been the shite's Stanley park stadium mark #2. A vision of modern with a nod to traditional 4 sided English stadia. Just glad it was a non starter, but a design that was easy on the eye.
Will Mabon
118
Posted 03/07/2017 at 07:04:39
Paul, did you mean this one?
p.s. turn the sound down!
Will Mabon
119
Posted 03/07/2017 at 07:11:45
Or the option from 1:45 on here:
Paul Columb
120
Posted 03/07/2017 at 14:34:50
Will (#118) -- yes, the very one.
Add Your Comments
In order to post a comment, you need to be logged in as a registered user of the site.
Or Sign up as a ToffeeWeb Member — it's free, takes just a few minutes and will allow you to post your comments on articles and Talking Points submissions across the site.