Everton History
Fred Pickering – A Tribute
Rob Sawyer

10/02/2019
28

comments | Jump to last
Share:
Fred Pickering passed away on 9 February 2019, at the age of 78, in his hometown of Blackburn.  
Fred was a forward as a youth but was switched to left-back by Blackburn Rovers as it offered him greater opportunities to progress. He captained Rovers' 1959 FA Youth Cup-winning team and debuted for the first team, wearing the Number 3 shirt, later that year. Eventually, he reverted to the forward line in place of Derek Dougan and never looked back. Six foot-plus in stature, powerful, with a trademark 'booming' shot with either foot and surprising poise for a big man – Fred was a potent threat to opposing defences.
A hat-trick for Rovers at GoodisonPark in November 1963 must have impressed Harry Catterick – just four months later, the Toffees' supremo secured Fred's services in order to bolster his firepower for the 1963-64 title run-in. In spite of supporters' reservations (who were worried that Fred's arrival would spell the end for terrace idol, Alex Young), Fred was a sensation in royal blue – scoring a hat-trick on his debut against Nottingham Forest. Although Everton's title challenge stuttered that season, Fred would score with metronomic regularity for two years. Remarkably, he was selected for England just three times — scoring a hat-trick on his international debut and notching goals in his two subsequent appearances.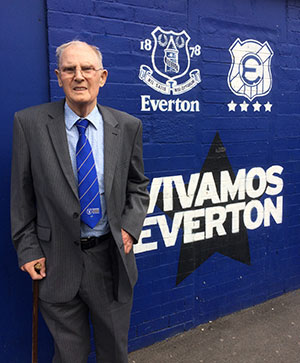 A knee injury saw Fred miss out on the 1966 FA Cup final. It was a bitter blow (in time, Fred acknowledged that his selection would have been a huge gamble, in an era before substitutes). His loss was Mike Trebilcock's gain – as he watched from the sidelines with Sandy Brown.
By his own admission, Fred was never quite the same player again. He broke down again with knee trouble early in the following season and, following surgery, played in only a handful of games before moving to the Midlands in August 1967. His two seasons at Birmingham City were fruitful ones – by way of tribute, the St Andrews faithful would adapt the contemporary Manfred Mann hit's chorus to 'The Mighty Pickering'.
Fred's goals edged the Birmingham Blues to within a match of the 1968 FA Cup Final – which would have offered a chance to prove a point against his former club. In the event, West Brom progressed to the final, with Jeff Astle writing his name in Cup history.
Back in the North-West, Fred's hat-trick at Deepdale in April 1970 secured Blackpool's promotion to the top flight, earning him a place in Tangerines' folklore. A sentimental return to Ewood Park in 1971 was ill-fated with Fred now well past his prime.
A brief spell on Brighton's backroom staff, curtailed by the arrival of Brian Clough, ended Fred's association with professional football. He would earn a living back in his hometown working in several jobs and, in retirement, was a familiar sight around the town. In conversation, he was modest and unassuming, never wanting fuss about his considerable footballing achievements.
Fred was never forgotten by his four football clubs. He attended a number of Gwladys Street's Hall of Fame events at the Adelphi and was a regular at the Everton Former Players Foundation Christmas lunches until recent years. When not in the best of health, he was invited by Bill Kenwright to be his guest at the Everton - Stoke fixture in August 2017. It was a day he thoroughly enjoyed – particularly bumping into his old teammate, Colin Harvey (a "top, top, player' according to Fred — who did not shower praise on fellow players lightly).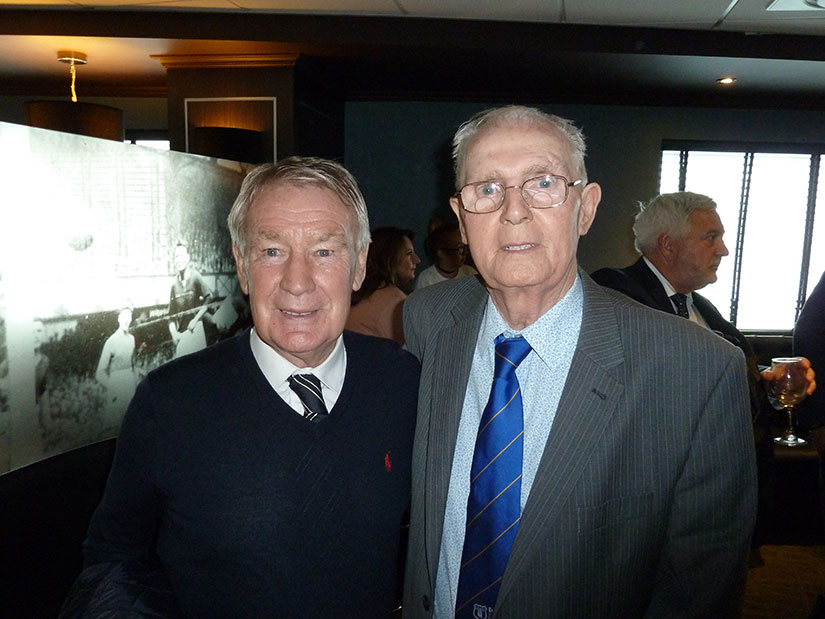 Fred may have only been at Everton for a little over 3 years but he looked back fondly on his time on Merseyside. For Evertonians, he holds a place in the pantheon of talismanic Number Nines. 70 goals in 115 Toffees appearances puts him up with the most prolific marksmen the club has seen – oh to see his like again.
I offer my condolences to his loved ones. Rest in peace, Fred.

Follow @robsawyer70
---
Reader Comments (28)
Note: the following content is not moderated or vetted by the site owners at the time of submission. Comments are the responsibility of the poster. Disclaimer
Don Alexander
1
Posted 10/02/2019 at 18:09:41
What wouldn't we give for a Fred Pickering of a centre-forward now? And as for another Colin Harvey, well, in dreams.
RIP Fred, when I was nowt but a lad you were good to watch even if my owd man used to say Alex Young was way the better forward. Your goals per game ratio for us is AMAZING.
Gerry Quinn
2
Posted 10/02/2019 at 18:36:19
RIP Fred - great forward, fabulous memories of you and your goals
Frank Crewe
3
Posted 10/02/2019 at 18:44:59
Signed him for £85,000 in 1964. That would be £1.2 million now. A total steal. How we could do with him now.
Jay Harris
4
Posted 10/02/2019 at 18:57:49
RIP Fred and thanks for the wonderful memories and goals.
How we could do with your attitude and ability now.
Derek Wadeson
5
Posted 10/02/2019 at 20:52:49
Sung to the tune of the Beverly Hillbillies
Come listen to a story about a man named Fred
He could score a goal with his feet or his head
Then one day while playing against the 'Pool
He slipped past Yeats and he scored one cool
Well Ron Yeats said I do declare
It's about time I moved away from here
I think that Tranmere is the place that I should be
Then I'll have no Pickering to bother me
The song did go on but the lyrics escape me.
I remember waking up on FA Cup final day in 1966 to the news Fred Pickering was not playing, every Evertonian was gutted.
My personal memory of Fred is him and Johnny Morrissey have a play fight over an apple at the Bellfield training ground when we kids were waiting for autographs after training.
RIP Fred
Paul Birmingham
6
Posted 10/02/2019 at 20:53:29
RIP, Fred, your an Everton Legend, and if only your spirit and passion for Playing for Everton, could be rekindled in this current first team squad.
Rob Marsh
7
Posted 10/02/2019 at 22:30:33
RIP Fred
These old timers played for a few bob each week and had fish and chips from the local chippy after the game before going the pub with the fans.
Enjoy the great game in the sky Fred, you've earned it.
Bill Watson
8
Posted 10/02/2019 at 23:15:02
A great player in his short time at Everton. Sadly, he never really recovered from the knee injury which cost him his Cup Final place.
Sad that players of Fred's generation had to seek a living as best they could, when their career was over, in stark contrast to today's game where even bog standard squad players are millionaires.
RIP Fred.
Phil Bellis
9
Posted 10/02/2019 at 23:32:07
I also saw Fred's debut...
I can't remember the Footie Echo's reporter but still recall the comment: "Pickering... Complete-centre forward... Legs like young oak trees."
Vince Holden
10
Posted 10/02/2019 at 00:08:05
My first Everton idol as an 8-year-old kid. So much so that for my first month at school my teachers thought my name was Fred because that's what I told them my name was.
Like an earlier poster I think I still have the Bedford FA Cup goal photo in black and white from the echo. That was the start of our victorious 1966 FA Cup run. I remember him scoring a few for Blackpool on an early Match of the Day.
To really put things into perspective, when my uncle was in hospital in 1966, having a back operation, Fred was in the same ward having his knee op. That certainly wouldn't happen today.
All great memories and thanks for them Fred.
Phil Lewis
11
Posted 11/02/2019 at 00:57:52
When Fred played for Everton, he lived near to Guinness Export FC in Aughton. My older brother used to take me to watch Melrose FC from Kirkdale, play their Liverpool Sunday league home matches there.
Fred would amble down of a Sunday lunch to the Guinness FC Social Club in his cardigan and slippers for a game of dominoes with the locals and had time for everyone. That's what you call real class and style! Such a far cry from the overpaid, aloof so-called 'stars' of today, who in reality would not be fit to lace the likes of Fred Pickering's boots.
A real gentleman and a very good footballer. Better than he was given credit for. Most Evertonians of a certain age, remember that Fred was switched from full back to a free-scoring centre forward by the time he joined us.
But around the time he left us for Birmingham, Bobby Charlton for United and Ian St John for Liverpool were being played deeper than their familiar centre forward roles. Birmingham experimented with Pickering in a similar way.
I recall watching him a couple of times on TV playing more of a central midfield role behind the strikers to great effect. He showed surprising skill, proving conclusively what a great all round footballer he really was. RIP Big Fred. As the song goes, 'Thanks for the Memory'.
Terry White
12
Posted 11/02/2019 at 02:30:57
Just to keep the record straight, the 3-0 win at Bedford was in the 4th round, not the 3rd when we beat Sunderland 3-0. Then we beat Coventry 3-0 in the 5th round before Man. City 2-0 in the 2nd replay.
Temple, Young and Pickering each scored in the first 3 rounds with Temple and Pickering getting the goals to beat Man. City, so each of them had scored in every round until the semi-final.
Mike Dolan
13
Posted 11/02/2019 at 05:39:01
Thanks for the great memories, Fred. What a great goalscorer he was for us. It was a shame that injuries slowed him down.
I used to love that chant: "Pick-er-ing, Pick-'em-Off"...
My condolences and "Pick 'Em Off" Fred.

Ken Kneale
14
Posted 11/02/2019 at 07:32:02
A fine tribute and lovely photograph. What a fine addition both men of 1964 vintage would make now to our club in ability and as Rob points out, character.
Lenny Kingman
15
Posted 11/02/2019 at 08:35:39
An excellent, powerful, stylish and good looking man to be leading the Blues attack back then. My first visit to Anfield in 1964 was honoured by a goal from the great man in an epic 4-0 massacre of the hated reds.
One man's bad fortune led to another man's good, and it must have been quite hard for Fred on that historical day at Wembley in 1966.
As mentioned above, he is revered at Blackpool where not only did his hat trick at Deepdale send the tangerines up to the top flight, but it also relegated their arch enemies PNE to the third division. Still talked about to this day with relish and respect by elderly Seasiders fans.
Gareth Williams
16
Posted 11/02/2019 at 09:10:36
Richard Nelson
17
Posted 11/02/2019 at 15:31:05
Fred Pickering...£85,000...70 goals in 115 apps .RIP Fred !
Peter Cummings
18
Posted 11/02/2019 at 16:09:35
I was really choked when Fred had to miss the '66 FA Cup Final. I was there at the 'wrong' end, surrounded by Sheffield Wednesday supporters, where all of the goals were scored and Derek Temple went from the halfway line to put the winner past Ron Springett.
Wonderful memories of a true Everton great, the photo of Fred with another of our legends, Colin Harvey, brought back those days of yore when the name Everton meant something.
Fred Pickering, Gone But Not Forgotten. RIP, lad.
Susan Bagley
20
Posted 11/02/2019 at 18:44:11
Hi Rob,
Thanks again for this wonderful tribute for Uncle Fred.
Just wanted to add thanks to all the wonderful fans for their lovely comments and memories shared.
Very heartwarming at a very sad time for our family.
Warmest wishes to you all.
Susan, Fred's niece.
Mike Owen
21
Posted 11/02/2019 at 20:54:37
Fred was my first big hero. I remember getting my mum to sew a number 9 on the back of my blue football shirt.
Injury not only ruled him out of the 1966 FA Cup final, but also the England World Cup squad. He could have ended up Sir Fred!
I went up to him at a supporters' dinner 10 or 12 years ago and was delighted that he took time to talk to me. A real gent.

Ian Pilkington
22
Posted 12/02/2019 at 16:26:53
I first saw Fred when he scored that hat trick against us for Blackburn and was delighted when Catterick signed him.
He was a great centre forward and it was a big loss when his career was cut short with us due to the knee injury.
Condolences to his family, his memory will live on with all Evertonians privileged to have seen him play.
Steve Ferns
23
Posted 12/02/2019 at 16:33:29
Well before my time, but my Dad said he was a top player, and he didn't say that lightly. Rest In Peace, Fred.
Andrew Clare
24
Posted 12/02/2019 at 17:09:58
I was really excited when Everton signed Fred Pickering and he went to score many goals for us. I must have seen one of his last games for Everton when we won 4-2 at Villa in '67. Sad to hear of his passing.
Jack Convery
25
Posted 12/02/2019 at 19:14:16
My old man often goes on about Fred Pickering and how good he was. Never saw him play myself but that goal scoring record speaks for itself. RIP.
Rick Tarleton
26
Posted 13/02/2019 at 10:25:09
We had some good central strikers in the sixties. The immortal Young and Vernon combination, less than 20 stone between them of pure genius and an uncanny understanding that defeated the best defenders of that time.
Frank Wignall who had to leave us to get regular first-team football and went on to play for England.
Fred Pickering and Joe Royle, both also Englandinternationals in the days when caps were hard to come by. The great Colin Harvey only got one and Howard Kendall didn't even get one.
Pickering was a tremendous goal scorer, better than a goal every two games, his debut hat-trick was a marvellous statement of his ability and almost persuaded me that he could be considered in the same breath as Alex Young.
Like Royle after him, he suffered from the false comparisons with Young, but in modern terms this was a £60M striker. An excellent finisher, both as a snapper-up of unconsidered trifles in the 6-yard box and of 20-yard drives, good in the air and willing to chase and make runs.
In fact, compared to Lukaku I'll revise that £60M upwards. Like a few of Everton's stars of the sixties he wasn't always treated well by Harry Catterick, but he was a quality striker.
Joe Bibb
27
Posted 15/02/2019 at 12:19:20
Fred was not only a great player but a nice man a few years ago he was often seen outside the Winslow talking to George Orr who was selling his fanzine. Fred would speak to anyone and answer any question asked of him. There were no airs and graces about Fred he was a down to earth guy.
Rest in Peace Fred and thank you for your service to the Everton Cause.
Liam Hartley
29
Posted 22/02/2019 at 19:38:18
Im a Blackburn/Everton fan thanks to my brother in law who's from Liverpool. Just wanted to pay my respects to Fred on your site. Lovely to see so many fond memories of him on here.
I'm a taxi driver in Blackburn and have picked up Fred on many occasions and although he was a Blackburn lad and player he told me that it was only Everton that ever invited him to games and treated him like an ex player. He loved Everton
RIP Fred
Terry Jones
31
Posted 02/03/2019 at 07:59:45
As a 13-year-old, I remember going to Fred's first game with old mates John Curtis and Syd Haley. After the game, we ran down the street singing "Fred Pickering, Fred Pickering, the forward to watch" to the tune of a Burton the tailors add. I've lived in Australia since 1974 so I'll just say "Fred, Good on ya mate" RIP cobba.
Add Your Comments
In order to post a comment, you need to be logged in as a registered user of the site.
Or Sign up as a ToffeeWeb Member — it's free, takes just a few minutes and will allow you to post your comments on articles and Talking Points submissions across the site.
© ToffeeWeb