Everton History
Ron Saunders – The Toffee Years
Rob Sawyer

19/03/2019
37

comments | Jump to last
Share: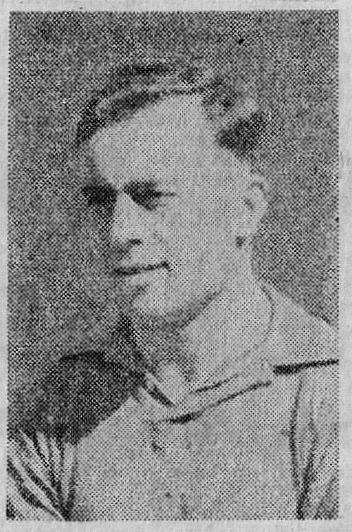 Ron Saunders is best remembered for moulding the Aston Villa team which won the League Cup in 1975 and 1977, the Football League championship in 1981 and the European Cup in 1982. Less reported is the fact that he began his life in football as an Evertonian.
Born in Birkenhead on 6 November 1932, one of eight siblings, Ron attended the Park High School. He was a natural all-round sportsman, enjoying playing rugby, cricket and football (representing Birkenhead Schoolboys in the latter). He also enjoyed boxing, whilst in athletics he broke the school record for putting the shot. He had a trial with Tranmere Rovers but was deemed too small so or – according to another version of events – he preferred to follow his uncle, George Saunders, to Everton, signing amateur papers in 1949. George, a full-back, made 140 appearances for the Blues between 1946 and 1951.
Ron proved prolific as a centre-forward in Everton's A and B sides. He would travel on the Mersey ferry to training and matches with Jimmy Harris and John Willie Parker. He was capped on 3rd February 1951 in a youth international fixture staged at Kilmarnock – he was on target four times for England against the Scots. Pro forms with Everton were signed just days later, immediately prior to Ron commencing his National Service in the British Army at Aldershot and in Devon. He averaged over two goals per game, one winter, with his RASC Unit team in South Devon League football. His team also won the Southern Command Cup.
Although not particularly tall, at 5'-9½", Ron was described in the Echo as: 'a strong built lad with a good shot in either foot and a nice turn of speed'. After scoring regularly for the reserves, he was elevated to the first team in place of the suspended Dave Hickson at Ninian Park on 12 February 1955. It was to be quite a week, as Ranger of the Liverpool Echo reported:
WEDDING BELLS AND DEBUT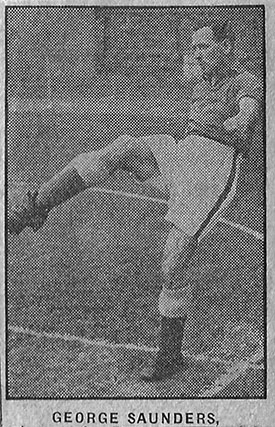 This is going to be an eventful weekend for Ronnie Saunders, Everton's 22-years–old, Birkenhead born, reserve centre-forward. On Saturday he makes his senior debut for the Goodison Park club against Cardiff City and on Monday he is to be married. He has played with considerable success in the Central League side, having scored 14 goals in 20 reserve team outings this season.
The selection of Saunders is an appropriate wedding "present". Next Monday afternoon he will lead to the altar at Holy Cross Church, Birkenhead, Miss Breeda Quigley, a 20-years-old Tipperary girl, whom he met while he was serving in the Army. As things turned out it is fortunate the young couple did not fix their wedding for Saturday.
Ron debuted for the Blues in the following line-up: O'Neill; Moore, Donovan; Farrell, T.E. Jones, Lello; McNamara, Fielding, Saunders, Parker, Eglington. Although Cardiff City defeated Everton 4-3, the Echo noted: 'Saunders, in my opinion, had a grand game and almost scored when he hit a fast, rising shot which Howells caught under his bar.'
As planned, Ron got married to Breeda, a Vernons Pools clerk, on the following Monday. His address was reported as 47 Hobyln Road, Birkenhead. Breeda had two of her sisters and two of Ron's sisters as bridesmaids; she was given away by her brother. The honeymoon was put on hold as Ron had to travel with the Everton party to Harrogate in preparation for the next match (in the event, he was not selected to play).
Ron's only senior Goodison appearance was in a 1-0 victory over Spurs. He received faint praise from Ranger in the Echo: 'Saunders did not have much chance to shine against the tall and commanding Clarke, yet he was always a hard-trier and had one almost "certain" goal averted by a miraculous leap and fingertip save by Reyonds. It would be unfair to judge Saunders on this one showing. He needs time to "play himself in" and gain experience.'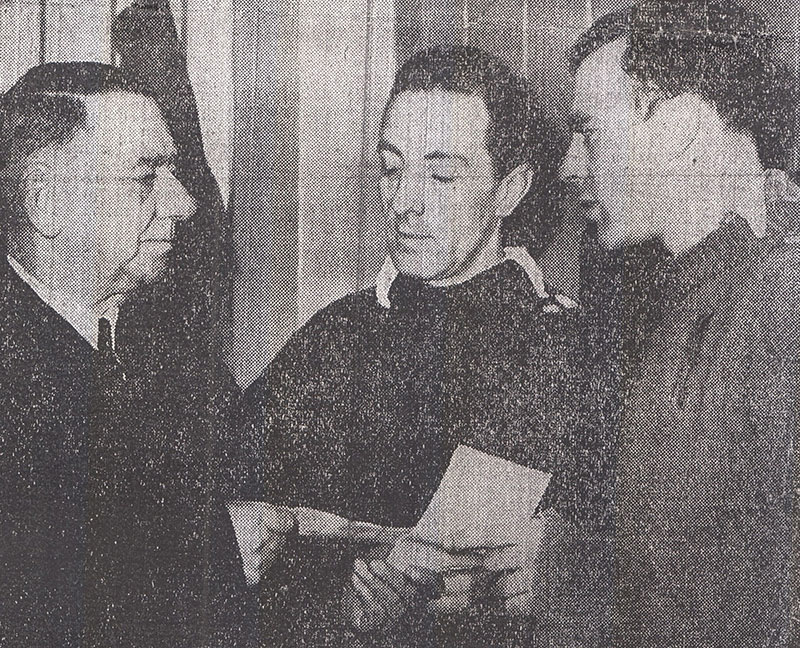 Just two days later (remarkably, by today's standards, Everton played on the Friday, Saturday and Monday over Easter), Ron retained his place for the trip to Newcastle. It was not a happy experience. Everton lost 4-0 with Ron receiving a 'nasty bump' which required treatment, and he also saw Scoular intercept at the last moment when he seemed sure to score. For the next match, Dave Hickson returned to lead the attack and Ron's Everton first team career had ended after just three matches.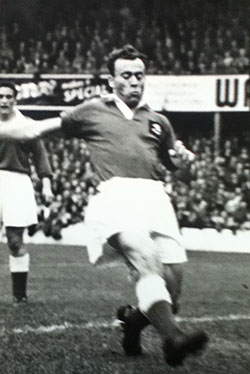 With little chance of dislodging Jimmy Harris (who had ousted Dave Hickson early in the 1955-56 season), Ron asked for a transfer in October 1955 but rescinded the request in the following March. Everton had other ideas, however, and offered Ron for transfer at season's end. Although there were several league clubs interested in acquiring his services, in early July, Ron plumped for Tonbridge FC. By why choose a Southern League side based in faraway Kent? There were several reasons: Breeda had family living in the area whilst Tonbridge's wages (not subject to Football League constraints), combined with some part-time work, gave Ron a higher income than he had at Everton. To clinch the deal, Tonbridge also threw in a 3-bedroom house with the luxury of an inside toilet.
After being linked with Crystal Palace (who were deterred by the £2,500 fee quoted by Everton – who retained his registration), Ron left Tonbridge for fellow Kentish outfit, Gillingham. He was signed by the Gills' manager, Archie Clarke, who had won the title with Everton in 1932. Ron's subsequent move, to Portsmouth, in 1958, was the precursor to six extremely productive years (145 goals in 236 League appearances). The Saunders were settled and happy on the Hampshire coast – the extended family would enjoy coming down from the Wirral to holiday there. Ron would top-up his salary with summer work as a fitness instructor in a local holiday camp. However, football took priority and, in 1964, Bill McGarry brought the prolific forward to Vicarage Road.
Ron scored twice on his Watford debut and ended the season with an impressive 18 goals in 39 League outings. However, neither he nor the family really settled in Hertfordshire and, after just one season, Ron moved on to Charlton Athletic. In 1967 he embarked on the managerial ladder with Yeovil Town. His approach to management and coaching mirrored his own attitude as a player. His son, Ronnie, told Neil Adams of The News (Portsmouth):
'He treated the game as a trade, he saw it as a job... He pushed himself and enjoyed it, like a boxer who doesn't mind getting hit. In a funny way, he relished the physical pain of pushing himself, especially in pre-season training, and took that into management. His sides were very fit – he made them that way… His focus was unbelievable, as a player and a manager.'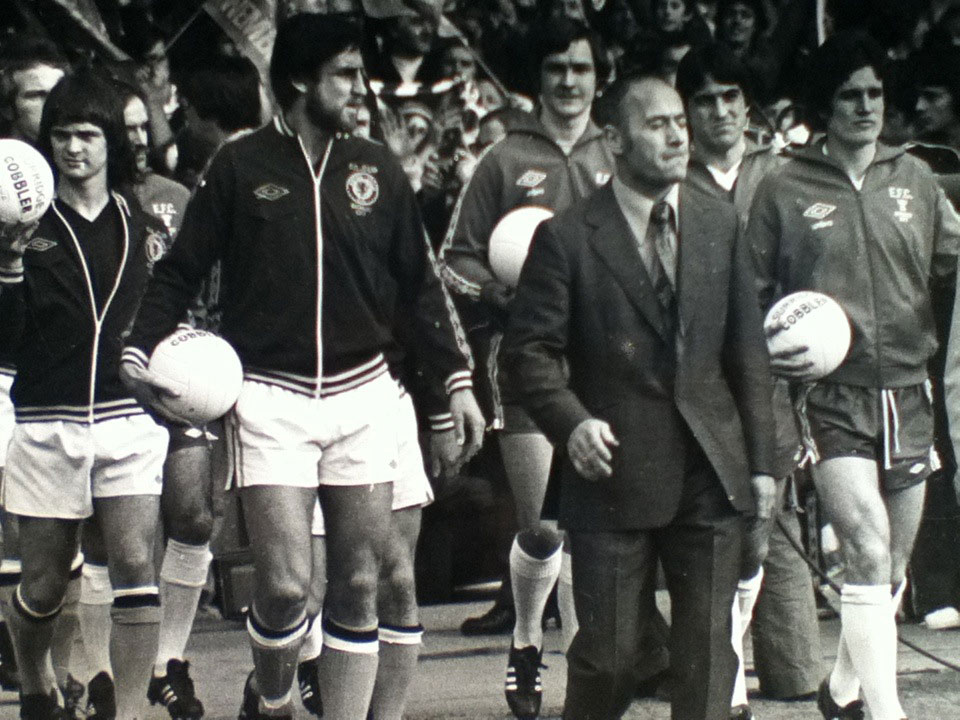 Ron leading out Villa against Everton before the 1977 League Cup Final
His managerial career would then take him to Oxford, Norwich City and Manchester City before Aston Villa came calling. He would get the Villains promoted from the Second Division at the first attempt and won the 1975 League Cup – a feat repeated two years later in the thrice-played final tie against Everton. Ron's crowning achievement was winning the League Championship in the 1980-81 season, prior to walking away over a contract dispute with the directors, just four months before the European Cup was brought to Birmingham.
Ron always kept in touch with Merseyside, getting the Liverpool Echo sent to him by his father. He loved the people and wanted success for the city and its football clubs. He was mentioned in connection with the Everton manager's post on a couple of occasions (notably in the wake of Billy Bingham's dismissal in January 1977) but nothing transpired. He was offered – and declined – the Manchester United post in 1981 (Ron Atkinson was appointed instead). Ron rounded-off his managerial career with Birmingham City and West Bromwich Albion. Like Harry Catterick (whose playing career at Goodison Park overlapped that of Ron), Ron is sometimes overlooked when the most successful managers are discussed – but his record speaks for itself.
Sources/Acknowledgements
Ronnie Saunders and the Saunders family
Jimmy Harris
Newspaper reports transcribed on Blue Correspondent website (Billy Smith)
Liverpool Echo
The News (portsmouth.co.uk) article by Neil Allen – 18 August 2018
evertonresults.com (Steve Johnson)

Follow @Robsawyer70
---
Reader Comments (37)
Note: the following content is not moderated or vetted by the site owners at the time of submission. Comments are the responsibility of the poster. Disclaimer
Jim Potter
1
Posted 19/03/2019 at 08:57:17
An interesting read, thanks Rob.
My Dad went to Park High school with Ronnie and said what a fine rugby player Saunders was.
Treated poorly by Villa after a magnificent season winning the league, and Tony Barton got the credit for the European Cup win when Ronnie had done 99% of the real work.
Steve Ferns
2
Posted 19/03/2019 at 09:22:10
I enjoyed that read, Rob.
Dave Abrahams
3
Posted 19/03/2019 at 09:22:16
I think George is the oldest ex Everton player still alive, with Jimmy Harris and Billy Bingham not far behind.
Brian Harrison
4
Posted 19/03/2019 at 09:44:08
I didn't see Ron play for us but I do remember him being a no-nonsense manager at Villa.
I saw both Jimmy Harris and Billy Bingham, I remember one day getting on the bus only to see Jimmy Harris sitting there. He was going out with Roberta Brown from Croxteth, a Miss Great Britain winner.
Jimmy had a hard act to follow in Dave Hickson, but he always gave 100% yet he wasn't as good as Hickson.
Looking at the banner at the game against Chelsea, I thought "Does Ferguson deserve to be on the same banner as those other greats? Not for me." I think Lawton and Andy Gray were more influential than Ferguson ever was.
Steve Ferns
5
Posted 19/03/2019 at 09:51:28
Brian, I agree about Duncan. Ferguson was a hero to a generation, my generation, but he could never be called a legend. He never accomplished anything.
We're not Watford, our legends have honour rolls and can claim to be one of the greatest ever. Duncan's not in those conversations. Gray did more in his short spell than Ferguson did in both of his lengthy ones.
Brian Harrison
6
Posted 19/03/2019 at 10:00:07
I truly am losing it I have just seen a picture of the banner again, no Golden Vision – I can't believe I didn't notice this at the game. My Grandson was asking who they all were and I never noticed that the great Alex Young wasn't there.
How the hell can you have a banner of some of our great centre forwards and not include Alex Young – sorry, God, as he was to most of us who saw him?!?!
Christy Ring
7
Posted 19/03/2019 at 12:20:18
Enjoyable read Rob, Steve @5, agree with you regarding Gray, and Big Dunc was a hero of mine, but we didn't see enough of him. He was lazy, injury prone, and the sad thing is, he had so much ability, and a great touch for a big man, on his day unstoppable, but few and far between.
Terry Underwood
8
Posted 19/03/2019 at 13:07:22
Duncan disorderly was a hero to blues fans, not because of winning anything but more for the sheer terror he inspired in the opposition. Those who saw the off-hand way he threw Paul Ince to the ground will never forget it.
Tony Abrahams
9
Posted 19/03/2019 at 13:33:26
On his day, Ferguson was brilliant, and I prefer to remember him by some of his great goals against the bigger teams because he definitely came alive if we were playing Liverpool or Man Utd, but if Kenwright was not at the club, then I doubt Big Duncan, would have found his way onto that flag on Sunday, simply because of the way Steve puts it.
David Ellis
10
Posted 19/03/2019 at 14:20:37
Rob, a great read. I remember Ron as manager of the Villa. Who are the players in the picture of the 1977 League Cup final?
On the left is Brian Little (he of the very long neck) who later scored the winner having been gifted a goal (in the nth replay) by Darracott or McLaughlin. I can't remember the Villa's captain's name.
For Everton, there is Mike Lyons and behind him Bob Latchford (pre perm). The tall guy I don't recognize but I guess he was the keeper (Lawson??).
Villa had some good players – Alan Curbishley was in that side. Andy Gray played for them as well but I guess that was later.
David Ellis
11
Posted 19/03/2019 at 14:33:21
Duncan Ferguson had a very limited impact apart from in a couple of games. We should never have bought him back from Newcastle. Rideout and Diamond had a bigger influence on the pitch – they won us the FA Cup (Duncan being injured).
John Cook
12
Posted 19/03/2019 at 14:57:07
Dave,
Villa captain was Denis Mortimer, a very underrated player. I was in the same class as him in Brookfield Kirkby.
Steve Ferns
13
Posted 19/03/2019 at 15:17:19
David, I'd say the players that won us the cup were Southall, Watson, Parkinson, Limpar, Stuart and Rideout. Southall was MotM for most. Watson was brilliant, as always. Parkinson stopped Man Utd playing.
Limpar hit two unbelievable passes, not least that ball out to the right for the cross to Stuart who hit the bar and then Rideout nodded home. Rideout got the vital goal, of course.
Jack Convery
14
Posted 19/03/2019 at 15:20:56
Good article and I learnt that Saunders was a Blue which I never knew.
Brian @4 – I couldn't agree more. Gray and Lawton, yes ... Duncan is not a legend but he should have been. Kevin Campbell did more for EFC than Duncan ever did.
Steve Alderson
15
Posted 19/03/2019 at 15:57:58
Steve Ferns. Don't forget Matt Jackson. He was immense throughout the 1995 FA Cup run.
James MacGlashan
16
Posted 19/03/2019 at 17:05:01
Does anyone know who did the banner that was at the Chelsea match? A word in their shell-like. As has been said, where is Alex Young? Come on.
I appreciate that Duncan may be on there because he's at the club but please put my Dad's favourite up there. He wrote to Alex about 3 years ago. Alex was in a home but my Dad got a reply. How a near 80-year-old man could make a near 70-year-old man so happy showed what he meant to my Dad.
Alex died a year a later. I was heartbroken for my Dad. I'm now heartbroken for myself as my dear Dad died 18 December 2018. I hope they're having a good kickaround up there. Love you, Dad.
Steve Ferns
17
Posted 19/03/2019 at 17:18:27
These guys @gwladysst1938
Andy Meighan
18
Posted 19/03/2019 at 17:38:40
John @12,
Spot-on about Mortimer. Brilliant player – and, like you said, vastly underrated. They were a great side, though... And David @10, yes, Darracott gifted Villa the winner and their captain was Chris Nichol who also scored with a 25-yarder which (sauce bottle) Lawson could have thrown his cap on.
As for Saunders, did the man actually ever smile? Dour as they come... As me dad used to say, "Wouldn't laugh if he'd seen a chair walk!"
Stephen Meighan
19
Posted 19/03/2019 at 18:19:32
I have to agree with Brian Harrison @4 — Ferguson should never have been on that banner on Sunday. The rest of them, yes, most definitely. But Ferguson? ... come on!
But he is a good friend of the tear-jerker... so what do you expect?
Lee Courtliff
20
Posted 19/03/2019 at 18:56:56
Sorry about your Dad, James. Hope he went peacefully.
I agree about Dunc, he was a hero to the 90s generation like me. Simply because we had nothing else.
And I'm glad someone mentioned Matt Jackson. Winning goal against Bristol, opening goal against Spurs and a virtual assist for our Wembley winner!!
As much as I loved Joe Royle and those 90s players, there is one thing I could never agree with him on. And that's playing Earl Barrett at right-back ahead of Jacko.
If Earl wasn't Cup tied then we wouldn't have won the FA Cup in 1995. Absolutely no chance.
Gary Mortimer
21
Posted 19/03/2019 at 19:07:51
Dave (11) and John (12).
The Villa captain in the League Cup Final was Chris Nicholl – definitely the replay, when he scored that goal. Dennis Mortimer is my cousin and he didn't become Villa captain until later; unfortunately, he's also a red.
Paul Birmingham
22
Posted 19/03/2019 at 19:10:26
Brian,@4, I totally agree. Wayne Clarke done more in terms of decisive and match-winning goals, frequency of goals, and success, than, Duncan Ferguson.
He was part of the last very good side we had, and what rattles, now as much as then, was the injury time clean header in the Anfield Road in 1988, disallowed by the spineless officials.
As all have stated, 'Legend' is an immortal phrase and to a have such plaudits is earned on merit.
Paul Birmingham
23
Posted 19/03/2019 at 19:13:41
Saying that, you'd put most the 60s and 1970 Championship team in such a banner.
They earned it, and The Golden Vision deserves his own banner, as does Roy Vernon, Brian Labone..etc
John Keating
24
Posted 19/03/2019 at 19:34:05
James,
We had a pre-season game a few years ago – Martinez was here then – and played Hearts at Tynecastle.
My hero, Alex, came out before kick off and got a fantastic reaction from the everyone there. He rightly acknowledged the whole stadium but without doubt most of his appearance was to our end.
It was brilliant to see him there, frail, but still the best.
Him and Vernon, unbelievable.
Trevor Powell
25
Posted 19/03/2019 at 20:01:21
I wonder what life in the late seventies would have been like if we had Ron Saunders as manager and Gordon Lee had been at the Villa?
Tony Hill
26
Posted 19/03/2019 at 20:02:55
James @16, that's the measure of Alex Young, purest class. Your dad chose his hero very well and I hope Everton can find something of that glory again. My sympathies on your loss.
John @24, him and Vernon indeed.
Christy Ring
27
Posted 19/03/2019 at 21:27:33
Reading the comments about the heroes of the FA Cup win in '95, and Joe Parkinson was definitely one.
The biggest regret is, he injured his knee, I think it was the Christmas period in 96-97, and he was rushed back with pain-killing injections, clearly not fully fit. Because he was constantly picked, he played his final game against Leicester in April, that season. He retired 2 years later, after numerous operations.
Times have changed; it wouldn't happen today.
Ken Kneale
28
Posted 19/03/2019 at 21:59:37
Trevor. INteresting thought indeed although we may not have gained Howard Kendall so would things have been better all round. I doubt it personally although I did rate Ron Saunders at the time. He was from the Catterick mould – dour outside but his sides were generally attractive attacking units.
The banner was a faux par indeed or a sop to sobbing Bill. The Vision, Andy Gray, Wayne Clark, Kevin Campbell all did significantly more than the lazy Ferguson who irritates me still by stealing a living by claiming to be a coach.
John Cook
29
Posted 19/03/2019 at 22:40:38
Gary @ 21,
You are correct looking at the picture again it's not Denis.Its the beard that threw me as Denis always seemed to sport one certainly after his transfer from Coventry.
I knew his older brother David (nicknamed 'Melon' I think ) and his younger brother, I think it was Michael, played alongside my brother Jim along with Mick Caffrey, who was a neighbour when they lived in a maisonette in Southdene.
Tell them I was asking about them if you're still in touch, Gary, cheers.
Don Alexander
30
Posted 19/03/2019 at 23:04:57
Ron Saunders always looked to me to be a bloke you'd be pleased to have with you in the trenches. Villa were brilliant under him, including our own Ken McNaught at centre-half.
Andy McNabb
31
Posted 19/03/2019 at 23:53:24
Am I right in thinking that his Villa team that won the league did so by only using 13 players all season?
Brian Wilkinson
32
Posted 20/03/2019 at 02:49:04
I would have had Kevin Campbell before Duncan Ferguson on the banner but agree with most — no Alex Young or Andy Gray? Unbelievable!
James MacGlashan
33
Posted 20/03/2019 at 19:12:15
Thanks so much John (24) and Tony (26). I really appreciate your comments.
David Ellis
34
Posted 21/03/2019 at 02:20:04
Gary (21) and John (12 & 29),
I remember Dennis Mortimer and his beard. Great player. I don't recall Chris Nicholl at all though.
Dave Abrahams
35
Posted 21/03/2019 at 09:17:42
David (34), maybe you are too young, but I remember Chris Nicholl in the third League Cup Final v Aston Villa, and his goal from a long way out giving Villa the cup – and thousands of Evertonians another night they would like to forget.
Brian Murray
36
Posted 21/03/2019 at 11:13:54
Dave. I went to the 3 cup final games, Wembley, Hillsborough and Old Trafford as a kid in my dad's blue covered hackney, much to the amusement of other motorists. First time they broke my heart thanks to a terrible goalkeeper, Lawson, and of course Darracott. Then, a month later, The Clive Thomas Show kicked us when we was down.
James MacGlashan
37
Posted 21/03/2019 at 12:50:09
Thank you, Lee (20) as well. Much appreciated.
Add Your Comments
In order to post a comment, you need to be logged in as a registered user of the site.
Or Sign up as a ToffeeWeb Member — it's free, takes just a few minutes and will allow you to post your comments on articles and Talking Points submissions across the site.
© ToffeeWeb