Everton History
Ron Saunders – The Toffee Years
Rob Sawyer

19/03/2019
0

comments | Jump to last
Share: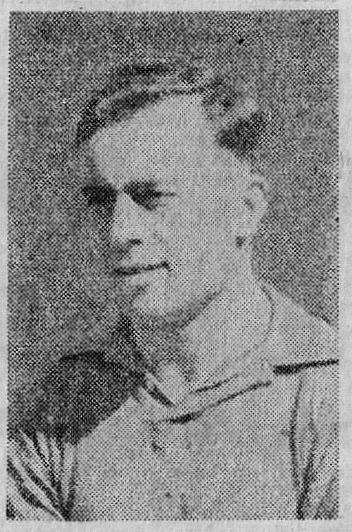 Ron Saunders is best remembered for moulding the Aston Villa team which won the League Cup in 1975 and 1977, the Football League championship in 1981 and the European Cup in 1982. Less reported is the fact that he began his life in football as an Evertonian.
Born in Birkenhead on 6 November 1932, one of eight siblings, Ron attended the Park High School. He was a natural all-round sportsman, enjoying playing rugby, cricket and football (representing Birkenhead Schoolboys in the latter). He also enjoyed boxing, whilst in athletics he broke the school record for putting the shot. He had a trial with Tranmere Rovers but was deemed too small so or – according to another version of events – he preferred to follow his uncle, George Saunders, to Everton, signing amateur papers in 1949. George, a full-back, made 140 appearances for the Blues between 1946 and 1951.
Ron proved prolific as a centre-forward in Everton's A and B sides. He would travel on the Mersey ferry to training and matches with Jimmy Harris and John Willie Parker. He was capped on 3rd February 1951 in a youth international fixture staged at Kilmarnock – he was on target four times for England against the Scots. Pro forms with Everton were signed just days later, immediately prior to Ron commencing his National Service in the British Army at Aldershot and in Devon. He averaged over two goals per game, one winter, with his RASC Unit team in South Devon League football. His team also won the Southern Command Cup.
Although not particularly tall, at 5'-9½", Ron was described in the Echo as: 'a strong built lad with a good shot in either foot and a nice turn of speed'. After scoring regularly for the reserves, he was elevated to the first team in place of the suspended Dave Hickson at Ninian Park on 12 February 1955. It was to be quite a week, as Ranger of the Liverpool Echo reported:
WEDDING BELLS AND DEBUT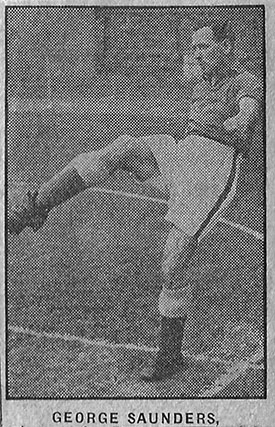 This is going to be an eventful weekend for Ronnie Saunders, Everton's 22-years–old, Birkenhead born, reserve centre-forward. On Saturday he makes his senior debut for the Goodison Park club against Cardiff City and on Monday he is to be married. He has played with considerable success in the Central League side, having scored 14 goals in 20 reserve team outings this season.
The selection of Saunders is an appropriate wedding "present". Next Monday afternoon he will lead to the altar at Holy Cross Church, Birkenhead, Miss Breeda Quigley, a 20-years-old Tipperary girl, whom he met while he was serving in the Army. As things turned out it is fortunate the young couple did not fix their wedding for Saturday.
Ron debuted for the Blues in the following line-up: O'Neill; Moore, Donovan; Farrell, T.E. Jones, Lello; McNamara, Fielding, Saunders, Parker, Eglington. Although Cardiff City defeated Everton 4-3, the Echo noted: 'Saunders, in my opinion, had a grand game and almost scored when he hit a fast, rising shot which Howells caught under his bar.'
As planned, Ron got married to Breeda, a Vernons Pools clerk, on the following Monday. His address was reported as 47 Hobyln Road, Birkenhead. Breeda had two of her sisters and two of Ron's sisters as bridesmaids; she was given away by her brother. The honeymoon was put on hold as Ron had to travel with the Everton party to Harrogate in preparation for the next match (in the event, he was not selected to play).
Ron's only senior Goodison appearance was in a 1-0 victory over Spurs. He received faint praise from Ranger in the Echo: 'Saunders did not have much chance to shine against the tall and commanding Clarke, yet he was always a hard-trier and had one almost "certain" goal averted by a miraculous leap and fingertip save by Reyonds. It would be unfair to judge Saunders on this one showing. He needs time to "play himself in" and gain experience.'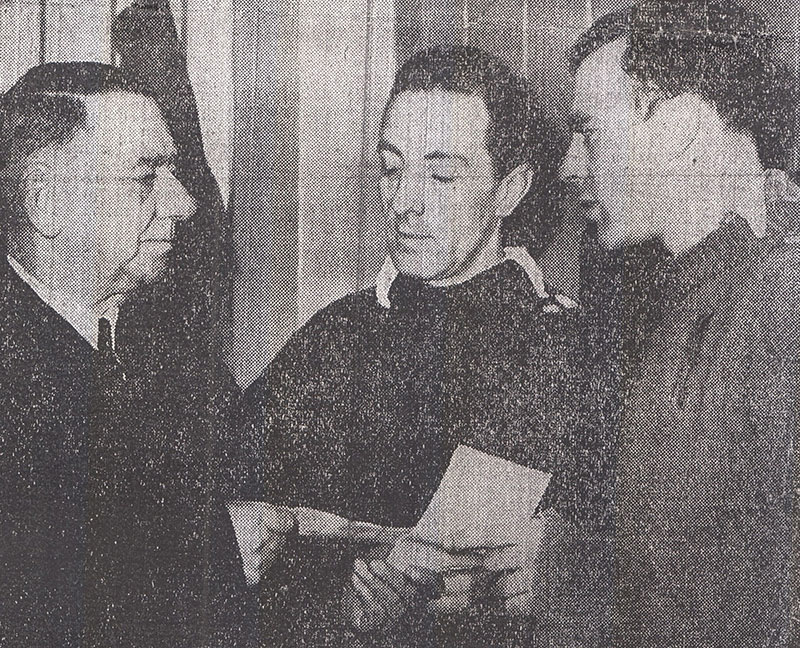 Just two days later (remarkably, by today's standards, Everton played on the Friday, Saturday and Monday over Easter), Ron retained his place for the trip to Newcastle. It was not a happy experience. Everton lost 4-0 with Ron receiving a 'nasty bump' which required treatment, and he also saw Scoular intercept at the last moment when he seemed sure to score. For the next match, Dave Hickson returned to lead the attack and Ron's Everton first team career had ended after just three matches.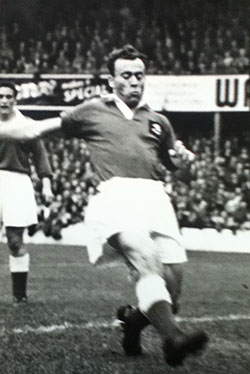 With little chance of dislodging Jimmy Harris (who had ousted Dave Hickson early in the 1955-56 season), Ron asked for a transfer in October 1955 but rescinded the request in the following March. Everton had other ideas, however, and offered Ron for transfer at season's end. Although there were several league clubs interested in acquiring his services, in early July, Ron plumped for Tonbridge FC. By why choose a Southern League side based in faraway Kent? There were several reasons: Breeda had family living in the area whilst Tonbridge's wages (not subject to Football League constraints), combined with some part-time work, gave Ron a higher income than he had at Everton. To clinch the deal, Tonbridge also threw in a 3-bedroom house with the luxury of an inside toilet.
After being linked with Crystal Palace (who were deterred by the £2,500 fee quoted by Everton – who retained his registration), Ron left Tonbridge for fellow Kentish outfit, Gillingham. He was signed by the Gills' manager, Archie Clarke, who had won the title with Everton in 1932. Ron's subsequent move, to Portsmouth, in 1958, was the precursor to six extremely productive years (145 goals in 236 League appearances). The Saunders were settled and happy on the Hampshire coast – the extended family would enjoy coming down from the Wirral to holiday there. Ron would top-up his salary with summer work as a fitness instructor in a local holiday camp. However, football took priority and, in 1964, Bill McGarry brought the prolific forward to Vicarage Road.
Ron scored twice on his Watford debut and ended the season with an impressive 18 goals in 39 League outings. However, neither he nor the family really settled in Hertfordshire and, after just one season, Ron moved on to Charlton Athletic. In 1967 he embarked on the managerial ladder with Yeovil Town. His approach to management and coaching mirrored his own attitude as a player. His son, Ronnie, told Neil Adams of The News (Portsmouth):
'He treated the game as a trade, he saw it as a job... He pushed himself and enjoyed it, like a boxer who doesn't mind getting hit. In a funny way, he relished the physical pain of pushing himself, especially in pre-season training, and took that into management. His sides were very fit – he made them that way… His focus was unbelievable, as a player and a manager.'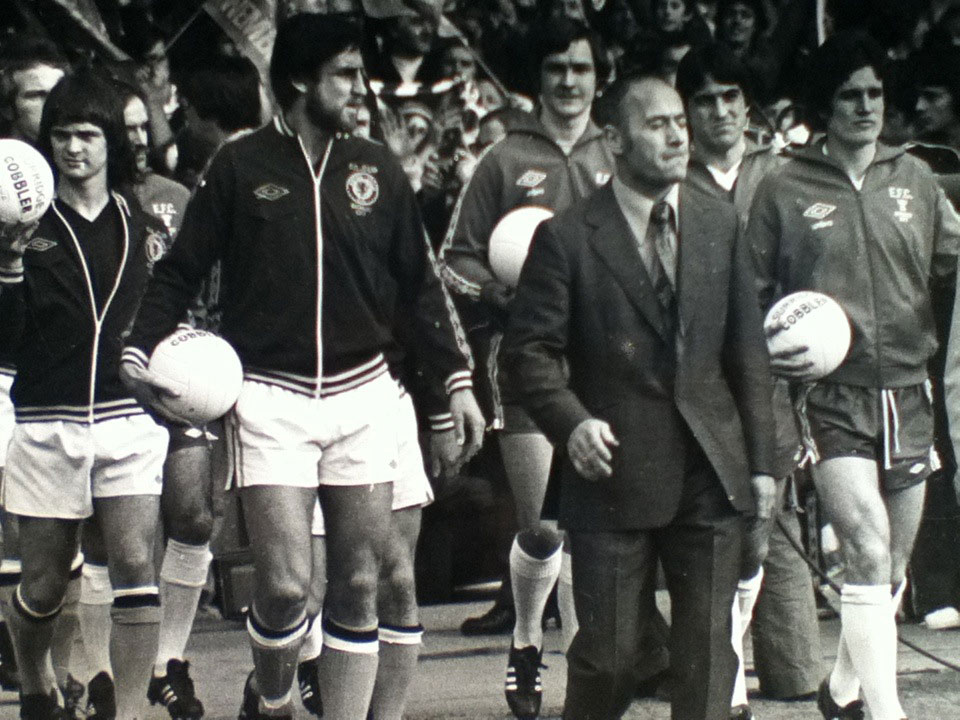 Ron leading out Villa against Everton before the 1977 League Cup Final
His managerial career would then take him to Oxford, Norwich City and Manchester City before Aston Villa came calling. He would get the Villains promoted from the Second Division at the first attempt and won the 1975 League Cup – a feat repeated two years later in the thrice-played final tie against Everton. Ron's crowning achievement was winning the League Championship in the 1980-81 season, prior to walking away over a contract dispute with the directors, just four months before the European Cup was brought to Birmingham.
Ron always kept in touch with Merseyside, getting the Liverpool Echo sent to him by his father. He loved the people and wanted success for the city and its football clubs. He was mentioned in connection with the Everton manager's post on a couple of occasions (notably in the wake of Billy Bingham's dismissal in January 1977) but nothing transpired. He was offered – and declined – the Manchester United post in 1981 (Ron Atkinson was appointed instead). Ron rounded-off his managerial career with Birmingham City and West Bromwich Albion. Like Harry Catterick (whose playing career at Goodison Park overlapped that of Ron), Ron is sometimes overlooked when the most successful managers are discussed – but his record speaks for itself.
Sources/Acknowledgements
Ronnie Saunders and the Saunders family
Jimmy Harris
Newspaper reports transcribed on Blue Correspondent website (Billy Smith)
Liverpool Echo
The News (portsmouth.co.uk) article by Neil Allen – 18 August 2018
evertonresults.com (Steve Johnson)

Follow @Robsawyer70
---
---
© ToffeeWeb