Report
Resilient Everton display ends goalless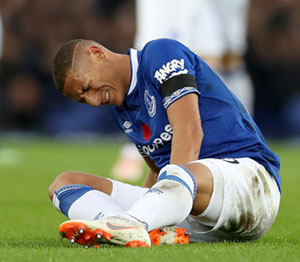 Richarlison plays at Chelsea
Chelsea 0 - 0 Everton
Everton endured their toughest test to date this season when they stopped Chelsea scoring at Stamford Bridge, but lacked the guile needed to win the game.
Richarlison is fit enough to start and Yerry Mina makes his full Premier League debut, 3 months after joining Everton from Barcelona. Kurt Zouma makes way — he is ineligible for this fixture against his parent club.
For the home side, Ross Barkley is on the bench as Eden Hazard displaces Pedro.
Everton kicked off in their white kit, and started with some nice passing that went backwards and sideways. But Everton did get it down the wing to Coleman and his cross led to an early corner, Digne fiding Keane who seemed to get in front of Mina; one of them really should have scored.
Bernard was clipped on the run, giving Everton a free-kick that Digne plays in perfectly for Mina who somehow fails to do anything with it! Second chance gone begging. Richarlison had a chance to run at the Chelsea defence but was pushed wide and then dispossessed.
Some key midfield possession surrendered by first Gomes, then Digne. But a great run down the right by Coleman won another corner, cleared to Barnard who fires just wide. Third chance! Really good start by Everton.
Gomes took it off Willian, who immediately recovered it. Richarlison got forward but was flagged offside. Mina hoofs the ball forward to no-one. Richarlison passes the ball out of play. Everton were now allowing Chelsea to play and Digne had to head a brilliant cross behind for Chelsea's first corner... which they worked all the way back to Kepa.
Digne had to be alert in defence but the Whites were being well penned back, Chelsea seemingly upping their game in response to Everton's fine early play. Gomes, then Ganna beaten by high pressing, unable to go forward. Mina won a ball clearly Hazard running into him. Friend blows, and Everton players are livid, surrounding Friend. But in slo-mo, Mina did catch his ankle before he got the ball. Yellow card for Mina. The free-kick was eventually taken, Alonso firing just wide of Pickford's post.
Even with possession, Everton were no longer clicking, Walcott missing a great Sigurdsson overlap; Gana firing his pass out over Digne's head. Sigurdsson finally got the ball but was chased down ruthlessly by Jorginho and then fouled horribly, a two-footed red-card challenge, but only yellow, of course, from our Friend, Sigurdsson screaming in pain.
Another good delivery from Digne that Keane headed well over, as Sigurdsson gingerly returned to the field. Kante fouled Richarlisonfrom behind: Yellow Card. Chelse definitely knew they were in a game here but once again, their quality down the Everton right, whipping in a cross that caused mass panic in the Everton area before it was finally cleared.
Everton got the ball out to the right to Walcott but Marcos Alonso puts his studs into Walcott's foot in another illegal challenge that goes unpunished. Really clever dirty play bu Chelsea throughout this half.
Gomes (?) is called for a foul, and from the free kick, Alonso peels away to the left and volleys a tremendous shot at a tight but very goal-bound angle, forcing a brilliant save from Pickford.
Morata drives into the box but he slips under minimal contact from Lucas Digne. A few Chelsea players appeal but referee Kevin Friend waves it away as it's clearly not a penalty, Coleman telling Morata of the fact.
There was a flashpoint between Bernard and Rudiger off the ball that saw Rudiger feign a head butt as Everton broke away, Willian fouling Bernard as he cut across the Chelse player. Friend finally stopped play and booked both players for 'adopting an aggressive attitude'.
Chelsea attacked from the restart and Pickford was immediately in action, saving from Morata, Mina having done enough to shield the cross. Sigurdsson broke away well and brilliantly played in a fantastic ball for Walcott who totally messes up, awful first touch.
Some good Everton passing ended when Gomes overhit his pass for Digne. Chelsea attack and Hazard gets behind the Everton defence lashes a cross right through Morata. More good play from the home side ends with Pickford grasping the ball. But it was proving really hard for Everton to break out as Barkley intensified his warm-up.
Great work from Digne and Barnard set up Sigurdsson for a classic shot, too close to Kepa, tipped over. Handball claimed from the corner, then Walcott crosses for Mina 2 yards out but Mina fies over and Walcott was ofside.
At the other end, a brilliant ball forward, Willian nipped in ahead of Pickford and drove the ball wide. His cross back saw Mina tangle with Morata, clains for a corner.
A spell of massive pressure from Chelsea, another corner, hard shot deflected up and very difficult for Pickford to push behind.
Berenard had another fantastic chance but got the ball all tried up in his feet, Hazard set Willian free down the right, and his shot whizzed just inches beyond Pickford's post. Hazard then lashed a shot for Pickford to parry away for a corner. Time for the first subs on each side, before Alsonso's shot clipped the face of Pickford's far post.
Walcott had a good run but pushed it too far for Coleman. Another ferocious Chelsea attack down the Everton left ended with a goalkick. Lookman tried to beat Azpilicueta but was penalized, and Chelsea were on the attack again, pushing the Whites deep into their area, Morata finishing well from close range but he had strayed offside.
Richarlison got a rare chance to turn and run, Kovacic clipping him and Richarlison collapsing rolling around and staying down... but no foul. Chelsea broke and another shot was lashed across the Everton goal.
Sigurdsson walked of very slowly, still suffering from that awful first-half takedown. Morata collapses under a challenge from Keane but Morata was judged (wrongly?) offside. Everton tried to attack but were easily pushed back.
Richarlison was no match for Rudiger in protecting a loose ball and then falling under the slightest touch, exactly ass Richarlison does! Lookman did absolutely brilliant to beat three players but gave Kepa tot much sight of the ball. Mina did not get on the first corner, Loookman played the second one short and Digne's cross was blocked out as Barkley came on to resounding boos from the travelling Evertonians.
Gomes released Richarlison, but Rudiger again totally had the measure of him, shepherding the ball out for a goalkick. At the other end, an awful shot from Barkley goes well wide.
Azpilicueta was finally called for impeding Richarlison, free kick wide right from Digne, horribly overhit, another opportunity squandered. Another free-kick when Morata fouled Jagielka, with Richarlison down, holding his groin... wasting time? holding his groin. Calvert-Lewin was readied to come on after an unnecessarily long stoppage. Everton running the clock down Somebody booked for time-wasting?
With 5 added minutes, the fans enjoyed seeing Barkley needlessly scoop a pass ahead of his teammate and out of play. Then he was easily dispossessed in midfield.No urgency for Everton once they won a free-kick that Mina launched long and wide right. But the zest had now gone out of the game, heading for a draw.
Calvert-Lewin got a chance to run onto a ball but once again Rudiger had no problem stopping him, Chelsea attacking and winning a last-minute free-kick that Calvert-Lewin cleared with a defensive header and the ball eventually went dead, Friend blowing time on a very competitive game, Everton doing very well to resist some really determined Chelsea attacks, but simply too naive in attack to really make the Pensioners suffer.
Chelsea: Kepa; Azpilicueta, Rudiger [Y:45+2'], Luiz, Alonso; Jorginho [Y:27'] (64' Fabregas), Kante [Y:33'], Kovacic (82' Barkley); Willian (68' Pedro), Hazard, Morata [Y:87']
Subs not Used: Caballero, Christensen, Zappacosta, Giroud
Everton: Pickford [Y:73'], Coleman, Keane, Mina [Y:22'], Digne, Gomes, Gueye, Walcott, Sigurdsson (75' Jagielka), Bernard [Y:45+2'] (64' Lookman), Richarlison (88' Calvert-Lewin)
Subs not Used: Stekelenburg, Baines, Davies, Tosun
Referee: Kevin Friend
---
Reader Comments (122)
Note: the following content is not moderated or vetted by the site owners at the time of submission. Comments are the responsibility of the poster. Disclaimer
Michael Kenrick
1
Posted 11/11/2018 at 13:18:16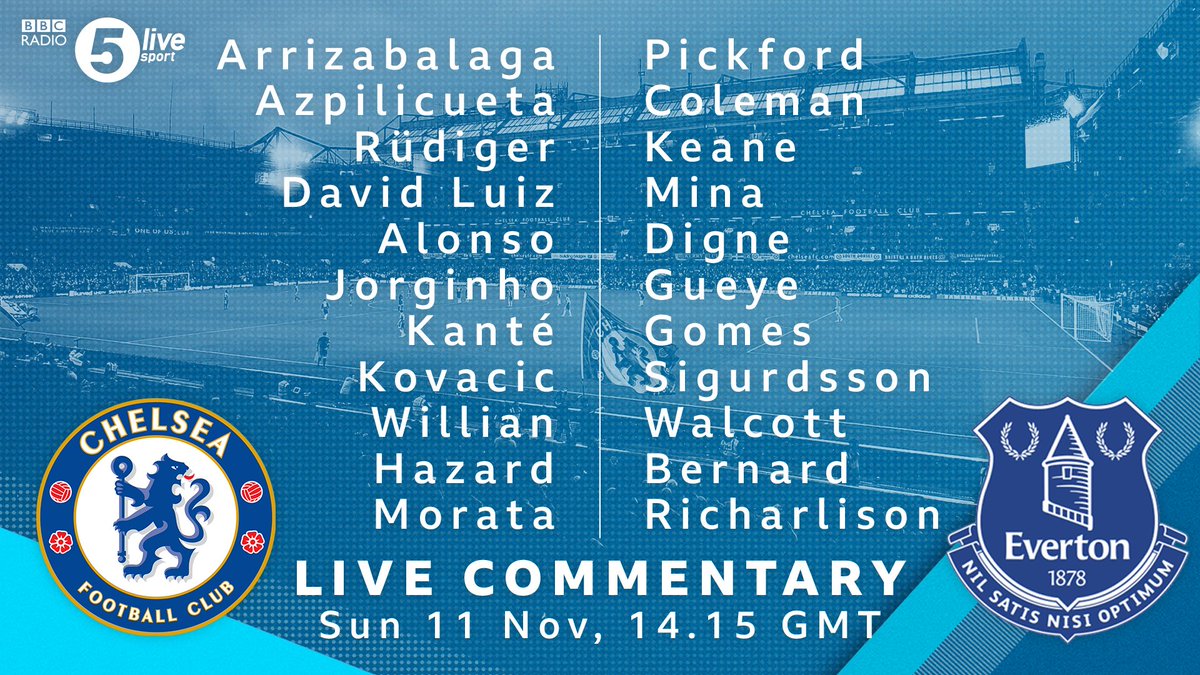 Steven Bencz
2
Posted 11/11/2018 at 13:21:08
Can't wait to see Mina play. Going for the upset here. 3-2 for Everton. COYB
Amit Vithlani
3
Posted 11/11/2018 at 13:23:22
Excellent news. Hope he has made a good recovery and it was all just a precaution.
Pleased Mina is in. It is a baptism of fire, no doubt. But if you can't be fired up for these games you should not be a Premier League footballer.
Joe O'Brien
4
Posted 11/11/2018 at 13:26:34
Good team... great news that Richarlison has made the 1st 11. For the first time, all Silva's signings in the starting 11, bar Zouma... c'mon you blue boys.
Fran Mitchell
5
Posted 11/11/2018 at 13:29:44
Good news. Hope he is at 100%.
However I don't see the need for all three of Lookman, Tosun and Calvert-Lewin on the bench. Our only midfielder on the bench is Davies; I would prefer to see Dowell, or even McCarthy there.
COYB, let's show we are a top team.
Come on, Richarilson, show you are the best striker in the Premier League.
Barry McNally
6
Posted 11/11/2018 at 13:35:47
I was surprised Richarlison was able to continue against Brighton, it looked a nasty twist. At the time, I thought he'd be out for at least two weeks.
David Pearl
7
Posted 11/11/2018 at 13:50:43
Good, and hope he comes through unscathed and able to play the next match.
I also hope we've been working on our set pieces. Those same outswinging corners are irritating to watch over and again with the same result. Mina likes to attack the ball though so fingers crossed.
I believe this is the first time all season we've been able to play all our new recruits. This is surely what Brands has been waiting for. Coyb
Tom Dexter
9
Posted 11/11/2018 at 14:58:27
Watching the game today - can't help feeling that Chelsea are playing dirty. Many hard and some may say nasty tackles.
The day after Hazard complains about being constantly fouled
Ernie Baywood
10
Posted 11/11/2018 at 15:09:29
Can't argue with the performance. Neither side has created anything but we're working hard and getting numbers forward.
Biggest concern so far is this referee. Generally I can overlook accusations of bias but he's been a disgrace. And even then Chelsea still have key players on yellow cards... could easily see Kante or that snide Jorginho walking.
We need to keep our cool with this bloke running the game.
Jay Wood
[BRZ]
11
Posted 11/11/2018 at 15:16:03
Well, based on that first half, this team is really coming together and growing in both style and confidence.
Chelsea only came into it in the last 10 minutes. Up to then, we were dominant. We cut off their passing lines, from the back to the front, remained cool, calm and accurate with our own passing all over the park, even under pressure, and created decent openings.
How Yerry Mina was booked when he took the ball so cleanly it travelled 30 metres forward at pace was mind-boggling.
And why was Bernard booked for Rudiger's obvious simulation? To have nutted him where the Chelsea player feigned, Bernard would have had to have been bouncing on a trampoline, sat astride a pogo stick.
Friend had his back to the action, so could only have been advised by his assistants, who himself was far from the incident. The ref has also missed some really nasty ankle tackles by Chelsea.
This is what I want to see from Everton away to the 'Big 5' (+ some other tema). Not merely setting up to hope for a draw, but going for a win.
Encouraging.
Now, can Richarlison please stop being caught offside..?
David McMullen
12
Posted 11/11/2018 at 15:16:36
Cheating bastards, Chelsea. We can win this. Fuck 'em.
Tony Abrahams
13
Posted 11/11/2018 at 15:18:40
The ref has set the precedent today, Ernie, but we all have different opinions, after listening to Souness here.
My biggest gripe is cheating; it's openly encouraged and is wrecking the game of football, bit by bit.
Made up with "spikey Everton" though, we need a bit more going forward, but some great work is going on off the ball, and it looks like we might even turn into a proper team that really wants to win.
Simon Dalzell
14
Posted 11/11/2018 at 15:20:45
Again, the referee the main talking point... DIABOLICAL. Certain red card for the cowardly 'challenge' on Sigurdsson etc.
Peter Cummings
15
Posted 11/11/2018 at 15:22:34
Once again, another disgraceful piece of refereeing but no surprise after the Man Utd debacle – this guy has never been an Everton 'Friend' as Chelski get away with the hardman tactics, hoping for penalties – which will come as no surprise when given.
Stale Haverstadlokken
16
Posted 11/11/2018 at 16:18:16
Finally – after years – we CAN challenge the Sky 5. We were actually never in doubt. Solid performance for all the lads, especially Sigurdsson and Keane. I don't think Keane lost one header during the game.
Michael Kenrick
Editorial Team
17
Posted 11/11/2018 at 16:18:30
Wow! A tremendous game in terms of action and incident... except for an Everton goal.
Sorry my report is a bit disjointed. I lost a bunch of text at one point, and think I missed a significant percentage of the action. I'll have to watch this one again, which is rare for me. We played really well at times but Chelsea simply had too much quality for us in key areas of the field.
I was livid we missed those early chances, and never came close again.
Ernie Baywood
18
Posted 11/11/2018 at 16:19:37
Well we were definitely spikey. Hard to be too excited when we've managed just one shot on goal but it felt like a step in the right direction.
We did press, we did get forward and we were resolute in defence and midfield.
Don't know what Bernard was thinking for his chance.
Pleasing to see Lookman today. The boy has talent and finally took one of his opportunities and showed that he's in the mix for places.
We're wasting Richarlison though.
How many of us greeted Jagielka coming on with "What?"
Steve Ferns
19
Posted 11/11/2018 at 16:21:00
Any last doubt that Marco Silva is another Martinez just evaporated. A pragmatic defensive display. Doing what was needed. Fantastic to get a point at one of the Sky 6 for the first time in ages. Let's hope for more at Mordor.
Gordon White
20
Posted 11/11/2018 at 16:22:35
Not a bad result overall. We had chances but couldn't find that final touch. It was always going to be a bit of magic needed to score here.
Thought Lookman played very well and gave us another dimension when he came on. Would like to see him start next time out.
A clean sheet at Stamford Bridge is something to smile about. It was least we should have had at the Arse and Man U.
Paul McCoy
21
Posted 11/11/2018 at 16:22:53
I think everyone would have settled for a point before the game. Spot on tactics and subs from Silva again today. We were getting battered for a little while until Jagielka came on.
Jay Wood
[BRZ]
22
Posted 11/11/2018 at 16:23:08
A well-merited point as we came under the cosh a tad more in the 2nd half. But still, another encouraging performance that we are going to the very best not to simply make up the numbers, but to compete, attack and look to win.
The on-pitch injuries hampered us. Sigurdsson's ankle must have been really sore after the dangerous challenge in the 1st half, but he still played well until subbed out. Richarlison was holding his groin for most of the 2nd half and he wasn't able to display that spurt of speed to carry him away from defenders he has.
Lookman again looked good from the bench and must be pushing for a start, even though both Bernard and Walcott were better today. Gueye continues to be immense in midfield. Gomes didn't give us the improved 2nd half which has been a feature of his play since he joined us. Needs to be more assertive and bring more of his skills, more consistently, to the table.
Both Digne and Coleman were solid, both going forward and defending. Keane continues to be Mr Reliable as he has shown all season. Mina, a little ring rusty and far too premature to judge him on that performance. Pickford pulled off a couple of great saves, but was rightly booked for his time wasting.
Silva would have wanted 3 points, I've no doubts. But things are clearly improving, match on match, with this Everton team.
Encouraged.
Colin Glassar
24
Posted 11/11/2018 at 16:26:28
Tactically immaculate. Well done Marco and the lads.
Gavin Johnson
25
Posted 11/11/2018 at 16:30:57
Yes, Steve. I was just going to add that Silva did a lot today responding to the notion that his sides can't keep clean sheets. Today's game wasn't the first clean sheet but it was the most impressive, even though we did ride our luck at times.
We matched them in the first half but it was precarious at times in the 2nd half as the game got more stretched. That said, we did keep our shape for the most part and were hard to break down.
We have to start Lookman in the next game. I would replace Walcott. Sigurdsson put a really good ball in for him and he would have only had the keeper to beat had his first touch not been so terrible. That happens a lot with Theo. Lookman has a better footballing brain and impressed me again when he came on today.
Will Mabon
26
Posted 11/11/2018 at 16:32:16
Two games, vs Manchester United & Chelsea, two very competent performances. Another world this season... and more to come.
Craig Walker
27
Posted 11/11/2018 at 16:34:16
Good performance. Rode our luck at times and gave the ball back too cheaply in that second half. Played some good joined up football at pace in the first half. We are improving.
There are still concerns like Walcott's form (I thought Lookman looked more threatening when he came on) and Bernard still looks like hasn't adjusted to the pace. Gomes looks good though.
Pickford and Keane did well and Sigurdsson works so hard for the team. We just need more firepower. Overall, impressed with the job Silva is doing.
George Cumiskey
28
Posted 11/11/2018 at 16:34:48
Great result, really impressed with Mina – him and Zouma at the back for me.
Jim Bennings
29
Posted 11/11/2018 at 16:38:08
At a venue where we have suffered a mixture of late hard-luck tales and absolute smashing over the years, I'll happily take a 0-0 draw given the way they are playing.
A clean sheet at Stamford Bridge: I'll have that all day... and, with Cardiff up next, we should build on this with a win.
Luigi Perfetto
30
Posted 11/11/2018 at 16:39:13
Good performance from the lads and a well-deserved point. Just maybe some substitutions could be different or a little bit before the end of the game but what progress compared to last season.
COYB Always.
Geoffrey Williams
31
Posted 11/11/2018 at 16:45:59
Well satisfied with that performance.
Sam Hoare
32
Posted 11/11/2018 at 16:47:15
Having watched all 3 games, I think we have been very unfortunate to get only a point away at Arsenal, Man Utd and Chelsea. We have matched all 3 teams and now have a team that finally sees itself as the equal to, if not better than these illustrious opponents.
Amazing how quickly things seem to have changed. Well done, Silva and Brands.
ps: Where are those who claimed Silva would be gone by November?!
Gavin Johnson
33
Posted 11/11/2018 at 16:48:41
Yes, we've made great strides from last season. Just think of the away performances against Arsenal and Spurs last season. Under Big Sam, we'd have been on the wrong side of one of those thrashings this afternoon.
Derek Knox
34
Posted 11/11/2018 at 16:49:33
Absolutely made up with not only that result, but the performance of the team, as a whole. If we just had a few more shots on goal we could have had all 3 points.
Having said that, we were a bit lucky a couple of times with them hitting the woodwork and skewing shots wide, but definitely improving each week.
Another International Break doesn't do anything for maintaining momentum but will give some of the injuries time to recover.
David Hallwood
35
Posted 11/11/2018 at 16:53:14
Good solid defensive performance albeit I think Woolcott & Bernard could have showed a little more quality when we had the ball. But light years away from the tame capitulations of recent years.
BTW gents don't forget the 3-3 draw a few seasons ago when John Terry scored in the 8th minute of 5 mins of ET and if he would've been anymore offside he could've been a steward.
Jerome Shields
36
Posted 11/11/2018 at 16:56:03
Certainly a different Everton side from last season. Tactically good at the back with a creative midfield. Tighter pass completion would help. But we need a centre-forward and Richarlison on the wing. Lookman looks a lot better than Walcott. Bernard isn't a winger.
Definitely heading in the right direction with Brands and Silva.
Niasse gone in January. Too much to hope that Tosun will follow him. Get in a proper young centre-forward. Calvert-Lewin hopefully can improve coming from the ranks. Brands and Silva won't bring in anyone over 27.
Harry Hockley
37
Posted 11/11/2018 at 17:04:03
Great match, great performance. Goes to show Silva can employ defensive tactics when necessary, a point at The bBidge isn't to be sniffed at.
I think it's time for Lookman to replace Walcott or Bernard, he was fantastic after coming on.
Amit Vithlani
38
Posted 11/11/2018 at 17:07:50
I am looking forward to what plans Silva has for the scum. As Steve Ferns noted, it was horses for courses today. We kept a highly compact shape and tried to counter attack through a quick interchange of passes in midfield, in which Gomes was the fulcrum.
Chelsea are going to push City hard. They seem to be prepared to win at any cost. If they can't break you down by playing their high octane football, then they are prepared to mete out treatment to the oppositions danger men. Siggy, Walcott and Richie will certainly be nursing a few knocks tonight.
Looking at our front 4, Bernard and Walcott tried hard but are just short of the quality that we see in Gomes, Digne, Richie and Siggy. I would absolutely love for us to add a top forward in January. Alcacer is having a blinder for Dortmund but I suppose his loan contract can't be terminated. We were also linked with Memphis, who looks to have been rehabilitated on the international stage. Failing that, I hope to see Lookman get more game time, and I see both Onyekuru and Vlasic are acquitting themselves very well in the Champions League.
My word Gana has improved. Last season he was constantly ending up on his back side but he pressured Hazard well and stayed on his feet.
Great point and well done to the players and Silva for pushing Chelsea hard.
Gary Russell
39
Posted 11/11/2018 at 17:10:46
A good result and performance and that mantra of patience of many on here would be wise. Team's still blending, getting to grips with Marco's ideas, and some with the Premier League. Bernard has had how many games, plus Gomes, maybe 7/8 between them? And now Mina's first full 90 minutes.
Few, if any Evertonians would be unhappy with the progress and style of our play. We are gelling and the future looks good and we can't expect an instant transformation. These things take time, no matter if it's the era of Now, Now, Now.
Max Murphy
40
Posted 11/11/2018 at 17:14:16
A draw is better than a defeat – especially against one of the top sides.
Many contributors on TW appear satisfied with the performance but, in the context of Everton making progress in terms of football, we have to look at the bigger picture. Everton have taken 1 point from Arsenal, Man Utd and Chelsea, away from home.
If Everton can perform similarly against the other top 3 sides away: Man City, Spurs and Liverpool, they'll end up with a total of 2 points from a possible 18, from these 6 games. If you think that's progress, you're welcome to it.
Fran Mitchell
41
Posted 11/11/2018 at 17:14:46
Brilliant performance against a very strong Chelsea, a bit more quality from Walcott or Bernard and we could have won it.
A bit of tweaking, and we could yet have a very successful season.
Mina was a beast at the back, if that is a sign of things to come, we could have one of the top defenders in the Premier League. Digne also looks more and more accomplished, great signing.
Gueye and Gomes continued to show they are a great partnership, yet Gueye's passing was below par.
Sigurdsson is playing like a £50million player now. Such great technique, great intelligence. Wonderful player.
Richarilson led the line well, against a very good Chelsea defense. Ran hard, held the ball, good control, great work rate. A very good centre-forward performance, just lacked opportunities in a tight game.
Walcott again disappoints. There were two moments that stuck out for me, one where he could have passed to Bernard who was free, and another when his touch was just too heavy and the chance was gone. Lookman came on and showed excellent skill, technique, control and work rate, he deserves a place in the starting 11.
Bernard had his moments, but too easily out-muscled. I feel he will improve, but also feel he'd be better suited to a 'No 10' position.
And a final mention of praise for Pickford, whose reflexes are fantastic, and Coleman who put in a solid performance against the best player in the Premier League.
If we were to sign someone in January, I'd go for a Pavon or Lozano, left-sided striker, play Lookman on the right and keep Richarlison in the No 9 position. An attack like that could propel us further and make for an exciting season.
Alan J Thompson
42
Posted 11/11/2018 at 17:14:54
Everton came out of this with as much credit as Chelsea, a good game.
The first 15-20 minutes it was all Everton who were showing great energy but then started to take up positions rather than competing. Something had to be done about Chelsea trying to bring their left back, Alonso, more and more in to the action and may have cost us an attacking outlet.
Second half saw far more Chelsea possession and some of the substitutions seemed a bit strange to me but losing Bernard, Sigurdsson and Richarlison (by whatever means) would take a great deal out of any side.
Pickford seems a bargain against the price and performance of other keepers and certainly deserved his money today and with Digne would be one of the choices for MotM while Mina certainly showed a footballing brain even if he seemed not to have had to do a lot defensively. I was a little surprised though by the introduction of Jagielka as I wondered what it was he was supposed to do.
A point and a performance that didn't show that we can't mix it with anybody.
John Keating
43
Posted 11/11/2018 at 17:15:54
Great result.
Two games on the trot now Bernard has lost the plot on the vinegar stroke. I think if we had brought Calvert-Lewin on at midway 2nd half when they were on the prowl, it could have eased the pressure and given us a better option with Richarlison on the wing.
Still, I would have taken a point before kick-off.
David Pearl
44
Posted 11/11/2018 at 17:17:15
Dogged yes. Great change in shape by Silva to disrupt their momentum. However more than a little disappointed that we made absolutely nothing out of promising dead ball positions. We did well but there's a feeling of missed opportunity once again. Onwards and upwards.
Josh Barber
45
Posted 11/11/2018 at 17:21:53
A point is always a good result but, once again, Everton look sheepish vs the top 6 when far inferior teams travel to these stadiums and play their hearts out. I think Everton tried hard but almost never completed a good team attack or got on the end of a good chance.
Sigurdsson's pass to Walcott was sublime and Theo, as usual, made a huge mess of it.
Andy Walker
46
Posted 11/11/2018 at 17:23:37
Really enjoyed that, such encouraging signs. Silva is making a huge difference in my opinion.
I thought Walcott had a poor game offensively although he did work really hard defensively. Still not sure about Bernard, appears to have loads of skill but when he got his chance to score, or even just get a shot on target today, like at Old Trafford, he lost his cool.
I love Digne, works his socks off and has real quality. He was my MotM.
Let's hope Richarlison is okay, but it's nice to watch the blues and enjoy games this season.
David Hallwood
47
Posted 11/11/2018 at 17:29:13
"Two games on the trot now Bernard has lost the plot on the vinegar stroke."
LOL, John Keating (#43). Do you think he'll get off at Edge Hill coming home on the train?
Brian Wilkinson
48
Posted 11/11/2018 at 17:30:41
John @43, I was thinking more Devon Loch than vinegar stroke but both sum up his finishing in the last two away games. Sure he is saving it for the derby.
Andy Walker
49
Posted 11/11/2018 at 17:30:45
David #44, agree particularly the last 5 minutes or so when we wasted about 4 opportunities to get the ball in the box from a free kick or corner.
Colin Glassar
50
Posted 11/11/2018 at 17:30:47
Silva is changing the mentality, Andy. No longer do we look like we're trying to pull out that penknife. We are playing with belief and confidence and if our final pass, or decision wasn't so bad we could've won today.
One major weak link recently has been Walcott. What does he do exactly? He doesn't go past players, defend, pass, his decision making is piss poor, he chickens out of tackling etc... he's a waste of space imo. If we want speed, Usain Bolt is looking for a club.
Gordon Crawford
51
Posted 11/11/2018 at 17:33:11
Not convinced that Bernard is good enough to play that position. I see him more as a Number 10. But he won't get much chance to play there.
Lookman should start on the left for me. We played very well today, just our final ball that let us down.
John Pierce
52
Posted 11/11/2018 at 17:36:11
Everton very good without the ball today, however in the 4/5 moments we had the chance to make a chance counter we waivered.
Organisation was there for all to see, and apart from 15 minutes were we wobbled a bit, Pickford didn't.
Walcott had the one golden chance, miscontrolling when put through and Bernard again lacked a touch of composure.
Mina looked very natural and most importantly it didn't affect Keane who played very well.
Only when Jags came on was my own fortitude tested, very much old Everton, very much a signal from Silva for a defensive posture, we lost our press and ability to counter, one Lookman dribble apart.
Overall, a very encouraging effort.
Martin Berry
53
Posted 11/11/2018 at 17:36:18
We roll over for no-one now and I was pleased that the officials did not fall for Morata's diving, the man is a disgrace to his profession.
I thought we were tenacious and not lacking skill either. Everyone can surely see that we are improving.
Very proud of the team today, well done, lads!
Jamie Crowley
54
Posted 11/11/2018 at 18:12:58
Long gone, and really quickly gone, are the days of boring, shit football.
We fought like gladiators, and set out to play.
It's wonderful to watch us again. Thank God.
I think we have a serious, serious player in Mina. I thought the guy was stupendous. Bags of skill in that kid, and seemingly a great disposition.
The future is bright.
Michael Kenrick
55
Posted 11/11/2018 at 18:13:23
Jay (#22), right to highlight some really cynical but admittedly clever fouls by Chelsea that were not correctly punished. Jorginho on Sigurdsson was particularly execrable. (I think that means 'shitty', as in 'likened unto excrement'...)
Running alongside the Everton player with the ball, after doing his damndest to trip Sigurdsson, he then appears to grab Sigurdssson's shorts so he can launch himself and swing both legs in a disgusting two-footed lung on our £50M man's legs. Absolutely shocking. Red card all day long, but it happens so fast, the pundits seem happy simply ignoring it.
Terry Farrell
56
Posted 11/11/2018 at 18:16:32
Max you omit the fact that we have played well in all 3 games and are progressing so 1 point out of 9 isn't a fair reflection.
Good performance today and shame that Bernard and Theo lost their composure when it mattered most. We are great to watch now and Silva is making a massive difference. Love him and what he says.
Also good to see Seamus and our players having a go at the ref following poor decisions. It's needed unfortunately!
Paul Birmingham
57
Posted 11/11/2018 at 18:21:04
Very good result and – in contrast to previous seasons – no inferiority complex and no meltdown on the pitch.
Great to see the team believing in themselves and with composure and luck today, we could have nicked it. Great boost for the very difficult games the next couple of months.
Let's hope we get some luck with the injuries, and MS will look for some potency upfront; I'm sure once Bernard gets his first, the rest will come. Theo needs to step up as his decision-making and anticipation is often lacking at key moments in games.
All-in-all, no complaints about this result which was well earned. If and perhaps, once we find a clinical striker and this squad carries on progressing, Everton will be knocking on the door for the top 6.
Jamie Crowley
58
Posted 11/11/2018 at 18:23:32
1 point in 9 games is reality. And it needs to get better in a cruel, hard world.
But something dawned on me after the game.
Our "frightening four" road games of Man Utd, Chelsea, Liverpool, and Man City scared the bajeezuz out of me. Rightfully so I'd argue.
I found myself thinking post-game, the opposite is true come Spring. We'll be hosting all four of those teams – and we also played Arsenal away as well.
That's five of the so-called top 6 at home come 2019.
The way we've been playing, I like our odds to pick up a helluva lot more points against clubs currently above us.
Brian Wilkinson
59
Posted 11/11/2018 at 18:23:48
Going to be interesting next week between Zouma and Mina who gets picked.
Great gritted performance today, can not ask for anymore than having a go and getting stuck in.
Must be some with egg on their faces saying Silva to be gone by November.
Bill Watson
60
Posted 11/11/2018 at 18:24:38
Chelsea was the first game I've missed this season, and I was hoping Sod's Law would have chipped in with a win!
Plenty to be positive about but we need to improve on attacking set-pieces (especially corners) and composure in the final third.
Walcott remains the weak link on the right and I think it's time Lookman was given a start. Perhaps Bernard would be more effective as a sub to run at a tiring opposition.
Other than hoping we can land a natural goalscorer in the January window, I'm reasonably satisfied at the progress being made.
Michael Kenrick
61
Posted 11/11/2018 at 18:24:55
Re the Mina tackle where he swept the ball away from Hazard, Jay (#11):
How Yerry Mina was booked when he took the ball so cleanly it travelled 30 metres forward at pace was mind-boggling.

It looked like a great tackle in real time but the slo-mo shows Mina's boot connecting with Hazard's ankle. Hard to accept but that was a correct decision by Friend, apparently, though how he saw it (surely on the wrong side?) I do not know.
Paul Brown
62
Posted 11/11/2018 at 18:28:57
You have to look back to where we were 12 months ago with Koeman, then Unsworth shedding goals everywhere to appreciate a point at Stamford Bridge with a clean sheet, what was the chances total today? 6 or 7?
Under Allardyce, we went 3 games without creating a single chance. We are definitely moving in the right direction and I for one are made up with Silva.
Terry Farrell
63
Posted 11/11/2018 at 18:30:52
Also would like to add that it's great to see the camaraderie and no prima donnas like Mirallas and Deulofeu.
Tony Abrahams
64
Posted 11/11/2018 at 18:32:15
I thought it was the worst foul of the day by far, Michael. Sigurdsson was too strong, just kept keeping the ball away from his opponent, who then put in a really sickening and cynical foul.
Souness, saying Mina could have seen red, but sometimes I just wish we could just watch the football without these pundits who seem to be getting more powerful with their influence every week.
Guardiola hit the nail on the head the other night because he basically said it's all on the ref and no team is ever gonna try and help them because the players are all getting taught to cheat.

Andy Walker
65
Posted 11/11/2018 at 18:36:02
I agree, Colin #50, the defensive, "try and hang in there" mentality has changed. A bit more quality from a few players like Walcott at the critical time today and we could have got 3 points.
It feels to me that we are close to being a top 6 side, maybe Silva quite reasonably needs a little more time, although what he's done in only a few months is a credit to him, or maybe we just need a bit more quality in certain positions. Probably the latter, I think. Tactically we are a totally different side now though. I think we can only get better which is really exciting.
It will be interesting to see if Silva buys anyone in the January market. Can't really see it myself as I think what we really still need is a top striker and January isn't usually the right time to try and buy one.
Oh yea, and the foul on Sigurdsson should have been a red!
Michael Kenrick
66
Posted 11/11/2018 at 18:48:12
Steve Ferns (#19) — what chance a detailed tactical analysis of how Silva pulled this one off? A very valuable point. Doesn't need to be quite as detailed as the Southampton one though!
Chris Watts
67
Posted 11/11/2018 at 18:54:07
Just watched the heat map for David Silva and he was all over the pitch. Hazard also today was taking touches and dictating play.
I think we're asking Bernard to do the wrong job. He makes such incredible little passes and is nimble – he just seems wasted out on the touchline.
I'd love to see him roaming in a midfield with Sigurdsson and Gomes. Gomes playing the defensive role. Lookman instead of Walcott
Oliver Molloy
68
Posted 11/11/2018 at 18:58:29
Good team performance and I think a well-earned point.
I do think Lookman is edging closer to a starting place. Anyone watching this on the telly? Was I hearing things or did Jamie Carragher really say "Jesus – embarrassing... get up!" over the Bernard shenanigans.
Christy Ring
69
Posted 11/11/2018 at 18:59:03
Delighted with a point, and a clean sheet. Mina and Keane excellent at the back, and Silva bringing on Jagielka show's how astute he is. The international break will hopefully give our walking wounded a chance to recover.
George Cumiskey
70
Posted 11/11/2018 at 19:37:22
Yes, Oliver,
Jamie did say "Get up, you're an embarrassment" to Rudiger, and he was spot on.
Oliver Molloy
71
Posted 11/11/2018 at 20:05:30
Okay, George... yep agreed, but have never heard a commentator coming out with "Jesus". It seems that Carragher can spit at young girls etc and get away with it.
Can't wait till he really drops a clanger and says what really is on his mind!

Peter Mills
72
Posted 11/11/2018 at 20:17:25
An excellent performance. It's good to have Pickford in goal, and the defence is looking more solid. Mina played well, although he looked a bit slow over 5-10 yards and did nothing to assist the attack from free-kicks. I suspect that will change.
It's frustrating to see Walcott and Bernard struggle during our attacks, especially compared to the speed, touch and precision of Silva, Aguerro and Sterling in the later match, but they show the standard to which we must aspire.
At the start of this run of 4 tough away games I decided I would be happy to come away with a point per game. There's only one way to do that now, go to it Blues, get those last 3 points.
Ernie Baywood
73
Posted 11/11/2018 at 20:37:34
Anyone else notice that Coleman was listed as the captain in the team given by the club but Gylfi wore the armband?
Neil Lawson
74
Posted 11/11/2018 at 20:41:45
I was watching between races at Sandown Park. Felt compelled to back Fat Sam in the last race. You know the rest. Useless tosser ambled in way down the field...
However, delighted to see our boys playing with grit and a modicum of style and being a team that is becoming exciting to support once again.
Ernie Baywood
75
Posted 11/11/2018 at 20:49:59
That Gylfi sub is still interesting. I'm sure if we'd have conceded after bringing on Jags it would have been a hot topic. There were still about 20 minutes left.
He had Davies available. Or could have shuffled the pack by bringing on Tosun or Calvert-Lewin and moving Richarlison and/or Lookman.
Does it show a lack of faith in Davies? Or did he really fancy the idea of 'throwing another defender on'? That doesn't really seem like Silva.
David Pearl
76
Posted 11/11/2018 at 21:01:04
He threw on Jagielka because Hazard was finding lots of space between Keane and Coleman, and it worked a treat.
I thought Digne played well... but sort your crossing out, Lucas, you deprived Mina of any service when he was crying out for a ball to attack.
Jamie Crowley
77
Posted 11/11/2018 at 21:17:43
David @76 hit the nail on the head and called that on the Live Forum.
It was, in the end, a good sub. There was way too much space for Chelsea for about 10-15 minutes in that second half. Jagielka was brought in to put a stop to that.
I was one who was flummoxed by Jagielka coming on. After a reasonable, brief, intelligent explanation from Mr Pearl, I understood.
Some of us lean on the wisdom of other TWers. David nailed that analysis, and Silva was correct to bring on Jags in my opinion.
Colin Glassar
78
Posted 11/11/2018 at 21:20:19
For what it's worth here's my ratings of the team today.
Pickford – 9. Apart from some erratic kicking, he was safe as houses
Coleman – 8. Getting back to his best
Keane – 8. Quickly becoming Mr Dependable.
Mina – 7. For a guy who hasn't played for about 4 months he looks like our behemoth.
Digne – 7. Baines who? Sorry Bainsey, there's a new kid in town.
Walcott – 5. The less said the better. Another disappointing display.
Gana – 9. Since he got his haircut he's just got better and betterer!
Gomes – 7. Purrs like a Rolls-Royce
Sigurdsson – 7. Injured early so hard to tell. I love the guy.
Richarlison – 8. Led the line superbly and is growing into a proper centre-forward.
Subs: Jags – 6. Lookman – 6. Calvert-Lewin – 5.
Joint Men of the Match: Pickford and Gana.
Jay Wood
[BRZ]
79
Posted 11/11/2018 at 21:30:17
Michael @ 66. I'll attempt a quick summary of 'how Silva pulled this off'. or rather, how the team is consistently starting to perform.
Essentially, it is a coming together of all the work evidently being done at Finch Farm and the players growing increasingly familiar with what Silva is asking of them and how he wants them to play.
Starting with Pickford and the centre-backs when the keeper gets the ball, the centre-backs split wide to receive the ball, opening the space in front of the penalty area for Gueye or Gomes to drop into to also collect the ball. Four options across the width of the park to play the ball out short, retain possession and build from the back.
The opposition is reluctant to push up and close down these outballs too much for fear of an overload behind them. Generally what is happening, the opposition is 'pressing' with a maximum of two players, who we comfortably pass around as we move the ball forward.
If Pickford doesn't fancy the short ball, he waves the centre-backs forward and they tuck in to their central default positions and he throws or launches the ball with his increasingly accurate kicking further forward. Jordan, of course, is also very quick at instantly turning the opposition in situation when he gathers a ball on their attack and sees an opportunity to release one of our forwards.
The centre-backs are increasingly looking very, very solid. Keane is a player re-born. Except for injury, Zouma and Mina are battling it out for the other centre-back role, because Keane currently has to be one of the very first names selected.
Our full-backs are key components in Silva's style of play and we are blessed by the quality we have in the four squad options for both left and right. For the most part they all defend well, recover well, are technically sound, athletic, with good pace and recovery as they plough back and forth up their flanks. All four's delivery at the sharp end could be better but, together with the wide men, they occupy the opposition's own full-backs and wide men, making it a high-risk option if the opposition pushes up too high on us.
I have to add, our zonal marking whilst defending corners is also markedly improved from the opening games. Brighton wrong-footed us with their short corner routine which cleverly shifted our defence a yard and they equalised from it. This annoyed Silva post-match who said the team was drilled and prepared for this, so hopefully, the lesson is learnt from a real world example to not repeat the same.
In central midfield, we are once again seeing the Gana Gueye we originally saw on arrival from Villa (sans Schneiderlin...). His game is very simple. He wins the ball. He receives the ball. He quickly moves on the ball. Neither his short nor long passing is as woeful as some suggest, but I consider he is at his best when not pondering on the ball. That is when he tends to either get caught on the ball, choose the wrong option for his pass or try an unnecessary 'Hollywood' pass. When he does things almost instantly, almost instinctively, he is at his best.
Gomes is proving a good fit with the re-discovered Gueye. He still hasn't had a good overall 90 minutes for me, but he shows greater guile with the ability to make a telling forward pass far more than Schneiderlin has ever shown us. This quicker, forward transition by our central midfielders exposes the opposition defence and bypasses their midfield far more effectively than almost any game under Koeman or Allardyce.
Then you have Sigurdsson who has both a good engine and is technically sound, who can drop further back to assist with the more defensive aspect of our midfield play, or – as is more the case the season – is often the fulcrum of our forward play, supporting as he does the better balanced and interchangeable front three.
I don't think in our games since the win at Leicester – the first time the front four played together – that the front four have 'clicked' as effectively as they did that day, but we pulled Leicester's defence all over the place with the way they all interchanged throughout the game.
The key improvement for me when the opposition is in possession in their own half is our non-contact press. We press high – in and around their penalty area – but we do so not with the intention of winning the ball back in a tackle. Thus my description of the non-contact press.
We are getting in the face of the opposition player in possession of the ball, but more with the intention of cutting off his passing lines rather than the out and out attempt to win the ball in a tackle.
In doing this, Silva is playing a percentage game. He has the forwards chasing down the opposition when in possession and cutting off the lines for easy forward passes, forcing them to pass sideways and backwards.
Do this enough times and the opposition just lump it forward or attempt a high-risk forward pass. This is when and where the Everton midfield or defence are picking off the ball to turn over possession, with plenty of options of our own to get forward with our forwards already well advanced due to their first press positions.
Taken altogether, rather than over-concerning ourselves with how the opposition can hurt us and setting up primarily to prevent that, Silva is being bolder and challenging the opposition to compromise their own game to combat how we are set up.
There is evidently room for improvement. There always is and should be. But I believe we are looking, defensively, increasingly more solid, from both open play and dead-ball situations. That we are more confident and calm in possession all over the park. That our transition from defence to attack is quicker, with more imaginative and accurate passing.
Where greater improvement is still needed for me is from dead ball situations, pass selection in the final third and more clinical finishing when opportunities present themselves. We have the players already at the club capable of achieving such improvement. Long-term, to achieve Farhad Moshiri's stated ambitions and those of the fans themselves, further upgrades will inevitably be needed.
But for me, clearly, there is a plan and purpose in place which is refining and improving with each passing match.
I for one am excited at the potential Silva and the team is starting to display and just what we can achieve.
Andy Crooks
80
Posted 11/11/2018 at 21:42:01
Excellent stuff, Jay. Silva is displaying an admirable pragmatism as well as seeking to win every game. A lot has been achieved in a short time and, for the first time in years, we seem to have direction on and off the pitch.

Trevor Peers
81
Posted 11/11/2018 at 21:53:30
Excellent performance, Mina looked a colossus today and the progress Silva and his signings have made has come as a massive boost; after years of false dawns, progress is being made. Maybe we are finally going to compete with the very best. To even have contemplated this over the last few managers' reigns would have been unthinkable.
Only Steve Ferns really had real faith in Silva's tactics when he arrived, so well done to him; anybody else claiming they had absolute confidence in Silva didn't pipe up at the time and therefore are being a bit smug by now patting themselves on the back. We all want the same thing, after all: lots of success. Most of us are happy to just sit back, watch, enjoy and be grateful when things are going well.
The time for criticism is when defeats come thick and fast and points are hard to come by, and it is then totally justified.
Tony Everan
82
Posted 11/11/2018 at 21:53:46
Games such as this give us a solid foundation to build on. We have performed very well at Arsenal, Man Utd and now Chelsea. We were in each game and probably even played better in the ones we didn't get a point from. Also I think key decsions have gone against us in each game. There were a few tackles from Chelsea that were worse than Jagielka saw red for.
At home, we will be more of a threat to these teams and will have more belief. Also, maybe... just maybe we will get the odd decision in our favour for a change.
The upwards trajectory continues; the future is bright.
Simon Smith
83
Posted 11/11/2018 at 21:58:55
Really good performance, real shame Bernard didn't make more of his big chance, same with Theo.
A clean sheet at Stamford Bridge isn't something that's easy to come by, we should be proud of the lads.
I'd have liked a bit more from the set-pieces in some really good positions if I was to be picky, but we had a lot of good solid performers.
On another note, near the end of the game, Cavert-Lewin was on his own with the ball at his feet and space to run into, I wish he had a bit more bottle to really run at Luis and Co as he was fresh, he's quick and strong, and really should have backed himself. Hopefully that will come, as I feel he has a lot of potential, but he has to be stronger mentally. Had he chose to run at them, he could have made a hero of himself, or even just drawn a foul.
Re Tony above;
Jorginho should have seen red for his tackle on Sigurdsson, the tackle was poor and pretty much ended his game as he lost his mobility.
Cardiff next week, I wouldn't be surprised if Sigurdsson or Richarlison was out injured, this may give Lookman a chance to start.
Onwards 'n' upwards.
COYB
Lawrence Green
84
Posted 11/11/2018 at 22:07:13
A point at Stamford Bridge isn't to be sniffed at, it's not one of Everton's favourite places to play and that's all-time not just in the Premier League years. Having read the pre-match stats on EvertonResults.com I wasn't expecting more than a point, particularly with our recent showings for matches played on a Sunday – please God let us break this run in our next Sunday game!
"The match is on a Sunday, which isn't a good omen for us! – we've lost 3 away Sunday games in succession , and our record in our last 12 away games played on a Sunday (all in the Premier League) is W0 D2 L11 *
In the last 18 in the Premier League, it is W1 D3 L14, with the 1 win coming at QPR in March 2015!
* Assume a typo?

James Flynn
85
Posted 11/11/2018 at 22:26:54
Jay (79) - "Taken altogether, rather than over concerning ourselves with how the opposition can hurt us and setting up primarily to prevent that, Silva is being bolder and challenging the opposition to compromise their own game to combat how we are set up."
This is good.
Colin Glassar
86
Posted 11/11/2018 at 22:40:09
Re: my post #78, I may have missed out Bernard.
Bernard - 5. I think he needs to play more in the middle until he gets up to speed in the Premier League. He's a brilliant player who could become our David Silva.
Trevor Peers
87
Posted 11/11/2018 at 23:14:18
Very impressed that we showed a lot of bravery today, twice Chelsea players were allowed to inflict near leg breaking filthy tackles on our best players and get away without being punished with a red card.
You have to literally fight your way into the exclusive Sky top six club, today's refereeing was an absolute disgrace. Will there be any retrospective action tomorrow? Of course not.
James Flynn
88
Posted 11/11/2018 at 23:17:41
After our game, we had the Manchester teams' game here in the States. Made me think about that goal-scorer we're missing; Kun Aquero.
For me, his career parallels Wayne Rooney's amongst the world-wide elite, somehow underrated. Aquero is the least talked about true predator in top-league football.
If only we had him... we'd be rolling.
Peter Gorman
89
Posted 11/11/2018 at 23:21:54
Jay @79 - kudos for an excellent analysis but if I may suggest one minor change.
For: "the opposition just lump it forward or attempt a high-risk forward pass. This is when and where the Everton midfield or defence are picking off the ball to turn over possession."
Read: "Everton are picking off the ball to turn over possession wherever Gana Gueye happens to be on the pitch."
John Raftery
90
Posted 11/11/2018 at 23:49:47
Sometimes a team and their manager just have to settle for grinding out a point through good organisation and defensive shape. Today was such a day.
It was pleasing to see Silva resort to a pragmatic approach once it became clear in the final quarter our key attacking players had run out of ideas and energy. The game was a story of collective effort with few outfield players able to shine individually but they kept working hard for the cause.
It was disappointing to see so many of our players waste possession with loose passes and wayward crosses. This was a game when for the most part we looked better organised without possession of the ball than with it.
It was interesting to note that both Chelsea and Arsenal dropped home points today after playing Europa matches on Thursday.
Chris Watts
91
Posted 11/11/2018 at 23:52:55
Does anyone wish we'd kept Rooney? With all these players around him, and his finishing ability undiminished, he could have had a hat full of goals this season.
Jim Bennings
92
Posted 12/11/2018 at 00:08:16
Get someone to "do" that little rat Jorginho when Chelsea come to Goodison next year, scum challenge that.
If I was a player now I'd be plotting to hobble him next time I played against him.
That's the mentality Roy Keane has, didn't do him much harm.
Si Cooper
93
Posted 12/11/2018 at 00:23:42
Great organisation and a lot of effort gave us a deserved share of the points and contributed to an absorbing game. If only we had had a bit more composure on a couple of occasions, we could even have pinched all three.
One thing though: I actually thought Richarlison was a little below his best today. I thought maybe he was still a little bit sensitive in the ankle area but noticed he spent a lot of time rubbing the groin which did for him in the end. Wonder whether he was ever 100% fit for this game?
Got to admit I am a bit concerned that he is so keen, he is a candidate for a spot of 'footballer's groin'. It's fairly straightforward surgery these days but it could keep him out for a few weeks at best. Hopefully the medical professionals at Finch Farm are vigilant on things the players might not make a big deal about until it becomes a big problem.
Kase Chow
94
Posted 12/11/2018 at 00:26:28
David Pearl
95
Posted 12/11/2018 at 01:06:32
Jamie 77, thanks for that. Sometimes I think I'm taking to myself. First sign of madness they say. At least though we are all talking more this season because we all see the signs of improvement, a lot more positive.
Chris 91, he'd do a lot better in this team with these players and formation around him but as Moshiri doesn't want to bring in players in January if it might limit the progress of our younger players he'd of had an adverse affect on this team at it continues to improve. I think he's enjoyed his first year in the mls.
That tackle by Jorginho was criminal.
Gordon Crawford
96
Posted 12/11/2018 at 01:09:16
I just watched MotD2 and again they love to make us look crap in the highlights. No Walcott or Bernard clip etc. They also claimed it was a penalty for Chelsea. And then justifying Morata's falling over in the box. Typical.
I also hope Sigurdsson is back for the derby. If not then we should play Bernard there.
John Boon
97
Posted 12/11/2018 at 01:34:22
We are vastly improved from the Allardyce & Koeman days. Once again, we can watch Everton at least challenge, play decent football and be in with a chance against the so-called better teams. We deserved more from both Arsenal and Man Utd, who have never looked even half-decent this season.
There is still plenty of room for improvement. I think Richarlison is a great buy and helps the Blues immensely but when he plays up front he is just not in the game enough. I watched Aguero in the Manchester Derby. To me, he demonstrates just how a centre-forward should play. He covers so much ground as well as bringing players around him into the game.
Mina was so calm and obviously has a lot to offer. It was also good to see Jagielka get some minutes. I am sure he must realise that his chances are likely to be limited but he has given us 10 years of valuable service. Same for Baines.
One last request: Please don't let us down against Cardiff.
Darryl Ritchie
98
Posted 12/11/2018 at 07:11:58
It wasn't beautiful, flowing football, but it did show us something that we haven't seen for quite a while. Everton is developing a backbone. The first 20 minutes, we took it to them. The next 50, we went at them toe to toe. It was only in the last 20, when an arguably better side grew increasingly desperate and piled on the pressure, that we became more defensive. We did that pretty well, too.
I usually don't comment on the officiating. Some footballers have become 75% athlete and 25% actor (by that, I mean 'cheater'). Being a ref is a thankless job, but saying that, I have say that our good friend, Kevin, let this one get away from him a bit.
In the end, a valuable point and a clean sheet. A decent day's work by all.
Laurie Hartley
99
Posted 12/11/2018 at 08:31:19
Jim (#92) – that thought did cross my mind but I am scratching my head as to who is our potential "retributioner". Strange as it may sound I think the smallest player in our squad might have a bit of that in him. As Samkin Alyward said of Sir Nigel in the White Company – "the smallest cockerel often has the biggest heart".
As far as the game goes I think we were well worth a point. As usual the commentators gave us no credit putting it down to us being "stubborn" but failing to acknowledge we gave them plenty to think about, especially in the first half. Not to worry; we shut them all up and instead of getting angry about it I am going to feed off it.
As I predicted Alonso was a major threat. A good footballer but he went down a lot in my estimation for his cynical challenge on Walcott. Actually Chelsea have got quite a few nasty pieces of work in their squad.
Walcott and Bernard didn't have their best games but boy did they work hard for the team. I think they were a big part of the reason Chelsea couldn't break us down. I can't see Silva starting Lookman before either of them at the moment. They will both get on the score sheet soon in my opinion.
I also thought that, despite having Alonso and Hazard to deal with, Seamus had a good game – I think he has got his mojo back. Nice to see him in the refs face on several occasions.
I have decided I love this manager – he thinks we have the players to beat anyone and they believe him. Another happy Monday. May there be many more of them.
Mike Doyle
100
Posted 12/11/2018 at 09:51:00
Overall a very encouraging display. First time I've seen Chelsea this season and was surprised by how physical / nasty some of their players were (a bit of a throwback to their team of the early 70s) – and pleased by the way our lads took the game to them and stood up to them...
Bernard's willingness to take on Ruttiger – though he was lucky not get a red for his action – probably earned him a telling off from the manager and a pat on the back from Big Dunc.
With a bit more composure in front of goal, we should have scored at least one.
Stan Schofield
101
Posted 12/11/2018 at 10:21:00
Laurie @99: "I have decided I love this manager – he thinks we have the players to beat anyone and they believe him."
Beautifully put.
Us supporters are believing him too.
Derek Knox
102
Posted 12/11/2018 at 10:36:08
I can only echo and re-iterate the comments above, a vastly improved performance from a vastly improving team.
Reading the pre-match comments, there was an air of confidence on ToffeeWeb, but hardly anyone, including myself, were that confident that a draw was realistically achievable.
As the match proved, with more clinical attempts on their goal, the result could have been so different. Let's not get carried away though, and demand running before we can master walking.
More importantly, the confidence that this outcome and performance will instil in the team is almost immeasurable. There would have to be; yet another International Break to disrupt that momentum, but the only good thing it gives any injuries longer to heal.
James Flynn @88, oh I wish too, that we had a player of similar quality to Kun Aguero; as you so rightly pointed out, a player who does not receive the accolades he so richly merits.
You must remember that even Man City, are perceived as upstarts by the Media darlings, and other than having an influx of investment, have no right whatsoever to dine at the top table, a bit to a lesser degree (hopefully) like ourselves.
I am fairly confident that Marcel Brands, who has been monumental in his achievements thus far, not only for the quality brought in, but for the Herculean Task equivalent of the Augean Stables, in moving the deadwood out – albeit temporary in many cases – will somehow find the new Kun Aguero for us!
Chris Locke
108
Posted 12/11/2018 at 12:42:26
Once again, the referee bottles it during an Everton match away at one of the Sky 6. Jorginho's challenge yesterday was a disgrace. Sigurdsson hassled the bejesus out of him from minute one and he couldn't cope.
Siggy had the better of him once again and his response was to dive in, from behind, with both feet at ankle height. We were all told to accept that despite Jags winning the ball his tackle against Wolves (Jota) was out of control, excessively forceful and dangerous and so deserving of a straight red card. What part of Jorginho's tackle wasn't all of those things and more?!
But no, it just so happens that the ref didn't see it that way. Just like the ref didn't see Gueye win the ball against Martial or Aubameyang standing a yard offside.
The TV idiots always say these things even themselves out over a season. This doesn't make any sense and is just another way of placating the masses whilst ignoring the obvious refereeing bias that exists in the Premier League.
COYB
Colin Malone
110
Posted 12/11/2018 at 13:08:11
Well done, Blues.
In my opinion, Bernard is wasted on the flanks and barn-door Walcott does my head in. Imagine the difference Zaha would do to this side.
Lawrence Green
111
Posted 12/11/2018 at 13:30:32
Chris #108
As soon as I saw the challenge, I thought 'red card' and whilst I can understand the officials making mistakes – I also thought that Mina's challenge was a 'stonewall' penalty. I cannot understand the media's reaction to controversial incidents, when certain clubs are involved.
As far as I'm concerned, most TV pundits are no better than 'mouthpieces' for the self-proclaimed elite clubs and don't have an insider take on any aspect of the game.
Imagine the outcry in the written press today, if Gueye had made a similar tackle on Hazzard and the Chelsea player was seen leaving Stamford Bridge in a protective boot. I'm astonished that Sky Sports said something akin to Sigurdsson has an unknown injury – if only they had cameras at these big games, they could see the evidence as clear as day as to how Siggy was injured.
If anything is going to stop me attending football matches it is the deceitful way that the modern media cover the game, the overlooking of incidents if those incidents don't adversely affect the media favourites, and the instant hounding of non-favoured players if they 'dive' or put themselves about a bit.
I can't wait for the European Super League to arrive, if it means that the whole media circus leaves the rest of us to get on with enjoying the game for what it is and where the officials aren't swayed by some ex-professionals opinions.
I do wish that Mr Moshiri would sever his links with Jim White, another no nothing pundit/presenter who toes the party line of those that employ him.

Tom Bowers
112
Posted 12/11/2018 at 13:44:24
The inconsistency of referees has been a bone of contention for years. They are not all on the same wavelength and some are downright conned by ''professional'' players who know when and how to commit fouls.
The shirt tugging, especially in the box, has become a disease simply because the officials are too chicken-livered to call penalties and, let's face it, most of the time it's defenders who commit the wrongs.
Players don't seem to realise that tackling with the studs showing is a dangerous offence, even though they may win the ball. Going through a player aggressively to reach the ball is also a foul and the wet conditions cannot be used as an excuse.
With electronic communications improved between the officials and also a fourth official, why is the game just as dirty and full of cheats getting away with it?
I, for one, cannot wait for the video technology to come in for all games as it is quite evident that the ''modern'' game is crying out for it.
Neil Wood
113
Posted 12/11/2018 at 14:10:27
Wonder if they retrospectively look at this as well...

I know we had a speight of emailing the FA. I think we should all email them again with this and ask for retrospective action
https://twitter.com/prenno/status/1061903809356750848?s=12
Tony Abrahams
114
Posted 12/11/2018 at 14:26:36
Very sensible post, Lawrence, especially with regards the outcry from the press if that same disgraceful foul had been committed on Hazard.
The only thing these professional pundits are going to do though is make me stop watching and then I won't have to listen to them, Lawrence, because although you might sit next to the odd lunatic at the match, it's better than putting up with most of these phoney biased bastards on TV.
Every week now they are picking and choosing incidents and, although I've never had much time for referees, I actually feel sorry for some of them nowadays because the bigger clubs have most of the power simply because they have a lot more friends and ex-players in the media.
Tony Everan
115
Posted 12/11/2018 at 15:06:23
Lawrence @111,
''Most TV pundits are no better than 'mouthpieces' for the self-proclaimed elite clubs''
Very well said, exactly what I think too — and it's got far worse this season.
Steve Barr
116
Posted 12/11/2018 at 15:53:00
Lawrence @111. Agree 100% with your post.
I'd also add another pet peeve of mine regarding the media and that is about their sycophantic ravings regarding how brilliant the coaches of the top teams are.
I assume these guys are talented and skilled in all the various aspects of coaching, man management etc but the least the media should do is preface/put it in perspective by pointing out they also have bottomless pots of money to buy the world's best players!
I accept good coaching helps but, when you have two world-class players in every position, even a mere mortal might get you to a top six finish!

Joe O'Brien
117
Posted 12/11/2018 at 16:08:02
Tom @112 I'm not sure that VAR is going to make much of a difference because you'll have the likes of Dermot Gallagher making the decisions... didn't he say that he thought Jon Moss made the correct decision with regards to the penalty awarded to Man Utd — when it clearly showed Gueye winning the ball?
So you can have the best technology at your disposal but with idiots making the final call... hmmmm.
Stan Schofield
118
Posted 12/11/2018 at 16:38:02
I stopped listening to so-called 'pundits' years ago. I turn the sound down on MotD so I can't hear their drivel. I wish there were a function where you could turn the voices off but retain the sound of the crowd, but there isn't, so I just watch in silence.
Joe O'Brien
119
Posted 12/11/2018 at 19:00:27
Anyone notice Carragher commentating on the match.. Chelsea really starting to rack up the chances now as the stats showed shots Chelsea 7 Everton 6.. didn't even mention us, one shot of a difference. What a nob.
Steve Ferns
120
Posted 12/11/2018 at 19:02:45
Michael #66 - will do
Neil Wood
121
Posted 12/11/2018 at 19:46:20
If you actually watch the game but forget about any of the football and just listen to the commentary, it's bizarre.
It's actually so evident the commentators willing Chelsea to win/score.
The volume when the commentator shouts "Morata" or "through on goal" etc...
Compare that to when we go through on goal.
Fucking wrong.
George Cumiskey
122
Posted 12/11/2018 at 20:24:58
Joe O'Brien @ 117 – exactly right, but give Souness his due he said he got it wrong and he didn't care how long he was a referee.
Why they have them on the show is a mystery, because 99 times out of a hundred they'll back the ref.

John Wells
124
Posted 12/11/2018 at 21:03:34
https://m.independent.ie/sport/soccer/what-a-kindhearted-soul-you-are-seamus-colemans-donates-3000-to-a-young-fan-ahead-of-his-operation-37519850.html
Coleman is a class act, he is always doing things like this.
Not a lot being said about the penalty we should have got? I went fucking tonto in the house when it wasn't given!!
Loved how Silva managed that game.
Derek Knox
125
Posted 12/11/2018 at 23:34:32
Stan @118, you make a very good point there regarding these haemarroidal pundits, I doubt whether we are alone either.
These are very highly paid, mostly millionaires anyway, stating the obvious, or retrospectively analysing with the aid of slow motion, freeze frame, and other technological gadgets, that if player A had passed to player B, instead of shooting at goal and wildly missing, player B would have scored.
How the hell do they surmise that? Player B, admittedly was probably in a better position, but how many times have we seen players, even in a great position, absolutely fluff a shot, when it looks harder to miss, than find the target.

Derek Knox
126
Posted 12/11/2018 at 23:45:03
I got cut off and post went too early there, but was going to suggest that it would be a lot more entertaining, if one fan was selected from each Club involved, with commensurate hospitality, to provide a grass roots view of the game.
A bit like they do on a Saturday morning in the studio, where a fan with team colours gives a preview or participates in a shoot out, or whatever they have devised.
One bonus if they adopted that policy would be a Redknapp free zone. Gawd, every time you turn on, there's a Redknapp lurking. They even used to do adverts that were not Football related either, such is their greed.
Anyway, food for thought, nothing will change, but in my opinion needs to.
Bill Watson
127
Posted 13/11/2018 at 00:28:15
Steve #116
I totally agree. I wonder how some of these so-called top coaches would cope in the real football worlds of Huddersfield, Cardiff and Burnley etc?
Perhaps the best example is Benitez who has totally failed to make an impact at Newcastle.
Some would argue he's done wonders with limited resources but that's the whole point: without huge finances, most coaches would struggle to survive.
Mike Oates
128
Posted 13/11/2018 at 09:02:06
Great tactical and confident display for once against a Top 6 team. To get to the top level, we need real quality wide players, like Sterling, Mane, Sane, Salah, Hazard – they make a hell of a difference between the Top 6 themselves.
Liverpool and Man City are a class above the others, they don't have width but they do have 2-3 players who regularly get the goals from limited chances: Kane, etc.
I'm afraid Walcott and Bernard just aren't good enough to get to the next level. Give Lookman a go and try and get this Mexican lad from PSV.

Stan Schofield
129
Posted 13/11/2018 at 09:32:56
Derek @125: This is it, most of what is said is just nonsense. I do have to listen to them if I'm watching a match in someone else's house, and the crap the pundits talk never changes.
It's like listening to the Jeremy Vine show on Radio 2, ie, mainly people shouting nonsense, with the occasional bit of sense, but not enough sense to make it bearable.
Jim Harrison
130
Posted 13/11/2018 at 10:33:52
haven't read all comments but, because I am a sadist and like a bit of vitriol, any thoughts on Barkley today?
I actually felt sorry for him, took a good load of stick from the traveling fans and according to the TV commentary gave a bit of a wave and clap back, fair play.
But to only get 10 minutes must have been mortifying. He looked in that time that he was bang up for it but, unfortunately for him, but not for us, everything he tried was gash!
No barometer of his future performances, and really my pity is more smugness, as I feared he would come on and bang in a screamer to win it.
Charles Barrow
131
Posted 13/11/2018 at 11:22:27
I was at the game and thought he (unlike some ex players, who relish it) seemed almost embarrassed to be playing against us. Every thing he did on the pitch was a disaster, presumably because he was so nervous. I can see now how the mental element of the game is such a problem for him.
Add Your Comments
In order to post a comment, you need to be logged in as a registered user of the site.
Or Sign up as a ToffeeWeb Member — it's free, takes just a few minutes and will allow you to post your comments on articles and Talking Points submissions across the site.
© ToffeeWeb