Silva: We need to add quality signings
Monday, 23 July, 2018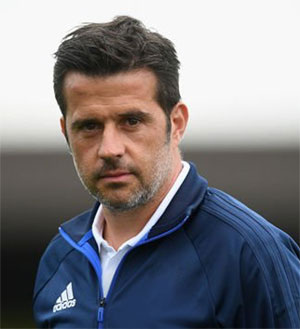 Marco Silva says that, ideally, he would be looking to bring in as many as six players before the transfer deadline but admits the emphasis will be on quality not quantity.
Together with Director of Football, Marcel Brands, the Blues' new boss has yet to make a signing since coming on board, although the capture of his former signing Richarlison for reported initial fee of £35m is imminent.
The Brazilian forward underwent a medical today and is expected to be unveiled as the first incoming transfer to Finch Farm of the close season in the next 24 hours.
Having overseen three friendlies and the practice match in Austria against ATV Irdning, Silva has a better handle on the squad he inherited from Sam Allardyce in May and where he still needs to strengthen.
He didn't mention any specific positions but, despite the dwindling window, he made it clear that he doesn't think the current squad has sufficient quality in its current form.
"The most important thing is not the number," he is quoted as saying by the Liverpool Echo. "For us to sign players, we must be sure about [their] quality. We must be sure they can improve our squad. In some positions, we are clearly looking to improve because we have to.
"[I]t is not the most important thing to talk about what are the positions because I need to be fair to our players, but I can tell you four or five or maybe one more, six, players we have to sign.
"If you sign three or four very, very good players, we are going to improve. I don't want to change everything straight away and sign ten players. We need to be sure about things and the players to come in need to improve us.
"If you can do everything now, it is better. If you have to do something in the January market, it's because you didn't do everything you had to do in the summer. We don't have a lot of time to do it, but we have to."
While he gave no names away when talking to the British media, Silva admitted to Portuguese TV that he is interested in signing Lucas Digne from Barcelona in addition to Richarlison.
Everton have reportedly lodged a firm offer for Digne who is apparently ready to leave the Nou Camp in search of regular first-team football. According to reports in England, he could cost as much as £22m, although sources in Spain suggest that Barça are asking for significantly less.
"There are two possibilities, I will not hide," Silva said. "These are strong ideas. Richarlison is an excellent player and Digne is not where he is by chance.
[But] it's not easy [to sign these players]."
---
Reader Comments (62)
Note: the following content is not moderated or vetted by the site owners at the time of submission. Comments are the responsibility of the poster. Disclaimer
Mike Gaynes
1
Posted 23/07/2018 at 18:34:46
For the first time in years, reading what our manager says makes me happy.
"We must be sure they can improve our squad."
I like his openness about what we need and his direct approach to the two players he has already landed on.
Lee Jackson
2
Posted 23/07/2018 at 18:38:05
I get the impression that for him to be openly talking about Digne it must be very, very close. So Richarlison, Digne, Mina (?) ... I wonder who the other 2-3 could be?
Kunal Desai
3
Posted 23/07/2018 at 18:44:49
Let's just focus on getting a couple of players in this week first. One step at a time.
Silva's soundbites do sound similar to that of Moyes, Martinez and Koeman a few weeks before the window closes. Perhaps the club is just getting ready to dampen expectations for this window and will review it in January.

Derek Knox
7
Posted 23/07/2018 at 18:45:31
While I welcome new additions; our recent pre-season games have exposed that we absolutely need a clear-out and refreshment of personnel, I am equally astounded by the exorbitant fees being bandied about.
I had hoped, between M&M, that targets would be identified, and a few unheard-of bargains would be acquired, not just splashing large sums on well-recognised names.
Any negotiation with Watford was always going to be difficult and top fees would be asked for. I just hope the quality Marco refers to, as being genuine game changers.
Otherwise it is Koeman Mark 2, and history repeating.
Brian Williams
8
Posted 23/07/2018 at 18:46:35
I think Mina is one of the others.
Jimmy Hogan
9
Posted 23/07/2018 at 18:47:44
You can bet that price includes a sweetener for Watford and his wages.
John Pierce
10
Posted 23/07/2018 at 18:53:53
For me, 2/3 players only per window. There are very few examples were wholsale changes to a first XI yield good results. So for Everton to potentially repeat the failures of last season seems reckless.
Even game to game changing 4/5 players often results in bad performances.
Silva was, in part, brough to the club to coach and improve the existing squad. Buying 5/6 players is no better than Koeman before him if that is indded the case.
Silva also needs to show the club he can actually improve the team before he gets the funds we spent last season.

Mike Gaynes
11
Posted 23/07/2018 at 18:54:11
Lee #2, the Barca media reported last week that the clubs have agreed the Digne deal. It remains only for Digne to approve. The player has said nothing.
Must be tough for the kid to give up his Barca dream -- he just turned 25 on Friday and to know he won't make it there is a bitter pill. But to lose his place for France and miss out on a World Cup medal is certainly far worse.
Incidentally, Calciomercato reports the deal is for £14 million, not 22. A player of Digne's talent would be an absolute steal at that price.
Don Alexander
13
Posted 23/07/2018 at 18:57:52
You're not in Brazil are you Mike? :)

Mike Gaynes
15
Posted 23/07/2018 at 19:02:18
Don, you provocateur, you!
Gordon White
16
Posted 23/07/2018 at 19:04:16
Well, we all knew he had to buy some quality in. And after watching the last 2 games, albeit friendlies, the usual suspects failed to impress yet again. And others given a chance to shine never really got out of the blocks. It looked like the same old, same old to me.
I think Silva is being conservative suggesting it might be 6 players. Mind you, if Richarlison's any good and with Walcott on the other side and Sigurdsson playing a No 10 role, at least Tosun might have a bit more service. And hopefully, they will weigh in with some goals of their own.
On a separate note, Digne and Mina may be good, if we get them. But are they good enough to compensate for Keane? Well, we haven't got long to wait to find out.
On a positive note, Coleman played well... and Pickford and Gueye will soon be back.
Mike Gaynes
17
Posted 23/07/2018 at 19:15:51
Two additional items on Digne -- his teammates gave him a "guard of honour" for his birthday at practice on Friday (a prelude to a farewell, perhaps?), and Barca has now slammed the door on all offers for their brilliant youth LB Marc Cucurella, who had generated a lot of interest because he appeared to be stuck behind Jordi and Digne.
And Cucurella reportedly will be added to Barca's roster for their upcoming US Champions Cup games. They begin Saturday against Spurs in LA and then play Roma on Tuesday in Texas. Digne and Mina are still listed on that roster as well... be interesting to see who actually shows up.
Terry Farrell
18
Posted 23/07/2018 at 19:23:45
Mike, spot-on – a clear thinker for once!
Terry Farrell
19
Posted 23/07/2018 at 19:33:12
I have no opinion on Digne as haven't seen enough but Barca calling implies a high standard. Has anyone seen enough of Robinson to say he is ready for a tilt at the first team?
I saw him play for U23 and was really impressed. Fast box-to-box and a defender. I believe by the end of his loan spell at Bolton he was playing great and played in their do-or-die last game of the season.
Also, he had good reports playing for USA before the World Cup. This signing will surely be a road block for him? Not to mention Bainsey can put in a shift.
Len Hawkins
20
Posted 23/07/2018 at 19:35:05
Derek, I was watching a programme about people with a stammer – if you sing what you want to say, it comes out in one go.
Tom McEwan
21
Posted 23/07/2018 at 19:39:00
I just hope that whoever he brings in can be coached to understand that games last 90+ mins and not 45. I know it's a tough task but someone has to do it and with Marco's Premier League record, I am full of erm…. optimism?
Gordon White
22
Posted 23/07/2018 at 19:39:34
Joe McMahon
23
Posted 23/07/2018 at 19:41:46
"He made it clear that he doesn't think the current squad has sufficient quality in its current form."
At last... we have been saying that since the inception of the Premier League. What a sad state of affairs after spending well over £100 million.
Pat Kelly
24
Posted 23/07/2018 at 19:51:03
He'd like to bring in as many as 6. Be lucky to get 2 or 3 at this rate. Meanwhile everyone will have to labour under the "insufficient quality" label.
Mike Gaynes
25
Posted 23/07/2018 at 19:52:22
Terry (#19), don't get me started on Robinson -- I'm a HUGE booster based on what I saw of him with the USA. Blindingly fast, strong, great fundamentals, extremely aggressive in attack, confident on the ball (almost to the point of swagger). Needs only some work on positioning and a bit of seasoning as a man-marker to be a quality Premier League left-back in my opinion.
As to whether Digne holds Robinson back, I'm not worried. First, getting more talent into our club is just a good thing, no matter where it lines up. Second, Digne is a superior defender but not much of a contributor in attack, so I see him as more useful in a back three than a modern back four, where Baines and Robinson are at their overlapping best. And Silva supposedly uses a back three more than any of his predecessors.
And third, Silva may have already decided that Robinson needs one more loan season. He lost a couple of youth seasons to injuries and Silva might want him to get more experience. He does still ball-watch too much, the way Coleman used to.

Brent Stephens
26
Posted 23/07/2018 at 19:55:50
Mike, I'm a huge booster on Robinson as well – whatever that means. I love his confidence – we've been missing that.
Andrew Ellams
27
Posted 23/07/2018 at 19:58:21
I think we'll get the three that we all suspect and any more will depend on how much comes in from outgoings. If there is a fourth new face, I suspect it will be a defensive midfielder.
Marcus Leigh
28
Posted 23/07/2018 at 20:06:25
Mike Gaynes #12
Very funny! LMFAO!
Drew O'Neall
29
Posted 23/07/2018 at 20:15:29
Marco: You need a centre-back!!!
Bill Griffiths
30
Posted 23/07/2018 at 21:02:27
God point John Pierce. Prior to last season I posted that though I was quite optimistic, I was also concerned that we may have had to many new signings making it difficult to integrate them at the same time.
I think we should make 3 of 4 new signings at the most.
Terry Farrell
31
Posted 23/07/2018 at 21:44:29
Thanks for the report, Mike. I love the kid too and hope he breaks through, with or without more signings.
Tom Bowers
32
Posted 23/07/2018 at 21:45:40
Silva wanted six new signings and so he now needs five. It's a matter of opinion of course as to where Everton need immediate bolstering but I would agree another central defender and left back would help.
Neither Williams nor Pennington look good enough and Jagileka has seen his best days go by as has Bainsey. In midfield Everton are weak despite the hard work of people like Gana and Davies. They need more strong running from the midfield area and despite the shooting ability of Gylfi we may only seeing that sporadically.
The defensive midfield area sees reckless tackler Besic and a rather weak Schneiderlin but I prefer a fully fit MacCarthy over the both of them.
Offensively Everton have options but somehow no combination gives me real optimism. Okay Richarlison has to be a plus but who to choose with him from Niasse, Tosun, Walcott, Calvert-Lewin, Bolasie, Mirallas, Sandro or Dowell.
So it's over to you, Silva, let's see you do your stuff.
Denis Richardson
33
Posted 23/07/2018 at 21:47:58
Didn't he say the same thing about 2 months ago?
18 days to go till season start and we've (almost) signed one single solitary player
Tick tock ⏱
Tony Everan
34
Posted 23/07/2018 at 22:09:09
5 or 6!
Over the next two weeks, there will be non-stop rumours, players linked, deals close, deals mooted, imminents, and 99% dones....
Charlie Dixon
35
Posted 23/07/2018 at 22:17:51
Get Richarlison, Mina & Digne done. Loftus-Cheek should then be our No 1 target...
Steve Ferns
36
Posted 23/07/2018 at 22:53:29
Where's the 6 positions do you think?
Gk - fine
Rb - fine
LB - need
RCB - fine
LCB - need
DM destroyer type - fine
DM playmaker type - need
AMC - fine
RF - fine
CF - if someone top quality is available, why not?
LF - need
I think it's 4 signings absolutely necessary, and a striker the level above Tosun would be preferred, and maybe another CB.
I'd bring in a LB, LF, CB, and a playmaking DM now. I'd wait 12 months on the other players. Giving chances to Davies, Dowell, Baningime, Keane and Holgate to stake a claim over the season.
Danny Baily
37
Posted 23/07/2018 at 23:09:55
Cutting it very fine, Marco. There won't be, but there should be uproar in the event that we don't strengthen key areas of the squad.
Mark Taylor
38
Posted 23/07/2018 at 23:11:26
The last line is weird. It's not easy to sign these players? Digne, maybe, because after Barca, anything is a downward trajectory so it's about persuading him, not the club who seem happy enough to sell.
Richarlison is at a smaller club and no doubt we will be significantly increasing his wages to make him want the move, while Watford are going to make a very substantial profit, if the quoted figure is near accurate, for a player who seems to have fallen out of favour.
If we don't find that easy as a transaction, god help us if we try for a player whose club want to keep them. It's not as though Watford have been having to fend off bidders for him.
Bobby Thomas
39
Posted 23/07/2018 at 23:15:33
The 4 to 6 players Silva wants will be through the outfield spine of the side, left-back and the winger en route.
A case could be made for still needing two new centre-backs. But we will probably sign one even though I'm increasingly convinced Keane is a dud.
Steve Ferns
40
Posted 23/07/2018 at 23:21:46
Danny, Marco has identified the players, he's focused on coaching the players he has, and it's Marcel Brands who is to sign them, so it is he who is cutting it fine.
Peter Thistle
41
Posted 23/07/2018 at 23:25:53
Until we sign a creative midfielder (box-to-box), we will still fail to create anything. It's been a problem for the last decade that hasn't been solved.
The spine of the team through the middle has to be quality, from central defence, midfield, to centre-forward. We have no spine at all.
Jags and Keane ain't good enough, Gana, Schneiderlin, Davies... no thanks. Sandro, Calvert-Lewin wouldn't get in the squad of any quality team. I will give Tosun a break for now, see how he does this season... the rest can sod off.
Vijay Nair
42
Posted 23/07/2018 at 23:48:16
Other than the three already mentioned (Richarlison, Digne, Mina), I hope we go in for Loftus-Cheek (who can play that box to box role), and maybe Batshuayi on loan as competition for Tosun.
As for outgoings, hopefully we can offload Williams, Martina, Mirallas and Klaassen. Schniederlin too if a good offer comes in. Pennington and Vlasic out on loan along with Browning and Galloway.
Besic, Niasse and Sandro I think are worth keeping in the first team squad, along with Dowell. And please don't sell Lookman!
Tony Everan
43
Posted 23/07/2018 at 23:48:40
Richarlison, Digne, Mina are what is expected, but Silva wants more.
If Klaassen moves, that will free us up to get the box-to-box more creative midfielder I am sure he wants.
Options for this position will be under discussion. I don't think Watford will sell us Doucoure but Silva will have one or two players in mind. Maybe from Portugal? Maybe Loftus-Cheek...
Steve, is there anyone over there he could target for that midfield position?

Steve Ferns
44
Posted 23/07/2018 at 00:04:53
Tony, João Mário of Inter Milan, who was on loan at West Ham last year, played for Sporting under Silva. He is definitely available and a possibility. He needed Carvalho behind him at Sporting to play well. He couldn't be the playmaking defensive midfielder we need, but in a very attacking 4-3-3 with Schneiderlin behind Sigurdsson and João Mário, I think it could work, but of course this is a formation for playing a weaker side when we have all the ball. Against a top side, he'd be vying with Sigurdsson for the AMC role.
Other than that, no, there's no one I'd suggest. You saw Pereira in the world cup for Portugal and he didn't look good enough for the price tag he'd command £25m+. He obviously didn't play for Porto yesterday, and he's the best of the lot for passing midfielders.
Renato Sanchez is back playing for Bayern and seems to be doing ok. He was the next big thing in Portugal, but was shite since Euro 16, and worse than shite last season for Swansea. Maybe he can come good though, as he's only a kid.
Richie Rich
45
Posted 23/07/2018 at 00:06:49
For me I would bring in 5 more Mina, Digne, Loftus-Cheek, Doucoure and Batshuayi
4-3-3:
GK - Pickford
RB - Coleman
CB - Holgate
CB - Mina
LB - Digne
CM - Gueye
CM - Loftus-Cheek or Doucoure
CM - Sigurdsson
LF - Richarlison
RF - Walcott
ST - Batshuayi
Out go Davies, Mirallas, Schneiderlin, Williams, Martina, Klaassen
David Israel
46
Posted 24/07/2018 at 00:11:26
Steve (#44), I don't think Danilo Pereira, if that's who you mean, played for Portugal in the World Cup. I think he's been out injured for some time, and that is probably why he didn't play against us yesterday.
Steve Ferns
47
Posted 24/07/2018 at 00:22:00
You're right, David, I am confusing Ricardo and Danilo. And yes, that injury is how Manny Fernandes got back in.
Conor Skelly
48
Posted 24/07/2018 at 01:12:49
I like the look of that team, Money-man #45.
I was all for Batshuayi, until he cracked himself in the face at the World Cup after missing from two yards.
Awful miss.
Laurie Hartley
49
Posted 24/07/2018 at 01:26:16
If I am honest, I am surprised he has openly said he thinks we need up to 6 players. I would have thought 4 tops – a left back, maybe two centre-halves, and a creative midfielder?
Blimey!
Derek Thomas
50
Posted 24/07/2018 at 01:39:02
Laurie @49; Recently we've alwaysneeded 6 players; Martinez said it years ago now. Poor teams always need 6 players and we're a poor team; it's only good teams that need 3 players... nb: top teams already have them, that's why they're top.
Mike Gaynes
51
Posted 24/07/2018 at 01:54:27
Richie (#45), in your back-4 alignment, I think Baines will start at left-back over Digne. He's much the superior attacker. Digne's defensive abilities will show up best when Silva plays 3 at the back.
Michael Morgan
52
Posted 24/07/2018 at 02:56:58
I think some of you have misinterpreted this article and think he is trying to get 6 players in before the window shuts. If you look at the first sentence:
"Marco Silva says that, ideally, he would be looking to bring in as many as six players before the transfer deadline but admits the emphasis will be on quality not quantity."
He mentions in the first lines that in an ideal world he thinks we need as many as 6 players before the deadline, and in last couple of lines, then admits that the priority will be bringing in quality and not quantity.
In other words, his earlier comments of only bringing in 2-3 stands.
You never know, though, if they do well in offloading a lot in the next couple of weeks, Moshiri may free up the money to get another player nearer the deadline.
Gareth Rosslee
53
Posted 24/07/2018 at 03:53:34
Connor (48) – he was celebrating a goal, not missing from 2 yards.
Alan J Thompson
54
Posted 24/07/2018 at 05:11:02
Is it just the managers that Everton get or do they all want to buy 6 or 7 more, presumably better players and why do they all seem to go back to their previous clubs?
It's just one of dem songs...
Mike Kehoe
55
Posted 24/07/2018 at 07:54:01
I hope the Digne talk is just a ploy to pressure Celtic 're Tierney as that lad is absolute quality and the chances are his value would only go up. This is a time of transition so all players we go after will have inflated prices just like city: it's easy to forget they splashed out on some shite at first.
All managers seem to say the same non committal empty sound bites and there are echoes of Moyes, Martinez and Koeman which is always a worry. I've liked Silva since he came in at Hull and I have genuine optimism he will get it right.
Optimism is an illness I experience every Summer and I know I need help.
David Ellis
56
Posted 24/07/2018 at 10:24:38
A bit disappointing that he's saying we need to buy 6 more players. It's a backhanded swipe at his predecessors that helps justify future failure...although in this case it probably does justify future failure.
I would want him to focus on getting juice out of what we have. All of our players (apart from Sandro and Klaassen) have "done it" in the PL so should be capable of doing it again if the manager can just get them fit and able to gel in a system that works. That's what he's paid for.
Looks like 3 will come in (Left forward, left back and central defender). I'm not even sure how he intends to set up the midfield let alone know what the gap is. Two DMs plus an AM (Gana, Schneiderlin and Sigurdssen?) But Gana and Schneiderlin can't play together as neither of them has the distribution skills, and we need at least one of them to do that . So its a replacement for Schneiderlin that is the real missing piece (because in the pure DM role I think Gana is more consistent).
Ian Burns
57
Posted 24/07/2018 at 10:33:18
Silva will bring in three players for sure. Richarlison; plus a left back and centre back. No surprises there and he will get shut of Schneiderlin if at all possible, so he will be taken out of the equation.
Personally, I would like to see Mooy of Huddersfield come in as he seems to fit the sort of player Silva would fit into his team - but if he gets the three aforementioned I for one will be happy going into the new season.
Derek Knox
58
Posted 24/07/2018 at 11:34:05
Ian@57, I would like to see Schneiderlin moved on too, while presumably he has some value, even if it results in a loss.
I just don't see what he adds to the side, every now and again, he has a good game, then reverts back to being poor, he always seems to get picked which I can't fathom either.
Paul Bernard
59
Posted 24/07/2018 at 11:55:05
I think we would struggle to get 6 players in. Mainly because of the wage bill plus outgoings will probably be cut price deals.
Tierney, Mina and Lozano would of been my preferred choices. Looking likely that it will be Digne, Mina and Richarlison.
So we are looking to address LB, CB, LM. I still believe the priority should be pace and power like a toure type in the middle (doucoure), then a seasoned playmaker to help ease the burden on Gylfi (id still take Mata if possible). That makes it five needed, the 6th player I'm not sure about, back up keeper or striker maybe?
John Wignall
60
Posted 24/07/2018 at 15:18:45
Spot on Derek @58 get Tierney of Celtic Gibson of boro another center half Chelsea's loftus check
Derek Knox
61
Posted 24/07/2018 at 16:47:12
John@60, I am unsure about Gibson, mainly because I know very little about him, I have watched Boro play a few times, mainly to see how Besic was faring, and can't recall him being anything out of the ordinary. Maybe you can enlighten us.
Tierney of Celtic yes, but can't see us getting him, if as we are led to believe, negotiations over Digne are well advanced.
Loftus Cheek, I would have in a heartbeat, even if it was only a loan with a view to buy (fix the fee first) as I think he could be the dynamic midfielder that would compliment the team.
William Cartwright
62
Posted 24/07/2018 at 18:17:44
Quality is what is required, not necessarily quantity, and quality in the right amount would be very good.
Off topic but related is the interview give by Besic on Everton's web site. He was very confident in his own ability, without any arrogance, and refreshingly very respectful to his midfield partner against Lille, Connolly. When asked if he was 'guiding him through the game', his response was "he's a very good player in his own right, a grown man who doesn't need guidance from me " . . . or words to that effect.
I really like his style, demeanor, call it what you will, and I think he could be a surprise package for us this season. After his great performance against Lille, I think he was given a short run out at the end of the Porto game, as a gentle reminder that he is in Silva's plans. If Silva can get him to smooth off the couple of rough edges, the hot flush moments he is prone to, he could be a very good player for us. Still seems committed to Everton; more than can be said for Lookman for example.
Tony Everan
63
Posted 24/07/2018 at 18:22:13
Ian #57, I too think that Aaron Mooy is a cracking little player, a very good signing for Huddersfield. Committed and strong. Part of the reason they stayed up.
I'm not sure he would be the right fit for us, he's quite small and 28 soon, so would have no resale value. Saying that he is better than most of our lot. Maybe we could do a swap with Davy!
John Smith
65
Posted 25/07/2018 at 07:10:01
"For the first time in years, reading what our manager says makes me happy. We must be sure they can improve our squad."
Koeman said that exact same thing.
John Wignall
66
Posted 25/07/2018 at 08:09:55
Looks like the manager has seen enough of the players in pre-season. Now let's get some decent players in with pace and power – oh, the right attitude.
Alex Parr
67
Posted 25/07/2018 at 08:29:35
Someone who I wouldnt mind seeing, other than the usual names of Loftus-Cheek etc, for the '8' role, is Ander Herrera. More creative than I think he is given credit for, a good box-to-box midfielder, well suited to that role.
Hes in the battle for centre midfield spaces with Matic / Pogba / Fellaini / Mata / and their Mourinho-favourite young prospect McTominay.
Lewis Barclay
68
Posted 25/07/2018 at 21:59:09
Loftus-Cheek please
Add Your Comments
In order to post a comment, you need to be logged in as a registered user of the site.
Or Sign up as a ToffeeWeb Member — it's free, takes just a few minutes and will allow you to post your comments on articles and Talking Points submissions across the site.