Everton suffer a familiar League Cup fate
Tuesday, 2 October, 2018
Everton 1 - 1 Southampton (3-4 on pens)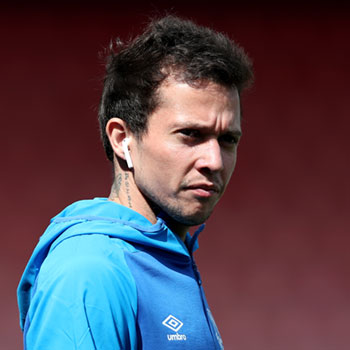 Bernard finally gets his first start as an Everton player following some exciting cameos
Everton are out of the Carabao Cup at the third round stage again after going down 4-3 on penalties to Southampton at Goodison Park.
Marco Silva rang the changes again with seven alterations to the team that started against Fulham but the Blues never really got going in the game and fell behind to Danny Ings's goal at the end of the first half.
Silva threw on Oumar Niasse, Richarlison and then Theo Walcott as the second half progressed and the huff and puff finally resulted in a late equaliser, scored by the former Saints forward against his old club to force penalties.
Unfortunately, having dragged Everton back into the tie, Walcott missed the crucial spot-kick after Maarten Stekelenburg had restored parity in the shoot-out following Richarlison's ballooned penalty by saving from Matt Targett.
The manager had elected to keep Michael Keane and Kurt Zouma, who have formed a solid-looking partnership over the last couple of games, in team while Maarten Stekelenburg was handed the starting role between the sticks like he was in the last round.
Leighton Baines was recalled after losing his spot to Lucas Digne, and Morgan Schneiderlin came back into midfield alongside Tom Davies.
Gylfi Sigurdsson and Walcott were rested to allow Kieran Dowell and Ademola Lookman to start while Cenk Tosun and Bernard was also in the starting XI for the first time.
The two sides sparred in even fashion for the first quarter of an hour, with Stekelenburg the only goalkeeper to be worked in the early stages, saving from Ings.
Tosun had the first genuine sight of goal for the Blues but tried to do too much rather than take a shot and was closed down before the Turk exchanged passes with Bernard and the Brazilian forced a good save from Angus Gunn with an excellent effort.
Lookman became an increasingly inventive force as the half wore on and he went very close just past the half hour mark when he whipped a shot that curled inches past the post.
Everton got into a mess late in the first half when Schneiderlin's pass was unseen by Keane and it was seized upon by Southampton but while Nathan Redmond beat Stekelenburg, he was denied by the woodwork.
That merely delayed the inevitable by a few seconds as Ings ran at the home defence and fired past the 'keeper, who barely moved as it rolled past him, just before half-time.
Silva responded at the start of the second half by taking Dowell off and introducing Niasse to partner Tosun.
Lookman looked to have been handed his first goal of the season when he was put in one-on-one with the 'keeper but Gunn did superbly to make the save with almost an hour gone.
Richarlison was then added to the equation when he replaced Lookman but it was Stekelenburg who was next to be forced into action with a brilliant save off a corner as he palmed Bednarek's header over.
Hojberg then had another chance for the visitors but put it over as the home side struggled to create anything of their own at the other end.
A penalty claim when Richarlison went down under a challenge from Jack Stephens but referee Chris Kavanagh waved away the appeals.
Everton were consistently frustrating going forward but Kenny went close with a cracking effort before Schneiderlin was withdrawn in favour of Walcott with 12 minutes to go.
A rare breakthrough for the Blues saw Richarlison break towards goal and the Brazilian went down to howls of protest from the home fans but no free kick was given.
Seconds later, however, the equaliser finally came. Niasse picked up Zouma's header, played in Walcott and the substitute made no mistake with just Gunn to beat.
Keane had an opportunity as the clock ticked into the final minute but he despatched a free header over the bar before Tosun tried to capitalise on an error by Maya Yoshida but the 'keeper foiled him as he tried to take it around him.
Penalty shootout:
Baines: scores, 1-0
Ings: scores, 1-1
Tosun: scores, 2-1
Davis: scores, 2-2
Richarlison: misses, 2-2
Hojberg: scores 2-3
Zouma: scores, 3-3
Targett: saved, 3-3
Walcott: saved, 3-3
Soares: scores, 3-4

Kick-off: 7:45pm, Tuesday, 2 October 2018
Referee: Chris Kavanagh
Last Time: The two clubs have never met before in the League Cup but have in the FA Cup: Everton 2 - 1 Southampton, 10 January 1987
Everton: Stekelenburg, Kenny, Keane, Zouma, Baines, Davies, Schneiderlin (79' Walcott), Lookman (60' Richarlison), Bernard, Dowell (45' Niasse), Tosun.
Subs not Used: Virginia, Holgate, Digne, Gueye.
Attendance: 30,545
---
Reader Comments (222)
Note: the following content is not moderated or vetted by the site owners at the time of submission. Comments are the responsibility of the poster. Disclaimer
Justin Doone
1
Posted 02/10/2018 at 19:59:03
Noooo... not Schneiderlin!
Why oh why do we insist on playing him? Gana is the mop for Davies's sometimes wayward passing. How can Davies improve playing alongside such a liability as Schneiderlin?
More changes than I thought but happy Lookman, Bernard & Dowell start.
If we lose 5-0, it will be disappointing but, in the scheme of things, I don't care about this cup and I have a donkey to pin the blame tail on.
I'm just waiting for the next injury to curtail our potential progress and I can understand resting Pickford, Richarlison, Calvert-Lewin, Gana and Digne.
Danny Baily
3
Posted 02/10/2018 at 20:42:02
Gutted if we drop out of this, very little to get excited about as an Everton fan in recent decades.
Let's hope we can turn it around 2nd half.
Anthony Murphy
4
Posted 02/10/2018 at 20:45:45
Justin, I would love to see us win a bit of silverware mate. Our record in this competition is appalling and we really can't be too choosy given our route to honours is this and the FA Cup.
Peter Cummings
5
Posted 02/10/2018 at 20:50:01
As usual, we dominate but can't put the ball in the net with clear cut chances. So, instead of being two up, we are now in real danger of another early exit unless we can do a Fulham turn-around in the next 45.
Neil Lawson
6
Posted 02/10/2018 at 21:33:08
I fancy Baines and Tosun to tuck away their pens. No faith in the rest !!
Jay Wood
[BRZ]
8
Posted 02/10/2018 at 21:48:25
Well, that's a bummer.
Sounded a very tepid performance from Everton in the 2nd half.
Colin Glassar
9
Posted 02/10/2018 at 21:48:44
Losing to Southampton at home is worse than pathetic
Tommy Coleman
10
Posted 02/10/2018 at 21:49:03
Piss off, Everton. We never take this competition seriously.
Who do we think we are?
Christy Ring
11
Posted 02/10/2018 at 21:49:26
Shocking penalty by Richarlison.
Simon Dalzell
12
Posted 02/10/2018 at 21:49:49
Just such a familiar feeling.
Mark Andrews
14
Posted 02/10/2018 at 21:51:49
We didn't even get a honeymoon period with Silva. Remind me again why we poached him?
Kieran Kinsella
15
Posted 02/10/2018 at 21:51:57
I just didn't understand the logic of changing a winning team, as I said beforehand.
Stekelenburg is 36, why play him? hardly one for the future? And then we dropped the attacking trio of midfielders who finally clicked against Fulham, even though we do not have a reliable striker. Seemed foolish to me to roll the dice like and put a couple of kids and a guy who hasn't started a game in 6 months in their place.

We can have a go at individual players but, for my money, Silva blew this with his selection tonight. Does that mean I am on the "sack him" bandwagon? No... but simply I am annoyed he threw away a chance of a trophy.
Neil Lawson
16
Posted 02/10/2018 at 21:52:10
It's laughable. Get paid superstar money and cannot score from 12 yards.
Yet another opportunity to progress to Wembley and win some silverware, but thrown away by yet another insipid performance against a bang average team.
Andy Meighan
17
Posted 02/10/2018 at 21:52:19
Don't know why we bother entering this competition.
Colin Glassar
18
Posted 02/10/2018 at 21:53:58
Or any other Andy
Ralph Basnett
19
Posted 02/10/2018 at 21:54:08
When we beat them earlier in the season, we were second best... so what do we expect?
This is Everton and until we have scouts like them over the road, we will always be a mid-table team.
We are constantly given crap football, week-in & week-out, whilst our players on massively over-inflated salaries don't give a flying one and our management team sign injured players – now if that isn't a sign that we are mid-table mediocrity with no ambition, then what is?
Goodbye to another trophy, to what should be a lesser team with the money we have spent, and hello to more humility!!!!!!!!
Once again, thank you, Everton – you make me feel so proud.
Chris Gould
20
Posted 02/10/2018 at 21:55:42
So, we acted like a big club and nonchalantly rested players, then remembered that we're not a big club and that we're actually shite.

Michael Kenrick
21
Posted 02/10/2018 at 21:56:12
I don't think we have any choice, Andy (#17) but changing our line-up after sticking with them for two games in the Premier League?
Seven Changes??? You would never do that for a Premier League game, so why for a League Cup game? The only rationale is that you don't think it's important. It's not a game that you need to win.
Utterly shameful.
Danny Baily
22
Posted 02/10/2018 at 21:56:21
Just the FA Cup to go.
Can't describe how disappointed I am with tonight's lineup and result.
Andy Crooks
23
Posted 02/10/2018 at 21:56:44
Desperately disappointing to lose to such a poor side. Poor performance by the players, dreadful performance by the coach.
This should have been our most important game of the season so far. Utterly woeful from Silva. Back to the league again. Another chance of a trophy arrogantly fucked off.
Paul Kelly
24
Posted 02/10/2018 at 21:56:47
Poor Mr Tran, first time in years for that.
Frank Crewe
26
Posted 02/10/2018 at 21:56:51
Same old same old. If these games prove anything, it's that we do not have a bunch of superstar youngsters just waiting for their chance. Kenny flop, Davies flop, Dowell flop, Lookman flop. Unless we pick our very best side, we will lose.
Managers complain about sackings yet picking sides like that gets you knocked out of competitions. It's like they never learn. They bring it on themselves.

Phillip Warrington
27
Posted 02/10/2018 at 21:57:09
Why do Everton managers get a brain freeze when it comes to the cups and rest what good players we have??? Christ, these cups are the only chance we have of winning silverware!!!
They should be more of a priority than the Premier League and yet another year and another bullshit lineup and another bullshit loss and more ammo for our closest rivals to piss in our face.
Well done, Silva.
James Stewart
28
Posted 02/10/2018 at 21:58:03
Silva is a total disgrace for picking that starting 11. Disrespected the opposition, competition and his own fans. We are not in Europe, don't play again for over a week and haven't had a sniff of Silverware for over 20 years.
PLAY YOUR BEST FUCKING TEAM!!!
Shameful!
Andy Meighan
29
Posted 02/10/2018 at 21:58:15
Too right, Colin. We should have had enough to beat them tonight over 90 mins but, once again come up short. Okay, penalties are a lottery but, over the years, we've lost more than our fair share. Honestly, who on here would have tipped us to beat Leicester away anyway? Weakened side or no weakened side... Season over already.
Michael Lynch
30
Posted 02/10/2018 at 21:58:20
I actually can't believe Marco Silva just did that. Seven changes to a winning side in a cup competition that we stand an (outside) chance of winning – if he wanted to rest players he should have done it on Saturday at Leicester in the Premier League, a competition we have absolutely fuck all chance of winning.
Hywel Owen
31
Posted 02/10/2018 at 21:58:33
Silva's team selection proves exactly what he is. He will never make a successful Premier League manager and the sooner he is sent on his way to League One the better. That is about his level.
Why do we not employ a manager with a pedigree who has actually won things at the highest level? If we persist with Marco Silva, I am afraid we shall be bouncing along the bottom for the next two years.
Tommy Coleman
32
Posted 02/10/2018 at 21:58:39
At least it was good to watch Vlasic score and put in a MotM performance against CSKA 1-0 against Real Madrid.
Kieran Kinsella
33
Posted 02/10/2018 at 21:58:44
Now we can focus on 40 points. Rome wasn't built in a day. At least we are more entertaining than under Sam... etc etc etc.
This is the stuff I would hear from Newcastle and Sunderland fans when I was a kid. I used to think they were delusional fools.
Ian Lloyd
34
Posted 02/10/2018 at 21:59:26
Trying to stay level-headed and not start getting annoyed again but, as people have said, it's our only chance of silverware and we rest 6 players?
Surely you should try and keep the momentum going and keep the players that beat Fulham rolling and gelling and maybe get to a semi-final along the way? No?
Tony Twist
35
Posted 02/10/2018 at 21:59:39
I couldn't care less about winning a cup, I only care about winning week-in & week-out, and we are a million miles away from there. We are embarrassing and have been for years. It is pathetic, the game plan has to fail before we even bother to start to play.
Anish Dosani
36
Posted 02/10/2018 at 21:59:41
And one of the players who's out on loan who scored against Real Madrid tonight...
Kieran Kinsella
37
Posted 02/10/2018 at 22:02:42
Tommy Coleman (#32),
What was good about it? Either he is at CSKA because he is an inconsistent cry baby, or because the management here are idiots who can't see his ability. Either way, I don't see a positive.
Ian Lloyd
38
Posted 02/10/2018 at 22:02:54
And Bolasie scores... and Besic scores... and Vlasic scores... and Klaassen keeps scoring... lol
🤔
Steve Hewitt
39
Posted 02/10/2018 at 22:03:09
If we are to win anything, we need to get the basics right and that includes management decisions. We are not in Europe, so there is no reason to rest anyone – Saturday's team should have started.
Always play your strongest team (Marco's words when he joined) unless you need to rest players due to number of games. Bring on the other lads if we go in front, that way they are brought into a winning environment. That is a management decision.
Very disappointed that Marco himself told us he saw no reason to make changes – players need to earn the right to get on the pitch. He clearly understands the above principle but then chose to make seven changes. His decision has backfired.
We won't win the Premier League, will finish top half but we could have won this or the FA Cup. One of two trophy options has been removed – not down to the players who started – they worked hard; it is down to a poor management decision. I'm a Marco supporter but some faith has been lost tonight.
Justin Doone
40
Posted 02/10/2018 at 22:03:15
Well I can't say I'm surprised or bothered. Just disappointing that we bothered to bring Ric and Walcott on instead of keeping them well rested for the weekend.
It may give them extra motivation in the next few weeks and helps prove one thing, Baines is and always should be our main penalty taker.
I blame Silva and Schneiderlin. Silva can make amends by never playing Schnides again. Schneiderlin can donate his salary to charity and put in a transfer request.
Don't get me wrong – I'd love to win silverware... but this competition has never been kind or anything other than a distraction.
I want to win every game, but I know football and I know Everton. So, out this round or next round, I'm not bothered because we were never going to win it.
Where and how well did Dowell play?
Liam Reilly
41
Posted 02/10/2018 at 22:04:12
I can't understand the rotation when its effectively only 6 extra football matches.
Charlie has just missed 3 games so certainly doesn't need resting and the rest of the first team surely would rather play than sit it out.
Very disappointing.
Pat Kelly
42
Posted 02/10/2018 at 22:09:11
Seriously, does anyone think we can win anything else this season? The fans deserve better. Give this competition a go instead of taking the piss with that selection. Sent all the wrong signals. Including to Southampton. Silva has won no fans tonight.
Kieran Kinsella
44
Posted 02/10/2018 at 22:15:50
Mike Walker was probably better than this guy and he was earning about a tuppence halfpenny. For all the stick he gets too, Peter Johnson at least led us to a trophy. We have had nowt since he left. Grass isn't always greener. The mid 90s are now as good as it is going to get for us.
Eric Paul
45
Posted 02/10/2018 at 22:16:27
Clive Rogers @103,
Sigurdsson and Tosun finally find the net.
I think there is
Steven Astley
46
Posted 02/10/2018 at 22:16:50
Another loanee Ashley Williams and ex blue Martina kept a clean sheet tonight as well... I don't see anyone getting a hard on over that though?
Jay Wood
[BRZ]
47
Posted 02/10/2018 at 22:16:51
It is strange how Marco Silva went against his own words with his selection.
Just yesterday, he spoke about Everton respecting and having ambitions for this competition.
He then went on to say he didn't believe in making too many changes between games. And then he goes and makes 7 changes.
Okay, it 'sounded' (because like many I'm sure I could only follow the official club audio commentary) as if Bernard and Lookman played well in the first half and we were the better team, until conceding to a sucker punch on the stroke of half-time.
But the 2nd half sounded tedious and tepid, with Everton being neither inventive nor penetrative enough to seriously threaten the Southampton goal.
This was very much a competition we should have targeted but, once again, Everton and their manager have been too casual in their selection and application for a winnable game.
Silva deserves some pelters for this exit.
Annoyed.
Jerome Shields
48
Posted 02/10/2018 at 22:19:38
Very disappointing, getting beat by Southampton at home.
We need cup runs, I don't think that Silva took this game seriously enough.
Peter Cummings
49
Posted 02/10/2018 at 22:19:57
The writing was on the wall when we gave them the a soft goal after dominating the game in the first half without putting our own gilt-edged chances away. Then, taking Lookman off. Instead, we completely reversed our first half confidence to revisit the old habits we have become used to over the last few seasons.
What Silva was thinking of by not fielding our most powerful lineup against a second-rate Saints crew is beyond reasoning, methinks another anonymous season is on it's way.
Gary Hughes
50
Posted 02/10/2018 at 22:21:49
I really wish I could cut loose of this horrible joyless twat of a football club.
Christy Ring
51
Posted 02/10/2018 at 22:23:13
He started Lookman, Bernard and Dowell, does Silva deserve to be slaughtered for that? As for Vlasic, Bolasie and Besic scoring, still not good enough for the Premier League. Vlasic can come back a better player, the reason he went out on loan.
Kieran Kinsella
52
Posted 02/10/2018 at 22:24:34
Christy,
Yes, he does — because we lost.
Danny Baily
53
Posted 02/10/2018 at 22:24:39
If we're not serious about winning trophies then what is the point of our club?
We've done this for years. I remember Martinez resting Howard in the FA Cup during his first season.
Along with avoiding relegation the cup competitions are our top priority for this season.
Justin Doone
54
Posted 02/10/2018 at 22:25:14
We went out on penalties in a cup competition that a large number of fans and players aren't to bothered about.
Every loss is disappointing but seriously if you think we had a good chance of winning it then you haven't been watching Everton this season.
To keep it short Martinez mk2. I only hope in reverse because some of the players Silva has attracted to the club are wonderful and should mean in general we improve as time goes on, not get worse.
If only there was as much passion and noise shown at Goodison each match as there is on ToffeeWeb it could be electric!
Jamie Crowley
55
Posted 02/10/2018 at 22:25:15
I listened to the game while at work. I had called for Dowell to play, but certainly didn't want 7 changes!!!
Arrogance and disrespect spring to mind.
Jay Wood at 47 sums up my feelings exactly, and says it much more eloquently so I'll leave it at that. As right now I'm so mad my post would be laden with f-bombs if I got into it.
Absolutely pissed.
Jim Bennings
56
Posted 02/10/2018 at 22:25:33
Utter shite!
Am I surprised? No.
We are still a shite team and our squad still has far too much shite in it.
We are crying out for a top striker because whilst we desperately want Tosun to succeed he's not good enough let's be honest.
Schneiderlin and Davies I mean just why?
Why why why?
Awful players.
Can find no positives to say about tonight and Silva needs a word with Richy over that bellend antic on the penalty, just take the bloody thing.
Maybe after tonight people can see why Sigurdsson offers that creative spark in the middle that none of the others can.
Oh and why take the brightest players Lookman off?
Colin Malone
57
Posted 02/10/2018 at 22:26:41
A perfect example wherethe athlete is priority over the footballer: Niasse.
Pat Kelly
58
Posted 02/10/2018 at 22:26:59
Jim, Silva wanted out of that cup. No two ways about it.
Hywel Owen
59
Posted 02/10/2018 at 22:27:23
I don't think we need ponder too much about what Silva says because by his actions he has proved that he doesn't have a clue about how to manage a fairly successful team. He is a fraud who should never have been employed in the first place.
Mourinho might be available shortly...
Kieran Kinsella
60
Posted 02/10/2018 at 22:29:00
Mike Walker's first two home games we scored 10 goals. This joker from Estoril? God help us if he presides over a last-day-of-the-season relegation decider.
Eric Paul
61
Posted 02/10/2018 at 22:29:11
Christy,
He should be slaughtered for making 7 changes to a winning team in the only competition we have a realistic chance of winning — and then taking Lookman off, not to mention Niasse!!!!!!!!!
Tommy Coleman
62
Posted 02/10/2018 at 22:29:41
Kieran Kinsella 37.
I enjoyed his performance as he's an Everton player and I wanted him to do well. No negative angle there for me.
Kunal Desai
63
Posted 02/10/2018 at 22:30:00
Oh well. Roll on first week Jan. FA cup weekend begins.
Ian Riley
64
Posted 02/10/2018 at 22:30:31
What are we rotating for? Fighting for the title? Champions League? Let's be honest, the season is over? Our only chance of a cup run and installing confidence has gone!
Who is to blame? The manager. Play your best team from the start! Our squad players are not good enough to hold their own against Premier League teams.
Another long hard winter ahead...
Derek Knox
65
Posted 02/10/2018 at 22:33:37
The thing is, as if tonight's team selection with so many changes wasn't bad enough, any momentum that was built, along with confidence from Saturday's result has gone.
I just don't think Silva knows what he's doing himself, we have had a relatively easy fixture list to start the season off, and has made hard work to gain half the points, that should have been a given.
Kieran Kinsella
66
Posted 02/10/2018 at 22:34:03
Tommy Coleman
Sorry mate I get your point I am just frustrated
Tony Marsh
67
Posted 02/10/2018 at 22:34:57
Lose at the weekend and Silva is in big big trouble. Fans unhappy already. Same shit tactics, gameplans and useless players that got the last two managers the sack. Why do that shit tonight ??
I don't understand how an under-pressure manager can send out weakened side in a cup game knowing he could lose and turn up the heat on himself. It is crazy and idiotic. Doesn't Marco Silva realise he is losing the fans? Can't Marco Silva spot the frauds in the squad yet??
The last 4 home games read as L 2, D 1, W 1. These results all against teams we should wipe the floor with. This season is over and it's only just turned October. The leaves are still on the trees, the Sun is still shining... and EFC are all but done until next season. What is the fucking point in any of it??
Expect some New Stadium bullshit to come out in the next week. We should've given Eddie Howe the job if we could've convinced him to move North. Out of all the managers who would possibly take the Everton job, Eddie ticks a good few boxes.
Now we are stuck with the Portuguese Martinez. Those of our fans who didn't want Marco to get the job are being proven right so early in Silva's tenure.
I can only see it getting worse. I was fooled yet again this summer and I feel sick about it.
Jim Bennings
68
Posted 02/10/2018 at 22:35:19
Oh well now we can spend the rest of the season concentrating on finishing in Mickey Mouse 8th place after getting knocked out of the Mickey Mouse Cup (as assheads label it).
Usmanov couldn't be more right when he said Everton arent anywhere near where they should be.
We are actually miles away despite spending money and tonight again showed us that the squad is very very mediocre, getting outplayed at times by a poor Southampton side.
Chris Watts
69
Posted 02/10/2018 at 22:36:24
As someone else said Richarlison has had a 3 game ban I don't know why he was rested. And shrek never seems to make any saves so I would have played Pickford aswell. We all wanted to see lookman and Bernard.
I wonder if some players have played their last game for the club, the league cup has previously been a career ender. Dowell and niasse spring to mind. Tosun not good enough. Morgan shouldn't play again. January is going to be another massive clear out
John Pierce
70
Posted 02/10/2018 at 22:37:53
After spurning the league cup in such an arrogant manor it's elder, more established brother, the FA, will spit out a horrific draw at City.
We deserve nothing less. If ever the recurring theme of a R3 league cup exit symbolizes how the club has little to no ambition.
Top down, utter shambles.
Jim Bennings
71
Posted 02/10/2018 at 22:39:48
As a few people stated already in above posts, why we need to make so many changes anyway?
We have got one more match between now and October 22nd and let's be honest, away to Leicester with our pathetic away record it's only ripe for another defeat on Saturday.
Chance missed again tonight.
Resting players in this competition is all well and good if you are in the Champions League with Barcelona away next week, but Everton resting players to aim for an 7th or 8th place finish at best?
Give me a break.
Tommy Coleman
72
Posted 02/10/2018 at 22:40:04
Kieran Kinsella. Tell me about it. Why do we keep getting managers making the exact same mistakes. Does my head in.
Tony Abrahams
73
Posted 02/10/2018 at 22:41:12
Justin@54, there was 30,000 there tonight who were bothered mate, and they only woke up near the end.
I love good football, I want Silva to succeed, but I'm finding it hard to see a style that is going to be successful though. Early days I know, but we were all over the place by the end, and when I say all over the place, I mean FUCKING all over the place.
Maybe it's the personnel? But if we can't have skill, (okay we had some little patches in the first half) then give us some fight, some heart and some passion, because it was absolutely soul destroying watch us make three changes, and keep Cenk Tosun on the pitch, because all's he did for me was hide.
Paul Birmingham
74
Posted 02/10/2018 at 22:43:20
Nothing to be said that what's aleeady been, stated but at any level in football you keep a winning team.
This level of changes wasn't needed tonight and our best chance in donkies years of progressing and we blew it, which overall tonight with this team was on the cards. Poxy penalties by x2 players you'd bank on to score. Bewildering that they can't cope with penalties.
Angry, annoyed and on Saturday, I'm hoping to be surprised by a positive winning reaction at Leicester.
The stench of failure again is swirling through the night, but this was a chance to shine, and another Diablo record in this cup is maintained.
Terrible reality and it can't be a curse other than under estimation of the opposition and ignorance of selection.
Let's see what Saturday brings. Downhill slalom for the week and work at midday tomorrow so positive and hopeful for Leicester.
Mark McParlan
75
Posted 02/10/2018 at 22:45:15
Very bad performance. Didn't deserve to get through the tie on that showing and would've been mauled the next round anyway.
I'm sick of the mistreatment of the League Cup. Play your best team. It's really that simple. People will call it a Micky Mouse Cup, but I'm sorry, no, beggars cannot afford to be choosers. Who actually cares whether we finish between 8th or 17th, a few years down the line? A trophy is what matters at the end of the day. That's what goes down in the history books. If I'm trying to explain what a great history Everton have, I'm going to list Trophies, not years in which we've finished top whatever in the table. In my lifetime Everton have won nothing. Nothing. And it's absolutely pathetic. There were 30,000 of us there tonight and we care.
So last week against Fulham, who were our two best players? Gueye and Sigurdsson. Where were these two players today? God knows. I don't understand the need for 7 changes. 'Resting' players for Leicester? Seriously?
Stekelenberg didn't particularly do anything wrong but I still fundamentally disagree with the notion of a 'Cup Goalkeeper'. What is the point. Pickford is our best goalkeeper. Play him. What happens if (hahaha) we got to the Final? We play Stekelenberg? I'm sorry, no.
I can understand Baines for Digne. Leighton needed a run out. He was... alright. He appeared a tad rusty. Digne is the better player now.
Glad he kept Zouma and Keane together but I'll still never be totally convinced by Keane. I do like Zouma though.
Kenny is without any real doubt my favourite Everton player. Probably the most underrated player in World football by this point. Personally I think he is absolutely brilliant. He is better than Coleman already. This kid is an absolute star. His crossing is phenomenal. He can pass a ball well. He is so composed, never panics. Another brilliant performance. The only downside was his role in their goal, he could have defended better there. Why defenders keep running backwards when forwards run at them I'll never know. Stand your ground. It's not hard.
Davies was terrible. I'm not going to write him off completely like many will (played well v Arsenal), but he was just bad. Passing remains utterly atrocious. That pass out left at the end... somehow messes up a simple 15 yard pass and sends it flying over Baines' head into the Main Stand.
Schneiderlin is Schneiderlin. Useless sideways backwards passes. And it seems that his ways are now infecting Davies who is rapidly becoming another Schneiderlin. Gueye is streets ahead.
Bernard and Lookman were broadly similar. Hit and miss, both showing spells of great quality but not enough. Neither were bad. Expectations were higher on Bernard, but it was his first 90 minutes in England. Lookman surprised me, better than I expected.
Can someone confirm that Dowell was actually, in fact, on the pitch tonight? I think I might have spotted him once or twice but I can't be sure.
Richarlison wasn't really any better. Kept losing the ball. I hope that spark of the first couple matches hasn't vanished already. Getting slightly worried.
Tosun is woeful. Never a good enough striker in England. Could play him all day and he wouldn't score. Never gets into enough good striking positions and his finishing is not good. Niasse did far more, making things happen in his own weird, weird ways no one quite yet understands. Think Walcott needed that goal just to re-affirm that he is indeed the top winger here.
Haven't been good enough this season. The Fulham game was a step in the right direction but ultimately 2 wins from 8, of which 7 were definitely winnable fixtures, is nowhere near good enough. Worrying times already. Another trophyless season of dispiriting midtable-ness.
Jack Convery
76
Posted 02/10/2018 at 22:48:05
Teams outside the SKY SIX that have won the League Cup since 1995
Villa
Swansea
Birminham - ffs
Blackburn
MIddlesborough - sodden Middlesboro
Leicester - 3 bloody times
IT CAN BE DONE !!!!!!!!! EVERTON are u fn listening ?
Kenny Smith
77
Posted 02/10/2018 at 22:51:53
There's only 2 things we can win so why not at least fuckin try. I didn't see any of the game but saw the team Silva put out and I don't know if I'm missing something. I thought I was quite knowledgeable about the game but maybe not.
At least Besic didn't run from his own half and score and Bolasie didn't get a 91st minute point rescuing goal tonight to top it all off .oh no they they fuckin did !
Kieran Kinsella
78
Posted 02/10/2018 at 22:57:57
Ticket holders wouldnt stand for this resting malarky in other arenas. Oh I bought tickets for a Beatles concert tonight, Oh Look Lennon and McCartney are being rested so the surviving members of the Chuckle Brothers and Chaz and Dave are filling in. Cannot complain though cause my cheering will mąkę or break the performance
Dave Abrahams
79
Posted 02/10/2018 at 22:58:32
Pat (58), Pat with all due respect why would he want to be out of it?.
Silva is getting a lot of stick on here and deserves every
word of it: poor team selection: takes one of the better
performing players off: leaves Tosun on: the player
replacing Lookman was very poor and that was before he took one of the worst and ridiculous penalties I have ever seen at Goodison, or anywhere to be honest, Charlie you are supposed to do the " chicken dance " after you score not on the run up to taking a penalty, have a look at it and see what a " dick" you look, it will most definitely stop you from ever doing the likes of it again.
I thought Kenny, Zouma, Bernard and Baines had good games but the team had too many passengers to win a
competitive game at this level. A disgrace to play that eleven to be honest, we fans deserve much more, but we've been saying that for a long time now without sign
of being taken notice of, and like a drug addict I'll be back for more.
Jim Bennings
80
Posted 02/10/2018 at 23:00:42
What pisses me off is arseholes who seriously think we are better off out so we can concentrate on the league.
Concentrate on what exactly?
Fending off Wolves or West Ham to finish 7th or 8th or maybe 9th or 10th from what I've seen thus far.
Concentrate on the league to be shit away again all season and hardly win?
Concentrate on the league to play the top six home and away, that's 12 matches that we can't win straight away.!
It's just pointless it really is, supporting Everton now is just mundane.
We don't play in big matches because we don't have good cup runs hardly, we could have had a Semi Final in the New Year at Goodison rocking under the floodlight, instead of that we will be getting knocked out the FA Cup at home to Blackburn or some other Championship great ha!
We are just a laughing stock year in year out really.
Gavin Johnson
81
Posted 02/10/2018 at 23:02:44
Everton go out in the early rounds of the League Cup. No news here!!
I didn't see the game but it sounded like a drab tepid performance. A dysfunctional non-productive centre midfield and striker are clearly the 2 positions that need addressing. Hopefully Gomes will be the man who can play with one of our many defensive midfielders (take your pick, none of them excel) and we buy a striker at the next level in January. We need to spend big on someone like Rashford.
People are again calling for Vlasic but he needed to go out on loan. He isn't better than our wide players and he wouldn't dislodge Sigurdsson as our No 10. He'd be spitting his dummy out again had he stayed. If Vlasic keeps up this form he'll come back in the summer, replace Dowell, who'll be sold or loaned, and push Sigurdsson as an all-round better player.
Gary Willock
82
Posted 02/10/2018 at 23:07:11
Schneiderlin must never play again in a 2. He is a liability, not just personally but appearing to affect those around him too. We are desperately soft in that area, particularly without Gueye.
Upfront I've been willing to give Cenk the benefit of the doubt, but he brings almost nothing to the team. Can't hold it, not an arial threat, can't turn quick. Nothing.
The manager really ballsed up going 4-4-2 and pulling Lookman off who didn't deserve it. Unless Gana was not right, he also balsed up not bringing him on for Schneiderlin at half time.
Until we sort that centre and uptop, we are REALLY going to continue to struggle. Next game, 4-3-3 please
Pickford
Kenny Keane Zouma Digne
Siggy Gana Bernard
Lookman Walcott Richarlison
McCarthy and Gomes - SOS!
Kieran Kinsella
83
Posted 02/10/2018 at 23:07:42
But Jim
We could reach the dizzy heights that Burnley rosę to if we throw the Cup.
John Raftery
84
Posted 02/10/2018 at 23:09:15
Tonight we had a lightweight team with a lightweight manager. At least this result will enable us to concentrate on staying out of the relegation battle.
Michael Lynch
85
Posted 02/10/2018 at 23:11:56
Clearly Silva wasn't just "resting" players, he wanted to give squaddies a run-out so they get some competive minutes on the pitch. I get that, keeps the likes of Lookman happy and also makes sure they're primed and ready when they're needed. But why do that in the one trophy we might win? Give Lookman 30 minutes on Saturday. Let Stek go between the sticks for the home game in December against Newcastle. Cos if we lose those games, it's okay we play in the PL again the next week. But tonight we were knocked out of a tournament.
What the fuck is wrong with these managers? I can only assume it's a directive from the money men in the Directors' Box - we make more money from finishing one place higher in the PL than we do from getting through a round of the League Cup.
The gulf between the fans and the clubs is so wide these days.
David Connor
86
Posted 02/10/2018 at 23:12:30
The dreaded penalty shootout is a lottery. Derby dumped Man Utd out last week. Southampton do us tonight. But, as I have thought for a long time now, our squad is absolute fucking dogshit.
The guy has at least 2 transfer windows to get rid of the crap we have and get a better quality player than we already have or he will go the same way as the last three Charlies we have had in charge have gone. We will wait and see.
Dave Lynch
87
Posted 02/10/2018 at 23:13:12
Just in from the game.
Everything else apart, being clueless, useless, tactless and any other less you can think of.
What the fuck is Davies doing in an Everton shirt?
He is what we used to call a headless chicken, I watched him in the 2nd half intently, he doesn't mark, pick anyone up, track runners, is constantly passing backwards or sideways, lacks any pace and has no footballing brain.
Either that or I was watching a different player.
Really seriously pissed off tonight.
Colin Malone
88
Posted 02/10/2018 at 23:17:55
Bernard, our only midfielder with some guile, is wasted on the wing.
Simon Smith
89
Posted 02/10/2018 at 23:18:08
Couldn't agree more Jim!
We draw a top 4 side in the f.a cup early on and our season is over again in January.
Most of the idiots who say concentrate on the league are the same ones who don't want us to take the Europa league serious if we get into it, I'm not sure what them fans see, but imo top 4 is miles out of reach so a good run in the cups and a Europa finish is as good as it gets for this Everton side.
Don't take this wrong as I'm not calling for Silva out, but he has to take some responsibility here, he made a very poor substitution in taking off Lookman, the kid carried our biggest threat. Once he went a lot of invention and speed of play disappeared from the team.
I also find it mind boggling to drop your first choice keeper for cup games. Evertons goalkeeper can not win the league, therefore the only chance at silver wear is in cup competitions, I can't see why any one would drop your first choice keeper for the cup.
Silva has made big errors in other games this season too, none smaller than the Bournemouth game were his 10 men gave him a 2 goal lead and his lack of substitutions killed us.
After seeing tonight's game I'm even more convinced that no out and out forward is the way forward for us. Most games we don't need 2 holding mids either, I'd start Gana with Sigardson in centre mid, Gana will be there winning balls and Siggy can take it from him and create. In front of them two I'd go with Bernard, Walcott, Richarlison, and Lookman. One of Richalson or Walcott can operate through the middle, I'd also like to think that all clever enough to mix it up and make it hard for defenders.
Tosun, DCL nor Niasse is good enough imo, so the above seems a logical choice, we only have to look across the park to see that an out and out forward isn't needed.
Kieran Kinsella
90
Posted 02/10/2018 at 23:19:33
Time to get serious. Mosh should have a press conference tomorrow. Bring out Silva, Kenwright, Schneid, Cenk, and Tony Hibbert for old times sake. Then say You are all fired. Have Security escort them out. Then bring in Tony Marsh, Speedo Mick, Tony Bellew, Dick Brody and Lionel Messi to replace them. That would send a message
Ray Smith
91
Posted 02/10/2018 at 23:22:33
Justin 54
I agree with your comment about not winning things.
I have sat through every minute of every home league match this season, and apart from the second half against Fulham, I have seen nothing that convinces me that this season will bring anything other than a top half finish.
I'm not overly surprised at tonight's result, when we should have played the finishing 11 against Fulham.
It certainly grates, but that is what you get for being an Evertonian.
We have to stick with Silva, and give him 2 more windows, then judge him, IMO.
Someone in an earlier post said Rome wasn't built in a day, which is true, however, it was built on firm foundations which we do not currently have, but we will get there.
Jim Bennings
92
Posted 02/10/2018 at 23:26:54
Simon Smith
Spot on!
Top 4 finishes are nothing but a distant fantasy and as likely as me waking up next to Scarlett Johansson.
The top 6 let alone top 4 are in a different stratosphere to us right now, our players know it every time they walk on to the pitch against one of them.
We just wanted a Cup run to keep that hope alive for a little longer but as usual we are out before the bloody clocks even go back.

Rob Dolby
93
Posted 02/10/2018 at 23:28:00
I think, even with Saturday's team, we would struggle. I am yet to see what we are trying to achieve. Zouma and Keane must have more possession than any other outfield players.
Not enough movement or interchanging of positions. I just hope this isn't what Silva is all about. We are at home but sit deep and don't close the ball down. For long periods, we have looked 2nd best in every home game this season.
Only Bernard comes out of this game with any credit and should play on Saturday. I have said it before: we have too many players who haven't got a clue what to do off the ball. It's hurting us in every game.
For the match-going fan, another reason not to even contemplate having VAR. Potential penalty and red card waved away which is fair enough. VAR then wastes a minute, kills whatever atmosphere we had, then the time didn't get added on.
Another frustrating night.
Frank Crewe
94
Posted 02/10/2018 at 23:29:01
If you could guarantee me that saving players tonight would result in a nailed-on win at the weekend, I wouldn't mind so much. But it won't. We are just as likely to lose by not saving players as we are when we do. Then Silva is left with egg on his face and another opportunity to progress in a cup is spurned.
If I was Moshiri, I would sack him right now for not doing his job properly but it would cost millions and make the club look bad so we plod on. There is a reason why only a tiny minority of managers ever win trophies consistently. Because they hold their nerve and really do want to win every single game and not just pretend they do. But those managers are very few. The rest are like Silva. Don't take risks. Pick weak sides in cup competitions, pick players out of form and out of position because he has to "rest" his best players, even his goalkeeper, who barely moves in a game so hardly needs to rest.
Once more, we are treading water while we wait for the next transfer window. Same old same old.
Brian Porter
95
Posted 02/10/2018 at 23:29:17
I'm abso-fuckin-lutely furious with Silva. Bottom line, he lies to us when he said he wouldn't be making changes after Saturday.
Oh no? Oh yes, SEVEN charges to be precise. So, while Nicola Vlasic scores the winner for CSKA against Real Madrid... yes, REAL MADRID, Marco Silva, we lose to fucking Southampton in the League Cup... but Silva knows best, right?
Vlasic is not good enough for Everton but seems to be doing bloody marvellous in the Champions League. Please don't say he is playing in a lesser league because tonight he was up against the best in Europe and didn't look out of place.
I admit I never wanted Silva in the first place but was prepared to give him a chance but he looks out of his depth to me. After Saturday, he should have gone with continuity and played his best eleven to make sure we stayed in with a chance of at least one trophy.
We all know we're not going to win the Premeir League or make the top four this season, so why not go all out in the cups where we did, until tonight, have two reasonable opportunities to win a trophy for the first time in years?
I feel lied to and cheated by Silva who clearly had no intention of prioritising the cup. His management record in the last 18 games he's been in charge of in the Premier League (not including Cup defeats), is relegation form.
Why the hell was Moshiri so in love with getting this guy? It's not like other clubs were queuing up to get him after Watford fired him, were they? Anyone else picked up on that yet?
I fear another defeat coming at Leicester because any confidence we had after the Fulham game will have rapidly evaporated after tonight. Even the players who didn't play will probably think, there goes a chance of winning something with this club.
I fear for what must be going through the minds of people like Digne, Bernard, Gomes, Mina and Richarlison too. You and they only had to look at the team selection tonight to see that Silva didn't seem to have a clue how he wanted to play the game.
After 60 years of supporting the club, my patience is rapidly growing thinner by the week. Why can't we get a manager who wants to win EVERY game and selects the best possible team to do so in every game?
I fear Silva is going to prove to be an expensive fraud. Never mind "It's a project", or "He needs time". Bugger that, he's a football manager and the game is about getting results, by which I mean winning games, not just now and then, but week-in & week-out. So far, I've seen no evidence that he's qualified to do that. His face when we're losing is worth a thousand words. He looks lost and I fear we will soon be with him, looking for a way back to the big time if his time at Hull is anything to go by.
Why do we pick managers with the word "Relegation" clearly stamped on their CVs? You'd have thought Moshiri would have learned a valuable lesson after Martinez, but some folks just never seem to learn.
Rant over, going to bed, with little or no enthusiasm for the Leicester game. I want to be wrong but think they will rip us a new one.
Goodnight all.
Lev Vellene
96
Posted 02/10/2018 at 23:29:25
At least, we can't get knocked out of the FA Cup until January, right? Or do we have to go in earlier as we're with the hopeless-brigade, as all know???
Nick Armitage
97
Posted 02/10/2018 at 23:29:45
Took my 7-year-old nephew to his first night game tonight and he was buzzing and then they started playing. He even commented that we looked second best in the warm-up. He asked why we didn't just score our penalties, so I told him it's because it's Everton.
John Charles
98
Posted 02/10/2018 at 23:32:52
Just back from the game. Truly shocking.
Tom Davies is simply awful, slow, weak, ineffective should never pull on an Everton shirt again.
At least we now know why no-one would play Lookman — because he is shit.
Kase Chow
99
Posted 02/10/2018 at 23:34:52
Anyone know why Bernard didn't take a penalty?
Bill Watson
100
Posted 02/10/2018 at 23:48:26
I've never understood the logic of starting these games with fringe players and then ending up having to chase the game when we, inevitably, go behind.
Very few positives from tonight except for Bernard who looks an exceptional talent.
It looks like we finally have a player who can see the killer pass.
Kieran Kinsella
101
Posted 02/10/2018 at 23:51:54
A little perspective — absolute shite. I am puzzled at the vastly contrasting views on Lookman. Some have praised him tonight while others slaughtered him. I didn't see the game so I do not know what to believe... 🤔
Karl Meighan
102
Posted 02/10/2018 at 23:53:30
Time for Davies to stop living off the goal against Man City. Pink boots, silly colours are reserved for players with ability who carry it off. We could've taken him and Schneiderlin off wouldn't have made a difference.
Jim Bennings
103
Posted 02/10/2018 at 23:53:56
Rob 93
Richarlison went to ground twice easily, VAR checked it and nothing was given.
It's becoming a bit of an annoying trait with Richarlison, it's a trait I don't particularly like seeing in Everton players and he owes us on Saturday especially after that wanker of a penalty.
They all owe us on Saturday and I mean win not draw!
Jim Bennings
104
Posted 02/10/2018 at 23:56:42
Karl 102
Davies is living off that goal against City like Rodwell lived off the back of that goal against Man Utd in 2010.
For me, Davies is a poor man's John Ebbrell with shaggy hair.
Whether he's 20, 30 or 40 he's not good enough at this level, I'm afraid.
Jerome Shields
105
Posted 02/10/2018 at 00:01:04
Since the win on Saturday, after a good second half display, Silva said that was the way he wanted Everton to play. He also said we needed players in settled positions. Then, this evening, he makes seven changes and played players he had dropped, who weren't implementing his tactics in previous games???
The midfield was very poor, especially Schneiderlin. Southampton attacked the heart of the defence and the support and creative play was poor going forward. Forward pass completion rate in the last third was back to the levels against Arsenal.
Out of the League Cup at this stage is not good enough.
Mark Wilson
106
Posted 02/10/2018 at 00:02:35
It's quite something to behold, this "resigned to failure" nonsense of some blues who tut-tut at yet another early League Cup exit with doleful comments about "our usual exit", "affects every EFC Manager", etc etc. The bloody Echo joined in with similar headlines and a history lesson stretching back to 1961 to emphasise how we hate this competition.
It's all utter crap. Silva's behaviour tonight was pathetic. He gained hard-won momentum in the second half vs Fulham, grew confidence, saw some clearly well-designed shape and organisation produce the goods and a clean sheet... and what does he do? Throws it all away with the nonsense of seven changes and a strategically flawed idea that bringing Bernard into this weakened team was the right way to help him integrate and deliver readiness for 90 mins of the best 11.
Bernard of course showed some lovely touches and vision, but this disorganised midfield wasn't the place to allow him to really build something. He should have been the only change from Fulham second half in the game vs Leicester, not here in a weakened setup.
But the man shouldering the responsibility is Silva. It's just an idiotic thing to do. Koeman did it when Norwich embarrassed us. He only won one in ten after that defeat. It's a rubbish decision and it's another setback in a season not brimming with success so far.
I really hate what happened tonight. Put your best team out and get beat trying everything to win and progress, okay. But losing like this in such a nonchalant fashion disrespects the fans, again, at a club which apparently thinks we are too good to compete in this competition. Two and a half decades suggest this is the one chance to win something right now we should take incredibly seriously. I don't care if we win ten-nil at Leicester – it doesn't excuse this pathetic approach and nor does anyone saying "It's always the way". It should never be our way. Ever. Until we are regulars in the Champions League. So again, it should never, ever, be like tonight's rubbish from the manager.
Anthony Murphy
107
Posted 02/10/2018 at 00:04:04
Would be typical Everton to get a FA fine (or worse!) for poaching Silva just days after we sack him...
Joking aside, disjointed, poor football is what you get when you make so many changes. Has it ever been any different?
Don Alexander
108
Posted 02/10/2018 at 00:04:33
I haven't read everything above but my take on Silva and Brands, and hopefully Moshiri too if his now ancient ambition re regular Champions League qualification within three years is still to be taken seriously, now said two+ years ago mind you, is that they've all long since realised what a crock of shit they bought into when they inherited the squad they had when M&M signed on. It'll take a hugely wealthy benefactor to keep that ambition sustainable.
Anyone know "U" that person could be????
Gordon Crawford
109
Posted 03/10/2018 at 00:22:33
Had to compose myself after that crap. What was the manager thinking? And after him saying he wouldn't be making wholesale changes.
We should have been going out to win this tournament; well, that's that. First big mark against his name for me.
Jim Bennings
110
Posted 03/10/2018 at 00:25:05
No doubt that Silva has really set himself up for criticism tonight, first with the team selection and then the daft subs which made no sense.
We really need to be careful because, if we lose at Leicester on Saturday, it's two weeks until the next game, a very tricky looking game against Crystal Palace and then a visit to Old Trafford; our season could rapidly nosedive if we aren't at it.
Simon Smith
111
Posted 03/10/2018 at 00:25:17
Kieran 101;
Lookman was the standout player on the park first half, always working at a high tempo, always trying to go forward and worked hard for the team. Anyone who seen different needs help imo. I'm not saying he was unbelievable, but I am saying there were at least 8 players to take off before him.
Another side note, and this is one that won't go down too well with a lot of Blues, is that, in the game I've just seen, Tom Davies played well. He won more possession than any other player, kept everything neat and tidy, and put in a good all-round performance. I do feel like the shackles are on Tom, though; he isn't making runs forward with the ball, he seems to be content passing it simple... I don't know if this is his instruction or if he's low on confidence. If he's low on confidence, I'm not surprised judging by comments I see on here and hear around the ground!!!
Davies reminds me of Barkley in that he's done well and shown himself an able first-team player, better than many of his so-called senior teammates who are on a lot more money than him. But what is typical, is that many Blues want a homegrown scapegoat (Barkley being the perfect example) to give a hard time to.
Looking through some of the text above, all the youngsters at the club are being criticised. For me Calvert-Lewin, Kenny, Davies, Lookman, Dowell etc are not the issue, it's the likes of Schniederlin, Sigurdsson, and Tosun who let us down — highly paid professional players who continue to put in average performances, week-in & week-out.
Jim Bennings
112
Posted 03/10/2018 at 00:33:53
Simon,
How is Sigurdsson a problem when he scored two beautiful goals on Saturday and is our only goalscoring creative midfielder?
I don't like criticising young players all the time but I'm sorry, our young lads are total shite. They wouldn't get near even the West Ham team, look at Declan Rice dominating games for them!
Davies we keep hearing gives us energy but I just don't see it, he runs about — that's what your average 20-year-old on County Road could do. Ross Barkley was head and shoulders better than Davies at 19.
Calvert-Lewin couldn't trap a bag of cement and in 18 months I can probably count on one hand the times I've seen him strike a ball cleanly with any real conviction.
Lookman, give him his due, looks the best of the bunch and maybe, given the game time Calvert-Lewin is getting, then he might... just might be a good player; but I don't think he'll stay.
Dowell showed us tonight why Nottingham Forest fans said he flits in and out of games too much, apparently a good footballer (although I didn't see that tonight) but on the periphery of games.
Tonight showed us our squad is bang average and that we lack a Premier League standard striker.
Gavin Johnson
113
Posted 03/10/2018 at 00:40:11
I still think we should be giving Bernard a go in the No 10 role and give Sigurdsson a go as a No 8 with Gana as the tackle machine. One thing about Sigurdsson: he's a willing runner and would put himself about as much as Schneiderlin. One thing he has over Schneiderlin is that he has the added ability of being a better passer.
Until we can buy a striker, we could be really bold and play the aforementioned with Richarlison as a No 9 and Lookman out of the left and Walcott on the right.
Jamie Crowley
114
Posted 03/10/2018 at 00:47:17
Simon @111 -
I'm relieved to hear you say that.
I couldn't watch the game. But hearing all the negative comments about Davies my heart sank a bit.
I mentioned before as well, I actually wanted Dowell to start this game.
When you're managing a kid, isn't it a better idea to put him in a situation where he's surrounded by the best players you have? It will raise his game, and not leave the youngster exposed when he inevitably makes a mistake. Putting Kieran Dowell in a side with 7 changes in a knock out competition is madness!
I'd think the idea is to try to nurture talent, not feed it to the wolves in a weakened side. Seven changes is always, always going to result in disjointed football.
One or two changes? Not so much. And a great opportunity to put a young kid in around "the best" where he has cover and support.
It's not fucking rocket science!
Then you get the boy pulled at halftime, having played from what I hear not so well, and where does his confidence go?
Work the kids in one at a time in a settled side.
And Marco, stop pissing on supporters by pretending you're above a trophy competition with Europe as the prize.
As Jim Bennings said, what are we saving our players for? A miraculous 8th place finish in the league?
Boggles the mind!!!! I feel like throwing a brick through a window.

John Kavanagh
115
Posted 03/10/2018 at 01:16:40
If the team selection was a surprise, then the substitutions were genuinely shocking. I couldn't see what Silva was trying to achieve by taking off Lookman and leaving Tosun on, who is looking more and more like a League One player with every match. This would have been the perfect opportunity to try Richarlison in the middle from the start (as a number on TW have suggested) as a solution to our striker problem.
Three managers have now persisted with the nonsense of starting Schneiderlin in the expectation that he will eventually reach the dizzying heights of bang average. He won't and never will.
Brian Wilkinson
116
Posted 03/10/2018 at 01:23:44
I thought our best two players were Bernard before he tired; shame the others were static when he played numerous balls into space with no one reacting to run into the open space. The other for me was Kenny.
I am struggling to see what others saw in Davies, nearly every pass went backwards. No doubting his running but I bow to others who are seeing what I am not seeing in Davies.
Andrew Keatley
117
Posted 03/10/2018 at 02:10:51
I thought I was in a bad mood, but reading some of the posts on here has given me a bit of perspective.
The changes that Silva made were completely within reason; every player in the starting XI is a first team player. The fact that they weren't good enough to beat Southampton is disappointing, but blaming the team selection – or saying that Silva devalued the competition by making changes – is not entirely fair. Our first eleven tonight should have got the job done, but a few players were under par (seemingly Davies, Dowell and Schneiderlin have come in for criticism) and we got knocked out on penalties. We didn't get thrashed. We didn't fail to create chances.
Seeing Schneiderlin continues to be picked to play for Everton hurts me. We'll never be anything other than porous with him protecting the back four, and the fact that we do not have anyone better than him at the club to take his place speaks volumes.
Jamie Crowley
118
Posted 03/10/2018 at 02:47:07
Andrew @117 -
You're correct that our 11 on paper were better.
But the fundamental flaw in the thinking, "we had enough out there to get the job done" can be succinctly summed up with one word.
Cohesion.
When you change seven players from a winning side, you are going to lack cohesion. Chemistry if you will as another descriptor.
The reason teams play better with stable, mostly unchanging players, is that each knows the other's tendencies and desires - where they want the ball played, how they show for a ball, the runs they make, etc.
It's true in any team sport that I'm aware of.
Make wholesale changes, you lose cohesion.
And that's the sin of the lineup named this evening.
Surely any top flight manager knows this. And if they do, and frankly they must, then to name a side with seven changes it's not too far of a stretch to come to the conclusion that the competition was devalued by the manager.
I like Silva. He screwed up royally this evening.
Jamie Crowley
119
Posted 03/10/2018 at 02:59:22
Another thought on lineup changes. It's simplistic and might be flawed, but it's interesting to me at any rate.
Here in America, NFL teams can play on a Sunday, and have to turn around and play on a Thursday night. You never, ever see an NFL coach rest players. They're expected to play on "short rest".
Baseball players play every day. Once every two weeks or so, the "star" players might be rested. Maybe 15 out of 162 games.
NBA players, in the playoffs, play every other night. They are never, ever rested and there is never a thought of not starting the five best players you have. If a player were "benched" and not started in the playoffs, they'd probably punch the coach they'd be so pissed off.
In hockey, in the NHL playoffs which is literally the toughest "trophy", Lord Stanley's Cup, (hallowed and holy it is) is won by winning four best of 7 series. These players skate at blinding speeds and beat the shit out of one another. They throw their bodies in front of 100 mph slapshots to stop shots on goal. And no, that frozen rubber known as a puck doesn't always hit pads, it can hit shins, arms, noses, etc. Players lose teeth and get gashes and are stitched up and back out on the ice in minutes. They are never, ever rested.
Why in the world can't a top conditioned athlete, built literally like a Greek god as most soccer players are, be expected to play 4-5 games in the space of two weeks?
Why is this "rotation" and "resting" of players such a thing?
Sometimes I wonder if soccer isn't in need of a different mindset altogether.
Andrew Keatley
120
Posted 03/10/2018 at 04:37:54
Jamie (118),
Southampton also made changes from the weekend. Targett, Yoshida, Bednarek, Gabbiadini and Stephens have barely played this season.
The cohesion argument is a good one when you are talking about a team that is winning regularly and has good chemistry and form throughout the side. That is not us. Hasn't been us for years.
Going out of the League Cup at this stage is annoying, but I applaud Silva for using his squad – there aren't many members of the squad who should be guaranteed a starting spot at present – possibly Pickford, Gueye and Richarlison. I wish Silva has started with those three and filled in the blanks around them.
Karl Meighan
121
Posted 03/10/2018 at 04:46:00
It hasn't always been that way Jamie, in the not so distant past teams won the league with about 17 players playing 42 games.
Now, it's diet, recover, no drinking, and watch how you refuel. Football is faster now than it has ever been... which is probably part of the reason managers rotate.
Amit Vithlani
122
Posted 03/10/2018 at 05:10:08
I did not see the game but by reading the match reports we might have won on another day.
I have no problem with Silva rotating the squad. He is still only 9 games into the job and still needs to look at players. We have many young players who I would rather have in the squad tha going out and buying expensive bench warmers.
The problem is we need 9-10 very good Premier League players to compete on all fronts. We probably only have 5, all first teamers, who when rested reduce our effectiveness. We probably have another 4-5 good players and the rest being bang average. The younger players are not yet good enough to make us a consistent force.
Last night's starting XI showed the lack of depth clearly. No Pickford, Sigurdsson, Coleman, Richarlison or Walcott. In other words, none of our very good players. No Gana and Sigurdsson, two of our good players. Of the older heads who started, Bernard is getting match fit, whilst Keane, Zouma, Tosun and Baines are average.
Silva and Brands need two more windows. We need a centre-forward very urgently.
Another year gone by without League Cup progress but I hope a better showing by the time the FA Cup comes around. We should be more settled and I expect Silva to include his top trumps in the line-up.
Peter Thistle
123
Posted 03/10/2018 at 05:13:27
As I've felt for the last 15 years or so, we'll never win anything ever again. We are shit and it will never change. I'm a pessimist but even an optimist would have to admit we are a joke.
Derek Taylor
124
Posted 03/10/2018 at 05:48:23
Amit, we could all do the job if it was as easy as some believe but we wouldn't handicap ourselves by excluding all the better players you speak of!
We know too many on the roster are shite but by resting players who make the team click relegated our 'exciting new manager' to the same level. Hopeless in his judgement and most else he touches!

Sam Hoare
125
Posted 03/10/2018 at 05:55:01
Doesn't pretty much every team rotate in this competition?! Very few if any Premier League teams play their strongest XI. Southampton didn't. The XI put out should have been enough to dispatch a second-string Saints.
Disappointing... but I don't see it as a stain on Silva as others do. Just a bad night at the office.
Ash Moore
126
Posted 03/10/2018 at 06:07:37
Sam @125. You're normally a pretty sharp TWebber but you've missed the point here. It's Silva doing what his short-tenured predecessors did and obtaining identical results – that is the big issue here. We're supposed to have a new boss who'll do things differently. This was, really, different day and same shit, in the very worst sense of the phrase.
Smart managers identify achievable targets. What are our new bosses targets?
Ernie Baywood
127
Posted 03/10/2018 at 06:11:13
Sam, completely agree with everything you say.
The only thing that makes me nervous is the statement "just a bad night at the office".
It was that thinking that let Roberto go unchecked for so long. We've only beaten two teams so far this season and there have been a few games where we seemingly played ok but just had a bad night at the office.
How many bad nights should we have before we decide there's a problem?
Brent Stephens
128
Posted 03/10/2018 at 07:24:29
I'd like Silva to say either that he wanted to win this and boobed in not at least starting with his strongest side, or that he prioritised the Premier League over this cup, so deliberately put out a weaker side.
Strongest side starts; change it when you have a comfortable lead.
Strongest side starts; change it when you have a comfortable lead.
Strongest side starts; change it when you have a comfortable lead.
Brent Stephens
129
Posted 03/10/2018 at 07:27:43
And as Jamie #118 says, that starting lineup left us devoid of any cohesion. Performance is always going to be more than the sum of a team's parts.
Sam Hoare
130
Posted 03/10/2018 at 07:36:07
Ash @126 it's frustrating of course but I feel the doing things differently will be evident and has been evident in other ways, such as going to Arsenal and outplaying them for large periods. I don't know why our past managers and indeed most of the managers in the Premier League rotate so much in this competition.
I guess they need/want to give first team players they expect to use at some point a run-out; they have to be kept sharp/motivated/ready to some degree in case needed. He pretty much played the team I wanted bar Dowell who was maybe one change too many. Like you I'd prefer to treat this competition more seriously but when I saw that starting XI I thought they should have enough to win.
Ernie @127, I think this season I'm more concerned with performance than result. The squad is in transition and a fair few playing now will not be in the squad next season. Even Klopp and Guardiola took a while to get their plans across but there were signs of things to come. So long as we see those signs whilst keeping no lower than mid-table, then I'll be okay.
Under Martinez, it seemed clear after the first season that we were going backwards, looking porous at the back whilst struggling to create and being beaten too easily. I've been encouraged by what Silva has shown at times so far bar Huddersfield and West Ham. Either way, it's early days and unless we're in the relegation mire then I'd say he deserves a season at least to show what he can do.
John Keating
131
Posted 03/10/2018 at 08:02:22
As others have mentioned before and after the game, why change the team unless there were injuries?
I would imagine he was saving some players for the Leicester game. If so, and we do not get a result there, Silva needs to be bloody take what he gets!
Yet again we have shot ourselves in the foot.
Tony Abrahams
132
Posted 03/10/2018 at 08:28:18
Andrew @117,
Seeing Schneiderlin, picked for Everton hurts me. Exactly how I feel mate, and if people think Calvert Lewin isn't good enough then please give him a chance till the new year, because I don't that I could stand watching Cenk Tosun, perform like that ever again.
I've asked myself a hundred times why the slowest player on the pitch, wants to keep running down the channels, and the only answer I can think of is that he doesn't show for feet because he's either not good enough or not brave enough, possibly both?
Martin Berry
133
Posted 03/10/2018 at 08:43:58
I thought Lookman was superb in his minutes on the pitch, by far the best player.

Simon Smith
134
Posted 03/10/2018 at 08:45:42
Jim @112 ;
I respectfully disagree with your points tbh.
I do believe we have a talented bunch of young lads, I'm just not sure they can all be blooded together.
The fact that Calvert-Lewin, Davies, JJ Kenny, and Holgate often start in the first team goes to show that the senior pros within the club simply aren't very good.
Back to my point about Sigurdsson, I'm not putting it all on him, and yes he did score 2 really good goals at the weekend, but them 2 goals take his tally to A massive 7 in 34 games, not exactly brilliant is it !
Also, how many games have you seen were our £50M playmaker has single-handedly won us the game ?
I watch all our games and no game massively stands out as the Siggy show!
In reference to Barkley having more ability than Davies, in effect I agree, Ross did have more ability, but that doesn't always mean you're a better player. Ross hadn't played as many games as Davies at Davies age!!
Davies has played under 4 managers, often over £20m+ players, he must have something!
I just think too many fans jump on the local kids, we find fault after fault with them. Barkley himself was often torn a new one after a loss, as was John Stones, yet both have moved onto a bigger club (hurts to say it but clearly it's true in the current climate).
Calvert-Lewin has potential, he could have done with being loaned out this season, the main reason he hasn't is because again he's no worse than the senior pros we have in his position.
One thing I think we all agree on though is we are short of a true Premier League striker — none of our 3 are anywhere near good enough for any side in the top 6.
Jim Burns
135
Posted 03/10/2018 at 08:46:57
Kieran @ 78 - a rare smile from that... cheers mate.
Paul Birmingham
136
Posted 03/10/2018 at 08:47:27
It's the 30-year feeling of being stuck on Devils Island and despite best efforts, never escape or look to have cleared the stormy seas and hazards prevailing and never get there. Always back in the same old stinking creek, the smell of which we sadly are too familiar with.
Angry, is not the word but I struggle for words and my thimble glass of hope with EFC, is very low on genuine hope for the next game and this season.
I said I'll judge after 10 Premier League games and at Chrimbo, but as long as the club never learns from its mistakes then we'll never improve.
It's Sysophian, now as the manager took the piss and didn't field his best available team. You can't do trial and error in real matches, and our best hope in years for this tournament is lost again.
The clubs mentality which is under scrutiny for years, needs fixing quick, as the spiral to indignity and mediocrity yet again could happen again before Chrimbo.
Devils Island, Alcatraz, Etc whatever you call it, the club must surely start taking stock now and act fast.
Why were there so many poxy changes last night? Change a few but don't change the core of the team. Perhaps it was a cover plan to complete a further review of the squad and check its strength in depth.
Try Sambou soon as he can't do any worse than the current forward line.
Rant over, and the joy of The a Half Way House and downhill slalom for this week.
Tony Heron
137
Posted 03/10/2018 at 09:22:57
Good news!! Last night didn't happen! Well according to BBC Breakfast and the local news only the Manchester teams played last night! No mention of Everton, must have been a dream!
Derek Knox
138
Posted 03/10/2018 at 09:26:43
Tony, a 'dream' — don't you mean a nightmare?
Craig Walker
139
Posted 03/10/2018 at 09:27:12
I listened to the official commentary last night and just felt it was going to be another one of those games for us.
Bernard sounded good in the first half but we sounded very disjointed. It sounded like Kenny did well. It's hard to judge from the commentary of Daz and Snods because they're always upbeat.
I saw the penalties live and just knew that Richarlison would miss. He completely rushed it, like he wanted it over with. I was surprised that Walcott missed though.
Again, I had to tell my 7-year-old lad this morning that we were out of another competition. At least I can remember the glorious 80s but already, he is showing signs of losing interest after constant disappointments. His RS-supporting glory-hunting friends seem to revel in telling him how awful we are. The sad thing is that even if we had won last night on penalties, we'd have lost at Leicester.
Why do we bother? I love Everton FC but it isn't fun anymore for me. Every glimmer of hope just turns into a false dawn.
Paul Cherrington
140
Posted 03/10/2018 at 09:35:19
Well, the Fulham result doesn't look so great now, does it?
It doesn't surprise me – the celebrations from some fans after beating probably the weakest team in the Premier League were way over the top. Especially considering they could have easily beaten us too with decent finishing.
Last night showed just what the problem is with Silva as a manager and his Everton team. We pass it round nicely and look good on the surface but actually achieve nothing. Chances are wasted and the opposition is let off the hook. At the other end, we are soft and always open for teams to score against us.
That leaves us in the worst place possible for a football team – can't score + can't defend = trouble.
For all this talk of Silva having us playing more attacking with free-flowing, entertaining football, we simply do not score goals. That is down to him – he picks the team, he coaches the team, and he sets them up. He must carry the can, as people were so eager to see Allardyce do when we lost or didn't play well under him.
Silva needs to go now – he has had games to show his quality in the dugout and improve, yet it is the same rubbish, week-in & week-out. And yes, it is rubbish because we either lose or draw. If this doesn't bother you because his team plays in a slightly more attacking way, then that is crazy.
Get him out and get someone decent in who will make us tough to play against again. Do it now and we might still have enough time left to enjoy the season and it not be a write-off.

Matthew Williams
141
Posted 03/10/2018 at 09:43:23
For me... season over.
Moshiri... shrugs shoulders.
A club going nowhere.
Total shite.
Len Hawkins
142
Posted 03/10/2018 at 10:08:28
If football were a motorbike, Everton would be the kick-start — everyone's crap season takes off when they come to play Everton. The club needs a bloody good sort out from top to bottom.
How can one club corner the market in frustratingly bad footballers? If Messi, Mbappe, and every other "Worldie" were signed, they'd be playing like clowns within a couple of weeks.
Changing managers every few months is not the answer. (Who wouldn't have taken Mourinho pre United?) A bloody Priest to carry out an Exorcism is the first priority.
Rob Halligan
143
Posted 03/10/2018 at 10:11:42
I said after the recent Arsenal away game that I've resigned myself to the fact I will probably never see us win away at Arsenal. I guess you can add the League Cup to the list of resignation.
We're seven games into the league season, so why on earth do managers need to prioritise the next Premier League game over a very winnable cup game? I could understand, to a degree, if it was the FA cup third or fourth round, and teams were struggling in the league, but come on, seven games into the season, players should be hounding the manager demanding to play every game.
Not picking your strongest team in the League Cup or FA Cup, means you are worried about potential injuries or sendings-off. Okay, we had no-one injured, that I'm aware of, or sent off last night, but could quite easily get one of two serious injuries, or another sent off, on Saturday. And we all know the consequences of players being sent off this season, drawing two away games we could and probably should have won had we had a full team on the pitch.
As a few have already stated, and we have been saying for years, start your strongest eleven, get a lead and then bring your better players off. I'm sick of hearing players and managers saying "We take each game as it comes", and "the next game is the most important one" unless it's the League Cup, FA Cup or Europa League.
We're not going to win the Premier League anytime soon, nor are we going to get relegated (I hope), so we should be going all out to win any cup competitions. So bring on the FA Cup!
Tony Marsh
145
Posted 03/10/2018 at 10:15:22
Those arguing the fact that other clubs rotate players for this competition have a point to a degree. If a club has European obligations, then Yes, rotate. If a Premier Leaague club is facing a team from a lower division, then Yes, it's okay to rotate. None of these factors came in to play last night, so the decision to rotate was unjustifiable. It was pathetic to be honest.
The trouble we at EFC have with our recruitment of managers is we don't ever find one that taps in to the way people in this City think and feel about football and life itself.
EFC appear to be happy to appointment "Don't give a shit" chancers who think we the people will accept survival and mediocrity – and not being relegated – as a form of success. Supporters of clubs like Watford, Southampton, West Brom, Stoke etc accept the scenario of being also-rans as long as their clubs stay up. Their clubs do not hail from a World-famous City where the people expect and demand the best.
Unless we can find a manager who not only understands the game of football but also understand the requirements of Everton supporters and the pride they have in their City, then last night and the past 25 years will continue on repeat mode for ever.
At Everton, we end up with the likes of Smith, Moyes, Koeman, Allardyce and now Silva. None of these guys had a clue what this City is all about.
Our next manager needs to tap in to the vibe that makes Liverpool such a unique City. Leave what they think they know about football behind them and start treating the Everton job as though it's a religion. Managers should be proud and humbled to be invited here.
If we keep employing these passionless unattached chancers like we have done for decades, then we are never moving forwards. These guys must acknowledge that they represent the City of Liverpool as well as Everton Football Club... Rant over.
Pat Kelly
146
Posted 03/10/2018 at 10:44:55
Dave @79, Silva wants to finish as high as he can in the Premier League. Millions are won or lost on each place. Maybe he has his instructions from above?
Putting out that selection last night showed no ambition to win the game. It was a surrender before a ball was kicked. And a kick in the arse to the fans.
Merle Urquart
147
Posted 03/10/2018 at 11:02:10
Silva can just fuck off, shaping up to be another Iberian fraud. Just who at this club decides to piss on this tournament every season. Had enough of these twats.
We will now get 3 days of how very disappointed everyone is, how we so much wanted to win a trophy for the fans and we'll really try our best against Leicester on Saturday, cue the pulling of shorts down and bending over... piss taking twats fuck off.
Tony Abrahams
148
Posted 03/10/2018 at 11:11:03
Fair points Pat, money is the name of the game now, but I'd sooner pay to watch us have a go, or let someone from the club tell us they are not that interested in winning trophies now, because it's just all about the money.
The team he picked was good enough to win, but the managers substitutions were crazy imo, and left us looking like a team that was just thrown together by the end of last nights game.
Matthew Williams
149
Posted 03/10/2018 at 11:13:40
May I kindly ask my fellow Blues one question... When does our club start playing like Winners?
To me, as it stands, there are three options only:
1. We improve massively... doubtful.
2. Relegation... doubtful, but we deserve it.
3. We, along with 13 other clubs, form a brand new League after the Sky Six depart... probable.
Thanks.
Mike Allen
150
Posted 03/10/2018 at 11:29:27
How arrogantly fucking stupid is this idea that clubs like us can turn our noses up at trying to win a cup competition now that there is no extra time or replays? One chance to get into the next round and we treat the competition and fans with utter contempt. Wenger and Fergusson started this trend some years ago and everybody fell into line.
I am old enough to remember when we fielded the first team in the Lancashire Senior Cup and the Liverpool Senior Cup... Now we have gone from trying to win something to getting into the top four... then the top six... now to seventh is good enough.
I've been supporting for some 70 years – how times have changed.
Brian Harrison
151
Posted 03/10/2018 at 11:49:46
Like it or not most Premier League sides use this competition to play their fringe players. Southampton made 7 changes from its Saturday Premier League game and we made 7 changes, and let's face it we should have enough for our fringe players to beat Southampton's fringe players.
To be honest I was quite looking forward to see Bernard start a game and to see how Lookman and Dowell shaped up. I didn't expect these changes to see us struggle to get more of the ball than Southampton.
I thought Lookman looked the most likely to score in the first half, but Dowell really struggled to make an impact. But it was quite telling when he subbed Lookman in the second half Schneiderlin put his hand out to shake Lookmans hand and he brushed it away. I think that might be the last time we see him and will probably be sold to Leipzig when the window opens, sad really because I think the lad has talent.
The only time in the game we looked like getting on top was after Walcott scored, I thought Niasse did well to win the ball and provide the pass for Walcott to score. But surely Silva must know that Tosun isn't going to make it in the Premier League, I think I would put him in the worst 10 centre-forwards to have played for the club.
He hasn't a single attribute you need for a striker, he has no pace is physically out-muscled in games. Very rarely wins a header if you put together the best of Calvert-Lewin and Tosun you still wouldn't have a decent centre-forward.
Niasse has loads of faults and is by no way the answer but he will win headers, and you can play balls down the channel knowing he has the pace to get on the end of it.
Please, Marco, no more game time for Tosun or Calvert-Lewin, if he doesn't want to play Niasse there or move Richarlison into that role then I would settle for Walcott to play there as he did on numerous occasions for Arsenal.
Colin Malone
152
Posted 03/10/2018 at 12:07:58
Come on. Give Silva time, it ain't going to be a quick fix overnight, FFS. Compare the signings Silva has made to Big Sam's and Koeman's:
Barnard to Bolasie.
Richarlison to Klaassen.
Zouma to Mangala.
Mina and Gomes to come.
One transfer window and some expect trophies rolling in. Get Real.
Dave Abrahams
153
Posted 03/10/2018 at 12:09:23
Pat (#146),
Fair enough, but If he is taking instructions from above, he should stand firm, be his own man, and tell them he is the manager and he will pick his team and tell them how to play. Maybe easier said than done, but better to be a man rather than a mouse.
Tony, I don't think the team was good enough to win; you can carry on or two passengers but three (at least) is too many. We started with three of the slowest players in the club: Schneiderlin, Tosun and I've got to say it (I don't like having a go at young players), Dowell — not only slow but they avoid the ball if they can.
Dowell was taken off at half-time but Niasse was brought on, it should have been Richarlison, then Lookman was taken out of the game. I don't think many understood that; it should have been Tosun, and Charlie up front. Schneiderlin lasted for 76 minutes, why?
And then Walcott was brought on, Tosun was left on the whole game... incomprehensible.
It's early days for Mr Silva, he's got to do whole lot better than he did last night. You can take the piss once but don't go too far with it, it will smack you in the face real hard if you try it again. Last night was a fuckin' nonsense by you, Mr Silva.
Derek Knox
154
Posted 03/10/2018 at 12:14:58
Pat and Tony, I think personally that is a very flawed philosophy, it's almost as if he is assured we will beat Leicester on Saturday.
I can't see that being an easy game, considering the way we have played since the start of the season. Coupled with the fact that any momentum and confidence, no matter how little, built from Saturday's second-half display, has been well dissipated.
He is going to make himself look very stupid indeed, if they don't manage to get anything from that game.
Tony Abrahams
155
Posted 03/10/2018 at 12:32:02
What's flawed, Derek, telling the fans that we are not interested in winning trophies?
Dave, after watching the first half, I thought we were good enough to win, but not when the manager only made one change, and kept Tosun up top doing nothing.
The subs were ridiculous, especially the first one, were he could have just moved Bernard into a central position, instead of just upsetting everything and ending up with a team that looked like it didn't know anything.
Paul Tran
156
Posted 03/10/2018 at 12:53:16
Before the game, I wrote that I wanted the same team, or possibly a start for Bernard.
The changes were excessive, but that team, including two players people had clamoured for, should have been good enough. We played some tidy football in the middle of the pitch, but had little or nothing in the final third.
They were organised and niggly, but they also created opportunities and deserved the win. That's Southampton, who had been struggling.
A missed opportunity.
I'm going to do a proper post on a cracking day for me, but thanks to Dave Abrahams & (briefly) Steve Ferns for joining me for a pint. Biggest compliment I could pay Dave is that I looked at my watch at 7:25 and was, for a moment, disappointed that we had to stop talking and go to the match!
Derek Knox
157
Posted 03/10/2018 at 13:03:32
Tony, not only the Trophy aspect, surely he must know by now who he can rely on to perform to the standard he claims to aspire to.
With the team he put out, many have said it should have been good enough to beat Southampton, it was patently obvious (although we didn't witness it directly, commentary on BBC Merseyside) it wasn't!
Further exemplifying that a vast majority of the first team squad are just not good enough.
Pat Waine
158
Posted 03/10/2018 at 13:07:09
Disappointed in Richarlison sending off, missing games and now messing around at penalties. He needs to put his head down and work in my book now.
Björn Kausemann
159
Posted 03/10/2018 at 13:41:30
We have no class strikers. Tosun, Calvert-Lewin and Niasse? Not more than Championship level.

We have a very good winger in Lookman. He should play right wing. Bernard left wing and Richarlison centre-forward. The biggest mistake was not to sign Shaqiri as a No 10. We need a No 10. Sigurdsson is quite good, but too slow.

One more chance missed to go for Europe.
Jay Wood
[BRZ]
160
Posted 03/10/2018 at 13:54:48
Having now watched the highlights after only being able to follow the game via the club's audio commentary, the little it does show you kinda reflects what I understood from the commentary.
Now I know they are only highlights, but Lookman and Bernard appeared to display the most guile and threat in the first half. They both made sharp incisive and penetrating passes mostly lacking from us this season. Their movement and control was good and as well as being creative for others, they fired off shots of their own.
At the other end, there appeared some alarming moments. The blind pass from Schneiderlin to Keane which almost allowed the Saints in. The backing off of Kenny (who I like and support) on Redmond into his own penalty area, before Redmond rolled the ball to the unmarked Ings with neither Davies nor Schneiderlin being alert enough or doing enough to snuff out the threat for their goal.
Hearing that Niasse had come on for Dowell, I expected a re-jigging of the formation but, if that was the intention, it didn't really manifest itself on the park.
Now I don't know how Lookman played in the first 15 minutes of the 2nd half, but if I had played as well as he appeared to play in the 1st half, I too would have been miffed to be hooked on the hour for Richarlison.
Again, admittedly from the very limited highlights available, I'm not sure if this switch helped with the overall balance and shape of the team, or if the formation was effectively re-jigged to reflect the players on the field.
Walcott for Schneiderlin was the last roll of the dice that got a result in that Theo equalised, but the whole event was ultimately most unsatisfactory.
Some posters are excusing the manager for his bulk changes on the grounds that 'everyone does it'... 'fringe players need game time'. All very true.
However, just 24 hours earlier, Marco Silva himself stated quite categorically that he and the club would 'respect the competition... we have ambitions in this competition... I don't like to make too many changes from game to game'.
His selection made a mockery of his own declarations.
This game mattered. This competition mattered (already past tense for ANOTHER season). Why? Because a 5th to 15th league place finish does not matter in the same way as getting our hands on a trophy WOULD matter.
EVERTON - THE SUPPORTERS – NEED A TROPHY!!!
Last night's exit now places extra pressure on the manager, the players, the team, the club itself, to start getting results – NOW!
A failure to win at Leicester at the weekend – never an easy task – will make last night's selection look an even bigger nonsense than it already does.
Max Murphy
162
Posted 03/10/2018 at 14:08:35
I was getting concerned after Saturday's blip, when we actually won a game. Do not fear, after last night, normal service has been resumed.
So Everton FC are not interested in cup competitions, and would rather finish as high up the table as possible, as apparently, there are more financial rewards at stake.
Hmm. They are certainly demonstrating this strategy, with huge wins over Southampton and Fulham from 7 games.
Onwards and downwards for the weekend, when Leicester will give us a lesson in football and win by at least 2 goals.
Tony Abrahams
163
Posted 03/10/2018 at 14:30:50
Derek @157, I understand what you are saying, and I actually agree with most of it, mate, but if you were at the game last night, then after watching the first half, you might have said Everton were the much better team during the first half.
So, if Silva, in most peoples opinion got the starting eleven wrong, then the way he used his substitutions has now genuinely got me concerned.
As Jay Woods has just said, you would have at least expected a re-jigging of the formation (you have got a much better vocabulary than me Jay!) instead of looking like a team without order, with only one man to blame?
Justin Doone
164
Posted 03/10/2018 at 14:37:32
A previous post highlighted teams outside of the top 6 that have won the Cup. All have been relegated.
Mentally gearing up for a final, winning silverware mid season is one of the reasons I place very little significance on the trophy and the fact we have an appalling record in it.
Trying to rebuild a team and squad is difficult, winning a trophy to early may give confidence but it has also proven too be a major distraction for clubs trying to build and improve their league form.
At the end of the season, like every other, I don't think many have ever looked back at how well we did in the League Cup. Even the teams that win it.
Tim Gerrard
165
Posted 03/10/2018 at 15:03:54
Last night, as soon as the team was revealed the talk in the pub went flat as most feared that seven changes would be just too much. The atmosphere in the ground was similar, very quiet for a cup game.
I do not think it was necessarily the quality of the replacements but more the volume of replacements; I did not expect the team to gel and they did not.
It is very difficult for young players to find their feet at the top level. If, for example, only Dowell had been drafted in, he would have a much better chance to succeed. As most others I can see no reason for Pickford to be "rested". Stekelenburg prob earns £20k a week let him sit in the reserves with his cash.
As for Lookman, he looked fine in flashes but did not seem to want to play on the wing and tended to be more of an inside forward (didn't want the responsibility of tracking back?) and sometimes down the middle. One thing for certain is that Lookman and Bernard did not offer the physicality of Richarlison and Walcott.
I seem to remember Klopp when he first arrived at the RS lost a cup game at Burnley by his selection. This was brought to his attention, and hopefully someone at Goodison will have noticed the reaction to this loss, and we will only go out of cups in future kicking and screaming rather than with a pathetic whimper.
Kieran Kinsella
166
Posted 03/10/2018 at 15:13:36
Justin Doone 164
What is the "top 6"? I am only interested in the top 4, e.g. Everton and the only 3 teams that have historically had more success than us (Liverpool, Man Utd and Arsenal). And the only reason I care about them is because I aspire to beat them.
This "Tottenham are a big club" nonsense irks me. Those jokers haven't won the league in going on 60 years. So yeah they are happy with a top 4 finish because most of their fans have never ever seen them win the league.
That apart, the argument about teams outside the top 6 being relegated is flawed simply because every year the teams roughly placed 7th through 17th tend to "throw" the cup so you get some leftovers like Birmingham winning it due to lack of serious competition.
Playing what 5 extra games over a 9 month period is hardly going to make or break our premier league season. If you think back to when we would compete, the cups actually had the opposite effect. We were terrible in the early 80s until we won the cup in 84. That drove us on to win the league in 85 which we did despite the extra burden of playing every round of the FA Cup and European Cup-Winners Cup. Winners win things; losers say "Well, at least we didn't get relegated."

Jamie Crowley
167
Posted 03/10/2018 at 15:16:10
Haven't read from Paul Birmingham @ 136 down yet this morning, and by the way good morning to all, but I had to stop when I read Paul's post.
Paul just said in two sentences exactly what the beef is with Silva last night.
Why was there so many poxy changes last night? Change a few but don't change the core of the team.
Yes, yes, yes. Thank you, Paul.
Tony Abrahams
168
Posted 03/10/2018 at 15:16:41
Maybe that's the reason for our longevity in the top division then, Justin @164?
I was thinking about how many times we have entered midweek competitions: ie, the League Cup, and any in Europe, and can't believe how poor our record actually is.
It's a disgrace and, although nobody has got a divine right to win, they at least should have an obligation to try their best to win, because that definitely wasn't the case last night.
Matthew Williams
169
Posted 03/10/2018 at 15:19:14
I believe next season the League Cup (with all it's different sponsors) will have been going for 60 years!!!
Look at some of the past winners, folks.... still no Everton Football Club — fucking shameful.
Radio Merseyside commentary only from now on... fuck 'em all!
Jamie Crowley
171
Posted 03/10/2018 at 15:36:00
Anyone making comments like,
"Most teams use this competition to rotate players..."
"Southhampton made six changes..."
"Teams often field weakened sides in the League Cup..."
Did your mothers not raise you properly? Those comments are absolute tripe and ridiculous.
I don't give two shits what other teams do. I only care about what Everton does.
Sheep. Follow the herd. OR!
How about we have a manager who publicly states he doesn't understand the devaluing of this competition, it's silverware and means European competition, and our fans deserve it! And then he doesn't pull a 180 and goes out with his best lineup, 1 or 2 changes maybe, and tries to win the fucking thing??!!
Don't pull a muscle reaching for that brass ring!
Sheep!!! Everyone else does it – you gotta be fuckin' kidding me!
John Raftery
172
Posted 03/10/2018 at 15:40:48
Forget the top six or top four. Given the relatively kind fixture list, we have not put enough points on the board to take a mid-table finish for granted.
Our miserable form away from home suggests a win on Saturday is unlikely. By my reckoning we have not won an away game against a team in the top ten since May 2015 when we beat West Ham 2-1 in the penultimate game of that season.
Leicester are 8th. Now would be a good time to break that sequence.
Kieran Kinsella
173
Posted 03/10/2018 at 15:54:46
Jamie Crowley
Agree 100%. Can you imagine if Winston Churchill had been an Everton fan? "Well of course we would like to fight them on the beaches, but look at the resources they have? We have held out longer than Belgium and they have much more war experience than us."
Ray Said
174
Posted 03/10/2018 at 15:56:29
This 'top six or top four' bollocks is about finance – not footy. A team wins the league or it doesn't win. It wins a cup or doesn't win. Yes finishing second to sixth is rewarded with euro football next season but it's not winning.
Winners win, they enjoy it and then strive to recapture that delirious feeling so they win something else and the best chance we have is with the League Cup.
A couple of hundred thousand of us would turn out to celebrate winning that cup, we would flood the streets, have parties, get drunk on alcohol and happiness, name our kids after the goalie, captain or even the entire team. That's what most of us want to see and enjoy and that's what is forgotten in amongst all this 'top six' bollocks.
Go for a cup and give us something to be happy about.
Jay Wood
[BRZ]
175
Posted 03/10/2018 at 15:59:19
Justin @ 164.
"...teams outside of the top 6 that have won the Cup. All have been relegated."
Sorry Justin, but that is just warped 'logic', even if 100% true, which it isn't. What it is, is a gross distortion of the FACTS. In the Premier League era, of the teams outside the 'top six' who won the League Cup, their 'associated relegation' is the following:
Aston Villa - won cup in 1994 and 1996. Relegated ONLY in 2016.
Leicester - won cup in 1997 and 2000. Relegated ONLY in 2002 and 2004.
Blackburn - won cup in 2002. Relegated ONLY in 2012.
Middlesborough - won cup in 2004. Relegated ONLY in 2009 (and again in 2017).
Birmingham - won cup in 2011. The ONLY team relegated in the same season as winning the cup, 2011.
Swansea - won cup in 2013. Relegated ONLY in 2018.
The rest of your post and the 'reasoning' you offer is a total inversion of what winning a trophy can inspire a club, its players and its supporters to achieve.
Just look at Everton's own history and what the Everton-Watford FA Cup final led to.
WINNING. TROPHIES MATTER!!!
Mike Gaynes
176
Posted 03/10/2018 at 16:30:40
I'd feel silly commenting on a game I didn't see, but I will offer some reactions to what I've seen in this thread.
I don't believe in the "message" thing, so I had no problem with Stekelenburg starting, and it seems he played well. Ditto for Bernard and Lookman, although Lookman certainly splits opinion, doesn't he? (In their radio commentary, Darren and Snods thought he was excellent.)
What shocked me, and what has been rarely mentioned here, was Silva starting Dowell at #10. A player considered not good enough to appear for a single minute this season, not good enough even for a spot on the bench since Bernard got healthy, suddenly starts – and in the most important attacking spot on the pitch? That struck me as asinine on Silva's part, and the fact that Dowell was pulled at halftime proves it.
I'm struck by the wide spread and vehemence of the views on Davies, from superb to shite to he's-only-20-give-him-time. All I can say is that it makes me happy to see him on the pitch, because when he's there, it usually means that Schneiderlin isn't. Unfortunately that wasn't the case yesterday.
Finally, there's one item more that hasn't been mentioned much here – our best player sailed his pen over the bar. I've been playing almost 50 years and never did that once. I love Richarlison, but that's simply inexcusable.
All-in-all, it was a totally shit day for me. Everton out of the Cup in the morning, the Cubs out of the playoffs in the evening. Life sucks.
Mike Gaynes
177
Posted 03/10/2018 at 16:32:45
Paul #156, glad you had a great time. I look forward to your article, and to repeating your experience with you, Dave, Steve and a bunch of others in two months. Can't wait.
Jamie Crowley
179
Posted 03/10/2018 at 17:29:18
Mike -
Re Dowell, if he starts in this line-up:
Pickford
Kenny Keane Zouma Digne
Gana Dowell
Sigurdsson
Walcott Tosun Richarlison
You'd see a much better performance and probably result.
How fair is it to the young kid to throw him into a side with seven changes??

Full disclosure: I called for Dowell to start. My thought was in place of Davies, bringing Tom on around 60 or 65 minutes.
Jay Wood
[BRZ]
180
Posted 03/10/2018 at 17:36:56
Mike Gaynes, Dowell has had minutes this season. Didn't he play the full 90 minutes against Rotherham in the previous round and impress?
On the Richarlison penalty, I think it wasn't only Neymar's haircut our Brazilian #30 (reportedly) tried to imitate.
Watch Neymar's penalty-taking style. Very similar to what Richarlison attempted last night. Neymar does it to outwait the 'keeper and hope the guardian commits to one side before shooting.
Richarlison tried to imitate Neymar, but when Gunn didn't oblige, Richarlison had no fall back plan and completed one of the most abject penalties I have ever seen by a player in a blue shirt.
As Dave Abrahams commented earlier, that's another folly that the young lad will hopefully learn from and not repeat.
Mike Gaynes
181
Posted 03/10/2018 at 18:05:55
Jay, I meant in the Premier League. Yes, he did go 90 against Rotherham. No, he didn't impress. Both the Echo and the Daily Post gave him a 5. I barely noticed him on the pitch that day. Thanks for the info on the Richarlison penalty, which I haven't seen but certainly heard about from Snodin.
Jamie, having teased you on the Forum for calling for Dowell, I'd ask how fair would it have been to throw Dowell into defensive midfield, a position he hasn't played? And personally, I'd have been pretty grumpy to see Bernard and Lookman left out but Dowell included.
Anyway, I think Silva blundered by naming him, and by going into the game with no experienced #10 available – Sigurdsson wasn't even on the bench. Foolish.
Terry McLavey
182
Posted 03/10/2018 at 18:08:33
I, like most on here, had to follow the match on the forum last night.
I criticised the "Mickey Mouse Cup" merchants – how can we be that fussy when there has been nothing in our trophy cabinet since God knows when?
I am starting to sound like a broken record re: employing managers who have failed elsewhere. The Premier League doesn't give you "time".
Also, why, every season, when we are so optimistic about what is to come, and we spend money we've never had before, we start with a clean slate, snf a massive turd gets plonked on it?

Dave Abrahams
183
Posted 03/10/2018 at 18:12:50
Paul (156), I too couldn't believe that hour flew so quickly.
I enjoyed the conversation, glad you did too, I know you had a very emotional day (I'll let you tell the story, didn't involve me). It's a pity Everton couldn't have made your day a lot happier with a victory, but that's Everton, Paul, they torment the life out of all of us. Glad to have met you, enjoyed the drink and your company.
Tony Abrahams
184
Posted 03/10/2018 at 18:46:17
It took me more than a hour to drop you off at The Oak, and get back home to me ma's, to pick the kids up, Dave.
Dave Abrahams
185
Posted 03/10/2018 at 18:52:50
Tony. (184), sorry about that To, it was in a good cause and you know the saying: "Into every life a little rain will fall". That's why I always keep an umbrella handy!!!
Jay Wood
[BRZ]
186
Posted 03/10/2018 at 18:57:36
Mike, if you can bring yourself to watch it, here are the 'highlights' from last night. Both links include the Richarlison penalty.
To lessen the pain, here is the link to the shorter 'highlights' - 7 minutes long.
Extended 'highlights' 15 minutes long here:
And how Neymar takes his penalties:
And finally, how Richarlison SHOULD perhaps take his penalties:
Ian Hollingworth
188
Posted 03/10/2018 at 19:06:15
Absolute disgrace last night. Silva is building a team and trying to get his new signings into the starting line up, isn't he? What was he playing at making seven changes? He should have used the game to get Bernard in and maybe that should have been the only change.
Richarlson has recently had a 3 game ban so why did he need to sit out another? Digne has started superbly and should be left in to cement his place. But no typical Everton playing the sentimental card giving good old Bainsey a game.
We need our best players in the team playing together, that's how you build a team. 7 changes, we obviously had no intention of proceeding in the competition and that is an utter disgrace and sums up all that is wrong at Everton FC.
As for Silva, I know it's too early to judge, but I am starting to worry. Those that know this stuff told us that he was a great coach, his teams would press and play fast counter attacking football.
Have we got the right Silva? As I can see none of this so far. We still play many sideways and backwards passing and we are very slow at getting the ball forward.
Mind you that's probably because there is not much point getting the ball forward to Tosun and Niassie who must be the worst forwards in the Premier League.
The crowd last night was very flat and I was surprised at the Oumar chants for what can only be for running about. I am sorry but if all we have to shout about is a player who is clearly shit but looks like he tries then god help us.
Don't get me started on the pens and I hope Richarlson has watched the video back to see how pathetic he looked and how shit his penalty was.
We have a lot of progress to make, not sure we have the quality to make too much of it in the short term. We don't ask a lot just a team that tries and ambition led from the top that shows through on the pitch... Let's show we give a fuck and actually want to win something in the next bloody 25 years!
Tony Everan
189
Posted 03/10/2018 at 19:18:35
The disappointment stems from the fact that this was a game we could have won at a canter. One or two changes should have been made and Southampton could have been put to the sword in the first hour. Then, and only then, introduce the squad players.
To make seven changes to a team which is only just starting to understand each other and the manager's systems was naive and unnecessary. Silva has done himself no favours, not many fans would have been confident when they saw last night's teamsheet. It was asking for trouble.
Partial redemption will come with 3 points at Leicester and the same at home against Palace.
Joe McMahon
190
Posted 03/10/2018 at 19:26:56
Many people say we lack leadership from our own players on the pitch. This is so correct, Leighton Baines – an experienced professional – should be that leader.
On another note, I'm currently on my hols in Turkey and I was speaking to a guy yesterday who told me he keeps an eye on Everton now because of Cenk Tosun, but does think he will struggle in the Premier League. I did say I agree, but asked him "Have you seen Calvert-Lewin!
Derek Knox
191
Posted 03/10/2018 at 20:24:19
Tony @189, what makes my blood boil is these are all supposedly professionals, most on ridiculous Lottery-sized wages weekly, yet they struggle.
I am not advocating or condoning the lunacy of seven changes, but had it been enforced, due to injuries or suspensions, what's the point of having a squad who are not capable of deputising?
Marcel Brands must be getting pissed off too, he did a miraculous job in the summer – not only shipping out a lot of extremely expensive deadwood but recruiting well too.
It may come down to players not wanting to come in the future for anything else but the money, with very little passion or commitment.
Personally, I think Silva has shit in a bottomless bucket, after stating he respects the Carabao Cup and indicating few changes; then does the opposite.
I was never a great fan of his, and not my choice, but was prepared to give him time to turn things round, but I really think he is way out of his depth.
Justin Doone
192
Posted 03/10/2018 at 21:25:11
I've stated for this season I'm happy playing entertaining football as long as no relegation worries. 10th place and good football for me would be an improvement over last season despite finishing a few places lower. Why? Because it gives me hope we can push on and continue to improve.
I'm disappointed with every loss and poor performance (I have very thick skin) but we are where I expected us to be. We did draw against a Premier League team, not get embarrassed losing to a lower division team.
The best players and teams in the world miss and/or loose on penalties. Losing an FA Cup Final that way I'd be devastated but last night was just another disappointment that we all need to get over quickly and show support.
I had used a previous post rather tongue in cheek. The problem with facts and figures are that they can be used to tell two very different stories but ultimately they are based on the past, not the present or future.
I'm not sure Silva is the man to write our next positive chapter (insert your own facts) but he's the man in the role and has my support for now.
We now have one less distraction, no injuries, can blame Schneiderlin, move on and prepare for the next game.
Kieran Kinsella
193
Posted 03/10/2018 at 21:30:56
Justin,
"I've stated for this season I'm happy playing entertaining football as long as no relegation worries. 10th place and good football for me would be an improvement over last season despite finishing a few places lower."
I think you are looking for the Coventry City forum.
Jamie Crowley
194
Posted 03/10/2018 at 21:58:43
Mike Gaynes,
I should have had Gana holding alone and Dowell in a more advanced position – he and Gilfy together providing some attacking prowess against a flaccid Southampton team.
Anthony Murphy
196
Posted 03/10/2018 at 22:29:02
Justin, words fail me, mate.
We now have one less distraction?
I give up.
Tony Everan
197
Posted 03/10/2018 at 22:40:56
Silva deserves the criticism, but I am in no way at all writing him off. Saying that, it seems he is still learning the ropes of Premier League standard football. There's not much between the vast majority of the teams there; if one team is fielding a weakened side, it will be exposed.
Silva's Premier League apprenticeship continues and I believe he will graduate with flying colours. Unfortunately for us, all the learning at the moment is learning from mistakes. I am still optimistic that he will learn and get better. I don't think last night's drunken gambling madness of a selection will happen again under his tenure.
Lawrence Green
198
Posted 03/10/2018 at 22:42:41
Tony #199 At least it won't happen until we draw a lesser team at home in the FA Cup.
Brian Dalton
199
Posted 03/10/2018 at 22:53:39
Justin, one less distraction. We can now concentrate on finishing 10th. The lack of ambition from some of our fans astounds me. The sad thing is I think the clubs ambitions mirror yours on last nights evidence.
Andrew Keatley
200
Posted 03/10/2018 at 00:08:58
Jamie Crowley (171) -
Congratulations on the ad hominem attacks; if people have a different opinion to you they are sheep or weren't brought up properly. Classic. At least now I know just to skip over your comments in future.

Justin Doone
201
Posted 04/10/2018 at 00:34:21
The ambition and dream is to win every game. Realism is understanding ambitions can not always be met.
I stopped attending games last season. I lost all enjoyment and hope under Sam. This season I'm satisfied (no more, no less) but crucially optimistic for the future.
I hope we achieve higher than 10th but, in my head, I'm setting a realistic target whilst at the same time wanting to enjoy watching football and the team improve their attitude, performance and eventually results.
Other comments read like we should be finishing in the top 4 this season and that we almost won the League Cup just by showing up if it wasn't for that pesky Silva kid. I've put them thoughts on ice for a few years.
As proven we are not yet good enough to play a second string team against another Premier League team but I think it answered a lot of people's questions on players, squad strength and how average we are.
Managing a large squad of players is possibly harder than it's ever been so I can completely understand Silva making changes, even going against his own statement. The less predictable we become the better.
For fun, I would like to know who each player would pick as the first 5 go-to penalty takers with every miss resulting in the whole squad forfeiting their monthly salary to charity. It may help focus on scoring and less on posing.
Jamie Crowley
202
Posted 04/10/2018 at 01:24:43
Andrew -
Anyone who says, "Well, everyone else is doing it, so surely it's acceptable" and I call them a "sheep"...
Well?
Kind of a bit of a follower attitude, or is that not fair to say?
Or is it the use of the word "sheep" that offends? Trying to conjure up an image of the masses heading over the cliff because the person in front of him did so?
Seems peculiar to me that when I hint that some posters are simply excusing Everton's weakened lineup by suggesting they aren't focusing on Everton and rather every other Club around them, that's a bad a thing?
Not to me at any rate.
An attack? You're very, very mistaken and dare I say very, very sensitive Andrew.
Not that you'd read this anyhow, being the arbiter of all things acceptable and being offended; damning me to never have my posts read by you ever again.
And for the record - I have all day long for people with dissenting opinions. It's one of the reasons I absolutely love this site. And that unequivocally does not make anyone with an opinion differing from mine a "sheep" or brought up improperly.
Justifying an action just because all and sundry around you are doing it? Ya, that's a sheep, Andrew. That's a sheep. And someone's parents were asleep at the wheel.
In my opinion, of course.
Karl Meighan
203
Posted 04/10/2018 at 04:27:41
Mark @75,
Kenny better than Coleman? If you ever see him touch the ball with his left foot, let alone use it, please inform me. To be fair, Kenny was okay last night and he is left exposed at times but I do not trust him playing right-back or any of our so-called young players in the team either.
I'm concerned and worried about our central midfield pairing who just slow attacks down, killing any momentum we may have, and making it very easy for opponents to get back behind the ball and get organised.
I would have been more happy last night if Silva would have experimented say with Bernard playing central, the glimpses of him offer hope that he can unlock defences and offer the guile and quality sadly lacking in Davies, Schniederlin and Gana... although Gana does offer other things around the pitch.
Trevor Peers
204
Posted 04/10/2018 at 09:34:22
Justin @201; I attended the West Ham game this season, it was awful; like you did last season, will now stop attending games at Goodison. Last season was dire and, although we played quite well against Fulham for 20 minutes, I see no real improvement overall.
Of course Silva needs to be given time, but the signs aren't good; I don't really see a plan in his tactics. Maybe, given time, we will see an improvement but, at the moment, going to watch the Blues is very poor value for money.
Paul Cherrington
205
Posted 04/10/2018 at 09:56:26
Some of the logic around Everton confuses me at the moment, to be honest. How can people say that they would be happy to finish lower than last season in the league as this would be progress? Surely progress is finishing higher than you did the previous year not lower? If Silva finishes lower with a full season in charge than Big Sam did with only half a season then that is not progress, it is failure.
The sort of mixed up thinking that thinks less points and a lower placed finish is progress is what is up with Everton at the moment. How can the players on the pitch be winners when some of our own fans don't want to be? We need to win games and finish higher each year until we win the league and cups. How we play to do that is just the icing on the cake.

Matthew Williams
206
Posted 04/10/2018 at 10:17:23
Has any of my fellow Blues ever read or heard an interview with Moshiri stating his importance for future domestic Cup victories as the new owner of our great club?
I haven't!

Paul Birmingham
207
Posted 04/10/2018 at 14:32:37
This weekend will be a stern test of resolve and character.
I hope Marco Silva picks the squad and starting line-up on merit, and that there's no more unnecessary tinkering with the starting 11, bar injuries and suspension.
A full 95 min strong performance is needed as preparation for a tough run into Chrimbo.
Ed Prytherch
208
Posted 03/10/2018 at 17:32:07
I can see two reasons for the changes. Silva wants to have a happy squad. It only takes a couple of people in any workplace environment to gripe about being treated unfairly and pretty soon you have a lot of people with a bad attitude. Griping is contagious.
Silva has trimmed down the squad so that it is possible to give everyone a taste of competitive football. Also, every member of the squad is either a regular starter or he is a backup and the backups must be able to be reasonably sharp when they are needed. That requires playing in games.
There are clearly different opinions on the relative importance of League Cup and Premier League games. If Silva attaches more importance to Premier League games, then that is probably what his boss wants him to do.
Steve Ferns
209
Posted 04/10/2018 at 17:59:45
Sorry, late to the party here. I'm still fuming over the pathetic exit from the League Cup. I still cannot understand it. Silva said all the right things in the run-up to the competition, and picked a relatively decent side for lower league opposition in Rotherham. I was expecting a slightly weakened first team, but a first team nether-the-less.
I can understand a few minor changes, such as Tosun for Calvert-Lewin, and Baines for Digne. These are more or less like-for-like changes. I understand Bernard needs games and so we need to rest one of the wingers (surely Richarlison needs games after his suspension?), and I understand the need to keep Schneiderlin ready to go (but swap him in for Davies?). I can even understand giving Lookman his big chance.
What makes no sense at all to me, though is dropping Sigurdsson for Dowell and Pickford for Stekelenburg. After making 7 changes, we don't have a dramatically weakened side, we have a reserve side, and then Richarlison and Walcott end up playing anyway!
I thought Schneiderlin and Davies made a good partnership. I base this on when Gueye went to the African Nations Cup in January 2017 and Davies came in for him and had a dramatic impact, and kept Gueye out on his return. Schneiderlin and Davies have played this game and Huddersfield, against weaker opposition than average Premier League standard, and as a duo they were far below standard. So, I'll have to accept that Gueye is head and shoulders above the other two. That means, if we intend to have more of the ball and attack a side, then we need to play Gueye and Davies. However, for the Leicester game, I think we should play more on the counter attack and use Schneiderlin and Gueye.
Gomes is in full training now. Leicester is a bit to early for him, but Palace on 21st October is a game he needs to be playing. Silva needs to work on trying to shift the midfield trio and work out how to play a single 6 and two 8s, namely Gueye, Gomes and Sigurdsson. If we can't get it to work then we need to spend in January as midfield is a big issue, albeit not as a big an issue as a goal-scoring striker.
We either need a number 6 in the Jorginho mould that can play on his own and can tackle and pass and hold position, giving Sigurdsson and Gomes a defensive platform to work in front of, or we need a deep-lying playmaker in the Moutinho or Alonso mould. This player needs to be the one who dictates the play and sets the tempo. Finding a quality player in this position is very difficult and will cost a fortune.
John Pierce
210
Posted 04/10/2018 at 18:10:13
The folly is there for all to see; come Saturday he will have to make in all likelihood another 7 changes, after a lame defeat against a poor side at home. I'm expecting another disjointed performance off the back of a morale-sapping defeat.
Silva might get lucky. Our performances have in the main been far better away from home than at Goodison Park. The team as it is much better when the onus is not on ourselves. Why? Fairly obvious to my eyes the midfield lacks any sort of punch.
Any combination you choose its not even mid table strength. It shows the lack of quality at home. Unable to dominate Huddersfield, Southampton twice and West Ham. Fulham the obvious exception as they played a much more open game.
If Gomes cannot change that, then we are firmly going nowhere until another window opens.
Steve Ferns
211
Posted 04/10/2018 at 18:30:41
John, the atmosphere at Goodison explains why we are better away, in part. Another factor is teams sit back and we struggle to break them down at home, but away they attack us and we can get through them easier.
The atmosphere really needs addressing though. It's the worst I've known it. And I don't mean just this season, it's been getting worse since under Moyes. Martinez got the crowd behind him and at their best that first season, but the knives were well and truly out by the third season and then Koeman satisfied the crowd until around Christmas in his first season when it got a bit bad, before an upturn in form got things going again.
However, since the summer of 2017, except for a few games, mainly the Watford and West Ham games under Unsworth, it's just become horrible to be at the game. This season, I thought would see a change in atmosphere with a new manager, but no, there was no honeymoon period.
It's nothing against Silva, it's more the players. Certain people, particularly some who sit near me, seem to only be at the game to shout and slag people off. As soon as their current victim makes a mistake, they're on him and remain on him for the game. There's no singing at all. It's just abuse for 90 minutes with a bit of applause and a cheer when we score. We didn't even get "Grand Old Team" in the Park end against Fulham and that was a 3-0 win.
I know it's bad everywhere, but we're Everton. We're better than everyone else. But, we're better than this and we need to change it. Abusing a 20-year-old boy all game won't help him. It's the manager who picks him, and he's doing his best. He doesn't lack for effort. Somethings got to be done, we can't rely on the team changing the atmosphere by playing well and winning games. It costs a fortune to go the games these days. Why don't we enjoy it, not go to shout abuse?
Derek Taylor
212
Posted 04/10/2018 at 18:41:23
Matthew at 206. On the contrary, I believe Silva may well have been working to orders from the football genius that is Moshiri!
Clearly, a masterplan which has as its focus a mega – expensive new stadium, veritably DEMANDS that Premier survival to the exclusion of all else pertains.
The misguided resort to Allardyce demonstrated this to be the case – just as a future call to Moyes will be for the same purpose.
What a fucking state our club is in !

Brian Dalton
213
Posted 04/10/2018 at 18:41:29
For me, personally, the speed at which we move the ball from midfield to the forward line is far to slow. I'm not wanting the midfield to just aimlessly launch the ball forward but Davies and Schneiderlin take so long to bring the ball forward that by the time they do the opposition are all set in position and our attacks just fizzle out.
It's never going to change though unless we bring in new personnel as Schneiderlin just passes it sideways and backwards and, despite people wanting Davies to be the answer because he is a local lad, he is unfortunately a Championship-level player.
Gueye is our best midfield option and that tells you everything about our lack of quality because, whilst he is very good at pressuring the opposition and winning the ball back, he is very limited with regards to his passing ability etc.
Joe McMahon
214
Posted 04/10/2018 at 18:46:55
Steve @ 211, it's also hard to get loud and enthusiastic when the home stadium is a dated antiquated embarrassing dump, with facilities from the mid-seventies.
Brian Dalton
215
Posted 04/10/2018 at 18:48:13
Steve 211,
There is a tipping point for everyone though. How many times can someone sit in the stand and watch Davies for the umpteenth time in a match give the ball away and just say "Never mind, son, better luck next time"?
I think, if people were seeing an inkling of progress, they would hold back a bit but, for the last few years, people have been paying their hard earned money and, to be honest, watching shit, week-in & week-out.
Tony Everan
216
Posted 04/10/2018 at 18:58:19
Steve @211
To kickstart the atmosphere we need to get wins against the Sky 6 clubs. Wins when we are the underdog. Get the fans blood boiling with a full-bodied assault on the likes of Liverpool Chelsea Tottenham Arsenal and the Mancs.
For the last few years we have been absolutely dire against the Sky 6, bar one or two occasions. Playing with no fight or motivation. It makes the average fan sick to the belly watching it.
I am hoping this year we can make inroads against them and the bear pit will come alive again.
Steve Ferns
217
Posted 04/10/2018 at 19:06:33
Brian, couldn't agree more about the speed of the transition and the time it takes to get the ball forwards. And yes, this needs to be precise passing with purpose and not a hoof up the pitch.
On Schneiderlin, I just don't get it. He hit a decent ball to Bernard against Saints. This reminded me of the player of two seasons ago. He has long passing in his locker. Silva can't be telling him to hit it short and sideways because he was going mental on the sideline. He also, you will be pleased to know, was criticising the speed at which we move the ball forwards. The speed of attack is one of his key features.
So where does this safety-first mentality come from? If it was Silva, then why did he drop him? I don't think it is the manager. I do think it's the player, and he needs to get some balls and take more chances with his passing. He's the only one we have who can get the ball forwards with precision. Otherwise, it's one of the centre-halves, and they really do just hoof it.
As for abusing players, Brian. I thoroughly disagree. Davies is a 20 year old. Getting on his back will not help him at all. It will have the opposite (the Barkley effect). The lad has been picked by all of the last few managers with regularity since Unsworth's first takeover spell. Believe it or not, this is a very talented player. He's a true blue. We need to back him. The manager (and his predecessors) pick him when they need to win, not because they are having a laugh. They see him day-in & day-out. Koeman might have been a lazy coach, but he knows something about football, and he believes Davies to be a player. Now Silva too.
Too many fans have this "I told you so" approach. They are waiting for it to all go wrong and then seem to take great pride in saying, "I told you he was shite." As if it makes them somehow more knowledgeable about football. Davies is good enough, he should make it to the international stage at least. He's only a kid, he's learning. He will make mistakes, he will make bad decisions. He will get better. Just get behind him when he's on the pitch.
That said, why abuse anyone in blue. This toxic atmosphere does no one any favours. I believe Silva will get things right, and the crowd will then respond and it will go. But it shouldn't take this. We shouldn't have 40,000 people abusing players just because it's 0-0 at half time and booing a side off. We're Everton and we're better than that.
Lawrence Green
218
Posted 04/10/2018 at 19:20:31
Toxic atmosphere... really? I sit behind the goal at Gwlady's Street and I don't feel that there is a toxic atmosphere; of course there are always a couple of people who would shout abuse at their own reflections but, in general, I would say that most supporters are exactly that supportive, quietly, perhaps, but nevertheless supportive.
I don't see or hear the passion that used to be there at Goodison in times past, but surely that's down to all those false dawns we've suffered in the last few years, in terms of seeing a good side who can be relied upon to give maximum effort over the 90 plus minutes, not to mention we are all still awaiting any news on the proposed new stadium.
The possibility of leaving Goodison in the next few years is one of the main reasons that Goodison remains nearly packed to the rafters most weeks as all Evertonians want to be there in its final season. Without the proposed new stadium, I suspect that Goodison would attract around 32k for ordinary Premier League fixtures given the standard of fare on offer most weeks.
Brian Dalton
219
Posted 04/10/2018 at 19:21:15
Steve,
There in lies the problem: I think you and many other fans are desperate for Davies to become a great player because he is a local lad and an Evertonian. However, that shouldn't really come into the equation. The only thing that should matter is: Is he good enough to help move this club forward and compete with the best? And, in my opinion, he isn't.
I'm not saying people should go to the match with the intent to abuse a player or players; however, if, during the game, you see a player make mistake after mistake, then you can't help but get frustrated.
I can guarantee I'm not wanting it to all go wrong. I wouldn't be travelling up and down the country every weekend watching them if that was the case.
Look at our home games this season and consider who we have played: except for a short spell against the Saints in the league and a 20-minute spell against Fulham, the quality of football we have watched is garbage.
Steve Ferns
220
Posted 04/10/2018 at 19:29:12
Lawrence, I sit in the Park End, so can't comment on abuse from the Gwladys Street, however, the Gwladys has been a lot more subdued in recent seasons than before. I'm sure the abuse I hear from the Park End is not isolated, and when I have swapped seats, as I do on occasion, and sat in the Main Stand, I see and hear the same there.
Brian, I fully respect your opinion and do not see how you could not be frustrated. It's just that no Evertonian should be shouting abuse at the top of their voice at a 20-year-old kid, or anyone else in the blue shirt.
As for the football this season, it's garbage compared to what? Last season under Allardyce is the worst football I've seen since Smith. Koeman's football was not much better, and only was due to actually trying to attack (albeit feebly so).
Karl Meighan
221
Posted 04/10/2018 at 19:32:52
Steve @211,
It's horrible being at games when the Club we love is turning out dross with the same players being picked who have constantly let us down.
I don't expect all players to have great ability or quality but effort, awareness, and hard work should be a given and easy starting points for every Everton player. Losing opponents neglecting to track back and losing one-on-one tussles without a battle are not acceptable... but all are things I have witnessed at Goodison this season.
Niasse recieved a good welcome when he came off the bench not because he is a tremendous player but more that he is prepared to work hard, gives some energy and at least trìes to make things happen. Too many of our players take the safe option and will not engage when its easier to stand off and leave it to a teammate.
Brian Dalton
222
Posted 04/10/2018 at 19:49:24
Steve,
Not particularly compared to any previous season but just garbage in general.
Can you honestly say when you have come out of Goodison Park this season you've thought except for a few minutes here and there that you have seen a decent level of performance from Everton.
I know you have high hopes for Silva and I desperately hope your faith in him is proven correct but I can't see our performances improving from the rubbish we were served up by Koeman, Unsworth or Allardyce.
Since the end of the first Martinez season, I think I could count on one hand the decent Everton performances I've seen, home and away.
Steve Ferns
223
Posted 04/10/2018 at 20:06:27
Brian, we are four home games into a new managers reign. Tactics are radically different. Lots of players were sold. Some new players signed, only half of which have started games for us so far.
You can't expect us to be consistently playing good stuff. But, I think we are having spells here and there as you say. That's the sign of a team in transition. Bits of what we're trying to do happen. And then more and more often as the transition works.
We usually give a new manager immediate backing and there's a new-manager feel-good factor. I don't see that. It's as if the manager hasn't changed and there's still so much anger directed from stands to pitch. I fail to see how this helps the team.
Tony Everan
224
Posted 04/10/2018 at 20:18:06
Brian,
We have improved this season under Silva. We are more watchable and we are playing with more threat. The games against Arsenal and Fulham we started to look like a proper organised and balanced team again. Especially with Keane back to partner Zouma, Schniederlin dropped and Gana & Davies playing in the middle.
Richarlison and Walcott are a menace away from home. I am optimistic that, back to the 'settled' team selection of those two matches, we can get a good result against Leicester and try to regain the lost momentum.
John Pierce
225
Posted 04/10/2018 at 20:40:39
Steve, what worries me the most was reverting to a more direct style once behind? Niasse on so early was not the right option. Despite my distaste for his approach to the game, with so many changes, he (as in Silva) has now abandoned his style twice – both Tuesday, and against West Ham.
That's alarming that he feels Niasse is the answer when Lookman etc is sat on his arse. Oumar is the option when all else fails, not 50 odd minutes into a game.

Steve Ferns
226
Posted 04/10/2018 at 20:49:55
Agreed John. Although it doesn't worry or alarm me as much as you. I'm more concerned that he gave up on his strategy so easily.
Then again, if he waited he'd have been criticised. Why go to Niasse as Plan B at half-time when one-down and the better side? Surely it was a kick up the arse and see what happens and then throw Richarlison on if the team did not respond?
Tony Abrahams
227
Posted 04/10/2018 at 21:01:46
I think, if he would have put Niasse right upfront alongside Tosun, and pushed Bernard and Lookman out wide, and started trying to get crosses in, I would have understood the change.
We never really went direct, imo, and this was why I couldn't get my head around his first sub, because it took away our system and left us with a team that didn't really look like it understood what it was supposed to be doing.
Paul Tran
228
Posted 04/10/2018 at 21:02:14
I can see why he wanted to change things at half time, as we were toothless up front and playing tidy football in front of their back four. Pity that the only option available was a hard worker who isn't good enough.
Southampton had a spine that held together well enough to enable them to pick us off. They were better in both boxes.
I'm getting the impression that Silva is desperately trying different combinations in the hope that he'll find one that works. Wouldn't he be better to give one a few games to bed in?
And the lack of spine leaves us weak at either end of the pitch.
Tony Abrahams
229
Posted 04/10/2018 at 21:06:04
Tosun was toothless imo Paul, and a straight swap for Niasse, might have been a good move, and also left either Richarlson or Walcott, to replace Dowell, once he'd pushed Bernard inside?
Paul Tran
230
Posted 04/10/2018 at 21:14:08
That would have made more sense, Tony. Those changes smacked of desperation for me. We looked a shapeless mess in that second half. I can put up with some stuttering performances if I can fathom what the manager is trying to build. There was no evidence of that and we were swatted aside by an ordinary, out of form team that that was organised and did the basics.
Tony Abrahams
231
Posted 04/10/2018 at 21:21:12
Agree, Paul, because I couldn't fathom much out once the second half started, and especially how Tosun was allowed to finish the game.
Anyway, I've got tickets for Leicester, so there's no way I'm giving up on Silva... but, like yourself, I'm not sure I'm convinced by what I've seen so far.

Brian Dalton
233
Posted 04/10/2018 at 22:21:40
Tony @224,
I will be at Leicester on Saturday so I hope you're right about a good result... but, if we play like we have done so far this season, I think I will be coming home disappointed.
I haven't been overly impressed with what we have seen so far but hopefully it's just a transition stage, like people have suggested.
Matthew Williams
234
Posted 05/10/2018 at 11:43:39
I had a lovely dream last night, I was looking at the final Premier League table for next season in our boardroom, final standings read...
17th – Everton: Pl 38 W 2 D 36 L 0 Pts 42
League Cup... Winners
FA Cup... Winners
I was smiling... Moshiri wasn't — and therein lies the Real problem folks!
Add Your Comments
In order to post a comment, you need to be logged in as a registered user of the site.
Or Sign up as a ToffeeWeb Member — it's free, takes just a few minutes and will allow you to post your comments on articles and Talking Points submissions across the site.