Everton vs Manchester City
Wednesday, 6 February, 2019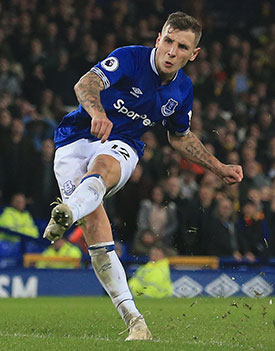 Lucas Digne is eligible again after serving a one-match suspension
Everton play the third of what will be four games in just 11 days when they face Manchester City at Goodison Park this evening.
Originally scheduled for later this month, the fixture was brought forward to accommodate City's involvement in the Carabao Cup Final against Chelsea and it comes at a time when Pep Guardiola's men have narrowed the gap between themselves and leaders Liverpool to three points.
As such, it means that the reigning Premier League Champions can reclaim top spot with a victory and it puts Blues fans back in the dilemma they faced in May 2014 when City needed to win to retain their place at the summit and ultimately beat the reds to the title.
For Everton that year, while their Champions League hopes were extinguished by results elsewhere prior to kick-off, fifth place was still in the offing but there are no such incentives this time around other than trying once more to get back to winning ways following Saturday's dismal defeat to Wolves.
Everton have lost six of their last nine Premier League games and won just one of their last six at home while also being dumped out of the FA Cup by Championship Millwall, a sequence that has ended any realistic prospect of success this season.
That makes confronting the uncomfortable question of whether one could ever want to see Everton lose a game a little easier — there are those for whom it is unconscionable and those who would be quite happy to give up these three points if it means screwing Liverpool over. In reality, the way Marco Silva's team have been playing, any hand-wringing and fretting about betraying one's Blue blood is likely to be moot. On recent form, just like they were five years ago, City should prove too strong.
It would, however, be very "Everton, that!" if Silva's comparatively more forthright comments in the wake of the 3-1 home defeat to Wolves had the effect of suddenly spurring his charges on to an unlikely victory in this particular match. It would be Everton's first win over a "big six" team since the 4-0 hammering of Guardiola's City just over two years ago and it would ease a lot of pressure on Silva's shoulders.
The Portuguese will be boosted by the return of Lucas Digne who has served his one-match ban following his sending off at Huddersfield last week, giving the manager to the chance to field a natural — not to mention fit — left back in that position after having to play Jonjoe Kenny out of position as a substitute in the last two games.
Leighton Baines is likely to be ruled out after being forced off after 36 minutes at the weekend and he will be joined on the sidelines by injured central defensive duo Phil Jagielka and Yerry Mina. Idrissa Gueye is fit again after missing two games with a minor groin problem and he is expected to come straight back into central midfield.
In terms of the rest of the side, much depends on Silva's reading of which players badly let the side down on Saturday as to what other changes he makes. Cenk Tosun arguably earned another start against Wolves but it wouldn't be surprising to see the ineffective Theo Walcott replaced, perhaps by Bernard.
The manager named Gylfi Sigurdsson as one of his two reliable goal scorers so while the Icelandic midfielder has been disappointing of late, he remains a key source of goals. As such, perhaps only the need to rotate given the current glut of fixtures would see Sigurdsson taken out the team despite calls from some fans for Silva to try something different in attacking midfield.
Kick-off: 7:45pm, Wednesday 6 February, 2019
Referee: Craig Pawson
Last Time: Everton 1 - 3 Manchester City
Predicted Line-up: Pickford, Kenny, Keane, Zouma, Digne, Gueye, Gomes, Sigurdsson, Bernard, Richarlison, Tosun
---
Reader Comments (116)
Note: the following content is not moderated or vetted by the site owners at the time of submission. Comments are the responsibility of the poster. Disclaimer
Paul Hewitt
1
Posted 06/02/2019 at 06:16:32
Lambs to the slaughter.
Derek Knox
2
Posted 06/02/2019 at 06:29:23
Good preview Lyndon but I fail to share your optimism in the form of a shock victory, and the performances of recent outings against varied opposition support my scepticism.
I always want Everton to win, but recent lethargic displays and lack of any joined up football with Sunday League defending have left me almost apathetic under Silva.
Abb Dhanani
3
Posted 06/02/2019 at 06:37:00
Does it behoove us to lose to Man City? I feel I'd gladly give up what little fight we have left for a Europa League spot to in order to help City catch our dear neighbours. But would that loss be the final straw for Silva?
Gaute Lie
4
Posted 06/02/2019 at 06:45:15
Hope for the best, but prepare for something else.
May the force be with the team we see as the one, and may the girls from Man City fight, but loose.
I hope Bernard gets in for the poor Walcott, and Gueye for Davies. Digne in of course. Otherwise unchanged.
Grant Rorrison
5
Posted 06/02/2019 at 06:46:09
Abb 3. The 'final straw' for most of us would be if he wins tonight surely?
Paul Jones
6
Posted 06/02/2019 at 06:46:11
Regarding Digne, isn't the penalty for a straight red card 3 games out?
Mike Kehoe
7
Posted 06/02/2019 at 07:00:02
I'd love to see a return to winning ways, but let's start at Watford. It would be so typically Everton to smash city and look like world beaters only to revert to type immediately after. I don't want us to do the RS any favours. With the cups gone the only objectives for the rest of the season can only be their chances of winning the league.
Lyndon Lloyd
8
Posted 06/02/2019 at 07:06:26
Paul (6), it's three games for violent conduct, one for being caught badly out of position and taking one for the team to prevent a certain goal ;)
Phil Sammon
9
Posted 06/02/2019 at 07:07:40
Paul 6
I thought so too, Paul. Hopefully Baines has recovered. If not, then I guess Kenny plays out of position.
Phil Sammon
10
Posted 06/02/2019 at 07:13:21
There we go. I've learned something too.
Karl Jones
11
Posted 06/02/2019 at 07:21:11
Worse scenario is win tonight, then lose to them...But Sterling/Bernardo vs Kenny LB who cant even use his left foot, makes me realise there is no chance whatsoever tonight. If they get to ten minutes without conceding it will be some achievement.
Joe Lockrobin
12
Posted 06/02/2019 at 07:26:54
Win, lose or draw; a good performance is required.
Hugh Jenkins
13
Posted 06/02/2019 at 07:37:07
Joe(12). None of us ever wants to see EFC defeated, but I'm with you on this one - a good, feisty performance with a narrow loss will be acceptable, followed by good, feisty performances with attendant wins becoming the norm for the remainder of the season.
Jim Bennings
14
Posted 06/02/2019 at 07:55:49
You can quite simply put the mortgage on a City win tonight especially given they lost their last away and with Liverpool slipping up on Monday.
The days when Everton relished the big games against the top sides went out of the window after Martinez' first season closed up.
It's been a downward spiral against the top six ever since and watching this Everton side, it's hard to fathom how we can even get a point from these next five home games.
We are basically going to finish between 8th and 12th probably nearer to 12th looking at how poor we've been for two months.
Kenny Smith
15
Posted 06/02/2019 at 08:12:29
I love the club like everyone else on here but I'm hoping for a narrow loss tonight. It won't be the end of the world if we finish in mid table and don't qualify for the europa but it will be the end of the would if the RS win it ! You won't hear the fuckin end of it.

John Raftery
16
Posted 06/02/2019 at 08:15:25
There is far too much football to be played between now and the end of the season for us to fret about the impact of tonight's result on the title race. We urgently need a performance and result from our team to halt our slide down the league.
Tony Abrahams
17
Posted 06/02/2019 at 08:22:50
Go and bet your house on City then Jim. I had a red mate on yesterday saying the same thing, and because he's mortgage free, I told him to leave me alone and go and bet his house on it. I bet you he doesn't!
Stu Gore
18
Posted 06/02/2019 at 08:27:30
Don't fancy our home games much
City
TheShite
Chelsea
Manure
Arsenal
Then Burnley last for a shinkicking breather. Home fans might not see another win (though I know one I will be desperate for us to win)
A run like that did for Ron. Could it be the making of Silva?
All the away games are against strugglers around or below us.
We have an annoying habit of playing the last game of the season against the Champions. So we can roll over like the nice sacrificial lambs that we are. Last game of the season away to Spurs . always bet on the outsider in a three horse race.
Dale Rose
19
Posted 06/02/2019 at 08:30:43
I think it's all about who turns up tonight. On their day they are capable of causing an upset. We just don't have many of those days anymore.
On a purely bitter level, a good performance and a loss would certainly destroy the confidence at Mordor. We will never hear the last of it if they win the league.

Kevin Prytherch
20
Posted 06/02/2019 at 08:31:19
If we go 4-2-3-1 tonight we will get slaughtered. Playing 2 midfielders struggles against the worst of midfields, trying it against the best is pure suicide.
We need a midfield 3 who will not be overrun and will constantly be snapping at City. The full backs should be full backs for today, not marauding wing backs.
2 pacy wingers and a target man. Our best chance is to keep them contained in the middle of the park with the defence holding solid when they break through the midfield, then breaking at pace.
Richarlison and Lookman on the wings, DCL up top as I feel he could keep the centre backs occupied more than Tosun.
Gomes, Davies and Gueye across the middle, with Gomes sat deep and Davies and Gueye pressuring the City midfield. (Still think Schniederlin is best in a 3 man midfield but it won't happen).
Whoever is fit in defence!!
Anthony Murphy
21
Posted 06/02/2019 at 08:47:43
It would be so us to win tonight and hand them a huge advantage - we all get that right?
However, it would be so them to rock up tomorrow with the patronising, smugness we are all accustomed to, convinced its in the bag only to get beat by Bournemouth.
It's still early days. Nothing will be decided yet. I was at the Man C game in 2014. Strange atmosphere that day but from where I was sitting, we definitely wanted Everton to win.
Joey Crawley
22
Posted 06/02/2019 at 08:52:58
What we need is a gutsy performance tonight, lots of one twos, some through balls, a Gylfi wonder goal, a Richi running super strike, a Pickford flying squirrel performance and a solid back line who mark the man they're equal in stature to, not statue marking but attacking the bloody ball, Nil Satis ya Divvys, oh and a 3-2 loss and I wanna see big Dunc tapping up Arteta, that will be Nisi Optimum for me.
Dick Fearon
23
Posted 06/02/2019 at 09:11:04
How sad to read about fellow toffees talking about defeat and more so when such a defeat could lead to our own noisy neighbors not winning the league. How low have we sunk if that is the case.
When the time comes that we are in their shoes I would be sickened to think they had the same thoughts.
I doubt however that would happen because like them or not it is undeniable that they have shown far more pride over the years in defending their reputation as a top club than the miserable kow towing we have supinely accepted.
another example of small mindedness is shown by those who will not have Rafa for no other reason than he once was the RS manager and a succesful one at that. Meanwhile we are happy to hire a chorus line of second raters.
As for tonights game, I don't give a damn what the result means to City or the RS. We are EVERTON and its about time we showed a bit of pride in the name. NSNO,
Martin Nicholls
24
Posted 06/02/2019 at 09:14:01
Still on the match but away from the game itself, has anyone tried to upgrade a season ticket recently? As a consequence of this game being brought forward and played at short notice, I am unable to go so wanted to upgrade so my daughter's partner can go in my place and take my grandson. My mate went to Goodison on Monday only to be told that they couldn't do it and that he'd have to return the following day. This he did yesterday when he was told that "the bloke that does it is off sick - we tried to get him to work from home but couldn't"! He asked if my season ticket could be cancelled and he'd pay full price for a paper replacement - again, nothing doing.
I know we are incompetent on the field but thought we were starting to get it right off it - apparently not! No-one available to give money to! Anyone know what to do? I'm away on holiday so my hands are tied.
Frank Sheppard
25
Posted 06/02/2019 at 09:19:52
An opportunity for Silva to do something positive for his reputation tonight and to show managerial acumen, in terms of selection, formation and tactics, and not least getting a "team performance" tonight. Should be interesting, I very much hope so.
Eddie Dunn
26
Posted 06/02/2019 at 09:20:19
If we can't keep out Lincoln, Milwall or Wolves then we can't keep out Man City.
After hoping for a turnaround with every game and been let-down, I have no hope of us grinding anything out of this game.
The team should at least be motivated and hopefully we should see real effort, but this lot just haven't got the bottle and we will come up short.
Joey Crawley
27
Posted 06/02/2019 at 09:27:16
I'm guessing Dick doesn't have any Gobshite friends, I'm surrounded by them, every god damn one of them a bloody historian in all things red and blue, it's painfull when I bleed blue and they win cups, for the sake of a somewhat enevatible loss there's only one icing on the cake for us this season and that's seeing the red shite crash and burn again at the last hurdle, ala Gerrards "let's not slip up now laaa" hahaha, And if you know your hisss who the hell are we kidding kidda
Jim Harrison
28
Posted 06/02/2019 at 09:32:25
Fuck this "lose to Man City" shit. Beat Liverpool at Goodison to lose them the league.
Beat City to kick start a decent run to the end of the season.
Derek Thomas
29
Posted 06/02/2019 at 09:35:13
In 2014 when Barkley's screamer went in, we ALL wanted to win it, then City stepped up a gear and it was out of our hands no matter how we felt.
If the real City turn up, not the one that Koeman faced, it will be most probably be out of our again. But if there is a top 6 team we sometimes put one over on its City.
I know, I know, its the hope etc. But I'll take a chance and drag myself out of bed in the wee small hours, just in case.
Derek Taylor
30
Posted 06/02/2019 at 09:51:47
Half-a-dozen points from those next five home games will be more than enough for Silva to justify Moshiri's blind faith and see us remain in the Premier League.
That will see a similar team line-up next season and more heartache... I hate Everton with big money behind them but with nobody knowing how to spend it!
Paul Cherrington
31
Posted 06/02/2019 at 09:53:35
I admire Jim @28's optimism but history and the state we are in suggests beating Liverpool anywhere is not on the cards for us. Therefore, we need to take one for the team so to speak and hand Man City that win tonight.
I'm not saying we shouldn't put in a good performance or get a thrashing but a 1-0 or 2-1 loss is much more bearable than Liverpool winning the league.
At the end of the day, this season has been one of the least enjoyable so far that I can remember so at least we will get some enjoyment from them bottling it again, haha!
John Hammond
32
Posted 06/02/2019 at 09:56:31
Minimum required tonight is 100% from every single player. If we lose to a far superior team then so be it as long as we've given them a go. Who knows, City might have a rare bad game so we need to be in position to take full advantage.
Jim Bennings
33
Posted 06/02/2019 at 09:58:41
Derek
That's what happens when you don't possess men at the club with a knowledgable football brain.
Moshiri is a successful business man but his football nous in zero and Kenwright fell lucky that David Moyes was a master of turning water into wine for almost a decade.
I'll never forget the bull dust Kenwright spouted when he sold Rooney in 2004.
Tony Everan
34
Posted 06/02/2019 at 10:00:56
Why would anyone think we should roll over like a helpless three legged cockapoo puppy ?
Newcastle beat them 2 weeks ago, Crystal Palace beat them on their own patch a few weeks ago . They are not as invincible as some would have.
We have 'very arguably' better players than Newcastle and Crystal Palace . If they are fully motivated, drilled properly and we play in an organised system and formation like those two teams did, we can beat Man City too.
If Rafa Benitez and Roy can come up with the goods with their lesser squads, well why not Marco?
I want to see us organised and fighting ' I want to see defensive improvements and a better more combative formation.
I want to see Marco Silva moving forward and showing us he has got what it takes to make us a fighting force of a football team again . Ultimately the supporters will settle for nothing less.

Alan McKie
35
Posted 06/02/2019 at 10:02:08
I have just read that the Under-23s beat Swansea, with a late goal. Unsy's reflection was, that it wasn't pretty, but he had never seen a team with more desire to win a game of football.
Why cannot this desire translate to the first eleven? Surely pride, commitment, and determination in your own performance to be the best, should be paramount in any young professional athletes make up, in any sport they compete in.
David Graves
36
Posted 06/02/2019 at 10:36:09
Dick Fearon you obviously don't have to endure spending much time with Liverpool fans do you! Every misfortune we have had they have revelled in.
"When the time comes that we are in their shoes I would be sickened to think they had the same thoughts." — You have got to be joking. How many examples do you need? Their uncontained joy when we faced relegation? The Steaua Bucharest flags? The Moyes banner at the derby? Their song about Coleman breaking his leg? The Tesco carrier bags?
I have a 10-year-old nephew who refers to us as "the bitters" as do many of his mates. Oh the irony. Regardless of what they claim, they are obsessed with doing us down.
Do not for one moment fall for the media-peddled myth that they are in some way a better class of football fan.
Laurie Hartley
37
Posted 06/02/2019 at 10:36:20
I hope your predicted line up is correct Lyndon.
If Richarlison, Tosun and Bernard put in a good shift we will give them a game.
Richarlison will have to watch himself with Walker. I would prefer to see Bernard on the left for this one.
Hope the team and Goodison fires up tonight.
Up the Blues!!!!
Roger Helm
38
Posted 06/02/2019 at 11:06:50
Sad to think it is not that many years ago we were well above City's level and comparable to Spurs. Just shows what 20 years of indifferent management will do to a club. The Moyes years were the only respectable time in that period.
I still hope for a result tonight – I would take a draw if it were offered but I can't see it. At least let's go down fighting.
Stan Schofield
40
Posted 06/02/2019 at 11:13:02
Let's hope we can finally put a decent performance together and win this one. We were doing okay against top-6 sides until the derby result, but lacking the killer finish in front of goal. We need to get that form back ASAP and preferably tonight.
Regarding Man City's title challenge, it's not relevant to us. The only thing that matters is us winning. Or even if we don't win, at least putting in a good performance and coming close, to try and establish some positive momentum.
And regarding Liverpool, they are also irrelevant to us. Just ignore comments from Liverpool supporters, they simply don't matter.
Brian Williams
41
Posted 06/02/2019 at 11:22:52
Roger, you're overlooking the huge influx of money City have had injected into the club, and on a lesser scale Spurs too.
It's all about the money at the top!
Andrew Clare
42
Posted 06/02/2019 at 11:28:55
Roger,
The Moyes years are the reason we are where we are now. 11 years of being happy to be also-rans. We went too long in the doldrums and now it is going to take a gargantuan effort to get us out of them.
James Marshall
43
Posted 06/02/2019 at 11:45:37
Everton manager Marco Silva has lost all of his six competitive meetings with Manchester City boss Pep Guardiola, by an aggregate score of 22-3.
It's not beyond possibility for us to lose 22-3 tonight.
Rennie Smith
44
Posted 06/02/2019 at 11:47:06
City are 2-7 to win tonight, and let's be honest, can we see anything different? So with all that in mind, why not revel in the fact that we're helping to stop the RS from becoming champions?
I'd never cheer the boys on to lose, but what a bonus seeing the kopites whinging away tomorrow (all the way from Norway).
Dave Williams
45
Posted 06/02/2019 at 11:50:00
Sílva has to deliver the most inspiring team talk of all time and send them out itching to get stuck into Man City and not give them a moment's peace. The crowd has to get up for this and create a mountain of hostility for City to listen to.
Absolutely must have three in central midfield with workers up front:
Pickford
Kenny Keane Zouma Digne
Davies Gana Gomes
Bernard Calvert-Lewin Richarlison
I would play McCarthy if he is fit and wonder if Feeney is in the squad?
Raymond Fox
46
Posted 06/02/2019 at 11:57:51
It's a high-pressure game for them but not for us. It should feel like a shot to nothing for our players as nobody expects anything but a Man City win.
I think they will still have too much ability and win the game but I expect a decent performance from Everton. I won't be 100% happy whatever the result tonight!
Colin Malone
47
Posted 06/02/2019 at 12:02:02
Tyias Browning was an up and coming prospect who has not been given a chance to prove himself at Everton. I would give him a go in the right-back position, where we are vulnerable, especially at set-pieces.
Jim Bennings
48
Posted 06/02/2019 at 12:06:21
We've had good money over the last three years but wasted it on players not good enough to make other top clubs (in various leagues) first teams.

Scott Hall
49
Posted 06/02/2019 at 12:14:31
Forget them over the park. It's nothing to do with us. If we're going to lose, go down fighting. That's all I ask.
Derek Cowell
50
Posted 06/02/2019 at 12:15:43
James@43, there is no way we will score 3! Haha! It's disgraceful that there are Evertonians who want us to lose... EVER!
I fully expect us to lose tonight, and lose heavily based on recent evidence, but I still WANT us to win. Will those obsessed with the RS sleep well tonight if we lose 0-7?! I certainly won't!
Brian Cleveland
51
Posted 06/02/2019 at 12:20:52
James (43)
22 - 3? Don't be ridiculous man... Where would we get 3 from?! 🤣

James Marshall
52
Posted 06/02/2019 at 12:26:00
Good point, I clearly wasn't thinking straight!
If we lose tonight, will anyone really care? I mean it's just one game against one of the best teams in Europe and the obvious silver lining we're on a hiding to nothing. I'd be happy with a good game and a low scoring loss to keep the RS off top spot.
David Hallwood
53
Posted 06/02/2019 at 12:27:04
We will definitely concede a typical Man City goal, that is, wide players isolating the backs, beating them then putting a low cross I to the 6-yard box for one of their runners to tap in. It's just a case of how many.
Love to see us turn up and give them a game but can anyone really see it?
Steavey Buckley
54
Posted 06/02/2019 at 12:35:49
Seamus has been one of the best servants for Everton FC but his time as a top right back are over. Kenny should be Everton's right back for the rest of the season.
Everton's failing in defence is lack of cover: the centre-backs should be covering for each other because mistakes always happen. If Pickford came for crosses more often there would not be so many concerns regarding zonal marking.
Not playing James McCarthy in midfield even as a sub; has been a mistake because he plays with lots of energy and loves a tackle.
There is one good thing about Sigurdsson – he loves a shot on goal; playing him further up-field alongside who is going to be tonight's striker would provide Everton with more firepower.
It's hard to discuss other players in other positions because of poor form.
James Marshall
55
Posted 06/02/2019 at 12:37:43
Sport is all about rivalry, it's what makes it interesting and worthwhile so I fail to see why anyone would want us to win tonight when you look at the bigger picture. We have nothing to play for.
The RS belittle us constantly, and some might say, rightfully, but it's the insufferable nature of a lot of them that I can't stand. The Steaua Bucharest flag, the baiting and whinging, the banging on about how amazing they are and all the self-aggrandising. Urgh.
Here's another way of looking at it – Pickford gifted them 3pts at Mordor so we can in some perverse way claim that back tonight by losing!
Rob Halligan
56
Posted 06/02/2019 at 12:44:12
Did anyone think Newcastle fans could see anything but a defeat last week, or did Palace fans go to the Etihad expecting anything but a defeat? As John Raftery mentioned earlier, this game tonight will have no bearing on the outcome of who wins the league, as there are still plenty of points to be won and lost by both teams.
Having said that, I won't be losing any sleep should we get beat. I'll be in the Childwall Fiveways before and after the match, which no doubt will be full of RS, giving it large should we win. It's the same in the pub in Woolton Village I go to. Full of smug red bastards who have never been to a game in their life, yet claim to have never missed a match all season. They have season tickets in the pub for every game, sitting in the same seat. Well I'll be smug on Friday if Man City beat us.
Soren Moyer
57
Posted 06/02/2019 at 12:46:34
Just saw Silva v Guardiola head to head statistics. 0-6 to Pep! 3 scored and 22 conceded!! Doesn't look good at all.
James Marshall
58
Posted 06/02/2019 at 12:48:57
No bearing? Of course it has a bearing on who wins the league – that's a daft statement. If City win they go top on goal difference having played a game more than the RS. If we win and the RS win their game in hand, they're 6 points clear.
The RS have been top for months and this would be a psychological blow for them to be second again and completely change the complexion of the title race.
I'd be delighted if it was us who helped them fail. Call me bitter.
Lee Courtliff
59
Posted 06/02/2019 at 12:58:42
I thought I read on here that this game was on BT Sport tonight? It's not on their programme list.
James Marshall
60
Posted 06/02/2019 at 13:00:42
Lee – this is a rearranged game hence there is no TV coverage in the UK.
Lee Courtliff
61
Posted 06/02/2019 at 13:01:39
Bloody Hell, I was looking forward to watching it without having to piss around with a stream.
Derek Thomas
62
Posted 06/02/2019 at 13:08:48
On live in Australia.
Tom Bowers
63
Posted 06/02/2019 at 13:11:34
Massive underdogs and rightly so but upsets happen and we are at home which is our fortress. (Yeah right!) Still, anything can happen and surely some improvement can be expected after Saturday.
Colin Grierson
64
Posted 06/02/2019 at 13:16:58
Isn't it grim that the only team afraid to go to Goodison Park at the moment is Everton?
I can't see us beating Man City but stranger things have happened.
Derek Taylor
65
Posted 06/02/2019 at 13:23:16
Not one of our players – not even Pickford – would get into the Man City team so tonight's result is a foregone conclusion. Or is it?
Silva has given his players a roasting and expects them to carry out his instructions at set-pieces. Moshiri has told Sky he is not concerned by recent results because his manager is working on a project towards delivering success long-term.
So, perhaps, all this talk of motivation is not just the bullshit we've heard so many times before and tonight will prove this lot mean business. Perhaps.
Danny Baily
66
Posted 06/02/2019 at 13:24:24
Firmly in the 'wanting Everton to lose' camp on this one.
If we could couple a loss tonight with a win in the derby that would be ideal.
If we do win tonight I'll be joining the call for Marco's head!
Jay Wood
[BRZ]
67
Posted 06/02/2019 at 13:29:13
I have one thing to say to those actively calling for Everton to lose tonight as a way to upset our Pinkie neighbours.
You are allowing them to dictate how you think and feel about us.
Why grant them such easy succor?
Ignoring them and being indifferent to them hurts them much more than re-affirming the 'Bitter Blues' moniker by saying you would rather Everton lose to hurt them.
Tom Bowers
68
Posted 06/02/2019 at 13:29:37
Silva doesn't look capable of giving anyone a roasting — even his Xmas turkey.
Gary Edwards
69
Posted 06/02/2019 at 13:36:36
Has anyone thought to check to see if Tosun is wearing the correct size boots as it's pretty obvious to me that the ones he's currently wearing are crippling him. How else would you explain his running 'style'?
Calvert-Lewinis a far better option than Tosun for many reasons.
Keane and Sigurdsson need to step down. They're both guilty of hiding, they're undoubtedly slow frankly they're useless, Walcott too.
I used to be a big advocate of blooding lads from the U23 but I've lost touch with how they're progressing. Regardless I'd take Feeney over Keane any day.
Sigurdsson is so ineffective he does not require a replacement, by removing him from the line-up means we start with 11 on the pitch.
Glad that I'm working away these days and don't get to the games so often. My last game was Leicester and that was pretty dire. I will always be a proud Evertonian just a despondent one these days.
I'd bring Moyes back as nothing else is working.
Christy Ring
71
Posted 06/02/2019 at 13:40:48
Why doesn't Silva change it tonight? A bit of drive and passion in midfield, have Gueye and McCarthy in their faces and Gomes the playmaker. Give the fans something to shout about.
George Cumiskey
72
Posted 06/02/2019 at 13:41:22
People could regret saying they hope we lose tonight to stop Liverpool, if we end up in a relegation scrap.
I hate this cliche but I'm using it nonetheless: Be careful what you wish for.
Derek Knox
74
Posted 06/02/2019 at 13:48:45
Derek Thomas @ 62, what Channel is that on mate? I do live in the UK, but have a VPN, so I can usually set it to any Country which is broadcasting. I have checked my normal sources and as most have said the coverage in UK is virtually non-existent, though usually Sky are present at all Prem matches and sell to foreign Channels.
I also know Digi Sport 4 (Romania) is covering the game as given to me by John Keating, (thanks again JK) some time ago, but whether it's in English or not I don't know, but any coverage, in any language is better than nought. Also being covered by Bein Sports 11 HD, which is in English for anyone who can pick that up. So hope that helps for anyone.
Just a footnote, had it been the RS, Manure, or Chelski, you can bet that it would have been covered and accessible to more than just those with Computer feeds and dodgy streams.
Richard Mason
75
Posted 06/02/2019 at 13:52:03
I'd play 4-3-3 with gana McCarthy and Davies in the midfield 3 full of energy tackling a pressing.
Rob Halligan
76
Posted 06/02/2019 at 13:56:25
James, of course you're right, tonight's game will have a bearing on who wins the league; what I meant to say was it won't be decided tonight. As I say, there are still plenty of points to be won and lost between now and the end of the season.
Obviously a win for Man City helps, but they could just as easily get beat by Chelsea at the weekend, and the RS win, putting them back on top. I agree with you when you say it could be a psychological blow for the RS to be knocked off the top, and nerves are clearly beginning to set in with them.
Nobody wants Man City to win the league more than me, but it won't be won and lost tonight.
Derek Knox
77
Posted 06/02/2019 at 13:58:19
Tom @69, that made me laugh mate, but unfortunately it is sadly true.
Tony Everan @34,
" Why would anyone think we should roll over like a helpless three legged cockapoo puppy " ?
Because at the moment we are being managed by a two legged Portuguese Cock Hound, who has no bark, no bite, and obviously no balls either! :-)
Jay Harris
78
Posted 06/02/2019 at 14:01:44
I would be slightly more optimistic if we had a decent manager but this guy has succeeded in knocking the stuffing out of me.
We were always City's bogey side especially under Moyes but I cant see Silva even winning the toss of a coin these says such is my lack of faith in him.
I would be pleased with a good performance and a narrow loss but shocked if we pull off the seemingly impossible given our current penchant for gifting goals.
Michael Lynch
79
Posted 06/02/2019 at 14:13:13
The only way to win tonight would be five on the 18 yard line, four half way between the penalty box and the half way line, and Richarlison up front for the breakaway.
But instead we will try to match them with possession, play a high line, and Keane will be turned about a million times by their pacey forwards leading to a humiliating defeat.
Time for Marco Silva to unveil his plan B. Otherwise he can fuck right off.
Pat Kennedy
80
Posted 06/02/2019 at 14:15:47
I always find it sad that so many fellow Evertonians are so obsessed with our neighbours.
I come from a family of reds & blues. Lots of banter & stick taken & given. Do I want them to lose- of course! Do I EVER want my team to lose- No!
We had all this crap back in 2014. I was disgusted then and am again.
Let's face it we are way behind them at the moment. They have a better team and Manager. Their owners have a vision and a plan.
It sticks in my craw but that's the reality. As a fan base we crucify ourselves by constantly thinking we must match them. This will take years of effort and great leadership.
We have to focus on us. There will be 3 generations of my family at the game tonight. My grandson keeps asking me when we will beat Liverpool. He's never seen it happen. His Dad keeps telling him it will happen soon . Beating City tonight will bring a smile to both their faces. We've had too many disappointing days this year!
I'd rather we beat our neighbours on March 3rd. Wouldn't that be the right way to put a dent in their ambitions?
I was at both Southampton & Millwall games recently and ashamed at our incompetence.
We can't just watch our team and be passive acceptors of a defeat.
Bollocks to another teams title ambitions. Let's put Everton first.
James Marshall
81
Posted 06/02/2019 at 14:26:33
Sport is about rivalry - if we lose and it helps our rivals lose, I'm all for it. It won't mean a damn thing for us if we lose to City but it will 100% annoy the RS!
Kieran Kinsella
82
Posted 06/02/2019 at 14:31:25
Martin Nichols 24
That is ridiculous. 30,000 season ticket holders and we have a problem shooting system that relies on the health of one man in a booth. I recently went to an NFL game over here. A season ticket holder couldn't go so gave me their tickets. I in turn couldn't go so gave them to someone else who was already at the stadium in not as good seats. All this was done in about 30 seconds total via a mobile app and a few texts involving three of us in three different cities. It is embarrassing to hear Everton is still operating like it's the 1920s and you cannot get in if you lost the paper raffle ticket you bought for a tuppence halfpenny.
Trevor Peers
83
Posted 06/02/2019 at 14:40:15
Once the game starts most of us will be willing the blues on to victory, but the chances of us doing so are pretty remote tonight. With the catalogue of failings we have at the moment it will be a major surprise if we even get a draw.
No doubt if we do get beaten badly the commentators will be suggesting that we threw the game, that would be nonsense of course, but then they do talk nonsense most of the time, who cares. Silva will not be judged on this game, it's virtually a free pass for him tonight.
Brian Wilkinson
84
Posted 06/02/2019 at 14:44:04
Yeah spot on James@81, then let's get a result in the derby to knock the nail in the lid, with Duncan Ferguson sprinting on the-pitch, fist pumping the Bullens Road End.
Still got goofys image of running on the pitch and going unpunished, and the Coleman sick song.
Raymond Fox
85
Posted 06/02/2019 at 14:53:08
Any optimists out there, you can get 10/1 a win for us and 11/2 it's a draw. A draw is not out of the question I suppose but looks unlikely. They want a win, a draw is still 2 points dropped in their position.
Silva should pick his quickest players tonight or they will run rings around us, I'd play Jagielka instead of Keane and Kenny at right back.
Dave Harvey
86
Posted 06/02/2019 at 14:58:34
We need to start on the front foot, take the game to Man City, and play good old 4-4-2. Fitness levels should be no problem to go at 100% all game.
If your manager at work told you to do something you know will not work would you do it anyway? Zonal defence ain't working... get man-for-man and do your job. Easy!
Craig Walker
87
Posted 06/02/2019 at 15:00:48
I'd love us to be City and be in the position where we need to beat City to go top. I'd love it if the RS feared coming to Goodison because they never do well at our place. The fact is, we are miles behind both of these teams. They will both beat us convincingly on current form.
I love this club. Everton is a massive part of my life. It genuinely affects me whenever they lose and I'll never be one of those fans who just accepts that we are not good enough.
However, I've had many years being laughed at and ridiculed by them lot. I said on another post yesterday that it still makes me feel sick when I see Klopp running on the pitch celebrating that flukey last-gasp winner.
My lad is 8-years-old and has never seen us beat the RS. He gets laughed at on Wednesdays for wearing his Everton shirt during football. It's hard to keep him interested with his friends supporting the RS, Man Utd, Spurs etc. If you can enjoy them lot going top then you're better than I am. Things changed when we were banned from Europe.
I don't mind Man City. They've suffered some rubbish teams and times down the years. I don't begrudge them some glory. I wish it was us, but it isn't. I don't Liverpool them winning the league. Ever.
Kristian Boyce
88
Posted 06/02/2019 at 15:03:37
All Pep has to do is instruct Sterling and Sane to run at our defence, and that's game over. They'll draw as many fouls as possible around the box, and you know what happens when we're up against set pieces.
As much as I don't want to lose, with Silva's tactics, unfortunately I think it's pretty much guaranteed. If we don't fix our set-piece and zonal marking issue quick. This is going to every team's plan against us until the end of the season.
Rennie Smith
89
Posted 06/02/2019 at 15:14:38
Well said Craig@87, those bastards are insufferable at the best of times, but if they win the league we'll never hear the bloody end of it. I will have a smile on my face in work tomorrow whatever the result (apart from a draw maybe, that does neither any favours).
It's all setup for a derby win with Big Dunc pulling off his jacket, running down the touchline pointing to his badge tatt and diving head first into the Gwladys.
Rennie Smith
90
Posted 06/02/2019 at 15:15:14
Followed by that bloody cat!
Brian Wilkinson
91
Posted 06/02/2019 at 15:35:26
Moonwalking in front of Klopp Ronnie.
Rob Marsh
92
Posted 06/02/2019 at 15:39:37
Eddie Dunn #26
"If we can't keep out Lincoln, Milwall or Wolves then we can't keep out Man City."
Eddie, in the words of Saint & Greavsie "It's a strange old game!".
A beats B, B beats C, but A can't beat C?
I'm with you on this I do think we'll lose, but I wouldn't be the least bit surprised if we did them.
Moshiri's statement that I won't sack made last night might just have the effect on the players that they accept he's here to stay. If they accept this they might start playing for him?
Mark Tanton
93
Posted 06/02/2019 at 15:49:50
All I'll say is I simply cannot face Liverpool winning the league. So there we are. We are indeed staring into the abyss.
Jamie Crowley
94
Posted 06/02/2019 at 15:52:40
Craig @ 87 -
My lad is 8-years-old and has never seen us beat the RS. He gets laughed at on Wednesdays for wearing his Everton shirt during football. It's hard to keep him interested with his friends supporting the RS, Man Utd, Spurs etc.
Character Graig, character! You're moulding a man who will be loyal and stand by his convictions.
Well done Dad! Keep it up m'man.
Jay Harris
95
Posted 06/02/2019 at 15:53:14
Rob
What few seem to realize is that they are playing for him and that's why we have turned into a defensive nightmare just like the Martinez regime.
Eddie Dunn
96
Posted 06/02/2019 at 15:58:40
Rob, yes, what a show it was. "It's a funny old game!"
Unlike you though, I just can't give this coach and this group of players a cat in hell's chance of winning. Quite simply, the swines have let me down so often this season and even when they have got the win(Burnley excepted) it has been either lucky or by the skin of their teeth.
We can play well for half an hour but any good things are always undone in an instant by any one of our usual mistakes.
I live in hope, that's all.
Rob Marsh
97
Posted 06/02/2019 at 16:01:33
Jay #95
We'll find out tonight just how much fight they have, they're gonna spend a lot of it on the ropes covering up.
They might just though start playing again and make the best of it because they're locked in with Silva.
My feelings (and a few on here) are that many of these have gone missing and you can't blame Silva entirely for that.
Paul Armstrong
98
Posted 06/02/2019 at 16:01:58
Oh dear. Just received an email from beloved EFC wishing me a Happy Birthday. I will save the email and reopen it on my actual birthday October. Attached to the email was a link to a video where a number of my heroes wished me "Happy Birthday, Sarah". I hope that if they organise my birthday party (probably in August) it does not involve a visit to a brewery.
Steve Ferns
99
Posted 06/02/2019 at 16:06:51
Martin Nicholls, we've done it three times this season. No issues. Box office on Goodison Road twice and the Park End once. Go to Goodison Road first.
Rob Marsh
100
Posted 06/02/2019 at 16:09:25
Eddie
"I live in hope, that's all."
There's never been a truer words spoken when describing the life of an Everton fan.
We need to start campaign to replace NSNO with the above.
Kieran Kinsella
101
Posted 06/02/2019 at 16:11:27
Kristian 88
Spot on. I was thinking the exact same thing. All any team need do is run in the channels as we will either give up a free kick or a corner. Either way it's a guaranteed goal.
Kieran Kinsella
103
Posted 06/02/2019 at 16:16:34
Rob Marsh 92
Your point is a valid one especially this year. We have Bournemouth, Leicester, West Ham, Watford, Wolves all of whom can beat a top team on Wednesday then lose to some clowns on Saturday. I am just not sure that Everton are in that group. Yes in terms of position we are in that mix. But we have ground out results (usually playing poorly) against pretty rubbish teams. The only decent result against a good team was the draw at Chelsea. Some will say "we played well at Liverpool and Man Utd." So what. We lost so it means nothing. Consequently, I expect tonight we might lose by as many as 7 goals.
Paul Armstrong
104
Posted 06/02/2019 at 16:21:21
I have now had a further email apologising for a systems error. A systems error? At Goodison Park??? Surely not.
Kieran Kinsella
105
Posted 06/02/2019 at 16:25:10
Paul Armstrong
Just got a birthday card too. I opened the attachment and there was some kind of lengthy contract marked "Time Sensitive" addressed to Anderlecht FC.
Rob Marsh
106
Posted 06/02/2019 at 16:31:32
Kieran #103
Our biggest problem at the moment is lack of confidence, regardless of what formations or instructions he gives to players, they're struggling to take responsibility and follow through.
Tonight is about the players as far as I'm concerned, they can either get up for this or they can't, with or without Silva. Just imagine if Silva had been sacked today they would probably run out without a care in the world and play City off the pitch? It's not good enough they should put a shift in every game!
This isn't just Silva at fault (and he is making mistakes), it's the players also.
Craig Walker
107
Posted 06/02/2019 at 16:34:48
Jamie @94. Thanks! I once got called on TW a "glory-hunter" by one regular contributor because I admitted that I come from Wigan and my dad first took me to Goodison during the '87 season. This contributer said I "should be a Wigan fan". The fact is that my dad was an Evertonian and wanted to take us sooner but my mum was nervous of us going during the hooligan days. He passed away in 2003, proud as punch that we'd discovered Rooney. He thought Moyes would take us places. He would have been distraught the day Rooney signed for Man United. My first ever game was away at Maine Road where me and my twin brother had to go into the away end and were instructed not react to any Everton goals. We won 3-1 and Paul Power scored against his former team. We went on to win the league. I don't think anyone could call me a "glory-hunter". It's been mainly pain, glorious defeats, bad luck and misery. If you'd have told that 11 year old me though on that day at Maine Road that I would have my 44th birthday and we would never win the league again after that season and that Man City would be the best team in the land or that the RS would only win it two more times and never since 1990 then I'd have laughed at you or questioned your medication. Nobody would choose Everton for the glory. My dad used to have a mantra "the thing is with Everton, they'll let you down pal". Even the glorious '80s included us throwing the league away at Oxford in '86 and three cup final defeats. I still recall the Monday back at school after each one of those cup final losses.
I really feel for the current younger generation who never even experienced the '80s or, in some cases, the FA cup win in '95. Them lot winning the league this season adds more misery onto that younger generation, particularly those, I would imagine that live in the city itself. I don't like myself for wanting Everton to lose tonight. It's completely alien to me but on balance, a short-lived joy of beating the best team in the land would not compensate for me, seeing us help them lot across the park.
As an aside but an illustration of how a lot of RS fans have a superiority over us, I went to the gym on Sunday as I always do, in my Everton shirt, irrespective of whether we're top or bottom of the league. This bloke says to me "you're brave wearing that shirt!" I said "Why? Who do you follow?" "THE only football team in Merseyside" came his retort. I just gave him my dad's line "I AM sorry!" in much the same way you would if you'd learned someone had died. He then proceeded to tell me why Everton were no good and to recount all of our problems. Not only are they experts about their team, even though most of 'em have never even visited Merseyside, they can tell you what's wrong with your team as well. They are so myopic.
I long for the days where it's us fighting for the title and us wanting the RS to do us favours. Until then, a lifetime of injustices at their hands: Heysel, Graham Poll, Clattenburg, handball in the Milk Cup final, Suarez, Klopp's on-the-pitch celebration, etc. etc. mean I support two teams: Everton and whoever they are playing, and for tonight only, Man City.
Kieran Kinsella
108
Posted 06/02/2019 at 16:46:28
Rob
I agree their is blame to go around. The "confidence" thing irks me though. I will give an example from across the park. Oxade Chamberlain. He wasn't playing much at Arsenal. Went to Liverpool and got off to a poor start. Fans and media on his back. I watched them lot a few times and he was definitely out of form. Crosses sky high, shots miles wide. But, his work rate was incredible. He probably did more work than anyone on the pitch. A few months later he found his form and was doing really well until his injury. I look at that as an example of someone determined, someone not afraid to make mistakes when his touch his off. Someone brave enough to try and play his way INTO form but sheer practice. Looking at our lot, I feel like they all want to hide. It's like they all expect to come in one day and everyone else is playing well so things will sort themselves out. But nobody is trying to grab the bull by the horns.
Brian Harrison
109
Posted 06/02/2019 at 17:00:54
Rob Marsh
I agree this team since the derby have lacked all confidence even the 5-1 beating of Burnley didn't seem to restore the confidence that has been lacking since the derby. Once confidence goes even the simple things become difficult, players start playing the safe pass, rather than trying a more adventurous pass. I know these days a lot is made of player stats, so maybe the safe 10 yard pass will make sure their pass completion is protected.
I know Silva has come in for criticism and some of it is deserved, but a lot of the goals we concede have been individual player mistakes. I know many trot out the he hasn't got a plan B when we lose games. But most coaches have a play they want to play and stick to it. Tonight City will play the same way they have since Pep went there, they will pass and pass and wait for an opening. No plan B just a system that has worked at Barcelona, Bayern and City. the difference is that Pep has had a top quality squad at each club he has been at. So same formation and same style of playing which has brought him the record number of consecutive wins in Spain and Germany and England.
Rob Marsh
110
Posted 06/02/2019 at 17:03:45
Graig #107
I started going the game about 1981 but wasn't allowed to go any earlier just like you by my mother because of the Hooligan problem and was only allowed in the lower main stand, I used to stand right behind the managers glass box.
As for anybody who tells you that you should support Wigan, well you've got the right to support us because of your blood. They not worth the time of day, just ignore them.
And as for these RS types, most of them have never been to a game, that honour belongs to bored Norwegians with cash on the hip and Cockney merchant bankers looking for a wild weekend up north, ultimately they're no different to the ManU prawn coctail brigade. Our shocking lack of silverware is our fault, but what they are when they start boasting is they're fault.
keep your chin up mate, you never know.
Rob Marsh
111
Posted 06/02/2019 at 17:09:27
Kieran #108
You've hit the nail on the head with players.
If you're not in form you try that bit harder and run around like a looney making yourself useful, but the lot we got at the moment are all waiting for something to happen. The have to make it happen.
Paul Williams
112
Posted 06/02/2019 at 17:23:38
This is what an Everton manager said yesterday
"We just never gave in. We had that never say die spirit and attitude.
"they were desperate to win the game because they knew how important this game was tonight.
"I'm just delighted for them and I can't fault their attitude."
Can you imagine this said about the first team? No me neither. Unfortunately it was Unsworth for the U23's.

Darren Hind
113
Posted 06/02/2019 at 17:31:42
He may be talking about the first team if Silva isn't careful
Stan Schofield
114
Posted 06/02/2019 at 18:11:00
Craig@107 & Rob110: I feel for young Evertonians who have to endure shite from Liverpool supporters. I've been through it myself over many years, and have become conditioned to ignore it, to not rise to it, even though it's always irritating.
I started going the game in 1961, so obviously was fortunate to see Young, Vernon, Ball, Harvey, Labone, et al, as well as the 80s team. Going back to the 60s, Everton were seen by the media as a 'fashionable' club, or 'cool' to use a current day term. I certainly felt it was cool supporting Everton, with Colin Harvey being the symbol of that coolness with his stylish football, the sheer artistry of it. We had a 'symbolism' that Liverpool lacked. We had The Golden Vision, The Holy Trinity and The School of Science. We played the best football, and could sign the best players, a bit like the current Man City.
At the time, I believe Liverpool supporters were irritated by this symbolism. They were fed up with us going on about how great our football was, especially compared to theirs, and about how we could sign the likes of Ball and Kendall. They thought we were arrogant about it. They were keen for us to fail, with the result that even when they eventually started exceeding us in trophies, that feeling of wanting us to fail never left them, it became entrenched in their collective psyche. Even when we became consistently mid-table.
I think that's the issue with them, certainly in my experience. No matter how well they do, they will always want the Schadenfreude of us failing, to complete the picture for them. That's no consolation for current young Evertonians of course. But for those young Evertonians, it's worth them pondering on why a club that is supposed to be so better than us remains so obsessed with us.
Neil Lawson
115
Posted 06/02/2019 at 18:19:32
Dick (23) Couldnt agree more. Those lucky smarmy cheating diving gobshites from the wrong side of the park probably will win the league. So !. The excitement and buzz and boost we could all get from a win tonight is far more important than the spectre of the red loving press luvvies lauding Klippity and his knobs come April. At least we will have our 5 minutes of fame on the news tonight and in the morning...... .even if we are back to being bashed come the weekend.
We could, of course, right our wrong by turning the redshite over as well in a couple of weeks.
Now off to buy a lottery ticket.
Brian Cleveland
116
Posted 06/02/2019 at 18:35:02
Derek (74), it's on ESPN2 in South America
Jamie Crowley
117
Posted 06/02/2019 at 18:35:08
Craig -
You being from Wigan and somehow that qualifying you to not be an Evertonian to me is "bollocks".
Firstly, I have to take that stance because I'm in America. If Wigan is "too far" to be discounted a Blue, well? I'm truly fucked.
Secondly, and you'll probably not "get" this but I'll say it anyway. A Blue giving shit to someone from Wigan who's followed the Blues his entire life, is akin to some "Johnny Puffy Chest" from Boston telling a guy who lives in Maine he can't be a Red Sox fan.
Gimme a break. What's Wigan, like 30 miles away or something like that? Pah-leez.
Ian Lloyd
118
Posted 06/02/2019 at 18:49:06
Strange team?!?
Jay Wood
[BRZ]
119
Posted 06/02/2019 at 19:05:58
A serious shake up of the team, considering the opposition.
Ballsy from Silva.
Pickford, Kenny, Zouma, Keane, Digne, Gueye, Walcott, Davies, Andre Gomes, Bernard, Calvert-Lewin. Subs: Sigurdsson, Tosun, McCarthy, Schneiderlin, Stekelenburg, Coleman, Richarlison.
Lookman nowhere to be seen. No mention of him being injured in yesterday's presser.
Tommy Surgenor
120
Posted 06/02/2019 at 19:06:23
Happy with the exclusion of Sigurdson. He has been the problem for me since he signed. I still don't know what he really "offers".
He has not scored a set piece (that I remember?).
Corners are woeful. We rarely look like scoring from them.
He plays with his back to goal all too often for a modern 10.
He either had to be dropped deeper or removed from the team.
I'm beginning to look back fondly on Barkley. At least Ross drove the team forward.
Happy with the inclusion of Kenny as he shows a bit of determination.
I'm a fan of Calvert-Lewin but dropping Tosun was a bit harsh. He at least showed determination in the last match. When the cat was on the pitch he was the only one with any urgency of getting the bloody thing off and trying to recover the match. I have never been so frustrated with an Everton team as I was during that cat incident. 3-1 down and just standing hands on hips letting the clock tick down. Get the thing off the pitch and roll the sleeves up. Effort is my minimum expectation of any Everton player.
Think DCL may have been selected due to pace on the counter.
Only issue for me is Walcott. I never want to see him in a blue shirt again. Lookman or Richarilson should of got that wide spot. Perhaps Richarlison has been dropped due to his "defensive liability's", the recent ATN podcast was highlighting his zonal marking errors and Silva did make a comment about players not listening. Perhaps he was referring to Richarlison not doing what he has been coached and therefore he would be a deserving casualty.
Add Your Comments
In order to post a comment, you need to be logged in as a registered user of the site.
Or Sign up as a ToffeeWeb Member — it's free, takes just a few minutes and will allow you to post your comments on articles and Talking Points submissions across the site.