Sigurdsson double eases pressure on Silva
Cardiff City 0 - 3 Everton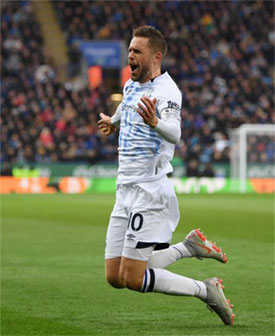 Gylfi Sigurdsson scored a goal in each half to overtake Richarlison as Everton's leading scorer this season
Gylfi Sigurdsson returned to South Wales to deliver another blow to Cardiff's survival hopes, scoring a goal in each half to hand Marco Silva three badly-needed points.
Dominic Calvert-Lewin added a third in stoppage time with a confident finish as Everton ran out comfortable winners to ease the pressure on the manager's shoulders.
Seamus Coleman returned at right back, Phil Jagielka made his first League start since August and there was a surprise start for Morgan Schneiderlin in midfield with Andre Gomes on the bench and Tom Davies not in the squad.
Cardiff made a strong start, driving away on the counter-attack after an Everton attack broke down and Jagielka's rustiness almost resulted in the opening goal.
The veteran made a mess of an attempted pass to Pickford but was rescued by Lucas Digne who was back covering and was able to concede a corner. Mendez-Lang eventually rattled a shot goalwards from the set-piece but it was charged down.
Bacuna was booked for a late sliding tackle on Richarlison as Everton began to assert some control and a good passing move ended with Idrissa Gueye striking a shot that was blocked behind in the 12th minute. Jagielka's header from thew resulting set-piece fell to Walcott but his volley flew across goal and wide.
Sean Morrisson then followed Bacuna into the book for catching Calvert-Lewin with another poor challenge before a second Everton corner caused momentary panic in the hosts' penalty area but they managed to get enough bodies in the way and the ball was cleared.
Pickford released Richarlison down the left channel with a trademark clearance but the Brazilian ran into a cul-de-sac and the chance evaporated and Walcott then drove another volley over from Sigurdsson's dinked ball over the top.
Aron Gunnarsson picked out Zohore in the Everton box with 28 minutes gone but the big striker lashed his shot wide under pressure from Jagielka
Everton took the lead five minutes before half-time when Coleman was played to the byline by Schneiderlin and his cut-back found Sigurdsson who slotted a nice side-foot finish inside the far post.
Cardiff began the second period with purpose and Digne was yellow-carded for clumsily trying to stop a counter-attack and Gunarrsson tried his luck with a speculative effort from distance that drifted over.
As the game opened up and Richarilson was muscled off the ball at one end, Zohore galloped away at the other but his cut-back was cut out and Pickford was able to claim the loose ball.
With an hour gone and the Blues struggling for penetration, Silva withdrew the well below-par Richarlison in favour of Bernard and the change reaped dividends five minutes later. The winger took his marker on, drove along the byline and when his attempted ball across the face was repelled, Sigurdsson
was on hand to slam the rebound home.
Everton were in control of the contest now and Walcott slipped Coleman in for another charge to the byline but the Irishman was scythed down by Bennett and the pair almost combined in the Cardiff box a couple of minutes later but the former's heavy touch was sliced by the latter to Neil Etheridge.
Sigurdsson played Calvert-Lewin into space but the striker drilled his shot wide before Ademola Lookman replaced Walcott with eight minutes of the 90 left and Gomes followed in place of Sigurdsson a few minutes later.
Kick-off: 7:45pm, Tuesday 26 February, 2018
Referee: Kevin Friend
Last Time: Cardiff City 0 - 0 Everton (August 2013)
Everton: Pickford, Coleman, Jagielka, Keane, Digne, Gueye, Schneiderlin, Sigurdsson, Walcott, Richarlison, Calvert-Lewin
Subs: Stekelenburg, Kenny, Mina, Gomes, Bernard,, Lookman, Tosun
---
Reader Comments (172)
Note: the following content is not moderated or vetted by the site owners at the time of submission. Comments are the responsibility of the poster. Disclaimer
Neil Lawson
1
Posted 26/02/2019 at 18:52:57
I imagine we are all stunned. Logic? What logic?
Jeff Armstrong
2
Posted 26/02/2019 at 18:54:48
Schneiderlin?? Wtf Davies must be injured.
Christy Ring
3
Posted 26/02/2019 at 18:57:26
Can't believe Schneiderlin starting, I thought Gomes was fresh after the break. Why put Mccarthy on the bench for the last 3 games, drop him from the squad and bring Schneiderlin back?
Jim Bennings
4
Posted 26/02/2019 at 19:01:10
Unreal.
I hope they shock me even more than I'm shocked seeing that starting lineup
Brian Wilkinson
5
Posted 26/02/2019 at 19:02:45
Never been a fan of Schnids, but to be fair, the last couple of games he played for us, he did alright, looked better than the Schnids of last season, not hard I know but let's see how he does tonight before kicking him before a ball has been kicked.
Terry Farrell
6
Posted 26/02/2019 at 19:03:38
Sincerely hope Tom D is injured or that is a kick in the teeth. Last chance saloon for Morgan S let's see if he plays like his life depends on it.
Mike Powell
7
Posted 26/02/2019 at 19:06:22
Surely that's not the starting line up, I think he wants the sack
Jim Bennings
8
Posted 26/02/2019 at 19:06:31
Terry
We don't really see them in training though, it's easy to guess at times but maybe Davies and Kenny etc aren't great trainers hence the fact they never seem to nail down a regular starting berth, it's various managers now after all?
Bill Gienapp
9
Posted 26/02/2019 at 19:07:05
Yeah, not sure the logic behind Schneiderlin starting. Gomes has looked gassed, but he just got two and a half weeks of rest.
Don't know why we continue to persist with Walcott at Bernard and Lookman's expense.
Finally, I think we need to just make a choice between Tosun and Calvert-Lewin and give him a run of games, rather than flip-flopping every match.
Kevin Prytherch
10
Posted 26/02/2019 at 19:08:06
What has Kenny done to deserve to be dropped?
Davies - captain to dropped.
So much for Silva being the man to nurture a young team... two of our best players in recent weeks replaced by a 29 and 30 year old.
I fear for the midfield, Schniederlin and Gueye have proved countless times that they can't play as a midfield 2, I doubt Walcott and Richarlison will help out much defensively and Sigurdsson will play in that massive hole where he doesn't help Calvert Lewin or the midfield out.
I fear we need a very poor Cardiff side here to get a result.
Colin Malone
11
Posted 26/02/2019 at 19:08:25
Two holding midfielders, who never play well together. Bewildered.
Eddie Dunn
12
Posted 26/02/2019 at 19:09:12
I think Schnides could do the holding job, but he and Gueye have never been a good fit.

Dave Lynch
13
Posted 26/02/2019 at 19:10:18
This line up smacks of a desparate man.
Lose tonight and surely the hierarchy must question his appointment.
Lose heavily and he gets his cards. Really can't fathom out what he's trying to achieve with that team, it lacks width and creativity.
Phil Sammon
14
Posted 26/02/2019 at 19:11:15
Mina looks like a good signing, doesn't he?
Can't fucking believe that team. How do Walcott and Schneiderlin get a game?
Win or lose, it feels like the manager is picking the team out of a hat.
Stephen Graham
15
Posted 26/02/2019 at 19:11:41
I can only think that we're toying with Cardiff before we bring on first half subs .
Paul Tran
16
Posted 26/02/2019 at 19:11:53
Dave, it's Silva selection bingo. No other explanation.
Ken Jones
17
Posted 26/02/2019 at 19:15:10
What a line-up... obviously hope I'm wrong but surely this is desperate!
Jim Bennings
18
Posted 26/02/2019 at 19:15:41
I do worry about Mina to be honest: if he's not fully fit, then he shouldn't be in the squad... and if he is fully fit, at the price we've paid for him, why the hell isn't he starting?
He seems to be having problems that persist with this injury and I only hope in summer with no World Cup he can get a clean bill of health and these issues get cleared up.
Tony Twist
19
Posted 26/02/2019 at 19:16:14
Schneiderlin in the side, maybe Silva knows something we don't!
Christ, that side seems quite pedestrian! A very brave (or idiotic) team selection. I can't remember a time when Schneiderlin hasn't let us down when reintroduced into the first team.
This manager's thought process is like no other! Maybe he's been told he is leaving at the end of the season!
Dave Williams
21
Posted 26/02/2019 at 19:19:14
I can only think he is resting players for Sunday but there again they've all had 17 days to rest!!
I can't figure this out – Kenny has done well so why drop him? Davies was doing well and captain! Schneiderlin has never played well with Gueye and has been nowhere near the first team for weeks now.
Walcott playing wide again when he has been crap for months. Sigurdsson hasn't played well for weeks. The team is crammed with suspect players, players who don't always put in a shift, players who will down tools if the game goes badly.
As someone says above, if you were asked to name a team to get you sacked this would be close to it.
I hope to god I'm wrong but this looks a car crash about to happen. I can't quite believe what he has done. Imagine this lot taking the field on Sunday??
Clive Rogers
22
Posted 26/02/2019 at 19:20:19
That is so poor. None of the front three can hold the ball up. Thinking positive, if we get beat he may be gone.
Neil Lawson
23
Posted 26/02/2019 at 19:20:40
It really is a puzzle. Silva has had 17 days and all of us were hoping that he may earn his corn and be creative and decisive. Well, only time will tell (about 2.5 hours from now) but it is really difficult to understand his rationale. Is he being creative and decisive or is it just the machinations of a man who is a bit lost and a little desperate?
I am delighted that Jags is playing but if Mina is fit (and he is on the bench) why isn't he starting? What has Kenny done wrong to lose his place he has been one of our more consistent performers. Why Walcott? He has been consistently indifferent.
Gomes has had his much-needed rest and is one of our few players with genuine class, so why is he benched? Surely Silva isn't looking ahead to Sunday. Lose tonight and we will be battered on Sunday. Win tonight and Sunday could be an opportunity for at least one highlight this season.
I don't understand. Just hoping my bewilderment will be shown to be my own embarrassment and that we may actually win. Who knows?
Phil Sammon
24
Posted 26/02/2019 at 19:20:46
Bill 9
You're absolutely right regarding Tosun and Calvert-Lewin.
The one argument for keeping Silva is that the team needs stability. That argument doesn't hold much weight when his match day selections are so haphazard.
Lookman is another one who, while he's not impressed me much, surely deserves a run ahead of the desperately poor Walcott.
Tony Everan
25
Posted 26/02/2019 at 19:20:54
Paul @16,
Selection Bingo... I like it! Marco with one of those air-fired bingo boxes and all the squad numbers written on the balls inside.
"One and eight, 18 – hey, whadya know, Morgan, yer back in!
It's those beautiful legs 11 – get yer kit on, The, lad.
Dave Williams
26
Posted 26/02/2019 at 19:20:57
My hand was trembling with dread hence the double click!!
Bill Gienapp
27
Posted 26/02/2019 at 19:21:43
Re: Mina, I'm guessing he's not fully fit, but can play in the event of an emergency (i.e. an injury or red card).
Mike Dolan
28
Posted 26/02/2019 at 19:23:37
Doesn't look like a great team on paper. I can only imagine he's saving everything for the redshite on Sunday. He could be showcasing Schneiderlin for his summer exit also.
Clive Mitchell
29
Posted 26/02/2019 at 19:25:33
Bill, 27 - or every other defender on the pitch and on the bench suddenly forgetting how to play.
John Hammond
30
Posted 26/02/2019 at 19:30:02
My immediate reaction, like most, was what the fuck???
Either Silva's worked on a new game plan and Schneiderlin has been immense in training... or he's lost the plot.
Dave Lynch
31
Posted 26/02/2019 at 19:30:56
I love that idea Paul@16.
All the players sitting around a table at Finch Farm... "Eyes down lads, here's the weekend's team".
I can imagine Bill putting in an invoice for bingo markers.
Well... It's no stranger than lawn mowers.
Jeff Armstrong
32
Posted 26/02/2019 at 19:32:13
Why would he "showcase" Schneiderlin in a relegation battle?
Some say Schneiderlin was better in his early games this season than he was last season; well, he didn't exactly set the bar high, did he? The fucking moggy that came on at the Wolves game was better than Schneiderlin last season!
Tony Twist
34
Posted 26/02/2019 at 19:32:27
Looking at that team selection, I thought I had gone back in time and Big Sam was in charge! So much for the fearless young manager.
Terry Farrell
35
Posted 26/02/2019 at 19:32:34
Jim, you could be right but Tom Davies has been doing it on the pitch. He could be injured, before I jump to wrong conclusions. I'm one of those calling for Marco to be given time!
Joe McMahon
36
Posted 26/02/2019 at 19:34:04
How many millions have been spent in the Moshiri era, and this is the line-up??? We will never compete again (we haven't for nearly 25 years).
Joe O'Brien
37
Posted 26/02/2019 at 19:47:15
Awful team selection... don't know why he's dropped Kenny... and how can he persist to play Walcott? I hate seeing Schniederlin there... but that might be forced. But two holding midfielders against Cardiff!
This had better not be the team for the derby or else we're in trouble.
Clive Rogers
38
Posted 26/02/2019 at 19:57:20
Why oh why does he keep going back to Walcott and Calvert-Lewin? They keep letting him down.
It's a disgrace that Kenny has been benched, he is the only one with a bit of passion.
Philip Yensen
40
Posted 26/02/2019 at 20:22:22
Richarlison crap again, our passing crap again, our pace half a yard slow, negative passing, half-an-hour of pure shit.
Movement shit, aimless balls. Players looking at each other as if to say what do we do next. 35 min gone...
Peter Warren
42
Posted 26/02/2019 at 20:37:13
I don't like Schneiderlin at all but so far he has been good and I don't say that lightly. Coleman has been good too and Sigurdsson is the best player on the pitch.
Peter Warren
43
Posted 26/02/2019 at 20:37:56
hesgoal.com
Danny Baily
44
Posted 26/02/2019 at 20:40:06
Team selection is closer to those we had earlier in the season. When we were doing better. And we've got the lead at half-time. Coincidence?
Max Murphy
46
Posted 26/02/2019 at 21:03:17
Why does he leave Walcott on???? He's done nothing!
Si Cooper
47
Posted 26/02/2019 at 21:08:09
Do people really see Kenny as having laid down a marker for being the next long-term incumbent at right-back?
Decent but not yet top-notch for me, though I would give him some more time before stating that he'll never be quite as good as we should want. At the moment, I would still take a punt on Seamus over him if Seamus looked to be regaining some form in training.
Tom Davies is another who has got to find more in his locker to actually cement his place.
It is premature to write off Mina. We seem to have become accustomed to what used to be the exception, a player with no experience of the English game adjusting to it very quickly. That said, he's got to enjoy getting stuck in on a miserable day or night in the middle of winter or he'll never come good. Don't think there would be too much problem recouping the money spent on him selling him to a Spanish or Italian club.
John G Davies
48
Posted 26/02/2019 at 21:37:10
What a fucking run off the Tackling Machine!!!
Mike Keating
50
Posted 26/02/2019 at 21:39:56
Bring on the Kloppites!

Tony Twist
51
Posted 26/02/2019 at 21:42:47
Phew, 3-0, thank fuck for that. Well done, one and all. Let's see a performance full of pride, drive and commitment against the RS now coz we definitely need some cheer in this awful season.
Bob Parrington
52
Posted 26/02/2019 at 21:43:04
Well done Everton! Seems Schneiderlin can play well after all. Worst 2 players were Richarlison and the really woeful Walcott.
Great performance by Sigurdsson. Bernard and Lookman really looked the part when they eventually came on. Digne had a good steady game.
Dermot Byrne
53
Posted 26/02/2019 at 21:43:09
WE WON.
Nuff said until 11.00
John G Davies
54
Posted 26/02/2019 at 21:45:09
https://www.bbc.co.uk/sport/football/premier-league/top-scorers
Look at the players scored less goals than Siggy.

Justin Doone
55
Posted 26/02/2019 at 21:46:17
Happy to win but I'm disappointed in Silva for picking Schnides. He's yesterday's average man.
I know a lot of fans will say he played well, give him credit but did he play a forward pass to an Everton player? Did he track back and follow the man? If the answer is 'no' or 'yes once or twice' that's simply not good enough.
I ask because I haven't watched the game but I expect more from a seasoned professional midfielder.
IMO Schnides is a big let down who's happy to collect a ball when under no pressure and pass it backwards or sideways. In terms of getting around the pitch, being in the right place or creating chances he just doesn't do it.
People criticise Davies and Gana for loosing possession and I agree they do give the ball away cheaply at times but it's normally when playing a forward ball. They are ball winners, closing down and covering defensive lapses. If they played the simple 'Schnides pass' all game people would criticise them for it.
Joey Crawley
56
Posted 26/02/2019 at 21:46:27
All's forgiven, Marco, keep 'em playing like that and we'll be alright. I'm liking the squad rotation too, treat em mean but keep em keen. Hats off to Morgan; Gylfi's got it going on again; good to see Jags back!
Gotta give that sulky lil' shit, Richarlison, a slap round the nut and tell him to sort his game out... then I reckon we're on a roll here. Nil Satis is what we expect and it paid dividends tonight. Much love, good night xx
Tony Hill
57
Posted 26/02/2019 at 21:46:51
Pleasing against a dreadful side. Digne's early intervention was crucial and Gueye was excellent all round. Bernard also made a big difference and, of course, Sigurdsson's lovely finishing.
No wider lessons to draw but you could see confidence returning and I still think this manager can do it for us.
Brent Stephens
58
Posted 26/02/2019 at 21:49:37
John #48 – does that add to his stats? Or don't they count?
Oliver Molloy
59
Posted 26/02/2019 at 21:49:55
Big three points, now can we please play out of our skins on Sunday and get a result.
Bob Hannigan
60
Posted 26/02/2019 at 21:50:00
MotM: Idrissa Gueye, hands down.
Darren Hind
61
Posted 26/02/2019 at 21:50:33
The Tackling Machine drove forward!!!!!!! ... Three times ... and won us the game!!!!!
Happy, happy days
Jay Wood
[BRZ]
62
Posted 26/02/2019 at 21:51:53
3 points.
3 goals.
Clean sheet.
Away win.
Back up to 9th.
What's not to like?
Gylfi [what-has-he-ever-done-for-us?] Sigurdson a beautiful pair of goals, hugely influential all over the park. MoTM.
Idrissa [can't-pass-water-touch-of-a-rapist] Gueye wonderful close control and superbly weighted pass for the 3rd goal.
Dominic [Championship-at-best] Calvert-Lewin clinical finish.
As predicted, a single win for Everton would see their odds for relegation double, now out to 500-1.
All the doomsayers predicting relegation who took a piece of 200-1 must be kicking themselves. I mean, if you were so convinced you must have backed your hunch with yer hard earned, 'cos it's just buying money, innit?
Cruised in.
Now torpedo that lot on Sunday.
John G Davies
63
Posted 26/02/2019 at 21:53:07
Not with me they don't Brent.
You need an abacus to watch the game nowadays mate.
Michael Lynch
65
Posted 26/02/2019 at 21:55:10
Gana was another level tonight, tackling, runnng, passing, providing, he had the lot. Brilliant in my opinion. I thought Seamus was close to the old Seamus as well. What was particularly good was the way everyone wanted the ball once we were two up. Silva has to make sure they know that's how they have to play for 90 minutes every week, there's no excuse for the way they've been hiding lately.
I know Cardiff were dreadful, but we've lost to dreadful sides before this season, so I'll take the three points thank you very much
Andy Riley
66
Posted 26/02/2019 at 21:55:29
Silva out! I had money on Sigurdsson for a hat-trick at 125-1. Scores two and gets substituted – tactical genius or what!
Derek Knox
67
Posted 26/02/2019 at 21:58:41
Andy @66, exactly mate: he played well and Schneiderlin stunk the place out as usual and stayed on, he hasn't got a clue.
Jerome Shields
68
Posted 26/02/2019 at 21:58:59
Glad of this win. Moshiri needs SIlva to stay. He needs the time to get his head around Everton and start the necessary changes at all levels of the Club.
John G Davies
69
Posted 26/02/2019 at 22:00:12
Is that a serious post Derek.
Surely tongue in cheek?
Peter Warren
70
Posted 26/02/2019 at 22:00:51
Justin 55# I agree with your comments about Schneiderlin but not tonight. You shouldn't really comment about his selection when you didn't see the game.
Don't get me wrong he was not amazing but he was more than competent. He closed down, tackled, intercepted and played neat and tidy all night and kept us ticking. The first goal also (in my opinion) made by his forward pass releasing Coleman inside the box who pulled it neatly back to Siggy who finished tidily.
Christy Ring
71
Posted 26/02/2019 at 22:01:08
A big 3pts, even though it was only Cardiff, but will bring a lot more confidence into Sunday's game.
Dave Abrahams
72
Posted 26/02/2019 at 22:02:19
Happy, relieved and looking forward to Sunday,do something there and I'll be much more than happy, never saw tonight's match read it on live forum and got covered in chocolate for my trouble.
Michael Nisbet
73
Posted 26/02/2019 at 22:02:52
Schneiderlin's through ball which led to the first goal was pure class. I thought everybody was tremendous tonight. Delighted with the win. 3 goals, a clean sheet and a good performance all round.
Richarlison wasn't his usual self, but that's okay. Bernard was great when he came on. Better defending at set pieces than we've been used to. Hope we can repeat this on Sunday...
John G Davies
74
Posted 26/02/2019 at 22:05:01
Old-fashioned, old-school defending tonight.
More of the same please, Marco.
Jay Wood
[BRZ]
75
Posted 26/02/2019 at 22:05:08
Dave @ 72.
"...never saw tonight's match read it on live forum and got covered in chocolate for my trouble."
That can be seriously misinterpreted in many ways, fellah!!!
John Otway
76
Posted 26/02/2019 at 22:05:31
Jay Wood #62. Can we drop that "touch of a rapist" line even as a third party quote. Not funny and lacking class.
John G Davies
77
Posted 26/02/2019 at 22:06:51
Jay 75,
Give us a few examples?
Trevor Peers
78
Posted 26/02/2019 at 22:07:31
Bernard deserves a mention too injected a bit of fight and skill when he came on. Keep the goals coming lads. Sigurdsson was outstanding, class act.
Derek Knox
79
Posted 26/02/2019 at 22:08:26
Jay @75, I think Dave meant we had our Moments on the Live Forum!
Darren Hind
80
Posted 26/02/2019 at 22:09:13
They were a poor side, but we have lost to a few of them this season. So I'm quite relieved.
Silva took stick over his team selection, but at last he can point to the three points and feel vindicated.
The only downside of tonight was reading Andy's posts #66 – I'd have bee gutted too, very unlucky.
Otherwise, We should all enjoy tonight.
Paul Birmingham
81
Posted 26/02/2019 at 22:09:20
A nice surprise, let's hope it's a step forward and continues on Sunday.
3-0, always a very good result and away is even better.
Good finishing and hopefully the same on Sunday, and hopefully, the referee won't taking the pee, as he's done in the past against us.
Interesting to see who starts on Sunday.
Rob Sachro
82
Posted 26/02/2019 at 22:09:28
So, Justin (No 55)... you admit you didn't see the game but still have a go at Schneiderlin? Accusing him of being "A big let down"... like most this season! But without seeing the game?? How can you possibly rage about him? He did fine... and I DID see the game.
No, no one was brilliant or outstanding, but he was no less useless than anyone else... oh and we won 3-0! Don't care how we did it, we did. How about less player bashing and getting behind the team?
Jason Wilkinson
83
Posted 26/02/2019 at 22:12:20
Easy to be cheered by tonight's performance. First half, we looked shaky, devoid of ideas and slow to react when pressed.
Once we scored, the second it was like the lads had been told, "No fancy football unless you are 2-0 up" They passed better, created space and closed Cardiff down.
Sunday coming, we will need to start the game like we finished tonight and get better again to have any chance of taking points from the game.
I thought Jagielka and Gana were different class to what we have witnessed recently. Both were calm and did the simple things very well. Jags started quite shakily but having not started since Wolves away in the Premier League it was to be expected.
Richy must make way for Bernard and Lookman surely for Wallcot.
I would keep the back four as per tonight but maybe just maybe we need Gomes in for Lazyboy in the middle. Calvert-Lewin frightens the RS so he must start up front.
Well done, Sigurdsson. Best performance for a long time and two very well taken goals.

Joe Corgan
84
Posted 26/02/2019 at 22:12:27
Schneiderlin was decent tonight. Still lots of sideways passes but very few mistakes, a great through ball leading up to the first goal and a couple last-ditch interceptions in our box. Don't see how anybody could find much reason to criticise him.
Jason Broome
85
Posted 26/02/2019 at 22:12:30
Can't fault them and couldn't ask for more. Well done lads.
Dave Abrahams
87
Posted 26/02/2019 at 22:17:02
Jay (72), Jay have a quick scan at live forum, you'll understand.
Paul Tran
88
Posted 26/02/2019 at 22:17:58
We beat a poor side, but we've failed to do that often enough this season for me to enjoy this one.
We did the basics well, Schneiderlin was unspectacularly tidy, Gueye had a stormer, Calvert-Lewin worked and got his deserved reward, Sigurdsson did what he does regularly – he scored goals. Read that – scored goals. It's good to have someone in the team that scores goals. We haven't had that since the last goalscorer we criticised and let go.
Roll on Sunday!
Annika Herbert
89
Posted 26/02/2019 at 22:18:02
Dead right, Rob @82!!
Andrew Wilkinson
90
Posted 26/02/2019 at 22:18:10
I really hope this win brings a little confidence and self-belief back into this fragile team.
Events over the last few decades have not been great for Evertonians, and we can be a negative and fickle bunch (sometimes). The way players change from heroes to villains so quickly, and when they do our incessant and relentless criticism may make it harder for players to regain their belief and form.
Much of performing at the highest levels in sport is getting in the zone, and as fans we can help or hinder this process.
Hard as it is when we think the players don't deserve it, over-paid and lacking passion as they may be, we can help bring and show them the passion. Slagging them off will not change their mindset. Make them believe they are part of something special and maybe they'll become special.
Lets make them believe on Sunday.
COYB !
Ian Hollingworth
91
Posted 26/02/2019 at 22:19:20
Very relieved tonight. Now let's get stuck into the red shite.
Some of this squad could become heroes if we pull this off on Sunday. That would be a welcome relief for all of us, especially the manager.
Zahir Jaffer
92
Posted 26/02/2019 at 22:19:53
Rob #82, what would you rate Gueye's performance in that game as a box-to-box midfielder?
Bill Gienapp
93
Posted 26/02/2019 at 22:24:07
Really solid performance. Once we scored the second goal, we began to look a lot like the team we were earlier in the season – genuine confidence and attacking flow. At the end of the day, three goals, a win and a clean sheet on the road is nothing to sneeze at, even against a bottom side like Cardiff.
And fair play to Silva, most of his decisions actually paid off. Schneiderlin wasn't amazing or anything (though his pass to Coleman that set up the opening goal was superb), but he did all that was required of him with a minimum of fuss. And while he probably should have been starting in the first place, Bernard provided exactly the sort of spark you're looking for from your first sub and came on at just the right moment.
Tony Hill
94
Posted 26/02/2019 at 22:25:04
What Schneiderlin can do, when playing well, is to set a tempo and rhythm for us in a way that is less noticeable than Gomes. He's a subtle player.
If we can get him back to his best, then that would be wonderful though I know that he has a lot of ground to recover with the fans, and I'm also aware that he may be playing for a move. I thought it was a brave decision to play him tonight by Silva.
Ryan Holroyd
95
Posted 26/02/2019 at 22:25:15
Are we still getting relegated? Asking for a friend like.
John Malone
96
Posted 26/02/2019 at 22:25:27
We needed that badly, Digne, Gueye, Sigurdsson standout players. Richarlison was again woeful in possession, what has happened to him?
Definitely agree with leaving Richie on bench against the RS start Bernard on left.
As much as Walcott is dogshit, I expect Silva to leave him in on Sunday to use his pace to counter when Roberston is high up the pitch. If he does leave him in the team he has to play Kenny behind him because Coleman and Walcott do just not function together.
Depending on how the game is going, I would really like to see at some point Lookman playing in the No 10 role behind Calvert-Lewin they link up so well together and have a natural understanding from all the England games they've played.
Chris Gould
98
Posted 26/02/2019 at 22:34:00
Derek #67, did you really think Schneiderlin stunk the place out? I didn't even notice him for the entire second half. I put it down to him putting in a disciplined performance and allowing others to shine. Nothing he did stank the place out, nor did it bring you to your feet. He just quietly went about his business efficiently, and Gana and Sigurdsson reaped the benefits.
That performance has left me with more questions than answers. I really have no idea who will start on Sunday. Were we more solid because of Jagielka and maybe Schneiderlin, or simply because Cardiff were poor? It felt like Jags brought a bit of steel to the defence.
I remember someone on here saying that he felt Gueye drives forward with the ball well, and that he should do it more often (I think it was Tony Abrahams). A couple people on the live forum mistook him for Lookman when he created the 3rd goal. He was excellent today and appears to be raising his levels (probably to keep the attention of PSG). That's great for Sunday. I'm expecting a huge performance from him.
It feels like Silva has gone back to basics. Everyone knows that he likes a holding midfielder who will sit. He hasn't had one and so decided to give Schneiderlin another shot. I think he deserves credit for a brave decision.
Jay Harris
99
Posted 26/02/2019 at 22:34:12
Outstanding performance by Sigurdsson, Digne and Gana.
Honourable mentions to Seamus, Calvert-Lewin and Bernard when he came on.
Average performance by Jagielka (rusty), Keane (no excuse) and Schneiderlin (why was he on the pitch?).
Very poor performance by Richarlison. It makes you wonder whether he is on a timer that switches him off January to June.
For once, the luck and game went our way and we should enjoy these "moments" but we will need a much better performance against Satan's boys on Sunday.
Jamie Crowley
100
Posted 26/02/2019 at 22:34:53
When I saw Scheiderlin on the pitch - I was about 10 minutes late to watch due to work - I had the same feeling as the one you get when you have a prostate exam.
Ya. Ya. Pretty much that same feeling. That's the one.

I was so wrong - today at least.
People saying Schneiderlin was "ok" or "did well enough" must have been watching a different game than I.
Morgan sat deep, did his job perfectly, and that first goal, his pass to spring Coleman was a thing of pure beauty.
I thought he played wonderfully.
He also freed Gana. Gana was everywhere and could chase, tackle, and run where ever he pleased because someone was sitting in behind him holding.
Maybe all this Steve Ferns analysis isn't very far off? That, to my eyes, seemed the prototypical "Silva game" based upon what I've read. There were mistakes to be sure. We weren't Barcelona. But I'd argue, based upon what I've read and especially Steve Ferns' commentary, that game was the closest we've seen to "Silva ball".
Give credit where it's due. I'm not a fan, but Schneiderlin was splendid this evening!
I know Cardiff is no great shakes. But tonight seemed more in keeping with the style Silva would prefer to ultimately employ.
Schizophrenically Yours -
Sir James Clinton Crowley IV
p.s. - My God it feels good to win.
Gavin Johnson
101
Posted 26/02/2019 at 22:35:26
A relief that we won, but I didn't enjoy it. It should be a requisite to be beating these kind of sides.
I don't know why anyone would knock Schneiderlin tonight. He didn't do anything wrong and we won 3-0.

Tony Hill
102
Posted 26/02/2019 at 22:36:26
Meanwhile, an appalling result for Wolves. The race for 7th is set to absorb the nation.
John Pierce
103
Posted 26/02/2019 at 22:41:24
Well, the relief with which that result came perhaps hints at the pressure Silva is under. A pretty rotten first half, escaping a mistake early on we realized they were truly awful.
The confidence visibly grew as the 2nd half wore on, and the better players on the pitch stepped up.
Richarlison is all about dribbling & scoring, beyond that he doesn't link well with others, he is seriously out of form. A serious consideration must be given for him to be dropped.
Walcott is in the wilderness, looks bereft and lost. Again Lookman can rue not starting, he will come Sunday.
Sunday... it would be nice wouldn't it?
Ray Roche
104
Posted 26/02/2019 at 22:42:01
Gavin, correct re Schneiderlin.
"It should be a requisite to be beating these kind of sides."
Er... we did.;-)
Sam Hoare
105
Posted 26/02/2019 at 22:42:44
Gavin, why should it be a requisite to be beating these kind of sides? Only the top 2 or 3 are entitled to think like that.
Wolves saw tonight that any team in this league is capable.
We are a mid table team that will beat decent teams one week and lose to a worst one the week after. We're inconsistent like all the other mid table teams. So enjoy a win and don't presume we are entitled to 3 points against anyone.
Tom Bowers
106
Posted 26/02/2019 at 22:51:17
Guys, there are no easy games or opponents to be taken for granted.
When you are in a slump, like Everton, you can be easy meat for any team with a bit of confidence.
They won today but could have easily been a goal down after 2 minutes, then how would things have panned out?
Everton hammered Burnley when Burnley were really playing poorly and then fell into a malaise. Struggling to beat Lincoln and losing to Millwall was as poor as it gets and one hopes that on Sunday they can play a competitive game without showing the defensive frailty they showed today in the first 20 minutes.
David Hallwood
107
Posted 26/02/2019 at 22:54:20
7th is the new 4th Tony (#102).
Peter Mills
108
Posted 26/02/2019 at 22:56:29
Credit to Mr Silva tonight for a bold team selection, one which very few would have predicted or supported. It was a form of 4-2-4, and the players looked as though they understood their roles although some, like Richarlison and Walcott, didn't excel in them.
Gueye was excellent in midfield, hunting for the ball but, when he missed it, it often fell to Schneiderlin, who just happened to be in the right place.
Against a poor team we played some good football, dispatching them with 3 well-taken goals. Most of all, the defence was competent, surely it was no coincidence that Jagielka was at the heart of it, organising things.
John Hughes
109
Posted 26/02/2019 at 23:01:56
I thought Schneiderlin did well tonight and don't think it was a coincidence that Gueye seemed to have more room to roam. Give the bloke a break, if he plays on Sunday I hope the faithful get behind him.
Tony Abrahams
111
Posted 26/02/2019 at 23:17:01
I think the crowd will get behind everyone on Sunday, John, so let's hope whoever plays, really responds.
Gueye looked a lot more confident with the ball tonight, probably because we had more room than usual to play in, and probably because his confidence has been given a big boost with regards to a club like PSG wanting him.
Got to give this quiet little fella some credit though because he's just got on with his job these last two games when a lot of modern players would have found it a lot easier to kick up a fuss and then sulk.
Confidence is key, so let's now get behind these players on Sunday and hope they can give us something to really make us happy – and help stop Liverpool winning both the league and this new World Cup!
Eddie Dunn
112
Posted 26/02/2019 at 23:21:23
Schneiderlin did fine and allowed Gana to do his Messi impersonation late on. That lad needs to get forward more often. Plenty of plusses. Clean sheet, good displays from many. However, Cardiff are abosolute gash. We managed 4 shots on goal – it was hardly a siege.
We still need to be more creative but one man we don't need is the wasteful Richarlison, who doesn't appear to know the basics of team play. Bernard put him to shame. Great to go to bed a happy man for a change.
Steve Ferns
113
Posted 26/02/2019 at 23:23:16
Jamie, cheers mate. You got it exactly. We are a different team with a midfielder who sits and holds. Suddenly the defence looks a lot more robust and the 4-2-3-1 has the balance it is meant to, and when we turn the ball over, it's not heart-in-the-mouth time.
I also thought Morgan had a very good game, his best for a long time. He dictated the tempo very well. It was a big call to drop a favourite in Gomes for a villain in Schneiderlin, and had we lost 3-0, I fear it would have been curtains. Maybe Silva can fix Morgan after all, Moshiri will be delighted as Schneiderlin is costing us £50m (transfer fee and wages).
All that said, it was only Cardiff, it was only one game, they need to play like that every game and find their consistency. I thought Gueye and Sigurdsson were fantastic too. I would say that's the best central midfield trio we've seen this season, and shockingly Gomes was on the bench.
I hope Brands doesn't shelve any plans to replace Morgan Schneiderlin, he'd need to score a hattrick in the derby to win the fans back round, and we need another player like him as it's ridiculous he's the only one we have.
Also, what a difference confidence makes as after 2-0 we relaxed and played some actual football. This is probably what Silva sees in training, day-in & day-out, and it must be so frustrating knowing what these players can do, and yet they fail to do it game after game.
Fingers crossed for Sunday now.
Simon Smith
114
Posted 26/02/2019 at 23:25:57
Excellent result, just what we needed before the derby, but I do now worry about the starting line-up for the weekend.
Schniederlin was the major talking point, imo he was very good, holding midfielder is a position that receives very little in the way of praise unless those around you help keep a clean sheet. Keane was roasted at 0-1 up, and it was Schniederlin who intercepted in our box to drag us out of the shit; a goal at that stage would have made for a very different game.
Jagielka seemed assured (apart from an early error of course), and Coleman looked refreshed.
The wide men were our biggest let downs, I don't know what Walcott does to get a game, both Lookman and Bernard carry a bigger threat for me.
Anyways, a big 3 points, stops us getting dragged into the mixer, a loss before the derby would have had fans expecting the worst and if we were to get a drubbing we would be screaming to see Silva's head of a spike outside of Goodison Park.
Brave selection paid off, let's hope he can win us the derby and stop them fuckers winning the league because that's all that we have left this season.
Mike Gaynes
115
Posted 26/02/2019 at 23:42:36
Jamie #100, I thought that after a few miserable minutes early, Schneiderlin was adequate, nothing more. His pass to Coleman showed a very nice touch, but I think "thing of beauty" is an exaggeration. It was the only moment I noticed him, which I suppose is progress over his usual performance. And I think it was Gomes's absence more than Schneiderlin's contribution that opened things up for Gana, who was having a fine game even before he made those runs forward.
John G and Darren, love the "tackling machine" comments.
Peter #108, spot on. I've been a sharp critic of Silva in recent weeks, but today he got his lines just right, in defiance of those who thought Walcott, Coleman, Calvert-Lewin and Sigurdsson shouldn't play. His key sub, Bernard, was perfectly timed. And it was obvious that he's had the club working hard on defending set pieces during the layoff, because there were no coverage mistakes today. Credit where it's due.
Andrew Presly
116
Posted 26/02/2019 at 23:43:27
There wasn't really an alternative to winning tonight so I won't dwell on it. Sunday is one of those days I can't wait for, another free hit against them and in the midst of a rare & genuine title challenge.
Everyone expects us to blow it, including the players, but one of these days, we'll win. One of these days.
Mike Gaynes
117
Posted 26/02/2019 at 23:44:35
Andrew, I predict a win Sunday.
Andrew Presly
118
Posted 26/02/2019 at 23:50:59
It would be something that could, in an instant, change our short- to medium-term prospects, Mike. But Everton do "could" & "if" better than any other Club on the planet.
As I said above, the minute we lose one of them, I just wait for the next derby, because we will win one again at some point. We will. Won't we?!
Raymond Fox
119
Posted 26/02/2019 at 23:57:56
Delighted with the result, I was not confident before the game I have to say. Can we now relax and lay off the manager for a short while at least.
The club found a gem in Digne; unfortunately, the vultures will be circling shortly unless I'm mistaken.
Now for the derby, which Everton team will turn up though?
Ivan Varghese
120
Posted 26/02/2019 at 00:01:48
Everton should give up 'building from the back'. At 50-50 chance when forward movement would release the pace of Walcott or Richarlison, they play safe and choose to go back.
Teams get back in defensive shape so fast nowadays. They try deft 1-2 passes to move forward and lose the ball at the 3rd quarter area, when everybody is in no-man's land and the counter-attack is deadly.
I think Keane is in above his head; Schniederlin was good but sloppy at times. I am amazed that the Coleman-Walcott combination is still not working. I remember Pienaar and Baines combo, they could find each other in the dark.
Kase Chow
122
Posted 26/02/2019 at 00:07:24
Away win, clean sheet, 3 goals.
Siggy (who has beeb heavily criticised by many fans) scores a brace.
Morgan plays well (shock horror).
A striker scores a decent finish (outside the area?)
Boom!!! So great to win
Everton –please, please, PLEASE win on Sunday. I beg you!
Brian Hennessy
123
Posted 27/02/2019 at 00:12:02
You can never underestimate how much confidence has to do with how people perform in sport. We have some very good players who showed what they can do after we got the second goal.
If we can back this up with another win on Sunday, that could set us up for a really good end to the season, and leave us all with something to look forward to next term.
Ivan Varghese
124
Posted 27/02/2019 at 00:17:12
Brian 123, you are so right.

Don Alexander
125
Posted 27/02/2019 at 00:24:05
0-3 away to anyone is to be savoured right now.
Fran Mitchell
126
Posted 27/02/2019 at 00:30:10
Good result, with good performances all round (in the last 30 minutes). For the first hour we were bereft of confidence and looked very poor.
But worth remembering it was Cardiff and, as with Burnley and Huddersfield before, we have not used such games to 'inspire confidence' for future games.
Liverpool will be another story: no space, no time to run. Gana would never get the space to surge like he did today, and Bernard would have been pushed off the ball by a half-decent left-back.
But hopefully we can use this performance and break our beloved neighbours' hearts.
Richarlison is badly out of form, and should be dropped. I could see him losing his temper and getting a red... his general demeanour is of someone who is not quite right.
For me, Gomes in for Schneiderlin, who did okay but again, only really because Cardiff's midfield and attack asked no questions.
Also, play Lookman, Calvert-Lewin and Bernard as the front three.
Derek Thomas
127
Posted 27/02/2019 at 00:34:41
John Malone @66; what happened to Richarlson? Well, in January, we had two players mentioned as targets for moves to Paris and Mardrid... which for various reasons failed to materialize.
Player one knuckled down and is doing the biz; player two is fannying around even worse than before. Player two throws himself on the floor if somebody looks in his direction, Player one gets stuck in.
Now which one do you think we 'should' keep and which one do you think we 'will' keep?
Daniel Bentley
128
Posted 27/02/2019 at 00:39:56
Good win for a change.
Let's go into the derby now and let's give these dogs a game.
Neil Copeland
130
Posted 27/02/2019 at 01:50:05
Just got home after the game tonight. Well chuffed, I thought it was a solid professional performance overall with a few shaky moments and some very good ones.
You could see the confidence levels rise when we scored the second and played some very good football at that point. Hopefully we can take that belief into Sunday's game.
The support tonight was back to near its vocal best. A good night all round, albeit against poor opposition. However, you can only beat what is put in front of you, and tonight we did that with ease.
Anthony Murphy
131
Posted 27/02/2019 at 01:52:03
Delighted with the win. Here's hoping we can keep our heads come Sunday.
Ed Prytherch
132
Posted 27/02/2019 at 02:00:59
We have had some shit refs this season but Kevin Friend and his team were very good today. It will be nice if we get a similar performance on Sunday but I would not bet on it.
Jeff Spoering
133
Posted 27/02/2019 at 03:16:53
Haven't had a chance to read the comments above yet fully, but just saw the extended highlights and see much room for optimism.
My favorite aspects of the first two goals were that they were both created from negative space! Top teams score a plethora of goals simply by having the creativity, speed, and determination to get the ball to the other end of the field quickly with purpose and skill, but not to always just to drive straight at goal. Of course it takes top finishers and players bombing on to finalize the deed. Sigurdsson was a monster at that today!
Subs today...on point and highlight we have more depth of talent than the average team. Cardiff fans must have drooled at our subs of Bernard, Lookman, and Gomes. Is Schneiderlin the evidence of man management and coaching promise we want to see more of? Silva did well today.
The mentality on the field was on point too. Two goals was not enough. Sublime nutmeg followed by a classy pass and clinical finish at the end shows the winning mentality we can wield. Thank goodness Gana isn't at PSG! It appears there may yet be yet another dimension being added to his game!
Up the Blues!
Laurie Hartley
135
Posted 27/02/2019 at 04:37:18
I'd forgotten how good a win makes me feel.
I never felt more like singing the blues when Everton win and ----------------.
Alan J Thompson
136
Posted 27/02/2019 at 04:54:03
Didn't see the game and came on here to get some idea and I'm surprised at how upbeat, or is it relieved, that everybody is. I mean, we've just thrashed the mighty Cardiff City and on their own ground, land of their fathers, The Nou Arms Park?, despite them not being able to field one of our own superior strikers which puts us back in the running to finish...erm, 7th? I suppose it is worth a few bob more. And more importantly the tactics we may have, or not, been using all season are now turning out to be the right ones, they are the ones we've been playing, aren't they? That warm weather break, wasn't Damascus was it?
Still, let's enjoy the parade while the sun's shining. Sorry, what dark cloud on the horizon no, just a test of the wet weather gear, squad, squad, Preesent umbrellas.
Andy Walker
137
Posted 27/02/2019 at 06:13:00
So Silva gets his hands on the players for 17 straight days with no matches. Apart from pre season, when the squad was still being assembled and players weren't all fit, it's the longest time Silva has had to work with, and coach the players. The result is a 3-0 away win. Well done Marco you've demonstrated your coaching credentials.
Playing Schneiderlin to free up Gueye was a great call. I thought Gueye had his best game of the season. The one major concern is the form of Richarilson, maybe the win will help his confidence, but he needs to improve. I also still think Coleman is still quite away off his best.
Put a world class striker in that team and it would help Richarlison and also Bernard who looked very sharp when he came on. A new striker has to be top priority next window.
I'd stick with Bernard for Richarlison for the derby and bring in Zouma for Jags.
Mike Gaynes
138
Posted 27/02/2019 at 06:28:33
Andy, good thoughts except no "world class striker" is coming to Everton. It's just not going to happen. Finding a pretty good one – or having Calvert-Lewin grow into that level – will have to be good enough.
Andrew Laird
139
Posted 27/02/2019 at 07:20:26
Excellent result, improving performance when the players knew we had the 3 points. I asked for Schneiderlin and he sat in and performed adequately, no great shakes but that's what this Silva ethos needs. Gomes will inevitably replace him for the derby.
Gylfi, Digne and Gueye the stand out performers. Richarlison and Walcott on the naughty step although I can only see one of them making way for Bernard and it looks like Walcott has a clause in his contract for a percentage of games when fit. Well done Marco and the team, any confidence boost is welcome with the victims up next.
Andy Walker
140
Posted 27/02/2019 at 07:33:19
Hi Mike, what I mean by 'world class' is a striker who would be a regular in a top 6 Premier League team. I see the Premier League as the best league if the world for overall quality, so a striker who can cut it in a top six team in our league is in my opinion world class, I know that's a broader definition than most may use for world class, but that's what I mean.
We managed to get Lukaku to come on loan, why not a similar quality of player at a similar stage of his career, maybe initially on loan. There are options out there. I think it will happen in the summer, let's face it it has to happen if the team is to live up to our CEO's ambitions.
Daniel A Johnson
141
Posted 27/02/2019 at 08:02:17
An unfancied Everton FC end the title dreams of their red neighbours.
IT'S GOING TO HAPPEN ON SUNDAY!!!!!!
BELIEVE!!!!!!!
Daniel A Johnson
142
Posted 27/02/2019 at 08:07:38
Andy (140),
Lukaku was in a unique situation in that Chelsea had been buying everyone and also had Costa up front so were willing to let him go on loan.
Most teams with a decent striker either keep them and play them or will want big money for a transfer not a loan.
John G Davies
143
Posted 27/02/2019 at 08:18:54
Daniel A,
That's the motivation mate. A dream come true for me if we put a big dent in their title hopes. Imagine the whinging twats if we can get one over them and City form a gap.
I hope the homegrown lads are smashing the importance of Sunday's result into the foreign lads. They all get out of gaol with a win on Sunday.
Laurie Hartley
144
Posted 27/02/2019 at 08:21:49
Gueye has been playing well all season but he seems to have gone to another level since the PSG bid. Well done to him.
Marco Silva may well look back on Lucas Digne's brilliant piece of defending in the 2nd minute, as the "moment" that saved his Everton career.
Bernard is fast becoming one of my all time favourites. I was hoping Silva would swap him for Richarlison and he did. You could see the difference in the team dynamic as soon as he came on. A real footballer who works his socks off for his team that lad.
Richarlison will have to fight for the spot on the other wing with Lookman and Walcott.
Sigurdssonn answered any criticisms in that game – two fantastic strikes.
Well done to Calvert-Lewin also – he stuck at it and scored a smashing goal. He showed us he can strike a football.
I thought Seamus had a decent game but he will be black and blue tomorrow – he took a couple of really bad challenges. I was really worried about his leg when he stayed down after the first one.
Looking forward to the derby. What a difference a win makes and this was a very very important one.
Martin Berry
145
Posted 27/02/2019 at 08:44:35
A much-needed win. I thought we were poor until the first goal and the live forum comments reflected that and I thought "here we go again".
That said, we improved markedly with the introduction of Bernard for an awful Richarlison (what is wrong with this lad at the moment?)
Sigurdsson took his goals really well and pleased that Calvert-Lewin got on the score sheet. Guye was excellent tonight and so pleased we had him, despite me being one of the people who wanted to take the PSG shilling in January.
Terry McLavey
146
Posted 27/02/2019 at 09:02:03
Sunday, every tide turns sometime!

Dave Abrahams
147
Posted 27/02/2019 at 09:29:44
To those asking what has happened to Richarlison and his form, well to me, he has scored ten goals but he has in general always been very wasteful in possession of the ball, sees very little to bring other players into the game.
I didn't see last nights game, just read live forum, no one was impressed with Charlie, in fact every one was "Up to here" with him, he's a young lad, a very, very young lad who wants to grow up as quick as he can, Everton are a man down every game he has started in the last couple of months.
Sorry to have wasted time talking about him but it needed to be said.
Well done to the manager and the team for last night's result and performance, hope it takes us into Sunday's game with a lot more confidence and after Liverpool draw with Watford tonight (hopefully) their nerves will be shredded and I hope we shred them a lot more.
Eoin O Donnell
148
Posted 27/02/2019 at 09:32:11
I thought we looked a hell of a lot better last night. A lot more bite and a lot less erratic!
Despite the shaky start I thought Jagileka added some much-needed experience to the back four. The fact he had been absent since the first day of the season was worrying but he came through it. I know the start for Schneiderlin raised some eyebrows, but when you look at how Man Utd set up they play Herrera and Matic holding. Now I'm not saying Gylfi is Pogba but it just shows how a solid foundation can help more expressive players play to their strengths.
Maybe André Gomes can be seen as an alternative to Glyfi when we want to play a deeper 3 in midfield. It's evident he's had a loss of form of late and with less defensive responsibility we know what he's capable of. Richie had a disappointing night last night but good to see we weren't solely relying on him creating something.
I'm really hoping this is a turning point for our season. Maybe it was tiredness, maybe Silva made far too many changes this season at once with some more experience (and a better transition) needed? Either way, I'm glad we have something positive to go into the derby with. Onwards and upwards! 7th still in the crosshairs. COYB
Peter Gorman
149
Posted 27/02/2019 at 09:53:21
Dave @147 - You may be right about Richarlison's general wastefulness but there is no doubt that his contribution has declined alarmingly since the start of the season.
Funnily enough, it was in the loss away to Arsenal that I was most impressed with him; the things he did and the problems he caused them made me think that we really had a forward with decent promise. Arsenal looked very uncomfortable with him and he rolled their defenders more than a few times.
That all seems like a long time ago.
Lee Jamieson
150
Posted 27/02/2019 at 09:57:27
I thought we were a lot better last night but we are still losing the ball needlessly in the attack. I thought Silva used the squad well last night which will boost confidence and make for a better team ethic. It was a brave decision too, if we lost last night or made hard work of it then it could have cost his job.
Silva used the squad to rest Gomes and Davies who have looked tired in the past month. He clearly has his eyes on the derby as the biggest game of the season which given where we are is our best chance salvaging some pride and improvement out of the season.
I think he now needs to drop Richarlison to the bench along with Walcot. Both are a shadow of what they were. Bernard has now assisted more goals than anyone else in the squad so surely must start for the derby. Digne also has the most crosses into the box of any player in the Premier League. Christ, we need a proper striker!!!!
Paul Cherrington
151
Posted 27/02/2019 at 10:00:25
Well done to Marco Silva and the team last night – that was a must-win game and they did a pretty decent job. I have been critical of Sigurdsson with good reason in recent weeks but he deserves credit for his goals and general performance.
I also think it is no co-incidence that we kept a clean sheet and played better with Jags and Seamus in defence. As in the past, the old guard from the defence Moyes built just know how to keep it solid for us to build from in a game.
Thankfully, this does pretty much ease relegation worries for the season – which was a perfectly valid worry before this game. If we had lost we would have been right in the mix down there so those now saying 'I told you so' about it should calm down a bit. No team ever thinks they are going down until it happens or they are far adrift at the foot of the table.

Dave Williams
152
Posted 27/02/2019 at 10:08:17
When the team was announced, I posted that it was a selection to get the manager fired.
I clearly don't have a clue about football and will keep my opinions to myself in future!
Boy did we need that!!
Paul Burns
153
Posted 27/02/2019 at 10:30:15
Big deal. Like watching paint dry.
Another scruffy, shapeless, aimless performance against a team that's not top level. Sure our new worldwide audience just lapped it up.
We've got to be more ruthless in deciding that players are not good enough and get rid quick. As it is, players are ejected from the side after constant dismal performances, only to return when their replacements prove to be just as bad. It's scattergun madness that will never work by a whole regime earning a living under false pretences.
I do agree that the power of confidence is immeasurable in sport but that alone will never turn the basket case that is the present Everton FC into anything other than making up the numbers and I'm absolutely certain that normal disgraceful service will be resumed pretty soon.
John Wells
154
Posted 27/02/2019 at 10:33:43
Bring on Sunday. I said the last derby they won't handle our midfield and if they play like last night we will put it to them again. We are still not creating enough but if we are clinical again we will fight hard for this. Start Bernard and Richy, class is permanent and will surface soon, Calvert-Lewin will be brimming with confidence. Bernard dancing round Virgil = penalty.
If Gana plays like that again no midfield will fancy it and fair play to him as most of these so-called professionals would have sulked for the whole run in. Silva has obviously got respect of squad as he would have had to mend this fence quickly after refusing to let him go and seems to have done it well and anyone in management of any discipline can appreciate that it is joy always easy.
Regarding Silva, I was very happy and excited when he came but by the end of January, I had enough. If they stay playing like this and not conceding stupid goals, then great, but this must remain a constant till season's end and then I think we will be good.
Danny Baily
155
Posted 27/02/2019 at 10:51:07
Great result given the circumstances!
Let's not get too far ahead of ourselves though. We're still a less than bang average side under poor management.
I'll be watching on Sunday, more in hope than expectation.
Tony Abrahams
156
Posted 27/02/2019 at 10:57:35
I agree with that Peter @149 because, other than scoring a goal, Richarlson done everything right that day.
He's very wasteful at times, but we don't get that many players ahead of the ball, and this is something that must also frustrate him at times? I see him most games break forward but very rarely can he do anything but try to go it alone because most of our players are usually behind the play.
He then loses the ball, mainly because he's not a great dribbler, but he should be doing better than this. I'd stick with him now he's back playing wider, because he's very strong for a winger, and he also makes very clever runs inside the fullback, towards the goal.
Bernard, has got to get game time though, because he's a proper little footballer, who takes up better and more natural positions for his fullback, and I think this kid is going to turn out to be a really top player, who might eventually be better just getting left to roam?
Jer Kiernan
157
Posted 27/02/2019 at 11:08:00
Sunday is a real opportunity for the players to mend some of the damage done this season. We need full commitment at a minimum and more importantly courage to take responsibility and get on the ball and express themselves.
COYB
Craig Walker
158
Posted 27/02/2019 at 11:20:55
Last night was a huge relief and I didn't think we'd get a 3-0 win, particularly when the team was announced. Let's not get carried away though and bang the old "bring on the derby" drum again.
Like others have said, I'll be watching on Sunday with everything crossed but am expecting very little. We've had far better Everton sides than this one get a hiding from that lot and last night's result doesn't mask the gulf in class between the two sides at the moment. The one thing I'm holding onto is that we've often fared better against the RS when expectations are low. They need a win more than we do.
It would be very sweet to win and maybe see Silva or Big Dunc run on the pitch to celebrate. I'd give my back teeth for that to happen. I wouldn't be heartbroken if we could get a draw.
Mal van Schaick
159
Posted 27/02/2019 at 11:21:23
Pleased with the result and the team effort, thought Keane had a decent game, and at last we created some good goal scoring opportunities. Bernard made a difference when he came on and could start on Sunday instead of Richi.
Let's hope we can build on the result and play well to win on Sunday.
Sunday is a great opportunity for Silva to convince the fans, that he is the man for the job and bring some much needed cheer to our beleaguered fans.
Peter Morris
160
Posted 27/02/2019 at 12:06:01
It irritates me when newspaper sports journalists decide to spin a story on an outcome that bears no relationship with the truth, a case in hand being last night's game.
James Candy of the Torygraph decided he wanted to spin a line about Jag's age and readiness for the Premier League, so he says he had 'only registered two league starts for Everton all season' (factually true) and 'the 36-year-old defender was well off the pace in the opening two minutes when he was robbed of possession by Kenneth Zahore' (wholly untrue).
Quite the opposite happened, in fact. Jagielka outpaced Zahore to gain possession of the ball, and it was only his underhit back pass to Pickford that handed possession to his opponent.
What a complete berk Candy is, and what a depressing insult to the model professional that Jags is. Zahore has just turned 25, and was out-sprinted by a guy 11 years his senior and who is renowned for his professionalism, including his attitude to not playing and keeping in condition. That's the fucking story, Mr Candy!
Candy should apologise to Jags, who must be mightily pissed off by this fabrication.
Peter Morris
161
Posted 27/02/2019 at 12:09:07
Schneiderlin proved that he can pass the ball forward when, and if, the mood takes him.The pass he made to put Seamus in for the first goal was a peach. More of the same please,especially given the money you are on!
Dale Rose
162
Posted 27/02/2019 at 12:31:34
I didn't see the game but read the comments on here. Great result, hopeful for Sunday. Work in an office full of RS, be nice to rub their faces in it. Good to see Schneiderlin stepping up, about time. Jagielka, if only some of the others showed his commitment.
Peter Gorman
163
Posted 27/02/2019 at 12:33:29
"We've had far better Everton sides than this one get a hiding from that lot."
Sadly that is very true, Craig. However, I've also seen far worse teams get a result (Danny Cadamarteri springs to mind) so you never know.
Nevertheless, with a league title on the line for them, I fear any max effort from our players will still not be enough and the most likely result will be heroic failure followed by the slew of post-match press releases from the players bemoaning hard luck and how they are evolving as a team etc. But you can't knock anyone for dreaming!
If Gana can maintain his current level of performance then we at least have a shout. I take back what I said about not being bothered if he goes to PSG, I don't know what we'd do without him.
Michael Lynch
164
Posted 27/02/2019 at 12:36:00
As I said above, the second half, especially when we were two up, was much more like what we'd expect from our team, and it was the most I've enjoyed a game in a long while. But I'm slightly worried when people start extrapolating a better-than-shit performance against a truly appalling Cardiff team to suggest that it means anything other than we are now safe in mid-table and can look at trying to finish top half.
Steve Ferns nails it above when he says "that must be what Silva sees in training", though not for the reasons he thinks. If we can only play like that in training and when a relegation bound team like Cardiff gives us all the space in the world, then we are truly doomed under this manager. If we play like that against the Shite, Chelsea, Manure and Arse in our next series of home games, then Silva might be worthy of keeping his job until Christmas.
Otherwise, all last night means is that we are safe in the Premier League for another season, and possibly that the players aren't as shit as they've looked so far. The manager – that's a different story IMO.
Tony Marsh
165
Posted 27/02/2019 at 12:54:09
That crazy team selection last night would've been taken apart by any teams above us in the table. The fact Cardiff are nothing more than a Championship side was the key factor in the victory last night.
We can never complain about an away win but Silva was very lucky with his ludicrous selections. Dropping Kenny... Why?? Coleman, Walcott, Schneiderlin — all anonymous. Poor Seamus is now totally shot as age and horrific injuries have cut short his shelf life.
Last night's game was a defining moment in the season. A loss would surely have been the end for Silva. Now, our season hinges on trying to help Man City win the Premier League title by beating Liverpool on Sunday. Klopp is right: this is our World Cup Final. I don't have a problem with that statement as it might fire up our players to put in a shift in the derby. Anything less than 100% from our lot and we will get slaughtered.
Everton's season now all comes down to Sunday. It's all we have left. Nothing to play for but beating Liverpool. Sad but true.
Tony J Williams
166
Posted 27/02/2019 at 13:00:10
It was Cardiff at the end of the day and they are shite.
Very happy with the score and the goals... but it was Cardiff and they are shite.
Let's see them get up the Redshite and start arguing with the ref after each Salah dive... get the cheating fucker sent off for diving — now that would be a story worthy of the back page.
Paul Le Marinel
167
Posted 27/02/2019 at 13:01:16
Great to see us return to winning ways, after a run of poor form.
I think before the game part of the team selection was questionable, but however fair play to Marco Silva as surprisingly he got it right in this game and it was a good all round performance by the players.
Definitely a much needed boost before the derby game, as that will be a test of Marco Silva's character, will determine as to whether or not he can steer us in the right direction and handle the managerial pressures.
In the last derby game we came so close to winning and we should have come away with at least a draw, but disappointingly we lost because of Jordan Pickford's goalkeeping error.
We need to gain consistency and a winning momentum and if we approach this game with the right team strategy and if the players show hunger, determination and give it their all, then I really think we have a chance of winning this game.
Depends upon the team selection, the formation and how we perform of course, but if we get this right collectively then we stand a good chance of pulling it off. Marco Silva has a lot to prove to the fans and if we won the game, I wonder if this will be a turning point.
I think on Sunday, time will tell.
John Hall
168
Posted 27/02/2019 at 13:03:28
A win on Sunday will be a catharsis from the last derby - and may sрur us on! :)
Rob Marsh
169
Posted 27/02/2019 at 13:34:30
Andy Walker #137,
I can't see us ever putting up £75m+ for a player, the club suffered a collective nose bleed when we bought Sigurdsson at half that price.
Our best bet is to keep our eyes out for a (sad to say) Salah or (even more sad to say) a Rat Boy type (without the teeth), the dark side seem to find these type of players all too easy to come by.
Or raise one of our own babies from the start.
Derek Knox
170
Posted 27/02/2019 at 14:29:47
Really happy we got the 3 points but up to Sigurdsson's goal in the latter stages of the first half, there was little difference between the sides.
It's amazing how a goal can change things; in the second half we looked a lot better, but not getting too carried away, they (Cardiff) didn't put up much of a fight in terms of trying to level the score. After our second goal went in they more or less folded.
I did think Bernard, who comes in for a lot of criticism on here, was the catalyst to our improvement, he certainly has a good footballing brain, and can see things before most of the others.
I hope the confidence gained from last night's result, galvanises our fortitude and resolution for Sunday, and we buck the trend and give the fans something to be proud of as well as derailing their title ambitions, from which we would never have heard the end of for years to come.
Bill Watson
171
Posted 27/02/2019 at 14:52:46
Tony #166
Cardiff may well be shite but so are Brighton and Southampton and we lost to both of those.
Credit where credit's due; it was a difficult fixture, given our form, and the fixture was a six pointer. Lose and they would have been within striking distance of us.
We didn't and there were a few good performances in there, too!
Brian Wilkinson
172
Posted 27/02/2019 at 15:52:16
Well said Peter@171, stole my thunder.
Had we drew, would have had should have won that 3-0.
I do not care who they were, we got a much needed three points, win and it is always the same, it was only such a team.
No pressure Sunday, all the pressure is on them, hopefully the crowd will get right behind the team.
We have been on the receiving end of endless stick by our neighbours, what better time than to get a result on Sunday, will be a lot more than 3 points, we could finally mess it up for our neighbours.
Will never have a better chance of sticking the boot in than Sunday.
For once let's hope the devil calls in his hand and we get the rub of the Green.
Brian Wilkinson
173
Posted 27/02/2019 at 15:53:22
Sorry Bill@171, gave you a name change there :-)
Andy Crooks
174
Posted 27/02/2019 at 18:49:39
Sunday offers a chance of redemption for the players and coach. Victory will give Silva all the time he needs. Jagielka will be sharper as will Schneiderlin. This will be an opportunity for him to save his career.
We are mid-table with little to lose. Let this be, petty as it sounds, our cup final. Imagine the joy this team and coach can bring to Evertonians on Sunday.
We won well last night and it is churlish to blame our win on how poor Cardiff are. Cardiff have won games and they will win more. I enjoy our victories, some don't.
Rob Marsh
175
Posted 27/02/2019 at 20:19:02
A win on Sunday would be lovely, but I'm more interested in how they perform, whatever the result might be. Having said that, a part of me says he should abandon all caution now and a have a go at them, nothing to lose now.
We should be able to find 3 points from the next 10 games (fingers crossed). So the relegation pressure has subsided.
If they play like they did or anywhere near like they did in the last derby, I'll be happy. Hopefully Pickford won't be making the same kind of wonder save late on this time.
Andy Crooks
176
Posted 27/02/2019 at 20:32:07
Interesting post, Rob. Does the risk of a thumping mean we don't go at them? Should we be looking at a draw and hoping to steal a goal (The Moyes way)?
I think I would go for a pragmatic approach. And, now that I have written that phrase... I don't know what the fuck it means.
Jim Marray
177
Posted 27/02/2019 at 20:35:44
Good result. I actually enjoyed watching us when we went 2 up but... this was Cardiff, they didn't play well and were pretty crap at the back.
We played better but the old flaws were still there: wayward passing, going back when players were making good runs into space ahead of them, defensive panics and stupid fouls.
Liverpool's current form leaves me hopeful we might get a draw but a win still seems a long way away. That said, never say die and my fingers will be crossed on Sunday, along with my toes.
Rob Marsh
178
Posted 27/02/2019 at 20:56:43
Andy #176,
We don't really know what the psychology of the team is at the moment, do we? After that win, they're no longer worried about relegation. It might be best to let them attack, when we are playing well as in the last derby, we seem to attack better than we defend.
Attack this time might be the best form of defence this time around?
Gerry Ring
179
Posted 27/02/2019 at 21:13:47
dup
Roman Sidey
180
Posted 27/02/2019 at 22:17:01
Stoked with that result and the performance - at least for the final 60ish minutes.
Sigurdsson is so vital because he's the only one in the squad who consistently finishes those types of goals.
Digne was the main reason we kept a clean sheet, as well as Pickford commanding his area for the first time this season.
Bernard is a magician, and I think we probably have Silva to thank for him being at the club, as I think having a Portuguese speaking manager may have had something to do with his decision.
Calvert Lewin showed that he can finish on the run - hopefully a decent run of matches will help him get a bit more consistent. I still didn't rate his contribution up until that goal, but I'm happy that he pulled that one out.
Gueye - total class player and at his price three years ago, he is right up there with the likes of Cahill, Arteta and Lescott for bargain buys.
The negatives:
Richarlison was poor, although to be fair to him, the few times he looked like going on a run Cardiff blatantly fouled him to curb his impact. They did their homework there.
Coleman still has the talent, like we saw with his cut-back to Siggy, but it's just getting so rare.
Jagielka just doesn't wash with me. People point to him coming in and solidifying that defensive line, but he's got some bad habits that he's never dropped - his backward trap attempts that have never paid dividends and his midfield blasts that come off the side of the boot. And that attempted back-pass early on is unacceptable. A player of nearly 700 senior games, being paid very good money to be on standby, should be able to come in when needed and not be rusty. He honestly owes part of his weekly wage to Digne for saving his arse.
Steavey Buckley
182
Posted 28/02/2019 at 01:35:23
Pre-season is the next biggest thing for Everton fans to look forward to, with all those players on loan returning plus the current big squad of players to choose from. How they will all be able to fit into the changing rooms will be as big a challenge as who will be allowed to leave on a free transfer or allowed to go out on another loan?
Everton has become one of those clubs where you wonder where the real quality is coming from with so much quantity of various decreasing qualities abound.
Ivan Varghese
183
Posted 28/02/2019 at 02:12:32
I was impressed with Dominic Calvert-Lewin; he could be a good striker that can hold the ball or create something.
Gana was superb albeit against a weak Cardiff.

Paul Cherrington
184
Posted 28/02/2019 at 09:18:13
I think Jagielka did well the other night considering it was his first start for ages.
It is easy to say he should not be rusty but that is just not reality. Anyone in football knows that coming into the team when you have not been playing regularly requires a little settling in period to get going again in a game.
Yes, it was a poor pass that could have gone very wrong but for Digne but understandable. It is no coincidence that we kept a clean sheet and played better with him there. If Silva has any sense, he will leave Jagielka in there to keep it solid for the rest of the season.
I can't wait for the derby and our chance to ruin the other lot's title dreams! The performance is important but, in truth, as long as we win or at least draw to hinder their push, I don't care how it happens.
Gerry Ring
185
Posted 28/02/2019 at 23:28:26
Re #179. Don't know how "dup" came about. Freudian slip! What I actually said was that Silva is "making it up as he goes along".
The team selection against Cardiff was car crash stuff. The fear now is that Silva may believe this team selection should start on Sunday! If this happens we will be slaughtered. The likes of Schneiderlin and Walcott are not cut out for the dogfight that should be the game on Sunday.
McCarthy, having been on the bench for the last 3 games, didn't make the bench against Cardiff. Surely this was a game to make his return for 20 minutes at least. Silva's team selections of late are worrying. I'm very afraid for Everton for next season under Silva. Very afraid!
Rob Marsh
186
Posted 01/03/2019 at 14:18:14
Gerry Ring #185
If Cardiff had have scored first that might have been a completely different result to what we got. One thing is for sure, that team is just like a boxer with a glass jaw that shatters every time they take a punch. We only started to control Cardiff with 10 mins to go, the result flattered us.
As far as the derby goes it's a "Damned if you do, damned if you don't" deal, they can't defend and against the more organised teams they can't attack, we might as well have ago; sitting back we'll concede, going forward we might just get lucky.
McCarthy situation is a bit of strange one. I don't think he's Silva's kind of player, but I'm sure if he was fit Silva would have him on the bench, he's made for the Derby.
Silva doesn't have to worry about relegation anymore and I want to see how he motivates them from now to the end of the season. None of the team are playing to their best or anywhere near. We're moving towards player power like Chelsea: if they like him, they'll play for him; if not? Let's see if they'll play for him.
Add Your Comments
In order to post a comment, you need to be logged in as a registered user of the site.
Or Sign up as a ToffeeWeb Member — it's free, takes just a few minutes and will allow you to post your comments on articles and Talking Points submissions across the site.