Newcastle United vs Everton
Friday, 8 March, 2019
Match Preview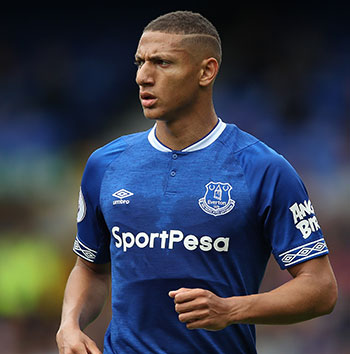 Marco Silva says that players like Richarlison aren't guaranteed a place based on reputation or price tag but admits the Brazilian made a case for a recall with his cameo in the derby
Everton travel to the northeast this weekend looking to register successive away wins for the first time in two and a half years when they take on Newcastle United.
The Blues, who beat Cardiff City on their last road trip, could also notch a third consecutive victory at St James' Park having won there by a goal to nil under Roberto Martinez in 2015 and Sam Allardyce in 2017.
They face, however, a Magpies side who are on a four-game winning streak at home under Rafa Benitez, a run that included a 2-1 win over Premier League leaders, Manchester City, as well as more routine triumphs over fellow strugglers Cardiff, Huddersfield and Burnley.
That has helped lift Newcastle six points clear of the relegation zone and as many behind Everton coming into the weekend. Marco Silva's team, meanwhile, slipped back to 10th after Sunday's goalless Merseyside derby and lie six points off the top seven with nine fixtures to play.
Silva has suggested that he and his players should be regarding the remaining games like "cup finals" and while improving on last season's final position by one place and a possible Europa League spot are the summit Everton's achievements this season, there are many on the field and the dugout whose futures could depend on performances between now and mid-May.
The Blues emerged from the derby with plenty of credit in terms of attitude and application but their lack of cutting edge up front remains a concern and in that respect Silva appears no closer to finding a reliable combination of attacking players capable of consistently scoring goals.
In that vein, Silva says that reputation alone won't guarantee a place in his team but admits that Richarlison impressed him during his cameo against Liverpool and it could lead to the Brazilian's recall to the side this Saturday.
Having been substituted in the games against Watford and Cardiff, Richarlison was benched for the derby but replaced the largely ineffective Theo Walcott for the last half an hour and almost laid on a winner for Bernard and he could start in that wide-right role, allowing his compatriot to continue on the left.
Silva explained to the print media at his press conference that how players perform on the pitch and in training plays a large part in whom he selects from week to week.
"When I prepare for a game the names are not really important to me," he said. "I have one week, 10 days or whatever to prepare for a game and they have to answer to me not just in the match but after and during the week. After that I will take my decision even if it is a really important player for us and Richarlison is.
"It is not just him. André Gomes did a fantastic season until a certain moment when, like the team, he has some up and down. He's an important player for us, a key player. When you are in a good moment and André is in a good moment he can give that extra quality for us as a team.
"He didn't play the last two games. It's not just Richarlison. If I take that decision then for sure Richarlison fully understands. He just has one solution — show to me during the 30 minutes he came in [in the derby] that he's ready again and show during the week that he wants his place in the team. That is everything he is doing."
Gomes was also introduced as a second-half sub against Liverpool at the expense of Morgan Schneiderlin but his return to the starting XI isn't automatic either. Schneiderlin was guilty of a couple of potentially costly errors but Everton didn't concede with him on the field in either of the two games he has started so Silva has a decision to make over whom to pair with Idrissa Gueye.
In terms of availability, Phil Jagielka is a doubt and Leighton Baines is ruled out again with a back injury while Newcastle will be without rising young star midfielder Sean Longstaff (knee), defender Ciaran Clark (knee) and goalkeeper Rob Elliot (back).
With Watford away at Manchester City and Wolves travelling to Chelsea, there is scope for Everton to narrow the gap to both clubs if they can come away with a victory. The Barcodes' recent home form and increasing confidence, however, means it will be a difficult task but by no means impossible if Silva's men can carry forward their more assured displays over the past 10 days.
Kick-off: 3pm, Saturday, 9 March, 2019
Referee: Lee Mason
Last Time: Newcastle United 0 - 1 Everton
Predicted Line-up: Pickford, Coleman, Keane, Zouma, Digne, Gueye, Gomes, Sigurdsson, Bernard, Richarlison, Calvert-Lewin
---
Reader Comments (82)
Note: the following content is not moderated or vetted by the site owners at the time of submission. Comments are the responsibility of the poster. Disclaimer
Alan J Thompson
1
Posted 07/03/2019 at 04:48:28
Silva and Brands quite often say how important the younger players are and while it might be important not to over hurry them, not many are included in the 1st XI squad even just for the experience of a match day. Indeed, Kenny, Lookman and Davies seem to be in and out of the team/squad for little reason while Calvert-Lewin has had a better run.
Obviously, the Manager sees the players he has signed as superior and given priority but he does at times seem somewhat erratic in his selections, or is it rotation.
Clive Rogers
2
Posted 07/03/2019 at 09:53:43
Attitude is the worry with Lookman also. There is obviously something going on there.
Michael Kenrick
3
Posted 08/03/2019 at 05:06:31
And talking of Lookman, an 'exclusive' revelation in the Echo: Lookman was left out of the derby squad because... Silva left him out of the squad. For tactical reasons. Well, that explains everything.
Eddie Dunn
4
Posted 08/03/2019 at 09:06:02
I wonder what is in the contracts of some players. Walcott getting the "nod" over Lookman is becoming ridiculous. Does Theo give Seamus more cover than Lookman?
Surely, if our future is with these youngsters, it is time they were given a proper run of games. Unfortunately we will be stuck with Walcott next term, purely because no-one will want to pick up the tab for his wages whilst the likes of Ademola will be looking for first team footy elsewhere.
Dave Abrahams
5
Posted 08/03/2019 at 09:33:55
Eddie, well, in theory, Walcott is selected ahead of Lookman because he does give more cover to Seamus because Lookman lets himself down by his lack of support for the full back. However, Walcott does very little in that role and not much going forward.
So it would be much better for Colman and Everton if Jonjoe Kenny had played there. He would have found players better with the ball as well, besides letting Liverpool players know they were in a game – something Walcott consistently fails to do no matter which team we are playing.
Chris Gould
6
Posted 08/03/2019 at 10:04:58
Dave, I think Walcott's pace and perceived threat on the counter-attack gets him selected. Robertson was less likely to bomb forward in the knowledge that he'd never catch Theo on the counter. And as you said, Theo was more likely to track Robertson back than Lookman.
As unproductive as Walcott has been, Lookman has never really taken his opportunities. He flatters to deceive and offers very little defensively. He also doesn't have Theo's pace and doesn't really press. Walcott gets himself in good positions, and his speed takes him away from defenders. It's such a shame he's so shit with the ball at his feet.
Brian Harrison
7
Posted 08/03/2019 at 10:10:50
Walcott throughout his career has flattered to deceive. Why the hell Allardyce signed him, I don't know, as not only has he never delivered on a constant basis but he is also injury-prone.
As for Lookman, I really thought that he would have cemented his place in the side by now, but at present, he like Walcott flatters to deceive. Silva has given him game time but he has made little impact in games.
Now whether he still wants to join Leipzig I don't know, but he rarely looks happy on the pitch. So if his heart isn't here then let him go, unless players are happy you never get the best from them.
Michael Lynch
8
Posted 08/03/2019 at 11:10:24
Lookman and Walcott are very different players in my eyes. Walcott is all about pace, Lookman seems more likely to pick his way through a defence with tricky feet. I'd have Walcott when we're intending to play on the break (like at the start against Liverpool), and Lookman when we need to find a way through a team that's parked the bus (everyone in the bottom half of the table).
Ideally though, I'd have neither of them as they're both a bit shit. I did like the look of the Coleman and Richarlison on the right flank, though, against the Shite.
Eddie Dunn
9
Posted 08/03/2019 at 12:04:45
It's true that Walcott is more of a winger, but Lookman has come on in games and looked much more likely to open-up defences. When he has played, his willingness to cut inside has still opened-up the option for Seamus or Kenny to bomb down the flank. In such circumstances it is usual for a midfielder or the centre back to cover.
Part of the problem has been Seamus's lack of pace and lack of confidence to go on the outside. Different kinds of player. For a proper winger we can instead compare Walcott with Richarlison, when he came on against Liverpool. He looked more direct, more of a handfull.
Perhaps Lookman should be played behind the striker.
Len Hawkins
10
Posted 08/03/2019 at 12:07:36
I would think Walcott's past scoring exploits and experience give him the edge but, having been quite enthusiastic when he was signed, I am now deeply underwhelmed.
Using my theory, do you think Bobby Latch fancies a comeback along with Dave Thomas?
Derek Knox
11
Posted 08/03/2019 at 12:40:34
Len, I too was quite looking forward to having Walcott as part of our set-up, and he started off okay and even at the beginning of this season, especially against Bournemouth away.
I am a firm believer in decent players don't suddenly become donkeys overnight, or in a short period of time, but tend to think it is the tactics employed, or the position they are being played in is not suited to their skillsets.
Paul @65, I know where you are coming from, and you have made the point tongue in cheek, but maybe a remould and re-balancing, could get those tyres 'motoring' again!
I know this is probably the wrong thread but I will be most surprised and upset to a point, if he starts with the same opening line-up against Newcastle. It was no surprise that the Coleman - Richarlison combination looked promising down the right. I also thought Gomes for you know who also improved things in the middle, I would stick with Calvert-Lewin and maybe bring Tosun on in the last 15 minutes, depending on the state of the scoreline.
Martin Nicholls
12
Posted 08/03/2019 at 16:04:00
I agree with the "horses for courses" idea of Michael's. That said, I did wonder if Kenny with Seamus in front of him would have given us a solid right flank (and nullified any threat from Robertson) against the shite — too experimental for that game though I suppose.
As for Lookman, he is one of the few saleable assets we have and I suspect he'll go in the summer to help fund any incoming permanent transfers.
John Pierce
13
Posted 08/03/2019 at 17:12:55
Walcott was already beyond his best, which was massively inconsistent, before we were lumbered with him. An 18-month stop-gap at best.
Lookman sadly I believe has played his last full game for Everton. Whatever the reasons for his omissions this season, I just haven't believed it.
A lot of people are quick to think he hasn't delivered. I see a completely different scenario. I watch his movement and his attempts to find others. It is light years ahead of Tosun, Calvert-Lewin and Richarlison to be frank. The balls he tries are simply not matched by the players up front. A bit like Beardsley, got awful stick yet he was working with donkeys.
Lookman's issue: he gets pent up and frustration is clearly evident watching his body language. I firmly believe we will sell him and he will take off under a manager who can give him players of his calibre around him.
Phil Smith
14
Posted 08/03/2019 at 20:07:58
Lookman doesn't want to be here. He clearly sees himself back in Germany and hasn't been right in the head since we stopped his move. Needs an attitude more like Gana. Been on fire since we told PSG to do one!
Tony Hill
15
Posted 08/03/2019 at 21:27:54
Walcott was a rational buy but he has done nothing for too long now. He may yet redeem himself and could give us 2/3 years of service. We are not in the luxurious position of being able to write him off. He should be told to sort his head out.
I would give his position to Lookman for the rest of the season and see if this young man wants to stay with us. He could be a fine player but he could also be a flop and I am not yet convinced by him. I thought he had mental strength but he has shown little of it. If he wants, in the end, to play in Germany then off he should go.
Tony Hill
16
Posted 08/03/2019 at 21:40:58
ps: I've wondered before whether Lookman might be a Number 10. Could he be? Could Bernard be a Number 10? How could they fit in if they are?
Mike Gaynes
17
Posted 08/03/2019 at 21:53:13
I believe #10s are born, not made. They naturally gravitate to the middle of the pitch, naturally stop and look up and survey the field when they receive the ball. And they're leaders, they direct their teammates.
That's not Lookman or Bernard. Having the skill set doesn't mean having the mentality.
Mike Doyle
18
Posted 08/03/2019 at 21:54:35
Gana's attitude since the close of the transfer window has been exemplary - in fact i'd suggest it's been his best period since he joined us.
At 30 this summer, it could be his last chance to achieve the move he craves. If he goes, then he goes with my best wishes. A great professional.
Tony Hill
19
Posted 08/03/2019 at 22:10:50
Gana has the best tackling stats in the main European leagues and is a much, much better player than many on here think. I will be sorry to see him leave.
Tony Hill
20
Posted 08/03/2019 at 22:22:21
Mike, I suspect you're right - but that wonderful, instinctive control and touch of Bernard (at his best) still make me wonder. Also the fact that Lookman drifted in to the Number 10 role very effectively in the England under 20 World Cup winning side.
Rob Marsh
21
Posted 08/03/2019 at 23:34:35
"Silva: Players are selected on merit"
You'd like to think so wouldn't you?
If your playing well and someone who isn't keeps being selected it kind of destroys any meritorious system.
Marco, we're with you all the way on this one!
Simon Dalzell
22
Posted 08/03/2019 at 23:36:02
One notable exception being Theo Walcott. How he got a game in the derby ahead of Richarlison baffles me. I would have started with Gomes as well. I still have no faith in Silva.
Don Alexander
23
Posted 08/03/2019 at 23:49:27
Come on, Marco, Evertonians deserve better than mundane platitudes.
Kris Boner
24
Posted 08/03/2019 at 23:54:26
Not to be contrary for the sake of it, but Silva selected Schneiderlin for what can only be impressing in training in the system he wanted to employ.
He employed that system, and we have had two clean sheets. Both with steady, if unspectacular performances from a most likely not match sharp Schneiderlin. The dropping of Gomes, who would seem like an excellent option off the bench, has to be considered a moderate success if clean sheets were the aim.
And from what I remember, you can't lose a game you don't concede in.
Whether it was merit or not, he dropped Richarlison, and played Bernard. Against Cardiff, most would have said both their performances would have merited that swap.
It doesn't exactly look to me, at least recently that he isn't living up to that meritocratic standard. Look at his defence, Keane and Zouma are both there on merit, even after spending money on Mina.
Long post went a bit too long, but, if we are judging Silva on this comment alone I'd say he's doing pretty well. Jury's out on everything else, but I'd be disappointed to see people try and beat him with this particular stick.
Fran Mitchell
25
Posted 08/03/2019 at 23:55:53
Except Walcott... Walcott plays no matter what.
Jay Harris
27
Posted 09/03/2019 at 04:37:44
I read a while ago that Walcott said he fell out of love with football while at Arsenal. It seems to me he has fallen out of love with it again. He has the ability but seems to sleepwalk through games.
Lookman shows plenty of ability and promise but apparently is not a team player.
Personally, I think the front three of Bernard Calvert-Lewin and Richarlison should be our first choice front 3 although I worry about Bernard becoming the new Jigsaw.
Bob Parrington
28
Posted 09/03/2019 at 05:36:04
Great thread of well thought views. Toffee webbers really know their stuff and I shudder sometimes to try to put a sound argument to post.
Nevertheless, much of the talk has been about Walcott and Lookman. I see the negative in Walcott (at present) and the positive in Lookman (at present). Walcott appears to have (almost completely) lost his close control of the ball, which must be "confidence" issue. On the other hand, Lookman appears to be (currently) showing great control and skill on the ball.
Common thought expressed on here is the Coleman needs Walcott for cover defensively. I ask myself. "Why?"
IMO it isn't the job of the winger to 100% cover for the defender - why shouldn't this cover be made by the adjacent CD or even DFM at least some of the time. It is about reading the game.
In a few the games I've watched this season, when Lookman comes on as sub, he changes the whole psychee of us going forward, creating openings that we haven't seen without him on the pitch.
Just mentioning as I ma not an EPL coach. Room for thought though!
Sam Hoare
29
Posted 09/03/2019 at 06:52:23
As others have alluded to I think it comes down to pace. Walcott has it and it scares defenders and keeps them deeper which in theory creates more room for us.
Raw pace is a vital part of Silva's game plan and Bernard and Lookman, whilst tricky, are not rapid.
Walcott seems to get opportunities in the box almost every game. His pace gets him into good positions. Sadly his finishing/end product has not made the most of those situations.
I would love to see Lookman get a run the team. I'm convinced the lad can be a top player. But he's disappointed me in the time he's had; whether that's down to attitude, tactics or just not being given a long run in the team is hard to say. I'd wager that if Lookman was bossing things in training he'd be in the squad at the very least.
None of our wingers have been good enough over the last 2-3 months and tha is either very bad luck or suggests that Silva's system is not getting the best out of them. For me the latter is at least part to blame. I'd like to see our wingers run beyond the final man more often looking for direct balls over the top in central areas. Too often they seem to run wide or come short, the remit being to get the ball to feet and isolate defenders or create overlaps. How often have we been undone by balls over the top into the channels for fast forwards. If we are going to play Walcott then let's at least play to his strength, early balls over the CBs head for him to run onto.
Jerome Shields
30
Posted 09/03/2019 at 07:09:41
This is the second chance for Silva. He was exposed tactically the last time by Benitez after the last derby. It became the blueprint for teams after that, on how to set up against Everton. Silva had no answers.
Many thought the derby last-minute goal was the catalyst. I thought that It was the Newcastle game. We will see today if Silva has turned the corner tactically.
Hopefully the criticism of Walcott in the run-up will have given him the kick up the arse he needs. I would play Schneiderlin and Kenny to counteract the other two weaknesses from the last time and stick with the same starting forward line from last week. Liverpool are a weak defensive unit thanks to Klopp, so let's not get carried away.
John Raftery
31
Posted 09/03/2019 at 07:37:57
Silva desperately needed to stop conceding goals and losing matches. That is why in the last two games he has opted for more experience in the shape of Coleman, Schneiderlin and Walcott at the expense of Kenny, Davies and Lookman. It has worked. That does not mean the younger players have no future at the club. Both Kenny and Davies were playing well but for the short term at least the manager has chosen a team which is harder to beat.
When the young players return to the team, hopefully it will be to a team more accustomed to winning than losing. A win today would be excellent but as ever away from home I will happily take a point.
Jim Bennings
32
Posted 09/03/2019 at 08:04:12
A tough game but it's one that ideally looking at the fixtures ahead we could do with winning.
We have lost to Brighton, Leicester, Southampton and Watford since Christmas, I wouldn't like to add Newcastle to that list of mediocre sides that beat us mainly through working harder.
Last weeks work ethic and attitude needs to start becoming the norm at Everton, we don't see it enough at this club and that's why we lose so many cheap points to sides we would beat with the right application.
My main worry is that going forward we need to find far greater firepower and start moving that ball around quicker.
We never really looked like laying a glove on Liverpool if we are honest, and the Cardiff game aside, we have generally struggled scoring goals since Boxing Day.
The challenge today is being clinical and starting to look more potent when we attack, it's still too pedestrian and looks too forced most of the time when it should come together with more fluidity by now.
Tony Abrahams
33
Posted 09/03/2019 at 08:06:10
Tony@20, I suspect Mike, might be wrong about Bernard? He was the only Everton player, who I felt could hurt Liverpool, until Richarlson, came onto the pitch, and his willingness to work, makes me think this kid might be a leader by his actions, which usually gains you the respect of your teammates, so it's got to be, "a watch this space from me Mike"!
Ray Roche
34
Posted 09/03/2019 at 08:19:36
Sam@29
I can't understand why Theo isn't left on the half way line when we defend corners. He can't defend so employ him to keep two or even three opposition defenders back. So basic. Is Silva blind?
And put someone on the post when we're defending corners too.
Gerry Ring
35
Posted 09/03/2019 at 08:30:40
At this stage in the season, I'd like to see McCarthy on the field. I really think it says a lot about the management skills of Silva that,having declared Macca fit in December, he didn't provide him with any game time whether U23 or FA cup to have him available for selection. Gomes will be gone in May, we're not going to be relegated so play the guys who will be around next season. Same applies to Mina!
John Keating
36
Posted 09/03/2019 at 08:49:19
I think Newcastle will be more reflective on Silva than the Cardiff and RS games.
Newcastle still need a few more points and will look at this game as one in which to get them.
Cardiff were similar but were and are a dire team unlike the Geordies
The RS was about a bit of passion and brilliant crowd support.
If Silva reverts to type today I think it will do for him at Everton.
Expect a draw at best
John G Davies
37
Posted 09/03/2019 at 08:57:31
Gerry,
McCarthy probably won't be around next season. Best to know the full picture before denigrating Silva's managerial skills dealing with McCarthy...
Frank Sheppard
38
Posted 09/03/2019 at 09:10:00
No doubt some selection surprises again today.
Darren Hind
40
Posted 09/03/2019 at 09:22:53
Bookies giving nothing away
9/5 Defeat. 9/5 win. 9/4 Draw
Dave Abrahams
41
Posted 09/03/2019 at 09:27:49
James McCarthy has been included in Eire squad for the forthcoming European games, I wonder if he will play in any of these games, don't think he has proved his full fitness, the wat he has been in and out of Everton's squad without putting his boots on.
John Keating
42
Posted 09/03/2019 at 09:36:47
Can't believe the bookies are not giving us to win 15- nil after our fantastic recent displays.
Steve Ferns
43
Posted 09/03/2019 at 09:39:15
Alan J Thompson @1
Yes you're right. Marco hasn't given youth a chance at all has he?
Link Shows the average age of all prem sides this season. Go to last season and see how Allardyce picked an old side from a young squad. Marco is picking a side on average 2 years younger than Allardyce.
Jerome Shields
44
Posted 09/03/2019 at 09:41:36
Hopefully Walcott, after a week of bad press, will have got the kick up the arse he needed. Walcott plays according to what he can get away with. He is a old professional football skiver, avoids any hospital situations, and is a lazy bugger.
Arsenal coaching staff must have had a party after he left, he had their hearts broken.
As for Lookman, I think like Richarlison there is a coaching deficiency. Lookman's game had not been developed in tracking back and keeping defensive shape and Richarlison in pass completion and decision-making and the importance of keeping possession. They both look better when playing for Leipzig and Brazil respectfully, because they are better coached.
The poor development and coaching of young players by Silva I have found to be his biggest disappointment as a manager.
Tony Hill
45
Posted 09/03/2019 at 09:55:50
I want to see the same toughness that we saw last week. It's all part of the process of finding our shape and focus for next season. We haven't got a bad record at all up there and there are grounds for optimism.
I am convinced we've turned a corner in any event, whatever the result, and that Silva is going to be very much part of our progress.
Derek Knox
46
Posted 09/03/2019 at 10:00:48
A big question could be answered today if we can get a result against Newcastle. Team selection will be not only interesting, but a measure of how much confidence may have escalated since the last two results and performances in general.
I don't envisage too many changes, but would like to see the side that finished against Liverpool, but with DCL given the nod over Tosun. I see this as a winnable fixture but as usual, wonder where the goals will be coming from.
COYB
Jerome Shields
47
Posted 09/03/2019 at 10:11:55
McCarthy needs to look after his Club career before he makes himself available for international duty. He would help Everton's midfield and possibly would have saved Silva's bacon. Silva has had opportunities to play him but didn't.
Anthony Murphy
48
Posted 09/03/2019 at 10:19:19
I think Phil#14 is right unfortunately. Lookman doesn't want to be here. I expect him to move in the summer along with Gana, so Brands will have his work cut out replacing those whilst also finding that elusive striker. We are also likely to lose Zouma given the Chelsea transfer ban, so lots of work to be done in the summer just to keep with the pace.
As for today, it's impossible to call as they are as unpredictable as us. I hope we at least play well. I'd like to see Bernard get one as he needs to - so may throw on an ambitious score cast - Everton 2-0 with Bernard scoring the first
Steve Little
49
Posted 09/03/2019 at 10:43:30
How about Kenny at right back and Coleman at right midfield?
Coleman played many of his early games for us on the wing and was very effective. You certainly know he will give 100% and not go missing.
Paul Tran
50
Posted 09/03/2019 at 10:53:02
Darren, those odds are indicative of two 'who knows what to expect?' teams.
Save your money for Cheltenham.
Anthony A Hughes
51
Posted 09/03/2019 at 11:03:12
Two and a half years since we last won back to back away games. Not good reading but I think we'll pinch it today. I don't see many goals so i'm going for 0-1 for us.
Dick Fearon
52
Posted 09/03/2019 at 11:09:01
I think Lookaman is a bit like Leon Osman. No one or should that read everyone has a different idea of his best position. Should he be on the right wing or the left, or up front or somewhere in the midfield or as some have said, a second striker.
In his long career with us Leon was tried in all of those roles without any real success.
In my opinion Lookaman benefit from a season long loan at a struggling championship club.
Clive Rogers
53
Posted 09/03/2019 at 11:19:33
With reference to our lack of cutting edge, I watched the derby match again on Monday and it stood out how little pressure there was on Van Dyke. Time after time he headed clear from the area with nobody near him. We need a proven striker in summer as a priority.
John G Davies
54
Posted 09/03/2019 at 11:20:44
Anything in your portfolio ante post Paul?
James Hughes
56
Posted 09/03/2019 at 11:26:45
Please just beat them, anytime we put Rafa in his place suits me.
I see his ex club are behind the EUFA investigation into City. A bit like telling tales to the teacher. That lot have no shame.
Colin Malone
58
Posted 09/03/2019 at 11:30:40
I saw the old Seamus Coleman, defending, attacking down the flanks, when he had someone in front of him, [Richarlison] who was more physical than the weak play of Walcott..
Mal van Schaick
60
Posted 09/03/2019 at 11:36:23
Everton 2-1. We have to man mark Almiron? He's the danger man.
Bring back Earle Barret, he always had good games against the pies.
Brian Harrison
61
Posted 09/03/2019 at 11:36:34
Todays game will probably be a tight affair with 1 goal separating the teams. Newcastle will be well organised and hard to break down, and they have already beaten City up there. Everton have come off 2 decent results so hopefully the confidence that has been lacking over the last few months should be returning.
Not sure what team he will pick might even revert to a 3 at the back to give Mina a game. Who would have thought with all the excitement when we signed him he would have played so few games up to March. I get the feeling that Lookman has no future at the club. I really thought he would be a player, but he has hardly put in a performance since we refused his loan to Leipzig. There is no denying the lad has talent but if his heart is not in it then its best to let him go.
I am sure there will be many discussions between Silva and Brands at this time of the year, as they will be assessing whats needed for next season and who is not part of their plans. Although off loading well paid players is not an easy job, so a massive task for Brands in the coming weeks.
Raymond Fox
62
Posted 09/03/2019 at 11:44:30
As Paul says its a anything can happen fixture.
Newcastle are slight favs if you take all the firms into consideration, but that's splitting hairs.
Silva will pick a team not to lose I'd say, he'll start with Schneiderlin again along with Walcott.
I expect a tight game and a draw seems the logical outcome.
Tony Hill
63
Posted 09/03/2019 at 11:48:48
Dick @52, an interesting thought about whether Lookman might develop more effectively at a Championship club on loan. I doubt that he now would do so, but I wonder whether he might have done had he gone to Derby, as Allardyce wanted. It might have given him a more solid grounding for his unquestionable talent. But who knows?
Kevin Prytherch
64
Posted 09/03/2019 at 11:51:22
Steve 43 - while I respect much of what you write on here as very considered and informative. I do feel you blindly defend Silva at times.
This season, a 32 year old Baines has been replaced by a 25 year old Digne
A 33 year old Rooney has been replaced by a 21 year old Richarlison
A 35 year old Jagielka has been replaced by a 23 year old Zouma.
It's not difficult to see why the average age has come down by a bit, it's the natural age of the squad. Using statistics such as this doesn't tell the story about whether Silva has promoted youth, it just states that he picks younger players from a younger squad than last season.
Similarly though, we don't know what his remit is for the rest of the season. If it is to chase 7th then it could be why he resorts to seasoned pros. If it is to give youth a chance - then he's not doing it as 3 out of our main 4 youth players are no where near the first team at the moment.
I feel that he has not given the youth players as much of a chance as he could at the moment, it appears like it would be demoralising for Lookman, knowing how poor Walcott plays and never starting a game (not literally never before you produce stats of how many times he's played). Kenny plays well then is dropped for Coleman again. Davies comes in, captains the team, plays well in a midfield 3 then doesn't even make the match day squad.
It could be that all these are happy with fleeting appearances and it is agreed in advance, we'll probably never know until Silva leaves. But from the outside it appears that he does not give youth a chance.
Tony Everan
65
Posted 09/03/2019 at 11:54:50
Raymond, I think he will start with Scheiderlin too, too keep it tighter defensively . He will be hoping for a goal on the break .
I think he will start with Walcott and give Richarlison the last 30 minutes to torment them.
Christopher Timmins
66
Posted 09/03/2019 at 12:16:37
In some ways this is a real litmus test for the manager. A win today would certainly indicate an upward movement in the graph, however, a defeat would put is back to where we were post Watford.
The only change, assuming an injury free week, would be on the right side of the front three.
Jim Bennings
67
Posted 09/03/2019 at 12:20:05
Clive 53
One of the main reasons we couldn't really test Van Dijk more is because our attacking options are limited these days.
I imagine if we could have had a striker for instance like Kevin Campbell or midfielders in the physically adept variety like Cahill or Fellaini challenging Van Dijk aerially then we might have watched a different story unfold.
Our attack is very one dimensional these days, we don't really have the finesse but neither the physical power or raw blistering pace to truly threaten sides.
What I'd do to have options like Radzinski, Campbell, Yakubu, Saha, Cahill and Fellaini or players in that mound to vary it up.
Hopefully a wise summers spending and good work from Brands will see some or all of this rectified.

Tony Abrahams
68
Posted 09/03/2019 at 12:20:37
Reading Newcastle will play 3-5-2, and think the teams who have gave Everton, the most trouble this season, (spurs, wolves) have both used this system?
That's why I'm expecting Snides, even hoping for him which is an absolute shock really, because those two teams, kept pulling us wide, and this left a big hole in the middle of the pitch, which was exploited by them both.
A mid-table clash, or a big game with regards to the future? Hopefully Everton, can keep building on from the last two games, with the biggest concern being who's going to score us the goals?
Brian Harrison
69
Posted 09/03/2019 at 12:21:47
Kevin
I understand the points you make over Kenny and Davies, but they have been given quite a few games this season. Both Kenny and Davies have played well on occasions but are they better than Gueye and Coleman probably not. As for Lookman a player I like he has hardly set the world alight when he has started. Also unlike us Silva sees these lads every day in training. I think most managers like to promote young players but they have to be good enough. You cant just play them because of their age. Just look at Phil Foden at City a very talented footballer but look who he is up against for a midfield place. Again Liverpool how many youngsters have they promoted I know they have given games to Alexander Arnold and Gomez but not every game. Also DCL for his age and position has played more Premier league games than any other 21 year old English striker.
John Pierce
70
Posted 09/03/2019 at 12:41:18
I despise this lot, those stotty eating barcodes with a sense of we are the big club because we walk around effing half naked in weather a polar bear wouldn't step a paw outside in.
I lived up there for a while, they couldn't even fill the ground in the early nineties whilst in the 2nd division.
Everton always get a pass from me for this one. Just win, get into them hard and flatten the lot of them.
3-0 UTFT!
Dermot Byrne
71
Posted 09/03/2019 at 12:41:46
This will all be about spirit. Can we have it two games on the trot? A cold day in NE? Their fans v hostile?
If we do have spirit, we can win this.
Tony Everan
72
Posted 09/03/2019 at 12:42:59
Tony 68
It's the kind of game that DC-L can hammer home the fact that he deserves to be no1 striker for next season. Can he take his chances ?, can he cause problems? can he get on the end of corners and set pieces, or toe poke in a Bernard cross?
The lad has got determination by the bucket load and I reckon that is what will win the day for him to be able to make it to the top.
It's up to him to him to take these opportunities.
Dave Abrahams
73
Posted 09/03/2019 at 12:53:44
Brian (69), Imreally don't get the point of playing and earning eights and nines on the training field if they produce fours and fives in the actual games.
Schneiderlin for one must be doing an awful lot more on the trading ground than he is giving in games he plays in the premier league, I never saw the Cardiff game but in the Derby game he gave " just enough" never excerted himself, gave mostly four and five yard passes to the nearest man to him, he could have done a great deal more, was it a coincidence that Everton looked more likely to score when he was replaced by a man who wanted and went looking for the ball, Gomes? I don't think Schneiderlin did nearly enough, he certainly could have done a lot more, in my opinion.
Iain Johnston
74
Posted 09/03/2019 at 12:55:45
I'd play Lookman or Walcott alongside Calvert - Lewin and have Bernard and Richarlison as orthodox wingers with Gylfi & Gana in the middle.
If you want Richarlison as a forward in a front three you need him on the left cutting in and we don't have a comparative right forward to compliment him.
DCL ran his legs off in the Derby, his pace was a distraction which scared the shit out of Matip, we lost that dynamic when the slower Tosun came on.
I'd like to see one of those mentioned above with a bit of pace partner him. Opposing central defenders will spend most of their time chasing them leaving the door open for the wide men.
Paul Birmingham
75
Posted 09/03/2019 at 12:59:00
Interesting to see the starting line up, I hope we go for it from the off and same tempo and commitment we showed against the RS last Sunday.
For me I'd swap Walcott for Richarlison on the right and keep the rest assuming all are fit as the same.
The Barcodes have improved, the Fat Spanish Waiter will want to beat us, but we should be capable of a result if we take the few chances we will create.
David Hallwood
76
Posted 09/03/2019 at 13:07:04
I've been banging on about Sneiderlin and Gana forever. They cannot play in the same team; they do the same role, so what's needed is either Gomes or Davies or if you want to be really radical, Bernard to do a David Silva type role-but that won't happen anytime soon.
Also I'd start with Charlie on the right as he linked up so well with Coleman, with DCL or even Woolcott down the middle. I've got a 1-1 on the super 6, but I'm hoping for a 2-0.
Kim Vivian
77
Posted 09/03/2019 at 13:14:08
I'm looking forward to seeing how we do today. After a 2 week lay off, a relative walk in the park against Cardiff and a good rousing performance vs the RS this is the first "normal" game for nearly a month - and Newcastle are no pushover. We all know where our weaknesses lie up front so goals are hard come by, but the general fight is so random that I believe today might be quite telling.
Show some balls, keep a clean sheet and win the game, or revert to type?
This game could have more impact on Silva's future that it might be getting credit for.
Jay Harris
78
Posted 09/03/2019 at 13:15:57
With the odds similar for a home win, draw or away win it seems the bookies are as uncertain as we are of which Everton and which Newcastle will show up.
I think it is important to have a strong MF and despite Schneiderlins return to form I think he is too slow and has a fatal mistake in him. Gomes or Davies for his energy for me with Siggy playing just in front. Front three of Bernard DCL and Richy.
Dermot Byrne
79
Posted 09/03/2019 at 13:23:27
Early goal may turn their fans on them?
John Pierce
80
Posted 09/03/2019 at 13:25:10
So this type of game is one we've lost all year. Away from home at a semi-decent, mid-table home side. Frankly it's a game we should win regularly.
These are the games Silva has completely failed to inspire the team to get a result.
The effort today will go a long way to understand last weeks result and if it was the occasion not Silva which drove the performance.
For me 3-5-2 is the right way to go. He won't, I suspect he will double down on his regular tactical intransigence.
Big game this.
Darren Hind
81
Posted 09/03/2019 at 13:37:21
We need to be more adventurous. why oh fucking why do we only ever play with one striker ?
Calvert - Lewin played alone against one of the meanest back fours in Europe last week. He did well, but it didnt matter how many times he won the ball. there was no support and the shite simply dealt with the second ball.
Newcastle will play two up top today. I would be more than happy to match them up in formation and see who comes out on top.
In the meantime, I`ll stick with the trixster
Paul Tran
82
Posted 09/03/2019 at 13:48:45
With you on that, Darren. Fingers crossed.
John Pierce
83
Posted 09/03/2019 at 13:56:02
Darren so here's the issue for me, he has tried to be more adventurous, but without the ability to retain the ball high up the field we frequently lose it. Would a second striker do that? Perhaps, but unlikely given what we have on the books.
Walcott, Richarlison, Tosun and Calvert-Lewin do not retain the ball well. In doing so we often are out numbered as soon as we lose it up field. His selections and tactics don't recognize the problem.
Being expansive is absolutely what we should be about, however he hasn't mitigated the obvious flaw there and just carried on regardless. A major over sight for me. He has been unable to get the team to be expansive together, keep the formation more compact. We often get outnumbered in many areas.
I think 3-5-2 will work and can be very attacking if the team move up and down together. I expect nothing but the same today.
Paul Tran
84
Posted 09/03/2019 at 14:01:31
Agreed, John. Calvert-Lewin was isolated last week, which meant we couldn't keep the ball. We were compact and unadventurous, never looking like we were going to score.
The question is, what will the random selection machine gives us today?
Frank Crewe
85
Posted 09/03/2019 at 14:14:08
I'd go with the side that started in the derby except for Richarlison in place of Walcott. I doubt Gomes will stay so I don't see the point in starting him with only nine games left. Unless Silva knows something we don't of course. I'd do the same with Zouma but we are a bit short handed at CB and he's pretty consistent so stick with him.
Clive Rogers
86
Posted 09/03/2019 at 14:18:28
The fact is that DCL doesn't threaten the goal enough, he is just not that kind of player. We can make excuses, but VVD had an easy game and there were a lot of balls into the box that he headed clear without pressure that you would expect a striker to challenge for. Imagine if Shearer had been playing. DCL will never be that type of player.
Alan J Thompson
87
Posted 09/03/2019 at 15:19:54
Steve(#43); How does picking young players, giving one the captaincy then dropping them for what seems very little reason encouraging youth? It could well be argued that the several times he has done so has quite the opposite effect. Quite strange that you justify Silva by comparing him to Allardyce.
Add Your Comments
In order to post a comment, you need to be logged in as a registered user of the site.
Or Sign up as a ToffeeWeb Member — it's free, takes just a few minutes and will allow you to post your comments on articles and Talking Points submissions across the site.