Fulham vs Everton
Friday, 12 April, 2019
Match Preview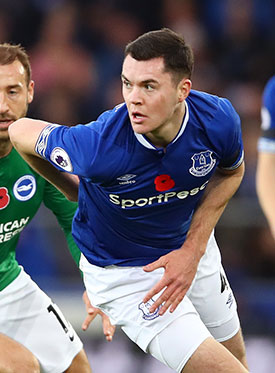 Michael Keane has recovered from a virus but will he walk back into the side at the expense of Phil Jagielka?
Everton are up against London opposition for the fourth successive game as they travel to Craven Cottage to face Fulham.
The Blues are bidding to make it four wins on the bounce on their latest visit to the Capital where they must travel once more to face Crystal Palace before the final fixture of the campaign at Tottenham's new stadium.
They take on a Fulham side that recently had their relegation back to the Championship confirmed and while Scott Parker has only been installed as caretaker boss, they will already be preparing for a tilt at bouncing straight to the Premier League once more.
The Cottagers' season contrasts starkly with that of Wolves, another promoted club that spent heavily last season but was able to assemble a more cohesive team under a manager who has earned plenty of admirers.
Claudio Ranieri, meanwhile, had to be drafted in to replace Slaviša Jokanović who didn't last until Christmas but the former Leicester manager was dismissed himself in February after results failed to improve.
They come into this weekend with the pressure off but also on the back of a nine-match losing streak. Indeed, since beating Huddersfield at the end of last year Fulham have only one once, a 4-2 win over Brighton at the end of January.
Resigned to their fate, they gave title-chasing Liverpool a stern test four weeks ago and that should indicate to Marco Silva and his men that they won't be able to coast through this one.
In terms of team selection, the Portuguese will have his sights trained on the bid to finish in seventh place which is just a point away, although Wolves have played a game fewer. In that respect, he has been making as few changes as necessary and Phil Jagielka certainly gave him something to think about with his match-winning performance against Arsenal last Sunday.
The club skipper, stepped into the void created by Michael Keane's illness and scored the only goal against the Gunners but Keane is available again and could reclaim his place. Elsewhere in the lineup, few changes are expected.
With five matches to go, Everton's quest to finish as "best of the rest" and, possibly, earn a crack at qualifying for the Europa League is still very much on and a fourth consecutive win for the first time since the early part of the 2016-17 season would keep them very much in the hunt.
""You grow as a team if you play against the best teams," Silva said on the subject of European competition in his pre-match press conference. "Playing these type of games, week in and week out, we can grow faster as a squad.
"We have to keep fighting to achieve the best position possible in the table.This is most important for us. Our goal is to improve on the season before and we will keep doing that to the end of the season. Then we will see what it means for us."
Kick-off: 3pm, Saturday 13 April, 2019
Referee: Lee Probert
Last Time: Fulham 1 - 3 Everton, March 2014
Predicted Line-up: Pickford, Coleman, Keane, Zouma, Digne, Gueye, Gomes, Sigurdsson, Bernard, Richarlison, Calvert-Lewin
---
Reader Comments (71)
Note: the following content is not moderated or vetted by the site owners at the time of submission. Comments are the responsibility of the poster. Disclaimer
Frank Sheppard
1
Posted 12/04/2019 at 05:52:45
Be nice to consolidate recent improvements with a solid away performance, another clean sheet and 3 points. I wonder if Silva will have a selection surprise or two ?
Kunal Desai
2
Posted 12/04/2019 at 06:34:43
Aside from the first couple of minutes, Jagielka was superb throughout the game against Arsenal. I wonder if he Silva keeps him in for this game and perhaps brings back Keane next weekend against Utd which might be a sterner test at the back.
We can't rest on our laurels. Must treat this game the way as our last three.
This is the sort of game in the past where we would surprisingly slip up agsinst. Important to go into this with the right attitude and mindset against an already relegated side, and we will be fine.
Mark Andersson
3
Posted 12/04/2019 at 06:35:10
I think Jags should play...
There is no reason that the blues should not keep this recent form going...
Same team as last week... same comitment but more goals please...
Sam Hoare
4
Posted 12/04/2019 at 07:16:09
Much of our good work recently has been against teams who have come at us and left space behind. It will be interesting to see how we do against a (presumably) more compact team where we will possibly have the majority of possession.
Fulham will be playing for pride in a very losable match for us but we are confident right now and I hope harder to score against.
4 wins in a row would be very nice.
Mike Gaynes
5
Posted 12/04/2019 at 07:50:39
Unless one of them is hurt, it'll be Keane and Zouma at the back. Fulham have only scored four goals in their last six games, so it should be a rocking chair for them.
I'm so confident that I'm going to miss this one -- traveling. So I expect you Forum Fanatics to take care of business for me.
Tony Everan
6
Posted 12/04/2019 at 08:06:59
We have beaten Chelsea West Ham and Arsenal in the last few weeks, convincingly too . All those clubs are miles better than Fulham, so I would say that complacency is our biggest enemy on Saturday . If we go there thinking it is in the bag we will not win . We have to play with the same intensity and guile as last week.
I think Richarlison, and particularly Bernard will prove to be too much for Fulham . Bernard has been a complete revelation this last two months. He has become more aggressive in his play and more offensive when in possession, the penny has dropped to attack the full back and commit him . When Bernard does this the opposition full back is often left floundering.

The determination to get back behind the ball and close down play after our side loses possession has been exemplary too in recent weeks. Both Richarlison and Bernard have improved with this necessity massively and the upturn in our fortunes has coincided with it. It closes down the space in midfield and allows our midfield 3 to gain control of the game. Gomes doesnt need much time or space to turn defence into attack , the wide men battling back gives him the inch he needs to execute his quality.
Bernard is a great player to watch on the ball too, he has that natural grace and control that David Silva has got . The next step is to improve his finishing and there is a complete player there in Bernard.
It is a wonderful feeling to be looking forward again to watching the blueboys knowing we will see some good football .
Correct score, Blues have too much quality and are bang in form . We are playing the best football in the Premier League this last month .
Fulham 0 Everton 3
Derek Knox
7
Posted 12/04/2019 at 08:26:53
I see no reason why we can't continue where we have left off, against Chelsea, West Ham and Arsenal, and am confident of us doing so.
I didn't think I'd be making statements like that a few weeks ago, but I suppose better late than never applies. As Tony Everan says the only thing we should be worried about is complacency, and treat this game as if our existence depended on it.
Terry Underwood
8
Posted 12/04/2019 at 09:45:53
Looks like our samba boys have realised what blues fans expect, nay, DEMAND, from the players... "Nothing but the best" you wear it every week boys. Read it, understand it, embrace it, and we will love you.
Martin Mason
9
Posted 12/04/2019 at 10:11:18
A dangerous one of the type we would lose. It will be a good test though and I can't see anything but a win.
Simon Smith
10
Posted 12/04/2019 at 10:19:32
One big part of our improvement is playing a settled side, ever since the transfer window closed DCL should have been a priority, and imo Bernard has added balance too down the left, giving Digne a partner he can build a relationship with.
Digne and Bernard remind me of Baines and Pienaar, and Coleman is developing a good relationship with Richalison.
I'd just like to now see Lookman being first choice from the bench in any of the 4 attacking positions, right last or centre would suit him, and as a forward Richalison could go up top with Lookman wide.
Kim Vivian
11
Posted 12/04/2019 at 12:57:46
A potential banana skin this - or it certainly would have been a few weeks ago.
I can't see any merit in changing what is looking to be a quite efficient unit, just maybe some earlier subs to rest tired bodies if we have a bit of a cushion. I think Lyndon's nailed the starting 11 although we just might see Jags starting in the same role if Keane has dropped out on training because of his virus. I don't know what it is he had but viruses do knock you for six even when you are feeling better.
It won't be a walk in the park and I will predict 1-0, (maybe 2-0 if someone can bring their scoring boots).
Matthew Williams
12
Posted 12/04/2019 at 13:14:25
An unlucky ground in the past...but our current crop should do enough.
2-0 Blues.
Stephen Meighan
13
Posted 12/04/2019 at 13:42:12
It's been really pleasing watching Everton these last few weeks. Pity about the 20-minute blip against Newcastle. We all know we've got players with talent – we just needed that commitment and desire.
Now we're showing that the results are happening, I just hope we can continue in this vein until the end of the season. Pity it's come a bit late on but looks like Silva is finally getting the message across. I fancy us for another win tomorrow. I'd take 1-0 – keep the clean sheets coming!
Christopher Timmins
14
Posted 12/04/2019 at 14:12:59
Looking for another performance along the lines of our last visit to London and the result will take care of itself.
Ron Morgan
15
Posted 12/04/2019 at 14:23:01
An interesting one this game. Fulham are already relegated so will be probably very relaxed and have a real go at us.
Whereas, we should be full of confidence following the last 3 games, however, we might have to be on our guard to face an all-out attack from the Cottagers.
Hopefully, in the end, we will win comfortably 2 or 3 nil.
Jay Harris
16
Posted 12/04/2019 at 14:30:20
My only concern is goals.
We have absolutely dominated play in the last few games but Richy and Siggy seem to have "dried up".
Lets hope we can put a few away and it would be nice for DCL to bag a couple with one for Bernie. Blues to win 3-0.
Dermot O'Brien
17
Posted 12/04/2019 at 15:20:24
I think our biggest problem here will be complacency. After a few nice wins there'll be a tendency to act the maggot and trying to be too fancy with the ball. Hopefully Marco will have them focused on doing the same thing as the last few games. We all know what happens in these "easy" games.
Jamie Crowley
18
Posted 12/04/2019 at 16:22:45
I'd make two changes -
Zouma for Jags.
I'd play Davies for Gomes. Davies needs match time and experience to develop. If he falters, Gomes off the bench who looked to me like he was tiring last week.
Should be three points. Emphasis on should.
James Hughes
19
Posted 12/04/2019 at 16:34:42
Jamie mate, Zouma played last week. he can't retain his spot and replace Jags as well. :)
Sorry pal, I am not picking on you but after a week of number crunching I may be a bit stir crazy. I just imagined Zouma passing the ball to Zouma,
Andy Meighan
20
Posted 12/04/2019 at 16:40:05
Drop Gomes for Davies??? Sorry... no.
Gomes, after a little dip after his blistering early form, is starting to come back into his own and was excellent against Arsenal. While Davies isn't a bad player, he's got a long long way to go to be at Gomes's level.
Bill Gienapp
21
Posted 12/04/2019 at 16:54:12
There are two versions of Fulham that could show up this weekend.
Version 1 - demoralized by relegation and with nothing to play for, they simply roll over
Version 2 - freed from the pressure/strain of relegation, they show some fighting spirit for the sake of the fans
If we simply go about our business the way we have these past couple weeks, it shouldn't really matter. The biggest concern would be if we dominate the match but can't find the back of the net... and then they manage to sneak a goal, cranking up the pressure.
Andrew Clare
22
Posted 12/04/2019 at 17:05:49
This is where top managers prove their worth. They expect and get a high level of performance from their players in every game. Once or twice in a season they may have a 'lull' but teams at the very top rarely do.
This game will really show if Silva has everybody psyched up.
COYB's
Frank Crewe
23
Posted 12/04/2019 at 17:12:33
As well as Jags played last week he's not the future Michael Keane is so Silva has to bring him back if he's fit. Until the end of the season we should stick to the current 11 as much as we can.
Jamie Crowley
24
Posted 12/04/2019 at 17:15:52
FFS! I meant Keane for Jags. See what happens when you try to post quickly James @19!
You're not nuts, I am after a week of printing T-shirts!
Cheers.
John Raftery
25
Posted 12/04/2019 at 18:03:55
A win tomorrow will take us up to last season's points total with four matches still to play. Given the state of the squad they inherited last summer that is a very good outcome for the new regime. Credit must go to Brands and Silva for last summer's recruitment including the four signings confirmed on deadline day.
Those players have contributed positively in recent weeks, helped in part by Silva sticking with a settled team and by a fixture schedule of one game per week. Providing they continue playing as a team and don't start believing they have cracked it they should have few problems bringing back the three points tomorrow.
Frank Wade
26
Posted 12/04/2019 at 18:12:15
The last thing an Evertonian needs to see in a pre-match report "they come into this match on the back of a 9 match losing streak". We have provided a cure for such ills in the past, with non-scoring streaks by opposition players a specialty.
As Sam #4 says, the teams we have beaten recently have all come out to play and left space behind. Just hope Fulham try to do the same to impress, rather than sit tight. Arsenal's openness last Sunday was reminiscent of our display at home to Spurs.
Tony #6, you mention the improved 'not in possession' contribution of our wide men. The highlights for me last week were two interceptions that Bernard made in the old left half position and a diving block on a shot at the edge of our box. Three potentially dangerous situations averted.
With everyone working together as one, we have the potential to keep this run going. No complacency. Sometimes, our full backs can leave the centre back exposed, by being too wide or too far forward. It almost let Lacazette in early last week, but I expect Jags had a quiet word with Seamus as it didn't happen again. A pity time has caught up on Jags as his reading of the game has been missing from centre back this season. Just hope he can pass on some of his experience to Keane in the time he has left with us.
Had to add a post-post edit. The absolute highlight last week was a low 40/50 yard pass up the right from Gomes to Richarlison in the 2nd half, played with power, precision, right to left curl, side spin and perhaps a little back spin. Sublime. Something you'd see from Augusta as someone extricated themselves from the pine straw.
Derek Knox
27
Posted 12/04/2019 at 18:57:06
Jamie @24, why don't you print a T-shirt for yourself with, ' Zouma doesn't have a twin ' who plays for Everton. :-)
Tony Hill
28
Posted 12/04/2019 at 18:59:58
Frank @26, that's the way Evertonians have learned to think and fear about losing and winning runs, the law of averages and so on. Most sports fans are like that and it's paralysing if you're not careful.
There are no scripts, there is no fate or destiny; it's just what we make for and of ourselves, and it's just having the steel (and style, we hope) to do it again and again.
That's what winners do, they make it look as though fate is on their side and that their victories are inevitable. I've always thought that Messi and Ronaldo are extraordinary in that way: not merely because they are supremely talented but because they have routinely defied sporting gravity. Has there been a similar feat of will over such a period of time in other sports? Maybe Don Bradman. Federer?
I love your final paragraph, by the way. This manager is going to bring back the grace and beauty of Everton football.
Jimmy Hogan
29
Posted 12/04/2019 at 19:08:09
My favourite away ground. That quirky little cottage thingummybob, a few jars in the Eight Bells, followed by a fine bucolic stroll to the ground through the park by Old Father Thames. Just a pity I couldn't get hold of a ticket...
Brian Harrison
30
Posted 12/04/2019 at 19:29:04
A different test to the last away game, but one if we apply ourselves should result in another victory to give us 4 wins on the bounce. Now as we look to getting into the top 6 next season, lets see if we can do what most if not all the top 6 sides would do. First they go with the belief that individually and collectively we are better than you, and we will dominate from the first to the last minute. No slip ups no excuses this is a game we should win if we genuinely believe we can break into the top 6.
I know there are no easy games in the Premier league, so we have to be as committed as we have been in our last 4 games. Match their workrate and your class will show through. But if we think we only have to work hard against the top 6 sides then we wont win. Would be great if we can go till the end of the season unbeaten, now that would be a bench mark for next season. Might also help convince Zouma and Gomes we are a side going places, not just a side happy to get in the top half.
Mike Jones
31
Posted 12/04/2019 at 20:14:50
Is now a good time to say I never liked reading the pink echo letters page in the late 80's / early 90's? Who'd want an 'Over The Top' from a DSS fraudster. . too soon?
Marcus Leigh
32
Posted 12/04/2019 at 20:26:37
Frankie say: when you hear the air attack warning, you and your team must take cover. COYB!
Martin Berry
33
Posted 12/04/2019 at 20:51:40
If we show the effort and concentration on the same level as in our last three games then surely we must win.
I feel Fulham could be in for a thumping with all those missed chances against Arsenal being put right.
Lev Vellene
34
Posted 12/04/2019 at 21:06:04
One part of the the conundrum with Zouma and Gomes is that they are both lonee's! They are performing so good that Silva will have to play them, as he wants Europa League qualification for EFC. And hearts in hands, or otherwise, so do we fans secretly hope for it to end!
But they are both going to leave at the end of the season! Final!
We might get them back before the next season starts, but our current ambitions are blocking any youngsters from getting a foot in.
So the other part of the conundrum is that Gomes/Zouma may have blocked other players from getting a more proper look-in with the first team...
But would those players have been able to help with doing about what we did since the LFC game (minus the 25 mins vs Newcastle)? Nobody knows!
Questions, assumptions and guesswork, that's what makes football "fandom" so heart-breakingly fun to keep track of, in the end!
Joe Corgan
35
Posted 12/04/2019 at 21:18:51
Everton in good form, beating all-comets and improving week by week.
Fulham. Relegated and on a nine-match losing streak.
I can only see one outcome.
Paul Birmingham
36
Posted 12/04/2019 at 21:53:05
Like any football match Everton have to battle and earn the right to play.
If we keep the Sam focus and tempo of the last month, then this game is winnable, but we must be professional for 95 minutes.
I'm expecting Fulham to go full belt early doors, but if we can get an early grip and take the game by the scruff of the neck, and battle all the way, them assuming we take our chances, we should win.
In the past these type of games have given the opposition, there 1st win in donkies years or months so, a lot to play for plus the Europa league.
Nice to be unbeaten to the end of this season.
Tony Hill
37
Posted 12/04/2019 at 21:58:07
Fulham are relegated and shite. We will win. Stop fucking agonising.
Andy Meighan
38
Posted 12/04/2019 at 22:18:18
Nice one, Tony.
And so right... Toffees 4-1. I've gotta feeling we will concede tomorrow but score a few as well.
Hugh Jenkins
39
Posted 12/04/2019 at 22:46:51
Newcastle have beaten Leicester tonight so, with a little luck 7th is still possible for EFC this season.
Kieran Kinsella
40
Posted 12/04/2019 at 22:52:40
Thrilled to bits to see FSW win tonight. Never though I would hear myself say that but cannot stand Brenda. All his crap about Celtic being his first love, and walking there from Belfast, he walks out the minute he gets another job offer then in his opening presser al Leicester he tells their fans he would "give my life" for this club. Phoney, @$$ clown. Hahaha you lost I hope you get sacked in the morning. That apart, yeah we should beat Fulham 2 or 3 nil.
Anthony Murphy
41
Posted 12/04/2019 at 23:42:53
If we beat Fulham I wonder what was the last time we beat four London based teams on the trot? Hats off to whoever looks that up and can provide an answer
Laurie Hartley
42
Posted 12/04/2019 at 23:51:31
Frank 26 - that Gomes pass was indeed magnificent. We are beginning to see what Barcelona saw in him. We have to sign him by hook or by crook. I think we can.
Frank McGregor
43
Posted 13/04/2019 at 03:08:15
I have a concern with the obsession for Everton to finish seventh in the league. It maybe a better bet to finish eighth and have a full close-season to prepare properly for the new season. Give new signings time to bed in properly to a new team.
Darren Hind
44
Posted 13/04/2019 at 07:21:48
Tony @ 37
I haven't heard talk like that since the eighties. We're miles away from That mate, but after reading people prematurely throwing the towel in all season it made me smile.
It's only Just gone seven and you've already put up post of day
Colin Glassar
45
Posted 13/04/2019 at 08:09:15
Agreed Darren, I wonder where are all those people who after the Newcastle game predicted we wouldn't win another game this season? Admittedly we've been shite this season but never in any relegation struggle. So,
Everton will NEVER be relegated! There, I've said it.
Laurie Hartley
46
Posted 13/04/2019 at 08:17:12
Anthony # 41 - I am guessing its 84-85 season - Arsenal, Spurs, West Ham & QPR - and we beat the Reds twice that season.
Bob Parrington
47
Posted 13/04/2019 at 08:58:13
Dangerous possible banana skin game for Everton of last few seasons. Silva will need to have the players up for this
if Fulham, as a result of confirmed relegation, make some changes that work and their players are more relaxed and prepared to take some chances.
But I'm with the Fulham 0 - 3 Everton brigade. So I hope I haven't put the jinx on.
Trevor Peers
48
Posted 13/04/2019 at 09:02:00
I actually feel confident we can win today, that's been a long time coming ! Usually it's a question of which Everton will turn up and hoping it's the hard working winning one.
Things have changed for the best and no one predicted how well we would be playing at this stage of the season. Long may it continue, no game is easy but I fully expect a decent win by two clear goals COYB.
Dave Abrahams
49
Posted 13/04/2019 at 09:19:11
Bob (47),I understand what you are saying "Silva will need to have the players up for this", I'm made up with the performances of the last few games, but I think after loads of very poor performances by the players during the season, the players are duty bound to get themselves up for this game, and to be honest I think they will, 4-0, for George McKane.
Martin Mason
50
Posted 13/04/2019 at 09:26:12
No negativity today, we'll win with a good performance. The alternative is too awful to contemplate.
Martin Mason
51
Posted 13/04/2019 at 09:49:47
OK, I'll accept win with a bad performance.
Derek Knox
52
Posted 13/04/2019 at 09:58:44
Dave @49, expecting a continuation of recent performances today. I have looked into coverage of the game today and there are, well up to now, very few listed. Bein 4 are covering our game but it will be in Arabic. I suspect the Canadian Channels, Sportsnet and TSN 1-5 should cover it, (normally do) but they don't release the info till just before the game. Of course there will be streams too.
Leicester got beat last night, Watford play Arsenal, and Wolves are away to Southampton (who need the points) so it is possible we could find ourselves well on the way to 7th spot, provided we keep the momentum going.
I know a lot of people don't like the Thursday/Sunday fixtures that Europa League brings, but it's a foot in the door of Europe, and a possible entry into CL (mind you there's the small feat of winning it, to get that) plus it could sway any possible new signings.
Steve Ferns
53
Posted 13/04/2019 at 10:12:50
Dave, what's happened to George? Pretty sure I saw him walking into the Park End last home game.
John McFarlane Snr
54
Posted 13/04/2019 at 10:12:52
Hi Dave [49] I don't normally post on match days, and I haven't read all today's posts, have I missed something regarding George McKane?
Paul Burns
55
Posted 13/04/2019 at 10:28:18
Laurie (46) yer blew it mate, we beat the sh*te 3 teams that season.
Derek Knox
56
Posted 13/04/2019 at 10:29:53
Steve and john, I think Dave was referring to George always backing Everton with the bookies 4-0, for every home game, with possible winnings going to his charity. To the best of my knowledge George is okay.
Paul Birmingham
57
Posted 13/04/2019 at 10:53:43
Let's hope they get straight in high pace and steam Fulham. Hopefully we'll get the chances converted this week.
Optimism is high, but if we play like last week, we should win and win well.
If Keane fit then you'd think, he'll replace Jags, and the rest pick themselves.
George McKane
58
Posted 13/04/2019 at 11:00:26
No worries here - on the up - like Everton - might have a few falls but always get up and go again - been back at the match for a few weeks now - hoping to see you all next Sunday - possibly waves.
Steve Ferns
59
Posted 13/04/2019 at 11:02:02
Good to hear it George. I spotted you out the window as you were coming into the Park End last game. Not many have your distinctive style. I'll give you a wave next time!
Laurie Hartley
60
Posted 13/04/2019 at 11:03:27
Paul - yes 3 times we beat them! I gladly stand corrected.
On the Fulham game - if we play as well as we did against Arsenal, and I fully expect us to, we will tear them apart.
Neil Wood
61
Posted 13/04/2019 at 11:07:00
I'm going all in on 7-0 today. I just have a feeling we will absolutely hammer them.
John McFarlane Snr
62
Posted 13/04/2019 at 11:16:10
Hi George [58] great news, I have you pencilled in for next weeks 'get together'.
Derek Knox
63
Posted 13/04/2019 at 11:17:25
Neil, I like the positivity, and the goal difference may be crucial come the last game or two if we are to get 7th spot, but I can't see us winning by that much of a margin, it would be gratefully received, but can't see Fulham, although already relegated, folding so easily.
Neil Copeland
64
Posted 13/04/2019 at 11:44:35
Marco Silva has the bit between his teeth and must feel that in our current vein of form we are a shoe in for 7th. Finishing 7th will mean that he achieves the objective set by FM late last year. Therefore IMO there is no way he will be relaxing ahead this game and will have his team suitably fired up.
Although I expect us to win it will not be a walk in the park with Fulham having nothing to play for but pride.
I tell you what though, no way did I think 7th was a possibility before the Cardiff game and even then I couldn't see us winning many of our remaining home games. How things can change eh?
Not that 7th should be the height of our ambition but it would at least provide some optimism for next season when hopefully we can really kick on.
Paul Tran
65
Posted 13/04/2019 at 12:09:06
Fulham have been relegated because they've been wide open all season. If we defend as well as last few games, we'll get chances, we'll score and we'll win.
James Hughes
66
Posted 13/04/2019 at 12:18:03
It's great to be able to look forward to a game again. At one stage we had 3 wins in 3 months, it was hard to see the where the next win was coming from.
If we continue to play as we have in the past few games we will create plenty of chances and this time convert them. An easy 3 points and little Bernie to rip them apart. We put 5 past Burnley away from home and I can see a repeat of that feat.
Dave Abrahams
67
Posted 13/04/2019 at 13:37:08
Paul (57), according to another thread, it's the same team as last week withKeane on the bench.
Kieran Kinsella
68
Posted 13/04/2019 at 13:48:28
Be great if we beat that run of six straight wins Moyesy had
Derek Taylor
69
Posted 13/04/2019 at 14:16:01
Doesn't pay to be overconfident with this team. My money is on a
1-1 bore draw !
Mike Dolan
70
Posted 13/04/2019 at 14:25:50
We have to be careful to play our own game and not be influenced by Fulhams lack of quality. It seems to me that the biggest difference between Everton now and Everton during the winter swoon is our absolute commitment to a relentless press all over the field. If we continue that today we win. The difference DCL is making harassing the opposition goalie and defenders is immense we are getting the ball back in midfield rather than in the back third.
Do what you do blues and grab those 3 points.
Kieran Kinsella
71
Posted 13/04/2019 at 14:28:52
Derek 71
I'm going all in, 4-0 DCL Hattrick
Add Your Comments
In order to post a comment, you need to be logged in as a registered user of the site.
Or Sign up as a ToffeeWeb Member — it's free, takes just a few minutes and will allow you to post your comments on articles and Talking Points submissions across the site.