Everton vs Manchester United
Friday, 19 April, 2019
Match Preview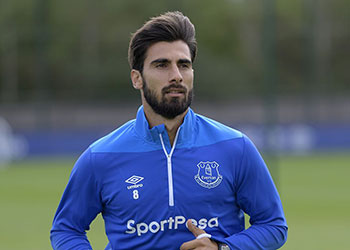 André Gomes begins a three-game ban creating a vacancy in central midfield that will be filled by either Morgan Schneiderlin or Tom Davies
Everton play their penultimate home game of the season this Sunday looking to bounce back from another disillusioning setback as Manchester United come to Goodison Park.
The Blues went to already-relegated Fulham last weekend seeking a fourth successive Premier League win but instead came away with a 2-0 defeat and, having managed just a single shot on target against one of the worst defences in the division, more recriminations from supporters ringing in their ears.
The result put a serious dent in Everton's aspirations around finishing seventh and possibly securing a shot at qualification for the Europa League but Marco Silva will be confident that if results go his side's way elsewhere, his team can still achieve that one remaining goal for the campaign.
They face a United team that has been resurgent under Ole Gunnar Solskjaer who was initially brought in as caretaker boss following the sacking of Jose Mourinho in December but has now been handed the reins on a permanent basis following a phenomenal run of results.
The Red Devils won eight straight games in all competitions following the Norwegian's appointment and didn't lose a League game for almost three months under his temporary stewardship. That saw a United emphatically pull away from the rest of the top flight to reaffirm the hegemony enjoyed by the "big six" over those coveted places at the top of the Premier League.
Indeed, they come into the weekend 18 points better off than Everton having played a game fewer and, sitting two points off Arsenal in fourth, they are still in the hunt for Champions League qualification.
According to SBD, though, now looks like a decent time to face Manchester United. Solskjaer's side are 5/4 away favourites against Everton (11/5) this weekend, having lost four straight away matches in all competitions, including defeat to Wolves and a comprehensive loss in Barcelona that ended their Champions League hopes for this year.
Everton, meanwhile, are unbeaten at Goodison Park since being beaten by Manchester City in February, with all three of those home games being against top-five teams. The Toffees were full value for their wins over Chelsea and Arsenal which is why last weekend's setback at Fulham was so perplexing — Silva looked to finally have his team playing to expectations.
Perhaps already considering changes to the team that started that horror show at Craven Cottage, the Portuguese will be without his compatriot André Gomes who begins a three-match ban, imposed retroactively based on video evidence of his stamp on Aleksandar Mitrovic's ankle in that game.
That creates a vacancy in central midfield that would, based on recent team selections, logically be filled by Morgan Schneiderlin but could also be given to Tom Davies who, having already skippered the side this season, enjoys a degree of confidence from his manager.
Gylfi Sigurdsson has been working through what Silva has described as a small issue in training this week but he is expected to play.
In central defence, it would be a surprise not to see Michael Keane reclaim his place based on Phil Jagielka's struggles last Saturday; the club captain kept his spot alongside Kurt Zouma after an excellent display against Arsenal but had an afternoon to forget against the lowly Cottagers.
A shortage of options up front will likely see Dominic Calvert-Lewin continue as the lone striker but another disappointingly ineffective outing from Richarlison could move Silva to bench him again and opt for a different approach wide on the right. That could mean another chance for Theo Walcott or if the boss is feeling particularly adventurous he could give Ademola Lookman a surprise start but continuity with Richarlison wide right could be the order of the day.
The prevailing feeling is that another high-profile occasion against a top-six side with the Goodison crowd behind them — not to mention the need to atone for a dreadful showing last time out — will provide the necessary impetus for Everton's players to put on another stirring performance and take another big scalp.
As Silva told the media during his pre-match press conference, United's more open approach could favour the Blues: "When teams play more closed against us, with more defensive organisation [is causes us problems].
"The Premier League is like that. You play one game against Arsenal, Tottenham, Man United, City or whatever and it's completely different to when you play Burnley or Fulham. It's up to us to prepare our squad deeply to be ready for all these games."
In many ways, the players owe the supporters a reaction this weekend and with United coming off their travels and psychological setback in midweek, there's every incentive for them to do so.
Kick-off: 1:30pm, Sunday 21 April, 2019
Referee:Paul Tierney
Last Time: Everton 0 - 2 Manchester United
Predicted Line-up: Pickford, Coleman, Keane, Zouma, Digne, Gueye, Schneiderlin, Sigurdsson, Bernard, Richarlison, Calvert-Lewin
---
Reader Comments (113)
Note: the following content is not moderated or vetted by the site owners at the time of submission. Comments are the responsibility of the poster. Disclaimer
James Stewart
1
Posted 19/04/2019 at 15:58:31
Please not another match with DCL up front. The whole point of the game is to score after all.
Maybe Marco should read this.
https://www.theguardian.com/football/blog/2019/apr/19/the-premier-league-teams-ineptitude-index-2018-19
Grim reading for us blues.
Dave Ganley
2
Posted 19/04/2019 at 16:02:57
Looking forward to this. We do need a response from last weeks shambolic display and a good fixture to get back on track. The lack of consistency does drive me batty. Yes lower league sides do present a different problem than playing the so called top 6 but if we go in with the right attitude and energy as we do against the better sides then we will win far more than we do. For some reason we seem to have a complacent attitude against lower teams and it costs us again and again.
However, its United on Sunday so attitudes shouldn't be an issue and I'm looking for a good win against a pretty average United team. I would probably pick the same team as Lyndon although Tom instead of Morgan would be as good. We do need to start taking our chances though and if we do then I'm looking at a 3 1 win. Optimistic maybe but we Evertonians are just that.
Paul Tran
3
Posted 19/04/2019 at 16:19:09
We can beat these. Need to defend very well to do so, as we don't score enough to win a slugfest.
Mike Gaynes
4
Posted 19/04/2019 at 16:27:00
I'll take Davies over Schneiderlin too. An injection of young Tom's intensity is just what the doctor ordered after the Fulham flop.
Tony Hill
5
Posted 19/04/2019 at 16:33:19
Their weakness is their defence generally and I think DCL can cause them difficulties. As ever, it will be decided in midfield and that's what concerns me. Neither Tom nor Schneiderlin is up to speed and I fear that's where we'll come a cropper.
Tom Bowers
6
Posted 19/04/2019 at 17:00:43
Everton, much like most teams can beat most other teams when they play well. The trouble is that they don't play well very often and that comes down to several things, mainly the quality of the players.
If you have the quality and don't do well then it's the manager, the coaching or the tactics that are blamed.
Manure have more quality without a doubt but on the day if Everton show up they could squeak a result like the Chelski or Arsenal games.
Everton could get seventh place but they should have gotten there last week and blew it big time.
The next few days will see some real pressure on Man. City as RS have two easy games at the right time and after the disappointment of getting ousted from the Champions league City could really be affected mentally against Spurs again and then Manure.
Joe McMahon
7
Posted 19/04/2019 at 17:07:25
Tony@5, Maybe Man U are going to play in fear of the dynamic goal machine DCL?
Frank Crewe
8
Posted 19/04/2019 at 17:11:18
If I remember rightly Shneiderlin played pretty well the last time he started. I'd go with him. He may not be as skilful as Gomes but he is pretty similar and he has experience.
They'll be looking to bounce back with a win after the hiding Barca gave them so they'll have a strong side out. We have to respond with the strongest side we can. All we can do is hope the side that played Arsenal turn up and not the one that played Fulham.
Tony Twist
9
Posted 19/04/2019 at 17:21:44
Schneiderlin! If fit I would play McCarthy. You just cant trust Schneiderlin to turn up.
Derek Knox
10
Posted 19/04/2019 at 17:21:57
Mike Gaynes @4, totally agree with having Tom Davies in the absence of Andre Gomes, we will need players to push from the midfield, hopefully Man U will still be mentally shattered after their ordeal with Barca.
Frank @8, I can rarely remember Schneiderlin ever having a decent game for us, besides he has not even been on the bench recently, so can't see him being preference over tom Davies.
Tony Hill
11
Posted 19/04/2019 at 17:29:57
Joe @7, goal machine he ain't - yet. He is, though, very fast, good in the air and a pain in the neck for defenders of the quality of Lindelof and Jones.
Steavey Buckley
12
Posted 19/04/2019 at 17:44:01
Everton would be best having a 4-4-2 formation that would allow 2 strikers up front with the rest behind the ball when Man U are on the attack but will allow Everton to break with more optimism with 2 up front. Having one lone striker does not cut it or having 3 in the middle won't deal with a Manu when on the attack.

Frank Sheppard
13
Posted 19/04/2019 at 18:07:09
Good time to play them, and I would prefer two up front, and see Goodison rocking.
Sam Hoare
14
Posted 19/04/2019 at 18:09:53
Both teams need a win to bounce back. Both teams could see their season practically ended by a loss.
A good test for Silva and this team. United are no great shakes currently and were lucky to beat West Ham last weekend. I foresee a cagey, tight affair and I have a strange, undeservedly optimistic feeling that this might be the first occasion we come from behind to win a match. Fingers crossed.
Kieran Kinsella
15
Posted 19/04/2019 at 18:19:41
United have had some jammy wins like v West Ham which they deserved to lose. I'm more worried about that then them actually playing well because I don't think they will.
Paul Tran
16
Posted 19/04/2019 at 18:34:13
I'd play Keane instead of Jags, Davies to replace Gomes. I'm praying the defenders concentrate and the whole team presses like a pressy thing. And that someone takes at least one of the chances well create.
Christy Ring
17
Posted 19/04/2019 at 18:56:34
Why not give McCarthy his first start,, what have we got to lose, If it works, he can look forward to next season, if not, we can say goodbye in the summer. Schneiderlin is not the answer.
Phil Greenough
18
Posted 19/04/2019 at 19:06:13
What good would that do, Christy? He's hardly played, rusty as fuck and playing in a team that can't beat Fulham. To get a better assessment of him, he should have played in a match that meant something. Most of the players are on the beach already.
Paul Birmingham
19
Posted 19/04/2019 at 19:43:57
Well need guts, and calmness and belief. And a goal scorer, a player, who has a killer instinct, and this is what we are lacking for years. It's a big ask, and with our poxy luck generally with officials, and they get penalties, almost on demand, it's a tough match.
For me as much as I like Tom Davies, potential still to be realised and for him to believe in himself on the park, but in my opinion, against United, Id start with Schneids, as he's more experienced and will help keep possession better than Tom.
But that's a trade off with offensive play, so would negate goal scoring options, unless Schneids, gets his Cardiff passing book, out and remembers what to do.
Without Gomes we lose direction, intensity, passing and potential goal scorer. And Gomes has played better against the better placed teams, this season.
After last week, hopefully the team has looked themselves in the mirror and will be committed and will see this as a chance to salvage this season and beat one of the top six, and beat them well.
For some players in this squad it could be their last chance at EFC. All in all, looking forward to the game but, I hope we win by hook or crook.
Our run in is very tough, and we need momentum to attack, this preseason, which, is huge bearing the transition plans of our great club.
Tom Bowers
20
Posted 19/04/2019 at 20:25:05
Anyone see that fantastic strike by Forestrieri against Norwich just now ?
Colin Malone
21
Posted 19/04/2019 at 21:05:15
Gylfi to drop deep, in place of Gomes.
Derek Knox
22
Posted 19/04/2019 at 22:49:58
Tom @ 20, yes Tom like a rocket, and so unexpected by all except the player himself, I remember seeing him before playing for Watford, but he has just come back from injury.
The thing is with these sort of players, how consistent can they be, he must be about 29 now.
Mark Andersson
23
Posted 20/04/2019 at 02:59:22
I can't see us beating Man Utd – our season was over months ago...
I don't care who replaces the idiot Gomes, I don't care if we get hammered 5-0, I don't care if Liverpool become champions of the world... I just don't care!
Vijay Nair
24
Posted 20/04/2019 at 05:01:52
Why bother coming on here to post then, Mark (23) if you don't care?
No wait, don't tell me, cos I don't care!
COYB!!
Bobby Mallon
25
Posted 20/04/2019 at 05:57:11
I would play Pickford, Coleman, Keane, Zouma, Digne. Sigurdsson, Gana, Davies, Richarlison, Calvert-Lewin, Bernard.
Bobby Mallon
26
Posted 20/04/2019 at 06:05:01
Or
Pickford
Kenny
Keane
Zouma
Digne
Richarlison
Sigurdsson
Gana
Bernard
Calvert-Lewin
Tosun
Jerome Shields
27
Posted 20/04/2019 at 07:10:05
I think Everton will do okay against Man Utd with the motivation of their long-suffering fans. The only possible problem will be the replacement of Gomes, after his rush of blood to the head.
Long-term, I would put stands in Finch Farm so that the long-suffering fans can help with motivation, which is often lacking.
Jerome Shields
28
Posted 20/04/2019 at 07:32:39
Christy # 17
It would be a good idea to play McCarthy. He would be possibly the best replacement for Gomes. Silva has had the chance to give a run out before but he didn't take it and I think he will err on the side of caution, so knows who he will select.
Gerry Ring
29
Posted 20/04/2019 at 07:43:26
McCarthy deserves a chance! He has never let us down & always gives 100%. Why not give him the opportunity to show what he's got. What have we got to lose?
He's head & shoulders above Schneiderlein. Maybe the recuperation time will have sorted all the other nigglying injuries. Surely we're not going to let him depart without seeing if this is the case. I don't understand why Silva didn't loan him out of at least play him in the U23s.
Derek Knox
30
Posted 20/04/2019 at 08:20:33
Gerry @29, bit of a conundrum the McCarthy situation with Silva, sometimes he's on the bench but not used, then he doesn't even get included. I do agree if he is fit enough he should be given a go even as a late substitute in a winning game.
As has been mentioned on here many a time we never get the full story or picture of what is going on. I always dread the thought of Schneiderlin being on the bench or even worse, in the starting eleven. I would rather have the groundsman there than him.
Eddie Dunn
31
Posted 20/04/2019 at 08:56:30
Why wouls Silva play McCarthy, as the lad hasn't had even a cameo 5 mins recently, surely he won't be thrown in with so few minutes under his belt. I would go for Davies- we need his enthusiasm as opposed to the relative inertia of Schniederlin, who I would bring on to shore things up for last 20 minutes if we are in front.
I think it was Alan Shearer last week on Five live who said it is easy to keep momentum in a game if you start off at a quick tempo, but it is very difficult to increase the tempo if you start off slow.
We have seen this demonstrated by Man City away at Spurs – the mindset was to keep things tight and stay in the game. They never could get going when they needed to up the ante. So even the best side in the Premier League is prone to such errors.
We need to be at their throats from the off and if we get one, we need to go and get another.
Gerry Ring
32
Posted 20/04/2019 at 09:16:55
Eddie & Derek, I think we are almost on the same page. My issue around McCarthy is that, it appears, he is being cast aside completely. I fully appreciate the comments around his obvious lack of game time. Why didn't Silva loan him out or at least play him in the U23s. It would have answered a question & maybe given us options in an area of the field crying out for a player like McCarthy
Kim Vivian
33
Posted 20/04/2019 at 10:22:22
If I was to be quite honest I wasn't thrilled with the original signing of McCarthy by Martinez, but he did perform beyond my own expectations pleasingly. I appreciate he is not one of "Silva's men" but his recent invisibility is quite strange as I do believe he has something to offer, and without the opportunity to show us in the current set up, we will never know if we could benefit from that. Maybe they see something different in training.
Given that we have little to play for (or lose) this season (depending on your personal take on Uefa qualification), I think he should be given a chance. One of the next couple of matches in Gomes' absence would be ideal even if only off the bench - for at least 30 mins - and at the very least it would give us a chance to see him, and maybe give him some of the appreciation that he deserves as a servant to us for the last 4 years.
Lenny Kingman
34
Posted 20/04/2019 at 11:20:29
The old adage about playing Everton when you need a result could raise its ugly head once more against United.
Fulham who were down and out or and didn't need a result, and coming off 8 successive defeats, got one anyway.
Maybe one Resurrection tomorrow could lead to another and the blues get some solace after last weeks horror show.
Brian Harrison
35
Posted 20/04/2019 at 11:20:58
Well I hope we don't play Schneiderlin, been there done that. Surely if we are to believe Silva and Brands in wanting a younger set up then surely this is the time to show it. Either a straight swap Davies for Gomes or play Sigurdsson in the Gomes role, Bernard in Sigurdssons position and Lookman wide left. I think if we don't start Lookman tomorrow then it would seem the writing is on the wall that he wont be here next season. I agree he hasnt set the world alight when he has come on, but DCL despite having some very ordinary games still kept his place. Seeing Gomes misses 3 games this would be an ideal time to try something different if we want the youngsters to believe there is a future here then we need to play them in the remaining games.
Certainly the top German clubs are scouting the best youngsters in English football and are having some success in doing it. Lookman flourished with Leipzig and Jadon Sanchez has forced his way into a very good England side with his performances for Bayern. Something he wouldnt have been able to do had he stayed with Man City, as Phil Foden is finding out trying to get a game with City is very difficult. But if you are at a club who can buy the worlds best thats what happens.
So Marco and Marcel be true to your word and start using the younger players for our last 4 games.
Martin Nicholls
36
Posted 20/04/2019 at 12:26:41
I'm afraid I don't get all these calls for James McCarthy to be "given a chance" so that we can show our "appreciation for a servant(!!)".
On the first point, I believe we must trust the judgement of our management team who, I suspect, don't consider him fit enough to play – they know better than any of us do.
This takes me to the second point – apart from the fact I do not see the connection between the word "servant" and a multi-millionaire professional footballer, I think you need only look at James's playing stats in the 6 years since we signed him – 107 games for us but 32 for RoI... that shows me where his ultimate loyalties lie. I know he sustained his leg break playing for us but the majority of his injury problems stem from his desire to represent his (father's?) country.
I know this sounds harsh and some will disagree but, if he is not fit, he should not be picked whether or not some would like to give him a sentimental one-off.
Alan J Thompson
37
Posted 20/04/2019 at 12:30:52
I don't usually get involved in team selection discussions and while I would like to see Davies get more game time might Mr Silva not play Tosun alongside Calvert-Lewin, move Richarlison wide left and play Bernard, alongside Sigurdsson, in Gomes role. Would he be up for taking the game to them.
Trevor Peers
38
Posted 20/04/2019 at 12:56:44
Gomes will be a big miss tomorrow, he's a class act and is irreplaceable. Davies will work hard, if selected, but will that be enough? The Mancs will be hungry for victory; we have to match them.
The crowd could play a big part once again, I just hope the players are up for this one, unlike last week when most of them had a day off! COYB.
Gerry Ring
39
Posted 20/04/2019 at 14:05:13
Martin #36. Nobody is suggesting playing him "out of loyalty". Not too long ago he was one of our best players & there was a stat that we lost significantly fewer games with McCarthy on the pitch. Regarding his injuries, it is widely accepted that Martinez played him when he wasn't fit enough to play. There were questions about our medical team as it was common place amongst our players to have hamstring problems. I would like to see him getting a chance. Walcott seems to be getting plenty of chances & playing shite. Same with Schneiderlein. Why not give Macca a chance, at least we are guaranteed of 100% commitment. Regarding his fitness, Silva says all he's missing is game time!! So give him some!!!
Bill Watson
40
Posted 20/04/2019 at 14:25:35
Phew! Watching Man City is almost as stressful as watching Everton!
Tony Hill
41
Posted 20/04/2019 at 14:34:29
I know, Bill, massive win that. I thought they were going to cock it up towards the end.
Paul Tran
42
Posted 20/04/2019 at 14:46:51
I wouldn't mind a bit of chiselling a 1-0 win to go top of the league stress!
I think if Silva trusted/rated McCarthy and Lookman, he'd play them. Can't see either of them being here next season.
Dave Abrahams
43
Posted 20/04/2019 at 14:49:23
Bill (41), Bill I think it is much more stressful, it is for me anyway, and I haven't even got Sky tv, I knew City were winning 1-0 early on, after that I got busy, doing nothing, but my mind was on the score all the time, switched the score on ten minutes after the game and gave a big sigh of relief, my ticker won't. take much more of this, well until Niasse gets the equaliser tomorrow and The Excelsior erupts.!!!!
Bill Watson
44
Posted 20/04/2019 at 15:10:23
Dave; I was listening on the radio as I won't have Sky. Ended up doing a bit of weeding with the radio on, in the background, hoping the commentator's voice didn't rise which would have meant something was happening.

Paul Tran
45
Posted 20/04/2019 at 15:11:08
Cardiff have had so much bad luck recently, Dave, wouldn't it be ironic if they got some tomorrow?
Derek Knox
46
Posted 20/04/2019 at 15:11:34
Dave A, I am very disappointed in you wanting Niasse to get the equaliser tomorrow, I want Niasse or anyone from Cardiff to get the Winner!
See you tomorrow mate, looking forward to it!
Phil Bellis
47
Posted 20/04/2019 at 15:14:59
Dave and Bill...I was keeping an eye on the BBC live feed but had to go to the Barcelona Bar to watch the second half
I realised I'd never been so wrapped up in a team that wasn't Everton since the 1970 England v Germany WC. I was kicking or heading every ball
I was even thinking "get to 75mins lads" then 80 etc
James Hughes
48
Posted 20/04/2019 at 15:16:40
Again it co eus down to which version of Everton takes the field on Sunday. Version 18.3 that played well against for those 3 games and we take the points. Version 18.2 that we reverted to for the Fulham game and it will 15 defeats for the season.
Manure are in the middle of their own blip with 5 defeats in the last 8 games. They are beatable if we turn up.
Raymond Fox
49
Posted 20/04/2019 at 15:26:45
If we can beat Chelsea and Arsenal we can beat Utd, Gomes is a big loss though.
As far as finishing 7th is concerned I'm not a fan of Europa, so I'm not fussed if we finish 8th.
There's two ways of looking at the competition I know and it does give us an outside chance of the Champions League, but on balance I'd sooner give it a miss.
Its a chicken and the egg situation the very best players wont sign for us unless we are in the Champions League, but we need the very best players to qualify!
Andy Crooks
50
Posted 20/04/2019 at 15:34:46
Martin #36, I agree. Loyal servants? Highly paid hired hands, yes.

Ashley Roberts
51
Posted 20/04/2019 at 15:45:05
It is obvious, we will not be able to replace Gomes tomorrow. I just hope we can sign him up for next season as he is quality. I also do not care about the Europa league. Next year has to be all about planning for the future and trying to determine how we could possibly make top 4 without a huge war chest. For this reason we have to play Davies as he is the future and not the past. The U23's just won the league again and so we have obviously got some good youngsters at the club plus we have some potential talent out on loan. We cannot compete with the big boys in terms of their spending power so realistically we can only do this by developing the natural talent we have at the club. So I am all for giving the youngsters a go for the last few games. They will never progress without being around the first team and so while I love Jags and Blaine's, there time has gone. Shneiderlin should be nowhere near the first team likewise McCarthy. Let's look forwards and not backwards. Let's give Feeny and Bowler a chance as these are our future.
Kieran Kinsella
52
Posted 20/04/2019 at 16:06:59
Martin Nicholls 36
You make a good point too regarding McCarthy and his ROI stats. Ireland (in collusion with the player himself) have wheeled him into action any time both his legs were in one piece. The fact he was called up for the recent games, and unused, suggests to me that Mick McCarthy felt he was well short of fitness and or form. It is not as if Ireland have a plethora of great players at this time.
Kieran Kinsella
53
Posted 20/04/2019 at 16:13:08
Andy Crooks 51,
"Loyal" is a funny word too for a bloke who is Scottish, but plays for the Republic of Ireland on that basis that ONE of his grandparents was born in NORTHERN Ireland, and who having already represented the Republic at youth level said he would be happy to switch to Scotland if they called him up.
Jim Bennings
54
Posted 20/04/2019 at 16:23:58
Hard to believe it's already the penultimate home game of a season that has just flown by.
We require a performance akin to the home game against Arsenal, constant tempo, passion, quick movement with the ball and hopefully a far greater clinical edge than we have witnessed in the last few games.
We must be due a win against United, when was the last one, April 2015?
Sam Hoare
55
Posted 20/04/2019 at 16:41:53
I for one would love to see us in Europe. That's looking doubtful though with Watford winning comfortably thanks to a Deulofeu double. Always wished we'd kept hold of Gerry, infuriating player but was always likely to blossom with a good run in the team.
Jim Bennings
56
Posted 20/04/2019 at 16:44:19
Sam 56
We can thank Koeman for Deulofeu's exile and the fact he was replaced by Bolasie at £27 million, what looked a good decision back then now looks completely berserk!
Hindsight though is a wonderful thing, although what it does show is sometimes fans can be far too quick to judge and rule players out.
Max Murphy
57
Posted 20/04/2019 at 16:46:07
We're clutching at straws if DCL and Davies are selected. There is no consistency with these 2 players. They play in fits and starts, and their best play is ordinary at best.
Minik Hansen
58
Posted 20/04/2019 at 16:52:28
Man United gonna play again on Wednesday and it's against Man City. I wonder how it'll affect their line-up.
Tony Hill
59
Posted 20/04/2019 at 16:56:09
Good results for us today on the whole. I'm one who wants us to be in Europe. Watford still have to play Chelsea and Man City away.
Martin Nicholls
60
Posted 20/04/2019 at 16:56:46
Gerry#40 - whilst not using the actual word, I think Kim#33 might have been suggesting it!
I take your point about Martinez but McCarthy hasn't helped himself by making himself available for RoI anytime he wasn't on crutches!
Tony Hill
61
Posted 20/04/2019 at 16:59:34
PS Leicester have to play Arsenal, Man City and Chelsea. Wolves have to play Arsenal, Watford and Liverpool.
Of course, we have to win our own games.
Martin Nicholls
62
Posted 20/04/2019 at 17:05:04
Tony#60 - I'm with you! Minik poses a good question about Manure's team selection tomorrow. I for one would like them to put their strongest team out then while beating them, we can also run the legs off them at the same time! It will be truly bizarre on Wednesday when the red shite will be giving 100% support to Manure from armchairs and barstools up and down the country! Hopefully, our Oumar might have relieved a big of tension by then though!
Derek Knox
63
Posted 20/04/2019 at 17:05:32
Good Point Minik, but I would settle for them losing both, for obvious reasons.
Scant consolation I know, but Fulham have just beaten Bournemouth away, another unpredicted result by most people I think. At least it doesn't make our result against them look like a one-off!
You have to feel for the Fulham fans, after the official relegation, their team start playing and getting results.
COYB
COY Bluebirds too!
Kieran Kinsella
64
Posted 20/04/2019 at 17:44:44
Problem with Geri was he wasn't good enough at Everton so he wasn't playing. He has since improved after spells at Milan, Barce and Watford. Had we kept him, would he have improved to the same extent just by being part of the squad and not getting game time? It's kind of a catch 22 with young players. You get a few e.g. Rooney who are match ready at 16. Others need time to develop but few managers are willing to give them that time so they don't develop.
Martin Mason
65
Posted 20/04/2019 at 18:25:07
Note that Fulham won again and away today, they are obviously a fair side that were destroyed by falling into a relegation battle. There was no shame in us losing away to them under these circumstances. Our recovery should go on starting with a win tomorrow. I believe that we will possibly be better by not having Gomes in the side depending on who plays. Such is the way that improvements can be accidently made and £30MM saved?
William Gall
66
Posted 20/04/2019 at 18:34:32
Extremely sad to find that TSN the major sports network here in Canada will not be showing any English Premier games in the 2019-2020 season. TSN have been showing this season nearly every game played and this ensured that no matter witch Premier team you supported, you would get to see them, and it will be missed next season.
Derek Knox
67
Posted 20/04/2019 at 18:40:19
William @66, thanks for the info re-TSN, I didn't know that, or heard anything along those lines, it would be one of the Channels that I can get fairly easily. Would you happen to know if (Canada) Sportsnet will carry on covering EPL games? I have found they are another good and reliable source, along with TSN.
William Gall
68
Posted 20/04/2019 at 18:45:27
Derek the rights to screen the premier league games has been bought by a company called DAZN that will offer live screening for a subscription of $150 PLUS $20 a month is all I have read on google.
Derek Knox
69
Posted 20/04/2019 at 19:17:36
William, that sounds a bit steep, I have seen that DAZN on scheduled coverage information before, I get mine through a paid IPTV service, so a lot depends on what they subscribe to. Fingers crossed, it will all pan out next season.
Paul Birmingham
70
Posted 20/04/2019 at 19:22:19
Let's hope Everton, "turn up" and get into United and beat them and wear them out mentally and take a few prisoners, so City can win that game. I'm not sure whom will replace Gomes.
The team must make up for last weeks performance and I see beating Burnley at home, as tough if not tougher for this Everton, team, hence a win and Europa League football is still a possibility.
Hopefully Watford will go off the boil and focus on their FA Cup Final.
I was cutting the lawn today listening to the City game on BBC5 Live. That's my way of trying to ensure the RS, don't get to win the EPL.
Praying for an EFC victory v Manure and for the RS, to get done by Niasse and Cardiff. Let's hope the officials are clean for the Cardiff game.
Happy Easter to all Evertonians!
Neil Copeland
71
Posted 20/04/2019 at 21:01:34
I have had a nightmare 3 or 4 weeks.
First of all my daughter crashed her car into a hedge, fortunately she is fine but the car was a bit of a mess.
Next my ex dog (went to live with my ex missus when we split up 6 years ago) had to be put to sleep, I missed the dog more than the ex and I used to look after her at holiday times.
Then my ex told me she needed an operation to remove a tumour. This had quite an effect on my 17 year old daughter as you can imagine. Also affected me more than I anticipated (we were together for 19 years before splitting up).
Next my cat of 13 years went missing and has not come back 2 weeks later.
My daughter got herself arrested and although it has been sorted out the whole scenario of her spending a night in the cells was stressful to say the least and has had some knock on effects.
Finally, I had to drop out of the get together tomorrow.
So, sorry to pour out my recent troubles but looking for some relief and hoping the blues will provide it tomorrow.
Also, I have a ticket for the Palace game so got that to look forward to.
Andy Crooks
72
Posted 20/04/2019 at 21:14:23
Neil, what can I say. Err..nothing, other than I wish you all the luck in the world.

Neil Copeland
73
Posted 20/04/2019 at 21:17:29
Andy, cheers mate. Enjoy tomorrow.
Andy Meighan
74
Posted 20/04/2019 at 22:05:06
Neil,
Sorry to hear about your recent bad luck, pal. But take solace in the fact the lads and lasses on here will wish you nothing but the best.
I lost the old man in January and the messages of sympathy I got on here moved me. It really did. We might disagree sometimes but ToffeeWebbers are the most kindest and loveliest people I've never met.
Hope the lads' meeting up in the Excelsior have a great day tomorrow. I would love to have gone but always have a family get together at Easter. COYB
Derek Knox
75
Posted 20/04/2019 at 22:13:56
Neil, I can only offer my sympathy too, hopefully things will be on the up from now on. It's amazing that these things happen in life and seem to set off a chain reaction.
Neil Copeland
76
Posted 20/04/2019 at 22:18:09
Derek, thanks. Yes all part of life I suppose, I have always been a glass half full type though which does help.
Dave Williams
77
Posted 20/04/2019 at 22:29:53
Neil- that's a shocking run of bad news. Most of us go through a bad patch and all you can do is stay positive and things will generally turn themselves around again. I lost my dog two years ago which was devastating but now have a two year old who is an absolute joy.
Hope everything works out for you- keep smiling!
Neil Copeland
78
Posted 20/04/2019 at 22:32:56
Dave, cheers and will do.
Bill Watson
79
Posted 20/04/2019 at 22:45:20
Martin # 65
No shame in losing to Fulham? We were abysmal and mustered one shot, on target, in 96 minutes. It was a complete and utter failure to compete.
I agree that improvements can come about by chance, or accident (Robson's injury in the World Cup etc) but Gomes will not be one of them. For £30m he'd be an absolute steal.
Steve Ferns
80
Posted 20/04/2019 at 22:46:03
I hope you have some good luck soon Neil. You've been through it mate. All the best.
Neil Copeland
81
Posted 20/04/2019 at 22:50:12
Steve, thanks. Enjoy tomorrow.
John Boon
82
Posted 20/04/2019 at 23:37:05
It really is a shame when we have to be pleased because Fulham won to help cope with last weeks loss. Agree with Bill (79). I just don't even care what Fulham did. They were dreadful last week. We just happened to be worse. I just hope we turn up tomorrow because if we produce a display similar to the one at Fulham we will be cooked.
Steve Ferns
83
Posted 20/04/2019 at 23:45:34
Can we remember that Everton have played Fulham 28 times in the league and the HOME side has won 24 times. That's every time at Goodison, but we also have lost most of the time in London, now Fulham have never been a good side, except once or twice, so it's just one of those fixtures. We win at home, we lose away. The football gods demand it.
Neil Copeland
84
Posted 20/04/2019 at 23:56:16
Steve, wow I didn't realise that. That's an odd stat and one of the things that helps demonstrate why top level football is such a tough game.
Mike Gaynes
85
Posted 21/04/2019 at 00:31:49
Mr. Copeland, condolences on your rough stretch. They do come in bunches, don't they. Sometimes it's hard to remember that there's sunshine on the other side of those dark clouds, but I hope some rays are peeking through for you and yours. Even your ex-yours.
Kieran #64, actually Geri didn't improve until this season. He was as disappointing with Milan, Barca and last season with Watford as he had been with us. He did finally "get it" this year, but whether he would have ever reached this point with Everton -- and whether it would have been worth waiting for -- will forever remain unknown.
Paul Birmingham
86
Posted 21/04/2019 at 00:43:19
Neil Copeland, never give up ma8, the tide will deffo turn.
Life, family, football are all interlinked but family comes first, and there will be rays of hope on the horizon, very soon, for you and the family.
Starting lunch time well hopefully beat United and hopefully Cardiff, will do a good job, as well. The will of all TWrs is for an up turn starting on Easter Sunday, so it's hopefully, gonna be a good day, for us all.
All my best and you will come out of this storm, stronger.
Everyday, is a good day, as we know as Evertonians, stuck in pergatory.
Hopefully, EFC, will come back at lunchtime.
Take care.
Paul Birmingham
87
Posted 21/04/2019 at 00:57:37
Neil, I take the Walter D.Wintle, poem, "The Man Who thinks, He Can" with me, every where I go, it's stood me good through, thick, thin, fine, and impossible, over the years.
It's only words, but it's kept me going through the journey of life.
That plus hope eternal and keeping the Everton lineage going and never giving up.
Life will pick up ma8, and today, it will hopefully be a great day for us, we beat Manure, and the RS, get beat, and family matters start turning.
Keep going and never give up.
Darren Hind
88
Posted 21/04/2019 at 06:56:54
You'd get about 55/1 for Everton to win at home and the RS to lose away double today. How often does that happen ?
Obviously not worth a big bet, but a couple of quid would pay for a round in the Excelsior tonight if it were to happen.
I never felt more like singing the Blues, when Everton win and Liverpool lose
Neil Copeland
89
Posted 21/04/2019 at 07:05:10
Mike #85 and Paul #86/87, thanks I am naturally positive which helps.
Paul Tran
90
Posted 21/04/2019 at 07:10:30
Neil, hang in there and you'll turn it around. And rest assured that you'll do it quicker than Everton. All the best.
Martin Mason
91
Posted 21/04/2019 at 08:07:24
Bill@79 It's also very true that in general you play as well as you are allowed to?
Kim Vivian
92
Posted 21/04/2019 at 08:14:30
Martin #60 - You do seem to have slightly misconstrued my post. Probably my fault because it was written a bit hastily before I had to go out.
However, Gerry at #39 makes the point I was trying to make rather more succinctly than myself. I would never countenance playing someone simply out of loyalty. We simply haven't had the opportunity to see how Macca would dovetail (or otherwise) into the current line up, and one of the next couple of games might offer us that at no particular risk to the season's end result.
My comment about at least giving him a bit of appreciation if he did make it on to the pitch was simply to acknowledge his time with us. I know he's not everyone's cup of tea but he's put in some good shifts, let's be fair, and it is a shame to see any "hired hands" (nods to Andy Crooks) just disappear.
Kim Vivian
93
Posted 21/04/2019 at 08:29:39
Oh - and I meant to say - I think a goalless or 1-1 draw today. However - we could as usual be the team to end Utd's poor run. I just hope that continues (the poor run) on Weds against City.
Christopher Timmins
94
Posted 21/04/2019 at 08:48:23
After the shambles of last week we must expect a performance today. Get a performance and the result will take care of itself.
Bobby Mallon
95
Posted 21/04/2019 at 09:08:48
Neil Copeland, I for one am made up that you opened up. Most men don't and it leads to all sorts of problems. This forum is to speak all that is Everton, but also all that is Evertonian. All of us need to speak to others when we have problems we'll done mate.
Bill Watson
96
Posted 21/04/2019 at 09:31:59
Martin #91
There can be no excuses for the Fulham display. It wasn't a question of us being as good as the opposition allowed us to be. We were abysmal from the first minute, when Pickford slammed the ball into Jags and we nearly conceded an OG, to the 98th
It was one of the worst Everton performances I've seen in over 60 years and I've seen quite a few! We were piss poor all over the pitch.
Fulham just had to turn up. It really was that bad. Even the announcement of 8 minutes added time didn't spark any sort of reaction.
George McKane
97
Posted 21/04/2019 at 10:13:24
A Bluetiful morning - - Blue Skys Everywhere - - not a cloud to cast any shadows.
The City is waking, covered in slight mist, grey but slips of golden sunlight touching its cheeks - - The River glistening like a line of silver ink from the quill of a writer.
I am in a rush this morning - - have to get ready now and walk up for the Bus under The Water - - want to see my friends in TDH and then get on to The Excelsior after the game.
Let it roll
You got me reelin' and a-rockin'
Sunday morning - - Two Way Family Favourites - - PO Box 40 - - breakfast after 10.00 o clock mass in St Alphonsus - - new clothes on today - - Easter Sunday - - normally went to the game on Easter Monday - - in the early 60's it was Home and Away to the "local" NW Teams - - so much for modern technology.
Once I walked with Gosia in Gdansk - -an area full of high rise flats and concrete - - but I was in love - - we walked past the grey concrete into an overgrown park - - grass 5 or 6 foot high - - trees bent and full - - the gates rusty and hanging off the hinges - - I walked through the entrance with Gosia and I asked what the word on the gate said - - "The Valley of Happiness" - - she whispered.
"The summer breeze was blowin' on your face
Within your violet you treasure your summery words
And as the shiver from my neck down to my spine
Ignited me in daylight and nature in the garden
And you went into a trance
Your childlike vision became so fine
And we heard the bells inside the church
We loved so much
And felt the presence of the youth of
Eternal summers in the garden"
Just filling my head with wonderment and then off - - see you later:
Rave on down through time and space down through the corridors
Rave on words on printed page
Rave on, you left us infinity
And well pressed pages torn to fade
Drive on with wild abandon
Uptempo, frenzied heels
Rave on, Walt Whitman, nose down in wet grass
Rave on fill the senses
On nature's bright green shady path
Rave on Omar Khayyam, Rave on Kahlil Gibran
Oh, what sweet wine we drinketh
The celebration will be held
We will partake the wine and break the Holy bread
Rave on let a man come out of Ireland
Rave on on Mr. Yeats,
Rave on down through the Holy Rosey Cross
Rave on down through theosophy, and the Golden Dawn
Rave on through the writing of A Vision
Rave on, Rave on, Rave on, Rave on, Rave on, Rave on
Rave on John Donne, rave on thy Holy fool
Down through the weeks of ages
In the moss borne dark dank pools
Rave on, down though the industrial revolution
Empiricism, atomic and nuclear age
Rave on words on printed page

Later today we will meet up - - some of us TWebbers in the aptly named Excelsior - - looking forward to it and have to go now or will be late.
Life is divided into three terms - that which was, which is, and which will be. Let us learn from the past to profit by the present, and from the present, to live better in the future.
Up The Blues - - Cosmic grooves floating Over The River - - touching the water to cool you off on this hot day - - Rave On You Blue Men.
With a firm handshake - - your friend - - George

Neil Copeland
98
Posted 21/04/2019 at 10:29:08
Paul #90, thanks for making me laugh!
Bobby #95, cheers it definitely felt better to put things into writing as it were!
Derek Knox
99
Posted 21/04/2019 at 10:31:56
Great stuff George, matchdays are always given a timely boost with your uplifting verse, all is good with the World, I feel today, let's hope our heroes continue in that vein. See you later.
Darren Hind
100
Posted 21/04/2019 at 10:54:56
Neil @71
I didnt see your post up there. Breath in a little of what George is dishing out mate.
Dig in, things'll get better
Neil Copeland
101
Posted 21/04/2019 at 11:09:57
Darren #100, cheers mate
George #97, wonderful stuff as always - you have a fantastic talent with words.
Kunal Desai
102
Posted 21/04/2019 at 11:10:51
Well one person who won't be watching todays game is Hibbo. Met him earlier over breakfast here in Portugal and asked the question you watching the game. His reply was 'Nah not really' 😂
Maybe he doesn't want to see 60 grand 60 grand Seamus Coleman.
Peter Gorman
103
Posted 21/04/2019 at 11:37:39
I hope you sent him all our love, Kunal
Kunal Desai
104
Posted 21/04/2019 at 12:26:06
I think he had fishing on his mind Peter.
Was going to ask him his best ever goal for us...oh wait.
Dick Fearon
105
Posted 21/04/2019 at 12:31:29
For a bloke who did not score a goal or cross a decent ball nor won a single medal in a decade long career and then when his time was up finally up criticised the club that made him a millionaire.

Jon Bentley
106
Posted 21/04/2019 at 12:31:54
Pickford, Coleman, Keane, Zouma, Digne, Gueye, Schneiderlin, Richarlison, Sigurdsson, Bernard, Calvert-Lewin
Paul Tran
107
Posted 21/04/2019 at 12:37:45
20th last chance for Morgan?
Charles McCann
108
Posted 21/04/2019 at 12:46:00
Exactly Paul 107. How many times do we need to see Sneiderlinn play crap to realise that he isn't good enough? Would much rather have had Davies in there today. I'd say we can still win this but the likelihood has lessened with the lineup Silva has picked. At least Keane back in place of jags.
Kevin Molloy
109
Posted 21/04/2019 at 12:51:59
I've written Silva off alot this season. But if he can get a tune out of that french wastrel and somehow get him to perform to the levels of his capability then hats off. It would also mean we don't have to replace Gana at season end. Massive game for Morgan, and us.
Losing Gomes is a huge blow though, as Marco plans his whole gameplan through him.
Also concerning that Lukaku plays. As we know, he vanishes like snow in June for the big games, but put him up against midtable cannon fodder and he normally weighs in with four before lunch
Paul Tran
110
Posted 21/04/2019 at 12:53:07
Yes, Charles. Makes Davies captain, drops him, then plays Schneiderlin. Another manager desperate for Morgan to play himself into form. He must be brilliant in training, or again we ask ourselves what they're doing in the week?
Laurie Hartley
111
Posted 21/04/2019 at 12:55:00
Rave on George.
Up the Blues!!!!!
Christy Ring
112
Posted 21/04/2019 at 13:11:17
Still don't see why he picks Schneiderlin, I know what he offers, absolutely Nothing.
Derek Taylor
113
Posted 21/04/2019 at 13:12:15
Preferring Schneiderlin to Davies says it all about Silva to me. Picks the team by rote or told by Brands to put the leary Frenchman in the shop window.
Put me usual tenner on the Blues but only because PP is refunding my stake if Man Utd win!
Add Your Comments
In order to post a comment, you need to be logged in as a registered user of the site.
Or Sign up as a ToffeeWeb Member — it's free, takes just a few minutes and will allow you to post your comments on articles and Talking Points submissions across the site.