Everton embarrassed by relegated Fulham
Saturday, 13 April, 2019
Fulham 2 - 0 Everton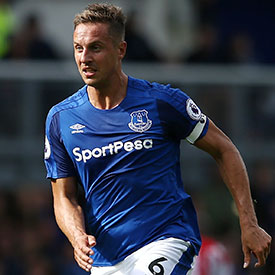 Phil Jagielka kept his place in the side despite Michael Keane's return to health
Fulham ended a nine-match losing streak by easily overcoming a dreadful Blues performance, scoring twice in the second half and earning only their second clean sheet all season.
With the pressure off after their demotion back to the Championship, the Cottagers out-muscled and out-fought a weak Everton who descended into a disjointed and ragged outfit as the game wore on.
Callum Chambers Tom Cairney scored just 30 seconds after half-time after the visitors had survived a couple of scares caused by Aleksander Mitrovic and Ryan Babel raced clear to double the lead later in the half.
Phil Jagielka kept his place despite Michael Keane's recovery from a virus but the skipper was one of a host of players who had an afternoon to forget at Craven Cottage.
The home side had the better of the early going with Mitrovic having a couple of speculative efforts from distance, only one of which was on target and it didn't unduly trouble Pickford.
Everton didn't really threaten until 10 minutes in when Gomes hammered the ball across the face of goal but it was too far ahead of Calvert-Lewin in the middle.
Fulham sprung the offside trap almost immediately at the other end and Mitrovic had another chance but again he fired straight at the keeper who saved comfortably.
The Blues began to get control of the game and when Digne's cross after Bernard's probing run rebounded to Gomes, his goal-ward shot was blocked but it was Mitrovic again for Fulham causing problems, rising above Jagielka at successive corners, the first forcing a reaction save from Pickford to push the ball over the bar, the second deflecting behind.
Callum Chambers had a chance from a cross from the left that he glanced into Zouma with a header and Pickford had to punch away after Fosuh-Mensah easily rounded Bernard down the Fulham right.
Mitrovic was enjoying all sort of space against, often against one centre half but his effort 10 minutes before the break was well off target and he rattled the crossbar with another a few minutes later as Fulham regained the ascendency against an increasingly ragged Everton display.
A late chance for Everton almost saw Calvert-Lewin break the deadlock but he was a fraction late anticipating Coleman's ball across the six-yard box and couldn't get a touch in front of goal.
Whatever plans Silva made at the half time interval were wrecked just 30 seconds into the second half when Ryan Babel crossed for Tom Cairney and he converted to give the Cottagers the lead.
Sigurdsson had the ball in the net shortly afterwards but Calvert-Lewin was adjudged to have fouled Rico and referee Lee Probert blew the whistle as the Icelandic international put the loose ball into the net.
And Ryan Sessegnon also thought he had scored for Fulham but Mitrovic had fouled Zouma and play was pulled back for an Everton free kick.
Gueye had the chance to play Sigurdsson in in the box but elected to shoot himself and scooped over before Sigurdsson put Calvert-Lewin in for a gilt-edged chance but while his flicked effort beat the keeper it grazed the wrong side of the post.
Everton's afternoon went from bad to worse as Mitrovic put Babel away and he clipped the ball over Pickford to make it 2-0 with 22 minutes to go.
Everton offered almost nothing by way of response and Silva eventually made three changes bringing Lookman, Tosun and Walcott on for Sigurdsson, Richarlison and Bernard and the Turkish striker hooked a late chance over.
Andre Gomes escaped a possible red card for a late stamp on Mitrovic's ankle but there would be no late heroics from a well-beaten Everton despite more than eight minutes of stoppage time.
The result halts the Toffees' recent revival that had yielded three consecutive victories over London opposition but this return to the Capital was a miserable one for the travelling faithful.
The defeat cost Everton the chance to move up into seventh place following defeats for Leicester and Wolves and put a dent in the club's hopes of gaining entry to the Europa League qualifying rounds.
Fulham: Sergio Rico, Fosu-Mensah, Ream, Le Marchand, Bryan, Cairney, Chambers, Zambo, Babel, Mitrovic, Ryan Sessegnon.
Subs: Odoi, Kebano, Schurrle, Christie, Seri, Ramirez, Elliott.
Everton: Pickford, Coleman, Jagielka, Zouma, Digne, Andre Gomes, Gueye, Richarlison, Sigurdsson, Bernard, Calvert-Lewin. Subs: Baines, Keane, Walcott, Tosun, Stekelenburg, Davies, Lookman.
Kick-off: 3pm, Saturday 13 April, 2019
Referee: Lee Probert
---
Reader Comments (172)
Note: the following content is not moderated or vetted by the site owners at the time of submission. Comments are the responsibility of the poster. Disclaimer
Jay Wood
[BRZ]
2
Posted 13/04/2019 at 15:53:58
Hmmm. The only saving grace from that half is that we got to half time still level.
Where is the tigerish intensity of the last couple of games? There is just no energy, no pace, to our game today. And very little joined up football.
At the back we are all over the shop. It's very disturbing how many overloads Fulham have had when running in on our goal.
Sorry, but unless and until we can comfortably twat aside teams like Fulham, we are never going to make a dent on the top 4-6 places.
Let's hope for a Chelsea-like 2nd half from an extremely lethargic, sleep-walking Everton.
Jerome Shields
3
Posted 13/04/2019 at 16:00:41
Disappointing first half. You could not say it was caution. More like not being motivated.
Michael Kenrick
4
Posted 13/04/2019 at 16:02:14
Yet another unbelievable chance goes begging. Get yer 'ed on it, lad!
Dave Abrahams
5
Posted 13/04/2019 at 16:04:27
Jay, that sums up The Live Forums opinions, never can we really trust in these players, even for a decent run, they take all the good out of a short good spell, knocks the stuffing out of me, even if they go on to win this game.
Steve Ferns
6
Posted 13/04/2019 at 16:28:05
There goes 7th. No doubt it's going to be busy on here tonight.
Pete Hughes
7
Posted 13/04/2019 at 16:31:39
Ah well, it was good the short while it lasted!
Peter Gorman
8
Posted 13/04/2019 at 16:41:50
Ridiculous scoreline, Fulham are rubbish.
Would feel worse if pretty much the whole of TW and their dog hadn't predicted it; Everton are nothing if not predictable.
These kind of blips needed eliminating asap if we ever dream to win a bean.
Jim Hillier
9
Posted 13/04/2019 at 16:47:43
Beat Arsenal and Chelsea. Lose to Fulham. A cynical fan might have bet money on it...

Jim Hillier
10
Posted 13/04/2019 at 16:56:00
Tony Gale. Why does he hate us?
George Cumiskey
11
Posted 13/04/2019 at 17:02:47
Absolutely battered for 99mins by the second worse team in the prem, the team have got to motivate themselves because this manager certainly can't. His lack of tactical substitutions was criminal.
The only way to describe this performance was shameful from the manager down.
Barry Connor
12
Posted 13/04/2019 at 17:04:06
"Everton are nothing if not predictable".
Double negative. So they are predictable.
Or they are nothing !
Whatever: they continue to frustrate.
Question: When will we see some consistency ?
Answer: Not until next season and if we don't then that is the time to worry because by the start of 2019/20 we HAVE TO have a side that will be consistent or else I have doubts as to whether Silva and even the Chairman will still be with us.
Tom Dodds
13
Posted 13/04/2019 at 17:04:11
Just renewed season ticket.
Mugged right off.
A FUCKIN GAIN.
Gerry Quinn
15
Posted 13/04/2019 at 17:05:50
How did the Everton fans react at the end - and did the team come over to them?
Jerome Shields
16
Posted 13/04/2019 at 17:06:26
Something went wrong at Finch Farm this week. . .
I had a bad feeling after watching a poorly motivated Everton in the first half.
Andy Meighan
17
Posted 13/04/2019 at 17:06:59
Just thought they had to turn up. How do you go from that last Sunday to this sorry excuse of a performance? So frustrating supporting this lot.
Paul Burns
18
Posted 13/04/2019 at 17:09:27
There's the true Everton, lazy and complacent from first minute to last.
God forbid anyone would run with the ball or take anyone on.
As soon as your back's turned, they resort to type.
Coleman's finished, Jagielka aspires to be.
This garbage would not be allowed at other clubs I wont mention.
Another season melts away to tedious nothing.
I've never hated a regime at our club so much.
Pat Kelly
19
Posted 13/04/2019 at 17:10:30
Silva said his goodbyes at the away end. He knows it's over tonight. Mourhino apparently wished him goodluck in the dressing room at halftime.
Tony Hill
20
Posted 13/04/2019 at 17:10:34
First of all, credit to Fulham who were excellent. They were much better than they have been this season and we copped it. Parker was a fine player and I think he will be a fine manager. So much for my earlier confidence and prediction.
This was a game which showed the perennial problem for Everton. As soon as we are expected to win, we don't. That is because we lack mental strength still. It has been the case for a long time. I believe we will fix it with this management.
Finally, of course, it is confirmed - as if we didn't know - that we need two strikers (to include a proper finisher) and a high class game manager in midfield.
A very bad performance, of course, but I hope there will be no meltdown on here. Off you go.
Phil Sammon
21
Posted 13/04/2019 at 17:11:20
So obviously there are many talking points from the game but let's start with the shockingly obvious: Tosun's hair.
Chris Gould
22
Posted 13/04/2019 at 17:14:16
I sat in amongst the Chelsea fans at the 5-0 humiliation a couple of season's ago, and was sat with the Fulham fans today. Don't know which was worse. I had prepared myself to not cheer too loudly when we scored. Needn't have worried.
We have been very good recently and today's result doesn't mean we are suddenly shit. It's football and it happens to every team. Looks like the other teams fighting for 7th are also losing this weekend. A missed chance, but I expect us to bounce back against Utd. We were flat and they were bang up for it. Players such as Mitrovic and Babel are playing for moves. Frustrating, but no games are a given.
Jay Wood
[BRZ]
23
Posted 13/04/2019 at 17:16:11
Steve @ 6.
"No doubt it's going to be busy on here tonight."
If it is, it will be for good reason. Equally, TWers could be left so apathetic by that showing that, like the players, they may not even bother.
There is no saving grace from that performance. None.
Fulham's last NINE games before today reads:
A Palace l 0-2
H Man Utd l 0-3
A WHU l 1-3
A S'ton l 0-2
H Chelsea l 1-2
A Leicester l 1-3
H L'pool l 1-2
H Man City l 0-2
A Watford l 1-4
That equates to:
P 9 W 0 D 0 L 9 F 5 A 23 Pts 0
They last won 4-2 at home to Brighton on 29 January.
Before today, they had kept just two clean sheets all season.
They were on easy street all game.
Where were our leaders? Who in a blue shirt galvanized the team? Who bollocked players for being so inept and lethargic? Who tried to take some initiative and wrestle the game back from Fulham's control?
There have been some nice halves of football by Everton in recent weeks. But quite evidently, it was far, far too premature to believe as some were too quick to claim that a corner has been turned with these players and the manager.
This will continue to be the case unless and until we routinely twat aside such hapless teams in the PL as Fulham. Without doing so, forget ever making any sort of inroads into the top 4-6.
Dave Lynch
24
Posted 13/04/2019 at 17:17:52
Tony.
There is always meltdown on here if we are beaten, the level of meltdown depends on the level of performance.
BIG...Meltdown predicted and long may it continue to be so.
It's what football is all about, take away the passion and you are left with complacency which has no place in football.
Peter Cummings
25
Posted 13/04/2019 at 17:21:58
Back to the bad old days when we played like this on a regular basis,While Fulham deserved the win in the end their tactics in the last quarter were a disgrace to the game, 'injuries',time wasting,etc especially when they had dominated practically from the kick off, left a very bad taste it the mouth, to say we were an absolute disgrace is putting it kindly,
George Cumiskey
26
Posted 13/04/2019 at 17:22:17
Jay Wood @ 23 it's not often I agree with you but every word you said there was spot on.
Tony Hill
27
Posted 13/04/2019 at 17:24:11
Fair point, Dave #24, God knows I've ranted with the worst of them on here.
I just hope we don't think that the world has ended and that the other recent games count for nothing. Because that is the way of the long term loser.
Anthony Murphy
28
Posted 13/04/2019 at 17:24:47
Ah well, at least we've got our siren next weekend before we play the Mancs
Jim Bennings
29
Posted 13/04/2019 at 17:25:03
We need to come out and fuckin nut United next week because after that mutant show today, Goodison faithful will allow nothing less!
Dave Lynch
30
Posted 13/04/2019 at 17:26:21
Pat@19.
I sincerely hope that was tongue in cheek and you don't have some concrete insider knowledge.
The last thing we need is that ego walking through the doors.
Derek Knox
31
Posted 13/04/2019 at 17:28:21
There is something radically wrong somewhere, how can a team play well and notch up three good performances against teams (two in the top 6) and then suddenly appear totally opposite against a team already relegated?
I can't even say Fulham were brilliant today, they were okay, don't get me wrong, but we were awful, and it wasn't just one player it was across the whole team. Just when you start thinking we had eventually turned the corner, the whole team the Manager were next to useless.
Why does Silva continue to fail to see that if things aren't working he leaves it too late for substitutes to get on and perhaps change the game?
Iain Johnston
32
Posted 13/04/2019 at 17:29:04
Watching that I thought Silva changed the formation, we relied on Digne & Coleman for width and just as the previous 3 months before the improvement, where caught up the field, surely the club did their homework on the likes of Babbel & Sessegnon?.
Where was the wing play from Bernard and Richarlison that we've seen work so well over the past couple of weeks?
Both kept coming inside and were totally out of the game first half, we may as well have had 9 men... I don't care if Jagielka scored last week, Keane is 1st choice... or is he on his way to Arsenal as the rumours suggest?
I have a feeling the players don't want to finish 7th and start again in July.
Pat Kelly
33
Posted 13/04/2019 at 17:34:14
This is Everton under Silva. Get rid or get used to it.
Brian Williams
34
Posted 13/04/2019 at 17:35:00
Silva said his goodbyes at the away end. He knows it's over tonight. 
Really? I mean really?
Pat Kelly
35
Posted 13/04/2019 at 17:36:26
We can but hope, really.
Bill Gienapp
36
Posted 13/04/2019 at 17:38:25
Very poor, disappointing performance (credit to Fulham for showing up and playing decently, but if we'd even remotely maintained our level from the past several weeks, it wouldn't have mattered).
Even more tiresome than the performance, however, is the fact that clowns who were nowhere to be seen after we beat Chelsea and Arsenal are already popping up on here like clockwork and screaming bloody murder. I have neither the time nor the patience for that, so goodnight.
George McKane
37
Posted 13/04/2019 at 17:39:17
It started with the selection - why did Jagielka start - no idea - formation wrong and attitude wrong - cannot believe what I watched today - players who looked great last week looked incredibly poor - would not give single player 4 out of 10 today and a few would get 2's. can hardly believe the drop in form, intensity, passion and commitment - what is happening here.
Derek Knox
38
Posted 13/04/2019 at 17:40:07
Brian, @34, Seriously? I had let him off the hook partially, but not forgotten, the majority of rubbish that has been served up in the main, plus the exits from both Cups in mild surrender, but did think he may have done enough to stay till the summer anyway.
Andy Meighan
39
Posted 13/04/2019 at 17:40:28
Pat,
Stop talking nonsense. Silva is going nowhere and there's not a prayer that dinosaur Mourinho is coming in. Or do you really believe a few brain-dead cretins on social media??
So he was there today... big deal! My mate was too — and they're not going to give him the job!
Trevor Peers
40
Posted 13/04/2019 at 17:41:53
We're quite happy to play a few entertaining games a season, then the club has the excuse to take weeks or a few months off and play garbage like that.
There's no meltdown on here, we're all very familair with today's performance. It's all about ambition and we ain't got none. We will always be mediocre.
Why hasn't the Russian Usmanov joined us ? He did offer to help us out after all. Unforgiveable that one.
Jay Harris
41
Posted 13/04/2019 at 17:46:05
There was a malaise and depression throughout the team today.
It was like back to the really bad old days with half hearted effort and an inability to put 2 decent passes together.
I know Mourhino was there today but I hope reports of him sitting next to Moshiri are not true.
Brian Williams
42
Posted 13/04/2019 at 17:46:06
Derek. So you think Silva's gone after todays game?
That's what my "seriously" comment was aimed at because I believe that if anyone thinks he'll be sacked after todays defeat then they're living in cloud cuckoo land! Just my opinion mind.
Bobby Mallon
43
Posted 13/04/2019 at 17:46:57
I think silva will be here for next season and so he should
Anthony A Hughes
44
Posted 13/04/2019 at 17:49:37
No excuse for today againat the league's worst team. Badly in need of a striker who can actually put the ball in the net. For all the plaudits DCL's followers have given him, cow's arse and banjo spring to mind.
Pat Kelly
45
Posted 13/04/2019 at 17:50:00
Why is this article dated 1 April above ? Was it all an April fools prank today ?
Peter Mills
46
Posted 13/04/2019 at 17:50:47
On the plus side, I finally got to visit Craven Cottage, 53 years after first wanting to go there. And the pint before the game was good, and sociable.
"On the beach" is a decent song by Chris Rea. It's a great album by Neil Young. It's not where I want our players to be mid-April.
Jim Marray
47
Posted 13/04/2019 at 17:53:18
When I said the other week that the next few games would either prove or disprove whether the green shoots were coming through, I meant against likes of Arsenal and Utd. Today's result simply tells me that the geeen shoots are still some way off.

Bobby Mallon
48
Posted 13/04/2019 at 17:54:15
if he was to go then I would only want Mourinho
Kunal Desai
49
Posted 13/04/2019 at 17:54:17
Last few results papers over the cracks in my opinion. The warning signs were there at half time and I was expecting Silva to change it tactically in the second half. I think he is a manager that just stumbles upon formations and not convinced he actually knows when to change it, evidenced by his late substitutions.
I wait and see what he does in the first ten to twelve games of next season but if results fail to materialise he will have to go.
Hugh Jenkins
50
Posted 13/04/2019 at 17:58:22
I may be "pissing in the wind" here, as the saying goes, but, if, as has been reported on here, Mourhino was there today, and if, as has been reported on here, he was sitting next to Moshri, and if, the speculation is that he may be considering coming to us as our next manager, I will throw another big IF, into the melting pot.
Notwithstanding the FFP rules, Mourhino would only consider joining to any side where he has a very large war chest available.
Does his presence today (if it was factual, as I only have reports from this site to say he was there), indicate that we are about to get a large influx in cash, or, to put it another way, is Usmanov going to finally come on board?
I am sure with some clever sponsorship etc, the FFP rules can be overcome and if we have a pile of cash for new signings, only then would I believe that Mourhino would consider coming.
Pat Kelly
51
Posted 13/04/2019 at 17:58:28
Kunal, I think we shouldn't waste another season and just get him out at the end of this season. He has proven to be clueless too often. He's not suddenly going to be inspired on how to manage a PL club.
Peter Gorman
52
Posted 13/04/2019 at 17:58:49
Barry Connor@12 - have you genuinely never heard that expression before?
Or are you the sort to bang on doors before announcing "It is I!"?
Justin Doone
53
Posted 13/04/2019 at 18:02:12
The phrase typical Everton springs to mind.
Mentally against a relegated side we switched off off. No hunger, lack of effort, believed it was an easy game.
Happens all the time in sport to the also rans. Unfortunately to often it's us. Nothing to play for but pride and we don't turn up.
It started at the back and spread through the team. Bernard a d Rich had run themselves into the ground the last few games. Today they weren't getting forward or back quick enough.
The focus and intensity had gone back into it's shell today. It wasn't terrible but it was poor. Subs to little to late.
Doesn't change the overall view of the season. Average but with signs we have moved on and progressed from last season. Lots of room to improve and big decisions to make to sort out the spine of our team for next season.
Tony Hill
54
Posted 13/04/2019 at 18:02:46
Of course there are cracks. We are a long way off being any sort of finished article and some days things just go all wrong.
But we must stop ricocheting around as supporters, 6 days ago the mood was one of great optimism. I hold to the view that we have played some of the best football for years with this manager. That's a good platform and reason for hope; not for a stay of execution.
Steavey Buckley
55
Posted 13/04/2019 at 18:05:35
When Everton trudged off at half -time lucky to be at 0:0 you would have thought Keane would have been brought on in the 2nd half to add more pace, strength and height to the back 4. You'd be wrong, Silva doesn't do common sense substitutions, as he left Jags on, who was all over the place in the 1st half. After 30 secs from the start of the 2nd half, Everton go 1:0 down when the Everton right side of the defence was pulled apart, not for the 1st time in the game. Silva has to understand that substitutions are there to change things before things get worse. Not to act when they have got worse. This happened in the Newcastle game when Everton were 2 up but lost 2-3.
Dave Ganley
56
Posted 13/04/2019 at 18:05:48
Can only echo what others have said, very disappointing and so predictable, even if I had thought we had turned a corner, obviously not. Not sure how you can go from playing really well last week to so bad today. I've recently lauded the team for making sure the season wasn't dead but tonight they deserve every negative comments they will get. Shocking performance against a relegated team. Not going to single anyone out as they were all pretty poor. I think Silva will be here next season but he really needs to make sure that every game has the necessary motivation levels not just the ones against the so called better teams.
Ernie Baywood
57
Posted 13/04/2019 at 18:06:46
The only thing that surprises me is the surprise on here.
The last few weeks were enjoyable but if you thought that meant the problems were solved then you haven't been paying attention.
The team is decent. They'll put some good performances in and they'll put some bad ones in. Just like most decent teams.
Where this Everton team differs is their ability to grind out a result when they're not playing well. They just don't do it.
There isn't the leadership on the pitch, and there's nowhere near the tactical ability needed in the dugout.
We're a midtable team. Getting midtable things.
The worrying thing for me is that there's every chance we lose both of our central midfielders in the summer. If that happens it will be hard work just to maintain the level that we currently have. Sobering thought.
Alan J Thompson
58
Posted 13/04/2019 at 18:08:13
Well. let's get the bleedin' obvious out of the way; one of those teams has been relegated but any ignorant observer ( I won't denigrate the neutral) would have been hard pushed to correctly say which team it is.
Everton had only Gomes in midfield in the first half while the Manager resorted to his previous tactics of having three wide on one wing and three on the other, in the second half we didn't even have Gomes and just launched the long ball or try to find Digne. Richarlison and Sigurdsson were almost entirely anonymous for the whole game while Gana was workmanlike but almost incapable of anything creative. And what did our super coach do about it? Absolutely bugger all!
If this was his attempt to justify his previous tactics then he should receive the same and be shown the door he'll be going through if it continues. Strangely we still have a chance of being as high as the giddy 7th at season's end when we will be presented with another years bugger all but will kid ourselves that it is some sort of justification, best of the incapable!
Joe McMahon
59
Posted 13/04/2019 at 18:08:24
Hugh@50, don't forget the special one has also been sacked 3 times, and was awful at UTD. He also wouldn't come a club that has never played in CL, plays in a dated dump stadium, not won anything in decades and because of this is unattractive.
Pat Kelly
60
Posted 13/04/2019 at 18:11:49
Silva will be retained for next season. Until it all goes pear shaped. Which it will. There's been fair warning this guy isn't up to it.
Brian Williams
61
Posted 13/04/2019 at 18:14:52
Pat Kelly#19 and 60.
Are you just trying to cover every eventuality or can you just not make your mind up?
He's gone in post 19, he's staying in post 60.
Which is it?
Brian Williams
62
Posted 13/04/2019 at 18:15:00
I for one am glad we'd not be attractive to Mourinho. Everywhere he goes ends up like a circus. Wouldn't want him anywhere near our club.
Going back to the result I reckon the players saw Leicester lose last night, heard Soton were well in front against Wolves and thought "ffs we can't go and win this one or we may just get seventh and end up with trips to Wherethefuckistan to play Crisscrossnivak!
Anthony A Hughes
63
Posted 13/04/2019 at 18:15:08
Hard to argue with that Joe
Anthony A Hughes
64
Posted 13/04/2019 at 18:18:27
We're already a circus Brian, clowns have been running the show for years
Brian Williams
65
Posted 13/04/2019 at 18:20:52
Good laugh though Anthony.
Sometimes!!!
Pat Kelly
66
Posted 13/04/2019 at 18:22:46
Only Everton would keep him Brian. I know he's not going yet but I sincerely wish he would. He will drag us down for another season.
Hugh Jenkins
67
Posted 13/04/2019 at 18:23:38
Joe (59).
I am certainly not advocating appointing him - I am only saying that, if he is remotely interested, there has to be some large wads of money heading our way and the only so far identifiable source of said money, who has actually expressed any interest in investing in EFC is said Mr Usmanov.
Jim Bennings
68
Posted 13/04/2019 at 18:25:26
Our longest unbeaten sequence this season is three games, that says everything you need to know.
A defeat or a horror show like today, Millwall away, Brighton away, Newcastle away always seems to be just around the corner.
Fulham are awful, so bad defensively that even I could have caused them more trouble today than our forwards, yet we witnessed signs of our impotence in front of goal last Sunday and at West Ham, today when a few chances did arise we couldn't take them.
I am forever left wanting more from Everton but end up never getting it.
As I say, an Evertonians season will be summed up on the last day of the campaign when we get beat at Spurs spanking new odyssey and the Redshite lift the title (highly likely if they win tomorrow let's be honest).
Ian Bennett
69
Posted 13/04/2019 at 18:26:11
It's the hope that kills you.
Danny Baily
70
Posted 13/04/2019 at 18:26:32
Missed opportunity today given other results going our way.
This is as bad as a cup upset given the quality of the opposition. Results like this suggest a manager who is out of his depth. I'm convinced that Silva was ignorant of what went right against Arsenal.
Brian Williams
71
Posted 13/04/2019 at 18:27:25
Pat#66.
Pat I, in this particular instance, can't see how the blame can be placed all at Silva's door.
He picks the same team ( I think) that outplayed and outfought Arsenal last week. A team I'm sure he didnt tell to go out and play shite. If the players just don't perform sometimes its their fault and not the manager's.
Julian Exshaw
72
Posted 13/04/2019 at 18:29:09
Just when we thought it was save to believe and to rebuild hope, this shocker comes along and a shocker it was. It was a very frustrating watch - not helped by constant interruptions- and the boys found it hard to get any rhythm going. I don't blame Silva for keeping Jags in the team, how else do you repay such a fine performance as our captain gave last week ? I doubt we will see him next week, though.
We'll win a couple more between now and May and probably finish 8th or 9th; a higher points total than last year being our goal most likely. The hard work for Brands and Silva will start after their holidays in June to ensure that performances like today are a thing of the past. So let's just draw a line under this one. Lastly,the club should think about giving those great travelling fans their money back, they deserved so much more.
John Boon
73
Posted 13/04/2019 at 18:36:38
Like many not too surprised. It is part of supporting Everton, who can always be depended upon to be inconsistent However it is still a fact that we played well in the last three games. I notice that the anti Silva brigade are back on the, "I told you so " track.This result does not reflect as much on him as it does on the players. If we had won nobody would have been critical of picking Jagielka. after the fact it is deemed a huge mistake. Remember he was a hero last week. Playing him today was a reward for his loyalty, and why not?
I think subconsciously we eased off completely against Fulham. Mitrovic proved what a good centre forward can do, defensively we were lazy and forwards were all at sea. Silva will have to take his share of the blame and his managing ability can still be debated but he certainly should not be put aside as a useless manager because of this defeat.
Hugh Jenkins
74
Posted 13/04/2019 at 18:37:52
Brian (71).
It's true that he picked the same team today, but did he pick the same tactics as against Arsenal?
If so, were they the correct tactics for Fulham?
I don't know - and I'm not paid to know.
Marco is paid to know, I just wonder of he does?
Lenny Kingman
75
Posted 13/04/2019 at 18:38:24
Too much money. Contracts that are signed off for years and power is with the players, and managers. They do what they want. Until Sky leave football it will never change. When that day comes the game will collapse into a black hole.
Pat Kelly
76
Posted 13/04/2019 at 18:44:37
Brian @71, I agree you can't blame the manager for how the players might perform in a particular game but I'd judge Silva on their performance since he took over. And I've seen enough to want him out.
Dave Lynch
77
Posted 13/04/2019 at 18:53:56
The thing that galls me about these performances away from home is the lack of passion and pride in your position as a pro footballer.
I stopped going away in the Moyes era for the exact same reason, they should take a look at the away end and think to themselves.
'That lot have travelled hundreds of miles to watch us perform, for vast amounts of cash, lets have a go eh lad's.
Do not miss the long heartbreaking journeys home one little bit.
Dave Williams
78
Posted 13/04/2019 at 19:00:53
Clearly we have talent in the team but not winning any game from a losing position( I haven't checked but someone said this is correct) is very poor and casts all sorts of doubt on the manager and the players he signs / selects. Guts, pride call it what you will seems to be absent once we go behind. The substitutes today were way too late and two of them are not playing well when they come on and will surely be on their way. A lack of tactical awareness similar to Kevin Keegan when he quit England after being at a loss how to change things when losing?
Excellent last few weeks so why plumbing the depths again today- this is why so many of us are not yet convinced.
Dave Abrahams
79
Posted 13/04/2019 at 19:00:54
After a great win last week that lifted nearly everyone, how can they ( all of them, team plus manager) put in a performance like today's, Jay Wood (23) and Dave Ganley(56) plus a couple more Everton fans some it up best for me, but I still can't comprehend a putrid display like that in front of thousands of brilliant Evertonians up at the crack of dawn to watch barefaced cheek of a performance.
Don't these players realise how lucky they are to receive the wages they are on week after week, millionaires the lot of them, haven't they got any shame, I could go on but I'll get annoyed again around 10.30pm tonight when I hear a car door getting slammed and my next door neighbour, disabled, hobbles into the house with his mam,coming home from Fulham after watching that miserable effort from players who will earn more in a couple of hours than this lad will get all year, scrimping and saving to pay for his season ticket and fares all over the country to watch these feeble players.
These same feeble, couldn't care less players who will be cheered onto the pitch next Sunday, I 'd love, for once, for them to come onto complete and utter silence.
Dave Ganley
80
Posted 13/04/2019 at 19:02:08
Brian #71 totally agree with you today regarding blame. Team had been playing well, consistent team selection, on a good run and the players put in a totally shambolic display. No excuse for that level of effort especially given the showings over the last few weeks against much better teams. This ones all on the players, they need to have a good word with themselves after that.
Pat #76 I agree with you to an extent, over xmas and new year I really thought Silva was totally out of his depth. He had no ideas and no answers. However, over the last few weeks I've seen just the kind of football I've been waiting to see for a long time. Yes it was only one half of a game, but its something to build on and the arsenal game was excellent against a very decent team. Today was a definite setback but I think Silva has just about earned a second season to really see what he can do
Peter Laing
81
Posted 13/04/2019 at 19:15:22
I'm surprised that people are surprised by that today. Everton in a nutshell, just when the hope returns - wham they put a garbage performance in like that to deflate the fan base. Will it ever change - can't see it myself.
Colin Malone
82
Posted 13/04/2019 at 19:18:43
Bad day at the office. Bit of luck, we could have been ahead in the first half. Passes going astray. Jags, Seamus and Gylfi having bad game. Has Gylfi got the legs to be a number 10 in busy traffic? No.

Jinx been happening for years regarding teams and players who have not beaten or scored for many games, stops when they play Everton. The one I remember is Jonathon Stead. Never scored for a whole season, or something like that, since scoring against Everton. Who was his next goal against? Jinxed.
Paul Birmingham
83
Posted 13/04/2019 at 19:19:46
Sadly, like the song goes, and we know our history, and alas the most timid and pathetic performance amongst the worse this season in my view.
Usual story, no heart, leadership, drive, belief, hunger and no striker who can finish reasonable and good chances.
Sick, to the back teeth again, solace, in that our rivals for the Europa league also lost, but it can't disguise that we can't stick extended unbeaten runs together.
Jags got picked on merit,for last week, but I'd have thought today that Keane would have been restored. It may have made no difference as they all stunk the place out, but it makes you wonder, and did it make much difference to Fulham's game plan?
JPs bad kicking habits, Keystone Kops defending, poor finishing, no cohesion, no ownership, today we got we deserved, and Fulham thoroughly deserved their victory, as they earned it.
Being honest and realistic today's loss won't help the quest to keep Gomes and Zouma, and attract new players.
If we are getting new players in this summer, I think it will be all potential and to build on the potential. Time will tell us whom MB has lined up.
Can we beat Manure next week? Of course we can, and it's seemingly that the last few years more than most, the teams only up to play well against the better teams.
It's also noticeable this season, we've struggled against most of the bottom half at GP, as well, so it's a very unpredictable Jekyll & Hyde, demeanour with the Everton first team.
You'd have thought they were knackered after a mid week game, but not the case, so why today versus one of the worst team in the EPL, for years, did Everton not turn up?
Now for a new era perhaps, but getting rid of the dead and drift wood, this summer, will be some challenge.
Let's hope we turn up next Sunday. Let's hope we can beat them next Sunday, but it will have to be a fully committed performance. No shirkers next Sunday!
Nick White
84
Posted 13/04/2019 at 19:21:50
I'm not sure if blaming Silva is right for this 1. He kept Jags in following the win last week and, had he not and we had lost, he would have been quite rightly criticised for it. I can't believe before kick off he would have said anything other than "keep playing the way you have done in the last few games lads". I blame complacency on the part of the players for this 1.
Alan McGuffog
85
Posted 13/04/2019 at 19:28:06
If someone organised an arse kicking contest, would we be able to send anyone from our management / coaching staff ?
Tony Hill
86
Posted 13/04/2019 at 19:32:42
This sort of veering about in quality is part of the frustration as you go through the business of becoming a better side. That said, Dave Abrahams @79 is right. Awareness of what it means for fans like his neighbour should ensure that the players never show the sort of shameful half-arsedness that scarred today.
I expect that Silva feels just the same. His recent comments about the relationship with the fans struck me as entirely genuine.
Dave Abrahams
87
Posted 13/04/2019 at 19:33:14
Nick (84), you might be right, blaming the players and not the manager, how do you explain leaving the final two substitutions until the last eight minutes, with us being 2-0 down, you're a good 'un if you can.
Joe McMahon
88
Posted 13/04/2019 at 19:33:19
I know off topic, but just noticed there was over 41,000 at Villa today. I didn't realise Villa Park had a bigger capacity than Goodison.
Paul @83, agree with every word.
Martin Berry
89
Posted 13/04/2019 at 19:34:49
Its was a strange performance, considering against W Ham and Arsenal the same team were excellent, today we seemed to be outfought and lacking in so many areas..
I do wonder with some games if we should drop the number 10 and play Gomes/Guaye with the addition of Tom Davies to try and gain a foothold in midfield, this seemed lacking today, also in quite a few other games throughout the season we seem to be overun.
Silva has some serious thinking to do and taking off Sigurdsonn today may have been a changing point for the future ?
Steve Brown
90
Posted 13/04/2019 at 19:52:02
My take having been to the game was that we were complacent and outfought in all areas of the pitch. Coupled with a quite dreadful defensive performance from Coleman and Jags, who managed to make Babel look unplayable, and we got what we deserved which was a comprehensive defeat.
The game might have swung round if DCL had scored his chance, but it would have been undeserved in truth.
Neil Gribbin
91
Posted 13/04/2019 at 19:53:12
Utter, utter crap today. They turned up thinking they were big balls. For me, only Coleman, Bernard and Pickford come out of today with an ok showing.
Paul Birmingham
92
Posted 13/04/2019 at 19:59:41
Let's hope the U23s beat Brighton next Monday, and some boost and spirit is shone over FF and GP, and the first team, respond.
Test of character now for the first team squad, and leadership qualities are needed from players and the management team.
Get them back in tomorrow at FF! Once upon a time
Nick White
93
Posted 13/04/2019 at 20:01:56
Hi Dave #87, no argument there to be fair!
Paul Burns
94
Posted 13/04/2019 at 20:05:33
The players aren't being coached properly or at all and constantly take the easy option of passing backwards or sideways, no one wants to carry the ball, take a player on or make a fckn decision, ever, just stand still on the spot you received the ball and pass sideways.
It carries on for the full 90, no changes, no bollockings, no urgency, no intelligence on the pitch to change it, no ambition.
Its beyond fckn belief even for alehouse football but at that level, and the amount of times it happens, its nothing short of criminal yet some people on here can't understand the anger of others.
No wonder the club's a shambles.
Andy Crooks
95
Posted 13/04/2019 at 20:09:27
No Premier League with the remotest hint of ambition will have Phil Jagielka in the starting eleven. To put him in ahead of Keane, a current England international who is playing well, makes me consider Silva's sanity. One of the most utterly abysmal selections I have ever seen.
Shit performance from the team. Truly awful performance from the coach.

Kristian Boyce
96
Posted 13/04/2019 at 20:19:22
Today showed what a decent striker can do, and a big wake up for DCL. I never really thought much of Mitrovic in the past due to his performance at NUFC, but today he was an absolute beast. The commentators on NBC brought up a number of times what he could do in a team like ours.
Fulham's problem all season is that once they concede, they fall apart. If only DCL could have finished one of those chances, I feel it would have been a completely different game. But as Mitrovic bullied pretty much our whole defense and midfield, while DCL was waif like.
I wouldn't be surprised if we put a bid in for him in the summer as Fulham don't have a chance of keeping him.
Alan Bodell
97
Posted 13/04/2019 at 20:20:40
Same old Everton, get three good wins then come up against a team in their heads and dressing room they have already beaten then get shafted, I thought at half time we would come out realising we weren't the dogs bollocks, I was wrong.

Danny Broderick
98
Posted 13/04/2019 at 20:26:33
Watching this team reminds me of playing in Sunday League teams when you didn't have a decent striker in your team. To win a game, you had to all be at your absolute best, and even then it might not be good enough. If the opposition scored, it was game over, as you knew you would struggle to put the ball in the net.
I can't wait for us to get a decent striker in the summer. DCL does his best, but he needs a season in the Championship. He's a 10 goal a season striker maximum at the moment. He also needs more support from Richarlison and Sigurdsson, who yet again, if they are not scoring, offer sod all.
John McFarlane Snr
99
Posted 13/04/2019 at 20:33:13
Hi Dave [87] I didn't see the game today, I listened to the Radio Merseyside commentary, and it didn't sound so good, if it was [as you suggest] a lack of effort and commitment, then there can be no excuse for that.
Although I haven't been to away games for many years, I can remember the disappointment of defeat, and the long train or coach journeys home and the misery they entailed. I salute the fans who travel the length and breadth of the country, and I don't exclude fans of any other clubs, I admire there loyalty to the clubs they love.
On a brighter note, Josh's team clinched their League Championship today, Josh scoring both goals in a 2-0 win, the goals coming in the last three minutes. I'm looking forward to seeing you at the get together next Sunday.
Peter Mills
100
Posted 13/04/2019 at 20:36:30
Everton's display was summed up when the supporters of the losing team groaned at the announcement that there was going to be 8 minutes of added time.

Brent Stephens
101
Posted 13/04/2019 at 20:47:53
Those posting before the game that we could struggle in this were absolutely right to be cautious. Our inconsistency throughout the season simply screamed at us that today was filled with danger. I can't explain how we can go from the solid performances of recent games to this. Man of the match was the away support as ever.
Phil Bellis
102
Posted 13/04/2019 at 21:12:44
In case it's not been said earlier in this thread... Abject!
Dave Abrahams
103
Posted 13/04/2019 at 21:20:11
John (99), I never saw the game either, just listened to the views of those who were watching on " live forum" then used my imagination to when I have seen them plenty of times this season, letting the opposition walk all over them with little or no fight, it's been match after match, until this little spell previous to today's diabolical non
performance which makes it much harder to take or comprehend.
I'm glad Josh made your day a lot better for you, I know how proud you are of him, tell him well done, keep it up and he could be back at Finch Farm next season.
John, I hope Everton play a lot better next week, it will not make up for today, but the ale will taste better if we win, see you then.
Rob Dolby
104
Posted 13/04/2019 at 21:43:07
I blame the manager for today. We can't play the same way at home as we do away.
Give a little respect to Fulham, sit deep then hit them on the break not just play open football exposing both fullbacks constantly.
At half time he should have made changes to the formation as we were being overrun in midfield. Whilst his subs just replace like for like not really impacting the game.
The failings of Bernard and DCL were also present today. At this level chances have to be taken or at least make life difficult for the goalie. We need 10 chances to score once.
Roll on utd next week.
Tom Bowers
105
Posted 13/04/2019 at 22:02:47
Excuses, excuses, excuses from the manager. Bottom line . they just don't have the class where it matters and when it matters.
Roger Helm
106
Posted 13/04/2019 at 22:12:10
Just back from the match, amazed that the same team that beat Arsenal could make relegated Fulham look like a top-half team; Spurs, at our level only a few years ago, had no problem with relegated Huddersfield.
Everyone played badly with the exception of Richarlison and Sigurdsson, who weren't playing at all. We were second to every ball, lost every arial duel and couldn't even manage simple passes and ball control.
I was surprised to see players swapping shirts at the end. Who would want an Everton shirt? Why weren't the Everton players making an embarrassed beeline for the dressing room? If they had any self-respect they would compensate the poor fans who had to watch them.
Peter Jansson
107
Posted 13/04/2019 at 22:12:20
We lack an offensive midfielder of good quality. When siggy have a bad day there is no offensive power left in central midfield. Gana is only good in defense. Gomes is better but not good enough offensively. Thus when the opposition close down the wings we look totally hopeless.
Max Murphy
108
Posted 13/04/2019 at 22:19:21
So the highlight of the season was winning 3 consecutive games.
To listen to those people on this web-site lauding Silva & Brands before this game, thinking we had turned a corner, and we're now on the way up. Get real, people! This is Everton FC. Our destiny is failure. Believe and accept it. We are truly garbage.
Phillip Warrington
109
Posted 13/04/2019 at 22:19:26
With Wolves and Leicester losing, we could have moved to 7th if we had won but, in typical Everton fashion of late, whenever we are given a chance, we blow it.
John Boon
110
Posted 13/04/2019 at 22:24:06
Peter(107)
Exactly right. We have clever and good ball players in midfield and pure skill can work on certain days. However we do not have anyone with forward drive and speed to go directly through the middle.
Sam Hoare
111
Posted 13/04/2019 at 22:28:05
One terrible result does not make us terrible any more than one brilliant result makes us brilliant.
Today was painfully predictable and is a good marker of where we are still. Inconsistent.
Silva is able to get a tune out of these players as we've seen in the last month but till he can do it regularly then we will have no shot at top 6 and his job will not be safe.
It worries me that we have still not come back from a losing position this season. Let's see what Silva can summon up for these last 4 games.
David Pearl
112
Posted 13/04/2019 at 22:58:17
That's it though Sam, he cant change things around. That's formation or mentality
John Pierce
113
Posted 13/04/2019 at 23:01:28
It reeked of complacency. I posted after the Arsenal game as good as we were, I thought Gomes looked jaded and one or two others looked stale.
A few careful changes against a dreadful Fulham were in order. Davies and Lookman perhaps for Gomes and Richarlison.
A truly ruthless manager picks Keane and benches Jags. Everton have been good under no pressure, and just as we look move forward and can take charge of a 7th spot we falter.
Silva's blind spot against teams were we have to make the running against is very clear to me, the results against poor sides certainly hint at that. Our best performances even in defeat have been against sides we can counter attack. One trick pony Marco?
Mark Wilson
114
Posted 13/04/2019 at 00:05:10
Meltdown ? You bet. Still furious at that bunch of absolute shithouses. Do not care if we beat UTD next week, nice tho that will be. Here we have a frankly unexpected outside chance to sneak into Europe via an awkward back door. Amazing. After a season of let downs and many utterly useless, pathetic performances, we finally get a run going and EVERY result in the sad race for 7th goes our way.
Cue a dismal gut wrenching performance from players who were outshone by one of the worst teams ever to play in the Premiership. It wasn't much this, the chance to hope we can finish 7th and city do us a favour. But it was something. A mind of minor apology from a manager who has been poor most of the season, and a team who have under performed and often played like they really, really, didn't give a toss.
Raise the minor hope then smash it away in embarrassing shameful style, that's this Everton squad and I honestly don't think they get it, not all. The managers post match presser should have been one of absolute fury, but instead you'd have thought he was commenting on a pre season friendly. Where the hell is the passion. No idea how some might think this showing didn't matter. Like the equally pathetic Millwall defeat, this nonsense shows that we have zero mental strength and are way more loser then winner.
Chance likely gone now, can't expect others to have another Weekend like that. Gutted and yes I know it's a second rate way to get back into Europe but I think we badly need the exposure to European football. Absolutely dire.
Ray Smith
115
Posted 14/04/2019 at 00:51:43
Gomes foul on Mitrovic was deliberate and if he gets a retrospective ban, he has only got himself to blame. Totally unprofessional and bang out of order.
On an earlier post there was mention of Mouriniho sitting with Moshiri. Not sure who it was, but it was definitely not Moshiri or Usmanov.
Ed Prytherch
116
Posted 14/04/2019 at 01:16:08
Brian (62) posts like yours are what keep me reading ToffeeWeb. I grew up in Ormskirk and I admired scouse humour from the first times that I took the electric train to Kirkdale to watch Roy Vernon, Bobby Collins,... Life is too short to get depressed about our team playing like shit.
Don Alexander
117
Posted 14/04/2019 at 01:18:39
Anyone else see echoes of Martinez's end of first season? The squad then surely realised that unless they completely folded CL qualification would become a very real factor, with the money and the new signings, and the necessary departures accruing as a consequence. Hence the drivel they served up to avoid CL qualification for the last three games. Self preservation took the lead to the cost of supporters ambition. Plus ca change aujourd'hui (and to any Leave voters, that sentence means "We're not avin this bollux agen 2day so fuk u!)
After today's drivel you have to wonder whether they're now scared of mere Europa qualification given the increase in matches that's then incurred.
Shameful, regardless of reason.
Dick Fearon
118
Posted 14/04/2019 at 02:04:53
Sam @ 111, I agree that one terrible result does not make us a terrible team.
We have had so many terrible results I cannot point to any particular one to blame.

Bill Watson
119
Posted 14/04/2019 at 03:00:44
I posted the other day that, given the recent run of good form, it would be interesting to see how we reacted if Fulham scored first.
Well, today, we had the answer!
Another totally gutless, shambolic performance on a par with Southampton, Brighton and Millwall and I've been unfortunate, or stupid, enough to waste time and money on them all.
Conceding so early in the second half gave us, at least, 44 minutes to respond but there was nothing and apart from DCL's one that went the wrong side of the post their goalkeeper was virtually unemployed. There was 8 minutes added time and added time in added time but we never threatened at all.
When the side is as disjointed as it was, today, you look to the manager to address the situation but his substitutions were far too late and just replaced like for like in a similar way to the other dreadful away defeats.
For me, Silva's inability to react and change things out on the pitch is a major concern, if he is to remain. These abject away ( and some home) displays must raise questions on motivation and the way the side is set up.
The day's highlight, for me, was the stroll along the river to Putney Bridge and the walk back through the adjacent parks. I was home well in time for MotD but couldn't be bothered watching it.
Alan J Thompson
120
Posted 14/04/2019 at 05:14:25
I just don't get this, "it's not the Manager's fault as he doesn't send the team out to play poorly and it is the same team that played well last week".
Then just what is his responsibility?
Marco gets home from Finch Farm to be greeted by the wife;
Mrs Silva: How did it go today. luv?
Mr Silva: Not bad, luv, I've worked out who should play in goal and half the bench. Still, it's early, it's only Tuesday.
He stood and watched almost emotionless and when he decided to make a substitution he sent on like for like to continue in the same manner. If it's not at least partly, I think wholly, his responsibility then why is he there?
John Hammond
121
Posted 14/04/2019 at 08:29:41
Reaked of arrogance and complacency against a relegated team who of course have their best game of the season now they have nothing to lose.
7th is still in reach and I expect us to beat United at a rocking Goodison.
Neil Lawson
122
Posted 14/04/2019 at 08:32:14
Look at the positives. At least Thursdays next season will not be ruined watching us getting beaten in Moldova and Malta.
I think Silva had a plan. and that was it !!

Mal van Schaick
123
Posted 14/04/2019 at 09:03:19
At least we are safe, but if it's the start of Jekyll and Hyde performances until the end of the season, then Silvas managerial effort should still be monitored. No slip ups next season if we want to be in the top 6, and a good time to inform the squad that they are also be monitored by performance before next season starts.
Terry Underwood
124
Posted 14/04/2019 at 09:15:55
West Ham …..win
Chelski……...win
Arsenal...…...win
Fulham ……… lose
Only Everton
Chris Gould
125
Posted 14/04/2019 at 09:39:46
3 fantastic performances followed by a dreadful display just shows a level of inconsistency that we should expect with this squad. There isn't competition for places, and Silva doesn't want to rotate when the other options are so poor.
I don't care how many points we get this season and am not judging Silva on what place we finish. Silva inherited a shambles, a bloated squad of little quality. Along with Brands, he brought in some very good players but it wasn't enough. The squad is still very poor, and we rely on players who have zero competition.
I will judge Silva next season once a few more of this squad are moved on and a few others of similar quality to last summer are brought in.
There's a reason that he brought his subs on late yesterday. He doesn't believe in them. Can you blame him? Walcott, Lookman, and Tosun are simply not good enough.
Silva has a lot to prove, but he's still developing as a manager and will make mistakes. Two wins against the top six, with an away win at WHU in between, is a fantastic effort and surely grounds for optimism regardless of yesterday's dreadful result.
Derek Knox
126
Posted 14/04/2019 at 09:57:55
Alan @120, exactly mate, it was so obvious to everyone that well before half time that Fulham were up for it, and nearly all of our 'heroes' were misfiring. We were fairly fortunate to go in on level terms at the break, that should have triggered a response in terms of effective substitutions from the bench, but No!
Like I said in my previous post, it seems when one or 2 players are having an off-day they all seem to catch the malaise too, as if was contagious.
I can accept defeat reluctantly if we get beaten, either by a better team, a quirk of bad luck, or poor refereeing decisions. Yesterday it was none of those, although Fulham did prove to be better than us, in that they had a desire to win which was totally lacking with us.
David Midgley
127
Posted 14/04/2019 at 09:59:06
On another thread somebody is suggesting a new nickname in stead of 'The Toffees'.
I think 'The heartbrakers' would suit.
Sean Kelly
128
Posted 14/04/2019 at 10:32:34
Arses on the beach time. Downright disrespectful attitude and display. AGAIN!!!!
Keith Gleave
129
Posted 14/04/2019 at 10:37:59
Phillip (109),
This has been the tale of Everton over numerous years now, we have the opportunity to jump up the table taking advantage of other teams slip ups only to do the same.
I can only think they came out with the wrong attitude and the minute Fulham came at us we melted away. Silva is paid to change that and he failed at half time and with his substitutions. Personally, I don't think he is the person to take us forward but I am prepared to wait and be proved wrong.
Derek Thomas
130
Posted 14/04/2019 at 11:00:50
Believing last week's hype - piece of piss this lads, these are shite, etc. Premier League or Zingari League, it'll always catch you out.
Will King
131
Posted 14/04/2019 at 12:04:43
'Freshly relegated team wins next game!'
It's not an anomaly, it happens every season. It just happened to us this time.
Paul Burns
132
Posted 14/04/2019 at 12:38:59
If Brian Clough was resurrected today in his 40s prime, he would be able to put at least 10 teams together just from free transfers who could destroy that pile of overpaid dogsh*t masquerading as Everton. That's the difference a good manager can make and this feller in charge of us ain't one.
Nothing of course will change because this garbage is now tolerated, in fact, has become the norm, in a regime happy with wallowing in their cunning for making themselves fabulously rich while having to achieve NOTHING apart from staying up and they do it admirably year after year, achieving nothing that is apart from slowly killing the club.
Gerry Ring
133
Posted 14/04/2019 at 13:08:43
This really shows Silva's limitations. He doesn't know what to do when we go behind. The substitution decisions appear to be made prior to the game & executed regardless. He had Macca on the bench last week, gone this week. Same with Schneiderlein. Now that we have nothing to play for why not play Davies and/or McCarthy to, at least put them in the shop window, if they have no Everton future, which is obviously the case
Jamie Crowley
134
Posted 14/04/2019 at 13:10:49
As soon as I saw the predictions on the pregame thread of 4-0, 3-0, and one "hammering 7-0" I knew we were in trouble.
This was a bad day at the office. Especially after Leicester lost to New Castle. When opportunity presents itself, Everton usually fuck it up.
Moving on.
Mick Conalty
135
Posted 14/04/2019 at 13:11:07
The Fulham result just confirms what we are at present:
A small-time team with a small-time manager.
Derek Taylor
136
Posted 14/04/2019 at 13:43:26
Paul @132, you seem to express surprise that the limit of the establishment's ambition is 'staying up'. Surely the pursuit and eventual appointment of Silva indicated that this was so as the Board faced up to the task of putting in place a strategy for the funding of the BMD stadium.
No more 'big time'managers and tolerance of a 70% spend on players wages and many of us say 'so be it !' But in the spendfest atmosphere of today's Premier League, we all have to accept that a halfway finish is all we can expect for the foreseeable future.
In this climate 'a Moyes' would be a godsend and whilst I have no longing for his return, I shall not be surprised to see it should next early season see us at the wrong end of the table. His brand of 8th spot average would be a godsend to a regime who, up until now, seem like 'babes in the wood' !
Max Murphy
137
Posted 14/04/2019 at 13:44:58
Are Huddersfield and Everton the only teams to fail to score against Fulham this season?
John McFarlane Snr
138
Posted 14/04/2019 at 13:54:15
Hi Dave [103] I think that you and I are old enough to accept that anything can happen in a game football, as witness Manchester City losing to Newcastle United, and Crystal Palace, Chelsea getting battered by Bournemouth. It's not the defeat that hurts the most, it's the manner of the defeat.
I spoke to Josh this morning, he wishes to thank you for your kind words, he told me that he has scored 23 goals in 15 games, his team play their final league game tomorrow.
I'm looking forward to Sundays get together, when you and I can take the opportunity to put the world to rights.
David Connor
139
Posted 14/04/2019 at 13:56:26
I'm not surprised at all by the result. It's been an Everton problem for years, not just since Silva has arrived. It's all down to players' attitudes and nothing else. Do you really think that Silva would've sent that team out to play shit? I don't think so... His job relies on results. One more bad run of results and he knows he is getting the sack.
One thing he did fuck up on is playing Jagielka. Last week should've been his Everton swansong. But he played him on the strength of his game last week and he got absolutely fucking steamrolled. I have no doubt they won't play like that next week against Man Utd.
One thing is an absolute must is we have to offload the dross we have at the club – even if it means giving them away. The next two windows are huge for the future of our club, make no mistake. Fuck that up and we are looking for another coach and director of football.
Being an Everton fan is emotionally draining. Buy Mitrovic and Loftus-Cheek in the summer and bulk the team up. These two players love a rumble and I swear we won't get bullied around like we did yesterday. We are far too weak in the middle and up top.
Brian Williams
140
Posted 14/04/2019 at 13:58:09
Chris Gould#125.
Good points well made without the histrionics so prevalent on here today.
Before the previous 4 games the expectations for those games would have "reasonably" been; draw at WHU, loss to Chelsea, loss to Arsenal, win at Fulham resulting in 4 points. We got 9.
Sometimes you have to look at the big picture and not let disappointment cause you to over react.
A week ago "Silva's found his feet they know how he wants them to play, it's coming good."
Today "Silva's shit, can't motivate players, can't handle substitutions blah blah blah."
Derek Knox
141
Posted 14/04/2019 at 13:58:55
Jamie @134, aye back to reality with a spine-crunching bump, don't know if you managed to watch the game, but it was painful.
If only Zouma's twin had played, who was arguably the best of a bad bunch, the result could and should have been so different. :-)
Dave Abrahams
142
Posted 14/04/2019 at 14:19:55
John (138), exactly John, it's not the defeat it's the manner of the defeat and the fact that barely any player rose above poor, we lost to Man City a few weeks ago, we never looked like winning, the team was clapped off the field simply for putting the effort in, so we can accept a loss when it is acceptable and understood, we lost to a team that well above our class.
Yesterday, we lost to a team already relegated but they strived to please their supporters, our team gave up the struggle, no supporter should accept that sort of attitude.
See you next week, John, tell Josh as long as he is enjoying the game, that's fine, he'll do well, when he stops enjoying the game that's a different matter,l ooks like our lot didn't enjoy the game versus Fulham.
John McFarlane Snr
143
Posted 14/04/2019 at 14:23:23
Hi Derek [141] I'm afraid that I was a little bit ' too ambitious' with my original seating plan, I've sent you a revised plan and we can discuss it when you receive it. Regarding yesterdays game, I think that my post to Dave, [103] just about sums up, my feelings on the matter.
I'm looking forward to next Sundays get together, and I would like to thank you for the time and effort you have put into the venture.
Bill Watson
144
Posted 14/04/2019 at 16:37:00
Brian #140
I doubt you were at the game, yesterday, but apologies if you were.
Silva selected a side that most would have picked themselves with the possible exception of retaining Jags. From the near own goal in the first minute it was an abysmal, shambolic performance.
It's not the defeat that's so hard to take it's the manner of the defeat which hurts.
A shambolic performance but the opportunity was there, at half time, to change things; Silva didn't take that opportunity.
OK, maybe the goal coming in the first minute of the second half negated any team talk, he may have given, but he still didn't react.
The substitutions were made very late in the game, not to change the tactical set up of the side but just on a like for like basis. It was too little far too late.
Earlier in the thread someone said that if he cannot manage the team, once they're out on the pitch, then what is the point in having him.
Indeed!
Brian Williams
145
Posted 14/04/2019 at 17:02:46
Bill#144.
No apology necessary Bill as I don't see what me being there or not has to do with the validity of the points I agreed with and the points I made.
Yeh we were shocking yesterday, the week before we were great, as we were the week before that and the week before that as well. So he got it right three times on the trot and then got it wrong.
I stand by what I posted, and what Chris@125 posted more so.
Martin Mason
146
Posted 14/04/2019 at 18:14:04
There's only one difference between us and the RS. They play with intensity.
Frank Crewe
147
Posted 14/04/2019 at 19:35:51
@146
2 differences. They also don't have any 36 year old CB's getting into their first team.
Joe McMahon
148
Posted 14/04/2019 at 19:43:51
Martin, thier main striker also isn't DCL.
Dave Abrahams
149
Posted 14/04/2019 at 19:59:56
Just seen a man win a trophy, a long time since he won one as prestigious as this, a thorough professional, a winner, came back from repeated back trouble, but wouldn't give in, a champion from the top of his head to the tips of his toes, Tiger Woods,playing to win every hole over four days, four days, most of our players gave up after ten minutes in a ninety minute match.
John Atkins
150
Posted 14/04/2019 at 20:22:34
They are going to win it unfortunately, let's get used to it, to be fair they probably deserve it, which makes it easier . now fortunately for me I'm away for 2 weeks from the 10th May so all Media coverage will be non existent and I can try and block it out. Remember it's only a game (of course we are used to this statement to hide our years of disappointment and frustration) but also 30 years ago tomorrow is a sad day, that could have been us if the draw had gone the other way ! Friends of mine didn't make it home which I'm sure is true of many on this site. There for the grace of god . Our return to the Elite will hopefully come sooner rather than later
Brian Wilkinson
151
Posted 14/04/2019 at 20:47:54
Mexican standoff, first to blink loses title.
Unless you are going to the moon or Kathmandu John, you will not escape the news should they win it, you will need more than a two week holiday for the news to die down,
Still getting the 5 times after all those years ago.
Enjoy your Holiday, but spare a thought of us left behind having to suck it in for the next decade and beyond.
Even scarier if they land title and champs league, Jesus I need a lay down.
Don Alexander
152
Posted 14/04/2019 at 23:36:26
The brevity of this thread saddens me. It implies we've once again accepted the abject performance. I would like to see certain players (and "coaches") emerging from FF this week with fat lips, busted noses and whatever else is necessary to get the complacent fuckers to get real.
Alan J Thompson
153
Posted 15/04/2019 at 04:58:52
Dave(#149); He has a lot in common with Rooney, eh?
Andy Meighan
154
Posted 15/04/2019 at 07:08:21
I was watching Paul Lambert on TV on Saturday night, being interviewed about Ipswich and relegation —the first thing he did was to apologise to the fans. This once proud club are now facing life in the third tier after years and years of being in the Premier Leagues or the Championship. I'm sure there's plenty of us on here who remember the great Ipswich sides of the 70s and early 80s.
My point being: When was the last time an Everton manager apologised for another dire performance? And God knows there have been an abundance of them over the years... No, they aren't interested in the fans who follow them all over the country, spending money they have grafted for... It's just one sorry excuse after another and I suppose we'll get the usual soundbites from the players this week.
"Big game against Man Utd... blah blah blah." I was one of those fickle enough to believe we had turned a corner and predicted a 4-1 win on Saturday. How foolish am I??? Nothing shocks me with this club — and why should it? I've seen it all...
My life has been one false dawn after another. Sad being an Evertonian, it really is...
Colin Glassar
155
Posted 15/04/2019 at 07:31:29
I dislike (hate really, but that's too strong a word) our neighbours as much as anyone on here but hats off to the sods. They play football as it should be played, with skill, speed, flair, fearless, reckless abandon etc...
Compare that to us with our painfully slow buildup, physical and mental weakness, with our huge inferiority complex, lack of fight, balls, commitment, desire etc...
They have everything we lack including a manager with a personality not some Plato looking deep thinker on the sideline. We lack passion and heart and belief and fire in the belly, everything they have in abundance.
I still want City to win it though. Blue Moon!
Martin Nicholls
156
Posted 15/04/2019 at 08:21:09
As others have suggested, that game was lost in the players' heads (ie complacent attitude) before they walked onto the pitch. In my opinion Silva is partly responsible for that but the vast majority of blame lies with the players. Those same players who at the end of the game and almost to a man failed to acknowledge the thousands who travelled to support them. Shameful.
Martin Nicholls
157
Posted 15/04/2019 at 08:21:26
As others have suggested, that game was lost in the players' heads (ie complacent attitude) before they walked onto the pitch. In my opinion Silva is partly responsible for that but the vast majority of blame lies with the players. Those same players who at the end of the game and almost to a man failed to acknowledge the thousands who travelled to support them. Shameful.
Martin Nicholls
158
Posted 15/04/2019 at 08:23:00
Apologies for the duplicated post!
Martin Nicholls
159
Posted 15/04/2019 at 08:26:07
Incidentally, perhaps the title of this article should be "Everton FANS embarrassed by relegated Fulham" as I'm not sure any of the players are in any way embarrassed.
Dave Abrahams
160
Posted 15/04/2019 at 09:21:02
Alan(153), off the field of play, maybe, on it, a definite no, Tiger has always been a professional, looking after himself, fitness wise, a different sport I know, but if Wayne had looked after himself he'd still be the great footballer he was, he finished at the top about three or four years ago, that was down to himself, unfortunately.
Kim Vivian
161
Posted 15/04/2019 at 10:11:18
Martin - agree. It is symptomatic of the narcissistic attitude in the modern game that they revel in the adulation by giving shirts to fans but hide away when they should be making apologetic gestures (especially) to the travelling fans.
I considered going to this (living in Kent it's an easy outing) but baulked at £100 plus travelling for two tickets. I'm glad I didn't, and respect to you poor bastards that made the trip from wherever you were in the country.
I am at a loss as to our inconsistency.
Echoing Alan McGuffog (I think it was) on a thread somewhere - we do not appear to have anyone who can give the requisite ass kicking when it is needed. Look at all the "top" managers - I don't need to name them. Our lads should have had such a rocket pu up them at half time tat they daren't show their faces at the final whistle if they capitulated. The rest is history now, as they say.
Guardiola went ballistic at one of his crew when City let that Palace goal in from the free kick yesterday. Christ knows what sort of brain fart B Silva was having but as far as Pep was concerned it was down (presumably) to one of the coaches to make sure that sort of thing doesn't happen. He (B Silva) might as well have been wearing red and blue.
Monday morning and I'm still in a bit of a world of disbelief after Saturday. Hopefully we can get back into playing again by Sunday, and maybe rock Ole Gunnar's boat a bit.
But then I expect I will still buy another lottery ticket as well.
Paul Le Marinel
162
Posted 15/04/2019 at 12:06:00
Before going into this match, you would have thought that we would have won. We didn't and it was a very disappointing result and we have done well in the past three games, but really our run of good form should have continued, but we threw away what should have been three points.
That has been the story on a number of occasions this season and that winning momentum and consistency is something that is sadly lacking. The level of team performances have been impressive in the past three games and really that should be maintained and not lost.
I believe in the team as we certainly have the quality and we can play attractive football, but still not convinced that Marco Silva is the right man for Everton. At home against Manchester United next, of which will be a difficult game and hopefully we can come away from this game with a positive result.
Eric Myles
163
Posted 15/04/2019 at 12:14:17
Paul #162, we're home to Utd. next.
Paul Le Marinel
164
Posted 15/04/2019 at 12:20:31
Eric 163, realised that not long after I had posted my comments, but managed to amend this.
Daniel A Johnson
165
Posted 15/04/2019 at 12:47:13
The problems were there for all to see.
1. From kick off they were on us and we never matched their physicality and intensity.
2. We cant score. For all the DCL hype train how many goals has he scored recently?
3. Jags deserevd a second start but father time waits for no man. Too old and should be released in the summer along with Baines.
Alan J Thompson
166
Posted 15/04/2019 at 18:05:41
Oh hey, Dave(#160) I was posting mostly in jest but Jack Nicklaus was still at the top at 46 and using actual woods, no special grooves, shafts (on his irons) or balls while Tiger has had a year or two off with a bad back from lifting sparkling water in strip clubs? A great golfer but it is a pedestrian game. But enough, we are here to discuss Everton.
Cheers
Kim Vivian
167
Posted 15/04/2019 at 19:06:23
Well - settling down to watch the U23s going for PL league 2 title and hopefully they can 'unembarrass' us all.

Ray Smith
168
Posted 15/04/2019 at 19:28:42
Further to my post 115 nobody has made mention of Gomes foul on Mitrovic.
He's going to get a 3 match ban, therefore end of season for Gomes. Why, why, why? What a prat!!!
Lev Vellene
169
Posted 15/04/2019 at 19:47:01
Ray #168,
aren't there rules about such? Do they say a neglected foul can be retroactively applied?
Paul Tran
170
Posted 15/04/2019 at 19:53:26
Not the first time Gomes has left his foot in, Ray. He clashed with Mitrovic in their box a few minutes earlier. A crude, costly payback.
Kim Vivian
171
Posted 15/04/2019 at 20:57:39
Paul - I'm afraid he didn't 'leave' his foot in - he stuck it in well after the ball had gone. Really horrible it looked on tv. I don't know how he stayed on the pitch tbh
Funny (peculiar) because he didn't strike me as that kind of player.
On a brighter note - Everton U23s are PL league 2 champs. Get in.
Stan Osborne
172
Posted 17/04/2019 at 15:00:27
I'm sure I'm not alone in suspecting that the 'Avoid the Europa League' conspiracy theory is possibly at work here.
Everton, Leicester, Wolves and Watford are all in contention for what some have come to consider to be the poisoned chalice of a pre qualifying rounds of the subsidiary European competition. All of above contrived to lose their latest round of fixtures, thereby lessening their chance of starting their fixtures for next season in July.
Don't get me wrong, I along with many Blues love European nights at Goodison the opportunity for away trips to the continent. But the reality is that most clubs, Everton included at the moment, don't have squads with enough quality in depth to do it justice. Added to that is the often negative impact on league form of playing Thursday/Sunday. Burnley have only of late recovered from their Europa League 'campaign' and the Toffees have had some form issues during some of our European jaunts.
As it stands, with a manager, staff and squad in transition, it could be argued that 7th and a Europa League spot is not something we need. Notwithstanding the potential benefits of giving European experience to players and a Champions League place for the winner, I think it would be best avoided this time round. Maybe other clubs are thinking along the same lines.
Generally, until the Europa League is restructured, which is under consideration at the moment, it may remain something that some fans and clubs would prefer to avoid.
Dave Ganley
173
Posted 17/04/2019 at 19:23:01
Stan, I do believe Ajax started CL qualifiers in July and look at them now. It's a state of mind, most other clubs regard the EL quite highly whereas the managers in England seem to find it a chore, or rather the top club managers do and that has filtered down. If you constantly tell the players that they're tired through too many EL games then they'll start to believe it. No different in CL except it's got more prestige. The only teams who constantly berate the EL are the losers and some fans have obviously bought into that losers attitude too. It's just an easy excuse to blame EL for shit results the weekend after. A winning team doesn't make excuses only losers.
Les Netherwood
174
Posted 17/04/2019 at 22:48:32
I thought we had problems when Jags was playing he is crap in the penalty area and always has been, We need to clear out the likes of Walcot Sneiderlin Tosun and get a manager who shows some enthusiasm this one has the same expression on his face win or lose and you never can tell what kind of performance you will get on any day... to lose against Fulham is a disgrace.
Add Your Comments
In order to post a comment, you need to be logged in as a registered user of the site.
Or Sign up as a ToffeeWeb Member — it's free, takes just a few minutes and will allow you to post your comments on articles and Talking Points submissions across the site.