Report
Vastly improved Blues hold on for great opening-day win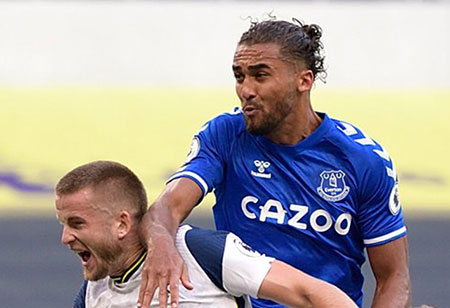 Everton kicked off the new season at White Hart Lane with very welcome debuts for all three new midfield stars, who gave them a new-found confidence that finally secured a very impressive win.
Carlo Ancelotti thankfully plays all three of his new acquisitions, Allan, Doucouré and James Rodriguez, in a radically upgraded midfield, with only André Gomes keeping his place from last season, with Richarlison and Calvert-Lewin upfront.
Spurs got things going but it was a but scrappy as both sides looked to get back into the swing of things, the home side making the most of it with Spurs having more possession Son shooting at Pickford. Everton, lucky not to concede a corner, still doing that stupid playing out from the back nonsense from the goalkick.
Everton got forward for the first time and a nice ball in to Richarlison saw him fall over the ball! Not what is required. Doucoure tried a nice ball forward but it was never going to come off. Another poor touch by Richarlison in midfield this stme stopped an promising move from developing.
A spell of Everton pressure eventually moved toward the final third, James's cross-field pass worthy of some positive analysis, but Everton still struggling to penetrate the massed ranks in front of them. Ball retention, however, was definitely looking better... until Richarlison again was the guilty party, passing straight to a Spurs player.
As Everton settled into the game, ball movement and control looked more convincing. But the play was reaching the final third only to stall and turn around, without providing any threat to Lloris. Another fine spell of deep possession broke down when approaching the final third.
Richarlison found himself beating the last man but, oh goodness me, what a godawful mess he made of it, going wide around the goalkeeper and then spooning it high over the open goal. Absolutely abysmal!!!
Spurs attacked, Coleman having to block Son's cross behind for the first corner, cleared with some desperation by Allan. But Spurs persistently recycled the ball, giving the Everton backline some work to do.
A couple of throw-ins saw Everton advance down the left, a cross in to Calvert-Lewin wayward, Mina also with the follow-up shot on the clearance. Spurs almost scored at the other end, Kane coming round the back and only inches away from Son's cross.
Spurs drove forward strongly but Everton got the ball away and mounted something of their own attack that broke down with Gomes's cutback from the goalline. Everton broke quickly from a Son strike that was headed clear, the ball catching Calvert-Lewin's heel, but Rodriguez recovered it and tried to dig out a shot.
Rodriguez was delivering some lovely cross-balls out to Digne, but the play just was not developing up-front. Another fine ball, this time to Richarlison, who cut inside but saw his shot deflected behind for Everton's first corner, delivered well by James.
From the second Everton corner, Dier's header let Spurs break at pace and Pickford needed to save very well from Alli, with nothing developing for Spurs from the corner. Doucoure did nicely to set up James for a left-foot shot that bounced an inch or two wide.
Allan and Moura clashed in the tackle, but thankfully recovered, Spurs getting the free-kick in a dangerous spot, Son's kick headed clear well by Richarlison. But Everton still wanted too much time to fart about in their own half and seemed unwilling to press forward with any pace or desire, letting Spurs regain possession.
An incisive Spurs move saw a fine ball chipped over the backline for Doherty but Pickford did exceptionally well to close the angle and make himself huge, stopping the goalbound shot with his foot. Everton finally worked themselves close enough for a shot, but it was pretty lame from Richarlison, straight at Lloris.
Keane and Mina needed to make key headed clearance as Spurs mounted a final flourish to the half, Rodriguez giving away a free-kick wide left that was completely wasted by Son as Atkinson blew his whistle to end a passable half from of football Everton that will be remembered painfully for that dreadful miss which would and should have seen Everton go in one goal to the good.
Sissoko the only change for spurs at the break, Everton effectively defending an early corner conceded. Doucoure a little sloppy with the ball but Keane launched a lovely ball to Calvert-Lewin who hold up well and played in a perfect ball for Rodriguez but his finish was absolutely dreadful, screwing it well wide.
But then a fantastic ball forward to Richarlison, whose header, was also absolutely abysmal at the far post. Gomes was next with a chance that was blocked behind, but Everton should now be 3-0 up.
Finally, a piece of magic - not from any of the new players, Digne delivering a fantastic ball in and Calvert-Lewin timing his run and leap perfectly and even using his k=neck muscles to drive the ball firmly into the back of the Spurs net.
Everton had to resist something of a reply by Spurs but it didn't really cause any trouble for the Blues backline. With 30 minutes left, game management became important with Gomes showing a little more conservatism.
Everton now started to exert control over the game and really frustrate Spurs. But keeping possession is vital and at times the Blues guard was sloppy. Sigurdsson replaced Gomes.
Rodriguez produced another wonderful ball out to Richarlison who cut in and shot inches wide with Lloris well beaten. Coleman picked out Richarlison but, tired or lazy? he just kicked the ball at the legs of the defender in front of him.
A repeat for Richarlison and again he drove a glorious chance fractionally wide. Coleman tried an ambitious volley that was at least on target, forcing a save from Lloris. But Everton really should have made this game safe. Would tiredness and a lack of concentration be their downfall?
It got more and more nerve-wracking, with Mourinho making his third change. A corner won by Moura and delivered by Son was headed harmlessly behind as Everton looked to hang on to 3 hard-earned points. But the game was being played almost entirely in Everton's half now.
Pickford had to come out and make a couple of key punches but Everton just could not get the ball forward. And when it did go forward, they played it back to Pickford who promptly launched it out of play.
Doucoure fed a beautiful ball to Calvert-Lewin's feet and he controlled well, shooting with pace but straight at Lloris. Richarlison was then taken out by Højbjerg, who was booked for his recklessness.
Kean came on for Calvert-Lewin and the game drifted into 4 minutes of injury time, with Davies then replacing Rodriguez. But the Blue played out a fantastic win for Carlo Ancelotti, with the new star players who had joined the club primarily because of his presence, delivering in spades to produce a fine strong and match-winning midfield performance.
Scorer: Calvert-Lewin
Tottenham Hotspur (4-2-3-1): Lloris; Doherty, Alderweireld, Dier, Davies; Højbjerg [Y:85'], Winks (60'Bergwijn); Moura, Alli (46' Sissoko), Son; Kane.
Substitutes: Hart, Sanchez, Aurier, Lamela ( Ndombele).
Everton (4-4-2): Pickford; Coleman, Keane, Mina, Digne; Doucouré, Allan, Gomes (68' Sigurdsson); James (90+2' Davies), Richarlison; Calvert-Lewin (88' Kean).
Substitutes: Virginia, Kenny, Walcott, Bernard.
Referee: Martin Atkinson
VAR: Andre Marriner

---
Reader Comments (366)
Note: the following content is not moderated or vetted by the site owners at the time of submission. Comments are the responsibility of the poster. Disclaimer
Geoff Williams
1
Posted 13/09/2020 at 15:33:25
It's the team I would have selected to start the game. Good luck!
Ciarán McGlone
2
Posted 13/09/2020 at 15:33:54
Carpe diem.
Paul Tran
3
Posted 13/09/2020 at 15:35:00
Thats the team I'd have picked. Front foot and let them worry about us!
John Pierce
4
Posted 13/09/2020 at 15:35:03
Michael. Title needs an edit. 'Palyers'
John Pierce
5
Posted 13/09/2020 at 15:35:24
I'm gutted no fewm!!!
Mick Davies
6
Posted 13/09/2020 at 15:36:11
Great to see all 3 starting - we need to go at them from the off; sit back and our confidence will revert back to last season COYNB
John Pierce
7
Posted 13/09/2020 at 15:37:32
I was close with my pick I thought Homes wasn't fit enough and Siggy would have stepped in.
4-3-3? 4-2-3-1? Surely not 4-4-2?
Fran Mitchell
8
Posted 13/09/2020 at 15:37:34
Mike, bit excited? You put Walcott in the line up and omitted James.
Carlo is pulling no punches here.
Pat Kelly
9
Posted 13/09/2020 at 15:38:02
Looking good. Just need to replace DCL.
Ajay Gopal
10
Posted 13/09/2020 at 15:39:02
MK, LL, no Live Forum today?
David Pearl
11
Posted 13/09/2020 at 15:39:46
Gotta love it. Now how will we set up? Gomes must be pleased he doesnt have it all to do on his own. Come on you blues, these are shit!
David Nicholls
12
Posted 13/09/2020 at 15:41:23
I reckon a midfield diamond. Gomes as deep lying playmaker, Allan and Doucouré either side with James at the tip
John Pierce
13
Posted 13/09/2020 at 15:41:33
If Doucoure & Allan are to be the engine. I'm expecting a lot lot more from Gomes. He has to date flattered to deceive. Granted he's played partially fit and often without a lot of help but I want to see the Valencia version turn up.
Drew O'Neall
14
Posted 13/09/2020 at 15:41:49
I think it will be 4-3-3 with James as a 'false 9' / free role (maybe you'd call that a 4-3-1-2).
George Cumiskey
15
Posted 13/09/2020 at 15:41:51
Could be a problem if a centre back gets injured
Alan Rodgers
16
Posted 13/09/2020 at 15:42:22
Very positive from Carlo. And how unusual to have new signings fit to play !
Andrew Ellams
17
Posted 13/09/2020 at 15:42:40
Bit disappointed not to see Gordon on the bench but probably the strongest starting XI he has
Colin Glassar
18
Posted 13/09/2020 at 15:43:24
I would've started james on the bench but it's Carlos's decision. 2-2 draw is my guess.
Paul Davies
19
Posted 13/09/2020 at 15:43:30
No centre back on subs bench could be a problem if Mina breaks down again.
Fran Mitchell
20
Posted 13/09/2020 at 15:44:21
Also surprised at Gordon's omission.
Robert Tressell
21
Posted 13/09/2020 at 15:46:07
Very nice balance to the side. Solid 3 man midfield. Strongest bench in a while too.
Spurs first 11 looks a lot weaker than the Pochettino heyday that had Verthonghen, Rose, Walker, Dembele, Wanyama and Eriksen. They are still strong but it's much more even now.
Brent Stephens
22
Posted 13/09/2020 at 15:46:30
I don't see a strong Spurs defence in that line-up. Start cautious but get ready to take their defence on.
Andrew Keatley
23
Posted 13/09/2020 at 15:46:32
No centre-half on the bench, but spots for Siggy, Bernard, Walcott and Davies. That's pretty worrying, especially with Mina's previous record for picking up in-game injuries. Hopefully it won't be a problem, but it's slightly asking for trouble.
Pat Kelly
24
Posted 13/09/2020 at 15:47:05
Kenny can come in if Mina doesn't last 10 minutes
Andy Walker
25
Posted 13/09/2020 at 15:47:37
Scared for James. I hope he's fit. Great looking team if he is though. 4-3-1-2 I reckon.
Conor McCourt
26
Posted 13/09/2020 at 15:48:18
On a normal day we can be critical of Carlo for no Gordon and no centre back but personally I just love the boldness of the first team. No fucking about, all three start and this is my team. I like the intent.
Brian Wilkinson
27
Posted 13/09/2020 at 15:48:45
Pat, with that support I expect Dcl to knock a lot more goals in, he will have the luxury of being around the area, than having to feed on scraps on last years midfield, from being out wide on the wing, to having the ball hoofed up to him.
Mike Gaynes
28
Posted 13/09/2020 at 15:49:49
Conor, you beat me to it. Totally agree.
Darren Hind
29
Posted 13/09/2020 at 15:50:12
Me too Conor.
He's going to play. That'll do me
Paul Tran
30
Posted 13/09/2020 at 15:52:04
No live forum today?
Howard Don
31
Posted 13/09/2020 at 15:52:40
Exciting line-up, but scary lack of defensive cover on the Bench, considering Mina only just passed fit.
Mike Gaynes
32
Posted 13/09/2020 at 15:52:53
Let's fire up the Forum!!!
John Pierce
33
Posted 13/09/2020 at 15:53:04
We were dire from open play last year. Mainly cos we couldn't win the ball back and we were deeper than the Titanic.
Richarlison & Calvert-Lewin will get a lot of chances in this team if Doucouré & Allen get the ball back and service Gomes & James.
The plan is clear.
John Otway
34
Posted 13/09/2020 at 15:54:33
Brian @ 27. Really hope you're right about DCL but imagine what a real goal poacher like Vardy could do with that support.
Tommy Surgenor
35
Posted 13/09/2020 at 15:55:13
Not being negative here because let's face it... wow what a line up.
But would have preferred Gibson on bench for CB cover
Kenny to start
And Gordon on bench
Add Holgate & Gbamin to that and I think we have a squad!!!
Danny O'Neill
36
Posted 13/09/2020 at 15:56:01
Sadly for the likes of young Gordon, when you've just made signings like we have, he drops right back down the pecking order. As predicted, most of our first choice midfield over the last few seasons has become backup overnight. It was easy for the lad to break into that quagmire of a midfield. Now he's really got to challenge. Hopefully having this type of player around him will raise his own bar too.
Nicolas Piñon
38
Posted 13/09/2020 at 15:56:34
It's a 4-4-2 for me with Richarlison on the left and James Rodriguez behind Calvert-Lewin.
Benn Chambers
39
Posted 13/09/2020 at 15:56:48
As things stand, with maybe the exception of Holgate, we could not be any stronger. What a team that is. If I'm nit picking, I'd want Lossl in the squad and Gordon for Davies, Maybe Nkounkou for Kenny.
I'm gonna be sensible and realistic here and I think it might come too soon against a quality opponent to get a win but spurs are in for a game. By West Brom and beyond, I can see that team given many a team a hiding!!! No more soft centre. Early call, Gomes to be outstanding with the new players around him. Possible MOM.
COYFBB!!!!!!!!! In Carlo we trust
Matt Griffin
40
Posted 13/09/2020 at 15:57:42
How about 4-1-2-3?
Allan deep
Gomes and Doucoure further forward
James from the right
Ricarlison from the left
Alan J Thompson
41
Posted 13/09/2020 at 15:57:59
Interesting to see the sub keeper (only 1 this week) but is there a problem with Lössl or just giving youth a chance over experience?
Christy Ring
42
Posted 13/09/2020 at 16:00:08
All three must be fit, so delighted they're starting. I'd be more worried with no centreback on the bench, with Mina's record. There's no way it's 442, agree with John @13, Allan and Docoure in the engine room, Gomes pulling the strings, Calvert-Lewin lone striker. No Iwobi not on the bench, offer him to Palace, as part of a deal for Zaha.
Mike Gaynes
43
Posted 13/09/2020 at 16:02:25
I'm more than a bit surprised to see Dier and Alderweireld starting for them and not Sanchez.
Fran Mitchell
44
Posted 13/09/2020 at 16:02:48
Alan, I think the issue with Lossl is that he isn't very good.
Justin Doone
45
Posted 13/09/2020 at 16:02:58
I think that's a brave starting line up considering our weakest area of midfield now has 3 strangers playing in it.
Is it a case of match fitness comes from playing or simply it's the 'best' players responsibility to keep their position each week?
I can't see that as a 4-4-2 but who knows. I will not be critical of anyone on day 1, all my energy is being used to curtail my excitement of what the near future may hold.
Please no silly mistakes and lots of effort is all I ask. They rest will develop over the next few months.
What, no Delph?
Brent Stephens
46
Posted 13/09/2020 at 16:03:01
Has the Live Forum died?
Bill Gall
47
Posted 13/09/2020 at 16:03:14
Strong team but I think it is a weak bench, apart from a backup keeper we only have 1 full back defender I striker and the others are midfield or wingers, does not seem much coverage if central defender gets injured.
Phil Lewis
48
Posted 13/09/2020 at 16:03:24
Thanks Carlo, this was the team I'd have picked with those available.
Let's go Blues, no excuses, it's all down to you now!!! Let's attack from the word go!
Andrew Hight
49
Posted 13/09/2020 at 16:03:57
How refreshing, Sticking all 3 new midfielders in from the off. Decent options from the bench in an attacking sense.
Mike Gaynes
50
Posted 13/09/2020 at 16:04:02
The Robbies on NBC have Doucoure in the #10 slot in a 4-2-3-1. Gomes and Allan at the DMs behind him. Very interesting if true.
Tony Everan
51
Posted 13/09/2020 at 16:05:38
I like the line up, it is a statement of intent and confidence that we can take the game to Tottenham. There is some real quality in that line up. Looking forward to seeing James Rodriguez putting some dangerous balls in for DCL and Richarlison to score from.
Surprised a bit there is no CB on the bench. Mourinho is in the dressing room now telling them to leave the boot in on Mina, take him out and leave us short.
Mike Gaynes
52
Posted 13/09/2020 at 16:06:27
Carlo: "The shape is not important."
Also says don't expect James to be 100% out of the gate. Logical.
John Pierce
53
Posted 13/09/2020 at 16:06:27
LF keeled over when it saw the line up. It thrives on negativity Brent. It can't function on good will.
Julian Exshaw
54
Posted 13/09/2020 at 16:07:14
Great to see the new boys playing. Statement of intent by CA. The end of last season...actually since February was awful.
Neil Gribbin
55
Posted 13/09/2020 at 16:07:55
John #53 I was just about to say there is a disturbing lack of pessimism today

Brent Stephens
56
Posted 13/09/2020 at 16:08:03
John #53 that's about right!
Colin Glassar
57
Posted 13/09/2020 at 16:08:17
Isn't it working, John?
Will Mabon
58
Posted 13/09/2020 at 16:08:53
So much for expecting a more careful start...
Carlo going for it. No undue respect given to Mourinho, who might've expected not to see Rodriguez, and a basically whole new midfield.
Great opening day feeling.
Jason Li
59
Posted 13/09/2020 at 16:09:21
Carlo gunning for the league from the start, great stuff. At least with aims for some Champions League music next season.
I'm happy with this, expect more chances for Richi who is the best mobile striker in the world and Brazilian national team, and DCL is good enough for Everton - just goals aside his pace and physical bullying keeps centre backs honest all game, no respite for them.
I'm hoping an extra 25 goals this season.
5 from the dominant Doucoure, 5 from James, 5 more for both strikers, 5 from others due to being further up the pitch more often.
Plus we have the best football tactician at the club for many years managing our team.
Geoff Lambert
60
Posted 13/09/2020 at 16:09:32
Brian 27, its not lack of chances it's not being composed enough to take them. Lets just hope he has developed composure in front of goal in the last 3 weeks.
Conor McCourt
61
Posted 13/09/2020 at 16:09:50
Mike I'm hoping for a diamond with Rodriguez in the Siggy position and Gomes and Doucoure either side of Allan. Hopefully helps solidity but puts key men in the most dangerous areas.
Barry Rathbone
62
Posted 13/09/2020 at 16:10:49
Just don't do the usual.
I am up to here (raises hand to forehead) with hope demolished by reality and the lame excuses that follow.
John Pierce
63
Posted 13/09/2020 at 16:11:39
I'm not sure why people are surprised all three start. Carlo was clear that the signings are for the here and now. He ain't going to suffer the ignominy of 12th again.
He certainly isn't going watch the dross, and it was very bad. He's not here to nurse us through to BMD.
Brent Stephens
64
Posted 13/09/2020 at 16:11:59
Live Forum resuscitated but nothing is getting through. In a coma?
Kevin Molloy
65
Posted 13/09/2020 at 16:12:44
you can imagine Jose's team talk about James
';ets give him an extra special welcome to the premier league'
but he's been getting that all his career, so hopefully he's ready for it'
John Pierce
66
Posted 13/09/2020 at 16:13:27
Brent say something mean and horrible it will boot straight up.
Darren Hind
67
Posted 13/09/2020 at 16:13:50
Shale kicks the day off quite nicely.
Keep it going boys
Brent Stephens
68
Posted 13/09/2020 at 16:14:02
John - I tried "I love Bill" but still nothing.
Tony McNulty
69
Posted 13/09/2020 at 16:14:03
I think I broke the live forum by trying to type "Schneiderlin", which is a banned word
Ross Cooper
70
Posted 13/09/2020 at 16:14:10
Live forum unresponsive?

Mike Gaynes
71
Posted 13/09/2020 at 16:14:42
Brent, the Live Forum has been injured in the warm-up.
Ray Roche
72
Posted 13/09/2020 at 16:14:48
Ben@39
I would like Gordon and Nkounkou to be involved but Nconker is a left back and couldn't replace Seamus so Kenny is the right back up for the right side. Gibson or Branthwaite should be there also. They weren't involved in the under 23 game.
Will Mabon
73
Posted 13/09/2020 at 16:14:52
LF still aint makin' it...
Not long to go.
Brent Stephens
74
Posted 13/09/2020 at 16:14:52
Live Forum dead cat bounce.
Steve Ferns
75
Posted 13/09/2020 at 16:15:23
That's the team I wanted. 433 please. COYB!
Brent Stephens
76
Posted 13/09/2020 at 16:15:38
Live Forum suffering from Covid social distancing?
Tony McNulty
77
Posted 13/09/2020 at 16:15:52
It must have been the fish puns
Will Mabon
78
Posted 13/09/2020 at 16:16:03
Live forum, we're all for 'em. Let's go disco.
Jay Harris
79
Posted 13/09/2020 at 16:16:09
Looks to me like CArlo has picked a team and bench that really want to wear the shirt.
A good attitude is every bit as important as skill.
Im hoping for 3 points here but concerned that Atkinson is ref and Marriner is VAR.
Jonathan Oppenheimer
80
Posted 13/09/2020 at 16:16:15
New guy here from Minnesota, longtime reader, first-time posting. Big-time fan. Just needed to come on and share my excitement with you all after seeing that lineup. I'll introduce myself more later, but in the meantime, COYB!
Jamie Crowley
81
Posted 13/09/2020 at 16:16:27
Bugle call for the Live Forum. Remove your caps and bow your heads.
Ray Said
82
Posted 13/09/2020 at 16:16:33
i have tired all the usual forum passwords-'your shite' 'what the fuck is this crap', ' fucking Hibbert again' Nevilles pointing at the grass but nothing is working. I even tried a few fish puns
Paul Tran
83
Posted 13/09/2020 at 16:17:04
Well done Darren, Mr Lupton and his Glass Slippers have made my day. Hope you didn't back Getaway Trump yesterday!
Mike Gaynes
84
Posted 13/09/2020 at 16:17:37
Tony M, you're on a roll today!
Brent Stephens
85
Posted 13/09/2020 at 16:18:15
Wake up Mr Editors! (Please).
John Pierce
86
Posted 13/09/2020 at 16:19:10
Calling all LF trolls! Unite!
Mike Gaynes
87
Posted 13/09/2020 at 16:19:13
I just made three really awesome Forum posts. Believe me.
Jamie Crowley
88
Posted 13/09/2020 at 16:19:24
Ray that was very funny. Too true.
Tony McNulty
89
Posted 13/09/2020 at 16:19:44
Could please Carragher spit on the live forum's wheels? Only use I can think of for what comes out of his mouth.
Mike - live forum withdrawal. Been storing up some energy
Brent Stephens
90
Posted 13/09/2020 at 16:19:46
I think we've all been banned form Live Forum.
Michael Kenrick
Editorial Team
91
Posted 13/09/2020 at 16:20:20
Sorry, seems to be something wrong with the Live Forum. I can't get anything to appear. We need the IT master and webguru to intervene...
Jamie Crowley
93
Posted 13/09/2020 at 16:20:28
Where do all the negative lurkers go if there's no LF???
Tony McNulty
94
Posted 13/09/2020 at 16:20:38
Live forum transferred to save its wages
Brent Stephens
95
Posted 13/09/2020 at 16:21:08
Live Forum Interruptus. It can be treated.
Mike Gaynes
96
Posted 13/09/2020 at 16:21:31
Michael, it's gotta be a virus. Somebody must have been posting on the Forum without a mask on.
Paul Tran
97
Posted 13/09/2020 at 16:21:33
Live forum on furlough?
Tony Everan
98
Posted 13/09/2020 at 16:21:37
Live Forum is a dead one.
Jamie Crowley
99
Posted 13/09/2020 at 16:21:56
CV19 Economy clearly affecting Michael and Lyndon. They had to make some difficult decisions.
The LF was loved, but in order to continue bringing the best Blue content on the planet, it had to go.
Will Mabon
100
Posted 13/09/2020 at 16:22:05
She lives!
LIVE FORUM IS GO!
Tony Everan
101
Posted 13/09/2020 at 16:23:18
Ten bob in the meter, and we're off !
Jay Harris
102
Posted 13/09/2020 at 16:23:25
Peacock seems to be having the same issue. It was due to start at 11.20 eastern.
Jamie Crowley
103
Posted 13/09/2020 at 16:24:06
Lyndon Lloyd, Jesus Christ, Allah, I see very little between them presently.
Darren Hind
104
Posted 13/09/2020 at 16:24:59
Didnt see him Paul. Glad I didnt by the sound of it. well done on your two today
Call from the manager for motivation, determination and desire. "Shape not important"
Keeping it simple and uncomplicated. Wont argue with that either.
They are professionals who should know what is expected.
Jonathan Oppenheimer
105
Posted 13/09/2020 at 16:27:12
New guy here, longtime reader, first time posting, big-time fan from Minnesota. I'll introduce myself more later, but after seeing that lineup just needed to share my excitement with you all and say, COYB!!
Michael Fox
106
Posted 13/09/2020 at 16:28:58
Good feeling here, I'll have three points please.
Ed Prytherch
107
Posted 13/09/2020 at 16:33:37
Is the game on Evertontv ? I cannot find it.
Rob Jones
108
Posted 13/09/2020 at 16:40:30
"Abdoulaye Doucoure has already made more tackles than the Everton midfield of last season."
"Noone likes a grass but I saw a bit of the local ITV news the other day where they said Everton's last trophy was 15 years ago. Someone lost a decade. Easily done."
BBC live text. Within five minutes of each other. I'm so glad that we get fair coverage...
Alex Gray
109
Posted 13/09/2020 at 17:00:27
We look brilliant so far! James is a joy to watch and doucoure looks class too. Allan a little behind the pace but my god it feels good to have a midfield!
Steve Ferns
110
Posted 13/09/2020 at 17:17:41
Really enjoyed watching Ancelotti's Everton 2.0.
Ciarán McGlone
111
Posted 13/09/2020 at 17:18:30
Hugely enjoyable.
Passing the ball about with composure and purpose. Our midfield looks accomplished and confident.. final third ball still missing but it will come
Ernie Baywood
112
Posted 13/09/2020 at 17:19:54
Oh Richi...
Other than that it's been good, even if we've needed Pickford to save us a couple of times.
James... just class on the ball.
Jerome Shields
113
Posted 13/09/2020 at 17:25:44
Midfield now looks more solid. Our find third play still short, but Doucoure and Rodriguez getting the the edge of the penalty area and looking more dangerous.
Charles Towers
114
Posted 13/09/2020 at 17:25:51
Richarlison has been disastrous, I already knew he couldn't cross or dribble but his control of the ball has been poor and not only in this game. At 20 mins, he had already his hands on his knees.
On 33 mins, a foul on Allan allowed Spurs their first big chance, that's what the FA expects from referees; pinpoint decisions that gives the game to the big 6. Had it been in reverse, and the foul had been given, and without a word from commentators, those kinds of things silently kills us, with the pundits then after the match saying stuff like "look how they got chances".
Football as the game of the people has its days numbered.
Paul Birmingham
115
Posted 13/09/2020 at 17:29:59
At last some cohesion and working as a midfield unit. This game is there for EFC to win it.
Decent performance and hopefully more of the same in the second half.
Conor McCourt
116
Posted 13/09/2020 at 17:31:05
Think the game hinges on Gomes. He was the best player in the first fifteen with James when we dominated but both have drifted out of the game and we let them back in.
Fair play to Doucoure as he has been immense while Allan is struggling with the pace. Keane and Mina look like conceding at any moment while our under fire keeper has been imperious. This game is in the balance.
Fran Mitchell
117
Posted 13/09/2020 at 17:31:22
An enjoyable game so far so that's an improvement in itself.
James looks wonderful. Touch, movement on the ball, skill, and the ability to go from 0-100 in a split second. He is like nothing we've ever had in recent times. He won't track back and run 15k a game...but we don't want him to.
Doucoure and Allen look very promising. Doucoure especially is all over the pitch, great athleticism. Allen very assured.
Improvements still to be made, spurs defend deep and thus difficult to break down. This has frustrated both Richarlison and DCL.
Mina looks great, and fit though. Which is a huge bonus.
Coleman needs to be careful, Son is targeting his lack of pace and the fact that James won't be covering his back.
But so far I'm greatly impressed. Also, well done Pickford. Needs to improve distribution, but 2 great saves when called upon. Hopefully he builds on that.
Christy Ring
118
Posted 13/09/2020 at 17:41:37
Impressed with James, definitely an upgrade on Siggy, Docoure superb work rate, Allan finding it hard to get up to pace. Why didn't Richarlison look up, a tap in for Calvert-Lewin. Hoping for a big 2nd half, and our new boys stay the pace, surprised to see Ali off.
Kieran Kinsella
119
Posted 13/09/2020 at 18:23:16
Coleman was MOTM for me based on nullifying Spurs but I thought everyone played well without exception
Alex Gray
120
Posted 13/09/2020 at 18:23:44
Outstanding!
Mark Tanton
121
Posted 13/09/2020 at 18:23:50
Allan finding it hard? He was magnificent.
Neil Copeland
122
Posted 13/09/2020 at 18:24:48
Bullet dodged with Hojbjerg?
Gerry Ring
123
Posted 13/09/2020 at 18:24:53
Superb performance from everybody especially our new signings. Great to see the bite back in our midfield. Even our "older" players look invigorated. Thought Seamus looked lean & mean & didn't put a foot wrong. Hopefully this is the start of something great...
Peter Gorman
124
Posted 13/09/2020 at 18:24:58
Happy boy today. Well done the Blues.
Peter Neilson
125
Posted 13/09/2020 at 18:25:35
Cracking performance, energy, aggression and intent.
Alex Gray
126
Posted 13/09/2020 at 18:25:48
Allan and doucoure were class and we look solid. Shout out to coleman who played out of his skin. James gives us quality. No negatives today! Can finally watch match of the day again!
Ciarán McGlone
127
Posted 13/09/2020 at 18:26:00
My appetite has most definitely be whetted.
Fantastic.
Jerome Shields
128
Posted 13/09/2020 at 18:26:22
Allan is a great player.
Simon Dalzell
129
Posted 13/09/2020 at 18:26:36
Dreamland. Class. Night and day. I like this feeling. Well deserved. I never expected as much this early on. Everyone was brilliant. Well pleased for DCL, who I've knocked fairly often. 3 new lads SUPERB.
Steve Brown
130
Posted 13/09/2020 at 18:26:44
Our first win against top 6 in 41 attempts.
Si Cooper
131
Posted 13/09/2020 at 18:27:12
Dream start in many ways for a radically changed starting 11. Every one of the new boys delivered and surely will even improve as they train together.
A bigger cushion would have been nice but really Spuds were never really in it. Put down by some as a lack of application by them but I think a lot of it was just shock at how well we have clicked into a solid team with some exceptional creative players.
Ernie Baywood
132
Posted 13/09/2020 at 18:28:11
Christ on a bike... how much have we changed? Only disappointing thing was to not get the second.
I thought James looked quality on the ball. Doucoure the sort of player we have needed forever. Allan was great in the second half. All 3 exactly what we needed... Just exactly.
DCL did well and scored a beauty. Full backs were both excellent, especially Seamus. Richy was brillian... just missing the last bit! Centre backs still make me nervous but didn't put a foot wrong.
And a special mention for our keeper. Great saves, great decisions.
Lid's off. Haven't felt this excited about Everton since that first season under Roberto.
Jerome Shields
133
Posted 13/09/2020 at 18:29:40
Very noticeable that Allan, Doucoure and Rodrigeuz don't waste the ball. Pickford played very well but needs to improve in his distribution. All the usual players played well.
Stephen Vincent
134
Posted 13/09/2020 at 18:31:26
Didn't think we 'held on' Michael. Never in danger really. How much have we changed, unbelievable.
Brian Hennessy
135
Posted 13/09/2020 at 18:32:13
Very early days and don't want to get carried away, but we are going to win the league this season by more than 10 points.
Jim Lloyd
136
Posted 13/09/2020 at 18:32:15
I think we're seeing the makings of a good team coming along. What three brilliant recruits Ancellotti has chosen.
Nick Page
137
Posted 13/09/2020 at 18:32:32
Allan absolutely different class. Took total control of that midfield. Great great win against that whingeing gobshite and his horrible fucking Spurs side. Forza Everton
Conor McCourt
138
Posted 13/09/2020 at 18:32:33
Easily best performance under Carlo. Magnificent second half. Allan masterful, our front three terrific.
Easy to get carried away but we looked controlled, organised and well coached. Hope this is a sign to come as White Hart Lane is always such a tough ground even though they looked like us last season.
Bit of a worry going forward was the subs weren't at the same level as the starters. Brilliant day to be a blue and thoroughly well done Carlo
Neil Copeland
139
Posted 13/09/2020 at 18:33:11
The most satisfying part for me was how well we played and looked as a team. Everyone from Jordan through to DCL looked up for it, concentrated throughout and there was so much more energy.
Absolutely fucking fantastic!
Brian Murray
140
Posted 13/09/2020 at 18:33:32
Hand it Over nomarks, we are back. It was like a home game so proud to blue see you in may at presentation lol 😝
Christy Ring
141
Posted 13/09/2020 at 18:33:41
Thrilled, what a difference with a powerful midfield, Doucoure and Allan made a huge difference, James class, Takes the pressure off our defence, a great team performance. Seamus looked back to himself.
Jeff Armstrong
142
Posted 13/09/2020 at 18:34:27
Everton,Everton (joint) top of the league!
Jerome Shields
143
Posted 13/09/2020 at 18:36:03
Hojbjerg's 'Wish I had gone to Everton. '
Glad you didn't mate, like Sissoko you would not have been good enough.
Michael Lynch
144
Posted 13/09/2020 at 18:36:30
Brilliant. Three new players, and we're a different team. Just brilliant. Rodriguez passes like a dream, Allan was unbeatable and held it all together, Doucoure smart and powerful.
Gutted we can't watch this in person - for the first time in my life I feel a bit of empathy with the RS who missed out on their big season. Actually, scrub that, fuck 'em.
Happy days are here again.
Steve Brown
145
Posted 13/09/2020 at 18:36:46
How good were Doucoure and Allan? James sublime. Pickford, Coleman excellent.
Controlled the game second half.
Happy days.
Michael Kenrick
146
Posted 13/09/2020 at 18:39:40
None of this "bedding in" rubbish – just get out there and play.
All three newcomers were excellent, and I think they really pulled out their tripe for Carlo, who is obviously the reason why they are here! Fantastic stuff.
Even Dominic Calvert-Lewin, whom I am admittedly extremely critical of, took his goal superbly.
Richarlison... not so much!
Jay Woods
147
Posted 13/09/2020 at 18:39:45
Richarlison was bafflingly sloppy today, and Pickford was in good stopping form but shredded my fragile nerves a bit with some of his reckless kicking.
The new midfield was something else... balanced, competent, James R looks like an elite player and who knows, maybe these 3 have given cause to the others to perk up their game a bit... certainly looked that way.
And pleased for Calvert-Lewin to score; he took his goal very well, that's a very hard situation to score from in terms of timing your jump and header, given he had a defender either side of him.
Great, great win and what a start to the season.
Jay Wood
[BRZ]
148
Posted 13/09/2020 at 18:41:19
The 3 new boys looked well off the pace on their debuts, didn't they?
[Cough!]
I liked it that Gomes was first subbed out for Siggy. Carlo challenging both: 'Make me pick YOU for a starting berth.'
Bob Skelton
149
Posted 13/09/2020 at 18:42:02
Great to see players with a lovely first touch! Some great football played today. God I need to get to my seat in Gwladys Street. Piss off Covid
Stephen Brown
150
Posted 13/09/2020 at 18:42:23
Allan and Dacoure Were exactly What this team needed!! They made all the other players look better too especially Mina and Keane!!
1-11 superb today. Early days but I'm excited and optimistic.
Thought Pickford had an excellent game too. We need him to sort his head out and that's a great start
Nicolas Piñon
151
Posted 13/09/2020 at 18:42:36
Come ooooooon Blueeeees I'm going for my first beer of the day now!!
Kevin Molloy
152
Posted 13/09/2020 at 18:43:58
nobody is going to be taking the piss out of Everton this season.
Steve Ferns
153
Posted 13/09/2020 at 18:44:13
That was a win in London, a win against the sky 6 away, and a superb controlling performance. When was the last time we played a so called better team away and controlled the game and came away with all the points?
Pickford was better. He looked a keeper. Coleman was back to his best and should quash the talk of a new right back for the season. Michael Keane was excellent (yes it is me saying that) and proved me wrong by playing well in a higher (but not high) line. Mina had one of his best games. Digne was back to something approaching his best. Allan was terrific in a restrained and disciplined role. Doucoure was the best player on the pitch. Gomes was at the heart of our best football and looked so much better with quality around him. Sigurdsson came on and looked alright. James looked sheer quality, although he didn't quite deliver a knockout blown. Calvert Lewin was a willing runner and scored a great header. And so, last years best player, Richarlison looked the weak link! If he'd given Calvert-Lewin a tap in and curled one of his shots in the far post, I'd be singing his praises. Fine lines and all that.
There's so much positivity to take away from that performance. We've set the bar now. We need to keep that level. If we do, well we can dream. Even if that's the weakest spurs team we've played in years.
Carlo magnifico!
Si Cooper
154
Posted 13/09/2020 at 18:44:58
I thought Richy played his part in some rope-a-dope tactics but he definitely should have converted a couple of his chances. But that is the main thing; he was involved, won challenges, took his knocks pretty well and had plenty of chances.
Mark Tanton
155
Posted 13/09/2020 at 18:45:29
Telling comments from some people who know- Calvert-Lewin alluding to having a midfield that now works and Cahill saying that Keane and Mina "always feel under it" because of the (old) midfield.
Tony Hill
156
Posted 13/09/2020 at 18:45:50
A word too for Mina who looked very calm and solid.
Excellent all round.
Kevin Molloy
157
Posted 13/09/2020 at 18:46:03
Jose is going to watch that goal about a hundred times over the next 72 hours. Isn't it marvellous
Dale Rose
158
Posted 13/09/2020 at 18:46:30
Who the fuck were the fellas in blue shirts.
John Boon
159
Posted 13/09/2020 at 18:48:22
Great start and fully desrved win. All three new signings were magnifico. James makes difficult passes look easy. Doucore is tough and direct and Allan allows the defence to be less panicky. However the rest of the team played really well. Too early to make any decisions but it does demonstrate that GOOD signings can make a huge difference and bring the best out of all the players.
I now look forward to watching the game again from start to finish. This time I am POSITIVE we will win.
PS> I am so glad we didn't sign Sidibe
Steve Clay
160
Posted 13/09/2020 at 18:50:06
So pleased with that display. No last minute scares. No building pressure from the home side. Well played blues, a rare feeling of pride in recent years.
Ajay Gopal
161
Posted 13/09/2020 at 18:50:08
Excellent performance – everybody was above 6 for me.
Pickford – 2 excellent saves in the 1st half, and very little to do in the 2nd.
Coleman – fantastic defending, not so great in attack
Digne – vice versa
Gomes – protected the ball really well, someone on TW has predicted a break out season for him. Could very well be.
Allan – was surprised how well he settled in. Not playing in front of crowds I think will help our foreign imports Allan and James to settle in better.
Doucouré – fantastic energy
James – again I was surprised by how quickly he has settled and how long he lasted in the game.
Calvert-Lewin – had a quiet 1st half but what a belter of a goal in the 2nd! So, so pleased for him after the rather poor end to last season.
Richarlison – the rest of the league better watch out. If he improves his composure, he is going to be one hell of a footballer for us. Should have had a hat-trick today. Great 2nd half.
Keane and Mina were solid all day, and didn't look particularly troubled.
Sigurdsson and Davies were effective in what they were asked to do. Kean didn't see much of the ball.
Carlo got his tactics spot on. Great start and something to build on and get excited about. I hope and pray that we get lucky this season with injuries. I think Brands is still quietly working behind the scenes and we haven't seen the last incoming player yet this transfer window.
Steve Ferns
162
Posted 13/09/2020 at 18:50:13
Some amazing stats give me food for thought on Richarlison's performance today:
"83% Pass accuracy
1 Chance created
10/10 Dribbles completed
27/30 Duels won
1/7 Shots on target"
"He gave Doherty a torrid time. So often in space, so often involved, so often key. Capable of reaching the top."
" 79 touches
22/25 Duels Won (most)
10/10 Dribbles Completed (most)
07 Shots (most)
06 Times Fouled (most)
05 Tackles
01 Key Pass
01 Big Chance Missed
Brilliant Performance"
Justin Doone
163
Posted 13/09/2020 at 18:50:47
Great win away to a solid Spurs team who had few chances.
Richarlison was great today, even without scoring or laying the ball off for Dom.
Happy days, long may it continue.
Don Alexander
164
Posted 13/09/2020 at 18:50:50
To me it's now clear that our years-long mediocrity has nowt to do with Kenwright. It's clearly all down to the Live Forum!!
Great result and a professional display. Makes a nice change.
Darren Hind
165
Posted 13/09/2020 at 18:50:59
Carlo came to play when was the last time we could say that about our manager ?.
Not asking any more than this.
James ? As good as we all knew he could be. as good as we all hoped he would be...Long may it continue.

Roger Helm
166
Posted 13/09/2020 at 18:52:47
I said before on a different thread that the old timers said a midfield needs a passer, a buzzer and an enforcer. Now we have all three and what a difference it makes - the defence is protected, the forwards get more chances; it looks being a good season, I just hope we get the chance to see them soon
Brent Stephens
167
Posted 13/09/2020 at 18:54:45
How on earth can a coach knit three new (passed it, only here for the money) players into a side so quickly? And knit the whole team into a, therefore, revamped set up and playing style.
Fran Mitchell
168
Posted 13/09/2020 at 18:57:17
Very interesting indeed Steve. Richarlison was a little off, but Richarlison off is still a dangerous player. But he was a little off, and if he was on wed have won 2 or 3 nil.
Richi will get better. In fact, I don't feel anyone was at 100% today.
And that is exciting. We were at 70, when we find that extra 30% we can be a real force.
Richi is a great player. Last season he was alone, now he's no longer the only fish in the pond who can swim.
But I feel he will benefit greatly from James taking the limelight.
Kieran Kinsella
169
Posted 13/09/2020 at 18:57:24
Steve Ferns 153
I'd say it's our best performance away in London to a "top six" since Roberto's first season at Arsenal when we dominated. Difference being that on that occasion we settled for a point.
Also, it's the first time in years I've watched a game without getting distracted not because it's edge of your seat praying we can hold on but because it's good football, comfortable in control. Great performance all around.
Martin Mason
170
Posted 13/09/2020 at 18:58:38
I try to give them up and then they produce a performance like that.
Steve Ferns
171
Posted 13/09/2020 at 19:00:06
Some stats from twitter on Alan:
⭐️ Man of the Match, @Everton's Allan
73 touches
Completed 46/55 passes
8 x possession gained
4 tackles
3 clearances
2 interceptions
PL debut in Everton's 1st win v Tottenham since Dec 2012
By the way, the Colombians are out in force on Everton twitter. We've got 46m new fans by the look of it!
Oliver Molloy
172
Posted 13/09/2020 at 19:00:41
Over the moon, delighted. Sign Zaha and we can be a real threat for CL places I believe.
Danny Broderick
173
Posted 13/09/2020 at 19:01:24
We've finally got a midfield!! Buzzing!
Colin Glassar
174
Posted 13/09/2020 at 19:02:23
Well and truly chuffed with the result and performance. What a difference it makes to have big, powerful men in MF and not a bunch of weak minded losers.
I always knew Carlo would turn this sinking ship around if he was backed by the board and what a difference his bambinos made.
Well done to all the lads and let's have more of that!
Stephen Brown
175
Posted 13/09/2020 at 19:02:33
For the first time in a long time we went to an away ground like Spurs expecting to win !!
I'm worried I'm feeling so optimistic!!
Si Cooper
176
Posted 13/09/2020 at 19:02:56
Just praying for a decent amount of luck on the injury front this season! 🙏🏼🍀🙏🏼🍀🙏🏼🍀
Ernie Baywood
177
Posted 13/09/2020 at 19:04:24
Don't want to get carried away... don't want to get carried away...
But when you get a manager of this kind of reputation and experience... is this what you get?
We signed the exact three players we could have wished for. We didn't pay ridiculous sums (comparatively). And they were ready to go straight away.
It's just incredible isn't it?
By the way, I could watch that DCL header all day. And I might.
Barry Rathbone
178
Posted 13/09/2020 at 19:04:37
Just got in to hear we won in London at Spurs!!!
Marvellous news I really didn't expect anything.
Onwards and upwards blue boys
Frank Wade
179
Posted 13/09/2020 at 19:05:10
That gobshite Mourinho on SSN whinging about us gaining 5 yards on the free kick
Craig Walker
180
Posted 13/09/2020 at 19:05:27
Was the last away win at a top side, Martinez at Old Trafford? I was trying to think of away day opening wins and can remember a win at Charlton with Weir scoring, I think. Rare has rocking horse shit.
Good performance today. Not giving stupid free kicks away. Keeping the ball and actually moving forward. We had a midfield winning the ball back.
I'm not getting carried away but bloody encouraging. Only disappointment for me was Pickford's distribution.
Carl Manning
181
Posted 13/09/2020 at 19:05:58
What a gem of a player Allan looks! Niggly as hell and combative!
James, my word if he gets better as his fitness improves we have a serious talent on our hands!
Doucoure, energy and fight!
All 3 made excellent impressions on debut! The bar has been set! One happy and optimistic blue tonight. What a goal dom!
Steve Ferns
182
Posted 13/09/2020 at 19:07:11
I know Stephen. Crushing disappointment abounds, this is Everton afterall!
Jay Harris
183
Posted 13/09/2020 at 19:07:30
Carlo V Mourhino. No contest.
One team played proper football and should have had 3 or 4 from 15 chances.
The other played dour aggressive shite and had 2 or 3 chances.
Steve Ferns
184
Posted 13/09/2020 at 19:08:18
Barry, we didn't just win, we bossed it too.
Gerry Ring
185
Posted 13/09/2020 at 19:08:26
The only negative that springs to mind is, if Everton keep playing like this, the banter on this page will disappear, with nobody arguing or fighting with each other🤣🤣
Joe McMahon
186
Posted 13/09/2020 at 19:12:00
I was driving back after a weekend away, listening in the car, hard to concentrate in the second half. Brilliant and so hoping the performances of Pickford and DCL will do a lot for their confidence!
Tommy Coleman
187
Posted 13/09/2020 at 19:13:25
Superb stuff. Great to see a balanced team. The manager has addressed the most needed requirements. 8/10 for every player.
Andrew Hight
188
Posted 13/09/2020 at 19:14:03
What a difference having a midfield can make. Excellent performance. With a bit more match sharpness and hopefully aNd better end product in the final third then this could be an interesting season. All 3 new signings played very well, in fact to a man they all did.
Daniel A Johnson
189
Posted 13/09/2020 at 19:16:14
Doucoures interception on spurs break and the ground he made up was as good as any goal. immense. He was easily MoTM
Nick White
190
Posted 13/09/2020 at 19:16:33
Fantastic result and performance with 3 new players settling in. They already look settled.
With no Europe distraction we should be fielding our strongest team every game. Very excited!
Brent Stephens
191
Posted 13/09/2020 at 19:18:04
Michael #144 "Gutted we can't watch this in person - for the first time in my life I feel a bit of empathy with the RS who missed out on their big season. Actually, scrub that, fuck 'em."
Brilliant.
Bill Fairfield
192
Posted 13/09/2020 at 19:18:28
Class players rub off on everyone, the whole team looked well better. Hopefully we can go on a good run now
Robert Tressell
193
Posted 13/09/2020 at 19:18:48
Brilliant. Proper manager. Proper players. Options from the bench. Great header. Lovely to stick it to Mourinho and get a win against media darlings in London.
Russ Quinlan
194
Posted 13/09/2020 at 19:23:00
Other than the obvious midfield improvement, the thing that stood out for me was none of that boring, sideways or backwards passing, almost without exception all the play was forward. Obviously when we had to play it back we did but most times we were on the offensive we moved it forward. How may times in the past have we started off moving forward, only to turn back and pass it back to Pickford. Hopefully all that site is behind us now :-)
Anthony A Hughes
195
Posted 13/09/2020 at 19:23:43
Rodriguez is an absolutely class footballer. Don't need pace when your touch and brain gives you two yards of space.
Andy Walker
196
Posted 13/09/2020 at 19:24:06
What a joy to watch. Thank you Carlo.
Danny Baily
197
Posted 13/09/2020 at 19:24:43
Haven't seen an instant impact like that from new signings since we signed Howard, Lescott and Johnson. Brilliant, they've really balanced the side out.
I was really impressed with James. I thought he'd get caught out for pace in the PL (especially so against an aggressive team like spurs) but their midfield couldn't get near him. He was a different level.
Andy Walker
198
Posted 13/09/2020 at 19:25:02
Totally agree Bill #192. Think this will bring the best out of Gomes now.
Benn Chambers
199
Posted 13/09/2020 at 19:25:24
Wow.
That new trio have transformed us. A man aggressive ball Winner. A stamina machine and. Magician. It was a sight to behold. So comfortable in possession and never once did I feel like we would g close out the game.
Give this Everton team a lead and you're in for a long afternoon. They'll pass you in to exhaustion. Some teams are gonna take a hiding off us this year.
Enjoy your pints, blues. We deserve it
Carlo fantastico!
Anthony A Hughes
200
Posted 13/09/2020 at 19:27:43
Anyone know where next seasons Champions League Final is?
Tony Everan
201
Posted 13/09/2020 at 19:28:32
Three new signings all magnificent, all complimented each other to perfection. Incredibly well targeted signings.
The current lads looked the part and raised their game.
We've been waiting for this for years, we've got a bit of strength in depth too so I am optimistic we can be consistent.We could be in for a hell of a ride this season.
Kevin Prytherch
202
Posted 13/09/2020 at 19:28:37
James Rodriguez is Champions League at best!!!
(See what I did there!!)
Brian Harrison
203
Posted 13/09/2020 at 19:29:10
I posted this morning that my question for today was are we going to show that we can compete with a top 6 side, and have the belief we can win. Today we saw what effect the new signings have had as they instilled that belief from minute one. I know some posters have questioned whether Ancelotti still had the desire and the belief, well I think today answered all those questions.
I said from day 1 he is what we have been crying out for, a top quality manager who has won everything you can win in the game. I also repeat when we signed James and Allan if Ancelotti wasn't here then they wouldn't be here. When Sky asked him before the game what formation he would play, he said the belief and focus we display is far more important than the formation. While DCL scored a fabulous header and he and Richarlison worked extremely hard, I have seen both play better, on another day Richarlison could have had a hat trick.
James was quality from minute one, I never doubted for a minute that he still possessed the quality that made him a superstar, and as Carlo said he was never blessed with pace, but what vision and first touch he posses. Allan a real quality player as was Doucoure. I am sure as the weeks go bye and their team mates get used to them then they will be even more effective.
Yes I know its only 1 game and yes Spurs did have a couple of opportunities, but Pickford was back to his best today. But we looked composed and in control, and when was the last time we could say that after playing a top 6 club away from home.
Anthony Jones
204
Posted 13/09/2020 at 19:30:58
This result is genuinely fantastic for us.
Enjoy it and be patient, and the club will be competitive this season.
Anthony A Hughes
205
Posted 13/09/2020 at 19:31:37
I fucking love getting carried away. Roll on the next game.
Jason Li
206
Posted 13/09/2020 at 19:31:53
Very happy!
A couple more wins like this, and we may hopefully "attract" another 'A' player before transfer window ends. That would put us right in the top 4 mix.
Train is in motion, and the world takes another glance at us to check if it's really happening.
Always thought Pickford would play well in a top team, as last season he looked completely bored playing with people that had no ambition. I expect Pickford to go on to be just as good all season knowing there is a very good chance of hearing the Champions League music next season with this savvy manager and new signings, plus the tournament with England to be the main as a another target.
On to Salford and play a few in the "shop window", and get through the round without injuries hopefully.
Christopher Nicholls
207
Posted 13/09/2020 at 19:31:59
Based on today, I'd rather have James than Messi, LOL!
All 3 of the new guys had great starts to their Everton careers. Doucoure's appetite to play is a breath of fresh air and Allan's reading of the game is beautiful.
Only nervy bit, was Pickford's kicking.
Welcome back, Seamus!
Bill Watson
208
Posted 13/09/2020 at 19:32:39
Excellent all round performance that bodes well for this season. How refreshing, at last, to have a midfield who can dominate and control a game.
Philip Bunting
209
Posted 13/09/2020 at 19:32:48
I just felt it today. Just knew we would win, looking at our first 11 and subs bench it does look strong with options. So happy tonight and more so not being in Europe this year, really think the skys the limit this season. No holding back.
Allan Board
210
Posted 13/09/2020 at 19:33:00
Too true Robert@193. We have finally put the horse in front of the cart-and it's a pedigree one. UP YOURS MOANRINHO! There will be some ups and downs this season but class will out, in very safe hands with Ancelloti, as I always believed. 1st hoodoo put to bed.
Thanks Carlo!
Neil Copeland
211
Posted 13/09/2020 at 19:33:22
Having to pinch myself at the thought of we really could and probably ought to have won by 3 or 4.
Very difficult not to get carried away, just enjoying the moment.
Gary Neville was very complimentary and Tim n Cahill honest as usual. In fact, it was refreshing to hear Sky actually lauding us got a change.
Rob Halligan
212
Posted 13/09/2020 at 19:33:50
What is it with this love in fest by sky etc, about spurs being a bit club? Spurs are no bigger than us, smaller in fact. For a "big club" to have only won their domestic league twice, the last time being 60 years ago, (1960/61) is down right embarrassing. We have won it four times since they last won. May not sound a lot, but only five clubs, man Utd, the RS, arsenal, man city and Chelsea have won it more times than us since 1961, and city and Chelsea are still three championships behind us. Spurs may have competed in the CL for a few seasons, but so what, so did Blackburn and Newcastle, and they are not classed as one of the so called big six. Leicester and Blackburn must be bigger than spurs, as they have won the premier league, villa and forest must be bigger than spurs as they have both won the European cup.
We are, have been, and always will be a bigger club than spurs.
Jonathan Oppenheimer
213
Posted 13/09/2020 at 19:33:55
What a day!! The new midfield speaks for itself, worth every penny, and for all the talk of one being more important than the others, it seems pretty clear that we very much needed all 3. Special shout to Doucoure for his energy, especially on the defensive end and breaking up or challenging Spurs' chances. James is just so calm on the ball, and Allan is the defensive player we were so desperately calling out for last year.
Glad the guys who have received the most hate from the doubters were huge today: Pickford showed his shot-stopping class — and despite the poor distribution, this match is completely different without those big saves — Calvert-Lewin showed why he deserves to be our #9, especially with a solid midfield behind him, and Coleman was massive, especially in shutting down Son, the best we've seen him in years.
And to think we did it all without Holgate. Obviously the drop-off with our subs is concerning, but once we get fully fit, we can compete with anyone.
As others have mentioned, so glad Hojbjerg went to Spurs. He and Mourinho deserve each other. He might be younger than Allan and Doucoure, but other than that, we're much better off with what we've got.
COYB!
Steve Ferns
214
Posted 13/09/2020 at 19:35:31
Rob, haven't Spurs always been Fleet Street darlings? They seem to have affection they don't deserve.
Neil Copeland
215
Posted 13/09/2020 at 19:37:41
Anthony #200, no idea but I've started booking hotels in every major European city, getting expensive😬
John Pierce
216
Posted 13/09/2020 at 19:38:03
SF. Richarlison so often in space because well he does have decent movement but the change in ball pace, tempo and first time balls gives him enough time to coral the ball and get motoring.
Your are right about Doherty, he ruined him.
Alex Winstanley
217
Posted 13/09/2020 at 19:38:36
Surely no–one can pick any faults in that performance. Every player deserves plaudits today! Trying not to get excited but failing
Rob Halligan
218
Posted 13/09/2020 at 19:38:47
Exactly Steve. To me they are a nothing club. They have a great stadium, but that's about it.
Kieran Kinsella
219
Posted 13/09/2020 at 19:38:54
Every year you're weeks into a season with various monkeys to get off your back; first goal, first clean sheet, first point, first win, first away win, first big scalp. Ding ding ding ding ding all done today
John Pierce
220
Posted 13/09/2020 at 19:39:38
Steve they've always been media favourites because they play pretty footy without winning things. It's romantic and nostalgic tosh.
Brian Harrison
221
Posted 13/09/2020 at 19:42:04
I have to admit I was a little concerned how Yerry Mina would play as he hasnt had much game time. But that was the best I have sen him in a blue shirt. I have only 1 gripe how come we cant make more of corners with Mina, Keane, Doucoure, DCL and Richarlison in the box.
Alex Winstanley
222
Posted 13/09/2020 at 19:43:10
So we missed out on Hojbjerg so got Allan, based on today that looks like a brilliant bit of business!
Sam Hoare
223
Posted 13/09/2020 at 19:46:00
Steve Ferns- are you still sure Allan cannot play the screening role? One swallow does not a summer make but thought he was pretty superb there today.
Different experience that was! Great result and even better performance from what I saw.
West Brom at home will be a very different proposition with much less space afforded to us in behind but hopefully we'll have some confidence to build upon and should be looking at 6 from 6.
Neil Copeland
224
Posted 13/09/2020 at 19:46:01
John #220, I think Spuds playing pretty football is a thing of the past with Jose in charge.
Raymond Fox
225
Posted 13/09/2020 at 19:47:02
Simple game - Better players = Better team.
Its looking good.
Brian Williams
226
Posted 13/09/2020 at 19:50:59
Everyone in a blue shirt and particularly one in a yellow one played their part in a very important win today.
Biggest difference I saw was the speed, at times, that we went from the edge of our box to the edge of theirs.
There were a few attacks where we did it in three (wait for it) forward passes. Simple, effective, confident.
The three newbies were, each in their own way, outstanding.
Fucking magic!

George Cumiskey
227
Posted 13/09/2020 at 19:52:38
I thought Seamus was awesome today
Peter Mills
228
Posted 13/09/2020 at 19:53:21
Steve#171, I would like to see another statistic on Allan i.e. "Number of times arse was placed between an opponent and the ball".
Michael#146, you have taken a bit of the shine off the day, I was going to suggest that "DCL was trying to duck out of the way, but the ball struck the side of his head and flopped into the net". But you've been big enough to praise him.
What a pleasure it was to see us taking the game to our opponents. And James looks like a half-decent footballer.
Tony Hill
229
Posted 13/09/2020 at 19:55:34
I agree, George @227. I'd written him off.
By the way, that photograph on here of DCL scoring is superb.
Terry Farrell
230
Posted 13/09/2020 at 19:56:46
i am on cloud 9. long time since I have seen a player aa good as James wearing a blue shirt. all round great performance and Carlo is starting to form his team.
Duncan McDine
231
Posted 13/09/2020 at 19:57:22
I don't want to get carried away, but for the first time in a long while, we looked like a proper team with a plan today. The 3 new fellas were outstanding and controlled the game, but for me it was Pickford that earned man of the match. I'm always slagging him off, so credit where it's due. He was outstanding in the few moments where he was called on. Also have to mention the fabulous cross and header for the goal - awesome.
Paul Birmingham
232
Posted 13/09/2020 at 19:58:12
Superb, made up, the ale is being savoured, and an amazing transformation, credit to Don Carlo, Moshiri and Marcel, as it's looking like a proper team.
Plenty to come and a great team performance. The new players have an aura that's impacted this squad, and now to do the same v WBA.
The best EFC performance by miles, in many seasons.
Let's keep it up, forget the rest, let them worry, about us.
Frank Crewe
233
Posted 13/09/2020 at 20:01:41
It would appear that Mr Kenrick was watching a different game from me.
We were on top from the start and we never let go the entire match. Spurs had a couple of chances that Pickford saved well but so did we. Richarlison should have put us in front or cut it back for Dom but who cares? We thoroughly deserved the win. Keane and Mina had almost nothing to do because Allan and Doucoure screened the defence so well. Coleman marshalled Son. Still some life in them old legs and James was a joy to behold. A cut above. We basically controlled the game and just brushed Spurs aside. Our new look midfield has transformed the entire side. You could see it. Everyone played better. They looked like a side with something to prove and they did.
A bullet header from a perfectly executed cross from Digne. The cherry on top of our cake. No complaints at all.
Dave White
234
Posted 13/09/2020 at 20:02:51
I'm fucking purring! What a change!!!
In Allan and Doucoure we have signed a couple of ready made winners. They came into a new side and looked like they'd been here for years. That confidence then spread through the team, even to our beleaguered keeper who was excellent.
I didn't expect James to start, let alone have such an impact. If we can get him playing this season could be very special!
Denis Richardson
235
Posted 13/09/2020 at 20:03:09
What a result and what a performance. Spurs were far from their best but that's not to take anything away from the shift the team put in. A completely new midfield has transformed the side and James is pure class. On this single performance alone you can see he's one of the best midfielders we've had in the team for many years. Touch, vision, strength, we've been crying out for player like that for at least 20 years!
Allen was fantastic in front of the back 4, which seemed to calm the likes of Mina and Keane. Digne and Coleman also had really good games. On another day Richie would have had a hat trick and really should have scored at least two today and DCL took his goal well, he's really come on the last 18 months.
Comparing this Everton side to that from 12 months ago is chalk and cheese. A world class manager in the dug out, some proper class midfielders in the team to link defence to attack and every other player seems to have responded and raised their game.
One game at a time and a great way to start the season. West Brom at home next, already looking forward to that.
Only slight negative is that the bench looked really poor. Sigurdsson was average and Kean did next to nothing when he came on. Hopefully we can get a couple more in before the deadline. Could really do with another striker as we have nothing up top if DCL gets injured - he'll also need a rest at some point.
Looks like potentially great times ahead but not getting carried away (yet).
Ray Said
236
Posted 13/09/2020 at 20:03:52
Made up with the performance and I thought Allan played like Gennaro Gattuso used to for AC Milan-narky, bossy, getting his body between the oppo and the ball, chasing everything, always available and stroking the ball around. He looks like Carlo said-'one of the best defensive midfielders in the world'.
Phil (Kelsall) Roberts
237
Posted 13/09/2020 at 20:04:17
What's this 41 games since we beat a top 6 side.
I am assuming this is Chelsea, City, United, Arsenal, Spurs and someone else.
Are we saying the team was in the top 6 when we played them or just one of these 6?
We beat Chelsea at home last season.
Season before we beat Arsenal, United and Chelsea.
So are we talking away?
But we lost at City before we won at United, so that is 6 seasons = 36 plus 4. So we have only not won for 40 games away from home. We just are so negative as always.
Rob #212 - totally agree. I am getting my state pension in a few weeks and I cannot remember 60/61 when they won the league - I was only 6½!
Craig #180 - beat Stoke at home on first day of 2017/18 season. Rooney scored the only goal.
Dave White
238
Posted 13/09/2020 at 20:05:56
Daniel #189 completely agree about Doucoure's interception. Like you said, just as good as a goal
Peter Jansson
239
Posted 13/09/2020 at 20:06:57
I think I heard somone say Richarlison sloppy. Yes that should have been a goal at first half but take a look at the stats:
Richarlison against Spurs:
â—‰ Most recoveries (12)
â—‰ Most take-ons completed (10)
â—‰ Most shots attempted (7)
â—‰ Most fouls won (6)
â—‰ Most tackles (5)
â—Ž 100% aerials won
â—Ž 100% take-ons completed
â—Ž 100% tackle-success
That is insane stats on Richarlison! :-)
Nick White
240
Posted 13/09/2020 at 20:10:56
Denis, are you messing by any chance? Kean was on the pitch for 5 mins😂
Brent Stephens
241
Posted 13/09/2020 at 20:11:47
Peter I'd also love to see his comparative stats on yards run.
Brian Williams
242
Posted 13/09/2020 at 20:11:52
Phil#237.
Hey congrats on the pension mate.
Don't forget you have to claim it they don't give it to you automatically!
Stephen Brown
243
Posted 13/09/2020 at 20:13:13
I'm not so sure, Denis. I thought the bench looked pretty strong today?!
I'm sure Sigurdsson can contribute this season! I'm hoping Kean comes good. He is in the Italian team! He must have some qualities?! Kenny just had a very good season in Germany! Bernard will play better with the midfield we had today! Walcott has lots of experience!
My left-field shout is that I think Bolasie can contribute this year too?! Maybe I'm just in too good a mood?!
Sell Sandro, Besic, Iwobi and bring in one more quality forward and I'm quite happy with the squad once Gbamin and Holgate are back!
Need to avoid injuries though...
Steven Astley
244
Posted 13/09/2020 at 20:13:24
In a nutshell, thank you Farhad.
Rob Halligan
245
Posted 13/09/2020 at 20:15:09
Brian # 242. You speaking from experience there mate? 😁😁
Peter Gorman
246
Posted 13/09/2020 at 20:15:59
Colombia – if not the world – was watching that game and the lads were excellent all over the pitch.
I think we have some new fans.
Brian Williams
247
Posted 13/09/2020 at 20:17:28
Rob, haha, no mate and my Mrs says I'm wishing my life away wanting to reach an age to claim it but I want to live long enough to get something back off the bastards!
Julian Wait
248
Posted 13/09/2020 at 20:18:33
It's fair to say Richarlison played a massive part in that win, per the stats and comments about width and space above. So he had a really good game, but he easily could have had a hat-trick or at least a brace and an assist. I'll take it though.
Daniel A Johnson
249
Posted 13/09/2020 at 20:21:16
My mates a Spurs fan. He says that the new stadium – rumoured to cost over 𨀼M!! – will now arguably set them back for nearly a decade.
Spurs are heavily reliant on paying back stadium loans with revenue generated by the matchday crowd and stadium events. Now with Covid-19 scuppering any NFL paydays and the prospect of empty or 50% capacity stadium, Spurs are actually screwed on the playing side. They can't afford the signings they need to gate crash the top 4 and, week by week, they fall further behind in paying off the stadium.
The likes of Kane and Son will soon be off and Mourinho will soon follow them. Pochettino left because of lack of investment in the team and Levy will be even less reluctant now. Ironic that the stadium that should lead them to a golden era, at least in the short term, will screw them over massively.
Pat Kelly
250
Posted 13/09/2020 at 20:27:42
Jhon Cordoba linked. This could get even better.
Brian Williams
251
Posted 13/09/2020 at 20:35:21
Not only is Carlo fantastico but he's already got a Scouse knack for putdowns.
After the win today he was seemingly asked whether he was concerned about Rodriguez's lack of pace.
He said "If I wanted speed I'd have signed Usain Bolt."
Jon Wit
252
Posted 13/09/2020 at 20:36:12
Made up with Allan, gave our midfield some bite - coupled with mobility from Doucoure and some class from James it made for a very different side.
I reckon Gomes, Richarlison, Calvert-Lewin and Kean could improve playing with the new boys.
It was interesting watching Davies come on and put himself about to break up the game quite well – Sigurdsson not so much.
Defence were okay and Pickford played better than I've seen in a while.
Colin Glassar
253
Posted 13/09/2020 at 20:36:38
A fantastic start to the season but let's not get ahead of ourselves just yet. I looked at our bench and it doesn't inspire a lot of excitement. So hopefully Moshiri and Brands will get rid of the deadwood and allow Carlo to further strengthen the squad.
Jerome Shields
254
Posted 13/09/2020 at 20:41:31
The last time I've seen as controlled a performance by Everton was at Highbury in October 1984. They got beat by a penalty against Charlie Nicolas, but everyone knew who the better team was.
Doucouré, Allan and Rodriguez showed great football control. Coleman, Mina and Digne followed suit. The others were better, Gomes the best of them, but can improve.
First game of the season syndrome for Richarlison, but was always available in great positions, and Calvert-Lewin got better position-wise as the game went on. Kean looked in place when he came on. Sigurdsson was okay. . . but still has a tendency to go missing.
Will Mabon
255
Posted 13/09/2020 at 20:41:49
Daniel - salutary words re. their stadium. Straitened times, now and for the foreseeable (Of course we don't know the true details of the funding).
That stadium cost is likely accurate. Wembley cost slightly more years ago. Never mind any London effect, there's no way our stadium will cost "Only" £500 million.
Peter Gorman
256
Posted 13/09/2020 at 20:43:33
Colin, it is hard not to get carried away. A recurring theme of Ancelotti's management is a knack of getting the best out of players. We saw some evidence of that before lockdown but even he couldn't 'turn shite into honey', as Walter Smith once quipped.
Now 'el Profi' has two players that clearly adore him and require no introduction to his methods. He has added Doucoure, who has played us off the park a couple of times for Watford, and finally we may see some of this Ancelotti magic rub off on us.
Sure we are only a few injuries away from the doldrums but today was an excellent team performance all over, so confidence is clearly starting to flow at long last.
Derek Taylor
257
Posted 13/09/2020 at 20:46:41
Colin @253. As I have recently retired as a TW poster, I hereby nominate you to succeed me as 'Misery in Chief' of this marvellous site!
Will Mabon
258
Posted 13/09/2020 at 20:48:29
Short retirement, Derek.
Patrick McFarlane
259
Posted 13/09/2020 at 20:53:01
Brian #251
I agree with that nod to 'scouse' humour, however, the most important thing that Carlo uttered was when asked about the terrific debuts of James Rodriguez, Allan, and Abdoulaye Doucoure mere days after signing for Everton, he said:
"The players that are able to play football, they don't need a lot of time to adapt"

"James, Allan, I just said to them to show their quality and I think they did. … We have a good combination in midfield because we have players with quality. We have Allan really well in position, Doucoure that can work box-to-box. Last season we had a lot of players with quality with the ball but in football, you have to play without the ball."
It doesn't say much for the many debutants we have had in the last few years, I would expect that those who didn't make the squad today - unless they are injured or are too young - will be wearing a different club shirt in the not too distant future.
As per usual, we have to be careful not to get too carried away, Spurs aren't the same side as they were a few years ago, and may have peaked the season before last. More difficult tasks lie ahead, but getting the win today at one of the chosen six, is a great way to start the season.
Whatever happens, I'd much rather watch what we saw today than some of the putrid performances that have been put in during the last few years.

Colin Glassar
260
Posted 13/09/2020 at 20:55:15
I don't know how I'm being miserable, Derek. I just want Carlo to be given the tools to do the job. Hopefully, most of those subs won't be with us next season and will be replaced by better plays.
Btw, I accept your nomination. A dose of realism is important. 👍
Denis Richardson
261
Posted 13/09/2020 at 20:58:07
Nick 240 - admittedly Kean was only on 5mins but I've yet to be convinced by him. I'd send him back to Juve.
Stephen 243 - sorry but I hope the likes of Sigurdsson, Walcott, Bernard and also Iwobi don't play many more games for Everton and we can move some of them on. They have the odd decent game but I think they're all generally average and no better than bench material. As they're all on >𧴜k/week each, that's not a great investment. James and Richarlison are head and shoulders above all of them. Walcott was a panic buy and I'm still not sure why we signed Iwobi, never mind paying about 㿊m for him - he still has 4 years on his contract!
Paul Tran
262
Posted 13/09/2020 at 20:58:26
A good start. Clean sheet, did all the shitty things well. Kept strong and solid, even though a few were getting tired. Lovely to see Everton midfielders want the ball, take the ball, keep the ball, use the ball.
It's a simple game, no matter how many try to complicate it. Two strong centre mids protect the back four, keep the other team in their half longer, keep the ball more, give other players more time and space.
I'm glad we have a manager confident enough to do the simple things.
Just a start, but a bloody good one.
Terry Farrell
263
Posted 13/09/2020 at 20:58:38
Colin come on man I have not seen us do that since the 80s so I am living it large. James is the best player ive seen in a blue shirt in a long time and that was just a debut for gods sake. Carlo is the master and despite mourinho trying to act like an equal we battered them. Charlie would normally have scored 2 and made 1 but I will always cut him as much slack as he needs because he works his socks off and is class. Seamus did well also and if he keeps the pace up we don't need a new right back.
Jerome Shields
264
Posted 13/09/2020 at 21:02:29
Daniel#249
Interesting incite and I believe that Covid will give them problems.
The problem with Spurs is they had a good Manager who did the best he could with the players he had, but they needed to spec up and Levy wasn't prepared to do it. Mourinho is stuck with the same players, but they are older and new potential additions will not improve them.

I know Moshiri has wasted a lot of money, but he has not given up. The financing of the Stadium will be dependent on what other deals can be worked around the site with the Peel group. The finances will be largely peer to peer as opposed to institutional which is the case with Spurs. Institutional. investors making demands on the playing side is not a good thing.
I also thought that Davies worked harder than Sigurdsson.
Ryan Holroyd
265
Posted 13/09/2020 at 21:02:35
Rubbish that calvert-lewin isn't he 👁
Geoff Lambert
266
Posted 13/09/2020 at 21:03:42
4 of next 5 games at home, But what a run of home games we have coming up.
Soren Moyer
267
Posted 13/09/2020 at 21:07:10
All these 3 goodies for the price of one and a half Siggy!!! How did we waste so much money on crap players in the past 3-4 years is an enigma!!!
Peter Dodds
268
Posted 13/09/2020 at 21:08:22
Well I didn't dare dream we would play like that from day one! Terrific performance from all eleven, such a change to have players who can win and hold on to the ball. James was sheer class - if only we can have more players running off him at pace. His cross-field passes to Richie were sublime. Unlike some posters here I thought both Davies and Siggy ran their socks off when they came on, as though inspired by the quality and effort they'd seen until that point. The only very minor niggles: I thought Gomes still slowed things down and passed mostly backwards for the first half. Coleman did well but he is clearly short of a little bit of pace and he will be exposed every now and then.
Andy Wilkinson
269
Posted 13/09/2020 at 21:09:42
Agree with 99% of what has been said. Great performance from our new recruits which helped instill new confidence and calmness in the rest of the team.
I would add a cautious note of encouragement to Moise Kean. He came on for a handful of minutes and got involved and worked hard. Too liitle time to make any assessment other than I have not given up on him and nor has Prof Carlo.
Terry Farrell
270
Posted 13/09/2020 at 21:12:05
soren that's right in the last 5, years we have spent more than lfc and look at their squad v ours. but happy with this 3 and Carlo has the brain + I think in minamino they have finally messed up! Hope so
Paul Smith
271
Posted 13/09/2020 at 21:21:01
Fantastic performance, buzzing! Good to see you today Duncan. Special mention for DCL who was fantastic, proving I know Jack shit about football and I loved his interview at the end - grinning like a Cheshire Cat about playing with Hamez.
Peter Jansson
272
Posted 13/09/2020 at 21:21:03
This is something I have not read too much about in the news, maybe not many people think about it.
They say covid19 problems. For us its kind of bizarrly good. Covid 19 makes the price of players drop. If days would have been normal we would have never gotten the price for James, Doucoure and Allan. Now we got all 3 for only about 60 million.
We should buy 3 more quality players when we have the chance. Then when covid 19 is not a huge problem again we can offload frince players for a good price. Kind of the same strategy as buying cheap on the stock market. You buy when its blood on the streets.
Martin Berry
273
Posted 13/09/2020 at 21:26:18
As I have have previously posted, no team is going to waltz through our midfield this season as ours is as good as anyone's in the Prem.
Teams are going to have to battle us for 90+ minutes and as Spurs found they could not and just run out of ideas.
Brilliant football by us today with longs period of keeping possession, if Richarlison had more luck we could have won by 3 or 4.
Andy Crooks
274
Posted 13/09/2020 at 21:31:06
Avoided the result all day then sweated the page( Only Ciaran McGlone will know what that means). Pulled the cover envelope down and slowly sweated the result. Then, fucking joy, joy.
Charlie Dixon
275
Posted 13/09/2020 at 21:32:33
Absolutely superb.
What a performance. My lord have we been crying out for a midfielder like Doucoure. Legs and can pass a ball!
Allan an absolute beast. Oh to have been there!
UTFT!
Soren Moyer
276
Posted 13/09/2020 at 21:37:49
Peter # 272. That's not completely true. Just look at the prices Chelsea are paying for their new acquisitions!
Frank Thomas
277
Posted 13/09/2020 at 21:38:18
We played very well today and I forecast that we would give them a thrashing similar to the one we gave Man Utd. Richarlison scored first that day but sadly missed more than one sitter today. If he had scored I feel sure we would have scored 3 or 4.
Just for interest I visited one of the Spurs fans forum. Not to create havoc but to see what they felt about their club purchases, the game today, the run up to it and the aftermath of the game. In some parts it is funny as anything. Notice the programme about Spurs on Amazon Prime read the first comment.
https://thefightingcock.co.uk/forum/threads/tottenham-v-everton-sunday-september-13-4-30pm.37036/page-78
Finally the shock at watching our team rip them to shreds in their eyes.
https://thefightingcock.co.uk/forum/threads/tottenham-v-everton-sunday-september-13-4-30pm.37036/page-85
I posted these two links to show it is the press that builds up other teams so they appear greater than our team. We are feared that our team will wake and hopely that stirring has started.
Bill Gienapp
278
Posted 13/09/2020 at 21:42:12
It's easy to get carried away after one match, but look. In the entire time I've been supporting Everton, I've never seen us beat Tottenham. Not once. Never mind on the road. If that isn't a statement victory to kick off the new season, I don't know what is.
Allan and Doucoure provided everything we were crying out for in midfield. When Doucoure chased down Moura on the break and swept the ball away, the announcers even commented "I don't think you'd have seen Sigurdsson or Schneiderlin do that."
James faded a little in the second half, as you'd probably expect, but his passing ability looked absolutely sublime. If this is how fluid and functional and confident the team looks after a week of training together, I can't wait to see what the season holds.
PS - just rewatched the goal and good god was that a perfect free kick by Digne.
Ian Riley
279
Posted 13/09/2020 at 21:43:28
Quality and working hard brings success. Today we set the bar on the first day of the season. It was a delight to be difficult to play against. Spurs had no plan b or desire to match our work rate. Allan set the desire and hunger to win the ball, something we have missed for many years. There are only positives from today. With so much gloom came some joy today. Thank you!!!
Jay Harris
280
Posted 13/09/2020 at 21:44:40
I am over the moon with todays performance and the way it lifted some of the other players.
I said before the game Carlo has worked out who wants to play for the shirt and the new guys coming in was a shot across the bows to the rest of the squad.
I also looked at our first five fixtures the other shower being the 5th and thought if we get off to a good start against Spurs there's 15 points we could bag. ( we are so due a win against the devils spawn).
Kuedos to Seamus today for a MOTM performance just to show he is not giving the shirt up quietly.
Special mention for Jose's 2 new recruits. They looked like yard dogs. Glad we swerved Hojberg and sorry to upset our Irish fans but Doherty was made to look like a championship player by Richie.
Jerome Shields
281
Posted 13/09/2020 at 21:49:11
The other benefit of this performance is that it will help in negotiations in the remaining days of the transfer window.
Jamie Crowley
282
Posted 13/09/2020 at 21:50:44
I just watched the YouTube highlights and there were two subtle things I enjoyed.
First was during the Harry Kane shove-fest after the tackle on Rich, Yeri Mina started getting into it with Kane, and looked to be getting hot under the collar. Jordan Pickford pulls Yeri away and tells him to calm down.
When Jordan Pickford is the voice of reason, do pigs fly?
Second was at the end of the game, Dunc went over to Dom and gave him a look and a hand-slap five. There's some weird symbiosis between Dunc and Dom, a fantastic relationship they have.
I hope the big fella keeps Dom under his wing, and Dom continues to learn from him.
What a day.
Steve Mink
283
Posted 13/09/2020 at 21:51:09
Hard to pick a MOTM but was pleased that Pickford looked like a proper goalie.
Dave Williams
284
Posted 13/09/2020 at 21:55:35
For anyone wondering what sort of a player Peter Reid was, just watch Allan play! Very similar, dominated the midfield and gave great protection to the defence. Everyone played well but great debuts from the three new boys and what a header from DCL- should shut Michael K up for a while!!
It was also noticeable that the team had a crystal clear knowledge of how it was supposed to play and achieved it to the letter.
Marvellous stuff!
Simon Smith
285
Posted 13/09/2020 at 21:59:36
Haven't read the thread yet and haven't seen any of the game.
I listened to it live whilst at work and the commentators and pundits were purring about our new midfield.
Haven't been this excited to see highlights over a 1-0 before:
Coyb.
Rob Halligan
286
Posted 13/09/2020 at 22:01:11
Anyone watching PSG V Marseille match? Five players sent off following a mass punch up, including Naymar. Great stuff!!
Tony Abrahams
287
Posted 13/09/2020 at 22:01:57
Very good point made by Ray@236, about Allen, and although it's very early days so not a time for getting carried away, his constant ratting about was great to watch, and certainly mirrored the way the man who has just got rid of him, used to play.
We looked strong across the midfield, with the different players helping to give us a little bit of everything, and again it's early days, but Ancelotti, does come across as a man with great wisdom, when he talks about his trade.
Pass, move, little triangles, players playing with loads of awareness, and looking like we have the makings of a genuine football team. It's early days I know! But I can't remember Everton being this positive, since I was a child.
Steve Shave
288
Posted 13/09/2020 at 22:08:07
The club have finally got Pickford on Ritalin, Allan looks like the defensive screen we need, Doucoure the complete box to boxer and James drifting in and finding space. Richy superb today and DCL scored a fine goal, I see he was drawing criticism on the forum prior to that. I predict DCL to score 20 this season, James is going to create a lot of chances! Seamus excellent today but I would still like us to sign an RB.
Fran Mitchell
289
Posted 13/09/2020 at 22:17:45
Interesting stat from John Lies in the Guardian "(James) created five chances in total, the most by an Everton player for more than two years."
In his first game. The smile just won't leave my face.
David Pearl
290
Posted 13/09/2020 at 22:18:18
Bill 278, Doucouré said he only had 3 training sessions. Trying to hold back on the optimism but it's been years waiting for this!
Tommy Carter
291
Posted 13/09/2020 at 22:19:45
Apart from the obvious, with which I am delighted, very pleased for Seamus. Magnificent performance, solid.
He was clearly targeted for the first 30 mins by Mourinho as our weak link.
Mourinho expected Son to exploit this, supported by Alli who was obviously instructed to support Son on the left.
Typical disdain shown and I'm glad Seamus came through it with some ease.
Chris Corn
292
Posted 13/09/2020 at 22:26:52
I reckon the hack who wrote that Carlo was displeased with the lack of transfer business some weeks back feels a bit of a tit now!
Kieran Kinsella
293
Posted 13/09/2020 at 22:27:44
Fran 289,
The last player to create as many chances was probably Pickford in that game at Newcastle.
Christy Ring
294
Posted 13/09/2020 at 22:45:35
Allan, not a defensive midfielder, Man of the Match, Steve?
Kieran Kinsella
295
Posted 13/09/2020 at 23:02:42
Doucouré's tackle on Lucas, in the words of Graeme Le Saux: "You wouldn't have seen Sigurdsson or Schneiderlin make that tackle."
Andrew Davies
297
Posted 13/09/2020 at 23:06:23
There have been a few comments on the thread about Richarlison's performance perhaps understandably focusing on the missed chances.
I thought he was outstanding today. He was put in a much wider position rather than working close to Calvert-Lewin. What I noticed throughout the game was the number of times he was available on the touchline to take the ball and hold it (often twisting and turning and doing little dribbles) from the midfielders or Digne. Very accurate with his passing once he made himself space.
We avoided the nonsensical passing around close to the 6-yard box of last season but still played it out and for that to work you need someone to pick up the ball in midfield and I thought he did that today. The goals will come.
Simon Smith
298
Posted 13/09/2020 at 23:09:51
Just watched the highlights. We looked classy today. Really classy.
The passes of Rodriguez were something we haven't seen since I've been an adult, that's for sure.
I know it's one game, but was that Everton?
3 key signings. So much more effective than our shotgun approach of previous windows.
Kristian Boyce
299
Posted 13/09/2020 at 23:36:09
I've seen a number of posts on other platforms by people saying this was one of our best performances since the Martinez Arsenal game. How depressing is that, as that game was how many years ago? We've put up with some utter dross over the years, hopefully today is a new dawn of our club.
John Raftery
300
Posted 13/09/2020 at 23:40:27
Dave (284) Halfway through the second half I was thinking, like you, how much Allan reminded me of Peter Reid; doing things simply and quickly while managing the players around him. A captain in all but name.
Midfield is the hub of any team and at long last we seem to have one. Our front players will relish the improvement in the quality of midfield service. Our defenders will appreciate the improvement in the quality of midfield cover.
Spurs were abject but we made them look so. Last season we all too often played badly and lost against poor teams. While one win is never enough to hang out the bunting, it was the nature of the performance, as much as the result, which gives us justifiable cause for optimism.
Jerome Shields
301
Posted 13/09/2020 at 23:42:58
Mourinho is making excuses about attitude and fitness and some Commentators are talking of a lacklustre performance.
Rubbish. Spurs were technically and tactically played off the pitch by a better side and lucky not to have been beaten by more.
Gerry Ring
302
Posted 13/09/2020 at 23:43:39
Andrew @ 297. Totally agree. Richarlison's work rate was phenomenal. His commitment is total. I believe he will have a super season.
Steve Fern's comments about the possible gradual introduction of the 3 new signings would probably be correct except that the alternative midfielders we have are so poor that Ancelotti didn't have the that luxury.
Keane, again was dominant. I believe the strengthening of our midfield, will have a huge impact on our performances all over the pitch, for the coming season.
Paul Johnson
303
Posted 13/09/2020 at 23:47:25
LOL seriously. I've been following the website for 15 years and have never seen a more positive stream. I promise I am laughing my cock off.
James Rodriquez – fucking quality. COYB
Colin Glassar
304
Posted 13/09/2020 at 23:47:29
Rumours again linking us to Colombia's Arias (Atletico Madrid) and Jhon Córdoba (FC Köln). If that's the case, then we'll be seeing and hearing quite a bit of Cumbia, as well as Samba, at Goodison.
John Raftery
305
Posted 13/09/2020 at 23:50:32
Kristian (299) That game at Arsenal was played in December 2013. The 4-0 win against Manchester City in January 2017 was arguably our best performance in the intervening period.
Phil Lewis
306
Posted 13/09/2020 at 23:59:58
Reiterating comments of others, wonderful shades of Peter Reid's battling distribution skills from MotM, Allan. All three new boys, very impressive, bringing the best out of their team mates. Richarlison son deserved a goal. Calvert-Lewin worked tirelessly, took his goal brilliantly. A marvellous team performance, everybody comfortable on the ball, creating space effortlessly.
As Pickford's and Sigurrdson's biggest critic, it is only fair that I give both praise where it is due. Pickford made some excellent stops. He actually looked comfortable intercepting in the air today. I still think he tends to get caught in two minds when called upon to deal with corners and set pieces. But today's performance can only be confidence building. I truly hope by the season's end, he will have forced me to eat my critical words.
Sigurdsson did all that was asked of him and produced a couple of nice touches. He can stake a claim if he continues to impress. As indeed can other squad players.
The new 'Three Amigos' showed us what's been missing. They seamlessly slotted in. We looked like a team at long last, that's been playing together for a long time. I make no secret that I am getting carried away. Today, I had every right to!
Derek Knox
307
Posted 14/09/2020 at 00:25:34
Okay, the dust has eventually settled, we were far the better side today, the secret is maintaining that, both home and away.
From what I witnessed today, maybe through optimistic, and blue-tinted spectacles, we have a group of players who providing they stay fit, will be a match for any Premier League side.
Maybe that is a bold statement, but I truly believe that we are very near to having the perfect blend of graft and creativity to pose a problem for anyone.
James Rodriguez played some superb passes today, which illustrated his reading of the game, and his undoubted ability! Remembering, of course, they have only had a couple of days to train together, but the signs, though early on, are there!
Can't wait for the derby match!
Kieran Kinsella
308
Posted 14/09/2020 at 00:42:58
Derek 257 & Colin 260,
If Colin Glassar, the hopeful realist, is now ToffeeWeb's misery in chief, then this is the happiest this site has been in 20 years.
Mike Gaynes
309
Posted 14/09/2020 at 00:48:32
Kieran #295, I bellowed out loud at that comment when I heard it.
Kieran Kinsella
310
Posted 14/09/2020 at 01:15:54
Mike
Me too. I also felt reassured to know it wasn't just a ToffeeWeb fantasy about Sigurdsson and Schneiderlin.
Gary Hughes
311
Posted 14/09/2020 at 01:43:30
Beating one of the Sky favourites on their own patch has become such a rarity that it's difficult not to get carried away.
Strangely enough before Man City & Spurs were elevated into the Sky inner circle we used to regularly turn the pair of them over regularly with little fuss but such is the inferiority complex that has engulfed our club that once they were deemed untouchable then we've rolled over to them in the same way we've been rolling over to the 'big boys' for the last 20 years.
Today's win is far more significant than that Martinez anomaly at Old Trafford because only Desperate Davey could have overseen such a fuck up.
I saw something today that I have rarely seen over the last painful 20 years, an Everton team defending a single goal lead that was not desperately clinging on for grim death. Usually, regardless of the quality opposition or whether it be home or away if we're defending a single goal lead then normally all hell breaks loose.
None of that shit happened today, as much as the press will rubbish Spurs rather than praise Everton we just didn't give them anything, even Pickford came out and claimed crosses taking the pressure off, exactly what every fan would expect from a top keeper. I really don't want to get carried away but I saw a proper football team today. Please don't let this be another false dawn.
Patrick Fennell
312
Posted 14/09/2020 at 01:45:13
The atmosphere and positivity of the posts is something I'm not used to! Was a great performance today with very few negatives. Imagine what we'll see when they've had more time to train together. It goes to show how certain players can raise the level of their teammates! COYB!!!!
Si Cooper
313
Posted 14/09/2020 at 01:45:49
I've been waiting to see a post from Mike G, our James Rodríguez expert. Was worried as those West Coast fires have obviously gotten worse. Does anyone know how Albert is getting on?
I was amazed James played pretty much the whole game given how his general physical shape has been reported. His class shone through but I was immensely pleased that he showed some real athleticism, going to ground and regaining his feet almost effortlessly, as well as strength and toughness when he bounced back up and jarred Højbjerg, I think it was, after being bumped to the ground.
Mike Corcoran
314
Posted 14/09/2020 at 01:51:05
After watching it with some of my lads in the pub, the 19-year-old walked me home and went straight back out to celebrate. He came in to the highlights at midnight, hammered, almost in tears that he'd never seen us play so well.
As I was a teenager in the mid 80s I had to feel for him. Was having a pint with him in the Shakespeare last week and told him we will win the league this season. Now the poor soul thinks it's happening. He'll have a big head in the morning.
Tony Byrne
315
Posted 14/09/2020 at 01:59:55
Well I said a few days ago that I wouldn't hold my breath after we signed J Rodriquez, I didn't expect his immediate impact today so I will choke on humble pie all day long! it's only one game but he showed great flashes today in being a decent footballer, he can only get better under Ancelotti. His passing was sublime at times,he looked great today.
After about an hour I declared Allan as being MotM, he controlled his defensive area as if he'd wore that blue shirt for years, the comparison by some guys to Peter Reid were bang on the money. Doucouré was excellent today in terms of power and energy box to box, he brought a set of bollocks to our midfield that we have lacked for a long time, Richarlison, despite his miss (I had a fiver on him 1st goal 8/1!) was brilliant today, not just an outlet when he can get us a free kick, he has a knack of drawing the opposition in, old head on young shoulders (the Sky 4 have many of these type of players that win them free kicks when under the cosh) I got a text off a RS friend when the game was on, he said "Richarlison goes down quite easy mate" I said "most of your squad does mate week in week out, you get most of them decisions, we don't. 2 pens yesterday" etc etc.
Anyway early days but this blue nose can sense something good coming our way.
Pickford looked as if he'd took on some serious coaching advice in "pre season". He was excellent today, cut out the bullshit lad & do the basics good, he did today, his punching out of the box today was excellent, stick to it & you will be great.
Tony Byrne
316
Posted 14/09/2020 at 02:15:29
I would also make Allan captain asap. I know one game is a piss take but he can dictate the play, advise and assist, he's a manager's general on the pitch all day long.
I also think Calvert-Lewin has to now get used to the quality we have in midfield, two balls yesterday were put into him and he strugggled what to do with them, the 1st one he should have let the ball carry on in front of him and he was in on goal. A bit harsh there, guys as he scored a great header tbf. Anyway, great result and well deserved.
Lester Yip
317
Posted 14/09/2020 at 02:32:44
What a game!
I haven't seen a match we've been so dominating on the ball against a top 6 team. I know team under Mourinho doesn't really care about possession %, but still it is great to watch.
I rejected the idea of signing James in the first place. Thinking he's approaching the end of career, injury prone and on big wage. But his performance today just oozes class. Everytime he touches the ball, I'll hold my breath expecting something will happen. Hope he stay healthy and fit.
I think the arrival of new players also bring out the best of the others. Gomes can focus on what he does well. Also very happy with Calvert-Lewin. It's exactly the type of goal I'd like him scoring. What a clean bullet header!
When's the next game? Can't wait.
Graham Lloyd
318
Posted 14/09/2020 at 02:50:45
It's late morning on Monday 14th September here in Sydney which happens to be my birthday. There is a clear blue sky, it is pleasant 22 degree's and I have the day off. That has the making of a good day in itself but most importantly however, I've just watched the replay on Optus Sport.
How much can change in such a short space of time! Aside for the first 20 minutes, I thought we domintated Spurs on their own patch. Yes Pickford had to make 2 saves but really we should have scored at least 3 if not more. I can't recall any serious chances created by Spurs
The Allan & Doucouré partnership looks fantastic. James, despite not being fully match fit, made the game look so easy.
We have had many false dawns over the years but I am genuinely excited about this season and cannot wait for the WBA game as it will be on at a watchable hour live over here.
Today, is going to be a good day. Thank you, Everton, for an excellent birthday present!
Glenn Williams
319
Posted 14/09/2020 at 04:01:46
Competent midfield play progressing the ball forward into the final third... breaking up play and not allowing easy dribbles into our half... power and presence to win battles... creating chances for forwards... what universe have I awakened in?
Good performance, great result. Hopefully Richarlison and Calvert-Lewin can grow and become savvy about which runs to make and when. Given that they have not had much experience with having well timed passes provided to them, let's hope their learning curve is quick.
Richarlison actually presented well on many occasions and his dribbles and holdup play were noticeably improved. Calvert-Lewin got the goal and worked hard but needs to accelerate his positioning and timing when the midfield is progressing towards him.
David Currie
320
Posted 14/09/2020 at 04:08:17
Allan reminds me of Peter Reid and James reminds me a bit of Kevin Sheedy. He certainly has the best left foot since Sheeds. His instant ball control and his long cross-field passing. Hope he can score some Sheedy like free kicks for us and his creativity will help us unlock teams at Goodison Park that come to defend.
The final point I saw today was that all the players really seemed to enjoy their football, I think we had 15 goal attempts. Long may that continue!
Glenn Williams
321
Posted 14/09/2020 at 04:23:30
Weirdly the new signings have shown they do not need a whole lot of time on the training pitch to get up to speed and perform.
Rather it is our existing squad that needs time on the training pitch so that they can get more up to speed and understanding with the new signings.
Hopefully the existing squad can individually improve quickly by the exposure on the training pitch, otherwise the dropoff in quality will be too stark whenever any of the new signings are not on the pitch for the inevitable reasons as the season progresses.
But I can't see anyone who can effectively spell Allan, with the exception of Doucoure which would then detract from a box to box presence. As excited as I was today with our lack of midfield quality being addressed, the problem now clearly presented is our lack of quality midfield depth!! I guess the hope is that Gbamin and Delph can overcome their fitness issues and provide better quality backup. As always, its the hope that kills you.
Mick Davies
322
Posted 14/09/2020 at 04:31:02
Danny @ 197 "Haven't seen an instant impact like that from new signings since we signed Howard, Lescott and Johnson." What about Barry, McCarthy and Lukaku? I know Rom didn't play in the first game but the win against Chelsea felt like it does here, only this manager is a serial winner, unlike daydreamer Martinez.
Well done to all the players today, but I'm just hoping we win something this season for Coleman as much as anyone: he's given 100% throughout his career, even coming back from a horrific injury, and for 㿨,000, probably the best buy of the modern era. He wears the armband with pride, and it would be fitting for him to lift a trophy, in what is probably his last season as a regular choice.
And I know, Graham Lloyd, you'll have a great birthday down under, thanks to Carlo & Co
Annika Herbert
323
Posted 14/09/2020 at 07:17:34
With absolute dire timing, the ships Wi-Fi went down just as the game kicked off! It's early Monday morning now and we just got the Wi-Fi back.
What a wonderful way to start a new week, an Everton away win at Spurs! I haven't felt this excited on a Monday morning in many a year. We also have a Spurs supporting chief cook whom I look forward to seeing very shortly.
I am currently devouring everything readable available to get some idea of how the game went. From what I have seen so far, it sounds like a top performance. Let's hope there are many more to follow and well done the boys in blue!
Tom Dodds
324
Posted 14/09/2020 at 07:20:00
(Nearly) Everything's been said about every aspect of the game yesterday
But, that first touch from James though, that first Galactico type crossfield pass...!
You just knew.
You just knew! :)))
John Cook
325
Posted 14/09/2020 at 07:37:33
I agree, Tom, you just knew!
James made me remember the first game Alan Ball played for the blues, the great first touch of Alex Young and Duncan McKenzie.You can't put it into words, the excitement and expectation is overwhelming.
We are in for a great season just watching this little genius play.
Andy Sommer
326
Posted 14/09/2020 at 08:01:28
Calvert-Lewin took his goal well – absolutely – but, for me, his hold-up play, how he retained the ball and brought others into play, that's exactly the sort of striker we need.
Rob Hooton
327
Posted 14/09/2020 at 08:20:57
Cracking performance and Carlo has us all singing The Blues!!
Only downer for me was Richarlison as he is the captain in my dream team! He is no longer the biggest fish in the pond and will hopefully thrive, he didn't look very sharp but will get plenty of chances now with our new midfield.
Calvert-Lewin, Richarlison and James need 5/6 players just to mark the three of them, brilliant stuff.
Allan was immense and Doucouré powerful and full of energy.
Pinch me!
Kim Vivian
328
Posted 14/09/2020 at 08:28:54
Great afternoon/evening yesterday. Went to sleep reliving highlights in my head.
There seemed to be a few disenchanted players in white on the pitch albeit of a better quality but showing, I felt, the sort of enthusiasm we have become used to watching in the last couple of seasons.
I wonder If Harry Kane fancies joining the Royal Blue Project?
Neil Cremin
329
Posted 14/09/2020 at 08:32:07
Tony,
Pickford improved in some of his weak areas. Firstly he was always very good as a one-on-one shot-stopper, he did his job where he did improve were in his dominance of the 6-yard box especially in the second half. First half he was still a bit cautious.
However, his accuracy in his kick-outs is still woeful and will cause us problems. A number of times in the first half he thought he was James trying to round players, putting our defenders under pressure and he found touch a total of 5/6 times. Any rugby would be delighted with that sort of return.
Tony Abrahams
330
Posted 14/09/2020 at 08:33:53
It's posts like Mike's@314, that make me feel both very happy and very sad, and get me thinking about the great supporters Everton have got.
The texts I received last night were full of happiness and joy, and after listening to Ancelotti, he made me feel that he has felt our pain, and he's here to give us some real joy.
Evertonians have stood the test of time as much as any set of fans, and I've read people say Sky TV, don't like us, but every single pundit mentioned the fans, because the whole country knows it's the fans who have kept Everton going, so hopefully Mike's lad, has got to start getting used to having some very serious hangovers!
Kim Vivian
331
Posted 14/09/2020 at 08:56:04
"
He was against arguably the best midfield in the country at the moment, they was
*(*lit.)
outstanding
"
Comment I saw on a Spurs thread slating Mourinho but sums it up nicely what other fans are maybe seeing.
Sean Kelly
332
Posted 14/09/2020 at 09:23:03
I'm still buzzing after yesterday. What a difference that performance has made. Even if we drew or lost, the performance was fantastic... but to top it off with a win was wonderful.
The mood on here I haven't witnessed before. Now I know it's only one game but we now know that this team under Ancelotti will not be allowed to revert to our previous level of football. No more "knives to a gunfight" mentality.
Thank you, Carlo Ancelotti!
Derek Knox
333
Posted 14/09/2020 at 09:30:29
Sean @332, yes the euphoric feeling is hopefully to be a regular one this coming season, and with displays like that I can't see that changing either. I know it's easy to get carried away after one game, but there were signs yesterday that it will own get better.
We'll be taking guns to bunfights from now on!
Craig Walker
334
Posted 14/09/2020 at 10:00:05
Trying not to get carried away as we've had so many false dawns. Bloody encouraging though. I still think we need a quicker centre-half although Keane and Mina did well yesterday and Holgate will return. I also think Pickford needs better competition (at the least). Not knocking him as he did well yesterday but his distribution is still a weak point for me. I'm still not convinced that Moise Kean will be what we want him to be for us. I'd love it if we had a more reliable goalscorer to take the responsibility off Richarlison.
Great performance though but let's back it up with a home win.
As per my earlier comment, I still can only remember us winning away from home on the opening day at Charlton and I think Weir scored. I know someone said we beat Stoke under Koeman when Rooney scored but that was at Goodison. It's pretty rare in the last 10 or 15 years for us to win an away game on the opening day.
As an update, I've just checked and I was right. It was 2000/2001. To be fair, we tend to be drawn at home on the opening day more often than not.
https://www.evertonresults.com/firstday.htm
Tony Everan
335
Posted 14/09/2020 at 10:04:25
There was one moment of pure quality from James that just had me in awe of him.
The half clearance, half pass that he plucked out of the air about 4ft up near the half way line. Perfect control, then with minimum effort danced past his marker and gave himself a yard of space on his left foot.
A quick glance and he saw Richarlison making his run behind the Spurs right back. Then, in an instant, he curled the most sublime ball in that put it in on a plate for Richarlison to head home. If ever any skill deserved a goal, it was that. Great stuff from the Columbian maestro, long may it continue.
Tony Waring
336
Posted 14/09/2020 at 10:50:07
Yes Tony that was THE moment of the match for me - well actually there were quite a few come to think of it - but that particular incident had me drooling. Looking forward to many repeats as he's obviously well capable of producing such moments.
Matthew Williams
337
Posted 14/09/2020 at 11:36:49
Fucking brilliant display! That's my Blues... pace, power, desire and skill.
If we can maintain that team form and add Zaha (maybe), we will lift some kind of silverware this season, I am sure of it.
Still smiling here, all positives from me!!!
Sean Kelly
338
Posted 14/09/2020 at 12:55:51
I'm already looking forward to Allan saying hello to the insufferable twat Henderson in a few weeks. No more fear of a hiding by them snidey p s.
Peter Jansson
339
Posted 14/09/2020 at 17:11:25
#276 Søren - Chelsea are buying players at a large rebate.
Bild says in november that Bayern demand 130 million euros for Haverts.
Rudy Vøller says no rebate because of coronavirus the 22nd of August.
4th of September - Chelsea says yes to sign Haverts for 62 + 8 million in bonuses.
That is much cheaper that initially suggested. So I think Corona rebate.
Hugh Jenkins
340
Posted 14/09/2020 at 20:07:43
Kristian (299) - April 2014.
Kieran Kinsella
341
Posted 14/09/2020 at 20:16:40
Add someone like Ollie McBurnie and we are golden
Derek Knox
342
Posted 14/09/2020 at 22:14:58
Ollie McBurnie Kieran? We may as well have Ollie Beak! :-)
Danny O'Neill
343
Posted 14/09/2020 at 22:36:06
Mike Corcoran (314). I hear you! I was a 12 at Wembley when we lifted the FA Cup and 16 at Carrow Road as we clinched our league title in 1987. Experiences I've only been ever been able to pass on to my son.
The fans make Everton. I know that's a cliche, but taking Tony's point a step further, I don't think Everton has ever been fashionable or loved / liked by the media. Not in my lifetime anyway.
If you think back to the 80s, despite our then standing (only Liverpool had won more titles), we were unfashionable. The media were alway more interested in the obvious (Love-a-pool) and United, but even Tottenham were more appealing to them, even though they only had 2 titles to their name and had actually only come back up to the top flight in the late 70s.
Laurie Hartley
344
Posted 14/09/2020 at 23:36:50
I have bagged Pickford consistently for many months now but he didn't put a foot wrong in that game and made two outstanding saves at critical times. Well done, Jordan Pickford – keep it up.
Richarlison will run riot this season. He can drift out to the left where he likes to get the ball and run at defenders. He will get plenty of space and service with James operating on the other flank.
Looks like Calvert-Lewin is coming of age as a centre forward. Duncan saw it all along apparently.
I was also impressed with Mina – he is committed to the club and his teammates. Have another look at his reaction to Calvert-Lewin's goal and his aggression towards Kane when Hodgepodge kicked Richarlison. He is going to be a monster for us. He is only 25.

And as for the three newcomers – 😁😁😁
Danny O'Neill
345
Posted 14/09/2020 at 23:42:50
Laurie,
Calvert-Lewin and Richarlison will benefit from not being the ones who have all the burden on them.
Pickford and the defence will benefit from having an aggressive, positive and creative midfield in front of them. You could see the difference in Mina yesterday. Hopefully now we will see the player and leader he can be.
I am cautiously (scarred Evertonian caveat) optimistic!!
Simon Dalzell
346
Posted 15/09/2020 at 00:29:42
Jay #147. Richarlison was on the whole magnificent. Okay, he fluffed the one-on-one, but his involvement was immense. His stats. are outstanding, backing up what the naked eye told me (despite donkeys such as Højbjerg trying to kick him out of the game).
Touch Woods' we can build on this great start.
Simon Dalzell
347
Posted 15/09/2020 at 00:49:58
Jonathan #80. Welcome to ToffeeWeb our American friend. You are joining us at an exciting time. Hopefully the signs are now there that we are finally turning the corner, after our profligate behaviour over recent years. Mind you, the support of of a gentleman with your surname may suggest we might start the season with a BANG.
(See what I did there?)

Stan Schofield
348
Posted 15/09/2020 at 13:08:46
Simon@347: From Trinity to The Holy Trinity?
Tony Hill
349
Posted 15/09/2020 at 13:16:49
Yeah, welcome Jonathan @80 and elsewhere. More and more people seem to be joining in from around the world.
Hugh Jenkins
350
Posted 15/09/2020 at 16:16:06
Hi Jonathan (80) and any other new contributors to TW. Welcome to our (happy?) band of followers - LOL. Hopefully on the back of our latest set of (playing) acquisitions, we will have true cause to be happy.
Tony Everan
351
Posted 15/09/2020 at 16:29:44
Big welcome to American Evertonian, Jonathan
NB ToffeeWeb Isn't always like this, it's normally a pit of stinking misery.
You've timed it well!
Tony Abrahams
352
Posted 15/09/2020 at 16:38:26
As good as Rodríguez was on Sunday, I would love us to use this same formation, with another direct winger on the other side.
I've never been that interested in Everton signing Zaha, but imagine him on one flank, Richarlison, on the other and Rodríguez playing in front of Allen & Dacoure?
A mouthwatering prospect imo, and that's why I feel another direct wide man, would improve this team/squad even more.
If this happens, I'd fancy us to give the top 4 places a run for its money this season. Early days I know, and we would also have to be fortunate with injuries, but how exciting would it be to watch?
Tony McNulty
353
Posted 15/09/2020 at 17:01:59
Tony E.
Yes it will be interesting to see how long the new-founded happy clappy atmosphere on ToffeeWeb will prevail. And which player will be the one who sparks the rot (if you can indeed spark rot, but you know what I mean).

Tony Hill
354
Posted 15/09/2020 at 17:22:27
Tony @353, I don't think anyone is getting too excited or happy. That would indeed be foolish. There will obviously be some big bumpy times ahead and not every team will be as uninterested as Tottenham.
But it's just lovely to see players trying, and not treating the ball like a foreign object. Praise the Lord.
Tony McNulty
355
Posted 15/09/2020 at 17:45:08
Tony H
I for one am actually both excited and happy. However, to cite P. G. Wodehouse, I do fear that Fate will shortly be creeping up from behind with either the leaden sock, or the bit of lead piping.
I cannot recall offhand if you are a regular on the live forum. That is a place that some people dare to enter with fear and trepidation in their hearts. Comparatively, it was like the Stepford WIves on Sunday.
Kieran Kinsella
356
Posted 15/09/2020 at 17:52:20
Tony McNulty
I'm as glass half empty as the worst of them but surely at some point are fortunes change longer term? I lived in Manchester close to Maine Road in the 90s. Those poor long suffering City fans had no reason for hope after consecutive relegations and money issues. Things changed. Ditto a decade earlier Chelsea were a joke and almost went to the wall. So I'm not saying we are going to win the league this year but I'm hopeful we can get past the expectation of perpetual doom
Tony McNulty
357
Posted 15/09/2020 at 18:14:08
Let's hope so Kieran. But I was watching the RS/Leeds game on Saturday, and that thing someone did one midnight with the entrails of cats still seems to be working.
Tony Hill
358
Posted 15/09/2020 at 18:35:12
Tony @355, yes it's both British and Evertonian to suspect that any pleasure is doomed. The RS, as you point out @357, have spun their heads round 360 degrees.
The Live Forum is too dangerous for me.
Simon Dalzell
359
Posted 15/09/2020 at 19:03:41
Sorry Stan #348 I'm too thick to understand your reply.
Brent Stephens
360
Posted 15/09/2020 at 19:10:01
Just had an email from EFC talking about ballots for limited ticket numbers per game, once attendance is allowed. So I guess theoretically I could miss out on all ballots.
Hugh Jenkins
361
Posted 15/09/2020 at 19:10:08
Simon (359) not sure if your post was tongue in cheek, but, if not, Robert Oppenheimer (Jonathan's namesake) was the acknowledged "father of the atomic bomb", hence the reference to the "Holy Trinity".
Steve Shave
362
Posted 15/09/2020 at 19:13:46
I see some wonderful human being has created montages of Allan's and James' debuts vs Spurs on Youtube. Check it out, it's not so different from porn.
Stan Schofield
363
Posted 15/09/2020 at 19:17:56
Simon@359: Just to add to Hugh's comment @361, you're not thick, you either know or don't know that the test of the atom bomb developed at Los Alamos was code-named Trinity, hence the lead-in to our own Ball, Harvey and Kendall. Now you know!
Simon Dalzell
364
Posted 15/09/2020 at 19:19:51
Hugh # 361 ./ Stan # 363. Thanks for the replies, but it was not tongue in cheek, I just didn't understand ! Thanks to Mr Google ( and Stan ) I now see that he named the test site for the bomb ' Trinity '. Nice one.
Danny O'Neill
365
Posted 16/09/2020 at 16:38:41
Agree with you Tony (@352). That's why I feel 4-2-3-1 could be a very good option for the way this team is shaping up.
Tony Abrahams
366
Posted 16/09/2020 at 17:08:09
Suddenly it's not just about making ourselves hard to beat because we haven't got the personnel to go out and impose ourselves on the opposition Danny.
We sign another good wide man, and suddenly we will become a match for any team in this league, looking at the way we set our stall out on Sunday?
I'm not getting carried away, I'm just dreaming a little bit, but suddenly we look a lot closer to the better teams and if we can shift 4 or 5 players over the next few weeks we might just be able to bring in that one more piece of real quality?. I'm gonna keep dreaming anyway!
Danny O'Neill
367
Posted 16/09/2020 at 20:18:09
I agree Tony. Too many a year having to be difficult to beat. That only gets you so far.
I too am not getting carried away, but you just sense that we do now have players make the opposition worry about what we can do to them.
It's just great to feel positive again instead of feeling despair, or having to try and justify or reason why we're not that bad.
Optimism; I think for the first time in years I've genuinely remembered what real optimism feels like.
George Carroll
368
Posted 17/09/2020 at 17:52:43
Having supported the Blues for over 80 years, it is such a pleasure to read positive comments rather than the gloom and doom we hear too much of these days.
Unfortunately, I was in hospital on the day of the match but my son recorded it for me and I was able to enjoy it when I came home yesterday. At long last, we have quality players and a top man as Manager, let's enjoy the season.
Christine Foster
369
Posted 17/09/2020 at 18:31:35
I don't think the smile has left my face all week, even a second string performance was good to watch.
For so long, I have felt like an old cynic just waiting for something to squash the hope out of me as it has done for the last 25 years. But this "feels" different, we have a manager who knows what he is doing, with a pedigree that engenders belief and trust with an owner prepared to back him. It's a positive and winning foundation we haven't seen at the club for a long time.
One swallow does not make a summer, but summer is coming to the blue half of Merseyside at long last.
---
Add Your Comments
In order to post a comment, you need to be logged in as a registered user of the site.
Or Sign up as a ToffeeWeb Member — it's free, takes just a few minutes and will allow you to post your comments on articles and Talking Points submissions across the site.
---
© ToffeeWeb