Report
Moyes wins battle of the master defenders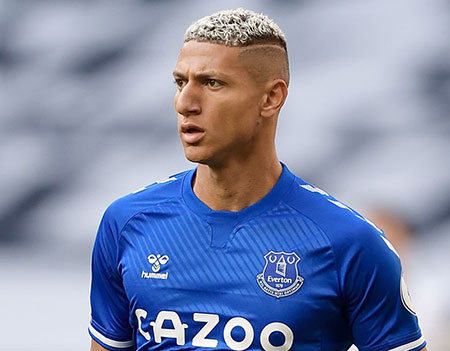 Richarlison returns after missing the trip to Sheffield United under the Premier League's concussion protocol

With both sides set on defending to the end, it took something of a freak goal for David Moyes to sneak his first win as a visiting manager.

Michael Keane was a surprise non-starter, rotated to the bench today, where James Rodriguez returns after being out for all of the December games. No place in the squad for Alex Iwobi, whose recent performances have appeared to be better, but his final ball has been as random as ever. Gordon drops back to the bench.

West Ham kicked off with Randolph in goal after Fabianski was injured in the warm-up, and looked to play long balls forwards, Everton forced to do likewise when unable to play out from the back. The Blues tried t methodically build an attack but found it hard going. with Richarlison working the right channel unsuccessfully. Bernard and Sigurdsson combined on the left but the final ball was to easily intercepted by a Hammers defender.

Doucoure put in a decent cross from the right but Ogbonna headed away. Davies then lamely fired wide from distance. The Blues were seeing a decent amount of the ball, especially down the right flank, but that elusive final ball was, er, elusive as the game slowed to a midfield crawl.

Dawson went down in a heap after fielding a dropping ball on his instep, stopping the game while he recovered enough to walk off... and then back on. Everton won the first corner after 20 minutes, Sigurdsson delivering it well enough for it to fly surprisingly high and behind off Calvert-Lewin's somewhat pointy head.

West Ham then got their first corner off Bernard, Bowen delivering a dangerous ball that skimmed off Haller's head. The game then returned to a slow midfield stalemate that seemed to be the primary modus operandi until the Hammers advanced and put in a good cross. In the second phase, they looked set to take the lead but the cross-shot flew harmlessly wide.

Holgate tried a rare forward ball that was overhit for Sigurdsson. At the other end, Godfrey challenged Coufal well but the Hammers won another corner that Bowen overhit somewhat. Cresswell then overhit a further corner from the other side.

Bernard was caught by Fornals right of the area, setting up a chance for Sigurdsson to swing one in, but it also was overhit beyond all the prospective Everton goalscorers. A corner ensued, cleared to Bernard whose snap shot was a good one, forcing Randolph to save. That rare shot n target would be the best moment f a really boring s=defensive first half from both sides.

With no changes at half-time, would the incredibly boring tempo of the game be maintained? The early 'action' (using the term loosely) suggested little else, Calvert-Lewin falling over the ball instead of driving goalward. Bernard was next to fall over the ball. Was this really Premier League football?

Yes; Coleman crossed to Richarlison, whose meaty shot was blocked. A well-worked Hammers move off a set-piece should have seen them score off Rice's fearsome lw cross driven through everyone. Changes were planned as the hour-mark approached.

ANtni replaced Haller, as Godfrey dragged Coufal a little and saw yellow, giving up a dangerous free-kick. Cresswell powered it at Pckfrd who parried it away well, West Ham unable to follow through as Gomes and Rodriguez were set to replace Sigurdsson and Bernard, who set up Coleman for a soft shot at Randolph. At the there send, Fornals had a free-header go wide.

Antonio's first shot was saved low by Pickford, then Everton won a corner, taken well by James. Gomes tried a shot from a long way out, blocked twice. Another brilliant James corner was strongly defended by Ogbonna.

Richarlison ran at Bowen and gave up a foul left of the area, James firing in a lovely flat cross that West Ham cleared. Everton tried to break at a faster pace than earlier but the Hammers tracked back well to block progress. Tosun came on to replace Calvert-Lewin for the last 15 mins.

Rich tapped by Soucek, giving James another chance to create something but again a Hammer head was on the end of his flighted ball in. James tried one of his classic cross-field passes but it was watched all the way by the defender. Richarlison tries to overpower Ogbnna for a shooting chance but ends up fouling him.

A shot by Yarmalenko was parried out by Pickford to ____ whose power shot screwed off Mina and would have gone wide but for Soucek connecting well to drive it past Pickford.

The goal stunned Everton but it had been on the cards with the defensive plan far too reliant on a miraculous set-piece that never happened. A bizarre moment saw Antonio and Mina collide after a tracked run int the Everton area. But the Blues could come up with nothing and Myes had finally won at Goodison Park as a visiting manager.

Kick-off: 5:30pm, Friday, 1 January 2021 on BT Sport 1


Everton: Pickford, Coleman, Holgate, Mina, Godfrey [Y:60'], Davies, Doucouré, Sigurdsson (65' Gomes), Bernard (65' James), Richarlison, Calvert-Lewin (79'Tosun).
Subs not Used: Olsen, Lössl, Keane, Nkounkou, Branthwaite, Gordon.

West Ham United: (Fabiański*) Randolph, Coufal, Dawson, Ogbonna, Cresswell, Rice, Souček, Bowen (71' Yarmolenko), Benrahma, Fornals (71' Lanzini), Haller (59' Antonio).
Subs not Used: Johnson, Balbuena, Diop, Noble, Snodgrass, Martin

Referee: Kevin Friend
VAR: Simon Hooper
---
Reader Comments (670)
Note: the following content is not moderated or vetted by the site owners at the time of submission. Comments are the responsibility of the poster. Disclaimer
Thomas Richards
1
Posted 01/01/2021 at 16:33:52
James on the bench.
Be very interested to see how Tom Davies plays today.
Tony Hill
2
Posted 01/01/2021 at 16:36:03
James on the bench. Excellent. Keane deserves a rest.
Paul Jones
3
Posted 01/01/2021 at 16:40:38
2 keepers on the bench again. Are we really that desperate to make up the numbers? Surely a place for an U23 player at least?
Christy Ring
4
Posted 01/01/2021 at 16:44:45
Iwobi not in the squad, any news of injury?
Kase Chow
5
Posted 01/01/2021 at 16:47:47
Where's Iwobi?
Bill Gall
6
Posted 01/01/2021 at 16:49:49
I'm not going to comment on the 11 players starting but I still can't understand the 3 keepers. You seem to be wasting a chance to bring in another outfield player, preferably a young forward if the game is safe. Tosun will have to have a 75% improvement on his game to become a regular, or to attract a buyer.
Charles Brewer
7
Posted 01/01/2021 at 16:50:47
Probably the right opposition for giving Keane a rest.
I'd love to see Nkounkou get a run-out. Perhaps after we're winning 3-0 after 70 minutes. He was very impressive in the Carabao Cup.
Tony Twist
8
Posted 01/01/2021 at 17:07:50
Too weak in defence. West Ham are a decent side, we need to be water-tight in defence with Olsen as goalkeeper, Holgate, Keane, Mina and Godfrey as the back four.
This is a very important game, a must-win game. Ancelotti is weakening us even before we start.
Paul A Smith
9
Posted 01/01/2021 at 17:09:18
Looks like West Ham have set up to be solid.
Craig Harrison
10
Posted 01/01/2021 at 17:09:59
Iwobi had a little problem in training and is rested.
Alan J Thompson
11
Posted 01/01/2021 at 17:10:21
Why would you have a player with a hamstring problem on the bench? All rather mystifying.
Thomas Richards
12
Posted 01/01/2021 at 17:11:37
Tony #8
You see Coleman as a weak link?
Ciarán McGlone
13
Posted 01/01/2021 at 17:13:15
Bernard gets the start he deserves. Interesting lack of Iwobi who I think has guaranteed himself a starting spot if fit. The obvious guess would be viral...
Should be a decent open game – if our central midfield three put a decent shift in, we should have enough.
Tony Twist
14
Posted 01/01/2021 at 17:16:11
Thomas (12), yes unfortunately Coleman ain't good enough in attack and suspect in defence. He is a prime culprit for not preventing crosses, we need young, energetic players in defence now that press.
Jay Wood
[BRZ]
15
Posted 01/01/2021 at 17:16:22
More than enough in that starting XI to get a win.
Sensible rotation and resting of players given how much some of them have played in December. Decent looking bench also.
Thomas Richards
16
Posted 01/01/2021 at 17:17:06
Somebody just described Gordon as "shite" on the Live Forum.
Words fail me...

Sam Hoare
17
Posted 01/01/2021 at 17:18:21
The 2 keepers on the bench is infuriating. Surely you give Simms, Dobbin, Onyango or the likes a chance to experience matchday and maybe even 10 minutes on the pitch if it's going well.
Tony Everan
18
Posted 01/01/2021 at 17:23:14
We have been solid in defence so to disrupt that is brave. The team is fresher up big time so we should really generate a high tempo from the off and West Ham will suffer for it as the match wears on. COYBlues, five on the trot!
John Dingle
19
Posted 01/01/2021 at 18:09:47
Can't stand the anti-Everton comments from that whining fucker McManaman.
James Fletcher
20
Posted 01/01/2021 at 18:14:38
What the fuck is going on with the pitch, the ball is moving incredibly slowly.
John Dingle
21
Posted 01/01/2021 at 18:19:59
How do I watch the game with sound and get rid of that twat McManaman, I really can't stand him, he's ruining a poor game for me.
Ciarán McGlone
22
Posted 01/01/2021 at 18:21:24
0-0...
And not much chance of it ever being anything else. Dull.
Mina is a disgrace... it's now got to the point where he's diving if the ball hits him. Get rid.
Pete Hughes
23
Posted 01/01/2021 at 18:22:32
That dickhead McManaman is fast overtaking Carragherer as the man I love to hate!
Dave Abrahams
24
Posted 01/01/2021 at 18:24:22
Everton v West Ham — what game are they playing? It's certainly not football!!
Kevin Prytherch
25
Posted 01/01/2021 at 18:25:26
This is where unfortunately we need to mix up tactics. Against a team who is ultimately out to defend against us, we are not playing to our attacking strengths.
Granted – Ancelotti's hand has been forced today with injuries, but I wouldn't play this system against teams who defend against us. We are solid but not creative, and that doesn't work against lower teams.
Jay Wood
[BRZ]
26
Posted 01/01/2021 at 18:25:31
Too one-paced. Too many misplaced passes with Holgate and Coleman the biggest culprits. Mason nowhere near the sharpness or level he played at last season yet. Doucouré also just a little off. Tom once again tidy in everything he does.
Richarlison still very peripheral. Little energy or pace in his game. Dominic is another who evidently needs a rest. Just lacking that 'zip' he has shown all season.
Too slow – or simply not switching flanks – having drawn WHU to defend in numbers down one flank. If fit and able, bringing on James would fix that if he plays at the levels he did early season.
Jarrod Bowen really does look a talent, offensively and in his defensive duties.
Thomas Richards
27
Posted 01/01/2021 at 18:27:49
Jay,
You missed a mention for our poorest player in the first half.
Jay Wood
[BRZ]
28
Posted 01/01/2021 at 18:31:53
Kevin, we're not playing as deep as we have of late, so the tactics are different.
Quite clearly both full-backs are higher up the pitch and often in advance of the deepest lying midfielders. It just isn't working very well at the moment because we are recycling the ball too slowly and ending up in cul-de-sacs, rather than in behind them, as a result.
It's the pace and movement on and off the ball that is lacking today, not sticking with the same formation.
Paul A Smith
29
Posted 01/01/2021 at 18:32:15
Looks like it said on the tin for West Ham so far.
Set up solid and shutting supply out, maybe nick a goal.
We can't shut off here and we have to start knocking on the door.
Kevin Prytherch
30
Posted 01/01/2021 at 18:39:55
The full-backs are pushing up more, but it's the Number 10 role I don't like against teams who defend. When we have a midfielder that advanced, it's as if the wide players a) stay too wide and b) don't get as far forward as they do in a 4-3-3.
The result is that Calvert-Lewin is often too isolated and we don't get enough crosses in.
Compare that to when we play a 4-3-3, the full-backs get further forward and the wide players drift inside more knowing that we have that 3 in the middle.
James Fletcher
31
Posted 01/01/2021 at 18:43:43
So many errors from pretty much everyone on the pitch – looks like they got shitfaced last night and didn't even stop before the game.
John Dingle
32
Posted 01/01/2021 at 18:45:00
Must get James and Gordon on for Sigurdsson and Bernard.
Ian Carter
34
Posted 01/01/2021 at 18:56:06
Boils down mostly to effort so far today for me. Everyone is moving slow including the ball. Nothing looks crisp today. No quality on the ball and no one making any runs.
Calvert-Lewin is too isolated. West Ham will nick a goal if we aren't careful. Hopefully James and Gomes will help things.
Simon Dalzell
35
Posted 01/01/2021 at 18:56:22
Dreadful. Slow. Can't make simple passes.etc.
James Fletcher
36
Posted 01/01/2021 at 19:06:52
Even the groundsman appears to be having a shit game.
Alex Gray
37
Posted 01/01/2021 at 19:19:10
Deserve to be losing today. Awful performance all around. Got to say, in last few games Richarlison has played, he's stunk the place out.
We need to find a way to be more creative and get players around Calvert-Lewin.
James Fletcher
38
Posted 01/01/2021 at 19:20:35
I'd be dropping Richarlison on his form, every time he's got the ball he just gives it away. Only players who have done okay are Gomes and Pickford.
Alex Gray
39
Posted 01/01/2021 at 19:21:28
And once again, we will never be a top side with the likes of Tosun on the bench or Davies starting. They'll have the occasional decent game but will never be consistent. This is a piss poor West Ham side and we looked devoid of ideas tonight.
Tony Hill
40
Posted 01/01/2021 at 19:24:32
Terrible. Just nothing whatsoever to be said that is positive.
Bill Fairfield
41
Posted 01/01/2021 at 19:24:48
Shocking performance, utter garbage.
Ciarán McGlone
42
Posted 01/01/2021 at 19:25:00
A thoroughly deserved loss.
Too many players content to pass it sideways and backwards. Infuriating bollocks.
Mina likes to hold on to the ball for ages then make a 5-yard pass.
Davies had a decent first half but was awful after the break. Sigurdsson was awful from the first whistle.
Gomes was MotM. Says it all really.
Boring crap.
Martin Berry
43
Posted 01/01/2021 at 19:25:43
Absolute dire game where we got what we deserved, nothing.
No creativity, no-one make runs forward and too many sideways passes.
Danny Baily
44
Posted 01/01/2021 at 19:26:03
Gutted, not much in it tonight.
I'm sure we'll pick up when the likes of James regain sharpness and Digne returns.
Roman Sidey
45
Posted 01/01/2021 at 19:26:35
I love the guy but, if I never see Coleman play again, I'll be fine with it.
Jay Wood
[BRZ]
46
Posted 01/01/2021 at 19:26:49
Dreadful fayre.
Our best footballer on the day was Gomes when he came on.
Shocking energy levels and inability to do the basics.
Woeful missed opportunity.
Tony Hill
47
Posted 01/01/2021 at 19:27:20
There was no pace, no movement and, most damningly, no ambition. With that mentality we will never be competitive. We must start taking risks.
Patrick McFarlane
48
Posted 01/01/2021 at 19:27:34
I hope that is a one-off performance because any more performances like this one and we'll be waiting a while for our next three points. Neither side deserved to win, but Everton especially didn't, did we make their keeper work apart from Bernard's shot in the first-half? An extremely disappointing start to the New Year.
Ah well, there's always the FA Cup?

Bill Fairfield
49
Posted 01/01/2021 at 19:27:49
Just give an awful performance, got beat and now they're swapping shirts and taking backslaps off Moyesie, says it all.
Neil Lawson
50
Posted 01/01/2021 at 19:28:19
Truly awful. How much do this shower get paid? Should all – and the manager too – be utterly ashamed of themselves and should spend the next 7 days handing out food to the homeless and donating their salaries to charity.
Jerome Shields
51
Posted 01/01/2021 at 19:28:25
Did Everton have one shot on target all game? West Ham were getting too many chances and had shots on target, which eventually resulted in them scoring. All Everton set-pieces dealt with. Richarlison was very poor throughout.
All Everton's final-third play well contained by West Ham. Doucouré and Davies worked hard and Sigurdsson was reasonable. Most West Ham chances came from wing play. Coleman and Godfrey got continually overlapped. Got sucked into challenges, runner on-marked.
Nicholas Howard
52
Posted 01/01/2021 at 19:29:23
Complacency. Can't pass properly.
Playing Davies at midfield (mediocre at best, one good game then back to norm) was a bad gamble. Moyes knows him... looks at how WHU players harrassed him lost balls many times
Richarlison had been bad in form for many games in a row.
You paid the price for not doing the basic stuff.... passing!br>
Joe McMahon
53
Posted 01/01/2021 at 19:30:31
Yup, we don't deserve a top 4 spot, 1 striker always, Tosun off the bench and an awful midfield.
How can anyone expect to compete with the talent of those teams above us. Cenk (fucking Tosun), Sigurdsson and Tom Davies ain't gonna take us to the Champions League.
Richarlison has also given up. Our first-choice right-back is also years past his best, and no doubt will joining the coaching team of ex-players in 2 years time.
Stephen Brown
54
Posted 01/01/2021 at 19:30:40
Richarlison was the biggest disappointment tonight. No pace, no threat, no apparent interest!
He needs to get back on his game and quickly!
Tony Hill
55
Posted 01/01/2021 at 19:30:54
I'm sorry to say that Richarlison looks as though he's expecting to leave.
Brent Stephens
56
Posted 01/01/2021 at 19:31:47
Some dreadful individual performances. You're then up against it.
A number of Doucouré passes going astray. Not only him. Poor decision-making with the player turning back to our goal too often. No momentum.
Ogbanna had a really good game. Calvert-Lewin without a look-in.
Paul A Smith
57
Posted 01/01/2021 at 19:31:51
Not sure I have ever been so frequently frustrated with a player as I am with Richarlison.
He is so annoying at times and we desperately need a passer in midfield.
Sideways, backwards, sideways, behind the man running, backwards again. No vision or dynamic skill in there at all.
Thomas Richards
59
Posted 01/01/2021 at 19:32:17
Too slow in the build-up, gave a team coached by defensive coach too much time to fall back into their well-drilled positions. Moyes did too us what he used to do for us.
Tom had a decent first half but fell away second half. Gomes will deservedly start the next game. He injected pace and passing improved after he came on.
As I pointed out to Jay, Sigurdsson was very poor. Our poorest player by a mile.
Calvert-Lewin had nothing at all service-wise. Richarlison looked short, scared to get a knock, I reckon.
I don't like the centre-half partnership, neither of them good enough if we are looking to challenge for top four in coming seasons.

Sam Hoare
60
Posted 01/01/2021 at 19:32:19
Uuurgh. Not loving 2021 already!
Over the last month or so, we have been lucky at times to nick a goal from a set-piece or effective counter but tonight West Ham defended well and did not ever allow us to get close to either.
Not sure either team especially deserved to win but predictable somehow that Moyes would KITAP1.
I thought Doucouré was decent and actually thought Gomes looked better than usual when he came on. Very little to cheer though. Poor performance, poor result, momentum lost. Will this now herald the start of another run of losses and poor showings? Hope not.
Craig Walker
61
Posted 01/01/2021 at 19:32:39
Whenever we can do something... No positives from that. Just like the Leeds game.
Richarlison was a liability today and has been for a lot of the season. Bernard and Sigurdsson are too slow and ineffectual. I never wanted to see them in an Everton shirt again after last season and I haven't changed my mind.
To bring on Tosun is baffling. Pickford continues to palm balls across his box and it always costs us. Davies tries hard but goes backwards and sideways and is far too slow. Seamus is past it.
We miss Allan. Gomes did okay when he came on but he isn't the answer. Let's be honest, we aren't a 2nd-placed team based off that and several performances this season. We're way higher than I'd expect but we urgently need to get rid of the players who continually let us down.
If Calvert-Lewin and Richarlison are off, then we have no goal threat whatsoever. Typical Everton today. Always let you down when it matters.
Jim Bennings
62
Posted 01/01/2021 at 19:32:41
I know we have had some good results lately but this result had been coming because I'm struggling to remember the last genuinely exciting Everton performance.
Our football under Ancelotti, a year on, I hold my hand up it's not very impressive really is it?
Our attack has become a complete nothingness, it's just isolate Calvert-Lewin and just try to hit his head with crosses, where is the support?
I'd have ragged Richardson off at half-time and tried Gordon out there and pushed Bernard in the middle.
It's a cop-out saying we haven't got the players, have Aston Villa got the players either but it hasn't stopped Dean Smith producing a stunning vibrantly attacking unit.
Carlo has the players but he's too pragmatic, too fixated on a lone striker that is isolated, won't go with two strikers ever as a change and the style of football it's either cross it or nothing.
As that second half wore on tonight, there was only going to be one winner and it wasn't us which is a disgrace considering they have played twice since we won at Sheffield United last Saturday.
A good recent run has masked what is becoming a rather mundane and static-looking Everton team.
Tony Heron
63
Posted 01/01/2021 at 19:32:54
James @ 38. Spot on. I really don't get Richarlison at all. Seems to play for himself, attacks always seem to break down when the ball reaches him.
For me, if Barcelona or whoever offered silly money, I would bite their hands off.
Gerry Ring
64
Posted 01/01/2021 at 19:33:11
Roman #45,
What game were you watching? The problem wasn't Coleman, who attacked when he got the opportunity. Our midfield are allergic to passing the ball forward.
I thought Richarlison was really poor and, while Davies did okay in the first half, he was awful in the second. He definitely won't provide a defence-splitting pass anyway.
Our game plan at home against West Ham should be to try to open them up and go for three points. Didn't look like that today!
Christy Ring
65
Posted 01/01/2021 at 19:33:42
The extra few days off had the opposite effect. But what sums it up for me, bringing on Tosun for Calvert-Lewin, that shows how desperate and poor our alternatives are upfront.
Kieran Kinsella
66
Posted 01/01/2021 at 19:34:31
Watching that, I felt as if the players were all experiencing the same hangover as me. WHU were okay, not brilliant but okay. We were complete crap across the board. The lazy miss-placed passes, the lack of movement and ingenuity.
The failure to close down. It was just complete crap. It was a flashback to the past few winters only with a generally more solid-looking back-line.
Tony Hill
67
Posted 01/01/2021 at 19:34:35
It is for the manager to inject some forward thinking in his team, to tell them to go for it. We were afraid tonight at home.
Phil Rodgers
68
Posted 01/01/2021 at 19:35:16
Time to drop Richarlison. He's been shite all season. Looks disinterested. I'm a big fan of his but his performances recently have been completely unacceptable.
Paul Rimmer
69
Posted 01/01/2021 at 19:35:17
Appalling all over the field. Sigurdsson jogging about, Bernard just weak. Richarlison should be fined as he looked like he couldn't be arsed. Davies and Doucouré too safe. Holgate can't play left side as he constantly turns back on his left.
Coleman looked past-it. Slow, devoid of ideas and just when they have the chance to go 2nd and give us a bit of hope they blow it. West Ham were there for the taking.
Andrew Lum
70
Posted 01/01/2021 at 19:35:26
What a disappointing performance. You really have to question the ambition, hunger and mentality of the players. They didn't turn up in the quarter-final against Man Utd, they didn't turn up again today. Did Tosun even get a touch of the ball?
Tommy Carter
71
Posted 01/01/2021 at 19:36:02
Typical Everton. They give you cause for optimism every now and then. For a fleeting moment. And then it is gone. One minute, you're thumping Newcastle at home to qualify for the Champions League. Next minute, you're being demolished in Bucharest.
Tonight was a game we simply should not have lost. We were at home. Against a team that showed very little appetite to win the game. They had a chance and snaffled it up.
We continue to play Calvert-Lewin and offer him no service. None at all.
Richarlison's lack of form is a concern. He was abysmal this evening. Perhaps his head injury is not fully healed.
Bernard did enough to stay on I think. You make your own luck, I'm afraid and we toiled hoping for a chance rather than creating them.
To give that cretin Moyes 3 points at Goodison... Sickening!
Justin Doone
72
Posted 01/01/2021 at 19:37:07
Rubbish game. Terrible loss. It was as bad a performance as against Utd only against a very average team.
I won't go into formations or starting team, it's the tempo, moving the ball too slowly and a lack of options and desire to get forward quickly and attack.
Too many backwards passes and touches. Too many slips, poor passes and negative football.
Blaming a single person or player is wrong so please stop with the Davies bashing. He did a decent job protecting the defence, made himself available and passed the ball okay.
We don't have enough attacking options. We lack pace and natural width. Ideally a top quality winger will be brought in.
Repeating another thread but Tosun... what's he going to do in that type of game? I'd rather Bolasie come on and change things. Pace, power, attacking threat.
Lastly, why will no-one shoot from the edge of the box even when no other options, Sigurdsson, Richarlison, Calvert-Lewin, James – go find your shooting boots.
Ste Traverse
73
Posted 01/01/2021 at 19:38:05
I fucking hate New Years day football. It should be abolished. The games are always crap. Total non-events.
That's 3 out of the last 4 seasons we've be lumbered with a January 1st home game and we've lost all three, not scored and played shite in all three, with the opposition not much better.
As for today, well the less said the better. We were dire but lost to a lucky break in the box they got.
Tony Everan
74
Posted 01/01/2021 at 19:38:07
Moyes before the game: ''Stop the crosses in to Calvert-Lewin and Everton can't score.'' Then hope for a set-piece or a bit of luck, preferably late on.
His team did that and we didn't have the guile, pace or quality to get crosses in against West Ham's mid-table players. Questions need to be asked why that is.
Paul Birmingham
75
Posted 01/01/2021 at 19:39:28
Shocking game, and fair play to West Ham. I've a few West Ham, mates and, as much as they've improved, they were at best seeing a draw as a good result.
Everton didn't turn up. If Keane was rested then, in my view, that was a bad start as the back line has looked solid.
Most of the team looked like they'd been on a big Hogmanay, too slow, no anticipation, no guile or skill to get through West Ham.
West Ham were good value and played like they were the home team and effectively stopped Everton playing...
Another stink-out, but it's not fatigue, it's hearts, minds and desire. Lacking all over tonight and getting mugged by a soft goal, which no player attempted to charge down.
For me, stick to a winning formula and minimal tweaks, but Calvert-Lewin was starved again, and rightfully was pissed off, with his lack of support. I don't think, aside from Davies and Godfrey, anyone played well, and Richarlison looked ring-rusty after a 10-day outage.
Back to a review and let's see if we can stop blowing great opportunities whenever they arise, to go the next step.
Feckin great start but halfway house and we are in a far better position than expected, but pissed off, as a great chance blown again.
Still, Rotherham, and then a massive match away at Wolves, which is a 6 pointer in context of staying in the top 6.
All have a good night and stay safe and well.
Justin Harris
76
Posted 01/01/2021 at 19:39:59
That was incredibly painful to watch. There was literally nothing positive you could take from that slow, ponderous, lacking bite and absolutely no quality in any department.
I have no idea what is up with Richarlison either as he looks a shadow of the player he has been.
We desperately need to find a way of breaking down stubborn teams as it's proving a real problem.
Neil Lawson
77
Posted 01/01/2021 at 19:40:16
Better idea. Give up their expensive homes to the homeless and make sure Richarlison doesn't get a sleeping bag or even some cardboard when he settles down for the night outside the Liver Building.
Jim Bennings
78
Posted 01/01/2021 at 19:41:30
I'm actually looking forward to watching Manchester United v Aston Villa now anyway, two teams that you can guarantee will go for the win with attacking pacy vibrant football, not really much to ask is it?
Paul A Smith
79
Posted 01/01/2021 at 19:43:11
Ste 73. Same mate I was looking forward to the game but hate the date.
I am sure they done us with the same score on this date with a Tim Breaker header, in the Mike Walker days possibly?
Craig Walker
80
Posted 01/01/2021 at 19:43:12
Wolves move the ball with pace when I've seen them. I think they'll destroy us based off today. Agree with Ste, Everton tend to get the New Year off to a shit start in recent seasons.
Warren Bede
81
Posted 01/01/2021 at 19:44:19
Players seem more interested in hugs, smiles and changing shirts with the opposition at the end of the game. Didn't see many that looked tired after the game, players years gone by would have been embarrassed to walk off the pitch.
Chance to climb up the table didn't seem to bother anyone, just a good training run out. We will get hammered by better teams with this attitude.
Shaun Robinson
82
Posted 01/01/2021 at 19:46:00
So Richarlison wants to be playing in the Champions League? Who'd want him on his showing this season? Done sod all for ages apart from walking about the pitch sulking.
Clive Rogers
83
Posted 01/01/2021 at 19:48:44
That was awful. One shot from the edge of the area all night. Richarlison had a nightmare and Calvert-Lewin has to do more in games like that. He can't provide his own chances, dribble or create room for himself on the edge of the box. We played without strikers tonight.
Jerome Shields
84
Posted 01/01/2021 at 19:48:56
Tony #63,
There is no Club going to bite Everton's hand off for Richarlison. I don't even think Koeman is that stupid. He can't keep the ball and he never could pass. What has happened is that clubs have worked out how to contain his one-dimensional play, which he knows himself.
Barry Rathbone
85
Posted 01/01/2021 at 19:49:07
Moyes made a career picking off points from higher placed teams not putting in a shift. He must be laughing his cock off at the "come-day go-day" attitude that still lingers at this club.
If serial trophy winner Carlo can't motivate them to have a go every game, there really is something deeply cancerous within this club.
Stephen Brown
86
Posted 01/01/2021 at 19:49:12
My New Year's resolution is not to get too carried away with wins and not to get to disturbed by losses!
I'm not doing too well at the moment!
Paul – I remember that game on New Year's Day in the early nineties. That was a dreadful game too!
Steavey Buckley
87
Posted 01/01/2021 at 19:49:23
The first serious mistake Ancelotti makes on the night was to change the successful back 4 that previously brought 4 wins out of 4.
But why Ancelotti persists with Richarlison by himself on the left and Calvert-Lewin by himself down the middle only achieves nothing. Is that what Ancelotti wanted, nothing? Because that is what he got.
Calvert-Lewin and Richarlison, to be effective, should be playing down the middle together – not apart.
Ste Traverse
88
Posted 01/01/2021 at 19:49:50
Paul #79.
You're right mate. West Ham did us 1-0 at home on New Year's Day 1994. I was there.
Jimmy Gabriel was the caretaker manager that day as it was a few weeks after Howard Kendall had resigned.
Terry Farrell
89
Posted 01/01/2021 at 19:50:07
That's as poor a match as I've seen in my life. You'd never have guessed that we go 2nd if we win that. We didn't turn them once or get in behind and everything was so slow, even Richarlison was piss-poor. I'd have put Gordon on with one instruction: run at them and get crosses in.
Jeff Armstrong
90
Posted 01/01/2021 at 19:50:56
And rumours circulating about Khedira, another slow, ponderous midfielder, way past his sell-by date. Not what we need, Carlo, not at all.
Shaun Robinson
91
Posted 01/01/2021 at 19:51:29
Paul @75. 1995 must be the last time we actually took the next step (forwards anyway). Every single opportunity since then has seen a spineless performance – just like tonight.
Tony Twist
92
Posted 01/01/2021 at 19:53:38
No surprises then. So much complacency in this club, they are way to comfortable, standards are just acceptable whether they are poor, bang average or good.
It's been going on for decades with Everton, we never have lots of players playing well it's always got to be just one player that shines and all the others take a step back. Richarlison and Calvert-Lewin should be a match for any forward line but it just never happens.
A self inflicted defeat, resting players and we are half way through the season is a joke. These players have it easy, the manager is a fool as you get a strong defensive line-up then stick with it unless a player is injured, not change it thinking that the opposition is supposedly a weaker side. Amateurish.
Craig James
93
Posted 01/01/2021 at 19:53:43
I'm not one to come on here and whinge and moan about the players, the club etc but I, for one, am glad this happened today.
You could see signs from the last few games that this result was coming and I bet Carlo is happy so that he can go back to the board and say... "Look, I've got us this far with one window and a bunch of heartless, gutless and Championship standard players... give me more backing and we will be challenging for the Premier League, never mind Europa League."
Too many players hiding again today to mention. Anyone who says Tom Davies had a good game needs to rewatch the match. (I've always wanted him to succeed but he is just not good enough.) Too many balls given away, poor vision, touch and ability to know where his teammates are. Squad player at best.
Now is the time to be ruthless and stop playing mediocre players – Sigurdsson, Bernard, Tosun, Mina and even Coleman to name a few. Get the new players in or blood the youngsters.
Rant over... anyone else think we were poor today and lucky in the past few games??
Happy New Year, one and all.

Tommy Carter
94
Posted 01/01/2021 at 19:54:52
@85
Barry. Moyesie never made any such career. He never made much of a career taking any points whatsoever from teams above us away from home.
He took points off bigger teams at Goodison. He took knives to gunfights away from home.
He did the same tonight. They absolutely did not worry me going forward. However, what concerned was that we did not create anything. Calvert-Lewin has to be given more service. Richarlison has to be hooked after an hour because he is stinking the place out.
Davies had a solid game, don't understand the hate on here. We played with zero width and it cost us.
Stephen Brown
95
Posted 01/01/2021 at 19:55:19
Carlo seemed a bit pissed off with James to me!?
He said he'd had 'time off' and then criticised his conditioning!
Jerome Shields
96
Posted 01/01/2021 at 19:55:39
Calvert-Lewin in the second half was totally isolated and so was Tosun to be fair to him. There was no good final-third play of any use for the way Tosun plays.
Craig Walker
97
Posted 01/01/2021 at 19:57:43
Barry. He didn't pick many better teams off away from home. Agree though, it was classic KITAP1.
I just knew we would end up losing today. We weren't up from it from the start. Often with Everton you can tell what performance we'll see from the first 10 mins. Today was shambolic.
Carlo needs another two transfer windows before I judge him because he still has too many players from other regimes who are nowhere near good enough. I think we're a top 8 side at the moment and our current place flatters us.
We need Allan back and some pace up front. Not getting King from Bournemouth but letting Kean and Walcott go looks really shortsighted.
Thomas Richards
98
Posted 01/01/2021 at 19:58:01
Tony Twist,
Ancelotti is an amateur fool?
Come on mate
Danny Broderick
99
Posted 01/01/2021 at 19:58:16
Just rubbish. Too much backwards passing, main culprits being Coleman, Sigurdsson and Bernard. Richarlison rubbish. Poor Calvert-Lewin up front on his own all night, probably caught a cold...
Patrick McFarlane
100
Posted 01/01/2021 at 19:59:20
I wish I'd looked at the previous New Year's Day fixtures prior to the game as, until Ste and company posted about it, I wasn't aware of our poor results. I now realise that we are pretty rubbish on this day. Today's loss was the fifth consecutive defeat that Everton have suffered on the 1 January,
2020 lost at Man City 1-2
2019 lost at home to Leicester 0-1
2018 lost at home to Man United 0-2
2015 lost at Hull 0-2
I can't remember any of those games, so I must have had a good New Year party on each occasion!
The last victory Everton had on New Year's Day was when Victor Anichebe grabbed the winner at West Brom in 2012.

Alan McGuffog
101
Posted 01/01/2021 at 20:01:57
Still, the future is bright with the rich array of talent bursting out of the Academy. If they're all half as good as Davies, then I wouldn't be surprised at all.
Paul Birmingham
102
Posted 01/01/2021 at 20:02:29
Squad quality needs to be improved, as for all teams, but playing the biggest game in the course of the season requires a well-tuned team.
West Ham played a typical Moyes game and he took Everton to the cleaners. Interesting to see how long Iwobi is out for. Pickford stopped the shot but it went straight into the "kill zone"... I still say get big Nev, back to coach all the Everton goalkeepers.
That result tonight will cost Everton, in context of the European competition qualification, unless a vein of consistency is found in the remainder of this season.
I'd like to see the match stats on the sideways and backwards passes this team made tonight including our goalkeeper's wasted kicks.
Takes me back to 1982-83, acute frustration, but the reality is we don't have the squad depth. The players who started tonight, in my view, didn't put their heart into the job at hand.
But that is down to the coaching staff, who should have had this game's importance etched on the squad's foreheads since the Sheffield United result.
But sadly, following the typical Everton tradition, the players forget who they were, who they played for, and yet again took the piss on the Evertonians.
How many teams have made West Ham look so good?
Shit-show amongst hundreds, but it's a massive opportunity missed.
Play like this vs Rotherham and it will be another embarrassment.
Alex Gray
103
Posted 01/01/2021 at 20:03:05
One thing I can safely say is that Iwobi is our best crosser of the ball from out wide bar James and Digne.
We need attacking and creative reinforcements. We need a Barkley type player as Number 10. Someone who can pick up the ball and run with it. I'm happy with the fully fit back four and Allan and Doucouré. A Number 10, a fast winger, and a fast striker is needed for me. We need pace and badly.
Brian Harrison
104
Posted 01/01/2021 at 20:05:04
Players and manager need to have a serious look at themselves after that performance. As nearly every poster so far has commented how slow and ponderous we are going forward, surely Ancelotti could see right from the off we were far to slow in moving the ball.
I thought at half time he would demand we move the ball quicker, but that didn't happen and the longer the game went on I think a draw was the best we were going to get. Also, they have played 3 games in 6 days to our 2 in 7 days, another reason to play at a high tempo.
As a few have mentioned for some reason Richarlison didn't look interested for most of the game, I like Richarlison but, at present, his attitude stinks. Calvert-Lewin has struggled for the last few weeks, and he is never going to turn, go past people, and score. His strength is he is strong and good in the air and will score goals from balls played in early. But not once did we get wide and play balls into the box.
I thought Doucouré was MotM and I thought Davies put in a good shift, as did Mina. On tonight's performance, I don't think Michael Keane has anything to fear from Holgate.
Look all teams have off-days, both players and managers, but to play with no intent knowing a win takes us 2nd, that performance was unforgivable.
Rob Dolby
105
Posted 01/01/2021 at 20:05:47
West Ham came for the draw and fluked a win. Midfield is too weak without Allan.
Bernard frustratingly gets a start and doesn't stake a claim. Sigurdsson went missing. Tom Davies passing was too slow. I never thought that I would ever say that we missed Iwobi.
Calvert-Lewin looks a different player when he doesn't get the service from the wings.
All-in-all, a pretty poor display.
Kieran Kinsella
106
Posted 01/01/2021 at 20:05:56
Tommy,
Moyes brought a knife today expecting a gunfight but, luckily for him, Everton armed themselves with custard pies instead of guns.
Andy Walker
107
Posted 01/01/2021 at 20:06:23
The guy who set our tempo tonight was Davies. His role was to be the out ball for our defenders (once they passed it repeatedly left to right and right to left between themselves for no reason).
Once Davies, who looked confident on the eye, collected the ball he waited a couple of seconds and..... played it back to a defender for them to hump it forward. He turned back time after time, it was like he didn't understand the rules of football and thought we got points for making a 5-yard pass sideways or backwards.
Richarlison was awful, but at least we know he has ability.
Sigurdsson, his back legs have gone. Good at pointing though.
Bernard too lightweight and like Davies and Sigurdsson slows down the game as soon as he gets the ball most of the time. It was a midfield lacking in urgency and creativity until James and Gomes came on.
On the bright side, Gomes looks like he's getting back to some kind of form.
Phil Smith
108
Posted 01/01/2021 at 20:07:14
Carbon copy of the Man Utd game for me. No energy, no aggression and too many not on form playing (Richarlison, Sigurdsson etc.). Gomes actually looked lively when he came on compared to Sigurdsson.
We need a couple of fresh faces in the starting 11. Every other team above us are giving one or two a game from the U23s. Not us. Although Gordon finally got some minutes the other day.
Tough game for him to come into. This one would have been similar, I guess, which is probably why we didn't see him today. We better play Kenny, Gordon and Nkounkou in the cup or expect more of the same. Need freshening up because our creativity and movement have totally gone.
George McKane
109
Posted 01/01/2021 at 20:07:36
I believe in positivity. I do not believe in doing things for no reason – where there is nothing but negativity or even apathy. I simply cannot comprehend nor accept the total nothingness of this game.
I am not going to slag individuals. What was presented to the fans tonight was totally unacceptable by everyone concerned. I cannot grasp what happened.
Mal van Schaick
110
Posted 01/01/2021 at 20:08:21
Ancelotti picked the wrong team again. Davies and Holgate? Keane and Gomes should've started. I don't understand what he was trying to do with that team selection.
Jim Bennings
111
Posted 01/01/2021 at 20:08:44
Despite being where we are in the table and the money we've spent, if I was a betting man, I would still say we'll finish below Villa, Leeds and Wolves.
None are perfect but they just look a bit better than us.
David Pearl
112
Posted 01/01/2021 at 20:08:59
Yes very poor, very flat. We have a need for speed and to find a way quickly to put some mofo crosses into the box.
But... it's one game. The carrot of 2nd place wasn't enough so fingers crossed Brands can get a few out cuz we need a winger!!
Stuart Sharp
113
Posted 01/01/2021 at 20:10:14
Hard to explain just how poor that was. A manager should almost always take some of the blame in these circumstances (eg, Why keep Richarlison on?), but to hear the anti-Carlo rubbish again is ridiculous.
Currently 4th with a bang average squad. Only one year in. This guy could take us much closer to where we want to be with the right backing.
Today was maddening... it was like we had 10 Schneiderlins... but to put all of the blame on Carlo? Come on.
Thomas Richards
114
Posted 01/01/2021 at 20:10:39
George Mc being as close as he will get to being down on Everton, tells you everything you need to know about tonight's performance.
Steve Shave
115
Posted 01/01/2021 at 20:11:24
Woeful. I'm pissed off and have been unpleasant to be around since the final whistle!
Richarlison looks bored and like he doesn't want to be here. I agree with some of the above comments about Gomes, he looked hungry when he came on, as he did last week, I hope that is a sign he might be returning to the player we brought because we could do with him now.
Calvert-Lewin needs service, I suspect he will start against Rotherham in a bid to end his goal drought.
Patrick McFarlane
116
Posted 01/01/2021 at 20:11:35
I fear the issue with Richarlison, is that he's only interested in playing for his national side. Since the International friendlies and World Cup qualifying fixtures came to a halt, so has Richarlison.
He admitted that he 'conned' Ancelotti with his covering up of an injury prior to an international break. Everton FC doesn't pay his wages for being a Brazilian International, they pay him for what he does in an Everton shirt. His performances recently have been below par and his goalscoring record for Everton this season has been abysmal, considering his natural talent.
There's a lot to like about Richarlison, but Evertonians need to see him back firing on all cylinders, else he should be replaced by somebody who will produce for Everton, more regularly.

Steve Oshaugh
117
Posted 01/01/2021 at 20:13:16
Difficult to reconcile that with the exciting footy we saw in the first few weeks of the season. That was an awful watch from both sides. Only a few positives that I could see...
Gomes was good when he came on and seem James back on the pitch was encouraging and Doucouré kept running all game.
Tom was not great tonight. Richarlison was having one of those games. Bernard was poor. The pace of passing out from the back and through Tom was so slow tonight... by the time they faffed about the only option was to pass back.
Hopefully we can get a few in to freshen up the squad as this season is a golden opportunity to win the bloody thing. Any of the top 7 or 8 are in with a chance if they get the bounce of the ball and a bit of luck with injuries.

Barry Jones
118
Posted 01/01/2021 at 20:13:41
Sigurdsson was dreadful. He is weak, slow, and gutless. He shirked so many tackles it was a disgrace. Just several minutes after Gomes came on, we already looked better, as he is stronger on and off the ball and he gave us more movement and creativity.
I just want to know what rationale Ancelotti has for starting Sigurdsson as he offers virtually nothing. The Number 10 spot is too important a position to be carrying someone as anonymous as him.
Kunal Desai
119
Posted 01/01/2021 at 20:13:51
Disappointing and frustrating. I think our game management needs to be a little smarter here. That's three home games (notably today and Leeds) where we have gone into the final 10/15 mins and lost.
I've not seen any evidence in those games where we changed a game to be on the forefront and look to win it, so instead why can't we just look to close the game out and come away with a point.
Ian Edwards
120
Posted 01/01/2021 at 20:14:19
I don't understand the Carlo supporters. The games we have won recently we were hanging on desparately for 30 mins. Terrible tactics, formation and subs.
Two holding mids again tonight. One up front. Still only one forward when we needed a goal. We are clearly in a false position and the sooner we get rid of Carlo Allardyce the better.
Craig Walker
121
Posted 01/01/2021 at 20:15:10
We've done better away from home this season and I think that is partly because of a lack of fans at grounds. On the other hand, though, I think we miss a raucous Goodison.
I fancy us against most teams when the ground is like a bear pit, eg, Chelsea under Dunc. Today was just lethargic from the first whistle and I'm sure the players and Carlo would be fully aware of that in a packed ground. Even the 2,000 fans lifted us against Chelsea.
No excuses though. We were poor all across the pitch today. I'm not having it that this is the greatest league in the world either. It was soporific.
Ian Riley
122
Posted 01/01/2021 at 20:16:23
I feel I must have been a bad lad in a previous life to support Everton. Chosen... my arse!!
Bogdan Kotarlic
123
Posted 01/01/2021 at 20:16:23
Not a very good match (to put it that way), we didn't play well. West Ham was a little bit better side and they probably deserved to win. I think that the games being played every two or three days is simply too exhausting and our players seem tired.
The schedule for this season is extremely demanding and we are not the only team which suffers because of that. Also, we didn't have even that 2,000 strong support. We miss our fans at Goodison, a full house would have helped us a lot.
John Keating
124
Posted 01/01/2021 at 20:16:48
There can be no excuses for that. I thought they were bad against United but tonight was on a different level. The team Ancelotti put out was more than capable to get a result.
Tiredness could in no way be used as an excuse for not playing at a high tempo quick movement performance. I understand Coleman coming in for Holgate, which should have given us more attacking options on the right. I understand Richie coming back in. I understand Keane being replaced by Holgate.
Unfortunately nothing worked. We looked as if we had played 3 games in a week, energy levels were shocking. The basic passing when under no pressure was atrocious. There was no movement up front. We're not talking about special things just basics were non-existent.
Players who have done well recently, Sigurdsson, Davies, Bernard were well off the pace. No doubt the blame that players unable to pass 5 yards to each other will be down to Ancelotti. Horrendous from everyone involved.

Barry Rathbone
125
Posted 01/01/2021 at 20:17:04
I'm not one to support Moyes but posters saying he only picked off points from no-shows at home are missing the point – we weren't at home.
Not in the true sense.
Pat Kelly
126
Posted 01/01/2021 at 20:17:20
Ancelotti has failed to instil any sense of urgency or even desire to win. There's no hunger in the team.
We need a few players who can't bear to lose any game. Someone who it hurts to lose. I just don't see it in this lot.
Barry Jones
127
Posted 01/01/2021 at 20:19:50
On the positive side, I thought that Doucouré was excellent. We also missed the positive energy of Iwobi.
Jay Wood
[BRZ]
128
Posted 01/01/2021 at 20:19:52
Thomas @ 57:
'As I pointed out to Jay, Sigurdsson was very poor.'
Ehrm...no you didn't Thomas.
I have but few talents. I don't number telephathy among them.
Danny Broderick
129
Posted 01/01/2021 at 20:21:25
It says something when Gomes comes on and adds urgency to the midfield!!
Anthony Murphy
130
Posted 01/01/2021 at 20:21:49
Classic Moyes although lucky to get all three points. Their subs showed intent though. James looked like he was running in treacle when he came on – players gliding past him.
Phil Smith
131
Posted 01/01/2021 at 20:21:49
We have sorted things out defensively at the moment, which is great, but we have totally lost our offense. There is no movement up top. So many times we looked to pass from the back but there was nothing on so we went sideways or back, which you have to give West Ham credit for that. They defended from the front.
Tom was the only one looking to pass forward until Gomes came on. That is not really his game though, hence the amount of possession he gave away. Least he tried though.
Not sure what is up with Richarlison, but he is stinking the place out at the moment. Looks low on confidence. We should be looking for Alli or Eriksen in this window.
We need to be making more chances for Calvert-Lewin. 6 games now. Didn't even have a sniff today. Looks a frustrated figure, as do I after that shite again.
Michael Lynch
132
Posted 01/01/2021 at 20:22:32
Awful. Watching Richarlison makes me want to weep. What's happened to him?
Just switched on the Man Utd vs Aston Villa game and it's another level to the shit sandwich we were served today.
Paul Birmingham
133
Posted 01/01/2021 at 20:23:04
I'm waiting for the next game, angry but surely the light is that this level of performance will be a minimum between now and the end of the season.
Best chance in years to progress but Everton always let you down on the big night.
Hope eternal and lessons will be learned.
Hopefully Gbamin and Allan will be near to match fitness by the end of the month. We will need a very tough midfield next month, who will want it more, when we play Mr Ed's team at our old ground.
But at least we are still in contention for a European slot.
Now for more ale and to dissolve this match to the annals of bad performances.
Thomas Richards
134
Posted 01/01/2021 at 20:23:32
I didn't expect you to use telepathy, Jay, thought your eyes may have relayed the information given there can be no doubt who our poorest player was in the first half.
Perhaps all will be revealed when you do your second viewing of the game and subsequent tactical analysis later.
Darren Hind
135
Posted 01/01/2021 at 20:24:37
It's so reassuring to know that it was all the fault of the academy boy.
For a minute there I thought I was watching Carlo Fantastico being taken to school by the clueless Ginger Tosser. Two teams sent out not to concede, but only one of them looked like succeeding.
I know there will be posters coming on to tell us Carlo has won soooooo much with the players he has inherited, just as I know there will not be any coming on to tell us about the great teams he has built.
This club is paying Carlo a fortune to break the habit of a lifetime and actually build a team from scratch. Anybody expecting this old dog to learn new tricks is in for a painful disappointment.
Kenny Smith
136
Posted 01/01/2021 at 20:24:59
Terrible performance. Fair play to Moyes though – he'd come for a point but managed to sneak 3.
The window opens tomorrow and we really need a proper mobile striker because relying on Calvert-Lewin, who has surpassed himself this season, won't cut it. Then we can get towards a 4-4-2 or something similar.
Carlo's doing a great job with what he's got. We'd've been a point behind the shite after 16 games with a win today. We'd've all taken that before the season started, I'm sure.
Tony Marsh
137
Posted 01/01/2021 at 20:27:02
With most of his squad available, Carlo can't get a tune out of them. When forced by injuries to play a different formula it worked. Now we are back to the clueless genius mode.
What the fuck was that Tosun sub all about? Why not keep Calvert-Lewin on plus Tosun? How did we end up with just one proper striker at the club? (I don't count Cenk). Davies, Coleman, Sigurdsson, Tosun, Bernard give me a break not good enough.
Tell you what, lads, considering many think Ancelotti is a genius with god-like status, I am needing a little bit of convincing.
This shite tonight was as bad as anything I have seen since Moyes left. Utterly embarrassing. Forget top 4 and get ready for another slide downwards.
Jim Bennings
139
Posted 01/01/2021 at 20:33:11
I think we are starting to feel the effects now of not trying to bring in a striker to aid or replace Calvert-Lewin.
If we don't look to rectify this in January, then we can expect many more struggles in front of goal.
Tony Abrahams
140
Posted 01/01/2021 at 20:33:54
Terry@89, says it better than anyone because Everton would have actually went second if they won tonight, which should have been enough to put some urgency into the team.
Davies, neat and tidy, but played without any "drive". Sigurdsson played like he did at Anfield when we went out the cup last season and looked mentally and physically shattered. Richarlison just hasn't looked right for a while now.
It was nothing to do with Tosun, why we lost, but the minute he came on, I was honestly thinking that I'd take a nil-nil.
I also think we are very lucky we haven't got a game for another week now because we looked a very ponderous team that was really devoid of ideas tonight.
Ian Edwards
141
Posted 01/01/2021 at 20:34:42
Ancelotti has been sacked from his last 3 clubs. He's not the Messiah. He only cane to us because we offered more wages than Jurassic Park.
Chris Woods
142
Posted 01/01/2021 at 20:35:06
Fuck me, it's hard work being a Blue. You'd think, after 40 years, I'd be used to it.
I stupidly thought, after 4 straight wins, and being 4th in the league, we'd be right up for it tonight; how wrong was I? That was pure shite.
I don't think we should be worried about Richarlison going anywhere; the way he's playing, no top team will be coming in for him.
Nicholas Ryan
143
Posted 01/01/2021 at 20:37:10
Dismal, just dismal.
Steavey Buckley
144
Posted 01/01/2021 at 20:37:17
When considering all the money that has been spent since Koeman was first manager, during the reign of the current major shareholder, Farhad Moshiri, Everton should be a much better team from goalkeeper to Number 9. But they ain't. They are average at best.
What's gone wrong? Today's team could have been picked by the Everton tea-lady for all that was achieved.
Ian Edwards
145
Posted 01/01/2021 at 20:37:33
Tony... when Tosun came on, it should have been two up front with Calvert-Lewin. Calvert-Lewin was isolated for 80 mins and then Tosun isolated for 10 mins. Even a 4th Division manager would have put an extra forward on. Sadly, not Jurassic Allardyce.
Clive Rogers
146
Posted 01/01/2021 at 20:38:07
Calvert-Lewin is now a striker who is just looking for tap-ins and we need more.
Unfortunately, he is very limited, can't dribble or turn a defender. He has never scored a goal anything like Cavani did against us, it's just not in his locker.
Brian Wilkinson
147
Posted 01/01/2021 at 20:41:06
The past few games, Calvert-Lewin has been isolated, won nearly every hoofed ball towards him, with little support to lay it off to.
So again I will ask if we are starting games like this, then why not throw on Tosun early doors, have Calvert-Lewin to come off the bench to try and change the game in the second half? Or, dare I say it, play both and give our opponents something to think about, with two strikers.
Playing a lone striker you just cut out the supply or double up marking Calvert -Lewin, we know Tosun is not the quickest, but if we can get both around the box, maybe Tosun could feed off Calvert-Lewin, or create some space and panic in the danger area.
Thomas Richards
148
Posted 01/01/2021 at 20:41:59
Darren,
Just had a quick look.
Carlo hardly took over teams he had to build from scratch but have a look at this:
Juve season before he took over
7th
Milan season before he took over
6th
Chelsea season before he took over
3rd
PSG season before he took over
4th
Real season before he took over
2nd
Geoff Harrison
149
Posted 01/01/2021 at 20:46:18
Really concerns me that Richarlison and Calvert-Lewin are capable of being so utterly awful.
We know that the likes of Bernard and Sigurdsson will be out of the team as soon as everyone is fit, but we'll persevere with the first two. We just don't have alternatives.
Painful to watch. I'm not enjoying watching this team at all.

Philip Yensen
150
Posted 01/01/2021 at 20:46:26
Richardson is a passenger; Davies a headless chicken; Bernard a lecky mouse; Coleman looking backwards all the time. Sigurdsson plays when he feels like.
Nothing there tonight, no vision, stamina, no heart.
Sad performance against a typical Moyes team.
Geoff Williams
151
Posted 01/01/2021 at 20:47:34
I'm not going to comment on the performances of Sigurdsson and Richarlison other than to say they were awful.
Davies is constantly criticised for negative play, in fact, no matter how he plays, he can do nothing right, but, for me, it was Holgate and Coleman who slowed the game down and played into the hands of West Ham.
That was a truly inept performance. No-one came out of that game with credit.
The longer the season goes on, the more disappointed and disillusioned with Ancellotti I become.
Dave Williams
152
Posted 01/01/2021 at 20:50:09
I can't believe (or maybe I can) that Calvert-Lewin is being criticised again! The lad has no support, no one within twenty yards of him most of the time and no one who can beat the first defender with a cross.
We lack support up front because Richarlison is in a dreadful run of form and tonight was like playing with 10 men in that sense. He will come good again but we need that to be soon.
We had no creativity and played way too slow, making it quite easy for them to contain us. We are of course a work in progress and these blips will happen.
Thomas Richards
153
Posted 01/01/2021 at 20:51:58
We are a work in progress.
Good post, Dave.
Jay Wood
[BRZ]
154
Posted 01/01/2021 at 20:52:39
Thomas @ 134.
'There can be no doubt who our poorest player was in the first half.'
Ehrm... that's you presuming (again) that all see the game as exactly as you do.
We don't. A single reading of any TW thread will tell you that.
Bill Gienapp
155
Posted 01/01/2021 at 20:52:56
Matches like that are the worst. We were awful and deserved nothing, but neither did West Ham and it pisses me off that they snatch all three points because of one lucky break. But okay, that's football (as Koeman would say)... still pisses me off.
Bobby Mallon
156
Posted 01/01/2021 at 20:53:45
Very very bad performance but I'm okay with being where we are.
Ancelotti has to get a tune out of this whole squad as we are not buying in this window
Patrick McFarlane
157
Posted 01/01/2021 at 20:54:40
In hindsight, when Ancelotti took off Dominic Calvert-Lewin, why didn't he leave the lad on and take off somebody else, perhaps, Richarlison? At least then we could have tried to launch a few balls into the West Ham box and who knows we may have gotten lucky.
I'm sure I wasn't the only one who saw that West Ham realised they had a chance of all the points once Dominic left the pitch.
Tony Abrahams
158
Posted 01/01/2021 at 20:57:25
Not for me Ian@145, but I understand what you're saying. I'd have pushed Bernard inside when Sigurdson came off, and tried to see if he could link the play better with Richarlison, and Rodriguez.
But it's all opinions that don't really matter because Everton just never looked likely tonight.
Thomas Richards
159
Posted 01/01/2021 at 20:58:22
Who did you consider to be our poorest player in the first half, Jay?
No cop-outs along the lines of "I can't pick one, they were all poor."
Darren Hind
160
Posted 01/01/2021 at 20:58:48
John G,
Carlo has only ever taken over very rich clubs with world class players. You can dress it up anyway you want, but he has no previous for transforming clubs who are not among the richest in their leagues and who don't have ready-made world class players, into contenders.
Quite why anybody thinks he will start doing it now when he's into his sixties is something that has escaped me from Day One.
Billy Dawber
161
Posted 01/01/2021 at 20:59:48
Deary me. 2021 looks to be fucked up already and we are only on Day 1.
How the hell does that even qualify as a football match. Totally embarrassing to say the least. Mr Carlo needs to start getting angry with these so-called stars because that is not acceptable whatsoever.
A fucken shambolic performance yet again. Totally pissed off with that. I only wish that the fans could be there to give these fuckers a good bollocking from the terraces. Then again, they may have walked out at half time if they had witnessed that load of shite.
I don't see us getting any better unless drastic action is taken yet again to get us anywhere near the top performing teams to be honest. Only time will tell I suppose. Could be a long hard year ahead for many reasons. All the best, Blues.
Mick Conalty
163
Posted 01/01/2021 at 21:01:26
When Richarlison played for Watford, he was crap for most of the season. Starts the season well and then fades away.
We will never get anywhere with players like hi, a m fucking big Ponce.
As for Ancelotti, he needs to get us playing some positive football or he might as well fuck off too.
Derek Thomas
164
Posted 01/01/2021 at 21:02:08
That performance is exactly why they got rid of the cushions.
Good job the Man City game was cancelled.
Paul Birmingham
165
Posted 01/01/2021 at 21:02:17
The Half Way House, was and still is a good pub for a pint, on any day of the week.
The season has a long way to go, but it's been like no other season for many, reasons football and non football related -COViD19, etc.
I hope and pray that the dirty dozen, death or glory mentality comes, in to this squad.
The excess amount of reverse, side passes and excess touches in today's game, for me the biggest game of the season, Everton, were in pre season mode.
From now on, every Everton player must be in the mode..
The killer pass, movement, anticipation, give a fuck, and care, and play for the Everton mode.
Half an ounce of grit and belief tonight, Everton would have done West Ham, good style.
Moyse'sset up well, and he's scored his first win at GP, in the opponents camp. But Everton were not really up for it and West Ham, wanted it more.
Everton didn't turn up tonight and played like strangers. Have they changed match day hotel or the tea bags again?
Everton, drives you to madness.
C'est La Vie.
Tony Everan
166
Posted 01/01/2021 at 21:02:58
I thought at half time there needed to be some sort of electric shock treatment for us in the changing room. The lack of service to Calvert-Lewin was criminal.
It was really disappointing that changes were not made. We could have shook it up and went 4-4-2 with Richarlison closer to Calvert-Lewin and maybe brought Nkounkou on for Bernard to at least attempt to get a cross or two in.
It's not just the result that sticks in throat, it's the inability to counter the utterly predictable tactics of Moyes.
Thomas Richards
167
Posted 01/01/2021 at 21:03:33
Darren 160,
It was me who pointed the examples of how Carlo improves teams.
What has Carlos age to do with it? Do you not consider experience, at any job, can only improve knowledge?
Eddie Dunn
168
Posted 01/01/2021 at 21:05:31
Well what a way to usher in the New Year. it is a good thing the City game was postponed.
I find it incredible that that team could have gone second with a win.
So often I have watched a terrible first half, where we look like a collection of strangers who have had the rules of football explained 5 minutes before kick off.
Let's face it, we have flattered to deceive.
At Sheffield we were awful apart from Siggy's goal. This game was no different, a slow tempo no ambition, all the midfielders afraid to take a chance. it has to be down to instructions from on high.
Ancelotti was determined to keep it tigh and try to win it late on. Moyes had the same idea.
These things happen, but they scored because suddenly they tried to score goals. We were hopeless, clueless.
Mina has a habit of trailing a long leg out to hope to block shots. It's now happened a few times that his awkward efforts have either wrong -footed Pickford or gifted a goal.
It is true that Jordan could have deflected the shot over or wide instead of parrying it back into a central position but we had no one closing down the shooter.
A wretched performance.
May I add my name to the roster of those asking what the fuck has happened to Richarlison?
And to be critical of Carlo, why take off DCL when you have introduced a man capable of supplying ammo?
When the Hammers defender saw DCL trudging off and Cenk coming on, they must have sighed with relief.
The game was there to be won. Two up top might have swung it.
Changing the defence proved to be a mistake. Seamus made lots of mistakes and Bernard was worse than a child. Our best forward passes were from Mina and Holgate was also very patchy.
Gomes came on and did some good things but you can bet your bottom dollar that if he starts, he will be as shite as the rest.
One thing is clear though,- we lack creativity and we are not having shots on goal.
We are doing a Sheffield United, nicking games...tonight we were the Sheffield of this season.
Clive Rogers
169
Posted 01/01/2021 at 21:06:02
Patrick, 157, because Dom is very limited in his play in the box. Basically he needs it laid on for him and Carlo knows this. Richie is not worth his place at present.
Tony Hill
170
Posted 01/01/2021 at 21:08:55
Here's the thing. You just know, watching Everton, that we haven't got the beating heart or the soul to win; not really, we win 3 or 4 and then we flop. This is a theme which has lasted for years, it's become a sort of signature.
In truth, the brief interruption of the 80s apart (and even then we managed to give it up twice to the RS when it mattered), this has defined us now for decades. It's why we are routinely ignored and patronised.
I think Barry Rathbone @85 has it right. There's a fatal half-heartedness at Everton, a cruising mentality. Niceness will be enough and, if necessary, corporate waffle will see off those who inquire too closely into our repeated failures.
Ancelotti may or may not prove to be a redeemer. I doubt it because I think, like other Everton managers, he's operating within a culture which has grown used to second (or 10th) best. Everyone taking the money knows that they can carry on regardless.
Easy does it.
Tom Harvey
171
Posted 01/01/2021 at 21:10:55
The only way I can see that game is that it was like a last game of the season between two mid table teams and neither of the wanted to win it.
Mike Oates
173
Posted 01/01/2021 at 21:15:28
An absolute dire performance, with so many players not at the races.
I thought Holgate and Coleman slowed play down so much that there was no chance of passing through their lines. Davies did the cover job well and clearly can be counted on in the future, but he just doesn't look for the forward pass enough times. Godfrey an excellent defender but doesn't create, which to be fair he's not expected to, he's no Digne.
Sigurdsson just never ever got going, trying as hard as he did, it never broke his way and when he was given the ball he was just crowded out. Doucoure tried but again there was no space for him to drive into.
Richarlison to be honest at the moment is a waste of space, clearly he's not firing, looks like a spoilt brat, never got past anyone, 2 out of 3 passes went know where and he should have been taken off. He's been like this since he returned from his 3 match suspension, perhaps more than anyone misses Digne.
DCL again left isolated, looks down, no chances created for him at all, another one who relies so much on Digne.
I thought MIna played well, but my MoM was Gomes, who when he came on fought well, passed well, and looked sharp again, at last.
3 places forward, 2 places back, forever Everton. Wolves next after FA Cup, need to be 100% better
Patrick McFarlane
174
Posted 01/01/2021 at 21:18:09
Ancelotti says he is going to rest players next week in the cup, why? A good performance and a better result this evening would have kept the feel-good factor going for a little longer, but if Carlo is true to his word and plays those who have been on the edge of the squad, a banana skin awaits Everton and Evertonians need that like a full DVD of tonight's match.

Graham Hammond
175
Posted 01/01/2021 at 21:18:40
DCL is on an upward curve and is quite clearly very good in the air but I rarely see him busting a gut to close down an opposing player even when that player is only a couple of yards away from him, this sticks in my throat and sets a bad precedent and example to the team. He needs to work much harder than he does to find space and make space for himself and because he often ambles around too close to
his markers we lose possession from midfield a damn sight more than we should and is necessary than would be the case were his movement better. DCL has good pace but strangely very rarely uses it and takes on the risk and the opportunity to run directly at his opponent. Rashford at United runs at defenders each and every game multiple times, DCL in my opinion, just bottles it. Richarlison runs at defenders and reaps rewards for the team, although he wasn't at the races at all tonight, he generally puts in a shift. I am frustrated by DCL as I do believe he could be so much more than he is showing. We need better movement from our lead striker for our midfield to give its best and function to the best of its ability, particularly against hardworking and well organised opposing midfielders such as what West Ham had tonight. I thought Gomes looked bright when he came on which was a positive and Iwobi proved quite a miss as he has been on an upward curve, particularly since the Fulham away game. I would agree wholeheartedly with the earlier post that pulled Carlo up on the loss of both Walcott and Kean from the squad, one possibly, but both, no way.
Joe McMahon
176
Posted 01/01/2021 at 21:19:02
Tony Hill, absolutely spot on!. When Gerard Houllier unfortunately recently passed away, I was reminded of the 5 trophies he won in just a few years and the kopites never even talk about it. Many Everton fans still talk about the 60s and 80s like it was yesterday as we are so starved of success. 1995 our last trophy is an absolute disgrace and is part of the woven culture of just being a team in the PL.
Even though I live 20 miles north of Manchester, I'm surrounded by kopites and their smugness is sickening.
Tommy Carter
177
Posted 01/01/2021 at 21:21:39
Gobsmacked that people are questioning Calvert-Lewin on here. His hold up-play and general distribution is superb. His finishing, deadly when presented with a chance.
People are now expecting him to be beating players and bending them in from 30 yards. Never going to happen. Play to his strengths.
Gavin Johnson
178
Posted 01/01/2021 at 21:22:59
A disappointing evening and a real chance missed but after winning 4 games in a row a result like this was coming. I see the usual suspects are calling for Carlo to get the sack again which is some comic relief at least haha.
Tom Harvey
179
Posted 01/01/2021 at 21:24:30
Joe McMahon @ 176
Hello Joe,
These Kopites aren't in the embarrassingly massive 5K supporters that actually live in the City then?
It could be worse, you could be living in Norway!
Jay Wood
[BRZ]
180
Posted 01/01/2021 at 21:24:34
Thomas @ 159:
'Who did you consider to be our poorest player first half Jay? No cop outs along the lines of 'cant pick one, they were all poor.'
Ehrm...why are you putting that question to me and why put conditions on how I should answer it?
Unlike you Thomas, in my half-time post @ 26 (which you clearly read) I named a number of players and gave reasons as to who I (nobody else, only me) considered was playing poorly, so no need to repeat myself.
Thomas Richards
181
Posted 01/01/2021 at 21:26:25
Gavin Lenny Henry is on stand by.
Jay.
Thank you. What did you think of Siggurdsons contribution before he was subbed?
Joe McMahon
182
Posted 01/01/2021 at 21:30:01
Tom@179, please don't remind me, when I have been abroad the rough as f**k family wearing football shirts of you know who and some of the worst tattoos I've ever seen of yes you've guessed it Liverbirds.
Paul Birmingham
183
Posted 01/01/2021 at 21:33:03
Interesting and I respect, every TWrs view, but the City game being postponed, has compounded the issue.
City played their shit card to the EPL, whom, have seemingly changed their pre season rules, on compliance for playing EPL matches.
Tonight I'd say we missed Iwobi, and with due respect a fair few of the current squad may be better at Tranmere or Fleetwood.
Mesaying, we missed Iwobi, but tonight there was no obligation, no out let, no Fukien gits.
Simple as.
The life time enemy, drives me, but shit shows like this, don't help the cause.
Is the season sussing out which players are match fit for playing 2 games a week?
I'm thinking this is the case, but this goes back to recruitment, and youth development.
Tonight the blood, sweat, tears etc should have been shown by, every Everton player, so fekk, knows why it didn't happen.
Rotherham, and let's see.
For me Wolves, is massive, and could be the umbilical cord to staying in contention...
Clive Rogers
184
Posted 01/01/2021 at 21:33:26
Tommy, 177, we have to accept that Dom is limited and not an all round striker. He was hardly involved today and it wasn't a surprise when he was subbed.
Roman Sidey
185
Posted 01/01/2021 at 21:35:10
Gerry, #64, sorry but I made the classic internet mistake of only mentioning one thing I had issue with.
I could have done a long post listing Richarlison being impotent, Calvert-Lewin not getting any service (even though he was rarely available in the attacking half), Holgate obviously being a better right-back than centre-back (on current form) or Tom Davies reverting to type and being a bang average footballer.
Frankly, it's all been said in a million different ways. The thing that stood out to me is our captain and longest serving player did nothing of consequence with the ball whenever he touched it and barely did the basics defensively either.
Jason Wilkinson
186
Posted 01/01/2021 at 21:44:54
Happy new year to you all.
I've read a few comments but not all. Well done to Moyes and West Ham. They came with a game plan. They worked very hard and were rewarded by a bit of good fortune.
I didnt think our performance was as bad as some make out. Our central defenders had little to do. Seamus was good. He got up the pitch and gave us an outlet. Siggy was back to what we have come to expect. He was quite pedestrian and couldnt really find space. Tom Davies looked comfortable taking the ball in tight areas. Godfrey was not at his best and struggled at times.
I think overall we were a little too deliberate. I would like us to take a more direct approach at times. Get the ball in the box a bit quicker. DCL has got a bit of stick. The lad worked hard. Dropped deep at times but never really got a sniff in their penalty area. I never thought I would say this but we missed Iwobi. He has been our most energetic player recently. We didnt overload their full backs which has given us the most success this season. On to the F.A cup with a few changes. Hopefully a bit more energy and we should progress. Wolves & Villa away will suit us better as they will have to bring the game to us. We look better counter attacking at the moment.
We were a bit lacklustre tonight but certainly not as bad as some have made out.
Paul Birmingham
187
Posted 01/01/2021 at 21:44:57
Roman, agreed, I sense that this is in a way, a prove your self, or get fit season, for Everton, even at price of losing the game.
The players tonight were were worse than a Business Houses or Zingari League Team, after the Friday, weekend beer.
Now I've just seen the Manure, latest diving stunt, or bad VAR, shit house officials..
Closing the Keg...
There no point in having football, with the so called rules, being bleached and taken the piss, at random.
Manure,. nothing changes.
Ian Riley
188
Posted 01/01/2021 at 21:45:14
Again our work rate let us down. Our so called big stars had a poor match. We played to west ham's strengths and they nicked a winner. Sound familiar!
We are not top 4 and until we move into a new stadium we will struggle to get there. Manchester city had the same issue living in United's shadow. New stadium, two more billionaires with no children to leave their money too but Everton will do.
I wonder what the posts were like on new years day on this site in 1995? Similar frustrations? Everton must get the new stadium as quickly as possible to compete on a financial playing field. Currently relying on a billionaire to spend spend spend is not sustainable.
Jay Wood
[BRZ]
189
Posted 01/01/2021 at 21:48:32
Thomas, you do have a penchant for this.
Asking pithy questions, giving the impression you are engaging in debate. You're not.
Here's a novel idea. How about being more explicit rather than implicit and share YOUR opinion on how you view things (and why), rather than ask others to do what you seemingly shy away from doing.
Gerry Quinn
190
Posted 01/01/2021 at 21:50:06
I have to make an admission and say that I have almost given up on this team! Have supported Everton for over 60 years but have never been so utterly dejected suffering the shite they have been for the past few years. Their performances have been so desperate - building you up, but then frustrating you to almost suicidal tendencies. I am getting to the stage whereby I almost hate being an Evertonian - does anyone else feel this way?
Tony Hill
191
Posted 01/01/2021 at 21:50:53
Gerry @190, yes. Very much so.
Gerry Quinn
192
Posted 01/01/2021 at 21:51:28
...and yet, this is how STUPID I am - I love them to bits!!!!!!!!!!!1
Jerome Shields
193
Posted 01/01/2021 at 21:51:33
Whilst Calvert Lewin was isolated, he did not attack the near once. He was always caught between two defenders, which is always easier to defend against. He had improved a lot by getting in front of the defender at the near post, but has reverted back to his old ways. When rare crosses did come in from the right wing (little or nothing from the left wing), they where either easy cut out, unchallenged at the near post or overshot to beyond the far post. Calvert Lewin to the crosser would always looked marked between two defenders, which he was.
Colman was targeted to be contained, by West Ham, which they did successfully.
Moyes old tactics where well implemented and most Everton players where technically poor. .
Gerry Quinn
194
Posted 01/01/2021 at 21:53:22
Could be worse, could be a Sunderland supporter as a few of my mates are - feel so much for them as they are such fabulous fans
Tony Hill
195
Posted 01/01/2021 at 21:54:25
Gerry, @192. I wish I could say the same. I love the idea of Everton but I think we are repeatedly let down in a manner which betrays the club's principles, or at least the principles as they used to be.

David Pearl
196
Posted 01/01/2021 at 21:57:33
We just won 4 in a row. No use singling out players now after a single loss. Our defence is pretty solid. When Gomes starts the next game we hope he has turned the corner. Siggy has played well the last month, he isn't a robot.
What we so obviously need is more pace and power on the wings so we can feed DCL and bring Richarlison in from his exodus on the wing.
Oh... l forgot. Might be nice to get Allan and Digne back. We are doing okay. I just hope Brands changes and brings in some attacking intent.
Gerry Quinn
197
Posted 01/01/2021 at 21:58:05
The teams I watched always gave their all in the 60's, 70's and 80's - this lot piss me right off, especially our so-called mid-fielders - I would sack the fuckin lot of them if I could...can you imagine listening to Peter Reid or Alan Ball if they were having to play in that mid-field?
Tom Harvey
198
Posted 01/01/2021 at 21:59:17
Paul Birmingham @ 183
"For me Wolves, is massive, and could be the umbilical cord to staying in contention..."
Hello Paul,
I fully understand what you're saying, there are games that are bad for moral when lost and that might be one.
However, I have to add: "You are only as good as your average game, not your best or your worst game!"
What our average game is, I haven't got a clue at the moment, we are so up and down. The dark side know what their average game is and have a benchmark to adjust by.
The positive I'm taking from that game was the formation works defensively and it was only a lucky moment that did us in the end.
When we have all our players back and fit and with energy, this will probably be around the end of January, we will then be able to find this average game and develop from there.
John Boon
199
Posted 01/01/2021 at 21:59:18
Everton thrive on inconsistency. One headline said"Uninspiring Everton ".. What the article does not mention is that supporters never know what to expect. Even the posters, after years of experience, are inconsistent. Nobody ever really knows what to expect.
I know there are many who will say "Not a surprise" Sorry but realistically if a team has won 4 games in a row and are playing at home against a very ordinary team you should expect to win. BUT... you are supporting Everton and for the past 25 years nothing is predicable. Just watch out for Rotherham
We need flair, speed and energy, and this will only come with even more additions. Other than that we will remain a mediocre mid table team. I did not like the substitutions but I still support Carlo. I am sure fellow supporters will cast me as inconsistent in my comments.I agree but it is in the Blue blood in my veins
John Boon
200
Posted 01/01/2021 at 21:59:19
Everton thrive on inconsistency. One headline said"Uninspiring Everton ".. What the article does not mention is that supporters never know what to expect. Even the posters, after years of experience, are inconsistent. Nobody ever really knows what to expect.
I know there are many who will say "Not a surprise" Sorry but realistically if a team has won 4 games in a row and are playing at home against a very ordinary team you should expect to win. BUT... you are supporting Everton and for the past 25 years nothing is predicable. Just watch out for Rotherham
We need flair, speed and energy, and this will only come with even more additions. Other than that we will remain a mediocre mid table team. I did not like the substitutions but I still support Carlo. I am sure fellow supporters will cast me as inconsistent in my comments.I agree but it is in the Blue blood in my veins
Mike Oates
201
Posted 01/01/2021 at 22:04:23
Sounds after Carlo's comments we will be referring to defending deep and sneaking a goal - as we don't play comfortably with the ball - his words an hour ago.
We missed Iwobi and I never thought I'd say that but he injects pace going forward, and whilst Richarlison is in his self inflicted tantrum snd does bugger all, we need Iwobi.
Tommy Carter
202
Posted 01/01/2021 at 22:04:44
I posted on here about Soucek a long time ago. He's a player that at club level has quite impressed me in a number of occasions. I will be interested to see how he gets on against England tonight.
He will never be a brilliant player but is very much a Moyes kind of signing. He's strong and very effective, a goal threat with a touch of class. In my opinion, he would do very well in the Premier League.
John Keating
203
Posted 01/01/2021 at 22:04:46
A well rested Everton v West Ham
Man Utd v Villa
Compare
No comparison. We were embarrassing
Patrick McFarlane
204
Posted 01/01/2021 at 22:06:52
David #196
I sort of agree with the main thrust of your post, however, we had some unexpected and welcome victories in the last month or so, but at the same time, we've suffered two home performances that were way below the standards that we would hope to see from a team which is doing relatively well in the league.
Tonight's performance showed that we are far away from being a top-four side, indeed we aren't good enough for the top six. Another season of a top-half finish and a decent cup run as our achievable target awaits, much as what we've become accustomed to for the last dozen years.
We are missing key players, but only Digne would electrify the team by creating chances for the forward line, and I do hope that he's not rushed back too soon.

Tom Harvey
205
Posted 01/01/2021 at 22:08:12
We might have been a bit sharper today after a good thumping in the previous game by City, if it had happened that is?
Brian Murray
206
Posted 01/01/2021 at 22:11:27
Haven't read many of the posts because we have been here many times. This type of Chalkenge and level is still totally new to Carlo and it's ok saying we need a good window. Brands somehow has to find a home for about six players before we can add to the amwage bill, Good luck mate and he has four weeks I don't mean the summer. It's tragic that we have seen before that two or three new and or fit players returning can really transform us. Just always seems to be out of our grasp. I have nothing new or innovative to say I'm just choca as a blue.
Stan Schofield
207
Posted 01/01/2021 at 22:12:40
So far this season, we ARE a top four side. Just look at the league table. Every side in the Premier League has been up and down, some more down than up, but we're 4th with 29 points from 16 games. They are the facts. Enjoy them.
Gerry@197: Alan Ball got dog's abuse when he hit a bad run of form in 70-71, I know, I was there to see it. All players hit bad runs, and all teams have off days. This was one of our off days.
Peter Mills
208
Posted 01/01/2021 at 22:14:11
West Ham fielded a very late replacement goalkeeper who had not kept a clean sheet since 2017. What is it about us that made it inevitable that was going to change tonight?
Christy Ring
209
Posted 01/01/2021 at 22:15:29
Disappointing performance, but it showed me that Siggy is definitely a passenger, and taking off Calvert-Lewin for Tosun didn't make sense, especially as Richarlison was a total passenger.
Paul A Smith
210
Posted 01/01/2021 at 22:18:31
The shot by Coleman from Bernards pass was a bad choice, Calvert Lewin had made a great run behind him.
Small margins were always going to be the difference in such a tight game and we seemed to go through the motions to often tonight.
Richarlison didn't know where he was going and Dacoure gets a little caught in too many minds where to move in attack.
We just have to recover now and fresh faces could change our fortunes again.
Ian Riley
211
Posted 01/01/2021 at 22:18:35
Stan your right, we are top 4. Anyone know if the DVD is out?
Stephen Vincent
212
Posted 01/01/2021 at 22:20:34
I hate criticising anyone in a blue shirt but unfortunately there are absolutely no positives to take from tonight's abomination and I include Ancelotti in that.
Having said that I also find it hard to believe that anyone has issues with DCL. His work rate is first class, his hold up play exemplary his only problem is that he keeps dropping deeper and deeper to get even a sniff of the ball.
Tom Davies is a concern I am a big fan of Tom's. His work rate is first class and has been pointed out a lot he never hides, but this evening I finally had to admit that he will never be a starter. He reminds me a bit of Alan Harper but surely we should keep him as he covers so many positions.
As for the rest of the scumbags words fail me, they had all the incentives in the world to win tonight and could not complain about being unrested. Only Ducoure comes out with any credit.
Just watched Manure vs Villa both teams played at pace and with width and with only an eye for a forward pass. The style of play we have adopted can only be down to the manager.
As to signings please God not Khadeera or Isco we are starting to look like the later days of Walter Smith.
There are something like 6 teams 3 points behind us and most with better goal differences by the end of January we could easily be in the bottom half.
Happy New Year!!!
Mark Wilson
214
Posted 01/01/2021 at 22:29:16
It's endless isn't it. Truly dire "performance" exactly in line with what we've come to expect from the team, the squad, and a reaction that's starting to really bother me from the great man himself. You see Carlo has carefully assessed the situation. Likes the club. Loves Crosby where he lives. Likes us. Seems to think that 6th and a Euro place is about our best level. He's a skilled guy. A clever manager who has won the lot. So he's right of course. And I love that he's all these things.
So why do I feel the way I do about this cool calm reaction to an absolute shit useless breathtakingly inept and all round pathetic gut wrenching showing, when a win against a very average team would have taken us second and done much to give us a little headroom in this season closely fought fight for a top 6 place.
It's because this is simply how our club operates. We have been rubbish for so long that accepting couldn't-give-a-toss performances like that Ritcharlison one, well it's second nature. We don't get very angry or fed up at another disappointment. It's just par fir the course. We have 29 points. What is there to complain about ? It's a jolly good increase on last year at same stage. Hurrah. We don't need to turn up to a game we should win. Instead let's saunter round the midfield doing nothing for 45 minutes. Then instead of making changes to a team showing zero urgency and zero creativity, we wait until there's 20 mins to go, and it's too late.
I'm furious. A few others seem to agree. But it's all a bit low key. Guess there's nothing to be done. We can't change anything. Plucky Everton drifting along to somewhere or other accepting utter shite like this because apparently we have won four on the spin and this was a deflected goal. Why would we think this should have been, needed to be, win no 5 on the spin.
The club needs to get angry. From top to bottom. Urgency. Obvious desire. An acceptance that what went before counts for very little. Losing in this gutless lacklustre way isn't good enough, ever.
We should all shout it out, starting with the superb Carlo, Duncan and Davide, and you know what ? Take a few more risks on some fighters without big reps in Europe. Something has to change else this type of embarrassing shit will be confirmed as the Everton not Howard's Way.
Happy New Year ToffeeWeb.
Thomas Richards
215
Posted 01/01/2021 at 22:32:27
Jay,
A fair method of debate is to start with question or a statement. Do you agree?
If not can you please let me know another option please.
Thanks
David Pearl
216
Posted 01/01/2021 at 22:36:37
Patrick, we have been spoiled in the past with our home form but yes disappointing we had no energy.
I listened to the radio merseyside after match phone in. Anger pointed to Richarlison, Doucoure and Carlo. I guess it has to be pointed somewhere. Personally l was most frustrated with Richarlison, very poor today and tried to cut inside every chance he got which he telegraphed. I thought Moyes set his team up perfectly and cut off the channels.
We have 2 very hard away games coming up now and we will see what we are made of.
Paul Birmingham
217
Posted 01/01/2021 at 22:39:20
Tom@198, I respect your views and feedback, but I don't see any point in sugar coating, at any level of under performance in football, or any job.
That performance for Everton, tonight, was crap.
Today Everton paid a heavy price.
Summing up Tonight's performance, was by miles and light ears, in the significance of the match, totally unacceptable.
Every game is the game, this Everton squad cant do x4 games, and then they take the fekkn knocks, in terms of winning.
No shit, these players have a lot to learn.
A match management and performance ethos. It isn't there consistently in my opinon, at this stage of the season.
Arguably the best game to win, today, and Everton, were blowing bubbles, through the whole 93 minutes.
So, it's my view, I respect your view, but tonight's match, performance, is not acceptable.
Players, missing or not, getting a confident and cohesive formation is key.
Take x6 more, like tonight, and we will be with SU..
I've said previously, on other TW threads, the last few weeks, that EFC, is in a far better place than 12 months ago, but, I will never accept mediocrity, in any football match.
Tonight was as bad as it can get.
Everton, were not close to being at the races, and it was a car crash, performance.
The out come is Everton, are contenders, but no longer strong contenders,for EUfA, qualification.
I wear the the glass half full ethos, belief in daily life, today the performance was rank bad.
Unite as Evertonians,ad we've done for decades, ride the storms.
That why I like The Doors..
Sean Kelly
218
Posted 01/01/2021 at 22:42:20
I think 14 surviving turkeys turned up in blue at Goodison today.
Scare shitless bunch of cowards. Like a badly made gravy we just don't have consistency.
Jay Wood
[BRZ]
219
Posted 01/01/2021 at 22:46:21
Do you need everything explained to you Thomas?
Ian Edwards
220
Posted 01/01/2021 at 22:55:40
Jurassic Carlo said tonight we can only play counter attack and that we only lost one point and we will try and get it back next game. Just go now.
John Raftery
221
Posted 01/01/2021 at 22:56:06
This was another game, like those at Newcastle and Southampton, heading nowhere other than towards a boring goalless draw. Yet we have lost all three. Our players must learn that when a game cannot be won they must at least take the draw. Yes, there would have been moans, fully justified, about our lack of zip in using the ball but taking a point from a mediocre performance is what truly competitive teams do.
Brian Murray
222
Posted 01/01/2021 at 22:57:19
Paul post 217. You like the doors. Being a blue one door shuts another one slams. Over to you Marcel to have a blinker this month.
Ernie Baywood
223
Posted 01/01/2021 at 22:58:23
The predictable hollering at the usual scapegoats on here. It took a few good performances for people to accept Siggy's positive elements... about an hour for him to be declared no good.
Did anyone think we were world beaters after our recent run? We were solid, not particularly creative, and with a combination of pragmatic tactics, hard work and some good luck we edged a few games. It was nothing more than that, as enjoyable as the wins were.
After this loss we're still the exact same team. With the positives of our newly found resilience come the negatives of struggling to break teams down. And so it was today.
If the plan is to keep it tight and possibly nick one at the other end, then it's hard to blame the tactics for losses and celebrate them for wins. Those tactics give you a very fine margin of victory... so accept the ups and downs. We're probably over performing in terms of points.
Over to Carlo to swing the balance further in our favour. I do know that we're not particularly good to watch, though.
Joe McMahon
224
Posted 01/01/2021 at 23:01:32
Gerry@190 YES. No other words needed.
Paul Birmingham
225
Posted 01/01/2021 at 23:04:13
Jay, thank you..
In equivalence, tonight, could be the same as after, Oxford United 1986, away..
Linakers, and Sheedys, 1 yard, misses. Let's hope not, but tonight, for me, it was the win, we had to get to stay in contention, for a Europa place.
"What's Our Name?"
Take care and All The Best for 2021🙏🏼👍☘️👌🍾⚽️🍀🍺🥃☘️☘️☘️☘️☘️
Jason Wilkinson
227
Posted 01/01/2021 at 23:08:28
I don't think any one player played badly for us today. Some didnt set the world on fire but none were bad. We didnt get overloads on the full backs and we didnt get enough players running off the ball to create space. It was a similar performance to Sheff U.
Richy doesnt look very happy at the moment. Maybe a spell as a second striker would reinvigorate him. We desperately need Digne back. He is our best player at providing quality into the box.
Ancelotti isn't stupid. He will have learned a lot about where players are at by tonight's performance. I don't think we will see such a lacklustre game again for a while.
John Raftery
228
Posted 01/01/2021 at 23:26:27
We seem to have a problem beating organised mid-table teams, a problem which goes back to last season. We have won the last four games largely by using a counterattacking style. That was a case of making the best use of the players available. Tonight's mid-table opposition invited us to take the initiative but the lack of pace and quality through midfield made possession an embarrassment for our players. That was obvious in the opening stages of the game.
A few of the players, notably Richarlison, Doucouré and Godfrey, tried to make something happen running with the ball from deep but ended up in a cul-de-sac. Unlocking well organised defences requires crisp, first time passing and quick movement off the ball into the final third. Unfortunately tonight's midfield does not and probably never will have the ability to do that. This was a disjointed performance but not the end of the world or our season. We will have much better days in 2021. Telling the manager to go now is just laughable.
Paul Jones
229
Posted 01/01/2021 at 23:29:37
In recent matches Everton have been poor but able to manage games to get a win. This time the result matches more accurately the performance of the team and the weakness and loss of form of individuals. As with previous years I anticipate there will not be 100% commitment until the transfer window closes.
I was disappointed that James did not start because having some guile at the start rather than reacting to a planned war of attrition gone wrong would have been better.
Gavin Johnson
230
Posted 01/01/2021 at 23:37:10
Ian #220 Change the bloody record. I rarely come on TW these days and reading posts like yours is one of the reasons why. Every time we lose a game, you're calling for the manager to be sacked.
You lose sight of the fact that we sit 4 points from being top of the table, and that Everton's profile has risen in the 12 months Ancelotti has been manager. We've had a best start to a season since 1969/70. Ancelotti's win ratio has always been in and around the top 4 places, but you conveniently forget he took over a team sitting above the relegation zone and last seasons finish was a false position due to that. It's no accident where we sit 4th in the league now. His win ratio bears that out.
We've brought in some players we'd have struggled to sign under previous managers. That's because players want to play under a world class manager with Ancelotti's reputation. Branthwaite, Allan, Doucoure, James and Godfrey have all been fantastic buys and under this managers watch.
What the hells wrong with you, Ian?! Did Carlo Cuckoo you with your missus?
The issue isn't the manager. It's that we've had injuries to our better players and the squad is too thin to replace them. You can't replace someone like Allan with Tom Davies or Gomes.
What I do know is that we've made great strides in addressing the issue of wasting money on average players over the last 12 months.
Paul Swan
231
Posted 01/01/2021 at 23:40:55
This type of performance is exactly why we are so far far away from winning anything. Complete acceptance of mediocrity throughout the club. I'm angry at the shit performances yet again by Richarlison, Davies, Sigurdsson, Coleman. Holgate and so on. DCL can only function given supply from the wings. Stop that supply and you snuff out our attack - Klopp said exactly that after the last Derby. We need more fight and creativity in the team but this boring bastard we have in charge for all his apparent coaching skills does not seem capable of getting this into the team. Why are we incapable of passing the ball to each other especially with any speed?
The sad thing this season and last is that all you need to be to be successful is to be consistent. Beat the teams you should and battle with the better teams. The bar has never been set so low in recent years but in typical Everton fashion we don't have the winning mentality to be in there with a shout
Justin Doone
232
Posted 01/01/2021 at 23:43:49
I can't say we deserved to win this game but we were unluckily to lose it.
But Villa have been robbed against Utd. At least we didn't lose to a never a penalty in a million years decision. Awful and why VAR can't say the ref was wrong because there was no foul and Pogba tripped himself up.
I'm almost glad bad luck lost us a point rather than poor refereeing and VAR.
However maybe we lost because the opposition brought on good attacking players and went for the win. Skilful, mobile attacking players, they had a few good attempts and put us under pressure near the end.
We brought on James and Gomes to try and create through passing. But we only had DCL and Ric to pass too. Then DCL was hooked for Tosun loosing pace and height. I didn't agree with subs but I rarely do.
But the point is we lack attacking options, both in quality and intent.
We didn't really rest our key players, had extra recovery time and looked awful for it.
Carlo needs to dish the dirt and fish for a response and reinforcements. Is King still available or that type of player. Pace, power, creativity and goals.
I'd take Isco but no thanks to Sam K, we have that type of player already.
James Head
233
Posted 01/01/2021 at 23:48:27
I think the appointment of Ancelotti has been a good thing with regards to raising the profile of the club but I'm now starting to have doubts about him,
how couldn't he see that Richarlison was not just having a nightmare but that he was also just going through the motions is beyond me, he should have been hooked at half time, then after the dire first half performance of Sigurdsson that was blatantly obvious to everyone watching he also should've been replaced by Gomes at half-time. He took an age to make the changes and still never pushed the failing Richarlison nearer to DCL and had James sitting too deep when he should've been up in the number 10 position behind a two of DCL and "The Sulk".
The ridiculous withdrawal of DCL to be replaced by Tosun while not changing the fucking system and tactics smacks of the blind leading the blind, I know Ancelotti's choices are limited with this squad of over the hill and average players but there's just no fucking system or pattern to our play, it's slow it's predictable and it's fucking awful to watch, I know we're better with Digne and Alan but Leicester, Wolves, Villa and Leeds all play with more pace and ability than us.
We get a chance to go second and that shower of mercenaries put in a listless, gutless performance like that, happy fucking New Year!
Bobby Mallon
234
Posted 01/01/2021 at 23:57:41
Very very bad performance but I'm ok with being where we are. Ancelotti has to get a tune out of this whole squad as we are not buying in this window. Paul swan and the rest of you calm down. Where did you actually see us being in the league come 1st January. Ancelotti has bought 4 1st teamers in his first season, 1st season and we are sitting 4th. Our players especially Richarlison need to up their own games. It would be lovely to get players in this window but we are skint. So it's grind out results and see where we end up. Europe was our target let's wait and see eh
Derek Knox
235
Posted 01/01/2021 at 00:04:58
Why is it when other results seem to go in our favour, which should never be relied on, but a bonus when they do happen, we blow it good style, or should I say bad style? Some people saying tiredness, how can that be, when Mondays game with City was postponed?
Today, as if it was needed, showed again how poor the squad depth is, Carlo rotated for various reasons but those given a chance flunked it again. I thought only Doucoure and Godfrey realistically showed any desire not to lose, unfortunately they were fighting a losing 2 handed battle.
One of my pet hates surfaced again today, and I'm sure I'm not the only one to feel that, is this tippy tapping back forth and sideways in our own half, with the ball invariably going back to Pickford when we were under no threat. I was looking forward so much to this game having had Monday's cancelled/postponed and what do we get a shit show!
Bob Parrington
236
Posted 02/01/2021 at 00:16:47
Just watched this on Optus Sports. This Everton team is SO INFURIATING. An absolutely lazy, slow, abysmal display. Like watching a group of snails and then mistake after mistake after mistake and so on!
Neither team deserved to win, really but, if any, WH were not as bad as we were.
John Graham
237
Posted 01/01/2021 at 00:19:52
What's happened to Richarlison. Doesn't help with him falling over every time he's touched. Ruins the flow of any attacking moves we have and often doesn't help the forward runs of other players.
He needs to stay on his feet and run at defenders the if he gets into the area he can go down when touched.
We need lots of more attacking options and quicker passes to our forward players
Derek Knox
238
Posted 02/01/2021 at 00:36:02
Meant to post before to lighten the situation, and also pay a tribute to Tommy Docherty as this is an adaptation of one of his quips.
There are many types of Oxo Cubes, but there has been a new one released today, most of which many are familiar. Red for making Beef Stock. Yellow for making Chicken Stock. Green for making Vegetable Stock, and the Everton Blue one for making a Laughing Stock!
Bill Gall
239
Posted 02/01/2021 at 00:45:55
To win anything you have to have the desire to win and this performance shows why Everton don't win these type of games. There is no Everton supporter that watched when Moyes was managing Everton the type of game that will be played and this was classic Moyes, 5 at the back 4 in midfield and 1 attacker.Allow Everton to play from the back to over the halfway line then just force the man with the ball to pass to a marked man.
Evertons play is like just missing your bus and waiting for the next one. There is no variation if the plan doesn't work. West Ham looked quicker, stronger in the tackle winning the majority f 50/50 balls. it is no use blaming the injured players missing as we have won the last few games without them. There is something wrong with Richarlison as his form has dropped drastically this season, I realize that he will not be dropped but if he continues to play this poorly there will be no alternative.
I still support Ancelotti but he has to except the blame for such an shameful performance from what is supposed to be highly paid professionals. He says he is happy with the team he has got, but he better realize the supporters are not happy with the display they get
Derek Thomas
240
Posted 02/01/2021 at 00:47:04
Moyes asked his usual basic questions and we had no answers.
We got given a few extra days off to rest courtesy of City...and thus a game in hand - and promptly lost it.
Any one of half a dozen teams below us win a game and our poor GD could see us 9th or 10th in the blink of an eye.
All the Richarlson superstitions are now laid to rest, we can be equally crap, without him or with him.
We got a lucky 3 pts Vs Sheffield... we were crap and a draw was on.
We got unlucky Vs West Ham...we were crap and the draw was on.
Played 2 / Drew 2 (2pts.) Vs played 2 / Won 1& Lost 1(3 pts.)
So if you squint a bit, we're 1pt. to the good...dogshit poor to watch, but 1pt. to the good.
Another write off of a season at the end of which a large chunk of deadwood come out of contract.(only to perhaps find even more deadwood to take their places??)
Happy New Year.
Edit; Bob @ 236; I saw the result and watched the 20min Mini Match - and fast forwarded most of that.
Alan J Thompson
241
Posted 02/01/2021 at 00:53:51
Wasn't going to sit up until 2AM so watched a recording this morning and that is about the only almost good thing to come out of it, an awful game.
Everton just didn't look interested, Richarlison was awful, Calvert-Lewin offered very little and while you could criticize the service he didn't do a lot to worry their defence.
The team as a whole needs to move the ball a lot quicker and overall pick up the pace and at times I think I'd prefer just lumping it into the penalty area than stuff around passing square and back among our own defenders. You could say that there were some positives to be taken from the game but given the few chances created it would be a pointless exercise.

Nicholas Howard
242
Posted 02/01/2021 at 01:11:34
I had mentioned this when we lost the other day to Man utd (league cup) and Leeds in league.
This Everton team is incomplete. It starts its revamp less than 2 years and only went through one meaningful window. Like what I said before, Cheers when this Everton team won and embraces it when it lost.
To have doubt on manager is fine. One loss in last 6 league matches( 4W1D1L) and sitting at Europen places
Be realistic...Carlo said before the aim for this season is european places. Calling for his head is clueless assessment to me. COYB
Dave Lynch
243
Posted 02/01/2021 at 01:32:21
Sitting here on my night shift mulling over the game.
Why oh why do we turn in performances like this?
That was gutless, heartless, useless and any other less you can lay your tongue on.
I get we have injuries but that should not stop the players trying FFS, at least fucking look like you want to win the game. DCL was the only one with any credibility IMO, the rest can fuck off and earn their money elsewhere.
Every fucking time over the past 3-5 years we have come up short when we could genuinely put a marker down, it was WHU FFS not Barcelona!
Credit for the most useless performance must go to Tom Davies who only just edged out Richarlason, the lad has no pace, no footballing brain and couldn't pass wind.
I fucking despair, I really do.
Mick O'Malley
244
Posted 02/01/2021 at 01:44:40
Let's have one thing straight, we are not lucky to have Carlo as manager, he is here because we are paying him a king's ransom to get a tune out of these players and that performance like so many in the last 12 months was woeful slow and dull, I am yet to be convinced by him, that doesn't mean I want him gone it's just that I expect better performances from "Carlo Fantastico"
Patrick McFarlane
245
Posted 02/01/2021 at 01:53:29
Couldn't sleep so I thought I'd trawl the footy news sites, as if to increase my insomnia Mail Online reporting that Everton are considering offering Siggy a new contract.
Brian Wilkinson
246
Posted 02/01/2021 at 01:54:27
If Moyes took his Penknife to a gunfight, Carlo must have taken a used party popper after that showing.
Andy Mead
247
Posted 02/01/2021 at 02:20:55
How are we going to win a game if we constantly turn back and play the ball back to Pickford. The way the full backs do it every single time is so frustrating. Dosnt anybody make a run down the line for a back to knocked to them every now and then? Is this modern coaching that the full back checks back inside and turns backwards every time? What's the point of keeping the ball if just to fanny around at the back for 90 minutes? Bores me to tears. Once again had a chance to go second and blew it. Players these days are robots, sticking to the rigid boring keep the ball at all costs risk free rubbish and losing without even having a go. They scored with 5 minutes to go and we still fannied around with it between Mina and Pickford. Why would fans want to start paying to watch that shite even if they could?
Nicholas Howard
249
Posted 02/01/2021 at 05:04:26
Mick (248)
When we won 4 in a trot. we are still few players short to be complete to compete..
Now we lost 1, Carlo not the right person..get rid of him
Many of them just didn't or do not wabnt to realize this Everton team is still WIP. what, expect Carlos to build Rome in one day?? How many of the players signed by him? We are talking about human being...not gaming where you add stat then you won...fgs
Dick Fearon
250
Posted 02/01/2021 at 05:14:15
Andy @ 247, greetings I also hate that boring time wasting back passing to Pickford. I have often raised it on these pages.
My dear wife who 60 years ago often went to Goodison and some away games with me recently suggested we hire Clippety for a few weeks to put some fire in the bellies of this load of wasters.
And another thing, this 'taking the knee' is played out. How about these mega rich pampered players find a different cause for each week. Number one on my list would be ground entry costs and their affect on long serving fans.

Brian Murray
251
Posted 02/01/2021 at 06:14:01
One of the worst aspects was making that limited coach on the other bench look even half decent. Carlos shrug of the shoulders and acceptance I'm sure is mostly lost in translation because there's no way he can be happy with the bench or the daft rumours of a new contact to siggy or any over 30 s at the club. I'm clinging to Marcel actually doing his job this window and even playing a blinder getting rid of half of this squad with better faster players lined up already. Sounds drastic and fanciful but it's no wonder the present and past players adore Everton when they are set up for life.
Jim Harrison
253
Posted 02/01/2021 at 06:25:49
Man, hope that was just an off day!
Richarlison not at it at all. Davies looked just what he is, a squad player. Siggy wasnt too bad at first but just faded away
The players that are out are so badly missed. Allan and Digne in that team would have added so much
Mark Tanton
254
Posted 02/01/2021 at 06:54:08
These things happen, we looked tired and depleted. It is a shame that whenever we are in touching distance of really laying a marker down we fall short.
I have to agree that Coleman is utterly infuriating and his tendency to go back 30 yards seems embedded in his muscle memory.
Derek Knox
255
Posted 02/01/2021 at 07:33:12
I've simmered down now, but Lyndon's post match article headlined as ' Abysmal Blues surrender winning run with drab New Year's Day defeat ' sums it up to a tee. I have always said so many times, and many others have too, I can reluctantly accept defeat if it has been through being beaten on the day by (a) a better side, (b) an incorrect decision by a referee ie, penalty etc, or (c) a flukey goal.
I suppose in some respects the latter could qualify as that, but that would be clutching at a final straw. We weren't beaten by a better side, WHU were there for the taking although they defended resolutely, we never showed any will to draw them out or break them down. That is what hurts the most, these highly paid prima donnas not playing with any conviction whatsoever.
The referee although he has a poor reputation, was okay on the day and can't be faulted. I suppose Pickford almost escapes criticism because of the ping-pong nature of their goal, which they shouldn't have had the space to shoot in the first place. Godfrey and Doucoure at least tried, and DCL had no service whatsoever.
Slightly off topic too, but on another thread we were talking about exaggerated accents especially the Scouse Accent. Lo and Behold the BBC News announce this morning that John Bishop is the new Doctor Who! What? I don't watch the show but have seen the odd episode over the years, what a farce giving that tosser the role, I despair at times.
Steve Brown
256
Posted 02/01/2021 at 07:43:04
Infuriating that Moyes managed to get one over us with his tired tactics - and that Ancelotti let him. It was entirely predictable how he would set his team up, but we had no answer to it.
Some observations on the game.
1) Keane's ability to play long, diagonal balls would have allowed us to stretch West Ham. Mina and Holgate tried to bring the ball into midfield but were mainly forced to play a square pass when they got into the opponent's half.
2) Movement off the ball from midfielders and forwards was really poor. No-one was trying to create space to receive the ball or show for a pass.
3) One day on, I still don't understand the substitution of DCL for Tosun. Ancelotti should have switched to a front two if he wanted to add more threat upfront.
4) The interplay between the fullbacks and the wide forwards didn't work - Godfrey and Richarlison were not on the same wavelength, but Coleman and Bernard were not even in the same postal code half the time.
5) How many pies has James been eating over Xmas - he was blowing bubbles after 10 minutes on the pitch. He is seriously unfit.
PS, I notice certain people only EVER post when we lose. What is that all about?!
Tony Everan
257
Posted 02/01/2021 at 08:12:04
Derek, I needed to simmer down too. So completely depressing to watch that last night. Often the reaction after a match is raw emotion. The next day I can be a bit more objective after walking the dog thinking about Everton, lying in bed thinking about Everton and sitting on the throne thinking about Everton. It's madness but this is the life of an Everton supporter.
So after all that the conclusions I have come up with is that the defence shouldn't have been messed with. A solid functioning defence is a thing of beauty and is rare. Michael Keane has been central to our wins and good form , his name should be first on the sheet. They should have continued and be allowed to form even better understanding. Those in front of them can operate with more confidence and security as a consequence.
Then it's width, there were almost no crosses in to DCL from open play all night. Bernard is not a wide player and Richarlison isn't really. Both want to come inside, and there is just no space for them to be effective.
This means we are not playing to our strengths, ie getting any sort of cross in to Dominic. Any average cross in and Dom has been attacking and causing mayhem. The fact that we are not getting even average level crosses in is disappointing in the extreme.
On the left We missed Digne badly, he can do it. Nkounkou, a gifted left foot, would have at least offered some hope of getting some crosses in from the left and could have started instead of Bernard who was ineffective and nullified.
On the right we missed Iwobi, he's criticised more than most but he can get a cross in every now and again.
Richarlison has been half the player since the Thiago tackle in the derby. He needs to shake it off quick. He is not offering anything from wide positions and is not making inroad coming inside. Iwobi is looking more productive from the right lately.
We talk about getting another forward to supplement and compliment DCL, maybe Richarlison is that man, playing rough the middle in 442s, rotation, subs, injuries and to compete with DCL for that starting spot.
Possibly the no1 player we need after the essential Bruno Fernandes esque midfielder ( Buendia ?) is the wide forward with some electric pace. A young Mane type of player, (Diatta ? Ismail Sarr ? )
There's probably many other valid interpretations of why that performance was so stifled and worrying in its banality. Serious questions need to be asked and answers found if we are to make permanent inroads on the top 6. Failure to do so will see the sand slip through our fingers yet again.
Kim Vivian
258
Posted 02/01/2021 at 08:23:08
Kim Vivian
259
Posted 02/01/2021 at 08:23:08
If anyone wants a metaphor for last nights match - read the conversation between Jay W (Brz) and Thomas Richards.
Danny O'Neill
260
Posted 02/01/2021 at 08:42:35
As per recent practice, I gave myself overnight before reflecting.
A dour game of chess that had nil-nil all over it until the West Ham player ran on to a deflected shot. It more hit him than he hitting the ball, but credit to him for following in the shot and anticipating.
Not a lot to add and I think most are broadly in consensus. I watch and play(ed) football for 2 reasons. To win and / or to be entertained. Ideally both, but if I can't win, I at least want to be entertained. Last night we got neither.
It looked like we did try to change the tactics with the full backs playing higher, but against a very well organised West Ham, they ran into dead ends and were forced sideways and backwards.
Doucoure done well but was having to do too much on his own. I like Godfrey the more I watch him and can't wait to see him in his natural position.
DCL is not misfiring nor is he lacking spark. He is missing his supply chain in Digne and a fully fit James.
Onto Gomes, who as some have said, played well when he came on. The reason he was surprisingly able to add urgency (I know!) was because he was against a midfield not in the slightest bit interested in pressing. That said, there were times he almost seemed to be waiting for Digne to overlap, realise its not coming and he too was forced sideways and backwards.
For similar reasons, Tom looked good for 30 minutes but then descended back to silly fouls and losing possession. Mason Holgate had as poor a game as I've seen him had, in particular his distribution often went to a claret shirt. Sigurdsson reverted back to type.
Richarlison just didn't look right, as he hasn't for several games.
Frustration all around, no way to dress it up. Yes, West Ham were organised, but they hadn't planned on winning that. We failed to find away to unlock them tactically, which was compounded by too many poor individual performances.
Martin Mason
261
Posted 02/01/2021 at 09:06:26
West Ham kept their shape really well and we just weren't good enough to find a way through. Declan Rice was absolutely superb. We were beaten by a lucky goal but didn't deserve to win anyway. We're nowhere near there yet and surely Moshiri won't keep putting good money after bad to get the squad up to scratch?
Bob Parrington
262
Posted 02/01/2021 at 09:09:32
Derek @ 240. Good point. I should have done the same Soooo slow and predictable even the non-crowd fell asleep.

Bob Parrington
263
Posted 02/01/2021 at 09:23:12
Steve@256 you make some excellent points. In addition a thing that peed me off was our failure to make even simple passes and that we didn't seem to have even one player in the side who had the ability or desire to take on the man.
This was a winnable game that was lost in the dressing room before the game and agin at halt-time. So frustrating for the fans!
Bobby Mallon
264
Posted 02/01/2021 at 09:24:03
Martin Mason. If Moshiri wants Everton to be up there challenging for champs league he will HAVE TO keep putting money into the club.
Geoff Williams
265
Posted 02/01/2021 at 09:29:26
Of course it was all Tom Davies' fault it had nothing to with Richarlison, who was ineffective, or Sigurdsson, who was awful AGAIN, or Holgate who, along with Coleman, slowed the pace of the game down to a standstill, or Bernard who was lightweight.
Everton are a poor team who are happen to be in 4th place but anyone who thinks they will be anywhere near that spot at the end of the season is delusional. Ancellotti has to take some responsibility for the team's poor performances.
Joe McMahon
266
Posted 02/01/2021 at 09:32:11
I don't know but just mulling it over, maybe we are better off without Seamus for PL games. Unfortunately now he offers nothing. No tears from Bill, no sideways move into the coaching team (WTF do they do anyway).
Stan Schofield
267
Posted 02/01/2021 at 09:36:20
Looking at previous games where it's Ancelotti vs Moyes, the latter seems a bit of a bogey manager for Ancelotti, similar to Allardyce being a bit of a bogey manager for the clown across the park. It's not an excuse for a poor performance, but just a thought.
Thomas Richards
268
Posted 02/01/2021 at 09:40:25
Jay,#219
No thank you.
Your take on Sigurdssons performance last evening will suffice.

Craig Walker
269
Posted 02/01/2021 at 09:42:22
Jay. You said earlier "Tom neat and tidy in everything he does". What is it that he does, exactly? To my eyes, he gets the ball and passes sideways or backwards. He lets players run past him because he isn't quick enough. He wasn't the worst player because at least he put in some effort but that's like praising an under 10s player for "trying hard". As long as we have two ponderous players starting like Tom and Sig alongside the ineffectual Bernard then I expect performances like last night's. I'm surprised when it turns out differently.
We have too many players who can have one good game in 4. Ask yourself this, which teams would have the likes of the three I've mentioned? None of the teams we aspire to be. That is our problem. I suspect Newcastle, Fulham, West Brom would welcome them but none of the so-called Big 6 and neither would Leicester, Wolves, Villa, Leeds.
Ross Barkley was heavily criticised on these pages, by me at times too but he was 5 times the player Davies or Sig are for us. We desperately need Allan back as he drives us forward, wins the ball back and is the nearest thing we have to a leader on the pitch. We need Digne delivering crosses and attacking or even Iwobi for that matter. More importantly, we need to offload the players who continually underperform and let us down. Davies is one of 5 or 6 in that category. Local lad. Good ambassador. Nowhere near good enough.
Stan Schofield
270
Posted 02/01/2021 at 09:51:23
Craig@269: I never criticised Ross Barkley on these pages when he played for Everton, and he's now irrelevant to us because he plays for someone else. So forget about him.
Regarding Tom Davies, he's put in good performances lately, but last night's wasn't one of them, but that's the case for the entire team display. It was simply one of those unfortunate games. No more, no less.
Thomas Richards
271
Posted 02/01/2021 at 09:55:34
Good post Stan.
I thought Tom had a decent first half but faded badly.
He is a better player for being coached to take less touches when in possession. Mostly one and two touch football in the main from him in last couple of games.
I agree with you re the team performance.
Put it to bed and move forward.
Dan Nulty
272
Posted 02/01/2021 at 10:05:41
Reality check from Carlo afterwards. We simply do not have the technical ability or speed of thought to be able to control the ball and the game. We have to play counter attack because of that and set up defensively. The other issue with that is we don't have the pace to counter attack so it is no wonder we are boring to watch and struggling.
Mike Kehoe
273
Posted 02/01/2021 at 10:09:12
There is little that Sigurdson offers beyond pointing and one decent performance in 4 games when supported by a strong midfield. It is disappointing that baningeme cant break into the first team when the quality of competition is so weak. Nobody can really be expecting Sigurdsson or Bernard to fight and disrupt any opposition, while Richarlison sadly looks like his mind is very much elsewhere.
Hope there are some astute signings coming in, not Khedira though as we have got the slow ponderous midfield well covered already.
Mike Oates
274
Posted 02/01/2021 at 10:12:05
Last night was a bad night, we've not played well for a number of weeks but managed to win, we've defended well, and scrapped up front.
The problem I have is after watching the following game last night UTD vs Villa, I've come to the conclusion we are miles behind in terms of fitness, speed of play, incisive first time passing, movement on and off the ball.
So are we in for a year or so of Keeping a clean sheet and relying on a break or a good set piece to nab a goal, because without major surgery I don't see the players in our squad who can effect quick counter attack play. Who's are Fernandez, our Grealish, our Firminio, our Maddison, our Saka etc etc. Rodriquez ? Not sure with his injury record.
We totally lack balance at the moment. With Digne playing, we sweep out passes to wide left, Richarlison has moved inside to support DCL and Digne supplies the ammunition. Godfrey can't play that role and it means Richarlison has to stay wide left and is completely frozen out of the game, and throws a tantrum. We've got to give Knounkou a game to explore whether the lad after 2-4 games can make it as our left outlet. Richarlison will improve moving more centrally, Rodriquez will have an outlet for his cross field passes and we'll maybe kick on again.
But in saying all of that I still think we need an attacking right full back, a real fast defensive playmaker, not a sideways Johnny, a midfielder who breaks ahead of the ball and finally another pacy, direct striker, who hopefully is a good 6ft er.

Alan Johnson
275
Posted 02/01/2021 at 10:15:26
My two standout teams for 2020 are Leeds United and Aston Villa. At the start of the season I was having daft hope it would be us...
Jeff Armstrong
276
Posted 02/01/2021 at 10:22:19
Siggy to be offered a contract extension!
Craig Walker
277
Posted 02/01/2021 at 10:26:06
Good post Mike.Agree with all of that.
Stan. I know he plays for someone else but was comparing the two at similar stages in their Everton careers. I want Tom to succeed but I just don't see it, I'm afraid. Central midfielders are crucial in the modern game and they either need to shield the defence or win the ball and drive the team forward. Tom does neither. Same with Sig and Delph.
Sam Hoare
278
Posted 02/01/2021 at 10:26:09
Tom Davies is not the issue, he's one of the youngest and least well paid of that team last night and he certainly wasn't the worst performing.
Richarlison was ineffective again. Bernard did very, very little. Sigurdsson was back to his inconsistent best. DCL had little service and struggled to find space. These were the four players tasked with creating chances and they failed to do that.
I don't think Davies will be in our strongest XI but he's a useful squad player who always gives his best and has not done much worse than his senior colleagues who are paid twice as much and should be leading the way.
I think we really missed Iwobi last night, he's no world beater but has been beating his men frequently of late and creating space for others. Need others who can do likewise when he is out and Richie is struggling.
Lester Yip
279
Posted 02/01/2021 at 10:27:51
I am expecting a 0-0 draw. They have some luck to get that goal.
I don't think it is a poor performance. It just exposed that our current players can only play well in defensive setup. (e.g. against a more attacking focus team which we can absorb their attack then counter.) When West Ham is playing the same kind of game, we do not have the quality to unlock their defense. Richy can if he's in form. But this match he keeps running into dead end and get crowded out.
It seems like teams already figure out how to take care of James. He's slow. He's being forced to get the ball too far away from goals to setup any assist. His set piece is still top quality. Need more runners around him to help him get more space in open play, Otherwise, I cannot see how much chances he can create.
And also, I think Davies game has improved. I know he's played a lot of PL games, but a lot of those during times with so many managerial changes. He's still only 22 and he can still improve.
Paul Smith
280
Posted 02/01/2021 at 10:31:32
Inconsistency runs through Everton and has for years. Good players are consistent and an off day can still produce a moment to win a match, we have very few of them. Carlo knows we're not good enough and pragmatism equals boring football to watch but he's getting a better tune than his predecessors. Not blaming anyone they're just not good enough.
If Siggy is getting a new contract that deserves its own thread.
Paul A Smith
281
Posted 02/01/2021 at 10:38:34
It feels worse today than it did last night knowing everyone else is playing today and tomorrow.
To keep winning games and especially while not playing well, we need more quality its as simple as that.
We have a team of players almost full of deficiancies. Either too slow, poor passing, too weak and players who are still learning.
Lets be honest they have pulled their tripe out to scrape wins lately.
Our performances have been similar to West Hams last night and our defenders have stood out.
Quality is lacking for us and it starts to show when a lack of quality is tired or can't get going.
Eddie Dunn
282
Posted 02/01/2021 at 10:45:18
Ancelotti has now mentioned twice that we are where we want to be. He is justifying his work.
Unfortunately come the end of the season it is unlikely that we will sit in 4th spot just a few points off top spot.
West Ham closed the gap to 3 points and lots of other teams are within touching distance. We will not get top 6 by simply playing on the break.
We need our clever players to find form and create chances.
I wonder why Richarlison is stinking the place out? Has he been tapped-up? He loved Silva but does he see himself having to go the route of the likes of Lukaku?
Or is his confidence very low?
The total dross we are serving up can only be justified by ammassing points gained by being compact and nicking games on the counter -attack if we really do finish high in the table. The trouble is, we have been worked-out. Moyes set-up to stop us and they deserved their win.
We simply will not get the points we need without learning how to play through the midfield like United and Villa do.
No Digne and Richarlison is half the player. We have no cutting edge.
I can't see us getting top 6 without reinforcements.

Stan Schofield
283
Posted 02/01/2021 at 10:48:57
Alan@275: What?! We're higher in the league than those two, despite much greater injury issues!!!! Dear me, if it's not fuckin Leicester it's some other shite who're deemed to be better than us! Ffs.
Julian Exshaw
284
Posted 02/01/2021 at 10:53:45
It's hard to know what to think sometimes. We are in a CL/EL spot, something we would have sold our grannies for in the last few years. Last night we could have gone second, and this is where the frustration lies. One would have imagined the team would have gone out all guns blazing, played with a ferocity and crushed the Hammers with our own version of steel. Nothing could have been further from the truth. We wimped it out, as we have done on so so many occasions since 1995.
I don't buy this 'the players are jaded theory'. I am currently reading Peter Reid's book and he asserts that adrenaline alone gets you through. Last night it looked more like they were running on Valium. That great team had a much tougher season in 84/85 and yet only looked knackered in the 85 Cup Final. Yes, I know football has changed since then but aren't modern players supposed to be fitter, have better nutrition, better pitches and so on? So that argument is null and void.
Maybe it's the fact that the fans are missing, this is a much more valid point. Personally I'd like to see some more passion from the dugout during matches and a few players who can actually get their teammates going.
In short, I am over the moon we are as high as we are and credit to Ancelotti for that but I can't help feeling in this strangest of seasons, we could be even higher with a bit more passion and desire. We have a chance this season,please don't blow it!!
Thomas Richards
285
Posted 02/01/2021 at 10:54:24
Stuggled badly last night.
"yeh but the manager gets 220k wages he should be achiving more.
we haven't won a trophy for 26 years.
" yeh but the manager is on 220k wages"

look at where we were when he took over and look at our league position now
"yeh but it should be higher, the manager is on 220k wages"
Everton have only broke through the 60 point barrier 3 times in the last 10 years.
"yeh but the manager is on 220k wages"
And on and on and .
Stan Schofield
286
Posted 02/01/2021 at 10:54:53
Craig@277: OK, but firstly Tom and Ross are different players, in skill set, deployment, and position. Tom is more akin in role to someone like Henderson, the kind of workhorse player that every team needs, unspectacular but part of a machine.
Stephen Brown
287
Posted 02/01/2021 at 10:57:37
Wouldn't it be nice and novel for us to win a game handsomely and have to go into the last 10 minutes pacing the room with head in hands making the house unbearable for all the other residents!! My wife just goes out in the car now!!
Pretty much every game this season has been like this!! The occasional 3-0 win would be nice!
Wolves is a big game to keep in touch but a pacy forward, attacking right back echo can also defend are surely the priorities for January window! Not easy or cheap.

Darren Hind
288
Posted 02/01/2021 at 10:59:39
Some of the excuses on here are toe curling.
How the fuck can anyone talk about TGT's tired tactics when we have been watching identical tactics since the day and hour he left ?
Koeman, Allardyce, Silva and now Ancelotti have combined to make us the most unpopular team in the land. Footy fans up and down the country make a dive for the remote when they see we are the live match. They know we will be fucking ugly and we never, ever, fail to live up to our rep.
Ancelotti is having do do it without world class players and he is being proper found out. Moyes isn't lucky against him. he is just better at cowardly stuff than him.
The likes of Mick Davies may be delighted with the "points improvement" on Silva (How low can you set the bar ?), but we will not be successful playing like this. We are still the premier leagues ugly sister.
The performance at Tottenham was not the rule. It was the exception. 95% of the performances under Carlo have been painful to watch. You will only get away with that if you keep winning.
The most difficult thing about last night was seeing the smug grin on Moyes's face. He might have been a dour miserable fucker, but he knows just as every honest Evertonian knows. We have actually regressed since he went... 500 million quid to look even uglier.
People making excruciating excuses for shite like we witnessed last night simply make themselves part of the problem. It was bad enough when people appologised for the cowardly football played under Allardyce, Koeman and Silva..Now we have people who are actually grateful for it.
Christopher Timmins
289
Posted 02/01/2021 at 11:13:01
Last night's fixture was always going to be difficult. West Ham are well organised and difficult to beat. On balance they probably deserved the win but I doubt if anyone would have complained it ended scoreless.
It's been a good season so far and while we don't possess the talent to dominate against the likes of West Ham we have accumulated 29 points. We are a work in progress and the 3 players acquired during the summer have improved us. If offered a 58 point tally at the end of 32 games I would be more than happy.
A week off is no bad thing at this point in time and if we can acquire a back up striker, perhaps King who has been linked to West Ham, I am confident that we will finish in the top 7 at the end of the season.
Stan Schofield
290
Posted 02/01/2021 at 11:13:09
Darren, the football we were playing at the start of the season was flowing, entertaining, rapid first touch, plenty of goals, and entertaining to neutrals, and the media were saying as much! Yes, the style has changed to relatively dour, but that's in light of serious injury problems, and we've managed to stay in contention despite those problems.
Ancelotti has shown two very different styles, both effective despite some crap performances. This adaptation is a world away from Koeman, Silva and especially Allardyce. Try to put Ancelotti's prior reputation, and his current salary, to one side, and see where we are at the moment: In a position we didn't really expect before this season started.
The above is not any acceptance of bad performances or mistakes in management, but a recognition of reality.
Steavey Buckley
291
Posted 02/01/2021 at 11:15:02
Ancelotti has recently remarked he is aware the transfer window is now open that's about it. After last night's performance he should be scouring the market with intensity and seriousness looking for attacking players, because after last night's performance Everton don't have any.
So any chance of finishing in the top 4 will soon evaporate without more attacking options - Tosun is not an attacking option - he will be at Goodison until his contract runs out doing little in the way of playing.
Derek Taylor
292
Posted 02/01/2021 at 11:16:16
Certainly the most expensive side ever assembled in order to finish seventh !
(Which will be celebrated as success - no wonder Moyes smiled !)
Brent Stephens
293
Posted 02/01/2021 at 11:19:32
Ancelotti found out - 4th in the table after 16 games.
James Marshall
294
Posted 02/01/2021 at 11:24:55
7 points separates the top 10 in the league. Perspective says we're in a good position, 4th, after 16 games so while yesterday was a poor performance, and disappointing for all of us, it isn't the end of the world.
It's a long season, and we're I believe 15 points better off than at this stage last year so we DO have reasons to be cheerful.
Everyone is pissed off right now, I should know, stuck at home alone for 10 months is no fun, but Everton are moving in the right direction, despite yesterdays horror show.
Dave Williams
295
Posted 02/01/2021 at 11:29:59
Well said, Stan! At full strength, we will score goals. It's the squad that is weak creatively – not the first team itself.
Steve Brown
296
Posted 02/01/2021 at 11:31:03
Moyes is a master of failure so he can fuck right off – it really sticks in my craw that he has actually won a game at Goodison. Only took him 7 years.
Tommy Carter
297
Posted 02/01/2021 at 11:34:29
Goals from midfield without breaking the bank, I've said it before: Tomas Soucek. We'd get him for just a few million and he would do brilliantly in the premier league. Exactly the kind of player we need. Physical, tremendous work rate, brilliant in the air and is now getting a great deal of goals.
Hand Vanaken is another who I recommended a good while back and would've been an excellent addition at just a few million.
Another player I recommended very highly and we should have bust a gut for in the summer was Reece James. That opportunity is now gone but I believe his transfer would've been achievable, certainly for the money we paid for Gbamin. James will eventually be a central midfield player, and an extremely good one.
Geoff Lambert
298
Posted 02/01/2021 at 11:41:33
Waiting for the managerial selections to replace the current manager, who has failed so drastically, that we are in champions league place with a totally depleted squad.
Must be an upcoming manager in the lower leagues who is playing Brazil-style football that will win us a trophy next year!!
Answers on a postcard to L4.
Patrick McFarlane
299
Posted 02/01/2021 at 11:56:23
Last night's performance was really really dreadful: attitude, motivation, desire – whatever you want to call it, it just wasn't on show.
Every player (apart from maybe Gomes) was content to play the safe pass time and time again, not a single player was brave enough to try and change the momentum of the game by making a run to try and get West Ham to lose shape. It must have been one of the most comfortable games for the Hammers defence in many a long while.
Two shots on goal and, apart from corners and free-kicks, just one ball played into the six-yard area during the whole game from Everton; that's a failure by any stretch of the imagination.
We are currently 4th, but, where we sit after this weekend's fixtures have been completed is likely to be a couple of places lower than that. Of course, the points tally is a vast improvement on last season, as we've managed to win quite a lot of these tight games. Let's not forget, even when the team was scoring freely, the matches themselves could just as easily have gone either way.
The Premier League table is so congested that a couple of results can alter the standings radically and, until all the teams have played the same number of matches, it's a bit of a falsehood to say, "Oh well, we're 4th" ... blah blah; it may be factually true at this juncture but, hand on heart, do we look like a top-four side, right now?
There have been times and games where we've looked like the real deal but mostly the good football has been sporadic and sometimes downright horrible to watch.
It is a work in progress, and it will take time, but I'd like to see what Ancelotti's real Everton looks like because, on occasions like last night, it looks suspiciously like a re-hash of the Koeman, Silva school of thinking.
John Mallo
300
Posted 02/01/2021 at 12:06:58
Start of another year being an Everton fan...
Brian Williams
301
Posted 02/01/2021 at 12:13:12
Darren @288 uses the word "cowardly" several times in his post.
On the Live Forum last night, I asked "What are we frightened of?" We played (and I use the word loosely) as though we were shit scared of making a mistake, played without any sense of desire or courage.
The first half was about the worst half of football of any game I've watched. The only thing I can remember enjoying was around the 10-minute mark when we were playing it out of our box and Tom Davies received the ball not far outside the box and he did something so simple but so unusual for us. He stopped, he literally just stopped with the ball at his feet for a few seconds. Totally relaxed, he stopped, looked all around him before making the right pass.
I applauded him; luckily I was alone in the lounge so nobody to see me looking mad.
That was the only thing I remember enjoying in the 75 minutes I watched (more of that in a minute).
West Ham Utd were as bad as us, shit scared of fucking up, until they realised "Hey these are more worried than us, we could do this."
I stopped watching at 75 minutes because I find not actually watching us lose live is slightly less painful than seeing it as it happens, and I was 100% sure that we'd succumb to a late goal and lose.
Now I'm not normally a negative poster overall but I really was sure, going on the 75 minutes I'd watched, that we'd lose to a late goal. I'm so, so glad I didn't, in the end, have to stand in the rain for three or four hours on New Year's Eve to get tested and then travel to Goodison to watch that!
I know we're 4th so I should be relatively happy? But there really is no excuse for a performance like last night. We bottled our chance to go 2nd against a journeyman team who really did get a late Christmas present.
Still seething and thoroughly pissed-off!!
Ian Edwards
302
Posted 02/01/2021 at 12:46:22
Darren Hind @288, I totally agree.
The League is very compact and we are only two defeats from mid-table. Recent wins have been lucky and ugly with us desperately hanging on for the final whistle against Arsenal, Chelsea, Fulham, and Sheffield Utd.
Defeats have been really poor: Leeds Utd, West Ham Utd and Man Utd in the Cup.
Ancelotti's tactics are to try to nick a goal and then defend. How many times have we seen, with 20 mins to go, offensive players taken off and holding midfielders or defenders brought on?
The team selections are negative. Always two crab holding midfielders and one forward. Last night, we were drawing nil-nil and, with 10 minutes to go, on comes Tosun and off goes Calvert-Lewin. Instead of taking off a holding midfielder and playing two up top, Ancelotti was more concerned about protecting a home draw.
His post-match comments were that we can only play counter-attack and it was only one lost point. Not good enough for Everton Football Club.
Who can forget a few weeks ago the dreadful team selection of Iwobi at left-wingback and Davies at right-wingback? I can't ever recall a worse team selection at the club.
I go back to 1977 and the football being played now is on a par with the worst of Walter Smith and David "knife to a gunfight (away games)" Moyes.
When we played Man Utd at home for a place in the Carabao Cup Semi-final we were higher in the league than Man Utd and they made at least 7 changes. Man Utd were there for the taking and Ancelotti's park-the-bus tactics were cowardly and shameful.
I worry about Rotherham. Ancelotti has lost dismally in the League Cup to Man Utd and embarrassingly to Liverpool's Youth team in the FA Cup. I've no doubt that a weakened rotated team with Ancelotti's Jurassic tactics will lose.
This Manager has been sacked from his last 3 jobs. He's a dinosaur and yes, he has been found out. Let's cut our losses and scout a progressive Coach who will play attractive and winning football rather than the Stone Age football Ancelotti serves up.
Let us enjoy 4th place while it lasts... because it won't.
Brian Murray
303
Posted 02/01/2021 at 12:59:21
People on here, and probably Blues in general, keep making the point that we are still up there and have more points than last season etc. All that is commendable and true; however, I have stated numerous times that Carlo's appointment I hope changes that dreaded word at Everton: Mentality.
In my 58 years on this earth, I reckon I know what that means in our case. Carlo has forgotten more than I will ever know about football but an example of mentality (or bravery) is wasting a place on the bench week after week with Tosun when Simms is waiting for his chance and could save us millions.
We hear he's not ready, whatever that actually means. Maybe he can't finish or win a header or hold up play. Tosun doesn't come close to ticking any of these boxes.
I despise or hate Everton more than I love them most of the time. 'Hate' is a strong word, I know, and getting back to 'Mentality', we all know that, if a mid-30s full-back didn't decide to retire, we would've snapped his hand off, so Brands wouldn't've had to make the effort to find his replacement.
I hope to god we are not thinking the same about Sigurdsson. Not one club in the top four would even entertain that idea. All we want is Everton to at least act like a big club. Poor results, I can handle... I'm used to it. But please show some vision and have a belief and better Mentality. Most of this is not Carlo's fault (except for the bench fiascos).
Stan Schofield
304
Posted 02/01/2021 at 13:01:14
Cheer up, guys. If we did manage to win the Premier League, I can imagine some posters telling us to enjoy it while we can because it won't last.
Jeff Armstrong
305
Posted 02/01/2021 at 13:05:08
Ian 302, get real will you – this manager is not going anywhere, whether you, me or any other irate fan want him to. Moshiri is not going to get rid anytime soon and pay out another 㾻 million severance package, then scour the world for yet another manager to come in and start yet another "project".
The only way Moshiri would get rid of any manager would be if our Premier League status was threatened, so it ain't happening any time soon. It took him an age to get rid of the last 3 managers when we all knew they where busted flushes.
So I suggest you stop with the same unrealistic posts and maybe start trying to find bits of positivity and indeed hope in the current regime, as you're stuck with it for at least another 12 months!

Paul Hewitt
306
Posted 02/01/2021 at 13:09:24
Let's get rid of a world class manager who has us, at the moment, 4th and 4 points off the top. I hear Eddie Howe is looking for a job.
Eddie Dunn
307
Posted 02/01/2021 at 13:10:22
To put our performances (not results) into perspective, you only have to watch Aston Villa. They play quick football with skill and tenacity, an abundance of pace and a fitness level far beyond our group of plodders.
They were robbed last night by Man Utd but both of those teams have a grit that we lack. The fact that all of our players went for the safe pass says it all. The instructions were to keep it tight and not get caught on the break.
This is down to the coach. The Italian must have run his eye over his squad and he has decided that 4th is the best we can do. Here was a chance with Coleman reinstated and Richarlison duly rested and James on the bench, for the team to grab second place.
We needed to beat a side that we had already seen off earlier in the season. We played for a draw. A strange attitude and it came from the manager, and every player on our team played within himself.
Incidentally, if Tom Davies was Brazillian, his holding midfield performance would have been described as commanding. There was little movement ahead of him and, without Keane, a lack of leadership in the defence.
I never thought I'd miss Iwobi but, for all of his lack of steel and poor final ball, at least he runs full pelt with the ball at his feet.
Oh, and to put it into perspective, if we were picking eleven from our team and Aston Villa's, the only Everton player to get near a place would be Calvert-Lewin. I wonder how much their team cost compared to ours?
Paul A Smith
308
Posted 02/01/2021 at 13:14:15
So 4 managers have all ended up taking us to a stale style of football? All managers with different ideas of football have seen their sides turn into the sides Moyes left?
So what does that tell us? Get Guardiola in when he leaves Man City? Get Eddie Howe in and be expansive with neat touches from average players that set you up to lose 1 in every 2 games?
I am prepared to watch solid styles and hard work because, unless the 11 is at full strength, we don't have much else.
Silva's first season ended great and he lost Gueye and Zouma. Mina who barely started and Gbamin replaced them.
We didn't get Zaha and Iwobi came and, let's be honest, he's been a grim signing until recently where his level has raised a bit.
Rebuild, rebuild. Now we have a manager working with not just an injury list but 5 of his top 8 performers out in the busiest part of the season.
2 of them are from his 3 new signings. To expect some sort of entertaining football with less quality is quite odd.

Jamie Crowley
309
Posted 02/01/2021 at 13:14:41
I think the best thing about TW is reading all the measured, intelligent, non-emotional posts after a loss.
Steavey Buckley
310
Posted 02/01/2021 at 13:16:12
While Farhad Moshiri holds the Everton purse strings, he will decide who is manager, but he was not tolerant with the failings of previous Everton managers.
Andrew Clare
311
Posted 02/01/2021 at 13:29:31
Forget the result. Until the manager has built his team with his players, we are going to have games like this now and again.
Also, with at least three vital players missing and so many fixtures in a short period of time, erratic performances are inevitable.
Just about every team are having the same problems.
Soren Moyer
312
Posted 02/01/2021 at 14:22:08
Anyone thinking this was a one-off blip, should re-watch the past 5 games. We've been extremely lucky with those wins. Our performances have been awful.
Also, I can't see how some think Davies had a decent game! He has no pace, no vision, no passing ability, no nothing. He is one of the many we should get rid ASAP now that we are stuck with Ancelotti.
Ian Edwards
313
Posted 02/01/2021 at 14:24:14
Paul Hewitt 306. No one has said Eddie Howe is the answer. But he did well with Bournemouth in the top flight for many years with little budget. Ancelotti would not have done.
Thomas Richards
314
Posted 02/01/2021 at 14:26:35
Ian,
In your opinion, who is the answer?
Ian Edwards
316
Posted 02/01/2021 at 14:30:17
Leeds have just had another away hammering. 3 goals at Spurs, 4 at Chelsea, 4 at Liverpool, 6 at Man Utd.
We scored none.

Our fans are happy to say we are 4th but get angry when anyone says we should play like a team that's 4th. I call it hypocrisy.
Thomas Richards
317
Posted 02/01/2021 at 14:34:58
A year or two ago, there was a clamour from one or two Blues for Eddie to be given the manager's job at Everton. Could never work that one out.
Howe's finishing positions for Bournemouth:
16th
9th
12th
14th
18th (relegated)
Jack Ledwidge
318
Posted 02/01/2021 at 14:38:08
Let's face it, we have Doucouré as the only automatic choice in midfield. I've said it before that, until Ancelotti has two more transfers windows, we will not see his true side. Sigurdsson, Gomes and Davies should not and will not be part of his thinking.
This in addition to Bernard, Tosun, Kenny etc who shouldn't be near the match team squad. 6th 7th or 8th with this present squad would – I'm sure in Ancelotti's mind – be work well done. Change takes time...
Mark Frere
319
Posted 02/01/2021 at 14:38:23
Eddie @307
"Oh and to put it into perspective, If we were picking eleven from our team and Aston Villa's, the only Everton player to get near a place would be Calvert-Lewin. I wonder how much their team cost compared to ours?"
Eddie, Aston Villa have spent like drunken sailor's since their return to the Premier League... well over the 𧶀 million mark.
You only think Calvert-Lewin (out of all our players) would be good enough to get in the Villa side? Really?!?! I have to strongly disagree there. I think Richarlison, Digne, Keane, Allan and James would comfortably walk into their best eleven. You could make a strong case for Doucouré and Holgate too.
I think we've already seen, from the opening Premier League games of this season, that we are capable of playing good attacking football that produces lots of goals. We were top of the Premier League playing that way.
Unfortunately, if any of our best eleven players are injured, suspended, or out of form, the team really suffers as we don't have any depth in quality. We ended up with injuries and suspensions after the Merseyside derby and Carlo has had to find another formula to win games which he's succeeded in mostly against some of the leagues best teams.
Last night was piss-poor... but it doesn't totally undo the good work that's been done this season.
George Cumiskey
320
Posted 02/01/2021 at 14:40:30
Soren Moyer, spot on, mate, I'm sick of everyone saying that the manager needs so many windows before we can judge him. It was the same old story for every manager we've had.
Mick Davies
321
Posted 02/01/2021 at 14:46:29
Darren Hind,
I can't wait for the end of this season when we finish in our highest position for years, and you're posting about our great future etc... blah blah fucking blah. How fickle can you get when you're praising a dope who played 'Kung Fu' Hibbert in a cup final; went into every game bemoaning the lack of resources when he had 11 years to sort it out; picked Steve Round as his assistant; sneaked off to Old Trafford behind our backs etc?
Ancelloti has been saddled with the worst squad I've ever seen at Goodison Park – a bunch of useless mercenaries who were brought in by the worst managers in our history. He has added quality and steel in Allan, Doucouré and Godfrey and guile in James, while acquiring a future gem in Nkounkou.
It's not his fault we've amassed an acute injury crisis, and it's no surprise it's our best players, as they are having to work twice as hard to cover the useless shite they call teammates. A manager needs at least 3 years to stamp his name on a team, and considering where we are in the league, I'd say he's making the best of a bad hand.
Yes, the performances lately have been abysmal, but wasn't the 5-0 home defeat to our neighbours any better? Did we not go on to be the 'best team in Europe' under the same manager? Get a grip, and just be grateful we have a successful manager, a true blue as his assistant, a wealthy owner and a new ground on the horizon...
Paul Hewitt
323
Posted 02/01/2021 at 15:09:38
Tell you what, let's go and play like Leeds. Yes, they're entertaining but, if they carry on playing as wide open as they do, they will be back in the Championship. But at least they play entertaining football.
Trevor Peers
324
Posted 02/01/2021 at 15:14:15
Eddie #307.
May have got it wrong suggesting only Calvert-Lewin would walk into the Aston Villa team, but he has made a good point in comparing our lack of passing skills, pace and tenacity to Villa's. We seem to have a real problem stringing 3 passes together in a lot of games, which is a bit bewildering because passing is one of the most basic football skills, even at schoolboy level.
You can tell after 10 minutes of watching the Blues how they are going to perform over 90 minutes in most games. The warning signs of sloppy passing and lack of effort jump out of the TV screen at you and, once the rot sets in, it rarely changes. It must give Ancellotti sleepless nights, because these are the basics you expect from professional players but are so often missing in Everton's play.
Thomas Richards
325
Posted 02/01/2021 at 15:21:19
With the greatest respect, Eddie also got it wrong when comparing Tom Davies's performance.
Eddie Dunn
326
Posted 02/01/2021 at 15:21:42
Mark @319,
I was talking about the eleven we had on the pitch last night and I stand by my viewpoint. I have watched most of Villa's games this season and they play with verve, passion and pace. They have Grealish – the most exciting player in the country – but also have men who are technically gifted as well as hard-working and are not playing in fear.
Wait till we play them in a few weeks time and mention the comparison again.
Eddie Dunn
328
Posted 02/01/2021 at 15:25:10
Thomas,
I got it wrong on Davies, did I? The holding midfielder is the only one of the midfield who can be excused for not passing forwards (if there is no movement or people are not open). He was the "holding" midfielder.
Thomas Richards
330
Posted 02/01/2021 at 15:29:32
Eddie,
I posted last night he had a decent first half but faded.
But come on mate, he played like a Brazilian?
Clive Rogers
332
Posted 02/01/2021 at 15:35:10
Eddie, I also think Davies did a job last night. He did well for me in the holding role, kept possession well, and got tackles in. People expect too much from that role sometimes. It's a 'keep possession' role primarily.
Eddie Dunn
334
Posted 02/01/2021 at 15:42:21
Thanks Clive, he wasn't perfect and it would have been nice if he had popped few incisive forward passes, but he made few errors.
Thomas, come on, if Allan had played the same role most people would have been saying he is the best thing since Corned Beef.
Mark Frere
335
Posted 02/01/2021 at 15:43:00
Fair enough, Eddie, but I thought we were equally as impressive as Villa at the start of the season when we had a full squad to choose from.
We had the guile of an in-form James, the tireless hard work and dribbling of Richarlison. The prolific goal-scoring of Calvert-Lewin. Allan dominating midfield and Digne and Coleman bombing down the flanks and in good form. It was quite a joy to watch... but unfortunately short-lived.
Thomas Richards
336
Posted 02/01/2021 at 15:43:48
Eddie,
Do you consider Tom to be as good a player as Allan?
Danny O'Neill
337
Posted 02/01/2021 at 15:50:47
Allan would have been more effective Eddie.
We should have appointed Chris Wilder when we had the chance.
Thomas Richards
338
Posted 02/01/2021 at 15:54:46
Danny,
When Allan is back fit, Tom is out of the starting eleven.
Would just like to say.
Being supportive of the manager does not mean you are looking to be a better Blue. It just means what it says on the tin. You are backing the manager.
Equally, being critical of the manager does not make you any less of a blue.

Ian Horan
339
Posted 02/01/2021 at 16:01:11
I see the same old protagonists are out with the "What have the Romans (notably Carl Ancelotti) done for us?"
Ian Edwards, I have to raise this again: your sweeping statements on Man Utd fielding 7 changes against us in the Carabao Cup, as I pointed out on the match Live Forum, it was 9 changes, everyone was a current international for their country, which gave them 11 full internationals on the pitch at the start – 9 of them had at least a 7-day break before that game.
We get it you and Darren Hind aren't lovers of Carlo Ancelotti!!! Ian, you are in danger of sounding like Trump: no context of true facts to your post. You have been asked multiple times who else would you have as a manager? The art of debate is based on opinion, granted; however, debate is only productive when it's fact-based; also when questions are asked, they are answered.
The West Ham Utd game was shite, both teams too frightened to have a go. I am as disappointed as anyone over the performance and result; however, we need to be honest and say we just aren't good enough at the moment – we've been getting results due to Ancelotti's organisation.
When your most creative players are missing, what do you expect? Last night was Richarlison's worst game in our shirt, I am sure Ancelotti didn't say "Go out and play shite" to him...
Happy New Year, one and all – including those that have a difference of opinion to myself.
Tom Bowers
340
Posted 02/01/2021 at 16:03:37
We are still in the hunt, despite some awful performances which somehow reflects the standard of the Premier League this year.
Teams like Man City, Arsenal, Chelsea and Liverpool are not the forces they were and so Spurs, Man Utd and Everton are decently placed.
Things can change so quickly with injuries etc. and I am not so sure that Everton, even with a full complement, can stay up in the top four. The inconsistency is alarming and needs some urgent attention by Carlo.
He needs to ferret out the complacent players and those who are just not worth their salt.
Another mid-table finish is just not acceptable !!
Danny O'Neill
341
Posted 02/01/2021 at 16:11:50
I haven't said that, Thomas, and if you read any of my posts, I am as supportive of the team and the managers (past and present) as I am critical, including last night. I support Everton, not Allan or Carlo Ancelotti.
Right now, Tom is good squad cover. I hoped he could do well last night against a team that wouldn't press and therefore give him the space he needs (he struggles against teams that press). As I said on my earlier post, he looked okay for 30 minutes but then was poor.
He wasn't the only culprit last night and certainly wasn't to blame. I see posters trying to claim that people are blaming him but I haven't seen much of that on here as it was a collectively poor performance. Only Doucouré and Godfrey came out with any credit in my opinion.
I also don't see many making excuses for the manager on this thread for last night.
I said we got it wrong tactically last night (the manager), which was compounded by too many poor individual performances.
Thomas Richards
342
Posted 02/01/2021 at 16:14:36
Apologies if I didn't make myself clear, Danny.
I was agreeing with you.
Tony Hill
343
Posted 02/01/2021 at 16:23:09
What's baffling to me is that we often look so nervous in the basics. Our passing is timid and underhit (or the opposite); our first touch is hurried and clumsy; our movement is largely non-existent. Rarely do we retain possession unless we are going backwards or sideways.
This is not an Ancelotti thing and to focus on him is a mistake. We have played in this fashion for long passages of most seasons. What is the underlying cause? Baffling, as I say, but these are the hallmarks of a side deeply affected by fear. Martinez was right about that. Where on earth does it come from?
I think it's grown over years to be part of us, I think institutions can develop a sort of "muscle memory", good or bad, and successive employees lock in to step. Until we attack it, other discussions will not really matter. There will be the same spasms of success, followed by disappointment.
Managers, players, coaches all come here and seem to be infected, sooner or later. We need proper therapy.
Danny O'Neill
344
Posted 02/01/2021 at 16:30:02
Apologies if I came across as being precious, Thomas.
I agree with you too!!
Thomas Richards
345
Posted 02/01/2021 at 16:32:28
Not at all, mate.
I've read enough of your posts to know better. 👍
Hugh Jenkins
346
Posted 02/01/2021 at 16:32:47
Ian (313). "Ancelotti would not have done". You say that as if it is a statement of fact rather than an opinion.
It is something that neither you, nor anyone else can know.
I might say "With the same team and resources as Howe had, Ancelotti would have won the Premier League and the Champions League."
As a statement, it is just as valid as yours.
Tony Hill
347
Posted 02/01/2021 at 16:40:21
PS to mine above; one of the reasons I was among the 6 or so fans who supported Allardyce was that he didn't give a fuck about our family credentials, Kenwright, the Professor or, for that matter, our history. He was interested in himself and in winning for himself. Look at the winning managers: they are mostly narcissistic arseholes.
I say that not to enter into any debate about Allardyce; that's long since dead and buried and I wholly accept that my view about him was in a tiny minority. But we really do need someone who will not absorb the Everton script, indeed we need someone who will rip it up. Will that be Carlo?
Christy Ring
348
Posted 02/01/2021 at 17:00:03
The Mail has it that Sigurdsson is to be offered a new contract?
It's just my opinion, but he played above average in a couple of games this season, apart from that he's been a passenger this season and last season. He's on 𧴜k+ per week; unless his new terms are 㾶k per week, Carlo and Brands need to go to SpecSavers.
Kieran Kinsella
349
Posted 02/01/2021 at 17:03:06
Christy
I will be frustrated if Sigurdsson gets a new deal. So often we've seen players do nothing until their contract is nearly up then they raise their game. Nick Barmby for example, Mirallas etc.
Sigurdsson is old, expensive and has been an infrequent performer for 4 years. His few important goals this season should earn him no more than a golden goose egg in Qatar or Miami.
Kieran Kinsella
350
Posted 02/01/2021 at 17:06:18
Tony Hill 343
A lot of people have blamed the fear on the hostile home crowd. But presently there aren't any fans in there to wave white hankerchiefs at Gomes or berate anxious folks like Keane. So obviously, that is a load of nonsense.
It's not like Chelsea and Villa don't have expectant fans yelling at Ross Barkley for example but nobody seems to trot out that excuse for his ups and downs elsewhere. But when he was here playing poorly, many blamed the fans.
Mike Price
351
Posted 02/01/2021 at 17:07:15
We should have kept Martinez who is currently managing the best ranked team in the world. He wasn't perfect but that first season of 'no fear' football gave us hope.
I think he would have got the defence sorted eventually, we'd have saved about 㿞 million on manager payoffs and with a DoF who could actually recruit, I don't think we'd be playing that sickening style that we endured last night.
Danny O'Neill
352
Posted 02/01/2021 at 17:08:06
That's a fair point Tony.
I am polar opposite with on you Allardyce and hate the fact he is associated with the history of our club. But like you say that ship has sailed.
I agree, we need someone who is detached from the club and who come in without the emotion. It's good they respect the traditions and the history, but you only have history to look back on if you make it. If that makes sense.
Despite history, to date, showing that only former Evertonians have won trophies with Everton, the game has changed. Liverpool figured that out years ago. It's why I was vigorously against appointing Duncan and even Arteta.
Charles Brewer
353
Posted 02/01/2021 at 17:11:09
(Almost) 24 hours after that grim spectacle, I think I can reflect with a bit more objectivity.
First, the RS who (though I hate to say it) are probably the best team in the country (certainly if you admit that they usually have 12 players on the pitch), were recently humbled by Fulham, West Brom, Newcastle and Brighton, all definitely bottom of the pack teams with not a decent player amongst them. A team with their squad ought to have walked away with 12 points, not 4.
We seem to be in a situation where both we and the RS have no idea how to play when the other team does not try to win the game but is happy to KITAP1. There seems to be a highly successful formula which smothers teams which rely on good centre forward play and fast attacks.
I'm sure Carlo, an a manager experienced in Italian football, knows how this problem can be solved, and I suspect the next round of recruits will reflect this.
Don Alexander
354
Posted 02/01/2021 at 17:12:38
I am bemused by how the whole Premier League is panning out to be honest. That said, I'm very disappointed by the total lack of verve still embedded in our squad.
Until Ancelotti became manager, we specialised in signing players with little or no pace (Richarlison excepted) but then we see them become increasingly unable to do what should be second-nature to a top-notch pro footballer, namely pass the ball reliably most of the time.
Why are we so inept at this? Why do we hardly ever see an accurate, hard shot from +20 yards?
Davide Ancelotti has, we're told, this season had to individually advise first team players on "body position". Jeez!
What on earth has been going on at Finch Farm these past two decades?
Craig Walker
355
Posted 02/01/2021 at 17:12:50
Kieran. Spot on. We should change our motto to Only Mediocrity is Good Enough. Sigurdsson is one of the worst signings we've made if you look at the fee and wages and what he has contributed. When you look what the RS paid for Mane and Sallah. Criminal that we would offer him an extension.
Ian Bennett
356
Posted 02/01/2021 at 17:16:25
Kept Martinez (351) - you must be joking.
He was bloody terrible. Once he lost the Moyes defence, it was all down hill. We'd be in League 2 with that clown.
Alan J Thompson
357
Posted 02/01/2021 at 17:18:12
I don't think it matters what Tom Davies does as there are some who seem only to watch him and only see errors and when they don't they make it up with things like the rest of the team won't pass to him! If only, as all we need to do then is improve him and let the others be as lousy as they have been. When the majority improve then all will, until then don't try and put the teams poor performances all down to one player.
Tony Hill
358
Posted 02/01/2021 at 17:19:48
I agree, Kieran @ 350, which means that the fear is there regardless and is the product of something systemic.
Will Mabon
359
Posted 02/01/2021 at 17:20:16
Tony @ 343:
There's a group of you, me, Darren and one or two others that have posted such exasperation in the past. It's a valid point, and it generally transgresses the players and coaching staff across many years. God alone knows what it is, but it's deep in the fabric.
Yes, we're a functioning football club, and things are not as bad as some make out right now. It's the feeling that things could be better at any one point in time without the hoodoo.
A hard thing to define but one manifestation is that we always, but always seem to time the appearance of it when it most matters - like when faced with a golden opportunity to go second. Very frustrating.
Peter Mills
360
Posted 02/01/2021 at 17:21:49
We are 5th in the League after 16 games, 4 points off the leaders. It has not been pretty, particularly last night when it was grim. But overall I believe we are making progress.

Tony Hill
361
Posted 02/01/2021 at 17:22:44
Yes, it's that above all, Will @ 359: the failure of nerve under pressure.
Thomas Richards
362
Posted 02/01/2021 at 17:27:53
Alan #357
Do you really believe ALL the people who think Tom is not a good player are inventing criticism to prove a point?
Barry Rathbone
363
Posted 02/01/2021 at 17:35:52
Mike 351
Totally agree.
If Martinez had been given the money his successors had we would have had an exciting, challenging team by now, imo.
Danny O'Neill
364
Posted 02/01/2021 at 17:36:07
So, back to being optimistic.
We are in a much better place than we were 12 months ago, so that represents progression.
If I look at the league table tonight, depending on how these next 2 games this evening go, we are starting to consolidate in the top 10. Possibly top 8.
I've said countless times, I didn't get carried away with being top earlier in the season on 2nd last week. The important thing is to stay in touch with our target, which realistically was / is Europa. We are still very much on target and still very much in touch.
Due to the unique circumstances of this season, 4th is an outside chance, but we are staying in touch of our realistic target.
Will Mabon
365
Posted 02/01/2021 at 17:44:22
Danny, I agree generally. It's an achievement of sorts that a team can produce what we saw last night, yet still be where we are in the table. Not a laudable achievement nor so enjoyable but for now, it's working in a manner. There is much room for improvement though, even with the players we have IMO - which is what management and coaching are really about.
Kieran Kinsella
366
Posted 02/01/2021 at 17:46:15
Will 359 & Tony 343,
On the fear thing, the worst example to me was the FA Cup semi-final v Man Utd in, what was it, 2007? I honestly felt as though Fergie threw that game to give Moyes a bone.
The "star" of their lineup was Darron Gibson who was amongst a lot of no-name kids who never made the grade. We had a very good side but we pottered about nervously for 120 minutes before scraping by on penalties. That should have been an easy landmark 2-0 or 3-0 win.
Then again, as far as "worse" goes, I guess we had last year's cup game against the Liverpool Under-18s.
No idea where the fear comes from. But I sense it comes from the top with Bill Kenwright always portraying us as plucky underdogs as if we're Wimbledon of the 90s. It's fairly pathetic really, knife to a gunfight mentality when we actually have and have had guns, we just choose not to draw them.
Eddie Dunn
367
Posted 02/01/2021 at 17:51:16
Thomas, No I don't think Davies is as good as Allan but that holding role is not the most crucial position. My reason for enthusing about Villa is that they all work very hard, yet are technically good, they also have McGinn who is tough as old boots and as we need a really ugly player. Every winning team has one.
That kid up top, Watkins is going to be phenomenal.
The thing is, whenever I watch them I think that it would be worth the effort to go to Goodison to see 11 guys busting a gut and giving it a real go, playing some great football and Grealish is the best English midfielder I have seen since Gazzer. Only he is smarter and works harder.
Ian Edwards
368
Posted 02/01/2021 at 17:57:57
Ian Horan 339. You ignore the point I was making. We were level on points with Man Utd and should not have gone into the game frightened of them. Presumably they played their best players in league games and we had matched their record. Playing their squad members or their first team should have held no fear for us. We played it like a 4th division team drawn against a Prem team in the cup.
I have not answered the question as to who should be Manager because it is irrelevant. I have no say in the appointment. I can only comment on the man in possession and he has been sacked from his last three jobs and his style of football is absolutely rotten.
On a separate note and from reading the posts above it seems a number of people support Ancelotti first and Everton second.
When we win he is lauded. When we lose it's the fault of individual players. It is never his team selection, his tactics or his substitutions.
He only came to midtable Everton for the money because no one else wanted him. United gave him a wide berth as did Arsenal.
Thomas Richards
369
Posted 02/01/2021 at 18:03:39
Thanks Eddie,
All the best mate
Will Mabon
370
Posted 02/01/2021 at 18:04:52
Kieran, there are many examples, it's been going on for a long time. I personally think we shit ourselves out of winning the 2009 FA Cup Final, despite having Lescott, Cahill and Fellaini in the team, and a great start.
There's a lot of bias, patronizing and just plain bullshit in football and its media, but I sadly believe we have gone some to way to inviting it with a long-standing niceness and almost knowing our place below certain other teams.
Quite a lot of fans of "Big" teams have said in the past they "like" Everton... which doesn't need explanation. The outcry after the recent derby? Give me some of that again, please. The VVD thing (and Richarlison) gave licence to the diatribe, but the fact we competed and didn't dutifully roll over was a big driver.
Mark Frere
371
Posted 02/01/2021 at 18:07:01
Mike@351
Martinez was a disaster. He took over a hard working, well drilled team and added some quality signings to it, with Barry, Lukaku, McCarthy etc. It was initially successful but once he'd fully infected our club with his fucked up philosophy of football, we were subjected to some of the worst football I've ever seen.
Slow, ponderous football... Constantly passing the ball sideways and backwards. Possession without any purpose. No pressing the opposition on the ball. Our once strong defence under Moyes crumbled under Martinez and started leaking goals for fun.
I never really rated Koeman or Silva as our managers... but I thought they both suffered mostly due to bad player recruitment. Martinez failed due to damn right incompetence. He's the worst manager we've ever had along with Mike Walker.
Tony Hill
372
Posted 02/01/2021 at 18:08:24
Kieran @366, my son was sitting front and centre in the Anfield Road stand for that debacle last year. The most embarrassing experience of his life as a fan and I think that's probably true for the rest of us.
Anyway, we can only keep going; we have to support the fuckers. As if any of us on here are ever really going to give up on them, despite all the blether from people like me.
Mick Davies
373
Posted 02/01/2021 at 18:14:31
God preserve us. . the man has been in charge for 12 months, and in that time, the world has suffered its most catastrophic event EVER: whoever expected Carlo to come out of the debacle of last summer and win the league playing Brazilliant football is on some really potent narcotics. Liverpool, the champions and arguably the best side in the league were hammered 7-2, but I didn't hear them calling for Shergars head!

If Ancelloti had their players, I'm sure we would never get a thrashing like that. At least 50% of our squad are shite, and that's not the managers fault, and given that he's had an horrendous injury and suspension list to deal with, I suggest you all get off his back until he has had a chance to build his own team.

Remember, once those players cross the white line, they're responsible for earning their obscene salaries, and Carlo can't run on to the pitch and show them how to kick a ball - that should have been learned at under 10's level
Will Mabon
374
Posted 02/01/2021 at 18:16:21
Just occurs to me - how many standout poor performances we are able to easily recall from the last twenty-odd years. The standout good ones - not so easy!
Ian Edwards
375
Posted 02/01/2021 at 18:17:03
Many people on ToffeeWeb (me included) wanted Moyes to go because of his continual "knife to a gunfight" tactics in away games. To see Ancelotti do it at HOME is just too much for me to accept and it crosses a line.
Thomas Richards
376
Posted 02/01/2021 at 18:20:05
Ian,
Dont watch it?
Just a suggestion
Eddie Dunn
377
Posted 02/01/2021 at 18:22:01
The point is that, if we finish on 58 points and get 5th place, then the season is a success. If though we finish on 50 points and get 8th, then we have failed to get European Football.
A few days ago we could have gone 2nd but stayed 4th... Carlo informed us we were on target. This season it looks like the scrap for the top 6 will be a lottery.
Ancelotti has scraped some good wins from shit games but he has also presided over strange selections, mystifying positional picks and mind-boggling subs. Last night he took off our best striker just as he put on a provider!
He brought back Coleman and actually made the defence less stable. This is all after a good rest, but the team looked like they had all been eating Geese all week.
Criticism must also be levelled at the manager for his part in the loaning of Mr Sulcky chops and Theo King of the Scummers. Walcott could certainly have done a better job than Iwobi or Bernard and young Sulky Gob might have given us a better option than Tosun.
Why didn't Carlo think, "Hey, I know, let's put Tosun up top to help Dominic"?
Those points are gone and might be the difference between 8th and 5th. That's why he deserves the brickbats as well as the plaudits.
Will Mabon
378
Posted 02/01/2021 at 18:22:05
Ian, it's the curse, I tell you - the curse!
As said above, yesterday dire. Season so far (United cup game excepted) not so dire. A concerning issue though. Hope it proves just a step on the road and not a precedent.
Ian Edwards
379
Posted 02/01/2021 at 18:24:05
Thomas 376. Telling an Everton fan not to watch Everton is a bit insulting. Just an observation.
Thomas Richards
380
Posted 02/01/2021 at 18:26:21
Ian,
No offence intended
It is not, if the Everton fan is traumatised on a regular basis by what he is watching.
Will Mabon
381
Posted 02/01/2021 at 18:27:26
Ian/Thomas - face it, we're all masochists.
Thomas Richards
382
Posted 02/01/2021 at 18:28:55
We are indeed Will.
Though I stopped going the game during the Allardyce era.

Eddie Dunn
383
Posted 02/01/2021 at 18:29:20
This is therapy Ian.
Patrick McFarlane
384
Posted 02/01/2021 at 18:29:30
Asking an Evertonian to watch some of the stuff we have witnessed in the last few years, is a far greater crime! :)

Brian Murray
385
Posted 02/01/2021 at 18:30:19
Let's be honest, if it's true what some press are saying and siggy is about to be offered a contract well what the interprets t the fans is stop trying to push the club into something we are not and be happy we are in the top flight and in no danger. As I have said not necessarily Carlos fault because it's been that way when Moyes was allowed to install his mediocrity into the fan base thinking. If it's true I'm done with them. ( wish I had the courage of my convictions but these bastards run deep in me )
Mike Price
386
Posted 02/01/2021 at 18:30:29
Mark #371
I agree there was some turgid stuff towards the end but he was inherently positive and I feel he could have got it sorted with our new money.
He's managing Belgium, he gave Wigan their greatest moment by actually winning the FA cup. I know they were relegated but they were Wigan ffs.
The sin miedo season was the best we've all seen since the 80s.
I don't think Belgium would trade with us.
Paul A Smith
387
Posted 02/01/2021 at 18:30:42
Ian, Ancelotti might not be your choice but stick with logic and whether its your favoured decision or not won't matter because you'll be closer to the truth.
Did Man United have a better 11 than our strongest 11 on the day?
Even with us at full strength they do, so whether they are above us or below us, the odds of a win are in their favour with a great run of form and a stronger side.
I wish we done something different because Hindsight is telling me to but reality tells me more.
If you think this side can keep going toe to toe with the best you are in for some miserable days and I wouldn't wish that on you.
Have a think who the top sides might take from our best 11 to start every game for them and that about sums it up.
We are up there through grit and collective effort and last night was a collective poor display that lost too a gritty opponent.
Thomas Richards
388
Posted 02/01/2021 at 18:33:17
Brian #385
Agents tricks mate.
He wont be getting a new contract
Tony Hill
389
Posted 02/01/2021 at 18:37:09
Thomas @382, armchair fan, mate.
Thomas Richards
390
Posted 02/01/2021 at 18:40:05
Tony,
When we're allowed back you should go the game mate.
Stan Schofield
391
Posted 02/01/2021 at 18:55:17
Eddie@377: If we finish on 58 points the season IS NOT a success, it's a continuation of midtable mediocrity, 5th placing or not. A success is based on high position in the table, over 70 points, and better consistency. We're almost on target for that.
Mark Frere
392
Posted 02/01/2021 at 18:56:44
Mike, he was 'positive' but not 'proactive'. That was the problem. You could nail his wife and he'd probably find a positive in it.
International football is completely different to club football - and it helps when you have a golden generation of players at your disposal as Martinez has.
Martinez also failed where Paul Jewell and Steve Bruce succeeded: he failed to keep Wigan in the premier League. And Wigan teams were notorious for leaking goals. The alarm bells were ringing loud and clear but Kenwright chose to ignore them.
Darren Hind
393
Posted 02/01/2021 at 18:58:41
Good man Stan
Somebody setting the bar on what would constitute success. I don't think we have a chance of getting to seventy points, but I hope you are right, if only because you have dared stick your neck out.
Danny O'Neill
394
Posted 02/01/2021 at 19:07:21
Success is winning things. Not finishing on 70 points and 4th in the table.
Progress would be 5th or 6th and qualifying from Europe in the context of where we were last season.
Success takes time. Progress is, well, progressive over time to achieve success.
Thomas Richards
395
Posted 02/01/2021 at 19:08:00
I'm with you Stan.
Fully agree, I think we will get there as well.
Last manager to break the 70 point barrier was Martinez.
Grant Rorrison
396
Posted 02/01/2021 at 19:08:29
The players got Martinez sacked, as they have every other manager. They don't like expectations and couldn't wait to get playing 10 at the back under some little manager again. They have failed every time there has been anything meaningful on the line for years. Even during the 'glory' days of Moyes, you could be guaranteed that if there was something tangible at stake they would shrink and would all fit in your kids Everton shirt let alone the one they took to the field in.
At least Martinez had ambition and tried winning trophies. The current fella put a team out to get to penalties the other week at home, in the biggest game of the season so far. But then again, maybe he's got to know the players by now and I am being too critical of him..
Stephen Brown
397
Posted 02/01/2021 at 19:13:59
This season is really frustrating as we've got 29 points but got no point from Leeds, West Ham at home as well as nothing from Newcastle and Southampton away. Even if we'd got 4 points from those 4 games we'd be joint top!
Thomas Richards
398
Posted 02/01/2021 at 19:15:36
Stan,
Just checked.
Last time we achieved 70 points, before Martinez, was 1987.
I still think Ancelotti can achieve the 70 points.
Paul A Smith
399
Posted 02/01/2021 at 19:27:22
Stan I usually love your posts but I have to disagree on the points for satisfaction estimates.
It all depends what the champions finish on doesn't it?
That won't be near the 90 plus its been for the last few years.
If we were to finish on 55 but the champions on 70, some could call that an achievement for finishing closer to the champions than before.
On the other hand you could say we have both got worse but we would still be closing the gap.
I'd have thought it'd be judged on how close to the top we are. We could get still get up to 60 points but I think over 70 is almost impossible now.
That's judging by the way results have gone so far.
Tony Hill
400
Posted 02/01/2021 at 19:32:32
Grant @396, a lot in that.
Thomas Richards
401
Posted 02/01/2021 at 19:35:33
Paul A.
See where you are coming from there.
Everton have only broke the 70 point barrier once in 34 years so history is obvious.
Aim for the moon, hit the stars though mate.
We have a bit of luck with injuries and play with a near full squad to pick from we have a chance.
Any bad injury run of our top players, similar to the one we have now, will put paid to 70 points
Danny O'Neill
402
Posted 02/01/2021 at 19:37:45
I see the justifiably much coveted Wolves have just squandered a 2 goal lead to draw with Brighton. A team many would like us to be like, which I get in terms of style. Much like the current Southampton, Leeds & Villa teams.
Well, as it stands, we are ahead of all of those in the league. 3 ahead of Villa, although they have a game in hand. 3 ahead of Southampton having played the same. We have a game in hand on West Ham (3 points ahead), Leeds (6 points ahead) and Wolves (7 points ahead).
There is a long way to go, but to my age old tradition (well in my 49 years anyway), start to take notice of the table after Christmas. It is starting to take shape and to repeat myself, we are consolidating in the top 10, if not the top 8 and very much staying in touch with our target of Europa qualification.
Not success, but definitely progress despite the disappointment of last nights dreadful performance.
Hold your nerve, we may well progress this season.
Will Mabon
403
Posted 02/01/2021 at 19:41:46
Our form/results to now have us on target for 68.75 points. We'd need to continue achieving the same return against the top 5/6 clubs as so far, plus a slight improvement to break 70 points.
It's an ambition we should aim for but a tough ask. RS projected finishing total at present rate is 78 points.
Will Mabon
404
Posted 02/01/2021 at 19:50:37
Grant - welcome to the Sussed the Mediocrity club.
Eddie Dunn
405
Posted 02/01/2021 at 19:52:44
When I said 5th on 58 points or 8th on 50 I wasn't paying attention. In my tiny mind I was thinking we were halfway throught the season! So I simply doubled our current points tally. In reality the actual points are not the vital thing but the place in the PL. Carlo has told the board that we can get Euro football. Whatever place gets that I'm not sure but 5th should be nailed-on.
We have to admit that we have had a few lucky wins and perhaps one or two unlucky defeats. In a best case scenario, with Allan and Digne back and perhaps a new back-up striker (king?) we could mount a challenge for top four.
I do think though that our lack of a second striker and our overly defensive set-up in many games that we will fail to reach the heady heights of Martinez second season. I would have settled for 6th before a ball was kicked..but now I want at least 4th. Why not?
But do do that I want to see this lot living on red meat and busting their bollox for a win. Play on the counter against the top quality posession meisters but get a fecking grip and blow the likes of the Irons away.
Craig Walker
406
Posted 02/01/2021 at 19:53:06
Ancelotti needs two transfer windows before he is judged. I think I'm right in saying, he hasn't lost a home match with fans present. We need the deadwood out and quicker, hungry players in. Sig being offered a new contract is worrying. We are far too sentimental as a club. Would any of the so called top 6 offer an underperforming player a new contract?
Sam Hoare
407
Posted 02/01/2021 at 19:53:45
Carlo has said a few times I think that the aim is European football. If we achieve that aim then I'd call that a success of sorts. That has to be the minimum expectation. Obviously a cup and top 4 would be lovely but I don't think this squad is there yet.
If we can come in top 6/7 to get European football then we have improved on the previous few years and set a decent foundation to hopefully recruit well this summer and keep improving. Obviously the longer term goals are grander but this seems to be Ancelloti's stated aim this season and it's a fair one to my eyes.
Tony Abrahams
408
Posted 02/01/2021 at 20:01:01
Ian@375, I want to see good football, but also don't think that this is always possible. To be fair to Ancellotti, he's just getting on with it, and as Guardiola basically said yesterday, who wouldn't want to be playing Everton now, when you look at the players they've got out?
I'm made up we've gone pragmatic, but Coleman never got going yesterday, possibly because of Richarlison, Bernard never got going probably because he needs an overlapping fullback to play with, and it was clear Sigurdson was on his knees after ten minutes.
We obviously need a few more players with real attacking instincts, and until we get them, being pragmatic has got to be our rule number one imo.
If that means the man who has managed some of the best players in the world, is prepared to become a dinosaur, in some peoples eyes (EVERTON FC = WON ZILCH IN 25 FUCKING YEARS) then I'm definitely prepared to give this manager some time.
Martin Berry
409
Posted 02/01/2021 at 20:04:44
I fail to understand why when we play Bernard he is stuck out on the left of midfield, it should be obvious that it is not his best position. DCL was crying out for a wide man to deliver some sort of cross that never came and I am not blaming Bernard for that.
With Benard I have never understood why he has not been played in the number 10 just behind DCL, he has vision for a pass and quick feet and is also going to pick up some free kicks for us in dangerous areas. I would also like to see James tried in the number 10 as his shooting power and accuracy would better suited there rather than stuck out on the right.
I think the whole team needs a rethink as we are creating so little.
Mike Doyle
410
Posted 02/01/2021 at 20:06:22
Sam #407] I'm sure you are correct. Finishing high enough to qualify for either Euro competition will be the primary aim.
While there remains a decent chance of this then qualification F.A. Cup will be a distraction and remain a much lower priority.
I think we can expect to see a fair number of changes for our game vs Rotherham.
Tony Abrahams
411
Posted 02/01/2021 at 20:09:18
Have to agree with that Martin, because it's obvious that both Bernard and Rodriguez need runners, or at least players on the same wavelength, which is why I said much earlier in this thread, that I felt that when Sigurdson was taken off, I'd have pushed Bernard inside, instead of also taking him off
Barry Williams
412
Posted 02/01/2021 at 20:11:08
Yesterday's game was exceptionally dull and uninspiring to say the least. Too many players were off the pace, they couldn't find a team mate, looked unmotivated, lacking sharpness and it was really negative.
That said, the team that was put out should have had enough about it to see off a West Ham side at home, who were marginally less uninspiring!
That said, me being an expert, I mentioned that 4-4-2 would be preferable before the game, unlocking West Ham's deep lying defence. I did notice Coleman and Godfrey's overlaps being completely wasted yesterday.
Ancelotti does not get a free ride, but all said and done, depleted squad, lots of games, 4 points off top. The top team - the unmentionables - being lauded as very very strong by many, including a lot of Evertonians.
What really annoyed me was not just the result, but both Mina's and Richarlison's massively embarrassing histrionics, and Gomes smiling, fist bumping, swapping shirts after a 1-0 defeat at home, a win that could have propelled us to 1 point off top. Infuriated me that! Would they have done that with fans in the stadium? Hhhmmm!
I am still optimistic, that team had 2 Ancelotti signings in the starting line-up, and we know where the other 9 players have gotten us in recent times!
It has been a weird season, let's see where we are when we get players back, and another run of games and see where that takes us.
Joe McMahon
413
Posted 02/01/2021 at 20:12:52
Craig Walker - Carlo was only at Everton for about 2- 3 months then fans haven't been at a match since lockdown apart from Chelsea (1 game). Everyteam is playing without fans, not just Everton, every team will have the same issues with no home fans.
Besides I have been inside a packed Goodison many a time and seen Everton spanked, many - many times particularly in the Moyes glory years.
Danny O'Neill
414
Posted 02/01/2021 at 20:18:58
I said much earlier in this thread that it seemed at one point as Gomes was at one point waiting for Digne to overlap on the left. He suddenly realised he wasn't playing and the overlap wasn't coming so had to go backwards and sideways.
So the point about runners off the ball is very valid.
This manager, this latest throw of the dice needs 2 windows. I've said before, I'll be interested in the Everton team that lines up at the start of next season. If we make the improvements we made in this one x 2, we could be a very different prospect and with more depth, along with more deadwood gone.
Brendan McLaughlin
415
Posted 02/01/2021 at 20:23:09
Wow Joe #413
"the Moyes glory years". two words I never thought would be used together on ToffeeWeb!
Paul A Smith
416
Posted 02/01/2021 at 20:24:26
Thomas 401. It can still be done mate there is always a chance but its very unlikely.
Our next 3 games take us to half a season. To get half of 70 points we need 2 wins from the 3.
Again not impossible but our opponents will certainly fancy their chances too and Villa could be flying high with a win over us.
With games in hand that'd make them more favourites for the top 4 than us. Shocking turnaround we are seeing at Villa but they have looked great fair play.
Leicester is the 3rd of a tough 3 games. These 3 fixtures could make our season look very bright again or close rivals climb over us.
Fingers crossed.
Martin 409. Fully agree on Bernard. Playing a man his size and lack of strength, shoulder to shoulder on the wings seems insane.
Face to face from central positions i could see him moving past players a bit easier.
Bobby Mallon
417
Posted 02/01/2021 at 20:37:59
I think Carlo needs to play some youth

Jason Wilkinson
418
Posted 02/01/2021 at 20:43:05
To get to the promised land of 2pts average per game we need 13 wins and 4 draws from the remaining matches. (Other combinations are possible I know)
Home games to be played;
Leicester, Newcastle, Fulham, Saints, Burnley, Palace, Spurs, Villa, Sheff U, Wolves & City.
Away games to be played;
Wolves, Villa, Leeds, Man U, Liverpool, Chelsea, West Brom, Brighton, Arsenal, West Ham & City.
I think we would need to win 5 of the away games and 8 of the home games. Picking up 2 draws away and 2 at home.
Can anyone see us doing it?
Danny O'Neill
419
Posted 02/01/2021 at 20:43:59
I'm guessing that comment was tongue in cheek Brendan!!
Brian Murray
420
Posted 02/01/2021 at 20:47:10
Danny. You never know because fans of a certain age constitute the odd derby and cup run as glory because of the sky and Moyes brainwashing attitude that we should be grateful for even still being in the top flight.
Bobby Mallon
421
Posted 02/01/2021 at 20:49:19
Honestly, is there anyone from the Under-23s 21 or younger that could do a better job? I see Arsenal and Chelsea using young players, Villa... why not us? What is Unsworth producing?
I know there are fans on this forum that watch these players. I would pick a team of:
Olsen (I'm just gone on Pickford)
Kenny
Keane
Godfrey
Digne
Gordon
Allan
Doucouré
Richarlison
Simms
Calvert-Lewin

Danny O'Neill
422
Posted 02/01/2021 at 20:51:36
This is true Brian. Back to the earlier discussion. Success for me is winning shit. Anything else is progress towards achieving that.
Derek Knox
423
Posted 02/01/2021 at 20:53:52
Bobby, not a bad line-up there, experience and youth mix, which I certainly wouldn't be averse to trying, they couldn't do any worse than the other night (yesterday, seems like ages). Unfortunately though, I doubt whether Carlo would go for that.
Danny O'Neill
424
Posted 02/01/2021 at 21:04:35
That's for next week though Bobby right, not next season?
Keep saying, I'm liking Godfrey more and more each time I watch him and really want to see him in his natural position.
Kenny I'm afraid doesn't look a long term option for us having watched him both for Everton and Schalke. Short term, keep in the squad like Davies. And if we ever play 3 at the back, he can do a job at wing back and has experience playing there. Just in a 3-5-2, not a 3-4-3.
Brian Murray
425
Posted 02/01/2021 at 21:12:17
Is Unsworths opinion just ignored by Carlo. He's raving about Onyango and il state the obvious by saying he's got to be better than siggy and Gomes etc.
Bobby Mallon
426
Posted 02/01/2021 at 21:14:41
I have a question I want to put out to you lot. Do you think we would we have won more games with kane and son rather than DCL Richarlison. I have 2 bug bear's with Richy and its he never seems to be able to take people on and his shooting 99% of the time is powder puff. I hope his agent has not got him a move and he now cant be arsed. Ref DCL his shooting from outside the box is a little poor.

Thomas Richards
427
Posted 02/01/2021 at 21:16:02
Brian,
Onyango is 17 years old
David Pearl
428
Posted 02/01/2021 at 21:19:03
Bobby, Richarlison has reverted to the one move which is to try to cut onto his right. Seems to be found out without Digne as an option, Godfrey too far away.
Brent Stephens
429
Posted 02/01/2021 at 21:20:27
As Thomas says, Onyango is still young. He has some very good games. The last few I've seen him in for U23s on the Everton (etc) streams he's been indifferent. His time hopefully will come.
Will Mabon
430
Posted 02/01/2021 at 21:34:54
Jason @ 418:
Homes looks the better list. In theory more opportunity for points; away schedule will be difficult if we're not on very good form. I'd be stunned if we did two points per game. 76 pts? Doubt it.
Craig Walker
431
Posted 02/01/2021 at 22:14:23
Good point, Joe. I fancy us when the ground is like a bear pit but, yes, there have been many woeful performances with packed houses. I think Carlo would hear the reaction to bringing Tosun on for DCL though.
Danny O'Neill
432
Posted 02/01/2021 at 22:20:01
Bobby, I would say undoubtedly. Tottenham's performance today demonstrated that. Leeds done what they do today and took the game to Tottenham. In fairness we mainly dealt with it as Tottenham did today and they could easily have conceded,. But Tottenham were more professional and killed them with quality. That quality being Son and Kane.
Ian Edwards
433
Posted 02/01/2021 at 22:22:48
Tony 408. Who is out injured that would improve the team?? Digne. That is all.
Brent Stephens
434
Posted 02/01/2021 at 22:29:01
Ian. Allan?
Bobby Mallon
435
Posted 02/01/2021 at 22:36:27
Ian
Allan ?
What about going for josh king.
Danny O'Neill
436
Posted 02/01/2021 at 22:38:01
Fully fit James. Repeat mode again. DCL is not misfiring and has not lost his spark. His is suffering from a loss of supply chain.
Watch the second goal in the Derby again. James slips in the overlapping Digne who puts a peach of a cross in for DCL to smash home Duncan style.
Last night Gomes was almost waiting for Digne to overlap at one point but it wasn't there.
I also think the much maligned Iwobi makes a difference as recently he's been playing well and being a pest to the opposition. As I've said previous, half the time we don't know what is going to happen when he has the ball, so if he can create that confusion within the opposition then that's a good thing!
We still have to see what Gbamin can add and once we have the natural full backs fit, we get to see Godfrey in his natural position.
There's a few things Ian and that's before we bring in additional players in the next 2 windows.
Tony Heron
437
Posted 02/01/2021 at 22:43:57
Watching Arsenal and what stands out is the speed of the movement going forward with quick passing. Not like our ponderous approach with, what seems like, a hundred passes to get over the half way line. The other difference is the number of players they get into the penalty box when they attack with a minimum of 2 in the box and at times I counted 3,4 and on one occasion 5!
Chris Williams
438
Posted 02/01/2021 at 22:45:30
Danny,
According to Carlo DCL was also carrying an injury.
Danny O'Neill
439
Posted 02/01/2021 at 22:48:21
Tonight Tony but not 3 or 4 weeks ago?
Form and phases. A season lasts from August to May.
Peaks and troughs etc.
Brent Stephens
440
Posted 02/01/2021 at 22:55:03
Exactly as Danny says. That wasn't Arsenal a few weeks ago. Focusing on one or two games performance, us or any other team, is, well, shortsighted. A beats B, B beats C. C beats A. Conclusion? Wait until the season finds its conclusion.
Brian Wilkinson
441
Posted 02/01/2021 at 22:58:25
Look on the bright side West Brom lost 4 nil, only a matter of time before Sam comes in for Tosun.
Danny O'Neill
442
Posted 02/01/2021 at 23:01:27
Understandable Chris given he's been leading the line on his own all season.
Which comes back to not having sufficient backup or support. That is definitely a criticism of the management team.
I know there are some that didn't want Carlo, are suspicious of his intent or motive and see him as a busted flush.
I personally don't but I will judge on performance over a reasonable period of time. Right now we are 5th so doing better than when he took over. Not everything has been great but we are progressing. That doesn't mean I won't criticise and a failure to have sufficient backup in the forward department is a short term one.
I supported Moyes for about half of his tenure understanding he was doing what needed to be done. I turned when he failed to have any ambition when he had achieved Phase 1. I was appalled when we appointed Martinez but was gladly eating humble pie after that first season only to see my fears come home to roost. I got blinded by my memories of Koeman the player rather than Koeman the manager so got burnt on that one. Why we ever appointed Silva is beyond me. I never called for Howard Kendall to be sacked (but admittedly I was young and naive - my father did and he watched him as a player).
My point is that I support Everton, not the manager. Whoever is the manager, they get my support until I think it's going wrong. This isn't going wrong, we are generally making positive steps forward.
Ian Edwards
443
Posted 02/01/2021 at 23:12:04
Seems a common theme to ridicule Tosun. It's lazy. He has only ever had cameos and always isolated on his own. As DCL has been for the last few games. Kean was the same. If we played two up top we would see them supporting each other with link play.
Danny O'Neill
444
Posted 02/01/2021 at 23:15:46
In seriousness Ian, I said this the other day. Tosun (in my opinion) has been unfortunate.
Don't get me wrong, he's never a world beater but he fits a certain system and that is probably 4-4-2.
Play that system and you probably get more out of him and see a more effective player than we have.
But lets be honest, he joins the list of players that I have no personal gripe against but are not the level where we want Everton to be.
But play 2 up top in the modern game and you generally get overrun in midfield so the 2 up top don't get service,
The one system that would support that would be 3-5-2, but my word you have to have exactly the right blend of players to make that one work. Otherwise you get massively exposed on the flanks when defending. It can be very effective but you have to have the right wing backs and a proper holding midfielder; enforcer type.
Tony Heron
445
Posted 02/01/2021 at 23:19:42
Re my previous post on the Arsenal display. Yeah fully appreciate the comments on form and how they were playing a few weeks ago. I wasn't particularly praising Arsenal as such but a style of play which I think everyone would prefer to our current boring performances.
Danny O'Neill
446
Posted 02/01/2021 at 23:21:40
That's a fair call Tony. I said earlier, I watch and play football for 2 reasons. Firstly to win, but also as important to be entertained. We obviously all want both, but if we can't win, we at least want to be proud of a performance. We got neither last night.
Stan Schofield
447
Posted 02/01/2021 at 23:35:06
Jason@418: Answer to your last question: Yes, easily.
Stu Gore
448
Posted 02/01/2021 at 23:37:14
I will apologise to the group. I just realised I had had Richarlison in my largely ignored fantasy football side. I have transferred him out so expect world-beating form from this point on.
Stan Schofield
449
Posted 02/01/2021 at 23:53:09
I actually cannot believe my eyes that someone on here is comparing us unfavourably with Arsenal based on the latter's performance in their 4-0 win against West Brom. Guys, some of you really need to get a grip. Arsenal have been way below us in performance, and you cannot leap to conclusions based on one decent performance from an otherwise crap side. They're 6 points below us having played one game more! Similar comparisons have been made with Leeds and Villa, and it's utterly ridiculous and like throwing an Evertonian tantrum because we lost last night. Beggars belief.
Darren Hind
450
Posted 02/01/2021 at 23:59:54
Its funny how those who call for others to wait until the end of the season are the ones who have the most trouble waiting till the end of the season.
They want to put up snap shots like
"We're top now".. " We're 2nd now".. "We're fourth now"...but now when other teams games in hand are played and our true position becomes a little clearer, its "lets wait until the end of the season"
Its a ridiculous notion. What on earth would football fans talk about if they had to wait until May to talk about the style of play from November To January ?
And how come its ok to say we will get 70 points in January, but its not ok to talk about the desperately poor football we are being served up here and now. - Not a dig Stan. It doesnt matter whether you are right or wrong, at least you have enough conviction to support your argument without throwing in a fist full of caveats - I like that
The self proclaimed positives - Great to support awfulness and excuse cowardly tactics against inferior opposition...But very negative to condemn it and call for better.
I wonder which one benefits the club most ?
Danny O'Neill
451
Posted 02/01/2021 at 00:01:06
With you Stan.
Rightly criticise just as we would praise but put it in the context of the course of a season right?
We have improved. We are still not where we want to be, but are in a better place than this time last year.
Darren Hind
452
Posted 03/01/2021 at 00:12:27
That's another thing.
We had lots of people taking great delight when Arteta was struggling. They ridiculed others who they claimed wanted him as our manager (not that I saw anyone advocating him).
"Dodged a bullet," they said.
Those people who spitefully hammered an ex-player will become increasingly nervous as the younger manager (who has already won two trophies) continues to eat into what was at the time a fifteen point gap between us and them.
Stan Schofield
453
Posted 03/01/2021 at 00:20:02
Darren, I don't recall anyone being spiteful about Arteta, they are simply recognising that the team he's been managing this season has been shite. If we'd been that shite, I imagine there'd be similar criticism of Ancelotti. But we haven't, so there hasn't.
Patrick McFarlane
454
Posted 03/01/2021 at 00:23:21
Darren #452
I said that Arsenal was in a false position after we played them and also stated that they would finish at least top-half and the fact that he's bought youngsters into his side, either by design or circumstance is in some ways a contrast to what Everton have done, although to be fair, we have a number of relatively young players in our team most weeks and perhaps our untried youngsters aren't quite good enough.
Martin Keown said of Arsenal:
"Now, with the kids coming in, there is a real core that they can look to the future with," he told BT Sport. "I like the way they have reacted. There has been a lot of character and a lot of passion. The youngsters are leading the way for Arsenal."
We won't know until the end of the season which side will finish the highest in the division or travel furthest in the cups, however, what my experience tells me is that the fewer chances you create the less likely you are to win matches.
It always seems that Everton when scoring regularly concede too easily and when they sort out the defence they don't create - it's not a new phenomenon to Evertonians but it seems no manager in recent years has been able to solve that particular quandary.
Stan Schofield
455
Posted 03/01/2021 at 00:26:12
Patrick@464: Arsenal have not had our injury problems, but they're 6 points behind us having played a game more.
Patrick McFarlane
456
Posted 03/01/2021 at 00:27:55
Stan #455
That's very true and you'll get no argument from me on that score and as I said it won't be until the final games have been played which of the two sides has had the better season.

Danny O'Neill
457
Posted 03/01/2021 at 00:27:57
I don't recall people taking delight that Arteta was struggling. I saw more concern for him having taken on more than he could chew for his first job. But I didn't take that as delight at the challenges he had or has. I think most of us wish him well. Top bloke, great player and good servant to Everton.
I'm not as good a prophet as you Darren.
Clearly some want Ancelotti to fail. I personally just want the Everton manager to succeed whoever that is even if I agree with who the manager should be or not.
Arteta may prove to be a good Arsenal manager or he may not. But right now I don't give two fucks because he's Arsenal's manager, not Everton's.
Darren, I respect your view and often agree with you as much as I disagree with you, which is good for healthy debate.
I guess you just want Ancelotti to fail. Even if that means Everton failing.
Brian Williams
458
Posted 03/01/2021 at 00:34:57
Personally I don't care about Arteta. He manages a rival so as far as I'm concerned he's now the enemy. I only care about Everton.
I also only care about the teams results and performances and whichever way you look at it yesterday's was utter shite and there's no real excuse for the type of performance we turned in.
Lethargic and lacklustre performances with little or no aggression and desire are, to me, inexcusable.
I've quoted Sean Dyche before on this one and I think it's a perfect mantra.
"Minimum requirement is maximum effort."
I don't think I saw that yesterday so I'm pissed off.
West Ham were poor. The fact we couldn't muster the enthusiasm to see them off is a real worry.
Playing well a week or two weeks ago means nothing if we regularly play like that.
I'm gutted when we get beat when we've played our hearts out but been beaten by a better team but yesterday?
I really don't understand where that performance came from.
Still sick as fuck.
Patrick McFarlane
459
Posted 03/01/2021 at 00:35:26
I agree Danny there wasn't outright delight at Arteta's issues with Arsenal but there were a few comments questioning his suitability for the job.
Yes, feel sorry for any ex-Blue in that position. I think we missed the proverbial bullet.
Somebody on here suggest that he would be our next manager; the way he's going, he has a long long time to qualify for that job.
On the other side of the coin, we could've ended up with Arteta, who has taken Arsenal into a relegation battle.
My opinion is that if we hadn't got Carlo and had ended up with either Arteta or Moyes I think we would have an extremely unhappy fan base currently!
Danny O'Neill
460
Posted 03/01/2021 at 00:37:06
In a raw place by the way. Watched my German blues Schalke sink to new lows tonight. Looking like the next time I go to see my German Everton they will be in Bundesliga 2.
Darren Hind
461
Posted 03/01/2021 at 00:37:20
Stan
There have been numerous attacks on Arteta on these pages. I don't know why. I don't remember him being put up as a candidate (Although I accept there may have been 1-2 mention his name)
Check out a current article on the front page of TW, called 52 weeks.
Danny O'Neill
462
Posted 03/01/2021 at 00:40:01
My only comments on Arteta have been concern for him taking on a big job too early. It can ruin a potentially good coach before they realise their potential.
I don't call them attacks. I call that an opinion or view point.
Derek Thomas
463
Posted 03/01/2021 at 00:40:32
Jason @ 418; No.
Danny @ 419; More in amazement I'd say.
We have runs of playing poorly and not losing, we have runs of playing a little bit worse and not winning.
Darren @ 450; some days I have trouble waiting for the end of the Ads in a tv program. We, most of us, seem to live from 1 game to the next.
Sometimes the game is very poor to watch and its a good job there are no crowds...sometimes the crowd might have helped us.
A few weeks ago we were all playing for 2nd place. Our form and the form of others is a roller coaster. How long United, Spurs & Arsenal keep up the decent side of their form and where our form finally comes to rest...good or bad, will decide if we finish 3rd, 4th, 5th or 7th, 8th 9th.
So 6th or 10th it is then...maybe.
With out being too knee-jerk, apply the cushion test (ask your dad's those of a you of a younger disposition).
Would the W. Ham game have resulted in a sky full of cushions?
My answer is more than likely Yes, therefore the game and the team was shite...and, up to a point, the guy that selected that team.
And I call it as so...but only for the given value of that one game.
Hopefully it will be better next week...if not, I'll be frisbeeing my figurative cushion again.
Patrick McFarlane
464
Posted 03/01/2021 at 00:46:04
Derek #446
Perhaps a computer whiz-kid can design a 'blue cushion' emoji, which can be employed after games like Friday's.
Darren Hind
465
Posted 03/01/2021 at 00:47:46
I like debate, thats why I come on here, but I will not respond to idiotic claims by people who dont know me that I want Everton (the team I have supported for over sixty years) to fail.
While many of those who see themselves as "glass half full" talk with fear and trepidation of the opposition. I am on here every pre-match thread talking up our chances.
I don't give a flying fuck who are manager is. I want/need him to succeed and if he is playing cowardly football from behind the couch against inferior opposition. He is getting both barrels
Danny O'Neill
466
Posted 03/01/2021 at 00:51:19
Haha like that Patrick.
We will be challenging for a European place. My money is on getting a Europa one.
That will disappoint some people who want us to fail but that's my punt.
Do I know that for definite? Of course not, but it's easier to predict failure and claim you knew better.
Danny O'Neill
467
Posted 03/01/2021 at 00:55:37
We agree on being Evertonians Darren.
And agree on not giving a fuck who the manger is.
Although recently you do seem to.
Danny O'Neill
468
Posted 03/01/2021 at 00:58:30
I don't know you and would never call you idiotic.
You don't know other people on here so maybe don't call their view idiotic either??
They are just different hence the healthy debate this site encourages.
Ultimately we are all Evertonians.
Darren Hind
469
Posted 03/01/2021 at 01:01:42
We agree with on not giving a fuck about who our manager is.
Only recently..You REALLY do seem to.
I don't select the manager. If I did it, would not be the guy who has got the gig now. I don't hide my opinion. Never have.
But every manager is just the latest hired hand. If he does good he gets credit. If he shames the club. He should be shamed himself
Danny O'Neill
470
Posted 03/01/2021 at 01:03:12
You have 11 eleven years on me. I respect seniority but then you are someone who wants the kids to do well? That applies to the supporters too Darren. We are all Blues and want the same thing.
Darren Hind
471
Posted 03/01/2021 at 01:06:14
When somebody tells you you want the team you have supported all your life to fail. They are not giving an opinion. They are making an idiotic accusation, based solely on the desire to halt criticism of the manager.
I'm done here
Danny O'Neill
472
Posted 03/01/2021 at 01:06:22
What did you want Darren?
Danny O'Neill
473
Posted 03/01/2021 at 01:10:26
And by the way, I respect your view rather than shout it down.
I don't RECENTLY seem to do so. I've been positive about the Ancelotti appointment from the start.
Hopefully your prophecy will prove me and many others wrong and we can start again.
I'd rather he took us to a better place and progressed us.
I still don't get what your alternative was. Please tell.
Danny O'Neill
474
Posted 03/01/2021 at 01:16:06
In fairness, Darren, that is a good call-out on me. I genuinely apologise. I never doubt your Evertonian credentials. You are a massive Evertonian. One of the best I see on here.
I'll be totally fucking blunt with you though, in good Scouse on Scouse fashion: deep down you do want Ancelotti (not Everton) to fail, mate, so don't give if you can't take it and don't say otherwise.
We all have different opinions on our beloved team and club. We all get passionate. I'm not accusing you of anything so stop getting precious you big sop.
Brian Murray
475
Posted 03/01/2021 at 01:34:55
Ian Edwards. Am I still bevvied or was that a go at being constructive bordering on positive, eh, kidda?!
Got to disagree over Tosun and not for the hell of it. I'll be glad if we kid meathead Sam or anyone to take him off our hands. Same with Bolasie, Besic, Sigurdsson, Gomes, and Pickford, to be honest.
I know a cull like that is ruthless and unusual but we have Marcel, who was a genius in Holland, so I'll take that and run with it. I still say Onyango, young in age or not, needs to be given a go if Carlo is not bluffing over this window. Ditto Simms.
Onward, Evertonians!
Don Alexander
476
Posted 03/01/2021 at 01:42:07
Our Dazza certainly prompts response doesn't he, again?
Carlo Ancelotti is, this week, according to him, already firmly in his crosshairs should we not be significant in Europe in a year or two. Yet he, like any other supporter, openly recognises the crock-of-shit Carlo inherited. Hmm...
Further, Dazza always slaughters, as I do, the woeful influence and control of Kenwright in the past 25 years, but then he immediately ignores his own opinion in order to quickly denigrate the current manager.
Unlike me, Dazza then extols his perception of the achievements of Kenwright-appointed ex-players to endless coaching roles at Finch Farm, whilst the first team squad flounder on.
I don't know Dazza. I don't know "his" age or gender, but I do know that the last time I had to take notice of such screwed thinking was when my wife went through the menopause a few years back.
Even she now admits it was bizarre.
Jim Jennings
477
Posted 03/01/2021 at 01:46:01
"I don't give a flying fuck who our manager is."
Except you do, Darren. You've done nothing but whinge for 12 months that it's not an ex-player and that Ancelotti is here purely to top up his pension.
Jamie Crowley
478
Posted 03/01/2021 at 02:52:39
Happy New Year everyone!
We are fine. We had a loss. In December (plus 1) we were 3 wins, 1 loss, 1 draw. 2.5 points per game, Champions League form.
We'll be just fine. This is a good season. Enjoy it. We'll be top 6 at the end of all this, maybe [MAYBE] top 4.
We had a shitty game, against an anti-footballing side, we looked shit, and they got definably lucky.
All's well. If this continues through February, start bitching. Until then, hold to hope.
Happy New Year.
Jason Wilkinson
479
Posted 03/01/2021 at 05:28:25
I've been reading an article about the 74 signings David Moyes made for Everton. We think we have some shit players to move on now.
Wow! Moyes makes Brands signings look like bargains. It can be argued he never had the money but he brought some very poor players to the club.
Brian Murray
480
Posted 03/01/2021 at 07:22:38
Yeah, Jason. For every Tim Cahill, I'll raise you a James Beattie. Done as much damage to our once 'big club' status as on the pitch. Wish he had stayed with Preston North End.
Eric Myles
481
Posted 03/01/2021 at 07:47:56
West Ham analysis: Everton win highlights mentality shift after a year under David Moyes
"Moyes was widely criticised for a conservative team selection for the draw against Brighton on December 27 and admitted afterwards that it was a mistake.
"He has more than learnt his lesson in the two games since. At Southampton and Everton, the Hammers boss went for it with three attacking changes with both games goalless. It didn't pay off on the south coast but brought three points at his old stomping ground on Merseyside."

Thomas Richards
482
Posted 03/01/2021 at 09:05:56
People who live in glass houses should not throw stones
David Cash
483
Posted 03/01/2021 at 09:14:14
An early grave awaits those who take performances and results like this so badly.
Carlo has years of mismanagement and poor signings to unravel. He was never going to do it in a year.
Yes Friday was "ugly", but those who are tormenting themselves would do well to find a way to relax between games.
Being impatient isn't an option, even for those who don't believe. Carlo is here to stay and there will be many more set backs like this before the project starts to take shape.

Kunal Desai
484
Posted 03/01/2021 at 09:16:20
Aim before the campaign began would have been to qualify for Euopean football and see some progress compared to the last few seasons. 1 point from the next 3 games and we're on track to finish around 60 points. That should be good for a 7th place finish.
One step at a time.
Darren Hind
485
Posted 03/01/2021 at 09:58:51
No need for an apology Danny.
This is footy debate and as far as I'm concerned you are quite at liberty to say what you want. As you rightly point out. We are two scouser's having a football debate, not two men of the cloth discussing ecclesiastical differences.
You are totally wrong about me not being able to take it though. I take more stick than anybody on this site. It's water off a ducks back. As John says, people in glass houses...
For the record; I do not dislike Carlo Ancelotti. I dislike bad appointments. Those who have been posting on this site for years, will know I was equally critical of the past five managers. As far as I'm concerned, Carlo is just the latest in a long line of Frankie Howards to be appointed by this club...There can (for me at least ) be no excuse for playing football from behind the couch.
The only thing that makes me sadder than watching cowardly football, is people making lame arsed excuses for it
Those who excuse the shite we have had to endure for decades are right when they say I don't have the credentials to be part of THEIR club.
We may follow the same team, but anybody who doesn't roundly condemn the Frankie Howard approach, will never belong in the same club as me.
As far as I'm concerned there are no mitigating circumstances. There can never be circumstances which make it excusable.
Hugh Jenkins
486
Posted 03/01/2021 at 10:04:32
Darren (485) Who would you like to see manage Everton at present. I believe from past posts that you have championed the cause of our very own "Dunc". but apart form him, who would you like to see in the role?
Thomas Richards
487
Posted 03/01/2021 at 10:05:51
Who would be your choice as manager Darren?
Barry Rathbone
488
Posted 03/01/2021 at 10:37:42
The issue with Carlo and the fanny we're seeing is two fold.
Firstly, there is nothing elite about his football no tactical masterstroke nor inspirational genius to improve moderate players rather a yawn inducing descent into lowest common denominator togger a la Allardyce, Moyes etc.
Secondly, he has done nothing to resolve the play when we feel like it poison that destroyed all previous incumbents bar big Dunc.
Evaluating on the above evidence rather than glowing cv we will inevitably fall down the table and tumble out of the FA cup like bleating sheep rather than defiant lions.
It's all very camp
Danny O'Neill
489
Posted 03/01/2021 at 10:39:03
Glad you came back at me Darren. I was going to myself as I didn't want to appear out of order or come over at getting personal.
You are right and I take back that you can't take it; as you rightly say, you take more than most on here.
You don't need it to come from me, but let's keep debating. I do actually agree with you as much as I can disagree with you.
Mike Kehoe
490
Posted 03/01/2021 at 10:39:05
I am often aghast reading posts of people on here, presumably from people not involved in football at the highest level who have distinguished themselves by winning multiple titles in various top flight leagues, slagging off Ancelotti after a shit performance. The dross he has inherited and the injuries to the starting eleven have forced his hand - I mean this is blindingly obvious to most, right?
Despite feeling angry and deciding my weekend is ruined by Friday evening I think it is important to remain objective and realistic: we finally have a proper manager in place, presumably with Ferguson to replace at some point, and it WILL TAKE TIME to undo the industrial strength stupidity of Martinez, Koeman, Allardyce and Silva.
To expect anything else is stupid.

Thomas Richards
491
Posted 03/01/2021 at 10:46:32
Barry #488
What did you think of the football Carlo had us playing earlier in the season when he had a near full squad?
Mark Murphy
492
Posted 03/01/2021 at 11:07:12
Darren I totally agree that the football we've seen so far this season isn't attractive but I think your refusal to accept ANY mitigating circumstances is too severe. At the start of the season most of us would have settled for a top 8 finish as progression. Then Carlo got his new midfield that he wished for (and I truly believe that we wouldn't have signed James and Allan without Carlo) and we had a blinding start. The football WAS decent and we all thought, here we go...
Then the bubble burst (along with injuries to key players including the above) and Carlo had last seasons "dross" to shuffle. Many of us, if not all, expected to lose those 3 games v Chelsea, Leicester and Arsenal and most, including me, expected the Everton that performance and slip at Sheffield. Carlo found a way to wring 12 points out of those games AND stopped shipping goals. All of a sudden expectations rose again and the calls for an ugly win off Minas arse will do" turned to why aren't we ripping Man Utd to bits?
The game against West Ham WAS shocking (I've seen far worse in 50 years btw) and we are all correct in calling out Carlo on his tactics and approach but even Howie got it wrong (many times as it happens) before he got it right.
It's just not right to call for yet another change of manager when we are obviously improving and no where near the finished article. We are miles better than on Jan 3rd last year with our best players still to come back or hit form. DCL has improved beyond recognition and with Digne and James back will get more chances in the box where he is best. Allan will make a massive difference when he is back and Richy will hit a run of form - class is permanent.
We need patience (and a creative midfielder OR James at 10) but to expect better than we are from Carlo after 12 months and 30 years of nothing before that is unrealistic.
I respect anyone's right to criticise the manager - I do too - Man Yoo, Newcastle and West Ham were shockingly bad - but there ARE mitigating circumstances and whilst Carlo is still shuffling his pack we won't see permanent improvement nor silverware in the short term. Everton was broken and it needs a long term fix and patience to get where we think we should be.
For me that means CL in 21/22 and League champs in 3 or 4 years.
Thomas Richards
493
Posted 03/01/2021 at 11:19:48
Great post Mark #492.
The biggest miss for me is Allan.
He sets the tempo when he plays.
You only need one player to play high tempo and the rest have no choice but to follow.
Tom Davies may develop into a good player, at the moment he is not near being a like for like replacement for Allan.
Stan Schofield
494
Posted 03/01/2021 at 11:32:10
The football we played at the start of the season was good, rapid movement, attractive, flowing stuff. One of its major attractive features was 'economy of effort', where confidence and control were high, and the ball was being made to do more of the work, in contrast to the marathon-running style that characterises the fucking tedium of gegenpressing. That was made clear on these pages, and some of us older ones were reminded of the quality of the football in our late-60s side. Let's not forget this in the current hand-wringing about our current dour defensive style that's been put in place to handle injury problems.
We've shown two very different styles, both effective, from the current manager. That's encouraging as far as I'm concerned.
Barry Rathbone
495
Posted 03/01/2021 at 11:37:19
Thomas 491
Terrific stuff but always with the caveat "one swallow does not a summer make" and unfortunately that caution has come to pass. Same old, same old has cloaked the false dawn to return us to the darkness that is now our second home.
It is rumoured season ticket holders will be supplied with torches once GP is returned to normal.
Tony Abrahams
496
Posted 03/01/2021 at 12:07:02
David@483, you know the score mate, four wins on the trot, but then when you lose playing the same way, then it's just not good enough. I reckon most season ticket holders could find the way to their seat in the dark Barry, so I'd say that's just one stupid, idiotic rumour that mate!
I'd go along with that Stan@494, and casting my mind back right from the very first time i went inside Goodison, I can't remember an Everton manager, who could get his team to play in different ways.
It's all about trying to create a winning mentality imo, at a club which has forgotten how to win
Thomas Richards
497
Posted 03/01/2021 at 12:23:36
Thanks Barry.
Do you consider the change in playing style has anything to do with our injuries?
Brian Harrison
498
Posted 03/01/2021 at 12:36:27
Well it seems we have stopped looking like a side who will concede every time the opposition push forward, but we don't look like we will score many with the present set up. I agree with Leon Osman in that DCL misses Digne, as nobody else seems to put in as many good crosses as he does, and DCLs strength is getting on the end of crosses. Maybe no coincidence that DCLs goals have virtually dried up since Digne has been out injured. Also with no Allan in midfield we don't seem to be as strong without him.
I think most posters have all said Richarlison doesn't seem to be very happy of late, his body language was never great, but now it looks he cant be bothered, now I hope that's not the case as at his best he is a very good player. But he hasn't displayed his best form for a while now, and I am sure that is apparent to Carlo and our coaching staff. Now is it just a dip in form or is it more serious, I have no idea but we look a far weaker team when Richarlison isn't at it. Then we have James who is a very accomplished player who has the ability to unlock defences with his passing, but he lacks pace and playing wide teams know he hasnt got the pace to get round the back of them, also when we do break quickly he hasn't the pace to join the attack. Many have suggested we move him and play him in the number 10 role, which would allow us to play someone out wide who has pace to join the attack, but the way we are set up our number 10 has to chase down the oppositions back 4 could James do that effectively.
The only other option out wide right is Iwobi who has improved over the last few weeks, but again doesnt score many goals. So with Richarlison not firing and DCL relying on Digne who is out injured, and Iwobi and James hardly consistent goal scorers you wonder where the goals will come from.
Whoever we play in midfield none score enough goals, so with the front 3 not scoring of late and a midfield which lacks goals, then until everybody back fit, then it looks like we will struggle to score many goals. Thankfully the Jan window is open, but given our wage bill can we bring in the quality we need.
Jay Wood
[BRZ]
499
Posted 03/01/2021 at 12:48:31
Just returned to look at this thread after a couple of days. A lot of posts rightly angsting over a truly dreadful performance. No one, no one at all, is denying the awfulness of that.
What I take issue with is observations like Darren's stating '95% of the performances under Carlo have been painful to watch.'
Yeah, right. And 87.6% of comments on footy forums quoting percentiles are made up. Honest.
For some, once again following a single loss the law of immediacy applies. The last game is used as THE defining yardstick to judge our entire season, Carlo's entire tenancy at Everton.
It doesn't.
Everton's early season form was scintillating, as reflected at the time on these very pages.
We were playing fast, interchanging football some of this thread claim we are not capable of whilst trumpeting up teams below us in the league.
Following a considerable dropping off in results, we regrouped and returned to winning ways. We are now told by some that in both our winning runs we were 'lucky', 'awful' or both.
The very man who says we have been painful to watch in all but one half of football in every ten games shared with us how he had taken money from the bookies for Everton wins against the likes of Chelsea, Leicester and Arsenal.
He took issue with those claiming those wins were based on 'back-to-the-walls' football. I agreed with him. They weren't. We deservedly won those 3 games and away to the Blades, playing astute winning football.
As I said way back in this thread @ 15 before a ball was kicked there was more than enough in that starting XI v WHU to get a win.
No manager can compensate for the collective awfulness of so many players on the day. All the more so following 4 consecutive wins.
I've said it before this season, following the bipolar game-of-two-halves away to Fulham: we cannot fully trust this Everton team yet. They can offer us sublime free-flowing football. They can dig in and win a dog fight. They can be completely cack as they were v WHU.
And yet with all that we are in the mix for a CL or Euro Cup place.
Taking the season as a whole, we're doing all right.
Jay Wood
[BRZ]
500
Posted 03/01/2021 at 12:51:27
Craig Walker @ 269. You highlight my comment
"Tom neat and tidy in everything he does".
That was from my half-time post @ 26. In the first half, Tom was just that. In the second half, he was poor. His overall performance gave ammunition to both the pro and anti-Tom Davies camp.
First half Tom is an asset. Second half Tom a liability. Simples.
Colin Glassar
501
Posted 03/01/2021 at 12:54:10
Nothing really to add to that, Jay. We are a fickle lot. Some more fickle than others by the sound of it.
Jason Wilkinson
502
Posted 03/01/2021 at 12:58:03
Stan #494
Do you think the flowing, goal laden early performances had a lot to do with the opposition? We beat West Brom who played with 10 men. Brighton. Who cant defend. We were a tad fortunate away at Palace. The best performance was away at Spurs. We were disciplined and compact there. I would suggest Spurs weren't 100% either. Since then we lost players through injury and suspension and have relied upon the same group that got us mid table.
I think our best game was away at Leicester. We looked in control. We created good counter attacks and the defence was solid.
I think Ancelotti is trying to find a way of mixing the two identities. It is not easy when players revert to type and stop taking chances. Iwobi has been the one player who seems to have grasped the nettle. DCL is back to looking for the ball in the middle of the park and ending up on the wings. Richarlison has been awful. I wonder if he is wanting away. Doucouré works hard but he hasn't really transformed our midfield play. Rodriguez is a luxury player. If the rest of the team are playing well he will get space and time. If they aren't he doesnt see the ball. Ancelotti will need another two summers to get the players he needs to play his way. Mr. Brands has his work cut out to get some of the deadwood of the books and bring in quality young replacements.
Jay Wood
[BRZ]
503
Posted 03/01/2021 at 13:01:37
Brian @ 498.
Like you I have growing concerns over Richarlison's form and attitude.
One thing you could never question the Brazilian on was, even if not playing well, he would bust a gut in effort for the team.
Increasingly, he is nowhere near the standards he can perform at. But worse, the fire in his belly, the pressing of the opposition on the ball, the fighting and chasing back to regain the ball for his team, has been quelled.
While he has assisted 3 of Dominic's goals, his own goal-scoring exploits have fallen off a cliff. Just 2 Premier League goals to date, having scored 13 in each of his previous two seasons to be our leading goalscorer.
With Dominic on fire this season, imagine how much healthier our already respectable position could be if Richarlison was also firing on all cylinders as in his previous two seasons.
Poor performances, a loss of form, can happen to any player. Poor attitude is another animal altogether.
Worrying.
Thomas Richards
504
Posted 03/01/2021 at 13:03:16
Jay, #499 & 500
Two perfect summations.
And re the gambling poster. I only wish he could give us the tips before the game, not when the game is finished. The bookie has had me on toast over the holiday
Tony Everan
505
Posted 03/01/2021 at 13:13:59
Jay 499, Looking at the bigger picture is often difficult after such an inert performance but ultimately it's the bigger picture that matters.
The bigger picture is we have done ok so far, and a huge plus is we have proved we can bounce back from a poor result. Top six teams all have setbacks but what sets them apart is the reaction to those setbacks and the ability to get the wheels back on track.
Previous results say we are well capable of it so I think we shouldn't go overboard and meltdown just yet. Often a bit of steel and mental fortitude is needed in times of adversity not wholesale changes that may solve nothing.
There's two excellent games coming up against Rotherham and Wolves where the players and manager can make amends.
Stan Schofield
507
Posted 03/01/2021 at 13:18:22
Jason @502: Well, Everton can typically fuck up against the very type of side we were playing early on, for example in the Carabao cup. The fact that we didn't is down to us, 100%. Whenever we get our shit together, we look like we can beat anyone. When we fail to get our shit together, we look like a pub team could beat us. That's the frustration with Everton.
You could look at all games in terms of luck or the weakness of the opposition but, in my experience, that's quite a futile exercise and a form of 'mental paralysis through over-analysis', for want of a better phrase.
All I know is, we've played very effectively, in two very contrasting styles, against a wide range of opposition, and have come out decently despite a big injury toll. A decent position in the table. Not perfect or brilliant, just decent and encouraging.
I'm not over-raising my hopes, because Everton have a track record of raising us up then letting us down. But that doesn't stop me from being encouraged thus far.
Rob Dolby
508
Posted 03/01/2021 at 13:40:09
Richarlison is a victim of his own versatility. There are mitigating circumstances in his apparent drop in form which also coincides with Calvert-Lewin's lack of goals.
Early in the season, he was pushing on and creating stuff. Calvert-Lewin was the focal point and scoring from delivery from wide areas. Richarlison's running off the ball and link-up play give Digne space to deliver quality.
With Digne's injury and his own injury and suspensions, we have had to change the shape of the team. Godfrey, whilst defensively solid, hasn't got the quality link-up or delivery of Digne. Richarlison is also being asked to play as a deeper left mid to compress the play.
His body language is poor – win, lose or draw – that's just his natural demeanor. It isn't a coincidence that, without him in the team, we are toothless and tend not to win.
Derek Taylor
509
Posted 03/01/2021 at 13:47:20
Carlo says 'we are where we expected to be', so we can hardly ask for more. But, in all truth, I believe he would have said the same were we anywhere in the top half.
As ever, I'm looking for a '7th' finish and I suspect he and his masters will say 'That will do nicely, thank you.'
Gawd knows whether the Bramley-Moore Dock project will ever get underway but I'm sure it would soon disappear from the agenda if we were to even flirt with relegation. And we won't.
Any top-flight manager should deliver '7th' – particularly with Saint Moshiri looking over him with bags of money !
John McFarlane Snr
510
Posted 03/01/2021 at 14:21:00
Hi Darren [various posts],
I agree with many of your observations because they are based on fact, but the ineptitude (or otherwise) of Carlo Ancelotti is, in my opinion, to be decided some time in the future.
I don't know your age but I would hazard a guess that you are able to recall the time when a section of fans called for the dismissal of Howard Kendall. The Board, however, ignored the request of those fans, a wise decision considering the success that followed.
I am fortunate inasmuch as I don't have to watch the below-par games due to my TV 'live games' boycott, but I can assure you that it's equally painful to listen to them via the radio. I'm just as disappointed as any Evertonian but my days of anger are long since gone. I attend games with my Grandson and I have instilled in him that anything can happen in a game of football. The experience I have learned over the years will hopefully stand him in good stead.
If I'm still around in 3 years time, I may share your view of Carlo Ancelotti, but I'm prepared to give him the time to build his own team, when judgement can be more readily applied.
Darren Hind
511
Posted 03/01/2021 at 14:22:50
Oh dear.... All logic has left the building and it appears fact went with it.
Let's examine some of these claims that we are only pug ugly because we have been without the superstars Carlo used his undisputed pulling power to bring in. Why? ... Because it is total bollocks.
After the excellent performance at Spurs, we were served huge helpings of luck, first when a West Brom team which had us on the rack lost a player to a red card. Yeah, we run away with it, but playing 10 men chasing the game helped.
The game against Palace was won when we were awarded a penalty which would have had every Evertonian screaming the house down if it was awarded against us... Free-flowing football? You're having a laugh. We were treated to some moments of magic from James and a golden period by Calvert-Lewin... That's about it.
Eight goals against Bradford & Bingley in the Carabao Cup were fun to watch and, let's face it, they were right up Carlo's street. He has made a career out of beating teams with vastly superior players in his ranks... and, even if Man Utd came and rendered those wins worthless, the goals we scored gave the stattos plenty to get excited about.
Liverpool came to Goodison Park and, although it was great to see them have a decision go against them, deep in our hearts, we know we deserved nothing.
Then Southampton: We were twatted. Because Carlo's signings didn't play? Nope – just like against Liverpool, all three played. We were abject.
On to Newcastle; again, twatted. Doucouré and the Brazilian Peter Reid spent the entire game impersonating headless chickens.
The Mancs come to town; again, twatted... surely because Carlo's signings were missing? Nope. All three played.
Leeds ran us ragged... all three played.
Even a Burnley side who could not buy a point made us look ordinary... all three played.
Good wins at Leicester and against Chelsea were achieved without James... Allan missed most of the game at Leicester too.
The much Maligned Tom Davies came in for the Arsenal and Sheffield games... We were ugly as fuck but we won them both. He didn't chase around tackling everything in sight, he just held his discipline and we never looked like conceding.
In between, we lost to The Mancs again... I'm pretty sure Tom was rested for that one.
Now before the usual excitable's start screaming "How dare you compare Tom Davies to the Brazilian Peter Reid?" I'm not.
What I am pointing out is that the claim that we have been shite because Tom has played and Allan hasn't, is demonstrable bollocks. Just as much bollocks as the claim that Calvert-Lewin stopped scoring because James isn't there to lay his goals on.
Calvert-Lewin's form has dropped off because Carlo Fatanstico thinks it's a great idea to suffocate the golden goose and turn it into Kevin Davies.
Friday's game was shaming. I cannot believe our manager has allowed us to be humiliated by The Ginger Twat. Even on the Live Forum people were calling for Carlo to take the initiative, and go and win it. It says everything that a serial coward like Moyes was the one who felt encouraged and emboldened enough to go for the kill.
I wonder where Carlo would have been if it hadn't been for the heroics of his "Championship" centre-forward? I guess we will never know.
Brent Stephens
512
Posted 03/01/2021 at 14:31:14
John Mc Senior #510. Excellent post. I think your influence on your grandson is admirable.
Darren Hind
513
Posted 03/01/2021 at 14:34:57
Enjoy the rest of your week, guys.
Thomas Richards
514
Posted 03/01/2021 at 14:35:42
Obvious you want Ancelotti out, Darren. Your prerogative.
Who would you like in?
Stan Schofield
515
Posted 03/01/2021 at 14:40:59
Darren @511:
That kind of deconstruction of games is what I was referring to earlier. Luck and officiating decisions go both ways. If we don't win, people aren't happy (and rightly so), and when we do win, there is very often claims that we were lucky, or the opposition were just shite, or the officials were on our side.
Everton can't win with such arguments. With the latter, even if we win the league, individual games could be deconstructed to try to show how lucky we were, etc. I remember RS supporters doing it in the 80s, starting with our FA Cup Final win against Watford.
Everton are absolutely frustrating far too often, but if you do that deconstruction business, you can argue it any way you want depending on how you choose to deconstruct. You could be relegated but still argue that you should have won the league, or vice versa. It is an example of paralysis through analysis that can produce any conclusion you want. The analysis can be chosen to fit the already-reached conclusion.
It's the kind of thing politicians hire consultants to do, to try to justify decisions that have already been taken.
Danny O'Neill
516
Posted 03/01/2021 at 14:49:14
Not seeing many on here blaming Tom Davies to be fair Darren, unless I've missed something obvious. Repeating myself a lot here, he played well for the first 30 minutes but then was poor. But he wasn't alone so certainly wasn't to blame. My take (as previous) was that our tactics didn't work (manager) but this was underpinned by too many underperforming players, not just Tom Davies. Only Doucoure and Godfrey came out with credit for me.
John, I mentioned that earlier. Perhaps I was too young at the time, but I never called for Kendall to go when many were distributing leaflets. Like you say, anything can happen in football so my opinion just got lucky. I could look back and claim visionary footballing knowledge, but I know making predictions is just a punt.
I'm with Darren to an extent on recent appointments though. Repeating myself (again), I understood what Moyes had to do part 1, but got frustratied with his ability to go further (part 2). I was nervous at best when we opted for Martinez and almost had to eat humble pie. I got blinkered by my memories of Koeman as a player and the Silva appointment freaked me out. I try not to think of Sam Allardyce ever being associated with Everton Football Club.
In all of the above's reigns, I got behind the managers. Praised when due, overly supported them at times I admit, criticised when necessary or they frustrated me. Admittedly I struggled with Allardyce.
With Ancelotti, I'm not an excuser or a sycophant, but I do respect his pedigree and believe he's a manager who can progress us more than the above list. I would caveat that by saying Moyes deserves credit for where he got us to in the context of where he picked us up. No big fan, but bigger picture, that has to be acknowledged. That's how Carlo will be judged but now, partly because of his brand, partly because he has a billionaire owner, the expectation is higher and rightly so. We are Everton despite how the national media try to frame us.
Carlo deserves criticism for poor performances but bigger picture, we are in a better place than 12 months ago. He deserves credit for that. Work in progress and we are progressing.
He is the Brazilian Peter Reid though Darren. Glad it's caught on; has a ring to it!
Thomas Richards
517
Posted 03/01/2021 at 14:50:37
Good, logical post Stan.
What you should not use in posting is double standards. Darren used the paucity of players available, plus the injuries, to excuse Unsworth's mishaps. Can't have it both ways.

David Pearl
518
Posted 03/01/2021 at 14:50:53
Darren makes a lot of sense actually. However, l would add that we were carrying obvious knocks and missed the odd player vs Southampton and Newcastle which highlighted that, although we are strong in certain areas of the squad, we are weak in the most important: creating and scoring goals.
There is no better for us than Ancelotti at the moment. Even though he makes mistakes, his squad isn't good enough and pehaps he should have given Nkounkou another go. He can't rely on Bernard, Davies, Gomes, nor Tosun or Richarlison for that matter.
The funny thing is... we are still right up there! Even with only a half-decent squad. We can't be that far away...
Barry Rathbone
519
Posted 03/01/2021 at 14:58:34
Thomas 497
Impossible to say but if you think about it your question misses the point.
It is the responsibility of the manager to ensure his squad is strong enough to deal with absentees every man and his dog recognised wholesale replacements were required in the summer.
Addressing squad weakness is his responsibility and he is now on the verge of reaping the whirlwind of that failure. I might add this is not being wise after the event I posted such thoughts pre window.
Danny O'Neill
520
Posted 03/01/2021 at 15:02:04
True Stan.
Data can be manipulated, included or omitted to fit any point of view or support any argument.
Steve Brown
521
Posted 03/01/2021 at 15:03:00
Hi John @ 510, great to see you posting again.
Stan Schofield
522
Posted 03/01/2021 at 15:07:36
Barry, I understand your approach of being cautious and sceptical, given Everton's track record, and it's probably more sensible than getting over-excited when we play well, as I've been guilty of foolishly doing in the past, including this season.
However, most sides in the Premier League could be criticised for not ensuring sufficient strength-in-depth. In fact, it's been implied in the case of Liverpool when they've had a poor result and blamed it own someone like St Virgil being injured. In our case, when we win it becomes less of a criticism, but when we lose it rears up very clearly, especially after a bad performance.
David Cash
523
Posted 03/01/2021 at 15:16:22
I tell you what Dazza.
You haven't half spouted some shite on here, but that Bradford & Bingley one was a proper keyboard sprayer.
Thomas Richards
524
Posted 03/01/2021 at 15:29:09
Thanks Barry.
To be fair, Ancelotti has brought signings into the club. Every single one of them has improved the squad. We do need more, but difficult to do it all in one window.
All the best
Rob Hooton
525
Posted 03/01/2021 at 15:29:29
In my mind, the performance showed a complete lack of integrity. Just glad that no fans had to queue and endure that in the freezing weather, it was painful enough in my living room.
Cowards, the lot of 'em!
Ray Said
526
Posted 03/01/2021 at 15:29:36
Some interesting comments here and some valid points made. My take is that we should be looking at getting the most out of Richarlison as the priority and a simple thing to get him more involved instead of being shunted out to the wing would be t play him just behind Calvert-Lewin.
He has pace, can dribble and shoot, is a good header of the ball, chases down the opposition well-an undervalued part of playing the role – and his goal opportunities per game would increase.
Barry Rathbone
527
Posted 03/01/2021 at 16:05:31
Stan 522
The problem is rectifying squad paucity is really a one year opportunity otherwise the project goes into a self-perpetuating moribund spiral with better players getting itchy feet as per Lukaku and Stones.
Richarlison and Digne will be next to hop off and the good ship Everton will continue to spiral aimlessly in the delusion that 3 or 4 windows will do it.
Really we need a properly funded explosive revolution of the type Martinez tried to give in his initial recruitment campaign – if only he had access to proper funds to ditch that dreadful Moyes defence.
Mark Frere
528
Posted 03/01/2021 at 16:07:04
Darren@511
It's interesting that you've (appropriately) ingnored our victories against Brighton and Fulham out of our "pug ugly" football since the Spurs game.
I thought the West Brom game was a good, open, attacking game... great for the neutral from start to finish. The extra man might've ultimately helped us but I don't think we were on the ropes and there's no denying some of our attacking play was a joy to watch.
Crystal Palace were tough on the day but there was some good football played by both teams, I seem to recall. Our loveable neighbors I thought, dominated the midfield but we did look dangerous when we attacked and did play some good football.
In short, I think we played some good attacking (attractive) football in our first five league games when nearly at full strength as a squad. Far from "pug ugly" IMO.
You mention us getting "twatted" against Newcastle. For what it's worth, I thought both teams were terrible. But, we had Coleman, Digne, Richarlison and James all unavailable. That's our entire left and right flank which we started the season with. Even Nkounkou started that game – and Iwobi had a nightmare.
I'm sorry, Darren, your post smacks of including and then excluding certain events to suit your argument.
Ian Edwards
529
Posted 03/01/2021 at 16:19:36
I agree with Darren Hind. The following performances were dreadful and Allardyce was ran out of town for less:
1. Second half at Fulham
2. Last 30 home to Chelsea
3. Last 30 home to Arsenal
4. Sheffield Utd away
5. Man Utd home in the league
6. Man Utd in the Carabao Cup Quarterfinal
7. Leeds Utd at home
8. West Ham Utd at home
You can also add into the mix several performances post-lockdown such as Bournemouth at home and Wolves away.
Yes... I am aware we won a few of the above games but the fact remains the tactics in those games were awful. Managers with backbone would have gone on to win those games by scoring more goals.
When Ancelotti sees us in the lead, he turns into Corporal Jones and starts panicking. Off come the offensive players, on come the defenders. Then it's the Alamo, defending our 18-yard box to the last man.
I really worry what Rotherham will do to Ancelotti's weakened/rotated square pegs in round holes outfit. I suspect he'll park the bus and play for pens.
"Bring back attacking, winning football to Everton!" Anyone know where the leaflets are?
Mike Price
530
Posted 03/01/2021 at 16:22:18
Darren is calling it correctly. Our main failing is recruitment of players and managers, it's been an abject failure, whilst at the same time, the Spawn have unfortunately had the Midas touch.
With the players we've recruited and made multi-millionaires, I'm always slightly worried about relegation; I even worry about Moshiri pulling out and us sinking into oblivion.
We are seriously mismanaged from top to bottom. Carlo Ancelotti is here for the money, he's parlayed his reputation perfectly to get his contract and helped us sign some players but I've no doubt they're on ridiculous contracts too.

Paul Hewitt
531
Posted 03/01/2021 at 16:25:54
Carlo is a fraud, he's been found out. Taking us from 15th to 5th in 12 months isn't good enough. We need to get rid ASAP. Let's get Bielsa. He would have us playing free flowing football. We would get battered most weeks. But it's entertaining and that's what we want.
Tony Hill
532
Posted 03/01/2021 at 16:26:17
That's a big point, Barry @527. The rest of the league and our own better players are not going to wait for the magic to happen. Darren Hind has also given the lie to the argument that it's the absence of our more creative lads which has made the difference to our form.
We've been waiting for transfer windows to fix us now for years and years. I think we are capable of getting top 4 this season. That's what we should be aiming for and truly believing we can achieve. We can't keep finding reasons to put if off. If we do, it won't happen.
Bobby Mallon
533
Posted 03/01/2021 at 16:26:30
Daren 485, Martinez surely didn't play cowardly football. I thought his football was always trying to attack, just with 10,000 passes before a shot 😂
Mike Price
534
Posted 03/01/2021 at 16:33:41
Bielsa got Leeds promoted, they play great football, they aren't going down this year, he's done it on a fraction of our managers wage and spent relative peanuts. Why are people comparing our situation to theirs?
Thomas Richards
535
Posted 03/01/2021 at 16:34:58
Ian Edwards,
Thanks for that mate.
My bets gone down (again) that post cheered me right up.
Danny O'Neill
536
Posted 03/01/2021 at 16:35:03
As does narrowing games / data / analysis down to minutes Mark.
Reverting back to my own principles. I judge the performance of the manager and the team over the course of a season. I have and will judge the manager's performance over the course of his tenure, however long that lasts.
Not 5 minutes against Fulham or 30 minutes against Arsenal to make it fit my argument. We won both those games. But that's just me.
In football you play for 90 minutes. You will very rarely dictate a game for 90 minutes just like a season is (now) 38 games. You will very rarely play fantastic(o) in every single game and win them all.
Because guess what, the other team wants to beat you too. Sorry if I'm preaching to the converted but some seem to be ignoring that basic fundamental aspect of the game.
Sometimes you play well and deservedly win. Sometimes you play well and lose. Sometimes you play shit and win. Sometimes you play shit and deservedly lose. That's football for you. If you go attacking, you will generally leave yourself more open at the back and be more prone to concede (hence 5 - 2, 4 - 2 etc). If you go defensively tight you are hard to beat but the goals dry up and the striker might be isolated.
Only when you are the best in the league do you tend to be capable of both. We are not. Our target this season is not to win the league, it is to challenge for European qualification and we are on track to do that.
Steve Brown
537
Posted 03/01/2021 at 16:40:48
Regardless of the debate on here, we are four points off first place in the league after 16 games.
Mark Murphy
538
Posted 03/01/2021 at 16:50:47
Darren, do you give any credit at all to Ancelloti for our 9 wins and 29 points so far? Are all our wins down to luck and all our losses down to Ancelloti being shite? Do you really believe we shouldn't miss Digne, Allan & James with the squad we have?
I don't understand how you expect us to be better than we are and why you think Ancelloti is the reason. I suspect you think Duncan should have got the job, in which case, say so. If not... who? (And don't give Ian's rubbish excuse of "It's not my job to pick the manager")
Who do you think would be doing better? What's your opinion other than it's not Ancelloti?
I'm as frustrated as you are that we didn't beat Man Utd and that we didn't go 2nd on Friday night but really, where did you expect us to be after a year of Ancelloti (or insert manager of choice here)??
Danny O'Neill
539
Posted 03/01/2021 at 16:55:05
If I could be arsed, I could probably pick out 15 or 20 minutes in the United match where we actually played well.
But over the course of the match we didn't (awful in the first half an hour). But I could pick a spell that would fit my argument if I wanted to make it - I don't.
Barry Rathbone
540
Posted 03/01/2021 at 16:57:03
Tony 532,
I think the problem with Carlo is that despite his impressive CV I see nothing in the way of urgency about him. I've touched on the missed opportunity of the summer window potentially biting him on the arse but the shocking malaise of players playing when they fancy it continues unabated.
Despite our present league position (which I suspect will descend below 6th and remain that way) I find the overall picture not as promising as the brochure alluded to upon his arrival.
Danny O'Neill
541
Posted 03/01/2021 at 17:02:48
Fair one on the urgency Barry but you are talking urgency with what we have now.
That has improved on what we had this time last year.
I hope right now the urgency is behind the scenes. As others have said here, may come the start of next season with another 2 windows out the way, it will be different.
This was never going to be sorted out in one transfer window.
Danny O'Neill
542
Posted 03/01/2021 at 17:08:04
Tuchel for Lampard?
Peter Warren
543
Posted 03/01/2021 at 17:09:17
It was a rubbish game - sometimes happens and pity we didn't get a draw. All in all above average start and signings all looking pretty good.
I just want us to improve each season. To me, we're far far better than we were under Silva and I expect we will continue improving.
I have no issues at all so far with Ancelotti – he seems a steady manager who will improve us incrementally as opposed to a a revolutionist like Mourinho – just his management style and I like it.
Ricky Oak
546
Posted 03/01/2021 at 17:17:42
We are two years behind the top six, watch the pasting City are dishing out to Chelsea. Imagine the spanking they're planning for us.
Do we have any answers? I truly hope so, however, in 30 years, I am more than used to disappointment.
Really, I'm meant to fear no man, being chosen by Everton, makes me conjoined twins with frustration, humiliation and shame.
Please, dear Lord, show us, the afflicted supporters, that the meek at least have a chance of competing with the media muppets and their gaggle of darkness. Amen.
Michael Kenrick
Editorial Team
547
Posted 03/01/2021 at 17:28:22
Danny,
Will you please make posts about other games on the Premier League thread, not this one.
Thanks.
Danny O'Neill
548
Posted 03/01/2021 at 17:29:54
Apologies Michael & acknowledged.
Danny O'Neill
549
Posted 03/01/2021 at 17:41:59
But just to explain myself, there has been a lot of debate on this thread about the suitability of the manager and who should / should not be the manager. That's the only parallel I was making albeit to a fixture not involving Everton.
I get your point and will refrain.
Thomas Richards
550
Posted 03/01/2021 at 17:43:56
Ricky #547
Brilliant mate. Absolutely brilliant post. 😁😁
Michael Kenrick
Editorial Team
551
Posted 03/01/2021 at 17:45:43
Thanks, Danny.
Craig Walker
552
Posted 03/01/2021 at 17:49:57
Jay Wood [BRZ] @500. Fair enough. He had a good first half passing to the nearest man. Very neat and tidy He's one of 5 or 6 who aren't good enough for where we want to be, in my opinion, and it is only my opinion. He isn't the main problem, I agree. Nice lad and good attitude but not good enough. Better than Delph though and tries hard and earns less. Simples.
My bigger concern is that we're thinking of offering an extension to Gylfi. He must be a good trainer because I just don't see his value. His reputation as a dead-ball specialist would be up there with saying Bernard is a ball-winner.
I've lost count of so-called expert pundits who use phrases like "ball on a sixpence" – only if the sixpence is in the keeper's hands. We need to get shut, not extend his lucrative contract.
Andy Crooks
554
Posted 03/01/2021 at 18:27:44
Tony @496. I could find my way to your seat mate. I have done it twice in reality but a million times in happy memories.
Barry Williams
555
Posted 03/01/2021 at 18:31:56
Right – 16 games in, 4 points off top – the top team, as I mentioned previously, being lauded by many as one of the best in Europe.
One transfer window, a manager coming in mid-season, then that season interrupted by a pandemic, resulting in a truncated pre-season and a bunch of ridiculous internationals squeezed into a short space of time, in an already shortened season.
Not really normal circumstances.
The players that Ancelotti brought in, well, do they not get a bedding-in period? Allan – new to the league, James – new to the league, and the others new to the club. Nkounkou, Branthwaite and Godfrey – all ones for the future, Doucouré, new club, new way of playing.
For me, there have been many variants in Ancelotti's reign, unprecedented variables, as mentioned above.
I was massively disappointed with the West Ham game, as mentioned previously, that team should have been good enough to see off West Ham at home – regardless of your views on tactics (I wanted 4-4-2 to find gaps in the West Ham deep backline), and was massively peeved at the players' attitude – fist-bumping smiles and shirt swapping at the final whistle, when just being beaten at home by a team below you.
I will judge Ancelotti once he has had a full season, a couple of transfer windows, and something like normality. The squad is a hodgepodge of Moyes, Martinez, Koeman, Allardyce and Silva signings. No continuity, whatsoever for quite a period of time.
Ancelotti is certainly not above criticism, but think of the weird circumstances when he came into the job, and the absolute incohesive squad he inherited.
I take that into consideration.
Mike Price
556
Posted 03/01/2021 at 18:36:42
Ricky #546
I've just finished a full-on lockdown Game of Thrones marathon and that post had the same inspirational lingo. 👍😁
Tony Abrahams
558
Posted 03/01/2021 at 18:57:38
Once they roll out the vaccine Andy, then you will be welcome to use it again mate. I love Easter time, especially if Everton are still in the cup, and that day was a fantastic memory Andy, home from holiday to see Everton thrash United 4-0, and then into town for a bevy with loads of happy Evertonians, so maybe Easter can be the turning point, and we can all get back to living again, just in time for the spring.
Look at how poor United were that day, and look at them now? They're not the finished article but they've improved massively, and if they got rid of Solsjkar tomorrow, then he would have left them in a much better place, even if he's not the man to take them forward.
Give Ancellotti time, because you don't get the jobs he's had, for being a defensive coach, and let's give the manager a bit of time.

Darren Hind
559
Posted 03/01/2021 at 18:59:54
"Bring back attacking winning football to Everton"
I know, it's only rock 'n' roll, but I like it!

Thomas Richards
560
Posted 03/01/2021 at 19:06:57
Andy #556
Touched me that post mate.
All the best
Danny O'Neill
561
Posted 03/01/2021 at 19:12:22
With the results this weekend, I see us starting to consolidate in the top 10. With a couple more results, we will be doing likewise with top 8. Well on target and within reach of European qualification.
No guarantees and it could go the other way, but so far – despite disappointing performances and results like West Ham – we are in a much-improved position.
Derek Taylor
562
Posted 03/01/2021 at 19:17:52
Utter nonsense to suggest – as many do – that all comment and criticism should be withheld until the team is made up of players the current manager has signed, trained and organised tactically.
Every team in the league is made up of players accumulated by a succession of managers over the years. Judgement should be based on how the current manager can organise all the players in his charge to re-act to his direction. Nothing less.
Danny O'Neill
563
Posted 03/01/2021 at 19:26:50
I don't think all comment or criticism should be withheld Derek. It is welcome and healthy debate.
I think the point being made is give the manager time and judge him over a period. Game by game criticism or praise is totally understandable and acceptable but that is short-term opinion, not longer term judgement.
Tony Abrahams
564
Posted 03/01/2021 at 19:31:36
At the start of the season who wouldn't have taken Everton being 4 points from the top team after 16 games?
Fuck attacking winning football, that can come later, I'll take "the dogs of war" style and another FA Cup victory, but I've always been very thankful for small mercies, and I'm absolutely desperate to see us win a cup again, something probably half of our fan base have never even seen us do.
This vision of Everton having to do things a certain way has got to stop, because the vision of a United fanbase has always been the most powerful force in our club. Let's stick together, let's win something, let's sing, dance and party, and only then should we argue about wanting attacking football imvho!

Thomas Richards
565
Posted 03/01/2021 at 19:39:15
Tony,
That is one serious post mate.
Love it.
Danny O'Neill
566
Posted 03/01/2021 at 19:42:36
I'm a purist Tony, as I believe you are, but for many years I've opined that we should just focus on winning something. Think short term to put the club back on the map, which will do more to assist our longer term ambitions than endless failed attempts at building from scratch.
Waiting to build the next Alex Ferguson academy team takes decades and rarely comes along; that was a freak and they too were blessed with being surrounded by experienced players.
Successful teams blend both youth and experience. I think that's where we're going with this manager.
Brent Stephens
567
Posted 03/01/2021 at 19:44:20
Tony #566 fine post again! You're on fire lately!
Ian Edwards
568
Posted 03/01/2021 at 19:50:39
Tony 566
I'll never accept Everton nicking a goal and then parking the bus and getting Alamo-ed for 30 mins, or parking the bus from the start at home in a Cup QF.
It's shithouse tactics. I'll never accept it.
Will Mabon
569
Posted 03/01/2021 at 19:54:05
I think Ancelotti hoped for the Dogs of War on Friday, Tony. The "Dogs of What" showed up.
Paul Smith
570
Posted 03/01/2021 at 19:55:17
Hear. Hear. Tony. Fuck style, I want results.
Some have forgotten since Moyes left, the talk on this forum at Chrimbo has been about relegation, not whether we can win anything or qualify for Europe. Switched-on posters have always pushed back at the actuality of the unthinkable but it was heralded as a reality by many TWebbers under the last 4 protagonists.
Not this year, not a chance, that's progress and I'm no apologist or acceptor of mediocrity – I can see an improvement that's all, never mind sitting 4 points off the top and not shitting myself every time the opposition has an attack. We have some snarlers as well; Godfrey & Allan have been called for by TW Sages for years... Well, we have two now.
Yes, West Ham was shite but it was almost last season's team, which is less consistent than it was, but always capable of a pony performance, and the players the Don has brought in are an improvement. Without doubt yes, his subs are a bit mad and he rotates when the gulf in player quality is phenomenal (Cenk for Calvert-Lewin) but he has brought players on by not giving a fuck for convention or what we as fans think.
So I'm gonna stick my neck out and say something that I haven't been able to say about many Everton managers lately – that he's going to be here next season.
Barry Williams
571
Posted 03/01/2021 at 19:58:56
Derek Taylor - 564
6 managers in less than 8 years, that's going to have an impact on continuity, especially when a lot of them recruited heavily.
Thomas Richards
572
Posted 03/01/2021 at 20:00:47
https://youtu.be/90WD_ats6eE
Love it lads.
The spirit of defiance.
Will Mabon
573
Posted 03/01/2021 at 20:03:52
Barry - still seems impossible, looking (not far) back. Giving Watford a run for their money.
Stephen Vincent
574
Posted 03/01/2021 at 20:04:39
Totally agree, Tony. I don't recall any dissenters in 1995.
Trouble is, we are not even hamsters of war at the moment and while we have one of the dogs as part of the management team, it would seem that he has little impact on the thought process of his managerial colleagues.
Gavin Johnson
575
Posted 03/01/2021 at 20:06:08
"Bring back attacking winning football to Everton"
I thought that's what we were doing scoring 3, 4 and 5 goals in games with a fully fit first 11.
Ian Edwards
576
Posted 03/01/2021 at 20:11:11
Gavin 577. We are only missing Digne and Allan. Not exactly Barca without Messi, is it?
Barry Williams
577
Posted 03/01/2021 at 20:12:27
Will Mabon - 575
4 managers in a year is it? Or less than a year?
Also, Ancelotti has had his hands tied financially, although I still cannot get my head around modern day transfer fees, I remember being amazed that Heath's fee was something like 𧽴,000!

Danny O'Neill
578
Posted 03/01/2021 at 20:17:22
Digne is a key player and important part of the supply chain that contributed to Dominic's early season form. Allan is a captain without the armband and important to this team.
It's like saying Liverpool are only missing Robertson and Henderson.
When you're missing two important players, it's more impactful than missing several average ones.
Barry Williams
579
Posted 03/01/2021 at 20:17:29
Ian Edwards - 578
Coleman was out for a number of games, Richarlison too. 4 creative players.
It's a lot!
Barry Williams
580
Posted 03/01/2021 at 20:18:44
Well, 3 creative players, 4 key players!
Will Mabon
581
Posted 03/01/2021 at 20:30:21
I know, Barry. Few years back I heard on one TalkSport programme, 㿈 million for Lukaku called "Peanuts", and a salary offer to Kane of 𧴜k per week referred to as "an insult". It's even worse now...
Ian Edwards
582
Posted 03/01/2021 at 20:31:46
Barry 580. They were both back for West Ham.
ToffeeWebbers may be interested to note that Ancelotti has been in charge of 38 League games and we have only won 4 by more than a one goal margin. One of those was against the 10 men of WBA. This suggests the tactics are nick one and hang on.
Gavin Johnson
583
Posted 03/01/2021 at 20:37:39
Ian, we've been missing Digne, Allan and James, which is like missing Messi to our club.
Added to that the Richarlison suspension, and we already know we rarely win games when he's not playing. We also greatly missed Coleman and we were terrible until Ancelotti decided to go with 4 CB's.
I also doubt Coleman and James are fully fit now, and are only playing through necessity.
Despite that we're 4 points off 1st place and you want the manager sacked. I can understand people moaning about certain tactics and team selections in certain games but wanting a new manager is just ridiculous.
Thomas Richards
584
Posted 03/01/2021 at 20:40:36
1-0 wins are not sufficient now.
If we don't win whilst scoring at least two goals, it doesn't count.
John McFarlane Snr
585
Posted 03/01/2021 at 20:49:49
Hi Tony [565] I have long held the belief that the 'Football Fan' wants his team to play well and win, but will accept a below-par performance if it ends with a win or a draw. There is no joy in playing well and losing [for him], but a neutral may well take pleasure from it, he cares not who claims the points or advances to the next round of a knock-out competition. I wonder how some of the fans who are expressing their anger this weekend would react if we played badly and beat Liverpool or won a Cup-tie.
Darren Hind
586
Posted 03/01/2021 at 20:51:08
Tony A.
I play a little game with myself when I come onto TW. I try to see if I can spot people who have "played". Not because I think they know better, but because I think they see things from a slightly different angle.
I knew you had played before you actually said you had. I just knew it... You have become one of the posters I look out for. So I've gorra ask; What the fuck are you talking about Lad? "Dogs of War"?
That may go down well with the Southport set, but so do half-priced cream buns and happy hour port and lemons. You, My friend, know better.
I get what you meant, Tony. There's more than one way to skin a cat -– but Dogs of War? Under Carlo?
You must know you are far more likely to get a "Poodles of Princess Park" performance? Baggio, Pirlo, Zidane did not do "Dogs of War". They probably wouldn't even grasp the concept. Neither would Carlo.
Personally. I would pay top dollar to get into a pre-match Carlo dressing room, if only to dispel my suspicion that I would not find a beating heart.
I love your post, Tony, but Dogs of War??? I think this lock-down lark is getting to you mate. Go 'an kick someone wearing red!
Tony Abrahams
587
Posted 03/01/2021 at 20:55:22
I will rephrase it to winning ugly Darren, if such a thing exists mate!
Barry Williams
588
Posted 03/01/2021 at 20:58:55
Ian Edwards - 583
Over those 38 games, we had a 3 month or so break for a pandemic, a shortened pre-season, a congested fixture list, plenty of injuries and suspensions, plus a new management team.
2 of the 4 players I mentioned were back for the West Ham game, only 2 starters were Ancelotti buys.
Ancelotti, Silva, Koeman or Allardyce.
I know what my choice would be.
16 games in, 4 behind the champions and league leaders whilst not playing well at times.
I will take that! A win percentage of over 56% in the league this season. I will take that.
He's not beyond criticism, but we are better off now that when he took over, by a long shot!

Eddie Dunn
589
Posted 03/01/2021 at 21:04:45
In my opinion Darren gets it right in the vast majority of his main post.
We were lucky against the Baggies, we have played some good stuff at times, but there have been some awful performances, often in the first half. Southampton, Newcastle and second half at Fulham.
We scored a great goal at Bramall Lane but then went all defensive and could easily have been punished late on. In many of these games we had some or all of our "best" eleven. Liverpool could have buried us in the derby.
Now I am quite happy to see what Carlo can do with a team that has his stamp on it, after a couple more windows etc etc.
However let's not miss the point. We have often been as bad as we were under all of the other snake-oil salesmen. I have wasted lots of time and money over the years making a big effort to see our team, especially away from home. I have been let down badly so often. Making my way home thinking that the players were frauds and the manager a coward.
This guy seems nice, he's media-friendly, he likes Crosby. But I couldn't give a fuck if he likes Manchester and lives in a penthouse overlooking Old Trafford. I am only interested in what he can do for us.
Come the end of the season, if he gets us his goal of Europa football, then I will be happy. If he fails to do so and we finish outside of those places but we show signs that next season will be better, then okay. But if he thinks he has done a good job when we know he has left 10 points behind due to a lack of nous or motivation, then he will have failed.
Yes, it's too early to say he's a busted flush but let's see how everyone is feeling at the end of the season coz at the moment Man City are past us, and Southampton, West Ham, Chelsea and Arsenal are right behind us.
Remember the club let Walcott go to a rival for Europa football, and Kean go without a replacement. Does anyone think Levy would let Dele come to Goodison? No chance.
Carlo was surely involved in those decisions. If we don't go out and get someone like King in this window then we have not got the ambition to hit top 4. I think our players have taken the proverbial foot off the gas because he has let the whole world know that 5th, 6th, 7th is okay.

Ian Edwards
591
Posted 03/01/2021 at 21:12:28
Thomas 584. You miss my point. I object to nicking a goal and then parking the bus for the rest of the game.
Knife to a gunfight tactics are not acceptable.
We were drawing 0-0 at Sheff Utd who hadn't got a win all season and Ancelotti told Sigurdsson to play holding mid. Thankfully he ignored him.
The Manager being shit scared of West Ham at home is extremely worrying.
Darren Hind
592
Posted 03/01/2021 at 21:13:49
Fair do's Tony.
Refusing to attack a Leicester team who have many players lying in waiting to counter-attack is one thing. I accept and appreciate the intelligence of that. That disciplined performance hasn't quite been given due credit it deserved. Let me rectify that. It was a superb performance – Leicester are nailed on top 4.
But its gonna take an awful lot from Carlo to win over an already skeptical fan base. Any brownie points he may have accumulated went out of the window when he blinked first when eyeballing The Ginger Twat.
Tony Abrahams
593
Posted 03/01/2021 at 21:14:09
Baggio, Pirlo, and Zinadene Zidane, never did Dogs of War, Darren? Maybe not... but they've all had to dig in at certain times in their careers, I'm sure, mate, especially because they all played late into their thirties, if I'm not mistaken.
Just as you was also not mistaken when you described Rodriguez as maybe not a soldier, but it doesn't mean he hasn't got plenty of soul. (Winners always find soul imo, and Ancellotti has won almost everything.)
Ian E, Danny was right, I'm a total purist, but sometimes winning has just got to be more important, and both my sons, who have been everywhere to watch Everton, have reached adult age and have still to witness that joy.
Andy Crooks
594
Posted 03/01/2021 at 21:24:30
Darren @586 spot on, really spot on. Tony won't thank me for this, but he has, really has, played. Tony, hope you don't mind.
Rob Dolby
596
Posted 03/01/2021 at 21:25:37
Eddie 590. Someone like King isn't showing ambition it's showing mediocrity and stockpiling more average players.
To be taken seriously we need to be buying players that the top 4 would line up. Grealish, Rice or Philips will be getting a big move soon enough.
Brian Murray
597
Posted 03/01/2021 at 21:29:40
Rob. 596. That includes giving players well into their 30s daft extended contracts became it's too much like hard work for our DoF to actually earn the no doubt obscene amount he's on to push us to another level – not bringing in the same tired losers wh are then getting set up for life.
Tony Abrahams
598
Posted 03/01/2021 at 21:30:57
This season has been like the equivalent of the Grand National imo, with loads of loose horses playing tricks on the field. It's a very long time since the pack has been bunched so tightly, and it will probably stay like this until the middle of next month.
Maybe Liverpool and the two Manchester clubs will pull away... But Spurs and Leicester are strong, Arsenal and Chelsea will move forward, and hopefully Everton stay in the pack as loads of teams drop like flies.
I honestly think this is how the very experienced Ancellotti might be seeing things, but maybe Darren is right and I've turned from a crank into a locked-down lunatic!!
Gavin Johnson
599
Posted 03/01/2021 at 21:40:22
The tactics of nicking a goal then parking the bus is Ancelotti adapting to injuries and suspensions. We played exciting attacking football when we had our best players fit.
We tried the same tactics when those players were missing and we were badly found out against the likes of Newcastle and Saints. Carlo adapted, played 4 centre-backs and went defensive and deployed tactics you'll see in many Italian teams.
Does anyone think previous managers like Martinez or Silva would have changed the style of play with those injuries to important players?! I never saw a tactical Plan B from them, nor Koeman and Allardyce for that matter.
The manager isn't beyond criticism. I was pissed off when he brought on Tosun for Calvert-Lewin instead of going with a 4-4-2 but I'm not going to start calling the managers head.
Barring a few team formations, like Chelsea away last season, and Newcastle away this season, Ancellotti has got things largely right and his win record bears that out.
Darren Hind
600
Posted 03/01/2021 at 21:41:28
Andy.
Knowing Tony A has played does not make me the amazin Kreskin. It's fucken obvious, mate.
The fact that I know he is the second most knowledgeable Abrahams on this site hardly sets me up as Mystic Meg either.
I fucked up big time when I never turned up to meet them when I had the chance... at least you don't need to say that.
I guess I foolishly believed it would just happen sometime.
Hopefully it will when the world sorts itself out and soft fuckers like me stop assuming "It`ll be alright on the night".
Tony Abrahams
601
Posted 03/01/2021 at 21:41:47
That's all in the past and irrelevant Andy, and just like you was fuming after the United game, and the likes of Ian E, can't stand it now, I couldn't believe the space Everton were giving teams until Delph, went off at Burnley, and that's why I'm happier now.
This will change soon though, players will come back from injury, and if Everton become to easy to play against again, I will be the first to criticise. Even if I'm aware that this is not an easy job that Carlo Ancellotti has been given, you only have to read these pages to be aware of this!
Danny O'Neill
602
Posted 03/01/2021 at 21:45:27
As Darren rightly points out, you can tell those who have played and who have played to a standard.
All of us want to win playing in style but we all know that age-old saying; you have to win your battles to earn the right to play. Sometimes that means playing and winning ugly. If you can't win pretty, that's what you sometimes have to do, even when you are the best.
With Tony, this season is up for grabs. Liverpool and Man City will be top of the pile possibly challenged by Man Utd but beyond that anything can happen.
Right now we are staying with the pack which is giving us a very realistic chance of achieving European football next season.
Not a lunatic in my view Tony, you're just drinking from the fountain of optimism as am I.
I'm not predicting doomsday, nor am I prophetising the second coming with Saint Carlo at the helm. But I do think we have a chance of achieving a target of European football.
Thomas Richards
603
Posted 03/01/2021 at 21:46:35
Darren,
Did you play?
If you did, what league?
Darren Hind
604
Posted 03/01/2021 at 21:57:16
Tony
A light-hearted response to your observation.
I'm pretty certain that Pirlo – the greatest footballing brain that ever lived – had to dig in at times.
Rumour has it, that he was once so flustered, he had to order a second cigar to be delivered to his deck chair.
Danny O'Neill
605
Posted 03/01/2021 at 22:04:59
Pirlo is indeed one of the greatest footballing brains that has ever existed Darren.
A counter to the view that you need raw physical pace and an ability to run fast to win a game of football.
The brain more often than not outwits physical strength. The pen is mightier than the sword as the saying goes.

Don Alexander
606
Posted 03/01/2021 at 22:05:58
I've kinda known for the past few years that Dazza (#586) enjoys "playing a little game" with himself. His posts often make it obvious, as numerous others rather bluntly but understandably point out.
That said, he should be applauded for his piercing insight in identifying that the self-admitted former footballer of some distinction and insight, our Tony Abrahams, has always been a talented former footballer with insight. Wow!
Both of them make comment on the Dogs of War team (Big Joe always regretting that term) but I agree with Tony, we may just need a dose of that to progress us to the top six or seven, prosaic as much of the DOW football was.
I doubt Moshiri has a vid of Ebbrell, Joe P and Barry Horne in his library, and a good thing too. His promise, oft-repeated, is to achieve far better than that and his signings (and they are his signings in terms of money) since Carlo Ancelotti arrived seem to be heading towards achieving what he says he wants to achieve. It'll just take another two or three windows, some nerve, luck, and a shed-load of professionalism at USMFF.
Tony Abrahams
607
Posted 03/01/2021 at 22:10:04
That's what happens when you get nobody running for you, Darren, it's why I wanted Bernard to go and play inside the other night!
It's great when people start talking about brains on a football field though. I was just thinking about falling asleep, getting ready for another long day tomorrow, now they've decided to keep my kids' school shut, and I just got a picture of that majestic will o' the wisp, Iniesta, constantly sidestepping his opponent, whilst creating space for his teammates, what joy in such simplicity!
Kim Vivian
608
Posted 03/01/2021 at 22:33:40
Michael, or anyone techy. Not sure where to post this. Totally off topic but my laptop is sayingToffeeWeb can't be reached. Windows not detecting networks proxy settings. Phone seems ok, and posting this from my mobile (android). Any ideas?

Jason Wilkinson
609
Posted 03/01/2021 at 22:34:20
Most games aren't won by great margins in the Premier League. They are won by small moments. West Ham won the other night by such a margin. We had so many opportunities to get the ball in the box and spurned them looking for "a perfect pass".
The closest we came to getting a goal was Bernard having a go from 20 yards. The free-kick from our "dead ball specialist" was woeful.
Ancelotti has us solid at the back but scared to take chances in the final third. Richarlison needs to play as a second striker now and then to give us more options.
I would like to see our midfielders get a bit more involved too. They are too often found watching the game in the final third instead of causing defenders problems. They don't make enough runs beyond Calvert-Lewin.
Bobby Mallon
610
Posted 03/01/2021 at 22:43:50
I believe Carlo and his brain told purloined he was not a Number 10 and said he should become his holding midfielder. To play just in front of the back four where he could use his vision and passing to its finest.
Tony Abrahams, Iniesta and Javi, the best midfielders I have seen in the flesh. Oh to go back to Barcelona...
Paul A Smith
611
Posted 03/01/2021 at 22:46:31
Everton ready to do a deal with PSG for the permanent transfer of Moise Kean according to Sky Sports???
Gavin Johnson
612
Posted 03/01/2021 at 22:57:24
㿋m seems a little low given Kean's age and the impact he's made in Paris. Would have thought 㿔m+ would have been a fairer price. That said, if we can reinvest, say, 㾶m on Milik and the rest on Max Aarons, it would be a good deal.
Brian Murray
613
Posted 03/01/2021 at 23:15:10
At risk of repeating myself but if we can lose a player or three then this 㿋 million fee suddenly becomes double that to put in bids for the Norwich lad or whoever we're thinking of. Over to you, Marcel.
Brian Murray
614
Posted 03/01/2021 at 23:25:50
Knowing us, we will use the fee to pay for big contract extensions for Coleman and Sigurdsson. No wonder these players adore us.
Rob Dolby
615
Posted 03/01/2021 at 23:32:26
Bobby 610. Apologies if I have misread your comment above... Are you mocking Ancelotti for turning Pirlo into one of the best playmakers in world football?
Brian 597. Would you have taken Cavani in the summer? Age catches up with all players but a quality player, regardless of age, should be considered if available.
I am all for adding quality and clearing out mediocrity. I would love a couple of statement signings in the summer so that we could genuinely shock and challenge the top 4.
Kim Vivian
616
Posted 04/01/2021 at 08:36:18
Re #608... It's back, life returns to normal. :-)
Bobby Mallon
617
Posted 04/01/2021 at 09:47:48
Rob 615. No, definitely not. Some people on here think Ancelotti doesn't know what he's doing. I was trying to portray that he definitely does and it was him who turned Pirlo into one of the best defensive playmakers ever.
Bobby Mallon
618
Posted 04/01/2021 at 09:51:20
Rob, watch Ancelotti's interview with Rio Ferdinand on BT. It's very good, he explains it all on that show.
Conor McCourt
619
Posted 04/01/2021 at 10:08:57
I am sorry that I felt the urge to post when I said I wouldn't but I have found this debate to be really stimulating and with a lot of excellent arguments and good-natured reasoning, there seems a much more appreciative tone of one another's viewpoints. This is what I have in the past really enjoyed about this website, the ability to challenge and learn off each other. It's just a pity it takes a horrible defeat to produce such analytical posting.
Danny, I do just want to say to you that I know you feel unity is the key and you come across as a great guy and a great Evertonian but this calling fellow Blues as wanting to fail is not really acceptable. I can't speak for Darren or any other Blue but I would really doubt that any Evertonian wants us to lose games of football.
You have repeated this mantra on a few threads of 'I support Everton and therefore Carlo and anyone who doesn't automatically wants Everton to fail or is not supporting the club'. This was the only disappointing post I have seen on this thread whether meant in the spirit it came across or not.
I will use the example of Jordan Pickford to explain my feeling for Carlo. Personally, I am not sure he is the keeper we need to make us great. Judging Jordan this season, I think he has so far had a good season. I believe he was made some vital saves at crucial stages and has definitely won us points; he has had a few wobbles also and moments we don't want to see again.
I have defended him when I think justified and, every time he takes to the pitch, I support him as much as I do Holgate, who is a player who I do think is one who can help make us great. Supporting Everton and not thinking Ancelotti is the bees knees is not a contradiction – nor does it infringe on the other.
In every game, Carlo has the option of changing people's perceptions of him, both good and bad. The more we see of the Tottenham performances, the more you will see his criticism diminish. Do those who doubt Carlo say we were lucky in that game? Do they say Spurs had chances? Do they say Spurs weren't fit or that we only scored one or that we weren't that good?
No; that was a performance of control and dominance and swagger. if we play like that, we can go toe to toe with anybody and, without exception, there seems agreement on the quality we showed that day. That game made me say "Wow, just fucking wow! He may just go and do it, you know!"
It is the only time I have questioned my own preconceptions; it got me super excited and we looked like a really well-coached progressive modern team. Unfortunately for me, it is a solitary display when it should be the template reached on a more regular basis. As for being proved wrong, some of the people I respect most in life are the ones who have done so. It's also how we learn and improve by challenging our norms.
We all want the same thing. Some are clearly seeing progress and evolution; others are yet to see the method or pathway to how they see a successful Everton. But it don't mean they don't want to.
Thomas Richards
620
Posted 04/01/2021 at 10:30:51
Ancelotti is our manager for the foreseeable future. Nothing the doubters can do about that fact. It's up to you the individual, back him or don't. Your choice.
I am backing him 100%.
David Cash
621
Posted 04/01/2021 at 11:21:42
Wow, Thomas.
I noticed your name keeps popping up all over threads, So I just had a quick scan down this one.
This has been a Heinz Baked Beans performance. 57 posts from you on this thread alone. Magnificent effort. I have to say. I'm 100% in agreement with your last one.
Rob Halligan
622
Posted 04/01/2021 at 11:41:21
Over 600 posts (some of them utter garbage, by the way) on a thread about a game we lost. We don't get half that many posts on a thread when we win a game.
Anyone who thinks Ancelotti is not the right man for us needs to give your head a wobble. As a manager, he's won league titles in four different countries, three Champions League trophies as a manager, two as a player and numerous domestic cups.
Granted he inherited winning teams along the way, and also in countries where it's a one man show, PSG, Bayern Munich for example, and even in Spain with Real Madrid the biggest obstacle was Barcelona, and maybe Atletico Madrid, but trophies still had to be won, they're not given away, and let's face it, winning three champions league trophies against the cream of Europe is not exactly a stroll in the park.
So he comes to Everton, a pretty poor squad he inherited, and what happens, does dementia set in, does he suddenly forget how to set up a winning team? Of course not.
As I say he inherited a poor squad which he is slowly rebuilding and will take time. The players he's signed, notably Rodriguez and Allan, we wouldn't have signed if it weren't for Carlo. Jeez, imagine if Allardyce was in charge (nurse put me on a ventilator) those two would have only need look at the name 'Allardyce' and would have gone away pissing themselves laughing.
Like Thomas # 620, I'm 100% behind Carlo and I too think he's here for the duration of his contract and beyond. Aside from Howard Kendall, he's the best manager we've ever had and I'm convinced it's only a matter of time before the first trophy rolls off the conveyor belt!!
Kevin Molloy
623
Posted 04/01/2021 at 11:55:56
Conor,
Are you sure you didn't question your preconceptions when, if we had won our game in hand, we would have gone into the New Year one point behind the leaders? From relegation candidates to challenging for the top spot in eleven months isn't enough for you to change the thumbs down on Carlo to a thumbs up?
That is a high high bar you've set up there for a club that's been pretty hard to watch these last 30 years.
Thomas Richards
624
Posted 04/01/2021 at 12:05:36
David, 621,
57?
Really?
How time flys when your having fun.
Brent Stephens
625
Posted 04/01/2021 at 12:21:04
Rob #622,
"Anyone who thinks Ancelotti is not the right man for us need to give your head a wobble."
Rob, I'm with you full square on this. For all the reasons you post. Watch the next couple of meaningful transfer windows, when the real deals are made in the summer, and we won't see Carlo sticking with all of the core of this squad and making no significant signings.
Ken Kneale
626
Posted 04/01/2021 at 12:32:27
Hi Rob,
Don't forget Harry Catterick – if Ancelotti can produce the type of stylish winning football that characterised most of Harry's era, I suspect the majority of us would be much more content than we have been for the last 30 years.
I make a point of never comparing Harry or Howard as both were dedicated to the club and loved Everton to their last bone – it is worth bearing in mind that it was Harry who started Howard's love of all things Everton.
Tony Marsh
627
Posted 04/01/2021 at 12:40:46
Rob Halligan,
I don't think Ancelotti is the right man for the job here. I never wanted Carlo, I reckon he is way past his best. Nothing wrong with that – it happens to us all. Past achievements from 10 to 15 years ago means nothing today.
Carlo is at the age in football when retirement comes a-calling. By your own theory, being a past makes someone a viable option and a winner today then Sir Alec Ferguson or Arsene Wenger could also be in the frame for a Premier League job, couldn't they?
Some of the tactics, line-ups and substitutions Carlo is making are absolutely diabolical. The Tosun for Calvert-Lewin sub the other night sums it up for me. Friday night against West Ham was the worst display of football l have seen from an Everton side since the Mike Walker days, right through the Moyes era.
I don't know one Evertonian who thinks we are playing well or look a different team under Carlo Ancelotti.
The football Everton play is atrocious – no difference from Marco Silva – and we are very very lucky to have won so many games this season.
Conor McCourt
628
Posted 04/01/2021 at 12:55:42
Kevin,
When Carlo was appointed I wasn't under the illusion this guy is a clown. It is clear even in his time at Everton that he has a habit of winning tight games against similar and inferior opponents.
Personally I couldn't have seen us get 9 points from those three decent sides and we did and, from that perspective, he is always challenging my thinking and proving to me that he is capable of achieving his objective of a top six finish.
To help you understand my logic I backed Man Utd to win the league at 40-1. I didn't feel they would definitely win it but I felt they were one of only three teams that could win enough games to do so. They were 16th at the time. Utd are now second.
Personally I am no more or less confident that I will be collecting that bet. The doubts I have about their centre forward scoring enough goals, the dependence on Maguire and Fernandes fitness and my doubts about whether Solskaer is at the same level as his two adversaries and their lack of being in that situation at the business end still remain.
Similarly with us I think we have a top seven squad and pointswise and positionwise I think Carlo on the whole is slightly overachieving. Personally I feel other teams around us have struggled with the demands of European Football. I feel we have squeezed out every point we could except this latest game, I feel Carlo was at his best in those three tough games and we have a tougher looking second half with many tough games. I wish I had Stan's confidence but I am only cautiously optimistic.
Kevin I didn't go overboard when we beat West Brom or Brighton and likewise I didn't feel we were that bad against Leeds Utd. In truth, I saw three similar performances with the difference being our front three were super effective in the former and that Leeds standard was at a high level that we were unable to reach. Personally I feel, to be guaranteed top six, we need to increase our level on a consistent basis.
Kevin Molloy
629
Posted 04/01/2021 at 13:15:34
Conor,
Yes, fair points and it is still early days. But we've gone on two runs this season, seven straight wins and four straight wins, something is clicking into gear here, this is different from what went before, in my view.
Danny O'Neill
630
Posted 04/01/2021 at 13:34:41
I know that Conor; that no Evertonian wants our blues to fail. I also know Darren is a huge Evertonian who wants us to be successful.
I was more getting at specifically wanting Ancelotti to fail, but that, by default, affects Everton, so much the same thing.
So I accept the call out and criticism for something of an ill-thought, badly chosen cheap shot. I think I've apologised to Darren already. Definitely not my finest comment on here.
Bobby Mallon
631
Posted 04/01/2021 at 13:44:32
I ask myself these questions:
Q: Do we have a good strength-in-depth squad? A: No.
Q: Would any of the top 10 managers with their philosophies have Everton sitting in a better position than we are now? A: No.
The reason why my answer is No to Question 2 is because of Question 1. Also, the style of play that Klopp, Pep, Rogers, Arteta, Lampard etc like to play is the high press game and we don't have the personnel to do it.
So, for me, we have the best manager to get this squad into the top 6 – and he will IMO.
Ian Edwards
632
Posted 04/01/2021 at 13:50:18
I agree with Tony Marsh 627. Alongside the West Ham performance, I would say Leeds was just as bad. Match of the Day highlighted the way Bielsa had Ancelotti's trousers down tactically. In addition, I would throw in the playing for pens at home to Man Utd.
We should also not forget the second half at Fulham when we were outclassed and, but for a slip when taking a penalty, we would have lost a 3-goal lead.
I genuinely worry about losing to Rotherham.
Hugh Jenkins
633
Posted 04/01/2021 at 14:14:19
Before Christmas, we were all dreading the next 4 fixtures and predictions were that we would be lying anywhere from 10th to 15th at the end of the Christmas period.
So, what happened? We won all four games that we were mostly expecting to lose. We then lost a game to a team that we all thought we could beat.
Result – we are not 10th nor 15th, we are presently, comfortably at 7th, but could be 4th except for goal difference and we also have a game in hand over the team in 3rd.
But, the "except for goal difference", is, I feel, the crucial point here. If we fail to make the top six, or the top 4 this season, I think it will be goal difference that costs us.
Given the squad he started with and the few additions he has been able to make, Carlo is doing better than "alright".
This season has to be seen as a stepping stone and as the transfer windows pass and more of Carlo's chosen type of players are added to the squad, I, for one, can see us challenging at the very top end of the table – and let's face it, that is where we all want to be.
John McFarlane Snr
634
Posted 04/01/2021 at 14:16:13
Hi David, [621] in these days of extreme restrictions it's a ray of sunshine to learn of the apparent abolition of the 20 post's rule. I suppose that special circumstances require special remedial solutions. (Every cloud has a silver lining!)
Sean O´Hanlon
635
Posted 04/01/2021 at 14:20:49
I believe we should give Carlo more time. At least another 10 years, and a dozen more transfer windows.
I'm 100% certain we'll finish in the top 20 of the Premier League this season – which is great progress IMO.
My only criticism of him is that he only has 2 goalkeepers on the bench, when we need at least 3.
Thomas Richards
636
Posted 04/01/2021 at 14:31:01
John, #634,
I didn't realise there was a restriction on the number of posts. I haven't counted the posts I made but I'm sure David is correct. Will keep an eye on it.
Will Mabon
637
Posted 04/01/2021 at 15:04:39
Thomas, the rule's most recent use, as I'm aware, quoted 40 posts – but don't worry, the rule can be triggered by context/content as a means of censorship, or ignored in the absence. The topics in this thread are unlikely to cause trouble.
Thomas Richards
638
Posted 04/01/2021 at 15:06:28
Thanks Will.
Rob Halligan
639
Posted 04/01/2021 at 15:19:49
Tony Marsh 627, you don't think Ancelotti is the right man for the job, that's your opinion and fair enough, I'm not going to argue with you about that. But don't make out that he's a has-been, cos he's not. FFS, he's only 61 years old, not 71 or 81, it's not like he's running round on the pitch or training ground, he has coaches to do that for him. What he's learned and picked up in the past isn't suddenly going to disappear, unless, as I said earlier on, has dementia suddenly set in?
Alex Ferguson was 71 years old when he retired from Man Utd (didn't he win the Premier League in the year he retired?) and I've no doubt many of their fans were disappointed to see him go.
Put it this way, they've won next to sweet fuck-all since he went, apart from a League Cup, FA Cup and Europa League. Something most of us would crave for, and Carlo is the man to do it, and getting the right players in the upcoming transfer windows, I'm sure he will bring this club success.
Rob Dolby
640
Posted 04/01/2021 at 15:21:55
Tony 627.
After the career Ancelotti has had, he obviously still has a love and passion for the game; otherwise, he wouldn't be here.
He may well be past his best but Moshiri has hired him on his past reputation after gambling on Koeman's and Silva's potential! Who would you have chosen instead?
Injuries have forced us into the current defensive formation. At the start of the season, we played good stuff and scored more than the opposition.
The worst ever performance against West Ham, that's some statement from a seasoned Evertonian. We could probably open a new thread with some of the stuff we have been made to sit through.
If he leaves us in a lot better state than when he joined, he will have done his job. Man City had a succession of managers with their new-found wealth whilst they waited for the big fish in Guardiola.
Ken 626,
I don't recall Howard Kendall Mk 1 loving us with his every bone when he left us to follow the sun in Spain with a team that had no chance of ever winning a trophy due to their Basque selection policy.
Howard Kendall Mk 1 could have done for us what Ferguson did for Man Utd but jumped ship to warmer climes. Mk 2 and Mk 3 tarnished his reputation.
Brent Stephens
641
Posted 04/01/2021 at 15:24:05
Thomas #636 – keep posting those good posts!
John McFarlane Snr
642
Posted 04/01/2021 at 15:46:44
Hi Thomas, [636] and will [637] I suppose that like any law/rule, ignorance is no excuse. I was suspended for overstepping the 20 post rule when responding to comments posted relating to an article I'd submitted.
I don't read every word of the comments aired, but I can't remember any alteration being announced via the site. It's probably just as well because it saves others from having to read the rubbish of my posts.
Paul Birmingham
643
Posted 04/01/2021 at 15:47:28
Each to heir own view as of right, but football is a results-based business. There's still half a season in the Premier League and the FA Cup to contest.
This season has been at times good but inconsistent in terms of results but not as bad as many previous up-and-down seasons.
Take the current squad and compare to the teams above us and pitch player for player. Yes, any manager of any football team must get the best out of what players he has in his squad.
So going around in circles these days on most of the TW threads, with style and manner of player and getting results.Look at Chelsea and I'd say they are in a transition and it's taking longer than they anticipated for their new players to bed in and gel.
So we played crap vs West Ham Utd, and now must bounce back. Let's see, when key players return from injury, where we go to.
Winning and winning in style is great but this squad won't be at that level for a long time, so do Everton grind out results or play fantasy football and get whacked in most games?
So some are suggesting that we will loose vs Rotherham. Yes, you can loose against any team if the mindset isn't there, but let's see what happens.
Time to galvanise and regroup, but for fuck's sake, it's the half-way point of the season, and Everton's in a better league position, year on year, but results will tell and the final league position won't lie, and our goals for and against will also tell a story.
Lyndon, editors, could we have a TW, Teams or Zoom end-of-season review call if it can be done? As I doubt the Covid-19 situation will have improved enough for a pub meeting in town, but it would add extra bite and tempo to the healthy and forthright debates.
Joe McMahon
644
Posted 04/01/2021 at 15:50:06
Ken @626,
Harry Catterick was over 50 years ago and Kendall also decades ago. Harry Catterick had nothing like the success that Carlo has had. As already said by Rob, Kendall left us for the sun and bars of Spain, he wasn't gonna win anything at Athletic Bilbao and, the 3rd time he managed Everton, it was a tarnish to his reputation, as Rob states.
Sorry Ken, but I just cannot understand the obsession with the '60s & '80s, it was generations ago, it was a different world. If Carlo is to be compared to historical managers, then sadly it ain't anyone who has managed Everton, as good as Howard's mid-'80s team was.
Rob Dolby
645
Posted 04/01/2021 at 15:52:17
Ian 632. Can you explain what you mean by Bielsa had Ancelotti's trousers down please. It would be good if you could maybe put some tactics behind the analogy.
I thought the Leeds game could have finished 4-4 with the amount of chances created.
I thought the Newcastle game was similar to the West Ham game. Newcastle got a ridiculously soft pen and breakaway goal at the end. If both games had finished in a draw, I don't think people would have complained similar to the Sheff Utd game.
Football at the top level is decided by fine margins. Ancelotti's job is to close those margins by either trying to coach the existing players into less mistakes and being more tactically astute or buying new players.
I would understand the negativity if we had a poor start to this pandemic season but we have had the best start for 15 years.
Ian Edwards
646
Posted 04/01/2021 at 15:58:36
Rob 645.
Bielsa spotted the wide gap between our central midfield players and put Kalvin Phillips there to dictate play and spray passes.
Ken Kneale
647
Posted 04/01/2021 at 16:03:24
Rob 640 and Joe 644 – I think you have misunderstood – I was responding to the point made that Carlo is the best manager we have had other than Howard Kendall – Catterick stands equal comparison to Howard in my eyes and that is the point I made.
As to you saying Harry and Howard's history means nothing, whilst I am very supportive of Carlo and desperately like all of us want him to do well for our club, as a number of posters suggest, that level of debate could equally be directed at our current manager – I for one will judge him against Harry and Howard in my hierarchy when he is a successful Everton manager.
As an aside, I also believe that the Everton team of 67-70 was decades ahead of contemporary British sides in their football style – perhaps Harry Catterick's approach to how to play the game would not be so out of date now after all.
Will Mabon
648
Posted 04/01/2021 at 16:04:02
John @ 642:
Nothing wrong with your posts, John. As welcome as any.
Rob Dolby
649
Posted 04/01/2021 at 16:18:16
Ian 646.
I would love Philips at Goodison. I think he will be moving on for big money sooner than later.
I disagree that was the tactical masterstroke that won Leeds the game. A shot from 25 yards that went through a defenders legs and left Pickford stranded in an end-to-end game that could have finished 4-4.
Leeds play almost a man-marking game against every opposition and run themselves ragged closing down that's why they are so different to other teams. An opposition with more quality up-front will generally expose gaps and put chances away and that's why they also ship goals. Philips is their top playmaker.
Sometimes in football you have to give credit when it is due. Cavani's moment of class in the cup game is such an example.
Joe McMahon
650
Posted 04/01/2021 at 16:26:54
Ken @647, apologies, I understand your original point now. However, I didn't say Harry's and Howard's history means nothing, I just felt Howard left us for a team that wouldn't win anything, and coming back to Everton was a mistake, certainly the 3rd time.
Yes, Harry's early '60s team was very attractive on the eye with some great players, and great midfield in the late 60s. I just felt he missed a trick not prioritising the European Cup more, and sadly the demise of the team in the '70s after letting Alan Ball go to the Gunners.
Taking Blue spectacles off, certainly in my lifetime the absolute top managers in England have been Clough (with Peter Taylor), Sir Alex and (unfortunately) Bob Paisley, I did begrudgingly have some respect for that lot back then (not now!)
Ken Kneale
651
Posted 04/01/2021 at 16:59:53
Joe – no apology needed; I just did not want my point misunderstood.
Well, as you say, a European Cup would have cemented that sides legacy. Harry went to his grave, I understand, believing his team had been robbed by the referee in Greece not taking action on spitting, gouging and other such.
I am of the view that, if we had won that game, we were really in with a chance but, as we know, the rest of the week went badly. Harry's health problems, some poor buying and selling and the rest is history.
I view missing out on Archie Gemmill in midfield to Brian Clough's Derby as also pivotal.
Tony Abrahams
652
Posted 04/01/2021 at 17:16:34
I thought it was Klopp's Liverpool who first done that to us, Ian E, and again only the injury to Delph at Burnley saw us tighten up drastically imo.
Let's see what happens when the fit players return? And don't forget how Everton totally outclassed Fulham in the first half either, just to keep your argument real mate!
Rob Halligan
653
Posted 04/01/2021 at 17:30:54
Tony, just one more thing on the Fulham game. Had they scored the penalty, then the whole pattern of play is different from when we would have kicked off, and that chance for the second goal they scored doesn't happen. Not to say there wouldn't have been another chance somewhere else later on in the game, but the second goal doesn't happen if they score the penalty.
Brendan McLaughlin
654
Posted 04/01/2021 at 19:00:16
Rob #640 & Joe #644,
It's actually quite inaccurate to say that Athletic Bilbao had of no chance of winning the league when Kendall joined them... they had in fact won both the league and a league and cup double only a few years previously.
Rob Dolby
655
Posted 04/01/2021 at 19:01:50
Ken 647.
Howard Kendall Mk 1 was and still is the pinnacle of me watching and supporting the Blues. I misunderstood your comparison. History win lose or draw is the fabric of all football clubs.
Rob Dolby
656
Posted 04/01/2021 at 19:17:19
654 Brendan. Suppose they have a chance every year to win a trophy a bit like ourselves.
Brendan McLaughlin
657
Posted 04/01/2021 at 19:44:50
Indeed Rob #656,
Undoubtedly the reason Howard left a very successful Everton team to go to Spain.

Brian Wilkinson
658
Posted 04/01/2021 at 21:01:45
The one thing that had always baffled me was when Colin Harvey came in as a coach, that is when we seemed to start to achieve our turnaround and started to win trophies.
The most baffling when Howard left was we did not kick on, when Colin took charge of the team.
As good a Manager Kendall was, he achieved his success when Colin Harvey came on board, a bit like Peter Taylor alongside Clough.
Was it down to Colin not doing as much in training, and focusing instead of putting first team duties higher up, and in doing so, we lost a bit of Colins presence at the training field.
Colin was the obvious one to take over from Kendall, what other Managers could we have tempted to come in, to work alongside Colin, was that our big mistake, taking Colin away from what he did best, coaching and training the players by himself.
Still a mystery why Colin did not push us on.
Same as why Kendall left, still say he thought he had the Barcelona job, and possibly one of the reasons he allowed Lineker to move there.
He settled for second best, hoping he could get European football with Bilbao, in doing so, he left a much better side that would have continued to challange for further titles.
Big mistake by Howard.
Danny O'Neill
659
Posted 04/01/2021 at 21:19:18
That goes back to a previous discussion a few of us have had in other threads Brian. It is a totally different step up from coach to manager. Especially, traditionally in the English game where managerial responsibilities are very different from say the head coach on the continent.
Colin falls into the category of undisputed top coach, but unfortunately didn't cut it as manager. And we all desperately wanted him too.
In his defence, we were on the start of our descent into club mismanagement and lack of investment as he took over. But I just always felt he was more at home on the training ground with the players than doing the business and media side of things that come with management.
Thomas Richards
660
Posted 04/01/2021 at 21:22:13
Colin Harvey was too nice of a man to be a manager.
You have to have a bit of cnut in you to be a top manager
Darren Hind
661
Posted 04/01/2021 at 21:24:54
Not really Bryan.
Top players had left and were replaced by people like Cottee, Mcdonald and Nevin. All decent players in the own right, but not quite top draw.
Colin Harvey is an Everton Legend, A great player and coach, but his signings didn't work out as well as he'd hoped. A manager will always stand or fall on his signings
BTW; SIXTY posts on one thread from the same poster !
It would have been so much easier to just say "Hands off my Carlo" and have done with it.
Thomas Richards
662
Posted 04/01/2021 at 21:28:06
Brent Stephens
663
Posted 04/01/2021 at 21:34:02
Oh the irony!
David Cash
664
Posted 04/01/2021 at 21:42:10
If that's what it takes for you to back off and let the man get on with his job, then I second that:
Back off our Carlo!

Danny O'Neill
665
Posted 04/01/2021 at 21:46:19
Had me paranoid there but with a quick skim through, I'm in the mere 40s!!
Who cares how many time an individual posts? This is a long thread and good discussion.
I guess more than ever this is such a good outlet for us all right now hence the increased number of posts as we aren't getting to discuss and debate at the match or in the pub.
Thomas Richards
666
Posted 04/01/2021 at 21:48:27
Hopefully my barrage of posts (sorry, I got immersed in the chat and did not realise how many posts I made) did not overly annoy anyone.
Apologies if it did.
Danny O'Neill
667
Posted 04/01/2021 at 22:02:51
No apologies Thomas and keep posting. Apologise if you're out of order to another poster like I was. If we all do a quick count on this one we're all guilty of over posting!
Well a disappointing weekend on the back of a disappointing performance (we are all fundamentally in agreement there) sees us 4 points off top with a game in hand!
Putting one thing to bed @Conor (as it will only bug me!). I said I support Everton not Ancelotti. Not that I support Everton therefore I support Ancelotti.
Truly bizarre season with much up for grabs.
Danny O'Neill
668
Posted 04/01/2021 at 22:18:52
Thomas (660). I have to disagree with you there. Colin Harvey wasn't too nice. He was demanding of his players hence it worked on the training ground where his demands were feared.
What he didn't have were the soft skills required of management.
If you look at it, Howard was the father figure who kept the players happy, put an arm around those who needed it and yes, cracked open the bottles of wine and champagne. Created the feel good factor. Harvey was the one shouting at them on the training ground, demanding more.
A great combination and both Everton legends. To coin my previous military anaology, Kendall was the Officer; walked around making sure his directions were being carried out to plan, making sure the men were okay and the boots fit. Harvey was the Sergeant Major, who once the Officer was out of the way, let the players have both barrels if they weren't performing (his words, not mine).
Brendan McLaughlin
669
Posted 04/01/2021 at 22:51:46
Brian #658
The reality is that Kendall saw the bigger picture...the team, how to make it function, play collectively and make the team play better than their individual selves..
Harvey concentrated on the individual, to make him better, make him realise his potential and make him excel. For me they were a once in a lifetime partnership and we'll never see their like again.
We're in a different era now but we've a good guy in charge.
Thomas Richards
670
Posted 04/01/2021 at 23:10:09
Danny,
I didnt know that side of him.
I met him on a few occasions at Everton do's.
A very humble man. Genuinely happy to spend time with anyone who wanted to have a chat.
As for the coaching side.
Brilliant, innovative coach.
He was our coach when I first remember ever seeing the reverse wide men. Left footer on right wing, right footer on left wing.
One of my all time greats.

Danny O'Neill
671
Posted 04/01/2021 at 23:37:52
Visionary as you say Thomas. I was never fortunate enough to meet the legend so just go what I've read and watched. Like all of us, I'm sure he was a true Gent in the flesh, but from what I understand, I wouldn't like to have crossed or disappointed him on the football pitch or training ground!
The reverse wide player thing still out on the jury for me. It sometimes frustrates me when the player has to take an additional touch the get it on the preferred foot as it can give the defender the opportunity to reset. I suppose when it was new it was unpredictable, but now everyone knows it.
But I get the concept of not making it predictable and making it easy to show the attacker outside and push them wide away from danger. Also, the opportunity for the cut inside and take a shot.
It wasn't just his time as Howard's number 2 either, a great coach at youth level.
Respected by all Evertonians I would say. I get a tear in my eye every time I watch that clip on Howard's way to be honest, no matter how many times I watch it.

Don Alexander
672
Posted 05/01/2021 at 00:23:13
In Catterick's nine years as manager the following clubs won European trophies whilst we never ever got close; Spurs, West Ham, Newcastle, Leeds, Arsenal, Chelsea, Man City and Man U.
Is it any wonder Moshiri wants to dispense with our so-called history?
It's way overblown if yer know yer 'istory, and aren't deluded by the shite spouted for decades in and around our club by the opulently wealthy, devious, teary-eyed (on cue) scheister still occupying our boardroom.

Steve Brown
673
Posted 05/01/2021 at 11:09:49
Rob @ 639, good post.
It is interesting isn't it? When we beat Spurs, Arsenal, Chelsea, Leicester we are very lucky. When we lose to WHU, Leeds and Newcastle we are the worst Everton side since Mike Walker.
I give you HK2, Walter Smith's dog days, 17th in the league with TGT, successive 4-0 Derby tankings under Roberto, Koeman's second season, ALLARDYCE! and and 18th place with Marco Silva before he was sacked after getting battered 5-2 at Anfield.
Ian Edwards
674
Posted 05/01/2021 at 13:35:42
Steve Brown 673.
I go back to 1977 and the following Ancelotti performances are the worst I've seen:
1. Home to Bournemouth last season
2. Away to Wolves last season
3. Second half at Fulham
4. Playing for pens v United in Cup
5. West Ham home
6. Losing to Liverpool's youth team in the FA cup which imo is the worst derby defeat in my lifetime.
Brian Murray
675
Posted 05/01/2021 at 13:49:37
Ian Edwards. Your number six in fairness if it was any of the top four and their rival kids humiliated them the boss would not of survived that night but we are made of a different cloth and like to amble along until our football vacant owner panics.
Will Mabon
676
Posted 05/01/2021 at 13:56:07
Ian, in case you are unaware, all reference to that "Match" at number 6 was forbidden some time back (By me). Please don't mention it again - thanks.
Brian Murray
677
Posted 05/01/2021 at 14:06:02
Will. If only it was an isolated incident. Il see you that cup game and raise you hundreds since 1971 ( and counting )
Ian Horan
678
Posted 05/01/2021 at 14:11:14
Ian E, we have previously debunked this game 6 LFC youth team. It contained Lallarna, Origi, Milner, Shaqui and the former WH keeper, all played over 50% of LFC games last season so clearly not the Youth Team!!!!
PS the bench also contained the front 4 from their first 11
Will Mabon
679
Posted 05/01/2021 at 14:44:10
Brian, it's a well trodden path, there's no doubt... but that one... that one. Like I say, mention is banned.
Will Mabon
680
Posted 05/01/2021 at 14:45:28
Ian H - sorry, no justification. Attempts at mitigation hereby banned too!
Ian Edwards
681
Posted 05/01/2021 at 15:23:19
Ian Horan 678
Attempting to rewrite history will not alter the fact that Liverpool were considerably understrength. Even the 4 players you mention were squad players when they are full strength.
It is generally accepted that the defeat was a huge embarrassment and at the time it felt to me like the worst derby defeat in our history and it remains that.
A 4-0 defeat under Martinez with Alcatraz in Defence doesn't come near.
Ian Horan
682
Posted 05/01/2021 at 15:44:05
Ian E, I have no desire to attempt to rewrite history as you put it merely ensuring there is proper context to your claim, it was 5 players Adrian was also in goal that day. 4 of those 5 players were also involved when they beat Barcelona 4-0.
Finally Everton had 4 or 5 clear chances in the first half at 0-0, and the single goal was a worldie from 20 to 25 yards out. I don't remember Liverpool creating many chances at all.
Danny O'Neill
683
Posted 05/01/2021 at 16:39:24
Strong shout Ian Edwards (674) considering the early and late 90s into the early 2000s.
Tony Abrahams
684
Posted 05/01/2021 at 16:54:55
Ian@674, scarramanga - where've yer been? Especially if those are the six worst performances you've seen since 1977! If you haven't been locked-up, I was gonna say you want locking up, but that's not something I'd wish on my worst enemy if I'm being honest mate! So take no notice of that Ian, but Keep posting, even if you've led a very sheltered life, watching Everton mate!
Danny O'Neill
685
Posted 05/01/2021 at 17:02:20
But you made me think!
I believe we're of a similar era I was born 1971, so first recollections around 76-77. No research just very quick top of the head instinctive thinking.
Brunswick (Braunschweig). Pre-season friendly around 1977 in Germany aged 5 or 6. Battered something like 6 - 0 and hearing the German crowd chant "Everton, Everton, ha, ha, ha" repeatedly. I clearly don't know how bad it was and it was a friendly, but left an impression. My father had a lot of explaining to do with me that evening!
Everton 0 Liverpool 5, 1982. Humiliation of the grandest scale. Nothing else to say. Why is it I can only hear "Glen Kealy" in a screechy Derek Hatton voice now?
Arsenal 4 Everton 0, 1998. Sliding towards the second tier of English football demonstrating no desire or commitment. The Nyarko match.
Arsenal 7 Everton 0, 2005. What was it about them and us at the time? What did we do to offend them? I could throw in the more recent dismal showing at the Emirates when Allardyce was in charge and I was sat right behind the dugout but not giving Arsenal 3 showings.
Everton 0 - Wigan 3, FA Cup Quarter Final 2013. When the expectation was on, we bottled it again.
I could go on but will draw a line there. The 2012 second half semi final still grates and there are so many Tranmere FA Cup style performances we could draw on over the years.
Conversely, we could also list our best / favourite performances to counter this!!
Jason Wilkinson
686
Posted 05/01/2021 at 17:08:04
I would suggest that the worst performances have been reserved for games against Arsenal. The drubbing at home when Lescott downed tools and the game where donkey Adams scored with a run from the halfway line unopposed.
Will Mabon
687
Posted 05/01/2021 at 17:15:25
"
Arsenal 7 Everton 0, 2005. What was it about them and us at the time? What did we do to offend them?
"

"...remember the name...".
Ian Edwards
688
Posted 05/01/2021 at 17:43:38
It's amazing all these awful games that posters have mentioned which I had managed to get closure on... I've now had a relapse...!!!!!!
Joe McMahon
689
Posted 05/01/2021 at 17:45:14
Danny @685, another few Moyes gems for you;
Everton 0-4 Bolton 2005
Everton 1- 4 Blackburn 2007
Everton 1 - 6 Arsenal (the Lescott game) - 2009
Everton 1 - 4 West Brom 2010
And in 2006 the only time I've had a seat in Hospitality (I was invited by a friend who won the seats) in the Dixie Dean Suite - Everton 0 Birmingahm City 0. An awful match with Everton at the wrong end of the table.
Brian Murray
690
Posted 05/01/2021 at 17:52:58
Still getting therapy over Clive Thomas never mind that ginger loser.
Danny O'Neill
691
Posted 05/01/2021 at 18:50:43
I forgot the Lescott one. Day one of family holiday in Florida. Well that got me off to a good start!
I didn't even mention the now infamous Coventry 0 - 0 in front of 13,000 fans.
Derek Thomas
693
Posted 06/01/2021 at 00:42:30
Since 1900 and, if I remember correctly, the expanded 1st Division, Everton have just 3 positions: very, very spectacularly good, averagely 8th-ish, or bloody awful.
As the nursery rhyme (nearly) goes... when we're good, we're very, very good – when we're bad, we're horrid.
---
Add Your Comments
In order to post a comment, you need to be logged in as a registered user of the site.
Or Sign up as a ToffeeWeb Member — it's free, takes just a few minutes and will allow you to post your comments on articles and Talking Points submissions across the site.
---
© ToffeeWeb