Blue Streak Special
by

10 Comments [Jump to last]
| 02/10/2020
Does anyone remember travelling on the Blue Streak InterCity Specials or have any recollections of them?
I used to travel by car or coach, but it would be nice to hear other posters' memories of their days out from Lime Street Station. We also had the ESCLA (Everton Supporters Club London Area) one as well.
Can anyone start the ball rolling with any funny tales?
I came across an article where the trains stopped running due to vandalism, the last to run being our neighbours' trip to Port Vale. When their supporters returned back, every man and his dog from their special put the blame on Everton, saying it was the Everton fans and we were well behaved and never saw our own fans cause damage to a train. Even back in the seventies, it was not their fault.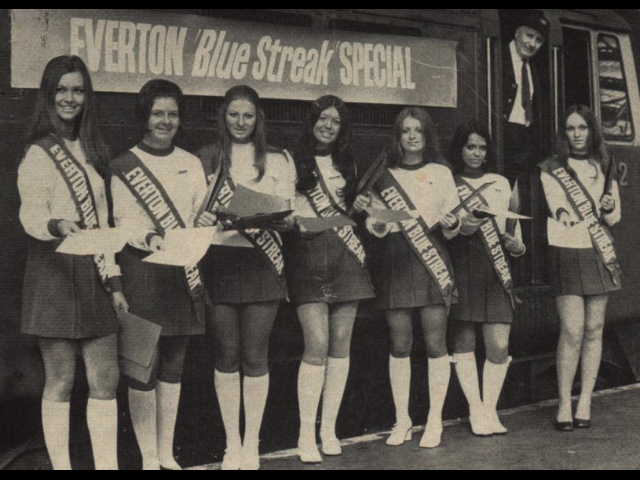 Anyway back to the main article, there is a clip on YouTube of fans' and footballers' families boarding a Wembley special from Lime Street Station for the 1984 FA Cup Final, but I have not managed to find anything on there with clips of the earlier Blue Streak Specials.
So anyone who can add any tales about their days out on them will be most welcome.

Return to Talking Points index : Add your Comments »
---
Reader Comments (10)
Note: the following content is not moderated or vetted by the site owners at the time of submission. Comments are the responsibility of the poster. Disclaimer
John Raftery
1
Posted 03/10/2020 at 13:27:57
Brian, I travelled on many Blue Streak Specials in the early to mid seventies. If my memory is correct they were the brainchild of David Exall who had been recruited as Promotions Manager in 1969.
The idea was conceived on the back of a series of hooligan incidents on special trains back in the sixties and the bad publicity associated with travelling fans. With Blue Streak the club took some ownership with club stewards allocated to the trains to act as a link between supporters and the authorities including the police and British Rail staff.

A big selling point was that we were allowed to take alcohol on to the trains. We took a lot of alcohol! For the most part fans behaved themselves and I do not remember much untoward behaviour.
The trains were not the first word in luxury even by 1970's standards. The toilets sometimes overflowed but generally we arrived at the match on time.
Part of the deal was a police escort from the station to the ground. Some places were stricter than others on that. At Stoke we were able to slip into a local pub for a few pints before the game. At Leicester there was no chance of that with the zealous police ensuring nobody stepped away from the frogmarch between the station and Filbert Street.
There are so many memories, some good and some not so good. The latter included being bombarded by rocks and stones by a local welcoming committee as we walked out of Manors Station in Newcastle in April 1975.
Later that year in October, we lost 5-0 at QPR. We trooped back to the train at Euston. As we waited for our train to set off, along the platform came the team led by Billy Bingham heading towards the scheduled service train. These days they doubtless would have been greeted by a load of abuse. In those days what did we do? We cheered them all and sang 'Hello, Hello, We are the Bingham Boys etc', treating them like conquering heroes instead of abysmal failures.
That for me summed up the spirit of the times. We travelled to away games determined always to enjoy ourselves whatever the result.
Brian Wilkinson
2
Posted 03/10/2020 at 22:03:53
Cheers for that John.
Stephen Vincent
3
Posted 05/10/2020 at 09:42:59
Used to travel on Blue Streaks a lot in the 70s mainly because I fancied the pants off Barbara Lyons (Mick's sister), who was one of the hostesses. Never got anywhere though.
Was a member of ESCLA in the 80s. Remember being in the quiz team and having to get a police escort back to the tube station after we beat Millwall (in a quiz)!
Brian Wilkinson
4
Posted 06/10/2020 at 18:55:11
Stephen, if you type in "Everton Blue Streak" on Google, then click images, there is a photo of the dolly birds lined up mate.
Brian Wilkinson
5
Posted 06/10/2020 at 18:57:56
When you have clicked on search, below where you have typed in, it will say all, images, maps etc, click on where it says images and enjoy.
Neil Copeland
6
Posted 06/10/2020 at 19:34:23
Brian, not sure if it was Blue Streak that I used to travel with, I referred to them as Football Specials. The tickets were sold by the club, though, so maybe it was the same.
Normally we would travel from Lime Street but, on one occasion, a mate and me decided that if we got on at Runcorn, we wouldn't have to pay. The police on the train caught us trying to hide under the tables and frog marched us to the Royal Mail carriage which resembled a caged pen which was almost full!
We got to see the match (won 2-1 at Aston Villa) and bunked the train again coming home. And, yes, you guessed it, got caught again and were now on first name terms with the police. They gave us the opportunity to pay rather than facing a threatened court appearance (the thought of my dad killing me made it an easy decision).
When I got home, I was late for my tea. My dad asked where I had been and I said I went to the match at Villa. He laughed saying I must gss as he brought them luck!
John Raftery
7
Posted 06/10/2020 at 22:54:44
Neil (6),
That sounds like the 2-1 win at Villa in August 1977. We were losing 1-0 but fought back with two goals from Duncan McKenzie.
I am not sure but the Blue Streak branding may have stopped by then. I remember the special took us into Witton Station, only five minutes walk from Villa Park.
Steve Hogan
8
Posted 06/10/2020 at 23:15:25
Stephen (3),
I was in the same class as Barbara Lyons in about 1966 in Gillmoss Juniors. I bumped into Mick (Mike) Lyons outside Goodison two years ago.
Barbara is now living in San Diego, California. It's a small world.
Neil Copeland
9
Posted 07/10/2020 at 18:31:02
John #7, yes spot on that was the game.
I remember walking from Witton station to Villa Park too. I think there were 2 trains that day and the police made us wait until both had arrived so they could escort our march to the ground. We were being goaded by the locals on the opposite side of the street but the day passed peacefully overall.
Mark Murphy
10
Posted 07/10/2020 at 18:45:01
I remember being one of the first off the Blue Streak at Leicester and looking round as I left the station to see a whole planet of blues filling the street. It was the game we battered them with Latch, dobbo, kingy et al in their pomp under "dour" Gordon Lee.
Blues were climbing the walls to get in. What a journey home that was!!
Add Your Comments
In order to post a comment, you need to be logged in as a registered user of the site.
Or Sign up as a ToffeeWeb Member — it's free, takes just a few minutes and will allow you to post your comments on articles and Talking Points submissions across the site.
---
---
© ToffeeWeb

<! -- /articleBody -->