Everton vs Chelsea
Friday, 11 December, 2020
Match Preview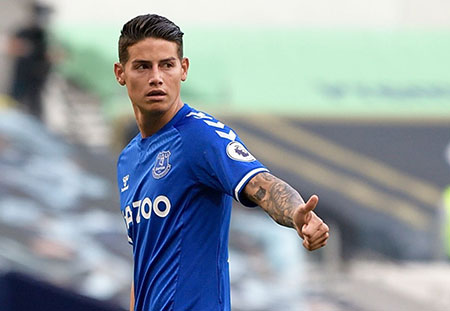 A little over a year since Duncan Ferguson led Everton to an adrenaline-fuelled victory over Chelsea, Carlo Ancelotti faces his old team as manager of the Blues at Goodison Park.
Circumstances may be different this time around and Everton's need for victory might not be as acute, but Ancelotti certainly needs a victory to restore confidence and faith that his team can indeed sustain a challenge for Europe this season.
They will have to do it without the most talented player in the form of James Rodriguez, though. The Colombian has been ruled out with a calf problem that prevented him from training this week and has also cost doubt on his participation in the midweek trip to Leicester city.
With Lucas Digne also sidelined as he recovers from ankle surgery, it means that Everton will be without their two main chance-creators in what is their most difficult assignment since the Merseyside Derby two months ago.
Rodriguez is one of five players ruled out with injury at the moment, with Seamus Coleman and Jean-Philippe Gbamin still working to regain full fitness at Finch Farm while Fabian Delph (hamstring) and Digne (ankle) are longer-term absentees.
James has been battling niggling injury complaints ever since the Merseyside derby in October and he will be a big loss to a side that has won just once in seven games since topping the table with a 4-2 win over Brighton.
Ancelotti explained that he will exclude Rodriguez from the visit of his former cub out of caution and hinted that he will probably miss the trip to Leicester on Wednesday as well.
"He had a little problem during the game against Burnley," Ancelotti explained in his pre-match press conference. "He was not able to train this week. I think he will start to train next week but for this game, we don't want to take a risk.
"I'm not used to complaining about the players that are not [available] for the match. The players that are available trained well and are in good condition . We understand it will be an important test in this period of December so we arrive at the game with confidence and motivation."
Coleman, meanwhile, could make his return to the side in midweek. Ancelotti said that the skipper had trained with the team this week and could be available for the Leicester game.
With all that to deal with, the manager hinted in his press conference that the absentees would force on his team a different way of playing but it is unclear what form that will take. Ancelotti has had to make a number of adjustments already this season, either due to injuries and suspensions or simply the need to tighten up a defence that has not kept a clean sheet in the League since the opening day victory at Tottenham.
The onus for providing the ammunition to Dominic Calvert-Lewin and Richarlison will probably fall on the shoulders of Alex Iwobi who has been playing at right-wing back of late. Ancelotti has a decision to make this week, however — his team performed much better at Burnley once they had reverted to a back four with Ben Godfrey filling in at left-back. Assuming Niels Nkounkou won't be given a look-in, it's a good bet that the manager will go for a four-man back line against Chelsea, perhaps with Jonjoe Kenny, Tom Davies or even Mason Holgate at right-back.
That would free Iwobi to push up into a right-wing role to provide the creativity and Ancelotti could then pack the rest of the midfield with André Gomes, Allan and Abdoulaye Doucouré.
With Everton on a poor run of form, blunted by the loss of their most productive outlets for opportunities and Chelsea now settled into a groove that has them firmly in the title race, it's hard to see the Toffees getting back to winning ways in this game.
Timo Werner's pace will pose a significant threat, Olivier Giroud is in fine scoring form while the likes of Kai Havertz, Mason Mount and Christian Pulisic will be a handful in attacking midfield. As such iIt is going to be a very difficult test but provides a great chance to surprise a few people.
2,000 fans will be in attendance, split between the Gwladys Street stand and the Top Balcony as the first supporters allowed to watch an Everton match live since March, and while they won't be able to give anything like the bear-pit atmosphere that helped tip this fixture in Everton's favour this time last year, they will hopefully be able to make enough noise to spur the boys on.
Kick-off: 8pm, Saturday 12 December, 2020
Referee: Jon Moss
VAR: Andre Marriner
Last Time: Everton 3 - 1 Chelsea
Predicted Line-up: Pickford, Davies, Keane, Holgate, Godfrey, Allan, Doucouré, Gomes, Iwobi, Richarlison, Calvert-Lewin
---
Reader Comments (120)
Note: the following content is not moderated or vetted by the site owners at the time of submission. Comments are the responsibility of the poster. Disclaimer
Jim Bennings
1
Posted 11/12/2020 at 19:08:49
Gets better doesn't it?
He hasn't looked right for weeks to be fair, let's just hope it's one game out because this injury crisis hasn't even come when the congested fixture list by the end of December arrives, how many more are going to drop?
Duncan McDine
2
Posted 11/12/2020 at 19:12:55
More trouble with the gonads perhaps?
Tony Abrahams
3
Posted 11/12/2020 at 19:18:22
He's been brought to attack but it's definitely not helping us defensively? Won't know until half seven tomorrow, but hopefully we can finally find a bit of defensive shape tomorrow night. Imagine a clean sheet against Chelsea!!
Dave Williams
4
Posted 11/12/2020 at 19:21:35
He has great skill but his fitness levels seem poor and he certainly isn't a team player with his disinclination to graft.
It could be we will be better off without him tomorrow provided Carlo doesn't replace him with Siggy as at least then we will have a team which will hopefully all work hard rather than play them with ten men when they have the ball. We will certainly miss his ability but must hope that DCL and Richi can get some goals.
John Pierce
5
Posted 11/12/2020 at 19:35:07
Oh Tony. If we sit deep against at Chelsea, we'll get murdered. Having said that if we try any other way we'll get murdered, but will might score.
We haven't put together a proper rear guard action since Moyes. This squad, well the best bits of it are built to attack. If we sit deep, we'll completely isolate DCL and neuter Richarlison, saddled with too much defensive work.
We are in a bad place, injury wise, so I'd hope he picks a 4-3-3 with players in their right positions and they play hard. However without a holding guy, whoever is charged with that role, will wander and expose us.
It's deffo going to be blue murder tomorrow, not even the sophisticated, nuanced booing of our crowd will stop Chelsea.
Brian Murray
6
Posted 11/12/2020 at 19:36:34
It will be ironic ( Everton ) that Carlo is forced to give Simms a go and he makes a name for himself. Right after a nearly performance in the league cup.
Minik Hansen
7
Posted 11/12/2020 at 19:39:02
Opportunity for others to impress, atleast in front of some of the fans. It's a good timing in that sense. Looking forward to watch the game on tv with 2000 supporters, it's gonna be special, that's for sure. Good luck to the fans that'll be in Goodison Park! COYB NSNO
Patrick McFarlane
8
Posted 11/12/2020 at 19:41:54
Apparently Everton are set for losses of circa £140m quite a lot of it put down to covid and its affect on gate receipts etc. Paul Joyce suggests that Farhad Moshiri will cover these losses with a share issue circa £250m. I don't know how long one person can continue to prop up our club, but if the manager and players don't begin to respond in kind and soon, we'll be in a catastrophic position. Come on guys your club needs you.
Paul Birmingham
9
Posted 11/12/2020 at 19:45:41
Down to the bare bones, but I'd like to think that this is an opportunity to play Anthony Gordon from the start.
But it will be interesting to see the starting line up and shape, and bearing Chelsea rested their first team this week, for the Champions League.
But it's 11v11, surely tomorrow the team will find some zip and desire to play for 95 minutes and have a bloody good go at Chelsea?
Dave Abrahams
10
Posted 11/12/2020 at 19:47:10
What's the full story with James, did we pay a fee for him, what sort of wages is he on? I think there were different stories, when we signed him, some made it looked like we had got a real bargain: no fee and relatively small wages, the other side of that was we did pay a fee and the wages were not that small, even looking at the best story he doesn't look like that much of a bargain to me, especially when Carlo hasn't found a way to utilise him without making the team more vulnerable when the opposition attack us.
Thomas Richards
11
Posted 11/12/2020 at 19:50:52
John #5
We have no choice but to sit deep.
The lack of pace in Keane and Mina gives us no other option.
That in turn accentuates the space in between the lines.
We are playing with three seperate units at the moment, defense midfield and attack have too much distance between the seperate lines.
This will not change until we get centre halfs woth pace.
Neil Lawson
12
Posted 11/12/2020 at 19:55:06
Tomorrow may tell us a lot, or simply reinforce the doubts and reservations we already have. James has to be replaced by someone who can make a positive impact. Bernard is the obvious choice, and he deserves his chance. Many of us would love to see Gordon start. My fear is that he will simply roll out the usual suspects in some new formation and we will all be left frustrated and bemused by just what he is trying to achieve. We need round pegs in round holes and a smidgen, at least, of bravery to play some of the youngsters. At least they will do their utmost for 90 minutes and have us all willing them to do well. Or, I could watch Strictly. Everyone dancing their hearts out.
James Head
13
Posted 11/12/2020 at 20:05:18
I can't believe that James has been getting flack from some people, he mightn't have the legs anymore but he certainly has the quality. He needs to play in the Number 10 position behind Calvert-Lewin with Richarlison playing inside more, nearer to Dom.
Also, IMHO, he should be told to stay up there and not be dropping deeper to get involved with any defensive duties. The combination of Pickford, Keane and Mina (the Three Stooges) are a fucken disaster at the back and need replacing ASAP. I'm sick of seeing Keane waving his fucking arms around and flapping every time he has the ball at his feet and Mina constantly fouling.
One bonus: at least the weekend won't be ruined by 2:30pm this week.
Steavey Buckley
14
Posted 11/12/2020 at 20:22:57
Everton should continue with 4 at the back after Delph went off injured against Burnley last week. A back four of Holgate, Mina, Keane and Godfre would stiffen the defence against a strong, attack-minded Chelsea.
It doesn't matter that Holgate and Godfrey are not good crossers of the ball, because there is only Digne who is, but he is out injured for the next couple of months.
Stuart Sharp
15
Posted 11/12/2020 at 20:45:52
It will be really interesting to see the line-up. And quite possibly disappointing, too. But, for those of you who wanted James to be dropped, it's a chance to see the alternative.
Personally, I'm gutted. I think he showed signs of his early season form again, perhaps because he wasn't bouncing from here to South America. Bit of a bummer for the lucky people who got tickets, too. Let's just hope Sigurdsson isn't the replacement.
Peter Mills
16
Posted 11/12/2020 at 20:53:19
I'm very disappointed James is injured, I was really looking forward to seeing him live.
If we can't manage to incorporate a player like him into our team, we may as well just all pack in here and now.
Paul Hewitt
17
Posted 11/12/2020 at 21:04:44
Rodriguez is a fantastic player. He would really shine at Liverpool, Man City or Chelsea. We just don't have the team at the moment to accommodate him.
Graeme Beresford
18
Posted 11/12/2020 at 21:28:13
I would be happy with a horrible horrible performance tomorrow, Newcastle style, then nick it one-nil and get everyone behind the ball. Ugly, but effective.
John Keating
19
Posted 11/12/2020 at 21:28:18
James missing this game may help us and Ancelotti getting a better balance. Playing open against them might become embarrassing.
I'd go 4-4-2:
Pickford
Holgate, Mina, Keane, Godfrey
Iwobi, Doucouré, Allan, Gordon
Calvert-Lewin, Richarlison

Patrick McFarlane
20
Posted 11/12/2020 at 21:32:21
I tend to side with Peter @16, If Everton isn't able to find a place in the team for a player like James we may as well sign workmanlike 'Moyesesque' players who will run all day but have no concept of producing the sublime passes or have the vision to create chances which, if Sigurdsson had have converted last week, would not only have won the points but would have had many of James's critics praising the Colombian.
If we're not yet ready to compete for the European places, at least we can appreciate the skills of a player such as James – even if he doesn't defend as much as other players – can't we?
Stuart Sharp
21
Posted 11/12/2020 at 21:34:33
I'd also go 4-4-2, though I am assuming Gordon won't start. Bernard maybe. I would play Nkounkou, but again – I can't see it happening.
Brian Wilkinson
22
Posted 11/12/2020 at 21:35:40
Brian @6,
Forget Simms, Carlo has already said a day or so ago, that Calvert-Lewin will have to be rotated in the coming weeks, with Carlo mentioning Tosun as the replacement.
Jim Bennings
23
Posted 11/12/2020 at 21:41:25
Speaking of Moyes, I am quite impressed with the way he's got West Ham performing this season, Jarrod Bowen looks a canny buy.
Joe McMahon
24
Posted 11/12/2020 at 21:47:29
Jim, Moyes inherited a better squad at West Ham, they were underperforming under Pellegrini.
West Ham don't have Sigurdsson, a better keeper, more than one striker and better defensive marking. Their midfield is also not pedestrian.
Jim Bennings
25
Posted 11/12/2020 at 21:51:14
I agree, Joe, but there's still more than enough international players at Everton Football Club to expect better.
Bill Gall
26
Posted 11/12/2020 at 22:23:52
Well, that's 3 missing from the starting 11 at the start of the season's good start. What's Ancelotti going to do? I wonder if he will go with Godfrey at right-back and Nknoukou at left-back, with Iwobi taking James's place?
Tom Bowers
27
Posted 11/12/2020 at 22:47:45
So Tosun will start scoring as frequently as Calvert-Lewin? Uh, uh... don't think so!!
Calvert-Lewin is only a young guy and should be able to take the pressure of these games. Sure, rest him for the Mickey Mouse Cup by all means... but he links well with Richarlison, so why change matters?
The problem of late is clearly the putrid midfield and now, with James injured, what can we expect tomorrow against Mount, Kante and company???
I am beginning to have my doubts about Carlo and his tactics.
Kieran Kinsella
28
Posted 11/12/2020 at 23:12:31
Lyndon, he's struggled with niggling injuries for about 5 years. That said, I don't see a silver lining here because our backups are proven failures.
And Dave, there aren't any bargains these days... save Coleman.
Mike Gaynes
29
Posted 11/12/2020 at 23:36:59
Jim #23, I get envious every time I see Bowen play. I lobbied for him and Benrahma as good acquisitions for us for the past two years, and seeing them both in Hammers jerseys today -- and looking quite good -- seriously honked me off.
Dave #10, I read in more than one place that we ultimately paid £12 million for James, certainly a bargain considering his price tag of £63 million six years ago. As to his salary, both Sportrac and Sportekz list him at £90,000/week, on a par with Richarlison and Digne but well behind Bernard, Mina and Gomes. Life just ain't fair sometimes.
Jim Harrison
31
Posted 12/12/2020 at 01:52:20
James was a bargain for sure. He has produced some moments of pure brilliance in his short time here.
As for his fitness, except for an injury caused by assault by Van Dijk, he has played most of the games in the league this season and has played in all his international matches too. I would say the reason he hasn't been as prominent of late is that he is still knackered from flying halfway across the world for Colombia.
Bit of a myth that he doesn't defend. He does, but he doesn't get back quickly and a couple of teams have exposed that space. When the team are in defensive positions, he mucks in. I think against Burnley he was second to Allan in attempted challenges.
We will miss him against Chelsea as he has the ability to do things that no other player we have can do, but his impact has been reduced with Digne out of the team, as arguably has Richarlison's.
Kieran Kinsella
32
Posted 12/12/2020 at 01:59:43
Mike Gaynes @31,
You were indeed a Bowen advocate long before I saw him play and you were right. I feel that's where we went astray. Moyes and his scouts were well attuned to lower-league talent: Cahill, Ramsey, Walker etc; some we got, some we didn't... but we knew them and tried.
I feel like Brands rolled in with his PSV wishlist and got starry-eyed signing Gomes and Co who snubbed Eredivisie. Meanwhile, we lost track of the domestic market
Andrew Dempsey
33
Posted 12/12/2020 at 02:10:51
We've signed another dud. He's played 85 games in 5 years, and isn't getting any younger. The warning signs were there.
Great, we'll have ya! Play well for the first four games, and that's job done, James.
We can all see he's World Class now, so we'll all just keeping harping on about his sublime skill for the rest of the season, as he does little to sod all.
Jim Harrison
34
Posted 12/12/2020 at 04:56:38
Andrew @34,
Is he a dud because of how he plays or because of his injury record with us?
Kunal Desai
35
Posted 12/12/2020 at 05:18:19
I fear Chelsea's movement in midfield and the final third, together with their pressing game, will be far too much for us to handle. I see one outcome, sadly, and that being a resounding victory for them.
As for James, we knew what we were getting in him when he signed up. Not a player who was going to play the majority of the season with his injury record.
If we had brought him in as cover and to be part of a squad which already has strength in depth then fine, but we don't have that depth and therefore it was always a big risk bringing in a player expecting to make the starting XI every game.

Nicholas Howard
36
Posted 12/12/2020 at 05:32:04
Now, many are not happy with:
(1) Carlo;
(2) James now categorized as a luxury;
(3) Doucouré being past-it, not in Watford shape;
(4) Mina no good, Keane slow, Godfrey inexperienced.
Literally, Richarlison's form dipped after suspension; so did many of our players.
If all the above are not good enough for Everton... who should we bring in? Can anyone suggest one reputable manager who would be willing to come to Everton?
Players-wise, who? Sigurdsson, Davies???? No need to mention the injuries we've got.
Cut everyone some slack please, frustrated or not – it is still our beloved Everton Football club... COYB
Andrew Dempsey
37
Posted 12/12/2020 at 06:11:53
How much more slack can we cut?? It's been 30 years of consistent rope loosening. The four points you've listed above is what makes us a mid-table club.
If I was in the ground I'd be getting behind the team, but on this forum it's moaning and venting time for me; each to his own. I'm all for the positive voices, it'd be pretty depressing if you weren't here to counteract doom-mongers like myself.
James is brilliant and I love him but, if he's only going to play 15 or so games a season, it's not going to be easy for him to make an impact and get some momentum going.
This season is already feeling depressingly familiar, and those voicing these concerns are not responsible for the form of the team, or for the positive people on here and their state of mind. It's frustrating. And if you can't express that on here, then where?
It's good to know there's still just about a majority of believers on here who think Professor Ancelotti is going to do the business for us. I hope you're all right.
Paul Birmingham
38
Posted 12/12/2020 at 06:40:25
Yep, it's gonna be a very tough evening ahead, and the mental approach of the Everton players is going to have to be spot on.
How often in the past have the players stayed tuned in for 95 minutes and how often have they sometimes failed to turn up?
A few weeks back, it was claimed by the media that Gbamin may be available, I wonder if this is true?
We need brains and brawn tonight and bottle from start to finish, there's no excuses for folding. Big concerns about our defence getting cut up and our midfield out-ran.
As the home team, it will be interesting to see the set-ups, shape and formation. Hopefully the midfield and defenders will close down and stop or reduce long-range pot-shots. If only our players would shoot more from outside the box.
Hope eternal, and let's see if Everton, can as they are capable of, pull off a good result.
Steve Brown
39
Posted 12/12/2020 at 07:11:34
My team tomorrow:
Olsen
Holgate Keane Mina Nkounkou
Davies Allan Gomes
Gordon Calvert-Lewin Richarlison
Carlo's team tomorrow:
Pickford
Holgate Keane Mina Godfrey
Doucoure Allan Gomes
Iwobi Calvert-Lewin Richarlison
Darren Hind
40
Posted 12/12/2020 at 07:19:38
I wish some people would stop talking about Chelsea as if they were world beaters. They have 3 or 4 very good players who can hurt you but, fuck me, they are vulnerable themselves.
This is Everton all over these days. The excuses are all lined up before a ball is kicked.
This crew couldn't hold a candle to some of the Chelsea teams in the past. Why are so many people planning on watching it from behind the couch?
If Carlo can inspire the passion we witnessed against this grubby little club 12 months ago, he gets the same result. We're Everton, for fuck's sake, and we are at home.
Yeah we'll be missing the X-factor today, but we will also be missing the zero-factor too. Maybe, just maybe he will be replaced by skill, hard work... and passion
I've just seen we are 7/2. My tip for today is to log on to your betting accounts or get yourself down to the bookies. Lump on and quit with the excuses.
Tony Abrahams
41
Posted 12/12/2020 at 08:24:44
Good bet Darren, but I think the real missing X-factor, has got nothing to do with any player, because it was the passion from the terraces which helped inspire last season's victory, but I reckon two thousand socially distanced toffees, can still make plenty of noise!
Everton are 7-2 at Goodison? Hopefully Christmas is coming early for plenty of Evertonians tonight🤞
Eddie Dunn
42
Posted 12/12/2020 at 08:34:49
I'm with Darren - too many on here are believing the hype from the London media and the bookies.
This Chelsea side have looked vunerable on n occasions this season and we do have DCL and Richarlison to hurt them.
We just have to be at it from the off.
Brian Murray
43
Posted 12/12/2020 at 08:38:01
The moaning on here mostly seems to be constructive. We all as Blues just want the same end result, which is to play to our maximum with players who know their jobs and a manager who isn't afraid to drop the safe players he trusts for better younger players. If we do that and are still not good enough, then and only then should we talk about the next window to rectify it.
I can't help thinking the solutions are maybe already at the club. Be brave, Carlo.
Tony Twist
44
Posted 12/12/2020 at 08:38:10
As with an awful lot of Everton matches, it doesn't matter about the opposition, we can lose to the best just as easily as we can lose to the worst. It is up to Ancelotti to set up his team to be solid above all things and get them on set pieces. To achieve this I would play Olsen in goal and a back 4 of Holgate, Keane, Mina and Nkounkou. In midfield it would be Doucoure, Godfrey and Allan and up front Iwobi, DCL and Richarlison. I would have Gomes, Gordon, Sims, Davies, Branthwaite and Bernard on the bench, no Siggy! We can beat anyone on our day but first we need a balanced team. Ancelotti needs to stop tinkering and putting players out of position. It wont be pretty but we don't want it pretty that plays into their hands. Best of luck blues, remember these are a good side but you are more than equal to them, just believe it.
David Hayes
45
Posted 12/12/2020 at 08:40:14
We all saw Fulham,( 2nd half),and Burnley then Man Utd completley over run our slow and turgid mid field at will. We all saw fitness levels evaporate after an hour. We are the only team in the prem that is unfit and can't play for more than an hour.. Why?. This is the fundamental problem. " Good condition" Carlo says does he know what that means?. It's not about positive attitudes and fight, when the team starts with a massive disadvantage of not being fit and organised to play to it's strengths for 90 mins. There is no drilled established pattern, no movement to create space, no method of ours that is an effective weapon which opposition teams have to fear and try and stop, except set pieces which we don't play to force on them. They are free to attack and take the game to us at will. Our only method is get the ball to one of our few quality players up front and hope they can find an end product. When all our few quality players are playing and on it we have a good chance to out score the opposition. This is rarely achievable and the alternative plans don't exist This squad has not been drilled and trained to form an organised unit where each
individual knows his primary function and it's part in the units effective operation and cohesion. These are basic football precepts and with the squad we have we should be massively stronger and dominant than where we are now. Instead we get endless tactical tweeks which balantanly don't work and fitness and organisation remains a massive disadvantage. We all want attractive class football, with style and fight, this won't ever happen till the basic precepts are firmly entrenched in our preparation and training. Its going to be a frustrating, and mainly painful season, which throwing money at it wont fix.
Steve Shave
46
Posted 12/12/2020 at 08:48:15
Not making excuses for Carlo here but blimey we've had a bad run of injuries! No Digne, Coleman and James would hurt any team. I'm with above calls for 442 today, Holgate and Godfrey as full backs (although personally would love Nkounkou to be given a run - I still think that boy is a bit of a secret weapon). We must sign an RB and an RM this window, essential in my view. I am not holding my breath but it would be interesting to see if Gbamin can inject some metal and competition into our midfield. When James is back I would like us to try 4411 with him just behind DCL and Richy on the left, he works so hard and can really hurt teams coming inside. I am staggered by any suggestions for Olsen over Pickford - despite the beasting he has received from his own fans for 2 seasons (not undeserved at times of course!) he has actually found some form the last 2-3 games, as much as I would be happy for us to sell him and recoup our outlay, we need to be building his confidence up and get him back to his best (or somewhere near his England form), dropping him after his 2 best displays for 2 seasons would be lunacy!
Tony Everan
47
Posted 12/12/2020 at 09:01:36
4-3-3
Kenny Keane Godfrey Nkounkou
Doucore Gomes Allan
Iwobi DCL Richarlison
Kevin Prytherch
48
Posted 12/12/2020 at 09:02:18
If I know Carlo...
5-2-3
Iwobi left back
Bernard right back
Holgate, Keane and Doucoure centre back
Allan and Sigurdsson in midfield
DCL, Richarlison and Tosun up front
Easy
John Keating
49
Posted 12/12/2020 at 09:17:50
Steve I think comments on Pickford are in the main fair
Of course some are over the top but in many cases doubts about some of his actions today are the same that were mentioned the day he signed.

Peter Mills
50
Posted 12/12/2020 at 09:31:41
In what is now almost 60 years of going to Goodison I suppose I've seen about 1,000 matches there. Only once have I left the ground before the final whistle, which coincided with my one visit to the Top Balcony.
After a particularly dire performance in the 70s, I and a couple of accomplices left the sanctuary of the Gwladys Street terrace with 10 minutes to go, made our way in past those leaving the Main Stand, and pushed on for the summit assault to the top deck.
Once there, we joined some other disgruntled patrons in hurling cushions onto the pitch. My ire was aimed particularly at Tiger McLaughlin's head, shining in the floodlights, but my aim was poor and my calculation of the aero-dynamics of a foam-filled cushion was flawed. The missiles drifted down through the illuminated rain to drop harmlessly onto the emerald turf. Several of them were back-heeled over the touch line, with some nonchalance and disdain, by John Connolly.
It will be a nostalgic trip there tonight.
Dave Abrahams
51
Posted 12/12/2020 at 09:36:27
Brian (44) and David (46), very good constructive posts,and plenty of truth, is there anyone at GoodisonPark and Finch Farm who will act on them, starting today.
We beat Chelsea at Goodison last season, doubt if Chelsea will miss so many chances this year, especially with this leaking defence and too many sixty minute players, and that is an exaggeration with some of them.
Thomas Richards
52
Posted 12/12/2020 at 09:44:43
If we start with Keane and or Mina, we are in trouble straight away. Both their respective lack of pace, and awareness of runs being made off them, will see plenty of chances for Chelsea.
Also, the lack of pace will see us line up on the edge of our own box. That in turn widens the gaps between the lines, allowing simple runs to cut us wide open. In effect, we end up playing in three separate units.
Neil Lawson
53
Posted 12/12/2020 at 10:09:27
There is a tone of gloom and pessimism to Lyndon's article. Who would blame him ? 12 months ago Dunc got us up and at them. In their faces. Playing and tackling as if their lives depended upon it. Hardly likely this evening. An abundance of caution and negativity awaits.
Why do we have to be so frightened of the opposition?. Play to win and not to avoid losing.
Despondent of Devon.

Steve Ferns
55
Posted 12/12/2020 at 10:18:23
I wish Carlo would take a chance on Niels Nkounkou. I'd even be happy to see a horrible and ineffective back 5 just to get him on the pitch. Something like:
Pickford
Godfrey Keane Holgate
Iwobi Doucoure Allan Gomes Nkounkou
Calvert-Lewin Richarlison
Also, I'd love to see Carlo have Gordon ready to come on to add some pace for the last quarter.
God I'm sick of his recent selections and the turgid performances.
Dave Abrahams
56
Posted 12/12/2020 at 10:27:15
The team Carlo picks and the formation he uses will tell us a lot about him tonight, he said using a back three didn't work v Leeds, then he started with it v Burnley, we looked a bit better when he had to go to a back four early in the Burnley game.
We are missing James today, we missed him for long periods in the last three games when he was on the field, some fans say he does his bit defending gets stuck in, and attempts some tackles, that's what I'm complaining about: his attempted tackles, pathetic, when he's good he's very very good, when he's poor, which is often, he is very, very poor and we can all see it, but most shrug it off and say " his good points are worth waiting for" not for me, too often he is putting his own team under needless pressure, and this weak squad can't afford a luxury player, which he is until Carlo sorts him out, he also knew what sort of player he was buying.
Raymond Fox
57
Posted 12/12/2020 at 10:43:59
I cant see a positive outcome in this game, especially with 2 or 3 of our most influential players out.
Sorry to say we are still a mid table team.
Craig Walker
58
Posted 12/12/2020 at 10:54:45
I don't welcome James being unavailable. He's one of our best players, in my opinion. We don't have any creativity without him. I'd prefer Gordon to be given a chance rather than Iwobi.
11 years ago today we got a 3-3 away at Chelsea and Carlo was in their dugout. I only know this as it was the day we got married. I'd take 3-3 tonight.
Laurie Hartley
59
Posted 12/12/2020 at 10:59:43
Tony # 48 - I like your line up. My only concern would be is Keane capable of organising that back four.
Eddie Dunn
60
Posted 12/12/2020 at 11:23:22
One thing that reflects the pessimism here is just who will wear the captain's armband. The team seem aimless. Perhaps Allan will take it.
Not only will we see if Carlo wants to make the same mistakes once again but we will also see if any of the kids get on the bench(I've given up hope of seeing one start!).
I would go for a back four, Godfrey, Keane, Holgate and Nkounkou.
A midfield of Allan, Doucoure, Davies and Gomes.
with DCL and Richarlison up top.
Gordon, Mina, Bernard, Siggy, etc on the bench
Clive Rogers
61
Posted 12/12/2020 at 11:26:20
Let's hope the "different way of playing" includes passing the ball to team mates and running around more. I think we need Holgate in for Mina against Chelsea's attack. Godfrey has to continue at LB. RB is a big problem with no obvious candidate. Hope Iwobi has been practising his crossing all week as it really let him down last week.
Steve Shave
62
Posted 12/12/2020 at 11:35:37
Yes Steve Ferns, I'd put up with that too just to get the boy on the pitch.
Dale Rose
63
Posted 12/12/2020 at 11:50:45
Can anyone tell me what has happened with Gordon. Always considered him a fantastic prospect. ?.
Colin Metcalfe
65
Posted 12/12/2020 at 12:01:09
Our early good form and the spirit of the blues now seems a distant memory, we have the first of a difficult run of games against a Chelsea side brimming with confidence having splashed out £250 on new players in the summer to add to their star studded line so it's a game we can't win unfortunately.
I think Carlo has to concentrate on getting us to 40pts and picking up a few points against the weaker teams for the rest of the season. 0-4 to Chelsea
David Pearl
66
Posted 12/12/2020 at 12:37:18
I'm expecting a 4141. Holgate right and Godfrey left. Allan sitting behind Gomes and Dacoure with lwobi and Richarlison wide.
Gomes needs to start showing up now but second half l'd give Bernard a run out (although it will probably be Davies).
We also need to feed Dom... and It would be nice to see Nkounkou on the bench, he has a left foot you know!
David Pearl
67
Posted 12/12/2020 at 12:45:48
Behave Colin l bet you don't even believe in Father Christmas
Clive Rogers
68
Posted 12/12/2020 at 13:00:17
Dale, 63, yes, Carlo considers that he is not ready yet. The same with Nkounkou.
John Pierce
69
Posted 12/12/2020 at 13:01:09
Steve 55. If go the way you have. It's balanced and has protection. My only concern is Everton have to play high to give that side a chance.
Essentially it's an attacking side with wing backs. I'd argue 5/6 of those players are attacking pieces. I'd advocate the same. However if we don't play high and retreat deep it will become a back 5 and the wingbacks hindrances.
Keane has to attack the centre forward and bully him and know the other two can easily cover him. One of those centre backs has to step into the midfield space to create a base for that midfield.
Everton have squeeze up and put pressure on the supply if it's to work. 🤞🏼🤞🏼🤞🏼
Anthony Jones
70
Posted 12/12/2020 at 13:01:10
Gonna get battered. There's your match preview.
Derek Knox
71
Posted 12/12/2020 at 13:02:53
I notice from reading the comments there is a lot less optimism before this match, and that is understandable, considering the performances of late.
Of course this hasn't been helped in my opinion by the team selections from what was available, and the substitutions even more bewildering. All conjecture really because we will never know if different personnel would have yielded different results.
I feel fairly confident that we will get at least a point from this game, Chelsea are good, don't get me wrong, but they are also capable of making a few mistakes, which we must exploit if that does happen.
It will be interesting too, to know if the 2000 fans who have been balloted for attendance will make a difference. I only know of Peter Mills from TW to have been selected, but it will be nice to hear comments from anyone else lucky enough to be there later on.
COYB
Clive Rogers
72
Posted 12/12/2020 at 13:03:28
What are the chances of a goal from one of the midfielders today? About a million to one?
Clive Rogers
73
Posted 12/12/2020 at 13:06:30
Anthony, 70, wish I could disagree with you. Lampard's pre-match instructions: "Mark Calvert-Lewin closely in the 6-yard box."
Joe McMahon
74
Posted 12/12/2020 at 13:14:47
Unfortunately. I can't see anything other that Chelsea win. Lampard was able to make loads of changes for the Champions League match the other day, and they have pace and quality in abundance.
I long for the day when the words 'pace, quality, abundance and Champions League' are said about Everton.
Alan McGuffog
75
Posted 12/12/2020 at 13:23:06
Will lose. Simple as. Key issue is, other than the supporters, will anyone connected to the club care ?
Anthony Jones
76
Posted 12/12/2020 at 13:27:59
Starting 11:
Pickford's frown, a centre back at left back, a midfielder at right back, a slow giant at centre back, Doucoure's rubbish twin at centre mid, Iwobi all over the place, Sigurdsson's hair never out of place hovering around the middle, the Ghost of Anthony Gordon on the wing, a sulking Brazilian waving his arms up front. And a couple of others.
Dave Abrahams
78
Posted 12/12/2020 at 13:43:40
I've posted my pessimistic messages early on, enough of that for now, I mainly hope that Peter Mills and the other1999 fans there this evening enjoy a rare visit to Goodison Park, these days and come away with big smiles on there faces after seeing a good win for the Blues, wouldn't that be nice and a good kick up the arse for pessimists like me,and a good few Bob for Darren Hind!!
Tom Bowers
79
Posted 12/12/2020 at 14:20:03
Chelski are firm favourites of course. They have a lot more talent in midfield.
Everton's form has been awful and the injuries don't help.
Carlo has not changed the tactics and now is talking about resting his top striker.
I fear apathy is setting in to give us all a forgettable Christmas unless there is another Christmas miracle in the next few weeks.
Don Wright
80
Posted 12/12/2020 at 14:43:06
We are now down to tenth still its top half of the table unless the barcodes put 6 past west brom then its the bottom half of course a win over chelski well ?
Mike Powell
81
Posted 12/12/2020 at 14:56:14
Don't fancy our chances, but here's hoping. Right back is a real problem we need to get it sorted in Jan. Only good thing is no Delph, he just slows play down and passes backwards. I would go 442 but as I said right back is a problem
Mike Gaynes
82
Posted 12/12/2020 at 15:02:24
Dave, AMEN.
In fact Pete has a double today... he's attending the Marine game first and then on to Goodison. Hope he has a double glorious day.
Jerome Shields
83
Posted 12/12/2020 at 15:02:34
I hope Carlo rests his top striker during the cup matches. It will be interesting to see how Tosun playing in a team where Rodriguez can actually provide a good attacking pass. Something that Tosun would not be use to in his Everton Career so far.
Hopefully he has watched Paolo Rossi videos on how to get in position 10 secs before the defender, enough for Rossi to be confident that he would score. Rossi was also a good holding attacker as well, with instinctive runs into the box to get on the end of one twos as well.
I actually thought that Rossi was the best of the whole lot.
Mike Gaynes
84
Posted 12/12/2020 at 15:07:42
Jerome, Rossi was effervescent, so much fun to watch. And he never seemed to miss a chance.
Dave Abrahams
85
Posted 12/12/2020 at 15:09:51
Mike (82), yes it would be lovely for Peter to see those two wins, a true football fan and a gent to match. I hope he is lucky enough to get a ticket for the Marine v Spurs game as well.
Sean O´Hanlon
86
Posted 12/12/2020 at 15:16:59
Lyndon, a very sad reminder of when Dunc was in charge. There is no way we will emulate that victory of last year - with our so-called "super manager".
Looking at West Ham's victory at Leeds last night - it really puts into perspective our terrible performance losing at home to the Yorkshire club.
We're going nowhere with this manager - get shut - and he can take Pickford with him.
Prediction: Everton 0 Chelsea 3
Ashley Roberts
88
Posted 12/12/2020 at 15:29:53
Carlo has to match the pace that Lampard has at his disposal and so for me the back four should be Godfrey on the right and Nkounkou on the left. I would then play Holgate and Mina in the middle. Keane just does not have the pace for this one and I would include Mina to keep Gironde under wraps that is if he starts. Our problem is in midfield and so with our lack of pace I would go with a 4-4-2 and use Allen as the holding player which would allow Doucoure and Iwobi to roam forward. I would also play Gomes to make up the quartet. The front two pick themselves as we have nobody else that comes anywhere near first team quality. Tosun is so slow he will make Silva look like a greyhound. Please Carlo give Gordon a shot from the bench. I am not sure what he does not like about him but at least he has speed which can unnerve any team. The problem we have is that if the team above is not able to compete we have absolutely nothing on the bench to change it up. Walcott and Keane would make all the difference here as they als have some pace. Instead we have Sigurdsson and Tosun, the likes of both will be as much use as tits on a bull in this game.
Tom Harvey
89
Posted 12/12/2020 at 15:37:40
There might be a positive in James not playing, the team pyschology seems to be focused on him as a talisman, I'm curious to see if they can overcome his absence and get up for this.
If they do, we could get a result.
Joe McMahon
90
Posted 12/12/2020 at 15:40:00
Ashley@88, Todlsun is so slow he makes Michael Keane look like Bolt. It's a horrendous joke that we have to wheel out a crock of shite like Tosun. What a shambles the squad is.
Christy Ring
91
Posted 12/12/2020 at 16:01:46
Carlo has to pick a back four tonight, Iwobi would be destroyed as a wing back, and it didn't work in our previous 2 games. I'm fearful of Chelsea's pace, if he doesn't play Holgate at centreback, would he not be an option in midfield, behind Allan and Docoure?
Brian Wilkinson
92
Posted 12/12/2020 at 16:02:05
Interesting stats for last seasons 3-1 win, we had 30% possession to Chelsea's 70%, and that was with Siggy and Schnids in midfield.
You just never know.
Sam Hoare
93
Posted 12/12/2020 at 16:13:34
If we get played through easily by the likes of Southampton, Fulham, Burnley and Newcastle it doesn't bode too well for Chelsea who have some talents I'm very jealous of.
It's been a while since we've produced an organised display and that the defense has looked calm and solid. But maybe something is due.
It's got to be an energetic team with pace to transition quickly and hit them on the counter. So I'll go with
Pickford
Holgate Godfrey Keane Nkoukou
Doucore Davies Allan
Gordon DCL Richarlison
No chance in hell Carlo plays that team but there you go.
Alan J Thompson
94
Posted 12/12/2020 at 16:21:01
I just get a feeling that whoever we put out that Chelsea will try to batter us out wide on both wings.
I just don't see them playing for the draw.
Jamie Evans
95
Posted 12/12/2020 at 16:22:03
That team sam post 93 has selected is probs what id go for from those available. Quite like the look of it
Paul Birmingham
96
Posted 12/12/2020 at 16:28:22
Sam@93, that looks a decent team with balance. For me it's key that he start
Gordon and Nkounkou, so at least we have out let's and can go with Chelsea toe to toe, when the opportunities arise.
Let's see the ghost of Chrimbo past - last year, and Everton, get stuck in and upset the odds.
It can be done.

Geoff Lambert
97
Posted 12/12/2020 at 16:36:19
Think we need a fast energetic back four.
Davies Holgate Godfrey Nkoukou
Brian Harrison
98
Posted 12/12/2020 at 16:43:25
I hope our 2,000 fans have plenty to shout about tonight, and lets hope they are singing at the end of the game. I would hope that we go back to a 4-3-3 formation, with both first choice full backs missing I think we will have Holgate on the right and Godfrey on the left. Probably Doucoure, Gomes and Allan in midfield and Iwobi, DCL and Richarlison up front.
I would like our front 3 to play narrow like Liverpools front 3 play, that allows some interplay between the front 3. This also allows sapace for the fullbacks to overlap when the chance arises. We must deny Chelsea possession in midfield and also get our midfielders into attacking positions to help the front 3. Most pundits will have this down as a banker away win for Chelsea given our recent form, but I believe this game will be won or lost in midfield and on our day our midfield are more than a match for Chelsea's midfield.
John Kavanagh
99
Posted 12/12/2020 at 16:44:31
My biggest concern is at what point Carlo decides to turn embarrassment into abject humiliation by bringing Sigurdsson on. If Sigurdsson starts I won't even bother watching and will just stay on the Live Forum for the disaster alerts.
Christy Ring
100
Posted 12/12/2020 at 16:44:59
Sam#93 I'd be quite happy with that formation tonight but Carlo sees things differently.
Brian Wilkinson
101
Posted 12/12/2020 at 17:00:58
Hard to believe, our midfield last season when we beat Chelsea 3-1 was Siggy, Schnids, Walcott and Iwobi.
On paper, we have a stronger midfield for this game, the worrying part is our defence, if we do not start with recognised left and right backs, which I have a feeling we will not, then Chelsea will attack us on the flanks.
The starting 11 selection, will give some idea, how the game is going to pan out.
I have a feeling Nkounkou and Kenny, and possibly Gordon, will be held back for the midweek game.
I am more hopeful of our game in the cup against utd, where I expect, the players we have been calling for, will start in that game.
Kevin Molloy
102
Posted 12/12/2020 at 17:02:00
this is the sort of game where a packed house could have made the difference, as it is I fear for our lethargic heroes.
Clive Rogers
103
Posted 12/12/2020 at 17:06:08
Brian, 101, it's beginning to look like those three might be held back till next season. Although Kenny may well be gone in the summer.
Justin Doone
104
Posted 12/12/2020 at 17:12:22
We can't lose the midfield battle so I can't see it being only 3.
Davies is neither fast nor a full back so should not be played as such.
Godfrey has good pace so presumably he starts at full back.
Davies and or Holgate to support Allan in midfield. Sadly I thunk that means both Mina and Keane playing centre back but I hope not.
Ric due a goal
Andrew Ellams
105
Posted 12/12/2020 at 17:30:56
Not bringing in a right back to replace Coleman and better coverage for Digne in the summer was criminal ans if they make the same mistake again in January the second half of the season is going to be long and painful.
Eddie Dunn
106
Posted 12/12/2020 at 17:36:10
I can't recall a more gloomy set of predictions. Come on ToffeeWebbers, I know it's been a shit year but it's eleven men versus eleven men. We are at home with 2000 of our fans behind us. We certainly won't be complacent and if we even draw, we can claim some credit.
Time for Carlo to spin his web of confusion and snare the fly.
2-1 Everton.
Peter Mills
107
Posted 12/12/2020 at 17:40:28
17.30 hrs, just back home from another Marine victory, a 1-0 win against Hyde Utd setting up a derby v Southport in the next round of the FA Trophy on Tuesday. A lively game with 3 sendings off.
Just having a bit of dinner, thawing out, now heading off for Goodison. Wrap up, it's cold out there.
Come on Blues, make it a double.
Barry McNally
108
Posted 12/12/2020 at 17:44:17
Fair play Peter, hope you'll be celebrating on the double tonight.
Mark Murphy
109
Posted 12/12/2020 at 17:53:29
Enjoy the game Peter!
Hope they give you plenty to cheer about!
UTFT!!
Tom Bowers
110
Posted 12/12/2020 at 17:57:37
Carlo will live or die by his decisions.
Other managers will have done their homework on Everton's performances since the RS game and know where the weaknesses are.
I hate to say it but the early season momentum has long gone and just getting a point today will be very welcome.

Brian Wilkinson
111
Posted 12/12/2020 at 18:01:33
Justin@104, I was thinking the same myself about Richy due a goal.
Something in the back of my head keeps pecking away at a header from a corner and Kean at 33/1 keeps popping up.
Jonathan Tasker
112
Posted 12/12/2020 at 18:07:07
A fool and his money are soon parted. That fool is Moshiri.
Kenwright continues to stink the place out. Ancelotti will pick another ridiculous team tonight.
David McMullen
113
Posted 12/12/2020 at 18:07:21
Really hope we turn up good and proper tonight. We're dropping down the table fast as others catch us. We really need a big game mentality big character. Start of some key games
Jamie Evans
115
Posted 12/12/2020 at 18:25:28
Our poor form coincides with Richarlisons suspension and poor form since returning, although he did will with the assist last week. If he plays well Everton will play well and have a chance
Mike Gaynes
116
Posted 12/12/2020 at 18:26:51
Splendid, Pete, delighted Marine rolls on. Keep your winning streak going tonight at Goodison!
Brian Williams
117
Posted 12/12/2020 at 18:32:38
Fucks sake Johnathan have you got anything good to say about the club?
Brian Wilkinson
118
Posted 12/12/2020 at 18:33:35
Once the team news is announced, we may be in for a surprise, or ToffeeWeb going into meltdown.
I am not expecting anything to shock me in team selection, usual suspects starting and Usual suspects coming off the bench, for once shock me, please shock me.
David Pearl
119
Posted 12/12/2020 at 18:44:13
Geoff Lambert, 97
Stay off the babysham
Peter Mills
120
Posted 12/12/2020 at 18:50:14
Some years ago I visited Strangeways prison. Getting into Goodison tonight was a similar procedure, but everything has been good humoured so far.
Robert Williams
122
Posted 12/12/2020 at 18:53:28
JK 99. What Live Forum???
Derek Taylor
123
Posted 12/12/2020 at 18:54:56
I read once that Moshiri had taken to 'discounting ' points against the 'big' teams so was not overly disappointed if we lost.
If this really is the message to Carlo, then he has nothing to fear by giving a couple of kids a run out !
,
,

Jonathan Tasker
124
Posted 12/12/2020 at 18:58:12
Brian, Ray
I'm not a Kopite. Is that your default insult to anyone who dares criticise the set up?
But I have nothing positive to say about the current regime.
Derek Knox
125
Posted 12/12/2020 at 19:00:26
Peter @ 120, Glad you clarified that you were only visiting Strangeways. :-)
It's supposed to be harder to get out than in! Hmm.
Kieran Kinsella
126
Posted 12/12/2020 at 19:06:52
Peter 120
Surely it wasn't that bad? Or were you visiting Strangeways for reasons other than as a guest at her majesty's pleasure?
Jonathan Tasker
128
Posted 12/12/2020 at 19:12:27
James Gardner,
Yes, and I still standby that. Sheffield United have had a shocking season but Wilder has been sensational before then. A lot of the issues have been due to Aaron Ramsdale being a disastrous replacement for Dean Henderson.
Keep an eye on Steve Cooper at Swansea. Doing a brilliant job.
---
Add Your Comments
In order to post a comment, you need to be logged in as a registered user of the site.
Or Sign up as a ToffeeWeb Member — it's free, takes just a few minutes and will allow you to post your comments on articles and Talking Points submissions across the site.