Everton vs Burnley
Friday, 12 March, 2021
Match Preview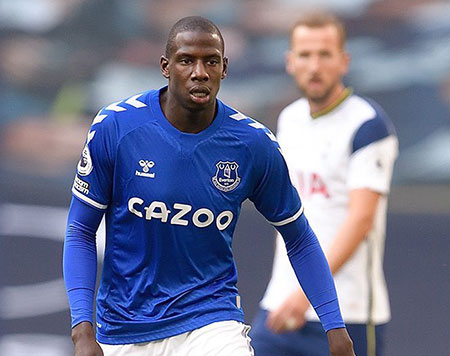 Abdoulaye Doucouré is expected to miss eight to 10 weeks with a foot fracture
Everton hope to bounce back from the disappointment of their defeat to Chelsea on Monday when they face Burnley at Goodison Park this weekend.
The fixture is a repeat of Carlo Ancelotti's first match in charge of the Toffees in December 2019 when a Dominic Calvert-Lewin goal edged it and handed the Italian his first victory as manager of the club. A similar result this time would keep Everton on the coat tails of the teams currently occupying the Champions League spots with 10 games to go.
It could see the return to the side of Yerry Mina and Seamus Coleman while Robin Olsen will also be assessed for availability after overcoming the injury that has sidelined him recently. Gylfi Sigurdsson will also undergo a fitness test after missing training this week with an ankle problem.
However, Abdoulaye Doucouré will be missing again after it was determined that he suffered a stress fracture in his foot and is expected to be out for eight to 10 weeks. And James Rodriguez will again be absent, most likely until after the international break, as he continues to struggle with his troublesome calf.
"James played really well against Man United but he was not 100% fit," Ancelotti explained in his press conference. We decided to give him a proper recovery and [not] let him play at 70 or 80%. We have taken this decision together. The player agrees."
With injuries to key players mounting up, Everton face a challenge to maintain their charge for a place in the top four but Ancelotti will feel that against relatively favourable opposition over the next three games in Burnley, Crystal Palace and Brighton that even an under-strength side can get the job done, at least in terms of the League. (The FA Cup quarter-final against Manchester City will be another story.)
Against Burnley, however, the Blues will come up against the type of opposition they have struggled to break down in recent seasons. Sean Dyche's side is disciplined and hard to dismantle but they have also shown themselves to be susceptible under pressure, to which their recent 4-0 hammering at Tottenham attested.
Tom Davies is expected to return alongside Allan and with Mina back, it's possible that Lucas Digne could be deployed on the left flank or as a wing-back opposite Coleman.
Burnley, who come into the weekend in 15th but on a run of just one defeat in their last six in the Premier League, will be missing Charlie Taylor, Jack Cork and Ashley Barnes but could have Robbie Brady (Achilles) available.
An early goal for Everton and a determination not to sit back but to retain intensity could be the key to bruising any confidence in the Clarets' ranks but, particularly if Sigurdsson is missing, it has the feel of a very tight game with both sides struggling to find penetration and guile in the final third.
Kick-off: 5:30pm, Saturday 13 March 2021 on Sky Sports
Referee: Jon Moss
VAR: Martin Atkinson
Last Time: Everton 1 - 0 Burnley
Predicted Line-up: Pickford, Coleman, Mina, Keane, Godfrey, Digne, Davies, Allan, Gomes, Richarlison, Calvert-Lewin
---
Reader Comments (90)
Note: the following content is not moderated or vetted by the site owners at the time of submission. Comments are the responsibility of the poster. Disclaimer
Nicolas Piñon
1
Posted 12/03/2021 at 16:35:30
Pickford; holgate, keane, Godfrey, digne; Coleman, Allan, Davies, Gomes; Richarlison and CL.
Ifs siggys fit him for Gomes.
COYB!!
Peter Dodds
2
Posted 12/03/2021 at 16:48:28
Agree with that side Nicholas. Iwobi / Bernard / King / ( Gomes or Siggy) on the bench.
Tony Abrahams
3
Posted 12/03/2021 at 16:58:15
Not one for stats, but that doesn't mean some of them are not worth looking at though. Doucoure has ran 35km, more than any other Everton player is one, although I'm aware he's played more games than most, and secondly he's done more sprints than any other player in the league.
So we are going to miss Doucoure's workmate, I wonder if Ancellotti will play Holgate, alongside Allen and Davies, in midfield? Or Maybe he will play Iwobi ahead of Allen or Davies? Or maybe he will play King, or Bernard from the start?
This is a very big game tomorrow, so I'm hoping Carlo might just be a bit more adventurous with his starting eleven.
Alex Kociuba
4
Posted 12/03/2021 at 16:59:39
I have a funny feeling King might start this one as well as Bernard.
Andrew Clare
5
Posted 12/03/2021 at 17:16:14
An early goal is vital in this game. Burnley are well organised and difficult to breakdown. It would be good to see us play a more adventurous game like we did in the opening matches of the season.
Whatever we do we must take the game to Burnley and not sit back.
Bill Gall
6
Posted 12/03/2021 at 17:16:38
depending on fitness
Pickford. Coleman, Keane, Godfrey, Digne, Davies, Allan. Siggy, King, DCL, Richarleson. Siggy and Coleman not fit.
Pickford, Holgate, Keane, Godfrey, Nkounkou, Davies. Allan, Digne, King, DCL, Richarleson.
Jim Bennings
7
Posted 12/03/2021 at 17:27:02
Really really tough looking match especially with key payer's obviously still missing for us.
I look around the team and again we always seem to be in that familiar situation of where do the goals come from if DCL or Richarlison don't score.
Personally I'd give King the nod on right midfield tomorrow and maybe start Bernard in front of Davies and Allan.
We need to start showing more attacking intent in home games, I believe we've only scored two goals at home since December so that's got to improve if we want top six.
Apart from that 5-1 hammering we gave Burnley under Marco Silva, more often than not it's always a really close hard fought game and I expect a similar pattern tomorrow evening.
Fran Mitchell
8
Posted 12/03/2021 at 17:29:08
I'd actually like to see Iwobi play in central midfield if Coleman is fit.
He made that hint, and given Siggy doesn't work as a midfielder and Gomes has been poor, think Iwobi could add energy in the middle, with Allan ball winning and Davies sitting.
And I do think it is time to give King a start. So 4-3-3.
Terry Farrell
9
Posted 12/03/2021 at 17:33:57
This is a must-win game. They will disrupt it and look for set-pieces. They have been a difficult team of spoilers over the years and they are good at it!
Bad news about Doucouré and James's minor problem is dragging on.
Nicolas Piñon
10
Posted 12/03/2021 at 17:44:43
If coleman doesn't start I'd put iwobi and not king cause I believe he hasn't done enough merit enough.
I believe
Pickford; holgate keane Godfrey digne; Coleman/iwobi Allan Davies Siggy/Gomes; Richy and CL are the players with the best mindset looking forward to this match given what we've got.
But Carlo is a surprise box, so...
Christopher Timmins
11
Posted 12/03/2021 at 17:46:53
I say keep the starting 11 as close to the Anfield one as fitness allows, playing Coleman and Digne in more advanced roles:
Pickford
Coleman
Holgate
Keane
Godfrey
Digne
Davis
Allen
Gomes
DCL
Charlie
It's never pretty against Burnley and I will take last season result if offered it.
John Jones
12
Posted 12/03/2021 at 17:48:33
Just on the James rumours - has there actually been a sighting - is he attending our home games as a spectator ?
Any sign of any social work for the blues ?
Anything at all ??
John Keating
13
Posted 12/03/2021 at 17:49:03
Burnley need the points and will play their usual physical high ball big men game
I think we will need Minas height for this one
Pickford
Coleman Keane Mina Godfrey
Davies Allan Sigi - if fit Digne
DCL Richie
Thomas Richards
14
Posted 12/03/2021 at 17:50:47
James has been running with a limp in recent games, plain to see.
Nowhere near fit.
Ian Horan
15
Posted 12/03/2021 at 17:54:43
To be fair if James was always fully fit he would have cost us 60 mill. If nothing else James got us underway with his pass to Richie to end the curse of Analfield that in itself is enough for me
John Raftery
16
Posted 12/03/2021 at 18:01:11
The home form has been dire. We scored nine goals in the first two home league games. How many goals have we scored in the eleven home league games played since then? The answer is nine.
The team has found it very difficult to play against teams which sit in and play on the counterattack. Our defenders are uncomfortable outside their own area and without a midfield shield immediately in front of them. Our midfielders lack the pace to move forward quickly when counterattacking and equally struggle to get back when possession is lost.
I see little prospect of tomorrow's game being much different than many played at Goodison since October. Burnley will defend as though their lives depend on it. This could be our first 0-0 of the season.
Dale Self
17
Posted 12/03/2021 at 18:01:27
I see the logic but I don't trust Iwobi on the ball in the middle. Space will be scarce and his thinking on the ball is a liability. I do like the Davies-Allan pairing to cover for Doucoure. Gomes should come in as a sub or given a rest. If we play Coleman ahead of Holgate neither of them are confident enough on the ball to hold possession on the right.
I'm not sure how I would set up I just want to poke holes in the other suggestions for now. How's that for courageous commentary?
Derek Knox
18
Posted 12/03/2021 at 18:06:53
I like Bill Gall's first predicted line up, maybe it's just me, but I think Gomes has been awful (apart from the last 25 minutes against Chelsea) and Holgate has been a bit of a liability giving free kicks away with his gung-ho tackling in dangerous areas.
Burnley are a strange side, they are either on fire, and a match for most sides, or pretty awful, let's hope it is the latter that turns up tomorrow. We need to put Monday's result behind us and start a new run, if we are serious about finishing in a respectable position.
I know it's probably unlikely, but I'd prefer to qualify for the Champion's League rather than the Europa. I know we are ill-equipped squad-wise for either, but hopefully that will change in the Summer Window.
The other reason is at least the games would be Tuesday/Wednesday not Thursdays and Prem games on a Sunday. Not many have prospered under that regime, plus the financial benefits are nowhere near that of CL. The other aspect is that should we qualify potential targets are going to want to come for CL inclusion.
Tommy Carter
19
Posted 12/03/2021 at 18:09:56
anyone in the know re JP Gbamin? What's the situation with him? Surely he's finished as a professional footballer given the amount of time he's had out? Very rare that in the modern game a comeback can be made after a 2 year injury?
I tore my thigh muscle badly about ten years ago as a young man. I have never been the same since and it has caused me problem after problem with other parts of my body, mainly knees and back.
I'd hope that Gbamin's rehabilitation would be of a better standard than what I received on the NHS but either way, I went from being a very athletic and competent footballer to being completely unable to run faster than a decent jog by the age of 30
Jay Wood
[BRZ]
20
Posted 12/03/2021 at 18:11:41
Carlo as ever was in good form in his presser today. Very pragmatic and phlegmatic on injuries and selection issues.
Never ever have I heard him use player absences as an excuse, unlike other managers (cough!).
'We dealt with the absences of Digne, Mina, Allan and James. We will deal with the absences of Doucoure and James now.'
He excused himself from going into detail of Olsen's home assault, but did say the club is doing all it can to protect people.
In respecting Burnley and Dyche for their efficient way in playing 4-4-2, he made the comment that although football continually evolves, it isn't being re-invented. The basics remain the same.
In answer to a question whether he might go with a front three of DCL, Richy and King, he said that it is a possibility and that Josh is ready to start. I think he was just being polite to the questioner.
He explained the precautions they are taking to get James fitter rather than risk him at 70% and was quite giggly when asked about Iwobi's social media post looking forward to playing his preferred position with Nigeria.
'I read it and I look forward to talking to the player and hearing him tell me what he thinks his best position is. If that is number 9 or number 10, then I will play him there. I want my players playing where they feel comfortable.'
That, I fancy, is going to be quite an interesting chat.
Paul Birmingham
21
Posted 12/03/2021 at 18:16:59
The next massive game and it will be a hell of a fight.
Let's hope Everton turn up and can beat Burnley, whom will be up for it.
Tony Everan
22
Posted 12/03/2021 at 18:19:26
4-4-2
Pickford
Holgate Keane Godfrey Digne
Coleman Davies Allan Richarlison
King DCL
Everton 3 Burnley 0
Dale Self
23
Posted 12/03/2021 at 18:21:05
Agreed that Gomes has not been good and that's being kind. Still think he's being penalized somewhat for coming back so early but no excuse for some of the plays he is making.
If Mina is fit, I think I'm leaning towards he and Keane in the middle with Godfrey on the right and Digne to recover from the depths of last game. I guess I would set up with Davies-Allan and take a gamble with Siggy as the invisible 10, don't stand in there move thru constantly. DCL up front with Richy on the left and if Carlo can reach communion with Iwobi okay otherwise maybe go with Coleman staying deep with he and Godfrey taking some unexpected runs.
Allen Rodgers
24
Posted 12/03/2021 at 18:47:49
Enjoyed Carlo's presser he is a class act.
I knew Doucoure would be a great signing and he will be sorely missed.
We need to batter someone to get our Goal Difference up but I doubt it will be Burnley. Nevertheless, we should win maybe 2-0 or 3-0.

David Pearl
25
Posted 12/03/2021 at 18:51:44
Well l recon Lyndon is pretty much on it. With a lack of natural width, and speed, on the wings expect one of our natural full backs to be pushed up. Our front two need some service.
King must be getting restless by now but if picked l want him up front, he offers little out wide. We need balance to properly function.
Apart from that l hope Siggy is fit for at least the next game. Whatever his doubters say, where would we be without him this season?
Looking forward to Allan and Tom together, the return of a mean Mina, capt Seamus and 3 points or bust!
Eddie Dunn
26
Posted 12/03/2021 at 18:58:32
I would like to see King given a start. Calvert-Lewin needs help and Richarlison could play as an old-fashioned left winger, or we could slide him over to the right, so we might have a bit of a threat on both flanks for a change.
We have to stay solid, but we have to be more creative. Calvert-Lewin is stuck in a timewarp on 13 goals while his peers have surpassed him with plenty more opportunities.
Robert Tressell
27
Posted 12/03/2021 at 19:12:21
Ballon D'Iwobi in your preferred position for him on the bench, Lyndon?
In the absence of Sigurdsson and Rodriguez, we could really do with a good game from Iwobi. I know he's frustrating but he can move the ball about nicely and create openings. Probably worth a start otherwise we're left with a very ponderous midfield trio huffing and puffing against a very disciplined, deep defence. I'd start him.
Tommy Carter
28
Posted 12/03/2021 at 19:14:30
Carlo is a class act. He would never disrespect Burnley. He would never complain that a side would turn up and play an ultra defensive line up and hope to counter. Klopp and others show themselves up regularly in this regard. They expect an open game, on what planet?
Carlo understands football and he understands people. Everybody loves him. Because there is mutual respect there. He will acknowledge the fact that Dyche is doing a phenomenal job at Burnley. Because he is. And if we don't get 3 points against them, it will be out fault for not outdoing them at what they are good at and then progressing onto what we are good at.
You won't beat Burnley without spirit, hard work and guts. Match them for that and quality will win you the game.
Why? Because Burnley have possibly one of the worst squads I have ever seen in premier league football. They operate off about 16 core players and very few of them would make the starting XI of other premier league clubs. What an outstanding job Dyche is doing.
Martin Berry
29
Posted 12/03/2021 at 19:17:46
Burnley under Mr Dyche are always set up well and combative. We will have to match them for effort and then lets our better players win the match.
Mike Doyle
30
Posted 12/03/2021 at 19:39:21
Tommy # 28,
I agree with what you say about Burnley's squad. Sir Alex often said that the mark of a good manager was what they could achieve with the resources available. What Dyche has achieved over several seasons has been remarkable.
Mike Doyle
31
Posted 12/03/2021 at 19:48:53
If Seamus is fit to start I'd expect to see Carlo go for a 3-5-2 formation. We need need a threat from both right and left sides. Iwobi provides little threat from the right and maybe Carlo is thinking of moving him to his "preferred position" (suggestions welcomed as to what that might be!)
Neil Lawson
32
Posted 12/03/2021 at 20:07:17
A lot of time wasted trying to first guess Carlo. We know, from experience, that he will not do what is expected.
Whatever the team, let's hope for (1) 3 points and (2) a decent performance.
Bobby Mallon
33
Posted 12/03/2021 at 20:31:56
Pickford
Coleman
Keane
Mina
Nkounkou
Onyango
Davies
Allan
Digne
Richarlison
Calvert-Lewin

Lee Courtliff
34
Posted 12/03/2021 at 21:00:55
I'm from Burnley and have watched them many times.
At set pieces, they put their centre-backs, Tarkowski and Mee, to the far post and aim for them every time. They then look to knock it back across the face of goal, mainly.
If I know this, then there's no excuse for the players not to know.
They'll probably know we leave Keane, Calvert-Lewin and Mina in on the edge of our 6-yard box in a zonal system.
So, they're going to bypass them and aim to the back post for their centre-backs. Like I described earlier.
Tarkowski and Mee are good defenders if they're allowed to sit deep. Bring them out and they look very vulnerable.
Only an early goal (for us) can do that.
Brian Wilkinson
35
Posted 12/03/2021 at 21:19:34
I see Richarlison, Calvert-Lewin and King starting in this one, Davies to take Doucouré's place and possibly Coleman and Digne playing as wingbacks.
Paul Kernot
36
Posted 12/03/2021 at 21:23:47
Tommy #19.
I feel for you, mate. I was never great but worked my arse off and loved every minute. Totally wrecked my knee in a completely nothing challenge and now I can hardly jump. Run like it's through treacle etc. Ended up coaching.
As with you, I really can't see Gbamin ever coming back with any consistency. Pity as the one and only time I saw him play, I thought he had potential.
Mike Keating
37
Posted 12/03/2021 at 21:24:04
I see Doucouré out for at least 10 weeks and James out too.
Hopes of getting past Man City in the FA Cup fading fast...
Andy Crooks
38
Posted 12/03/2021 at 21:35:33
Sean Dyche will be thwarted in his preparation by the fact that God only knows what Carlo's team will be.
Neil Copeland
39
Posted 12/03/2021 at 21:42:44
Andy #38, and even then, Carlo will make a last-minute tweak.
Joe McMahon
40
Posted 12/03/2021 at 21:44:00
Lee, I fully agree. A team I know well as my wife is from the area. I think as usual we will huff and puff to another uninspiring 1-0.
I think given the constant injuries to key players, it will be a struggle until end of season. Quality additions (not with an injury record defo needed).
Jay Harris
41
Posted 12/03/2021 at 22:58:24
I agree with Tony Abraham, I suspect Carlo will bring some height and strength into MF for this one and play Holgate there.
I would go for
Pickford
Coleman Keane Mina Digne
Davies Holgate Allan
King Calvert-Lewin Richarlison.
Danny Baily
42
Posted 12/03/2021 at 23:09:17
Paul 36, all I can remember of Gbamin for us was a terrible cameo against Palace.
Can't see him playing anything other than just a handful of games for us before he's moved on at a big loss. Shame it hasn't worked out.
Lee Courtliff
43
Posted 12/03/2021 at 23:15:57
Joe #40 I'd take that right now, mate. I think we need to accept that the quality of football isn't going to dramatically improve before next season (hopefully) when we've (hopefully) strengthened the squad.
For now, it's about getting the points to qualify for Europe and/or win the Cup (hopefully).
All in all, I'm not that hopeful about tomorrow.
Paul Hewitt
44
Posted 12/03/2021 at 23:46:50
James out for 10 weeks. Another player made of glass.
Brian Williams
45
Posted 12/03/2021 at 23:52:53
You mean Doucouré?
Jay Wood
[BRZ]
46
Posted 12/03/2021 at 23:54:30
I think you've misheard, Paul.
Doucouré is likely to be out for 8-10 weeks. Carlo said James could be available after the upcoming international break. Just 2-3 weeks, not 10.
Kieran Kinsella
47
Posted 13/03/2021 at 02:33:08
Fucking hell, I thought this game was at 6 am my time so I was planning on not setting my alarm and "expecting" to wake up but now I see it's at 11 so there's no excuse.
Jim Harrison
48
Posted 13/03/2021 at 06:04:14
I really want to see King get a chance. A front 3 with him, Richarlison and Calvert-Lewin should create chances.
Paul Birmingham
49
Posted 13/03/2021 at 07:45:34
Good insight, Les, about Burnley's free-kick tactics, and let's hope Carlo and the squad are tuned in today.
Danny O'Neill
50
Posted 13/03/2021 at 07:53:18
Interesting comments on Dyche's achievements with a threadbare squad and rightful praise, even if I was vocal in absolutely not going there when touted as a potential Everton manager.
A bit like the current Everton manager managing a squad where in reality we use about 14 - 16 players? I mean those that actually appear regularly rather than make the numbers up on the bench.
Doucouré will be a big miss; he gives us energy in the engine room. But, no point crying over spilled milk as they say and to the manager's point; we cope. I'm a romantic footballing purist and want entertainment but now we're in the business and results end of the season.
Laurie Hartley
51
Posted 13/03/2021 at 07:55:31
It has taken me all week to get over the defeat by The Pensioners. But hope springs eternal!
Olsen,
Holgate, Keane, Mina, Godfrey
Allan, Davies, Sigurdsson, Bernard
Calvert-Lewin Richarlison
Up the Blues!!!
Ajay Gopal
52
Posted 13/03/2021 at 08:09:06
Jay (41), I like your team, but would make 2 changes. Godfrey can play the Doucoure role much better than Holgate, IMO. Holgate can be the backup on the bench if Mina/Coleman break down (touch wood). Also, I would like Iwobi to play at the tip of the diamond - allegedly, his 'preferred' position - just behind DCL and Richie.
Pickford
Coleman Mina Keane Digne
Davies Godfrey Allan
Iwobi
DCL Richarlison
SUBS: Olsen, Holgate, Nkounkou, Gomes, Bernard, King, the kids.
Jonathan Tasker
53
Posted 13/03/2021 at 09:22:21
Crucial period for Tom Davies to stake a claim.
Please can we only have one of Gomes, Sigurdsson and Iwobi on the pitch at the same time
Ian Bennett
54
Posted 13/03/2021 at 09:59:13
Gbamin is clearly broken. We will be lucky to get 10 games out of him again. Bye bye €25m...
Laurie Hartley
55
Posted 13/03/2021 at 10:00:48
Carlo in his presser with a big smile on his face - "I like a lot the style of play of Burnley because it explain really well how you have to play 442 - they are not inventing something new because football is already invented - a long long time ago".
Dave Williams
56
Posted 13/03/2021 at 10:32:17
Jay#41- no Godfrey?????
Mick Conalty
57
Posted 13/03/2021 at 10:43:33
Ian #54 If Ghamin gets to play 10 games. His agent
will be after a new contract. 😄😄
Jerome Shields
58
Posted 13/03/2021 at 10:44:02
Would have not looked a Carlo's Presser, if had not looked at Jay, s post first.
I do think that King will start, he is now more up to speed and does have good technicial ability, maybe even better than Calvert Lewin and Richarlison. . As for Iowbi, Carlo would love to play him in his best position, when he has a clue where it is. Iowbi problem is more inconsistency than position. He is now going to get special attention, which he craves if his twitter post is to be believed.
I am glad that it looks like Tom Davies is playing and hopefully Carlo can find a way for Allan and Davies to play together. He did say that they did not play well together two weeks ago. I am sure he has been working hard at this during the intervening weeks. If Carlo can it could be something special.
It is good that Carlo has cut his teeth on the 4 4 2 system that Burnley play and will know how to counter it. We will now see how good Dyche really is, often heralded on ToffeeWeb as a potential Everton Manager, by some.
Holgate was better against Chelsea and wasn't the cause of the first goal. Though he is still off the standard of the pre injury Holgate. His Final ball was useless. I think it would be a good idea to play Colman in front of him, with Godfrey at left back with Digne in front of him. The way Burnley play in front of the opposition defence suits Mina, who I expect to play.
The Spirit needs to be up, no flat Newcastle /Fulham attitudes.
Brian Harrison
59
Posted 13/03/2021 at 10:46:27
Seeing Carlo said he is fit I wouldn't be surprised to see Mina start alongside Keane to combat Burnleys threat from high balls into the box, which is a tactic they use a lot. Whether that would mean giving Godfrey a rest or playing him at fullback I don't know, it would be harsh on Godfrey to be left out as he has been brilliant but I think Mina might handle the high balls better.
With James ruled out till after the international break and doubts about Sigurdsson, then Carlo may have to play Iwobi in his preferred position. But after his comment on twitter he would certainly have to perform better than he has for weeks. I never understood why we signed him he never impressed when playing for Arsenal, that's why they let him go and his good games for us have been few and far between. We know exactly how Burnley will play, so there will be no surprises but they will put in a shift and they will ask questions of how good we defend high balls into the box.
From our point of view we need to be on the front foot from the first minute and play like a team desperate to get into the top 4. Dominic certainly needs to get back to the form he was showing a couple of months back, and I think Richarlison will be key for us today.
Lets hope we are not bemoaning another sub standard display against another side in the bottom half of the table as we have done against Newcastle and Fulham.
John Kavanagh
60
Posted 13/03/2021 at 10:54:30
Getting into Europe is important, but we would have to win the competition in order to even retain the right to qualify in future years. Eufa's proposed 'performance coefficient' will give two clubs with proven CL performance in previous years the right to qualify regardless of domestic league position in a particular year.
This will give Manure, City, the RS, Chelsea and Spurs the automatic right to qualify for the CL even if we finished above them in a CL qualifying position. Of course, it also means that it would be impossible for us to ever improve our performance coefficient. You can't if you aren't even allowed participate in the competition! Although the proposals will be introduced for 2024, you can bet the crooks at Eufa will fast track the rule change if any of their favoured clubs are threatened.
As for today, I would love us to get in a position to show up Eufa for the corrupt con artists they are, but we are down to the bare bones. I just hope we don't lose any more players through injury or suspension before facing City in the FA cup, where I at least want us to force City out of second gear this time out.
The key to this match is to get crosses in to DCL and Richarlison as often and as accurately as possible, which will be near impossible if Iwobi is selected to provide the width, so I'm hoping Carlo gives King the opportunity to show what he can do. COYB.
Brian Murray
61
Posted 13/03/2021 at 11:00:06
Iwobi can certainly have his best position.Probably by the new season south of Watford gap somewhere.
Joe McMahon
62
Posted 13/03/2021 at 11:17:46
John @ 60. Remember Liverpool are the only club to have any injuries this season. Next you'll be stating that Evertons best players have missed months out through injury.
Jerome Shields
63
Posted 13/03/2021 at 11:31:03
John#60
It seems a European Super League by the back door is going to happen, and as you say it has been decided largely who is going to play in it. Hopefully Everton can upset the apple cart. There is definitely at attempt at Structural Elitism.
King on the wing instead if Iowbi is a possibility, Carlo even mentioned that he can play on the wing in his Press conference. I do think that Everton let Man City away with murder and that the spirit that Everton had in the Chelsea game, with a few better replacements would give Man City more of a game.
Colin Glassar
64
Posted 13/03/2021 at 12:04:12
Pickford
Coleman
Keane
Godfrey
Digne
Allan
Davies
Sigurdsson
King
DCL
Richarlison
Subs: Olsen, Mina, Holgate, Bernard, Gomes, Oneyango, Simms, Hibbo & Ossie.
Iwobi - He can hand out the refreshments and double up as ball boy.
Tony Abrahams
65
Posted 13/03/2021 at 12:22:30
Andy@38, I personally don't think it will matter that much to Dyche, because I think he's kept Burnley in this division, by playing to his "own team's strength's" rather than worrying about things the opposition might do?
I spoke to him once coming out of Goodison, and I was cursing Koeman, for his complete lack of any discernible style, but Dyche told me that Spurs who had just destroyed us, were a very good team.
I couldn't disagree, and went to tell him to fuck off, just because Burnley had drawn with them the week before, but thought better of it and held my tongue!
Something dawned on me right there and then, and I went to say to Dyche, that I bet you his team exploit Everton's very weak right flank the following Sunday, but he was to far away by now, and I never said it.
The following week Burnley carved us open down "our right" and beat us at Goodison one nil, so maybe I'm wrong, because the EPL is a very unforgiving league, for anyone who doesn't prepare!
I have only one thought for today's game, play with width and go and get three points please Everton🤞
Richard Mason
66
Posted 13/03/2021 at 12:46:38
I would like to see a 343
Godfrey Keane Mina
Coleman Davies Allan Digne
King DCL Richie
Derek Knox
67
Posted 13/03/2021 at 12:48:54
Colin @ 64, you had me worried there for a minute, I thought you had left Iwobi out. :-)
Agree with all those suggesting we play with width, DCL has not been utilised to his strengths, why, because he has virtually had nothing to feed off. Even if it means pushing Seamus and Digne forward ahead of Godfrey and Holgate, that would certainly pose Burnley problems and give them a new conundrum to cope with. One I'm pretty sure they won't have planned for.
Come on Blues bury this poor home form and start to play to our strengths.
Christy Ring
68
Posted 13/03/2021 at 12:49:21
Pickford Coleman Keane Godfrey Digne Allan Davies Holgate King Calvert Lewin Richarlison
Thomas Richards
69
Posted 13/03/2021 at 13:37:48
In the last 7 years we have only broken the 50 point mark twice.
I reckon Ancelotti is on course to beat the best points total since Martinez achieved 72 points.
To do that we have to win games like today's
Alan J Thompson
70
Posted 13/03/2021 at 13:49:00
I haven't got a clue, despite all the injured, who will play but I'm fairly sure the only two forwards will be Richarlison and Calvert-Lewin and the most played pass will be out wide to Digne, other than the back pass that is.
Colin Malone
71
Posted 13/03/2021 at 13:55:02
Remember Jags playing as a defensive midfielder? absolute shite.
Remember Carsley playing on the right side of midfield? not good.
Gomes is not a defensive midfielder.
Iwobi is not a right side midfielder.
The latter are playing in positions alien to themselves be cause there is no one at the club to better to fill these positions.
I would like to see Iwobi given a chance in the number 10 position. I already know Gomes can play there.
Danny O'Neill
72
Posted 13/03/2021 at 14:14:33
I remember that Colin. Didn't last long. One thing doing it for Sheffield United in the Championship, but a rude awakening for Jagielka and Moyes in the Premier League. I also remember we tried Stubbs there in an emergency after half time in a cup tie at Goodison against Norwich. I think that lasted 10 minutes!
Personally I'm not convinced with wanting the centre backs to play midfield. I'd get it in a needs must, but if we have midfielders fit, play midfielders. I think today is an opportunity to give King a start. It will give us something different to throw at a Burnley defence that is comfortable dealing with an aerial threat. Width and pace for me today.
Alan J Thompson
73
Posted 13/03/2021 at 14:35:51
Danny(#72); Was it Howard Kendall who tried it against Arsenal and played 4 or 5 centre halves including Bilic in midfield that led to a, I think, 4-0 hammering at Highbury?
Sean O'Hanlon
74
Posted 13/03/2021 at 14:36:29
Not hopeful with today's game against Burnley, following last Monday's disaster, and our narrow wins against Southampton and West Brom. We've struggled against most teams at home, particularly those in the lower half of the table.
I've just seen Leeds have drawn with Chelsea. We never came near a draw.
We may shout about beating Liverpool at Anfield, but it was without doubt during the worst spell Liverpool have had at home in recent history. Don't forget, Brighton, Burnley and Fulham also beat them at Anfield - so it's hardly anything to shout about.
Prediction: Everton 0 Burnley 3
Barry Robson
75
Posted 13/03/2021 at 14:42:55
Unbelievable comments from Sean in my view. I just hope we don't get relegated.
Brian Murray
76
Posted 13/03/2021 at 14:53:00
Sean. Mr bluebird definitely already left your shoulder this morning! On a brighter note it looks like max Aaron's on his way here barring a champ league intervention. Carlo just stop playing all if siggy Gomes Davies in midfield. It doesn't work ffs. Time to see if Onyango can make a difference especially if once again no James.
Derek Knox
77
Posted 13/03/2021 at 15:07:59
Sean, I was going to go and put the Lottery on later, but after reading your post I'm almost convinced that I will get run over by a Bus, Lorry, Car, Pram or a Flying Nun. What's more it would probably be a winner for a change, the Hit and Run Driver, of whatever vehicle, would probably grab it, and do one!
Strewth mate, what's got into you?
Brent Stephens
78
Posted 13/03/2021 at 15:12:12
Sean #74 - 0-3 loss for us today? How many times have we lost to that score this season?!
Danny O'Neill
79
Posted 13/03/2021 at 15:21:13
Was that the one where Tony Adams rifled home after a surging run Alan? Yes, Tony Adams!! And there was the clip of the poor Everton fan in the away end at Highbury who, as well as clearly having had a skinful, had lost the will and fallen asleep!
Alan J Thompson
80
Posted 13/03/2021 at 15:21:25
Derek(#77); That's just silly as you know that those things only happen after your numbers have been drawn!
Dennis Stevens
81
Posted 13/03/2021 at 15:28:33
Don't remind me, Danny. I had the pleasure to attend that match with a mate & his Arsenal supporting Dad - they were greatly amused! Our last away match of the season - home to Coventry City to avoid the drop the following week :-(
Derek Knox
82
Posted 13/03/2021 at 15:32:22
Alan J, you've obviously seen the Film " Waking Ned Devine " what a cracking and funny film set in Ireland, with some great actors in the cast. If you haven't seen it, I fully recommend.
Alan J Thompson
83
Posted 13/03/2021 at 15:38:01
Danny, as Dennis refers to it was the last away game of the season and I think clinched the title for Arsenal, but I could be wrong about that bit.
Derek(#82); Not seen that but I remember a part of a Jim Carey film where he became God and his first commandment was that everybody should win the Lottery and they all ended up with $2 each.
Thomas Richards
84
Posted 13/03/2021 at 15:39:00
Sean O'
A ray of sunshine there mate
Mike Gaynes
85
Posted 13/03/2021 at 15:39:32
Forum is open. First round on me.
Mihir Ambardekar
86
Posted 13/03/2021 at 15:40:37
Will be a tough test. But hope we get the win. I think front three of Richarlison King and Calvert-Lewin and midfield trio of Davies, Alan and Sigurdsson will be crucial with Coleman back. 2-0 for me!
Alan J Thompson
87
Posted 13/03/2021 at 15:42:14
Could be wrong? I may be confusing it with us needing a draw to ensure we weren't relegated.
I hate old age!
Roger Helm
88
Posted 13/03/2021 at 16:00:14
It's being so cheerful that keeps you going, Sean.
Mina, Keane, Godfrey
Davies, Allan
Coleman, Siggy, Digne
Calvert-Lewin Richie
Who knows what the result will be but you can't go far wrong with a scrappy 1-0 to us.
Mike Corcoran
89
Posted 13/03/2021 at 16:13:20
Same as you Roger. Bernard or Iwobi in the hole if Siggy isn't fit. Feckin useless without width and our 2 full backs are the only 2 we have who can provide it.
Sean O'Hanlon
90
Posted 13/03/2021 at 16:20:55
Gotcha! ;-)
---
Add Your Comments
In order to post a comment, you need to be logged in as a registered user of the site.
Or Sign up as a ToffeeWeb Member — it's free, takes just a few minutes and will allow you to post your comments on articles and Talking Points submissions across the site.