Gbamin avoids further surgery
Wednesday, 14 April, 2021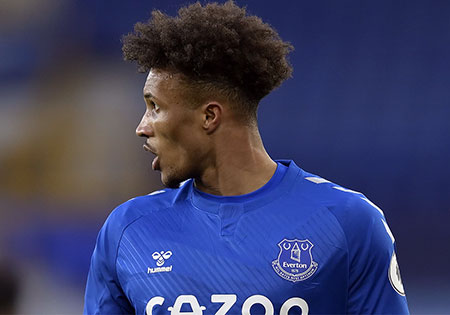 Jean-Philippe Gbamin has received the welcome news that the knee injury he suffered during training over the weekend won't require an operation.
There were fears that the 25-year-old had sufficiently damaged the medial ligament in his knee when Lucas Digne accidentally fell on him during a practice match at Finch Farm that it would need surgery.
However, a scan undertaken in London today revealed that he will just need to rehabilitate the injury as normal over the next couple of months with a view to trying to make another comeback at the start of next season.
In his time at Everton since signing from the Bundesliga in the summer of 2019, Gbamin has had to have three surgeries, two to correct a torn quadriceps muscle and another to repair a ruptured Achilles tendon.
He has still only played less than two full games for the Toffees after making a 12-minute cameo against Crystal Palace nine days ago.
---
Reader Comments (34)
Note: the following content is not moderated or vetted by the site owners at the time of submission. Comments are the responsibility of the poster. Disclaimer
Roger Helm
1
Posted 14/04/2021 at 21:41:59
London? Are there no hospitals on Merseyside?
Paul Swan
3
Posted 14/04/2021 at 21:44:20
Roger yes there are but they are full of our players

Dennis Stevens
4
Posted 14/04/2021 at 21:55:15
I just hope he's getting all his bad luck out of the way at the start of his Everton career - to be followed by a trophy laden decade with the Club!
Si Cooper
5
Posted 14/04/2021 at 21:59:57
Dennis, haven't you heard? On the basis of less than two games some experts on TW have already declared the player to be useless.
Dennis Stevens
6
Posted 14/04/2021 at 22:05:37
Aye, indeed, Si! I've barely seen him kick a ball to possibly make any judgement either way.
However, it won't matter how great or poor a player he is if he gets as much good luck in the next few seasons as he's had bad luck in the last couple. He'll be winning everything in sight & becoming european player of the year in the process!
Colin Glassar
7
Posted 14/04/2021 at 22:07:22
He's had more comebacks than Lazarus! Good luck to the lad.
Jerome Shields
8
Posted 14/04/2021 at 22:09:59
Good Luck to Gbamin in his recovery.
John Pickles
9
Posted 14/04/2021 at 22:32:56
I hope the Rehab room is on the ground floor, I don't think he should be allowed near stairs.
Derek Knox
10
Posted 14/04/2021 at 22:56:19
He must be due a testimonial soon, in recognition of all his time on the field. You couldn't make it up, but I do wish him yet another speedy recovery, I'm losing count here. Help!
Steve Cleary
11
Posted 14/04/2021 at 23:29:24
Rehab room is on ground floor but restricted to rs players. The other rehab room is on the 9 th floor with no lifts working.
Paul Jones
12
Posted 15/04/2021 at 00:20:59
Hope he makes a quick recovery and fulfils the potential seen before his signature.
The criticism I believe has been the standard of recruitment until recently for the investment made.
Mike Gaynes
13
Posted 15/04/2021 at 03:48:52
Whew.
Go for it, young man.
Phil Smith
14
Posted 15/04/2021 at 04:19:45
I don't think we'll really see him play for Everton again. Shame.
Steve Brown
15
Posted 15/04/2021 at 04:46:00
Really relieved for the lad.
Eddie Dunn
16
Posted 15/04/2021 at 07:07:44
Oh the nay-sayers! Give this unfortunate lad a break and don't write him off. If you want to have a go at someone, have a go at Digne!
This season threatens to go into freefall as our injured mount-up. Carlo has managed to keep a lid on injury news as well as severity so who knows if Calvert-Lewin will be back or if he is back, whether he will be playing with a significant niggle. Even if we get the likes of Allan back they will take a few games to get up to speed and time is running out.
It is clear that the squad is too small. Europa League would really put more strain on the club but I suppose qualification might strengthen Carlo's hand in transfer negotiations and budget talks. Personally, I fear something of a meltdown with some tough fixtures lined-up.
Danny O'Neill
17
Posted 15/04/2021 at 08:47:48
I suppose in the context of the wretched run of luck the lad has had, this is positive news.
Good luck to him and let's hope he can finally put behind what has no doubt been a terrible period for him, both professionally and personally.
He's young enough to overcome; let's get him ready for next season.
Mick Conalty
18
Posted 15/04/2021 at 09:11:40
Good news about Gbamins injury but what are we going to do about his Hayfever.

Derek Knox
19
Posted 15/04/2021 at 09:15:04
Danny @ 17, this story would have been more plausible, if it had been that he had fallen over Fabian Delph coming out of the Treatment Room. :-)
Danny O'Neill
20
Posted 15/04/2021 at 09:19:49
Is Fabian Delph still here Derek?!!
Danny O'Neill
21
Posted 15/04/2021 at 09:19:49
Is Fabian Delph still here Derek?!!
Danny O'Neill
22
Posted 15/04/2021 at 09:19:49
Is Fabian Delph still here Derek?!!
Danny O'Neill
23
Posted 15/04/2021 at 09:21:02
Apologies. Click happy. Patience O'Neill.
Bernard Dooley
24
Posted 15/04/2021 at 10:32:02
Gbamin Keeps picking up injuries after "accidents" with our own players, Gomes and Digne to name but two. What's going on?
And, does anyone actually know what is wrong with Delph?
Has he got one of Carlo's "small problems" but which keeps players off the field for weeks or months?
I never used to be paranoid but these inhouse injuries are pushing me that way.
Stephen Brown
25
Posted 15/04/2021 at 10:48:56
Derek, a question as pertinent as that needs to be asked 3 times!
I'm a pretty reasonable person and I know injuries can't helped but Delph really annoys me! I'm think he actually thinks he some sort of star who's doing us a favour?
His contribution to this club has been zero.
Danny O'Neill
26
Posted 15/04/2021 at 13:35:51
I don't know him and I don't have any evidence to support this Stephen, but I just get the impression of a big time Charlie who talks about his time on the bench at City as if he is some kind of superstar.
Just an hunch, but like I say, I can't back that up.
Alan J Thompson
27
Posted 15/04/2021 at 13:57:58
I don't know what they get upto at training but I have heard Dutch coaches of the Socceroos say that he prefers players even just training in the highest European leagues than those playing in Australia's "A" League.
Perhaps Everton need to have clauses in the contracts of players with previous lengthy injury spells with their other clubs that their salary is reduced, or covered by the player's insurance, if they suffer a similar injury except when incurred in a 1st X1 match. It might save our officials/management from losing face or do their research for them.
Christy Ring
28
Posted 15/04/2021 at 14:06:14
Danny#26 I have the very same opinion, especially after his arrogance when losing to the Liverpool kids in last year's FA Cup. How many games has he played since, with all his niggly little injuries I don't think he gives two Sh...
Paul Richardson
29
Posted 15/04/2021 at 15:49:47
Delph must have something,,,Leeds (almost) legend, Villa captain and "mad dog" at City. Question is: Will whatever it is emerge during his time at Everton? It's a waiting game. Fingers crossed, we could have two midfield "crocks" ready for next season, so we only need to buy four world class players rather than six. Big fear is we will anyway overpay for the quartet.
Steven Smith
30
Posted 15/04/2021 at 15:55:09
I defo feel sorry for the lad and hope he can make a fresh start next season.
I do wonder what goes on at finch farm. It was apparently a contact injury in training, when I fail to see much contact from our players during actual games.
Alan J Thompson
31
Posted 15/04/2021 at 17:06:22
Steven(#30); Perhaps there are less moving targets at training which makes for more slow, sorry, late tackles.
Pat Kelly
32
Posted 15/04/2021 at 19:34:35
Gbamin is the new Delph. Now you see him now you don't. Unfortunately, he'll spend most of his time in recovery mode.
Martin Berry
33
Posted 15/04/2021 at 23:30:40
He is going to be a fantastic player for Everton, he is still young and has the physicality to be a hit in the Premier League, but he has been so unlucky.
Remember Peter Reid had previously suffered from two broken legs before he came to us but he worked out ok.
Have faith and give the lad a chance, a despair at some of the naysayers !

Steve Brown
34
Posted 16/04/2021 at 01:31:37
I really hope Gbamin recovers and plays a big part next season, but we cannot rely on that. We need a pacy, energetic midfielder as we are so slow in that department- especially if we can get rid of the dreadful Delph and Sigurdsson in the summer.
Justin Doone
35
Posted 16/04/2021 at 14:18:38
Planning to include any player as an important part of the matchday team or squad that have suffered reoccurring injuries is poor planning and bad management.
What is said to the press may only be for the benefit of those injured players and not necessarily the plans that will be carried out.
At least that's what I'm hoping!
The season is practically over, unless we go on a 5 game winning streak (still stupidly dreaming) I'm more interested in what players we bring in and dispose of in the summer.
Roll on next season..
---
Add Your Comments
In order to post a comment, you need to be logged in as a registered user of the site.
Or Sign up as a ToffeeWeb Member — it's free, takes just a few minutes and will allow you to post your comments on articles and Talking Points submissions across the site.