Everton USA Live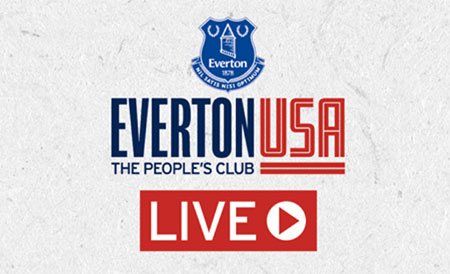 Everton will present an inaugural virtual event for fans across The Pond this Saturday, with Marcel Brands and Abdoulaye Doucouré added to the line-up of attendees from the club.
Described as "a digital fan experience where Blues from across North America can come together to celebrate their love for Everton," the event will take place on 17 April, 8am Pacific Time, 10am Central or 11am Eastern (4pm UK time).
It will feature exclusive interviews and live Q&As with Everton players and coaching staff, some familiar American former players and supporters as well as an interactive Everton quiz offering money-can't-buy prizes.
The event is open to all supporters based in the USA and Canada, while members of Everton's Affiliated Supporters' Clubs based in North America have the chance to be part of a Fan Wall which will act as the exclusive audience for the event. To register your place on the Fan Wall, complete the form at evertonfc.com.
Everton USA Live is one of three initiatives the club is launching to expand its presence in North America.
The club is set to kick off a new international Soccer Schools programme (EISS), which will run alongside the recently established Everton International Academy Affiliate programme (EIAAP). The two initiatives will be accessed using a new Everton International Academy web platform.
Everton's International Soccer Schools (EISS) programme will begin with a series of soccer camps across 15 states in the Midwest and Northeast regions of the United States over the next four months, with plans to expand to other target countries.
Meanwhile, Everton's International Team will be supported by Jurgen Mainka, former Concacaf Deputy General Secretary and Chief Commercial Officer, to further develop the Club's presence across North America.   
Mainka and his team at Miami-based Pulse Sport and Entertainment, which will include a dedicated Brand and Business Development Manager for Everton, will act as an extension of the Club's UK based international team and provide an on-the-ground presence across North America. They will primarily support brand and business development projects and the Club's engagement strategy with its expanding US fanbase.
The Everton USA Live event also coincides with the launch of the new limited edition book from Dr David France and co-authors Rob Sawyer and Darren Griffiths.
Toffee Soccer highlights Everton Football Club's significant contribution to soccer in the USA and Canada over the past 140 years. Lavishly adorned with hundreds of previously unseen and original illustrations, this 560 page book summarises every tour and profiles every player and official to split their career between North America and Goodison Park.
The book is available for pre-order now and you can also enter your name to be included in the roll of honour when the book is printed.
---
Reader Comments (20)
Note: the following content is not moderated or vetted by the site owners at the time of submission. Comments are the responsibility of the poster. Disclaimer
Mike Gaynes
1
Posted 15/04/2021 at 03:58:02
I'm in on the Fan Wall. Should be quite a collection.
Geez, I didn't know the club knew we were here!
Kieran Kinsella
2
Posted 15/04/2021 at 04:20:22
Oh shit I'll be driving through the Colorado Rocky Mountains all day Saturday with patchy reception; otherwise, I'd join you, Mike.
Brian Wilkinson
3
Posted 15/04/2021 at 11:54:01
Any usa fans out there still awake and looking for an Everton fix, the Everton u18 5th round tie v Chelsea, is live on YouTube in another 30 mins, 12.30pm k.o uk time.
Brian Wilkinson
4
Posted 15/04/2021 at 13:29:35
Everton 1 nil up at ht.
Alan J Thompson
5
Posted 15/04/2021 at 13:36:57
All holsters and contents to be left with Sheriff Kenwright at the door. Cue honkey tonk piano...you can play Z-Cars on one of them, can't you?
Brian Wilkinson
6
Posted 15/04/2021 at 14:39:47
Everton u18 nicked it at the death won 2-1 after a howler from their goalie.
Mike Gaynes
7
Posted 15/04/2021 at 14:59:25
Back to the Saturday USA fan event -- just wanted to let everybody know that the lineup for the presentation will be enhanced by a guest appearance from Dr. David France, the legendary Everton historian and author. He will appear live at 11:00 AM Pacific time from his home in Arizona.
If you've never conversed with David or read his books, do not miss the chance to savor his knowledge and sharp wit. He is a massive repository of Everton lore and has done more to preserve the club's historical legacy than any other person alive.

Kristian Boyce
8
Posted 17/04/2021 at 00:12:31
Mike, I got my invite earlier today for it so I'll be looking out for you tomorrow morning. Not too sure sure how many other TWebbers will be on it.
Mike Gaynes
9
Posted 17/04/2021 at 15:52:36
Hoping to see some of the US Forum contingent, Kristian.
I assume Jamie Crowley will come unarmed, but you never know.
Dave Abrahams
10
Posted 17/04/2021 at 16:05:55
Mike (9), heard about the problems you have recently encountered, hope you get over them. So bearing in mind that, it would be great if you could ToffeeWeb a little report on how you and the American ToffeeWebbers enjoyed the day and if Jamie behaved himself with a few bevvies in him.I hope you all have a great time.
Mike Gaynes
11
Posted 17/04/2021 at 16:35:46
Hey, Kristian, you're a good-looking fella!
Mike Gaynes
12
Posted 17/04/2021 at 16:51:05
Dave, at this point there are only 140 participants, and the only TW representatives besides myself are Kristian Boyce and Tony Sampson, the latter representing the Chicago Toffee pub AJ Hudson's, which is owned by former TWer Jamie Lenard.
Jamie C, Tim Greeley, Steven Sturm and the other TW Yanks are absent so far. I don't even see Lyndon.
Marcel is wrapping up his interview... comes off humorous and enthusiastic, but the moderator hasn't asked him any of the many fan questions about specific transfer targets. No doubt Marcel didn't want to be drawn on any specifics.
Kristian Boyce
13
Posted 17/04/2021 at 21:47:47
Thank you Mike, you were looking very radiant yourself for an early morning video call. I liked you numerous attempts at the question about getting shirts in shops over here to Richard Kenyon, which were conveniently overlooked. I don't know if you stayed until the end but I just missed out on winning the quiz to win the signed shirt.
Overall it was a great event and very well put together. Darren was an absolute trooper to present it for over 5 hours. I have a feeling depending on Covid travel restrictions that we might see some sort of presence from the club at the end of the summer or a mid-season break next season over here to further enhance its profile.
Mike Doyle
14
Posted 17/04/2021 at 21:56:36
Mike Gaynes. I was wondering... do the club utilise former players such as Tim Howard, Brian McBride & Landon Donovan in spreading the Everton message? I'm guessing that these guys still have a strong profile - particularly Landon.
Bobby Mallon
15
Posted 17/04/2021 at 21:58:08
It's a shame that not many bothered.
James Flynn
16
Posted 17/04/2021 at 22:39:18
Mike Doyle - the answer is no.
Like Pienaar in SA and Cahill in Australia, not a jot over here with Howard or Landon.
Now if they're asked about Everton, both gush over the Club.
When playing on our National Team, both always acknowledged anyone waving the Everton flag. Same with their MLS clubs when Everton supporters waved the colors at them.
That's about it, unfortunately.
Mike Gaynes
17
Posted 17/04/2021 at 00:04:01
Kristian, no, I didn't stay until the end. Sorry you missed out on the shirt.
Mike #14, James is right.
It was an enjoyable day, with limited audience participation unfortunately -- never more than 140 people online at any one time. (By contrast, my wife's weekly Zoom calls with her faith community draw a thousand participants.) But it was good to see supporters groups from multiple parts of the country.
Best parts of the show for me were Rog Bennett and friends, Dr. David France (of course), and a full hour of hilarious anecdotes from Tim Howard, who is just a brilliant ambassador for the club. Darren asked him for his memories of just about everybody at the club when he was there. A few samples:
The funniest guys were Osman and Hibbo, who were the Abbott and Costello of the changing room, but the king practical joker was Cahill.
Bill Kenwright "epitomized class and humanity" and Howard considers him one of the kindest human beings he has ever known.
Leighton Baines is likewise pure class in Howard's opinion.
Tim found Moyes so intimidating at times that he couldn't look him in the eye when he was angry. Huge respect.
Asked who his loudest, craziest teammate was, Howard instantly said Royston Drenthe. Said he couldn't tell any stories about Drenthe because none could be repeated in proper society. Also VDM was more than a bit strange.
Joleon Lescott was his best-dressed teammate, Osman the worst, although Neville never wore anything but a track suit.
Scariest teammate when angered was his best friend, the massively powerful Sylvain Distin. Once got into a confrontation with a teammate in the changing room and Howard was afraid he'd have to intercede to save Distin's opponent -- at great risk to himself. Fortunately, it didn't happen. (I wonder who Sylvain squared off with??)
Jags was the most enthusiastic dancer -- unfortunately, since he wasn't good at it.
Fun day. But nobody wanted to talk about when we'll be able to buy Everton kit in the stores here.
Kristian Boyce
18
Posted 18/04/2021 at 00:16:53
I guess it was limited to a set number of people as I know a number in the Carolina Toffee's group I'm in didn't get the invite, even though they filled out the application. I'm guessing it was a potential bandwidth issue as they were doing it from back in the UK.
Mike Gaynes
19
Posted 18/04/2021 at 00:20:59
Could be, Kristian, but at times the number of participants dropped well below 100.
There just ain't many of us here.
Don Wright
20
Posted 18/04/2021 at 06:33:48
Mike Gaynes and all American Blues, it's not the quantity – it is the quality of Blues that count and anyone that says any different quote them Brian Labone:
"One Evertonian is worth twenty Liverpudlians." We all love you.
---
Add Your Comments
In order to post a comment, you need to be logged in as a registered user of the site.
Or Sign up as a ToffeeWeb Member — it's free, takes just a few minutes and will allow you to post your comments on articles and Talking Points submissions across the site.