Everton vs Wolverhampton Wanderers
Tuesday, 18 May, 2021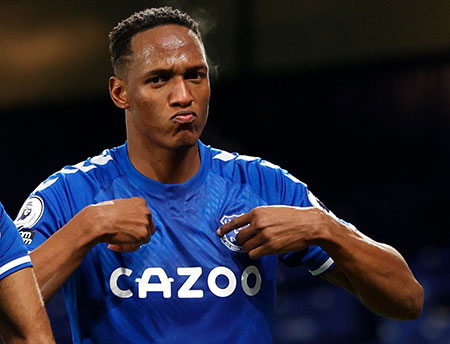 Yerry Mina is fit again after shaking off his latest thigh problem
Everton will look to try and end an increasingly disappointing season in positive fashion, beginning with their final home game of the campaign when Wolves come to town tomorrow evening.
The fixture marks the first time that supporters will be allowed into Goodison Park since 2,000 fans watched the Carabao Cup defeat to Manchester United and the win over Arsenal in the Premier League a few days earlier back in December.
Up to 6,500 fans will be allowed in this time and Carlo Ancelotti is hopeful that their presence and voices will help lift his players out of their torpor on home turf. Everton have won just once at Goodison since the turn of the year and are on course to match the worst home record in their history.
"I think the supporters at the stadium is going to give us more motivation," Ancelotti said. "They are going to give us more support. We had two times [in the League with] only 2,000 supporters at the stadium so I'm sure they're going to support us.
"We can only have the dream of Europe if we win these next two games."
Indeed, European qualification is out of Everton's hands — they will need to win both of their remaining fixtures and hope that one or both of Tottenham and West Ham stumble in order to book a place in either the Europa of Europa Conference Leagues.
"I don't want to talk a lot [about Europe]," Ancelotti continued, "because we are so disappointed for the game on Sunday and I would like to see a reaction from the team.
"I hope that we only do one thing: show a great reaction and be ready to play and to use our spirit. We were able to use it a lot of times but not at home and for that we're really disappointed. We'd like to finish the season at home better."
Everton will have Yerry Mina and Josh King available. The Colombian has recovered from an adductor strain while King is in contention for his first start for the club after overcoming the knock that sidelined him for Sunday's match against Sheffield United.
With almost the same squad of players from which to choose, Ancelotti's team selection will make interesting viewing when it is announced at 7pm. Wolves had a disappointing season and are depleted by injuries to key players like Raul Jimenez and Daniel Podence but, on paper, they should pose a greater threat than Sheffield United who won comfortably in L4 at the weekend.
Ancelotti needs to offer something different to that limp display against the Blades, however, and that could be reflected in a bolder formation than the five-man defensive setup he deployed on Sunday.
Kick-off: 6pm, Wednesday 19 May 2021 on Sky Sports Premier League
Referee: Andy Madley
VAR: Graham Scott
Last time: Everton 3 - 2 Wolves
Predicted Line-up: Pickford, Coleman, Mina, Godfrey, Digne, Davies, Allan, Doucouré, Rodriguez, Richarlison, Calvert-Lewin
---
Reader Comments (136)
Note: the following content is not moderated or vetted by the site owners at the time of submission. Comments are the responsibility of the poster. Disclaimer
Martin Berry
1
Posted 18/05/2021 at 19:14:31
Perhaps we might be set up to try and win a game rather than lose it, therefore I hope the five man defense is ditched.
Another loss and the fans will be there and no hiding place.
Fingers crossed for a great win.
Jerome Shields
2
Posted 18/05/2021 at 19:18:08
Maybe the fans may make a difference.
Kunal Desai
3
Posted 18/05/2021 at 19:18:37
Really doesn't matter does it. 7th is now gone. Season effectively finished on Sunday.
Tony Everan
4
Posted 18/05/2021 at 19:27:25
At home I want us to be positive and set up to attack.
KITAP1 at home seems to work in reverse, with our opponents always doing the pinching.
I think Lyndon has the 11 right for this match.
4-3-3
Pickford
Coleman Godfrey Mina Digne
Davies Allan Doucoure
Rodriguez DCL Richarlison
Quite possibly best 11 we can put out with our current squad?

I wonder if Carlo would have been so pragmatic and defensive with his home selections if there has been 40 000 demanding fans turning up to watch . I think the absence of fans has allowed him to be miles more conservative than he would have been .
Will Mabon
5
Posted 18/05/2021 at 19:28:57
A Tottenham-at-home type performance would be a nice closer. Be good to throw caution to the wind and just
play
.
Edit: yes, with that team, four at the back, and Richy out of the centre a way.
Jack Convery
6
Posted 18/05/2021 at 19:39:43
My attitude to this game is the same as the players versus Sheff Utd, Couldn't give a flying whatsit !!!
Leeds 8th as I type.
Fulham drawing at OT.
Jim Bennings
7
Posted 18/05/2021 at 19:44:58
No doubt we'll find a way NOT to win!
I'm sorry but I can't quite get my head around Carlo's latest statement that we don't have the player to set up and try and attack in home games.
I've just seen Southampton last week score three in two home games, Palace have just scored three against Villa yet we have numerous international players (some of which signed by Carlo himself) but we can't actually set a team out to go and win?
I can't be having that one sorry.
Another mediocre finish is on the cards by the looks of it despite a season that initially promised much, once again it's the likes of Leicester that have walked through the open door of opportunity.
Dave Leeson
8
Posted 18/05/2021 at 19:50:19
On a positive Ellis Simms seems to be growing into the job at Blackpool
Bill Griffiths
9
Posted 18/05/2021 at 20:01:00
Ye Dave, 2 goals - MOTM.
Sean O'Hanlon
10
Posted 18/05/2021 at 20:07:56
Agree with you Jim (#7).
Why does he need fans for motivation? Why can't he motivate the players, like the managers of the 9 teams that will finish above us, have done. They too didn't have fans during this Covid period.
The sooner he goes, the better.
Jay Harris
11
Posted 18/05/2021 at 20:13:12
No hiding place in this one but a totally different proposition from Sheff Utd.
Carlo and the players need to give the fans what they want in this one!!
Bill Gall
12
Posted 18/05/2021 at 20:14:34
Leeds now ahead of us on G/D I suppose we will claim we have a game in hand whatever difference that makes, we have never taken advantage of numerous other times we have had games in hand, its usually the opposite.
Kieran Kinsella
13
Posted 18/05/2021 at 20:22:08
Bill
Leeds finish against WBA so we probably need four points from the next two games just to keep them at bay. Not to mention Arsenal who have two easy games left.
Neil Lawson
14
Posted 18/05/2021 at 20:41:01
Hard to be bothered.
Currently enjoying the Exeter Chiefs. The absolute definition of "team".
Neil Copeland
15
Posted 18/05/2021 at 20:50:14
Well, I for one can't wait to get to the game tomorrow night. And no, the season isn't over yet, we still have a chance of 6th or 7th and while we have that chance I will still have hope.
UTFT
Bob Skelton
16
Posted 18/05/2021 at 21:16:41
I have to laugh at some of the responses on here. Play attacking football, don't play with a defensive lineup. Has no one watched what happens when we try and attack. Its sad to watch. Slow, inept passing creating very little up front and leaving us open to be easily beaten by teams that will not be in this league next season.
With this set of poor players we can only play one way. Defend and hope for a counter attack or set piece. I'll be at the Old Lady tomorrow hoping that we give some of the youngsters a chance and not make Wolves look like Barcelona, can't wait for this season to end.
So many wasted chances, if we had a half decent set of players where could we have finished.
Andrew Bentley
17
Posted 18/05/2021 at 21:17:51
Neil can I have whatever positive juice you are drinking as my hope/faith has disappeared for this season. With Leeds now above us on GD I fear we will end up in 10th.
Neil Copeland
18
Posted 18/05/2021 at 21:22:21
Andrew, white wine tonight mate. Losing gets me down as much as the next man but I refuse to give in.
Martin Berry
19
Posted 18/05/2021 at 21:24:06
Tony 4# I agree
Thats the line up we should have playing for all our home games, at least it gives us a degree of control in midfield and a chance to create and actually win agame.

Kunal Desai
20
Posted 18/05/2021 at 21:24:07
I hope you enjoy the game Neil. Yes mathematically it's still possible, realistically, no.
Neil Copeland
21
Posted 18/05/2021 at 21:25:52
Kunal, cheers!
Frank McGregor
22
Posted 18/05/2021 at 21:58:52
I would like to see as many of the U23 Team playing in this game not really interested in another dour performance with the same old excuses.
At least if the young prospects get a chance to show what they can do, it will
give us all something new to comment on after the game.
Finishing 7 -8-or 9 is of no real concern.
Paul Birmingham
23
Posted 18/05/2021 at 23:00:20
Neil, I'm with you, blind hope but there's hope.
Hopefully West Ham and Spurs will go on double defeats and Everton can take at least 4 or 6 points from the last two games.
Sunday night was not acceptable and is at the moment unforgivable and how many teams would do the hard stuff win 13 always and be generally very poor and unreliable at home.
The mentality and belief shown in certain games v the RS, Spurs, West Ham has never been consistent enough this season.
Everton please pull the rabbit out of the hat, as the summer transfer plan, could be seriously impacted by no European competition.
John Raftery
24
Posted 18/05/2021 at 23:04:27
Bob (16) You are right. We have too many players who are incapable of controlling possession while attacking, too many who can't run, too many who can't run with the ball, too many who can't score goals, too many who only want the ball delivered to their feet and too many who choose only to make a safe pass from a stationary position. We have achieved most of our wins against opponents who have left themselves exposed to early passes to our front men or have not been able to handle the aerial threat we pose at set pieces.
Perhaps we have a better chance of doing something against Wolves who have been flaky in defence. I am looking forward to cheering our team on from my seat in the Park End.
John Kavanagh
25
Posted 18/05/2021 at 23:58:36
We are back where we usually are - mid table and looking forward to 3 or 4 new signings to make all the difference. I feel a strong sense of deja vu. Like I have for the past four or five seasons and beyond. And will next year and beyond no doubt.
Everton letting you down is one of life's great certainties and persisting despite the continual disappointments is our badge of honour.
If Carlo wanted attitude and commitment, then why has he subbed or dropped Tom Davies at every opportunity? At least he tries to get forward and never hides, unlike the usual suspects.
I just hope that everyone 'lucky' enough to be at the match tomorrow takes a good size 70's throwing cushion, gives their lungs some much needed exercise (immediately the Newton's Cradle passing along the back line starts) and practices their loudest booing for next season's 'Everton that' fixtures.
In other words I hope you all enjoy a typical home match.
COYB.

Soren Moyer
26
Posted 18/05/2021 at 23:58:56
I'd be made up if we could put together 4-5 forward moving passes tomorrow! Also could someone send Ancelotti a copy of Brighton v Manchs game!? What a team Graham potter is building down there on a shoestring budget. And no. Its not another Sheffield United.
John Kavanagh
27
Posted 19/05/2021 at 00:20:52
Soren, with our lot Graham Potter would be a waste of time. It's Harry Potter we desperately need to work some magic.
Mark Andersson
28
Posted 19/05/2021 at 01:24:49
Carlo has lost the plot... the players have lost their desire and the fans have lost their minds...
Other than taking 4 points off tge RS its been another typical let down season..
However theres always next season...
Derek Thomas
29
Posted 19/05/2021 at 01:52:25
So to sum up the season - we've had 3 decent games all season - SpursX2, league and cup, rs away and a couple of good KITIP1s in London.
Whatever I wish for, the opposite will occur. If I get clever and wish for the opposite of what I want, something altogether different...usually not in a good way...will happen.
On Sunday, we will roll over, a la Leicester 5yrs ago and City...deserved champions...will have a nice little pre CL Final run out.
Then finally, I can forget all about football - yeah right, like that will happen...well at least I won't have to get up at god know when to watch us being shite.
Oh, and full marks to those twats at the 2nd, 3rd and 4th positions in the league - all doing their best to get the rs to 4th.
Kieran Kinsella
30
Posted 19/05/2021 at 02:10:15
Soren
You could argue that teams cede possession to Brighton knowing they're profligate in front of goal, vulnerable to the counter and porous at the back. Nice passing but so were Wigan, so were Swindon so were Mike Walkers Norwich. Potter may be a great coach but I need more evidence beyond just style and 40 points.
Soren Moyer
31
Posted 19/05/2021 at 02:24:15
Kieran, they have conceded only 1 lousy goal more than us! This is not another Wigan or Swansea. Have you seen the energy AND intensity they play with? Good stuff.
And all that for a fraction of what we have managed to waste on crap players! He did the same thing with Ostersund from Sweden's amateur and regional fourth division. Took them all the way up to Allsvensken and as if that wasn't enough, they managed to get into the Europa League!
https://www.youtube.com/watch?v=Y4t013wZh6A
Mike Gaynes
32
Posted 19/05/2021 at 02:29:55
John #24, I hope to envy you your vantage point, mate! Yell at Richi for me, will ya?
Kieran Kinsella
33
Posted 19/05/2021 at 02:41:48
Soren
I know he did well in Sweden and I'm inclined to think he is good, but I'd like to see if he can get them into Europe or win a cup. But regardless we have a manager so Potter has plenty of time to prove himself
Derek Knox
34
Posted 19/05/2021 at 03:10:31
In all honesty having supported Everton Football Club for nearly 60 years, the only thing that I am happy about for this match, is that my fellow blues will be allowed in to watch, albeit in limited numbers. In a season that promised so much, with the appointment of Carlo, the possibility of getting better players in, what could go wrong?
Now we are at the end of the season, apparently everything, we did get some quality players in, we started to play half decent football, although that was very short lived, and now on the eve of the penultimate game, I again wish it was all over.
I have never felt that way before, and always viewed and previewed games with distinctively blue-tinted spectacles, so much so, that I hitherto often questioned my own sanity, but I still never felt the way I do now.
I know this Covid pandemic, and disjointed season has had a lot to answer for, and the suspension of home crowds has definitely had an effect, but there are few sides in the Premiership that have played as poorly at home as we have, brutally honest, but nevertheless true. Are the players missing us that much? I don't think so, or is that just another excuse for their overpaid under-performances?
Annika Herbert
35
Posted 19/05/2021 at 05:55:08
Derek @ 34, agree with all that you have said. For the first time ever, I cannot wait for the season to end.
This season has had ups and downs like no other but our home record is a disgrace. I still back this manager but expect to see major changes with regards to players for next season. We have an awful lot of players who need moving on.
But like all of us Blues, the hope that springs eternal will convince me that next season will be better. A return to those enjoyable days of the 80's would be very much appreciated.
I will await the next transfer with bated breath and sincerely hope we can get some, young, pacy quality players in to replace some of the dross currently masquerading as Everton players.
Here's hoping
John Keating
36
Posted 19/05/2021 at 07:14:26
Does it really matter?
Ancelotti might make the odd change or shuffle them about but it will still be the same bunch of cowards.
George McKane
37
Posted 19/05/2021 at 07:47:25
I have quite a busy day ahead - I have a meeting at a residential camp for young people with Special Needs hopefully to plan a weekend for our group at Yellow House - then I have to meet my daughter who will be leaving work early and my grandson who cannot get away early because he is a teacher - we have to follow the guidelines to get us to the game tonight - a lot of planning and organising - but worth it for me to get to Goodison for the first time in 15 months and then on to The Dark House - all of which at some point in the past months due to Covid and my own serious health problems I thought I may not see ever again - nothing will dampen my enthusiasm - joy - pleasure. I will write a piece about " the return" tomorrow - in the meantime I send Blue Cosmic Grooves up into The Blue Sky for all our Blue colleagues - with a firm handshake.
Thomas Richards
38
Posted 19/05/2021 at 07:53:03
Straight from the heart as always George.
Enjoy your night mate. You will be getting your booster shot by just walking through the turnstile.
Lester Yip
39
Posted 19/05/2021 at 08:34:15
I don't want to get my hopes up and get hurt again.
If Carlo can't get a reaction from the players after what he's said to the public, then either we rid half of the team or he's finished.
Eddie Dunn
40
Posted 19/05/2021 at 08:43:27
I would put our lads in the away cabins in the car park and let Wolves have the home dressing rooms. Might just make our boys wake up and smell the coffee. Those smelling salts they've all been snorting might have been tampered with.
if the boss fails to get a tune out of them tonight with the fans there against goal-shy Wolves then there is a big problem.
Another reverse and I think we can conclude that Carlo has lost the players completely. Mind you Tom Davies has been treated badly and the tactics have been baffling.
If Dom doesn't jump ship after mixing with the stars at the Euros then I will be surprised.
Nothing to play for now, so these mercenaries might get a win. However, I have zero confidence in any of them including the manager.
Duncan McDine
41
Posted 19/05/2021 at 08:46:37
I look forward to reading that George (37)... I imagine there will be a few emotional faces as Z-Cars starts up. Good luck to all of you that will be in attendance.
Jim Bennings
42
Posted 19/05/2021 at 09:04:56
Eddie
Do you really think Dom will get to a bigger club than Everton right now?
I know he's improved as a six yard box striker and he's good with his head but for me he's nowhere near top 5 or 6 quality and for as many as he bundles in he tends to miss.
Most of the best sides now don't play to the strikers head with crosses all the time, it's all intricate one touch football and Dom's biggest weakness is with the ball at his feet.
To be honest he reminds me much of James Beattie.
A fairly good target man if the service is there but he's not really got that next level to his game to make it at a top side.
Eddie Dunn
43
Posted 19/05/2021 at 09:14:20
Jim -I know hwat you mean but luckily other fans and manager perhaps haven't watched him as closely as us.
I could see him sitting on the bench for City or Chelsea being brought on with 20 min to go just like Tammy A or Oliver G.
I agree he needs to improve but his goal against Villa showed improvement. I just think he has got frustrated with poor service and abandoned the goal-hanging that got him scoring earlier on in the season.
He can't create for himself but Richie is a terrible partner and there is little chemistry between them.
Domenic will score 20 league goals given the chances but it might not be for Everton.
Rennie Smith
44
Posted 19/05/2021 at 09:14:24
Despite all the disappointment, I'm still gutted that me and my lad didn't get through the ballot so will have to make do with "AND IT'S LIIIIIIIIVE" Sky tonight. Enjoy the evening George@37.
I may be naive but I honestly believe it will be a totally different story with our support there tonight. Better players play up to a crowd, not-so better players shrink in front of a crowd. Imagine giving James a stage, he'll love it.
I cling to the hope, it's all we have in the end as Blues. UTFT
Christopher Timmins
45
Posted 19/05/2021 at 09:16:08
Carlo's remarks at the press conference yesterday can only be taken as a rebuke to the players, the recruitment and the youth development at the club. Indeed, it puts some interest into an otherwise irrelevant game tonight. Will the players react in a positive or negative manner to being told that as a collective they cannot play positive attractive football?
God, we have forked out a lot of money to be a defensive long ball team. If big Sam was charge at this point in time there would be a demonstration before tonight's game.
George #37, enjoy the game tonight and hopefully, it will be the first of many in the years to come
Jim Bennings
46
Posted 19/05/2021 at 09:28:28
Let's wait and see Eddie.
I think the only style of play from the so-called top clubs that would suit him is Manchester United but with them having so many attacking options already he won't be going there.
The way we play with the big number 9 it's pretty much stuck in the past in many ways, to be honest I think even Chris Wood of Burnley would have scored 15 goals for us this season.
I'd like to see players getting in behind more often rather than just working it out wide (usually to Digne) or Seamus Coleman (has this fella ever learned to cross a ball in 10 years though?!).
John Raftery
47
Posted 19/05/2021 at 09:39:46
Mike (32) I'll yell at them all!
Ian Horan
48
Posted 19/05/2021 at 09:40:13
JB I am in full agreement, we are very one dimensional. Cross to DCL seems are OM. This tactic is very dated, we need alternatives to how we attack. We need to mix it up and attack more 21st Century, apart from Digne ( who has gone off the boil lately) our right hand side offers nothing other than over hit crosses.
Bob Parrington
49
Posted 19/05/2021 at 09:44:06
From what I have learned about team sports from my short 72 years of time on this planet it is a mix between the right coach/manager and the right players. If either is wrong then no success.

We've tried with most of the same players with, is it 4 managers before Carlo(?) and failed. Can I suggest the heap of crap we have been served, over the past 5 years or more, is most likely something to do with a significant number of the players than the manager.

So, Carlo, get rid of all of those you think are shit and replace them with players with character and self-pride rather than the pitiful ones who you have probably already put a cross against.

Then we might be going somewhere!!!
Tony Everan
50
Posted 19/05/2021 at 09:49:07
I think Carlo has come to the conclusion that for a good few of our squad being at Everton is just a job, not a passion or commitment. There's players who coast in all aspects of training, preparation, lifestyle and on match day. 90% effort will do attitudes.
Carlo's comments are an indication that some players are like a cancer on the squad. Draining he life out of those who are committed and want to achieve something. Teams will never achieve anything unless there is unity of purpose and confidence that teammates are fully committed.
He has seen enough to know more than a few will never be fully committed, even if they say otherwise. Carlo wants them to depart ASAP.
This is when he will need a magician, as many are on up to 6 million a year contracts and would rather do a Besic than up sticks.
He should tell Marcel Brands to join the magic circle, because he needs to sell or move on about five or six players on big contracts of varying lengths. Then refresh the team with new quality, younger and hungrier blood.
The reality is that magic doesn't exist, to move on players is going to mean a financial hit, to get the necessary replacements in is going to cost big money.
The last window was a tricky one for Brands but it was a cakewalk compared to what this summer's will be.
Hugh Jenkins
51
Posted 19/05/2021 at 09:50:08
Many have said - and often - that there is a lingering malaise in the Everton dressing room that eventaully affects all incoming players and drags them down to the lowest common factor in terms of player commitment.
I have often though that this is a fantasy - but not any longer.
Carlo Ancelotti, unlike Jose Mourinho, is not renowned for slagging off his players when things start to go wrong.
So, when CA does it, as he has in two very recent interviews, one must take notice.
Big changes in personnel are needed at Everton, and probably not just in the playing staff, if we are ever going to get back to where we believe we rightly belong.
Meanwhile, let us hope for at least 4 points from our remaining two games,
Jerome Shields
52
Posted 19/05/2021 at 09:57:53
Tony#50
'Carlo Ancelotti: Everton manager says unhappy players can leave Goodison Park amid criticism over commitment. '
Reported in the Guardian and Sky Sport.
Andrew Ellams
53
Posted 19/05/2021 at 09:58:33
Ian we are one dimensional and completely predictable. That's why the Calvert-Lewin's goal tally was bang average after October. Teams sussed us out.
Barry Hesketh
54
Posted 19/05/2021 at 10:00:39
I suppose we'll find out tonight how many 'unhappy' players are in the Everton squad. But even if we see a good performance and a positive result, how will we know whether it's a positive reaction to Carlo's statements this last few days or the fact that fans are back in the stadium and that it's the final time the players will 'grace' Goodison until after the summer?
On the other hand, if the team put in yet another terrible display and the result is a negative one, what do we learn from that?
That the manager believes that Everton are unable to play attacking football on a regular basis is a terrible indictment of the current players, and whilst that statement is understandable to some extent, it isn't what many of us expected to be uttered by any Everton manager including Big Sam.
For all those who are able to attend tonight, I hope that it's a good performance and a good result, but whatever happens we won't be able to tell until the beginning of next season what effect if any Carlo's statements have made on the squad.

Brian Murray
55
Posted 19/05/2021 at 10:11:30
I know the likes of George maybe romanticise about our gods little acre and long may it continue kidda. What is still very dangerous is this group putting up some sort of a show and getting yet another stay of execution come the transfer window, With the exception of maybe Coleman and Godfrey the rest are not interested and or not good enough to take us the next level. Why is Carlo just saying it now. Surely Dunc could of pointed it out or about 40 thousand would of. Forget tonight is no barometer just get it right in the summer and somehow get buyers for the majority of these losers.
Barry Rathbone
56
Posted 19/05/2021 at 10:39:31
Surely a shot across the bows of Richarlison and confirmation Kean ain't welcome.
All the rest seem happy as Larry on big wages at a big club doing very little something I get because of dedicating my life to pretending to work for decent money - can't stand hard graft.
My wife has rougher hands than me I flatly refused to do the washing up from day one.
Brian Harrison
57
Posted 19/05/2021 at 10:42:07
I just hope that they put on a show for the 6,000 Blues who will be inside the stadium tonight.
Dave McDowell
58
Posted 19/05/2021 at 10:59:14
George #37 I was downbeat (like most) due to our prolonged despicable displays but you've just given me a reason to enjoy today's game.
The thought after 15 months that you get to visit the Old Lady and soak in the ambiance just makes me happy.
As a kid I'd get to GP as the gates opened & I'd just love being there watched the ground fill & the atmosphere build.
Win, lose or draw Goodison is a special place, have a great day & I look forward to your report.
Eddie Dunn
59
Posted 19/05/2021 at 11:02:37
The only hope I have is that Ancelotti knows how to win trophies. The question will be whether he will get the financial backing to bring in enough new faces to make us better. The club had had a herculean task to offload the deadwood of our previous incumbents. Indeed this last few months has undermined the trust we had in players previously thought of as the future.
I think we must have the most unmotivated team in the PL.

Dave Abrahams
60
Posted 19/05/2021 at 11:37:47
To all fans going to the game tonight, I really hope you see a good performance with a few goals to keep you happy on your return to The Old Lady and keep you and all of us in a good mood, for tonight at least.
George enjoy your day, I hope it all goes well for you, your daughter and your grandson,a few pound on 4-0 will make the night even better.
Ian Burns
61
Posted 19/05/2021 at 12:26:47
I am actually intrigued by this game tonight.
After the public utterances of dissatisfaction with regards to players' lack of attacking ability, attitude, motivation and the rest, I am keen to see how the players react.
Those who want to be here next season will respond. Those who don't give two figs will be shown the proverbial cushions by those at GP this evening.
Going public with those criticisms will work or backfire. We will see.
Derek Knox
62
Posted 19/05/2021 at 12:47:13
Barry @ 56, you chauvinist! I bet you burnt you string vest, Y-Fronts and knotted hanky too! Imagine not knowing one end a Bottle of Fairy from the other, tut, tut! :-)
Michael Boardman
63
Posted 19/05/2021 at 12:58:11
Lyndon, the match is at 6pm, so announcing the squad at 7pm may see us 2 or so down by that point (Wolves are as bad as us attacking-wise at the moment)
Kieran Kinsella
64
Posted 19/05/2021 at 13:10:52
Paul Davies
65
Posted 19/05/2021 at 13:11:28
Quiz of the day Tommy Cooper or David Blaine as our next manager.

Chris Hockenhull
66
Posted 19/05/2021 at 13:13:07
Michael 63. You last line...Well we all know what always happens when that sort of statistic or fact is presented to our glorious bunch!!!
Barry Rathbone
67
Posted 19/05/2021 at 13:18:07
Derek 63
It's all about maintaining standards. Dear old mum didn't have her boys doing the dishes and as the old adage goes " mum knows best" 😆😆
Kieran Kinsella
68
Posted 19/05/2021 at 13:27:42
If we pick a team based on those who'll put in a shift (try their best if not necessarily the most talented) we'd have Godfrey, Coleman, Davies and Iwobi. After that it is tricky as we'd have four goalkeepers in the side and Whitaker making his debut. Additionally playing with only 7 men and two boys leaves us looking light.
Damien Coleman
69
Posted 19/05/2021 at 13:28:41
Sadly this season, despite some genuine high points (all away from home, all involving breaking long-standing curses), will go down as a truly massive missed opportunity.
Our best ever Premier League points tally of 72 saw us finish fifth. This season we'd be guaranteed third with that total, maybe even second. Even a moderate home record (ie four more wins against...well, take your pick of teams from the bottom half) would have pretty much guaranteed a Champions League place.
As a few have already pointed out, we've had numerous opportunities to shoot up the table with games in hand against poor opposition and I can't remember us taking a single one all season.
Whatever problems the squad has in terms of lack of pace, lack of youth etc I still think mentality is our main weakness. We certainly didn't look short of creativity in the first four games, when there was no pressure or expectation.
Jon Harding
70
Posted 19/05/2021 at 13:40:03
This squad can't pay 2 games a week so when they looked at their last 3 scheduled games over 8 days they must have thought:
Sheff Utd - easy
Man City - no chance
Wolves - that's the one we'll put some effort in to
Sadly after 2 games the previous week (West Ham & Villa) the complacency for the Sheff Utd game cost us dear.
So it's probably for the best that we are avoiding European games next season.
Especially as we're stuck with a lot of the squad on their big contracts till at least summer 2022 - James, Siggy, Bernard, Coleman, Delph and Tosun to be specific. Those turkeys ain't voting for Christmas this off-season, you can be sure.
Anyway, plenty of cricket and golf to keep me entertained - and amateur psychology.
Clive Rogers
71
Posted 19/05/2021 at 13:44:42
Lyndon's team is probably the strongest we can field with Davies added to Allan and Doucouré. I hope that none of the subs in the last game will be brought on at any point as Gomes, Sigurdsson and Iwobi made us worse and are just not good enough. Where are the youngsters coming through?
Enter your real name here
72
Posted 19/05/2021 at 13:50:13
Are we to get a look at our next manager this evening?
Barry Hesketh
73
Posted 19/05/2021 at 13:57:47
Well, 'Enter Your Real Name Here' only if Carlo is tempted by any one of Barcelona, Juventus, or Real Madrid, which the gossip columns have begun to trot out at regular intervals in recent days. I don't think Carlo will leave before the new season and he won't be sacked unless the home form continues way into next season.
Jerome Shields
74
Posted 19/05/2021 at 14:11:05
Ancelotti will be staying.
Jimmy Hogan
75
Posted 19/05/2021 at 14:11:47
The race for 10th is on.
John Keating
76
Posted 19/05/2021 at 14:28:30
Does it really matter if we play absolutely brilliant and score a hatful these next 2 games
This shower-after an excellent start- have really shown their true worth.
Ancelotti had made some real crap decisions on players, formations and tactics, and then he's pulled out some crackers
My real anger is the lack of self motivation, determination and basic schoolboy errors from the players.
Regardless of who Ancelotti has played some basic things are inexcusable.
Determination and effort are a prerequisite of anyone pulling on our shirt. Sadly, too often this season have we seen the lack of basics in abundance.
I am disgusted in where we are at present and as a Blue it is shameful
Mark Ryan
77
Posted 19/05/2021 at 14:38:48
John Keating @ 76, take a bow sir. That sums up our season in a nut shell. Nothing more to be said. 8-0 tonight, so what. Richarlison scores 3 and doesn't fall over, Sigurdsson scores from a free kick, Holgate makes several good tackles, Mina doesn't limp off, Delph survives walking to the dugout, Gomes doesn't drag someone down and manages to keep pace with the opposition.
Even if these things fall into place for tonight and against City so what ? John Keating, choose any prize off the top shelf, you've summed up the club and season perfectly. Thankyou
Jonathan Tasker
78
Posted 19/05/2021 at 15:10:33
I think Ancelotti is going to be shocked how hostile the crowd can be towards their own team.
Some of his recent comments seem to suggest that he doesn't understand what the job involves.
My view has never altered. He's totally unsuited to the job. The sooner he goes, the better.
Bobby Mallon
79
Posted 19/05/2021 at 15:13:00
Johnathon tasker @ 78. Who do you want as manager?
Thomas Richards
80
Posted 19/05/2021 at 15:13:25
Who would you replace him with Jonathan?

Will Mabon
81
Posted 19/05/2021 at 15:26:53
Bobby and Thomas - sounds like you're open to suggestions, guess you want him out too.
Jerome Shields
82
Posted 19/05/2021 at 15:34:15
Johnathan#78
Win % Comparison:
Howard Kendall I - 54. 1%
Carlo Ancelotti - 46. 8%
Roberto Martinez - 42. 7%
Colin Harvey - 42. 6%
David Moyes - 42. 1%
Ronald Koeman - 41. 4%
Marco Silva - 40%
Joe Royle - 39. 8%
Howard Kendall II - 38. 9%
Sam Allardyce - 38. 5%
Walter Smith - 31. 5%
Howard Kendall III - 26. 2%
Mike Walker - 17. 1%.
Bobby Mallon
83
Posted 19/05/2021 at 15:36:52
Will Mahon, I don't want him out, never have done. Just interested in who those that do, would have. I actually know why we have done so bad.
Bobby Mallon
84
Posted 19/05/2021 at 15:38:32
I have in the past winged about him but don't want change.
Barry Robson
85
Posted 19/05/2021 at 15:38:45
The sooner Carlo has his own set of players the better. Then we'll see just how good a manager he is. I have total faith in his ability to make us able to compete and challenge for honours.
Barry Hesketh
86
Posted 19/05/2021 at 15:41:24
Bobby @83
Would you care to share your knowledge with the rest of us?
I bet it's got something to do with money?

Mike Gaynes
87
Posted 19/05/2021 at 15:41:29
Interesting stats, Jerome. What's your source?
Jay Wood
[BRZ]
88
Posted 19/05/2021 at 15:42:37
Jonathon @ 78. This:
'I think Ancelotti is going to be shocked how hostile the crowd can be towards their own team.'
Carlo Ancelotti, an Italian, whose entire playing career was played out in front of hostile partizan Italians? Who has managed Parma, Juventus, AC Milan and Napoli in his home country; Chelsea, PSG, Real Madrid and Bayern Munich and now Everton. He 'is going to be shocked how hostile the [Everton] crowd can be'..?
A very quaint notion. He's seen it all and then some.
A fine example of posting a comment without thinking it through.
Bobby Mallon
89
Posted 19/05/2021 at 15:46:06
Barry 86. It's not money. It's personal. Carlo has the same personal that 3 other managers had before him. Until he gets his own team then results will be up and down.
Andrew Ellams
90
Posted 19/05/2021 at 15:48:26
Bobby, he also has Allan, James, Doucoure and Godfrey.
Barry Hesketh
91
Posted 19/05/2021 at 15:53:22
Thomas Richards
92
Posted 19/05/2021 at 15:53:44
Andrew,
Our four best performers this season?
Kevin Molloy
93
Posted 19/05/2021 at 15:54:05
If I was Moshiri I would be feeling a little hot under the collar at the moment. I wouldn't have appreciated Carlo's 'I'm not a magician' after the worst home form in a hundred years. Not when our chap is on a million pounds a month, and when his late 20s world class additions were comprehensively outplayed by relegation fodder. I'm hoping Carlo will succeed as much as anyone, but this lousy football is 100% on him. That was his midfield that he grafted onto the team last summer that couldn't function, and it hasn't been functioning properly for six months. Boring the opposition on their home ground to the extent that they eventually cough up a goal may be a strategy to adopt for most away games, but it absolutely isn't acceptable for home games. And if that wasn't the strategy, what the hell have we been watching. more to the point, what the hell has he been coaching them for the last 18 months. He really needs to pull his socks up, but with the money already banked, I do wonder whether Carlo has the hunger to really light a fire under anybody these days.
Jerome Shields
94
Posted 19/05/2021 at 15:57:43
Mike#87
Wikipedia
List of Everton Managers
It was Steve Carse on another thread that alerted me to it's existence and mined the data to give a up to date view.
Ancelotti's career percentage is 61. 8 and last season in italy was 41. 2
Len Hawkins
95
Posted 19/05/2021 at 15:58:16
Well let's assume that by some uncanny twist we can off load the deadwood the disinterested and the useless and bring in Carlo's shopping list of European stars. Does anyone imagine they will hit the ground running or do you think it will take them time to get to know each others quirks of wanting the ball to their feet instead of the midriff or the opposition as it is now. Will these stars show the remaining batch of current losers how to make a simple 5 yard pass or trap the ball instead of the current bounce off their legs to an opponent. Will they show them how to move the ball forward now and again perhaps even into the opponents half before turning and passing back.
I'm no master tactician but it drives me to distraction the amount of negative amateurish play shown by a supposedly Premier League outfit. When Pickford has more time on the ball than the misfiring midfield it is a mockery of what this club has stood for over the last 150 years.
I said it in another post that I wish Usmanov would get more involved and clear out the failures off the pitch as well as on it, he is supposedly a ruthless Russian £Billionaire and he didn't get to that level by being nicey nicey unlike the current teary eyed figurehead of this once great club crying his eyes out at the drop of a hat. What a Pity his Uncle didn't make the bleeder walk instead of taking him on his bike.
Andrew Ellams
96
Posted 19/05/2021 at 16:00:59
Thomas, I wouldn't put Allan and James up there. Both have definitely gone backwards since the start of the season and seem to struggle with the pace of the PL.
Doucoure and Godfrey probably our best 2 players across the season as a whole but no credit for Carlo there as he admitted to not knowing anything about either of them before they came in.
Thomas Richards
97
Posted 19/05/2021 at 16:01:30
". Not when our chap is on a million pounds a month"
How do you know that Kevin?
Kevin Molloy
98
Posted 19/05/2021 at 16:03:24
why, how much do you think he's on Thomas? I was under the impression that he's on about 11m a year.
Thomas Richards
99
Posted 19/05/2021 at 16:06:54
No idea at all Kevin.
What gave you that impression?
Hugh Jenkins
100
Posted 19/05/2021 at 16:07:33
Andrew (90) - and they have clearly improved the team - imagine the season we would have had without them?
If we accept that apart from the odd game, Pickford has, ''settled" since the "Van Dijk Derby", there are still a further 6 outfield players that are not "Carlo's".
Since it has also been openly admitted by Carlo and Brands that neither Doucoure nor Godfrey were asked for by Carlo, then his players, in this season's team are James and Allan.
So, in percentage terms, 2 from any starting 11 gives him just over 18% and if you include the 7 on the bench then 2 from 18 gives him just over 11%.
Hardly his "team" then, by any stretch of the imagination.
If, as has been suggested he gets in another "4 or 5" this closed season, his situtation at the start of next season will be possibly 6 or 7 out of a first team squad of perhaps 23 players so even then the percentage of his men will be just over 30% ( if 7 of 23). That is why many have been saying he needs to have several transfer windows in order to establish "his" team and it is unfair to judge him before then.
Kevin Molloy
101
Posted 19/05/2021 at 16:08:39
https://www.sportbible.com/football/football-news-carlo-ancelottis-huge-pay-packet-at-everton-has-been-revealed-20191217
Thomas Richards
102
Posted 19/05/2021 at 16:09:59
Beat me too it Hugh.
Andrew, using your logic only two of the players are Ancelottis players?
Do you not think it fair to
judge him when he has formed his own team?
Andrew Ellams
103
Posted 19/05/2021 at 16:10:55
Hugh, I'm not sure they have improved the team. It wasn't for the first 4 games we'd be almost in the same 12th place we were last season.
Thomas Richards
104
Posted 19/05/2021 at 16:12:47
Gossip columns Kevin.
Heres some more
https://www.bbc.co.uk/sport/football/gossip
Mike Gaynes
105
Posted 19/05/2021 at 16:15:03
Kevin #101, the full Prem manager paycheck list is here:
https://www.goal.com/en/news/how-much-football-managers-paid/1p29grinjowrr1jl5hwuu0med5
Carlo is 4th.
Off-topic, did anybody hear something about the Celtic CEO's home being firebombed?
Andrew Ellams
106
Posted 19/05/2021 at 16:16:36
Thomas and Hugh, so by your logic managers can't be judged until they've pretty much performed a 100% turnaround in personnel?
If Wolves and Burnley win tonight we finish the season with the 4th worst home form. That's the team with England's no. 1 goalkeeper, a member of the France squad, 2 current members of the Brazil squad, James Rodrigues and a striker that's scored 4 goals for England so far this season. He's not exactly been landed with Rochdale's first team has he.

Derek Knox
107
Posted 19/05/2021 at 16:18:05
Bobby @ 76, A Jonathan Tasker and Ian Richards Management (wet dream) Team would have us in the Conference before you could say WTF! :-)
Jonathan Tasker
108
Posted 19/05/2021 at 16:19:15
Jay Wood 88
I have thought it through thanks.
In this case I'm specifically relating it to an Everton crowd wanting to let the manager know that they won't tolerate the absolute garbage that has been served up at Goodison. Second worst home record ever I believe.
I know where Ancelotti has managed thanks.
Do you appreciate that he's been sacked from his last three jobs ?
As to who do I want.
My choice would be either Graham Potter or Steve Cooper. They would be the sort of up and coming managers that could succeed. As opposed to the old man currently in the hot seat who is taking advantage of Moshiri's naivety.
My caveat as ever is that nobody will succeed until the curse of kenwright is removed from the vicinity.
Mike Gaynes
109
Posted 19/05/2021 at 16:21:48
Andrew #103, yeah, and if it wasn't for the last 4 games we'd be 5th. You're really straining there, bro.
All the results count, good and bad.
Tom Bowers
110
Posted 19/05/2021 at 16:22:11
We have a few shirkers in many games that is to say some who ''disappear'' when they need to show some intensity. Tom Davies has always been a worker rather than a high priced ''shirker''.
Yes, some players have seemingly gone backwards since the bright start to the season despite some backs to the wall wins on opponents grounds but if that is the Carlo plan it needs ruthless consistency that we have seen so little of in the Goodison games.
They would have been booed off in quite a few of those games had crowds been present and I am sure that anything like the Blades game should have 6500 fans booing.
Quite honestly there has been little to remember this season by and thankfully it ends soon with no real excuses as to why everything went belly-up.
One could say scoring goals can get you rewards but Everton have not scored enough except for DCL. City, Manure and RS always seem to get something when it matters because they have goals coming from more than one person. This situation is the first order of business for Carlo next season.
Will Mabon
111
Posted 19/05/2021 at 16:22:29
Thomas, if you're able to determine gossip columns from what you believe credible sources re. Ancelotti's pay, perhaps you'd like to share.
I've seen 11 & 11.5 mil. per year quoted maybe ten times by now. Haven't gone forensic but on probability, guess what, he's probably on around 11 per year.
p.s. some more "Gossip" quoted by Mike seems to concur.
Kevin Molloy
112
Posted 19/05/2021 at 16:24:26
thanks Mike yes that sounds about right. But of course I don't have his contract in front of me Thomas but we can assume to lure an elite level manager of Carlo's stature will have taken major dollars, and as such I think Moshiri is entitled to feel a little miffed at the latest comments in view of the performance levels.
Andrew Ellams
113
Posted 19/05/2021 at 16:24:58
Mike, were the Fulham, Leeds, West Ham or Newcastle home games in the last 4?
If this team doesn't start well next season they are in serious trouble.
Chris Williams
114
Posted 19/05/2021 at 16:25:47
Mike,
Yes he was firebombed early on today seemingly. They had to evacuate the premises apparently.
He was the former CEO, and left a short while ago I think.
Mike Gaynes
115
Posted 19/05/2021 at 16:34:54
Graham Potter and Steve Cooper. Spare me.
Jonathan #108, your standard for our new manager is obvious. Win less than half their games at effing Swansea.
One relegated from the Prem weeks ago.
The other whose sum total of coaching grownups is two low-scoring seasons in the Championship. (Swansea average barely over a goal a game and are as exciting to watch as grass growing.)
I'll just sit here and roll my eyes for a while.
Kieran Kinsella
116
Posted 19/05/2021 at 16:38:52
Jonathon
So you're the legendary "Steve Cooper advocate" Rob Halligan has spoken about. I'd never seen anyone make that suggestion so I thought he was exaggerating but wow, here you are.
Mike Gaynes
117
Posted 19/05/2021 at 16:41:16
True enough, Andrew #113, but we have no idea who will be in the side at the start of next season. I'm eager to see who Marcel and Carlo come up with this summer. They did pretty well in the last window.
However, yes, if next season starts like this one is ending, a whole lotta people are gonna be in a whole lotta trouble.
Jay Wood
[BRZ]
118
Posted 19/05/2021 at 16:45:19
Jonathon @ 108.
Confirming that you DID 'think it through', still posted the comment you did @ 78 and evidently believe you are making an astute observation really doesn't surprise me at all, given your TW posting history.
Brent Stephens
119
Posted 19/05/2021 at 16:49:47
Jonathan #108 "My choice would be either Graham Potter or Steve Cooper. They would be the sort of up and coming managers that could succeed."
Any credibility you might have had (I know, I know) just went out the window with that. Great achievers, both. Except you say "could" succeed! "Could". Words fail me.
Bobby Mallon
120
Posted 19/05/2021 at 16:52:51
Andrew 90 and they are our best players all of them do another 4 like that and we will be going places.
Mike Gaynes
121
Posted 19/05/2021 at 16:55:24
Kieran #116, imagine the worldwide attention we'd attract with that managerial change. Just picture the headline
"Everton sack Ancelotti, ink Cooper (who?) to 4-year contract"
. They'd be laughing from Bootle to Beijing to Brazil.
The sub-headline would be "Allan, James Rodriguez spotted at Heathrow, no baggage".
Thomas Richards
122
Posted 19/05/2021 at 16:57:24
Dont mind sharing the gossip columns with you Will.
See that baldy brother out of east enders is goosing the barmaid again.
Duuurty bastard
Barry Hesketh
123
Posted 19/05/2021 at 16:57:32
It's been reported that Farhad Moshiri is in attendance for this evening's game at Goodison, his first appearance at home this season, I wonder if he can grab a couple of goals?
Kieran Kinsella
124
Posted 19/05/2021 at 16:57:42
Lol Mike, it's the same kind of logic as the "we need to let all the under 23s play as they can't be worse." Like Koeman couldn't be worse than Martinez, Silva couldn't be worse than Koeman and so on.
Brian Murray
125
Posted 19/05/2021 at 16:59:36
Welcome to the real Everton Carlo. Shame it's taking you this long. Really wish him and Brands well this summer. No usual suspects like Ramsey getting linked. Brands really transformed PSv in his second year with unknown gems. We could still rise again but please spare me this good bad indifferent post mortem on these last two games, No disrespect to the fans who are going tonight.Hope they enjoy it big time. I'm more interested in next season. Again.
Mike Gaynes
126
Posted 19/05/2021 at 16:59:45
Barry #123, no way, but I guarantee he can pick a pass better than Mason.
Frank Crewe
127
Posted 19/05/2021 at 17:02:12
Jonathan #108
"My choice would be either Graham Potter or Steve Cooper. They would be the sort of up and coming managers that could succeed.
Weren't Moyes, Martinez, Silva up and coming managers. Might as well throw in Eddie Howe while you are at it. It's changing managers every season or two that has put us in the position in the first place. If Carlo cannot put Everton right nobody can. He can attract players who would otherwise give us shrift since our record of unbroken failure doesn't appear to be working. We stick with Carlo end of.
Bobby Mallon
128
Posted 19/05/2021 at 17:02:48
Johnathon @108. The same old saying. Just look into why he was sacked.
Derek Powell
131
Posted 19/05/2021 at 17:07:24
Same team same shit whats not sinking in with carlo
Brendan McLaughlin
132
Posted 19/05/2021 at 17:07:25
Are we playing "Spot the Live Forum Link" this week again?
Barry Hesketh
133
Posted 19/05/2021 at 17:09:18
James not even in the squad - feel sorry for those fans who had hoped to see him for the first time. Not a great deal of creativity in the first eleven and not much on the bench - but seeing as it's the anniversary of the 1984 FA Cup final I'll predict a 2-0 home win.
Geoff Williams
134
Posted 19/05/2021 at 17:10:05
We'll probably end up 10th in the league which is hardly progress. Other than the first month the football has been dire. Every player, other than Pickford, has gotten worse as the season has progressed. DCL is a shadow of himself as of late and Richarlison has been so poor. Holgate who looked the part this time last year has become a liability. Personally I wouldn't trust Ancelotti to spend wisely over the next transfer window. He has little knowledge of British players and this is why he is only interested in his former players.
Dale Self
135
Posted 19/05/2021 at 17:11:44
Ian, we reserve the terms 'fool' and well I don't use the term dullard but we use the former for special obvious displays not our manager's attempts to right the ship
Brent Stephens
136
Posted 19/05/2021 at 17:11:52
Ian so you'd have kept Holgate in?! And you call Carlo a dullard.
Steve Brown
138
Posted 19/05/2021 at 17:13:06
Jerome @ 94, it was actually me that posted the table this week (post 114)
. Link
Don't mind you doing a straight copy and paste, but at least get my name right. :)
Kieran @ 116, as Rob H will confirm it was actually Ian Edwards who was the legendary Steve Cooper advocate. Jonathon isn't only ridiculous in his views, he is unoriginal!
Jonathan @ 108, your original line when Ancelotti was hired was to try to call him the Italian Walter Smith. Given Carlo's win rate is 48.6% compared to 31.5% for Walter, you have quietly dropped that line.
UTFT!
Steve Byles
139
Posted 19/05/2021 at 17:16:07
I've had it with this shower. No effort, just collecting their money and going through the motions. 50 years supporting Everton and for the first time I want us to lose. We deserve nothing from this season.
---
Add Your Comments
In order to post a comment, you need to be logged in as a registered user of the site.
Or Sign up as a ToffeeWeb Member — it's free, takes just a few minutes and will allow you to post your comments on articles and Talking Points submissions across the site.