Everton beat the deadline to secure Rondon
Tuesday, 31 August, 2021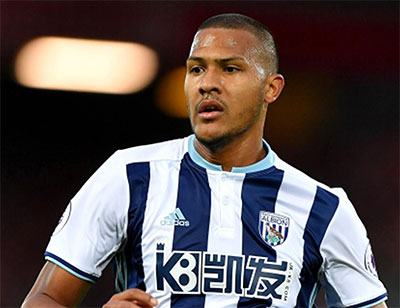 Everton finalised their fifth signing of the window with the acquisition from Dalian Professional of Salomon Rondon who links back up with former boss, Rafael Benitez.
The oft-mooted transfer was completed ahead of tonight's 11pm transfer deadline after the Venezuelan striker settled the necessary details to terminate his contract in China and return to the Premier League.
The 31-year-old signs a two-year contract with the option of a third.
Remarkably, he was the only addition to the Blues' squad on a day that looked a few days ago as though it was going to be hectic but ended up being a damp squib.
Rondon, who follows Asmir Begovic, Demarai Gray, Andros Townsend and Andy Lonergan through door as permanent signings this summer, played under Benitez on loan at Newcastle United and scored 12 goals in 33 appearances for the Magpies after making 120 appearances for West Bromwich Albion where he scored 28 times.
Since leaving England, Rondon scored 14 goals in 28 games for Dalian and had a spell at CSKA Moscow but he arrives at Goodison Park now at the age of 31 to provide striking back-up for Dominic Calvert-Lewin.
"I'm really glad to be back in the Premier League," Rondon said. "It's a competition I enjoyed playing in and where I felt the fans' support in every game.
"Defending the colours of a club with a history as rich as Everton's fills me with pride. I can't wait to pull on the shirt and be reunited with Rafa Benítez, a coach who has changed the way I understand the game."
Rondon wasn't expected to make his Everton debut in the Premier League until the home game against Norwich City on 25 September at the earliest as he would have been forced to self-isolate for two weeks once he returned from international duty with Venezuela.
However, the striker won't be taking part in his country's World Cup qualifiers which suggests he may not have travelled back to South America after all.
---
Reader Comments (143)
Note: the following content is not moderated or vetted by the site owners at the time of submission. Comments are the responsibility of the poster. Disclaimer
Neil Copeland
1
Posted 31/08/2021 at 23:03:38
Welcome to Everton Salomon - UTFT
Colin Battison
2
Posted 31/08/2021 at 23:11:38
The likelihood is Rondon was done hours ago but left to 11pm for the official announcement so to look like Everton were working right up to the last minute trying for new players. Jeez...Not very inspiring. We need to bring in Serge Aurier who has terminated his contract so he is a freebie.
Colin Glassar
3
Posted 31/08/2021 at 23:13:09
So we missed out on the Queen of Sheba then?
Drew O'Neall
4
Posted 31/08/2021 at 23:15:21
To be fair, that would have been a cracking window if we'd got those names in 6-7 years ago.
Phil Malone Jnr
5
Posted 31/08/2021 at 23:17:10
Thank god, thought we'd really cocked this deadline up by signing over the hill premier league players.
Pekka Harvilahti
6
Posted 31/08/2021 at 23:17:47
Back to the days when there was no money...
Now the reality hits them, how can you make so many wrong calls like when Walsh was right (suggesting for Robertson, Maguire and Haaland), they rejected the call.
Neal Kernohan
7
Posted 31/08/2021 at 23:19:45
Welcome and best wishes. Ignore the posters who think they know the most about transfers! See above posts and probably some posts below for grief before you even put a shirt on....
Brian Porter
8
Posted 31/08/2021 at 23:23:31
Could someone please remind me what Brands is actually paid for? With all the players in all the teams in all the leagues in all the countries in all the world just what the hell has been doing? Couldn't even find us a couple of decent additions since the previous window? Surely we had a few millions available if he'd identified the type of players we're badly in need of.
Christy Ring
9
Posted 31/08/2021 at 23:23:41
A good old fashioned centre forward who can cover for DCL, definitely an upgrade on King, but hasn't got the speed to cover right and left back!
Mike Keating
10
Posted 31/08/2021 at 23:25:29
So no Right Back after all the talk.
Absolute joke.
Mike Corcoran
11
Posted 31/08/2021 at 23:26:14
Rondon may surprise. Understandable signing in that the vast majority of his goals are poached between the sticks. Can leather the ball with both feet and his nut. May well be a suitable back up for DCL. Time to get behind Benny's Bargain Blues?
Lester Yip
12
Posted 31/08/2021 at 23:28:37
It's a risk free signing of an experienced Target Man to cover DCL. Benitez knows him well understands what he can and cannot deliver. Free. 2+1 contract not as good as 1+1 but still ok.
Welcome Rondon.
Ted Donnelly
13
Posted 31/08/2021 at 23:29:19
🙈
Lester Yip
14
Posted 31/08/2021 at 23:31:10
The only thing is we still haven't got a RB. Hope Benitez can coach JJK to become a better player.
Paul Hewitt
15
Posted 31/08/2021 at 23:32:25
This squad is now better than last season. We do have cover for RB( not ideal). We have proper wingers now and cover for DCL. Plus a far better manager than last season. So stop bloody moaning.
Jon O'Dell
16
Posted 31/08/2021 at 23:34:56
Serge Aurier has just been released by Spurs and we need cover at right-back. Worth a punt?
Mike Allison
17
Posted 31/08/2021 at 23:41:03
We don't need 'cover' at right back, we've got Coleman, Kenny, Holgate, Godfrey and even Kyle John. We need a higher quality player who wants to commit to us for the long term.
I don't know if Serge Aurier fits that bill or not, but why has he been released on a free?
Sam Hoare
18
Posted 31/08/2021 at 23:43:09
Think Rondon when match fit will positively surprise a few. A hard worker with the strength and energy to bully centre backs and a professional attitude from the bench.
David Pearl
19
Posted 31/08/2021 at 23:52:26
Sam, he will score more than Kean did. Happy we got him.
Andrew Keatley
20
Posted 31/08/2021 at 23:53:36
Sam (18) - Totally agree. Rondon loves a battle and as a target man is a real handful. Rafa knows what he is doing.
John Boon
21
Posted 31/08/2021 at 00:05:35
Now that it is certain that James is staying at Everton the onus now falls on the Everton coaching staff to get him fit and focused on just what his job is. If they can get the very best out of him then we all know what he can do. Fans seem to have meakly accepted that he is just not going to live up to expectations. WHY? He has so much ability and is capable of winning any game. He must be made to realise that he is here like it or not until at least January. Personally I want to see him put on an Everton shirt and play to the very best of his undoubted ability.COME ON. Show us what you can do NO EXCUSES!!!!YOU ARE AN EVERTON PLAYER
Tommy Leigh
22
Posted 01/09/2021 at 00:19:44
This boy is better than Joshua King. That is a fact. A proper goal scorer. Absolutely delighted with this to be honest. Strong, and knows where the goal is.
Mark Andersson
23
Posted 01/09/2021 at 00:31:38
Great news.. good luck Ron..
Rafa to receive manager of the month..
I feel confident of a Midbtable finish better than a nail biting relegation battle
Paul Kernot
24
Posted 01/09/2021 at 00:36:47
Thinking beyond my initial knee jerk reaction, I agree with several posters above. Yes he's getting on a bit but he's bloody good at holding the ball & therefore creating opportunities for the likes of Gray, James, Richie & the new look Docoure.
Vijay Nair
25
Posted 01/09/2021 at 00:44:22
Not the most exciting deadline day signing, but addresses a key gap we had. Rondon is a capable backup with plenty of premiership experience and the boss knows him well.
Looks like we were after Luiz but wanted to offload James as part of the deal, and Porto wanted straight cash (which we don't have).
With Maitland-Niles, nothing much we can do if Arsenal consider us a rival, and don't want to loan us their player. Rafa has improved a number of the players in the squad, and perhaps he can do the same with Kenny as well.
A big no to Aurier coming in. Flashes of brilliance, but always has a mistake up his sleeve. Not to mention he was on at least 70K/wk at Spurs. No thank you.
Till January at least, this is the squad we have to work with. Like others have mentioned above, now that James is staying, he needs to put in 100% effort for the team and consistently display the undoubted ability that he possesses.
Freddy Maldonado
26
Posted 01/09/2021 at 00:53:22
I think this is a decent signing. He can come in and be a nuisance-a bit of a nastie. He will definitely help with DCL not at 100%. I could probably name 50 other strikers I would rather have but Rondon over Tosun for me. With some decent service, he can get us 5-10 goals. 5 players in at 1.7M? This could be a steal of a window if they pan out.
Paul Kernot
27
Posted 01/09/2021 at 01:08:38
Interesting comments on several threads recently about players desire & work ethic. Last night I watched a dutch paralympian woman win gold in the table tennis. No big deal except that she could hardly walk to the table (walks with a stick), & was a foot shorter than the Russian girl she was playing which makes a difference in that sport. It went to 5 sets too. First thing she did after winning, before thanking eveybody etc, was collapse to the floor from the effort. I was crying watching it.She was absolutely inspirational.
Derek Knox
28
Posted 01/09/2021 at 01:10:50
Would have been good to get that Diaz and a right back too, but I think all in all, not a bad window, the squad is gradually shedding deadwoods and deadweights, so I think we should if we can carry on as we have started, be able to hold our own, even against the so called Big Boys.
Colin G @ 2, Who needs the Queen of Sheba, when we have Prince Iwobi ?
Mike Gaynes
29
Posted 01/09/2021 at 01:13:41
"A proper goal scorer.""Think Rondon when match fit will positively surprise a few."
"Can leather the ball with both feet and his nut."
Say what???
Love the optimism... but... you guys must be remembering a different Rondon than I am.
In 140 Prem games, at his peak of youth and strength, Rondon scored 35 goals. Averaged a goal every 310 minutes of play. (Somewhat better than Victor Anichebe. Nowhere near as good as Cenk Tosun.)
And that was years ago. Now he's 32 and has spent the past three seasons in China and Russia -- making a grand total of 41 appearances -- and is no longer wanted there.
Hate to pee on your cornflakes, boys, but I'd say anything we get from this player... and I mean ANYTHING... is a gift from the gods.
OK, so he's free.
Dave Abrahams
30
Posted 01/09/2021 at 01:26:31
Paul (24), yes like Long of Southampton, he didn't score many goals or play for ninety minutes but came in and was utilised very well by Southampton. Benitez will know how to get the best out Rondon.
Tommy Leigh
31
Posted 01/09/2021 at 01:50:15
To Mike Gaynes. He is now at a team who will give him actual service. If/when he plays he will score. I have no doubt. Digne will whip the ball in and he'll grab a few. Do not underestimate the Rondon. He is decent.
Jim Knightley
32
Posted 01/09/2021 at 01:51:04
We cant spend money. Given that, what did anyone expect from this window? I understand complaining about the waste of the previous years but 4 squad players in for 1.7mil is very good going. Gray looks to be better than a squad player in the early games - maybe Townsend will prove to be so.
It's a shame someone compotent (Moyes) didnt have money to spend. Hopefully Rafa will have it next season. Ive got no expectations but, despite the doom and gloom on here, we do have some very good players and a solid first 11. With some luck and belief we can still have a good season. And we needed some creativity this window imo and maybe keeping James has answered that. He is a luxury player, he isn't a Rafa player, but he is an incredibly gifted player. Maybe we will see him behind the striker at some point, esp if there is any injury to Richarlison or DCL. At the very least, we should get some sub apps from him. His dismantling of Spurs last season illustrates what he can bring. It would be great to see him at Goodison and he could be important in tight games against deeper defences.
Mike Gaynes
33
Posted 01/09/2021 at 02:16:36
Tommy, I love your optimism, but how do you know he's "decent"? You haven't seen him play since 2018. None of us has.
He certainly hasn't been going up against Prem-quality defenders in China. Plus I'll guarantee you he got quality service at CSKA, because his #10 was a gifted young playmaker named Nikola Vlasic.
However, I hope you're right and I'm wrong. I'll be absolutely thrilled if he even vaguely resembles what he was with the Barcodes, but I expect nothing.
Kieran Kinsella
34
Posted 01/09/2021 at 02:40:51
Mike Gaynes
The stats are a bit misleading. He played over 100 games for strugglers WBA. He had a ratio better than a goal every three games at Newcastle. Plus he's not 32 … for two weeks. Lol
Kieran Kinsella
35
Posted 01/09/2021 at 02:50:12
Dave Abrahams
Funny you mention old Harold Matthews. I never met him but he was a good poster, level headed and seemed like a lovely man. Any time I see Roberto Martinez simply because any time someone would post something like "Martinez is a nice man but. . . " Harold would jump in and say "he is NOT a nice man." He never elaborated - being the gent that he was - but I've always viewed RM with suspicion since.
Paul Jones
36
Posted 01/09/2021 at 02:59:41
I remember being underwhelmed by the signing of
Wayne Clarke so will give manager he benefit of doubt.
Mike Gaynes
37
Posted 01/09/2021 at 03:02:51
Haha, Kieran, I knew somebody would bring up the two weeks (actually 16 days) until his birthday!!
But it's not just the stats. We've all seen him a lot. I remember a guy who seemed unplayable but couldn't score to save his life. Climbing above an overmatched fullback and heading the ball high over the bar. Shrugging off a center-back like a child, turning past another in the box, and scuffing the shot wide from eight yards.
I do sorta remember one really good game he had at Goodison... I just hope he can summon some muscle memory of that performance and duplicate it once in a while this year.
Bill Gall
38
Posted 01/09/2021 at 03:05:08
Well one thing that happened in this widow is James is still here and you never know Rafa may be able to get blood out of a stone.
Supporters say James does not work hard enough for a Benitez team, but I think that with the different teams and managers he has played for, including internationals, he isn't picked just for a couple of min of skill over the 90.
The problem with Benitez's teams is he expects the players to play in a set position were James is more suited to moving around and popping up were you don't expect him, and this disrupts the opposition defense.
I don't believe he will be left sitting on the bench all season, I could be wrong, but Rafa is only interested in what a player can offer an Everton team today,and not what happened years ago.
Its up to both of them to prove they deserve a place in the team.
Don Alexander
39
Posted 01/09/2021 at 03:07:20
Jim (#32, and others of the same ilk), if we forever wish to eternally turn the History-Of-Everton page without ever holding to account the owner/board from accountability for our now bog-standard thirty year plus history we fans will never instigate the changes necessary to even begin to achieve what we want, i.e. root and branch reform INSIDE the boardroom to make us even viable as a trophy winning term.
Bill Gienapp
40
Posted 01/09/2021 at 03:38:39
Mike, I fully expect he'll celebrate his birthday with a hat-trick against Burnley!
Kieran Kinsella
41
Posted 01/09/2021 at 03:42:04
Paul Jones
Yeah Wayne Clarke no-name kid brother of Allan. I remember him ending Liverpool's attempt to beat his brothers unbeaten run in the derby. Picked up a championship medal too.
Bill Gall,
To your point, I'd be annoyed if James gets the Bolasie treatment. If nothing else what a talent to have as a super sub.

Mike Gaynes
Sorry mate, they called me Which Tyler leader of the pedants revolt.
Ps. I should've been a Venezuelan — crap footballers surrounded by hot women. I could deal with that.
Neil Tyrrell
42
Posted 01/09/2021 at 04:01:17
Welcome to the club Salomon, hope you get less splinters and more involved than Josh King did.
Benitez knows the player well and obviously wanted him so I'm optimistic this will turn out to be a decent signing. Shame Moise Kean didn't work out but give me someone who actually wants to play for us any day. Good luck to him.
Nicolas Piñon
43
Posted 01/09/2021 at 04:08:21
Happy with theñ. We kept James, Richy and we have good wingers unlike last season.
Pleased with the type of player Rondon is for the role he'll have. Hard worker, humble, great physique, fast, and squad player. Better than "NOISE" Kean in the bench IMO.
As for James staying, I can't imagine the guy not caring about not playing as he did the last month. He wants to get back to his national side and I expect as well he wants to play infront of a full goodison. So he'll work up to that. Rafa is intelligent and knows he's got talent there as well.
I expected a central back but the FFP didn't help this time.
Otherwise, good, low profile and intelligent business from Rafa.
Assuming we've got a fully fit squad, our match day team could be:
JP; Coleman, Mina, Godfrey, Digne; Townsend, Allan, Doucoure, Gray; DCL and Richarlison.
SUBS: Begovic; Kenny, Keane, Branthwait, Delph, Gbamin, Davies, Gomes, Iwobi, Gordon, James and Rondon.
Compared to last season I see we have a better squad and a team that goes out there with a better attitude.
COYB!

Albert Perkins
44
Posted 01/09/2021 at 04:47:28
And when he scored the goal,
De do ron Rondon,
De do Rondon
Mike Gaynes
45
Posted 01/09/2021 at 04:51:31
Albert wins the night!
Danny O'Neill
46
Posted 01/09/2021 at 06:16:25
I was at that Wayne Clarke Derby Kieran. I was living with my mum's aunty on Middle Way in Croxteth at the time due to a few family problems. I remember walking almost all the way back to her house from Goodison beaming.
We have a back up striker. The manager has gone with what he knows and obviously trusts. Some would say signed his mates (Townsend & the Keeper). That's what managers do and to my comments on the other thread, what you get when you have the traditional English manager approach. On Brands, he's not being allowed to be a DoF as I understand and interpret it. I can only think he's content with his board room role and wage, because if I was him, I'd have walked. He doesn't seem to be being allowed to do his job.
We sneered at Demarai Gray. We baulked at Anros Townsend. We were underwhelmed by Tim Cahill and thought "what the f@*k" when we signed Paul Power.
Let's see how it goes. A good start. The season ends in May.
At Wembley.
Jerome Shields
47
Posted 01/09/2021 at 06:17:36
Happy with Rondon, Better than King, Tonson and Kean. A proven grafter and goal scorer. Everton where not prepared to take anything less than what they wanted for right back and have a defence that is good, adaptable and should improve. They weren't that bad last season and thanks to Ancelotti last some of the defenders can play various defensive positions, ensuring squad depth.
As for James he will play, imo in a more forward role and will make a quality addition to the attack. If he wants to extend his career he will have to put in the effort this season. . He now knows to play international football and play football next season he will have to perform well throughout this season. He will have to get himself fitter.
As for Brands he is a Director in name only. On the Board, at Finch Farm and in the Transfermarket he is part of a team and is not a dominate figure. He is quite content with with that and can walk his dog when he likes. His main remit is to move on deadwood and he has been relatively successful at that. Benitez was the dominate figure in this Transfer window and the main part of his remit is to get Everton looking as they are trying to improve their FFP situation. He is only prepared to bring in what he wants at a set price and only if he can move on someone to make way for them.
It has been a successful transfer window with Townsend and Gray already showing great value. I expect Rondom will be the same. Everton have spent £1. 5 million to achieve this. Everton have a balanced squad and all available players will get playing time.
Glad to see Aaron Lennon back in the Premiership with Burnley.
Pat Kelly
48
Posted 01/09/2021 at 06:56:05
Begovic, Lonergan, Rondon, James, welcome to the Everton retirement home. Put your feet up and take the weight of expectation off.
Steve Shave
49
Posted 01/09/2021 at 06:57:58
Dissapointing window but a slap in the face with a cold, wet reality fish. I think Rondon will provide decent back up. He is strong as an ox and I think he will earn the respect of the Goodison faithful. He doesn't have to score a hatful of goals (though if we keep crossing the way we are he'll get some key ones this season) because the way we play under Rafa, Gray and Richy bomb forwards and he can hold the ball up and play them in. The guy is an absolute beast in that respect.
For me the abject failure to secure a right back AGAIN is unbelievable, what a shit show. How many years have we been saying it? All i can hope is that Patterson is our man and we are prepared to wait for him. Hope Rafa can find a place for James in the starting line up but where? He doesn't do running!
Frank Sheppard
50
Posted 01/09/2021 at 07:03:42
I am not disappointed with our new signings for the new season. This is because for several years I have thought we spent a lot of money on good players, to improve us, and it didn't work at all. Better to improve what we have got, and play as a team, than buy expensively and be disappointed.
The season has been encouraging so far, long may it continue.
Frank Sheppard
51
Posted 01/09/2021 at 07:07:20
BBC is saying United midfielder Donny van de Beek, 24, wanted to leave Old Trafford - only for Ole Gunnar Solskjaer to block the Netherlands international's loan move to Everton
Danny O'Neill
52
Posted 01/09/2021 at 07:08:42
Also, as mentioned. We keep Richarlison and James Rodriguez.
We have the core of the team / squad that only just missed out on Europe last season plus an addition of pace that gives our beleaguered midfield more width and forward options.
Justin Doone
53
Posted 01/09/2021 at 07:30:51
Wish him well.
Rondon is the only signing of this transfer window I disagree with.
A striker that I don't recall scoring many goals nor assisting many.
Brands.. I'm sorry but you should probably resign now. Another window, another failure to secure good young talent.
I know it's not the only thing he's responsible for but crikey, there's not much else to show for having him.
John Hammond
54
Posted 01/09/2021 at 07:37:45
Disappointed we didn't get a RB and although not ideal we can try again in 4 months. Overall we've had a solid window and we're looking like a team.
Alan Johnson
55
Posted 01/09/2021 at 07:52:16
Okay. The windows over and we have to play with a weak squad again
For the life of me I just can't fathom why Brands still has his job. What the fuck doe's he do?
Keith Gleave
56
Posted 01/09/2021 at 07:54:30
I realise we were stuck for money as regards ffp, but there were some bargains in the form of Dumfries and Edouard. Rondon has never lit any touch paper for me, nor been a player I would need to specially mark.
I hope Benitez can continue to get more out of the same group of players as he has so far, otherwise its going to be a long season again. Anyway, as always with being an Evertonian, heads up and be positive.
Peter Neilson
57
Posted 01/09/2021 at 07:57:32
If we get Rondon playing like 2018/19 when he was Newcastle player of the season, he'll be a decent signing. He was involved in just under 50% of their goals, scored 11 and 8 assists. Different team and two years on but I guess Benitez sees that kind of form being possible. Personally I see him as an upgrade on the likes of Tosun.
Derek Knox
58
Posted 01/09/2021 at 08:11:14
Keith @ 56, " Rondon has never lit any touch paper for me, nor been a player I would need to specially mark "
So he does Firework Displays from time to time, does he do Children's Parties too ? :-)
Nicholas Howard
59
Posted 01/09/2021 at 08:37:55
So James stays (for now). Then, what's next?
Is he going to continue his 'exile' holidays? Will he get involve in first team plays?
He kind of burnt the bridge when he mentioned in social media that he didn't know who our club was playing(Leeds) at the weekend.
For those who expect he will get involved,
hold your horse...I don't see James is playing any sooner. I would treat him 'gone' for the time being until January window.
David Hallwood
60
Posted 01/09/2021 at 08:42:38
Disturbingly glass half full for ToffeeWeb. Like all and sundry disappointed about the RB situation and it would be beneficial if the clubs, and it should be Brands come out and explain the window.
That being said, the Kean situation had to be resolved; we simply couldn't have a 30 million pounds striker kicking his heels on the subs bench, so Rondon is an ideal back up.
But the squad isn't too bad, obviously it won't touch the top 4, but may run it close. In it there's flexibility; Rafa can play 4-4-2, or 4-2-3-1 with the 3 being gray, James & Richie. Or 4-3-3. We could even put out a decent team and give DCL or Richie bench time.
For the people worried about injuries, outside of the top 4 injuries have a major effect on any team.
Kept James and Richie, now get them playing.
Paul Smith
61
Posted 01/09/2021 at 08:45:42
Ron is decent and on a free. Don't understand the shit Brands is getting, FFP has fucked us over not Brands.
Back to basics could be a good thing, buying expensive players with no interest in the club other than money has lost us our identity, maybe we can do it better next time. For now we're alright with Rafa. One day we'll sing his name. COYB
Derek Knox
62
Posted 01/09/2021 at 08:48:03
If we could do a Leicester, I'm not saying winning the Prem, but being hard to beat, and nicking games and bagging 3 points. Not that long till the January Window and those we missed out on may become a possibility then.
Kevin Prytherch
63
Posted 01/09/2021 at 08:49:18
Paul - Brands gets shit because most of the FFP has happened on his watch. He's been here for over 3 years now and FFP takes into account the last 3 years.
Kevin Byrne
64
Posted 01/09/2021 at 08:51:11
Ok I'm not a football manager but why didn't we take a gamble on Serge Aurier as he was released from Spurs, and is now a free agent.
Gerard Carey
65
Posted 01/09/2021 at 08:52:16
Who knows, Rondon could be our very own Andy Gray Mk 2!!!
A Cup win this season, and the sky's the limit after.
We've done it before so why not again?
Mal van Schaick
66
Posted 01/09/2021 at 08:53:51
This has been an ok window for us. I would of liked to get a few out of the door from our midfield and replaced them with better quality, but we are stuck with them until January at least.
Rondon as others have said, is an old fashioned centre forward, if he plays as he can play he'll be banging in a few for us.
James Marshall
67
Posted 01/09/2021 at 08:57:56
On the right-back situation, we have Coleman, Kenny and Holgate so I don't see what the problem is. Coleman is first choice, the others as cover – plenty of right-backs.
Rondon is cover for Calvert-Lewin, and better cover than King was. He'll do alright for us as a cover player.
The only player we've lost who is likely to play, is the unnamed 31-year-old who will likely never play for us again anyway. Aside from that, the first team looks alright to me.
Derek Knox
68
Posted 01/09/2021 at 09:09:59
Kevin @ 64, if Serge Aurier is now a Free Agent; we can still sign him surely after the Window closure, unless the rules have changed again. I'm not up to speed with all these rules and their changes.
Having said that, he has never struck me as being an outstanding defender, maybe why he is on a free.
Ben Patchesa
69
Posted 01/09/2021 at 09:16:45
The only game I saw live during Sam Allardyce's wretched tenure was a 0-0 draw with West Brom. I went with my son who could literally see nothing behind those standing in the Gwladys Street end.
We moved seats at half-time but almost wished we hadn't – it was a wretched game memorable only for an unfortunately perfect view of James McCarthy's horrific freak leg break under a challenge from Rondon.
I'm glad he seems to have been forgiven and this incident forgotten. If our new signing can provide some muscle and occupy defenders within his physical presence, without necessarily breaking any more bones, it could well unlock some space for our wingers and midfield runners.
A different kind of player, but with luck this could be a Marcus Bent type signing, a forward whose unselfish work doesn't result in a hatful of goals, but keeps opponents on the backfoot and creates chinks for other players to exploit.
Tony Abrahams
70
Posted 01/09/2021 at 09:26:33
Was it Rondon who nearly scored one of the goals of the season that day, Ben, with a curling effort hit with loads of pace, that luckily for us hit the bar?
George Cumiskey
71
Posted 01/09/2021 at 09:29:39
Now we know how Rafa had no problem getting the gig: because he will do a half-decent job on a shoestring.
How we got into this financial mess is unbelievable, as is how Brands is still in a job.
Brian Harrison
72
Posted 01/09/2021 at 09:43:01
I don't know why some of our fans are obsessed about getting in a right-back; should Coleman get injured, we have Holgate and Godfrey who can play there.
Surely the most glaring position that needed filling was centre-forward; we have Calvert-Lewin and that's it. Tosun was never good enough.
If we hadn't signed Rondon and, with Calvert-Lewin likely to miss games with his injury, it would mean the only player who could play up front would be Richarlison, who is much more effective when played wide or in conjunction with Calvert-Lewin.
Michael Burke
73
Posted 01/09/2021 at 10:04:09
Geordie friends were very disappointed when Rondon left. They rated him very highly.
Spurs friends made up Aurier has left, that tells you all you need to know about him. Major deficiency being poor concentration and an inability to defend.
Danny O'Neill
74
Posted 01/09/2021 at 10:07:41
I'm more comfortable with the right back situation now that Seamus has more pace and attacking options in front of him.
There's still life in the Donegal lad and we do have options to cover. Not just Holgate or Godfrey, but maybe even Jonjoe Kenny? I still have hope for that lad, even if it's misguided.
I think the right-back issue has been kicked into the long grass, so to speak, and we can wait on that. The manager obviously saw other priorities.
Gary Smith
75
Posted 01/09/2021 at 10:08:57
When you wake up thinking "Thank fuck we signed that 31-year-old journeyman striker, and kept hold of Gomes" you know just how bad things have gotten.
Dave Lynch
76
Posted 01/09/2021 at 10:15:14
Calvert-Lewin will have to up his game because this lad is a beast when he gets going.
Strong, mean and a better eye for goal.
He went to Asia for the money, they offered him a king's ransom. Can't blame him for that as I'd've gone myself for the amount of cash offered.
Trevor Cotterell
77
Posted 01/09/2021 at 10:46:18
Once again, so much to say. Overall, to be honest that was a realistic window. We may not like it but FFP limits our options immensely. We can come up with all the great names we like but, if we're not allowed to acquire them, it's all a bit navel-gazing
Actually, for all those who complain have said, there don't seem to be that many names up there (above) that people think we should have acquired!
My gut feeling is that actually it's been good, in fact potentially very good, working within a straightjacket. We've got a couple of wingers who are already showing good to great potential. Given they've only had a short time we ought to hope for even more. Yesterday we've got a decent backup for Calvert-Lewin, certainly an improvement on what we had. And we've hardly spent anything.
Let's also not forget that at the start of the window there were many thinking we'd struggle to hold on to Calvert-Lewin and Richarlison. Some were suggesting (others from elsewhere wanting Digne. Some thought there would be teams after Pickford now. We've still got them all. Just as importantly (in my view, though to some it may be controversial!) we've still got Tom Davies who to my mind is progressing all the time, and with Nkounkou out on loan getting game time we may well get back a strong backup for Digne.
And we've cleared a fair few bit-part players off the books. Not quite all yet but who was ever going to take Tosun?
Another thing - it's not that long ago an awful lot of people were slagging off our new manager before a ball was kicked; not seeing much of that now. So we've acquired him and so far it's not looking too shabby. He's galvanised things and hell, even Iwobi is starting to show why we bought him (more than the odd glimpse we had before).
And let's remember that, just because we want someone, it doesn't mean we're getting them... we (a) have to have the money, (b) be allowed to spend it, (c) the player has to want to come and (d) the other team has to be happy to lose him. You don't just pop along and say "Hey Mr Other Manager, we'd rather like to take that amazing right back you've got there, you don't mind do you?" "Absolutely yes he's great isn't he? Of course you can have him with our blessing".
Hhhhmmm. All-in-all, I'm probably as happy as I hoped I might be. Things are going the right way. Now, if only Rafa could get James to play (foot)ball, we could actually be on to something guys!!!
Jim Potter
78
Posted 01/09/2021 at 10:48:32
Four games in and an underwhelming window closed - and no one is slagging off Rafa... Shows, to me at least, what a professional job he's doing.
I like the defensive discipline we're showing (barring Keane's mistakes, and I do like Michael Keane); I'm enjoying the battling spirit and the sound counter-attacking footie; I'm glad we're not pandering to talented self-centred twats like James who clearly doesn't give a toss about anything but himself; and I like the optimism I'm feeling about the club seemingly being in the care of a true professional.
The footie is easier on the eye than the back-stabber played. There seems to be a plan, belief, discipline and order.
And I haven't heard Rafa complain about the position his predecessors, the senior management, and owner have left him to deal with. A brave decision to come here at the best of times, truly courageous with sweet fuck-all to spend.
Defeats and disappointments to come, but a capable pair of hands to take us forward, I believe.
I didn't want him, but I'm glad he's here.
Respect, Mr B.
Richard Mason
79
Posted 01/09/2021 at 10:59:15
Rodriguez's corners were great last season. I think he would definitely pick out the nut of Rondon for a few goals, if he gets playing time.
Phil Gardner
80
Posted 01/09/2021 at 11:10:15
Dave Lynch @ (76)….absolutely spot-on! I think this will prove a very good signing.
Eugene Markey
81
Posted 01/09/2021 at 11:14:02
Trevor @77,
In a nutshell well said, a bit of common sense.
Dave Williams
82
Posted 01/09/2021 at 11:16:34
Jim Potter – well said, mate!
Rondon could be a goalscoring version of Stracqualursi and will provide good cover for Calvert-Lewin.
We are currently being strangled by FFP and I do wonder if the recent reshuffle in the boardroom is because someone took their eye off that particular ball and the new guy has a better grasp of it?
The squad looks decent to me. We have shifted a few now and brought in players who will graft and play as part of a team. Clearly we have to shift James at the end of the season and it will be interesting to see whether he has sufficient pride to buckle down and contribute.
I suspect Richarlison will go at the end of the season which, together with James's wages disappearing, will do wonders for our FFP status.
I am so pleased we have Rafa as he has the skills to guide us through this and I think we will have a decent season.
Chris Jones (Burton on Trent)
83
Posted 01/09/2021 at 11:41:34
Given how Damarai Gray and Andros Townsend have performed since their arrival (and let's be honest, most were wholly underwhelmed at their arrival) I have quiet confidence that Salomón Rondón will prove to be every bit as useful as a £mega-millio- plus signing. In Rafa, I have quickly learned to trust.

Simon Dalzell
84
Posted 01/09/2021 at 11:43:52
.
Simon Dalzell
85
Posted 01/09/2021 at 11:43:52
As good as the two bargains we got are (especially Gray) we really needed one, just one more decent signing. That's not being greedy. Dumfries, Diaz etc... Disappointing, but not surprising. The big question is whether we can get something out of the child like James. He makes my blood boil.
Terry Downes
86
Posted 01/09/2021 at 12:02:08
Serge Aurier has been released from Spurs. Go get him Rafa ?

Pity we can't release a few of ours.
Tim Taylor
87
Posted 01/09/2021 at 12:19:36
Jim Potter [78] spot on
Christy Ring
88
Posted 01/09/2021 at 12:45:18
Rondon is a good back up for DCL, he's still well capable of being a handful in the Premiership. As for Aurier, stay well clear even if he's a free agent, always thought he was very poor defensively at Spurs, and gave away a few penalties, I'd prefer Kenny any day. Regarding Rodriguez wouldn't he be a huge asset to have on the bench offensively.
Hugh Jenkins
89
Posted 01/09/2021 at 12:52:19
JJK is a bit of a mystery to me. He has represented England at U17, U19, U20 and U23, and was, I believe, captain of the side that won the U20 World Cup.
So where has it all gone wrong from there?
He should be a natural replacement for Seamus.
Perhaps Rafa sees something more about him than others have and has said to Brands - "don't worry about a new RB - we can use JJK".
Who knows?
But it certainly seems that JJK hasn't lived up to his earlier pedigree.
Neil Cremin
90
Posted 01/09/2021 at 12:54:40
Gary #75
Let's hope we can remind you of that post.
Please refer to Trevor #77 and Jim #78
Well said lads. No more cringing watching us play boring pedestrian high risk football.
Steve Brown
91
Posted 01/09/2021 at 13:13:42
Rondon averages a goal every four premier league games, so he is not a good back up to DCL unless the aim is to reduce our attacking threat.
I was comfortable with us avoiding squad rotation players on high salaries to focus on signing a right back. Instead we contrived to do the exact opposite.
Tony Abrahams
92
Posted 01/09/2021 at 13:19:06
Hugh@89, if you are not playing in a settled team by a certain age, and if this is the way it's always been, since when you first made your breakthrough, then my own opinion is that eventually you are going to either hit a wall, stagnate, or most probably both?
You cannot be a bad player if you have represented your country at so many different age groups whilst developing imo, (especially when not ever having relied on physicality?) but you do need to eventually find a team and become settled, which I don't believe is something that Jonjoe Kenny has ever been allowed to do, since he turned professional, over 7 years ago?
I think Benitez likes to have a local heartbeat playing in his team, so if I was Davies or Kenny, I'd be waiting patiently for my chance to prove myself.
I also heard that other right fullbacks who were being mentioned, with regards to signing for Everton, when fully analyzed, had very similar stats to Jonjoe? Although I can't remember where I heard this though, honestly!
Chris Gordon
93
Posted 01/09/2021 at 13:23:24
Loose a 22 year old Italian international and gain a 32 year old crock. Truly inspirational stuff
Chris Locke
94
Posted 01/09/2021 at 13:34:58
It's all about perspective. We have Richarlison and DCL as the first choice forwards now with Rondon as support. Compare that with Barcelona who have De Jong (failed barcode) and Braithwaite (failed at Boro) as their strike force.
FFP has hit clubs hard especially due to covid.
I'd rather we got Rondon on a short term than some apparent superstar, especially based on our recent history.
RB can have a hopefully have a good season with this lot and then see where we're at and then help decide who to target.
Alternatively if RB turns out to be another waste of time we're not lumbered with heap of players the next manager doesn't fancy.
Andrew Clare
95
Posted 01/09/2021 at 13:35:23
I like Rondon. He has a great attitude and makes a major contribution to the team whenever he plays. I was impressed with him when he was playing for West Brom and Newcastle. A good signing.
James Newcombe
96
Posted 01/09/2021 at 13:42:39
I think we've made some cracking signings, I really do. And all for an outlay of, what, £2m tops? Which makes it all the more mystifying why we get taken like a gang of fools when we have cash to spend!
Jamie Crowley
97
Posted 01/09/2021 at 14:29:02
I'm happy with this window overall. The very last thing we needed was more overpaid players on the books. We looked for value. We also have a squad of players that give effort - something that is so underestimated so often.
I personally see James coming in off the bench, and that might be a good role for him. He'll not be the "team player" many of the other assembled players will be. He'll play "hard" for the limelight and for James. As long as that benefits Everton, fine.
My guess is James will be hurt for about 60% to 75% of the season. The other 25% to 40% of the time he's playing will be off the bench to change the game. I'm not looking for him to be in the starting 11 very often. What Rafa is building doesn't include James, or anyone with his Hollywood attitude. So use the fella for a year (or until January) and then part ways.
Jim Harrison
98
Posted 01/09/2021 at 15:15:14
Well, let's hope James can motivate himself to be an impact sub. If he can give his all for 30 mins he could prove very useful. Without he who cannot be named there is a gap for creativity and X factor in this team.
Overall pretty happy. But with a limited squad it will boil down to good fortune with injuries.
Holgate liked better in last game. And Godfrey can be key at the back.
Here's to hoping Rafa can tease some more consistency out of players like Iwobi and Gomes. JJK will get his chances as Coleman doesn't have 40 games in him anymore.
Allan and Doucouré have worked well so far. If JBG can get up to speed we have a decent couple of back ups along side Davies.
A lot of ifs this season. Rafa has experience on his side and a different approach to Carlo. I like the way we have played so far but worry that the teams with real quality may tear us apart!!
Still, there should be enough quality to be challenging for a European place given this squad wasn't really that far away from top 6 last time out, even in finishing 10th last time out.
Raymond Fox
99
Posted 01/09/2021 at 15:54:28
Rondon I remember as a player that puts himself about and is a handfull, can score a few also, so he'll do for me.
I don't think our expectations for the season are particularly high- for a change- so I think we may be pleasently suprised how well we do.
Benitez has the players passing the ball forwards and heavens forbid actually getting the ball into the box often.
We may be outclassed by a few of the teams, but we have a manager that knows the game inside out, so I've every confidence we will have a decent season.
Peter Neilson
100
Posted 01/09/2021 at 16:19:42
Maybe surprisingly on PL stats alone Rondon and DCL have similar returns. Rondon 140 games 35 goals and 14 assists, DCL 150 games 43 goals 9 assists. DCL best season 16 league goals, Rondon 11. Stats alone don't mark him down as a bad signing. Seems to be a decent backup striker given that we are, thanks to a string of awful transfers, now shopping in the bargain basement. Good luck to both.
Mike Gaynes
101
Posted 01/09/2021 at 16:48:10
Peter #100, goals per game is an imprecise statistic, because a flat number of games doesn't account for starts versus sub appearances.
A more accurate measure is goals per minutes played.
For his Prem career, Dom has scored a goal every 227 minutes. For last season and the first three games of this one, the number is a Lukaku-esque one goal every 165 minutes.
During Rondon's four years in the Prem, he scored a goal every 310 minutes.
Not similar at all.
Derek Knox
102
Posted 01/09/2021 at 16:52:08
Jamie @ 97, Personally am glad that James is staying I do hope Rafa can and will include him in every way possible when fit, he is undoubtedly an asset and we have no-one with his skillset amongst the others. If he feels he's wanted and loved (I know most of us do anyway) but he has a lot of detractors, amongst the match going and even the non-match going supporters. His wages will be paid whether he plays or not !
Can't see the point in having a Rolls Royce in the Garage and using the Honda Civic in preference, where the expenses still mount up, so get it used ! Plus there is the Commercial Factor our South American audience, and support, albeit temporary while James and Mina are still with us, but we may have a few Venezuelans on board as well now.
Minik Hansen
103
Posted 01/09/2021 at 17:09:01
Didn't Rondon smash Oviedo's leg some seasons ago?
Brian Williams
104
Posted 01/09/2021 at 17:12:40
No Minik he didn't.
Peter Neilson
105
Posted 01/09/2021 at 17:19:31
Mike (101) sorry my intention was to point out that the blunt statistic of a goal ratio of 1 in 4 games referred to earlier in the thread doesn't paint the whole picture and shouldn't, on its own, be used to dismiss Rondon. Even goals per minute played is pretty blunt taking no account of, for example, the position the player has been in, the quality of the team or the opposition or at what point in the game the goal was scored. I'm hopeful that Dom can top 20 goals this season but I think that Rondon is an understandable backup for a club that's blown its lottery winnings.
Mike Gaynes
106
Posted 01/09/2021 at 17:24:07
Nope, Minik #103, that happened at Stevenage during a Cup tie. The other player's name was Simon Heslop, and he was blameless. Just a horrible accident (from which Baby fully recovered!!).
Peter #105, I devoutly hope that you and the other optimists here are right about Rondon and I'm wrong.
Ray Roche
107
Posted 01/09/2021 at 17:25:40
Minik, McCarthy accidentally kicked the back of Rondon's leg and fractured his own leg in that horrific accident in the Street End. As I remember, Rondon, although innocent, was very upset about it. I think he was substituted shortly afterwards.
Steve Brown
108
Posted 01/09/2021 at 17:32:13
Love the way people try to square away numbers they dislike.
Peter describes the fact that Rondon's goal to game ratio is 1:4 as a 'blunt statistic' - it is simply a fact. On a another thread where posters were debating the comparative records of Lukaku v DCL, one poster tried to square away numbers they disliked by claiming that there were other 'underlying facts.'
When numbers are posted over a period of four seasons as was the case in both these discussions, there is no wider picture, broader context or underlying facts. They are factual, reliable and valid indicators of performance.

Peter Neilson
109
Posted 01/09/2021 at 17:34:31
Mike, on this one, if we classify a realist as being between an optimist and a pessimist, that's where I am.
Tony Abrahams
110
Posted 01/09/2021 at 17:45:56
Steve@108, I think this type of thing can work both ways, and whilst what you write will be enough for some, I still think others will still be able to find reasons to disagree.
Brian Harrison
111
Posted 01/09/2021 at 17:48:46
Mike 101
I think the fact that 2 of DCLs goals this season were penalties that slightly distorts the statistics. Although I accept they are goals scored by DCL, but if a certain player was still able to be selected then he may have taken both penalties not DCL.
Matt Byrne
112
Posted 01/09/2021 at 17:53:10
Let's see how Ronfon does. He offers us a physical presence should DCL be injured which means we can play the same system. Some successful forwards didn't have especially great goal returns but contributed very well to the team such as Andy Gray, who during 84/85 went on an extended barren run before the goals flowed. Think Marcus Bent too. Benitez is doing a great job so far. Shame the money was wasted by the previous useless managers. What actually does Marcel Brands contribute? Wasn't he meant to bringing in unknown young European talent? When has he done this?
Matt Byrne
113
Posted 01/09/2021 at 17:54:08
Apologies. RONDON. I'm rubbish at typing on the phone!
Peter Neilson
114
Posted 01/09/2021 at 18:00:30
Steve I'm not a cheerleader for Rondon my point was that goals per game on their own don't paint a complete picture, certainly not enough to write a player off before he's played a game. However if that's our key measurement, goals per game, then we should be delighted that we have Rondon with 1:4 against Moise Kean 1 in 16 and Tosun under 1 in 5. I genuinely don't know what other strikers were out there with any kind of record that were available for free. Armstrong just cost Southampton a reduced £15M from the Championship as he was down to the last year of his contract. This sort of figure is currently beyond us. Would it have been better that we signed no backup?
Justin Doone
115
Posted 01/09/2021 at 18:03:18
I'm hoping James can prove to be a match winner. His creativity, passing, crossing and always being available for the ball last season stood out a mile.
Someone every player trusted to receive the ball in tight situations and be positive with it. It didn't always work out but 9 times out of 10 it did.
We haven't had such a trusted player for a long time, Barkley probably being the last although a different type of player.
He can have runners around him in Gray and Townsend to attack any deliver crosses could prove very fruitful.
I think Dom may need a long rest to fully recover. He's carried a few niggling injuries since last season. We all know Ric needs a break but weather they get the rest is another's question.
Lastly, I don't understand how some players make the news for the wrong reasons and others (you know who) just have silence and a 'must not mention anything' tag. I know legal procedures can be very complicated but I don't understand the inconsistency.
Is the club not due compensation for being unavailable?
Tony Abrahams
116
Posted 01/09/2021 at 18:20:44
I think the players trust James, 100% with regards to him having the football, but this probably drops down to 0%, when he hasn't got the ball Justin? A proper conundrum, but hopefully Rodriguez, will try to adapt, otherwise we will rarely/never get to see him play imo.
Darren Hind
117
Posted 01/09/2021 at 18:26:06
You can often damn a striker with faint praise when you use the phrase "He can be a right handful", but used correctly this fella can be a right Handful.
Not Lewandowski, but is an awful lot better than he is being portrayed by some. More than capable of coming off the bench and giving us a Kevin Davies like performance - he may not score top the scoring charts, but just his presence will mean team mates get more chances,
If he does that. He will worry the opposition more than he worries some blues.
We go with what we've got.

Mike Gaynes
118
Posted 01/09/2021 at 18:40:01
Brian #111, that's a very slight distortion. Dom has those two pens in his goal total. Rondon never scored a pen in the Prem.
Peter #114, goals vs. games is an especially distorted statistic with Tosun, who made lots of his appearances off the bench, including a half-dozen late-game cameos of less than 5 minutes.
Tosun scored a goal in the Prem every 255 minutes, which is significantly better than Rondon. Not a better player, perhaps, but certainly a more efficient scorer even though he's smaller and slower.
Justin Doone
119
Posted 01/09/2021 at 18:40:17
Rondon is hopefully more for a plan b, last 20 minutes we go long!
Hopefully more successful than Straq, remember him? Good effort but never good enough.
Along with Mina, Doucoure, Keane, Dom, Ric and Godfrey we are probably on average half a foot taller than some teams.
I reckon Sam could get us top 6 and European football next season.
Sorry, I feel like I have accidently hit a rewind button, back to the 90's.. ( shudder..). Great music though..
Simon Dalzell
120
Posted 01/09/2021 at 18:49:00
Jim (98) You hope James can be motivated enough to be a sub. Surely we should expect a damn site more than that. Granted he's not the type to bust a gut, but obviously ha shouldn't be afforded any liberties and must get his backside in gear.
Peter Neilson
121
Posted 01/09/2021 at 18:50:13
Mike we'd better stop any talk of goals to games/minutes ratios, good, bad or indifferent. Wouldn't want to upset 1 in 4 Big Dunc. A prime example of stats not telling anything like the whole story. Cheers
Colin Glassar
122
Posted 01/09/2021 at 19:14:44
Rondon is a decent cover for DCL. I still think we lack creativity in MF so hopefully James will be used intelligently as a super sub.
Paul Hewitt
123
Posted 01/09/2021 at 19:26:30
Why are people pointing out that 2 of DCL 3 goals are penalties.?, as if they shouldn't count. All the top strikers take penalties. DCL should have been taking them last season.
Phil Malone Jnr
125
Posted 01/09/2021 at 19:53:36
Neal #7 everyone is entitled to an opinion and as much as your passive aggressive comments that Rondon was definitely reading you're a bell end. Wash that red scarf the true Everton fans can smell it from here.
Minik Hansen
126
Posted 01/09/2021 at 20:00:08
#104 Brian, my bad. I think it was in a game where someone (McCarthy?) came to the ball first before Rondon to shoot the ball instead kicked our players leg.
Minik Hansen
127
Posted 01/09/2021 at 22:09:13
Not on purpose, that is.
Barry Rathbone
128
Posted 01/09/2021 at 22:13:26
The new Dixie...
Sukhdev Sohal
129
Posted 01/09/2021 at 23:16:23
I'm very happy with this. Great target man, great strength and suits our playing style a lot more than Kean as the wingers can cross to him whereas, with Kean, we had to give the ball to him on the floor.
Free transfer and a great aerial threat.
Steavey Buckley
130
Posted 02/09/2021 at 09:05:39
Rondon is available for Everton's next games instead of joining up with Venezuela because they will be playing against countries on the red list in South America.
Andrew Ellams
131
Posted 02/09/2021 at 09:09:12
Well I got a message from a Geordie mate calling us jammy bastards for clinching this one?
Steavey @ 130, has that changed then because I read in one article that he had already travelled.
Steavey Buckley
132
Posted 02/09/2021 at 09:31:30
Andrew, according to the Liverpool Echo, Rondon should be either in Liverpool or traveling there pronto.

Grant Rorrison
133
Posted 02/09/2021 at 11:10:45
I would be more concerned if he was first choice. He's just cheap back-up and his signing probably has more to do with his personality and attitude and whether he plays in a particular system or formation than being all that great at football anyway.
He's hardly going to get a game and, when he does, if he can chip in with a few goals, what's the problem?
Or was everyone expecting Mbappé for a world record fee confirmed at midnight or something?
Trevor Powell
134
Posted 02/09/2021 at 11:25:37
Didn't we take on a clapped-out, injury-ridden centre-forward on in late 1983? Didn't do much, though, that Andy Gray, when he was at Everton, did he?
If Rondon turns out to be half the player!!!
Nicholas Ryan
135
Posted 02/09/2021 at 18:14:14
Rondon is not Alan Shearer, nor is he [the late] Gerd Muller: what he is, is an old-fashioned 'pain in the arse' centre-forward, who will be a nightmare to play against. He will upset opposing defenders, hold the ball up for others, and score the odd goal. That will do, for someone who's come in on a free.
As to the leg-break incident: I have a very clear memory of all the pundits saying that what happened was a freak accident; of Rondon being in tears on the pitch, and being consoled by players of both teams, and being so traumatised by events, that he was subbed a few minutes later.
As to the right-back problem: I could understand the clamour and desperation, if the 'cover' was some unproven teenager, or an old guy who was never good enough. However, Jonjoe Kenny may not be a world-beater, but he has recently completed an entire season in the Bundesliga, where he was first-choice, almost from beginning to end.
Now, it seems to me, that if you're a real 'duffer', then you're going to get found out against Bayern Munich, Werder Bremen and Borussia Dortmund... yet it seems that he wasn't. He doesn't need to excel... all he has to do, is be competent between now and next May. History suggests, he's perfectly capable of doing that.
As for James, I suspect Benitez will say to him: "I'll play you, if you're energetic and committed." If he is, fine; if he isn't, then it's his own fault.
Danny O'Neill
136
Posted 02/09/2021 at 18:40:13
Who openly admits he couldn't / wouldn't show his full medical records to Everton, Trevor!
Interesting opening paragraph, Nicholas. Just because it's a Newcastle link, a very good West Ham supporting friend of mine always maintains that, on his day and if he could have stayed fit, Andy Carroll was unplayable. The type of centre-forward a defender dreads.
Tony Everan
137
Posted 03/09/2021 at 11:02:10
An interview on the club site today with Rondon.
Rondon's first Everton interview
He sounds fired up for it and determined to try and make a difference when he is called upon. As a back-up player and, with our current financial restrictions, this is more shrewd business.
Danny O'Neill
138
Posted 03/09/2021 at 11:33:28
Happy to be at the club, knows his place but determined to prove himself. He'll be good back up, but at 31 hardly past it and will give us options.
Playing for a manager he knows and trusts and vice versa, I don't envisage a problem with commitment or attitude.
I didn't realise his nationally. Another addition to the Everton South American gang.
Andrew Brookfield
139
Posted 04/09/2021 at 02:17:22
So many people calling for Brands's head, 'What does he do?' ...'Failure of a window'...
In his defence, he signed Gray who many pundits are claiming is the bargain of the season, he moved on Bernard, and he managed to do a deal for Kean which means we'll make a profit on a player whose stock has fallen (no longer in Italy squad, can't get a game for Everton).
There are gaps in our squad, Brands is far from blameless, but please post with perspective. Our squad is better now than this time last year; Brands has done than spending less than £2M.
Andrew Brookfield
140
Posted 04/09/2021 at 02:31:12
People comparing Calvert-Lewin's and Rondon's goals per minute as a reason that Rondon isn't good enough. Pathetic.
If Rondon had spent a season being supplied by James and Digne, I'm pretty sure he'd have scored more goals than being in a relegated West Brom side. If you really want to base your argument on stats, use chance conversion or xG.
Dave Williams
141
Posted 04/09/2021 at 11:07:35
James should listen to the interview and reflect. Rondon has nowhere near James's technical ability but with his attitude he will do far more for our club.
Go boy!!
Jason Li
142
Posted 04/09/2021 at 13:21:00
Will be useful in the squad. Looked decent a few years ago on MOTD.
Looking at the matchday squad, with Rondon, James, Townsend, Begovic and some youth players included, around half a match day squad this season will have players where the initially transfer fee was £2 million or less, each.
However, Gray and James are the outliers in that they came in their prime ages normally for transfer value.
I hope we keep on signing more young players like Coleman, Calvert-Lewin, and Branthwaite etc. This is the best way to game the financial rules and has worked well. Maybe it's also easier in terms of getting young talented players who see Everton as a step up.
Won't be easy, but we can take more risk and sign a few more if the fees are really low. For example, 3 talented Championship players who are 18-year-olds at £6-7 million each vs 1 Moise Kean.
Ajay Gopal
143
Posted 04/09/2021 at 18:20:14
Danny (138) and others, Rondon turns 32 in exactly 12 days. I hope he has kept himself fit, and we can get at least 2 good years out of him. I keep reminding myself that Jamie Vardy is 34 years and still producing the goods.
Michael Kenrick
144
Posted 10/09/2021 at 20:03:37
And 10 days after he arrived, Everton have finally gotten around to assigning him a shirt number: 33... lastly the proud possession of Robin Olsen.
---
Add Your Comments
In order to post a comment, you need to be logged in as a registered user of the site.
Or Sign up as a ToffeeWeb Member — it's free, takes just a few minutes and will allow you to post your comments on articles and Talking Points submissions across the site.