Lampard: We have to follow Chelsea win up in the right way
Tuesday, 3 May, 2022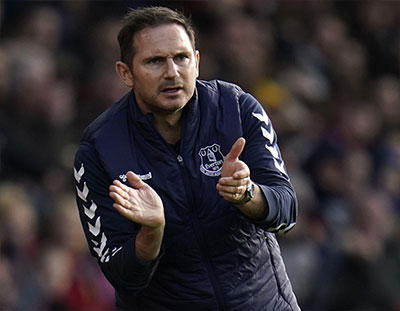 Frank Lampard is urging his players to follow their dramatic victory over Chelsea up with a performance at Leicester this weekend as Everton continue their bid to drag themselves out of the relegation zone.
The Blues dropped into the bottom three the weekend before last when Burnley beat Wolves and the Merseyside derby went Liverpool's way and Lampard's side were five points adrift of safety before kick-off last Sunday.
However, another gritty home win, this time over Thomas Tuchel's reigning European champions reduced the gap between Burnley and Leeds United to two points, with Everton having the possible advantage of a game in hand.
The Blues' away form has been a problem all season — they have won just once on their travels and that was back in August at Brighton — but Lampard stresses his players have to remain unified, to be committed and to follow the coaches' game-plan at the King Power Stadium this coming Sunday.
Article continues below video content
"We have got three away games to go, and we have to change that [away form]," Lampard told evertontv. "We can't rely on our home matches. We have to be really ready for Leicester.
"The players have to understand a game-plan is important and have the discipline to do it through the whole game.
"Against Chelsea, we had a plan to work through the game, but the players also showed the extra bit — the extra effort which is the magic to get you a result.
"We deserved to win the game. Jordan Pickford made great saves — people will highlight that and rightly so — but we also had chances to make it a more comfortable win for us. It was absolutely brilliant from everyone.
"We need to be a unit that fights in these five games like we did against Chelsea.
"Whether the players start the game or come on as a sub, the squad has to be together. They showed against Chelsea that they are, but that means nothing if we don't follow it up.
"We have to follow it up."
Meanwhile, defender Mason Holgate, who started the Chelsea match alongside Yerry Mina in the absence of the injured Ben Godfrey, expressed his belief that if the team can repeat the effort that showed at Goodison this past weekend, Everton have the quality in their ranks to stay up.
"The fans were great all day," Holgate remarked on what was an unprecedented show of support from the match-going Evertonians. "We matched that with our work-rate. We got a goal and we defended well.
"No matter what happens, we've got to keep putting our all into it. And with the quality we've got, I believe from the bottom of my heart, we will be okay.
"This win is not something we can rest on. We have five more massive games, and we have to keep going the way we did against Chelsea."
---
Reader Comments (31)
Note: the following content is not moderated or vetted by the site owners at the time of submission. Comments are the responsibility of the poster. Disclaimer
Mark Ryan
1
Posted 03/05/2022 at 16:07:29
Step up Calvert Lewin. You owe us all a goal young man. Become a hero and not a zero this season. Belt in a winner for us at the weekend
Eddie Dunn
2
Posted 03/05/2022 at 16:09:32
mark- let's hope he was held back due to fitness issues and he can give us all a big boost.
Jerome Shields
4
Posted 03/05/2022 at 18:23:10
Frank is now looking for consistency which has illuded this squad. They have had two reasonable performances; now they need a third one and Frank is making sure the message is getting through, especially away, where the effect of the Everton faithful is limited.
I am now glad that Leciester ran them close at Goodison, There should be no doubt amongst the players that a good performance will be necessary.

John Keating
5
Posted 03/05/2022 at 20:33:17
The Chelsea game is past
The only thing on the players mind now should be one game, Leicester
Midfield and attack Leicester are good, however, defensively they are suspect especially from set pieces.
Leicester at home will have the ball most of the time and the way we've set up recently that will suit us. Seems when we try and play an open attacking game we fall well short
Dead ball wise, unless Gordon does better in training it might be best giving him a rest from them. His dead balls recently have been poor.
3 points, no less
Peter Warren
6
Posted 03/05/2022 at 20:46:59
Agree completely John, get Gordon off set pieces
Justin Doone
7
Posted 03/05/2022 at 21:10:10
Well Frank, if you don't set the team up to play open attacking football and prevent the defenders and keeper from pretending they can play Pele we may stand a better chance.
If only you had realised how poor our defensive unit is 6 weeks ago we may not be in this mess. I just hope it's not too little too late. The BELL has ENDed.
Jim Bennings
8
Posted 03/05/2022 at 21:45:09
Pretty much every game has to be must win now doesn't it?
The Chelsea win was huge, I honestly think if we lost that game then there would be no saving us.
We must take at least four points but arguably even six from Leicester and Watford.
Leicester will have have just played a hard European game and have nothing in the league to play for so we must take advantage this time while Watford are frankly just shite and we owe them for that smashing we got in autumn.
Soren Moyer
9
Posted 03/05/2022 at 22:18:52
Agree Jim. Leicester have to play us and the cup semi's within a few days from each other. We should/ could get something (preferably 3 points) from that game.
Brian Wilkinson
10
Posted 04/05/2022 at 00:54:16
Could work both ways, Jim, Leicester may rest a few, but at the same time, the ones coming in, have a lot to play for, a chance of impressing enough to make a Europa League selection.
Hopefully the same players will play for Leicester.
Tony Waring
11
Posted 04/05/2022 at 10:15:06
So who takes responsibility for the free kicks? Is Calvert-Lewin's head in the right place at the moment, let alone his goalscoring form?
We are not yet out of the woods but, if we display the same spirit as against Chelsea, we should be in with a fighting chance of all 3 points from Leicester.
Allen Rodgers
12
Posted 04/05/2022 at 10:54:13
Off topic but Dunc is the subject of Premier League Icons on Sky tonight at 10 pm. By the way, did anyone else notice him having a hug-in with Lukaku after the Chelsea game?
Chris Leyland
13
Posted 04/05/2022 at 11:16:38
Tony - the poor quality of free kicks amazes me. There is no excuse for not hitting the target and forcing the keeper to make a save from a free-kick. It isn't hard to do with practice, particularly if you are a professional footballer.
I used to run a kids footy team and we'd practise them at training and we scored lots of goals as a result. Different level I know but the basic skill is technique and practice.
It's the same with corners. The inability to beat the first man is appalling.
Paul Hewitt
14
Posted 04/05/2022 at 12:22:39
Big Dunc, premier League icon?. Don't make me laugh.
Derek Knox
16
Posted 04/05/2022 at 12:59:00
Paul @ 14, be careful there mate, he knows where you live. :-)
Colin Malone
17
Posted 04/05/2022 at 14:27:05
The reason why Chelsea got through us in the second half, was Delph, Gordon and Gray where shattered. If it happens again, we have to tighten up in midfield, to protect the back line, by going to a 4-5-1, with Ritcharlison helping out behind the 1 up top.
Dave Abrahams
18
Posted 04/05/2022 at 14:49:10
Colin (17) – spot on, and Frank was slow again using the three subs, Allan came on with 20 minutes to go followed by Rondon with about 10 minutes to go and Alli with hardly any minutes left on the clock although 7 minutes were added on.
Gray, Delph and especially Gordon were done for and Frank would have come in for a lot of stick if Chelsea had got the equaliser in those last few minutes because of the poor use of the subs.
I know Lampard hasn't got a lot of players to use because of injuries and some players are just not good enough but he has to use those he has got better than he has done – including Sunday – and in some games he has only used two subs.
Danny Broderick
19
Posted 04/05/2022 at 15:02:30
I really like having Lampard as our manager. Despite being an Essex boy, he seems to talk our language. These players have had it too easy - he has been calling them out. Away from home, have the bollocks to play. Stick to the game plan. Stand up and be counted.
Don't get me wrong, I know he kept chopping and changing the side early on, and he no doubt made some mistakes tactically. But the players have to do their bit. Cut out the mistakes and defend properly. Stay in your formation.
Since the international break, we look much more organised and performances have been much better. Mina, Calvert-Lewin and Delph have had their game time managed carefully also. We are playing like a team again, we look like we have half an idea how to defend and how to attack now. Fingers crossed it's going to be enough.
Pete Clarke
20
Posted 04/05/2022 at 15:56:43
Every game is a gamble because the players are bang average, not fit enough or just past it. Ancelotti had it, Benitez had it and now Frank Lampard is dealing with this as best he can.
I don't think he would have half of these players in his own team. I think he is only playing Delph because he has the experience to hold a defensive line. He does not trust Godfrey and that's why he is playing Holgate again. He definitely knows Rondon won't last half an hour if he had to press the opposition. Mina is there because Keane is a nightmare and Coleman is back playing because Kenny does not cut the mustard.
This is a minefield for any manager to deal with because he's choosing the lesser of the two evils in so many positions.
The one thing that's happening for him is that they are fighting though and as long as they are doing that then we have a chance.
On Anthony Gordon. I think he had an average game against Chelsea although he definitely give them something to think about when he had the ball running at them. His distribution from the free-kicks was very poor but, prior to that, his deliveries had been excellent. He does tend to look tired early in games but still has that deceptive burst of speed throughout games. He is due a goal though so hopefully he gives us something soon.
I'm all in for Frank Lampard. We have far too many bigger issues at the club than to put the blame for this mess on an up and coming manager with a pedigree in football very few can match.
Danny Broderick
21
Posted 04/05/2022 at 16:04:38
Regarding subs, I don't think Lampard will be making 3 early subs any time soon. Not while we have the likes of Mina, Godfrey, Delph and Calvert-Lewin likely to break down at any minute. He'd get castigated if he made 3 subs and then one of them went down injured and we went down to ten men…
Mal van Schaick
22
Posted 04/05/2022 at 16:35:25
Lampard has had enough time to work with the players before Sundays game, but I did notice against Chelsea, that we consistently had two banks of four when defending and they looked organised, and if we can carry those tactics into the Leicester game and nick a goal on the break or at least have the rub of the green on some decisions around the penalty area, then we should get something from the game and that would ease some pressure for the remaining home games.
Allen Rodgers
23
Posted 04/05/2022 at 17:06:29
As Mal says we did look quite well organised v.Chelsea, I would say mainly due to the presence of Mina and the absence of Keane.
Paul Cherrington
24
Posted 04/05/2022 at 17:18:38
This is the sort if thing I like to hear from our manager and makes me warm to Lampard even more. He is not content to sit back on a great win and let standards fall - he is again publicly letting the players know what is required (I know he will in private too) and not giving them any excuses to hide behind. This demand for the best every game has been needed for a long time. Not saying it will happen of course but at least he is demanding it from players.
Frank Fearns
25
Posted 04/05/2022 at 17:25:13
Pete Clark 20.
In case you hadn't noticed, Ben Godfrey was injured in the warm-up vs Liverpool. A quad injury which has kept Calvert-Lewin on the sidelines most of the season. That is the reason why Frank Lampard has Holgate in the side – not because he "doesn't trust him". I know who I would rather trust.
Pete Clarke
26
Posted 04/05/2022 at 17:33:57
The reason we were organized was because Delph held that line quite well but in doing so he also becomes ineffective doing much else. I reckon Frank has brought him back even though not fully fit (if he ever will be fit) because he does this job better than Allan.
Mina has better presence than Keane but I have to admit that I can't stand Mina and his antics and I feel that he is a big liability in so many other ways and as Danny pointed out he's one of those players who gets injured easy or would pretend he's injured and walk off.
I think we all know deep down that most of our players are not good enough and it must be a nightmare being a manager of them.

Tom Bowers
27
Posted 04/05/2022 at 17:46:53
Pete Clarke you are right. Most of these players are not good enough and a lot still has to be done to survive this season and approach the next season.
It has been a nightmare and still is.
Frank has to go with what he has and the continued injuries don't help.
Notwithstanding this, the schoolboy mistakes at the back has given many teams points they shouldn't have got.
They need to beat the Foxes, Palace and Brentford who all have nothing much to play for but these teams still have a toughness that we have to match and not depend on Pickford to save our arses all the time.
Don Alexander
29
Posted 04/05/2022 at 17:52:30
Frank Lampard inherited a crock of shit on arrival, caused by the gross ineptitude of the owner/chairman and their selected good ol' boys (and girl) over six turgid years.
Frank Lampard never took anything for granted as a player, and his dad was a bloody good pro too. Good pro's graft hard to become better, even when the rest of the world considers they've hit the tops. They're unrelenting in wanting to improve.
I hate to say it but right now we have so few players with anything close to such an attitude.
Ernie Baywood
30
Posted 05/05/2022 at 01:04:46
The Chelsea win just kept us in the conversation. We were done for without it. I think we'll now need 7 points from the next 4.
Despite the importance of home form, no-one should be expecting or relying on getting another 2 straight home wins. There's a reason why we're 18th. 4 points would be a good return from Palace and Brentford.
So, realistically, 3 points from these 2 away games is the minimum we need. Even two draws will be very precarious. Both away games will be tough.
So we don't need to beat Leicester but, if we lose, then it will leave us needing to beat Watford – which is pretty dangerous when we've only won one away game all season.
All of that might sound negative but it's still a team that has struggled for results all season, suddenly producing a huge turnaround in form. I'd say it's pretty optimistic – ie, lots needs to go uncharacteristically right for us to hit that mark.
We shouldn't even be counting the Arsenal away match in what we need. If we still need something then, we'll be back to praying for miracles.
Mark Andersson
31
Posted 05/05/2022 at 06:37:04
Prepare for another epic game... I'm loving the drama if it all. Better end to the season than mid-table mediocre
Pete Clarke
32
Posted 05/05/2022 at 06:51:00
With the euphoria and relief of the Chelsea win rapidly fading, it is now time to look towards another massive game in our history for all the wrong reasons.
Beat Leicester and we could be back out of the Bottom 3 with the other results going in our favour of course. Leicester will hopefully rest a few of their squad as they have little to play for.
I hope Frank has had the players doing shooting practice and other goal-scoring training because we have to start taking our few chances and not rely on mistakes and penalties. An unlikely hero would be nice.
COYB
Derek Thomas
35
Posted 05/05/2022 at 08:06:55
Mark Anderson; It's tough at the top but rougher at the bottom and positively boring in between: Alan Price - Turtle's Progress
Ian Riley
36
Posted 05/05/2022 at 08:43:48
We are bang average as a squad but the methods Frank and Rafa were implementing were simply relegating us! Work hard and close down from the front was simply not happening. Real basic football but effective.
Saturday was win or bust for me as for most of us! Chelsea players must have wondered how they lost but we fought and won from 1 to 11!
We must build on this. I think so or we are gone, Frank. It's time to pull ya sleeves up and work your backsides off. In a battle, that's what ya do!!! Work and work!! Earn the right win!
If we lose, I have no problem with that! Opposition has more quality but to lose on work rate is a No for me.
Can we stay up? May be! Enjoying this? No!!
---
Add Your Comments
In order to post a comment, you need to be logged in as a registered user of the site.
Or Sign up as a ToffeeWeb Member — it's free, takes just a few minutes and will allow you to post your comments on articles and Talking Points submissions across the site.