David Moyes
March 2002 – June 2013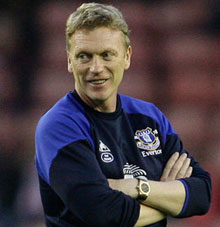 When David Moyes took the reins at Everton in March 2002, he inherited a club in freefall, with relegation from the Premier League a very real possibility. Having survived the drop from the top flight twice in the 1990s, the Blues appeared to have steadied the ship folllwing the appointment of Walter Smith in 1998 but though Smith's managerial career in Scotland had been littered with trophies, he found life in England's top flight a good deal more challenging.
Thanks to a run of just one League win in 13, his Everton side sat in 15th place when a 3-0 defeat at Middlesbrough in the FA Cup became the straw that broke the proverbial camel's back for chairman Bill Kenwright and he was dismissed, to be replaced by Moyes, then at Preston North End, three days later.
Over an 11-year tenure — at the time his longevity in the Goodison hotseat was bettered only by Sir Alex Ferguson at Manchester United and Arsene Wenger at Arsenal — Moyes patiently and successfully transformed Everton from bottom-half strugglers to a consistently top-eight team that came close to breaking into the elusive Champions League under his stewardship.
Along the way, Moyes would steer the Blues into Europe on four different occasions, to three cup semi-finals and one sadly ill-fated FA Cup Final against Chelsea in 2009 and had, despite an ever-decreasing budget for team-building, brought the club back to the brink of cracking the top four in his final season in charge.
He left Goodison Park in May 2013 at the end of his contract to take up an ill-fated role at Manchester United, having been hand-picked by Sir Alex Ferguson to be his successor at Old Trafford after 27 trophy-laden years.
FACTS

Born
Blythswood, Glasgow, 25 April 1963
Played for
Celtic (from youth);
Cambridge United (Free, Oct 1983);
Bristol City (£10,000, Oct, 85);
Shrewsbury Town (£30,000, Oct 87);
Dunfermline (free, Aug 90);
Hamilton Academical (free, Aug 93);
Preston North End (free, Sept 93).
Player Record
629 appearances; 49 goals
Player Honours
Scottish youth & schools international;
Scottish Premier League championship;
English Third Division championship;
English Associate Members' Cup.
Appointed at Everton
in March 2002 (from Preston North End)
Left Everton
in June 2013 (for Manchester United)
Everton Trophies
None
PREVIOUS MANAGEMENT RECORD
Seasons
Club
P
W
D
L
GF
GA
Pts
1998-2002
Preston NE
x
x
x
x
x
x
x
Honours
Second Division championship;
Promotion play-offs (twice)
2001-02
When Moyes was appointed on March 14, 2002, he had just nine games in which to arrest an alarming slide that had seen Everton drop from the safety of the top half of the Premier League to 15th. Under Smith, the Blues had won just once since the New Year, morale was dangerously low and the team was struggling badly for goals.
He would capture the imagination of the Everton faithful with his famous observation that "Everton is the People's Club in Liverpool" and his impact on the team was almost as instantaneous.
His Everton career was just 21 seconds old when David Unsworth rammed home the first goal under his stewardship in a home game against Fulham that the Blues went on to win 2-1 despite having Thomas Gravesen sent off.
The new man's enthusiasm and powers of motivation would prove invaluable in galvanising a squad that had been much maligned under his predecessor. Three more victories, including a goalfest at Derby County in his second match, and a draw at Leicester would be enough to secure safety with room to spare.
2002-03
Moyes's first season at Everton was a revelation, with the Blues spending an extended period in the heady heights of the Premier League top four and establishing themselves in the top six between November and May, only to fall into seventh on the final say of the season and miss out on Uefa Cup qualification to Blackburn Rovers.
This comparative succes was by virtue of a much tighter defence and a bit of extra luck needed to win games by a single goal — no better epitomized than by the remarkable run of five consecutive 1-0 victories in the autumn of 2002. Though they would put together one more run of three consecutive victories in the New Year, seven wins from their last 20 League games was not enough to keep Moyes's side in the top six.
Nevertheless, compared with the struggles in the wrong half of the table that had dogged Everton for years prior to his arrival, Moyes's initial impact had been impressive.
[The Observer — Moyes Own Story: Part 1 | Part 2
2003-04
If his first full season had been a pleasant surprise, Moyes's second was something of a reality check for all concerned and the manner in which his team's form collapsed in the final weeks of the campaign amid speculation that he had "lost the dressing room" would pose his second daunting challenge as Everton manager.
Things went awry for the Blues more or less from the outset of the 2003-04 campaign, with a return of just one win from their first five games. As Moyes tried to find the right balance in a team that now featured the precocious talents and attitude of one Wayne Rooney, that record didn't really improve until a purple patch of three wins and a draw from five league games in December that, in hindsight, kept the club in the Premier League that season.
The standard of football exhibited by his players deteriorated into a more direct approach that was short on guile and long on grit and physique while his increasing emphasis on hard work, effort, work rate, and other such industrial metrics didn't appear to sit well with many of his players, including — crucially — some of the veteran players.
The manager's intransigence in the face of resistance from his squad and the consequent impact on morale saw the Blues slump to the lowest points total in a season (using 3 points for a win) for any Everton side in over 100 years! Things had degenerated to such an alarming impasse that, as soon as the security of 39 points was attained, the players appeared to have given up in a sulk, culminating in the atrocious 5-1 at Manchester City on the final day.
2004-05
Though there were a multitude of factors involved in the departure in the summer of 2004 of arguably the best home-grown Everton player in decades, Moyes's inflexible approach may have been key to the loss Wayne Rooney.
His agent, Paul Stretford, was already doing everything he could to get Rooney out of Everton and on to greater, more lucrative things but his deteriorating relationship with Moyes was used as a primary motivator for his move to Manchester United (although the eventual £27m price tag would also prove massively important to the Blues' continued financial survival) and that, coupled with the meltdown in the Blues' season the previous spring, may have forced the manager to take a hard look at his style of management.
Moyes would later admit that he learned much from the shock of the 2002/03 season and he did indeed alter his approach, something that was both evident and impactful the following campaign. Though many pundits predicted that Everton would struggle without Rooney, Moyes and his players defied those negative prophesies and the odds by securing a fourth-placed finish for the first time in the Premier League era.
At the heart of that impressive campaign was a new-found resilience, defensive imperviousness and team spirit that saw the Blues grind out an impressive number of narrow, one-goal victories. Increasingly crucial also was Moyes's eye for players that had seen him draft in combative and committed attacking midfielder Tim Cahill from Millwall and, in January 2005, Mikel Arteta on loan from Real Sociedad to replace midfield linchpin Thomas Gravesen.
Both signings would thrive under Moyes's tutelage — they cost less than £2.5 apiece, would go down as two the biggest bargains of the Premier League era thus far — and they helped the Blues edge out Liverpool for the fourth and final Champions League place in a thrilling climax to the season.
2005-06
Moyes took EFC to 4th but he criminally failed to capitalise on the only window of opportunity he created to move the Club on. The lost opportunity was very much down to Moyes through a momentous series of transfer failures/non-transfers, leaving the squad at the beginning of a Championship League year depleted, paper-thin in most positions and devoid of quality and leadership. And playing the direst excuse for football. So one-dimensional and tactically homogenous that the whole world and his dog had worked out how to stop Everton winning for the rest of the season.
2006-07
Haven't seen any evidence in the 2 friendlies I've seen over the last week that Moyes has introduced a system whereby players actually run into space to receive the ball — as we all enjoyed watching so much in almost all the World Cup teams in Germany. It looks like he's going to play Beattie and Johnson as two centre forwards without buying any wingers or changing the system that continuously boots the ball in the direction of goal from centre-midfield, meaning there will now be two forwards receiving the ball with their backs to goal and having to beat the opposition's central defence every single time. Moyes extended Ferguson's contract to continue this useless and easily-defended (and boringly predictable) mono-option. Moyes has had four years to introduce some basic coaching on basic strategy — he hasn't done it so far, and it will be a miracle if we have a good season.
2007-08
I would take winning a cup each year, or even getting to a final as a sign that the side is genuinely competing and that Moyes is capable of competing at that level.
This year aside, why have the 6 years of Moyes never produced a cup run? The answer is simple - to win a cup match you have to set out to win — not set out to avoid defeat, and there is a fundamental difference in the mindset required for those two approaches.
Moyes does not possess the mindset to win games; he possesses the defensive don't get beat approach - and that will never challenge the better teams. We might stifle them and draw a few games and even win the odd one, when they are less than focussed, but would they fear us in terms of losing to us? I think not.
2008-09
To be added
2009-10
To be added
He is dour, tactically aloof, very reactionary, and at times follows rather than leads. At times he could be brilliant — at Man City away, he had the players so fired up Everton destroyed them 2-0 and on top of that he nearly chinned Mancini. But then there are matches like Fiorentina away and the FA Cup Final where we meekly waved the white flag, crushed by the weight of negativity and the inferiorty complex that goes with.
2010-11
Moyes seemed confident after a good pre-season that included a trip to Australia, and didn't seem too concerned that his trabsfer budget was yet further contrained. It allowed only the
Regardless of what has gone before, what money is available, what the board do or don't do, a manager picks a team from the players who are fit, motivates the less able ones, decides the tactics and should adapt them to the circumstances. David Moyes should be judged on the results and performances on the pitch. Negative tactics and bizzare team selection and substitutions, downbeat press conferences and that stare of defeat on the sideline suggested Moyes was getting tired and jaded.
The energy he once infused into the players had gone, enthusiasm and hope had been replaced with frustration and the stark realisation that he can't work the miracle every week. But it's not all about money: coaching is about tactics, reading the game, techinical ability, getting the best out of the players he has, noit whinging about the players he might have had. Moyes has assembled too many utility / journeymen so that the work ethic stands out rather than ability.
Moyes knew in the summer of 2010 that no funds were available so why come out with those words to Talksport. If he really wanted a striker then, he should have taken the original £6 mill that West Ham offered for Yakubu. He probably could have got about £2M more for Vaughan. There's the seeds for the cash for a new striker. Moyes knew the injury record of Saha, knew also that Anichebi and Yak were coming back from serious injuries. He was content to go into the season with a broken down attack.
There was a feeling that Moyes was in a comfort zone with his £65k-a-week wedge. He won't go head to head with Kenwright, as Kenwright bought him, body and soul. Hence he will not confront or lay bare his Chairman over lack of investment in the team.
Moyes is a great manager for a smaller club. A club that is battling relegation. Moyes gets them into mid-table or even higher, on a shoestring with no ambition. Moyes instills a backs-against-the-wall mentality, a them-against-us attitude. This would all befine if he was the manager of a small club. Everton were a small club when Moyes took over, constantly fighting relegation.

However, Moyes has rightly so taken Everton up a level, to where they should be, but Everton deserve more with their fanbase and history. The fans want more and are not content for midtable mediocrity.

Now, Everton need to be looking up rather than looking down. Firstly, the board don't have the money or the club doesn't generate the money to be able to push on, which is a management problem. Secondly, Moyes doesn't have the tactical nous to be a top manager. He has struggled with team selection when he has had options to choose from. The majority of his big money signings have been bad choices, his tactics have lacked against better teams/managers, e.g. in Europe. Moyes is simply not cut out to be a top manager.


Everton will not be a top team again whilst Moyes is manager and whilst the board can't provide funds. Unfortunately, it is a Catch-22. To sack Moyes could de-stabilise the club and ultimately lead to relegation, especially if they brought in a poor choice of manager, a manager that can't work without money as the board can't provide it.

You ccould also add our biggest ever home defeat, biggest ever away defeat, losing to the lowest placed league opposition in the cup and the lowest ever goals scored total in a season to Moyes' achievements too.
Yes, he kept Everton in the Premier League when his predecessor had threatend not to... but his dour negative tactics, defensive mindest, and maddening propensity for playing players out of position will be a more telling legacy than any "best of the rest" achievements that were forever limited by a lack of adventure and verve. He who dares wins... it's no wonder he's never won anything.
---
Moyes primed for promotion
Everton beat a path to door of most coveted coach in league
Daniel Taylor
Wednesday March 13, 2002
The Guardian
As one Glaswegian makes his way out of Everton, another waits to be ushered in. David Moyes has never made any secret of his desire to manage at the highest level and the lure of Goodison Park, for all its chaotic recent history, should prove too much for this ambitious young Scot to resist.
Moyes may not have the CV wanted by those Evertonians who can recall the heady days when this rudderless club belonged to football's so-called Big Five. But his experiences at Preston over the past four years should go some way to proving that the appointment of a high-profile manager is not always the key to guaranteeing high-quality football.
Sir Bobby Charlton, Brian Kidd and Nobby Stiles - European Cup winners all - have tried and failed at Deepdale whereas Moyes has transformed the proud old club, saving them from relegation to the Third Division in his first season and leading them to the First Division play-off final last year having spent only £3.5m. They lost 3-0 to Bolton Wanderers, but even as he left the Millennium Stadium the feeling persisted that Moyes was destined for the Premiership anyway.
It is three years since Sir Alex Ferguson spoke at length to Moyes, a fellow graduate of Glasgow's Drumchapel Amateurs FC, about the possibility of succeeding Kidd as his assistant at Old Trafford only to opt for Steve McClaren instead.
Opportunities came and went for Moyes at Southampton and West Ham last summer, and Birmingham City's determination to tempt Steve Bruce from Crystal Palace saw his application to St Andrews overlooked earlier this season.
When all said and done, though, it is not difficult to see why Ferguson's research pointed him in the direction of Moyes and why, indeed, the United manager has recently been toying with the idea of offering him the assistant's job at the end of this season.
Quietly and effectively the soft-spoken 38-year-old has developed a reputation as one of the most progressive thinkers in the game. He took his first coaching badge at the age of 22 and used his own money to travel to the 1998 World Cup in France, visiting the various training camps and spending a week with the Scotland squad.
His ability to bring the best out of his players, operating on a tight budget, has transformed Preston from long-ball merchants to a neat passing team and has been noticed in boardrooms the length of the country. There has even been talk that he might join Sir Tom Finney, Bill Shankly and Alan Kelly in having one of the Deepdale stands named after him.
Ironically Moyes counts Smith as one of his closest friends and like the sacked Everton manager, comes with a reputation as a strict disciplinarian, fining players who give interviews without his permission and, according to one local journalist, "generally being a right so and so: what he says usually goes". He was also involved in a fight with two of his players, Paul McKenna and the goalkeeper Tepi Moilanen, on last summer's pre-season trip to Austria.
Despite all the knock-backs it has always seemed to be a question of when, rather than if, Moyes got a chance with a Premiership club. "I have a clause in my contract that says if bigger clubs come in for me I must be informed by Preston, and they have always respected that," he said recently.
"I want to be involved with clubs that win championships, are involved in Europe, and maybe even a national team. I want to get to the very top."
For the time being all that Everton will be able to offer is a fight against relegation, with disillusioned fans and, if the past few years are anything to go by, boardroom buffoonery to confuse matters further. The job will be huge but Everton clearly believe Moyes can transform their fortunes.
Guardian Unlimited © Guardian Newspapers Limited 2002
---
Moyes in tune with the Mersey beat ailing giant
Sunday August 11, 2002
The Scotsman
A 28-PAGE special newspaper guide to the new English Premiership season centred on the affairs of Everton is currently on sale in Merseyside. Produced by the Liverpool Echo, it has a front cover that simply resonates. Featuring an impassioned Davie Moyes exhorting his players from the Goodison Park technical area, the supplement is entitled "Power to the people's club".
Describing the ailing giant as the "people's club" on being paraded as successor to the dismissed Walter Smith in March, the phrase tugged at the heart strings of the Everton faithful and won Moyes instant approval among this band the Scot knows he must satisfy.
But the cutely calculating coach, who has the happy knack of making carefully constructed utterances appear candid comments, insists currying favour with his, now, expectant public did not require forethought.
"It is funny that people think I must have sat up all night trying to think of what would be the right thing to say on taking over," Moyes states. "The reality is that I was tired that morning I faced the press and it came naturally to me to say this club belonged to the people because everyone I had encountered in the city the previous day seemed to be Evertonians." Doing the right thing, then, would seem to come naturally to him.
This has been the way of it throughout the management career of Moyes, who has always appeared in a hurry to operate at the highest level. Taking over at Preston in January 1998, his four years at Deepdale provided him with the training in reviving once great footballing institutions that have fallen on hard times which he will be required to lean on heavily in his present employment.
Within two-and-a-half years of assuming the reins at the Lancashire club he had guided them from the Third Division to the second tier of the English game, an exalted position they had not occupied in almost two decades. By the end of the 2000-2001 season they had come within a play-off place of the Premiership.
And, far from believing he had taken Preston as far as he could, Moyes' famed thoroughness in his professional duties shines through in assessing his time at Deepdale, and in a manner that is at odds with the perception of the 39-year-old as a man who had an aching desire for a shot at the big-time.
"If I'd been preparing for the new season as Preston manager I'd still be happy," Moyes claims. "Everton is a great job, I love it, but I started an important one at Deepdale and I've left it not quite as completed as I would have liked. But when good opportunities come around in life you have to take them and I think if I hadn't come to Everton when the offer came my ambition would have been questioned."
The question asked on Moyes being appointed at Goodison was how ambitious he could hope to be with a club that has developed a capacity of chewing up and spitting out managers with pedigree.
Only once in the past 11 seasons have Everton finished in the top half of the upper echelons of the English game. This came under Joe Royle in the 1995/96 campaign but was not enough to prevent the Everton playing great getting his cards shortly afterwards, as have Howard Kendall, Mike Walker and, most recently, Smith in the past decade. Moyes cannot help but countenance going the same way.
"The Everton job has proved an incredibly difficult one for a number of fine managers so it will be a real test of my managerial capabilities," he admits. "But ultimately any coach is only the measure of the people at his disposal and they live or die by the decisions players make once they cross the white line."
The ultra-passionate and committed Moyes' unwillingness to have the life sucked out of him by a moribund squad he inherited is reflected in a summer recruitment programme he admits required him to be "imaginative". Only £5 million was in the kitty for incoming transfers. "Most managers would agree you can hardly improve a Premiership side by outlaying this on only one player," he confesses.
Instead, he has made a little go an awful long way in attracting five new faces over the close season, engendering astonishment over his ability to sell Everton, with evangelical fervour according to club owner Bill Kenwright, to goalkeeper Richard Wright. The 24-year-old is generally believed to be the England keeper in waiting yet was enticed from Arsenal to a club in the grubber for a bargain £3.5 million.
Moyes' astuteness was further revealed in his success in attracting Nigerian defender Joseph Yobo, Chinese World Cup performers Li Tie and Li Weifeng and Brazilian midfield playmaker Rodrigo, all on 12-month contracts.
"If you actually look at the players we have brought in, we have only signed one player permanently," he points out. "The others are signed on loan deals and these players will need to show me plenty of commitment if they are going to be here for another season. I'm quite comfortable with the situation because it tends to be that players in the final year of their contracts are hungrier. I now have four more of them."
His inner drive ensures he will imbue all his charges with a hunger that perhaps had been previously lacking but, in this respect, timing may also work in his favour. Everton will create a slice of history in the impending season, it being their 100th consecutive in the top flight of the English game - something that can only inspire those carrying the club's hopes on the field.
Although Moyes has helped invigorate his club, a sense of anticipation has been further helped along by the graduation of 16-year-old striker Wayne Jones to Everton's senior squad. The eight goals netted by the bustling frontman in pre-season have led to suggestions that he is the most exciting prospect to emerge in the English game since Michael Owen. Moyes gives an indication of the managerial company he wants to keep in stating that he will look to handle Jones in the manner that Alex Ferguson nurtured a teenage Ryan Giggs at Manchester United and Billy McNeill brought on the young Charlie Nicholas at Celtic, the club Moyes cut his teeth with in the late 1970s and early 1980s. Marrying McNeill's belief in his teams as a cause with Ferguson's convictions in his own methods, Moyes insists Jones will be given "love, care and attention" in order to fulfil his outstanding promise.
It is a badge of honour that no team will be better prepared this season than Everton, the club's players working to the bone in a summer camp in Austria, under the watchful eye of a newly-introduced psychologist. And the wisdom of his unswerving devotion to a work ethic was evinced in the unexpected progress made by the likes of South Korea, Japan and the USA in this summer's World Cup finals. These he attended as part of his desperation to be continually learning.
Yet Moyes says he is keen to make Everton also a side in which flair and imagination are promoted in equal measure to commitment and "lots of desire". Moyes is would-be uber-manager in the mould of Ferguson and Martin O'Neill. One who intends to be in control of every aspect of the football operation at Goodison down to "knowing the names of the parents of the youngsters working at the academy". For this to be so, Moyes accepts he needs the time that only progress can afford him.
So convincing is the Scot, however, it would be a minor shock if he did not do sufficiently well in the short term to earn it.
---
'Everton have been there before. It's not as though the heights are untouchable'
The Blue renaissance: Moyes draws a parallel with the Valencia experience as Goodison feelgood factor kicks in
By Nick Townsend, The Independent
01 December 2002
The first thing you notice is the eyes. Soft and blue, translucent, they pierce you like lasers. If it can be slightly unnerving for his interrogators at Everton's Bellefield training ground, what must those all- observing sensors be like for David Moyes' charges, you wonder?
Because this is a man who leaves you in no doubt that he doesn't miss a lot. The Everton manager has read voraciously and digested the thoughts of those who have preceded him in management. He has endeavoured to scrutinise the most successful, like Sir Alex Ferguson, in their own workplace, the training ground. And he has listened avidly to them, too.
Over the 17 years since he decided that he wasn't going to make it as a top player – although he declares that with a modesty which defies the the fact he played in Europe and won a championship medal with Celtic – Moyes has gradually formulated his own philosophies.
Some ideas are evident from the supremely fit, splendidly-organised team he has blended, largely from the players he was bequeathed when he arrived in March, but also by assimilating players like the towering on-loan Nigerian defender Joseph Yobo, with whom Everton are in the process of concluding a permanent move, the young full-back Tony Hibbert and, of course, the precociously gifted Wayne Rooney.
Other beliefs have to be witnessed first-hand. When Moyes agrees that he "tends to be hands-on", it brooks no argument. You cannot imagine Ferguson, Wenger, Houllier et al, for example, ever limbering up with their players before a game, on the pitch. Moyes revels in the practice. "I don't think my players prepare any differently from any other club. I just happen to be out there, running about with them," he says. He continues with a wry smile: "At Preston I had to do it because I didn't have that many staff, but then I started to realise that I enjoyed being out there on the field with the players. You begin to appreciate whether any players look like they need a gee-up. But I also think it shows a united front, that we are all in this together."
By all accounts, he is tough and demanding, but Moyes also appears intensely loyal to and protective about his players, as epitomised when he stood up forcibly for David Weir after Scotland coach Berti Vogts had castigated the defender because of a mistake.
Thus far, too, he has nurtured 17-year-old Rooney with aplomb, deploying him with great care and attempting to shield him from the full intensity of public exposure. In a brief appearance during last Saturday's 1-0 defeat of West Bromwich, Everton's fifth consecutive victories by that scoreline, the teenager stopped in possession and devilishly dropped his shoulders, à la Paul Gascoigne, when confronted by Darren Moore. The moment provoked accusations of "showboating" and some old-fashioned dark words from the defender. "I wouldn't advise him to do it again, otherwise he'll learn the hard way," said Moore.
Has Moyes whispered a warning in his young protégé's ear? Apparently not. "I've not mentioned it at all," insists the manager. "Part of Wayne's game is that he plays with an air of arrogance and I certainly wouldn't want to take that away from him."
Like Middlesbrough's Steve McClaren, the 39-year-old Glaswegian has emerged through a quiet, self-educated route, not as a high-profile former international entering via the fast track. Moyes qualified as a coach in Scotland at 22 and when he moved south to Cambridge United, in the early Eighties, he completed his English coaching badge. Tactics were always his passion as he continued on a lower-league tour that took him to Bristol City, Shrewsbury, back to Dunfermline, then, fortuitously, to Preston North End, where he was granted his opportunity to excel in management.
It was while he was first at Deepdale that he wrote to Bobby Robson, then coach of Barcelona. "I asked him if I could go and watch his squad training. He sent me a full-page hand-written letter on Barcelona headed notepaper in reply. I thought that was fantastic, that he would spend the time to send that to a guy he probably didn't even know much about, maybe not at all. There was a humility to it. As it was, I couldn't get out there before he left, but I've kept the letter."
Today the men meet at St James' Park. Everton will be quietly fancied against Newcastle, but Moyes is sage enough to appreciate the inherent danger of confronting a team who have conceded nine goals, albeit to Manchester United and Internazionale, in the past week. "They are a good side and a dangerous animal at the moment," Moyes declares.
The renaissance of Newcastle is an encouragement to all clubs who have been in decline. Back in the Eighties, when Howard Kendall's fine side were in their pomp, Everton were among the "Big Five" First Division clubs. But decay set in as perniciously as bacteria attacking neglected teeth, and despite the best intentions of chairman Bill Kenwright in latter years and the dedication of Moyes' predecessor, Walter Smith, the club were reduced to chewing on their gums. Their bite as a potent title contender had long disappeared when Moyes arrived.
Sceptics will suggest that a club who provide their manager with a mere £5m in the close season is but a shooting star, a fleeting wonder but doomed to turn into ashes. Maybe so, but for the moment the health of the Premiership must surely be benefited by the presence of Everton among the leading clubs? "I think it's important," says Moyes. "If you had asked, say three or four years ago, whether Valencia would win the Spanish league, you'd have probably said 'No chance', but they've achieved it and done really well in the Champions' League. So, that gives everyone hope that it can happen here."
He adds: "Let's be fair, Everton have been there before. It's not as though the heights are untouchable. We have to attempt to get as close as we can and at the moment there's a great confidence around the club, a real feelgood factor."
Already Moyes is being likened to Ferguson and not merely because of a shared birthplace. It has even been suggested he may succeed the master when he retires. It is absurdly premature, but while Everton's revitalisation continues, the assumption will persist. Moyes dismisses it, though he doesn't conceal his admiration for the Old Trafford incumbent.
"I've read Alex's life story. In fact, I've learnt a lot from books, from reading about what other people have done," he says. "I always used to go to see teams train and United were one of them. I just wanted to pick up ideas. But ultimately you have to develop your own management skills and get the right balance for the group of players you've got."
Yet, must his horizons not be inevitably restricted by the lack of financial clout? "At least I don't have to sell players. I can keep those I want to keep, and that gives you a platform," he argues. "You don't feel as though you're having to chop and change. When I came I was promised that nobody would be sold unless it is with my understanding. Hopefully there will be one or two new faces this season and they will be part of the building blocks."
And as skilled architect of the new Goodison construction company, it looks as though Moyes has worked out where every piece will go.
EVERTON LEAGUE RECORD under David Moyes
Season
Pos
Played
Won
Drawn
Lost
Goals
For
Goals
Against
Points
2001-02
15th
9
4
1
4
18
22
13
2002-03
7th
38
17
8
13
48
49
59
2003-04

17th

38

9

12

17

45

57

39

2004-05

4th

38

18

7

13

45

46

61

2005-06

11th

38

14

8

16

34

49

50

2006-07

6th

38

15

13

10

52

36

58

2007-08
5th
38
19
8
11
55
33
65
2008-09
5th
38
17
12
9
55
37
63
2009-10
8th
38
16
13
9
60
49
61
2010-11
7th
38
13
15
10
51
45
54
2011-12
7th
38
15
11
12
50
40
56
2012-13
6th
38
16
15
7
55
40
63

---

Totals:
8th (avg)*
427
173
123
131
568
503
642
* Average place of 7.54 is based on full seasons (11) only.