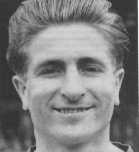 It might not be wholly untrue to say that the performances of Dave Hickson brightened up one of Everton's less glorious periods. He was the type of player for whom the word "swashbuckling" could have been created: physical, courageous, honest and totally committed; a traditional Everton centre-forward. Paradoxically, Hickson was a quiet individual away from the action, but on the pitch he seemed to adopt a completely different persona.

Like many of that long line of Evertonian number-nines, Hickson was noted primarily for his aerial ability and physical presence, but his nonetheless proficient technical abilities were overlooked. He was, for example, a good target-man, and possessed a stinging shot. Cliff Britton had seen beyond the raw strength when he signed the 18-year-old Hickson from non-League Ellesmere Port in 1948. However it was three years before he made an appearance in an Everton shirt, as National Service intervened.

Those three years were not wasted, though, as he played in the Cheshire Army Cadets team under the watchful eye of one W R Dean, possibly the greatest of all the great Everton strikers. Hickson returned to Everton and found the club in the Second Division, needing a fillip. He was pitched into the action at Leeds in September 1951, and before long he and John Willie Parker had settled into a productive forward pair. Hickson's 25 goals in 1953-54 helped Everton out of Division Two and into the top flight, where the club has stayed ever since – but only just, on some occasions.

Just a year later Hickson left Everton and joined Aston Villa for £17,500. At least, most of him did – his heart remained at Goodison Park, and maybe because of this he was never able to settle away from Merseyside. In 1957 he rejoined, but as is so often the case his second spell at Everton was not as successful as his first. His popularity with the fans was no less than before, though, and there was uproar when he was allowed to cross Stanley Park and join Liverpool in 1959. Despite this, and his 45 games for Tranmere which completed a rare Mersey hat-trick, Hickson remained a Toffee to the core and even in the early 90's turned out in blue for occasional veterans' charity matches.

Today, Dave Hickson is a permanent fixture on the staff at Goodison Park.