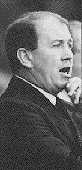 Howard Kendall would probably make it into any Everton Hall of Fame solely on the strength of his playing career. Or, come to that, his managerial career – first time around, at least. He oversaw the most successful period of the club's history during the mid-1980's.

He joined Everton for £80,000 in the spring of 1967 from Preston North End, Harry Catterick's opportunism stealing his signature from under the noses of Liverpool. Kendall went straight into the side which faced Southampton just two days later, but didn't have the most inspiring of debuts, the 21-year-old Tynesider looking overawed in the Everton midfield. Better times lay ahead.

That Everton midfield was to become a legendary combination, the work-rate and running of Alan Ball and Colin Harvey set perfectly with the touch and vision of Kendall. Not that he didn't weigh in with his share of the defensive duties – his tackling was robust and precise enough for him to have played a significant number of games in Preston's back four. Had his heading been better, he might have remained a defender permanently.

As it was, he played so well for Everton in the right-sided midfield role Catterick gave him that the fact he never represented his country is still seen as a travesty. Both Harvey and Ball were capped by England, though the former only played once – which is also regarded as unjust.

Kendall joined a club on the up. Following his signing the side continued to improve, and peaked in 1969-70 as they marched to the Championship. Over the following three years, Kendall captained the team but they struggled to match their late-60's form. Inevitably perhaps, he moved on, to Birmingham City in 1974. He would return....

In May 1981 he was called back to the colours from Blackburn Rovers, succeeding Gordon Lee in the manager's chair but retaining his playing registration and bolstering an inexperienced midfield in a few matches before hanging up his boots to concentrate on managing the side. It wasn't a smooth ride at first, and sections of the crowd called for his head in late 1983. Kendall offered to resign, but chairman Philip Carter, with remarkable prescience, rejected it. Everton reached the Milk Cup final and won the FA Cup that season, and a year later were acclaimed as the best side in the land as they won the first of two League Titles under Kendall and the European Cup-Winners' Cup.

Success enabled Kendall to add to his already formidable squad with the purchase of Gary Lineker from Leicester City, a transaction which forced his talismanic striker Andy Gray to leave. Whether or not Everton's narrow failure in both the League and FA Cup in 1985-86 – painfully second in both to Liverpool – can be attributed to this is open to question. In 1986, Lineker too left, joining Barcelona for £2.75M. His goals had been a major influence on their season – how would they manage without him? Very well, as it happened: in 1986-87 they distributed the goals around the team, and were Champions again.

And that was it for Kendall at Everton, as he left, frustrated by the post-Heysel ban from Europe of English clubs, to manage Atletico Bilbao in Spain. Or was it? In November 1990 he was back again, invoking a clause in his contract at Manchester City allowing him to leave. Immediately he hired back the sacked Colin Harvey, his coach during that successful first spell and the man who replaced him, but the combination was less successful second time. He resigned again in December 1993, with the club at its lowest ebb for many years, after a row about money for a signing.

Kendall returned to the club in June 1997 for an unprecedented third stint as manager and leading a management team that included Adrian Heath. But Howard Kendall was again clearly unable to bring back glory and fame to Everton Football Club, coming perilously close to relegation on the last day of the season.

In a shameful episode following this dire experience, it was common knowledge that Kendall's last job for the club would end. But Peter Johnson kept him hanging by a thread until he finally secured the services of Walter Smith. No way to treat a hero, no matter what his off-the-field problems may have involved.