Walter Smith
Jul 1998 - Mar 2002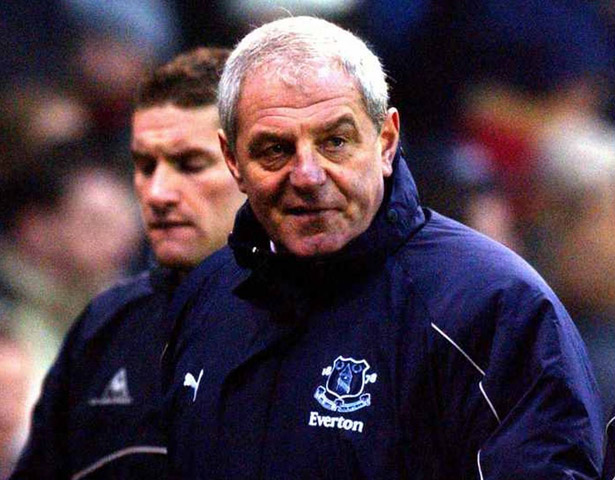 Having won every trophy going north of the Border with Rangers, it was perhaps inevitable that at some point Walter Smith would be lured to England to test his managerial prowess in an altogether more difficult environment from the two- or three-horse race that Scotland's top flight had become by the late 1990s.
His compatriot Alex Ferguson, the winner of far less silverware with Aberdeen than the haul Smith accumulated at Ibrox Park between 1991 and 1998 – it included seven successive title wins – had preceded him 12 years earlier and transformed Manchester United from also-rans in the old First Division into a dominant force of the Premier League and there was hope among Evertonians that the Scot could bring some of that success to Goodison Park.
The size of the task that lay ahead of him was an altogether more daunting one than that which had faced Ferguson at Old Trafford. Everton had pulled off another heart-stoppingly narrow escape from relegation, the second in the space of four years, in May 1998 following a poor season which had cost Howard Kendall his job so the rebuilding job at hand was a significant one.
Backed by Peter Johnson – albeit with funds that it would later emerge had been funded by borrowing rather than from the Chairman's pockets – Smith immediately set about upgrading the squad, bringing in promising Italian defender Marco Materazzi, French midfielder Olivier Dacourt, and his compatriot John Collins from Monaco. David Unsworth was brought back from West Ham via an aborted move to Aston Villa and Ibrahima Bakayoko arrived from Montpellier in October.
Despite the additions, Smith struggled to get Everton moving in the right direction in his first season, not helped by the sale behind his back of Duncan Ferguson to Newcastle United for £8m to appease the banks in November 1998. Smith would later admit in a Sky Sports interview that he thought about quitting the club many times after the Ferguson incident and claimed that it was only the change in the management structure above himself and his assistant Archie Knox that persuaded him to carry on.
He said: "I didn't know what was happening at all with the Duncan Ferguson thing, it was ridiculous. I didn't have a clue that so many things were being discussed and acted upon without my knowledge.
"I thought long and hard about leaving many times. The sort of situation that arose at Goodison would never have happened at Tannadice or Ibrox. I was taken aback by such a deliberate breakdown in communications, and day after day I reviewed my position and asked myself if there was any future for me.
"However, there was a change in the structure of the board, Peter Johnson left and Phillip Carter came in, and I'm getting on with him fine. We understand each other and I didn't want to leave. I'd brought in a few players and I came to the conclusion that to leave them would have been to leave the job unfinished, so I stayed," he added.
Never rising higher than the 11th place berth they occupied following their opening day goalless draw with Aston Villa, the Blues were in danger of relegation as late in the season as early April but were rescued when new signing Kevin Campbell started scoring.
Picked up from Turkish club Trabsonspor on loan the previous month, Campbell scored nine goals in five games between 11th April and 8th May to ensure that the Blues finished comfortably in fourth place that season.
Signs of progress were definitely evident in Smith's second season in charge though despite an iffy start in which Everton won just two of their opening six fixtures. Materazzi had been offloaded back to Perugia following a chequered year in English football – he would go on to win the World Cup five years later with Italy – and Dacourt was sold to Lens but the acquisition of Campbell on a permanent £3m deal and Joe-Max Moore, combined with that of defender Richard Gough helped offset the departures of two potentially very good players.
The 1999-2000 season as a whole demonstrated that, with most of the Everton squad fit, Smith might have been able do something useful at Everton over the long term but, having got the club back to sixth place early March 2000, injuries to Francis Jeffers and Campbell began to bite and with little money available, the manager turned to Mark Hughes, an unsuccessful attempt to wring the last few good moments out of a withering career.
Despite a team featuring some decent players in the form of Nick Barmby, Don Hutchison and Collins, Everton finished a disappointing 13th that season, one which proved to be the high water mark of Smith's reign at Goodison Park.
The summer of 2000 saw folk hero Ferguson return to the club in a cut-price deal from Newcastle along with fading England star Paul Gascoigne, Danish midfielder Thomas Gravesen, Swedish winger Niclas Alexandersson and eventual misfit Alex Nyarko.
The new signings didn't translate into good results, however, and the Toffees began the 2000-01 season with just two wins in 11 matches in all competitions, that despite the fine goalscoring form of Jeffers who notched six in that run of games. An ignominous exit from the League Cup in the second round to Bristol Rovers was followed by two more matches without a win and Everton found themselves back in 17th place by mid-October and sat 16th on New Year's Day, 2001 having gone on another five-game run without a win.
The awful 3-0 home reverse to lowly Tranmere in the FA Cup fourth round was followed by just four more Premier League wins in 15 and the Blues finished just two places off the relegation zone at the end of a campaign that represented a step backwards under Smith.
In retropsect, many Evertonians felt the Scot should have been dismissed in the summer of 2001. His first two years at the club had certainly been affected by a difficult financial position and the subsequent change in ownership that saw Johnson forced out and replaced by Bill Kenwright's True Blue Holdings at the turn of 2000.
But the quality of football being served up by his team was often regarded as reflective of his dour demeanour and there was growing disillusionment among fans of his management by the beginning of what would prove to be his final season in charge, even if his side would find themselves top of the Premier League after three matches at the end of August.
By Boxing Day, the Blues had fallen back out of the top half of the table and were felt to be in freefall by March thanks to a run of seven games without a win in the League. Progress in the FA Cup seemed to be Smith's only path to redemption by then but when Everton lost an dreadful game at West Ham in midweek and went down 3-0 in the meekest fashion in the FA Cup quarter finals at Middlesbrough, Kenwright finally took the decision to sack Smith and replace him with fellow Scot, David Moyes.
When the end finally came, it felt like a blessed release for everyone, except perhaps the players who were possibly still toeing the line closely defined by Smith's disciplinarian side-kick, Archie Knox and his baseball bat. The football under Walter Smith was never stellar but it had become unspeakably bad; results were simply atrocious; the performance, motivation, organization and enthusiasm of the players – including those over-the-hill acquisitions that smacked of desparation – perhaps the worst indictment of a four-season fiasco that ultimately took Everton precisely nowhere.
After spending two years out the game, Smith would return to Premier League football briefly as Assistant Manager to Alex Ferguson at Manchester United before spending three years in charge of the Scottish national team. He never would achieve success at the top of the game outside of his home country but returned to Ibrox as boss in 2007 where he would take the helm for another four years.
FactFile
| | |
| --- | --- |
| Born | Lanark, Sco. |
| Date of birth | 24 February 1948 |
| Nationality | Scottish |
| | |
| --- | --- |
| Appointed | July 1998 |
| Joined from | Glasgow Rangers |
| Left Everton (sacked) | 13 March, 2002 |
| Everton trophies | None |
| | |
| --- | --- |
| Played for | Dundee United, Dallas Tornado (loan), Dumbarton |
| Previously managed | Glasgow Rangers, Scotland |
Everton Premier League Record
| Season | Pld | W | D | L | GF | GA | Pts | Final Pos. | Win % |
| --- | --- | --- | --- | --- | --- | --- | --- | --- | --- |
| 1998-99 | 38 | 11 | 10 | 17 | 42 | 47 | 43 | 14th | 29% |
| 1999-00 | 38 | 12 | 14 | 12 | 59 | 49 | 50 | 13th | 32% |
| 2000-01 | 38 | 11 | 9 | 18 | 45 | 59 | 42 | 16th | 29% |
| 2001-02 | 29 | 7 | 9 | 13 | 27 | 35 | 30 | 16th | 24% |
| Totals: | 143 | 41 | 42 | 60 | 173 | 190 | 165 | 15th | 28.5% |
Everton FA Cup Record
| Season | Rnd | Played | Won | Drawn | Lost | GF | GA | Win % |
| --- | --- | --- | --- | --- | --- | --- | --- | --- |
| 1998-99 | 6th | 4 | 3 | 0 | 1 | 6 | 5 | 75% |
| 1999-00 | 6th | 5 | 3 | 1 | 1 | 6 | 4 | 60% |
| 2000-01 | 4th | 2 | 1 | 0 | 1 | 2 | 4 | 50% |
| 2001-02 | 6th | 5 | 3 | 1 | 1 | 7 | 5 | 60% |
| Totals: | | 16 | 10 | 2 | 4 | 21 | 18 | 61% |
Everton League Cup Record
| Season | Rnd | Played | Won | Drawn | Lost | GF | GA | Pens | Win % |
| --- | --- | --- | --- | --- | --- | --- | --- | --- | --- |
| 1998-99 | 4th | 4 | 2 | 1 | 1 | 7 | 5 | 4-5 | 50% |
| 1999-00 | 2nd | 2 | 0 | 1 | 1 | 1 | 2 | | 0% |
| 2000-01 | 2nd | 2 | 0 | 1 | 1 | 2 | 2 | 2-4 | 0% |
| 2001-02 | 2nd | 1 | 0 | 0 | 1 | 1 | 1 | 4-5 | 0% |
| Totals: | 2.5 | 9 | 2 | 3 | 4 | 11 | 10 | | 12.5% |
Previous Management Record
| Season | Team | Pld | W | D | L | F | A | Pts | Win % |
| --- | --- | --- | --- | --- | --- | --- | --- | --- | --- |
| 1991-1998 | Glasgow Rangers | | | | | | | | |
Previous Honours
7 Scottish League Championships (1991, 1992, 1993, 1994, 1995, 1996, 1997)
3 Scottish Cups (1992, 1993, 1996)
3 League Cups (1993, 1994, 1997)