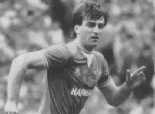 When Everton beat Watford 2-0 in the FA Cup final of 1984, Kevin Ratcliffe became the youngest captain since Bobby Moore (23 years previously) to lift the famous trophy. That match signalled the start of the most successful period in the club's history. In the next three seasons, Ratcliffe skippered Everton to the European Cup-Winners' Cup, two League Titles and two more FA Cup Finals.

It so nearly didn't happen. After impressing against the formidable Joe Jordan on his debut at Old Trafford in 1980, Ratcliffe spent two years yo-yo-ing in and out of the side and might have left for Ipswich after a difference of opinion with manager Howard Kendall. However, in December of 1982, he claimed a first-team place for good, and from then on it all happened very quickly: within a year he was made team captain, and soon after that was representing Wales.

All the trophies came in the 3½ seasons after he made the captain's armband his. There might well have been another even bigger cup – in 1985 Everton were unquestionably the best side in England, and as Champions they stood every chance of winning the European Cup the following season. Cruelly, they were denied their opportunity by the post-Heysel ban on English clubs in Uefa competitions.

While Ratcliffe was a footballer of limited natural ability, such were his pace, reading of and general approach to the game that this became irrelevant. It was his speed that caught the eye most – even if the Everton offside trap was breached, he was often able to turn and catch the intruder; indeed, they used to say you could tell the day after a match if he'd been playing as the pitch would be covered in scorchmarks.

He was predominantly left-footed, and his touch on the ball was only average, but he easily overcame these by concentrating on doing the simple things well and not elaborating unnecessarily. Neither was he dominant in the air, being competent rather than competitive, but when he played alongside such aerial battering-rams as Derek Mountfield and Dave Watson, he didn't really have to be. Nevertheless, while Kevin Ratcliffe is an Everton legend of the highest order. Had he been a more adept footballer, his name would probably be mentioned with the same reverence as Bobby Moore.

After leaving Everton, he went to Scotland and played for a short spell with Dundee before returning to England and managing Chester City to the 1995-96 playoffs. He is another in a long line of ex-Evertonians who have gone into management, and another who before long may well be tipped to return to Goodison as manager at some stage.