John Ebbrell
14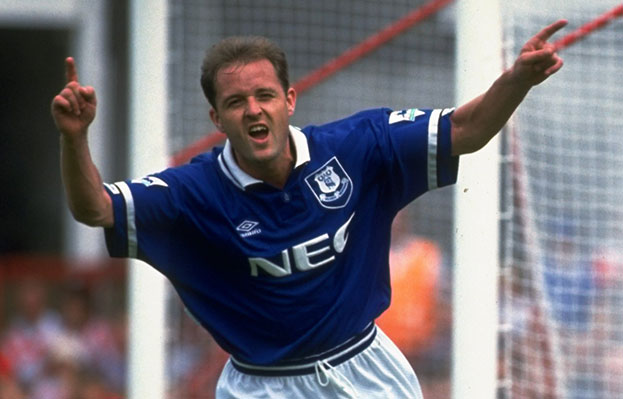 John Ebbrell was seen as the future England captain when he started his Everton senior team career proper during season 1988-89. Ebbrell came through the FA School of Excellence at Lilleshall and served his apprenticeship at Goodison Park during Howard Kendall's first period. He made his full debut in the last league match of the season, a home victory over Derby County (1-0) on 15 May 1989, after four earlier substitute appearances (plus one very early blooding two seasons before, as a 17-year-old sub for Alan Harper in the Full Members Cup, Second Round at Charlton Athletic, 3 March 1987).
His potential was immense, but somehow he never quite fulfilled it during Harvey's, Kendall's or Mike Walker's time. No-one ever questioned his determination, attitude and sheer work-rate, but poor displays where he failed to live up to the initial billing, and his profligacy in front of goal made him a player that some fans couldn't fully warm to, especially during the difficult times. His adaptability never helped him during this time either, as he was made to play in several positions, most of which didn't suit him.
Ebbrell was always reluctant to hide, though; ironically, this also tended to aggravate the crowd. He was very good at getting into advanced positions in the opponents box but unfortunately once he got there he wasn't always able to convert due to poor finishing or first touch. These things tended to stick in the memory of the crowd and it was that memory which most fans would take away from the ground. No-one gave him credit for getting there in the first place, no-one noticed him haring back to resume his position in central midfield, his excellent defensive work, his covering for colleagues, — what everyone remembered was the high-profile misses.
John was a true Evertonian who would do anything to help the cause, and with the guidance of Joe Royle he was able to show some of the potential he promised. John's strengths are in closing down and harassing the opposition. His attitude also got sometimes the better of him and he had a tendency to get booked for his overly enthusiastic tackles.
He was also one of the "Dogs of War" that Royle employed alongside Barry Horne and Joe Parkinson when he came to the club in November 1994. The idea was to stop the opposition from playing and then strike from corners or glimpses of genius from Anders Limpar. Royle never liked this tactic, but was forced to adopt it when the club was in danger of relegation.
The greatest disappointment for Ebbrell, however, was to be overlooked for the 1995 FA Cup Final -- the hardest decision Joe Royle ever had to make. For a while, John's position at Goodison looked tenuous, indeed the crowd shamefully got on his back so much in one game that Joe Royle was forced to sub him. But the bizarre three-foreigner rule (pre-Bosman) allowed him back into midfield to score in Reykjavik. Ebbrell was given permission to play more creatively. With Parkinson, they could both dominate the midfield and run the engine-room.
Ebbrell started to finally receive appreciation from the fans with solid midfield displays during 1996. He was even made team captain after injury to Dave Watson, but second-half surrender of a two-goal lead at Old Trafford soon put paid to such lofty ambitions. He later said that he knew he would eventually leave the club when he was dropped after captaining his beloved Everton. With Parkinson an automatic choice in the middle of the park, John sometimes had to fight for the other place against more creative candidates, mainly Tony Grant.
That was until the Great Injury Crisis of late 1996. Ebbrell became one of the hobbling wounded with an ankle injury sustained against West Ham in October. His recovery was aggravated when he resumed playing on it. Eventually, the damage was bad enough to warrant an operation, and further time on the sidelines — although he did play in two matches after Christmas as Everton slumped to equal their worst-ever league run of six successive defeats. What was to be his last appearance for Everton came in a 0-2 defeat at Goodison by Blackburn Rovers on 1 January 1997.
The final straw for Ebbrell appears to have been the signing of Claus Thomsen from Ipswich Town in January 1997. This was a move taken by Royle to beef up the midfield in the wake of the injury crises that still left Ebbrell out of the team. Contact with Kendall was obviously re-established, and the move finally occurred at the end of February, after Royle had initially blocked it for fear of further depletion to his limited squad.
Another factor was the Bosman ruling, and Ebbrell's contractual situation which meant a free transfer abroad could work for him in the summer of 1997. In the end, Royle accepted the inevitable and cashed in on some of the 27-year-old's residual value. Farewell to a true-blue Evertonian.
Postscript: And its a sad farewell to football for John Ebbrell, who announced in January 1999 that he was forced to retire due to an infection in the area of an operation wound picked up in hospital when he was being treated for an ankle injury that had prevented him fugsrom playing for a long time. Ebbrell made only one start with his new club, Sheffield United, and his retirement must be seen as an indictment of the dubious practice of "playing through the pain barrier", when players with injuries are given pain-killing drugs.
Coaching Career
Ebbrell's first role in coaching was as Chief Scout under David Moyes at Everton, a post Ebbrell held for 3 years before subsequently leaving to pursue a football agency role. Ebbrell co-founded X8 Ltd, a football representation and agency business. In 2002, X8 merged with Proform Sports Management Ltd. The combined agency represented approximately 60 players (including a young Wayne Rooney).
Ebbrell started coaching at Tranmere Rovers in the 2008–09 season. In July 2010, he succeeded Kenny Shiels as Tranmere Rovers' Centre of Excellence Manager.
In March 2015 Ebbrell rejoined Everton in an Academy Coaching role, and took charge of Everton's Under-18 side as Manager in January 2016. He was appointed Assistant Manager of Everton's U23 team for the 2016–17 season, winning the Premier League 2 Division 1 title in its first season in U23 format. Everton's U23 team won the Premier League 2 Division 1 title for the second time in three seasons in April 2019.
Ebbrell was promoted to the position of Head of Academy Coaching and U23s Assistant Manager in November 2020, with responsibility to oversee the Academy Coaching programme whilst continuing his role as assistant to Academy Director and U23s team manager, David Unsworth. When Unsworth left in April 2022, Ebbrell stepped up to manage the U23s for the final games of the season, in which they narrowly avoided relegation to PL2 Division 2.
FactFile
| | |
| --- | --- |
| Squad number | 14 |
| Position | Central midfield |
| Nationality | English |
| Born | Bromborough |
| Date of birth | 1 October 1969 |
| Height | 5' 7" |
| | |
| --- | --- |
| Joined | November 1986 |
| Joined from | Trainee |
| Signed by | Howard Kendall |
| Transfer fee | – |
| Debut (sub) | v Wimbledon (H), 4 February 1989 |
| Left Everton | February 1997 – Sheffield United, £1m |
| Last match | Blackburn Rovers (H), 1 January 1997 |
| | |
| --- | --- |
| Other Clubs | Sheffield United |
Everton Career
John Ebbrell -- Everton Career Statistics

Season

League

Apps(Sub)

League

Goals

Cup

Apps(Sub)

Cup

Goals

TOTAL

Apps(Sub)

TOTAL

Goals

1986-87
-(-)
-
-(1)
-
-(1)
-
1987-88
-(-)
-
-(-)
-
-(-)
-
1988-89
1(3)
-
-(1)
-
1(4)
-
1989-90
13(4)
-
4(-)
-
17(4)
-
1990-91
34(2)
3
14(-)
4
48(2)
7
1991-92
39(-)
1
7(-)
-
46(-)
1
1992-93
24(-)
1
4(-)
-
28(-)
1

1993-94

39(-)

4

6(-)

-

45(-)

4

1994-95

26(-)

-

3(-)

-

29(-)

-

1995-96

24(1)

4

7(-)

2

31(1)

6

1996-97

7(-)

-

1(-)

-

8(-)

-

Totals:

207(10)

13

46(2)

6

253(12)

19