Neville Southall MBE
1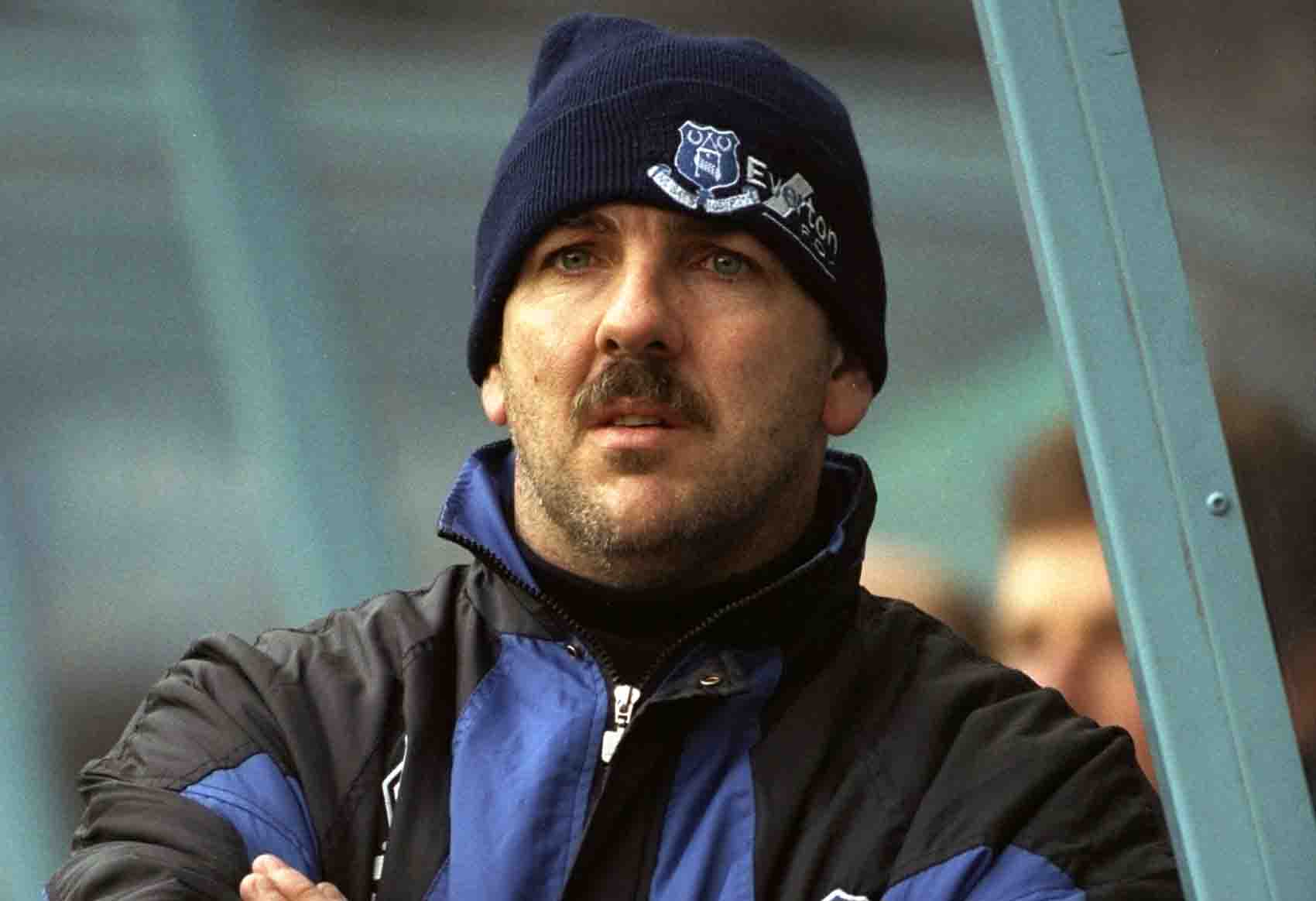 Though he had competition from Peter Shilton, Neville Southall was arguably the finest goalkeeper of his generation and was a bona fide Everton legend by the time he left the club in 1998 after 17 years at Goodison Park.  
It was in July 1981 that he completed the remarkable two-year transformation from Llandudno hod-carrier to First Division footballer.  He turned his back on the building site after an eventful career in Welsh non-League football.  A centre-back in his teens, he had unsuccessful trials with several clubs including Crewe and Bolton but moved between the posts after joining Llandudno Swifts and then had short spells with Conway United and Bangor City before making the switch to Cheshire League side Winsford.
Bury bough him for £6,000 in 1980 and then Howard Kendall moved in with a £150,000 bid the following year.  After claiming a first-team place, he was dropped in favour of Jim Arnold and in 1982-83 he was one of ten Everton players loaned out when he went to Port Vale.  He returned to win back his place and proved so consistently brilliant that Kendall felt able to compare him with Gordon Banks.
Southall was magnificent in the air and had the sort of cat-like reflexes that left opposing forwards pounding the turf in disbelief.  He became firmly established as first-choice for Wales, winning a record 91 caps, and in 1985 he was voted Footballer of the year by the Football Writers' Association.  A serious and, many feel, costly injury kept him out of the Everton side from March until October 1986 and, although he missed the 1986 FA Cup Final, he went on to collect another Championship medal in 1987.
In the mid- to late-eighties, Neville Southall was definitely one of the top three goalkeepers in the world; some even say he was the best.  Through the nineties, as Southall matured and aged, he was expected to retire gracefully, but Big Nev confounded the critics and just kept on going.  He surpassed Ted Sagar's incredible appearance record, and went on to chalk up his 700th appearance at the 1996-97 season opener against Newcastle United.
The best season of his later years was 1994-95 when he helped Everton to a record seven consecutive clean sheets in the Premiership, and rounded it all off with an excellent performance in the second half of the 1995 FA Cup Final to deny a second-half onslaught from favourites Manchester United to help the Toffees lift the famous trophy.  
During the 1996-97 season, then manager Joe Royle became concerned that Neville would walk out of Goodison Park for a job in management and tried to protect against the inevitable by bringing in Paul Gerrard from his old club, Oldham Athletic. However, an uncharacteristically suspect performance in Everton's early FA Cup exit to Bradford City in early 1997 was an unreliable indicator that his Everton days were over.
He started the 1997-98 season revitalised by the return of his great friend and mentor, Howard Kendall as manager for a third spell, and his early season form showed little sign that he would be moving on.  However, things were changing behind the scenes, with Kendall offering Southall a permanent coaching role at Everton.  Nev wanted to keep playing and turned this down, so the club hired Mervyn Day.
In September 1997, Southall became the first player to chalk up 200 appearances in the Premiership.  Soon after, Kendall decided to give Gerrard a run that proved almost as bad as the one he had under Joe Royle the previous season.  Then, at the end of November, Kendall surprised everyone by signing Thomas Myhre from Viking Stavanger.  On November 29, 1997, Neville Southall made his 750th senior appearance for Everton (and his last) against Tottenham at Goodison Park.
After being offered on a free transfer to First Division clubs, Southall took up a two-month loan at Southend United. Another loan spell followed, this time nearer home with Stoke City.  It was at the Victoria Ground that Neville finally took the momentous decision to leave Everton and accept a position as player/coach.
So a truely momentous career finally came to an end.  Big Nev wanted to carry on in the Everton goal until he was at least 40, but it was not to be.  A nice touch, probably instigated by Kendall, was recalling him as Guest of Honour at Goodison Park for a final gesture of appreciation from the packed crowd who nervously awaited the final nail-bitting relegation decider against Coventry City in May 1998. 
After leaving Everton, Southall carried on playing for Torquay United and Bradford City.  He continued to coach at Bradford, York and Tranmere, but joined Kevin Ratcliffe at Shrewsbury in December 2001, to provide goalkeeper cover, if required. In March 2002 he moved on again, joining Dagenham and Redbridge, again as goalkeeper cover.
Once he had finally hung up his gloves after a 22-year career, Southall moved into coaching, first as manager at Dove, then at Hastings United and, finally, caretaker manager at Margate in 2009.
Since then he has become increasingly involved in community work, youth mentorship and mental health advocacy and in 2022 he launched the 90 Minutes With Neville Southall podcast to "shine a light on issues that are all too often overlooked".
FactFile
| | |
| --- | --- |
| Squad number | 1 |
| Position | Goalkeeper |
| Nationality | Welsh |
| Born | Llandudno |
| Date of birth | 16 September, 1958 |
| Height | 6' 1" |
| | |
| --- | --- |
| Joined | July 1981 |
| Joined from | Bury |
| Signed under | Howard Kendall |
| Transfer fee | £150,000 |
| Left Everton | For Stoke City, March 1998 (Free transfer) |
Previous Clubs
Bury
Port Vale (loan)
Southend (loan)
Stoke City (loan)
---
Everton Career

| Season | Squad Number | League Apps (sub) | League Goals | Cup Apps (sub) | Cup Goals | Total Apps (sub) | Total Goals |
| --- | --- | --- | --- | --- | --- | --- | --- |
| 1981-82 | 1 | 26 (-) | - | 1 (-) | - | 27 (-) | - |
| 1982-83 | 1 | 17 (-) | - | 2 (-) | - | 19 (-) | - |
| 1983-84 | 1 | 35 (-) | - | 19 (-) | - | 54 (-) | - |
| 1984-85 | 1 | 42 (-) | - | 21 (-) | - | 63 (-) | - |
| 1985-86 | 1 | 32 (-) | - | 17 (-) | - | 49 (-) | - |
| 1986-87 | 1 | 31 (-) | - | 8 (-) | - | 39 (-) | - |
| 1987-88 | 1 | 32 (-) | - | 17 (-) | - | 49 (-) | - |
| 1988-89 | 1 | 38 (-) | - | 16 (-) | - | 54 (-) | - |
| 1989-90 | 1 | 38 (-) | - | 11 (-) | - | 49 (-) | - |
| 1990-91 | 1 | 38 (-) | - | 15 (-) | - | 53 (-) | - |
| 1991-92 | 1 | 42 (-) | - | 8 (-) | - | 50 (-) | - |
| 1992-93 | 1 | 40 (-) | - | 7 (-) | - | 47 (-) | - |
| 1993-94 | 1 | 42 (-) | - | 6 (-) | - | 48 (-) | - |
| 1994-95 | 1 | 41 (-) | - | 8 (-) | - | 49 (-) | - |
| 1995-96 | 1 | 38 (-) | - | 11 (-) | - | 49 (-) | - |
| 1996-97 | 1 | 34 (-) | - | 4 (-) | - | 38 (-) | - |
| 1997-98 | 1 | 12 (-) | - | 1 (-) | - | 13 (-) | - |
| | Totals | 578 (-) | - | 172 (-) | - | 750 (-) | - |
Previous Career
| | | | |
| --- | --- | --- | --- |
| Seasons | Club | Appearances | Goals |
| 1980-81 | Bury | 39 + 5 | 0 |
| 1982-83 | Port Vale (loan) | 9 | 0 |
| 1997-98 | Southend | 9 | 0 |
| 1998 | Stoke City | 3 | 0 |