Antolin Alcaraz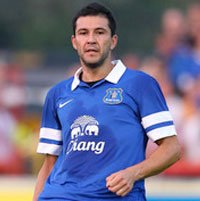 Squad number
30
Position
Defender
Joined on
9 July 2013
Joined from
Wigan Athletic
Transfer fee
No fee (Free agent)
Signed by
Roberto Martinez
Full debut
v Southampton (H)
29 December 2013
Contract duration
2 years
Contract expired
June 2015
Released
10 June 2015
Born

San Rogue Gonzalez, Paraguay


Date of birth
30 July 1982
Height
6' 2" (1.87 m)
•
Soccerbase Datafile
•
Wikipedia Entry
Antolin Alcaraz was out of contract with Wigan Athletic at the end of the 2012-13 season and his move to Everton has been mooted ever since Roberto Martinez was installed as Everton's new manager.
The then 30-year-old agreed a two-year deal, the club confirmed and signed the paperwork after a successful medical and international clearance was secured.
That cleared the way for him to reunite with Martinez, who had brought him to the Premier League two years ago.
An experienced centre-half, the Paraguayan international was a natural choice for Martinez to bring in to bolster his central defensive options.
His last season with Wigan had been disrupted by injury but he looked fit and ready to go in pre-season 2013. However, a succession of injuries and hernia surgery would delay his full debut until the Blues' final match of 2013 against Southampton where he slotted in seamlessly when called upon to fill in for the injured Jagielka.
His initial appearances were positive, but Alcaraz struggled for consistent fitness over the remainder of the season and proved to be a somewhat erratic deputy for the more reliable Phil Jagielka and Sylvain Distin.
Comfortable on the ball and with good distribution from the back, the Paraguayan was perhaps exposed more for his lack of pace and positional sense than anything else, his nadir coming perhaps in the 2-0 defeat at Southampton in April 2014 when the Blues' Champions League hopes were finally extinguished by two own goals, the first by Alcaraz.
The Paraguayan was the first to admit the season had been something of a disaster for him personally:
"On a personal level, it's one to put behind me," Paraguayan said of last season in which he made just seven appearances. "It's one to forget almost as it's been full of negatives. The frustration as a player is that an injury stops you doing what you most enjoy.

"It's almost like it is taking your liberty away from you and you become a prisoner in your own situation. But it's gone now and it's not worth looking back and feeling sorry for yourself. You have to look ahead, be positive and I'm looking forward to next season and hoping for better things."

Alcaraz made his debut for the Blues against Southampton in the final match of 2013, regaining fitness at the right time for Martinez as Phil Jagielka and then Sylvain Distin succumbed to injury over the busy Festive period.

He found the adjustment required by a return to full Premier League and FA Cup action difficult, though, suffering muscle fatigue that would limit his availability until the later stages of the campaign.

"I took solace in that I was able to play a few games towards the end of the season and physically I came through those okay, and that is promising for next season," the centre-half continued. "What I want more than anything is to make sure that I am 100% fit, totally free from injuries and have the chance to do what I do."
However, 2014-15 was a little hit and miss at best to start with for Alcaraz and he didn't see much action until there were injuries or other issues with the normal first choice centrebacks.
John Stones's lay-off from an ankle injury between September and December 2014, combined with Distin's apparent falling out with the manager gave him an opportunity to reclaim his place until he, too, suffered a shoulder injury following a colliison with Wilfried Bony in the home game against Swansea.
By the time he was fit again, Stones and Jagielka had cemented their places as the first-choice central defensive pairing but Alcaraz was asked to deputise in March 2015 when Stones fell ill and turned in an excellent display against Newcastle at home that earned him a starting berth in the ill-fated Europa League Round of 16 second leg in Kiev where the Blues' hopes of reaching the final in Warsaw were shattered.
That game, one which Alcaraz himself will not look back on too fondly given the 5-2 scoreline and his own personal performance, would be his last start for Everton before his contract expired that summer.
Everton Career
Season
Squad
Number
League
Apps (sub)
League
Goals
Cup
Apps (sub)
Cup
Goals
Total
Apps (sub)
Total
Goals
2013-14

32

5 (1)

0

1 (0)

0

6 (1)

0

2014-15
30
6 (2)
0
5 (0)
0
11 (2)
0
Totals
11 (3)
0
6 (0)
0
17 (3)
0
Previous Career
Season
Team
Appearances (sub)
Goals
2001-2002
Racing Club de Avellaneda [Arg]
0
0
2002-2003
Fiorentina (on loan) [Ita]
0
0
2003-2007
SC Beira-Mar [Por]
112
5
2007-2010
Club Brugge [Bel]
68
5
2010-2013
Wigan Athletic
67
3