Kevin Campbell
9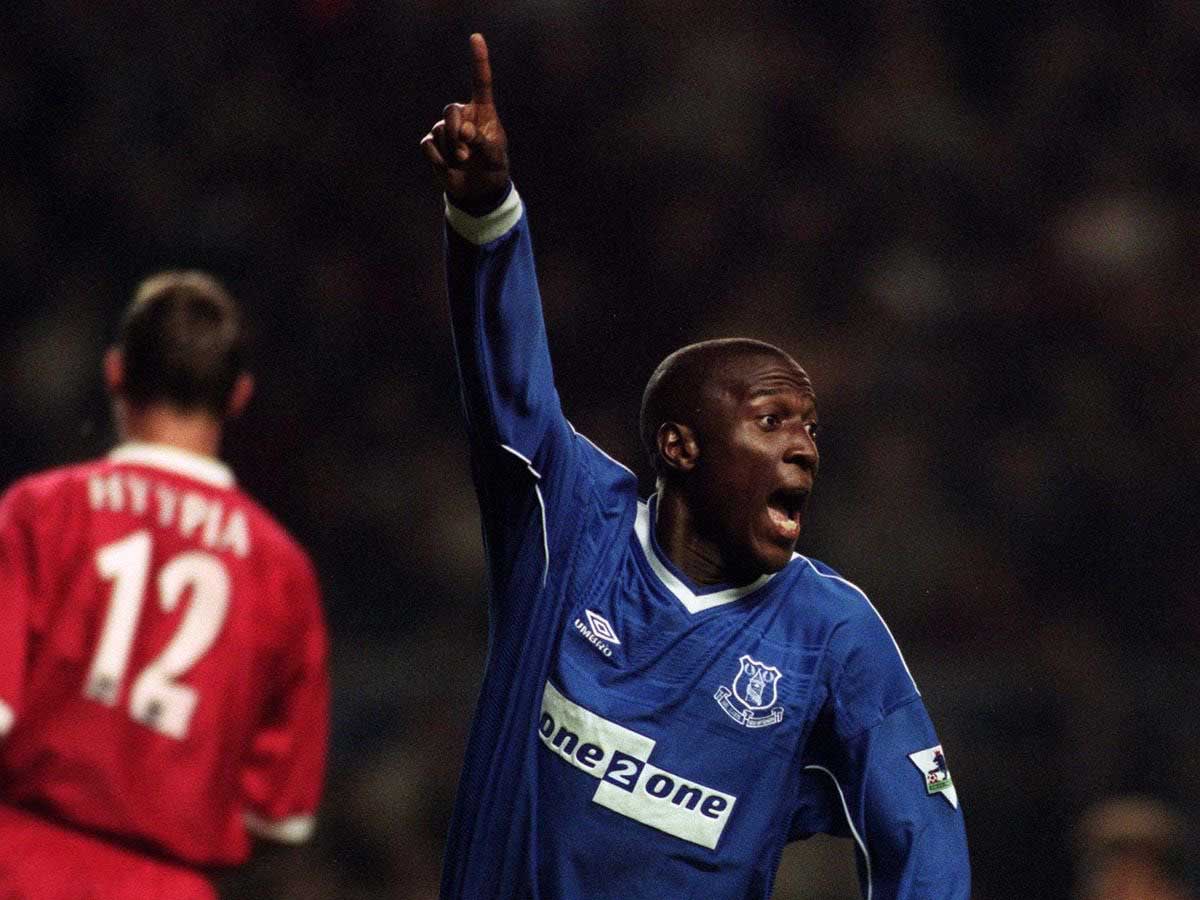 Many Evertonians were nonplussed by Walter Smith's desperation signing of Kevin Campbell on loan in March 1999 but the former Arsenal striker would prove to be not only the most important signing of the Scot's four-year tenure at Everton but also one of the most significant signings in the club's history.
The Toffees had survived relegation on the final day of the 1987-88 season and looked to be in serious danger of losing their top-flight status the following year as Smith struggled to lift his new team up from the lower reaches of the Premiership table.
Campbell started his career with Arsenal and rose through the ranks to become a regular first-team goalscorer at Highbury. Though prolific in two loan spells away from Arsenal with Leyton Orient and Leicester City in 1989, Campbell had failed to set the Highbury alight in the manner expected in the early part of his career and was ultimately eclipsed by Ian Wright.
He was bought by Nottingham Forest in 1995 to replace Stan Collymore but while he scored an impressive 32 goals in 80 games for the Midlands club it wasn't enough to keep them in the top division, although his partnership with Pierre van Hooijdonk where he notched 23 in a season helped Forest earn promotion back to the Premier League at the first attempt in 1997-98.
Nevertheless, his move to the comparative backwater of Turkey and Trabsonspor in 1998 seemed to confirm that Campbell's career was in danger of petering out rather than scaling the heights at a top Premier League club.
However, cash-strapped Smith saw in Campbell a cheap way of acquiring much-needed firepower for his bid to steer Everton away from increasingly real relegation danger. The benefit was mutual — as Kevin was by that point desperate to leave Turkey, having been on the victim of barbed racist comments by the Trabsonspor president who branded Campbell a "discoloured cannibal" and attacked his scoring record.
Though it took him a couple of games to settle in, Campbell's impact at Goodison was staggering. He fired nine goals in as many appearances for the Blues, a contribution that almost single-handedly steered the club away from the drop zone and to mid-table safety that season. It was perhaps the most significant contribution any one player had made to Everton since Andrei Kanchelskis had notched 16 goals and brought then manager Joe Royle's side to within minutes of UEFA Cup qualification in the 1995-96 campaign.
That summer, despite crippling financial problems, Everton secured a £3m deal for Campbell from Turkey and there was hope that the solution to one of the club's longest running problems — namely the lack of a 20-goal-a-season forward — had finally been found.
It had long been thought that the former Arsenal striker had a lot more to offer and this was the answer to his many critics. With strength and pace, two good feet, and modest skills in the air so his move to the Black Sea city of Trabzon was a curious but lucrative one.
Barely a season had gone by before everything went sour and Campbell was looking to return home at the first opportunity. He sent his family back to England, and tried hard to extricate himself from the club, where he was dropped and ended up training with the youth team.
Enter Everton and an obviously grateful Campbell arrived at Goodison to make a fresh start. Although he failed to score on his first two appearances — an away defeat by Liverpool which ended the Blues' 5-year dominance over the Reds and the corner-stone capitulation at home to Sheffield Wednesday — Campbell scored twice in his third game, against Coventry City, and didn't look back.
Kevin's arrival had coincided with the explosion onto the scene of Francis Jeffers, and the pair struck up a phenomenal partnership, supplemented by the midfield craft of Nick Barmby and Don Hutchison. His most famous goal would come shortly after his transfer from Turkey was made permanent. Swivelling into the ball in just the fourth minute of the Merseyside derby, the striker scored what would be the last winning goal an Everton player would score at Anfield for another 22 years.
However, because of injuries to Campbell and Jeffers, and the subsequent departures of Barmby and then Jeffers himself over the ensuing three seasons, "Super Kev" was unable to provide the consistent and reliable source of goals Everton so badly needed and the team experienced long periods of stagnation going forward.
He was offered a lucrative 5-year deal in 2000 together with the club captaincy but Campbell's own long-term injury problems over the next two years seemed to take a toll on his sharpness, pace and general fitness. Nevertheless, he still managed to rack up 25 goals in 67 starts.
Campbell was one of the many players to benefit markedly from the arrival of David Moyes and his emphasis on fitness and football. Another good spell for Campbell in the first half of the 2002-03 season saw him scoring 9 goals in 25 consecutive starts. But he was less fortunate in his second full season under Moyes, his last at Goodison Park, with Moyes switching to a 4-5-1 formation with Marcus Bent plowing the lone furrow up front.
Campbell got one final start, playing most of the vital New Year game against Portsmouth before his pay-off deal (£10k/wk) enabled him to stay in the Premiership by moving on to West Bromwich Albion in January 2005.
Everton would remain in his heart, however, and despite his Arsenal roots, he remains a huge Everton supporter to this day, frequently championing the club in the media.
FactFile
| | |
| --- | --- |
| Squad number | 9 |
| Position | Centre Forward |
| Nationality | English |
| Born | Lambeth |
| Date of birth | 4 February 1970 |
| Height | 6' 1" (185 cm) |
Joined
Mar 1999 (Loan);
Jul 1999
Joined from
Trabsonspor (Tur)
Signed under
Walter Smith
Transfer fee
Initially on loan;
£3m
Full debut
v Liverpool (a),
3 April 1999
Left Everton
for WBA (Free)
10 Jan, 2005
Previous Clubs
Arsenal
Leyton Orient (loan)
Leicester City (loan)
Nottingham Forest
Trabsonspor
---
Everton Career

Season

Squad
Number

League
Apps (sub)

League
Goals

Cup
Apps (sub)

Cup
Goals

Total
Apps (sub)

Total
Goals

Season

Squad
Number

League
Apps (sub)

League
Goals

Cup
Apps (sub)

Cup
Goals

Total
Apps (sub)

Total
Goals

1998-99

9*

8 (0)

9

0 (0)

0

8 (0)

9

1999-00

9

26 (0)

12

5 (2)

0

31 (2)

12

2000-01

9

27 (2)

9

2 (1)

1

29 (3)

10

2001-02

9

21 (2)

4

4 (0)

3

25 (2)

7

2002-03

9

31 (5)

10ª

3 (0)

2

34 (5)

12

2003-04

9

8 (9)

1

0 (1)

0

8 (10)

1

2004-05

9

4 (2)

0

0 (1)

0

4 (3)

0

Totals

125 (20)

45

14 (5)

6

139 (24)

52