EVERTON PAST PLAYER PROFILE
Lee Carsley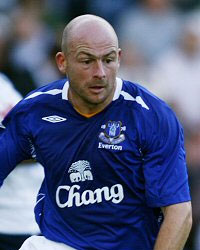 Squad number
26
Position
Central Midfield
Joined
February 2002
Joined from
Coventry City
Signed by
Walter Smith
Transfer fee
£1.95M
Full debut
v Arsenal,
10 February 2003
Contract duration
4 years + 1
Contract expires
June 2008
Finalé
Left Everton
19 May 2008
Destination
Birmingham City
Transfer Fee
Born
Birmingham
Date of birth
28 February 1974
Height
5' 10 "
Nickname(s)
Harry Hill, Cars
Honours

Rep. of Ireland intl
STRENGTHS
Dependable and committed
Terrier-like tackling
Gets stuck in, disrupts opposition flow
WEAKNESSES
Long-range passing
Occasionally rash
Lacks flair
Soccerbase Datafile
Lee Carsley's Everton career offers perhaps a textbook example of how a player previously written off as a one-dimensional journeyman can be transformed into an indispensible member of a successful team.
Arriving at Goodison Park at the end of January 2002 in a deal worth almost £2M, Carsley, who had had spells at Derby County, Blackburn and Coventry City, was one of Walter Smith's last three signings as Everton manager. Together with Tobias Linderoth and David Ginola, the Republic of Ireland midfielder was part of Smith's last-ditch effort to improve performances on the field as the Blues slid ominously towards the Premiership relegation places.

Originally received with derision as a symbol of both Smith's desperation and the club's financial crisis, Carsley was soon winning the fans over with some solid displays in the Everton midfield. A tough-tackling, no frills player, he scored a well-taken goal at Arsenal on the final day of the 2001-02 season as the Blues eventually succumbed to the champions 4-3.

Lee travelled with the Irish squad to the 2002 World Cup in Korea Japan and, although they advanced to the second phase of the competition, Carsley only featured for five minutes as a late substitute in one of the group matches.

His first full season at Goodison proved to be mixed, with the standard of the football improving around him, and the inadequacies of Everton's midfield becoming increasingly more noticeable. But Carsley was a first choice for Ireland and performs more than adequately on the international stage.

Carsley played a more limited role in the near-disastrous 2003-04 season, when midfield failings seemed to attract the focus as Everton struggled to put together any meaningful performances on the pitch. Playing a more defensive role alongside Tommy Gravesen should have allowed Carsley to make the required impression but all too often his contribution was weak or limited.

Lee was expected to be one of the many who would leave during the 2004 close season but he hung in there went on to play an important role in defensive midfield as Everton entered the post-Rooney era with a renewed spirit and a fierce determination wrought of a siege mentality that David Moyes inspired in the squad as they surged up to third in the Premiership, Carsley having played in every game.

The Irishman found his niche that season, sitting in front of the back four and anchoring the midfield in a 4-1-4-1 formation. His focus on the more defensive aspects of midfield freed up the likes of Tim Cahill to roam further forward and the Australian's goals were to prove crucial as the Blues marched on towards Champions League qualification the following May. But Lee wasn't averse to venturing forward himself and perhaps his finest moment in Everton Blue came with the match-winning goal in a rare victory over Liverpool.

That unprecedented fourth-place finish in the Premier League appeared to come under grave threat with the departure of Carsley's doppelganger Thomas Gravesen to Real Madrid in January 2005. But the acquisition of another mercurial talent in the form of Mikel Arteta proved enough to give the club a crack at quailfying for the Champions League group stages the following August.
Unfortunately for him he was stretchered off in serious pain at the end of the final game of the season at Bolton after twisting his knee at the Reebok Stadium. Although cruciate ligament damage was fortunately avoided and he spent the summer recovering, Cars broke down in a pre-season friendly against Fenerbahçe and needed another operation that kept him out of the game for another five months.
He barely figured in the 2005-06 season, making just three starts and earning a red card against Chelsea but, despite being on the wrong side of 30 and a potential casualty of Moyes's commitment to both steadily reduce the average age of the squad and improve the general level of quality, Carsley started every League game the following season, helping the Blues to a 6th-place finish and European qualification.
An influx of key personnel was expected in the summer of 2007 as Moyes sought to bolster his squad ahead of the Uefa Cup campaign and Carsley, now 33, was wondering how much he would be involved the following season and whether it was worth finishing his career elsewhere. He stalled on signing a new contract at Goodison and seemed on the verge of making a £2M move to Wigan Athletic before appearing to have a change of heart and signing on with Everton for another year.
It was to be a wise decision for both player and club alike; when Tim Cahill returned from two lengthy spells on the sidelines with metatarsal trouble and gelled brilliantly with the likes of Steven Pienaar and a newly inspired Leon Osman, the 4-1-4-1 formation, which depended as much on Carsley's terrier-like tackling as it did on Cahill's goals was given new life at Goodison.
And Carsley stacked up even more impressive performances, locking down that central midfielder area with a "they shall not pass" attitude that no-one else could match, despite the other shortcomings in his overall game. So it was only right that David Moyes would extend his contract by another year well before the end of the season.
2007-08 proved to be yet another great season for Lee Carsley. Time and again, he was the under-appreciated lynchpin in central midfield. But the wealth of plaudits he received in our mailbag when he finally decide to leave for a two-year deal at Birmingham, showed just how much his invaluable contribution to the season was appreciated.
By Michael Kenrick and Lyndon Lloyd
Last updated May 2008
Everton Career
Season
Squad
Number
League
Apps (sub)
League
Goals
Cup
Apps (sub)
Cup
Goals
Total
Apps (sub)
Total
Goals
2001-02

26

8 (0)

1

0 (0)

0

8 (0)

1

2002-03

26

21 (3)

3

3 (0)

0

24 (3)

3

2003-04

26

15 (6)

1

4 (0)

0

19 (6)

1

2004-05

26

35 (1)

4

5 (0)

1

40 (1)

5

2005-06

16

3 (2)

0

0 (1)

0

3 (3)

0

2006-07

26

38 (0)

1

4 (0)

0

42 (0)

1

2007-08
26
33 (1)
1
15 (0)
0
48 (1)
1
Totals
153 (13)
11
31 (1)
1
184 (14)
12
Prior Club Record
Season
Team
Appearances (sub)
Goals
1998-1999
Derby County
122 (16) +25 (3)
5 + 0
1999-2000
Blackburn Rovers
41 (6) + 8 (0)
11 + 2
2000-2002
Coventry City
46 (1) + 5 (0)
4 + 1