Sylvain Distin
15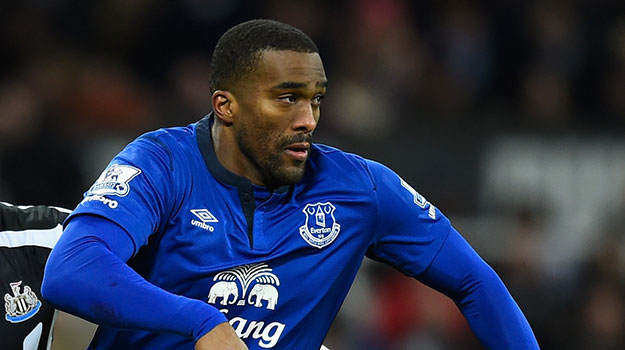 When Joleon Lescott was belatedly sold to Manchester City for £24m in August 2009, David Moyes was left with just two senior central defenders on the books at Goodison and one of them, Phil Jagielka, was still months from recovering from a ruptured anterior cruciate ligament.
The manager promised to bring in two additional players to cover that part of the pitch and bought experienced Frenchman Sylvain Distin from Portsmouth for a fee of around £5m just three days before the transfer deadline, before adding versatile Dutchman John Heitinga on deadline day itself and free agent Lucas Neill later in September.
With a loan spell at Newcastle and a couple of seasons at Manchester City under his belt, Distin joined Portsmouth in 2007 and went on to become the south coast club's captain following the departure of Sol Campbell.
When a protracted takeover threatened to send Pompey into administration and the future looked bleak at Fratton Park, the Bagnolet-born defender jumped at the chance of challenging at the right end of the Premier League and in Europe by joining Everton.
Distin made a solid start to life at Goodison and an immediate debut alongside Joseph Yobo in a 2-1 win over Wigan Athletic on 30th August. He scored his first goal for the club in a 4-0 win over AEK Athens in the Europa League the following month and generally seemed to be a successful replacement for the departed Lescott.
As the Blues' injury crisis worsened and the team started struggling for results, Distin's form became a little suspect but with few options at his disposal, Moyes was forced to persist with him week-in, week-out and even tried to play him despite a hamstring injury on a swamp of a pitch in Athens in the return fixture against AEK in December. Predictably, the then 31-year-old lasted just a quarter of an hour before hobbling out of action for the remainder of 2009.
Distin returned in the New Year, and Everton's form bucked up as well. In this period, he pretty much established an effective, if not entirely waterproof defensive partnership with Jagielka, displacing Yobo to the bench.
Much maligned for an early season mistake in September 2010 against Manchester United, Distin went on to put in another excellent overall performance in defence that kept World Cup finalist Johnny Heitinga stuck on the bench for most of the season and into 2011-12.
Despite being well into his 30s, the Frenchman had lost none of his explosive pace but he succumbed to a niggling groin injury in November 2011 that disrupted his partnership with Jagielka. He missed a few games and lost his place, found himself siting on the bench until the busy Christmas period, but then picked up another knock that kept him out for most of January 2012.
Once fit, however, he came right back in and was further rewarded for some diligent and solid performances when he agreed terms for another year on his contract in March. The new contract was signed in May that would take him through until June 2013, as he continued to be very a solid part of the Everton defence, his one blunder at Wembley against Liverpool in the FA Cup semi-final notwithstanding, when a poor backpass allowed Luis Suarez to level the game and turn the tide irrevocably in the reds' favour.
His incredible record of solid rearguard performances continued through the next two seasons, with the Everton defence securing the third best record in terms of goals conceded in 2013-14. Distin was awarded another one-year extension to his contract in January 2014, taking his commitment to the Blues through June 2015.
He seemed to have lost a little of his pace going into his sixth season with the club and may have been put off by the pressure on his first-team place exerted by young John Stones but his performances began to decline in Roberto Martinez's second season in charge at Goodison Park, culminating in Everton's ignominious exit from the League Cup at Swansea in September 2014. Rumours strongly suggested a falling out with manager Roberto Martinez, even that he may have been banished from Finch Farm when he was sent back to France for 10 days' rest, but he would later deny any clash with the manager in an interview with French media the following May.
He returned to the squad in October and was a regular in the side until early January when he suffered a groin injury in an FA Cup tie against West Ham but after being named on the substitute's bench upon his return for the match at Crystal Palace, Distin disappeared. In the afore-mentioned interview with L'Equipe, the now 37-year-old explained that he had not spoken with his manager since discussions over an approach from West Ham on transfer deadline day in early February 2015 to take him to Upton Park for the remainder of the season.
His comments revealed a rift that made it almost certain that he would leave Everton at the end of the 2014-15 season after almost six years with the club. He was given a late cameo in the final home match of the 2014-15 season to bid farewell to Everton's fans before departing in June 2015 as a free agent. He would subsequently be picked up by Bournemouth for their first season in the Premier League.
One curious fact about Distin's career – as his brief sojourn at Bournemouth wrapped up, the last league game he ever started was against Everton (November 2015) and the last professional match he ever started was also against Everton (FA Cup, February 2016).
FactFile
| | |
| --- | --- |
| Squad number | 15 |
| Position | Central Defence |
| Nationality | French |
| Born | Bagnolet, France |
| Date of birth | 16 December 1977 |
| Height | 6' 3" |
Joined
28 August 2009
Joined from
Portsmouth
Signed by
David Moyes
Transfer fee
£5m
Contract duration
3+1+1+1 years
Contract expired
June 2015
Released
10 June 2015
Full debut
v Wigan Athletic (H)
30 August 2009
Left Everton
10 June 2015
Destination
Bournemouth
Transfer Fee
Free Agent
Previous Clubs
Joue-les-Tours
Tours
Guegnon
Paris St Germain
Newcastle U (loan)
Manchester City
Portsmouth
Everton Career
| Season | Squad No. | League Apps (sub) | League Goals | Cup Apps (sub) | Cup Goals | Total Apps (sub) | Total Goals |
| --- | --- | --- | --- | --- | --- | --- | --- |
| 2009-10 | 15 | 29 (0) | 0 | 9 (0) | 2 | 38 (0) | 2 |
| 2010-11 | 15 | 38 (0) | 2 | 6 (0) | 0 | 44 (0) | 2 |
| 2011-12 | 15 | 24 (3) | 0 | 6 (0) | 0 | 30 (3) | 0 |
| 2012-13 | 15 | 31 (3) | 1 | 6 (0) | 1 | 37 (3) | 2 |
| 2013-14 | 15 | 33 (0) | 0 | 3 (1) | 0 | 36 (1) | 0 |
| 2014-15 | 15 | 12 (1) | 0 | 5 (0) | 0 | 17 (1) | 0 |
| | Totals | 167 (7) | 3 | 35 (1) | 3 | 202 (8) | 6 |
Previous Career
| Season | Team | Appearances (sub) | Goals |
| --- | --- | --- | --- |
| 1997-98 | Joue-les-Tours | 32 | 4 |
| 1998-99 | Tours | 26 | 3 |
| 1999-2k | Gueugnon | 32 | 1 |
| 2000-02 | Paris St Germain | 28 & 10 | 0 |
| 2001-02 | Newcastle United (loan) | 20 (8) & 7 (0) | 0 |
| 2005-07 | Manchester City | 178 (0) & 28 (0) | 5 & 1 |
| 2007-09 | Portsmouth | 77 (0) & 19 (0) | 0 & 0 |