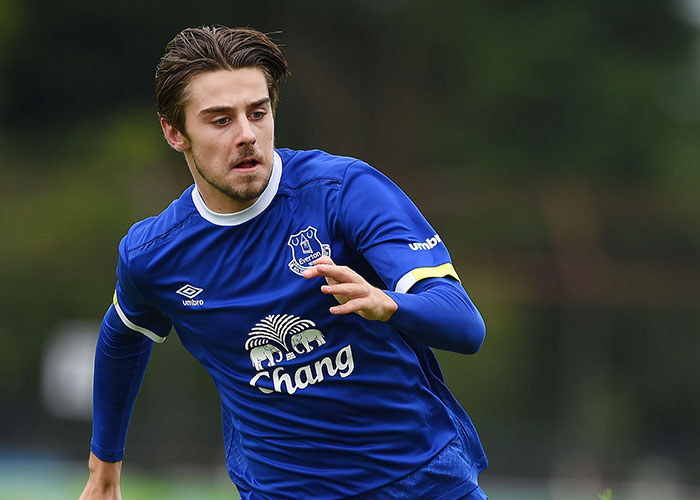 Antony Evans joined Everton's Finch Farm Academy at the age of nine having previously training with rivals Liverpool and signed professional forms with the Blues in October 2015.
He broke into the club's Under-21s side in 2015-16, scoring three goals in just two appearances for David Unsworth's side, earning him a loan spell at League Two Morecambe where he made 14 appearances, scoring twice.
Returning to Everton, he established himself as a regular in what became the Under-23s and by early 2018 had been named captain of the team for a Premier League Cup tie against Barnsley, a game in which he scored the winning goal. He signed a new 2½-year deal with Everton in February that year.

"Everton is a great club and I am delighted to sign for another couple of years," Evans said after committing to the Blues until 2020.
"I wanted to get a foothold in the team, kick on and get a contract. We have a new [first-team] manager and new ways, so it is an exciting time at the Club.

"Ultimately, I want to try to get in the first team, whether that is through going on loan again or staying with the Under-23s and continuing to perform consistently.
"I need to try to establish myself," he continued with an eye on breaking into the senior side. "I need to add more goals to my game."

With Everton's Under-23s going through a season of "transition", Evans was tasked by David Unsworth to lead from the front in the absence of the injured Morgan Feeney. Evans has captained a young side and come out of an inconsistent run of results for the team with credit.
"He's progressing really nicely and he's certainly been one of our best players, if not the best player and that warrants him getting the captain's armband," Unsworth told The Echo.
"We're always looking for that, looking a player to burst onto the 23s scene who can come from Under-18 level.
"Antony has had a little taste on loan and then we're looking for that consistency in performance. We had a chat just after I came back to the 23s and I told him I never knew what I was going to get out of him, some games it would be a nine out of 10 and others it would be a four or a five and that's development football and young players.
"But what he's doing now is putting consistent performances together of eights and nines and his quality is without a doubt."
After building a great reputation in the Under-23s, he went out on loan again, this time to Blackpool for the second half of the season in January 2019.