Baye Oumar Niasse
29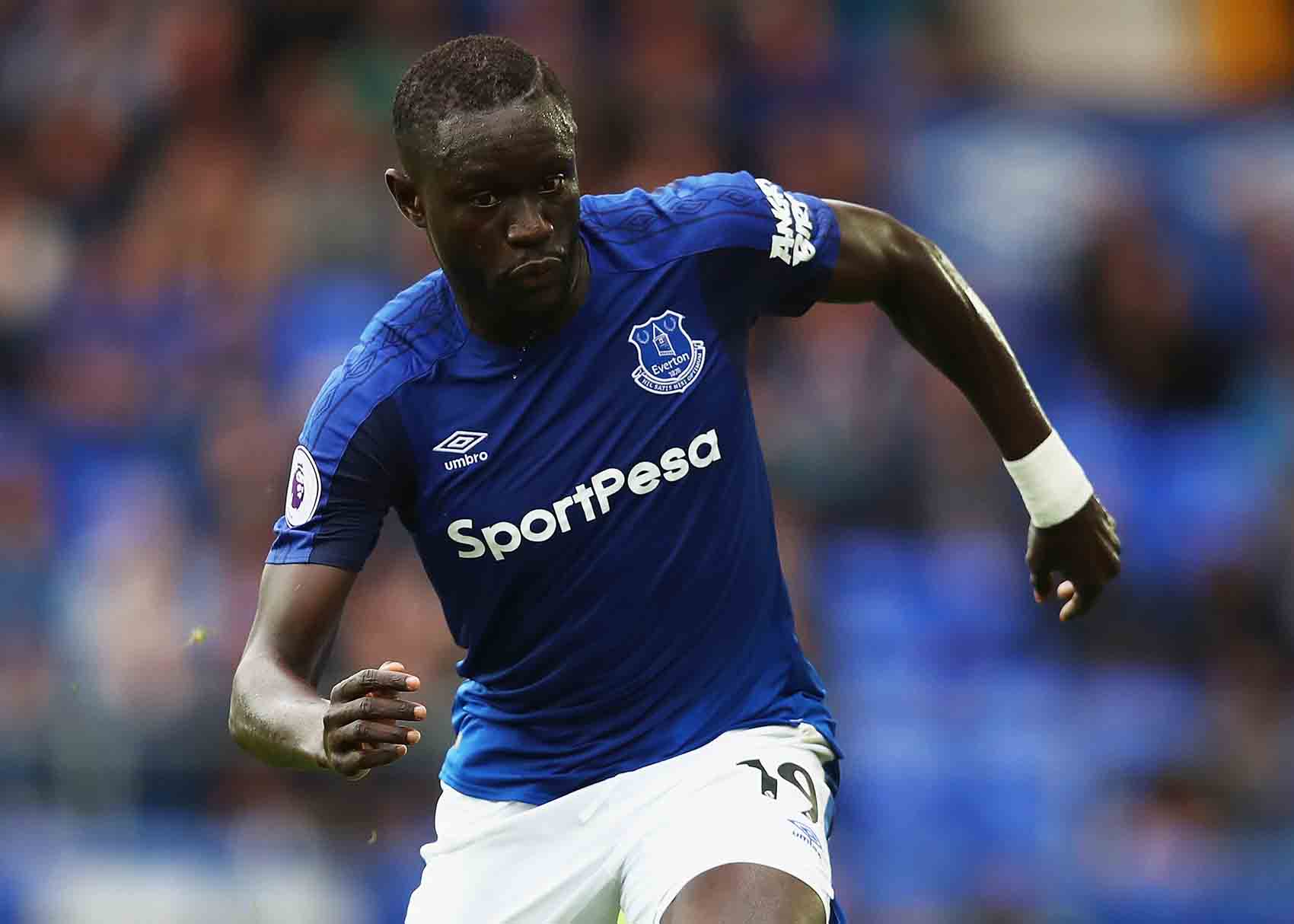 With the January 2016 transfer window winding down and Everton's squad weakened to a degree by the sale of Steven Naismith to Norwich City, Roberto Martinez moved to add some firepower and pace to his attack in the form of Oumar Niasse from Lokomotiv Moscow.
The manager had had the Senegalese striker watched closely since the previous October as he enjoyed a prolific spell and Martinez would follow up his interest with a firm offer for Niasse that ended with him joining the Toffees on deadline day on 1st February in a £13.5m deal.
Relatively unknown to most observers in the Premier League prior to that point, Niasse became Everton's third-most-expensive signing in the club's history behind Marouane Fellaini and Romelu Lukaku and, ultimately one of its most costly mistakes. Reportedly scouted by the likes of Manchester United, Chelsea and Tottenham and approached by Monaco and Bayer Leverkusen, Niasse ultimately favoured a move to the Premier League and the northwest in particular to be close to his wife who worked in Manchester.
The Senegal international was described as having blistering pace and ability to lead the line on his own but he would find it hard going in the Premier League with Everton and the size of his transfer fee, relatively high at the time, was quickly questioned.
Niasse started his career at Ouakam in his native Senegal before moving on loan to Norway following a successful trial with Brann Bergen in 2012. Niasse came on loan with an option to buy from Ouakam, only to be rejected by mid-table Brann after playing just three games. He joined Akhisar Belediyespor the following season and was snapped up by Lokomotiv the summer after that, signing for the Russian club in a £4m deal.
He was voted the Russian League's player of the year for 2015 in a newspaper poll, the results of which have since been questioned due to the suspect nature of the voting, having scored 8 goals in just 13 starts (with six assists) and notching two goals in four games in the Europa League. Only Brazilian star Hulk was involved in more goals in the Russian League that year.
His introduction to Premier League football, however, turned out to be fraught with difficulties, apparently down to lack of fitness, as he had not played since the previous November, and a wrist problem that needed a minor operation. Starting with his debut as a substitute in an FA Cup tie at Bournemouth, he made a handful of aimless cameo appearances in the last few minutes of some games, totting up a grand total of just 45 minutes on the field in his first three months with the club.
In April 2016, as more questions began to be asked why the striker was able to play for his country but not for Everton, Martinez blamed the player's protracted attempts to get used to the English game as the reason for his lack of playing time. The Catalan said that any playing time Niasse got over the last month of the season would be a "bonus" but he ended up starting two games in succession against Bournemouth and Leicester City, failing to convince he could live up to his hefty price tag in either appearance.
Things got worse for him in May when he was arrested by Greater Manchester Police on suspicion of assault, and bailed pending further enquiries later that month. He would rejoin Everton for their 2016 pre-season training, and was given an opportunity against Barnsley to show the new manager, Ronald Koeman, there was something to justify the Russian accolades and the massive transfer fee.
Koeman was wholly unconvinced by a 45-minute cameo in a friendly in Austria in which a horrible display of mistakes and clumsy stumbles on the ball was capped off when planted a clear chance on goal onto the post. His chance blown, it looked very much like the future would involve a move back east, this time to Turkey but a loan move to Galatasary fell through and he was left in weird limbo for the entire season at Everton, famously stripped of his locker by Koeman and relegated to the Under-23s.
He would go on to play a little for David Unsworth's development side, scoring eight goals in six games and contributing significantly to their Premier League 2 triumph that season. However, before he could savour that relative success, he was shipped off on loan to Hull City and acquitted himself well under Marco Silva but was unable to save them from relegation back to the Championship.
Niasse was at least given a squad number for Koeman's second season as the Dutchman was forced to backtrack following the sale of Romelu Lukaku to Manchester United. The Senegalese seemed destined to join Crystal Palace but that mooted deal collapsed on transfer deadline day in August 2017 over agent fees.
Initially overlooked, Koeman finally had to reinstate him as a first-team player, complete with locker and club suit, when the reality of the club's failure to replace Lukaku became increasingly clear and Niasse responded well, scoring goals to pass both Wayne Rooney and Dominic Calvert-Lewin, neither of whom had been particularly prolific, and become the leading scorer by November, after Koeman had finally been sacked the previous month.
Praised for his pluck and determination, whilst recognizing his ungainly style, Niasse's transition from downtrodden reject to folk hero was one of the stories of the 2017-18 campaign, as was the incident where he was harshly punished retroactively under the Football Association's new rules over simulation ("successful deception of a match official leading to the wrongful award of a penalty") and banned for two games, the only Premier League player censured in this way for the next three seasons.
Incredibly, Niasse finished as second-highest goalscorer for the season behind Rooney and his future at the club was given an intriguing boost when his former manager from that very productive loan spell at Hull, Marco Silva, was appointed Everton head coach under Marcel Brands in May 2018.
However, any fond memories for the two of them were not rekindled, despite Silva saying in June that the striker was very much in his plans for the new campaign. He made six substitute appearances and just one start before he was dispatched on loan to relegation-fighting Cardiff City for the second half of the 2018-19 but failed to register for the Bluebirds who were indeed demoted back to the Championship.
Niasse returned to Everton once more in the summer of 2019 with his future still very much in the air as Silva and Marcel Brands plotted the acquisition of promising teenage marksman in Moise Kean to lead the line for the following season. Niasse was the subject of speculation linking him with a return to Turkey, this time with Trabzonspor, but nothing came of the talk and he was still at Everton after transfer deadline day, given his fifth different shirt number for what would be his final season at Everton.
With Silva's time coming to an ignominous end with the sack in December 2019, one of the biggest surprises of Duncan Ferguson's brief interlude as caretaker manager would be him naming Niasse on the bench for his first three games in charge and then actually bringing him on, for the last few minutes, in a draw against
Manchester United
. Silva's successor, Carlo Ancelotti, would also take a close look at the enigmatic Senegalese, twice naming him as a substitute and bringing him on at
West Ham
for the last quarter-hour, but again to no great effect.
In January 2020, Niasse reportedly turned down loan moves to two Championship clubs, said to be promotion-chasing Leeds United and Nottingham Forest until the end of the season, with the then-29-year-old electing to see out his contract at Goodison Park.
He would make the headlines one last time before leaving Everton when he was stopped by undercover police for driving without a seatbelt and found to have three friends with him in the car in violation of the coronavirus lockdown directives.
The club officially announced that he would be released when his terms expired at the end of June 2020, when Oumar Niasse finally left the club on the completion of his 4-year contract – what must represent one of the must unmitigated disasters in the long history of bad transfer deals made by Everton.
As if to underline his true level, Niasse had to wait until March 2021 before finding a new club. He joined Championship side Huddersfield Town on a short-term contract until the end of the season but he would go on to suffer a freak groin injury in a friendly against Rochdale after slipping and doing the splits during the exhibition game.
At 31, Niasse was released when his contract with Huddersfield expired without ever playing for them and he then turned to North West Counties Division One South side West Didsbury in the 10th tier of English Football as he attempted to rebuild his career.
FactFile
Squad numbers
14, 24, 34, 19, 29
Position
Striker
Nationality
Senegalese
Born
Ouakam, Senegal
Date of birth
18 April 1990
Height
6'-0" (1.83 m)
Joined
1 February 2016
Joined from
Lokomotiv Moscow
Signed under
Roberto Martinez
Transfer fee
£13.5m
Contract duration
4½ years
Contract expired
June 2020
Debut as sub
v Bournemouth (A),
20 February 2016
Full debut
v Bournemouth (H),
30 April 2016
Left Everton
30 June, 2020
Destination
Released
Previous Clubs
US Ouakam
Brann Bergen
Akhisar Belediyespor
Lokomotiv Moscow
Everton Career
| Season | Squad No. | League Apps (sub) | League Goals | Cup Apps (sub) | Cup Goals | Total Apps (sub) | Total Goals |
| --- | --- | --- | --- | --- | --- | --- | --- |
| 2015-16 | 14 | 2 (3) | 0 | 0 (2) | 0 | 2 (5) | 0 |
| 2016-17 | 24 | 0 (0) | 0 | 0 (0) | 0 | 0 (0) | 0 |
| 2017-18 | 34 | 10 (12) | 8 | 0 (3) | 1 | 10 (15) | 9 |
| 2018-19 | 19 | 0 (5) | 0 | 1 (1) | 0 | 1 (6) | 0 |
| 2019-20 | 29 | 0 (2) | 0 | 0 (0) | 0 | 0 (2) | 0 |
| | Totals | 12 (22) | 8 | 1 (6) | 1 | 13 (28) | 9 |
Loan Spells
| Season | Team | League Apps | Cup Apps | League Goals | Cup Goals |
| --- | --- | --- | --- | --- | --- |
| 2017-18 | Hull City | 12 (5) | 1 (1) | 4 | 1 |
| 2018-19 | Cardiff City | 12 (1) | 0 (0) | 0 | 0 |
Everton U23s Career
| Season | Team | League Apps | Cup Apps | League Goals | Cup Goals |
| --- | --- | --- | --- | --- | --- |
| 2015-16 | Under-21s | 0 (0) | 0 (0) | 0 | 0 |
| 2016-17 | Under-23s | 6 (0) | 3 (0) | 8 | 0 |
| 2017-18 | Under-23s | 2 (0) | 0 (0) | 3 | 0 |
| 2018-19 | Under-23s | 0 (0) | 0 (0) | 0 | 0 |
| 2019-20 | Under-23s | 0 (0) | 3 (0) | 0 | 0 |
Previous Career
| Season | Team | League Appearances | Goals |
| --- | --- | --- | --- |
| 2007-13 | US Ouakam | 154 | 102 |
| 2012-13 | Brann (loan) | 0 (3) | 0 |
| 2013-14 | Akhisar Belediyespor | 33 (1) | 12 |
| 2014-15 | Lokomotiv Moscow | 21 (7) & 6 (0) | 12 & 4 |