Jack Rodwell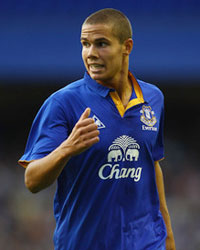 Squad number
26
Position
Midfield
Joined from
Youth Academy
Signed under
David Moyes
Full debut
v AZ Alkmaar (A)
20 December 2007
Contract duration
2 + 5 years
Contract expires
June 2015
Finalé (sub)
v Liverpool (A)
13 March 2012
Left Everton
12 August 2012
Destination
Manchester City
Transfer Fee
Undisclosed (~£12M)
Born
Birkdale
Date of birth
11 March 1991
Height
6' 2"
Nickname(s)
Rodders
Honours
England U17, U18, U21, Full
STRENGTHS
Composed
Great Shot
Easy temperament
WEAKNESSES
Lack of dominance
Injury-prone
Afraid to shoot
»
Soccerbase Datafile
»
Wikipedia Entry
After Wayne Rooney, the most promising player to emerge from Everton's youth ranks in a generation, was sold to Manchester United in 2004, those wondering if the Academy could produce another gem began speaking in hushed tones about a promising teenager called Jack Rodwell.
Able to play at centre-half or in central midfield, he was playing for the Under-16s at 14 and by the time he was 16 many felt he was ready to dip a toe into senior action.
That opportunity came on a freezing night in Alkmaar, when David Moyes confidently fielded a younger team against AZ and gave a couple of lads, Rodwell and Bjarni Vidarsson, a chance to make their debuts on another great European night for the Blues.
Opportunities after that were predictably rare, but Rodwell did come on as a sub for the last few minutes at Sunderland to register his official debut in the Premier League and, when he turned 17, he was able to sign his first professional contract, a 2-year deal in March 2008.
After the lack of transfers in during the frustrating summer of 2008, Rodwell was thrust into the limelight and exhibited some excellent composure in the first team but it was a necessarily brief blooding, as he was consigned back to the reserves when enough faces finally reappeared after September that year.
Following the tumultuous Rooney affair, Moyes's modus operandi appeared to be that new prospects from the Youth Academy would undergo a lengthy bedding-in process with the senior team and this meant that Rodwell was in and out of the side in his early career, though reportedly attracting attention from some of the biggest clubs in the country all the while.
Held in high regard by many, he showed enormous promise for the future, as a defender or midfield player, but his development appeared to slow after he turned 18.
In July 2010, despite intense speculation that he would move to Chelsea or Manchester United, Rodwell gave Everton fans a massive boost when he signed up for another five years at Goodison Park. And great things were expected of him but Season 2010-11 didn't go according to plan.
The season had hardly started when he picked up an injury that kept him sidelined for almost two months. With two more months on the subs' bench, he just never got going properly after that. And it was telling that no-one came after him in the summer of 2011 — despite the regular press speculation linking him with a move away from Goodison Park.
When he finally regained his fitness, he started to figure with some regularity as David Moyes began to rebuild his team without the departed Mikel Arteta. But Rodwell's resumed progress was stalled again in the 2011-12 campaign, first when an over-zealous Martin Atkinson wrongly showed him a straight red card for a fair challenge on Uruguyan cheat Louis Suarez in the Goodison derby, and then by a succession of frustrating hamstring injuries that severely disrupted his season.
While he was playing, though, he did enough to convince then manager Fabio Capello to hand him his full international debut in a rare England win against Spain and he appeared destined to play for Team GB in the London Olympics as he helped spearhead the marketing campaign for the re-formed Great Britain team.
His hopes of participating in either the London Games or the 2012 European Championships were dashed, though, when his hamstring troubles finally came to a head over the Easter weekend in April.
Jack's season was declared over when he suffered a sixth hamstring tear of the season and he was consigned to visit Bayern Munich club doctor and specialist Wilhelm Müller-Wohlfahrt in Germany to diagnose the source of his continuing problems.
Having missed Euro2012 and the chance to represent Team GB in the London Olympics, Rodwell focused on getting fit for what was expected to be a crucial season for him at Everton. Indeed, in a sign that he would be given the chance to make a central midfield berth his own, he was given the No 8 jersey for the campaign, the only significant squad number change of the summer.
With the 2012-13 campaign less than a week away, however, a quickly-concluded deal saw the now 21-year-old Jack make a surprise move to Champions Manchester City for an undisclosed fee (believed to be £12M initially, possibly rising by to £17M contingent on appearances, etc).
That shock move and with it a massive £70k/wk contract concluded a 4½-year career at Goodison Park that yielded 85 appearances and four goals, one that never scaled the heights his early promise suggested, leaving Evertonians wondering again what might have been....
His new challenge at the Etihad Stadium would provide the answers as to whether he could finally blossom into a top-class Premier League and international midfielder. And sadly, it didn't take long for his injury problems to reoccur, sidelining him from September onwards.
His experiences at Manchester City became a stark warning for other young English players looking to build their careers in direct competition with the world's best that money can buy. Injuries continued to bedevil him but, when fit, he made only 10 starts in two seasons at The Etihad.
His next move, in August 2014, was a little less glamorous: Sunderland, albeit for a £10M, where he was at least seeing a little more game-time, without setting the world of football alight.
Indeed, he would ultimately see not one but two relegations with Sunderland as they slid from the Premier League down to League One — that first and pivotal slide coming ironically under the renowned guidance and tutelage of the former Everton manager and subsequent serial failure at Man Utd, Real Sociedad, and then Sunderland... a certain David Moyes.
In terms of the first team opportunities, Rodwell would not be involved much in their Championship travails, showing for the last time on 18 November 2017 as an unused substitute in a draw with Millwall.
The Black Cats have lurched from crisis to crisis in the Championship, and were ignominiously relegated to the third-tier after just one season, for the first time since 1988. The Birkdale man has become a symbol of their decline, and the poster boy of poor decision-making. Rodwell was said to be earning £70k a week but his wages are due to be cut for the 2018-19 season after Sunderland's relegation to League One was confirmed.
The 27-year-old had one year left on his Sunderland contract but manager Chris Coleman did not know the state of Rodwell's fitness following a foot injury that kept him out for much of the season.
In an April 2018 newspaper interview, the Blues' Academy product said it was "unfair" to expect him to walk away from his contract without a new club to go to.
"I'm quite sure we've gone down the legal route of that situation, and we're stuck with a player that doesn't want to play for Sunderland Football Club and wants to leave," Coleman added.
"But then where's he going to leave and go to? There's the conundrum. He's here and he's got one more year on his contract. He doesn't want to play for us, so fine, go and play for somebody else. But the stumbling block is the contract.
"But we'll see, it's the end of this season now. I know Jack did that big article (and said) he wanted to play for England again, so to do that, he's going to have to go and play football somewhere. The proof is always in the pudding."
Rodwell's Sunderland contract was cancelled in June 2018 and he would go on to trial unsuccessfully with Watford before Everton allowed him to train with the Under-23s under David Unsworth.
Further spells followed at Blackburn Rovers, where he played more than 20 games, and Sheffield United, where he played only 3 games across 1½ Covid-ravaged seasons before he was released by the Blades in 2021.
Still only 30 in late 2021, after not playing for 16 months, Rodwell made his next move by agreeing a contract with Australian side Western Sydney Wanderers. He signed a 2-year deal with the A-League side.
Everton Career

Season

Squad
Number

League
Apps (sub)

League
Goals

Cup
Apps (sub)

Cup
Goals

Total
Apps (sub)

Total
Goals

2007-08

37

0 (2)

0

0 (1)

0

0 (3)

0

2008-09

26

9 (10)

0

3 (3)

1

12 (13)

1

2009-10

26

17 (9)

2

8 (2)

2

25 (11)

4

2010-11

26

14 (10)

0

3 (1)

1

17 (11)

1

2011-12

26

11 (4)

2

3 (0)

0

14 (4)

2

Totals
51 (35)
4
17 (7)
4
68 (42)
8