Venue: Stadium of Light, Sunderland
Premier League
Sunday 9 March 2008; 3:00pm
Half Time: 0-0
Johnson (55')
Attendance: 42,595
Referee: Alan Wiley
David Moyes was forced to make a couple of changes, with Lee Carsley suspended and Leon Osman injured. Starting positions for Johnson and Arteta. The rest of the team names itself, with Neville still playing the captain's role in midfield. Iain Turner is on the Everton bench for the first time in many months, after being laid low by a back injury. Jack Rodwell also on the bench.
A fairly lively start to the game, with Everton (Jagielka excepted) trying to play possession football, but laboring somewhat to move the ball forward effectively against a Sunderland side keen to redress the balance after that 7-1 mauling at Goodison Park.
The game degenerated into a midfield slugfest, Sunderland harrying and cutting down the options.... Everton suffering a European hangover, unable to create anything meaningful, but handling everything Sunderland could produce. Arteta was back to taking the free-kicks... and they were shockingly poor.
Howard failed to deal with a high ball under pressure from Jones, but it was cleared by Yobo. That was the biggest excitement of the first 25 mins. Lescott tried to set up Pienaar and then Pienaar tried to set up Yakubu but the weight of each crucial final ball was wrong.
Whitehad wass the first in the book for a poor tackle on Pienaar. Yakubu actually got on the end of Neville's free-kick and got it in to Johnson but AJ was facing the wrong way and lost it.
Everton won a couple of corners just before the break and Cahill had Everton's first attempt on goal cleared off the line onto the post and when it came back to him, Johnson's backheader from close range going over the bar. Inspiring stuff??... not really.
Sunderland showed more intent after the break, trying to set up Kenwin Jones but Lescott was solid. Cahill got a yellow for a really stupid late tackle as the atmosphere cranked up, but not the quality of the football. Yakubu had a half-poke from distance that lacked power.
The game seemed to have finally started and Arteta sent in a fairly direct cross that Johnson and Cahill both got underneath and it appeared to bounce off AJ's arm into the Sunderland net for the opener, much to every Blue's relief and delight
Sunderland huffed and puffed, Bardsley was yellow carded when it really should have been a red, leaping in and stamping horribly on Pienaar's ankle. Very similar to teh Tyalor/Eduardo horrow tackle that broke the Arsenal player's leg in three places.
Baines came on for Pienaar, then, with just 5 mins left, Yakubu and Cahill made way for Anichebe and Rodwell. For the 16-year-old Jack Rodwell, this was his Premier League debut.
With 4 mins of stoppage time, it got a bit nervy when Anichebe gave a way a dangerous free-kick that was superbly executed by Reid over a big Everton wall and forcing a superb save from Howard. He was there again as the ball came back in. Key moments that gave Everton the points needed in the vital battle for fourth place.
Not a great game or a great display by any means but to come back from a very disappointing showing in Europe and to deliver the required result away from home at an intimidating Stadium of Light... we can't reasonably ask for anything more. Sunderland will feel well robbed and hard-done by... Tough!
Blues have the edge to earn vital points
It was mission accomplished by Everton at the Stadium of Light as Andy Johnson's priceless — Sunderland would say fortuitous — goal proved enough to push the back level on points with Liverpool, their rivals for fourth place. A professional, workman-like performance kept a lid on Sunderland's enthusiastic but limited challenge but it took a superb one-handed save by Tim Howard deep into injury time to preserve three precious points.
With Lee Carsley suspended and Leon Osman injured, Mikel Arteta came into midfield and Andy Johnson partnered Yakubu up front in a predicted 4-4-2 formation but Everton, like their hosts, took a long while to get going.
Indeed, it wasn't until the last few minutes of the first half that David Moyes's side started to up the tempo and exert some pressure, back-to-back corners yielding a chance when Tim Cahill's header was sliced onto the post by Stokes. Johnson's header after the Australian had nodded the rebound forward was too heavy and it drifted over.
Up until that point, it had all been very uninspiring. Roy Keane had clearly sent his men out to harry Everton and close them down at every opportunity and that made for lots of ineffective long balls, particularly from Phil Jagielka, and a few loose passes from the likes of Phil Neville and Tony Hibbert as they were hurried into making mistakes.
So, Cahill's close call aside, a harmless Jagielka header off Arteta's corner in the 16th minute was the only effort on target in the first 45 minutes.
The second half began more brightly than had the first and Yakubu dribbled the only shot he would get all game into the arms of Craig Gordon from 25 yards and Cahill followed Dean Whitehead into the book for hacking down Phil Bardsley.
10 minutes after the restart, though, came the decisive goal and it came from Arteta's first ball of quality into the box. A patient build-up ended with the ball at the Spaniard's feet wide on the Everton left and he looked up before swinging in a delicious cross that really only needed a touch by either Cahill or Johnson to divert it past Gordon. That all-important touch appeared to come off AJ's elbow but given the injustices that the Blues have suffered this season — indeed, today's referee Alan Wiley had already cost them points this campaign — no one in Blue was feeling any guilt.
As expected the home side, who started the game just two points above the relegation zone, responded with greater urgency but although Kenwyne Jones was proving a handful for Jagielka and Joe Yobo, the quality of service to him was, thankfully, poor.
Instead, Kieron Richardson was presented with the Black Cats' best chance thus far when he was released into the inside-right channel with 23 minutes left but he blazed wide when he should have tested Howard. Then, substitute Prica, who showed more artistry in his first touch than any player in red and white had shown for the previous 75 minutes, turned brilliantly in the box and was denied by a terrific Jagielka block as he unloaded from about 12 yards out.
The game had had a testy edge about it almost from the get-go but had generally stayed within the realm of clumsy or over-enthusastic, but Bardsley's studs-up assault on Pienaar in the 78th minute should have earned the defender a red card... assuming referee Wiley saw the side-on contact with the midfielder's shin. Pienaar was withdrawn as a precaution a couple of minutes later and Leighton Baines was deployed in left midfield.
Victor Anichebe and Jack Rodwell were then introduced as the clock ticked on towards the end of the regulation 90, the 16 year-old making his Premier League debut having already made a substitute's appearance against AZ Alkmaar in December.
And Everton looked comfortable going into injury time until Anichebe caught an opponent challenging for a high ball about 25 yards out and referee Wiley awarded a free kick. Andy Reid, himself a second-half sub, stepped up and curled an impressive shot towards Howard's top left corner but the American saved acrobatically to deny him a Jimmy Bullard-esque moment.
The resulting corner found the head of Jones but, thankfully, his effort struck the head of Lescott and Howard was able to catch the loose ball before it drifted over the byline.
Given last Thursday's demoralising defeat, Sunderland's terrific home record and the pressure to keep up with Liverpool, the result was more important than the performance, and so it proved with a display that won't live long in the memory. Lacking quality in central midfield — only Pienaar, Arteta and Yakubu looked capable of making something happen in forward areas — it looked for long periods that the Blues would have to force home a winner from set-piece. But even there they found Sunderland's size in defence an impediment. The goal, though, was a rare moment of quality and that it came off an arm rather than a head won't matter to anyone.
Moyes's boys will need to show more guile and craft on Wednesday if they are to pull off a sensation against Fiorentina but another three Premier League points will provide an excellent platform on which to prepare for that challenge.
Match Preview
Not for the first time this season, Everton came unstuck against high-quality opposition on Thursday in the form of Fiorentina after, by their own admission, failing to perform to the standard which has made them one of the success stories of 2007-08 so far.
They return to Premier League action this Sunday against Sunderland and the level of opposition that has been their bread and butter this campaign. The Blues have made fairly easy work of sides from the bottom half of the table and, of course, recorded their biggest win in over a decade in the reverse fixture, a 7-1 mauling of the Black Cats in November.
That result was smack in the middle of a 13-match unbeaten run but they travel to the Stadium of Light having just lost their first match in eight and only their fourth of 2008 — all cup matches, it has to be said. And despite the margin of that victory at Goodison, Sunderland are not going to provide easy opposition for an Everton side looking to bounce straight back from a potentially demoralising defeat in Florence.
Roy Keane's side lie just two points above the drop zone and haven't won away from home all season but it's their home form that could yet keep them up. They haven't lost a Premier League match on home soil since Blackburn beat them 2-1 back on 29th September and they have seen off Wigan, Birmingham and Portsmouth all by a 2-0 scoreline in their last three home games.
The post-mortem of the Fiorentina disappointment may lead David Moyes to make some changes but particularly in midfield, his choices may be dictated by injury and suspension. Lee Carsley serves a one-match ban and Mikel Arteta might not be risked after only making the bench on Thursday.
Then there's the somewhat suspicious nature of Manuel Fernandes' sudden disappearance from the squad. The official line is that he has a groin injury but rumour also has it that he has fallen out with the manager, a suggestion that would seem to be the result of or borne out of his mostly lacklustre displays since returning on loan from Valencia.
Carsley's absence would seem to guarantee Phil Neville getting another start in midfield, this time playing the holding role in front of the back four, but Leon Osman was withdrawn from Thursday's defeat with a groin injury and could miss out. In that case and if Arteta doesn't make it, Fernandes (if fit) could get another chance due to sheer lack of numbers alongside Pienaar and Cahill or Thomas Gravesen could make a rare appearance. Moyes though, seems fairly confident that Arteta will be able to start so such desperate measures may not be necessary! Either way, a four-man midfield behind a front two of Johnson and Yakubu is likely.
At left back, Moyes would do well to reintroduce a natural fullback in the form of Leighton Baines on the opposite flank to Tony Hibbert and restore the Yono-Lescott partnership, if only to give Phil Jagielka a well-deserved break..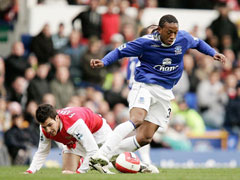 Manuel Fernandes:
what is up with him?
The Blues have a mountain to climb in the second leg against Fiorentina on Wednesday so the desire to fight for fourth place in the Premier League will be all the stronger. With Liverpool hosting the awful Newcastle this weekend and surely odds-on to be three points ahead by the time Everton kick off at 3pm on Sunday, victory for Moyes's boys will be vital.
They've shown enormous strength of character to come back from all but one of their recent defeats with a positive result so there's no reason why they can't do the same again and boost morale ahead of that do-or-die showdown in Uefa Cup second leg on Wednesday.
Matchday Stats
Everton return to Premier League action at Sunderland, and are looking to keep up their challenge for 4th place and keep their 8 match unbeaten run in the League going, as well as returning to the Everton we know following the disappointing performance (and result) in Italy.
Everton's record against Sunderland:
| | | | | | | |
| --- | --- | --- | --- | --- | --- | --- |
| | P | W | D | L | F | A |
| Premier League | 13 | 6 | 2 | 5 | 23 | 17 |
| Division One | 132 | 56 | 20 | 56 | 219 | 225 |
| FA Cup | 14 | 7 | 3 | 4 | 28 | 16 |
| League Cup | 2 | 0 | 1 | 1 | 3 | 4 |
| ZDS Cup | 1 | 1 | 0 | 0 | 4 | 1 |
| TOTALS: | 162 | 70 | 26 | 66 | 277 | 263 |
Our away record against Sunderland:
| | | | | | | |
| --- | --- | --- | --- | --- | --- | --- |
| | P | W | D | L | F | A |
| Premier League | 6 | 2 | 0 | 4 | 3 | 8 |
| Division One | 66 | 15 | 11 | 40 | 77 | 141 |
| FA Cup | 6 | 0 | 3 | 3 | 5 | 9 |
| TOTALS: | 78 | 17 | 14 | 47 | 85 | 158 |
Despite having a very poor record at Sunderland, Everton have won their last two matches at the Stadium of Light. The first was a 1:0 win on 24 August 2002, thanks to a goal from Kevin Campbell. This was followed up with another 1:0 win, with the goal coming from Tim Cahill, on 31 December 2005.
In fact, Everton are unbeaten in the last 5 matches against Sunderland, and, no doubt would welcome the result from the last meeting between the sides on 24 November when Everton won 7:1 at Goodison Park, with the goals coming from Yakubu (2), Tim Cahill (2), Steven Pienaar, Andy Johnson and Leon Osman.
This will be Everton's 15th match on 9 March:
| | | | | | | |
| --- | --- | --- | --- | --- | --- | --- |
| | P | W | D | L | F | A |
| Premier League | 1 | 0 | 1 | 0 | 2 | 2 |
| Division One | 8 | 5 | 0 | 3 | 15 | 9 |
| FA Cup | 4 | 1 | 2 | 1 | 6 | 5 |
| European Cup | 1 | 0 | 1 | 0 | 1 | 1 |
| TOTALS: | 14 | 6 | 4 | 4 | 24 | 17 |
The last match on this date was a 2:2 draw against Coventry City in 1996, with both Everton goals that day coming from Duncan Ferguson.
The last away match on this date was in 1988, when a Terry Fenwick own goal couldn't stop a 1:2 defeat at Tottenham Hotspur.
The last away win was back in 1957 when a brace from Eddie Thomas, and another goal from Graham Williams secured a 3:1 win at Birmingham City. Whilst this may appear to be a long time since an away win on this date, it should be remembered that the Tottenham match mentioned above is the only other away match on this date since the win against Birmingham.
Milestones that can be reached this game:
If he makes an appearance in the match, this will be Tim Cahill's 100th League appearance for Everton.
If Everton win, then this will be the 5th "double" in the Premier League this season, which will set a new club record for the number of "doubles" in a single Premier League season. The last time Everton beat 5 League teams both home and away in a season was back in the 1986-87 Championship winning season, when Everton did the double over 6 teams that season.
If he scores a hat trick, then Yakubu will become the seventh Everton player to score at least 3 first class hat tricks in a single season for the club. The other six are Bill 'Dixie' Dean (who achieved the feat in 5 separate seasons, including the club record of 8 hat tricks in a single season in 1931-32), Bobby Parker, Bert Freeman, Tommy Lawton, John Willie Parker, and the last player to achieve this feat back in the 1985-86 season, Gary Lineker. He will also be the only Everton player to score 2 European hat tricks for the club.
* Unfortunately, we cannot control other sites' content policies and therefore cannot guarantee that links to external reports will remain active.
SUNDERLAND (4-4-2)
Gordon
Bardsley :26'
Evans
Nosworthy
Collins
Richardson
Leadbitter (74' Prica)
Whitehead (c) :34'
Stokes (46' Chopra)
Murphy (67' Reid)
Jones
Subs not used
McShane
Fulop
EVERTON (4-4-2)
Howard
Hibbert
Yobo
Jagielka
Lescott
Pienaar (80' Baines)
Neville
Cahill :48' (86' Rodwell)
Arteta
Johnson
Yakubu (86' Anichebe)
Subs not used
Turner
Gravesen
Unavailable
Carsley (suspended)
Fernandes (injured)
Valente (injured)
Osman (injured)
Vidarsson (loan)
Boyle (loan)
Jutkiewicz (loan)
Kissock (loan)
Ruddy (loan)
Spencer (loan)
Premier League Scores
Saturday 8 March 2008
Blackburn
1-1
Fulham
Liverpool
3-0
Newcastle
Reading
2-0
Man City
Sunday 9 March 2008
Sunderland
0-1
Everton
Tottenham
4-0
West Ham
Wigan
0-0
Arsenal
Wednesday 12 March 2008
Aston Villa
1-1
Middlesbro
Chelsea
6-1
Derby
Portsmouth
4-2
Birmingham
Premier League Table
Pos
Team
Pts
1
Arsenal
66
2
Man Utd
64
3
Chelsea
61
4
Liverpool
56
5
Everton
56
6
Aston Villa
49
7
Portsmouth
47
8
Blackburn
46
9
Man City
45
10
West Ham
40
11
Tottenham
35
12
Middlesbro
30
13
Wigan
28
14
Reading
28
15
Newcastle
28
16
Sunderland
27
17
Birmingham
26
18
Bolton
25
19
Fulham
20
20
Derby
10
After 12 Mar 2008