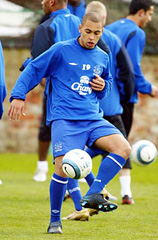 James Vaughan: a fantastic debut for the youngster: youngest ever Everton player; youngest ever Premiership goal-scorer!!!

Another Sunday fixture, another must-win game for David Moyes's Everton whose Champions League aspirations depend on three successive home games in the next fortnight. With Liverpool losing dramatically in the last minute at Man City yesterday, Everton stay fourth for another week. A win is still needed, though to open up that gap again.
And the line-up to do it finally includes two strikers, Ferguson and Bent, with the injured(?) Naysmith in for the injured Pistone, while Carsley is strangely dropped to the bench, where James Vaughan patiently awaits his debut. Joseph Yobo called in sick and missed the game.
Within two minutes, Kevin Kilbane took a nice pop from 30 yards out, a great effort dipping just over the bar. Kiraly then got booked (not sent-of???) for handling a long Martyn clearance outside his area under strong pressure from Bent. And the free-kick... Brilliant! Mikel Arteta a lovely right-footed stirke over the wall and into the net for an excellent Everton start — his first goal for the Blues! (We credited Bent with the "assist".)
Palace had their chance to reply with a return free kick that forced Martyn to push it away for a corner. Hibbert then had to rescue Weir with a great tackle on Andy Johnson, with more pressure coming from the corner as the match developed into a good contest, Everton breaking with purpose in an effort to build on their early advantage.
Stubbs was the last line of defence clearing in the 6-yard area from another threatening Palace attack, and he hobbled off injured to be replaced by Steve Watson — a considerable blow for Everton. Without Stubbs on the field, Everton laboured through the rest of the half.
In a flurry of Everton attacks just before half-time, Ferguson forced a fantastic save from Kiraly spreading himself well to prevent Ferguson from scoring with a superb header 6 yards out off a superb pin-point cross form Bent. Ferguson was then put in superbly but could not dig the ball out from under his feet. Then, from a throw-in, Osman could have headed in the second with goal gaping but it went over the bar.
One minute into the secpnd half, Tim Cahill, coming into the area with purpose after being involved twic in the build-up, took the ball down on a hooked return from Bent and lashed it into the roof of the net. A fantastic finish! Just what was needed!!!
Then a brilliant run from Kilbane, beating two players and clipping a delightful ball to the back post for a textbook header from Tim Cahill into the back of the Gwladys Street net.
A double change by Ian Dowie saw Ben Watson and Torghelle enter the play and immediately combine to hit the Everton post when they really should have scored after Kilbane needlessly gave the ball away. Hibbert was then booked for his challenge on Soares.
Marcus Bent had to go off with hamstring damage, to be replaced by Lee Carsley, with Osman pushed forward to support Ferguson. With 10 minutes to go, David Moyes finally found the moment to bring on young James Vaughan for his senior debut. At the tender age of 16 years & 271 days, he becomes the youngest Everton player ever, beating Joe Royle's debut age by 11 days.
And Vaughan nearly got on the scoresheet, his first shot being blocked away. Then, 10 minutes later, and Goodison went crazy. A great move with Kilbane and Osman combining superbly, James Vaughan sliding in, getting in front of the defender and scoring a wonderful debut goal!!! What a moment for the lad! And he becomes the youngest ever Premiership scorer, beating James Milner's record (he had beaten Wayne Rooney's) from two seasons ago.
In the last minute of the game, some Arteta magic very nearly got Cahill in for his hat-trick, winning a free kick but Carsley hit it wide.
Another Sunday fixture, another must-win game for David Moyes's Everton whose Champions League aspirations — which they must surely harbour — depend on three successive home games in the next fortnight. With Liverpool in action at the City of Manchester Stadium 24 hours earlier and needing just a point to leapfrog into fourth place, there is a very real possibility that the Blues will start this one outside the CL qualification places for the first time since September.
Crystal Palace are the visitors this weekend in a fixture moved from Saturday to accommodate the Grand National at Aintree.
And if ever there was a game that could provide a springboard for the Blues' flagging form it is this one.
Iain Dowie's team come to Goodison just a place off the bottom and in serious danger of relegation following a run of form not dis-similar to Everton's: just one league win in seven matches and they have been beaten in their last two outings.
That should make them easy pickings for Everton but the same was said about Blackburn Rovers and West Bromwich Albion, both of whom have beaten Everton in recent weeks by single- goal margins that were enough to overcome Moyes's toothless side.
Moyes faces more selection headaches because of injuries in an already small squad. James Beattie is out of action until next month with damaged knee ligaments sustained in a fall in training, while Alessandro Pistone pulled a hamstring last weekend at The Hawthorns and James McFadden continues to struggle with a hamstring problem of his own.
Added to that, Gary Naysmith has picked up an ankle injury that makes him a doubt as well. Kevin Kilbane could be asked to fill in as an unorthodox left-back or Joseph Yobo could deputise. Moyes will also likely call on James Vaughan to join the squad and the 16-year-old could well get a place on the bench.
That is because the suggestions are that Moyes will start with Duncan Ferguson and Marcus Bent up front in a 4-1-2-1-2 diamond formation that breaks with the tired five-man midfield. Lee Carsley would therefore play in front of the back four with Tim Cahill and Mikel Arteta providing the creative engine behind Leon Osman.
At the back, Alan Stubbs has recovered from the bruising he took against West Brom but it will be interesting to see how much respect the manager affords Palace's goal machine, Andy Johnson. That will determine whether the pace of Joseph Yobo is preferred to the experience of David Weir.
David Moyes has rightfully said that his team has to win at all costs this weekend. Palace have won just once away from home all season, have the worst defensive record in the division and, together with Norwich City, have lost more games than anyone else. Put simply, if Everton cannot beat this lot, they don't deserve to be anywhere near the Champions League — injury-hit squad or no injury-hit squad. There is enough talent in the squad Moyes has at his disposal on Sunday to win this game hands down. Let's hope they do.
Come on you Blues!
Lyndon Lloyd
---
After a lousy morning, Goodison was bathed in sunshine for the game with the pitch looking in good nick. Couple of surprises looking at the players warming up - no Yobo, and a couple of injuries having miraculously cleared up with Naysmith and McFadden both in attendance.
The team lined up 4-4-2, as follows:
Martyn
Hibbert Weir Stubbs Naysmith
Osman Arteta Cahill Kilbane
Bent Ferguson
So no Yobo at all and Carsley dropped after the West Brom mishap....
Some lively exchanges in the first ten minutes, culminating in an incident on the edge of the Palace area when their keeper came out for a through-ball and inadvertently handled the ball outside the area as his momentum carried him out, despite him trying to drop the ball and avoid the foul. Rennie (for probably the first and last time in the game) showed some common sense by only booking the keeper, when strictly I suppose it was a sending off offence. Mitigating circumstances - he did try to release the ball and didn't look to be gaining an advantage from the handball. Anyway, Arteta stepped up to take the kick and planted a sweet shot beyond the 'keepers reach. 1-0! Get in!!
Not long after that, we lost Stubbs to a shoulder injury — chasing a 50:50 ball with Johnson, he took a kick to the head and fell to the ground, injuring himself in the process. With no Yobo, Steve Watson came on as an emergency centre half. Rennie, naturally, gave a corner.
After that, there was a spell just before half-time when we threatened to take control, having three cast-iron chances in the space of about two minutes, all of which could (and should) have been converted. Firstly, Duncan had a free header from about six yards magnificently (or luckily, depending on your viewpoint) saved by the 'keeper. Secondly, Duncan then managed to get the ball stuck between his feet with the goal at his mercy from a few yards out; and thirdly, Osman watched a looping header aimed at an empty net clear the crossbar when it looked easier to score. In the interim, Palace threatened on occasion on the break with the pace of Routledge and Johnson, without unduly troubling Martyn.
As always with Everton, with a slender lead you wonder whether you will rue the missed chances. Thankfully we started the second half on fire and Cahill scored a stormer at the near post following good work by Bent after 45 seconds of the re-start. At 2-0, we then took our foot off the gas a wee bit and the game drifted for a while with neither side particularly threatening. We then scored an immaculate third following good work by Kilbane, taking men on (and beating them) down the left before putting a lovely ball over for Cahill (again) to score a (trademark?) header ghosting in at the back post. 3-0, and game over.
Moyes then bought Carsley on for Bent, shifting Osman up front with Duncan and pushing Arteta wide. I thought this was a strange substitution, as Arteta and Cahill had been absolutely magnificent up to that point, and I can only assume with the game sewn up Moyes wanted to look at an alternative formation. Osman had been willing but largely ineffectual wide right, and maybe Moyes wanted a look at him in a more advanced role playing off the big man.
Again, the game moved on quite quietly, until with 15 minutes to go Moyes brought on Vaughan for Naysmith. Osman dropped back into midfield and Kilbane also dropped back to cover Naysmith's absence. James pushed up alongside Dunc. Great reception for the youngster, who didn't look overawed by the occasion and put himself about with some vigour. I have to say my first impressions when he came on were that he looked like a young Danny Cadamarteri — please God, he doesn't go the same way...
After about ten minutes the fairytale was complete — following some excellent interplay between Kilbane and Osman down the left, the ball came across to Vaughan who beat his marker to the ball and squeezed the ball into the net. Fantastic — the crowd went wild and it was nice to see all the players were genuinely pleased for the kid.
Five minutes later the whistle blew to scenes of delight, both on and off the pitch. A cracking win, admittedly against pretty mediocre opposition (although I'd have that Johnson in our squad tomorrow), but more importantly the style and nature of the win will have done us a power of good going into the next set of fixtures. Remember, it's still ours to lose.
Individual performances:
Martyn - did nothing wrong all game, steady and confident. 7/10
Hibbert - solid game, strong as always defensively (one excellent saving tackle on Johnson, Weir having been skinned) and one or two decent crosses. Daft booking in the second half. 7/10
Weir - again, solid and dependable. Struggled for pace against Johnson and Routledge but read the game well for the most part. 6/10
Stubbs - see Weir; disappointing to see him go off. 6/10
Naysmith - actually did ok. Distribution poor but fine defensively. 6/10
Osman - Ran his socks off and didn't hide all game, but in truth this was a poor game for Leon in which very little he tried came off. Redeemed himself with his part in the fourth goal. 5/10
Arteta - magnificent. His goal was extremely well taken and his distribution was first rate. Has the ability to make time for himself on the ball and, quite frankly, puts the rest of the team's distribution skills to shame. No doubt he will have to stay behind at Bellefield for extra 'Hooof' lessons. Man of the match by some distance. 9/10
Cahill - typical Timbo game. Two extremely well taken goals, lots of running and effort and some needless fouls given away. Good partnership with Arteta that should be encouraged. 8/10
Kilbane - this is more like it. Don't know whether the formation (or the quality of the opposition) suited him, but this was Kevin back to the way he played when he first came. Stayed out wide and ran at players when the opportunity presented itself. Instrumental in at least two of the goals. 8/10
Bent - generally linked up well with Duncan, clearly had the 'run about a lot' role in the front two and was, well, ok without being great. 6/10
Ferguson - started poorly, looked disinterested and his first touch (on the ground and in the air) was woeful. Improved as the game went on, could have scored a couple and - most encouragingly - looked after young James when he came on. Stayed on the pitch at the end too. 7/10
Watson - did well as an emergency replacement for Stubbs and - whisper it - looks a better option than Yobo in the back four on this showing. Still sweats like a bastard. 7/10
Carsley - no real need for the substitution, in a midfield four he currently looks like the fifth member. Tightened things up when he came on. Should leave the dead ball situations to Arteta. 6/10
Vaughan - well now... Rooney or Branch? Far too soon to tell. Looked comfortable, not at all overawed, and took his goal very well. Rest of the team were delighted for him. Excellent start but let's not get silly just yet. 7½/10
Arteta was, for me, man of the match by some distance. Moyes should keep him in the middle and not isolate him on the right though. Clearly he can dominate against the Crystal Palaces of this world, let's hope he can do the same against the Uniteds and Arsenals as well. Because by God we need him to.
Keeping the Faith
Paul Waring
---
Having just come off the back of what has been a month of absolute hell in uni, writing a dissertation, I was very glad to have the distraction of a match today, especially at Goodison Park. It seems like ages since the last game I went to at Villa and hence even longer since going to Goodison so was delighted just to be going.
It was my last ever shift at the restaurant I've worked at for three years also and they weren't letting me leave without a night out. This meant awakening the next day with a hangover and an hour too late for my first train. Things had started badly….
I was wanting to get there early expecting queue's for the Man Utd tickets so was in a bit of a panic having arrived at Lime Street at about 13:00, so I hoped straight into a taxi and arrived at about 13:10. Was astonished and almost a bit disappointed to find there was no queue's after all that. Bugger!
So with Man Utd tickets sorted I was there on my todd with ages to spare. Phone calls to Gary and Ste told me I'd be waiting on my own 'til about 14:30, so I quickly decided there was only one thing for it – the pub.
Unlike in Huddersfield, it was a beautiful day. This made me look like a bit of a prat considering I was sporting a big thick black coat with everybody else just in t-shirts. Nevertheless I just stood patiently outside The Spellow waiting for the others. It was the first time I'd been to The Spellow and I was very impressed with the layout, the service and the atmosphere. All in all, a good crowd.
Eventually the others arrived and we bundled through the turnstile just before 3pm and just in time for the Z Cars. I was a little surprised to see us go to 4-4-2 but I guess it's about time. Carsley dropped to the bench to accommodate the change with Dunc replacing him, and Naysmith thankfully fit enough to play with Pistone injured.
We attacked towards the Park End in the first half and I thought the tempo was pretty slow. Nevertheless the first strike came from Kilbane who directed his half volley about a yard over from about 25 yards. Not a bad effort. Everton didn't have to wait to long for the goal however.
As we were in the Lower Gwladys, we couldn't really make out how it all happened but Bent was chasing a ball and the Palace keeper gathered it up. This was apparently outside the box. Now I'm not overly sure about the rules really but it seemed that nor was Uriah Rennie all game. I thought that if the keeper handles outside the box it's a straight red card. Not that I particularly wanted to see him get sent off but rules are rules. Anyway, it didn't matter 'cos Mikel Arteta lined up the free kick to the left of the box and caught it superbly and it flew in. A cracking strike and probably our goal of the season. As Ste put it, it was a "Pro Evo goal". I don't know what Arteta was thinking celebrating the way he did in front of the Palace fans, however. He should have been booked for that really.
Palace battled in vain to get back in but if truth be told Everton had them at arm's length. They had a few efforts which Martyn had to deal with but I don't think he or the defence were ever really severely tested. Everton had some openings of their own and could have been further ahead by the break with Ferguson and Osman both missing good chances with headers.
Ferguson's was after excellent work by Bent who crossed but the header was well saved, although I think he should have found the corner really. Osman's was a bit different as the ball came back to him about 15 yards out to the right of the area, but his header looped over the bar. They both should have scored really.
Everybody was playing well and we knocked it about nicely. Kilbane and Naysmith worked the left hand side well, Osman and Hibbert did just enough on the right and Cahill and Arteta were excellent in the middle. Arteta was all tricks and flicks and Cahill was the engine for the team. Up front there was plenty of movement from Bent and not quite so much from Ferguson. All in all – very good.
Stubbs went down injured from a challenge with Johnson. It looked as though he'd caught a boot in the face but now it turns out he'll be out for a while with a shoulder injury. Let's hope Yobo's OK for the next six games. His replacement Watson did do well however and might be worth keeping purely for his adaptability and versatility to play in different positions ant to do so well. Well he's got six games to stake a claim. Everton finished the half in style with a bit of keep-ball which Arteta and Cahill were again central to. Great stuff!
At half-time, we were treated to some beautiful Evertonian "soccerette" who came on to take the penalties and try to win a car. She hit the post with the first one and missed the others and was given five goes at it for some reason. I guess she wins the signed shirt and a date with whichever player she wants.
Everton turned up the heat a bit more in the second half and sealed the job. It can't have been long after the re-start when Cahill found himself in the box and smashed the ball high into the top of the net after good work by Osman and Bent played him through. Cahill's reaction was top drawer and he seemed genuinely delighted. Think… we could have lost out to Palace with him. He really could be a striker the way he finishes and I reckon he's gotta be one of are best signings over the last ten years. Superb!
Not long after that,it was 3-0 and that was game over. I'd read in the paper on Saturday that Palace's right-back was crap and Kilbane should just attack him. In fairness the lad wasn't that bad, just slow but would have done better with a bit of protection from Routledge. Well he didn't get it and Kilbane beat him to take the ball into the box and got to the byline. He had loads of time and loads of space, looked up and found Cahill at the back post who had a simple chance of nodding it home to settle the points.
Cahill and Bent went off on one at one side of the Gwladys while everyone else quite rightly congratulated Kilbane for the role he played in the goal. A flurry of hi-fives greeted Cahill when he ran to Kilbane. It's great to see the players all celebrate together like that. At last, for the first time in the league all season I could sit back and actually enjoy the rest of the game. Just as well as there was still about half an hour to play.
Palace made a few changes to try and get a bit of respectability but it just wasn't gonna be their day. A move down the Palace right from I think Routledge produced a good chance for Johnson but his scuffed shot unluckily came back off the inside of the post. A similar chance fell to Routledge who scuffed it well wide. Otherwise Weir was brilliant in defence while his partner Watson mopped up everything else.
A few Everton substitutions followed. Bent was struggling a bit and was substituted by Carsley who put himself about a bit and did alright, but the one everyone was eager for was the introduction of James Vaughan for Naysmith who must have been struggling as well. This moved Osman to the left wing and Arteta to the right and Ferguson dropped back into an unaccustomed midfield role. Not that you'd notice – he hardly moved.
Like all kids, Vaughan chased and harried everything and got his reward in the last few minutes. A throw out from Martyn found Kilbane. He played it to Osman on the half way line, who just waited for Kilbane's run before slipping him in. On went Killa into the box and a superb ground-cross was met by the stretching Vaughan to make it 4-0 and breaking the record for the youngest ever Everton goalscorer.
It was a great moment and you can only be happy for the young lad. No, he won't be the next Rooney but let's make the most of it hey. The goal did result in the Lower Gwladys swinging into a rendition of "You can stick your Wayne Rooney up your arse". He actually nearly scored before that but his effort was blocked.
The final whistle went not long afterwards and capped off a thoroughly enjoyable day. Great stuff. Well done Everton.
After the match it was back to The Spellow for a few celebratory beers. All in all, great to be back at Goodison. Bring on Man U!
Player Ratings:
Martyn – Made some important, if fairly comfortable saves in the first half but was seriously unthreatened in the second. 7
Naysmith – Played very well and attacked well down the left. Linked up well with Kilbane before coming off, probably feeling the effects of his injury. 8
Stubbs – Not on very long before getting injured but looked alright. May well be missed with that injury. 6
Weir – Actually started a little shaky but was outstanding in the second half when handed the captains armband. 8
Hibbert – Usual Tony. Just got on with his job. Nothing special, nothing bad. Collected a soft booking though. 6
Kilbane – Excellent contribution for goals 3 and 4 and did well at filling in as left back when Naysmith was substituted. A bit more of that please Kev. 8
Cahill – Buzzing about everywhere and is so important to us. Two goals as well makes that 10 for the season and are leading scorer. Reckon he's one of the best in the country at the moment. 9
Arteta – A dazzling display from the Spaniard who did some breathtaking moves. A wonderful goal and got stuck in. For me it was the complete performance. We've got a cracker there if we wanna keep him. I don't think there's too many better midfield pairs in the country. Him and Cahill are both very suited to those roles. My man of the match. 10
Osman – I thought he was relatively quiet but he has been for a few games now. Still, did alright. 6
Bent – Plenty of movement but didn't get into the box as much as he should've. Perhaps he's lacking in confidence. 6
Ferguson – Hardly moved all game and should have scored with his one chance. Still, I thnk he should stay in the team 'cos we'll do a lot better from now on in with this 4-4-2 I think. Was great to see him celebrating with the players at the end and hugging Vaughan though. 5
Watson – Did the job at centre back. Reckon he should be offered a new deal purely on the basis of his versatility. 7
Carsley – Did the job. It was good to see him get on 'cos I reckon he would have been a bit disappointed to be dropped. 6
Vaughan – Chased and harried and what a moment for him with that goal. Time will tell how he'll do but let's just enjoy it while we can. 7
Paul Traill
* Unfortunately, we cannot control other sites' content policies and therefore cannot guarantee that links to external reports will remain active.