Match Summary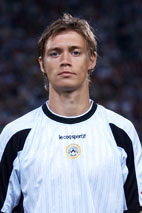 Krøldrup: This is the game!
We were beginning to think it would never happen. But the dreadful form of his captain finally forced David Moyes to drop David Weir and give Per Krøldrup his long-awaited debut for Everton.
Suggestions of a deepening injury crisis appeared to have been somewhat overplayed, with Yobo, Cahill, and Beattie all starting, Bent on the bench, along with Duncan Ferguson. And the biggest news for shattered Evertonians: the return of Nigel Martyn in goal! And Phil Neville as captain!!! What more could you ask?
It was a bright start from Villa, with Baros making Krøldrup look particularly rusty but, fortunately for Everton, Mike Riley decided against Baros on more than one occasion in the frenetic first five minutes. Some nervous moments for the Danish giant but he seemed to settle a little and showed more confidence on the ball after a while.
A beautiful piece of football in the 18th minute stood out in a lively first half that was nevertheless very poor on quality, littered with dreadful spells of the most atrociously scrappy fare, the ball being knocked about with the finesse of a pinball game. It was Simon Davies who showed some rare flair, sending an excellent cross-field ball pinpointed to Arteta, who was being closely marked. But the Spaniard spun away neatly from his marker and fired in a brilliant cross for Beattie, who had pulled in front of everyone in anticipation. All it needed was a deft flick but Beattie put a bit too much power on it to send it over with only the nervous Sorensen to beat.
But, despite coming into the game well after the early pressure, Everton went behind under very controversial circumstances in the 35th minute, and it was Baros who was the guilty party, getting the benefit of a blatant hand-ball as he brought the ball down and finished past a furious Nigel Martyn. More galling, it was awful stuff from Villa that saw another handball by Ridgewell on the edge of the area in the scrappy build-up. Another key decision against Everton to turn the course of the game...
Everton kept plugging away but nothing else really broke loose before the break, despite McFadden and Beattie both getting quite a lot of time on the ball. But McFadden was at the peak of his frustrating powers, making all the wrong decisions.
Lots of early pressure on the Everton goal after the break saw Villa convert off a third corner after panicky defending by Everton. Delaney got ahead of everyone at the near post to nod the ball past Martyn: 0-2.
The response was laboured at best, and Moyes eventually intervened after 65 mins, bringing off Osman and pushing on Bent. It wasn't much of a response, to be brutally honest, and it was not until the 75th minute that Everton could produce a decent shot on goal, Davies unleashing a great dipping volley that was unfortunately too close to Sorensen. Yobo did 'score' from the corner, but Arteta's outswinger had already crossed the bye-line.
If you can't score with three strikers, why not throw on a fourth? Up stepped Duncan Ferguson in place of the useless Cahill. The result was a walk in the park through midfield for Villa, Angel on the end of an easy and flowing move and a Baros pass that sliced right through the middle of Everton's hapless defence. Oh deary me.
Moments later, another sweeping move down the Everton left, and nice easy cross put in for Baros on the far post. 0-4; Game Over! Floodgates Open. Everton utterly undone. No real excuses this time... but one hell of a lot of complaints.
Michael Kenrick
---
Match Preview
Mired once again in a crisis of form and confidence, Everton return to the scene of arguably their best performance of 2005 hoping to use the hectic Christmas period as a springboard towards putting some comfortable distance between themselves and the relegation zone.
Back in February, the Blues blitzed Villa 3-1 on their own turf with a rare exhibition of free-flowing football that could have yielded an even more emphatic victory. It was something of a last hurrah for David Moyes's 4-1-4-1 system before it was truly stifled by opposition tactics and even the manager would probably admit that the performance that day owed as much to Villa's porous rearguard as it did everything clicking among his own ranks.
The team news ahead of this one is bleak, though. Tim Cahil (calf), James Beattie (foot), Marcus Bent (hamstring), and James Vaughan (knee) are all rated at various level of "doubtful," which, if they are all ruled out, leaves the manager with precious few attacking options beyond James McFadden, Leon Osman and a half-fit Duncan Ferguson.
At the back, Joseph Yobo has a shoulder complaint that may not be serious enough to sideline him, but with David Weir in shaky form, Moyes would probably prefer to blood Per Krøldrup alongside the Nigerian as opposed to the ageing Scot. That is, of course, if Krøldrup will play at all. The Dane's Goodison career has been a mysterious one.
From stories that he signed without ever talking to Moyes, to pelvic complaints, to whisperings that he can't head a ball or tackle, Krøldrup has been fertile ground for the burgeoning Merseyside rumour mill. Officially, he has been fully fit for weeks and with Weir faltering in recent games, the clamouring for the £5M signing from Udinese to get his chance has reached fever pitch. But he will still probably start on the bench!
David Moyes has targeted a maximum return of nine points from nine before the turn of the year but with the Blues struggling painfully for goals and clean sheets, that is a lofty ambition that only Christmas miracles can help him attain. Villa are a match for almost anyone when they're firing on all cylinders, but they so rarely are that Everton could quite easily nick a win here to take back to the northwest ahead of the Goodison derby two days later.
But with both sides struggling for form and boasting very similar records, this Boxing Day encounter has draw written all over it. Everton would surely take that, if only to bring to an end a two-game losing streak that has once again got the alarm bells warning of relegation danger.
Lyndon Lloyd
---
Spectre of relegation looms after a Boxing Day Massacre
Where do we go from here? Back-to-back 4-0 humiliations, yet another scoring blank, a foreign defender acquired for a king's ransom who clearly needs a significant number of games to settle — he has three more — players' heads dropping, next to no options on the bench, and a manager who appears to have no means of righting the ship and keeping it on an even keel or the funds required to address the chronic lack of goals. The signs all point one way: down.
This was one another of those "winnable" games. An away fixture at an Aston Villa side struggling as badly as Everton for points and funds from stubborn and inept chairmen. Once again, though, the Blues were ripped to shreds in defence and put to the sword for their mistakes. As against Bolton, the massively once-sided scoreline was far from representative of the pattern of the 90 minutes, but it was once more illustrative of what can happen when you have pace in your ranks and players who can play an effective final ball.
Nigel Martyn returned to the starting line-up after three games out with a groin injury and Phil Neville switched to left back in place of Nuno Valente, but the big news was, of course, the long overdue debut of Per Krøldrup who had become a permanent fixture on the Everton bench while David Weir's performances nose-dived and the rumours of the Dane's suitability — or lack thereof — for the Premiership continued to swirl. It's a day that Krøldrup won't forget in a hurry, but he will surely want to.
The man signed from Udinese for a frightening £5M in the summer was given a baptism of fire by Villa's mobile strikeforce of Luke Moore and Milan Baros. First, Moore capitalised on hesitation between Krøldrup and Yobo to get in behind the defence and flick over Martyn but the shot bounced just wide. Then, Baros burst through for a one-on-one duel with Martyn, but as the Czech striker was about to pull the trigger, Krøldrup, whose lapse marking had given him so much space in the first place, gave him a crucial nudge in the back and the 'keeper was able to block the shot.
Having weathered that early storm, Everton managed to settle a little and started to take the game to Villa at the other end. After a quarter of an hour, James Beattie latched onto a ball down the right-hand channel which he hit first time from 25 yards out and Sorensen flapped it wide of the post for a corner. Then, Arteta made a monkey of his marker with a delightful cut back on the right flank before whipping in a left-foot cross that Beattie met with a smart run of his marker but could only guide his header just over. Starting with a perfect cross-field ball by Simon Davies, it was the best move of the game so far and one that Beattie should really have finished by hitting the target, at least.
At this stage, nervousness was starting to creep into the Villa fans and the Blues were looking the more likely to make the breakthrough. Beattie, benefiting from his improved fitness, was working hard, no more so than when he put in a terrific challenge on Mark Delaney as the defender was trying to shepherd the ball out for a goal kick but his cross was well in advance of the only Blue jersey in the area and the chance was wasted. In midfield, Osman was all quick feet and tidy passing, Davies was nippy and enterprising, and Arteta's skill was a useful outlet on the right flank.
Unfortunately, though, Everton took the wrong option in the final third time and time again. ften it was because there just weren't enough options ahead of them. Other times it was individual players making the wrong decisions, or the finishing as poor. A case in point was when McFadden cut inside from the right to gain a clear sight of goal but his shot was lame and easily gathered by Sorensen. The result was that, as we have seen so often this season, the Blues were unable to score during their best period of the match.
Instead, five minutes after Baros has fired an overheard kick over the bar from close range after corner had skidded past three Blue shirts, it was Villa who broke the deadlock, albeit in highly controversial circumstances. A free kick from the right appeared to be handled by Gareth Barry on the edge of the box but as he knocked it goalwards, Baros very clearly used his hand to bring the ball down before stabbing it past Martyn. The Everton players were incensed and referee Riley, who had up to that point been doing his best to retain the crown of the Premiership's worst official, was surrounded by Neville, McFadden and Martyn, all of them incredulous that the infringement hadn't been spotted. Based on the reaction, Riley must have known he'd missed something big but there was no way he could reverse the decision and the goal stood.
Not for the first time time this season, Everton were clearly rattled by going a goal down and there was little by way of an immediate response. Beattie did engineer a chance four minutes before half-time but after turning his marker well, he ballooned his shot high over the bar.
Any hopes David Moyes had about turning the game on its head in the second half lasted less than three minutes. A corner from the Villa left was met by Delaney, whose run went unchecked, and with an outstretched boot he guided the ball past Martyn to make it 2-0.
Undaunted, Everton continued coming forward but continued to make few chances in the area on which either striker could feed. Instead, Davies tried his luck from 20-odd yards but drove a yard wide and when Hibbert got to the by-line for the first time all game, his cross was met by the smallest player in Blue, Osman, who could do nothing but loop the ball on with his head and out of danger towards the far side. Osman was unlucky to be sacrificed after 63 minutes when Marcus Bent was introduced as Moyes tried to salvage something from the match.
Instead, however, it was Villa who continued to carry the greater threat, and Baros found himself in plenty of space by the penalty spot after being picked out by Barry's square pass but, thankfully, Krøldrup blocked his shot. Back at the other end, Everton's best chance of finding the net — legally, at least; Yobo had a headed goal disallowed when the linesman adjudged Arteta's corner to have swung out of play on its way into the area — in the second half came with 21 minutes to go when a goalmouth scramble ended with Beattie's shot being blocked at point-blank range by Sorensen. Davies also tested the Danish 'keeper from distance with a dipping effort that was creeping under the bar when it was palmed over for a corner.
That, unfortunately, was pretty much it for Everton in an attacking sense. Duncan Ferguson made a late cameo but barely had time to get his bearings before it was 3-0. Villa swept forward again and with Krøldrup again backing off, the space opened up for Baros to feed substitute Juan Pablo Angel and he beat Martyn with aplomb. Two minutes after that, the home side poured down the right where Neville had abandoned his post and Gavin McCann crossed to the back post for Baros to side-foot wide of Martyn and complete Everton's misery.
Coming on the back of a 4-0 drubbing by Bolton 8 days previously, this was agonising to watch for a large traveling Evertonian contingent, many of whom started trickling out after the third goal. A train-wreck of a season just continues to get worse, with the increasingly worrying spectre of relegation once again hanging over Goodison Park. Worse, the Merseyside derby is just two days away...
Everton Football Club is very much in the throes of crisis now. The questions are: will they take heed of this Boxing Day massacre? And what can be done about it? Certainly something dramatic has to happen, or this team is going down this season. Whether it's dismissing Moyes, who clearly is at a loss as to how to resolve a horrific run of form over the past 12 months, or busting the bank to bring in badly needed injections of talent up front and in central defence, is hard to say. The latter option may have to be exercised whether Keith Wyness likes it or not; the former may become unavoidable as well if, by New Year's Day, Everton have suffered five straight defeats and not started scoring goals.
Moyes's culpability in the last three defeats is probably the subject of more in-depth analysis than is appropriate here, but what cannot be denied is that a team boasting names like Martyn, Hibbert, Yobo, Neville, Arteta, Cahill, Davies and Beattie should not be staring into the face of a relegation struggle. But that is the reality when you're shipping goals at one end, and scoring once every two matches at the other.
Player Ratings:
Martyn 6 — It's hard to criticise him for any of the goals as he was let down by the referee for the first and his defenders for the rest.
Hibbert 6 — Okay overall.
Yobo 6 — His game was clearly impacted by the arrival of Krøldrup with whom he has no understanding. That will take time, but with his imminent departure for the African Nations Cup, that is a process that won't bare fruit for months yet.
Kroldrup 4 — The guy had a nightmare but he also showed plenty of evidence that once he adjusts to the English game, he could prove to be a good signing. He backed off almost every time the Villa strikers ran at him which created the space which they exploited and pulled Yobo and Neville beside him out of position as they tried to cover. He is tall and can head the ball but he needs to develop conviction when going into aerial challenges; that too will take time. But, on the plus side, he reads the game well and his distribution over short and long range was highly accurate.
Neville 6 — Was at the heart of some nice moves down the left but too often he opts for the less-than-threatening ball floated into the box with no pace or apparent intent.
Arteta 6 — To my mind, he is wasted on the right flank and we need to sign a genuine winger for that spot so that he can pull the strings more in the middle of the park. His head visibly dropped in the second half.
Cahill 5 —Ran around a lot but without really creating anything.
Davies 6 — Busy and always eager to get things moving on the counter-attack, but suffered from a lack of movement and options ahead of him
McFadden 5 —Took the wrong option 90% of the time.
Beattie 6 — Poor finishing let down a hard-working display.

Bent 6 — Appeared to try harder than in recent appearances as a sub but remains ineffective.
Ferguson 5 — Made no impact because the team was out of ideas by the time he entered the fray.
Lyndon Lloyd
* Unfortunately, we cannot control other sites' content policies and therefore cannot guarantee that links to external reports will remain active.