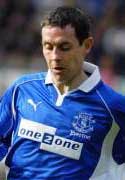 David Weir: Injuries to Yobo and Krøldrup mean that he will probably return for the Goodison derby

Two changes from the Boxing Day Massacre: Weir and Kilbane returned at the expense of Krřldrup, who has an ankle injury, and McFadden.
As advertised, it was a lively start from both sides, Cisse hammering a shot wide just after 1 minute. Then Beattie was in quickly after Reina blocked a long shot from Neville. He fired just over the bar but was offside anyway.
Everton had looked good for 10 mins, until and easy move from Liverpool saw Gerrard release Crouch with a powerful header and the lanky streak of Liverpool piss rounded Martyn easily to slide in the opener.
On Everton's next spirited attack, Carragher blocked a goalbound headed effort from Cahill on a lovely ball to and cross from Arteta on the right.
But on 18 mins, Liverpool went two in front after another strong Liverpool attack, the ball coming out to him nicely and his shot was deflected slightly by Yobo to defeat Martyn.
Cahill was booked for a stupid late tackle as Everton looked visibly shell-shocked. Cisse almost made it three inside 20 mins as the route looked on for the Red horde, but he fortunately blazed over.
Arteta again fed in a nice cross that Kilbane headed fractionally wide; Yobo header over off a superb Arteta corner. All good chances created; on another day... in another season... Everton were trying to ignore the scoreline, but little was really going for them, with key attackers repeatedly caught offside. And Graham Poll was being his most irritating.
Liverpool looked like they would just take easy after the half-hour, and allow Everton to huff and puff, a lot of the verve and excitement of the early game having gone decidedly flat. Beattie got the ball in the net before half-time, but Cahill's last-ditch cross was rather cruelly adjudged to be out of play over the bye-line. Dubious call...
Another lovely cross from Arteta, Kilbane, nodded it on from and brilliant work by Davies set up a despairing twisting, striving header from James Beattie that crept in under the Liverpool bar, denying the reds a new record of nine successive league games without conceding. Game on? Maybe....
Everton looked to score again before the break but Yobo's header was far too weak. Cahill tried one from 30 yards but it was not good enough to score either. More belief, more strength, more effort... maybe?
But moments into the second half, though, and it was a horrendous stroll in the park for Cisse down an exposed Everton right. He danced around Weir and slotted it across Martyn with ease. A real kick in the balls.
Davies and Neville managed to run into each other at one point, epitomizing the pantomime aspects of this festive nightmare. Neville earned his fifth yellow card (and a one-match ban) bringing down Cisse. Gerrard was high on the resulting free-kick, as McFadden replaced Davies.
Liverpool controlled the rest of the game with relative ease despite a valiant attempt to respond from the eagre but limited Everton players. Gerrard would take a poke form distance every now and again, just as a reminder.
Then, a silly, lazy trip by Neville gives Cisse some leaping practise and it was a second yellow for Neville: two-game ban. Crouch then got a yellow for some silliness as the contest threatened to descend into farce, Beattie the next into the book for taking out Warnock.
As the drama faded, Sissoko got plenty of stick for his delayed reaction to a slight glancing touch from Arteta's studs. Beattie should then have scored, coming in under pressure at the far post off an excellent Yobo flick.
Arteta, seething with frustration, got himself booked towards the end for reacting against Sissoko. Seconds before the end, he catches Garcia: second yellow: Off!
A spirited performance from Everton against a highly in-form Liverpool, who they matched reasonably well apart from where it matters most. But it's only results that matter: four defeats in a row. And finally we reach double figures in the goals-for column. With half the season gone.
No complaints, eh, Mr Moyes?
Michael Kenrick
---
When you've lost three matches on the bounce, two of them by a four-goal margin, and scored just nine goals in 18 games, a derby game is either the very last thing you need or the perfect occasion to try and get back on track.
They say that the form book goes out the window for local derbies, but it's hard to ignore Everton and Liverpool's respective records so far this season... and almost impossible envisioning anything other than more misery for the Blue half of Merseyside after this one.
Liverpool have won eight straight in the league and lie third in the table with two games in hand.
Everton's confidence is shot to ribbons thanks to successive hammerings by Bolton and Aston Villa, and with David Moyes seemingly at a loss to how his players can be playing reasonably well but still end up getting mauled, it doesn't bode well for this most important of occasions for Blues fans.
Worse is the news that both Joseph Yobo and Per Krøldrup are fitness doubts following Monday's humiliation at the hands of Villa which means that David Weir will most likely return to the starting line-up, with Moyes no doubt hoping that Yobo makes it.
Otherwise, Everton have no new injury concerns; James Vaughan, Andy van der Meyde and Lee Carsley remain key absentees through injury.
The Reds welcome Mohamed Sissoko, the player they famously poached from under Everton's noses in the summer, back after a one-match suspension, and Dietmar Hamman has recovered from Michael Essien's horror tackle.
It's hard to know what more to say about this one. If Moyes can somehow rally his players to produce another performance on the level of those that secured precious draws against Chelsea and Manchester United, then a draw is on the cards. But if they defend anywhere near as badly as they have in the last two games, then they can kiss three points and local bragging rights goodbye.
Can I see the Blues winning this one? No, not really. We can't score, can't defend and our midfield has been shockingly porous of late. But, there is always the wild card of it being a Merseyside derby...
Lyndon Lloyd
---
Desperate Everton falling apart at the seams
The form book is supposed to go out the proverbial window for local derbies, but this 202nd contest between Everton and Liverpool went almost entirely as forecast as Rafael Benitez's high-flying side brushed their hosts aside with consummate ease. In fact, the only blight on the game from the Reds' perspective was James Beattie's 41st-minute header that wiped out their precious clean-sheets record. And the only sense that this was a genuine Merseyside derby were the two dimissals that reduced Everton to 9 men and will rob them of two vital midfield players in the form of Phil Neville and Mikel Arteta against Sunderland.
After back-to-back 4-0 defeats, David Moyes admitted that he was at a loss to explain his side's appalling form, so in a desperate attempt to arrest the flood of goals his team has conceded over the previous three games, he reverted to the 4-5-1 formation that was the bedrock of last season's success. Never mind that it has been almost completely ineffective in 2005, and never mind the fact that he fielded a wholly defensive formation for a home game and didn't change a thing even when his side went 2-0 down. I suppose, if one is being fair, he didn't have many other options, such is the desperate lack of attacking talent that he has at his disposal... but that is largely of his own making.
In fact, the word "desperate" just about sums Everton up at the moment. From the first minute, the writing was on the wall when Gibril Cisse volleyed a Steven Gerrard free kick a few yards wide of Nigel Martyn's left-hand post. And it took just 10 minutes for Liverpool to score. Gerrard headed a loose ball forward, Peter Crouch timed his run to perfection and calmly rounded the 'keeper to slot home. Oh, how we mocked Benitez when he shelled out £7m on the giant striker, but he showed a deftness of touch, confidence and clinical finish that we just don't have in our ranks at the moment.
Seven minutes later, it was 2-0 and the Goodison faithful were genuinely fearful of more utter humiliation. When the Everton defence failed to clear, Gerrard picked the ball up 25 yards out and lashed it goalwards. A slight deflection carried it past the already unsighted Martyn who remained rooted to the spot as the net bulged to double Liverpool's advantage.
Defensively a shambles, the Blues had at least put a couple of attacks together before Gerrard delivered the hammer blow. Reyna in the Liverpool goal had spilled a Tony Hibbert shot that Beattie chipped well over and Cahill had seen his header from an Arteta cross deflect wide. And after conceding the second, Everton did at least try to respond when Areta's deep cross found Kevin Kilbane but his headed effort was also deflected wide. And Beattie had the ball in the net 7 minutes from the interval when he headed home Cahill's cross, but the linesman ruled that the ball had crossed the line. While it didn't look like the whole of the ball had cleared the line, it was a very tight decision.
As Everton were to find out to their cost early in the second half, though, the back door was always open waiting for Cisse to exploit. The Frenchman had Blue hearts fluttering in the 21st minute when he belted over from a tight angle and then nodded wide when he should have done better having easily drifted away from Weir.
The pre-match fanfare had surrounded Liverpool's record of not having conceded a Premiership goal for 700+ minutes of football, but that was torn apart in the 42nd minute when Kilbane was picked out by another deep Arteta cross from the right, Simon Davies knocked it further across goal with an overhead kick and Beattie steered an unchallenged header into the empty corner of the net.
2-1 and the Blues had hope, but it was short-lived. Within 80 seconds of the start of the second half, Cisse was put free down the left and he turned Weir with embarrassing ease before placing a right-foot shot wide of Martyn and into the far corner. 3-1; game over.
From then on it was just a tale of mounting frustration and ill-discipline from some quarters in the Everton ranks. Neville was booked for hanging a boot in on Cisse on the edge of the box but Gerrard blasted narrowly over. And the former Manchester United man marred an otherwise creditable display when he received a second yellow for an almost identical foul on Mohamed Sissoko 12 minutes later. The Blues, who had looked as though were playing with a man fewer all game were now genuinely a player short.
In between Davies had to be withdrawn in favour of James McFadden after taking a knock in a collision with Neville and Gerrard flashed another long-range shot inches wide. Having resorted to a largely fruitless one-dimensional strategy of lumping hopeful balls forward, moments of inspiration from players in Blue were heart-breakingly rare. Cahill had one with 12 minutes left when he danced past three players but saw his square ball turned behind for a corner. Even if it had beaten the first man, the only other player in the six-yard box, Beattie, had positioned himself in the least dangerous location: behind a defender and the goalkeeper. Weir headed the resulting corner well wide as another set-piece was wasted.
The Blues' last chance to set up a grandstand finish came in the 83rd minute when Yobo flicked a free kick on with his head and the ball fell to Beattie at the back post, but the striker ballooned over from five yards out as he lunged to beat his marker. Instead of making a game of it, Everton just increased their woes when Arteta, who had been walking a tight-rope with Graham Poll for much of the evening, was booked for dissent and then, somewhat harshly, awarded his second yellow card for dangling a foot in.
In the end, a clash with their local rivals did Everton no good at all. Any advantage the occasion may have afforded them was comprehensively erased inside 18 minutes when they conceded the second goal. Utterly bereft of any imagination going forward, the Blues were confined to long, hopefuly punts forward that gifted their opponents the ball time and time again. There was no one looking to make the incisive throughball, the like of which has been so devastating to us in recent games at the other end of the pitch, and precious few attempts at getting the ball wide and getting crosses in from the byline. Once again, on the few occasions they did, they caused the opposition defence problems. But no one got the hint.
Blame it on confidence, tactics or a lack of ability among the players, but everything about Moyes's side is a mess at the moment and something big needs to change quickly. Whether that is breaking the bank to bring in the calibre of players needed to pull us away from the drop zone or a change in management is open to conjecture, but it is clear that there are no easy options left for Bill Kenwright and the Board. Painful decisions are now inevitable. Or this famous old club is going to lose this game of relegation Russian Roulette we've been playing for the last dozen years.
Player Ratings:
Martyn 6 — Once more, he was left stranded by a porous defense, and had almost nothing else to do except collect the ball from the onion bag
Hibbert 6 — Another typical display from Hibbo; sound defensively but with the usual inadequacies going forward
Valente 6 — Much better defensively but still needs to work on crossing
Yobo 7 — Made a couple of uncharacteristic but not critical errors at the back but was otherwise sound
Weir 5 — Did nothing to suggest that Moyes's decision to rest him at Villa was bad decision and was humbled by Cisse for the third goal
Neville 7 — Probably the best player in Blue before he was sent off for two sloppy challenges
Arteta 6 — Was more effective from a "play-making" perspective once he started roaming but his crosses from the right-wing were also our main threat
Cahill 6 — Disappointingly ineffective for the most part
Davies 7 —Committed and showed the necessary passion
Kilbane 5 — Disappointing
Beattie 6 — Took his goal well but suffered playing as the lone striker, as he always does
McFadden 5 — Poor
Lyndon Lloyd
---
The Spellow quickly packed out and many Evertonians were in full voice, including one who somewhat tastelessly sung a song about Michael Shields, the lad held in prison in Bulgaria for 15 years for a crime he apparently didn't commit. Nice.
At about 19:30 we headed off to the ground as the pub was by this point packed out. We thought it would be just as easy to get a beer in the ground, and luckily it was, as the ground started to pack out a bit. Some fella brushed past me quite forcefully, forcing me to spill beer onto his jacket. He then looked up at me as if it was my fault. The tension was building. Nobody was confident going into the game. Nobody at all. It was hard to see how we could be, with the way things were going...
We saw the team news on the monitor and realised we were playing 4-5-1 from the off, with Beattie up there on his own. Kilbane was back in the side, with Neville, Cahill, Arteta and Davies making up the rest of the midfield. Weir was recalled at the back to partner Yobo, with Krřldrup injured. Valente was also recalled at left back and Hibbert at right back. Martyn in goal. There was no room for Ferguson on the bench which was a shame. One can only assume he's not fit enough because I'm sure Moyes would have put him there if he was.
I went to my regular seat and didn't recognise the fella next to me. The fella who normally sits there had been replaced by a man in a big red coat, which could only really mean one thing... I was then even more surprised to see that Graham Poll was the referee. Now you've gotta be taking the piss after what happened last time!
Liverpool kicked off towards the Gwladys Street and it took them no time at all to get into their stride. Cisse winning a free kick off Weir, the cross in from Gerrard found Cisse on the volley but he lashed it wide. Everton slowly battled into it a little bit and should have scored. I think Davies turned and shot. The ball took a deflection and was palmed out by the Liverpool keeper. It came back to Beattie who had to snatch at it, but certainly should have buried it. Instead, he skied it. How many more Beats? Off the top of my head there's – when you hit the bar against 'boro; when you skied it against Newcastle; and the miss at Villa. Easy chances which you'd really expect a Ł6M striker to put away.
Against good sides in particular, you've gotta take your chances, and their Ł6M ex-Southampton striker cruelly showed us how to do it down the other end. I don't know how it came through but when it did he coolly side-stepped Martyn and tucked it away into the corner. Oh, here we go again….
Indeed. Minutes later a cross was headed out by Cahill as Liverpool turned up the heat. It came back to Gerrard who took a touch and let fly on the half volley. It took a nick of someone, maybe Cahill who'd gone storming out to meet it. Martyn was left stranded and that was 0-2. I sensed a hammering. I don't think I was alone. The red next to me, to his credit, remained silent throughout.
Cahill got pushed up alongside Beattie as we had to go for it now. Nothing was working. Liverpool knocked it around effortlessly. Cisse found a way through and lashed it over the bar. The home crowd began to loose it's temper. Some knobheads started singing "Rafa, where's your dad?". Slowly, Everton battled back into it, with Cahill and Arteta carrying the fight to Liverpool more than most. A cross from the right from Arteta picked out Kilbane who headed goalward, but it nestled just wide. We got a corner from it somehow though. Arteta's good delivery was headed narrowly over by Yobo. Not long after, good work by Cahill got a cross in which Beattie nodded home, but the linesman's flag was up very quickly – the ball had already crossed the line when it was crossed in.
About four minutes before half-time, the goal did come. Another good ball from Arteta was met again by Kilbane. He headed forward and I think Cahill got a flick to it. Excellent acrobatic work by Davies flicked it on towards Beattie who flicked in nicely into the corner. At 1-2, I felt we could do it in the second half. Everton got the ball and placed it back on the centre circle for Liverpool to restart. Thanks Everton. Just for one brief moment you made me feel proud again.
Not much happened between then and half time (an ambitious Cahill volley aside), but we were back in it at 1-2. We could do it I felt. Liverpool, in all honesty, weren't actually that good. Nothing special anyway. Ste got a text off his girlfriend at half time saying the ball wasn't over the line when it was crossed in – and she's a red. So it could have been 2-2. Why can't we for once just get a lucky break?
My belief that we could "do them" in the second half soon evaporated up in vapour when Cisse scored a great goal. We had a free kick and threw it into the box. They cleared and Cisse was on the chase with Weir. He got into the box and skipped past him before unleashing a rocket into the corner. Credit where it's due. That was a good goal. Remarkably similar to Risse's a few seasons back. That was game over really. We were never really in it after that.
Phil Neville challenged with Sissoko. Sissoko went down like a sack of shit, as you'd expect. Why did we try so hard to sign this cheat? He's an absolute shithouse. He belongs at Bolton. That earned him a second yellow and now we really did have no chance. McFadden had been thrown on for Davies by this point.
Everton did battle, and did try, and didn't give up, but the game was over as a contest after that. Sissoko later tried to get Arteta in trouble by again going down like a sack of shit, when WE had the free kick. Cheating, timewasting tactics. The ball was honked into the box and another shitbag went down. I couldn't take much more. Arteta went on a great run with about five players around him. Sissoko eventually slid in and appeared to handle. The ref didn't give it and Arteta lost his rag. He got booked for his troubles. The ref held it up like it was a trophy.
We eventually got a chance to get back into it when a ball reached Beattie at the far post about six yards wide. He half volleyed well over on the stretch — another one bites the dust.
We left with a few minutes to go — there was no point in staying. As we left a bit of a cheer went out amongst the Liverpool fans followed by a lot of murmurings from the Everton fans. As it turned out all that playacting and cheating from Sissoko, finally paid off as Arteta lost his rag and kicked someone late on. Apparently it was harsh and at that stage of the game did not warrant a second yellow. It mattered not with Poll. Another fine goal disallowed and another shambolic display ruining a derby and looking after the "big" clubs again. When is somebody going to do something about these power-tripping, attention-seeking wannabee's?
Probably never.
Player Ratings:
Martyn: Don't really remember him having much to do; hard to fault him for the goals. Possibly had a bad angle on the third but it was a good finish. 6
Valente: My man of the match. I thought he stuck at it and was as positive as anybody else in a blue shirt all game. 8
Yobo: Did quite well. Used the ball well too. 7
Weir: Cruelly exposed for pace time and time again. His time is running out. 5
Hibbert: Like Valente was as positive as anybody else in a blue shirt and defended well. 7
Kilbane: Tried and did OK. Won some important headers – not least for the goal. 7
Neville: Didn't really do as much as you'd expect from Neville in a derby. Unlucky to receive his marching orders though. 5
Cahill: Well it's funny how he raises his game for the derby. Exactly what has he been doing all season? If he can do it against Liverpool why can't he do it against Villa, Bolton and Portsmouth. 8
Davies: Great stuff for the goal. Anonymous otherwise. 5
Arteta: Blew hot and cold but did carry the fight more than most. Didn't seem necessary to send him off at that late stage of the game. 7
Beattie: Simply misses too often. 5
Paul Traill
* Unfortunately, we cannot control other sites' content policies and therefore cannot guarantee that links to external reports will remain active.