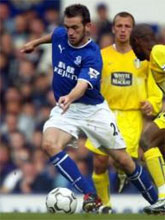 James McFadden: Eclipsed Beattie on Wednesday and gets to start with him... briefly!


After prolonged reliance on 4-5-1 or variants thereof, David Moyes appeared to have named a more attacking formation for today's opponents from deepest Lancashire. Both McFadden and Beattie were named in the starting line-up. Ferrari was missing from the defence with a hamstring injury he picked at Chelse so Stubbs returned. Iain Turner made his league and Goodison debut in place of Calamity Wright. John Ruddy was recalled from loan at Darlington and took his place on the Subs bench.
The disappointing inevitability of Wednesday's result did not seem to be dwelling on the players' minds as Everton have plenty to do still in the league.
Blackburn stated brightly with Sinama Pongolle enjoying his return to Merseyside, where he says he like the Everton fans. Despite a strong start by Blackburn it was Everton who got the ball in the net first but the lively move was ruled out for offside. McFadden then got an easy chance when he went in on Friedel and could have tapped it in the open goal but he chose to smash it onto the crossbar!
Turner then had a terrible misunderstanding with Stubbs and got an inevitable red card after just 9 minutes for handing the ball outside his penalty area. The free-kick for Blackburn was a dangerous moment for John Ruddy, pressed in for his rather unwelcome senior debut as a replacement with McFadden being sacrificed. The infamous jinx of the Manger of the Month award, anyone?
Pongolle very nearly scored on the next Blackburn attack, firing just 6 inches wide as Everton were caught out with confusion due to the dreaded offside rule. Nelson then got booked for clattering Arteta from behind. Cahill scored a textbook header off Arteta's excellent free-kick but that was also ruled out for offside!!! Moments later, Neville was booked for a strong tackle.
Plenty of flashpoints in this one, with Cahill and Bellamy setting on each other, Cahill foolishly allowing the obnoxious one to rile him up... Everton settled a little and started working hard for each other to compensate for their numerical disadvantage. And it was rewarded on the half-hour. A lovely Arteta free-kick allowed James Beattie to make the perfect run, placing his header past Friedel... GOAL! Everton held things up through to half-time and went in with a deserved lead despite being down to 10 men.
Everton retained their positive demeanour into the second half, with little sign of pulling back into their shell to protect the lead. John Ruddy was being well protected as Everton took a stronghold on the game, Arteta behind almost everything. Another Arteta ball played in was just inches in front of a lunging Osman, who may have damaged his groin that was a problem before the game.
Everton got a third offside goal, following a lovely move from Valente whose cross was headed firmly past Friedel but the flag was up quickly ó perhaps it was for a foul by Stubbs or Beattie. Beattie was doing a lot upfront and heavily involved in the increasingly strong Everton attacks.
Ruddy made his first real save, a difficult one that spun off Neville's arm from a Bellamy shot. Beattie and Cahill combined well on a good run but Beattie could not convert the chance. Valente got booked for an altercation with Reid As Blackburn finally started to put Everton under some meaningful pressure.
Lee Carsley came on near the end as part of his long rehabilitation, replacing James Beattie, who went off to a standing ovation for a tremendous committed performance after scoring what would hopefully be the winning goal and running himself into the ground. Everton attempted to batten down the hatches and hunker down for the draw. Kilbane was booked for time wasting on the prompting of the Blackburn players, and Everton continued to battle grittily to hold on to their spoils of war.
A tense and lively last 10 minutes ensued, attacks coming from both Blackburn and Everton as the realization of the result started to hit home. Friedel came up for a series of corners in stoppage time. Cahill went for goal from his own half and fired it well wide.
A terrific result for Everton under the circumstances, a real battling win for 10 men, their ninth 1-0 win of the season, that takes them to within one point of Blackburn, whom Everton completed the double over. Well done, David Moyes and the lads. A great job ó and Everton finally into the top half of the table!!!
Michael Kenrick
---
Having been dumped out of the FA Cup with a comprehensive going over at the hands of Chelsea, Everton can now live out the tired, fatalistic old Blue clichť of "well, at least we can concentrate on the league now." The opportunity to spring a surprise and keep the Wembley pipe dream alive was clearly at Goodison Park in the original match when the Toffees allowed Mourinho's millionaire's back into the tie late on. J
So, back to Premiership action and the visit of Blackburn Rovers who are perfectly balanced under Mark Hughes's management with a record of won 20, lost 20 since the ex-Everton striker took over at Ewood Park. They are also the goalless draw specialists of the top flight this season, having earned more scoreless draws than any other side — indeed they were the last team to hold David Moyes's Everton to a 0-0 draw 45 games ago.
So, combining that with the Blues' awful goalscoring record, don't expect too many entries on the scoresheet by five to five!
After his surprise first-team debut at Stamford Bridge on Wednesday, Iain Turner will get another chance to impress as both Richard Wright and Nigel Martyn are ruled out with ankle injuries. The 22-year-old was confident between the posts despite being cruelly exposed by his defence for all four of Chelsea's goals and the Goodison faithful will get another opportunity to gauge the Scot's potential as a long-term replacement for Martyn when he eventually hangs up his boots.
In defence, Alan Stubbs is available after sitting out the Cup replay because he was cup-tied, but he will find it hard to walk straight back into the line-up given Matteo Ferrari's form so far this season. It will be interesting to see if Moyes favours the ageing Stubbs-Weir partnership over the clearly superior Italian.
In the middle, Simon Davies's return to fitness gives Moyes plenty of options but he must weigh those with many fans' expectation that he will play two up front in what is a home fixture. Given the fact that James McFadden was visibly more effective against Chelsea midweek than his vastly more expensive strike colleague, James Beattie, the manager could start with them as a pairing. Or, he could keep McFadden on the bench and supplement Beattie with Leon Osman (a slight doubt with a groin strain) and/or Tim Cahill as he has been in recent weeks. All of that is dependent on Beattie passing a late fitness test on his calf, of course.
Whichever way he approaches it, this will be a good opportunity to shake off the Manager of the Month curse, dispel the memories of the humbling in West London and go into the two-week break created by our exit from the FA Cup on a high having extended our unbeaten start to 2006. Rovers were beaten 2-0 by West Bromwich Albion in their last outing so are clearly fallible but they are also capable of scoring goals, something that the Blues need to keep in mind.
Lyndon Lloyd
---
Unlike the last game, we got the pub in plenty of time and had quite a few jars before setting off towards Goodison. We just missed Z-Cars and got to our seats in time to see the team news. Iain Turner was in the net, making his Premiership debut after Richard Wrightís latest calamitous episode at Chelsea. Stubbs came into defence at the expense of Matteo Ferrari and McFadden came in up front instead of Kilbane. Osman was on the left.
The game began with a fast tempo to it and nobody really had the upper hand. Then, suddenly, from a long ball forward McFadden found himself in a position with a bouncing ball somewhere between the keeper and the goal. He let fly with a crisp strike which cannoned back off the bar. Unbelievably, from where we were sat, it looked as though McFadden had actually sliced it backwards with a lot of power. He really should have scored.
I think we actually did score before Turner got sent off. Beattie beat the offside trap and controlled the ball on his chest. Cahill ran through and half volleyed into the corner of the net. The flag went up quickly and it was given as offside. It looked offside from the Gwladys.
Stubbs was found guilty of being over-protective of our young keeper shortly afterwards. It does seem however, that Turner didnít call for it. A ball forward was sailing nicely through to Turner. Stubbs could have left it as Turner came out for it. Instead he headed it back to Turner who, instinctively, touched it with his hands. Immediately the ref gave a free kick. The Blackburn players surrounded the ref and bullied him into the red card. I felt it was very harsh. He handled outside the box, but it was never a goalscoring opportunity and he didnít deserve to go. The ref had made his mind up, however, and he walked. Step up an even younger John Ruddy who replaced the unfortunate McFadden on nine minutes as we went 4-4-1 with Beattie up front on his own.
For a little while, Blackburn, aided by the ref and his two assistants, looked for the goal but failed to test Ruddy. The closest they came was probably when the linesman failed to give a routine offside against Bentley and Blackburn ploughed forward. The ball to the back post came to Pongolle who fired it low and just past the corner.
The Everton boys dug in and battled hard. We had the ball in the net again a bit later only for Cahill to again get flagged for offside. The ref booked Neville for fairly winning the ball, yet let a number of cynical fouls by Blackburn go unpunished. It was quite simply the most inept display of refereeing you could wish to see. Iíve lost track of the amount of times Iíve come out of the game saying that but I think this one caps the lot. The referee (and his assistant) are simply not good enough to officiate at this level.
Funnily enough, it was from a free kick that we scored. I think it was always going to take something like that to settle this one. Beattie made some great movement in the box and Arteta whipped in a superb ball onto his forehead. He met it cleanly and powered it into the corner. A fantastic finish by Beattie and the roof came off the house.
From thereon in, Everton performed superbly and battled to victory. We held out well until the break. I bumped into a mate when going for a toilet break during the first half so at half-time went for a beer with him. It was from the monitor that I saw Moyes call all his players in before having a go at the ref himself. It made for good viewing.
The second half was more of the same as the clock ticked by very slowly. Our back line looked after the keeper and ensured he did not have much to do. Every player out there stood up to be counted. As a result, Blackburn were limited to few chances and failed to convert. The best chance they had was a header I think by substitute Kuqi which went straight into Ruddyís arms. The closest they came was when somebody shot and it took a deflection. Ruddy got across well to tip it round the post. We actually did score when Stubbs powered in a header but the ref ruled this one out as well, for a push apparently.
Towards the end, the genuinely shattered James Beattie came off for Lee Carsley with Cahill being moved up front. We could have scored near the end when with Friedel up for a corner when Cahill found himself about 40-odd yards out with the goal at his mercy. Unfortunately for Tim, as he went to connect the ball took an outrageously bad bobble and it drifted harmlessly wide.
The ref indicated three minutes of stoppage time and Everton played it out without fuss. It was simply a fantastic performance by the boys in blue and we thoroughly deserved this hard fought victory against 14 men, when we only had 10 ourselves.
Well done Everton. Next up: Toon. Howay The Lads, Mon.
Turner: Canít judge. Was unfairly dismissed on nine minutes.
Valente, Stuubs, Weir and Hibbert: The lot of them were simply superb and protected Ruddy immeasurably. I think Weir deserves a special mention for marshalling the troops brilliantly. 9
Osman: I raised an eyebrow when he took McFadden off and not Osman but his performance was quality and he worked relentlessly to keep them out. 8
Neville: Broke things up well but was walking a tightrope for most of the game as he got an unfair early booking. 7
Cahill: Great stuff from Cahill. His work rate was simply outstanding. 8
Arteta: He likes a scrap doesnít he? Wonderful stuff and had the necessary skill when it mattered. Great delivery for the goal. 9
McFadden: Was looking good until he got taken off. Should have scored when he hit the bar. Canít really give him a mark considering what little time he had on the pitch.
Beattie: Wonderful stuff considering he was up there on his own for the most part. Took his goal well and toiled relentlessly before coming off shattered. My man of the match. 9

Ruddy (for Turner): The defence made sure he had very little to do but he didnít let Everton down. I remember one punch in the first half which he did well with, and one brilliant save in the second. The lad did well; Iím glad we signed four keepers now! 8
Kilbane (for Osman): With Osman crocked Kilbane was an ideal replacement for this sort of game. Did the job well. 8
Carsley (for Beattie): Great to see him back. He passed it around well and broke things up a bit. 7
Paul Traill
* Unfortunately, we cannot control other sites' content policies and therefore cannot guarantee that links to external reports will remain active.