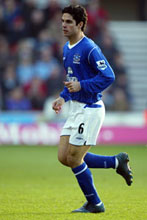 Mikel Arteta: A welcome return to the starting line-up


It was a reversion to 4-4-2 (and attacking football?) for the visit of the runaway Champions, with Mikel Arteta returning for Everton, but no sign of Danish defender Per Krøldrup, who still awaits his Everton debut.
Jamie McFadden and Simon Davies, two players performing well and scoring goals for their respective countries on the international stage, were dropped to the bench along with Bent to make room for the fearsome prospect of Duncan Ferguson and James Beattie spearheading the Everton attack.
But it was Route One from Chelsea in the first minute that saw Drogba set it up for Essien but he could not keep his shot down. And Chelsea continued to pepper the Everton goal with shots and chances, as they certainly looked up for it.
Arteta's second strong challenge inside a minute saw him get a yellow after 11 mins, although the Spaniard insisted Del Horno was play-acting, and the Goodison crowd slammed him as a cheat. But two great corners from Arteta saw Ferguson in strongly, then a great header from Weir that was clawed away.
Lots of physical challenges and head injuries broke up the game and disrupted Chelsea's game plan. Some excellent harrying by Cahill dispossessed Wright-Phillips who challenged back on the edge of the area, flooring Cahill dramatically. Clatenburg pointed instantly at the spot and James Beattie confidently banged in a ferocious penalty high into the net via the crossbar to send Goodison wild — and become the instant hero, making a massive deposit in the positive column to finally make amends for his mind-numbing stupidity in this fixture last season.
It was Everton, though who suffered the more serious injuries, Valente going off in added time before the break, and Cahill suffering a bad knock as Everton had to defend a corner that Drogba headed over as 2 mins became 3½.
It was a rousing first half for Everton, with their direct style and intimidating physicality denying Chelsea the fluidity their game needed. The Champions still got close to goal on a number of occasions but dogged defending, especially a fantastic block by Yobo.
But the dream didn't last long as Lampard jumped on a loose ball and lashed it at fearsome pace beyond Martyn, with just a little too much space being given to Chelsea's leading goalscorer.
But Everton didn't crumble, although it was never easy to get the ball forward on the ground, and many moves ended with the lofted ball towards Ferguson, who was supposed to nod it down to Beattie, but rarely managed that feat.
Drogba got booked for tripping Arteta, Gudjohnsen came on for Shaun Wright-Phillips, and Chelsea stepped it up three gears. Lampard misjudged an open header, then worked the ball well to Drogba who had his well-taken goal ruled offside. [Jose would later claim this was the winning goal!] Everton just couldn't get a sniff of it as Chelsea's intent became ever clearer.
As if the presence of Gudjohnsen wasn't frightening enough, on came Robben for Joe Cole. Everton had responded by defending deeper and standing off just a fraction more, rather than diving in. Davies then came on for Cahill, who had suffered from that first-half knock on his left shin, while Mourinho responded with his final move: Crespo on for Drogba. Boot-quacking time...
Ferguson picked up a hamstring strain, but it took an age for Moyes to bring on Bent in his place, Ferguson getting involved briefly in a failed effort to set up Beattie before he went off, Everton with 12 mins to hold on for the draw and deny Chelsea their 10th win.
Davies had a pop from distance but it wasn't powerful enough to fool Cech. Huth then got a yellow for taking out Kilbane clumsily.
In a great last period from Everton, there was a massive shout for another penalty when Terry blocked Bent's shot but in reality it was ball to bicep, and a penalty would have been a little too much good luck for Everton. Terry had stuck both arms way out, but the ball hit him close to the chest and, despite the passionate calls form players and fans, it was probably the right decision.
Robben at the other end curled a fantastic shot beyond Martyn, and just fractionally over the bar. Everton upped the tempo even more with the Goodison crowd responding tremendously to the spirit and determination being shown by the blue shirts on the pitch, and time running out for Chelsea to retain their winning record.
A silly spat between Ferrari and Robben saw the Italian unfairly being booked as Chelsea pushed again: 3 mins of added time went by with more frenetic pace and Everton justly secured the draw.
A beautiful point for Everton, and tremendous kudos for becoming the first team in the Premiership to deny Chelsea a win and maximum points this season. It was not as if Chelsea hadn't stepped up, with 24 goal attempts against Everton's 5. But dogged defending and some tremendous spirit from the players saw Everton through to a draw that, in the circumstances was as a good as a win over the unstoppable Chelsea Champions.
Michael Kenrick
---
Whether David Moyes wants to admit it or not, Everton are in the midst of a genuine crisis. Six consecutive defeats and just one goal from eight games constitutes a massive crisis and it is a situation that neither he nor his team have shown any signs of resolving in the last few weeks.
So, we can but hope that the team bonding session in the Lake District this week has had the same effect as the now legendary trip to Houston 15 months ago. By God, do we need a massive improvement in every department if we are to have any hope of taking even a point off Chelsea.
Neither Jose Mourinho nor Roman Abramovich will feel that way but Chelsea's almost embarrassingly perfect start to the new season is very much like getting all the cheat codes to Championship Manager and winning every match your team plays. It's great; you win everything going but they're all empty victories because there's no satisfaction.
Give me last season's triumph against the odds by Everton over that any day. Of course, we'd kill for the Everton of last season right now... well, the first half of the campaign anyway.
On the plus side for Everton, our most influential player, Mikel Arteta, is expected to return to the starting line-up after recovering from the battering he took against Dinamo Bucharest, and James Beattie should shake off a bruised leg sustained playing for the Reserves midweek to finally make another start up front.
At the back, Per Krøldrup should now be fit enough to make his long-awaited Everton debut following hernia surgery. Taking on the reigning Champions will be quite the baptism of fire for the Dane if he does get the nod but, given his pedigree, he's probably better suited than either Joseph Yobo or David Weir. If I had to guess, I'd say he'll start alongside the Nigerian with Matteo Ferrari and Nuno Valente on either side, and Tony Hibbert will have to be content with a place on the bench.
Andy van der Meyde had a run-out with the second string midweek and played 67 minutes but he is not expected to figure against Mourinho's team. Li Tie is an option, though, following his recent return to international football and a good number of Reserve games now under his belt.
Many eyes will likely be on how Moyes approaches this one. It's a home game but, given his track record so far this season, he could quite easily play it like an away fixture and go 4-5-1 and hope to keep the score down. I would imagine that most Evertonians would be mightily disappointed if the manager does adopt such a defeatist strategy and elects to play Beattie as a lone striker — a role for which he is clearly not suited. Beattie up front with Bent or McFadden would seem to be the sensible choice, Beattie partnering Ferguson perhaps the most popular.
Mourinho may have paid lip service in the media this week with his assertion that he fears the talent Everton possess in their ranks but, in reality, there is nothing from the recent performances to suggest that his side won't come to Goodison and steamroller Everton on their way to a 10th Premiership victory out of 10.
On the other hand, if — and it's a big if — Everton can rediscover some of the fighting spirit that took them to within a disallowed goal of matching Villarreal, then this doesn't necessarily have to be the foregone conclusion it appears to be. And just because we expect to lose, doesn't mean that we can't spring a major surprise and start to to turn this miserable season around before it's too late.
A point would be considered a victory and a something on which to build for the next few games. Defeat, especially a heavy one, will just serve to deepen the crisis and intensify the pressure on David Moyes.
Yes, Davie, it's a crisis. Deary me, how did we get here so quickly after such a wonderful 2004-05?
Lyndon Lloyd
---
Battling Blues stop Chelsea's winning run
It's sad when a draw at home against anyone is greeted like a victory, but such was the depth of despair at Everton and the supremacy of Chelsea coming into this game that this result was greeted like an epic win. David Moyes and his players scored a much-needed victory for morale with a battling display against the reigning Champions and runaway Premiership leaders to avoid a club-record seventh-successive defeat. In so doing, they also denied the Londoners a crack at breaking Tottenham's 44-year-old record start to a top flight season.
Moyes insisted in the run-up to this daunting fixture that he doesn't fear the sack following the normally dreaded vote of confidence from Bill Kenwright, but there is little doubt that a mauling here by Chelsea would have pushed the Scot closer to the edge of the precipice, ready to jump or be pushed. Instead, however, his side responded to last weeks' team-bonding trip to the Lake Disctrict with a determined performance in a game in which they never looked overwhelmed and, truth be told, never really looked like losing.
With Mikel Arteta returning to the starting line-up after recovering fully from his battering against Dinamo Bucharest and James Beattie finally fit enough to play, the manager had selection options to play with. Not surprisingly, given the impotence thus far of Marcus Bent and James McFadden, and Mourinho's concerns over his defence's abilities against the aerial game, Moyes elected to play Duncan Ferguson up front with Beattie, and Arteta was deployed on the right where he was so surprisingly good against Bucharest. Phil Neville partnered Tim Cahill in the centre, and Kevin Kilbane lined up on the left. At the back, there was still no sign of Per Kroldrup who came through another Reserve outing last week and, less surprisingly, Andy van der Meyde was also absent from the squad.
The game kicked off at a high tempo, with Chelsea keen to establish their superiority early on and Everton similarly seeking to demonstrate to their opponents and supporters alike that were not daunted by Mourinho's galaxy of stars. Frank Lampard, ever a threat from the edge of the area, had the first effort on goal which Nigel Martyn palmed wide for a corner.
For the home side, Arteta was booked not long afterwards for channeling his tenacity into a poor, late tackle on Del Horno. Their gameplan became clear: launch the diagonal ball to Ferguson and hope that Beattie could pick up a few knock downs. This familiar, one-dimensional approach bore little fruit, however; Ferguson one plenty of aerial challenges but his flick-ons and knock-downs invariably found a white shirt.
Instead, it was from a set-piece that the Blues first threatened the Chelsea goal. Arteta's well-struck corner found Weir unmarked towards the back post but, reaching back slightly with his head, the defender could only guide the ball too close to Petr Cech who, unsighted by Cahill, could only punch clear of danger.
Three minutes later, Joe Cole was inches wide with a deflected drive from 18 yards before Shaun Wright-Phillips latched onto Lampard's angled though-ball to fire narrowly wide and off the stanchion at the back of the goal. Lampard then had another shot from the edge of the box but couldn't dig the ball out from under his feet quickly enough to deliver anything more than a tame effort that Martyn easily saved.
Nine minutes before half-time, though, Everton did what they hadn't managed in the previous nine-plus hours of football. They scored, albeit via the penalty spot. Cahill capitalised as Wright-Phillips dithered on the edge of the box and as he advanced towards the by-line, the Chelsea winger scythed him down and referee Mark Clattenburg, well placed just a few yards from the action, had no hesitation in pointing to the spot.
Beattie, without a goal all season, stepped up and fired the ball into the top corner of the net by way of the crossbar and Goodison erupted. 1-0, and Everton were finally off the mark at home.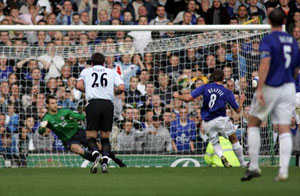 Beattie finds the top corner via the underside of the bar to give Everton the lead after 35 minutes
Chelsea responded with a flurry of activity at the other end as the half came to a close. Valente, who was showing signs of adpating to the English game with an improved display at left back, pulled up with what looked like a muscle strain a minute before the break and Tim Cahill also hobbled off for treatment after colliding with Tony Hibbert.Meanwhile, Joseph Yobo effected a terrific block to deny Del Horno's drive from the angle as the Blues took their slender advantage into the dressing room for half time.
Pleasingly for Everton, Cahill re-emerged for the second half but the home side's hopes of holding out for a preciouos win were dashed within five minutes of the restart. Lampard found himself with the ball in plenty of space 25 yards from goal and that was all the invitation he needed to power an unstoppable shot into the far corner past Martyn's despairing dive. 1-1 and a key test of Everton's character was now in the offing.
Moyes didn't change his side's strategy, though. The emphasis was still on defending in numbers and protecting the point that Everton had and chances were at a premium for both sides as the Blues dug in at the back. Didier Drogba did have the ball in the net just after the hour mark but, thankfully, his effort was chalked off for offside, a decision that would prove to be a contentious one for Mourinho in the post-match reckoning. Lampard also went close with yet another shot from distance while Wright-Phillips was removed for Eidur Gudjohnsen and both Hernan Crespo and Arjen Robben came on as Chelsea pushed for a 10th-successive victory.
For Everton, Cahill succumbed to the knock he took in the first half and was removed in favour of Simon Davies, the Welshman forcing Cech to spill a speculative 30-yard drive with his first touch. And Ferguson pulled up with injury after landing awkwardly 12 minutes from time to be replaced by Marcus Bent.
While not quite earning "grandstand finish" status, the last 10 minutes did see both sides pushing forward in an effort to pinch all three points. When Bent drove a cross into John Terry's raised arm there were vociferous appeals for a penalty that were waved away by the referee while Lampard and Robben both went close in the final few minutes. But Chelsea's attempts at preserving their 100% start to the campaign were frustrated by dogged Everton defending and the final whistle was greeted with a roar by the home faithful.
This well-earned point, Everton's first since the end of August, should come as a welcome shot in the arm for Moyes and his beleaguered troops, particularly given the team against which it was earned. It provided the evidence the fans needed that the stomach for the fight is there and that the players do care enough about the club's current league position to do something about it.
But while the Blues are going to need effort in spades in the coming months, there was no real evidence that anything has changed in an attacking sense. The reliance on the long-ball/set-piece stategy to force goals still appears to be the foundation of Everton's gameplan going forward and there wasn't much to suggest how they will score the goals they will need from open play in the next few weeks in what is a crucial series of games.
However, today's performance and result — particularly from a defensive point of view — is a good platform on which to build as the manager looks forward to when Van der Meyde can hopefully add that inventive spark that is so sorely lacking at the moment.
Player Ratings:
Martyn 7 — Made some decent saves to prevent Lampard in particular from adding to Chelsea's tally with long-range efforts. Cannot be blamed for the one that did fly by him
Hibbert 7 — A much improved performance from Tony, who seems to have done some work on his crossing on this evidence
Valente 6 — Another player who needed to step it up a notch and did so before being forced out of the game just before half time. He now needs to rediscover the attacking side of his game
Weir 7 — Together with Yobo formed a well-organised and tenacious central defensive pairing
Yobo 8 — Another impressive performance. Dealt with almost everything that came his way well.
Arteta 7 — Covered plenty of grass with a busy performance but without providing that crucial creative touch going forward... although the one-paced strikers won't have helped him that respect
Neville 6 — Had a disappointing game in terms of distribution but played his part in disrupting Chelsea's flow
Cahill 7 — Had a crucial hand in the goal and was also instrumental in hustling the visitors out of their rhythm
Kilbane 5 — Completely anonymous in the first half, he did perk up slightly in the second but offered very little overall
Ferguson 6 — Won plenty in the air but with little end product
Beattie 6 —Lots of running and aerial combat but, like Ferguson, struggled to create anything with so little service
Ferrari 7 — Came on for Valente and put in another assured display
Davies 6 — Didn't really offer much apart from a 30-yard shot that Cech had an uncharacteristically hard time dealing with
Bent 6 — Hardly saw the ball but was perhaps unfortunate not to earn a second penalty with Terry's handball
Lyndon Lloyd
---
Perhaps going to games thinking you haven't got a cat in hell's chance of winning is the best way to go about it – that way you can't be too disappointed if you do get spanked and be delightfully surprised if you don't. None of us realistically expected anything from yesterdays game. Gary predicted a cricket score, Ste and myself both predicted a 0-3 reversal and my mate Rob who we met up with – a Chelsea fan – smugly predicted an away win. It was only Gaz who was anything approaching optimistic, although all he could unconvincingly muster was "we'll be alright" as we watched Newcastle vs Sunderland in The Spellow. A phone call from my mate Mike added to the negativity as he explained that he'd just drawn £20 out to give to a Red mate who bet him that he wouldn't get a thing out of the game. "I was pissed" was Mike's explanation for such a soft bet.
As we left for the match somebody said that Ferguson and Beattie were both set to start. Prepare yourself for aerial bombardment then!
We sat down and it was at least the team I wanted out. Arteta back and playing on the right were Davies has been toiling unsuccessfully, with Hibbert back at right back. I thought Kroldrup might have played but he didn't and will probably make his eagerly awaited debut against Middlesbrough on Wednesday night so Weir kept his place alongside Yobo.
It took Chelsea all of 20 seconds to have an effort on goal – an Essien half volley from the edge of the box almost clearing the stadium – this from Everton's kick off. Both teams started brightly and you had to admire Chelsea's ability to keep possession. Their pass completion rate must have been about 98%. It was incredible.
I think Everton forced the first save of the game from either keeper. Arteta's corner was met by Weir who headed it goalwards but unfortunately straight at Petr Cech who parried it away. Ferguson and Beattie were causing them problems. Terry and Huth stood up to the task well. Likewise at the other end with Yobo and Weir keeping Drogba and co. at bay. Chelsea came into the game more and looked in control for probably about 10 minutes of the first half but Everton withstood it. A couple of Lampard efforts from long range had Martyn scrambling and a good cance was lashed straight at Martyn from him also. Wright-Philips had a good stretching effort hit the stanchion. It was good entertainment but stressful. A fan lightened the mood for us from towards the back of the Lower Gwladys with a comical chant, which made a lot of people laugh it went – "Don't you think your goalie was good like ours, Don't you wish your goalie was good like ours, Amateurs. Amateurs." He went on for a while. I guess you had to be there.
Everton got their noses in front about 8 minutes from half time. Cahill did brilliantly to win back possession form who I thought was Essien, Ste and Gaz thought was Makalele but who actually turned out to be Wright-Philips. Wright-Philips chased back in anger, slid in and chopped down Cahill who had darted in to the edge of the box. It was a clear peno and the ref didn't hesitate. Up stepped Beattie. The tension was unbearable. He turned ran and hit beautifully and confidently into the corner. Cech guessed the wrong way. Queue pandemonium and everyone went mad. I honestly don't think there's a better feeling than that. Could we hold on until half time?
Chelsea came at us straight off but Everton did their job and stayed disciplined. It came at a cost though with Valente coming off injured (yet another left back injured) and Ferrari replaced him. Then Cahill went down for a while before going off injured before gingerly coming back on. The salvation of half time came shortly afterwards.
Cahill came out for the second half, which was a relief. Could Everton keep it up? Well they did but it took a wonder goal from Lampard to rescue a point for Chelsea. It came from what looked like a foul throw but it's hard to tell. The ball somehow found it's way to Lampard who let the ball run across him. Kilbane hesitated ever so slightly before closing him down but that was all it took. If he'd have moved a second earlier he may have got a block on or forced Lampard to not consider shooting. Unfortunately he didn't and Lampard nestled one into the corner from about 30 yards. Martyn had no chance. Kilbane had his head in his hands.
Thankfully Everton didn't collapse and stuck at it though. They were very well drilled and very organised and continued to try and play. Arteta was generally the architect of most things good. Cahill could no longer carry on and came off injured. Davies replaced him in the middle. Davies did OK too. He ambitiously struck from 30 yards and Cech saved. Chelsea made a flurry of substitutions and had clearly come to win the game. In the space of about 10 minutes Gudjonson replaced Wright-Philips, Robbin replaced Cole and Crespo replaced Drogba. Dunc took a knock which nearly cost us a goal 'cos he couldn't jump with Huth from two corners and he nearly scored with both. Bent replaced Dunc.
Before he came off Drogba had the ball in the net but it was ruled out for offside. The linesman had his flag up quickly to be fair. Down the other end it was Everton's turn to feel hard done to when Bent's effort appeared to strike Terry on the arm but the ref waved it away. Bent was furious. It looked like handball to me.
Chelsea continued to press and it was tense but Everton did enough and defended superbly. The last chance probably came to Robbin who was very dangerous from his arrival onwards. He twisted and turned into the box before lobbing an exquisite effort just about a foot over the bar. But as it was Everton had done enough to get a point and anything less would have been harsh. A draw was fair for both sides and despite Mourinho's remarks, Chelsea know it.
£20 to Mike.
Player Ratings:
Martyn – Made some decent long range stops and did well with his kicking. Surprisingly untroubled for large periods of the game. 8
Valente – Was doing well till he came off injured. Hoepfully it's not too serious. 7
Weir – My man of the mtach. Was solid as a rock. 9
Yobo - Mopped things up well. No fancy stuff this time. 8 Hibbert – Usual. Solid defensively but useless with distribution. Still happier with him in the team though. 8
Kilbane – Should have come out to meet Lampard for the goal but he did well otherwise today. Against a lesser player it wouldn't have mattered anyway. 7
Neville – Made some brilliant challenges in midfield and stifled Cole and Essien a bit. Good use of the ball as well. 7
Cahill – Got us the goal and looked a bit more like his old self before coming off injured. 7
Arteta – Drifted in and out of the game a lot but when he had the ball he rarely lost it. Makes the team play better I think. 7
Beattie – Good stuff from Beattie. Great peno and his all round play was decent. My favourite bit was when he sprinted back to the edge of the box to win back possession. Maybe he'll come good after all. 8
Ferguson – His presence un-nerved Chelsea a bit. Hopefully his injury is not too serious. 7
Ferrari – Great stuff. Was very solid. Probably our best left back. 8
Davies – Did alright. 7
Bent – Did well. 7
Paul Traill
* Unfortunately, we cannot control other sites' content policies and therefore cannot guarantee that links to external reports will remain active.