Match Summary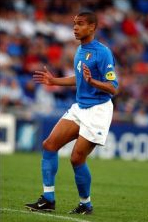 Matteo Ferrari: International clearance didn't arrive in time

New signing Matteo Ferrari stayed on the bench for this one and you have to wonder if he might have done a far better job to prevent the easy build-up that gave Fulham their winning goal, maintaining Everton's blank record in this Premiership fixture. This was a winnable game we should have won, neutralizing the 3 points we plundered from the Reebok last weekend, and plunging us back down the table.
Evertonians hoping for a bouncebackability demonstration were cruelly lured into a sense of belief in the fist half, only for those hopes to be dashed by a goal from Brian McBride, set up by Volz after he galloped free into acres of space on a good ball from Malbranque. It was Fulham's only decent move of the game, made possible by poor defending from Kilbane who otherwise played better than expected in the left-back position this time.
Many will read all their positives into a strong showing from Everton in the first half, after Fulham had dominated the first 10 minutes by keeping the ball almost permanently in the Everton half. But the lack of clear chances once again left Everton looking toothless despite more hard running from Bent, and a very involved and lively game from Osman.
But the two of them really showed up the inadequacies that could dog Everton's season if something is not done soon to rectify them. After picking up an early injury, Bent's touch and timing really let him down; he was always out of position or making his moves too late. The depressing body language he showed again and again when he gave up going for a ball said it all. Why oh why was he not substituted?
And Osman simply cannot raise his game to the level needed to make an impact in the Premiership. It's sad but so patently obvious based on this, his best game for ages. It's hard to figure out what he's doing wrong, but little or nothing comes from his efforts, other than one good set-up for Cahill after he chased a lost cause that created Everton's only shot on goal in the first half
And as for Davies... well, perhaps the shin-splints are still a problem but he really contributed little except one good run on goal, his final ball needing to be one foot further forward for Cahill to score.
After the goal, the game flowed strongly in Fulham's favour, with Everton's European hangover suddenly coming on strong. But that was little excuse as it was at this point — with 56 minutes gone — that David Moyes should have seen the signs and rung the changes. The fact that it took him another twenty minutes to finally bring on a triple substitution verges on criminal negligence! Moyes yet again electing to switch to 4-4-2 far too late — after the game was lost.
During that painful spell, Fulham so nearly scored again, with Yobo blocking a vital shot and then Martyn saving superbly from a fierce Malbranque shot. One decent chance came after that: a great cross from Neville that Ferguson headed goalwards, but within range of the keeper.
Mike Riley's refereeing was guaranteed to raise hackles on both sides and he eventually gave yellow cards to Neville (persistent fouling) and Weir (fouling Radzinski). The first was most telling as Neville continued to push hard, trying to drive on his teammates, and he managed to stupidly catch Radzinski with a trailing leg in the last minute to earn a second yellow, an early bath, and day off when Everton will seriously need to beat Portsmouth at home in a fortnight.
Not a good day at the office, I'm afraid.
Michael Kenrick
---
Match Preview
After the gut-wrenching events at El Madrigal on Wednesday evening and Everton's controversial exit from the Champions League reckoning, it's back to the bread and butter of the Premiership with a visit to one of our least-favourite grounds.
Despite Chris Coleman's side struggling at the top level in recent seasons, Everton have not won at Craven Cottage since the 1966-67 season. Given the West Londoners' poor start to the season, this would be the ideal time to put that anomaly right.
The victory attained at Bolton may have been highly fortuitous but the three points, combined with the belief instilled in Moyes's players by their close call with destiny in Spain midweek, will have have bolstered confidence among all at Everton. Having pushed Villarreal onto the ropes in the final quarter of an hour on Wednesday, the Blues will feel that they can mount another serious challenge in the Premiership this season; to do so, however, they will have to beat the likes of Fulham, who have battled to improve their squad over the summer.
At the time of writing, Matteo Ferrari's loan switch from Roma has been completed but he is awaiting international clearance from the FA which may or may not arrive in time for him to be eligible for this match. With Alessandro Pistone and Gary Naysmith out ruled out through injury and Kevin Kilbane's limitations badly exposed by Villarreal, the Italian will be a welcome addition at left back.
Another player on the verge of signing is winger Andy van der Meyde who has been linked with a move to Everton for a full year now. A fee for the Dutchman's services has been agreed with Inter Milan as have personal terms with the player but he will undergo a medical this weekend in the hope of signing by Tuesday. He will provide an even bigger shot in the arm to the Blues' fairly one-dimensional attack.
With no fresh injuries and with James Beattie still struggling to recover from a toe injury, Moyes could leave his side unchanged across the rest of the line-up, but could also resort to 4-1-4-1 if he feels that Ferguson has played too many minutes in recent days or if Bent is still suffering from pain in either his ankle or knee. Hopefully, he will retain 4-4-2 and take the game to Fulham, though.
Lyndon Lloyd
---
Matchday Stats
This will be the 42nd meeting between Everton and Fulham in all competitions, and the 21st at Fulham but only Everton's 18th match at Craven Cottage following Fulham's exodus for the past few seasons.
Everton's full record against Fulham is:
| | | | | | | |
| --- | --- | --- | --- | --- | --- | --- |
| | P | W | D | L | F | A |
| Premier League | 8 | 4 | 0 | 4 | 9 | 10 |
| Division One | 22 | 12 | 5 | 5 | 41 | 21 |
| Division Two | 4 | 0 | 3 | 1 | 5 | 8 |
| FA Cup | 7 | 0 | 3 | 4 | 5 | 9 |
| TOTALS: | 41 | 16 | 11 | 14 | 60 | 48 |
Our record away to Fulham is:
| | | | | | | |
| --- | --- | --- | --- | --- | --- | --- |
| | P | W | D | L | F | A |
| Premier League | 4 | 0 | 0 | 4 | 1 | 8 |
| Division One | 11 | 3 | 3 | 5 | 16 | 16 |
| Division Two | 2 | 0 | 1 | 1 | 0 | 3 |
| FA Cup | 3 | 0 | 1 | 2 | 2 | 4 |
| TOTALS: | 20 | 3 | 5 | 12 | 19 | 31 |
The last match between the sides, and the last match in the series played at Fulham, was the 2-0 defeat towards the end of last season on 30 April. In fact, in the eight Premiership matches between the sides, the home side has won every time! A record that David Moyes will, no doubt, be looking to stop.
There have been just 2 Everton hat-tricks against Fulham over the years with the last one being scored by Roy Vernon in a 4-1 victory at Goodison Park on 11 May 1963, which secured the First Division title that season. The only other hat-trick against Fulham was scored by Vernon's manager at the time, Harry Catterick in a 5-1 away victory on 7 October 1950.
The most common victory for Everton is 1-0 which has happened 4 times in Everton's 16 victories. Fulham's most common victory over Everton is 2-1, which has happened 5 times in their 14 victories. The most common draw between the sides is 1-1, which has also happened 5 times in the 11 draws between the sides.
Everton's record for 27 August is:
| | | | | | | |
| --- | --- | --- | --- | --- | --- | --- |
| | P | W | D | L | F | A |
| Premier League | 2 | 0 | 0 | 2 | 0 | 6 |
| Division One | 17 | 10 | 3 | 4 | 33 | 19 |
| Division Two | 1 | 0 | 0 | 1 | 0 | 1 |
| TOTALS: | 20 | 10 | 3 | 7 | 33 | 26 |
This is the first time the clubs have met on this day. Everton's last match on this day was a 2-0 defeat by Manchester United at Goodison Park in 1997. Everton's only other Premier League match on this day, and also the last away match on this day, was a 4-0 defeat at Manchester City in 1994. This was the same day that Everton announced their new loan signings of Ian Durrant and a certain Duncan Ferguson from Rangers.
No Everton player is known to have been born on this day.
Milestones that can be reached in this game:
· If he plays any part in the match, David Weir will be making his 200th Premier League appearance for Everton. Should David play then he will become only the fifth Everton player after David Unsworth (302 apps), Dave Watson (223), Duncan Ferguson (214) and Neville Southall (207) to reach this landmark.
· If Everton win the match, then David Moyes will have reached 50 Premier League wins as manager of the club in 126 matches. No other Everton manager has reached this feat in this competition since its inception in 1992. In fact only six Everton managers have achieved the feat of 50 wins as manager in the league. They are Cliff Britton, Harry Catterick, Billy Bingham, Gordon Lee, Howard Kendall and Colin Harvey. Harry Catterick was the quickest to do so, in just 91 matches in charge. He's followed by Colin Harvey who managed 50 league wins in 113 matches and pipped Gordon Lee who took 114 matches to reach 50 league wins. Fourth on list, and maybe surprisingly so, is Howard Kendall who took 125 matches to reach 50 wins, with David Moyes potentially in fifth place on a possible 126 matches. Billy Bingham is in sixth place on 133 matches, whilst Cliff Britton is in seventh place with a staggering 154 matches to reach 50 league wins (although Cliff's 50th win was in the old Second Division).
· David Moyes will also match Colin Harvey in having managed Everton in 126 League matches (joint eighth on the all-time list). Colin's league record in charge of Everton was P126 W51 D37 L38 F173 A135, whilst David Moyes' record currently stands at P125 W49 D28 L48 F157 A176
Steve Flanagan
---
Turning three points into nothing
Points win prizes. Goals win points. Strikers score goals. It's not quite that simple, of course — you have to make enough chances from midfield to supply your strikers — but Everton have now let five matches slip by without adding to their mediocre attack and have paid for it with elimination from the Champions League and a poor start to the new Premier League campaign.
Perversely, David Moyes's side created their fair share of chances playing just Marcus Bent up front but struggled to get past Fulham's resolute defence of a fortuitous one-goal lead when they had four forwards on the pitch in the closing stages. The end result was that while they dominated the first half and should have won this game with ease on the basis of the first 45 minutes, they lost their way in the second period and ended up being hit with a sucker-punch just before the hour mark and never recovered.
Matteo Ferrari was expected to add another touch of the new after signing on loan from Roma 24 hours earlier, but his international clearance did not come in time for him to be eligible so Kevin Kilbane started at left back and Phil Neville took his now-customary place in the central midfield holding role. Leon Osman replaced Duncan Ferguson in the starting line-up, although sadly he didn't partner Bent up front; instead he played out wide on the left.
After a scrappy opening 10 minutes during which Mikel Arteta had had the first sight of goal after engineering space for a shot before opting for his weaker left foot and sending a disappointing cross-cum-shot across the area, Everton took hold of the game and put on an exhibition of their best football of the season thus far. Arteta was magnificent as the link man in midfield, breaking up Fulham's midfield stride, tackling tigerishly and starting moves, and Tim Cahill was far more involved than he had been at Villarreal midweek providing a useful engine room for the impressive Blues.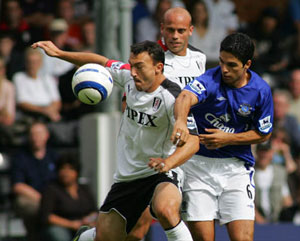 Moyes's men had a swagger about them in the first half, one born of having played in Europe's elite tournament in midweek and they made look Fulham look several shades poorer in every department. And they had a good shout for a penalty after just 10 minutes when Kilbane's cross swung dangerously into the six-yard box and Cahill was clearly shoved in the back by the Luis Boa Morte. The ball bounced high over Bent at the far post and the chance was lost with no action from referee Mike Riley.
A minute or so later, Bent crumpled inito a heap for the first of two occasions clutching his troubled ankle, but while on both occasions it looked as though he wouldn't be able to continue, he lasted until the 77th minute before making way for James McFadden. While he was always full of running and continued to cause Fulham problems with his pace, he was clearly not 100%. But with striking options so few, Moyes had little choice but to keep him on.
The Blues midfield superiority was still not translating into many clear-cut chances, however. Simon Davies, still not living up to his billing as a creative wide-man, did find space for an effort from distance but dragged his shot across goal and wide. Two minutes later, a nice patient build-up ended with the ball at the feet of Tony Hibbert but his cross was just too high for Bent who could only head over. Then Cahill paused with the ball by the left touchline before making room to fire in a cross, but in all that time only Bent had made his way into the box — evidence of fatigue from midweek or frustratingly defensive tactics?
Fulham, whose contribution to the game in the first half hour was really only to provide chances for Everton to punish them for a series of defensive cock-ups, hadn't been it from an attacking point of view until a 36th-minute corner which found the back of David Weir's head and grazed the top of the crossbar.
But Everton were back down the other end a couple of minutes later and terrific harrying by Osman allowed up to get around a defender attempting to sherpherd the ball behind for a goal kick and hook it back for Cahill whose first-time effort was parried away by Warner in the Fulham goal. Apart from David Weir becoming the first player to go into the book for deliberately checking Boa Morte, that was the last moment of interest of a goalless first half.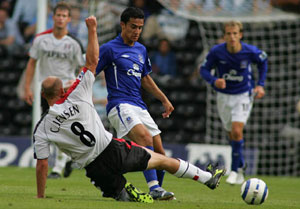 Neither side made any changes at half time and while the visitors weren't quite as cohesive as they had been in the first half, they still fashioned two decent chances in the first 15 minutes after the restart. First, Cahill picked out Osman in the area and after some nice control, the Blues' no. 21 cut it back to meet Cahill's run but he went down after being sandwiched between two defenders. If not a penalty, then surely a case of obstruction... but that rule seems to have been eliminated from the rule book, so rarely do you see it given.
Then, Davies showed a touch of what he is capable when he skipped past a challenge on the touchline and hared towards the area but his cross to Osman (again the only player in the area) was intercepted by one of the three defenders blocking the path to goal.
A minute later, the game turned on its head. Fulham, who had changed their formation to push Tomasz Radzinski further up front with Brian McBride to create more space in the hitherto congested midfield, advanced quickly through the middle, laid a pass to Volz who had got in behind Kilbane (who was 15 yards away) for the first time and when he picked out McBride, the unmarked American despatched a perfect finish into the far corner.
Suddenly, Fulham had all the momentum while Everton, who stubbornly resisted any change in shape or personnel, died as an attacking force. A minute after the goal, Zat Knight glanced a free header wide from a corner when he really should have hit the target and a few minutes after that, Phil Neville picked up a yellow card for persistent offending, a symptom of the Blues' frustration and the increased pressure they were under.
With 18 minutes left it could have been two after Fulham poured forward again and Radzinski touched the ball back for McBride to fire goalwards but Joseph Yobo leapt across to block the shot. When the ball came back in and ended up with Steed Malbranque on the right side of the area, he powered a stinging half-volley that was beaten away by a diving Nigel Martyn save.
Moyes finally made a move with 15 minutes left on the clock, replacing Kilbane with Duncan Ferguson and then, a couple of minutes later, brought McFadden on for Bent and Vaughan for Davies. Osman switched to the right flank, McFadden slotted in at left wing and Vaughan formed a two-prong attack with Ferguson.
Unfortunately, though, despite those four attack-minded players all being on at the same time, the service was next to non-existant. It took until four minutes from time before Ferguson got his first and only headed chance from a Neville cross which Warner fisted away at point-blank range. And as the Blues chased a point, Boa Morte raced through to go one-on-one with Martyn but he pulled his shot inches past the post.
Neville's frustrating afternoon was complete when the annoying Radzinski made all he could of being clipped by the former Manchester United man and conned referee Riley into flashing a second yellow card to the no. 18.
Everton were handed one last chance to salvage a point in injury time when Vaughan won a long-overdue free kick on the edge of the box and Arteta stepped up for a trademark curling effort but, unlike at El Madrigal on Wednesday, his shot flew a couple of feet over the bar.
Post-match reports in the media will make frequent mention of Everton's Fulham hoodoo — we haven't beaten them away since the 1966-67 season — but they were let down once again by a lack of incisiveness and creativity. For 40-odd minutes they looked like the very good side they can be with a couple of key additions in forward postitions and three points were their's for the taking. The fact that they ended up losing was absolutely gutting after the high hopes instilled with that first-half display.
Moyes has just three days in which to solve his striking crisis before the transfer window slams shut; let's just hope he grabs the opportunity with both hands because Evertonians are surely now fed up with the current tactics and attacking options.
Player Ratings:
Martyn 7 — Was stranded for the goal but was his usual agile best when called up at other times during the game
Hibbert 6 — Once again, hard to fault defensively, but continues to frustrate going forward and with his crosses
Yobo 8 — Reads the game so well and is probably our only defender who looks to do something useful with the ball on the deck
Weir 7 — Had to have a good game in the air and was the victim of some poor refereeing decisions
Kilbane 6 — Critics of his abilities at left back would have been confounded in the first half as he barely put a foot wrong defensively, but going forward he seems to have lost everything that made him a player of the season candidate two years ago. Was also in no-man's land for the goal which Volz exploited to the full.
Neville 7 — Had a decent first half playing in front of the back four and was arguably our most creative player in the second half. Highly unlucky to earn two yellow cards.
Arteta 8 — Had a storming first half and was his fingerprints were on almost everything the Blues did in midfield but struggled to create things in the final third when Fulham pulled men behind the ball to defend their lead.
Cahill 7 — Full of effort but struggled to make an impact going forward as we know he can.
Davies 6 — Lacking a little in the creativity department. Like Arteta and Cahill, he will benefit immeasurably if Moyes can draft in a pacey striker who can create space and movement up front
Osman 6 — Again, plenty of effort but looked too lightweight and was shrugged off the ball too easily too often.
Bent 7 — Ran all day long despite his ankle complaint but didn't really get a decent chance to add to his winner at Bolton last weekend.
Ferguson 6 — Was on the pitch 19 minutes in all but got just one header from a cross. Without service, he's useless because he does so little running
McFadden 5 — No improvement now over almost two seasons. It's painful to admit but he's not going to cut it in the Premiership
Vaughan 6 — No service to show off what he can do
Lyndon Lloyd
* Unfortunately, we cannot control other sites' content policies and therefore cannot guarantee that links to external reports will remain active.