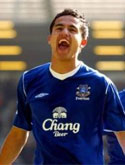 Tim Cahill: Deployed effectively as an emergency striker following the sale of Marcus Bent
With Yobo off an African Quest, David Weir returned to captain the Blues in this absorbing replay after the original tie ended 1-1, with the mouth-watering prospect of a massive 4th Round tussle against Chelsea in prospect for the winners. No more Marcus Bent, the disinterested striker having moved to Charlton earlier in the week.
Simon Davies managed to get himself injured during the warm-up, hastening a late change on the bench, with Victor Anichebe stepping up from the Reserves.
Leon Osman got another early header off a poor ball from Arteta but it flew just over the bar. He had another shot that went well wide after 2 mins. Valente started showing well, overlapping nicely in the attacks, as Everton assumed a dominant role early on. But Everton were getting little purchase in the middle, where three Millwall centre-backs blocked progress. However, the absence of full-backs allowed Everton to continue probing down the flanks and swinging in some good-looking crosses... Where is the Big Yin when you need him?
Cahill was lively in his advanced role, and got on the end of an Arteta cross after 20 mins but put it well wide. On 30 mins, Valente and Weir clashed defending a ball with a high kick that bloodied Weir's face badly. Morris got a shot in as the game restarted, the ball drifting wide of Martyn's goal. Whitbread then clearly held Osman back but Styles bizarrely gave the free-kick against Everton. Per Krøldrup then came on in place of Weir who then set Osman on his way for a superb deliver that was not attacked with enough conviction by the Blues forward.
The all-too-familiar story of Everton dominance with no end-product continued into the second half, Neville with a good run at goal to chip the keeper... and the bar as well. At the other end, free-kicks continued to threaten, the Everton wall doing its job. Kilbane broke with the ball and fed Osman, who fired in at Marshall but the spilled ball was spooned over the bar atrociously by Kilbane when he could so easily have tapped it into the empty net. Glory be! What do Everton have to do to score???
An Arteta corner was met nicely by Kilbane and his header came off the post and out for a corner. Nothing, it seemed, would get the ball into the Millwall net.
Finally, a terrific break lead by Beattie, who fired in a great ball for Tim Cahill to prod home past Marshall, possibly from a deflection off the challenging defender. Cahill muted his celebration in respect fro his old club, but that did not detract from the massive relief for the Goodison faithful.
Osman and Beattie then combined in a superb sweeping move finished with a wonderful little cut-back but Neville could only hit the post! What a goal that would have been! Osman was really fizzing, with more excellent skills demonstrated and very much deserving some reward. But Millwall were not giving up, Livermore having a poke that required a save from the relatively inactive Martyn.
Krøldrup had a chance and put in a good header that flew just wide as Everton continued to press. (Who was paid to circulate that always dubious rumour that he couldn't head the ball?) It got very sloppy in the last few minutes but it was job well done for the Blues, especially in midfield, with a great display from Osman and a very competent performance for the Man Who Cannot Head the Ball, Per Krøldrup.
So it's a massive game against Chelsea in 10 days time...
Michael Kenrick
---
While the additional revenue, however small, will no doubt be welcome, Everton are probably ruing the fact that they should really have booked their place in the fourth round at the first attempt at The New Den 10 days ago. They certainly had enough chances but, as has been the case all season, they lacked potency in front of goal.
So, to Goodison it is for the first meeting between these two sides since the Londoners overturned the Blues 4-2 in extra time in a League Cup second round, second leg tie exactly 10 seasons ago.
And Everton are stretched almost impossibly thin for this one. The rock on which the defence is founded, Joseph Yobo, has left for Egypt to play for Nigeria in the African Nations Cup. Marcus Bent, more a warm body and a pair of legs than a viable striking alternative in recent months, has moved on to Charlton Athletic, leaving an unfit Duncan Ferguson and the erratic James McFadden as the only recognised strikers available to partner James Beattie up front.
The paper talk this week suggests that David Moyes will deploy Tim Cahill as a striker, as he did for much of the 1-1 draw against Millwall in the original tie. Given the options available in midfield, he can afford to push the Australian forward, but it's not a long-term solution. Ferguson hasn't trained for a week because of food poisoning but could figure as a sub if things aren't going to plan.
At the back, Per Krøldrup is fit again and Moyes may throw him another opportunity to impress alongside Matteo Ferrari despite David Weir's greater experience... unless he really is on his way elsewhere!
Alan Dunne, Jody Morris and Paul Robinson all return for the visitors, and Birmingham's refusal to allow goalkeeper Colin Doyle to play and become cup-tied means that their hero from the last game, Andy Marshall, will play between the posts.
Lyndon Lloyd
---
This will be the 13th meeting between Everton and Millwall in all competitions and the 4th FA Cup match between the sides. This will also be the 7th meeting at Goodison Park and the 2nd in the FA Cup.
Everton's full record against Millwall is:
| | | | | | | |
| --- | --- | --- | --- | --- | --- | --- |
| | P | W | D | L | F | A |
| Division One | 4 | 2 | 1 | 1 | 6 | 5 |
| Division Two | 2 | 2 | 0 | 0 | 5 | 1 |
| FA Cup | 3 | 0 | 1 | 2 | 1 | 4 |
| League Cup | 2 | 0 | 1 | 1 | 2 | 4 |
| Simod Cup | 1 | 1 | 0 | 0 | 2 | 0 |
| TOTALS: | 12 | 5 | 3 | 4 | 16 | 14 |
Our record at Goodison Park is:
| | | | | | | |
| --- | --- | --- | --- | --- | --- | --- |
| | P | W | D | L | F | A |
| Division One | 2 | 1 | 1 | 0 | 3 | 2 |
| Division Two | 1 | 1 | 0 | 0 | 2 | 0 |
| FA Cup | 1 | 0 | 0 | 1 | 0 | 2 |
| League Cup | 1 | 0 | 0 | 1 | 2 | 4 |
| Simod Cup | 1 | 1 | 0 | 0 | 2 | 0 |
| TOTALS: | 6 | 3 | 1 | 2 | 9 | 8 |
Unsurprisingly there have been no hat-tricks against Millwall. Perhaps, surprisingly, there has only been 1 post-war hat-trick in the FA Cup by an Everton player, when Graeme Sharp his a first-half hat-trick at Sheffield Wednesday in a 5-0 win at Sheffield on 27 January 1988 in a 3rd round, 3rd replay!
The last meeting between the clubs was ten days ago, when they drew 1-1 in the first match of this tie. The last match at Goodison Park between the sides was on 4 October 1995 when Millwall won 4-2 in the League Cup, after extra time.
The most common victory for Everton is shared between 2-0 and 2-1, both of which have happened twice in Everton's 5 victories, the other victory being 3-1. Millwall's most common victory over Everton is shared between 1-0, 2-0, 2-1 and 4-2, all of which have happened just once each in Millwall's 4 victories. The most common draw between the sides is 1-1, which has happened twice in the 3 draws between the sides, the other draw being 0-0.
Everton's record for 18 January is:
| | | | | | | |
| --- | --- | --- | --- | --- | --- | --- |
| | P | W | D | L | F | A |
| Premier League | 3 | 2 | 0 | 1 | 5 | 5 |
| Division One | 11 | 4 | 4 | 3 | 21 | 14 |
| FA Cup | 2 | 2 | 0 | 0 | 14 | 4 |
| League Cup | 3 | 0 | 2 | 1 | 3 | 5 |
| Simod Cup | 1 | 1 | 0 | 0 | 2 | 1 |
| TOTALS: | 20 | 9 | 6 | 5 | 45 | 30 |
This is the first time the clubs have met on this day. Everton's last match on this day was in 2003 with a 2-1 victory at Goodison Park over Sunderland. The last FA Cup match on this day was in 1972 when Crystal Palace were beaten 3-2 at Goodison Park in another 3rd round replay. The first match the club played on this day, and the only other FA Cup match on this day was the 11-2 victory over Derby County in 1890, which still stands as the club's record victory in all competitions.
Bob Latchford was born on this day in 1951 in Birmingham. Signed from Birmingham City, Bob made 289 appearances for Everton, scoring 138 goals in the process. He was sold by the club to Swansea City in 1980 and scored on his return to Goodison Park for his new club.
Peter Beardsley was born on this day in 1961 in Longbenton. Signed from Liverpool, Peter made 95 appearances for Everton and scored 32 goals including one against his former club!) before he was sold to Newcastle United.
Steve Flanagan
---
It's obvious, We need a Striker

After recently returning to the country I was excited by the prospect of seeing Everton at Goodison versus Millwall. It has been sometime since I have been to the ground and I looked forward to assessing the new players at close quarters rather than on TV.

What I saw was really more of the same with maybe a little bit more quality than I have seen in the last 15 years, Valente, Hibbert, Kilbane didn't inspire confidence and appear to have very little technical ability (wouldn't it be nice for Everton to boast a fulback who could actually create rather than just block)! Neville looked industrious and tactically aware although I think he is a full-back rather than a midfielder.

Cahill's energy is second to none without being a creative player, Arteta and Osman were technically the most proficient and for me the first names on the teamsheet with Martyn and Cahill. Weir looked ponderous, why was he offered a contract? Krøldrup looked unsure (not surprisingly) however Ferrari looked good, surely him and Yobo have to be the long-term partnership at the back? I felt sorry for Beattie asked to plough the lone furrow up front with little support, a task he stuck to admirably but he must get frustrated.

Obviously we need a striker and I hope the Bent/Krøldrup moves are freeing up money for a new player, I cannot bear the clock ticking by 12 midnight on January 31st without us signing somebody.... again!! If I hear "there isn't anybody out there who fits the bill" from Moyes and Irvine again I will scream. I don't want to go over old ground but Phillips, Vassell, Darren Bent, Andy Cole, Forsell (if he starts scoring for Brum now I won't be happy) and now Jansen are all strikers who have become available for cheap in our long trawl for a partner for Beattie and they all went elsewhere (often without an inquiry from us)!

On another note I was disappointed to hear racist abuse towards Millwall's young striker in the Park End. Credit to the fella who confronted him with "we have black players too now shut up" unfortunately it was this bloke who recieved the greater abuse from fellow Evertonians than our resident racist who continued to spout his bigoted opinions.

Overall it was a 1-0 battering of a team who came to kick us and little else. For me, much of what I have seen from the box was confirmed by going to the game with our need for firepower glaringly obvious, Nugent will do for me now (although Jansen would have been worth a punt... Beattie/Jansen has a ring to it); but please not Robbie Earnshaw.

Richard Williams
* Unfortunately, we cannot control other sites' content policies and therefore cannot guarantee that links to external reports will remain active.