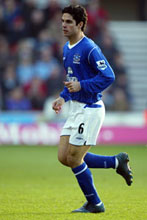 Mikel Arteta: played a major part after recovering from injury
Before the kick-off, a wonderful tribute to Brian Labone include a parade of honour provided by past stars, and a moment of silence preceding a rapturous minute of applause to the sound of the Z-Cars.
Mikel Arteta made a much-welcomed return in front of a good Goodison crowd for the final day's formalities. But in place of the injured James Beattie, Duncan Ferguson leads the Everton attack for might be his final match the final — and he's captain for the day...
Iain Turner continues in place of the injured Richard Wright, Nuno Valente is in for Gary Naysmith, and Kevin Kilbane pushes out for Andy van der Meyde, who is on the bench, alongside Matteo Ferrrai.
An early free-kick was put in dangerously by Arteta, providing half-chances for Davies and McFadden. A great cross from Arteta was headed on target by Kilbane but the goalie pushed it on to the crossbar and away. Some good play followed from both teams but on 15 mins a quality cross from Greening and Zoltan Gera slid in to put West Brom ahead, leaving Turner no chance.
Everton continued to play some good football, with the Player of the Season, Mikel Arteta behind everything. A corner from Arteta was met by Kilbane who's header forced another good save from Kuszczak. But West Brom were playing on the break, with Gera combing well to set up Ellington but the shot was wide.
A great cross from the right with Arteta feeding Neville and flicked on by Ferguson, and Kuszczak produced an excellent double save of real quality to kept out Kilbane twice. Osman then flicked the ball on to Ferguson at the far post but he could not get his foot on the ball as Everton kept pushing hard for the equalizer but it did not come before the break.
Another good chance created by Greening and Gera saw Kanu head directly onto Turner's chest when he should have scored. From the corner, a fabulous volley from Martinez put Everton two behind.
Ferguson headed narrowly wide. Then a Ferguson flick set McFadden free to run into the area with Arteta free to his right but the Scot chose to shoot forcing another excellent save low near the post. From an Arteta free-kick, he produced a great delivery, right on to Duncan's head and into the net but it was immediately flagged offside.
Osman beat the offside trap bravely and cleverly to set up McFadden but once again Kuszczak was equal to it and saved another certain goal, a crucial turning point as the crowd pretty much gave up hope at this point. What price the lap of 'honour' today???
Van der Meyde and Anichebe came on for Davies and Kilbane. A quality touch and cross from Osman, Valente crosses, Ferguson's header was perfect but Kuszczak saved superbly on the line. Anichebe then went down under pressure from Martinez, hands around his neck — no penalty!
Anichebe had a good stab and fired in at Kuszczak who saved well with his legs. From the corner, Stubbs headed over when he really should have had it on target. Finally, Everton made it count, and it was Victor Anichebe who turned away from Martinez after a great feed from Arteta, hitting it hard and low, through Kuszczak's legs — a superbly taken goal.
On the next attack, a fantastic save from Kuszczak's after Ferguson's shot, throwing himself in from of Neville's shot. Another great chance for Osman came after Anichebe and Fergson combined.. . but he belted it over the bar with the keeper well out of his goal.
A penalty was finally given to Everton in the 90th minute for a foul on Arteta after Martinez took his legs away. Captain Duncan Ferguson, captain for the day, perhaps the final time took the penalty. His first attempt was saved by Kuszczak but he got to the rebound and nodded it home for first and only goal of the season, and perhaps his last ever goal for Everton.
It must be said, Kuszczak produced a fantastic performance in goal for West Brom, but Everton at times were a little reluctant to shoot, wanting to walk the ball in to the net.
So Everton's record in the final five games of the season reads:
P 5 W 1 D 2 L 2 GF 3 GA 6 Pts 5
... which is the best points haul in five attempts under David Moyes... so things are obviously improving!!! Moyes's boys avoided losing the final game of the season for the first time, which has to be considered a fantastic achievement, but his team finishes the season in eleventh position, so no back-to-back top-ten finish to brag about.
But this Everton team can claim the highly dubious honour of scoring the lowest ever total of goals — just 34 — in an entire season. That gives them the highest points-per-goal ratio of the entire Premiership!!! Something about the new paradigm of High Goal-Efficiency Football??? Bollocks to that!
Michael Kenrick
---
And so to the final game of the 2005-06 season and with it the chance to secure 10th spot in the Premiership, the measure by which many will define as a successful season for the Blues following last season's 4th-place berth. There must be something wrong, though, when squeezing above Wigan and finishing below newly-promoted West Ham is seen as success.
The visitors for game 38 are West Bromwich Albion who were unable to repeat last year's heroics and had their fate sealed last weekend when Portsmouth came from behind to win 2-1 at Wigan.
Everton under David Moyes have been infamous on the final day of the season for their apparent lack of focus and desire — indeed, they have lost all of the season-enders under Moyes's tenure, including, of course, that 5-1 travesty at Manchester City two years ago.
So, on the occasion of the unveiling of another home strip, Everton have the opportunity to repay the fans for their undying support during an enormously frustrating season and go a little way towards atoning for their past failings at this stage of the campaign.
Tim Cahill's knee injury keeps him out for a second successive game and could ultimately put paid to his World Cup dreams as well. Tony Hibbert is recovering from hernia surgery, Richard Wright is sidelined with a gashed knee and Lee Carsley is still suspended.
So, Iain Turner will get another opportunity to impress with a second start and Mikel Arteta could figure after recovering from an ankle complaint. Moyes also has options at left back with Nuno Valente benefiting from another week's training.
While they won't avoid setting another unwanted record with the lowest goals total for a season in the club's history, victory for the Blues and defeat for Wigan would secure that 10th place and another £500,000-ish in prize money. Defeat and victory for Charlton would push us down to a disappointing twelfth. And then there's the hope that Duncan Ferguson can get his ineffective being into the right place at the right time to score so that he doesn't go down as the first Everton No 9 not to score all season long.
So, everything to play for in front of what looks like will be a well-attended fixture. Can the players raise themselves for one last push?
Lyndon Lloyd
---
This will be the 148th meeting between Everton and West Bromwich Albion in all competitions and the 138th League meeting between these two original members of the Football League. This will also be the 74th meeting at home and the 67th home League meeting.
Everton's full record against West Brom is:
| | | | | | | |
| --- | --- | --- | --- | --- | --- | --- |
| | P | W | D | L | F | A |
| Premier League | 5 | 3 | 0 | 2 | 5 | 7 |
| Division One | 130 | 50 | 31 | 49 | 220 | 219 |
| FA Cup | 9 | 4 | 2 | 3 | 11 | 7 |
| League Cup | 1 | 0 | 0 | 1 | 1 | 2 |
| TOTALS: | 147 | 59 | 33 | 55 | 241 | 237 |
Everton's record at home to Albion is:
| | | | | | | |
| --- | --- | --- | --- | --- | --- | --- |
| | P | W | D | L | F | A |
| Premier League | 2 | 2 | 0 | 0 | 3 | 1 |
| Division One | 65 | 37 | 14 | 14 | 143 | 83 |
| FA Cup | 4 | 3 | 1 | 0 | 8 | 2 |
| League Cup | 1 | 0 | 0 | 1 | 1 | 2 |
| TOTALS: | 73 | 43 | 15 | 15 | 157 | 89 |
The last meeting between the clubs was earlier this season when West Bromwich Albion won 4:0 at The Hawthorns. The last meeting at Goodison Park was a 2:1 victory in August 2004, with Leon Osman scoring both goals.
The most common Everton victory over West Bromwich is 2:1, which has happened 12 times in Everton's 59 victories. Albion's most common victory is 1:0 which has happened 10 times in their 55 victories. The most common draw between the sides is 1:1, which has happened 15 times in the 33 draws between the sides.
There have been 9 hat-tricks against West Brom. The last was by Alan Ball in Everton's 4:0 win on 28 September 1968. The most famous "hat-trick" against Albion is Jack Southworth's record haul of 6 goals in a 7:1 home victory on 30 December 1893 which still stands as the club's record haul in a first class match.
Everton's record for 7 May is:
| | | | | | | |
| --- | --- | --- | --- | --- | --- | --- |
| | P | W | D | L | F | A |
| Premier League | 2 | 2 | 0 | 0 | 5 | 2 |
| Division One | 8 | 3 | 2 | 3 | 14 | 7 |
| FA Cup | 1 | 0 | 0 | 1 | 2 | 3 |
| TOTALS: | 11 | 5 | 2 | 4 | 21 | 12 |
This is the second time the clubs have met on this day. The first meeting, in 1963, saw Everton win 4:0 at The Hawthorns with the goals coming from Roy Vernon, Alex Young (who got two) and an own goal. This win all but secured the League title as Everton were 5 points clear of Tottenham in second place, who had 3 away games left to play (remember it was still two points for a win then!)
The last time Everton played at home on this day was last season when a 2:0 victory over Newcastle United booked Everton's place in the Champions League this season. But perhaps this day will be remembered for a match that was played 16 years ago – when Everton, registering a rare victory under Mike Walker, beat Wimbledon 3:2 on the final day to preserve their top-flight status for another year.
Louis Weller was born on this day in 1887 in stoke-on-Trent. Signed from Chesterfield in 1909, Louis made 70 appearances and scored 2 goals for the club. However, his career was, effectively over due to World War I.
Norman Whiteside was also born on this day in 1965 in Belfast. Signed by Colin Harvey in 1989 from Manchester United, Norman made 37 appearances and scored 13 goals before his career was ended by injury in 1990.
Tommy Eglington and Peter Farrell were in the Ireland side that lost 6:0 to Austria on this day in 1952.
Mick Meagan also appeared for Ireland on this day in 1961 in a 3:0 defeat to Scotland with Mick's teammate Alex Young scoring 2 goals for the Scots.
Alan Ball and Gordon West were in the England side that beat Wales 2:1 on this day in 1969.
Robert "Bob The Pole" Warzycha was in the Polish side that lost 5:0 to Sweden on this day in 1992.
Milestones that can be reached this game:
Everton could set a new record for the fewest number of League goals in a season. The current record is held by the 1888-89 team that scored just 35 goals. However, this was over 22 matches. In terms of fewest goals per match, that record is held by the 1971-72 team who managed just 37 goals in 42 matches, at a rate of 0.88 goals per game. The mathematics are:

If Everton score less than 3 goals then they will set a new club record for the fewest League goals in a season. 3 goals will, of course, match this record.
If Everton score just 1 goal, then they will set a new club record for the fewest goals per match ratio in the club's history, whilst a haul of 2 or more will see them avoid this.
If Everton fail to score, then they will set a new club record for the fewest League goals scored at Home in a season. The current record is 21, by the 1983-84 team who managed just 21 goals in 21 matches. However, the 1983-84 season still stands as the worst in terms of League goals scored per home match. Of course, if Everton score 1 goal, then they will match this record, whilst 2 or more will see them avoid this particular low.

If he plays any part of the match this will be Mikel Arteta's 50th appearance for the club in all competitions.
If he plays any part of the match this will be Tony Hibbert's 150th appearance for the club in all competitions.
If he starts the match, Kevin Kilbane will be making his 100th start for the club in all competitions.
Steve Flanagan
---
Lyndon Lloyd
* Unfortunately, we cannot control other sites' content policies and therefore cannot guarantee that links to external reports will remain active.

v , 15:00
v , 15:00
v , 15:00
v , 15:00
v , 15:00
v ugh, 15:00
v , 15:00
v , 15:00
v , 15:00
v , 15:00